| | |
| --- | --- |
| | Broadcast Pioneers of Philadelphia is a federally recognized, state chartered 501(c)(3) non-profit organization serving the Philadelphia Broadcast Community since January of 1962. |
February Luncheon
The Bala Golf Club
Wednesday, February 17, 2016

Meet & Greet at 12 noon!
Lunch at 12:30 pm
Ratecard: $28 per person

PLEASE RESERVE NOW!
CALL (856) 365-5600!
rsvp@broadcastpioneers.com
Another Third Wednesday Luncheon!
Wednesday, February 17, 2016!
Authors Day!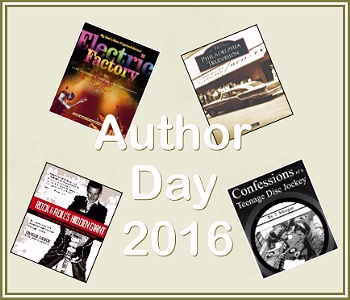 An author is the originator of a written work. Well, we have four of the best in our area scheduled to speak at our February luncheon! It all takes place on Wednesday, February 17th at the Bala Golf Club. Make plans to be there. Our MC for the afternoon will be member (and author) Alan Tripp.
Here are our speakers scheduled to appear, subject to change (in alphabetical order):
Charlie Gracie, author of "Rock & Roll's Hidden Giant: Story of Rock Pioneer Charlie Gracie
Larry Magid, author of "My Soul's Been Psychedelicized: Electric Factory" (which Larry owns)
T. Morgan, WMGK air personality and author of "Confessions of a Teenage Disc Jockey"
Bill Shull, author of "Philadelphia Television" (Images of America) with hundreds of photos
It all takes place on Wednesday, February 17th at the beautiful Bala Golf Club, 2200 Belmont Avenue in Philadelphia! Just minutes away from Channels 6, 10 and 17 plus the radio stations in Bala Cynwyd. Tons of free parking.
Meet and greet (networking) starts at 12 noon with a full-course lunch including salad, coffee or tea and dessert being served at 12:30 pm. There's also a snack table. Cash bar available! The low cost donation is only $28 per person and is open to all our members, any person in the industry or associated fields; both people now active and retirees. You do NOT have to be a member to attend.
Make your reservations early by e-mailing us at: pioneers@broadcastpioneers.com or calling us at (856) 365-5600! It's going to be a really huge crowd and an extremely fun time. Attending this luncheon is the biggest "no-brainer" on the planet! Be there and say hi to old friends (and make some new ones).
If you miss this one, you will have missed an extraordinary experience and a good time! But don't worry. Your friends and colleagues will tell you about it. RESERVATIONS ARE CRUCIAL! Don't wait until the last minute, reserve now! This is sure to be another blockbuster turn out. Make your reservation now by calling (856) 365-5600. This is THE place to be on Wednesday, February 17th!
Plenty of FREE parking. The cost is only a donation of $28 (or more) per person! In order to speed up check-in at the luncheon, it would help if you had exact change or your check already written. Checks can be made payable to the Broadcast Pioneers of Philadelphia.
If you would like to add a few dollars extra, we would appreciate it. It would help us with all the important work we are doing. Thanks!
WE'LL BE PROUD TO SEE YOU IN THE CROWD!

Visit Our Website Often - http://www.broadcastpioneers.com
You should check our website often on the front page (above) for important information!
Check out our Facebook Page - http://www.broadcastpioneers.com/facebook
There are things on our Facebook Page that are NOT on our website (like our vintage photo of the week)
Tune in to our YouTube Channel - http://www.broadcastpioneers.com/youtube
Our YouTube Channel has all our luncheons, exclusive interviews and archival material

DIGITAL ARCHIVAL PROJECT NEWS:
VIDEO: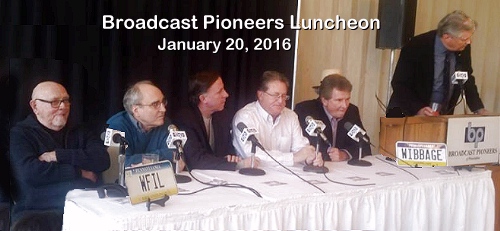 (left to right) Members Ed Hurst, Michael Tearson, Don Hurley, Gary Hendler, Tommy McCarthy and Tom Lamaine
(behind Tommy McCarthy is member Bill Wright - you can see only part of his hat)
Broadcast Pioneers of Philadelphia Luncheon
Wednesday, January 20, 2016
Our topic was "The British Music Invasion" and how it affected American broadcasting. It all started back in October of 1963, when the Washington Post ran the first article in this country about the Beatles. By April of the following year, the Beatles held the top five positions in Billboard's Hot 100. To date, this has never been achieved again. In fact, no one artist has ever even held the top three positions. The British invasion went on for years. Our MC for the afternoon was Tom Lamaine, former WIP Air Personality, former KYW-TV Meteorologist and current host of Memory Lane on WTKU-FM at the Jersey Shore. What a fantastic job he did.
Our panelists were (in alphabetical order):
Gary Hendler , radio host on WWDB and former record promotion person
Don Hurley, radio personality & host and classic rock expert at the Jersey Shore
Ed Hurst, radio & television personality for three quarters of a century
Tommy McCarthy, current music director for 98.1, WOGL, Philadelphia
Michael Tearson, well-known Philadelphia FM Radio air personality
Bill Wright, Sr., famed WIBG (Radio 99) and WPEN Radio air personality
Watch the video!
(video courtesy of Broadcast Pioneers VP Brad Seecof and Metramedia Broadcasting & Studios)
AUDIO:
As 1960 came to a close, we have a recording from Friday, December 2nd. It's just a couple minutes before 7:30 am., ust in time for us to hear a couple of spots with Broadcast Pioneers' Hall of Famer Joe McCauley's morning air shift. At 7:30, it's news time on WIP, Channel 61 with Broadcast Pioneers member John Paul Weber. By the way, it was on radio. The station just called themselves Channel 61.
Listen in Real Audio!
Listen in Windows Media!
In the early seventies, the State of New Jersey gave 18 year olds certain rights including the one to drink alcohol. They modified this law to raise the drinking age back to 21 in 1983. What we have here are some raw interviews done by Gene Dillard when he worked at WFIL, Famous 56. These conversations (some aired and some not) were done with people in their late teens inside New Jersey. These recordings come from our 500 tape collection donated by Gene Dillard several years ago.
Listen in Real Audio!
Listen in Windows Media!
Today's News Becomes Tomorrow's History!
(This is what our Digital Archival Project, DAP, is all about!)
IN TOUCH WITH OUR MEMBERS:
Member Patty Jackson is back at work, behind the mike, at WDAS-FM. She suffered a stroke shortly after the death of her mother last October. She was one of the hosts (along with member Jerry Blavat) at the inaugural event for Philadelphia's new mayor, Jim Kenney last month.
The new moderator for the Philadelphia-region "Food Talk" radio show is Whitney Ingram, a Rittenhouse Square resident, who formerly lived in Georgia, where she was employed as an interactive marketing consultant. The show is aired three times a week, every week on WWDB-860AM. It is produced by the radio division of ACT, Inc., the multi-media company now marking its 60th year in business. Founder and president is Broadcast Pioneers member Joe Ball.
Broadcast Pioneers member Ed Sciaky, who was inducted into our Hall of Fame posthumously in 2005, was honored recently in Asbury Park, Bruce Springsteen's neck of the woods. Ed was inducted into the Asbury Park Angels at the Light of Day Winterfest last month. The honor goes to people not from the area who have impacted the local music scene. Ed was partly responsible for elevating "The Boss" into the national limelight.
Broadcast Pioneers member Steve Ross said: "Jimmy Murray, Jackie Strauss and I will, once again, be gazing into life's rear view mirror and admiring the reflection! The good old days are back! Our new radio home is WNTP. Its dial position is 990-AM. Our new time slot will be an earlier one, Saturday's from 9 to 11 pm; repeating on Sunday's from 3-5 PM. Of course, we'll be streaming live on Saturday nights - accessible on all of your electronic devices." The show started over this past weekend.
Broadcast Pioneers member John Primerano will be going to LA later this month. He'll be there to appear in the new independent short film, "The Admired.", playing the part of 1940s nightclub singer Johnny Keyes. As we already know, John is a talented singer so he fits right in with this role.
Member Peggy King (with the All-Star Jazz Trio) has a new album out, her first one is over a third of a century! It's called: "Songs a la King." She got the nickname "Pretty Perky Peggy King" from George Gobel when she was the "girl" singer on his show. Mel Torme hired her to be "Miss Color TV." In 1930, there were 16,000 people living in Peggy's home town of Greensburg, PA when she was born. Interesting sidebar: One of those 16,000 was six-year-old Floyd Wilkinson, our CEO's father.
The first episode member Shawn Swords produced for Irish TV's "Out and About Philadelphia" will premiere on Irish TV in Ireland and the UK will premiere this Sunday. The episode can be watched live at 5 pm Eastern in The U.S. (and the rest of the world) at http://www.irishtv.ie/. The 2nd episode covering The Papal Visit to Philadelphia will air on the following Sunday.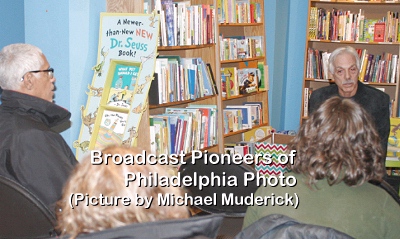 Broadcast Pioneers member T. Morgan
speaking to a group of people at
Main Point Books, Bryn Mawr, PA
Wednesday, January 20, 2016
A LITTLE BIT OF BROADCAST HISTORY!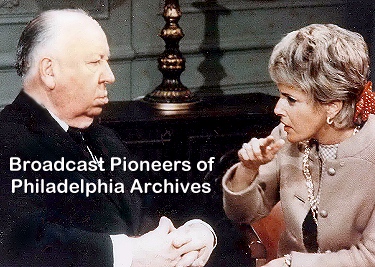 (left to right) Alfred Hitchcock and Member Connie Roussin
"Conversations with Connie"
WFIL-TV, now WPVI
circa 1969
Did you know...
Championship football of 1949 (By Alan R. Tripp)
Broadcast Pioneers member Alan Tripp
circa 1980
Way, way, back in 1949, the Philadelphia Eagles football team actually won the National Football League championship. Meanwhile out in the far reaches of California, the Los Angeles Rams, also won in a league of their own, the American Football League.
Naturally, a game between the two teams was needed to give the American people a true championship season. There were a few obstacles, like 3000 miles from coast-to-coast and no coast-to-coast cable television connection.
My wife Maggie's father, then one of a group of "brothers" who owned the Philadelphia Eagles, got me an introduction to Bert Bell, Commissioner of the National Football League. At that point, I ran an ad agency and, mustering both gall and certainty, I assured Mr. Bell that I could arrange national television of this great game. He granted me the TV rights.
When I told Maggie about the proposed ground breaking TV event, she said reassuringly, "You're absolutely crazy, dear, but why not?"
Friends of mine at WFIL–TV, the ABC outlet in Philadelphia, introduced me to the network sports packagers who agreed to carry the event on their stations from Chicago eastward. There was, of course, no cable connection between Chicago and the West Coast! The ABC folks also informed me that they could not furnish any cameras or cameramen. The ABC network would pick up a feed in Chicago and send it zooming through the Eastern cities, but that was all.
I recruited a camera crew consisting of Carl Volker and Ralph Lopatin, the news guys from KYW-TV, the NBC station in Philadelphia, and between us we conceived a plan to shoot the game at the Coliseum in Los Angeles, edit the film on a chartered plane coming back to Chicago, and put the game on the ABC Network from there.
Meanwhile, the gods who were programming this unprecedented event were hard at work. The owners of the Eagles had arranged to bring The Super Chief, that gorgeous streamliner that ran from Chicago to Los Angeles, into Philadelphia solely to transport the Eagles team and the press and all related personnel from downtown Philadelphia to sunny Los Angeles.
All went well on the train trip. I played bridge in the observation car with the Eagles' famed coach, Greasy Neale, who, it turned out, could remember all 52 cards in the order in which they were played – just as he could remembered the quirks of every single player in the NFL.
Maggie met many of the players, including Chuck Bednarik, probably the finest linebacker of all time, who frequently succeeded in passing our roomette door at the exact same moment Maggie emerged. Chuck was half again as tall and four times as wide as Maggie – so the encounter became a question of physical agility. Maggie loved it.
We were greeted at the station by movie stars and a brass band. The California sun shone brightly – and we should have been suspicious. But, after being assured of the arrival of the camera crews and our play-by-play announcer, Frankie Reagan, Maggie and I settled in at the Bel Air Hotel, ready for a good night's sleep.
The next morning, we awoke to a tropical torrent of rain. I immediately checked the weather forecast: it was scheduled to rain just like that for the next three days -- including the day of the game!
(Maggie took it all in stride. She arranged for a car to transport her to the leading department stores and to meet with childhood friends now living in Los Angeles. She had made it clear that, should it rain as advertised for the big game, she had no intention of sitting in a totally open stadium; she felt that she had met enough of the Eagles team during the trip.)
The morning of the Championship game dawned precisely as predicted. The rain gods generously poured buckets upon the ancient Coliseum in Los Angeles, a stadium built for the Olympic Games of 1920. The only shelter was under the roof at the very top of the stadium – which is to say a quarter-mile from the playing field.
There was a running track surrounding the football field and the NFL officials agreed that the buses carrying dyed-in-the wool football fans might drive on to this running track so that the passengers could observe the game from the shelter of the buses. The coliseum seats over 100,000. Paid attendance was 27,980. But I doubt that even 20,000 showed up.
Our camera crew, safely tucked in that high niche, filmed the entire game through telephoto lenses. There was a general haze above the field that gave an artistic aura to the scene, a blessing because there was little resemblance to a standard football game. The players were slipping and sliding, the ball was popping out of the hands of the most experienced quarterbacks, and at the end of the first quarter, the score was 0 to 0. Not even Steve van Buren, Philadelphia's running back, known for his ability to keep his feet in the face of vicious tackles, could overcome the mud; he gained less than 200 yards in the whole game.
In the second quarter, the Eagles great quarterback, Tommy Thompson, fired a 31-yard pass to Pete Pihos in the end zone. The half-time score was 7-0. Then, late in the third quarter, a miracle came to the Eagles' rescue. Los Angeles had the ball inside their own ten-yard line when Philadelphia blocked a Ram's punt. Eagle defenseman, Leo Skladany, felt the ball nestled in his arms and he scrambled for the end zone. The Eagles made the point after touchdown, the Rams continued to slip and slide, and the game ended 14 – 0.
The next morning, the sun was shining brightly. As the maid was cleaning my hotel room, I asked her if she'd heard about the big game in the rain.
"Rain?" she said, "What rain?" A California state of mind. But the Eagles, you bet, will never forget.
Today's story written by Board Member Emeritus Alan R. Tripp
Our special thanks go to TUTV - Temple University Television and The Kal & Lucille Rudman Media Production Center.

They have underwritten a grant to be used to fund an entire year of all our newsletters for calendar year 2016. We thank them so much for their support!
MORE DIGITAL ARCHIVAL PROJECT NEWS:
VIDEO: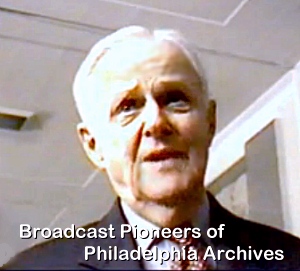 Broadcast Pioneers member George Koehler
Broadcast Pioneers Banquet
Bala Golf Club, Philadelphia
Thursday, November 16, 2000
On the evening of Thursday, November 16, 2000 at the Bala Golf Club, we held our annual banquet to a sell-out crowd. One of the people in attendance was Broadcast Pioneers member George Koehler. He was inducted into the Broadcast Pioneers' "Hall of Fame" in 1994, along with Broadcast Pioneers member Larry Kane, who George started on the road to success. In 1977, the Broadcast Pioneers of Philadelphia named him our "Person of the Year."
On that night in 2000, Broadcast Pioneers Board Member Gerry Wilkinson (a future leader of this organization) spoke with George Koehler. It was shot on high-speed VHS tape. The purpose of the tape with for background information only. It was never meant to be seen by the public or by our membership.
We thought that at some time, we might use the Koehler portion on our website; somewhere in the future. That never happened until a little while ago when we found the tape in a box in our physical archives. It had never been digitized, so we did so.
Under normal circumstances, a video like this would be excerpted and you would never hear the interviewer. In this case, Gerry doesn't have an air voice. At the time this was shot, he was a television producer for WHYY-TV. Producers don't need air voices.
However, after viewing this video, we decided to present the entire interview uncut; exactly as recorded on November 16, 2000. The lighting in the room wasn't really quite enough to make a great visual presentation but since we were shooting it for background, that really wasn't important.
Here now is that interview exactly as recorded that evening. It is a historic recording and we hope you enjoy it despite all its imperfections.
AUDIO:
On April 28, 2000, the Broadcast Pioneers spoke with fellow member, Dr. Francis Davis. Davis did the weather on WFIL Radio and Television from 1947 until 1971. He is truly a "BROADCAST PIONEER" and was inducted into our "Hall of Fame" in November of 2000.

This is the second in an on-going series of webcasts made exclusively for our website. It's called PIONEERS IN BROADCASTING, hosted by Broadcast Pioneers member Ed Sciaky and produced by Broadcast Pioneers member Gerry Wilkinson. Sciaky and Wilkinson worked together at a half dozen area stations over the last 40 years.
Listen in Real Audio!
Listen in Windows Media!
Broadcast Pioneers member Francis Davis was Philadelphia's first broadcast Meteorologist. He started working for WFIL Radio in 1947 and within a few months, Dr. Davis was also doing the weather for WFIL-TV, Channel 6. Dr. Davis had an important role in our nation's history. He was part of the team that predicted the weather forecast for the D-Day invasion during the Second World War.
In 1970, Francis was named Dean of the College of Science at Drexel University. Francis said in 1967 that his weather forecasts were 92% accurate. We have here a complete WFIL Radio forecast by Dr. Davis dating from March of 1949.
Listen in Real Audio!
Listen in Windows Media!
Remember, History is ONLY What Gets Saved!
(If there were no portraits of George Washington, how would we know what he looked like?)
IN TOUCH WITH THE INDUSTRY:
We have been getting reports that WNWR (1540 on AM) is now playing jazz music. At this point, can't say whether it's filling the time temporarily or is a permanent switch. The broadcast outlet was previously carrying Chinese oriented programming.
Since Andy Bloom has left WIP-FM, Spike Eskin (Member Howard Eskin's son) has given up his on air duties to devote his full energies to programming responsibilities.
KJWP, Channel 2 in Wilmington, Delaware has been sold to Maranatha Broadcasting. The buyer also owns WFMZ-TV in Allentown, Pennsylvania. The seller owns some radio stations and a television station, WJLP, at the New Jersey shore. No purchase price was announced.
Beasley Broadcasting is buying a permit for an FM translator signal for its WWDB, "Talk 860," a Philly 10,000 daytimer. It has purchased a construction permit for W246CT, licensed to Salem, NJ. Principal of the seller, Hope Christian Church (Marlton) is Bill Lubkemann, Jr. Selling price was 25k. Now Beasley is seeking to re-license the CP closer to Philadelphia. In other FM translator news, "El Zol 1340," WHAT Radio can now be found on a FM translator at 97.1.
Telemundo62 Sports Anchor Jaime Becerril has gone to the Dominican Republic to cover the 2016 Serie del Caribe, also commonly known as the "Caribbean Series." "Telemundo62 is proud to be the only station providing local coverage of Serie del Caribe," said Ric Harris, President and GM of NBC10 / WCAU and Telemundo62 / WWSI. "Baseball fans love this event and we'll be there to provide updates and share stories that no one else can." Becerril is doing reports now through Sunday.
WE REMEMBER: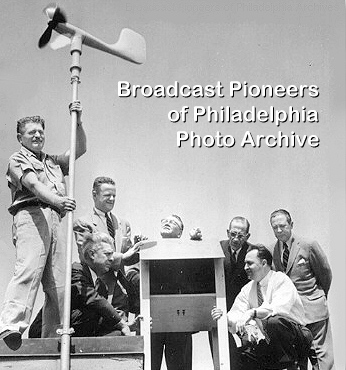 (left to right-standing) WFIL Engineer Nat Elkitz, Station Manager George Koehler, unidentified agency rep from Bell Telephone,
Ned Rogers of Gray & Rogers Advertising and Max E. Solomon, WFIL Account Executive for the Bell account
(left to right-kneeling) Dave Skinner, advertising manager for Bell Telephone and Dr. Francis Davis
weather station on the roof of WFIL Building
46th and Market Streets, Philadelphia
circa 1955
Broadcast Pioneers member, Dr. Francis K. Davis, Jr. passed away on December 19th in South Carolina at the age of 97. Davis did the weather on WFIL Radio and WFIL-TV for a quarter of a century. Member Larry Kane was always quick to point out that when Action News became number one with Larry anchoring and Bill White doing sports, Davis was the weathercaster. Davis became the first weatherman on television in the entire nation permitted to display the "Seal of Approval" of the American Meteorologist Society.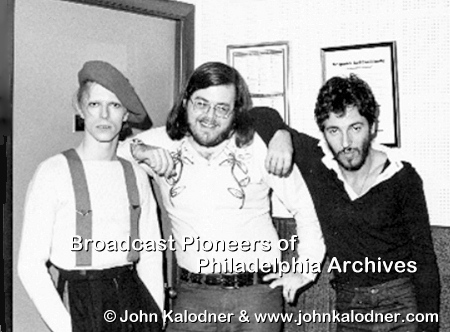 (left to right) David Bowie, member Ed Sciaky and Bruce Springsteen
Sigma Sound Studios, Philadelphia
November 1974
David Bowie was passed away last month two days after his 69th birthday. He was a rock legend. Bowie performed here many times and two of his 70's albums were recorded in the Delaware Valley. "David Live" was recorded during the summer of 1974 at the Tower Theater in Upper Darby. He also recorded his "Young Americans" LP at Sigma Sound (owned by member Joe Tarsia). The album was released the following year, 1975. Member Ed Sciaky, inducted into our Hall of Fame in 2005, was friendly with many rock legends including Bowie.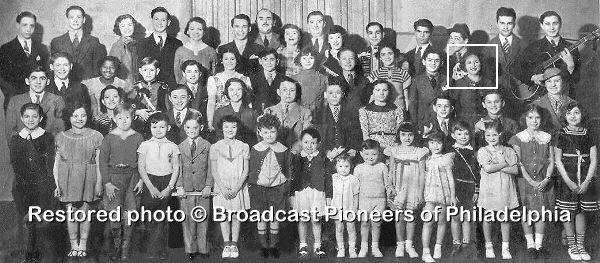 (Young lady in white box was Kitty Kallen)
Cast of "The Children's Hour
WCAU Radio
circa mid-thirties
(also seen in this photo were "Red" Benson, Jerry Donahue, Judy Lee & Stan Lee and Esther Broza)

Kitty Kallen was born in 1921 and sang on the WCAU Radio program, "The Children's Hour" (sponsored by Horn and Hardart). The show was hosted by Stan Lee Broza, this organization's first president. Kitty's dad was a Philadelphia barber. Her mom passed away when she was eight. Four years later, she had her own broadcast on WCAU. Kitty Kallen was known for singing with several big bands. Years later, many of us knew her as a panelist on "What's My Line." She passed away last month at age 94 at her home in Mexico.

ON THE HEALTH FRONT:

Member Kathy Tarras Earley suffered a stroke last fall, her daughter Christy tells us. She said: "Fortunately, as far as strokes go, she was lucky. No paralysis or speech or mobility issues. She did lose the peripheral vision in the left sides of both eyes. It's called hemianopsia. Anyway, it was a tough road at first – especially trying to get her eyes adjusted to the new way of seeing things. She still wishes it would come back, but it's probably not likely. She's still adjusting in fact, but trying to keep positive.

"

Kathy worked at Channel 3 and hosted the early evening movie. It was there she met Joe Earley (Mr. Rivets).

THIS AND THAT! Little Bits of Information....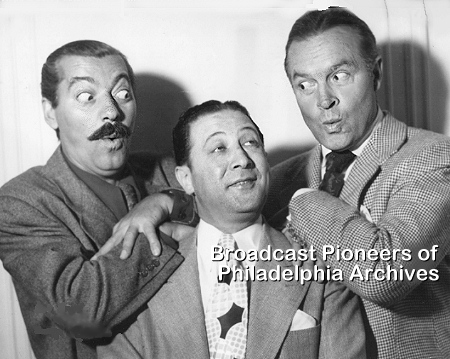 (Left to right) Jerry Colonna, Max E. Solomon and Bob Hope
1947
Maxie E. Solomon once said that at WCAU in the twenties, he sold 60 second spots for $5 a piece. If you bought 10, you could have them all for a total of $25. Solomon said that in that era, a time salesman didn't have an office. You got one desk drawer in the secretary's area. He stated that after you worked there for a few months, they would even "let you use the telephone." He got the job because he sold Victor Moore, manager of a retail radio receiver outlet owned by WCAU, some custom made undershorts. Moore was so impressed with Maxie who actually delivered the shorts in person, that he offered him a job with WCAU. Moore asked Solomon, "How much do you make selling men's furnishings," and Max said, $75 a week. Moore said, "We'll do better than that." In reality, Max only made $30 a week selling clothing.
Then Max went to WIP, owned by Gimbels. The station was located in the rug department. It was there that Max met Billy Banks who would later own WHAT and WWDB. After awhile, Billy and Max had an argument and Solomon punched Banks in the nose. WIP fired both of them and Max E. Solomon landed at WFI Radio, owned by Strawbridge and Clothier. WFI later merged with WLIT to become WFIL. In the forties, Walter Annenberg, publisher of the Philadelphia Inquirer, purchased WFIL. Annenberg later said that not only was Max the top salesman at the station, not only the top salesman in the city, HE WAS THE TOP SALESMAN IN THE UNITED STATES! Max Solomon was a founding member of this organization and served as President and later Chairman of the Board.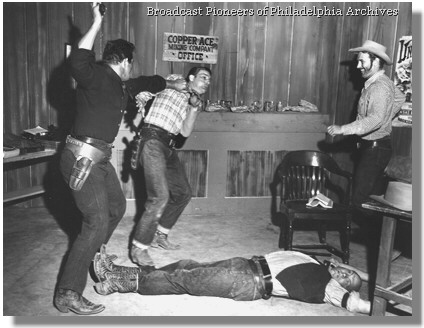 Action in the Afternoon Publicity Still
WCAU-TV
1953
Many years ago, the was a sign on the WCAU lunchroom. It said: "To prevent the spread of typhoid fever, this place will be closed until further notice." The announcement was signed by Sam Mitchell, Sheriff. Sam was the law enforcement officer on "Action in the Afternoon" televised live from WCAU-TV and broadcast over the CBS Television Network. Obviously, someone's idea of a practical joke.
Broadcast Pioneers member Ed Sciaky lived with his mom when he was a college student at Temple University. He lived on Cranston Road in the Wynnefield Heights section of Philadelphia. He was literally a block away from WHAT Radio's tower and two blocks from the towers of WDAS. The RF from WHAT was so strong that you could hear it faintly in the background of his stereo's speakers. One day there was a bad thunder storm and a nearby lightning strike. All of a sudden, WHAT Radio was gone. No longer could you hear the station on Ed's stereo. No, that day WHAT was knocked briefly off the air. Have no fear. The speakers were not quiet. No. There was Butterball on WDAS. Now the RF of WDAS was leaking through.
Ed wasn't the only one with RF problems. Our CEO Gerry Wilkinson lived in Overbrook Park, only a couple of blocks from the towers of what was then WPEN Radio. Back in the day, he had a programmable door bell that played the Mickey Mouse Club March. Of course, during afternoon drive, there was the 950 Club with Joe Grady and Ed Hurst coming out of the door bell's speaker without ever being hooked up to a radio receiver. Possibly fitting since Ed's relatives lived next door to the Wilkinsons.
On January 24, 1925, there was a solar eclipse. It was the first study of why radio waves travel like they do, farther at night than in the daytime.. Local radio stations participated in the research project. According to the researchers, more questions were raised than answered by the study..
During the summer of 1968, WDAS-FM, Hyski's Underground, Philly's progressive rock station, ran a series of specials that featured only one artist. Some of the ones done were the Beatles, the Rolling Stones and Bob Dylan. The programs ran on Sunday evenings.
During that same year, 1968, Broadcast Pioneers member Dean Tyler said: "Top 40 radio can get very dull." Dean said that listeners sometimes turned to talk radio for therapy. Tyler also stated: "I don't know what the answer is. But I think that, at Wibbage, young adults are receiving a broader range of music than they get on most top 40 stations.... You have to keep radio refreshing, which is one of the things Joe Niagara is a master at. He makes a record exciting, it's as if every record is a million-seller to him." Dean was the music director at WIBG at the time he made these remarks.
THANKS FOR THE MEMORIES:
Uncle WIP broadcasts from the ocean floor!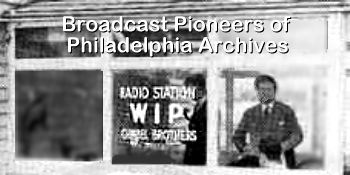 WIP Radio's studio
on Atlantic City's Steel Pier
1924
In 1924, a diver broadcast live on WIP Radio. Later that same year, Uncle WIP (Chris Graham) decided he would do the same for his young listeners. That show was also broadcast live. The time was 7 pm. We have found this story for you, exactly as written in 1924, over 90 years ago.
Some cynic once said: "there is nothing new under the sun." He failed to reckon with the ingenuity of the men who direct and operate the broadcasting stations.

On September 13, and notice the number, Uncle Wip, renowned bedtime story teller of Station WI P of Gimbel Brothers department store in Philadelphia descended fifty feet under water to the floor of the Atlantic and from there, broadcast his bedtime story and sang the usual lullaby that thousands of youngsters go to sleep by every night.

On July 31, Gimbel Brothers proved that it was possible to broadcast from the depths of the sea when a diver successfully accomplished the feat from a depth of close to 75 feet.

Then Uncle Wip decided that perhaps his following would like to hear a bedtime story interspersed with comments on how the fishes looked in their natural aquarium.

For the occasion a special diving suit was constructed. In his brand new diving helmet a special microphone was installed. From this microphone waterproof cables led to transmitting apparatus which in turn relayed the story along to WIP, Philadelphia where it was broadcast.

Not only did he tell the much awaited story and sing the twilight song but he read the list of names of all the "Gold Star" children, each of whom will receive a little gold pin in the likeness of a diver's helmet for excellence in school work.

And this was the first time a bedtime story man ever told a bedtime story from such an unusual place. There is something new under the sun.
Want to read more about the diver who broadcast over WIP Radio on July 31, 1924? No problem. We have here a second detailed report on what you could have expected to hear.
Since Radiocasting took this country by storm, many strange things and many strange sounds have been Radiocast. The roar of the mighty Atlantic's waves, the rattle of a rattlesnake, the voice of an aviator high in the heavens all have been heard.

And now, the marvels of the deep sea will be Radiocast to the entire world. On Thursday, July 31, at 3 p.m. and 8 pm, the Atlantic City control station of Radiocast Station WIP, of Gimbel Brothers, Philadelphia, will Radiocast from the bottom of the Atlantic ocean! Station WIP again comes to the aid of science!

A deep sea diver will drop over the side of a boat, to the floor of the Atlantic ocean, fifty feet or so below. In his diving helmet, he will have a special microphone, connected by lead cable to the boat and from there to the remote control station of WIP, on the Steel Pier, Atlantic City. N. J.

C. O. Johnson, expert diver of the Philadelphia Derrick and Salvage Corporation, will have the distinction of being the first man to talk over Radio from the bottom of the sea.

Through the heavy glass windows of his diving suit, Mr. Johnson has seen many strange and wonderful sights of undersea life. The special microphone, which will be attached inside his helmet, will enable him to describe to the Radio public, exactly what is going on at the bottom of the mighty Atlantic.

The strange fish, and other sea creatures living at the bottom of the sea, will be described. The appearance of the subsea foliage and mineral formations will be Radiocast in full detail.

This will be the first time that any Radiocasting station has sent a microphone to the bottom of the sea. Special cable, waterproof and flexible, is necessary to connect the diver to the boat.

The voice will originate from the helmet of the diver, thence to the boat floating on the surface of the water above. The boat, in turn, will be connected by wire to the remote control station on the Steel Pier. Here the voice from under the ocean will be amplified many thousands of times, then transmitted over special telephone lines to the main station, located in the Gimbel Brothers store in Philadelphia, more than sixty miles away.

The marvelous tales of Jules Verne will not be nearly as thrilling as this Radiocast. Think of it, sit in your own home, and listen to the voice of a man walking on the bottom of the Atlantic Ocean, telling you just what he sees. Tune in, Radiophans, to Station WIP, 509 meters, Thursday, July 31, a t 3 and 8 p.m. eastern daylight saving time.
Philo Farnsworth, Part Two!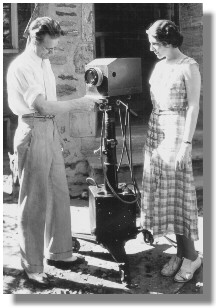 Philo Farnsworth and secretary Mabel Bernstein
127 East Mermaid Lane, Wyndmoor, Pa
circa 1935
(Photo courtesy of Professor Donald G. Godfrey)
It was 2002 when author Tom Keels wrote the following article about Broadcast Pioneers Hall of Famer Philo Farnsworth. It is electronically reprinted here with the author's permission. It is presented in three parts. The first installment was last month. Part two is now and part three coming in March. Here is part two of the article
Josephine Viola Queensberry, now a resident of York, recently recalled her TV debut nearly 70 years ago. "We were very young, only about 12 or 13 years old, 14 at the most. We were very interested in tap dancing. In fact, I was the lead tap dancer at the Water Tower Recreation Center. Lucy and Mary were in the group. We used to compete with other recreation centers in the city. When they (the Farnsworth team) were experimenting, they would just call us and tell us to do something and we would do our very best so they would be able to televise us. We would try to sing, only we weren't the best singers in the world -- we were better dancers! We had a phonograph and played all the old songs popular in the 1920s and early 1930s. Darktown Strutters Ball, and things like that."

The three friends performed for the camera perhaps a dozen times during that summer. "It was 1934 or 1935. We would dance at least 15 minutes each time. We thought we were fantastic in those days! It was a thrilling experience for us, so young and knowing what they were trying to do. I don't think we understood it thoroughly but Mr. Spallone would try to explain it to us. We just met Mr. Farnsworth once – he came to thank us for what we were doing. He seemed like a very nice person and was very, very nice to Mr. Spallone."

Leon and Josephine O'Neill, nephew and niece of landlord Andrew O'Neill, were also drafted as test subjects, performing duets in front of the Farnsworth camera. Marian O'Neill Balin, Leon's younger sister, recalled that "my brother was playing the guitar and my cousin (Josephine) was singing, and it was just like looking at television today. It was like looking at a box with a screen and something behind it and that was the beginning of it all. They used whoever was there. If you were visiting, they put you on. Leon was about 16, and I was maybe 10. I didn't appear on television, I was one of the watchers. They (Leon and Josephine) were thrilled about being on television but they didn't realize the importance of it until later."

According to Bruce O'Neill, Andrew O'Neill's grandson, the delight of being on TV stayed with his uncle Leon and his father Jerome, another test subject, all their lives. Both were especially excited to see their images on a nearby receiver. "It was a very thrilling moment for them," O'Neill, a Philadelphia attorney, recalls. "Leon said he never forgot seeing himself on TV. His face would light up whenever he told that story."
One test subject was particularly important to engineer Romely Rutherford, according to his nephew Robert Rutherford. "My uncle Rom was in charge of facilities and would go and get someone when they needed a live subject. That's how he met Jean O'Neill (Andrew O'Neill's daughter). She was an attractive young woman acting as a receptionist. He would ask her to be a test subject and sit in front of the camera all the time. She would put up with this. He thought that anyone who would put up with being a test subject would put up with a lot of other things and be a good wife!" Romely and Jean married shortly thereafter.

In 1934, movie star Mary Pickford, then appearing on Broadway, visited East Mermaid Lane to view the new phenomenon. Pickford motored to Chestnut Hill one Sunday in a chauffeured limousine, graciously shaking hands with the neighborhood children gathered outside the garage. She viewed a televised airing of her 1929 talkie, The Taming of the Shrew. According to Pem Farnsworth, "[Pickford] accepted the offer to be 'televised,' but after a few minutes under the klieg lights, she exclaimed, 'Whew! This is hotter than color!'"

By this time, Farnsworth's work had attracted national attention. In August 1934, the Franklin Institute arranged an experimental demonstration of his system at its new building on the Benjamin Franklin Parkway. Scheduled for ten days, the demonstration lasted three weeks.

Philadelphians flocked to the Institute to watch politicians, athletes, chorus girls, the statue of William Penn atop City Hall, and the rising moon, all televised live from the Institute roof and transmitted to a 10" x 12" screen in the main auditorium.

The Franklin Institute demonstration marked a turning point in Farnsworth's fortunes. In 1935, the U.S. Patent Office awarded "priority of invention" of electronic television to him over Zworykin.

Shortly after, Farnsworth signed contracts to provide systems to Baird Television in England and Fernseh in Germany (Farnsworth cameras were used to broadcast the 1936 Olympic Games in Berlin). Freed of legal entanglements and with new financial backers, Farnsworth embarked on his most ambitious project to date: the construction of his own television studio. (To be concluded next month)
D-Day Invasion Weather Forecast!
Dr. Francis Davis was part of it!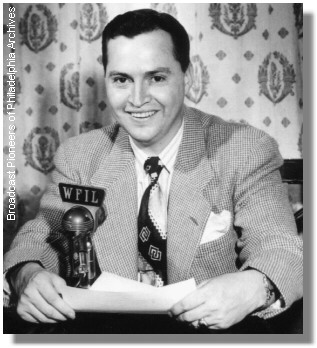 Francis Davis
1948
Taken in the display set up in the headquarters' window of Cities Service Oil Company in Center City Philadelphia.
They were the first sponsors of Davis' weather forecast which started on WFIL Radio and later went on WFIL-TV
Broadcast Pioneers member, Dr. Francis K. Davis, Jr. was a man of weather. His career in Meteorology started in the United States Army Air Corps as part of a research assignment. General Dwight Eisenhower asked Francis Davis and another army officer to compile data for the last 50 years of weather for Normandy, France. Called Operation Neptune, this was the landing for the allied invasion (D-Day) on mainland Europe, almost totally controlled by Nazi Germany.
Using that data, the allied meteorology team (including Dr. Davis) predicted the weather for the landing beaches. Coming ashore during bad weather could have meant the difference for the allies between success and failure. While the weather was far from perfect, the meteorologists came Eisenhower the green light. It was possibly one of the most important weather forecasts in modern history.
Secretly married in September of 1941, the Davis family had their first child, Richard, in December of 1945. Mrs. Davis once said, "never call him Dick!" Francis, often called Frank, was discharged from the Army in April of 1946.
A 1935 graduate of Chester High School, Francis Davis received his Bachelor of Science Degree in Physics and Math from West Chester State Teachers College (now West Chester State University). For a half year, he was a student at the Crozer Seminary in Upland, Pennsylvania. Then he transferred to Temple University and studied Chemistry for two years. At the same time, Davis was working for the Sun Oil Company as a research chemist. While in the service, he was sent to the Massachusetts Institute of Technology for three-quarters of a year. In 1943, the Army sent him back to M.I.T. to study weather. While there, he completed his requirements for his Master's Degree.
In September of 1945, it was Francis Davis who did the weather forecasting for the record breaking air voyage made by three B-29 airplanes. It was a military flight and the first non-stop voyage from Japan to the United States (almost 5,900 miles). While this flight has been written about for decades, almost everyone seems to have forgotten who did the weather forecasting for the historic flight. It was Dr. Francis Davis who received a special United States government commendation for his efforts. His research work was published by the United States Army and the American Meteorological Society.
Following the service, Davis taught Physics at what was then the Drexel Institute (now Drexel University). Roger Clipp at the WFIL stations hired him to be part of the news staff for WFIL Radio. That was in September of 1947. In that same month, WFIL-TV came on the air and two months later, in November 1947, Davis started doing weather on Channel 6. He was recommended for the position by the American Meteorological Society.
In the spring of 1949, Dr. Davis said: "Straight weather information usually is dry, even when the weather is wet." He had his own weather station at WFIL and his home, 18 miles away.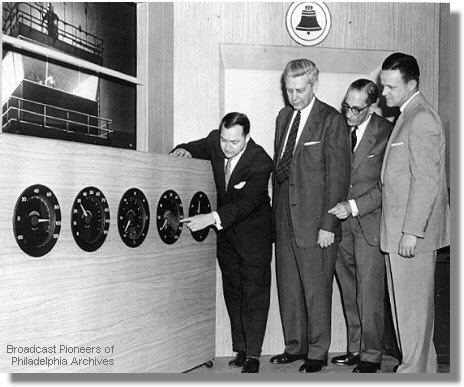 For years, his early radio broadcasts were sponsored by Cities Services (now CITGO). His TV weathercasts are well remembered as being sponsored by the Bell Telephone Company of Pennsylvania. During the early years, Francis ended each weathercast with "No matter what the weather, here's a good day to you."
In the late forties, he was doing a ten-minute weathercast on 560, WFIL. It was at that time, one of the longest, regularly scheduled weathercasts in the world. Early in 1949 he said, "I got into this field primarily by accident. I enlisted as a cadet in the Air Force during July of 1942. Very soon I fell into meteorological work and started doing weather as well as flying."
After the service, Francis went into the National Guard. In the late forties, he was the commander of the 117th Weather Squadron of the 111th bomber group. Even though his days started at four or five in the morning and didn't end until midnight (he took naps), he devoted one evening a week to the Guard. Later, Davis in the Air Force reserve held the rank of Captain. His Ph.D. studies were underwritten by the armed forces.
While teaching, serving as a Meteorologist and carrying funded research, he found time to earn his Ph.D. in 1957 from New York University with some courses taken at the University of Pennsylvania.
During the summer of 1958, Francis Davis was in Iran testing for radioactive particles on a proposed site for a nuclear research reactor. Previously, he had performed similar tests for Rome and Tel Aviv reactors but the Iranian visit was the only one done on location. It was in cooperation with the Atoms for Peace Program. On his return from Teheran, he stopped in Italy and Israel to see first hand the results of his earlier efforts.
On Thursday, January 29, 1959, Dr. Davis became the first weatherman on television in the entire nation to be permitted to display the newly created "Seal of Approval" of the American Meteorologist Society. At this same time, WFIL-TV said that he was Philadelphia's "highest-rated, primetime weathercaster" with a 16.6% share. Channel 6 said that 800,000 were watching his weather program.
He was the city's first on-air Meteorologist and for the next 25 years, he did the weather at the WFIL stations. During that time, Channel 6 became the first station to use radar pictures in the weather reports and later the first to use live satellite images on television.
In 1967, WFIL-TV bragged in 1967 that "he's the only area weathercaster who dares (to) maintain a daily accuracy chart, now at approximately 92%." That was an increase because in 1950, he was 86% correct. Broadcast Pioneers member Larry Kane is always quick to point out that when Action News became number one with Larry anchoring and Bill White doing sports, Davis was the weathercaster.
Francis Davis continued to serve at Drexel all during his WFIL days as Instructor, then Assistant Professor, then Associate Professor and finally as a full Professor of Physics. From 1963 to 1970, he served as Head of the Department of Physics taking on the additional responsibility of being the first Director of what is now the Institute of Environmental Engineering and Science. In 1970, he was named Dean of the College of Science. On November 16, 2000, the Broadcast Pioneers of Philadelphia inducted Francis Davis into our Hall of Fame.
A LITTLE BIT OF BROADCAST HISTORY!

(left to right) Member Sally Starr and Bonnie Vassall (wife of General Sales Manager, Gene Vassall)
WFIL-TV
circa 1965
OUR HATS OFF TO YOU FOR GIVING:
We are a federally recognized, state chartered charity with a 501(c)(3) status. Contact us at (856) 365-5600 or e-mail pioneers@broadcastpioneers.com for more details. Your gift to Broadcast Pioneers will help us and may lower your federal income tax. That's win-win, isn't it?
Special Thanks for the gift of Appreciated Stock: (a federal tax advantage for the giver)
Member Dan Lerner - used for the scholarships listed below
Member Sylvia Kauders - used for the scholarships listed below
Member Marc Howard - added into our general fund to be used where needed
Special Thanks for contribution of $1,000 or more to our DAP, Digital Archival Project:
Member Johnny B. Hall and wife Ginny - $3,000
Member Marlin Taylor - $1,000
Member Harry Hurley's Golf Tournament - $1,000
Member Glenn "Hurricane" Schwartz - $1,000
Member Elliot Abrams - $1,000
Member Jerry Del Colliano - $1,000
Special Thanks for April 2016 Scholarships:
Member Johnny B. Hall and his wife, Ginny - 7 scholarships
Member Kal Rudman - 5 scholarships (for Temple University students)
Member Dan Lerner - 5 scholarships
Member Sylvia Kauders - 1 scholarship (from a grant for 5 yearly scholarships running until 2019)
Member Harry Hurley's Golf Tournament - 1 scholarship (for a South Jersey resident or student)
Members Robin and Ira Adelman and Robin's Dad, Leon Love - 1 scholarship
Special Thanks for a contribution of $500 or more to our DAP, Digital Archival Project:
Member Esther Kurtz - $500
Member Art Moore - $500
Member Rod "Storm" Phillips - $500
Member Marian Lockett-Egan - $500
Underwrite a complete scholarship and we'll give you credit in the electronic newsletter until the scholarship is awarded in April of 2016 or 2017. Give us a donation of appreciated stock of $2,000 or more) and we'll list you in our "Thank You" column for two years. Give us a donation of $1,000 or more and we'll list you in our "Thank You" column for a year. Give us a donation of $500 or more and we'll list you in our "Thank You" column for six months. You can select how we use the money: for our archival project, for scholarships or for our general fund to be used as needed.
More Thanks:
We would love to give kudos to those of you who gave an extra contribution to Broadcast Pioneers when you paid for your January luncheon: Eric Address, Rick Barringer, Diego Castellanos.Pat Delsi, Harry Hurley, Tom Lamaine, Dorie Lenz, Michael Nozilo, Michael Tearson, Gerry Wilkinson and Tom Leonard.
A growing portion of the revenues that fund the different activities of the Broadcast Pioneers comes from donations. This includes our archival project and our scholarship program. Now, we are making it even more beneficial for our donors. Broadcast Pioneers is now able to accept gifts of appreciated stock, which provides a significant tax benefit to you. By giving appreciated stock (stock which is worth more now than what it cost when it was purchased), you can get a charitable contribution tax deduction based on the current market value of your stock. At the same time, you avoid the capital gains
tax that would arise if you simply sell the stock. So if you'd like to support our educational mission or our archival project and save money on taxes too, please consider making a gift of appreciated stock. We are a federally recognized, state chartered charity with a 501(c)(3) status. Contact us at (856) 365-5600 or e-mail pioneers@broadcastpioneers.com for more details.
Don't be left out. You too can make a pledge. It's never too late. You can earmark it for scholarships, our Digital Archival Project or our general fund. Thanks so much for your support. If you forgot to make an extra contribution (cash or memorabilia) and would like to do so now, you can do so. We would be thrilled to hear from you at: PO Box 2886, Bala Cynwyd, PA 19004, call us at (856) 365-5600 or e-mail us at: pioneers@broadcastpioneers.com.

A FINAL THOUGHT....
Louis Palens was a time salesman for WDAS. Louie also was a member of Broadcast Pioneers and attended our luncheons in the seventies with WDAS owner Max M. Leon. As we know, a non-directional signal on AM radio is usually better than a directional one. A non-directional station used one tower (like WHAT Radio). Directional stations (like WDAS AM) used multiple towers. During the day, WDAS used towers 3, 5 and 6. At night, it used towers 1, 2, 3 and 4. They had a total of 6 towers. Louie liked to call them, "poles." You can't just add a tower when you wish with government authorization. It would illegally change your signal. Well, Palens once told us this story. He said:
"I went in to an advertiser. They were buying commercial time on WHAT Radio. I said, 'why would you want to purchase spots with them?' Drive out to their station. You can see they only have one pole. Then come to us. You'll see we have six poles and when business gets a little better, we're going to buy another one."
Louis Palens
WDAS Time Salesman
sometime in the 1970s

Please contact us by e-mail at newsletter@broadcastpioneers.com or by mail to: Broadcast Pioneers of Philadelphia, PO Box 2886, Bala Cynwyd, PA 19004. Your stories are important, to you, to us, and your colleagues. Contact us today and we'll include your story in the next newsletter!

© 2016, Broadcast Pioneers of Philadelphia
All Rights Reserved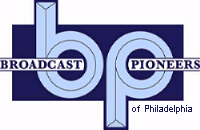 The e-mail address of the Broadcast Pioneers of Philadelphia is pioneers@broadcastpioneers.com
For luncheon reservations call (856) 365-5600 or e-mail us at: rsvp@broadcastpioneers.com