| | |
| --- | --- |
| | Broadcast Pioneers of Philadelphia is a federally recognized, state chartered 501(c)(3) non-profit organization serving the Philadelphia Broadcast Community since January of 1962. |
January Luncheon
The Bala Golf Club, Philadelphia
Wednesday, February 15, 2017

Meet and Greet at 12 noon!
Lunch served at 12:30 pm!
Ratecard: $28 per person

Please reserve now!
CALL (856) 365-5600!
rsvp@broadcastpioneers.com
Another Third Wednesday Luncheon!
Wednesday, February 15th, 2017!
BRING A FRIEND OR TWO!


IT'S ALL THINGS SPORTS
Philadelphia Style (PART 2)

We kicked off the New Year with our Sports Spectacular. So much was left undiscussed that we decided to continue the sports talk in February. This is sure to be another blockbuster event. Make plans to be with us.
Don't miss this one! Everyone who's anyone is going to be there! It all happens at the beautiful Bala Golf Club, 2200 Belmont Avenue in Philadelphia! Just minutes away from Channels 6, 10 and 17, plus the radio stations in Bala Cynwyd.
Meet and greet (networking) starts at noon and lunch will be served at 12:30 pm. Be sure you have your place by making your reservation(s) NOW. Call (856) 365-5600. Our MC for the afternoon will again be Joe Pellegrino, former sports anchor for WPVI and WCAU-TV!!
Our panel (subject to change) will include (in alphabetical order):
Dan Baker, public address announcer for the Philadelphia Phillies & sportscaster
Skip Clayton, sports book author, sports broadcaster and station programmer
Tom Lamaine, former WIP DJ/sportscaster & former KYW-TV meteorologist
Vince Papale, sports broadcaster and former Philadelphia Eagles football player
Pete Thompson, 97.3 ESPN Sports Host, former Sports Director, WMGM-TV
Lou Tilley, former KYW-TV Sports Director, now broadcasting football in China
Plus, we will have a little fun time before the panel discussion starts. We'll show you 8 photos of well known broadcasters during their childhood. You get a chance to guess who you think it is. There's no prize other than having a good time. Save the date and make plans to be there. It's Wednesday, February 15th.
Also, we are asking our panelists and moderator to come prepared with several humorous stories. So even if you're not a big sports fan, you'll still find this luncheon interesting and fun.
It all takes place at the beautiful and historic Bala Golf Club, 2200 Belmont Avenue (across the street from the state police) in the Wynnefield section of Philadelphia. Only minutes away from Channels 6, 10 and 17 and the radio stations in Bala Cynwyd. Call now for reservations. (856) 365-5600! E-mail: rsvp@broadcastpioneers.com. Don't miss this one! THIS EVENT IS OPEN TO THE PUBLIC!
Plenty of FREE parking. Our luncheons are open to all our members, their guests and any person in the industry or associated fields, whether active or retired. You do NOT have to be a member to attend. There is no reserved seating at our luncheons. Feel free to sit anywhere. Well, okay--the three people on the camera crew sit near the cameras, but that's in the back of the room.
The cost is only a donation of $28 (or more) per person! PLEASE NOTE: This is the same price since September of 2012.
In order to speed up check-in at the luncheon, it would help if you had exact change or your check written in advance. Checks should be made payable to the Broadcast Pioneers of Philadelphia.
If you would like to add a few dollars extra, we would appreciate it. It would help us with all the important work we are doing. Thanks!
WE'LL BE PROUD TO
SEE YOU IN THE CROWD!

Visit Our Website Often - http://www.broadcastpioneers.com
You should check the front page of our website often (link above) for important information!
Tune in to our YouTube Channel - http://www.broadcastpioneers.com/youtube
Our YouTube Channel has all our luncheons, exclusive interviews and archival material!
Check out our Facebook Page - http://www.broadcastpioneers.com/facebook
There are things on our Facebook Page that are NOT on our website (like our vintage photo of the week)
Go to our Twitter Account - http://www.broadcastpioneers.com/twitter
The Broadcast Pioneers Twitter Account has info and stuff not available elsewhere!
Go to our Instragram Section - http://www.broadcastpioneers.com/instagram
Here's another one of our social media sections. Visit it as often as you wish!

A LITTLE BIT OF BROADCAST HISTORY!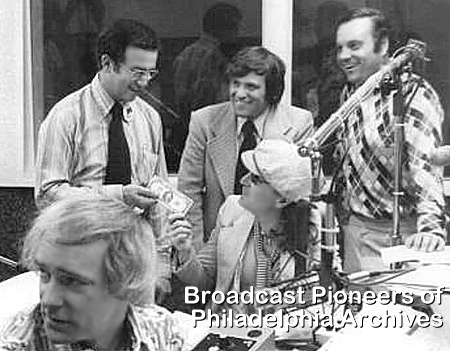 (Left to right - standing) Jim Decaro, Jay Cook & Gene Vassall
(seated lower left) Dan Donovan who was on air at the time
(seated center of photo) John Lennon
WFIL Radio, Philadelphia
Helping Hand Marathon
Friday, May 16, 1975
(Picture donated by Gene Vassall)
NEW MEMBERS TO BROADCAST PIONEERS:
FULL MEMBERS
Lou Tilley has been in our business since 1980. He started at WPCQ-Tv in Charlotte, North Carolina and then onto WBZ Radio and Television. He came to Philly in 1986 and KYW-TV. In 1999, he went to the Comcast Network and then on to SNY in the Big Apple. He now runs Lou Tilley radio and broadcasts live football in, of all places, China. He's there for about a quarter of each year.
Dr. Philip Thompsen started in our field during 1976 when he was an announcer in Arizona. He is now a professor at West Chester University in the Department of Communications Studies. He has been there since 1997. Before that, he taught at several educational institutions. However, he's not just an educator but a broadcaster with a full background in both television and in radio.
Debbi Calton worked in the business for over 40 years, twenty-two of them with WMGK Radio. Before that, she was with WYSP (now WIP-FM) for a decade. She came here from Chicago and WMET. Before that, she worked in Denver, Orlando, Tampa and Charlotte. She also was awarded a few years ago, a Grammy for her work with an anti-bullying "Best Children's CD" (which has 37 tracks on it).
We are thrilled to have over 500 Members. More than ever. We hope to see as many of our members as possible at our February 15th luncheon. Make your reservations now!
DIGITAL ARCHIVAL PROJECT NEWS:
VIDEO: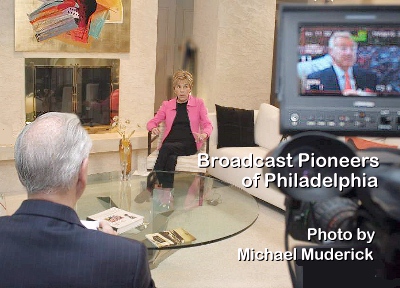 (Left to right) Members Bill Baldini and Jane "Pixanne" Norman
at the home of Jane Norman
Monday morning, January 2, 2017
Watch our latest "Pioneers of Philadelphia Broadcasting" episode shot at the studios of More FM in Bala Cynwyd, Pennsylvania. While you may know her as "Pixanne," she is, in reality, Broadcast Pioneers member Jane Norman. She is interviewed by member Bill Baldini.
Watch the interview on our YouTube Channel
(video courtesy of Broadcast Pioneers VP Brad Seecof and Metramedia Broadcasting & Studios)
AUDIO:
Our first audio clip is from Saturday, January 5, 1952. It is the closing of a weekly program called, "The Songs of the Southland" performed by the Norfolk Four. It was described by the announcer as "plantation favorites never to be forgotten."
Programs similar to this were a part of radio broadcasting from its beginning in 1920. They continued in one form or another until the beginning of the Civil Rights Movement later that decade when they were pretty much faded out. The singing artists, the Norfolk Four, changed into a gospel group and continued to perform throughout our area including a weekly religious broadcast on WDAS Radio.
Note that the station identification on this clip is for both KYW and KYW-FM. A little later, Westinghouse Broadcasting decided to turn in the FM license to the FCC (believing that they just couldn't make a profit running an FM radio station. The frequency, by the way, was 92.5.
Today, CBS, the successor to Westinghouse Broadcasting now owns the station. The ID also said that it originated from the Westinghouse-Philco radio and television center. By this time, Philco's TV station, WPTZ, had moved into vacant space in the Westinghouse building. A little later on, Westinghouse purchased WPTZ.
Listen in Real Audio
Listen in Windows Media Format
Our next excerpt is from the same station, KYW, now Newsradio. It's twenty years later. Richard Nixon is president and was going to China (then called Red China). We have a clip from KYW Newsradio from February 20, 1972. While we have run other clips from this day (and days after), this is the first time we have used this particular cut.
We asked several KYW Newsradio alumni for their opinion on the identity of the anchor. Jim Gordon seemed to be the answer, but no one seemed to be 100% positive. We are often asked, "Why didn't you run more? In this case, the answer is very simple. That's all we have.
Listen in Real Audio
Listen in Windows Media Format
Today's News Becomes Tomorrow's History!
(This is what our Digital Archival Project, DAP, is all about!)
A LITTLE BIT OF BROADCAST HISTORY!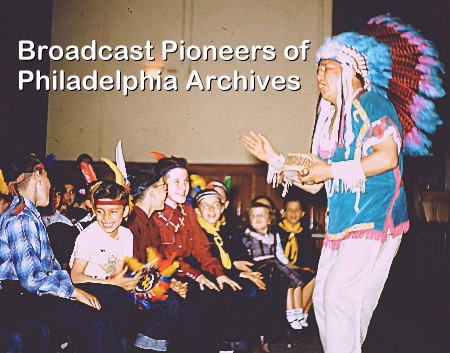 Chief Halftown with some West Philadelphia children
St. Callistus Church Auditorium, Philadelphia
May 1955
This is from an old 35 mm color slide sent to us in 2010 by Joseph Benedetto of Maine. The Chief was at the church during a pack meeting of the local Cub Scouts, Pack 329. Joseph's parents were the scout leaders for that group.
IN TOUCH WITH OUR MEMBERS:
Broadcast Pioneers member Peggy King will be performing at a very special show on Sunday, February 19th at The Rrazz Room within the Prince Theater, Broad and Chestnut Street in Center City Philadelphia. This will be a celebration of Peggy King's 87th birthday. Accompanying Peggy, as they have for three-plus years, will be the swinging All-Star Jazz Trio: Andy Kahn, Music Director and special guest, a legend in his own right, jazz saxophone giant Larry McKenna.
Broadcast Pioneers member Lew Klein was our Person of the Year in 1982. He was inducted into our Hall of Fame in 1993. Lew had served on our board of directors for decades. He was this organization's president during 1975 and 1976. The following year, Klein was our Chairman of the Board. Lew Klein is now having a school of communications named after him. Klein, who was an adjunct professor at Temple University for more than six decades, will see the university rename the school, "The Lew Klein College of Media and Communications". The dedication will come this spring during the school's 50th anniversary.
We heard from member Phyllis Ariano-McGinnis. She said:
I was working at WPEN for a couple years in the fifties. Apropos of the Frank Ford (Eddie Felbin) show on WPEN (mentioned in the last newsletter) and the audience in the Wm Penn room at 2212; it was SUPPOSED to look like a Sun Ray Drug store food counter.

You may know the station was owned by Harry and Bill Sylk who owned Sun Ray Drugs at that time and they loved to advertise their stores.They were a very interesting family, most enterprising. And Frank was a super guy, most talented! At that time, Murray Arnold was program director and he brought many of the great hosts and announcers there from WIP and even other stations.

Bill Caskey was Vice-President and General Manager. Guess that was same time Joe Grady and Ed Hurst were on top. Good years for the station.
We heard from Henry Shaffner. He and his wife, Bobbie, both members of Broadcast Pioneers, have been campaigning to get the image of Movie Actor Van Johnson on a US postage stamp. Regulations say that no living person can appear on stamps and they must have passed away at least 5 years ago. Johnson was known for wearing red socks and you often see Henry at our luncheons sporting such colored socks. They were mentioned recently in a publication as heading this effort and that work seems to be gathering steam.
Today's News Becomes Tomorrow's History!
(This is what our Digital Archival Project, DAP, is all about!)
A LITTLE BIT OF BROADCAST HISTORY!
Traffic Reporter Deborah Byrne
WCAU Radio, Philadelphia
1983
Traffic reporter guru Walt Macdonald, a member of Broadcast Pioneers sent us the above photo. This goes back to the day when WCAU Radio (now WPHT) had two helicopters doing traffic reports. Deborah was in chopper #1 and Walt in chopper #2. At the time, WCAU referred to itself as "The Traffic Watch Station."
Did you know...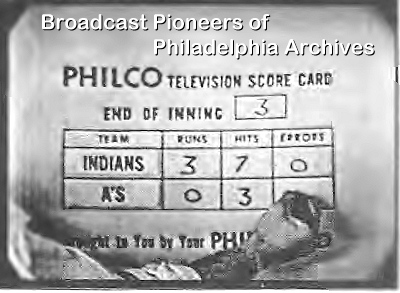 Philco Score Card
WPTZ, Channel 3
1947
This is part two (of three) about televising baseball here in Philadelphia in 1947. Part one ran in our newsletter last month. Part three can be read in our March issue. As you may recall, last month we ended with discussion of the best place to locate TV cameras.
Positioning cameras on the baselines would mean that some of the batters would have their backs to the camera. When using the home plate placement, you could have seen more action. You saw the batter, pitcher, catcher, umpire and sometimes even the second baseman on that standard shot. With this, the director would sit with the shot more than 50% of the time because it saw all the action.
WPTZ used two cameras and both were located behind home plate. However, camera one was located under the upper tier of Shibe Park, about 20 feet off the ground. It was used for their standard shot. Camera two was in the press box at the top of the stands.
That means it was about 60 feet high and positioned almost precisely over camera one which is 40 feet lower. This placed camera two further away from home plate and thus showed a wider view of all the action.
Four lenses were mounted on each camera turret. Let's talk about Camera One first. It had a 90 mm (3") lens, with a 19 degree angle. This was mainly in use for picking up the pitcher and a large part of the infield. This lens was especially popular when runners were on base.
There was also a 330 (13") mm lens, with a narrow five degree angle. This was mainly used by WPTZ for picking up some nice shots of the crowd at the stadium. It also was used for a CU (Close-up) of the batter, catcher and ump.
There was also a 50 mm (2") lens (with a 34 degree angle), used substantially for wide shots and game opening (showing the whole field). Finally, there was a 135 (5") mm lens, with a 13 degree angle, used for pitchers in the bullpen warming up and for a large angle shot.
This lens was 60 to 65 feet away from the action. It was 45 feet away from the plate and 20 feet in the air and gave the viewer 15 feet of playing area.
On Camera two, there was a 430 mm (17") lens, with a tight four degree angle, used for picking up action in the outfield, crowd shots and a tight shot of the right field scoreboard after each inning of play. It also was used to show a tight shot of the batter, especially on a 3-2 count.
Camera two also had a 220 mm (9') lens, with only an eight degree angle. This was used for plays on the corners (1st and 3rd base) and any dugout action.
This camera also a 50mm (2") lens (34 degree angle) for the same purpose as Camera One. It was used often. Camera two also had (as camera one did) a 90 mm (3") lens, with a 19 degree angle, that was used for commercials and other purposes.
Camera one was used to follow the ball or to stay with the play. Camera two followed the batter and got any action in the infield. When the pitch got to a full count of 3-2, one camera got a tight view of the batter with the other camera getting a "protective shot" of the field, in case it was needed.
It was pretty much done by the numbers. Since Channel 3 carried the home games of both local teams, WPTZ was carrying about six games a week. Since the A's and the Phils used the same baseball park, one team was on the road while the other had a home stretch.
The station used a crew of eight people for each broadcast. All the switching was done at the stadium, so the microwave signal was sent directly from 21st and Lehigh (the location of Shibe Park) to the WPTZ transmitter in Wyndmoor. It totally bypassed master control (located in Center City).
Next month we will conclude this three part series about televising baseball games in the Philadelphia market.
This regular monthly column is written and researched by Gerry Wilkinson
Our special thanks go to TUTV - Temple University Television and The Kal & Lucille Rudman Media Production Center.

They have underwritten a grant to be used to fund an entire year of all our newsletters for calendar year 2017. We thank them so much for their support!

You Can Help Us!



When you log into Amazon via http://smile.amazon.com, all eligible purchases earn Broadcast Pioneers a donation of 0.5% from Amazon. However, you must log in to Amazon through http://smile.amazon.com. We have made it simple. You can also log into them using http://www.broadcastpioneers.com/amazon. It's easy to remember and takes you to the same place.
AmazonSmile is the same Amazon you know. Same products, same prices and the same service. The only difference is that they donate 0.5% of your eligible purchases to Broadcast Pioneers. IT DOESN'T COST YOU ANY MORE TO DO THIS! Same price to you and we get a donation to help us continue with all our great educational projects! IT'S WIN - WIN!
MORE DIGITAL ARCHIVAL PROJECT NEWS:
VIDEO: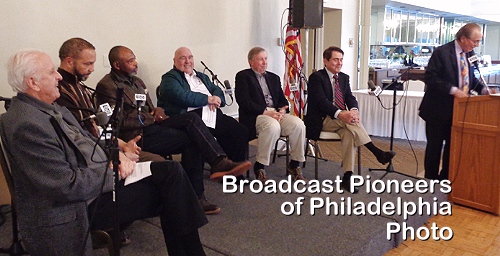 (Left to right) Members Bill Werndl, Bill Vargus, Beasley Reece, Jimmy Murray
Ray Didinger, Merrill Reese and Joe Pellegrino
at the Bala Golf Club, Philadelphia
Wednesday, January 18, 2017
We kicked off the New Year with our JANUARY SPORTS SPECTACULAR. The topic was ALL THINGS SPORTS, PART ONE! It was a blockbuster event. So much so that we decided two do another one this month. This time, we'll cover all the stuff we didn't in January.
Our panel included (in alphabetical order): Ray Didinger, broadcast sports guy for Comcast SportsNet & WIP; Jimmy Murray, former General Manager for the Philadelphia Eagles; Beasley Reece, the former Sports Director for CBS 3, KYW-TV; Merrill Reese, the Broadcast Voice of Philadelphia Eagles Football; Bill Vargus, the former Sports Director for Fox 29, WTXF-TV and Bill Werndl, well-known sports broadcaster and sports author
Video from our YouTube channel!
(video courtesy of Broadcast Pioneers VP Brad Seecof and Metramedia Broadcasting & Studios)

AUDIO: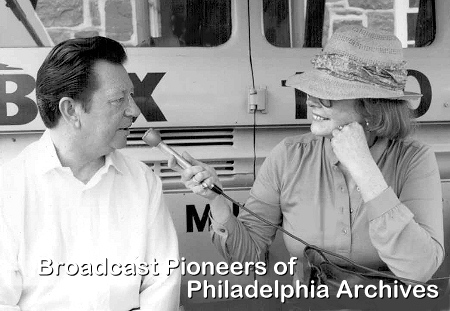 (Left to right) Actor Donald O'Connor and member Joan Stack
WBUX Radio
All of Joan Stack 's broadcasting work was on WBUX-AM in Doylestown. During 1974 and 1975, she hosted a cooking show and then it was turned into a highly popular daily talk program. The reason was that she was able to convince the people at the Mike Douglas TV Show to send her many of the stars who appeared on the television broadcast. She became famous herself for her bubbly style and informative plus entertaining guests.
She was the president and chairman of the local Planned Parenthood Organization. Stack also served as the president of the American Woman in Radio and Television. She was the founding president of Art Matters.
Our next audio is from Friday, August 14, 1987, it's the Joan Stack Show aired over WBUX Radio. Joan's guest that day was Abbie Hoffman. At the time, he was living in Bucks County and was involved in protesting the approval of a pumping station in the Delaware River that would withdraw almost 100 million gallons of water a day from the river. The building of the pumping station was delayed for two decades but finally built.
More than 50 of Stack's broadcasts reside in the audio section of our archival project. We have the entire broadcast from that day.
Listen in Real Audio!
Listen in Windows Media Format!
Finally, we have an hour radio broadcast from WSNJ. It's the Jonathan P. Casey program. His guests that day were Frank X. Feller (on the phone) and live in the studio, Tom Moran. All were members of the Broadcast Pioneers. Moran and Feller spent a good part of the show talking about trains. The date was Tuesday, April 25, 2006.
Listen in Real Audio!
Listen in Windows Media Format!
Remember, History is ONLY What Gets Saved!
(If there were no portraits of George Washington, how would we know what he looked like?)
IN TOUCH WITH THE INDUSTRY:
CBS RADIO Philadelphia debuted WZMP-FM as "Today's 96.5," in January of 2017. The adult contemporary station promises "Better Variety, Fewer Commercials" featuring an adult-contemporary format serving fans in the Delaware Valley with today's most popular hits from both new and established artists. Today's 96.5 will also feature limited commercial interruptions. Bobby Smith will continue to serve as the station's program director overseeing the music line-up, events and partnerships and community engagements. This was one of two radio stations that CBS Radio picked up from Beasley in a 2014 trade. Until recently, they had been CHR. Now, they plan to battle Jerry Lee's More FM, headed by Jim Loftus, a former CBS manager himself. Both Lee and Loftus are members of this organization.
Broadcast Pioneers member David Yadgaroff, Senior Vice President and Market Manager of CBS Radio Philadelphia said: "We are excited to debut Today's 96.5 with a mix of music that will engage our audience on air, on-line and onsite at concerts and local events. Today's 96.5 will bring fun and upbeat programming to Philadelphia radio. We will also offer the local and national advertising market unique sponsorship opportunities across all of our platforms."
Steve Butler, VP of News Programming at KYW Newsradio has signed on for some more time with the station. Steve started with the station while in high school and was a desk assistant while an undergrad student at Temple University. He joined the station full-time in 1979.
It's the Internet's fault. Maybe, it's cell phones or robo calls, but KYW Newsradio is no longer broadcasting school closing numbers over the air. They have been doing so for 5 decades. The City's emergency department used to do it and then KYW took it over in the late eighties and became the source for school closings. The station will still give you this info on a special website: KYWSchools.com. The station was taking up to 25% of their air time with school closings on snowy days.
Beginning tomorrow, SportsRadio 94WIP will air a new program called, "The Hot Stove" every Wednesday. It will be hosted by Philadelphia Phillies announcers Scott Franzke and Larry Andersen. Air time is from 6 to 7 pm on Wednesdays all through the month of February.
Marilyn Russell has joined the 98.1 WOGL Breakfast Club, weekdays from 5:30 am to 9 am. She joins co-hosts Frank Lewis and Bill Zimpfer. Russell, a Philadelphia native, started in radio in 1993 at Philly's modern rock station, 103.9 WDRE. Alternative music was just beginning to take hold and Russell hosted the new music show and local music show. She was also the station's music director. In 1998 she hosted mornings with co- hosts Preston Elliot and Steve Morrison at Y100. Russell then joined Greater Media in 2003 where she worked at both WMGK and the Ben FM morning show.
WMMR-FM, 93.3, has a new overnight disc jockey. It the station's first full-time hire in almost a decade. The new host is Brent Porche who has been with the station for over a decade on a part-time basis. His shift is 12 midnight to 5:30 am. He takes the place of Jacky Bam Bam who was doing overnights and is now in the 7 pm to 12 midnight slot.
A LITTLE BIT OF BROADCAST HISTORY!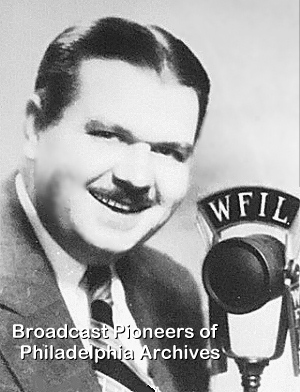 The Jolly Man, Wayne Cody
WFIL Radio, Philadelphia
circa 1935
In 2015, we talked about "The Jolly Man" in this newsletter and how we believed that it was Wayne Cody who portrayed the character on WFIL Radio. This photo proves it. It's Wayne Cody and it is signed on the back, "The Jolly Man." Shortly after this photo was taken, Wayne moved over to WIP Radio to replace the current Uncle WIP. He stayed there for decades.
In the early 40s, Wayne also portrayed "Jolly Jack," another children's host. That program was also carried on WIP. No one seemed to notice that Jolly Jack and Uncle WIP sounded the same.
We are now even more convinced that it was Wayne Cody who played "Captain Jolly" on WCAU Radio in the late twenties and early thirties. This photo was sent to use by Betty Story, Betty Wilson's daughter. Wilson was a performer on the Horn and Hardart's Children's Hour in the mid-thirties.
WE REMEMBER:
Broadcast Pioneers member Doug Henson passed away last month. You could often find him at one of our Broadcast Pioneers luncheons. A native of the Delaware Valley, Doug Henson was news anchor for WTAF (now WTXF-TV), Channel 29. He was also an announcer for WIBF Radio in Jenkintown. After retiring, he was a volunteer at Doylestown Hospital. He served as a Sergeant during the Second World War with tours of duty in England, France and Germany. Henson was 92.
Bill Elias, former weather guy for Channels 29 and 17, here in Philadelphia, passed away in January of 2017 at his home. He had worked as a meteorologist in Florida, at the Weather Channel and in Corpus Christi, Texas. He won two regional Emmys. Later in his life, he worked as a personal trainer in Miami and was involved in politics in that state. His father, while named Ed Elias, was not the Ed Elias who worked for many years at WFIL-TV and WPVI. Bill was not related to Ed Elias of Channel 6 fame.
BULLETIN: We added this after the newsletter came out. However, some of you will still see it. We'll also report it in the March newsletter for those who already read this issue. Charlie Bradley, former Channel 6 Program Director passed away yesterday. Member Dave Roberts says that he heard from Charlie's son, Bob. Charlie had been struggling with Alzheimers for several years.

THIS AND THAT! Little Bits of Information....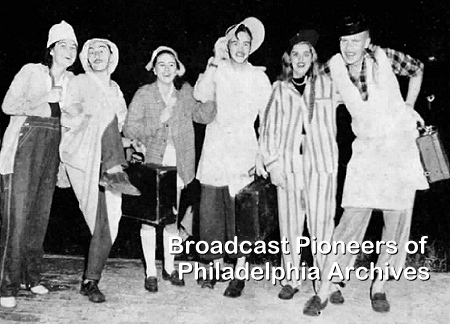 (Left to right) Walleta Lamb, Samuel Stewart, Maria Dolaska
Craig Smith, Patricia Kraushop and Harold Pannepacker
WPTZ Station Corn Roast and Frolic
(all in picture are members of the station's program department)
1946
In 1970, WIP Radio became the first major Philadelphia radio station to "go combo" It was also the first station to broadcast the news directly from their newsroom instead of a broadcast news booth. And it was way back in 1938 when the station started broadcasting overnight with the beginning of "The Dawn Patrol."
In June of 1965, the government forced NBC and Westinghouse to reverse their trade of a decade before. KYW Radio while in Cleveland was a rock and roll station, similar to WIBG here in Philly. During the last week of Westinghouse Ohio ownership, this was KYW's Top Tunes. Note that there was no Beatles tunes in their top ten.
1. I Can't Help Myself - The 4 Tops
2. Mr. Tambourine Man - The Byrds
3. Help Me Rhonda - The Beach Boys
4. Crying in the Chapel - Elvis Presley
5. For Your Love - The Yardbirds
6. What the World Needs Now is Love - Jackie DeShannon
7. Wonderful World - Herman's Hermits
8. Baby, the Rain Must Fall - Glenn Yarborough
9. Back in My Arms Again - The Supremes
10. (I Can't Get No) Satisfaction - The Rolling Stones
During the summer of 1946, Broadcast Pioneers founding member Pat Stanton was General Manager of WDAS Radio. Well, looking out for the teen set, Stanton banned the ever popular song, "Doin' What Comes Naturally" from his airwaves. The tune was from the ever-popular broadway show, "Annie Get Your Gun" Pat said that he thought the melody was just too risque for his airwaves. Hard to believe that an Irving Berlin song could be considered off color.
On Friday, October 30, 1953, local advertisers could see a demonstration of their own products in color over WPTZ, Channel 3 (now KYW-TV). It is also reported to be the first time that a local program was televised in anything but monochrome. (In other words, in color). The telecast originated from the Philco plant at C and Tioga, some 4 miles away from their downtown studios. While video came from the plant, the audio narration by George Skinner originated from Channel 3's master control. There were 100 color sets worldwide and Philco had gotten their hands on three of them.
In September of 1956, just several months after NBC took over Channel 3 (renamed WRCV-TV), they boasted of 15 hours of local programming in "living NBC color." The station at that time had two color cameras and a brand new color film chain. They aired "Let's Scott Do It" from 9 to 10 am, "Pete Boyle's Fun House," aired from 6 pm to 6:25 pm with the 11 pm news also in color. Broadcast Pioneers founding member Taylor Grant did the news with Sports guy Herb Carneal and weather "girl" Judy Lee. There was also a 5 minute colorcast of news at 2:15 pm with Pat Landon.
Did you know that WDAS Radio was once located next to the Betsy Ross House? The move was described by the press of that era as moving to the "low-rent" district. Of course, when WPEN moved to its location on Walnut Street, they were said to have moved to West Philadelphia. At that same time, WCAU-TV and Radio was planning to re-locate to another "low-rent" district in the wilderness of Bala Cynwyd.
In the fall of 1957, WVUE-TV, licensed to Wilmington on Channel 12, was the sister station of super hit WIBG, the new rocker in town. The television outlet had an hour program called, "Petticoat Partyline," hosted by Bob Marshall. This live broadcast aired from 3 to 4 pm and featured 30 to 50 members of the audience participating in games and stunts. This program aired elsewhere in other Storer television markets.
WFIL-TV, Channel 6, now WPVI, broadcast its first television signal on Wednesday, August 6, 1947. They went on with regular programming five weeks later. The station was put on the air in a record 62 days. The test pattern was well received in suburban Philly, Center City and South Jersey.
During the summer of 1943, the Philadelphia Phillies was the first known major league ball club to purchase air time on a radio station. No, they didn't pay to put their ball games on the air. Atlantic did that (over WIBG). The Phils bought 10 minutes at 7 am daily and did so throughout the season. The program was part of the morning radio show of LeRoy Miller who runs KYW Radio's "Musical Clock." The reason for the time purchase was to help keep the fans whipped up so they would come to the ball park.
In 1980, Dr. Don Rose purchased a boat and decided he was going to sail all the way to Hawaii from the west coast of the United States. That's a 3 week trip. Months later Don and his crew of five sailed off into the sunset. Twenty days later, Don yelled out that there was land. They had made it. They jumped out of the boat, congratulated themselves and took a stroll along the beach. About a half-mile later, they came across a sign that said: STAY OFF ISLAND - NUCLEAR TESTING SITE. They ran like crazy to the boat and pushed it back into the ocean and jumped in. Only after they were in the craft did they notice the entire vessel was encircled by sharks. The next day, Don's daughter Kelly spotted land and a more friendly sign, "Port of Honolulu."
THANKS FOR THE MEMORIES:
Dennis Cunningham and John Zacherle!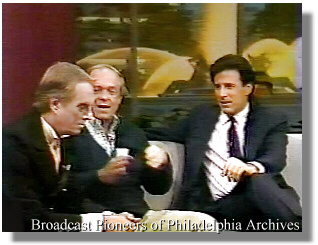 (Left to right) John Zacherle, Dennis Cunningham and Matt Lauer
WCAU-TV, Philadelphia
"Live on City Line" show
(hosted by WCAU's Matt Lauer and Sheila Allen-Stephens)
October 1987
Early in January, we received an e-mail from Dennis Cunningham. You remember him. In the seventies, he was a features reporter here in Philadelphia at WCAU-TV. He was also the station's film and theatre reviewer. Well, he moved to WCAU-TV's sister station (at that time) WCBS-TV in the Big Apple.
During the mid-eighties, he did a little work here again. Paul Gluck was the news director at the time. In that e-mail, Dennis told us about his experience with member John Zacherle who passed away recently. By the way, Cunningham now lives in Florida. Well, anyhow, Dennis said in his e-mail:
I don't intend to liken myself to John Zacherle. I just happened to see your on-line article on John's career and there was a surprising mention of John and me. It reminded me, in a flash from the past, of a decades old Halloween in Philadelphia in the mid-80's. John and I did a live shot from a very old and large cemetery above the East River Drive.

At any rate, John and I had ourselves a cold and windy night. We did not, however, have a script; not a shred, not a line. Well, I had never met John until that night on a steep cemetery hillside. I had been a fan, years back, but I didn't know him.

Funny, we both lived in New York but we never met until an unscripted Halloween in Philadelphia under the unguiding light of WCAU-TV. (Sidebar : I have immense gratitude to WCAU-TV and CBS. Somehow, CBS now owns KYW-TV.)

And now back to that woebegone Halloween situation. Fortunately, my new friend John Zacherle had the way out: laughter. He started to laugh which started me to laugh at our sorry situation and off we went.

We were talking creepily, emitting stray ghoulish moans, leaning over forward as if we were both suddenly and simultaneously hunchbacked.

Plus, best of all, we were surrounded by genuine tombstones with the original age-old inscriptions. Following John's lead, and not using the real names of the departed (how thoughtful of us), we used the "aura" of line after line of graves and their inscriptions as spooky inspiration to get us through this Halloween night.

I can't say we had a thoroughly triumphant night, but it was generally entertaining and that was achievement enough. More to the point, had it not been for the genial, imaginative and immensely friendly John Zacherle, it would have been a nerve-wracking disaster.
For those of you wondering why Matt Lauer (of NBC's Today Show fame) is in the above photo, that's because Matt used to work at WCAU-TV. He did a program entitled, "Live on City Line."
It was a local program which aired on WCAU-TV, Channel 10 for a short while during late 1987 and early 1988. The hosts of the show were Sheela Allen-Stephens and a guy who "recently" joined the Channel 10 staff, 29 year-old Matt Lauer.
Matt Lauer grew up in New York City and watched John Zacherle in "The Big Apple." It's obvious from watching clips of that Zacherle broadcast on "Live on City Line" that Lauer was a fan of Zacherley, his moniker in NYC. Yes, it's spelled correctly. Zacherle's last name has no Y but his air name did (at least in New York). Go figure.
Herb Clarke's Garden Reports!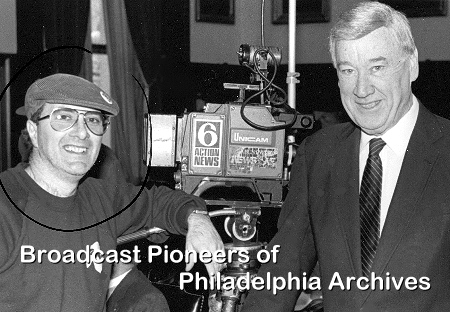 (Left to right) Members Bob Kravitz and Herb Clarke
Philadelphia Mayor's Reception Room, City Hall
circa mid-80s
We just can't forget our dear friend, Herb Clarke. It's been a little over 5 years now, but he's still in the hearts of everyone who knew him.
Herb served as President of this organization during 1988 and 1989. Then he became of Chairman of the Board. In 1991, Clarke was honored as our "Person of the Year." He's also an inductee into our Hall of Fame.
While he is best remembered for his TV work on WCAU-TV as their weatherman (for 40 years), he loved gardening. For more than 5 years, he did daily gardening reports for KYW Newsradio. We have all the scripts for those daily broadcasts in our archival project. We thought you might enjoy three of these from 15 years ago. All of these ran in February of 2002.
Friday, February 1, 2002 – Show Off Bulbs
The bulbs you started forcing last month should be bulging into growth now. Florists and garden centers have them for sale all the time, of course, but the joy comes from doing your own.

If you haven't planted a few pots yet, there's still time. First, be sure to buy bulbs for potting with tight buds to help them flower longer because once they bloom, the bloom will only last a week to ten days.

Don't make the mistake of putting potted bulbs in a "too warm" location. They need a bright sunny spot or a grow light, but the temperature should only be in the 55-to-60 degree range to give you an extra five or six days of flowering.

You can still pot daffodils, tulips, hyacinths, especially grape hyacinths. Crocuses, too, but get them in soon. Any later and they'll get "leggy."

To save the bulb after it blooms, put it in a bright window, stop watering it and let it dry. In late spring, plant it in a sunny place and it'll probably come back in a year or two.

Herb Clarke, KYW Newsradio
Tuesday, February 5, 2002 – Radish
Of course, it's far too early to go out scraping the frozen soil to put in seeds but the desire to plant is beginning to germinate. When the time does come, I know the first seed packet many of us tear open. The Radish.

Radishes are the fastest and easiest vegetable you can grow. For beginning gardeners, there's a great sense of accomplishment in harvesting perfect radishes only a few weeks after the seeds go in. A kick for kids, too, to plant, weed and pull out those red and white globes. They may not eat them, but they love growing them.

In fact, plant a few radish seeds every couple of weeks to keep a steady supply for salads and pick them soon after the top of the globe pushes out of the ground. If they get too big, they can get very hot. Radishes are in the same family as cabbage which is why they give some of us the "burpsies."

Herb Clarke, KYW Newsradio
Friday, February 22, 2002 – A Tree For All Reasons
How about a backyard tree that's ornamental, flowers in spring, has attractive summer foliage with beautiful and delicious fruit to feed you and your birds in summer. Talking about the Cherry Tree.

For smaller yards, choose a shorter variety to grow only ten to twenty feet tall. The Ma ha'leb, for example, or new ones, Damil or Gisela, which only grow to twelve feet.

You need to decide on sweet or sour cherries. Sweet are bothered more by disease and pests. Sour cherries are easier to care for. Tart or so-called pie cherries. My favorite is the Nanking cherry. It's a cross of tart and sweet, only 10 to 15 feet tall; about that wide, too. Nanking cherries in a pie are sensational. Spring flowering is pink buds changing to white.

Very little maintenance with the Nanking and the birds don't like the fruit. This is George Washington's birthday week. Don't chop down, but do plant a cherry tree soon.

Herb Clarke, KYW Newsradio
WIBG, Radio 99 - Their Top Ten!
We thought you might enjoy seeing what WIBG said was the top records in Philadelphia. We've picked 6 different WIBBAGE lists from our archives. Enjoy!
Survey 74 - February 29 to March 6, 1960
1. Theme from a Summer Place - Percy Faith
2. Wild One/Little Bitty Girl - Bobby Rydell
3. He'll Have to Go - Jim Reeves
4. What in the World - Jack Scott
5. Baby - Brook Benton & Dinah Washington
6. Tracy's Theme - Spencer Ross
7. Habor Lights/Sleepy Lagoon - The Platters
8. Forever - The Little Dippers
9. Beyond the Sea - Bobby Darin
10. Sweet Nothin's - Brenda Lee
Survey 129 - March 13 to March 19, 1961
1. Pony Time - Chubby Checker
2. Surrender - Elvis Presley
3. Don't Worry - Marty Robbins
4. Where the Boys Are - Connie Francis
5. Wheels - The String-a-Longs
6. Ebony Eyes - The Everly Brothers
7. Dedicated to the One I Love - The Shirelles
8. There's a Moon Out Tonight - The Capris
9. You Can Have Her - Roy Hamilton
10. Apache - Jorgen Iingmann
Survey 147 - July 17 to July 23, 1961
1. Tossin' and Turnin' - Bobby Lewis
2. Hats Off to Larry - Del Shannon
3. Dum Dum - Brenda Lee
4. The Boll Weevil Song - Brook Benton
5. Quarter to Three - U.S. Bonds
6. Yellow Bird - Arthur Lyman
7. I Like It Like That (Part 1) - Chris Kenner
8. Let's Twist Again - Chubby Checker
9. Together - Connie Francis
10. Every Beat of My Heart - The Pips
Survey 170 - Effective February 26, 1962
1. Hey Baby - Bruce Channel
2. Duke of Earl - Gene Chandler
3. Let Me In - The Sensations
4. Break It to Me Gently - Brenda Lee
5. Crying in the Rain - The Everly Brothers
6. The Wanderer - Dion
7. Midnight in Moscow - Kenny Ball
8. - Chip Chip - Gene McDaniels
9. Her Royal Majesty - James Darren
10. Smoky Places - The Corsairs
A LITTLE BIT OF BROADCAST HISTORY!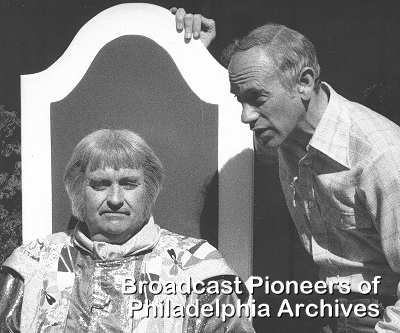 (Left to right) Bob Keeshan as Captain Kangaroo and Jimmy Hirschfeld
CBS-TV, New York
circa 1975
Jimmy Hirschfeld was the director for WCAU-TV of the ever popular Gene London and Pixanne (Jane Norman) TV shows. Jimmy, Gene and Jane are all members of this organization and all have been inducted into our Hall of Fame. Jimmy in 1967 became Program Director for the station. Then he moved to New York City in 1973 where he was the producer of the national CBS-TV show, "Captain Kangaroo." In 1978, he went to LA to work on the Mary Tyler Moore Comedy Hour for CBS. The credits for the program show him as "Executive Production Consultant." Moore passed away last week.
In case you missed the Sundance Channel binge this past Saturday, Decades will do a Mary Tyler Moore Show binge all weekend long. Decades can be found on your TV as Channel 3.2 off air. It is available on cable on both Comcast, Fios and other systems. By the way, The CW Philly 57 will simulcast 6 episodes of Mary's sitcom on both Saturday and Sunday from 1 pm to 4 pm. On Friday, February 3rd, Decades will devote the whole day to Moore including her interview on The Dick Cavett Show. They'll also show an episode of "77 Sunset Strip" with Moore in it BEFORE her Dick Van Dyke days.
OUR HATS OFF TO YOU FOR GIVING:
We would like to thank the following for their contributions donated at our January luncheon: Phil Shuman, Bill Shusta, Ron Corbin, Steve Tatz, Mike Nozillo, Diego Castellanos, Dave Petrelius, Al Snyder, Rich Troyan, Tom Cannon, Mark DiGiovanni, Pat Delsi, T. Morgan, Dorie Lenz, Mel Klawansky and Gerry Wilkinson. Also special thanks to new member Dr. Philip Thompsen for his nice contribution when joining.

We are a federally recognized, state chartered charity with a 501(c)(3) status. Contact us at (856) 365-5600 or e-mail
pioneers@broadcastpioneers.com
for more details. Your gift to Broadcast Pioneers will help us and may lower your federal income tax. That's win-win, isn't it?
Special Thanks (in alphabetical order) for the gift of Appreciated Stock: (a federal tax advantage for the giver)
Member Marc Howard - $3,600 (put into our general fund to be used where needed)
Member Sylvia Kauders - $5,159.45 (used for the scholarships listed below)
Member Dan Lerner - $5,217.80 (used for the scholarships listed below)
Special Thanks (in alphabetical order) for contribution of $1,000 or more to our DAP, Digital Archival Project:
Member Elliot Abrams - $1,000
Member Jerry Del Colliano - $1,000
Member Johnny B. Hall and wife Ginny - $3,000
Member Harry Hurley's Golf Tournament - $1,000
Member Marlin Taylor - $1,000
Special Thanks (in alphabetical order) for April 2017 Scholarships:
Member Johnny B. Hall and his wife, Ginny - 7 scholarships
Member Harry Hurley's Golf Tournament - 1 scholarship (for a Stockton University student)
Member Sylvia Kauders - 1 scholarship (from a grant for 5 yearly scholarships running until 2019)
Member Kal Rudman - 5 scholarships (for Temple University students)
Member Marlin Taylor - 1 scholarship
Members Robin & Ira Adelman in memory of member Leon Love - 1 scholarship
Special Thanks (in alphabetical order) for a contribution of $500 or more to our DAP, Digital Archival Project:
Member Esther Kurtz - $500
Member Art Moore - $500
Member Lauren Lipton - $500
Members Robin & Ira Adelman in memory of member Leon Love
Bequests in their Will:
Member Sylvia Kauders passed away earlier this year. In her will, she bequest to the Broadcast Pioneers of Philadelphia, the amount of $5,000. This funding is to be used to underwrite one scholarship per year until gone. These scholarships will start in the year 2020 and continue until 2024. From a previous gift, Sylvia has underwritten one scholarship a year starting in 2015 and continuing until 2019.

Member W. Carter Merbreier passed away a couple of months ago. In his will, he bequest to the Broadcast Pioneers of Philadelphia, the amount of $1,000. This funding is to be used to underwrite one scholarship which will be awarded in April of 2017.
W. Carter Merbreier Scholarship Fund:
The family of Captain Noah had asked (in the Philadelphia Inquirer) that donations for scholarships in the memory of W. Carter Merbreier can been made to The Broadcast Pioneers of Philadelphia Scholarship Fund. We would like to thank those you have donated: Joyce Haas (Mrs. Harry Haas), Karen Strauss, Art Moore, Elaine Skypala, Marc Howard and Mushinski family, Steve, Hank and member Liz Matt.
Underwrite a complete scholarship and we'll give you credit in the electronic newsletter until the scholarship is awarded in April of 2017. Give us a donation of appreciated stock of $2,000 or more) and we'll list you in our "Thank You" column for two years. Give us a donation of $1,000 or more and we'll list you in our "Thank You" column for a year. Give us a donation of $500 or more and we'll list you in our "Thank You" column for six months. You can select how we use the money: for our archival project, for scholarships or for our general fund to be used as needed.
More Thanks:
A growing portion of the revenues that fund the different activities of the Broadcast Pioneers comes from donations. This includes our archival project and our scholarship program. Now, we are making it even more beneficial for our donors. Broadcast Pioneers is now able to accept gifts of appreciated stock or mutual funds, which provides a significant tax benefit to you. By giving appreciated stock (stock which is worth more now than what it cost when it was purchased), you can get a charitable contribution tax deduction based on the current market value of your stock or mutual fund.
Yes, you can deduct the stock or mutual funds fair market value and you may avoid incomes tax on your capital gains. Broadcast Pioneers then sells the stock and uses the funds as you direct. For scholarships. For our Archival Project. For student mentoring. However, you see fit. Most every broker can handle this for you. Let us give you an example on how this can work for your advantage. You purchased $1,000 dollars of stock several years ago. Today, it's valued at $5,000.
If you sold your stock, you would have to pay capital gains tax on your $4,000 profit. If you donated the shares to Broadcast Pioneers, you don't pay ANY capital gains tax. The complete value goes to Broadcast Pioneers and you can deduct the full $5,000 as a charitable contribution. That's a winning situation for you and a winning one for us. Broadcast Pioneers is a 501(c)(3) organization and any gift to us (or any other charity) may be tax deductible to the fullest extent allowed by law.
There are some limits and restrictions. Your tax advisor knows all the information. Broadcast Pioneers doesn't offer legal or tax advice. Consult with your own advisors for complete details to see if this may be advantageous for you. Contact us at (856) 365-5600 or e-mail to make contributions.
Don't be left out. You too can make a pledge. It's never too late. You can earmark it for scholarships, our Digital Archival Project or our general fund. Thanks so much for your support. If you forgot to make an extra contribution (cash or memorabilia) and would like to do so now, you can do so. We would be thrilled to hear from you at: PO Box 2886, Bala Cynwyd, PA 19004, call us at (856) 365-5600 or e-mail us at: pioneers@broadcastpioneers.com.

A FINAL THOUGHT....
"There's a standard formula for success in the entertainment medium, and that is: Beat it to Death if it succeeds."
Ernie Kovacs
who started his television
career at WPTZ, Channel 3
in Philadelphia

Please contact us by e-mail at newsletter@broadcastpioneers.com or by mail to: Broadcast Pioneers of Philadelphia, PO Box 2886, Bala Cynwyd, PA 19004. Your stories are important, to you, to us, and your colleagues. Contact us today and we'll include your story in the next newsletter!

© 2017, Broadcast Pioneers of Philadelphia
All Rights Reserved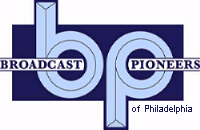 The e-mail address of the Broadcast Pioneers of Philadelphia is pioneers@broadcastpioneers.com
For luncheon reservations call (856) 365-5600 or e-mail us at: rsvp@broadcastpioneers.com