March luncheon
Bala Golf Club
March 19, 2008

Reception at 12 noon
Lunch at 12:30 pm
Ratecard: $25 per person

March 2008
Issue 7
2007-2008

Reserve today by calling (856) 365-5600 or e-mailing us at: rsvp@broadcastpioneers.com
You're be GREEN with envy if you miss this one! NBC10 may not look it, but it's 60 years old, and we'll present "A Celebration of 60 years of Channel 10" at our meeting on March 19th at the Bala Golf Club.
Ed Dress - Introduction
Bill Baldini - Moderator
Peggy King with a special song

Panelists:
Jerry Blavat, TV 10 Dance Show Host
John Blunt, NBC 10 News Reporter
Herb Clarke, former 10 Weatherman
Sid Doherty, former 10 Announcer
Ray Fiedler, NBC 10 Stage Manager
Jimmy Hirschfeld, former Prog. Dir.
Al Meltzer, former Sports Director
Details on the Luncheon! Introductory remarks will be by Ed Dress, Investigative Producer for NBC 10. Moderator Bill Baldini, with his new, reconstituted knee, AS SEEN ON TV, will handle introductions of his old friends Herb Clarke and Al Meltzer. Also on hand will be Jerry Blavat, well-known Philadelphia DJ who hosted his first television series, "The Discophonic Scene" on WCAU-TV.
You'll see current NBC 10 Anchor John Blunt, and Ray Fiedler, stage manager for 40 years, Sid Doherty, former Channel 10 announcer currently with ABC-TV, Jimmy Hirschfeld, former TV 10 Program Director and Executive Producer for Captain Kangaroo. Bucky Clark will play the piano, Pretty Perky Peggy King of the George Gobel Show will sing, and there will be a TV Trivia Quiz.
These affairs always remind us of the great television stations and marvelous people on them that we have in Philadelphia and March 19th will be no exception. We will meet at 12 Noon, enjoy a cheese and crudité table, cash bar, conversation, and lunch will be served at 12:30. The rate card is $25. You won't want to miss this one but please be sure that you get your reservation in by calling (856) 365-5600, or e-mail rsvp@broadcastpioneers.com.

An unforgettable meeting, and great fun, was had last month by all who attended our rock and roll afternoon. Nearly one third showed up from our record all time high membership of 320 members, and counting. We must be doing something right. At the board meeting before the luncheon new by-laws were passed, which were drawn up by Vice President Jerry Klein, an attorney, and will go into effect immediately. You can check them at www.broadcastpioneers.com/bylaws.html.

Congratulations to member Dennis Ostopowicz who hosts the WBCB-AM 1490 Polka Show. The Trenton Polish Business and Professional Men's Club honored him at their holiday Dinner. Denny O is active in far too many community affairs to list here. Also his credits as a band leader, the Denny O Trio, telecom specialist and engineer for the Falls Township Information Access Channel 22 make him a very busy guy indeed. Hope he can make it to lunch.

On the mend is Past President/Person of the Year Lew Klein who had a heart attack last month in Las Vegas. He is now home under wife Janet's tender care and doing well.

Board member Dorie Lenz when last spoken to, could hardly speak, with the bug she was carrying around. Repeated trips to the doctor have brought her a new antibiotic, in which she had not much confidence.
"Anything that is too stupid to be spoken, is sung." Voltaire
John Brown has just been elected Sr. Vice Commander for Sgt. Jones Bradbury Camp #149 SUVCW, an organization whose members have ancestors that fought in the Civil War. John's Great Great Uncle Benjamin and his son John Brown fought with the 6th PA Cav. Company I (Rush's Lancers). April 19th, they will be doing a Civil War grave side memorial at Mt. Zion Cemetery in Pottstown.

Club Chairman of the Board Wee Willie Webber alerts us that WVLT-FM, Cruisin' 92.1 is streaming its Radio signal on the Web. That means his radio show can be heard by clicking on WVLT.com and clicking on the icon "listen to the station". If you do this on a Sunday between 3 and 6 PM, you will be able to catch the dulcet tones of the redoubtable Mr. Webber. The web radio streaming started a couple of weeks ago and Bill's already receiving phone calls from California and Irvington, NY letting him know that they're listening to his show on the computer. It's a whole new experience for this veteran broadcaster.

Monica Malpass is justly proud of the work she's doing that can be seen on the 6ABC.com website. She points to recent interviews with Sen. Arlen Specter, Sen. John McCain, and Sen. Hillary Clinton. Not bad for the PVI-TV anchorlady.

62 years in radio, and a legend in Philadelphia, Person of the Year/member Ed Hurst and wife Cissie are living in Margate, NJ. Cissie for years was a record promoter and producer of specials for stations in town, but now is getting chemo 3 times a week for the return of a cancer that had been gone for 2 years. Macular degeneration has also made life difficult for the Cissie, but she says Ed (Husband of the Year?) makes the best hot cereal for her in the morning. They are going to an "I'm not Running" party for Larry Platt of Philadelphia Magazine, who toyed with the idea of declaring as a candidate for Congress from Montgomery County. Ed advised him "NO." Cissie says she talks regularly to past president Shelly Gross, 87, and he's doing fine.
"Good friends, good books and a sleepy conscience: this is the ideal life." Mark Twain
Tom Monaghan's 15th Annual Philly Chili Cook Off will be held March 19th from 5:30 PM to 7:30 at the Manayunk Brewery and Restaurant, 4120 Main Street, Manayunk. 15 Restaurants, Olde Original Bookbinder's et al, cook up large doses of their very best for judging by Frank Rizzo, Diego Castellanos, Ph.D, and other big names. The public is invited to try the hot, mild, and vegetarian varieties of Chili and watch the judging.

Al Maslin, who used to produce this letter while working in Master Control at Channel 6, is now a snow bird in retirement, splitting time between Lake Worth, FL and Diamond Beach, NJ. In Florida, he enjoys doing theatre work particularly sound and lighting. In NJ, he helps with Cape May Emergency Management.

Greet new members: Jim Murray, famous for his work with Leonard Tose and the Eagles, and co-host of "Remember When" on WPHT. His partner Steve Ross joined recently. Albert Berry, aka Ceasar, of "The Tymes." Billy Jackson, who is President of Street Korner International Records, and former record producer for Columbia and RCA. Billy Carlucci (of Billy and the Essentials), who is, co-host of "The Patti Lattanzi Show." It is heard on WVLT, Thursdays at 7 PM.

Incidentally, the last two years of newsletters are now archived on our website: www.broadcastpioneers.com.

If you don't see your name here there is no question you didn't write to Paul Norton, 205 Ocean View Blvd., Lewes DE 19958, or call (302) 645-8910, or e-mail nanort@comcast.net. Do It Now!

© 2008, Broadcast Pioneers of Philadelphia
All Rights Reserved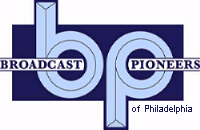 The e-mail address of the Broadcast Pioneers of Philadelphia is pioneers@broadcastpioneers.com
For luncheon reservations call (856) 365-5600 or e-mail us at: rsvp@broadcastpioneers.com