The Broadcast Pioneers of Philadelphia is a federally recognized, state chartered charity. We are a 501(c)(3) non-profit corporation serving Philadelphia since 1962.

Frank Stone
Newsletter Editor

March Luncheon
The Bala Golf Club
Wednesday, March 16, 2011

Reception at 12 noon
Lunch at 12:30 pm
Ratecard: $25 per person

RESERVATIONS REQUIRED!
(856) 365-5600
rsvp@broadcastpioneers.com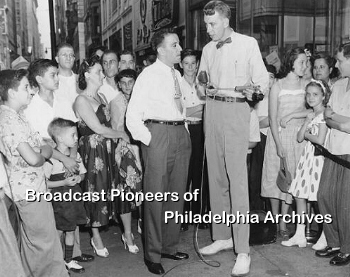 Gene Crane (left) & Bill Hart (right)
"On Chestnut Street" TV Show
WCAU-TV, 1622 Chestnut Street, Philadelphia
1948
Certain to be a memorable and moving event, the "Channel 10 Celebration" is a NOT-TO-BE-MISSED luncheon! In cooperation with NBC 10, this luncheon will be filled with memories and lots of history. Our speakers will share their insights, favorite behind the scenes stories and special moments. Reservations are a must! Call (856) 365-5600
On Wednesday, March 16th, we'll be celebrating the 63rd birthday of WCAU-TV, Channel 10 in Philadelphia. While WCAU-TV, Channel 10 in Philadelphia came on the air on March 15, 1948, the official opening of the station wasn't until Sunday, May 23, 1948. On that date, the station marked its formal debut with eleven hours of "special programs."
Making opening remarks will be Dennis Bianchi, President and General Manager of NBC 10.
In alphabetical order, our speakers will include (scheduled to appear):
Bill Baldini, former street reporter for WCAU-TV, now NBC 10
Renee Chenault-Fattah, News Anchor for NBC 10
Herb Clarke, weathercaster for Channel 10 for 4 decades
Tracy Davidson, NBC 10 Anchor and Consumer Reporter
Jimmy Hirschfeld, former Channel 10 producer/director
Larry Kane, former News Anchor for Channels 3, 6 and 10
Steve Levy, former News Anchor/Reporter for Channel 3, 6 and 10
Terry Ruggles, News Anchor for NBC 10, WCAU-TV
Glenn Schwartz, Chief Meteorologist & Weather Anchor for NBC 10
Mike Strug, former street reporter for Channels 3, 6 and 10
Flying all the way in from Mexico just for this luncheon will be Broadcast Pioneers member and former "Person of the Year" Gene Crane. Gene, by the way, will be our MC for this event.
Plus, we'll have Amy Burkett, the senior VP of Programming at WLVT, Channel 39, PBS in the Lehigh Valley. Burkett is also the current president of the Mid-Atlantic Chapter of NATAS. Last year, Broadcast Pioneers member Big Al Meltzer was supposed to receive the Governors Award from NATAS and was taken ill just before the presentation. On March 16th, NATAS' president will officially present the award to Big Al at our luncheon.
Also, we will have Jerry Francis, President of the Lower Merion Historical Society on hand as we sign the agreement transferring 450 negatives of WCAU-TV (taken during 1952 and 1953) from the Society to the Broadcast Pioneers' Digital Archival Project. We'll also be displaying some two dozen photos from that wonderful collection. Plus, during the meet and greet portion of the luncheon, our nine inch table top DVD player will be showing a video of Candy Carnival starring Gene Crane. Remember, a nine inch screen is what most people were watching in those days.
Also, we are asking everyone to let Channel 10 alumni know about this event. When we did our Channel 3 reunion in September, we heard from ten people afterwards who would have attended if only they'd known about it! So do your friends a favor and tell them (or e-mail them) about this luncheon. Thanks!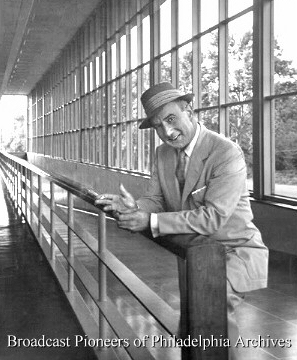 John Facenda
WCAU-TV Official Photo
1952
We have a complete 11 pm John Facenda newscast from WCAU-TV. That's the good news. The announcer at the beginning of the clip is believed to be Blake Ritter. The bad news is that we have just audio, but still it's a rare find. The newscast dates from Wednesday, September 18, 1957.
Listen in Real Audio
Listen in Windows Media
Don't miss this luncheon! Everyone who's anyone is going to be there! It all happens at the beautiful Bala Golf Club, 2200 Belmont Avenue in Philadelphia! Just minutes away from Channels 6, 10 and 17, plus the radio stations in Bala Cynwyd. Meet and greet (networking) starts at noon and lunch will be served at 12:30 pm. Be sure you have your place by making your reservation(s) NOW. Call (856) 365-5600
The cost is still only $25 per person. This is our 6th year without a price increase! Included is a full-course lunch including salad, entrée, coffee or tea and dessert served at 12:30 pm. There's also a crudite and cheese table. Cash bar available all afternoon. Plenty of FREE parking or valet service. The luncheon is open to all our members and any person in the industry or associated fields, whether active or retired. You do not have to be a member to attend. Call NOW with your reservation(s), (856) 365-5600! We wanna see your face in that place.

Visit Our Website Often - http://www.broadcastpioneers.com

A LITTLE BIT OF HISTORY!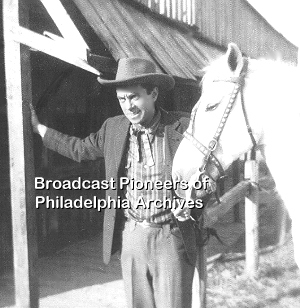 Broadcast Pioneers member John Zacherle
Action in the Afternoon
WCAU-TV, Philadelphia
1953
Although Action in the Afternoon had hundreds of episodes, only 5 are known to exist today. That's because the show was live and the only way to record it was to film it off a TV monitor, which was called kinescoping. It was costly and thus rarely done. We have two complete shows in our DAP, Digital Archival Project. We have excerpts from two different shows, both from the same week. One was from early in the week and the other aired on Friday.
Excerpts of Show #1
View in Real Video!
View in Windows Media!
Excerpts of Show #2
View in Real Video!
View in Windows Media!
WELCOME NEW MEMBERS:
Full Members:
Marc Rayfield, Annie Haslam, Bill Vitka, Dr. Lydia Reeves Timmins, Barbara Ann Zippi, Bart Axelrod and William Nicoletti. More details about these new members!
We are thrilled to have these new members. They've helped to bring our total membership up to 419 (an all-time record). We hope to see as many of you as possible at the March luncheon.
BOARD MEETING REMINDER:
The next board meeting will be at 10:15 am, just before our March 16th luncheon. Board members and officials should make plans to attend. When sending your RSVP, kindly tell us whether you will be attending the board meeting, luncheon or both.
SCHOLARSHIPS:
At our April 2011 luncheon, we will be awarding sixteen $1,000 scholarships to area college students. 32 finalists have now been selected. More details!
IN TOUCH WITH OUR MEMBERS:
Member Ed Cunningham's "Philly's Favorite Kids Show Hosts" is now available online for free. For those who didn't see it when it was broadcast in 2007, or for you members living outside of the Delaware Valley, here's your chance to see this great show. Lots of Broadcast Pioneers members are on the broadcast, including Captain and Mrs. Noah, Sally Starr, Gene Crane, John Zacherle, Jane "Pixanne" Norman, Gene London, Howard "Happy the Clown" Jones and many more. The historic consultant on the broadcast is our own historian and our Chairman of the Board, Gerry Wilkinson. Watch the show!
A LITTLE BIT OF HISTORY!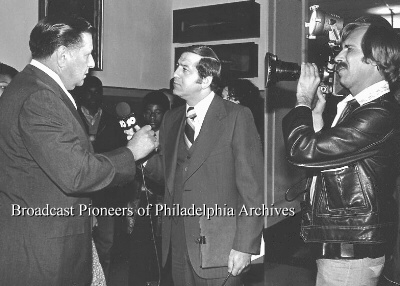 (Left to right) Frank Rizzo, Bill Baldini and cameraman Tom Henry
Philadelphia City Hall outside of room 202
1978
Congratulations to Broadcast Pioneers member Liz Matt, aka Lizabeth Starr, former co-host of AM Philadelphia and former Fox 29 news reporter, on her new position as Associate with Sharla Feldscher Public Relations located in Old City. Sharla told us, "Liz is amazing. I'm so lucky to have her with us. She's quick, sharp and eager to please the clients. It's a win/win. I feel blessed to have her with us." Liz said, "I was looking to get back in the business, and sat next to Sharla at a networking event. I was freelancing in communications, but my heart was to get back into the creative world. Sharla had a need, and I'm on board and loving it. I'm a reporter to the reporter!" Good luck Liz!
Member Gene Crane (who will be our MC for our Channel 10 Celebration luncheon this March 16th), sent us an e-mail last month. It was sent from Antarctica and we wonder how much that cost. Anyhow, Jean and Gene Crane (it gets confusing when you call 'cause they never know which Gene/Jean you want) were on the high seas for a couple of weeks. When Gene gets to Philly, we'll have to compare notes to see who got more snow.
W25AW, Channel 25 in Trenton (trading as WZBN) has started carrying reruns of member RJ's (Ron Joseph) TV show. It's on Sundays at 4 pm. The station is carried over New Jersey Cablevision Cable 24 hours a day and part-time on Comcast Cable in various parts of New Jersey. It's also carried on some of the FIOS outlets in the Garden state. Plans are underway for it to add additional cable outlets including the Philadelphia market. The station also has a construction permit locating their tower in the Chestnut Hill section of the Quaker City. FYI, RJ was out on the west coast for the Academy Awards presentations that past Sunday evening.
CBS 3 and the CW Philly 57 have joined forces with NBC 10 and Fox 29 and will share common ground and aerial video of news stories. Called "Local News Service," this saves the stations cash because one crew shoots the video for all four stations. The CBS 3 helicopter now does the aerial shots for the entire group. Because of this, Board Member Bob Kravitz's job was cut. Fox 29 and NBC 10 have been sharing video since the summer of 2008. Channel 6 is not a part of this service. By the way, Bob Kravitz is looking for work so if you have a helicopter and need a photographer....
Broadcast Pioneers member Jay Lloyd tells us that he'll be hosting a KYW Newsradio/Holiday Vacations trip to Britain in October. It includes visits to Windsor Castle, The Tower of London, Stonehenge, Bath, a Thames River Cruise and Edinburgh Castle. Of course, Jay is known for his many years of reporting as KYW Newsradio's Suburban Bureau Chief. Jay is now retired but still does travel features on the station. And our Chairman of the Board Gerry Wilkinson can testify that Lloyd is no stranger to the UK. Six and a half years ago, Gerry, his wife Michele and his youngest daughter Zara were flying to England because Zara was going to be attending the University of Sussex for a year. At the Philadelphia airport, Gerry started talking to a guy who was also flying to Britain with his wife and daughter. The daughter was also attending college in the UK. That "guy" was none other than Jay Lloyd. Small world, huh?
For a great time on St Patrick's Day (March 17), check out Broadcast Pioneers member Maura McKinney Mastro's "Irish Roots" show at 8 p.m. at Canstatters (9301 Academy Road, Philadelphia). Entertainment: $10, children under 12, free. Come early to enjoy an Irish dinner, Irish beer, Irish coffee, dancers, bagpipes and more. Dinner fee: additional. Sounds like a good time!
Last month there was a nice article in Philadelphia magazine about Broadcast Pioneers member Larry Mendte. It's available from their website. An interesting fact from that article is that Larry won $133,006 last March in the Powerball drawing. Bet he heard from a lot of relatives since then.
Looking for something to do? Volunteer emcee is sought for the Emergency Fund Coalition for Older Philadelphians luncheon program on Friday, June 3rd in Northeast Philadelphia. Approximately 250 guests are expected. It's from noon until 2:30 pm. Contact Rick Spector at (215) 765-9000 ext. 4247, or RSpector@pcaphl.org. Respond by March 7th to be listed on the invitation.
ON THE HEALTH FRONT:
We heard from member Harvey Sheldon who said:
Shortly after my new book (Philadelphia's History of Music) was released in January, I had a stroke. I was
hospitalized for 15 days. I told the doctors that I was from Philly and we are known as tough guys. I
will walk again. I requested a cane and put on Swing Music. I demonstrated how I can dance and was dancing like Fred Astaire. I was released after I danced the Philly Strut. I know I will have weeks of rehab but that will not stop me from writing my next book,"The History of the Golden Age of Music."

Get well soon, Harvey.
We heard from member Sue Wright, widow of long-time member (and former Board Member) Nat Wright, that she had suffered some health problems because of a recent fall. She's now home after some time in rehab. While she is getting around with a walker, she hopes to be back to her normal self soon. By the way, she found more photos and tapes of her husband, Nat. They will become part of our DAP, Digital Archival Project later this spring.
Broadcast Pioneers member George Finkel tells us, "I got a new knee on February 1st. I had some post surgery rehab and is now at home continuing rehab. Spending some time on a walker, but hope to be driving by March." Good luck, George!
We spoke with Broadcast Pioneers member and 1995 Hall of Fame inductee Sally Starr who was 88 years young on January 25th. She says that she received over 6,000 greeting cards at her home! By the way, Sally lost her younger sister (by 13 years) on February 21st. Sally was recently hospitalized and tells us:
I'm having some trouble walking, but I'm feeling all right. I haven't been well but tremendously improving. I'm accepting personal appearances again! I didn't think I was going to make it, but I still have a good sense of humor and feel wonderful, but don't worry, I'm doing okay. I appreciate everything everybody has done.
Member Stephen Gary reports that Cardinal John Foley has come back to Philadelphia. He is suffering from leukemia and anemia and has been developing blood clotting. He has served for almost a quarter of a century as president of the Pontifical Council for Social Communications in the Vatican. The cardinal also represented the church on numerous news programs and for the last twenty-five years, he has been the host of NBC-TV's Christmas Mass.

Did you know...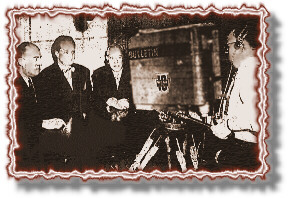 (Left to right) Richard W. Slocum, General Manager of the Evening Bulletin newspaper
G. Bennett Larson, Vice-President and Director of Television, WCAU-TV
Dr. Leon Levy, President and General Manager of the WCAU stations
unidentified camera operator
WCAU-TV
May 23, 1948
WCAU-TV, Channel 10 in Philadelphia came on the air on Monday, March 15, 1948 with their very first program. However, the "official" opening of the station wasn't until two months later on Sunday, May 23, 1948. On that date, the station marked its formal debut with eleven hours of "special programs."
Over 1,000 people were at Channel 10's air-conditioned facilities in Center City at 1622 Chestnut Street for the event. Previously, the station was on the air "on an experimental basis." The WCAU-TV signal was transmitted into Philadelphia homes from their 737 foot tower atop the PSFS building at 12th and Market Streets.
Read the complete "DID YOU KNOW Column and see more WCAU Photos!
THANK YOU:
As we do every month, we want to thank Broadcast Pioneers member Johnny B. Hall for his monthly cash donation to our DAP, Digital Archival Project. We especially appreciate it since Johnny has doubled the amount he was giving us last year at this time. Thanks. His donations total $1,200 annually. Our Digital Archival Project keeps on moving along.
Here's more special thanks (and you can see a 1945 photo of WPTZ)
If you forgot to make an extra contribution (cash or memorabilia) and would like to do so now, it's never too late. We would be thrilled to hear from you at: PO Box 2886, Bala Cynwyd, PA 19004.
A LITTLE BIT OF HISTORY!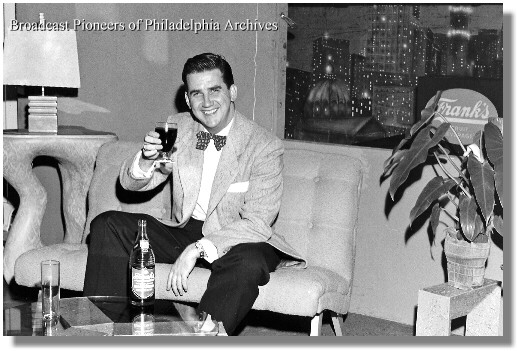 Broadcast Pioneers Hall of Famer Ed McMahon
WCAU-TV Studios
circa 1955
COLLEGE STUDENT CAREER NIGHT:
On Thursday, March 24th, the Broadcast Pioneers of Philadelphia will host a FREE Career Night for all interested communications college students. The event takes place in Temple University's Annenberg Hall from 6 to 8 pm. Remember, the event is free and open to all college students regardless of the university they attend. More Details!
WE NEED VOLUNTEERS:
We always need volunteers to assist in all kinds of activities. From helping at our luncheons and banquet to scanning and writing stories for the website, WE NEED YOUR HELP! We are looking for volunteers to assist us with our DAP, Digital Archival Project. Also, we'd love to hear from people interested in writing bios and other stories for our website. We also need people who have the proper software to convert VHS tape or DVDs into computer files. Plus other volunteers. If you're interested, please call us at (856) 365-5600 or e-mail at pioneers@broadcastpioneers.com
IN TOUCH WITH THE INDUSTRY:
Karen Thomas, formerly of NBC 10, is back at Fox 29 doing weather shifts at her old stomping grounds. You can see her on the weekends and also doing fill-in work. And speaking of Fox 29 weather, John Bolaris was featured in an article in Philadelphia Magazine last month. In it, he says that his favorite bar is anyplace that will let him in. He also says that his real life hero is his mom and his fictional hero is the caped crusader, Batman.
Congratulations to Tony Leodora, host of Golf Talk Radio Show, for being honored as the Best Golf Radio Show in America by the International Network of Golf. Tony said, "In a span of five years, the show has grown incredibly in its reach and listener loyalty. We have proven that golf on the radio can be a winner, if presented in the proper format." Golf Talk Live airs from 7 am to 8am Saturdays, on WNTP, 990 on your AM dial and on www.wntp.com. Nice going, Tony!
Last month the Philadelphia Inquirer ran a nice article about the old KYW Building at 1619 Walnut Street in Center City Philadelphia. They still have some of the seats from the old Mike Douglas Show. Read the article! And for those of you that missed the Inquirer article about the Mike Douglas program, it is here!
If you're in Center City, be sure to check out the new facade on the building at 1619 Walnut Street. The building was once the home of KYW's radio and television operations. This was where America's first televised soap opera was performed. Ernie Kovacs had several local shows and a couple of national ones out of this building.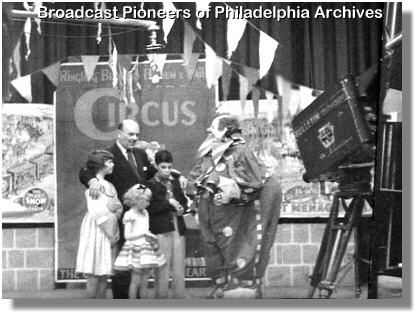 Our first President Stan Lee Broza with children and a clown
WCAU-TV Studios
1955
This audio file will transport you back to March of 1958. The Children's Hour is a simulcast on both WCAU-TV and radio. Air time is 11:30 am to 12:30 pm. Our excerpt picks up shortly before noon. During the last couple of years of the program, the first half of the show was sponsored by their long time advertiser, Horn & Hardarts. The second part of the broadcast was brought to the audience by the local Plymouth dealers. We have tied together four clips from this broadcast. Unfortunately, we don't have the whole show, but here are four excerpts with a second and a half space between each segment. Once started, the audio will automatically go from cut to cut.
WIP Radio (CBS in Philadelphia) had a repeat winner! Jonathan "Super Squibb" beat another former champ Bill "El Wingador" Simmons by a wing. The winner ate 255 wings while the loser ate only 254. "Super Squibb" won $20,000 and a brand new RAM truck. The station sold out the Wells Fargo Center which holds about 20,000 people. The contest was a huge NTR (Non-traditional revenue) for the station. The event started in 1993.
Recent research shows that the biggest cancer fatalism is not cell phones but local TV news. Recently, there have been two research papers showing that constant local news make people think they have little control over whether they get cancer. Published by Ohio State and Cornell, both reports came to the conclusion that most everything causes cancer.
Kelly Mac has been put on the Clear Channel payroll here in Philadelphia. She takes over as Assistant Program Director and Music Director for Power 99 (WUSL-FM) and WDAS-FM. She comes here from Greenville, South Carolina, and WJMZ-FM. She is now partnered up with Ken Johnson, Director of Urban Programming in Philadelphia for Clear Channel. The two worked together previously in the south. Max replaces Kashon Powell who is now Urban Director for Virginia at Clear Channel.
Judi Franco left "New Jersey 101.5" (WKXW-FM in Trenton) in November of 2008, but now she's back! She'll be replacing Michele Pilenza (who took her job) who is leaving full-time work to be a stay-at-home mom. Pilenza will still do fill-in shifts at the station.
WPAZ, 1370 AM in Pottstown, PA is back on the air as community radio for Pottstown. The revitalized station is focusing on local issues, organizations, businesses, musicians, etc. "We are Pottstown people," said General Manager Rick Rodgers. "To get WPAZ back on the air as a local station is our passion.... It's not about someone pushing the shuffle button on an enormous playlist and then jumping in every now and then with a commercial break.... Our plan is to be the voice of the community." Good luck, guys, and have fun!
Reporter Kenneth Moton of of WFTV, Channel 9, the ABC affiliate in Orlando is coming to WPVI, 6ABC later this month in the same capacity. Previously, Moton worked for "News 14 Carolina," a 24-hour news operation based in Raleigh, North Carolina. He hailed from just across the Carolina border (that's South Carolina) and has earned a BA degree in broadcast journalism from the University of South Carolina.
A LITTLE BIT OF HISTORY!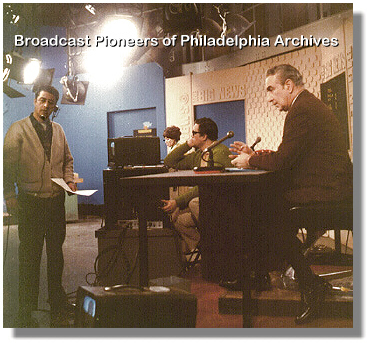 (left to right) Jesse Schooley, Edie Huggins, Peter Klein and John Facenda
WCAU-TV Studios, Philadelphia
circa 1968
HELP NAME THE KITTENS:
Here's a "human" interest story that the media missed! Two 8-week old kittens were found in the Delaware river about ten days ago. One was huddled on a floating log and the other was swimming towards its sibling (probably not by choice!). They were rescued by Gerry Wilkinson's son-in-law Matt Silva and Matt's brother Peter. Gerry and his family are going to adopt them. They are thinking of names for the pair (one male and one female). The leading contenders are Ozzie and Harriet. Other possible names are George & Gracie, Herman and Lily, Lucy and Ricky, Lucky and Desi, and even Carter and Patricia. Here's more information and a photo.
DIGITAL ARCHIVAL PROJECT NEWS:
With all the talk about the movie "The King's Speech," which won an Oscar for Best Picture, we thought you might enjoy hearing this clip from our audio archive. On Thursday, December 10, 1936, King Edward the VIII of Great Britain abdicated his throne. While the broadcast heard around the world originated live in London at 10 pm, it was only 5 pm in Philadelphia. WCAU Radio recorded the speech and replayed it later in the evening for those who were unable to tune in earlier. Here's the announcement from that repeat broadcast by an unidentified WCAU staff announcer that preceded the King's address.
In February of 1948, WCAU Radio was airing a program called"This is Television," hosted by Charles Shaw. The show dealt with the new communications media called "TV." While we do not have the complete program, we do have part of it. Shaw went to the roof of the PSFS Building where the tower for Channel 10 was being erected. There, Shaw spoke with the head of the construction company, Henry Buxbaum. Listen to the Excerpt in Real Audio and Read More!
AND HERE'S A QUESTION.... Was Carney the Clown spelled Carney or Carny? Was the guy who played him named Harry Levan or Harry LeVan. We have seen them spelled both ways. If you know for sure, please e-mail us.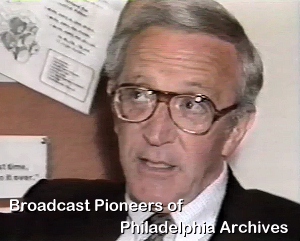 Broadcast Pioneers member Gene Crane
WCAU-TV
1982
In our video archive, we have a 45-minute video tape presentation done by WCAU-TV during 1982. It celebrates the 30th anniversary of the WCAU Building on City Avenue. Our copy is on High Speed VHS tape and has no opening or closing. We do not yet know whether this was something that was aired or just distributed in house. On this tape, we hear from those employees who were with the station when the new building opened in May of 1952. The last person on the tape is Gene Crane. We present here that segment of the tape. Broadcast Pioneers Board Member Dick Kearney told us that, as far as he remembers, this was made for strictly in house distribution.
Watch with Real Video!
Watch with Windows Media!
Ceiling of the studio
WCAU-TV, Philadelphia
1952

Set of "In the Park" with Bill Sears
WCAU-TV, Philadelphia
1953
Above are two photos from our photo archive; they show WCAU-TV during 1952. Neither of them are in the video that follows. This video presents three minutes of stills taken from the aforementioned 45-minute video, starting with the building being built. There is no audio.
Watch with Real Video!
Watch with Windows Media!
Earlier in this newsletter, we mentioned "Action in the Afternoon." Here's a WCAU-TV, Channel 10 sign off done in 1957 while the station was owned by the Evening Bulletin newspaper. The announcer is Barry Cassell. Barry played the role of Ace Bancroft, a slightly sleazy gambler type always one step ahead of the law, on "Action in the Afternoon." He also did TV booth work. While this is from a TV broadcast, we only have audio.
Listen in Real Audio!
Listen with the Windows Media Player!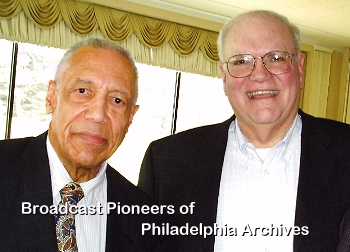 (Left to right) Broadcast Pioneers members Austin Culmer and Roger Hendler
Broadcast Pioneers Luncheon
March 16, 2005
Broadcast Pioneers member Roger Hendler, who now lives in Georgia, sent us part of an interview he did with Bart Starr. Hendler said:
I was in Dallas for Super Bowl week activities and got the opportunity to interview Green Backers Hall of Fame Quarterback Bart Starr. As you know, Bart was the QB for the Packers when the Philadelphia Eagles defeated the Packers for the NFL title on December 26, 1960 at Franklin Field. I was a senior at Haverford High School and attended the game on a cold day. This was the only playoff game Vince Lombardi lost while coaching the Packers. With the success of "Lombardi" on Broadway, I asked Bart about Coach Lombardi's demeanor after the loss to the Eagles.
Listen with Real Audio!
Listen with Windows Media!
Photo Editor (and Chairman of the Board) Gerry Wilkinson comments: As I was looking through our photo archives for pictures of Roger Hendler at one of our luncheons, I realized how many great broadcasters have passed away during my 13-year association with Broadcast Pioneers. Every one was truly a loss for the broadcast community. But then I became fully aware at how much richer my own personal life has been because I knew these wonderful, legendary broadcasters and how I could call many of them dear friends. We have literally thousands of pictures just from Broadcast Pioneers luncheons in our photo archive. As I looked thorough these snapshots, it made me stop and reflect on the meaning of our friendship. I am proud to have been in their company and have enjoyed many wonderful conversations. They were really dear people and they are still missed. They continue to live, however, in our minds and in our hearts. Sometimes, we just have to take a minute to reflect on how blessed we all are to have worked in such a fantastic industry. No one is truly gone as long as we remember them. That's the whole idea behind our DAP, Digital Archival Project--"preserving the memories."
Remember, History is ONLY What Gets Saved!
(If there were no portraits of George Washington, how would we know what he looked like?)
ON THE SCENE: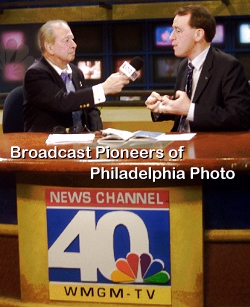 (Left to right) Vice-President Frank Stone and NBC 40 Chief Meteorologist Dan Skeldon
NBC 10
February 2011
On The Scene visited the Weather Center at WMGM-TV, NBC40 in Linwood, New Jersey and spoke with Chief Meteorologist Dan Skeldon about his years in broadcasting. Dan's early years were in Michigan's Upper Peninsula; Burlington, Vermont; and Albany, New York. He came to NBC40 and South New Jersey in December 2003, to what he describes as, "the most tropical climate [in which] I've ever resided."
As for the challenges of forecasting the weather in South Jersey, Dan told us,"It's one of the most difficult places I've forecasted and one of the few places in the country where I can go on the air and say zero to twenty inches throughout the area. It could be zero inches in Cape May and twenty inches in Hammonton. It keeps me very humble as a forecaster. South Jersey is great…if you don't like the weather, just wait a minute, could be thirty degrees today and 60 degrees tomorrow!"
FEBRUARY LUNCHEON REVIEW :
(Left to right) Bill Vitka, Michael Tearson, T. Morgan, Rod Carson
Kal Rudman, Annie Haslam and moderator Dean Tyler
(All seven are members of the Broadcast Pioneers of Philadelphia)
Wednesday, February 16, 2011
Get all the details about the luncheon including 75 photos and complete audio in both Real Audio and Windows Media formats.More details!
A FINAL THOUGHT....
"If you look up "Anchorman,' John Facenda's picture should be there. The credibility, the trust, the warmth, the integrity, the voice."
Dennis Bianchi
President/General Manager of NBC 10
Wednesday, May 16, 2007
at our Broadcast Pioneers Luncheon
We welcome your input regarding content, future stories, suggestions, etc. Please contact us by e-mail at newsletter@broadcastpioneers.com. Your stories are important, to you, to us, and your colleagues. Contact us today and we'll include your story in the next newsletter!

Photo Editor & Archival Historian - Gerry Wilkinson
© 2011, Broadcast Pioneers of Philadelphia
All Rights Reserved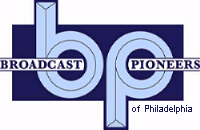 The e-mail address of the Broadcast Pioneers of Philadelphia is pioneers@broadcastpioneers.com
For luncheon reservations call (856) 365-5600 or e-mail us at: rsvp@broadcastpioneers.com