The Broadcast Pioneers of Philadelphia is a federally recognized, state chartered charity. We are a 501(c)(3) non-profit corporation serving Philadelphia since 1962.

Frank Stone
Newsletter Editor

March Luncheon
The Bala Golf Club
Wednesday, March 21, 2012

Reception at 12 noon
Lunch at 12:30 pm
Ratecard: $25 per person

PLEASE RESERVE NOW!
(856) 365-5600
rsvp@broadcastpioneers.com
Celebrating 90 Years of
WIP Radio!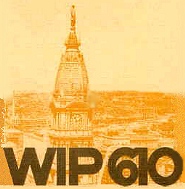 Join us at the Bala Golf Club on Wednesday, March 21st, for another fabulous luncheon. This one (better than the other one) is a celebration of 90 years of WIP radio.
Our moderator and emcee for the afternoon will be Jerry Del Colliano, former publisher and founder of "Inside Radio" and former WIP air person.
Our speakers will include (in alphabetical order):
Dick Carr, former manager of WIP Radio in the sixties
Howard Eskin, sports air personality for WIP Radio
Mel Gollub (Mel Stewart), former fifties WIP disc jockey
Tom Lamaine, former WIP jock/Eagles pre & post shows
Bill McCloskey, former WIP Radio news anchor/reporter
Tom Moran, former WIP jock, short guy with a big voice
Bob Russo, former WIP Radio sports producer for Eagles
Bill St. James, former early seventies WIP air personality
Dean Tyler, former WIP Radio Program Director in the 70s
with introductory remarks by Marc Rayfield (Senior VP for CBS Radio Group which includes the current WIP Radio)
plus live on the phone from Florida, Allan Hotlen, former WIP Music Director
It all takes place at the beautiful and historic Bala Golf Club, 2200 Belmont Avenue (across the street from the State Police) in the Wynnefield section of Philadelphia. Only minutes away from Channels 6, 10 and 17 and the radio stations in Bala Cynwyd. Call now for reservations. (856) 365-5600! Don't miss this one!
Meet and greet (networking) starts at 12 noon, and a full-course lunch including salad, coffee or tea and dessert will be served at 12:30 pm. There will also be a crudité and cheese table. Cash bar available all afternoon!
The cost is still only $25 per person. This is our 7th year without a price increase! Plenty of FREE parking or valet service. The luncheon is open to all our members, their guests and any person in the industry or associated fields, whether active or retired. You do NOT have to be a member to attend. Call NOW with your reservation(s), (856) 365-5600!

Visit Our Website Often - http://www.broadcastpioneers.com

ATTENTION - BOARD MEMBERS:
There will be a Board Meeting before the March 21st luncheon at the Bala Golf Club from 10 am to 11:30 am. Please put it on your schedule. When reserving for the luncheon, board members should also let us know if they plan to attend the board meeting.
WELCOME NEW MEMBERS:
FULL MEMBERS:
Pete Thompson started in the business in 1994. He's currently the Sports Director for WMGM-TV, Channel 40 at the shore. He's been there since August of 2004. Pete is also the co-host of "The Drive Home" from 6:30 pm to 8 on NewsTalk, WOND AM. He shares hosting duties with Brian Little. Before that, Thompson was in Nebraska at three different stations.
Robert Liga is the VP and Local Sales Manager for WPVI-TV, a position he has held for the last 9 years. His career spans a third of a century, all in this market. He started as a production assistant for WWSG-TV, Channel 57, and then went on to WCAU-TV as News Assignment Editor. Then he jumped into sales and was an account executive for WWDB-FM, WOGL-FM, NBC 10 and WPVI.
Maureen Malloy started in broadcasting in 1999 as the overnight DJ at WRTI-FM. From there, she went to Greater Media where she worked in promotions. Later, at WPEN and WMGK, she was a board op and worked in production. Since 2005, she has been the Jazz Music Director and a music host (9 pm to 12 midght, Monday through Thursdays) at WRTI, Temple University's jazz station.
Willo Carey has been with WHYY Radio and TV for over 30 years. She's currently the Executive Director of Wider Horizons for the station. Previously, she was Director of the Campaign for Independence from 1995 to 1999. Before that, Willo was the Director of Development. For those who view Channel 12, you can often see Willo on the television fund raisers.
Paul Toub (Paul Troy/Gary Phillips) first caught the broadcasting bug when he was an in-store announcer for S. Klein & E.J. Korvettes. He moved on-air at WHAT-FM & WCAU. After working at stations in the south, he returned to Philly & WIFI. He did weekends at WUSL-FM and was VP for the Charming Shoppes (Fashion Bug) and David's Bridal. He's now Chief Marketing Officer for a local group of companies.
Kristin Long started in broadcasting in 1979. She's currently the General Sales Manager for WPHL-TV, Channel 17 here in Philly. Previously, she was Senior VP for ABC National TV Sales, National General Manager for WBAL-TV in Baltimore, General Sales Manager for WDAU-TV (now WYOU-TV) and VP for Balir Television. Her BA in communications is from Rutgers University.
New member Joaquin Bowman's mother studied acting and Bowman sort of followed that by becoming a dancer on American Bandstand. While in college (Lew Klein was one of his professors), he worked the overnight gig at WDVR, now B-101. After graduation, he went to work at WIBF-FM in Jenkintown as an announcer and salesman. For a quarter of a century, he was the Director of PR and Advertising for SEPTA.
John DeBella once said (paraphrasing Groucho Marx) that he wouldn't want to be a member of any organization that would accept him as a member. Well, we say welcome aboard, John. DeBella hails from Queens but now calls the DeBellaware Valley his home. He started here thirty years ago with the Morning Zoo on WMMR. He also did the morning cartoon block on Channel 29. Now he's doing mornings on WMGK.
Joe Tarsia started in the business in 1959. He started in the Philco research department in 1952 and stayed with them for a decade. Then he went to Cameo-Parkway Records for five years. After that, he opened up Sigma Sound Studios, which he ran until 2003. Sigma had literally thousands of artists record their music at the Sigma studios. Joe is now retired and living the good life in South Jersey.
We are thrilled to have these new members. They've helped to bring our total membership up to 468 (an all-time record). We hope to see as many of you as possible at the March luncheon.
DIGITAL ARCHIVAL PROJECT NEWS: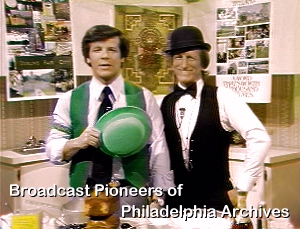 (Left to right) Dave Roberts and Calvin Holt
AM Philadelphia, WPVI-TV
March 1979
Here's part of an AM Philadelphia show, which aired over WPVI-TV around St. Patrick's Day in 1979. Broadcast Pioneers member Dave Roberts was the co-host. The 3/4" tape was sent to us by Broadcast Pioneers member Fred Woskoff, the program's director. Dave and Calvin make Irish coffee and then an Irish dessert, and of course both contain Irish whiskey. Calvin co-owned Serendipity 3 in Manhattan for almost a half century and died in June of 1991. Calvin Holt studied acting and dance and was a television performer in the fifties. In our opinion, the Real Video version of this video is slightly clearer and cleaner.
Watch in Real Video!
Watch in Windows Media Format!
Fred Woskoff e-mailed us:
The whiskey was real. In fact, Charlie Bradley, the WPVI Programming Director, came running into the control room to tell me to get the segment over and get Dave and Calvin off the air because they were having too much fun with the booze. He was probably right, but the crew and I were all laughing so hard we probably didn't notice what was actually going on.

You probably can hear Larry Ferrari playing live in the background. Larry would play during all of the segments, which added quite a bit of fun to the show, as he'd come up with all sorts of things to add.

My time at AM Philadelphia began in September 1978. I was hired to fill in for three weeks after Art Moore became promotion manager. That three weeks turned into three months, before Sherry Feldesman was hired as producer. I stayed on directing for another month as a freelancer. So, when this particular segment with Calvin was done, Sherry was producing down on the studio floor, and I was directing up in the 4th floor control room.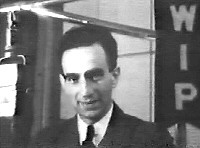 Here's an audio clip from Broadcast Pioneers member John Facenda's days at WIP Radio. This recording was transferred from 16 inch transcription discs in the collection of Jack Facenda, John's son. The transcription transfer was courtesy of Broadcast Pioneers member Scott Bomboy. The date is July 27, 1940.
Listen in Real Audio!
Listen in Windows Media!
King George VI, the head of the British Empire, died on Wednesday, February 6, 1952 around 2:30 am, Philadelphia time. The official announcement was made 3 hours and 15 minutes later by a spokesman at the estate. Shortly thereafter, the home service of the BBC Radio announced the news to the British nation and then closed down operations.
The British Prime Minister Winston Churchill addressed the British nation the next evening at 9 pm (British time). It was 4 pm here in Philadelphia. While the speech was carried live in the United States, many stations reaired the address later that evening when people returned home from work. WIP Radio in Philadelphia was one such station. That night, Thursday, February 7, 1952, the station rebroadcast Churchill's address. Afterwards, there was a ten-minute wrap-up by WIP. This was a local wrap-up and NOT part of the original Mutual Broadcasting System's original feed. WIP was a Mutual radio affiliate at that time. As of now, we have not yet been able to identify the announcer. Audio originally donated by Broadcast Pioneers member Michael Muderick.
Listen in Real Audio!
Listen in Windows Media!
DAVE ROBERTS AND ART MOORE: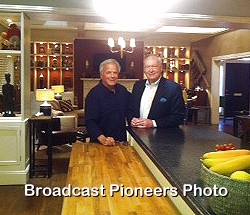 This photo was taken a couple of days ago on the set of the TV series, "Bones." David Boreanaz, Dave Robert's son, is the star of the show. The picture shows member Dave on the left with member Art Moore on the right. Roberts tells us that "Bones" returns to the Fox TV Network lineup on Monday, April 2nd at 8 pm, followed by "House." The set we see is the new apartment for Booth and Bones. We'll be watching.
BROADCAST PIONEERS' SCHOLARSHIPS:
Our scholarship competition is now closed. We received 337 applications, an all-time record. Our scholarship committee met in late February and selected 36 finalists. At this point, those finalists are now gathering their material. Later this month, our committee will select our 17 scholarship winners. These scholarship awards will be presented to the students at our April luncheon.
BROADCAST PIONEERS' CAREER NIGHT AT TEMPLE:
On Thursday, March 29, 2012, the Broadcast Pioneers of Philadelphia will host a FREE Career Night for all interested communications majors (and those majoring in related fields) at area colleges. The event will take place in Annenberg Hall on the campus of Temple University from 6 to 8 pm. Remember, the event is free and is open to all college students regardless of the university they attend. Last year, about 125 students from several different colleges and universities were there.
Our moderator will be Broadcast Pioneers President Jerry Klein, who worked at KYW Newsradio and WPHT (when it was WCAU Radio). He and his wife own Anne Klein Communications Group, a company which just celebrated its 30th anniversary.
On our panel will be:
Dave Coskey, president of Longport Media, owner of 5 radio stations
Ed Cunningham, television producer for WHYY-TV, Channel 12
Pat Delsi, former owner of WSSJ Radio (now WEMG) in Camden
Lou DuBois, Social Media Manager for NBC 10, WCAU Television
T. Morgan, current WMGK jock, former radio program director
Linda Munich, Vice President of Public Affairs for 6ABC, WPVI
Bill Roswell, Director of Digital News and Media, KYW Newsradio
Bill Vargus, former sports anchor for Fox 29 and Fox TV Network
IN TOUCH WITH OUR MEMBERS:
Former Board Member Bob Jawer celebrated another milestone last month - his 90th birthday. His entire family was there to wish him another 90 years. Congrats, Bob.
Did you know that member Mike Bove (don't confuse him with Mike Bowe) had his own doo-wop group in the sixties? It was called "The Tridels." Member Gene Arnold was the group's manager. WIBG, the music powerhouse at the time, played their stuff and the group appeared at the record hops of Hy Lit, Joe Niagara and Don L. Brink, among others. (By the way, in case you are wondering if Mike is related to Board Member Loretta Bove Crowell, this answer is yes.) You can listen to their first recordings on the links below:.
Image of My Love (August 1964)
Land of Love (August 1964) A WIBBAGE Sureshot
On December 7th, 2007, Andy Kortman did a WIP Reunion Show on his morning radio broadcast. Since WIP is celebrating their 90th anniversary this month, we thought you might enjoy hearing it. Click here to listen!
Member Bunny Gibson
December 2011


Member Bunny Gibson
February 2011
My, how member Bunny Gibson has aged! Actually, the photo on the right isn't a mug shot from the LA Police. It's how Bunny, a former dancer on "American Bandstand" when it was originating from Philadelphia, appeared in a TV commercial recently. They gave her the chair - the make-up chair - and aged her. She told us that "it took two hours."
Member Bob Pantano celebrated 35 years of hosting The Saturday Night Dance Party on Saturday, February 18th. Bobby had many great guests that evening, including the Trammps, The Blue Notes, Billy Paul, Russell Thompkins, Jr. of the Stylistics. The broadcast is heard every week on WOGL here in Philly and WTTH at the shore. Vice President/General Manager Jim Loftus (who is a member of this organization) said:
For 35 years, people from all around the Delaware Valley have enjoyed Bob Pantano's Saturday Night Dance Party. Mr. Saturday Night is truly one of Philly's broadcasting icons, and his 35 year tenure has made his show Philly's longest running live radio dance party broadcast. We are especially proud of and appreciative to Bob for all he has done for CBS Radio and 98.1 WOGL, and we join his legions of listeners and dancers in wishing him many more years of packed dance floors, spinning disco balls and fun dance parties.
Last month, we told you that it was coming soon, and it's now here. Member Harvey Sheldon's latest book is now available on Amazon.com. It's called "America's Greatest Jazz and Pop Singers." The preface was written by Gerry Wilkinson, our Chairman of the Board, and the book includes an article about member Peggy King (who we all remember from the George Gobel TV Show). We understand that Sheldon is currently finishing his lastest endeavor, "The Golden Age of Television."

New member Joaquin Bowman sat next to our Chairman of the Board Gerry Wilkinson at the last luncheon. He happened to mention that he had a 1948 RCA audio console (Type 76-B5) that came out of WFIL when they were at 46th and Market Streets. Bowman said that he has no use for the console and wondered if anyone had an old RCA 44BX or 77 ribbon mike that they might wish to swap. A picture of Joaquin, taken when he worked at WDVR, was published in the Philadelphia Radio book written by member Alan Boris. By the way, Joaquin has two sisters, Melanie Capoferri and Vibiana Bowman-Cvetkovic, who are also members of this organization. Bowman's e-mail address is: trego2@comcast.net.
Member Joe Ball, publisher of ACT, wants everyone to know that tomorrow (March 7th) members and their guests are welcome to accompany him to the Philadelphia Advertising and Business Show at the Villanova Conference Center. There are about 70 exhibitors, including radio stations, as well as entertainment and free parking. He says you might even get your photo in his publication. Who knows?
BROADCAST PIONEERS EXCLUSIVE: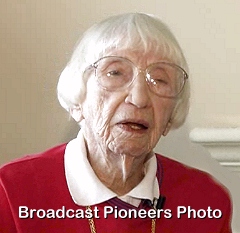 Our oldest member is Edna Whittington Cathcart. She 103 years old. Last fall, Broadcast Pioneers member Liz Matt interviewed her. The video was shot by Board Member Brad Seecof. Edna talks about her 41 years in broadcasting and most of them at WIP Radio.
WE REMEMBER: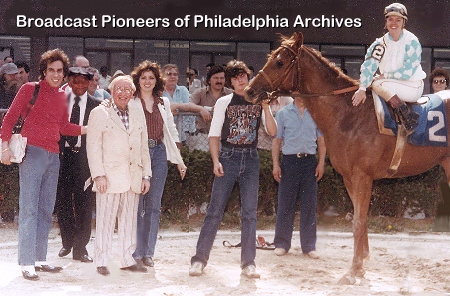 (Far left of photo - left to right) Steve Leon, Jimmy Carroll and Max M. Leon
Leon owned winning horse Irish Balledeer at Keystone Race Track
Wednesday, May 26, 1982
Steve Leon, known to his listeners as "My Father's Son," was the son of WDAS owner Max Leon (a former officer of this organization) and had a daily counter-culture radio program on WDAS-FM in the early seventies. He left the station when Max Leon purchased KNTO (Wichita Falls, TX). Steve then became president and general manager of that station. Steve had three children and five grandchildren. Steve has two sisters, Sonia Gilbert and member Ruth Weiman, who tells us:
My brother passed away suddenly on Monday, February 13th, from an apparent heart attack in Gorham, Maine, where he was living. Steve was 69, and had a varied career in car racing, radio and thoroughbred racing throughout his life. Steve was ahead of his time in challenging the status quo. There was a differing view then of the propriety of what he did by pushing the limits, but by today's standards what he did was rather tame.
David Crane, former WIP newscaster, has died of cancer. David Crane was one of the early members of the WIP News team and was recruited by Paul Rust upon Metropolitan Broadcasting's (Metromedia) purchase of the station in 1960. David came to WIP from the Miami market as did several other WIP staffers. He was young, enterprising and had a marvelous voice and delivery. Dave worked in the same newsroom as John Paul Webber, Bill McCloskey, Robert Vaughn, Charles Edwards and Sam Hall. In later years, Dave moved to the Los Angeles and San Francisco markets and became a news consultant. At the time of his passing, he was teaching digital and broadcast technology at the University of California, Santa Cruz. Crane was in his seventies. An important point, according to member Dick Carr: Dave Crane was a valuable member of the WIP Softball team.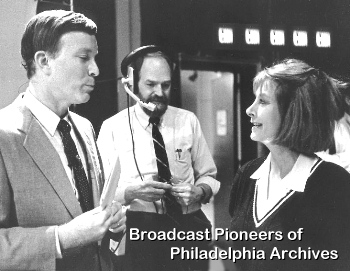 (Left to right) Ed Cunningham, Fred Ficke and Jean Marsh of "Upstairs, Downstairs"
WHYY-TV Studios, Philadelphia
1988
Fred Ficke passed away last month. He worked at WHYY-TV for over four decades. Back in the day, he worked in film development down in Wilmington, but he's best remembered to the station's staff as their stage manager. He coached everyone the PBS outlet ever put on camera, from U.S. Presidents to the station's fund raising staff. He and his wife, Linda, have three children. We asked Bill Marrazzo, president and CEO of WHYY, for a comment. He told us:
As with the entire broadcast industry, at WHYY the only thing that seems to stay the same is change! Navigating these times takes professionals who are knowledgeable about their craft and loyal to our audiences. Fred Ficke was all of that and more. His technical contributions at WHYY to excellence in broadcasting are legendary and were only outdone by his sense of humor and concern for others. Our industry has lost a great contributor and even better person. He will be missed.
About an hour and a half after this newsletter went out, we got sad news. However, because of today's technology, we can actually add it to the newsletter. The word comes from Mel Klawansky that veteran radio announcer Bill Kimble passed away recently at his Jeffersonville, PA home. Bill will be remembered by many as the voice on WPEN, 950 Radio and the voice on several radio and TV commercials. Early on, Bill worked in the Scranton/Wilkesbarre area on WARM - The Mighty 590! Bill will be missed by the people that worked with him, and the people that listened faithfully to that smooth warm voice in the night on Philadelphia Radio. Funderal arrangements are pending.
ON THE HEALTH FRONT:
(left to right) Clayton Moore as the "Lone Ranger" with Sally Starr
Bala Golf Club (where we now hold our luncheons)
circa 1958
Member Sally Starr is still under the weather and still in rehab. We wish her the best. Sally started "Starr Theater" on WFIL-TV back on October 3, 1955. The show aired from 6:15 to 7:15 pm and ran two half-hour westerns. During the program's run, one of those shows was "The Lone Ranger." The Lone Ranger, which recently celebrated its 79th anniversary, originated on radio in Detriot. It's just urban legend that the Ranger shot Tonto because he found out what "Ke-mo-sah-bee" meant. By the way, our spelling of the Indian word is how it appeared in the original radio scripts. Sally also was quite a singer, as evidenced by her version of this Easter song entitled, "Rocky, the Rockin' Rabbit." The song was co-written by Bill Haley and the Comets back up Sally on this tune.
Listen to Rocky, the Rockin' Rabbit
Broadcast Pioneers Board Member and 2010 Hall of Fame inductee Joe Pellegrino's arm is in a sling! In mid-January, Joe was playing golf with good friend Rich Wescott, president of the Philadelphia Sports Writers Association, when he became wedged between a golf cart and the fence. He lost his balance and fell full force on his right shoulder, severely tearing his rotator cuff. Joe had surgery on February 1st and expects to be in the sling until mid-month. He is then looking at approximately six months of physical therapy. Joe told us: "Never had a major injury during all the sports I've played over the years, but when all your weight falls on one part of your body…I knew right away something was very wrong." Get well soon, Joe, and enjoy your new recliner!
Member Dr. Betsy Leebron is making a special fashion statement these days. She's been wearing a heavily padded boot because she tore the ligaments on both sides of her ankle as she exited a coffee shop. Betsy is Senior Vice-Provost for Strategic Initiatives and Communications, and professor in the Department of Broadcasting, Telecommunications and Mass Media in the School of Communications and Theater at Temple University. She also serves on our scholarship committee. This year she is spending her time at Lafayette College on a fellowship.

Did you know...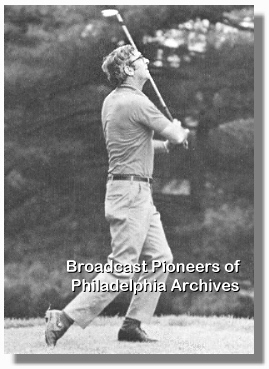 WIP News Director Paul Rust
Bala Golf Club (where we now hold our luncheons)
circa 1971
that a number of WIP's key recruits in 1960 came from Miami radio. Paul Rust was the most important because he built the news department, which was vital to the music station's success over the next decade. Ten years later, while on the golf course, Rust told me he could have been tempted to join CBS Radio News because he would have enjoyed the challenge of greater scope. Nevertheless, he did not seek out the opportunity. It was probably because he found a niche at the Metromedia station and enjoyed working the edges of Philadelphia's law enforcement and City Hall politics.
Paul built a management style of gathering radio news on a smaller scale and recognized the need to measure enterprise through a prism of budget constraints and the limited news windows of a major market music radio station. At WIP, Rust established the policies, hired the personnel and trained them to produce two locally produced newscasts each hour, 24 hours a day seven days a week. WIP was not an affiliate of any of the major radio networks because we didn't want to be. Rust and his staff of eleven or twelve reader-writers had full responsibility for the entire news product. Their "beat" was local, regional, national and worldwide. That made the telephone the most important tool of the news gathering effort.
Our resources were two local wires plus the worldwide Associated Press and United Press wire services. The newsroom had only enough desk space for Rust and four newscasters to be working concurrently using typewriters, a battery of telephones, tape recorders, cartridge machines, tape editing equipment and short wave monitors. Live street coverage was rare and only dispatched through use of private vehicles.
Paul and his wife, Gail, wouldn't think of living in the Philadelphia suburbs but made their home in an apartment building near the Schukyll River, which was convenient to the radio station, police headquarters and City Hall. Paul drove a Volkswagon, carried a pack of cigarettes, most always wore a hat, had a nervous habit of twitching his lips and could himself have been a detective. His golf bag had room for only those clubs that were absolutely necessary and he adequately covered center field on the WIP softball team. I remember his expense reports. They were only necessary to facilitate personally developed relationships with important local news sources. Usually they included nothing more than a tuna fish sandwich on white toast and no more than two "cold white ones," otherwise known as beefeaters on the rocks.
"Many things stand out when I remember Paul Rust," said Broadcast Pioneers member Bill McCloskey. "All of his notes were signed P.E. R. A Navy pilot during the Korean War, Rust knew no boundaries. He wanted sound…the voice of the newsmakers… and he wanted them tracked no matter where in the world they could be located."
Rust: Get Fidel Castro on that phone…all right, then get Harry Truman at home in Independence…got him? ... good! Let me hear the tape before you start editing…there, cut it there…now start writing, you have ten minutes to air time. Oh yeah…what are you doing about that Frank Rizzo story? What do you mean he can't take your call right now?
McCloskey continued. "I can't tell you how many times Paul would have us call back the news source and ask the questions we failed to ask…"
Rust: We're going to do this over and over until we can do it right.
"And we did…we always got the sound…it was all about getting the sound…the voice of the newsmaker. And it proved that WIP had direct contact with the newsmakers on every local and many of the national and international stories that were aired."
Bill McCloskey continues, "I remember Paul was furious one Sunday night when I had busted my a** on a breaking news story at the end of my shift. It was almost 9 pm and it was time for me to leave. But our HOTLINE news tip line rang. We paid $25 for the best news tip each week and when a big story happened the news tip line lit up."
"That night, it was a tip that an Eastern Airlines plane crashed in a field in Delaware, just off the newly opened JFK Highway, I-95 less than fifty miles from Philadelphia. While I was leaving for home and on my way out the door, the phone rang. I thought I'd better get it. The news tipster on the other end told me a big plane had just been hit by lightning and crashed into a field. I taped his comments and hung up. Then the phone rang again with another excited listener with the same version of the same story…and then another call with the same tip.
I pulled off my coat and started writing…gave the bare facts that a passenger plane had just been struck by lightning and crashed in Deleware near the JFK Highway…there are no further details. The good news was we got it on the 9 o'clock news. The bad news was Rust was listening and was not happy with my version of the scoop, " McCloskey went on.
"The next call was from Rust. The former Navy PBY Korean War pilot was livid."
Rust: (Expletives deleted) There has never been a plane knocked down from the air by lightning. (Expletive deleted)…Never! Where did you ever get that idea…did you think to check it out? (More expletives)
Years later, the National Transportation Safety Board confirmed that lightning had indeed struck the plane and McCloskey was correct. Rare, but no cigar for Bill.
Another former WIP newsman, Andy Fisher, also weighed in on Paul Rust.
"Paul's stroke of genius was the move that turned the entire city into a news staff… the HOTLINE telephone news tip line…because of the station's extraordinary audience share and listening range, we developed tipsters in some otherwise inaccessible areas."
The names of WIP newscasters who were trained by Paul Rust included veteran John Paul Weber (a member of the Broadcast Pioneers) and Gordon Thomas as well as others you you may have heard later on in network radio and television…Robert Vaughn, John Schubeck, Bill Paine, David Crane, Noel Heckerson, Sam Hall. It's a much longer list.
WIP GM, Harvey Glascock was looking for something different to do after lunch and that November Friday in 1963 was an unusually pleasant day. He suggested that we drive out to the University of Pennsylvania football practice field and watch the Philadelphia Eagles work out in preparation for their upcoming game that weekend with the Washington Redskins. Naturally, we were listening to WIP. As we approached Philadelphia's Logan Circle, the first bulletin and newsman Dave Crane's voice crashed through the music. Shots had been fired at the Dallas motorcade that included President John F. Kennedy and his wife Jackie. In a follow-up, Crane reported that the President had definitely been hit by gunfire.
As I looked around us, it seemed that the other cars nearby had also heard the news and drivers were stunned. Harvey, listening to the report closely, kept circling Logan Circle as if the car was on a tether unable to release. Programming was in turmoil. We stopped playing music and personality Jim Tate correctly allowed the newsroom to take over. Now news director Paul Rust was on the air.
"Thank goodness Rust is there," I said. "Harvey, stop the car and let me out, I have to get to the station and I can run faster than you can drive." Traffic was moving too slowly. The WIP studios were only a few blocks away at 19th and Walnut. I began running and not thinking very clearly but knew I had to be there making programming decisions and couldn't wait for Harvey to drive me through congested downtown Philadelphia traffic. Moments later I was in the studio with Tate. Rust found out I had arrived and we conferred immediately. I gave Paul clear programming authority.
Fortunately, Ike Pappas, WNEW correspondent, was on the scene in Dallas and filed reports that were then forwarded to us via a special full time hook up from WNEW to WIP Master control. We preempted all regular programming, music and commercials and remained in that mode three full days until Sunday evening. In addition to Pappas, the news wires, the telephones and tape became our most important tools enabling us to fill with local and national phone interviews with newsmakers, VIP's and regular listeners.
The assassination of President John F. Kennedy and the events in Dallas all that weekend made up one hundred percent of WIP's programming. It was a trying and difficult time for us. But this historic event was the making of WIP News. We knew that Paul Rust's news team was good, but until that weekend we didn't know just how good they really were.
This month's "Did You Know" column was written by Broadcast Pioneers member Dick Carr, former PD at WIP Radio. Dick writes a blog at www.bigbandsballadsandblues.com. There, you can read all about Jazz Great and some stories about Philadelphia radio.
MORE DIGITAL ARCHIVAL PROJECT NEWS: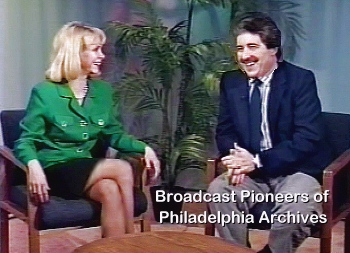 (Left to right) Carol Erickson and Chuck Gagliardi
1992
Broadcast Pioneers member Chuck Gagliardi did an interview program on cable in 1992. One of his guests was Broadcast Pioneers member Carol Erickson, who tells us how she got into the business. In this clip, Carol mentions that she knew nothing about weather when she started out as a weathercaster. Well, she is certainly very knowledgeable now; today, we refer to her today as meteorologist Carol Erickson!
Watch in Real Video!
Watch in Windows Media!
Broadcast Pioneers member Nat Wright joined the staff at WIP Radio in 1961 as a swing man. That is, sometimes he did news and sometimes he did a music show. Towards the end of that year, there was a PTC (now SEPTA) elevated train derailment. Nat was on the scene and phoned in these reports. (Donated by Nat's widow, Sue)
Report #1
Listen in Real Audio!
Listen in Windows Media!
Report #2
Listen in Real Audio!
Listen in Windows Media!
Tuesday, April 25, 1972. In Philadelphia, it was Primary Election Day and the big race was the Democratic nomination for president of the United States. However, there were also local races, including Bill Green running for the United States Congress. Seven years later, he would run for mayor and win. We have 24 minutes of that evening's election coverage as itaired over WIP Radio in Philadelphia. (Donated by Broadcast Pioneers Chairman of the Board Gerry Wilkinson)
Listen in Real Audio!
Listen in Windows Media!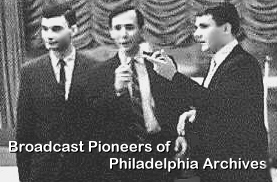 (Left to right) Jerry Del Colliano, Bob Donze and Walter Moore (Walt Mocrytzki)
WRTI-FM Student Banquet
May 1966
Decades ago, WRTI-FM was the completely student-run radio station at Temple. Broadcast Pioneers President Jerry Klein was WRTI's last student station manager. In the mid-sixties, member Jerry Del Colliano co-hosted a Saturday evening comedy and variety show called "Party Time." Listen to the opening of the show and hear stars Bob Donze and Jerry Del Colliano sing. Walter Moore is the announcer. Jerry Del Colliano tells us:
Bob and I lived one block away from each other as kids. We did our first Communion together -- white suits and all. So when we went to Temple, we collaborated on an "act" that eventually was Bob & Jerry. Bob wrote the music (to their theme). He and I wrote the words. Neither one of us could sing on key without radar but we must have looked funny. His old Italian grandmother who never spoke a word of English lived with Bob. We rehearsed at his house and his grandmother was in the room and she laughed her head off. When we asked his mother to ask her why she's laughing so hard she said, "they look funny."
Listen in Real Audio to the opening of "Party Time"
Listen in Windows Media to the opening of "Party Time"
Remember, History is ONLY What Gets Saved!
(If there were no portraits of George Washington, how would we know what he looked like?)
MORE IN TOUCH WITH OUR MEMBERS:
Members Steve Ross, Jim Murray and Jackie Strauss bring you the WPHT Radio program"Remember When" every Saturday evening at 11 pm. Just recently, they started a new weekly feature called"On the Streets Where You Lived." Each week, they deal with a different neighborhood.
Member Dom Giordano of WPHT Talk Radio did a live broadcast on President's Day from the Radisson Hotel in Trevose. It was a "Salute Our Troops" event honoring our men and women who serve(d) in Iraq and Afghanistan. Special guest was Jim Axelrod, CBS News War Correspondent.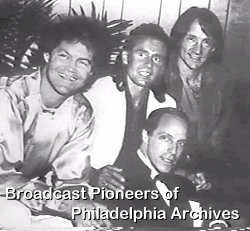 Member Jerry Blavat and the world mourn the loss of Davy Jones of the Monkees. Jerry appeared on one of the episodes of the Monkees' TV show. The episode (entitled"Some Like It Lukewarm") aired on March 4, 1968. When the group was in Philadelphia that fall, they returned the favor and made a guest appearance on Blavat's TV show, "Jerry's Place," which aired locally on Channel 6 and syndicated nationally. That air date was November 18, 1968.
Watch an excerpt of Jerry Blavat on the Monkees' TV Show!
During November of 1968, the Monkees also did an interview with Broadcast Pioneers member Hy Lit. They were in town promoting their movie called, "Head."
Watch Hy Lit interview the Monkees!
Broadcast Pioneers Treasurer and 2001 Hall of Famer Pat Delsi recently participated in a dinner at Rowan University honoring '68 alum (and Pioneers member) Dan Baker. With over 400 people in attendance, Dan celebrated 40 years in communications and broadcasting and was honored with a scholarship created in his name at Rowan. Other featured speakers were Merrill Reese, Keith Russell (6abc), Greg "The Bull" Luzinski, John Clark (NBC 10) and Eric Zilmer, Director of Athletics at Drexel University. Dan's prominent career has spanned decades, but he is best known for his 40 years as a Philadelphia Phillies PA announcer and 28 years as PA announcer for the Eagles. Dan is the longest tenured PA personality in major league baseball. Congratulations, Dan!
Dave Coskey, President and GM of Longport Media and member of Broadcast Pioneers, has been named to the Board of Governors of the Bacharach Institute for Rehabilitation. Dave has over 30 years experience in the fields of sports, gaming and entertainment. He served as executive vice president of the Philadelphia 76ers and as vice president of marketing at Borgata Hotel Casino and Spa.
Have you seen (or heard) Charlie Gracie lately? One of our favorite rockers, Charlie Gracie, will be in the Big Apple on March 30th at The Bitter End in Greenwich Village. Maybe you saw him featured on "The 10 Show" on NBC 10 on Friday February 24th. Charlie is hot with his new single "Baby Doll," which has been getting lots of airplay in New York, Philadelphia and around the country. The record climbed to number 52 nationally on the Billboard singles chart. In January, Soundscan had it rated as the number 1 CD single in the Philadelphia area. Nice going, Charlie!
Members Bobbie and Henry Shaffner are spearheading a campaign directed towards the United States Postal Service for a Van Johnson commemorative postage stamp. Their expanding campaign has recently welcomed Debbie Reynolds, who knew Johnson when they were both working for MGM during the late 1940's and co-starred with him in the hit film, "Divorce American Style." We were just informed that Liza Minnelli has put her stamp of approval on the campaign along with Mary Rodgers, daughter of Richard Rogers and Jennie Eisenhower, great granddaughter of Ike and Mamie Eisenhower.
We heard from Broadcast Pioneers member Johnny B. Hall, who told us his wife Dr. Virginia Hall had returned in mid-February from a three week stay in Ludhiana, India working at the city's Christian Medical College. Board-certified in both obstetrics/gynecology and internal medicine, Ginny proved a popular lecturer and instructor for the facility's students, residents and medical staff. Ginny is planning a return visit in 2013. Editor's Note: Johnny B. Hall is a major supporter of our archival project through his regular monthly contributions. His support has is a key component of the ongoing success of the project. He has also underwritten four scholarships which we will award next month.
On-air personality at WRTI-FM (Temple University Public Radio) and pioneers member Bob Perkins will be providing commentary and anecdotes about the life of Tony Bennett during an April benefit performance by singer/bandleader Eddie Bruce. The benefit is hosted by The Center for Literacy. Have fun, Bob!
Recently, this newsletter editor and his wife, Barbara were "on the scene" at The Eden Lounge at Harrah's Resort and Casino, Atlantic City, to hear the Jeremiah Hunter Band, featuring Kenny Jeremiah and Bobby Hunter. This was the final performance of a month-long booking at Harrah's, where the Eden Lounge was packed with people of all ages singing, dancing and enjoying the music and entertainers. The performance, the sound, the staging were all total crowd pleasers. Needless to say we had a great evening.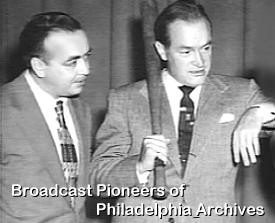 Last Friday was the 50th anniversary of the Wilt Chamberlain's 100-point game between the Philadelphia Warriors and the New York Knicks. The announcer on the broadcast was Broadcast Pioneers member Bill Campbell. The only known audio of the game (there is no known video) is the last quarter, which we have in our audio archive. But it's interesting to know how that recording came about. Bill Campbell told us the story many times. WCAU Radio, which aired the game, didn't air check the games. As the game progressed, no one thought to throw on a $5 reel of Scotch audio tape. So no station recording exists. However, Bill received a call from a fan the next day telling Campbell how great the game was and how he listened to his tape over and over. Bill said to the caller (who was from Downingtown),"You know, sometimes our engineers like to compare their recording with those made by amateurs. Why don't you send us your tape so we can compare it to our recording?" Of course, the only known audio is that one recorded by the guy in Downingtown.
Listen to Bill Campbell describe the 100 points shot!
THANK YOU:
As we do every month, we want to thank Broadcast Pioneers member Johnny B. Hall for his monthly cash donation to our DAP, Digital Archival Project. The amount totals $1,800 yearly and really helps us to underwrite this much needed but expensive project. We welcome other gifts for this project in the form of money and/or donated items like video tapes, audio transcriptions and photos.
Johnny has also underwritten 4 scholarships that will be awarded at our April luncheon. He has already underwritten an additional one to be given away in 2013 and maybe more are in the pipeline. Ira and Robin Adelman and Robin's dad, Leon Love, have already underwritten a scholarship for 2013. Member Sylvaia Kauders is also underwriting a scholarship for 2013 and one for 2014 (part of a five year package of scholarships). We're already off to a good start for 2013. If anyone else would like to join this group, we would be delighted to hear from you.
From time to time, we pause for a moment to thank some of the people who work all year round for this organization. Some of them are Brad Seecof and Steve Sacks, who video record our luncheons. Thanks also go to our sound gurus, Dave Michaels and Bill Gellhaus. Our President, Jerry Klein, works hard at each of the luncheons taking photos and making the name tags. Bill Kelley, Ed Eisen and Paul Big Bear greet people as they arrive for our luncheons. Our Chairman of the Board, Gerry Wilkinson, plans and produces all our luncheons. Pat Delsi books the room, caterer and selects the menu for the lunches (and takes your reservations). Bill Wright, Sr. writes notes to all new members and to people feeling under the weather. Thanks also go to the three Michaels: Michael Muderick, Mike Bove and Mike Lopen collect your money at the luncheon door. Frank Stone is our newsletter's editor. Thanks for a wonderful job. Ed Eisen produces the paper version of the newsletter for those without an Internet connection. The paper edition will disappear after this June because 98% of our members have the Internet. For time to time, we'll thank more of the people who make this organization what it is. Thanks to everyone that comes to our luncheons and to all of you for being members. Your support is appreciated. All of this is important and our thanks goes to all of our members.
Thanks go to Tom Cloyd, a former staff designer for KYW-TV. Tom donated dozens of copies of "Scan Lines," which was a quarterly. Issues are from early eighties and it was published by the Broadcast Designers Association for television art directors and designers. Thanks, Tom. It is much appreciated.
Also, special thanks to Zara Wilkinson, Gerry's youngest daughter. She proofreads every issue of this newsletter, works on our Digital Archival Project, and contacts all the professors about our scholarship competition.
Member Sue Wright, Nat's wife, has donated a couple more boxes of audio tapes. Because of this donation, we now have a lot of Nat Wright material in our audio archive. Thanks, Sue.
Member Anthony DiFlorio has been busily digitizing more of the Jack Pyle tapes we received several months ago. Only donations of material and donation of time to encode this material can ensure these priceless and historical broadcasts survive into the future.
If you forgot to make an extra contribution (cash or memorabilia) and would like to do so now, it's never too late. We would be thrilled to hear from you at: PO Box 2886, Bala Cynwyd, PA 19004 or call us at (856) 365-5600.
A LITTLE BIT OF HISTORY
WIP Radio Studio
Wednesday, March 22, 1922


This picture was taken at WIP Radio in the Gimbel Brothers Department Store (Gimbels owned WIP at the time) in Center City Philadelphia. The station, one of the first in this city, was on the air less than a week when this photograph was snapped on Wednesday, March 22, 1922. It is quite likely that the woman in this picture was WIP's program director, Helen Pulaski Innes, who was previously manager of the Philadelphia Orchestra. She was one of the first (if not the first) female PD of any radio station in the United States.

IN TOUCH WITH THE INDUSTRY:
CBS 3 (KYW-TV) has partnered with the Franklin Institute. CBS 3 is now the official weather station of the Institute. CBS 3 has installed a fully-functional Weather Station at the museum, which will monitor temperature, humidity, and wind speed and direction around the clock to provide data for both the CBS 3 meteorologists and The Franklin Institute. In addition, a high-definition camera has been placed on the Parkway that will provide panoramic views in all seasons of The Franklin Institute, one of the region's most iconic landmarks, for weathercasts on both CBS 3 and sister station, The CW Philly.
The National Constitution Center, in partnership with CBS 3 and Philabundance, the Delaware Valley's largest hunger relief organization, will collect non-perishable food items as part of the Bruce Springsteen-inspired "Hungry Heart" Food Drive. During March, visitors who bring a canned food donation to the Center will receive $2 off admission to the must-see exhibition "From Asbury Park to the Promised Land: The Life and Music of Bruce Springsteen." An advocate for eliminating hunger, Springsteen has long been a supporter of the Philabundance organization. Broadcast Pioneers Hall of Famer Ed Sciaky and his wife, Judy (a member of our organization), became close friends with. Judy Sciaky remembers:
Bruce was so poor at the time of his first album release that he couldn't afford to stay in a hotel. I remember the time my late husband Ed and I picked him up at the Greyhound Bus Terminal (yep, he couldn't afford to drive, either) and that night he stayed at "Chez Sciaky" and slept on our sofa. Bruce used to play the Main Point in Bryn Mawr to be able to pay his rent. Springsteen became popular in Philadelphia before any other city, in no small part due to Ed's championing of Bruce on the radio. There was a point when Bruce's first album,Greetings from Asbury Park, sold more copies in Philadelphia than everywhere else combined. Now that he's come so far, it's heartening to know that Bruce never forget those early days and always ties in with local charities that benefit the poor and hungry such as the Philabundance drive that's going on in March.
Do you someone who has what it takes to become America's Next Top Collegiate Model? It's time for them to take a break from their studies and prove it! Casting directors are looking for contestants that will represent all walks of college life, from Ivy League campuses to party schools, from students in pre-med to beauty school. The CW Philly 57 will hold an open casting call at Hollywood Tans on 1692 Clements Bridge Road in Deptford New Jersey this Friday, March 9th from 11 a.m. to 2 p.m.
At the beginning of last month, WIP Radio had its 20th annual Wing Bowl. WIP's Wing Bowl 20 was held on Friday, February 3rd at the Wells Fargo Center. The competition heated up with the world's greatest eater, Takeru Kobayashi, 5 time champion Bill "El Wingador" Simmons and recent 3-time champion Jonathan "Super Squibb." A portion of the proceeds from Wing Bowl 20 benefited local charities. By the way, in case you're interested, the winner was Kobayaski who defeated the reining champ, Super Squibb. Takeru ate 337 wings. The previous record, set last year, was 254.
This last Saturday, WPVI-TV, 6 ABC ran an one-hour special about the Philadelphia Flower Show held at the Convention Center. This year the flower show's theme was Hawaii. Tranquil landscapes, towering waterfalls, and serene sunsets get everyone get into the "Aloha" spirit.
Early last month, Clear Channel Media and Entertainment announced that WHIP, Temple University's student-run radio station, will be one of fourteen college radio stations to pilot a new radio category on iHeartRadio.That service is Clear Channel's free digital radio service, which is a free download for PCs, smartphones, tablets and other devices. WHIP was the only local station selected. About 75 students are involved in the student radio station activity. WHIP is completely student run by Temple University students.
The Philadelphia Phillies and CBS Radio's Talk Radio 1210 WPHT and SportsRadio 94WIP announced multi-year broadcast partnership for live play-by-play coverage of Phillies pre-season, regular season and post-season games. In addition PHL 17 will televise 45 regular season games in 2012 beginning with the season opener on April 5th against the Pittsburgh Pirates at 1:35pm. Member Scott Palmer, Phillies Director of Public Affairs and former sportscaster and news anchor, will again host W.B. Mason Behind the Pinstripes. The show will debut on Sunday, April 8th.
Diana Rocco has joined the staff of CBS 3, KYW-TV and the CW Philly 57 as a general assignment reporter. She comes here from Boston, where she worked at WHDH-TV. She has previously been employed by CNN, WNYW-TV (New York), WFXT-TV (Boston) and WFSB (Hartford). In 2006, she won an AP award for her live coverage of crime. Rocco originally hailed from near-by New Jersey.
It was a happening time at the Bayou Bar in Manayunk recently; producers from the new Dancin' On Air were hosting auditions for everything from dancers to emcees. Do we know someone who has a new gig? (If you're thinking Board member Mike Nise, you are correct). The show premieres Saturday morning at 10 am on March 31st.
Broadcaster and sportswriter Tom Williams celebrated 50 years of covering sports in southern New Jersey. Friends and supports honored Williams recently with a luncheon in Ocean City. Currently, Williams broadcasts high school basketball and football games for ESPN's 97.3 FM and 98.7FM and writes for Catamaran Media's weekly Gazette newspapers in Ocean City and Upper Township.
There was reality TV in 1952! The "Bride and Groom" show was broadcast on CBS TV in 1952, and on that show Shirley and Bernard "Bunny" Josephson were married. Bunny Josephson worked for his family's printing business and helped to publish a television guide called"Your Video Guide." As managing editor, he interviewed celebrities such as Dean Martin and Jerry Lewis. The couple was married in a New York City studio, which would later be the same theater presenting the game show "Do You Trust Your Wife," hosted by Johnny Carson and Ed McMahon (who worked here in Philadelphia at Channel 10 for many years). "Bride and Groom" must have done something right back then, because Shirley and Bunny are now celebrating their 60th anniversary and live live in Margate.
SportsRadio610WIP will be airing a new program, "The Nick and Artie Show." The show, produced by DirectTV, is a hilarious, late-night look at the world of sports and guy stuff from the perspective of two fans. The program features Artie Lang, known for his work on MADtv and The Howard Stern Show, and Nick Di Paolo, who has made appearances on the Stern Show and Comedy Central. The show airs daily from 10 p.m. to 1 a.m.ET.
A PSA FOR BROADCAST PIONEERS (IT'S YOUR ORGANIZATION!)
Over the past six years Broadcast Pioneers has experienced exceptional growth in membership. A few years back, Broadcast Pioneers events were small gatherings, but today we have close to 500 members. However, we are presented with new challenges and opportunities that require"more hands on deck" to help us as we continue to grow and improve the organization.
We need YOU to volunteer and share your expertise and talent. Please consider helping us in the following areas:
writing (this includes, but is not limited to, bios, etc.) for our website
scanning photos, magazines, newspaper articles and other documents
converting audio and video into digital computer files like .mp3 and .mp4
helping us set up for our luncheons and annual banquets
Give us a call at (856) 365-5600 and let us know how you can help.
ON THE SCENE: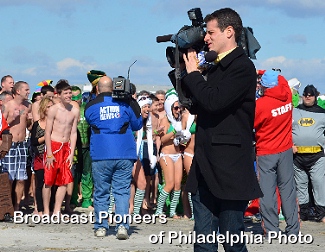 Atlantic City's Channel 40, WMGM-TV's camera guy (in the foreground) Sam Sweeney
Action News Cameraman (in the blue jacket) Alex Cohen
North Wildwood, NJ
February 25, 2012
(Photo by Barbara Farley-Stone)
The Broadcast Pioneers newsletter was "On the Scene" on February 25th, at the 15th Street beach in North Wildwood for the 4th Annual Leprechaun Leap-Polar Bear Plunge.
Hundreds of costumed characters, as well as folks in regular bathing suits, turned out on a 44 degree day with 35-45 mile per hour winds to raise funds to help support the "Philadelphia Fallen Hero's Fund," which provides for the families of Police Officers lost in the line of duty.
We had the opportunity to speak with several participants as well as our friends and colleagues from the media. It was a fun day.
A REVIEW OF OUR FEBRUARY 15th LUNCHEON:
Another Luncheon
Bigger Than the Last One!
Our moderator and emcee for the afternoon was Broadcast Pioneers member Lew Klein. Lew was a former president and former chairman of the board of this organization. He was also co-owner of Gateway Communications and was the executive producer of "American Bandstand" during its Philadelphia run. Our panel included these fabulous experts (in alphabetical order):
John DeBella, morning air personality on WMGK, 102.9 FM
Frank X. Feller, formerly of WIBBAGE and WYSP-FM
Ed Hurst, the legendary broadcaster for seven decades
Kenny Jeremiah, entertainer, formerly of the Soul Survivors
T. Morgan, currently, a WMGK-FM, 102.9 air personality
Bill Wright, Sr., the iconic "Rebel" of WIBG and WPEN fame
Another historic and memorable luncheon happened in February at the beautiful Bala Golf Club. An all-star panel shared memories, personal histories and little known insights about the evolution of music and radio from the 40's through today.
The program opened with a brief tribute to Whitney Houston, who had just passed away a few days prior to the luncheon. Here's a glimpse into the tribute…
Bob Pantano, who has hosted 35 years of "Saturday Night Dance Party," remembered Whiney Houston and showed the audience a LP vinyl record of Sissy Houston (Whitney's mother), which featured Whitney as one of the back-up singers when she was 13 years old. Bob said Whitney was "one of the greats in pop music."
Joe Tarzia, President of Sigma Sound, said, "I met Whitney when she was 5 years old. She was following her mother, who was doing some recording at the time. I met her a couple of times at the studio and she was a pro. No matter how many times she had to do it over and over, she never lost her cool and was always professional."
Following the tribute we moved on to the panel. The legendary Lew Klein choreographed a discussion that had the audience wowed. Here's a bit of what everyonesaid…
Lew Klein: "It's appropriate that this panel includes both radio personalities and musicians because the evolution of music and radio in Philadelphia all happened at the same time."
John De Bella: "I arrived in 1982, an obnoxious, loud, anything goes DJ. We were the only contemporary radio program ever to beat KYW Newsradio in the morning. We were a hit simply because we were more fun to listen to."
Frank X. Feller: "We wouldn't be here today if it wasn't for H.B. Carlton Brown, the founder of Broadcast Pioneers. I go back so far I remember crystal radio sets that we listened to in our home. Then we got a big Philco radio that stood in our living room and we listened all day and all night. From the U.S. Marine Band to the big bands, we heard it all."
Ed Hurst, talking about Lew Klein: "I put you on the air when you were a kid. The late 40's were the halcyon days of radio…no program directors, no producers, no music directors, no FM, just great personalities and great music. It was a glorious time on radio from '45 to'55."
Kenny Jeremiah: "To be on the stage with so many icons and to have worked with them over the years is just amazing. I'm still performing on a regular basis with several bands and am pleased to tell you I have a new show on WVLT (Vineland NJ). We're hearing from people around the country, who like the music, the history and the personalities we present."
T. Morgan: "During the 70's I worked with a legend, Hy Lit, who was managing WDAS…I tried to listen and learn from him. He always talked about Top 40 music and we were doing underground music! It was an amazing battle, but it was one of the most exciting times ever to be in the business. Today the consultants and focus groups have sterilized radio. It will never be the same again."
Bill Wright Sr.: "Let's go back to 1950 when a 21 year old kid with a bad leg had a radio program in Birmingham, Alabama, 10p.m. to midnight. I met all kinds of people and one night found myself hitching a ride with Stan Kenton and June Christie. Here I was a kid in the back seat of a car and had a six hour ride with these headliners. It was the 50's and we enjoyed melodic music, songs you could sing along with or hum a tune that was on everybody's lips."
HEARD ABOUT THE LUNCHEON:
"I thought it was terrific. Being an artist, I really enjoyed the perspective of the DJ's. They became more real to me today." Joe Terry
"It was wonderful, especially Ed Hurst. I could really relate to what he had to say. I loved hearing Ed and Bill Wright, "The Rebel"…my husband was a rebel and we're glad to be here." Bobbie Shaffner
"It was great. Legends in the house. Great panel. A warm tribute to Whitney Houston was wonderful…it was just heartbreaking to see that happen. This was well done." Bob Pantano
"This was just wonderful. Anybody who had a connection with Philadelphia radio would know this was wonderful. The little chronologies and the personal stories that you only hear here were just wonderful." Johnny B. Hall
"Most of the stories they talked about were people I knew and grew up with. It was very interesting. I'm filling out an application right now and looking forward to being a member." Joe Tarsia
"Well you know, you give a microphone to a radio personality and you might just get it back. I guess I was the oldest guy here today. It's always a pleasure to be here." Ed Hurst
"I really think we should put together an audio archive of these guys. What Gerry said about saving history, I would like to know more…the archives are invaluable." T. Morgan
"Outstanding! Any time that veteran broadcasters can get together, with some young people in the audience and share their memories as we did, and do it with love as we did, is just great." Bill Wright, Sr.
"I was good, and the rest were pretty good…I was more imperfect then all of them. I enjoyed the afternoon." Frank X. Feller
A FINAL THOUGHT....
"WIP initiated the Philadelphia radio audience to many "firsts." The first church service originated from Holy Trinity Episcopal Church on Thanksgiving Day, 1922. That afternoon, the first football broadcast emanated from Franklin Field and featured the ... contest between Penn and Cornell. WIP also presented the first opera broadcast, Tannhauser... and was given to the radio audience live from the Metropolitan Opera House, then located at Broad and Poplar Streets."
Ed Davies
September 2, 1964
He was WIP Radio's very first Station Manager (1922)
Please contact us by e-mail at newsletter@broadcastpioneers.com. Your stories are important, to you, to us, and your colleagues. Contact us today and we'll include your story in the next newsletter!

Photo Editor & Archival Historian - Gerry Wilkinson
© 2012, Broadcast Pioneers of Philadelphia
All Rights Reserved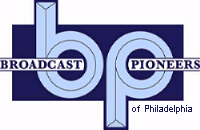 The e-mail address of the Broadcast Pioneers of Philadelphia is pioneers@broadcastpioneers.com
For luncheon reservations call (856) 365-5600 or e-mail us at: rsvp@broadcastpioneers.com