The Broadcast Pioneers of Philadelphia is a federally recognized, state chartered 501(c)(3) non-profit corporation serving Philadelphia since 1962.

Ed Eisen
News Editor

March Luncheon
The Bala Golf Club
Wednesday, March 20, 2013

Meet & Greet at 12 noon!
Lunch at 12:30 pm
Ratecard: $28 per person!

PLEASE RESERVE NOW!
CALL (856) 365-5600!
rsvp@broadcastpioneers.com
ROCK 'N' ROLL IS HERE TO STAY!

(left to right) Billy Carlucci, Billy Harner, Kenny Jeremiah, Joe Terry
Nicky DeMatteo, Brian "Corky" Warren and Frank Maffei
October 21, 2009
Our next Broadcast Pioneers luncheon is a "Rock & Roll Special!" It will be held at the Bala Golf Club, 2200 Belmont Avenue in Philadelphia on Wednesday, March 20th (that's the third Wednesday of the month). Meet and greet is at 12 noon. Lunch will be served at 12:30 pm.
Our MC for the afternoon will be Cool Bobby B. His Doo-Wop oldies show can be heard on SiriusXM Radio. For the uninitiated, Cool Bobby B is Broadcast Pioneers member Bob Backman, who was General Manager of Channel 61 here in Philadelphia for 5 years. Bob is currently president of WDRE-TV in Rehoboth Beach, Delaware.
Scheduled that afternoon are (in alphabetical order):
Mike Bove and Art Wilson of "The Tridels"
Stephen Caldwell of "The Orlons"
Billy Carlucci of "Billy and the Essentials"
Danny and the Juniors (featuring Joe Terry & Frank Maffei)
Nicky DeMatteo (had the big hit "Suddenly")
Johnny B. Hall of "The Star Fires"
Kenny Jeremiah, formerly of "The Soul Survivors"
Mark Stevens of "The Dovells"
Mike Volpe, who was with the The Duprees
Corky Warren of "Corky's Time Machine" TV Show
It all takes place at the beautiful and historic Bala Golf Club, 2200 Belmont Avenue (across the street from the State Police) in the Wynnefield section of Philadelphia. Only minutes away from Channels 6, 10 and 17 and the radio stations in Bala Cynwyd. Call now for reservations. (856) 365-5600! Don't miss this one!
Meet and greet (networking) starts at 12 noon, and a full course lunch including salad, coffee or tea and dessert will be served at 12:30 pm. There will also be a crudité and cheese table. Cash bar available all afternoon!
Plenty of FREE parking. The luncheon is open to all our members, their guests and any person in the industry or associated fields, whether active or retired. You do NOT have to be a member to attend. Call NOW with your reservation(s), (856) 365-5600!
In order to speed up check-in at the luncheon, it would help if you had the $28 in exact change or your $28 check already written. Make it payable to the Broadcast Pioneers of Philadelphia.
WE'LL BE PROUD TO SEE YOU IN THE CROWD!

Visit Our Website Often - http://www.broadcastpioneers.com

WELCOME NEW MEMBERS:
FULL MEMBER:
David Friedman got his degree in journalism from Temple University. Right after college, he became the Sports Editor for the Coatesville Record. Then he moved on to the Delaware County Times as a general assignment reporter. In 1969, he turned to PR and stayed there for the rest of his career. Now retired, he was a Communications Executive for the Jewish Federation of Greater Philadelphia and the director of public relations and marketing.
ASSOCIATE MEMBER:
Craig Doyle joins us as an Associate Member. He was graduated from Temple University's School of Communications and Theater. He has done lots of free-lance work as a videographer, working with organizations that include Range Recording Studios, Janis Productions, Bell Tower Music, The City Music Project and more. While in school, he worked on Owl Sports Update on TUTV, as seen on cable in Philadelphia (Channel 50). Welcome aboard.
We are thrilled to have these new members. 484 Members. More than ever. We hope to see as many of our members as possible at our March Luncheon.
DIGITAL ARCHIVAL PROJECT NEWS: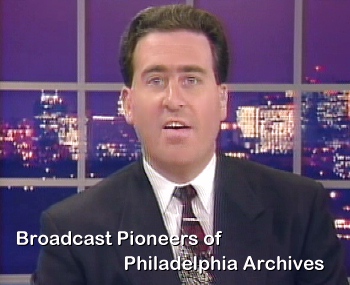 Broadcast Pioneers member Dr. Brian McDonough
"Health Talk" on WTXF-TV, Channel 29
March 1994
Here's a clip of Broadcast Pioneers member Dr. Brian McDonough on WTXF-TV, Channel 29 here in Philadelphia. He was their medical reporter for decades and also did a health show. Here's an excerpt of one of those programs. In our opinion, the Real Video version is clearer and loads faster.
Here's a broadcast made by The Ol' Night Owl, Powers Gouraud, on WCAU Radio. His program was very popular and a mainstay at the station for decades. On Thursday evening, July 9, 1942, Powers Gouraud spoke with "Uncle Miltie," Milton Berle. Berle would later get the nickname "Mister Television." At the time of this broadcast, Berle was just 3 days away from his 34th birthday. Milton was in town for his appearances at the old Earle Theater where he was headlining.
Some of Gouraud's broadcasts were live and others were transcribed on 16" transcription discs. Why? Because the people being interviewed would be on stage at the time of the broadcast. If you listen really carefully to this recording, the announcer at the beginning and end of the program sounds clear while Gouraud and Berle are slightly distorted. We believe that this is because the announcer was at the WCAU studios while Gouraud and Berle were at a remote location.

By the way, for decades the sponsor of the program was the Yellow Cab Company of Philadelphia. Leon and Isaac Levy, the owners of WCAU Radio, both served on the Yellow Cab's Board of Directors for many years.

The original source of this recording is an old WCAU Radio (now WPHT) 16" transcription disc. In 1966, the audio was transferred to reel to reel audio tape. Our computers files were made directly off that reel to reel recording. That 1966 transfer tape is now part of the Broadcast Pioneers archives.

While this historic interview has been on our website for the last 13 years, in January of 2013 we re-did the audio because today's technology is much superior to that of 2000. What you hear today is far better than what you heard previously. It is also now available, for the first time, in both Real Audio and Windows Media Formats. In our opinion, the Real Audio version is clearer.
Listen in Real Audio!
Listen in Windows Media!
Many of us remember when Dr. Don Rose, a WFIL boss jock, had a heart attack in 1972. Some in the industry thought that the station execs had lost their minds when they substituted Joe Niagara for Dr. Don during Rose's illness. Those people were wrong - Niagara sounded strong and vibrant. The real surprise is that the station never found a place for Niagara after Rose's return. Well, Dr. Don Rose alsodid the after kids shift on WKBS-TV, Channel 48. The voice tracks were prerecorded and then played over visual graphics like credits or slides. Most of us probably forgot the Niagara also filled in for Dr. Don at WKBS-TV!
The station recorded the audio of Joe's voice on the left track and a tone on the right track of the stereo audio track. Thanks to Broadcast Pioneers member Fred Woskoff, we have about 4 minutes of the voicers. We'll present some of them here. They're being heard for the first time in over four decades.
Listen in Real Audio!
Listen in Windows Media!
In March of 2005, we came across a cassette tape recorded at the studios of WFLN Radio on Ridge Avenue. WYBE-TV, Channel 35, is now located in that building. The recording was from June 1991. In this historic recording, 94 year old Broadcast Pioneers member Jack Steck (a former President and Chairman of the Board of this organization) talked with Broadcast Pioneers board member Larry Ferrari about Larry's career.
Jack Steck was inducted into our Hall of Fame in 1992 and Ferrari in 2000. In 1974, Steck was honored as our "Person of the Year." This tape was played at our luncheon in June of 1991, almost 22 years ago. Both Larry and Jack are now gone, but both live on in our memories. Of course, Larry Ferrari is best remembered for his famous TV show on Channel 6. It ran over 40 years. While this recording has been on our website since 2005, it is the first time that you can now hear it in the Windows Media Format. We also spent some time cleaning up the original recording and reducing the surface noise. This conversation has never been available on our website in this condition. We know you will enjoy it.
A historical note: About 10:40 into this audio, they start talking about Mary Vogt playing the Wanamaker organ. What they don't mention is that Mary appeared regularly on WOO Radio (the John Wanamaker Store's radio station) in 1922. That's the year that broadcasting started in Philadelphia.
Listen in Real Audio!
Listen in Windows Media!
A LITTLE BIT OF HISTORY!
Miss KYW Radio (sorry, we don't have her real name but she had red hair)
was the first voice heard on the station when they went to 50,000 watts
KYW Radio
late 1940
On January 16, 1941, KYW Radio had its power increased to 50,000 watts. The station ran an extensive promotional campaign throughout the city. This included a promo tie-in with a valuable gem window display in Center City's "Jeweler's Row." The station also ran a promotion where neighborhood drug stores (they were mostly independently owned mom and pop operations) vied for the best window display. The winner received a "Silver Cup." There was also a newsroom setup in one of the department store windows showing how a newscast was put together and broadcast.
Martin Gabowitz of the KYW music department wrote a song called"50,000 on the Red," which was heard on many of the station's local programs. The reference to "the Red" referred to the NBC Red Network, with which KYW was affiliated. Miss KYW appeared on billboards throughout the city. Buses and trolleys also promoted the station and Miss KYW. Mailing brochures were sent to agencies, clients and salesmen. They even had airplanes pulling banners. By the way, KYW Radio's slogan at the time was "The Station of the Stars." Much more recently, we've heard that slogan on another station.
IN TOUCH WITH OUR MEMBERS: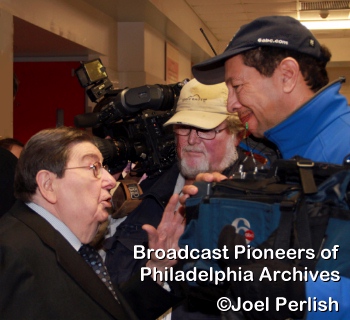 Broadcast Pioneers Vice-President Kal Rudman
speaking with CBS 3 and 6ABC camera operators
Haverford High School, WHHS Radio
Wednesday, February 20, 2013
Broadcast Pioneers Vice President Kal Rudman and his wife Lucille have made a $10,000 donation to Haverford High School's student station WHHS. The facility was renamed the Kal and Lucille Rudman Studio in their honor. The donation will be used to upgrade their equipment to meet FCC requirements for license renewal. WHHS is the oldest high school station in the country.
School District of Haverford Township Superintendent Dr. William Keilbaugh commented:

Haverford High School has a rich tradition of Student Radio. For 64 years, WHHS has provided students the opportunity to gain skills in communication, teamwork, and the ability to navigate and manage technology and content. Mr. Rudman's generous donation comes at a perfect time as we start our FCC renewal process and contend with increasing budget constrictions.

Rudman in the Friday Morning Quarterback said:

I consider a communications teaching program to be the same as any other vocational program. The ability to start at the high school level, including engineering, programming, & administration, has enabled students at Haverford since the late 1940s to have a big edge in obtaining professional careers, both locally and around the U.S.

By the way, the above photo was taken at the WHHS facility by Joel Perlish. Why does that name sound so familiar? He's the son of Broadcast Pioneers member Neil Harvey, who served for years on our board of directors and had two terms as vice president. Joel runs his own photography studio and he's been doing it for 38 years. Visit his website here! Joel said that any of our members who would like him to shoot a free head shot in his studio should e-mail him at joelperlish@aol.com. If anyone noticed that member Michael Muderick wasn't with us during our last luncheon, that's because he was covering the WHHS event for us. Michael got his first broadcasting experience at WHHS Radio.
You might want to know that Broadcast Pioneers member Uschi Keszler, who heads up a program called Pennies in Action, became the German ice skating champion in the 1965 Olympics at age 17. A year later she was forced to abandon her promising career when she contracted TB. That's when she moved to the United States and began coaching. Today she is married to Aram Boornazian. The couple have a son, Marc
And speaking the ice, Broadcast Pioneers President Jerry Klein continues to indulge his passion for playing ice hockey. Last month he played at the Wells Fargo Center, home of the Flyers, in a friend's team's annual fathers-sons game. Jerry has been playing ice hockey for 30 years, the last five exclusively as a goaltender. He plays about twice a week year-round, and backstops a team in the over-30 league at a rink in Mount Laurel, N.J. In April, he's heading down to Florida for a tournament, and in July hewill return to California to play in the Snoopy Senior World Hockey Tournament for the third year in a row. Last year his team won a silver medal at that tournament. See a photo of Jerry in Action!
Broadcast Pioneers member Bunny Gibson – who made her claim to fame many moons ago dancing on Dick Clark's American Bandstand - is still dancing. And she's on national television again! This time, Bunny reports from Hollywood, she's hopping on Two and a Half Men with Ashton Kutcher and John Cryer. Our Bunny also performed on her fifth "Funny or Die" video short with Brittany Snow of American Dreams and comedian Eric Andre. You can see her videos on Will Ferrell's Funny or Die.com channel on the Internet. Bunny also made a TV pilot called Whoa. She plays Cougar with Linda Blari who played Naomi in The Exorcist.
Broadcast pioneers member Richard Maloney is wrapping up his exciting and varied career at the end of March. After fourteen years as SEPTA's Director of Public Affairs and Marketing, he is retiring. Previously, he served as Group Vice President for Communications at the Greater Philadelphia Chamber of Commerce. In his "first life," Richard spent 20 years as a reporter at KYW Newsradio, garnering numerous top local and national journalism awards, including two DuPont Columbia citations.
WE REMEMBER:
Louis P. Silvestri, a member of the original Four Aces, died last month. He was 86 and lived in Glen Mills, Pennsylvania. Silvestri worked as a court officer in the Delaware County Court House for 25 years, but we'll all remember him for his recordings with the Four Aces.
Alexander Mauro, 89, played drums for the Mike Pedicin Quintet a half century ago. Recently, he owned a sandwich shop in Upper Darby. Mauro appeared on Bandstand when it was hosted by Bob Horn. Member Jerry Blavat says that he won his first jitterbug dance contest on the show to a Pedicin number with Mauro.
COLLEGE STUDENT CAREER NIGHT:
Broadcast Pioneers presents a free event for college students who are studying communications, journalism, public relations and other associated fields. It is open to all college students regardless of the university or college they attend. No reservations are necessary. Just show student ID at the door. It's FREE!
The career night takes place at Temple University's Annenberg Hall on Thursday, March 28th from 6 pm to 8 pm with a networking one-on-one session until 8:30 pm. Broadcast Pioneers President Jerry Klein will again be our moderator. Klein is Executive Vice-President for the Anne Klein Communications Group. Opening remarks by Gerry Wilkinson, Chairman of the Board of Broadcast Pioneers, former WHYY-TV producer and former Operations Manager for WDAS AM & FM Radio.
Scheduled to appear on the panel (in alphabetical order):
Pat Delsi, former owner of WSSJ Radio, current Broadcast Pioneers Treasurer
Doug Henderson, former air-personity, currently Account Exec for Clear Channel
Liz Matt, PR Associate for Sharla Feldscher PR, former TV air personality
Linda Munich, Vice-President of Public Affairs for WPVI-TV, 6 ABC
Steve Ross, talk host on WPHT Radio, former rock jock on WFIL, Famous 56
Mara Taffe, Executive Producer in Creative Services for WPVI, 6 ABC
Hear from the people who have spent their lifetime in this business. Get advice on how to get that first job. This is something you should not miss.

Did you know...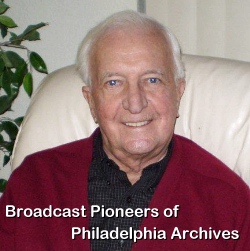 Broadcast Pioneers member Vince Leonard
Vince's home in Las Vegas
Christmas 2012
Broadcast Pioneers member Vince Leonard now lives in Las Vegas, but we here in Philadelphia still remember him fondly. When Vince spoke, people listened. Well, we asked him to write a little about his life and he did. Thanks, Vince. Here's what he said:
Reminiscing after nearly 23 years in retirement I can still recall vividly the changes in my life that eventually brought me to Philadelphia.

After serving in the Navy for two years during World War Two, I was attending college in Minnesota and working nights and weekends at a small radio station.The first words I ever spoke on the air were the beginning of a 15-minute Saturday noontime newscast.

In college I met Frances, the woman who was to become my wife. She was a teacher when I took a job at WISH, an ABC affiliate in Indianapolis. One year later we married in Minneapolis, took a one week honeymoon and started life in Indiana. It was quite difficult as we struggled on my small salary and she occasionally worked part time.

I had been working in radio at WISH in Indianapolis for seven years doing the early evening and late evening news along with a few other chores. The break that changed our lives occurred when the station received a television license in 1954. Management named me the news director and I was given the job of writing and producing three news programs a day. One more on Saturday night.

It was surprising to me that I was given two full-time experienced news photographers. They had a news van and a film processing unit in their special room in our studios. Later, I had a part-time reporter. It turned out to be a very successful venture. In less than six months we dominated the ratings in central Indiana.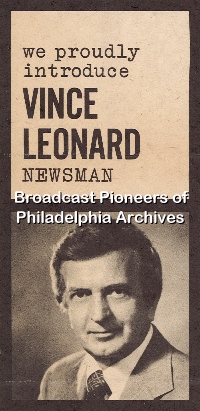 Ad in the Philadelphia Inquirer
Monday, April 14, 1958
Click here to see the entire advertisement!
Seeing that old ad revived some old memories for me. I still recall vividly the events that brought me to Philadelphia and channel 3.

Almost four years later I was at home on a Sunday night when I received a call from Bob Lemon, the program director at WRCV-TV, the NBC owned and operated station in Philadelphia. It was no small shock to me when he asked if I would be interested in joining them at Channel 3. We talked for some time and he asked me to send them an audition audio tape. I recorded that at a friend's business.

Several days later I heard from Bob again. This time he requested that I come to Philadelphia for an interview. So on a Saturday night after my late newscast I caught a red-eye flight. Our interview appeared to be very hush-hush as it took place early on Sunday morning in a room at the Sheraton Hotel. On hand were Bob, the station manager and the news director. They had a light breakfast sent up and we talked about what they expected of me and what I could obtain from them if I were hired.

We had a fairly lengthy conversation and then they had me read some copy they brought along while I was being recorded on film. About 20 minutes later they told me the job was mine if I wanted it. I said I would talk it over with my wife.

Flying home that afternoon I found what had just transpired hard to believe. Frances and I took a couple of days to make our decision. We thought, let's give it a year or two and see what happens. That was the beginning of a 22-year run.

Leaving WISH-TV, a CBS affiliate, was not easy. I had worked there for almost eleven years. They had treated me very well. Most of the decisions concerning the news department were left to me. On my last day, they had a big party for me at the Indianapolis Press Club. We sold our house very quickly, got all our departing business taken care of and Frances, our 6 year old son, Mark, and I piled in the car and headed east. All of that took place when I was just a month away from my 33rd birthday.

We arrived on April 14th, 1958. The management people kept me hopping, making personal appearances, covering stories, etc. Most days for me were long and tiring. After many months, we began to make some progress in the ratings.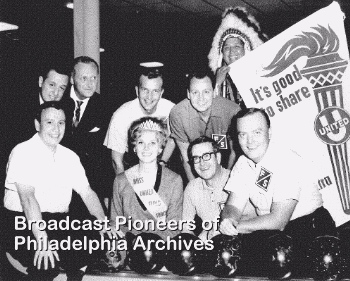 United Fund Bowling Night
Back Row (holding banner): Chief Halftown
Middle Row: 2 United Fund Representatives,
Vince Leonard and a representative from WVUE-TV (Channel 12 in Wilmington)
Front Row: Larry Brown (WPEN), Miss United Fund,
Joe McCauley (WIP Radio) and Jack Rattigan (WRCV Radio)
circa 1959
In the November 1959 ratings books, we had attained first place on three nights of the week. By February 1960, we were number one across the board. We held that position for the next eleven years. Of course I was working with some very talented people, Wally Kinnan the weatherman and Jim Leaming on sports. Later, Bill Kuster became our number one weatherman.

In 1972, the operation changed greatly. Added to our staff were Mort Crim, Al Meltzer and Jessica Savitch. They brought new life to our newscasts. We became known as "The Dream Team" and "Camelot." And we became very close friends, but that's another story.

During the period of 22 years I had worked for 8 general managers and 13 news directors. That must be some kind of record.

Our son Mark was an achiever. He was a student leader and an athlete at Conestoga High School. He was admitted to West Point and graduated in 1973. As a captain in 1977 he served in his first command in South Korea. When he returned to the U.S. he learned the army would send him to the University of Texas to get his master's degree.

After completing his course, he would become a teacher at West Point. On a winter Saturday morning he was driving from Oklahoma to Austin when he suddenly came across black ice on the two-lane highway and skidded out of control. He slid into the other lane and into the path of an oncoming truck. He died instantly.

That tragedy prompted Frances and I to leave Philadelphia, get a change of scene, start a new life. That led us to Phoenix (at the NBC-TV station there) where I had another very successful 10 years in television before retiring. It was a much more relaxing and fun time for us.

Just a couple of words adding something I can't leave out. Don't know how I could have overlooked it. I'm talking about the huge going-away (from Philadelphia) party thrown for us in Atlantic City. There were hundreds of invited guests.

Frances and I have had much to be thankful for in the past 30 years. To this day we enjoy each other and our life very much. So in closing I'll borrow an old phrase used by Arthur Godfrey when he signed off on his programs….."the good Lord willin' and the creek don't rise," we'll be celebrating our 65th wedding anniversary in July. Yes, we have been blessed.

MORE DIGITAL ARCHIVAL PROJECT NEWS:
Broadcast Pioneers member Rob Jennings
Action News - WPVI-TV
Sunday, September 13, 1987

Broadcast Pioneers member Cathy Gandolfo
Action News - WPVI-TV
Sunday, September 13, 1987
In 1987, Pope John Paul II was on a nine-city trip throughout the United States. Broadcast Pioneers member Cathy Gandolfo was the only Philadelphia TV journalist who traveled with the Pope to all the cities. Here's her report from Sunday, September 13, 1987. It was broadcast on WPVI, 6ABC here in Philadelphia. Mastered from the station's 3/4" tape, it's our feeling that the Real Video version is sharper and clearer and also loads faster.
Watch with Real Video!
Watch with Windows Media!
Broadcast Pioneers member Cathy Gandolfo recalls for us some of the events of that journey:
In September of 1987, I covered one of the most extraordinary stories of my career, the pilgrimage of Pope John Paul II to the United States. I was one of hundreds of journalists from around the world to report on the event but I was the only Philadelphia area reporter on the U.S. leg of the tour from start to finish.

The trip took us to 9 cities in 10 days, Miami, Columbia, South Carolina, New Orleans, San Antonio, Phoenix, Los Angeles, Monterey, San Francisco and Detroit. It was logistically difficult and required a great deal of planning but for the most part this exhausting and exhilarating trek went off without a hitch.

Every stop saw huge crowds that filled arenas usually reserved for sporting events and rock concerts, including the Superdome, the Colosseum, Dodgers stadium, a motor speedway in Monterey and Sun Devil Stadium in Tempe, Arizona.

At times the weather was a challenge. There was a violent thunderstorm during the Papal Mass in Miami and 100 degree heat in San Antonio. Through it all though I can still see the hundreds of thousands of faithful gathered and their outpouring of love and respect for the Holy Father and the way he connected with them.

There were lots of laughs along the way, many on our plane, which was renamed "Shepherd 2" for the occasion. "Shepherd 1" was of course the Pope's jet. Someone made tee shirts that read "Vatican Road Crew" on the front and the list of cities on the back, like you would see on a shirt from a rock concert.

I have many wonderful memories from that whirlwind trip and it will always be one of the highlights of my 36 years at channel 6.
Broadcast Pioneers member Frank Ford with Pope John Paul II
The Vatican, Rome
Spring 2000
Meanwhile the recent resignation of Pope Benedict XVI, CBS 3, KYW-TV has sent Broadcast Pioneers member Pat Ciarrocchi to Rome. She reported all last week on the historic last days of the Holy Father. Pope Benedict is the first Pope to resign in 600 years. When Pope Benedict XVI was elected, it was Broadcast Pioneers member Cardinal John Foley who told the world. Sadly, we lost Cardinal Foley three weeks after our banquet honoring him as our "Person of the Year" in 2011.
Since everyone is talking about the Pope, we thought you might like to see part of the Channel 6 coverage of the Pope's visit to Philly on October 3, 1979. This footage was shot at about 4:40 pm and features Action News Anchor Jim Gardner, Jim O'Brien and Father Charles Hagan live from high atop Logan Circle in Center City. Mastered from the station's 3/4" tape, the Real Video version is sharper and clearer and also loads faster.
Watch in Real Video!
Watch in Windows Media!
In early 1961, Broadcast Pioneers member Nat Wright was broadcasting on WWDC Radio in Washington, DC. We have a recording of him on the station one Sunday morning, a little after 10 am. It's typical Nat Wright. This is shortly before him coming WIP Radio. Several years ago, Nat Wright told us a little about his early career. He said:
I labored and learned though the hungry years at small radio stations from Hagerstown, MD to Dover, DE to Reading, PA to Alexandria, VA, finally landing more nourishing on-air fare at WWDC-AM and WTTG-TV, both in DC.

I made a major career and life change in 1961, joining both personality and news lineups at WIP Radio in Philadelphia, where I gained the great experience of working with the legendary Joe McCauley, morning icon Ken Garland, longtime close buddy Wee Willie Webber, fellow shortie Tom Moran, tall Tom Lamaine and quintessential news pro John Paul Weber. In 1967, I was tapped to be host of the second-oldest all-night radio show in the nation, WIP's Dawn Patrol, once famously hosted by Joe McCauley and named after the hit 1930s movie. Because the time slot fit well with outside activities and also gave me much leeway for program innovation, I remained on-air pilot for 17 years, making me the longest-lasting host of the Dawn Patrol. I was grounded, along with the show, in 1984, when WIP began its switch to an all-talk, eventually all-sports, format.
Listen now to Nat Wright on WWDC, Washington early in 1961. He had already learned his trade and his sense of humor was the same then as the "All Night Rat" we knew and loved on WIP Radio.
Listen in Real Audio!
Listen in Windows Media!
On August 19, 1967, Jack McKinney was broadcasting live from the Philadelphia Country Fair. He was on WCAU Radio. On this evening, he explained why his guests always seemed so well behaved.
Listen in Real Audio!
Listen in Windows Media!
Remember, History is ONLY What Gets Saved!
(If there were no portraits of George Washington, how would we know what he looked like?)
A LITTLE BIT OF HISTORY!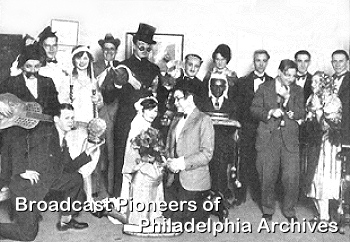 Norman Brokenshire and "His Gang"
(The broadcast was heard on Tuesday evenings at 8:30 pm)
WCAU Radio
1929
Norman had previously worked at WJZ in Baltimore. When things fell apart for Norman, he went to New York looking for work. Newly married, he and his wife found that two couldn't live as cheaply as one. A friend put him in touch with someone at WCAU Radio, who took him on at a salary much less than he was making in Baltimore. Norman didn't have the train fare for the couple to move to Philly. He went to a grocer who they owed money to and the grocer put up the money for the Brokenshires to come to Philadelphia. He figured it was his only chance of ever getting paid what he was owed. They bought two suitcases with them. One filled with clothes and the other with food that they had leftover (that would have to keep them going until payday).
Well, things worked out well for Norman and he was often heard on the CBS Radio Network on shows originating from WCAU Radio in Philadelphia. Things went well for the Brokenshires. Since Norman had broadcast the presidential inauguration over WJZ in 1924, he was selected (along with seven other announcers) to do the 1928 broadcast which went out over the entire CBS Network. From there, he ended up a staff announcer for the network in New York City.
MORE IN TOUCH WITH OUR MEMBERS:
Broadcast Pioneers member Kenny Jeremiah continues his weekly radio program called "My Good Time Old Time Rock and Soul Show" on Cruisin' 92.1, WVLT in Vineland. It's on Tuesdays at 10 pm for an hour. Ken says that if you can't listen live, the broadcasts are archived at www.wvlt.com.
A treasure trove of fully illustrated photographs and memorabilia from Hy Lit's radio career are now on sale at HyLitRadio.com. "The first 1,500 copies – a limited collectors' edition – numbered and certified with a CD of rare and unreleased air checks are being offered," says Broadcast Pioneers member Sam Lit, Hy's son.
Broadcast Pioneer members are invited to attend (for free) the next Executive Networking & Card Exchange to be held inside the Walnut Street Theatre, 825 Walnut Street, Philadelphia, on Wednesday, April 3th from 4:30 pm to 7 pm. Joe Ball, a member of Broadcast Pioneers, is the producer and host. About 250 business decision makers are anticipated. There will be backstage tours of the historic 204-year-old theatre, escorted by the members of the marketing staff. An RSVP would be appreciated to adcomtimes@aol.com.
Broadcast Pioneers member Walt Hunter has sat down with underworld figures Little Nicky Scarfo and John Gotti. Now, it's Phil Leonetti's turn. Phil is the youngest boss in the mob's history. A CBS 3 Crime Investigative piece that aired last week Eyewitness News told the secrets of La Cosa Nostra.
Hunter and CBS This Morning Senior Correspondent John Miller interviewed Leonetti in New York City recently. Videotaped in silhouette, Leonetti, who is in self-imposed exile due to a $500,000 bounty reportedly placed on his head by his uncle and mentor Nicodemo Scarfo, the king of the Atlantic City mob, revealed intimate details of how he was groomed by his uncle to be a killer, how the mob operated in Philadelphia and Atlantic City during its heyday and what the future may hold for the local mob.

Leonetti was tried and convicted of 10 gangland killings in 1988 and was sentenced to 45 years in prison. Along the way, he committed the ultimate betrayal, breaking the code of silence of La Cosa Nostra and cooperating with the federal government against his "brothers." He helped destroy the mob in the Northeast.

Hunter is a nationally-recognized expert on the Philly mob. In addition to his reporting for CBS 3 and sister station The CW Philly, he hosts a popular weekly talk show, the "Crime Guy" on WPHT Radio.
Broadcast Pioneers member Bob Pantano had a big celebration about ten days ago. It was his 36th anniversary. Bob's "Saturday Night Dance Party" is a major draw every Saturday evening at the Adelphia Bar and Restaurant in Deptford, NJ. Pantano's program is carried live over WOGL, 98.1 on your FM dial. Congratulations to Bobby.
Broadcast Pioneers member Frank Stone sent us a nice article about member Tom Lamaine. It ran in the Press of Atlantic City last month. It talked about Tom's career and how he's back on the radio at the shore. Tom filled in for member Merrill Reese and Mike Quick, who were on our panel for the February luncheon. Merrill and Mike had to leave at 2 pm so Tom took their place. Thanks, Tom.
A LITTLE BIT OF HISTORY!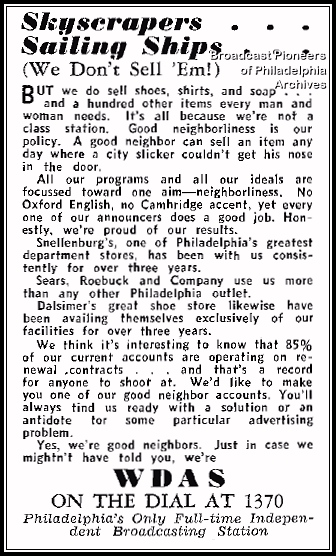 Industry Ad (trying to convince businesses to advertise on the station)
WDAS Radio
1938
Three-quarters of a century ago, the station was located at 1370 on the AM dial. They would later move to 1400 and finally to 1480. Their studios and business offices were at 1211 Chestnut Street in Center City Philadelphia. Their phone numbers were LOcust-7400 and RAce-7474. At that time, numbers were only six digits. The transmitter and tower site was at Woodside Park, on the same grounds today where the towers are located. They were on the air from 7:30 am to 12 midnight daily.
THANK YOU:
As we do every month, we want to thank Broadcast Pioneers member Johnny B. Hall for his monthly cash donation to our DAP, Digital Archival Project. Johnny donates $250 every month. The amount totals $3,000 yearly and really helps us to underwrite this much needed but expensive project. By the way, that's a $600 a year increase over his contribution from 2012.
We also wish to thank member Jerry Del Colliano for his $1,000 contribution to our DAP fund. We also received a $1,000 contribution to our archives from long-time Broadcast Pioneers member Len Stevens. A little while ago, Robin Adelman (on behalf of the entire Adelman family and Leon Love) presented us with a $1,000 contribution to be split between of our DAP project and our general fund.We welcome other gifts for these and other projects in the form of money and/or donated items like video tapes, audio transcriptions and photos.
We have fifteen $1,000 scholarships being underwritten for 2013. The scholarship competition is now underway. We have six scholarships from Johnny Hall, one from the Adelman family, one from Leon Love (Robin Adelman's dad), one each from Esther Kurtz, Roy Shapiro, Sylvia Kauders and one from the Harry Hurley Golf Tournament. Broadcast Pioneers board member Kal Rudman announced that he would underwrite two scholarships and member Marlin Taylor donated a thousand dollars to underwrite a scholarship in the memory of his former boss David Kurtz. Those scholarships will be awarded in April of 2013.
We are off to a good start for our 2014 scholarships. We already have pledges and/or funding for eleven $1,000 scholarships to be awarded in April of 2014. We received $1,000 for a scholarship in the memory of Broadcast Pioneers Hall of Famer Mac McGuire. The contribution came from member R. Alan Campbell. Also, we have the final $1,000 scholarship (part of a five year package) from Broadcast Pioneers Hall of Famer Sylvia Kauders. We also have pledges for seven $1,000 scholarships from member Johnny B. Hall and his wife, Ginny. That's one more than last year. Also, a pledge from the Adelman family for a $1,000 scholarship and also one from Robin Adelman's dad, member Leon Love. The Halls are also pledging an extra $200 to help pay for the lunches of our scholarship winners and families when they come to receive their scholarships. Last year, that cost alone was almost $1,300.
Our special thanks go out to WPVI, 6ABC, and to their VP for Public Affairs, member Linda Munich. They hosted the first meeting of our scholarship committee in mid-February. They also provided lunch for the committee members. Thanks so much. Out of hundreds of applications, we selected 34 finalists. The next step in the scholarship process is for those finalists to submit their materials. At the end of this month, we'll select our 17 scholarship winners and they will be attending our April luncheon.
Other contributions this past month came from Gerry Wilkinson, Bud Gallow, Jay Meyers, Robin Mackintosh, Bill Kelley, Bonnie Clark and daughter Veronica, and Bonnie Nadley Silvestri and her husband Joe.
Our special thanks go to TUTV and The Kal & Lucille Rudman Media Production Center.

They have underwritten a grant to be used to fund an entire year of all our newsletters for calendar year 2013. We thank them so much for their support!
If you forgot to make an extra contribution (cash or memorabilia) and would like to do so now, it's never too late. We would be thrilled to hear from you at: PO Box 2886, Bala Cynwyd, PA 19004 or call us at (856) 365-5600!
A LITTLE BIT OF HISTORY!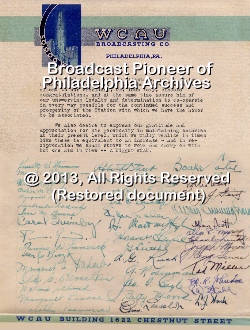 Letter from staff to Dr. Leon Levy, president of WCAU Radio
1933
The above letter was sent from the staff of WCAU Radio to the station's president, Dr. Leon Levy. The station had just moved into their new facilities at 1622 Chestnut Street. It was during the depression and many Americans were out of work or working for lower wages. WCAU kept their staff and at the old pay rate.
This historical document was in the possession of the Levy family for over three-quarters of a century. That is, until they donated it to the Broadcast Pioneers. Thank you. We have restored this document back to its original glory. This is truly a piece of broadcast history. To see a larger version of this document, please click here!
IN TOUCH WITH THE INDUSTRY:
Fox 29's morning anchor Mike Jerrick was in the Big Apple last month filling in for the Saturday morning version of Fox and Friends on the Fox News Network. Jerrick is the current co-host of "Good Day," a local program that airs on WTXF-TV for 5 hours and 35 minutes a day. That's 28 hours of "face time" every week on Channel 29. Member Dennis Bianchi is the Vice-President and General Manager of the station. Mike's weather person is member Sue Serio.
KYW Newsradio has awarded the Richard Monetti Scholarship to Kimberly Coterwas, a junior at Oxford Area High School. Coterwas, one of the 86 students to graduate from KYW Newsradio's 2012 Fall Newstudies program, received a $2,000 scholarship.

This month, CBS 3 morning anchor Ukee Washington made a cameo appearance in the Cherry Hill West student production"Teen Angel." Ukee played the role of '50s teen idol Frankie Avalon.
A couple of weeks ago, the BBC Radio Service marked 90 Years of radio drama by performing a new version of Shakespeare's Julius Caesar (Act 4, Scene 3). That was the same scene broadcast by them on February 16, 1923. It was the world's very first radio drama. While no recording of that 1923 broadcast exists today, an excerpt of a 1933 re-make does. Sir Frank Benton plays the role of Mark Antony. Listen to the 1933 broadcast!
CBS 3/CW Philly Meteorologist Katie Fehlinger is featured on the cover of the current issue of Valley Social, the luxury lifestyle magazine of the Lehigh Valley. The story profiles her Lehigh Valley roots. Valley Social is available at Wegmans and Barnes and Noble stores in the Lehigh Valley and at the Rittenhouse Square Barnes and Noble in Philadelphia.
KYW-TV (CBS 3) and The CW Philly 57's Chris May, Kathy Orr and Bob Kelly will be hosting the 243rd St Patrick's Day Parade live this Sunday, March 10th on Channel 3 from 1 to 4 p.m. Turn your clocks an hour ahead, because the parade falls on the day we return to Daylight Savings Time. An encore presentation of the parade coverage will be rebroadcast on Sunday, March 17th on The CW Philly 57 from 1 to 4 p.m. The Parade will also be available on Xfinity On-Demand starting March 11th.
KYW Reporter Cherri Gregg has been named Community Affairs Reporter at the same station. Cherri's new role will have her shedding light on the numerous issues, neighborhoods and area leaders affecting community life in the Delaware Valley across a variety of time periods for the station. Cherri joined KYW in 2011 as a general assignment reporter while completing a Masters in Journalism at Temple University. She has reported on a number of community issues already, including in-depth coverage of the Voter ID controversy in Pennsylvania, which tapped her experience as an attorney.
NBC News president Steve Capus, who grew up in Warminster, resigned last month following a rough eight-year tenure, in which the Today show lost its 16-year winning streak to Good Morning America. The primetime news magazine Rock Center flopped and Matt Lauer went from a beloved morning show host to an embattled TV personality.
"Working in network news is not a solitary pursuit; it is the ultimate `team sport,' in which success is derived from the collective performances of remarkable people united in purpose and dedication," Capus wrote in his departure memo. Capus, a Temple University journalism grad, joined NBC News in 1993. He worked his way up to the top job with stops along the way as executive producer of NBC's former late night/early morning news telecasts including Nightside and NBC News at Sunrise. He also oversaw The News with Brian Williams on MSNBC and CNBC, and NBC Nightly News first with Tom Brokaw and then Brian Williams.

Capus was named president of NBC News in 2005, but there were whispers about his impending departure since Fili-Krushel was named Chairman of NBC Universal News Group last year.

While attending Temple University, he served as director of WCSD-FM, a non-profit community station in Warminster. Capus worked at WCAU-TV in 1986, where he met future NBC News anchor Brian Williams. Williams was a street reporter for Channel 10 at the time. Matt Lauer was also at Channel 10 when Capus was there but they worked in different departments. Capus also served as an executive producer at KYW-TV in 1990, where he stayed for several years.

Let's go back into our archives, but not too far back. Broadcast Pioneers member Dave Neal was inducted into our Hall of Fame on Friday, November 19, 2010. That evening we played these remarks by NBC-TV News Anchor Brian Williams and then NBC President Steve Capus. Capus knew Dave from his days at WCAU-TV. At that same time, Brian Williams was the station's NJ reporter. Both were mentored by Dave Neal. Here are those remarks.
A LITTLE BIT OF HISTORY!
(left to right) Broadcast Pioneers members Harold Pannepacker and Bob Jawer
(We can't even imagine why they are dressed like this)
KYW-TV, Channel 3, Philadelphia
August 11, 1987
THANKS FOR THE MEMORIES:
REMEMBERING BOAKE CARTER OF WCAU RADIO!
Boake's real name was Harold Thomas Henry Carter. He became a news commentator on WCAU Radio (now WPHT) in 1930. Few, if any, of our members will remember him because he passed away from a heart attack in November of 1944 at the age of 41. He was born in Russia because his dad worked for a British company that was drilling for oil in the old Russian empire. Today, we call it Azerbaijan.
He got into WCAU Radio (from the Daily News) because of a fluke. The station was going to carry a rugby game, so the story goes, and Boake was the only person Stan Lee Broza knew who understood the game. Broza was this organization's first president and our first Chairman of the Board.
Boake became a national radio figure in 1932 by covering the Lindbergh kidnapping case. While at WCAU, his broadcasts were often carried by CBS Radio. Remember that WCAU's co-owner Leon Levy was the brother-in-law of Bill Paley, founder of CBS. The Levy Brothers also had a financial interest in the network.
Boake was a controversial voice of the airwaves, often criticizing FDR's New Deal programs. For six years, his broadcasts were sponsored by Philco Radio, and he often blended the commercials right into the commentary. Sort of similar to what Jack Benny and Burns & Allen did in the early days of TV. In August 1938, he lost his radio gigs under pressure from Roosevelt allies. He referred to his listeners as "Johnny Q. Public."
The next year (beginning September 11, 1939), he was back with syndicated (via transcription) daily news commentaries. It was marketed through his own company. They were cut here in Philadelphia by the Columbia Recording Company.
In 1941, he said, "Before, when I lit into people on the air, it was peace time. Now it is a time of war and it is better not to utter inflammatory opinions." This was just months before the attack on Pearl Harbor. At this time, he had returned to the air (the Mutual Radio Network), sponsored by United Airlines.
At the time of his death, he was still doing a weekly broadcast for Mutual. One may wonder how his first name became "Boake." Well, the story goes that it was because of the Russian city he was born in. Baku. But that's just a story. In actuality, Boake was an old family name on his mother's side.
FIRST TIME SOME PEOPLE SAW TV WAS IN A JEEP!
IN 1948, WCAU-TV, Channel 10 realized that few people had actually seen a television transmission. They had the bright idea to mount TV receivers on the back of jeeps. They drove throughout the city, stopping long enough for people to come out of their houses to watch part of a television telecast. Since they were in an open vehicle, the jeeps traveled only on days when the weather was clear. Any rain would have ruined the television set. Remember, TV was a relative new medium at this time. Philadelphians would visit homes of neighbors who had a TV receiver and marvel over a test pattern.
Television sets in the Delaware Valley service area numbered 75,000 by the end of the year and averaged three to five people per set. In that year, WPTZ (now KYW-TV) said they had 70 sponsors, which was more than any other television station in the country. WFIL-TV (now WPVI-TV) said that their "television newsreel, among the first daily motion picture newsreels in the industry, was awarded (on March 19, 1948) the only National Headliner's Club metal ever given to a television news program."
ROB JENNINGS IN ATLANTIC CITY!
In 1978, the gambling casinos in Atlantic City opened. Broadcast Pioneers member Rob Jennings was sent to cover the story. These casinos were legalized by the voters of New Jersey in November of 1976. An earlier referendum in 1974 failed. The casino industry employs about 35,000 people in the Garden State.
WHAT WAS ON THE RADIO IN 1926?
Thought you might like to know what was on the radio here in Philadelphia during March of 1926! On Friday, March 26, 1926, here's what you might have found when you were tuning across the dial. WCAU Radio was at 1080 on your AM dial. At 6:45 pm, they broadcast the Hotel Pennsylvania Concert Orchestra. At 7:30, it was the Snellenburg Instrumental Trio. An hour later, it was the Singing Groundhog. At 8:45 pm, the Bryan Girl was on for fifteen minutes. At 9 pm, the Regina Crooners. 9:15 was Dwight Strickland billed as a "poetician." A quarter hour later it was the Sea Gulls and at 10:30 pm, you heard Myers' Musical Architects.
WFI, at 760 on the dial, broadcast the following: 1 pm - The Tea Room Ensemble. At 3 pm, the Sesqui Centennial Program. At 6:30 pm, it heard the Bellevue Stratford Concert Orchestra and a half-hour later, it was the Bellevue Stratford Dance Orchestra.
WLIT shared time and frequency at 760. WFI would be on for awhile and then WLIT would come on the air. At 12:20 pm, WLIT aired a religious service. At 12:35 pm, you heard the Arcadia Cafe Concert Orchestra. At 2:30 pm, there was a play performed by the Students National School of Oratory and Elocution. At 8 pm, there was a sports talk program followed by "a talk" and then "a recital." At 10 pm, the Morning Glory Club, the Arcadia Cafe Dance Orchestra and Zoehrns and Herscher singing popular songs. 10:30 pm saw Rufus and Rastus. At 11 pm, the Arcadia Cafe Dance Orchestra continued.
WIP Radio, at 590 on the dial, broadcast the Gimbel Tea Room Orchestra at 1 pm. At 6:05 pm, you listened to the Benjamin Franklin Hotel Concert Orchestra. At 7 pm, it was the ever popular "Uncle WIP" reading bedtime stories. Uncle WIP was portrayed by Christopher Graham at that time. Graham was inducted into our Hall of Fame last November.
WOO Radio (The John Wanamaker station) shared time with WIP operating at 590. At 11 am, they aired an organ recital by Mary Vogt on the Wanamaker organ. At 12:02 pm, you listened in for "Golden's Crystal Tea Room Orchestra. 3:30 saw the Adelphia Dance Orchestra. At 4:45 pm, there was another organ recital with Mary Vogt. At 8 pm, it was the WOO Orchestra. 9:25 pm brought you the Fox Theater Program. At 10 pm, WOO simulcasted with WEAF in New York, creating a forerunner of the NBC Radio Network. The program was called"the Whittall Angelo-Persians." At 10:30 pm, it was time for the Sylvania Dance Orchestra, a local show.
Did you ever hear of WFBD Radio? Well, they were on the air in Philadelphia in 1926. They were at 1280 on the AM dial. They were a 5 watt station licensed to the Gethsemane Baptist Church. The station came on the air only the year before.
A FINAL THOUGHT....
"More than anything else, I resembled a piece of uncooked spaghetti."
Broadcast Pioneers member Jerry Blavat
from his book, "You Only Rock Once"
2011
Please contact us by e-mail at newsletter@broadcastpioneers.com or by mail to: Ed Eisen, 1110 Longshore Avenue, Philadelphia, PA 19111. (215) 725-7253. Your stories are important, to you, to us, and your colleagues. Contact us today and we'll include your story in the next newsletter!

Photo Editor & Archival Historian - Gerry Wilkinson
© 2013, Broadcast Pioneers of Philadelphia
All Rights Reserved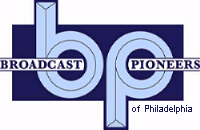 The e-mail address of the Broadcast Pioneers of Philadelphia is pioneers@broadcastpioneers.com
For luncheon reservations call (856) 365-5600 or e-mail us at: rsvp@broadcastpioneers.com