| | |
| --- | --- |
| | Broadcast Pioneers of Philadelphia is a federally recognized, state chartered 501(c)(3) non-profit organization serving the Philadelphia Broadcast Community since January of 1962. |
March Luncheon
The Bala Golf Club
Wednesday, March 19, 2014

Meet & Greet at 12 noon!
Lunch at 12:30 pm
Ratecard: $28 per person!

PLEASE RESERVE NOW!
CALL (856) 365-5600!
rsvp@broadcastpioneers.com
Another "Third Wednesday" Luncheon!
Wednesday, March 19th!
"Rock & Roll Is Here to Stay"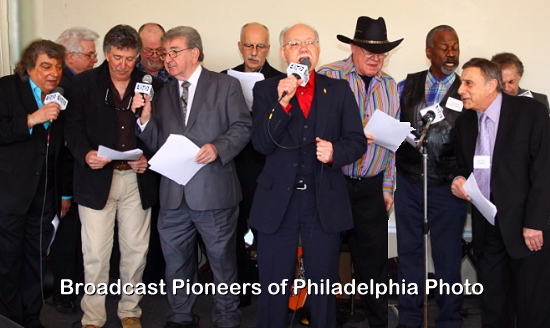 (left to right) Billy Carlucci, Nicky DeMatteo, Mark Stevens, Corky Warren, Joe Terry
Art Wilson, Mike Bove, Johnny B. Hall, Stephen Caldwell, Frank Maffei & Mike Volpe
Broadcast Pioneers Luncheon, Bala Golf Club, Philadelphia
Wednesday, March 20, 2013
Hit After Hit; Smash After Smash; Blockbuster After Blockbuster. Here's another "monster" lunch where the "stars" don't wait to come out at night. They're there at lunchtime!
Our next Broadcast Pioneers luncheon is another "Rock & Roll Special!" It will be held at the Bala Golf Club, 2200 Belmont Avenue in Philadelphia on Wednesday, March 19th (that's the third Wednesday of the month). Meet and greet is at 12 noon. Lunch will be served at 12:30 pm.
Our MC for the afternoon will be Cool Bobby B. His Doo-Wop oldies show can be heard on SiriusXM Radio. For the uninitiated, Cool Bobby B is Broadcast Pioneers member Bob Backman, who was General Manager of Channel 61 here in Philadelphia for 5 years. Bob is currently president of WDRE-TV in Rehoboth Beach, Delaware.
Scheduled to appear are (in alphabetical order):
Stephen Caldwell of "The Orlons"
Billy Carlucci of "Billy and the Essentials"
Eddie Collins, former music director for "The Drifters"
Danny and the Juniors (featuring Joe Terry & Frank Maffei)
Johnny B. Hall of "The Star Fires"
Meagan Hill, Actress, Singer and voice-over announcer
Kenny Jeremiah, formerly of "The Soul Survivors"
Frank Jordan, formerly of "The Jordan Brothers"
The Tridels (featuring Mike Bove, Art Wilson & Jackie Strauss)
Corky Warren of "Corky's Time Machine" TV Show
It all takes place at the beautiful, newly renovated and historic Bala Golf Club, 2200 Belmont Avenue (across the street from the State Police) in the Wynnefield section of Philadelphia. Only minutes away from Channels 6, 10 and 17 and the radio stations in Bala Cynwyd. Call now for reservations. (856) 365-5600! Don't miss this one!
Meet and greet (networking) starts at 12 noon, and a full course lunch including salad, coffee or tea and dessert will be served at 12:30 pm. There will also be a crudité and cheese table. Cash bar available all afternoon! The cost is just $28 per person!
Plenty of FREE parking. The luncheon is open to all our members, their guests and any person in the industry or associated fields, whether active or retired. You do NOT have to be a member to attend. Call NOW with your reservation(s), (856) 365-5600!
In order to speed up check-in at the luncheon, it would help if you had the $28 in exact change or your $28 check already written. Make it payable to the Broadcast Pioneers of Philadelphia.
For those who are interested in including a little extra in their check as a donation to help us underwrite our different programs including scholarships, our Digital Archival Project (DAP) and others, it will be appreciated.
WE WANNA SEE YOUR FACE IN THAT PLACE!

Visit Our Website Often - http://www.broadcastpioneers.com
Check out our Facebook Page - http://www.broadcastpioneers.com/facebook
Tune in to our YouTube Channel - http://www.broadcastpioneers.com/youtube

WELCOME NEW MEMBERS:
FULL MEMBERS:
Steven Gortvay is the Underwriting Sales Manager for WLVT, PBS 39 Television in Bethlehem. He's been in that position for the last seven years. Before that, he held a similar position at WDIY-FM in Bethlehem. He's also been General Sales Manager at WERA, Plainfield, WZZO and WPA in Bethlehem. Steven was a Senior Account Executive for WCTC-AM and WMGQ-FM in New Brunswick owned by Greater Media.
Harry Hairston has been in the biz since 1979, starting out in Erie and then moving to Tampa, Detroit and finally to the City of Brotherly Love and NBC 10, WCAU-TV. Harry is a news anchor and an investigative reporter. He came to Philly ten years ago. In his first few months at NBC10, Hairston received an Emmy nomination and a few years later garnered a Mid-Atlantic Emmy for "best general assignment reporter."
Christopher Crumbliss started in the our great industry a little over ten years ago (2003 to be exact). Since 2010, he has worked as an engineer for the Quaker City's WTXF-TV, Fox 29 at 4th and Market Streets in Center City Philadelphia. Before that, he also worked as an engineer at KVRX Radio, 91.7 on your dial in Austin, Texas. Previously, he was at KLVR, PBS, also in Austin.
Donald Heller is the Assistant Dean of the Temple University School of Media and Communications. He came to Temple fourteen years ago in 2000. Prior to that, he was Vice-President of Business Development for Lenfest Communications, Inc. and President of Lenfest Programming Services. He was at one time the Vice-President and General Manager of Prism/Sports Channel here in the Delaware Valley.
ASSOCIATE MEMBER:
Peter Neill is still a student at Temple University. He'll be graduating in May with a Bachelor of Arts degree in Broadcast, Telecommunications and Mass Media. For the past several months, he has been working as a Production Assistant at NBC 10. Previously, he was a News Department Intern at CBS and before that he was a Producer's Assistant (Intern) at for B-101, He also was an intern for KYW Newsradio.
We are thrilled to have these new members. 504 Members. More than ever! We hope to see as many of our members as possible at our March Luncheon.
DIGITAL ARCHIVAL PROJECT NEWS:
VIDEO:
Member Dave Roberts
WPVI-TV Action News
1987

Jim Gardner
WPVI-TV Action News
1987
Here is a good example of why archives always go to the end of the reel. Sometime ago, we encoded an original 3/4 inch video tape which came from WPVI. It dates from Tuesday, June 9, 1987. The tape contains historic footage. Remember that today's news becomes tomorrow's history. What the label says on the tape is that it contains material from then U.S. Senator Joe Biden (from Delaware) announcing he was running for President of the United States. It includes his entire speech and several minutes of raw b-roll. After this, the tape goes to black.
Now, you might think that you're at the end of the recording when "Surprise." Something else starts to play. In this case, it's part of an 11 pm WPVI "Action News" newscast with Jim Gardner, Dave Roberts and Gary Papa. While we cannot date the newscast, we know that it is from the first half of 1987 and dates before June 9th. Where our video below starts, that's where it started on the original WPVI tape. In our opinion, the Real Video version is clearer.
Watch in Real Video Format!
Watch in Windows Media Format!
AUDIO:
Next we have a recording of Jack Pyle on WPBS (PBS stood for Philadelphia Bulletin Station) Radio. The date is Saturday, January 8, 1966. That evening, Jack was doing a four-hour big band show on the station. WPBS is now WUSL (Power 99). Jack Pyle was inducted into our Hall of Fame in 2009.
Listen with Real Audio!
Listen with Windows Media!
Here's some audio from Monday, March 15, 1965. It's from WFIL-TV. It's the 11 pm news with Broadcast Pioneers Hall of Famer Gunnar Back. While this is a television broadcast, we have only audio. Gunnar Back was inducted into our Hall of Fame in 2004.
Listen with Real Audio!
Listen with Windows Media!
A little while ago, we had several vans of audio tape donated to us from WVCH (740 on AM) in Chester. Here's one of the tapes from that collection. The station was founded and originally owned by Jim Tisdale, a founding member of the Broadcast Pioneers. On St. Patrick's Day, Saturday, March 17, 1979, the Will Regan Show was on the air. Here's a part of that broadcast.
A LITTLE BIT OF BROADCAST HISTORY!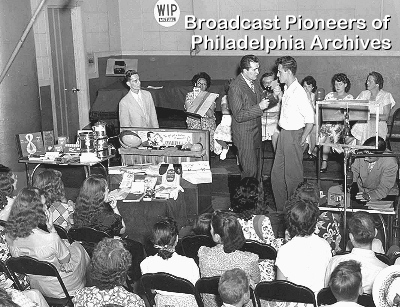 Mac McGuire in the center top of the photo
WIP Radio Studios
1946
(Photo originally donated by Dennis McGuire, Mac's son)
IN TOUCH WITH OUR MEMBERS:
Broadcast Pioneers member Maura McKinney Mastro tells us that AirPlay Direct is doing a tribute to folk singer Pete Seeger. Last month's newsletter, you'll recall featured an interview with Seeger done by Maura's dad, talk host Jack McKinney.
Last Wednesday, member Harry Hurley (who was inducted into our Hall of Fame last November) had members Henry and Bobbie Shaffner on his popular morning talk show (Hurley in the Morning) at the shore. The Shaffners are leading an effort to place actor Van Johnson on an U.S. postage stamp. Harry is heard daily from 6 am to 10 am on WPG, Talk Radio 1450 at the Jersey shore.
Broadcast Pioneers Treasurer (and former President and Chairman of the Board) Pat Delsi is back from a week in Disney World with his family. Pat certainly knew when to go south. He was gone during several snow storms.
The Scholarship Committee met last Wednesday at WPVI. There, we enjoyed a lunch provided by 6ABC (Thank You) and we selected forty scholarship finalists from 12 different area colleges and universities. The next phase is for the finalists to submit transcripts, recommendations and essays for our judging during this month. Special thanks to Niki Hawkins at WPVI who arranged everything for us. The food was delicious.
Our Technical Committee met before our February luncheon. They braved the weather (ice and snow on the roads) to meet to discuss the technical aspects of our upcoming banquet this November.
Our President Jerry Klein and our Chairman of the Board Gerry Wilkinson are on the cover of the newsletter that Pennsylvania State Representative Louise Williams Bishop mailed to her constituents. It's a photo of Klein, Bishop and Wilkinson at our annual banquet last November. At that time, Louise was inducted into our Hall of Fame. The newsletter will arrive in the constituents' mail tomorrow.
Member John Primerano is now being featured on "GMMY Radio." They have been playing John's superb CD (Somewhere South of Heaven). GMMY Radio stands for "Golden Music Memories of Yesteryear."
We heard from our friends at WPHL, TV 17 about two major appointments. Member Kristin Long, former PHL17 General Sales Manager, has been appointed Vice-President/Strategic Sales for Political and Issues Advocacy for Tribune Broadcasting. Member Dave Yost, previously PHL17 Local and National Sales Manager, has been newly appointed to PHL17 General Sales Manager.
We heard from several of our members at 16th and Spring Garden. A couple of days ago, KYW Newsradio began broadcasting from its new home at the newly-named CBS Broadcast Center at 1555 Hamilton. The all-news, all the time radio outlet is now "under the same roof and shares resources with CBS 3's Eyewitness News and CBSPhilly.com, giving CBS Local Media the largest multi-platform local news organization in the Philadelphia market," says member Joanne Calabria, Vice-President of Public Affairs at CBS 3.
Member Marc Rayfield, Senior Vice President and Market Manager for CBS Radio said:

"This move represents an exciting next step in the great relationship we have built with our Eyewitness News colleagues, and an opportunity to utilize our shared resources to better serve our listeners and CBS 3's viewers. There are a number of ways we can deliver timely reports to local residents better than anyone in the market, no matter what local brand they are interacting with, to get the latest news, headlines and community information."

Member Jon Hitchcock, President and General Manager of CBS 3 and The CW Philly said:

"Ultimately, it's a win-win situation for both the news consumer and CBS. Whether you are getting your information on television, radio, online or mobile, this move brings together two powerhouse stations, making each stronger and better-positioned for the future."

Did you know...
Cover of a WCAU Booklet
1967
In April of 1967, WCAU Radio and Television published a promotional booklet entitled, "As You See and Hear Us." Here's some excerpts from the beginning of that document.
WCAU and WCAU-TV began in a quiet way as pioneers often do. But once the station beamed its first signal in the Philadelphia area, its operations snowballed, as it became a leader in local and national broadcasting. Today, WCAU and WCAU-TV, housed in the first combined radio-television plant to be built, continue to be pacesetters in communications.

It all began in the back rooms of Wilson Durham's Electrical shop at 19th and Market Streets. A group of Philadelphia businessmen were granted a radio broadcasting license from Secretary of Commerce Herbert Hoover in 1922. On May 22, the first sounds of WCAU Radio were transmitted on 250 watts from the broadcasting studio, which also doubled as an office.

Two years later, WCAU had a new owner, Dr. Leon Levy, and a new home, the Pennsylvania Hotel at 39th and Chestnut Streets. The station expanded in power: in 1924 the station doubled to 500 watts; the power reached 1000 watts in 1928. A year later it was raised to 10,000 watts. The station grew in popularity. Personalities such as Fred Allen, Al Jolson, Claude Rains, Ezra Stone and Paul Douglas "cut their Radio Teeth" on WCAU. In 1927, the station became the first to affiliate with the Columbia Broadcasting System. Stars like Bob Hope, Lynn Murray and Ben Bernie, broadcasting their first commercial radio network shows, entertained the nation from Philadelphia.

When the power was increased to 50,000 watts in 1933, WCAU moved to its next base at 1622 Chestnut Street. This building, dedicated by President Herbert Hoover, was the first in the country built exclusively for broadcasting purposes. Designed to absorb an expanding organization, WCAU's new home fulfilled its purpose admirably.
There is much more to this document but this month, we will deal with the early days of radio. That's mostly what was on the first page of the booklet.
First, the booklet was correct when it said that Durham's Shop was at 19th and Market. Actually, Wilson's business was at 1936 Market. We mention this because several years later, WCAU Radio was located at 1940 Market Street, just two doors away from where the station was born.
In the early days, the station broadcast on 833 kilohertz, as did most of the other stations in the market. This, of course, created much interference and confusion. WCAU was the 251st station licensed in this country.
The first record we can find of a listed broadcast is Tuesday, May 30, 1922. This is generally accepted as their first day of broadcast. Their schedule that day was from 7:30 pm until 10 pm. That day's programming started at 7:30 with sporting results. Then at 9 pm, there were piano selections played by Richard Myers. At 9:30, there were violin tunes by Thomas Barker. In 1990, a newspaper article gave the date of the first WCAU broadcast as May 22, 1922. We have never been able to independently confirm that. In fact, a WCAU document dated June 4, 1938 says that the station came on the air in 1921. That is incorrect as verified by federal government records. In 1952, WCAU referred to May 27th of that year being the station's 30th birthday. However, since Bill Paley, chairman of CBS was there, the birth date may have been approximated for convenience.
Next, the booklet says that the station was granted a license from Herbert Hoover, who was Secretary of Commerce in the Warren Harding administration. Well, the license was granted by the Department of Commerce and not Hoover itself. Remember, this was during the early days of radio, which really hadn't come into its own yet.
The next correction is to the statement that "two years later (1924), the station had a new owner, Leon Levy". This is just not true. However, we have found WCAU documents going back as far as 1937 with incorrect information. Dr. Leon Levy never owned more than half the station.
Well, in 1923, Durham transferred the station's ownership to Durham and Company. WCAU received financial help from a group of Market Street merchants. They put down some "up-front" money and in return received mentions on the station. These plugs may have been the city's first commercial announcements aired over a Philadelphia radio outlet that wasn't pushing the merchandise of the station's owners (mostly department stores in that era).
In 1924, Durham agreed to sell the station to Isaac (Ike) Levy and his law partner, Daniel Murphy. The reported price was $25,000. The sale was not approved by the government until early 1925.
Dr. Leon Levy, Ike's brother and a local dentist, bought out Murphy's share of the station on November 17, 1926. However, Leon only owned half the station and Ike owned the rest.
A couple of years later, the Paleys (William Paley, his dad Sam and his Uncle "Jay" Jacob Paley) purchased one-third of WCAU from the Levys for $150,000. Now, Leon Levy owned a third of the station.
Before the cash influx from the Paleys (Leon Levy was married to Bill Paley's sister), the station operated only at night, after both Levys spent their daylight hours pursuing their professions. Now, with the extra backing, Leon Levy could "retire" from dentistry and devote his energies to running WCAU Radio.
One final clarification: President Herbert Hoover was involved with the official dedication of WCAU's new building at 1622 Chestnut Street. However, he wasn't here in Philadelphia. On Friday evening, February 10, 1933 (less than a month before he was to leave office), President Hoover spoke on a live CBS Radio Network broadcast. It was the dedication ceremonies of the new WCAU building (even though the station had been broadcasting from its new digs for 2 months). The broadcast was from 10:30 pm to 11 pm and Hoover spoke from the White House.
The Levys were part owners of CBS and the Paleys were part owners of WCAU. All were on the board of CBS. So the airing nationally made a lot of sense. It featured many leading entertainers of the era, all originating out of the new studios. According to the May 1933 issue of Radio News, "the artists included Morton Downey, Tom Howard, Mary Garden, Helen Kane and the Vincent Travers and Meyer Davis orchestras. Boake Carter was the master of ceremonies." Carter, by the way, one a local WCAU announcer who was often heard on the network. Today we know WCAU Radio as WPHT.
MORE DIGITAL ARCHIVAL PROJECT NEWS:
VIDEO: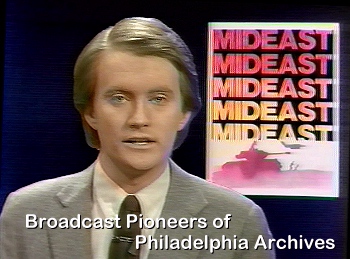 Member Larry Mendte Anchoring the 6 pm Action News
WLYH-TV, Channel 15
June 9, 1983
This is one of the hundreds of video tapes that members Larry Mendte and his wife, Dawn Stensland have donated to our video archive. One of Larry's earliest jobs was working as news anchor on "Action News" for WLYH-TV, Channel 15 in Lebanon-Lancaster, Pennsylvania. The station was owned by Gateway Communications. It was one of the stations that members Lew Klein and George Koehler purchased from Walter Annenberg (who was our "Person of the Year" in 1983). We asked Lew to give us a little background on the station and here's what he said:
"WLYH-TV signed on the air October 25, 1953. As a result of damage from Hurricane Hazel it went dark in 1954. Triangle Publications, owned by Ambassador Walter Annenberg, purchased the station and put in back on the air in August 1957. It became a CBS affiliate in 1961 There was an unusual situation in the market because there now were three CBS affiliates in the same market . ( Harrisburg-Lancaster-Lebanon-York ) The three CBS affiliates joined forces to create the Keystone Network which programmed and sold time as a single entity. In the early 70's Gateway Communications purchased the station. That was the status when Larry Mendte became the anchor on the WLYH-TV News."
Watch with Real Video Format!
Watch with Windows Media Format!
AUDIO:
During the sixties and early seventies, the United States government sent to local radio stations interviews with local servicemen and women in our armed forces. These recordings would come to the stations on a small three-inch reel of audio tape. Because of the smallness of the reel, the recording would usually have to be transferred to at least a 5" reel for air play. Here is one of those recordings.
Listen with Real Audio!
Listen with Windows Media!
Broadcast Pioneers Hall of Famer Dick Clayton passed away on Tuesday, July 28, 1998 at the age of seventy. He was best remembered in the City of Brotherly Love" for his air days on WIP and WPEN Radio. He had a great wit and a dry sense of humor. He was well known here for reading "Letters from Mom" on the air. In one, the letter from his mother said, "I would have enclosed ten dollars to help you out but I had already sealed the envelope." Dick was on daily from 1 pm to 4 pm on WIP. He was at the station from 1967 to 1974 during the prime of WIP Radio.
Next, we have a composite of "Man on the Street" interviews with people "passing by the exterior of the WINS Radio studios." They were done by Clayton who was doing morning drive there. Dick was in the Big Apple from 1962 to 1967. Of course, these "interviews" are fake and done for laughs.
Listen with Real Audio!
Listen with Windows Media!
Next we have Broadcast Pioneers Hall of Famer Ed Harvey on WCAU Radio (now WPHT). The date is May 16, 1962. It's the "Talk of Philadelphia" broadcast with special guest comedian Joey Bishop. Joining Ed during this segment is legendary newscaster John Facenda. Ed Harvey had a habit of asking the engineer to record only the program and leave out the commercials. That's what is on the cut. Our audio comes directly from a tape recorded in WCAU's control room for Ed. It was donated to us by the Ed Harvey estate.
Listen with Real Audio!
Listen with Windows Media!
Remember, History is ONLY What Gets Saved!
(If there were no portraits of George Washington, how would we know what he looked like?)
A LITTLE BIT OF BROADCAST HISTORY!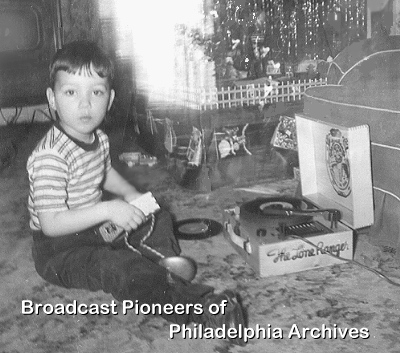 Member Bob Pantano playing records
Christmas Time at the Pantano household
IN TOUCH WITH THE INDUSTRY:
Beasley Broadcast Philadelphia brought back Rick Vaughn to our market. He's programming Wired 96.5 (WRDW-FM). Vaughn came to back Philly from WWPW-FM & WRDA-FM in Atlanta, where he served as Program Director. Vaughn was PD at WIOQ in Philadelphia from 2006 to 2008.
CNN has announced that the SiriusXM host Michael Smerconish will host a Saturday morning TV show, and provide analysis and opinion on CNN programming throughout the week. Smerconish has been working as a contributor and fill-in on Chris Matthews' Hardball on MSNBC. He starts his TV broadcast later this month.The show will originate from New York City. Smerconish used to be a talk show host on WPHT, 1210.
A LITTLE BIT OF BROADCAST HISTORY!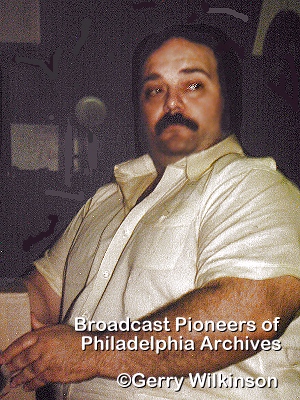 Joe "Butterball" Tamburro
WDAS (AM) Studio
Belmont and Edgely Road, Philadelphia
1974
Photo taken by Broadcast Pioneers Chairman Gerry Wilkinson
Comcast SportsNet adds Jamie Moyer and Matt Stairs to the broadcast booth for covering the 2014 Phillies. Comcast and its different networks will air the Phils including a dozen games on WCAU-TV, NBC 10. That includes the home opener on April 7th at 3 pm.
WURD Radio (900 on AM) welcomes Dr. Susan Taylor to the station. The well-known doctor and author will be heard on Tuesdays at noon time. Dr. Taylor is a graduate of the University of Pennsylvania Medical School. Many of us have seen Taylor on NBC-TV's "The Today Show" and on Fox 29's "Good Day Philadelphia."
CBS 3 (KYW-TV) Morning Anchor Ukee Washington hopped on a plane to LA late last month for a cameo appearance on the CBS hit comedy "The Crazy Ones" starring Robin Williams and Sarah Michelle Geller. Washington will be featured in a scene with Brad Garrett in an episode scheduled to air next month. This isn't the first time Washington has had a national platform. Last October, he guest co-hosted on THE TALK with Julie Chen, Sara Gilbert, Aisha Tyler, Sheryl Underwood and guest co-host Carnie Wilson. The Crazy Ones airs Thursdays on CBS 3 in its new time period at 9:30 pm.
CBS 3 in Philadelphia is now providing a nightly Digital Brief anchored by Jessica Dean on CBSPhilly.com for viewers who may have missed the evening news but are looking for a quick recap of the local headlines in the evening. Check it out. A new Digital Brief posted each night around 7:30 pm.
WE REMEMBER:
Leslie Glick passed away last month. She was the past president of the Philadelphia Advertising Club. She worked for such well known advertising agencies as Elkman Advertising and Leven Diccicco. She was Media Director for Princeton Partners and was Advertising Manager for Cottman Transmissions.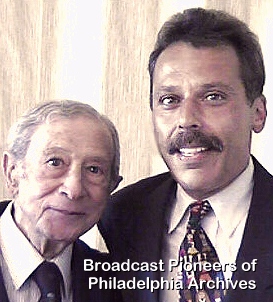 (left to right) Members Max E. Solomon with his grandson Roger Krone
Broadcast Pioneers Luncheon, Bala Golf Club, Philadelphia
Wednesday, June 18, 2003
Former Broadcast Pioneers board member Roger Krone passed away last week. Roger was the grandson of one of our founding members Max E. Solomon. Krone followed in his grandfather's footsteps by selling time as a Senior Account Executive for Clear Channel for the last quarter of a century. Max was a time salesman extraordnaire for Walter Annenberg's stations of WFIL-TV and Radio.
Former WCAU General Manager Jack Clements died in mid-February. He was President of Westwood One and previously an executive with the Mutual Radio Network. Hailing from Spartanburg, SC, Clements was a graduate of Wofford College. His first job in the industry was on air in Anderson, SC.
VISIT OUR YouTube CHANNEL: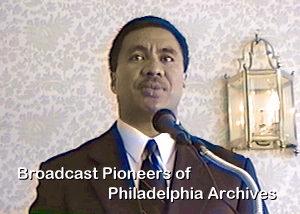 Vai Sikahema
Broadcast Pioneers of Philadelphia Luncheon
Wednesday, January 10, 2001
As part of our ongoing project, we have been redigitizing our video from old luncheons. You can see Vai Sikahema address our organization in January of 2001. History is only what gets saved!
Watch the video on our YouTube Channel
THANKS FOR THE MEMORIES:
Hello Dolly!
Dolly Ruth Banks Shapiro, commonly known as Dolly Banks, was a founding member of the Broadcast Pioneers of Philadelphia. She and her brother, William A. Banks (called Billy by most everyone) took WHAT Radio from a split time, 100 watts station on 1340 AM to a full-time station, 1000 watt station. Billy (a former WIP time salesman) always said that he purchased the station for what you'd expect to pay for a corner grocery store. Dolly had experienced some clerical work she did at WIP Radio while a student at Overbrook High School. From that point on, both loved broadcasting.
Dolly had been called many things during her career, but did you know that Broadcasting Magazine in 1948 called her "one of the best dressed executives in radio?" Well, Dolly said: "To be fashionable, a woman must know how others are dressed and then dress a bit differently." Her philosophy of running a profitable radio station is somewhat the same. Look to what the other stations are doing and then be different (and better).
The 1948 Broadcasting Magazine article referred to Dolly as "a shapely, flashing-eyed brunette of 30." Did you know that she was once a ballet dancer? Again, true. She was one of Edna Wroe's famous "Wroe's Buds" at the Atlantic City Million Dollar Pier. Dolly also danced with the Littlefield Group and the Philadelphia Ballet Company.
That same article also said that she had a cigarette lighter shaped like an eight-ball on her desk. The magazine said that it was never Dolly who was behind it.
Did you know that Dolly had a radio in every room in her home? It's true. In that way, she could keep tabs on what everyone (including her station) was doing.
In 1948, she was programming the station and had a black woman doing what we now called "morning drive." She also programmed Italian and other foreign language programs on WHAT. This help make the station a money-maker and from 1944 to 1948, the value of the station increased by ten fold.
Dolly ran the program department and concentrated on the day to day operations while her brother, Billy went out and sold time, which was really what he wanted to do anyhow.
In that 1948 article, Dolly Banks said: "Our revenue is greatly increased, with both national and local business coming in for what looks like a big Fall (season). Although all of our foreign language are doing exceptionally well, Italian language and Negro market programs seem to be the leaders. We are not feeling any impact from television."
Dolly and Billy's dad owned a chain of shoe stores. It was from that source that Dolly credited her business management abilities. Dolly was just 26 when she got involved with WHAT Radio. Billy was away on business when Dolly found out that another Philadelphia radio station dumped its religious broadcasts and that business was snapped up by Dolly. Not a single potential time buyer was turned away.
In that 1948 article, Dolly said: "We don't just sell time, schedule the show and forget about it. We keep a critical eye on every commercial effort and try to see that the goal intended is being reached. Selling the sponsor a contract is just the beginning of selling him service."
Also in that article, Billy Banks (also a founding member of this organization) said about his sister: "Dolly acted from the start as though she were born with a microphone in one hand, rate card in the other and a copy of the FCC rules and regulations in front of her. She's a natural for the business.
A LITTLE BIT OF BROADCAST HISTORY!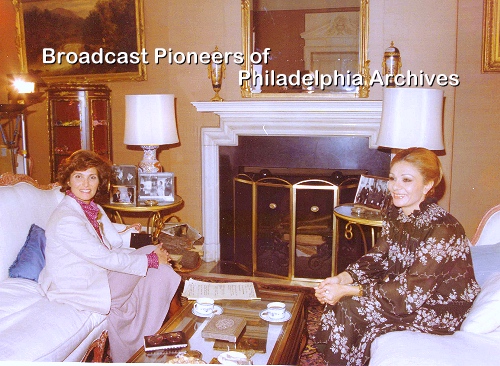 (left to right) Broadcast Pioneers member Marciarose Shestack with
the Empress of Iran Farah Diba Pahlavi
1978
Editor's Note: Marciarose was in Iran working on a TV documentary for WNBC-TV. In less than one year from the time of this historic photograph, the Empress and her husband, the Shah of Iran would depart their homeland forever. The Empress finally settled in the United States at the invitation of President Ronald Reagan.
WCAU Radio & Its Transmitter
Delaware County (one county over from Philly) saw the installation of the first 50,000 watt AM transmitter for Philadelphia's WCAU. It was at 396 Bishop Hollow Road in Newtown Square. However, according to Charlie Miller, one of the people involved in the planning, construction and operation of this building, "In the 1930's, there were no blocks on this road and the address at that time was simply WCAU, RFD Bishop Hollow Road.... The first broadcast from Newtown Square was on (Sunday) September 18, 1932." He wrote this in a letter to Long-time WCAU Tech Charlie Higgins in 1986. Charlie Miller (Charles B. Miller) was the Plant Engineer for the WCAU stations, (also known as the Transmitter Supervisor), from 1930 until his retirement in 1972. He built the Newtown Square plant, including W3XAU, and the Moorestown facilities still in use today. Charlie died at the age of 91 in the late 90's. According to Higgins, Miller "could remember everything."

Operating from the same site was the first International Shortwave commercial broadcasting station in the United States, W3XAU, sister station to WCAU. Remember, the use of commercial radio shortwave broadcast stations started when radio manufacturers like RCA and Crosley, and the NBC and CBS networks tried, unsuccessfully, to make commercial shortwave pay as a commercial entity.

Higgins said that the call letters were changed in 1938. Broadcast Pioneers member Jack Jones (not the anchor) was Chief Engineer for WCAU AM & FM and Assistant Chief for WCAU-TV. He said that the shortwave call letters were changed to WCAB, Philadelphia. Charlie Miller confirms this adding it was "...broadcast on four different frequencies with directional antenna to Europe and South America."

Higgins also said that the shortwave setup was dismantled during the Second World War and sent overseas to aid in the war effort. He states, "...(the transmitter) was sent to aid Great Britain's and the BBC's effort to counter Adolf Hitler's propaganda broadcasts...."

Charlie Higgins e-mailed again this story about Charlie Miller. Higgins said:
One time Charlie was telling me that Mr. Leitch had ordered all the men at the transmitter to wear ties. Charlie refused to carry out Mr. Leitch's order citing the danger of getting a technician's tie caught in one of the pieces of rotating machinery. Do not forget that the high voltages needed by the transmitters in those days were generated by moving machinery, i.e. generators.
Thank goodness that Charlie Higgins saves everything. On February 28, 1992, Charlie Miller mailed him a personal letter. In it he talked about W3XAU. Miller wrote:
Thanks for sending me information on the 50th anniversary of the VOA (Voice of America). It was very interesting to me, especially the use of manual switching of the antennas for various parts of the world. It reminds me of the company's (WCAU) shortwave activities at Newtown Square in the 30's. First we started off with a home built 1 kw transmitter using a single vertical dipole. The call letters were W3XAU. This transmitter was re-built at Newtown Square for 10 kw output power to use on frequencies from 6 to 21 mhz using high level modulation with four water cooled tubes as modulators and output amplifiers. Was quite a project. The call letters were changed to WCAB. Two V type antennas were erected, one for South America and the other for Europe. We also used manual switching for the transmitter output.
The Handy Man Show!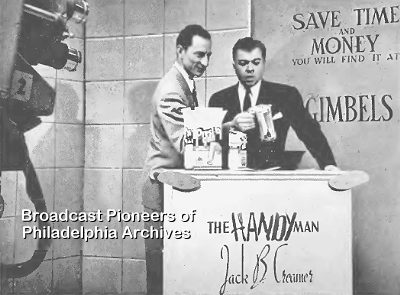 Broadcast Pioneers Board Member Jack Creamer with Ezra Stone (radio's Henry Aldrich)
"The Handy Man Show"
WPTZ Television, Philadelphia
1947
The oldest local commercial program on television was said to be "The Handy Man Show" on WPTZ. The broadcast started in April of 1947 and was a 15 minute broadcast. The photo above shows Jack Creamer who served on this organization's "Board of Directors" for years. He's talking with Ezra Stone who played Henry on "The Aldrich Family."
Ezra's real last name was Feinstone. It was Esther Broza (a founding member of this organization) who suggested that he shorten his name because it was easier to fit on a marquee. Esther did this when Stone joined the cast of "The Horn and Hardart's Children Hour." The program was hosted by Stan Lee Broza (this organization's first president and first chairman of the board. Esther was the producer of the thirty year broadcast.
The Handy Man telecast aired on Channel 3 every Friday from 8:30 to 8:45 pm. Each show had the same sponsor, The Gimbel Brothers Department Store. In 1949, WPTZ said: "If this doesn't make the Handy Man the oldest commercial television show, it will certainly do until a better one comes along."
At the same time, station said: "That the Handy Man has been a commercial success almost goes without saying. Week after week, the Handy Man has been bringing customers into Gimbel Brothers' great store to buy merchandise demonstrated on his program. Time after time, the Handy Man has sold Gimbel Brothers out of stock to the point that such an occurrence is no longer news. During the transit strike, for instance, one of the Handy Man's demonstrations sold some $2,000 worth of Howdy Dowdy dolls. One demonstration of a new laundry basket hiked sales 15 times higher than any previous week."
Creamer had done some previous programs on Channel 3 (WPTZ) for Gimbels in 1946 and early 1947. The Handy Man show was owned by Jack Creamer and not WPTZ. Because of that, a different version of the program aired over WOR Radio and WOR-TV and a radio version ran on the Mutual Radio Network for a year and a half. From February of 1950 to December 1, 1950, there was also a daily version of The Handy Man also airing on WPTZ and sponsored by Gimbels. In late November, "The Handy Man With Jack Creamer" aired on Channel 3 on a daily basis from 2:30 to 3 pm. The show was described as a gag-filled, fun half-hour.
The broadcast was, of course, live. On one show in 1949, a situation occurred that proved it was live. Jack was demonstrating a new electric popcorn marker. However, it didn't quite go as it did in rehearsal. Then everything went well. But that evening on the live broadcast, the popcorn just wouldn't pop.
At one point, Creamer stopped the demonstration and then told the audience not to buy the popcorn popper. That is, until he could show them that it worked properly. Some people disregarded the advice and bought the unit anyhow. Another interesting thing happened. The station received a telephone call from the makers of Seazo Popcorn Oil. They suggested that the problem may be in the oil and not the unit.
On the next broadcast, Jack did the demonstration again. This time he used the Seazo Oil. Everything worked perfectly. The next day, Saturday, Gimbels sold over 300 of the poppers at $8.35 each. But that's not all. 75% of those customers also demanded that they have the Seazo Popcorn Oil.
Adrian Bauer, the ad agency for Seazo said: "That makes this remarkable is the fact that an adjunct to the main article being sold was carefully watched by the viewing audience that they demanded the popcorn oil right along with the popper."
Jack Sterling & The Big Top!
Orland "Bud" Walker, a visitor to our website e-mailed us:
In 1934, Jack Sexton who later became Jack Sterling traveled with the Norma Ginnivan Dramatic Company, a tent show that traveled a circuit through south central Michigan and N.W. Ohio. Its winter quarters was in Fayette, Ohio. It went out in May and came back in September. The troupe put on a 3-act play and in between the acts, did vaudeville. It brought entertainment to the small towns.

My parents traveled with that show and I grew up on it. In 1934 I was 4 years old and Jack worked me into a comedy act with him being the straight man and they dressed me as a tramp and I did the punch lines. It became one of the features of the show. I don't know how many years Jack was with Norma.

My Mother recognized Jack when he was doing "The Big Top" show and wrote to him. I have the letter that he returned to her and that was 1951. I heard him on the radio once. He ended his program by saying " This is Jack Sterling coming to you from inside Family Circle."

Jack Sexton... was young, talented and loved show business. He took a 4 year old boy, (and) worked with him and developed a comedy act that became a feature for a number of years. He ...applied some grease paint and taught him (the boy) how to deliver a punch line. This act was mentioned in Billboard Magazine a couple times in 1934. I was that boy. He was a great guy.
A LITTLE BIT OF BROADCAST HISTORY!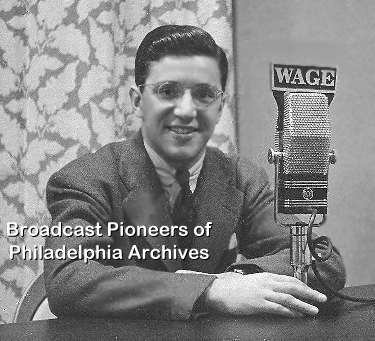 Broadcast Pioneers member Gene Crane
WAGE Radio, Syracuse, New York
February 1942
THANK YOU:
As we do every month, we want to thank Broadcast Pioneers member Johnny B. Hall for his monthly donation to our DAP, Digital Archival Project. Johnny donates $250 every month. The amount totals $3,000 yearly and really helps us to underwrite this much needed but expensive project.
We have great underwriting for the April 2014 scholarships. We have pledges and/or funding for seventeen $1,000 scholarships to be awarded at our April 16th luncheon. We received $1,000 for a scholarship in the memory of Broadcast Pioneers Hall of Famer Mac McGuire. The contribution came from member R. Alan Campbell. Also, the final $1,000 scholarship (part of a five year package) from Broadcast Pioneers Hall of Famer Sylvia Kauders. We also have pledges for seven $1,000 scholarships from member Johnny B. Hall and his wife, Ginny. Also, a scholarship from the Adelman family for a $1,000 scholarship and also one from Robin Adelman's dad, member Leon Love. Member Harry Hurley has pledged a $1,000 scholarship from the proceeds of this June's Hurley in the Morning Golf Tournament.
Broadcast Pioneers Board Member Kal Rudman started underwriting scholarships for our organization several years ago. He was the person that underwrote our first scholarship way back when. Now, there are many following in his footsteps. Kal has said that he'll be underwriting two more scholarships for the 2014 year. Thanks, Kal. Another contribution came from Esther Kurtz. Included in her membership renewal was a $1,000 for a scholarship in memory of David Kurtz (founder of B101).She has been doing this now for 8 years.
Plus, we have added two more $1,000 scholarships for April 2014. One is from Bette Lavine of Center City and the other is from Len Stevens, long-time member of the Broadcast Pioneers.
And again, we wish to thank member Jerry Del Colliano for his $1,000 contribution to our DAP fund. This is the second year in a row that Jerry has done this. We thank him so much for his gift to this most important project.
Recently, Robin Adelman (on behalf of the entire Adelman family and Leon Love) presented us with a $600 contribution to be split between of our DAP project and our general fund. We welcome other gifts for these and other projects in the form of money and/or donated items like video tapes, audio transcriptions and photos.
We also received a $1,000 check from member R. Alan Campbell. It is for a scholarship to be given in April of 2015 in the memory of Fred Ruggieri, who used the air name Fred Randall. Thanks, Alan. We also have a pledge for 2015 from member Harry Hurley with a $1,000 scholarship (limited to students either residing in or attending college in South Jersey). The proceeds for this scholarship will come from Harry's Charity Golf Tournament next year. Also, a pledge from Harry for a $1,000 gift to our DAP project. Thanks, Harry. We also just received two checks for two scholarships for April of 2015. They come from the Adelman Family and Robin's dad, Leon Love. Thanks so much for your support.
Our special thanks go to TUTV and The Kal & Lucille Rudman Media Production Center.

They have underwritten a grant to be used to fund an entire year of all our newsletters for calendar year 2014. We thank them so much for their support!
If you forgot to make an extra contribution (cash or memorabilia) and would like to do so now, it's never too late. We would be thrilled to hear from you at: PO Box 2886, Bala Cynwyd, PA 19004 or call us at (856) 365-5600.
A FINAL THOUGHT....
One day Broadcast Pioneers Hall of Famer Jim O'Brien was having dinner when a TV viewer came up to him and complained about all the bad weather they were having that season. O'Brien said:
"Look, lady. I don't make the weather. I just tell you what it's going to be."
Jim O'Brien

Please contact us by e-mail at newsletter@broadcastpioneers.com or by mail to: Broadcast Pioneers of Philadelphia, PO Box 2886, Bala Cynwyd, PA 19004. Your stories are important, to you, to us, and your colleagues. Contact us today and we'll include your story in the next newsletter!

© 2014, Broadcast Pioneers of Philadelphia
All Rights Reserved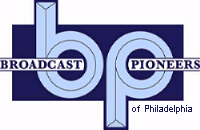 The e-mail address of the Broadcast Pioneers of Philadelphia is pioneers@broadcastpioneers.com
For luncheon reservations call (856) 365-5600 or e-mail us at: rsvp@broadcastpioneers.com