| | |
| --- | --- |
| | Broadcast Pioneers of Philadelphia is a federally recognized, state chartered 501(c)(3) non-profit organization serving the Philadelphia Broadcast Community since January of 1962. |
March Luncheon
The Bala Golf Club
Wednesday, March 18, 2015

Meet & Greet at 12 noon!
Lunch at 12:30 pm
Ratecard: $28 per person!

PLEASE RESERVE NOW!
CALL (856) 365-5600!
rsvp@broadcastpioneers.com
Another "Third Wednesday" Luncheon!
Wednesday, March 18th!
"Rock & Roll is Here to Stay!"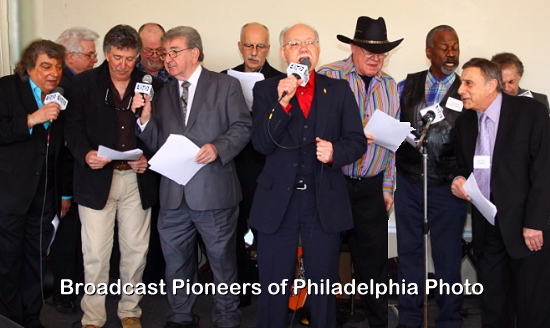 (left to right) Billy Carlucci, Nicky DeMatteo, Mark Stevens, Corky Warren, Joe Terry
Art Wilson, Mike Bove, Johnny B. Hall, Stephen Caldwell, Frank Maffei & Mike Volpe
Broadcast Pioneers Luncheon, Bala Golf Club, Philadelphia
Wednesday, March 20, 2013
Don't Miss This One!
Hit After Hit, Smash After Smash, Blockbuster After Blockbuster... Here's another "monster" lunch where the "stars" don't wait to come out at night. They're there at lunchtime!
Our next Broadcast Pioneers luncheon is another "Rock & Roll Special!" It will be held at the Bala Golf Club, 2200 Belmont Avenue in Philadelphia on Wednesday, March 18th (that's the third Wednesday of the month). Meet and greet at 12 noon. Lunch will be served at 12:30 pm.
Our MC for the afternoon will be Cool Bobby B. His Doo-Wop oldies show can be heard on SiriusXM Radio. For the uninitiated, Cool Bobby B is Broadcast Pioneers member Bob Backman, who was General Manager of Channel 61 here in Philadelphia for 5 years. Bob is currently president of WDRE-TV in Rehoboth Beach, Delaware.
Scheduled to appear (in alphabetical order):
Stephen Caldwell, male lead of the Original Orlons
Billy Carlucci of "Billy and the Essentials"
The Collins Bunch , Eddie was former music director for "The Drifters"
Danny and the Juniors (featuring Joe Terry & Frank Maffei)
Johnny B. Hall, formerly of "The Star Fires" with guest guitarist Art Wilson
Meagan Hill, Actress, Singer and voice-over announcer
Kenny Jeremiah, formerly of "The Soul Survivors"
Frank Jordan, formerly of "The Jordan Brothers"
The Tridels, Top 40 artists from the sixties
Mike Volpe, formerly with the Duprees
Corky Warren of "Corky's Time Machine" TV Show
This takes place at the beautiful and historic Bala Golf Club, 2200 Belmont Avenue (across the street from the state police) in the Wynnefield section of Philadelphia. Only minutes away from Channels 6, 10 and 17 and the radio stations in Bala Cynwyd. Call now for reservations. (856) 365-5600! Don't miss this one!
Plenty of FREE parking. Our luncheons are open to all our members, their guests and any person in the industry or associated fields, whether active or retired. You do NOT have to be a member to attend. There is no reserved seating at our luncheons. Feel free to sit anywhere. Well, okay--the three people on the camera crew sit near the cameras, but that's in the back of the room.
The cost is only a donation of $28 (or more) per person! In order to speed up check-in at the luncheon, it would help if you had exact change or your check already written. Checks can be made payable to the Broadcast Pioneers of Philadelphia.
If you would like to add a few dollars extra, we would appreciate it. It would help us with all the important work we are doing. Thanks!
WE'LL BE PROUD TO SEE YOU IN THE CROWD!

Visit Our Website Often - http://www.broadcastpioneers.com
You should check our website often on the front page (above) for important information!
Check out our Facebook Page - http://www.broadcastpioneers.com/facebook
There are things on our Facebook Page that are NOT on our website (like our vintage photo of the week)
Tune in to our YouTube Channel - http://www.broadcastpioneers.com/youtube
Our YouTube Channel has all our luncheons, exclusive interviews and archival material

WELCOME NEW MEMBERS:
FULL MEMBERS:
Bill Werndl has spent 48 years in the broadcasting field. He started in the business during 1966. Currently, he's a sports talk show host weekdays on WCHE Radio (1520 on AM) in Chester, Pennsylvania. Bill had previously worked at WBCB Radio, WCAU-TV and WFIL and WPVI-TV . He has also worked on the west coast at XTRA (690 AM) in San Diego, California. He was at XX 1090 also in San Diego.
LuAnn Cahn has been in the industry since 1978. However, we probably know this eight-time Emmy award winner for her work at WCAU-TV, Channel 10, here in Philadelphia. Cahn also co-authored the book "Simple Steps: 10 Weeks to Getting Control of Your Life." Last month, she started a new position as the Director of Career Services at Temple University, School of Media and Communications.
Bob Witten started in the business 52 years ago in 1963. He was a producer for NBC News in Washington from 1997 to 2013. He produced MSNBC election coverage and worked on "Morning Joe,""Hardball," and Andrea Mitchell Reports." However, many of us will remember him for his time spent at KYW Newsradio (1969 to 1982) as an anchor and reporter. He also worked at Mutual Broadcasting.
We are thrilled to have these new members. Over 500 Members. More than ever. We hope to see as many of our members as possible at our March luncheon.
DIGITAL ARCHIVAL PROJECT NEWS:
VIDEO: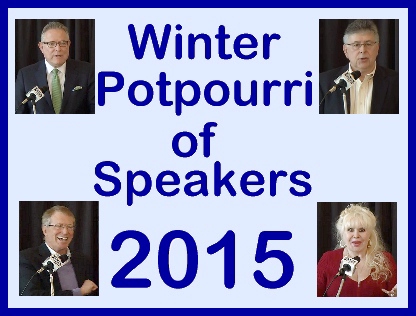 We had four wonderful speakers at our February luncheon. They were (in alphabetical order):
Howard Blumenthal, CEO of Philly's Channel 35 & national television producer
David Boardman, former Sr. VP of Seattle Times, now Dean at Temple University
Valerie Morrison, well known area psychic who works sometimes for Philly Police
Terry Ruggles, former NBC 10 news anchor and long-time street reporter
Our MC for the afternoon was our very own Ed Eisen, one of the board members of this organization. He was filling in for Harry Hurley, who was struck at the shore because of snow. A good time was had by all. You can watch the entire luncheon on the Broadcast Pioneers "YouTube Channel."
Watch the luncheon!
Video courtesy of Board Member Brad Seecof and Metramedia Broadcasting and Studios
AUDIO:
We have three cuts from KYW Newsradio from Saturday afternoon, January 1, 1966. These excerpts from New Year's Day 1966 are from a time when the KYW Newsradio format was just a few months old. We have not been able to identify the newscasters. However, Broadcast Pioneers member Bill Roswell says that he believes that 1:34 pm excerpt to be Dan Streeter. He's not sure about the 2:12 pm excerpt but he is possible that the 2:47 pm excerpt is Dick Covington. New Broadcast Pioneers member Bob Witten thinks that one of the cuts could be Steve Porter. Member Jack Cohen thinks that the 2:12 pm cut could either be Ed Locke or Jim Burson. Listen in Windows Media Format!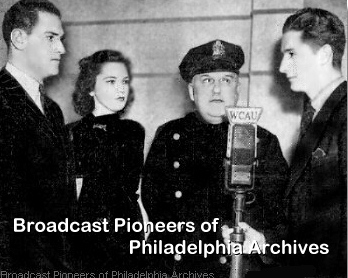 (Left to right) Mr. & Mrs. Morton Lawrence, Officer Bernard McGonigle and Alan Scott
The WCAU Building
1622 Chestnut Street
Center City Philadelphia
Wednesday, February 22, 1939
At 7:07 pm on Wednesday, February 22, 1939, Broadcast Pioneers Hall of Famer Alan Scott said over WCAU Radio:
You have my word, whoever the mother is, that your baby will be restored to you and there will be no police action. You may be alone, when you made the mistake of abandoning your baby, but you are not alone now. We will be your friend; get in touch with me. You can be assured the boy did not suffer from the cold. He is in good hands and gaining weight.
Alan Scott was talking about a 5 week old baby boy that was found on a doorstep by Mr. and Mrs. Morton Lawrence, who lived (in 1939) on the 2100 block of Spruce Street in Philadelphia. They found the child bundled in several blankets in a dark foyer on 21st Street near Walnut. The Lawrence couple had been married for a year and a half and Morton is an announcer on WCAU Radio.
Mrs. Lawrence said:
It was so cold. We heard a cry. I thought it was a kitten at first, but we investigated.
Mr. Lawrence added:
Yes, we checked the weather. It was 20 degrees.
Police Officer Bernard McGonigle stated:
We got a call there was a baby abandoned. We went to the address and found the baby and took it to Pennsylvania Hospital and got it some food. All the police department wants is to find the mother and return her baby to her.
Presently, we do not know if the mother ever came forward.
Listen in the Windows Media Format!
Today's News Becomes Tomorrow's History!
(This is what our Digital Archival Project, DAP, is all about!)
OUR ON GOING ORAL HISTORY PROJECT: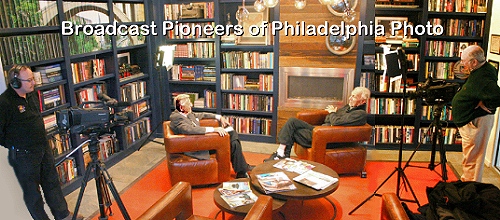 (Left to right) Members Brad Seecof, Bill Baldini, Al Meltzer and Steve Sacks
The Al Meltzer Home
Wednesday, February 18, 2015
(Photo by member Michael Muderick)
As part of our ongoing archival project, we record and stream on the Internet interviews with our members telling their story. After our February luncheon, we went to Al Meltzer's home to record him talking about his career. Member Bill Baldini did the interview. Vice-President Brad Seecof directed the program. Board member Steve Sacks was the producer and our CEO Gerry Wilkinson was the Executive Producer of the series.
This program will be available for free on our YouTube Channel. Elsewhere in this newsletter, you can watch a previous program shot during the beginning of February with Rock & Roll Legend (and member) Charlie Gracie.
This is part of our Archival Project. We maintain digital files plus the original hard copies of broadcasts, news articles and photos. History is only what gets saved.
IN TOUCH WITH OUR MEMBERS:
Member Gene London was a long time kids show host here in Philadelphia. He was inducted into our Hall of Fame in 2009. But Gene is also well known for something else: ladies dresses!
Gene London's Hollywood costume collection is one of the finest privately assembled collections of Golden Age Film wardrobe in the world. As a film fashion historian, Gene London travels the globe as a spokesman for international clients presenting Hollywood theme fashion shows and exhibitions. His enchanting exhibitions have entertained audiences throughout the United States, Japan, Ireland, Russia, Brazil, Italy and the Czech Republic.

Gene is presenting an exhibition of over 50 glamorous film costumes worn by Marilyn Monroe, Vivien Leigh, Greta Garbo, Grace Kelly, Audrey Hepburn, Rita Hayworth and many others at this year's Philadelphia Flower Show, which is being held at the Philadelphia Convention Center now through March 8th. Admission to the collection is $5.
The Tridels are happy to welcome new vocalist Paul Jerome to their family, replacing Art Wilson, who left because of personal reasons. Paul, who hails from Philadelphia, has been performing since 1965, when he co-founded a vocal group called The Temptones with Pop legend Daryl Hall. An active member of many groups through the years, Paul has been performing for the past 35 years as the principle vocalist for The Alan Paller Jazz Hott Orchestra. THE TRIDELS' Mike Bove' and Jackie Strauss are looking forward to working with Paul on their "Soundtrack of the Sixties Show" ! You'll see The Tridels March 18th at the Bala Golf Club for the Broadcast Pioneers Rock n' Roll Memories Luncheon.
Frank Stone, Broadcast Pioneers member and contributor to the newsletter, was recently invited to speak to the journalism class of Wildwood Catholic High School. Read his "On the Scene" story!
Broadcast Pioneers member Dave Michaels had a nice write up in the Philadelphia Inquirer a couple weeks ago. It was all about the dances he emcees several times a year in Camden County for people with disabilities. Dave and Broadcast Pioneers President Bill Gellhaus run our audio at all the Broadcast Pioneers luncheons. Michaels is also the son of Broadcast Pioneers' Chairman of the Board Pat Delsi.
Member Bunny Gibson, through her Non-Profit Charity "Devoted to Youth," has completed four dance contests for foster children and children whose parents are incarcerated. Her charity partners with "Children Uniting Nations" and "Angel Tree" on these events. All the kids are winners and receive prizes. It's her way of "giving back" the "joy of dancing" she had when she danced on American Bandstand. Bunny also says that she finished filming "Alison's Choice," where she has a supporting role as "Miss Glo."
A LITTLE BIT OF BROADCAST HISTORY!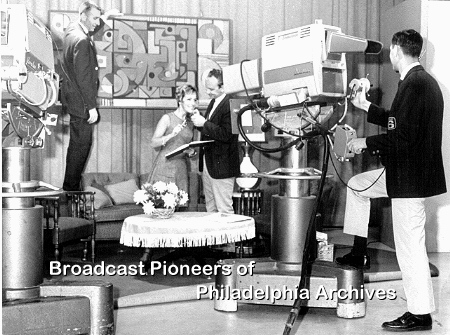 (left to right) Bill Russell, Connie Roussin, Gene Fagan and Marv Brooks
WFIL-TV
4100 City Avenue, Philadelphia
1970
This photo was donated by member Connie Roussin, who we inducted into our Hall of Fame last November. We contacted member Marv Brooks to see what else he can tell us about this picture. He said: " have this photo in my personal archive, and have it marked as the 'Connie Roussin Show circa 1970 emanating from Studio 2 which was the center studio. Studio 3 was the News studio and Studio 1 was the largest and used for most of the other shows.'"

Did you know...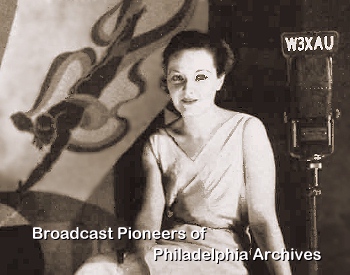 Soprano Carlotta Dale
WCAU/W3XAU Studios
1622 Chestnut Street, Philadelphia
1934
W3XAU was the shortwave station of WCAU Radio. It this picture, Carlotta Dale is only 19 years old. She also sang with the Jan Savitt Orchestra, which was the house band of WCAU and then in 1936 KYW Radio here in Philadelphia. Carlotta's real name was Charlotte Coverdale, but Savitt shortened to it to Dale. She was born February 16, 1915, and grew up in Ardmore, Pennsylvania. She was first heard on WCAU Radio in 1933, when she was just 18 years old. At the time of the above photo, she had a weekly program on WCAU Radio at 11:45 am, and it originated live from the WCAU Studio at 1622 Chestnut Street.
While at WCAU, she did many programs (all local) for regional area sponsors. Remember, back then the entire show was usually sponsored by one advertiser. They included: Koppers Koke (1934), Ford Automobiles (1935) and Stanley Drugs (1936). She also made many personal appearances singing at city hotels and other establishments.
In 1937, Carlotta was injured when she was returning from a Jan Savitt personal appearance in the suburbs of Philadelphia. She was thrown from the car. When she went to the hospital, the guy who invented Campbell's Soup operated on her. It's okay, however, because he was a doctor: Dr. John Dorrance. He performed surgery on her eye, lip, other parts of her face.
She was still in the hospital when the band was to do a promotional appearance from a TWA airplane. They needed a vocalist. Here's what they did. The station fed the band (from the airplane) into the hospital. Carlotta did the vocal live from the hospital and then the whole thing went back to KYW and out over the air. That was April 28, 1937. It was the first live broadcast (as we know it) from the air. It aired live on NBC Red at 10:45 pm that evening. She was off air for several months while recovering. She returned to KYW and did a Wednesday broadcas in August of 1937.
During 1937, she got her own network broadcast on NBC Red (NBC had two entertainment networks at the time, Red and Blue). It was called, "Songs by Carlotta." This program was one of several programs carried on NBC and originating from KYW Radio. The show, by the way, was sustaining. That is, it had no sponsors.
In 1942, she married Edwin G. Dellheim and left show business. She passed away on December 1, 1988. Eddie, Carlotta's husband, was friendly with former Broadcast Pioneers President and Chairman of the Board Jack Steck. He attended several of our luncheons thirty years ago.
This regular monthly column is written and researched by Gerry Wilkinson

MORE DIGITAL ARCHIVAL PROJECT NEWS:
VIDEO: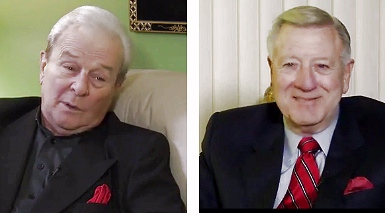 Members Charlie Gracie & Bill Baldini
at Charlie's home
February 9, 2015
On Monday, February 9th, Broadcast Pioneers did another one of their "Pioneers of Philadelphia Broadcasting." The host for the program was Broadcast Pioneers member Bill Baldini. The person he spoke with is one of the legends of Rock & Roll, member Charlie Gracie. It's a jam packed half-hour interview that is fun and exciting. Give it a watch!
Look at the Interview!
Video courtesy of Board Member Brad Seecof and Metramedia Broadcasting and Studios
AUDIO:
It's Friday afternoon, January 8, 1965. WCAU Radio at this time aired a program called "The Talk of Philadelphia" from 1 pm to 4 pm. The host was Broadcast Pioneers Hall of Famer Ed Harvey. This is the 3 pm. His guests for that hour was actress Barbara Stanwyck and film director/producer William Castle. They were in town to promote the upcoming motion picture "The Nightwalker." It was one of the last major movies shot in black and white.
Our recording was taken directly from an audio reel to reel tape recorded at WCAU Radio. Ed Harvey always asked the engineer to stop the tape during the commercials, newscasts and other features. The usual running time of one of his hours minus all the non-Ed Harvey was about 36 minutes. That's the running time of this recording. We have placed one second of dead audio between the opening of the show where he billboards his guest and the actual beginning of the program.

These recordings usually have breaks for commercials and station identification. This tape doesn't. From dealing with hundreds of these Ed Harvey recordings in our audio archive, we believe that the tape we have was recorded to sound like one continuous segment (even though it really wasn't). There's no station identification which at that time was required by the FCC every half-hour. We're not sure exactly how this was done.

We can say that the tape we have, has no physical splices in it. Our belief is that the missing amount of programming for this hour is a minute or less. However, this mystery doesn't take away from this wonderful hour of Philadelphia broadcasting.

Barbara Stanwyck was born Ruby Catherine Stevens in 1907. She was orphaned when only four. Her mother was Catherine Stevens and she was an immigrant from Nova Scotia. Her father, Bryon Stevens came from New England. Her mom died from complications from a miscarriage after a stranger accidentally knocked her off a moving streetcar. Shortly thereafter, her dad joined a work crew digging the Panama Canal and he was never heard from again. She appeared in dozens of movies before turning her attention to television.

The other person in this interview is motion picture director and producer William Castle. He too was an orphan. He raised the fund for his first venture by mortgaging his home. It was called Macabre. He was great with promotion. He gave every movie goer to this film a certificate for a $1,000 insurance policy (written by Lloyd's of London) should any patron die of fright during the motion picture. He also had nurses and hearses stationed around the theater in case they were needed.

It has been over a half century since this interview was heard (unless you are a member of the Ed Harvey family). However, it is still as brilliant and wonderful as when originally aired.
Listen in Windows Media Format!
Forty-eight years ago this month, Ed Sciaky, then a college student at Temple University, went to the Second Fret, a local coffee house, to interview folk singer Patrick Sky. The date was Thursday, March 23, 1967. The interview was aired on Saturday, March 25th on Ed's four hour radio broadcast, called "Broadside." The show aired Saturday evenings from 8 pm until 12 midnight (when the station signed off the air). Broadside aired on WRTI-FM, owned by Temple University. The university's policy was no rock and roll. So Broadside was a vehicle used to air folk artists and many rock groups by calling it "Folk Music.": Temple University never seemed to catch on and the program ran for three and a half years (until Sciaky's graduation from college).
While we ran this interview several years ago, this is a better, cleaner and clearer version of the interview. It was recorded on an Ampex 600 portable tape recorder using an RCA 44 microphone. Our audio comes directly off the original tape.
Listen in the Windows Media Format!
Remember, History is ONLY What Gets Saved!
(If there were no portraits of George Washington, how would we know what he looked like?)
IN TOUCH WITH THE INDUSTRY:
Comcast SportsNet announced that former major league catcher Ben Davis is joining the Phillies broadcast team. Davis joins Tom McCarthy, Matt Stairs, Gregg Murphy and Mike Schmidt for broadcasts during the 2015 season. Davis will make his broadcasting debut during Comcast SportsNet's first 2015 Spring Training telecast today at 1 pm.
"We are thrilled to welcome Ben, a former major league catcher and Delaware County native, to our Phillies broadcast team," said Comcast SportsNet President Brian Monihan. "Ben is a true student of the game and has provided valuable insight to our Phillies Pre and Postgame coverage. We are confident in Ben's ability to inform and entertain fans with his distinctive analysis and easy-going style during our game broadcasts."

"Growing up a Philadelphia Phillies fan, this is a dream come true," said Davis. "I look forward to working with Mike, Matt, Tom and Gregg in the booth."

In 2015, Comcast SportsNet will air a record 142 regular season games, with The Comcast Network airing seven games. NBC10 will air 12 games in 2015, including the season opener against the Boston Red Sox on Monday, April 6 at 3 pm.
Consumers who live in a market with a NBC O&O Television Station can now watch NBC's full lineup of live programming across multiple platforms, including on a computer, tablet or smartphone, both in and out of their home.
To access the full live stream of their local NBC Owned Station, consumers can visit the station's website, such as www.nbcphiladelphia.com, or download the station's app from the iTunes or Google Play stores. From there, they will select the "Watch Live TV Now" tab and follow the prompts.

In addition to the live programming, consumers will also be able to choose from a library of video-on-demand content to watch whenever they want. Both the live and video-on-demand content will offer local and national advertising opportunities.
NBC10 announced that Drew Smith will be joining Ted Greenberg and Cydney Long on the station's South Jersey team of reporters, marking an expansion of resources in Atlantic and Cape May Counties.
"Drew's hiring reinforces the commitment NBC10 has made to the Jersey Shore," said Anzio Williams, NBC10 Vice President of News. "South Jersey is a very important part of our region, which is why it's essential that we continue to build our resources to cover major and breaking news everywhere viewers can watch NBC10."

Smith joins NBC10 from CBS affiliate WSPA in Spartanburg, South Carolina, where he was the lead night side reporter. His work has included investigations that have exposed fraud, misconduct and negligence within the government and throughout the community. In 2014, he was named South Carolina's Reporter of the Year by the South Carolina Broadcasters Association. Prior to WSPA, Smith worked at WBTW in Myrtle Beach, South Carolina and WFMY in Greensboro, North Carolina. Smith starts on March 23rd.
Salem, owners of a couple of radio stations in our market, is changing their name to Salem Media Group. According to the company, one-third of their revenue comes from non-broadcast sources. They claim that the rebranding better reflects their position in the marketplace. Salem owns WFIL Radio and WNTP (the old WIBG).
WE REMEMBER:
Stephen "Tim" Roll passed away last month at the age of 61. He worked at WHYY for the last 23 years as the Manager of Corporate Underwriting. Before that, Roll worked in radio advertising for WCAU, KYW and WMGK. Tim earned his Master's in Radio-TV-Film from Temple University in 1978.
Ed Sabol, founder of NFL Films, passed away at the age of 98 last month at his home in Scottsdale, Arizona. Ed and his son Steve took NFL Films from a small company to an international video maker. The business grew out of Ed's love for home movies. Both Ed and Steve were inducted into our Hall of Fame in 1996.
Lesley Gore passed away last month at the age of 68. She was just 16 years old when she had hits like "It's My Party," " Judy's Turn to Cry" and "Maybe I Know." Gore passed away in New York City from lung cancer. While she was a rock and roll star, she continued in high school and went on to graduate from college in 1968, five years after her first smash hit. The Tridels will do a tribute to her at our March luncheon.
Dick Crew, a television producer for three decades, passed away during the middle of last month. He worked many decades ago at WCAU-TV where he refined the format of their "Eye On Philadelphia" show. He then went to WHYY-TV as the Director of Programs and Production. Later, he worked for Westinghouse of the EP of "PM Magazine," a nationally syndicated version of KYW-TV's "Evening Magazine." He was 72.
A LITTLE BIT OF BROADCAST HISTORY!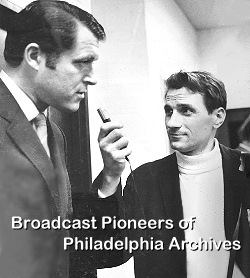 (Left to right) Tom Gola and Skip Clayton of WRCP Radio
at the Spectrum during the Quaker City Basketball Tournament
December 1969
Tom Gola was the coach for LaSalle at that time and Skip was the station's Sports Director. Tom passed away a year ago at the age of 81. Gola played for the Warriors both here in Philly and on the West Coast. After his professional days as a player, he became the coach of the LaSalle team. Skip e-mailed us:
I did a lot of interviews with Tom Gola when he was the coach at LaSalle. He was great to interview, as good as anybody I ever talked to in the business. That includes baseball, football, basketball, ice hockey and auto racing. He was also a super guy to be around. After he coached LaSalle, I still saw him at other sports functions over the years and he was just as nice a person as ever.

The 1968-69 LaSalle Basketball team that he coached in his first of 2 years at LaSalle was the best college basketball team ever in Philadelphia.

I thought he was LaSalle's best coach from the time that the Big 5 was formed in the 1955-56 season. I was going through a lot of old tapes that I saved going back to 1969 and found an interview with Tom that was about 40 minutes long. I am glad I saved that one where he talked about his playing career at LaSalle, the Philadelphia Warriors and coaching LaSalle. He said his biggest thrill as a player was when LaSalle won the NIT Tournament in 1952 and the NIT Tournament in those days was as big as the NCAA Tournament.

Tom is the first of only two college players to score 2,000 or more points and have 2,000 or more rebounds. He was the second to play on an NIT Champion, an NCAA Champion and a NBA Champion. I remember asking him how the teams he played on at LaSalle compared to the first team that he coached at LaSalle and he said the team he coached was better.

When I did that interview with Tom during his second and final year coaching at LaSalle, it was during the Quaker City Basketball Tournament. LaSalle won it as the Explorers beat Georgia, 76-66, Cornell, 68-56, and Columbia, 89-74. Fran Dunphy who is the Temple Coach today was the MVP Tournament for LaSalle.
ON THE HEALTH FRONT:
Broadcast Pioneers board member Bill Wright, Sr. is recuperating from knee surgery. He is now home and is making wonderful progress. He says he's planning to be in attendance at the March 18th luncheon.
Broadcast Pioneers member Harvey Sheldon will have a kidney operation mid-month. Possible additional operations down the road. His latest book, "Miraculous History of Burlesque Vaudeville and Variety," gets released at the end of the month.
THANKS FOR THE MEMORIES:
Live Report from Florida!
Former Philadelphia broadcaster Roger Wood
Vehicle Assembly Building
Kennedy Space Center
Cape Canaveral, Florida
Thursday, January 23, 1986
Former Philadelphia broadcaster Roger Wood was broadcasting from Florida when disaster hit the U.S. Space program. Roger was originally from the Philadelphia area, graduated from Temple University and worked at several of the region's radio stations before relocating to New Hampshire. Our CEO Gerry Wilkinson was best man at Roger's wedding and Roger was best man at Gerry wedding in 1977. Wood has sort of become a legend in New England. When we e-mailed Roger for the exact date of the photo, he e-mailed back from the radio station. He was staying there overnight because of snow and he was the newscaster in the morning. Here's some of Roger Wood wrote about his experiences covering the Challenger launch:
Florida's Kennedy Space Center is an hour and a quarter drive from Orlando, my temporary home for the next week. The spaceport at Cape Canaveral is huge and spread out, with miles of flat roadbed surrounded by swamps and wildlife refuges separating the outermost gate and the space shuttle launch pad. My associate Jim and I were to make that trek, over flat, palm tree-dotted marshes and woodland, four times in the next five days, in the hope of seeing a New Hampshire neighbor turned celebrity make a long-awaited journey into space.

Jim Van Dongen and I landed at Orlando International Airport around 3 Thursday afternoon, January 24th, 1986, our Eastern Airlines flight delayed about half an hour at Logan International Airport in Boston because of a last minute mechanical adjustment to the plane We were both assigned by our radio stations to cover the historic event, and decided to go together and share some of the costs. I am employed by 50 thousand watt WOKQ FM in Dover, and Jim, for WEVO, New Hampshire Public Radio in Concord, and we have worked together many times already. The two stations have traded news stories for years, shared news staffs for elections and other events, and saw this opportunity as a culmination of our efforts to provide listeners back in New England with important on-location news coverage.

Landing in Orlando, we proceeded directly to the media telephones at the airport, after briefly interviewing Concord Superintendent of Schools Mark Beauvais, who was on our flight. Beauvais was Christa McAuliffe's boss before her selection as NASA's first teacher in space, and he too, along with a large delegation of New Hampshire educators, was sent to Florida to witness the flight.

Beauvais was exuberant upon landing in the warm climate, after leaving frigid New England. I sent by telephone a report with a clip of the interview, and a promotional announcement promising continuing coverage until the big day, now scheduled Saturday, but threatened with another delay because of an approaching weather front.

The next morning, Friday, found Jim and I at the hotel restaurant, eating a buffet of scrambled eggs and sausage before making the Cape ride. With our electronic gear packed into the Mustang's trunk, we headed back up the Bee Line expressway, through its frequent toll plazas, and for a time it seemed, out of civilization. The busy, crowded avenues of Orlando, filled with rental cars taking tourists back and forth to Disney World, were replaced with the empty, open expanses of swamps and palm trees, as we drove along the expressway to the coast, where we knew our work awaited us in an unfamiliar setting.

New England radio reporters seldom go so far for a news story, and it had taken me weeks to convince my station's management that it was worth spending the money on the project. Ultimately it was my assurance that this would be a history-making flight that won the assignment. But Friday morning, January as we crossed over the Atlantic Intercoastal Waterway, I had no idea how much history I would become involved with
Live from Florida - Continued!
Roger Wood continues:
There was no guard posted at the Kennedy Space Center's outermost gate, but at Gate two, tourists were instructed to turn off the roadway into a designated area, while we proceed on to the news media badging center. There, reporters were picking up their credentials, among them veteran radio correspondent Jay Barbree of NBC, a witness to every manned space flight ever launched from Cape Canaveral. Tanned and casually dressed, Jay seemed to know everyone at the spaceport, and graciously showed us how to get around the huge facility.

Inside the domed media center, I got a quick lesson on protocol, and located my desk space along the circular rows. My space next to Jim's contained our telephone jack, another shared cost for both stations, and an electrical outlet. We sought out a NASA spokesperson for a shuttle update, found out it had been officially postponed until Sunday, and settled in for a day of orientation.

All the major networks and news services have their own permanent buildings or trailers on site. Jim and I wandered over to the United Press International trailer and did a feature interview with Rob Navias, their K.S.C. (Kennedy Space Center) reporter. One of their journalists turned around and quizzed us about the New Englanders along on the trip, for a possible news feature. Not only were there several radio, T.V. and newspaper correspondents from New Hampshire, many of the Boston and Portland stations were represented, as well as a radio team from Framingham, where Grace and Ed Corrigan, Christa's parents, live.

Not much was happening that day at K.S.C., so I took my camera out and posed for some publicity type shots around the media center, Vehicle Assembly Building and count-down clock. I then turned around and photographed Jim in the same places. My manager had suggested the photos could be used in future ad campaigns for the radio station, or at least hung up in the hallway at WOKQ. Lunch was cafeteria style, eating with other employees of the space agency in a nearby building.

We left Kennedy that afternoon knowing there would be no launch the next day, but hopeful that it would take place Sunday. Our travel plans, made through a charter, called for leaving on Monday, and postponements already had caused some of the New Hampshire people to leave early. Nevertheless, we again trekked over on Saturday, sending more feature interviews and reports back to New England, mainly with New Hampshire residents who were there.

One of them, Robert Veilleux, was the Manchester teacher picked as a semifinalist for the teacher-in space program. I interviewed him at his Orlando hotel room, before he took a close-up tour of the space center and the Shuttle Challenger. Veilleux conceded that he wished it were he going aboard the shuttle, but expressed the opinion that the choice of a teacher to be the first citizen in space would be a boon to educators everywhere.

Later that day, we were advised by NASA that a threatening weather front could pass over Florida at a critical time for a Sunday launch, and that another delay was possible. Before leaving the center that day, spokesman Dick Young told us that a management meeting would decide it, and that the answer would be available by telephone that night.

On Sunday, there was no point in going to the Cape, since we learned that there would indeed be another delay, because of the prediction of bad weather. In actuality, conditions at launch time were excellent Sunday morning, but the blast-off was rescheduled until Monday at 9:37 A.M.

Jim and I mainly rested that day, taking a ride to nearby Lake Buena Vista to Disney World Village to do some shopping for our families back home, and lunch at the Empress Lilly. It would be an early night for me, with a 3:30 A.M. alarm set for the ride back to the coast.
It turned out that the alarm clock wasn't necessary, with the excitement and uncertainty inhibiting sleep early Monday morning, January 27th. As if on cue, both Jim and I vaulted out of our beds, showered and shaved, dressed and left the motel room for a quick breakfast before dawn at a Denny's on International Drive. Believing that the shuttle would be launched on that morning, I wanted to be at the Kennedy Space Center before 6 A.M. in order to send back a preview report in time for the first newscast of the day.

Approaching the cape, the "Challenger" looked like a huge monument on the flat Florida landscape, illuminated by two brilliant floodlights. Though miles away, the craft, sitting on its launch pad that pre-dawn morning, was in impressive sight, with a look of permanence, as if it were meant to remain there, and be admired as a work of art, not a conveyance to space. Just days before, we drove right through the outermost security gate on the K.S.C. compound, but on this morning, there was a guard posted, more evidence that something was going to happen this time. I noticed many campers and other recreational vehicles lining up alongside the highway, their drivers vying for the best position to see the launch, now set for 9:37 that morning.

It was still dark when I pulled into the media center parking lot just after 5:30 A.M. The countdown clock was running, and NASA's Dick Young, one of the many public relations spokespeople charged with keeping us updated, was still talking about the weather being a factor. This time it was the possibility that high surface winds could hinder the launch, if it were delayed too long into the 'window' allotted for that day. We didn't want another delay. As reporters assigned to cover the New Hampshire angle to this flight, we were beginning to run out of ideas. New Hampshire Governor John Sununu, scheduled to view it over the weekend, definitely wasn't coming, and many of the school officials who had come to Florida to participate were on charter trips, and had to return early. Our flight home to New England was scheduled Monday night, as part of the terms with Crimson Travel, which arranged our trips with economy in mind. Some New England journalists were talking of leaving as well, if another postponement pushed the launch back towards the end of the week.

On NASA T.V. we began to see pictures of the astronauts, awakened early, getting ready for a blast-off. We watched the crew at breakfast, then leaving their quarters, entering the van, riding to the launch pad, and finally entering the "White Room" to finish suiting up for entry into the Challenger. Although there were clouds in the sky, Hugh Harris on the launch control speakers was talking about a 'hole' of blue sky, which should arrive at around the right moment for a clear shot.

Feeling that there would finally be a launch to report, I started bringing my electronic equipment out to the press grandstand for a live broadcast back to both WOKQ and WEVO. Through an agreement by both stations, we would send our coverage back to WOKQ, and WEVO would pick up our air signal live and re-broadcast it. Jim and I would co-anchor that live broadcast, then get some quick post-launch reaction from spectators, pack the car, and head back to Orlando for the flight home.

That plan turned out to be short-lived, however, as the delay jinx continued. Excitement turned just a quickly to anxiety, and then disappointment, as we watched launch crews wrestle with the bolt on a balky hatch door, which had to be secured before launch. The countdown clock had ticked down to just minutes when this latest glitch took place, and it was soon clear that there would be no quick fix to the problem.

Further threatening the launch was the weather, clear for a time, but now clouding up and getting windier. Just as the crews were cleaning up inside the white room, we got the word that cross winds presented a 'no-go' for launch unless they improved. By now, those winds were whipping across the ground, rustling through the palm trees, blowing through the grandstand, and finally, scrubbing the launch for Monday. We had already checked out of the Motel, but I called the desk and reserved a room for the next two nights.
We'll continue Roger's story next month in our newsletter.
A LITTLE BIT OF BROADCAST HISTORY!
Back of a WIBBAGE List
May 1 to May, 1961 List
Some Herb Clarke Garden Reports for March!
Member Herb Clarke is probably best known for his weather reports for 40 years on WCAU-TV, Channel 10, here in Philadelphia. However, after retiring from TV, he was heard on KYW Newsradio doing garden reports. Herb loved gardening. He also love Broadcast Pioneers. He served this organization as President and then Chairman of the Board plus was on our Board of Director for decades. We thought you might enjoy a few of his garden reports that seem quite appropriate for the season.
Wildflower Tulips
(aired on Wednesday, March 5, 2003)
They're wildflowers, or "species tulips." A perennial. A tulip that comes back year after year and increases in numbers, so much so that gardeners have to yank some of them out. It's true. The wild, or "species" tulips simply evolved over many years and from them, Dutch horticulturists created a hybrid that's much larger and fancier.
The wildflower is still with us, though, and many varieties are available with the other bulbs in the fall at garden centers. Some species tulips are still hard to find except from mail order suppliers. A favorite is "Apricot Jewel." At least twenty-two of these wild tulips have been identified and are available.
Wildflower tulips take less work. They're shorter and less vulnerable to falling over in spring storms. Another feature: they stay closed through the morning and on cloudy days. Then, as the day warms, the spiky blooms open to show a different color inside. It's like having two different flowers on the same stem. Herb Clarke, KYW Newsradio.
Veggie Garden Plans
(aired on Friday, March 8, 2002)
You should have plans for your vegetable garden and decide now what to plant. Location determines how much sun the plants get – they need ten hours a day - and what kind of soil you have.
What to grow? Well, you're limited if your garden is the typical urban-sized plot of four-or five-hundred square feet. Decide what you can buy at the market that tastes as good or will take up a lot of space. Like watermelons – they spread too much. Forget corn, you need a lot of it to pollinate. Stringbeans – they're an unwise use of work and space - you can buy pounds of them for a couple of bucks. No carrots and cabbage, either.
Tomatoes? Darn right! Store-boughts don't have much flavor anymore. Leaf lettuce and spinach and other salad fixings? O.K. Bush Champion cucumbers, too. Maybe a couple of eggplants. Use your small garden space wisely. Grow what you like to eat and what tastes better from your own garden. Herb Clarke, KYW Newsradio
Do and Don't in March
(aired on Tuesday, March 11, 2003)
This month as we change seasons, here are few things to do in March and some which are best left undone: First, fight off the eagerness to plant flowers and vegetables this month even as it does get warmer. Start seeds indoors, if you wish, but wait for our frost-free date to plant outside. Around here, the last frost often comes near the 17th or 18th of April.
Don't forget to fertilize bulbs in the spring when the leaves start showing, then don't cut back bulb foliage until it begins to die back. If you have stepping stones, reposition them if they've heaved or sunk below grass level during the winter. Lift them up, spread sand in low areas and then replace the stones.
In post-9/11 you don't need to worry about X-Ray damage to seeds or plants coming by the Post Office or UPS. You do need to send by UPS if you're sending seeds or plants to a government address. Finally, go easy on your seldom-used winter muscles with spring gardening. Bend at the knees, lift with your legs and not your back, or ask your spouse to do the heavy work. Yeah. Herb Clarke, KYW Newsradio.
Live from Chester!
We received an e-mail from Steve Shooster, a visitor to our website. He told us about radio broadcasts that originated from the family's drive-in restaurant in Chester that was at one time owned by his father, Herman Shooster.. He sent us part of his dad's memoir:
My family owned and operated Shooster's Drive-In of Chester Pennsylvania from 1935 to 1960. Shooster's literature stated: "A disc jockey radio program which emanates from the coffee shop nightly except Sunday from 10 pm to 1 am over radio station WPWA. The announcer plays records, reads commercials, conducts interviews and answers telephone calls. This show goes over the public address system in addition to being on the air. It's very popular with the teenagers.

We also added a radio studio right in the heart of the restaurant making it possible to broadcast radio shows directly from our location. Radio was a big deal back then, so having a talk show in our own backyard gave us welcome exposure. Shooster's was a happening and that's the way I wanted to keep it.

One of these shows was The Friday Niters Club. It was produced by station WPWA. It broadcast from 8:05pm to 9:00pm every Friday night. The announcer was Jock Lawrence. He was well known in the area for doing the morning show called "Industry's Wake Up." On Friday nights, he would come up the street from the radio station to wrap up the evening at Shooster's.

Shooster's Night Watch, was another show. Cris Harwood, known as The Man of a Thousand Voices, did that one with his wife as a co-host. Joe Pyne did a three hour radio broadcast nightly live direct from Shooster's. I went to school with him and considered him one of my best friends.

His program started out as a combination of chit-chat and music. However, it gained popularity quickly as Joe turned to talk radio. Joe earned three battle stars in the war and in doing so got his knee shot badly. The wound healed but he developed a rare form of cancer so he lost the lower part of his leg anyway.

Fortunately this didn't stop his personality as he became one of the originators of shock radio in the United States. His show was irreverent, but highly entertaining. He started in Chester, got fired a few times but kept at it. When the show got popular, he left us and began to broadcast from Wilmington, Delaware. The show was called, "It's Your Nickel." The name was a play off the cost of a pay telephone.

The reason it was so popular is that he made it a lightening rod of controversy by goading his interviews and then calling them out on air if he didn't like what he heard. As the idea caught on, his comments became more audacious, and the more audacious he got, the bigger his audience grew.

I think he became famous for insulting people. To give you an idea of what was happening it wasn't unheard of to hear a chair being thrown at him during one of his shows. Eventually he ended up in Los Angles where he switched from radio and started using the new medium of television. Today, you would compare him to Howard Stern.

Meanwhile. I think Shooster's Drive-in was so popular that I actually became a local celebrity myself. For instance, Josh Logan would visit us and I spent time with him. He was a very famous movie star at the time. Just by happenstance, he mentioned that he wanted to go to the inauguration of President Eisenhower ('53) but couldn't get tickets. Because our place was a hub of activity I knew almost everyone in the region. Can you believe I got those tickets for him from a friend and patron of mine?

Josh Logan came back again after making the Broadway hit, 'The Seven Year Itch' ('55). That evening he had lost his watch, so as a lark, I gave him mine without expecting anything in return. In appreciation, a few days later he sent me choice house seats for a performance.

Building and maintaining the excitement at the stand was was my job. One thing that happened there was legendary. Once, we hosted a dinner for a local orphanage and asked Bill Haley, who was a regular at WPWA radio to come and play for the kids. He came with The Comets and almost knocked the whole building down. It was wild.

I think that was one of the first times "Rock Around The Clock" was played in a public place. This song became the sound track to a movie called "The Blackboard Jungle," ('55). Since the film became so popular and was about high-school delinquency, this tune became the de facto anthem for rebellious Fifties youth, and in doing so helped bring Rock'n Roll into the mainstream culture.

Our family has proclaimed it as a legend saying Rock 'n Roll started at Shooster's! Rock Around The Clock eventually became ranked No. 158 on the Rolling Stone magazine's list of The 500 Greatest Songs of All Time. It went on to state that Bill Haley started in Chester, so this is where Rock'n Roll was born in America. Too bad there is no mention of Shooster's.

Years later my son Steve found William Thomas on Facebook. They made friends and he reported, "I was working there that night. I was a soda jerk working in the back making milkshakes for the car hops. It was riotous good time. Bill Haley also played at our high school. He was the last group they allowed on stage because he always drove everyone crazy. He lived nearby in Boothland, Pennsylvania about a mile from Delaware."
A LITTLE BIT OF BROADCAST HISTORY!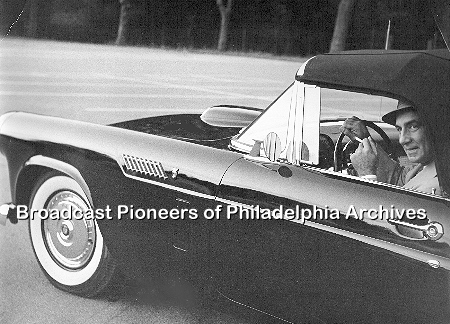 John Facenda in his car
WCAU Parking Lot
OUR HATS OFF TO YOU:
Special Thanks for 2015 Scholarships:
Vice-President Kal Rudman - 5 scholarships (all for Temple students)
Member Johnny B. Hall and wife Ginny - 4 scholarships
Members Robin and Ira Adelman & Leon Love - 2 scholarships
Member R. Alan Campbell - 1 scholarship in the memory of Fred Ruggieri (Fred Randall)
Member Harry Hurley's Golf Tournament - 1 scholarship (for South Jersey residents or students)
Member Sylvia Kauders - 1 scholarship (from a grant for 5 yearly scholarships)
Member Marlin Taylor - 1 scholarship
Member Esther Kurtz - 1 scholarship in memory of her late husband, David Kurtz
Member Bob Pantano - 1 scholarship (for a Temple University student)
Bette Lavine (neighbor of Mike Nise) - 1 scholarship
Special Thanks for contribution of $1,000 or more to our DAP, Digital Archival Project:
Member Johnny B. Hall and wife Ginny - $3,000
Member Marlin Taylor - $1,000
Member Harry Hurley's Golf Tournament - $1,000
Member Glenn "Hurricane" Schwartz - $1,000
Special Thanks for 2016 Scholarships:
Member Dan Lerner - 5 scholarships
Member Sylvia Kauders - 1 scholarship (from a grant for 5 yearly scholarships running until 2019)
Member Harry Hurley's Golf Tournament - 1 scholarship (for a South Jersey resident or student)
Member Johnny B. Hall and his wife, Ginny - 4 scholarships (maybe more)
Underwrite a complete scholarship and we'll give you credit in the electronic newsletter until the scholarship is awarded in April of 2015. Give us a donation of $1,000 or more and we'll list you in our "Thank You" column for a year.
More Thanks:
We would like to thank those of you who included an extra contribution when they paid for their lunch at the February luncheon. They include: Mike Bove, Bill Kelley, Dorie Lenz, Valerie Morrison, Robb Rayner, Steve Tatz, Gerry Wilkinson, Dick Kearney, Steve Sacks, Carol Leebron and Bud Galow. Special thanks to Broadcast Pioneers board member Les Waas for his recent generous gift. Also, this month Johnny B. Hall sent in an extra $250 donation for our scholarship fund. Thanks. Also, special thanks to WPVI, 6abc for their use of their conference month one morhing last month. It was for the meeting of our scholarship committee. At that time, we selected the finalists from almost 300 applications.
A growing portion of the revenues that fund the different activities of the Broadcast Pioneers comes from donations. This includes our archival project and our scholarship program. Now, we are making it even more beneficial for our donors. Broadcast Pioneers is now able to accept gifts of appreciated stock, which provides a significant tax benefit to you. By giving appreciated stock (stock which is worth more now than what it cost when it was purchased), you can get a charitable contribution tax deduction based on the current market value of your stock. At the same time, you avoid the capital gains
tax that would arise if you simply sell the stock. So if you'd like to support our educational mission or our archival project and save money on taxes too, please consider making a gift of appreciated stock. We are a federally recognized, state chartered charity with a 501(c)(3) status. Contact us at (856) 365-5600 or e-mail pioneers@broadcastpioneers.com for more details.
Don't be left out. You too can make a pledge. It's never too late. You can earmark it for scholarships, our Digital Archival Project or our general fund. Thanks so much for your support.
Our special thanks go to TUTV - Temple University Television and The Kal & Lucille Rudman Media Production Center.

They have underwritten a grant to be used to fund an entire year of all our newsletters for calendar year 2015. We thank them so much for their support!
If you forgot to make an extra contribution (cash or memorabilia) and would like to do so now, it's never too late. We would be thrilled to hear from you at: PO Box 2886, Bala Cynwyd, PA 19004 or call us at (856) 365-5600.
A FINAL THOUGHT....
Broadcast Pioneers Hall of Famer Tom Snyder once worked here in Philadelphia doing news and interviews on KYW-TV. At Channel 3, Tom was nicknamed "Snidely Whiplash." Later, when asked if he had any other nicknames, he said, "No, aside from His Eminence."
Reported by Harry Harris
in his unpublished book "TV Star Secrets"
(a copy of this manuscript resides in the Broadcast Pioneers Archives)

Please contact us by e-mail at newsletter@broadcastpioneers.com or by mail to: Broadcast Pioneers of Philadelphia, PO Box 2886, Bala Cynwyd, PA 19004. Your stories are important, to you, to us, and your colleagues. Contact us today and we'll include your story in the next newsletter!

© 2015, Broadcast Pioneers of Philadelphia
All Rights Reserved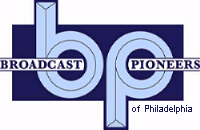 The e-mail address of the Broadcast Pioneers of Philadelphia is pioneers@broadcastpioneers.com
For luncheon reservations call (856) 365-5600 or e-mail us at: rsvp@broadcastpioneers.com