| | |
| --- | --- |
| | Broadcast Pioneers of Philadelphia is a federally recognized, state chartered 501(c)(3) non-profit organization serving the Philadelphia Broadcast Community since January of 1962. |
March Luncheon
The Bala Golf Club
Wednesday, March 16, 2016

Meet & Greet at 12 noon!
Lunch at 12:30 pm
Ratecard: $28 per person!

PLEASE RESERVE NOW!
CALL (856) 365-5600!
rsvp@broadcastpioneers.com
Another Third Wednesday Luncheon!
Good Food - Great Programs - Wonderful Times
Wednesday, March 16, 2016!
Lunch is only $28 per person!
Rock & Roll is Here to Stay!


(856) 365-5600! Reserve Today!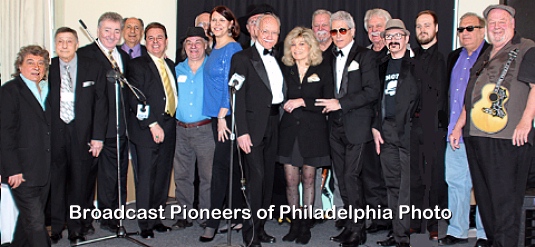 Some of the Rock & Roll Artists at the
Broadcast Pioneers Luncheon
Bala Golf Club, Philadelphia
Wednesday, March 18, 2015
(Photo by member Bob Kravitz)

Don't Miss This One!
(856) 365-5600! Reserve NOW!
Hit After Hit, Smash After Smash, Blockbuster After Blockbuster... Here's another "monster" lunch where the "stars" don't wait to come out at night. They're there at lunchtime!
Our next Broadcast Pioneers luncheon is another "Rock & Roll Special!" It will be held at the Bala Golf Club, 2200 Belmont Avenue in Philadelphia on Wednesday, March 16th (that's the third Wednesday of the month). Meet and greet at 12 noon. Lunch will be served at 12:30 pm.
Our MC for the afternoon will be Cool Bobby B. His Doo-Wop oldies show can be heard on Sirius XM Radio. For the uninitiated, Cool Bobby B is Broadcast Pioneers member Bob Backman, who was General Manager of Channel 61 here in Philadelphia for 5 years. Bob is currently president of WDRE-TV in Rehoboth Beach, Delaware.
RSVP TODAY! (856) 365-5600!
Scheduled to appear (in alphabetical order):
Paul Big Bear, local well-loved area performer and singer
Stephen Caldwell, male lead of the Original Orlons
Billy Carlucci of the group, "Billy and the Essentials"
Eddie Collins, former music director for "The Drifters"
Danny and the Juniors (featuring Joe Terry & Frank Maffei)
Gary DeCarlo, former lead singer of the group, Steam
Stevie Doo Wop, a local Delaware Valley nightclub performer
Johnny B. Hall, formerly of "The Star Fires" (guest guitarist, Art Wilson)
Meagan Hill, Actress, Singer and voice-over announcer
Kenny Jeremiah, formerly of "The Soul Survivors"
Frank Jordan, formerly of "The Jordan Brothers"
The Rip Chords, Top Ten rock & roll artists from the sixties
The Tridels, Top 40 local area artists from the sixties
Mike Volpe, formerly with the doo wop group, The Duprees
Corky Warren of "Corky's Time Machine" TV Show
DON'T MISS THIS (856) 365-5600!
This takes place at the beautiful and historic Bala Golf Club, 2200 Belmont Avenue (across the street from the state police) in the Wynnefield section of Philadelphia. Only minutes away from Channels 6, 10 and 17 and the radio stations in Bala Cynwyd. Call now for reservations. (856) 365-5600! Don't miss this one!
Plenty of FREE parking. Our luncheons are open to all our members, their guests and any person in the industry or associated fields, whether active or retired. You do NOT have to be a member to attend. There is no reserved seating at our luncheons. Feel free to sit anywhere. Well, okay--the three people on the camera crew sit near the cameras, but that's in the back of the room.
(856) 365-5600! CALL TODAY!
The cost is only a donation of $28 (or more) per person! In order to speed up check-in at the luncheon, it would help if you had exact change or your check already written. Checks can be made payable to the Broadcast Pioneers of Philadelphia.
If you would like to add a few dollars extra, we would appreciate it. It would help us with all the important work we are doing. Thanks!
WE'LL BE PROUD TO SEE YOU IN THE CROWD!

Visit Our Website Often - http://www.broadcastpioneers.com
You should check our website often on the front page (above) for important information!
Check out our Facebook Page - http://www.broadcastpioneers.com/facebook
There are things on our Facebook Page that are NOT on our website (like our vintage photo of the week)
Tune in to our YouTube Channel - http://www.broadcastpioneers.com/youtube
Our YouTube Channel has all our luncheons, exclusive interviews and archival material

WELCOME NEW MEMBERS:
FULL MEMBERS:
Ryan Ritchey has been in the business for over two decades. He is currently a producer for RCubed Networks, LLC. He is also their founder. Ryan previously was a newspaper reporter for the Lewistown Sentinel in Central Pennsylvania. He was an on-air radio personality on WKVA-AM (Lewistown, Pa) and WCHX-FM (Lewistown, Pa). Ritchey has also worked as a video editor for the pharmaceutical firm, Merck and Company and a video producer for Apple, Inc. In the 7th grade, he asked his teacher if he could produce a video instead of writing a term paper.
Susan Schiller has worked in our industry since 1977. She was the Broadcast Media Liaison for the Papal Visit and World Meeting of Families last year here in Philly. She was previously Vice President and News Director for the CBS duopoly stations in Philadelphia: CBS 3 (KYW-TV) and The CW Philly 57 (WPSG-TV). Before that, Schiller was a producer of the "Eye on America" segments for the CBS Evening News, as well as a medical producer for the broadcast. Previously, Schiller was a senior producer for CBS This Morning and a news producer for WCAU-TV in Philadelphia.
Rob Vaughn is the evening co-anchor of the WFMZ-TV (Allentown) news. He has worked in our industry for over a third of a century. He has had op ed pieces in the Philadelphia Daily News, the New York Post and the Allentown Morning Call. He has worked at WIP (AM). Why is this so interesting? His dad (also Robert Vaughn) was a newscaster on that same station in the 60s. Our member's son, Jim, is the 4 pm sports anchor for the same station at which his dad works. Rob's brother, Mike, is a videographer for CNBC. Rob also serves as a teacher & musical leader in his church.
David Boardman is Dean of the School of Media and Communication at Temple University. Previously, he was Executive Editor and Senior Vice-President of the Seattle Times, the largest news organization in the Pacific Northwest. He is president of the American Society of News Editors, the nation's premier group for journalism leaders. He is also president-elect of the Accrediting Council on Education in Journalism and Mass Communication. He is chairman of the National Advisory Board of the Poynter Institute for Media Studies, and is a Poynter Ethics Fellow.
Cathy Engel Menendez is the Director of Communications for PECO, part of Exelon Corporation, one of the nation's leading energy companies. She has been with PECO since October 2000. Before that, she held a similar position with PECO's sister company, Exelon Energy. Before that, Cathy was the Director of Public Relations for Philly's Independence Seaport Museum. She is a past president of the Philadelphia Public Relations Association and holds a Bachelor of Arts degree in journalism from Temple University.
Gary Shepherd is an outstanding electronic media specialist with four decades in the business. For the last eight years, he has served as the President and CEO for 3rd Floor Media. Before that, he did morning and afternoon drive air shifts for major broadcasting stations in Philly including WDAS and WRNB. Previously, he was the Program Director & Music Director and morning air personality for WSSJ (1310 on AM) in Camden, NJ. From 1975 to 1980, Shepherd served as Assistant PD and Air Personality for WDAS-AM, 1480 here in Philadelphia.
Bob Manning has worked in our industry since 1982. He is Executive Director and Financial Advisor for Morgan Stanley in Center City for a third of a century. Why does his name sound so familiar? Well, you hear him on KYW Newsradio with market reports. However, he says that he also assists high net worth individuals with reaching their goals for retirement. and works with attorneys to provide services to individual clients and trusts. He holds a Bachelor of Science degree in accounting from Villanova University.
ASSOCIATE MEMBER:
Andrew Crouse is rather new to our beloved industry. He has just a few years experience but everyone has to start somewhere! Our February 17, 2016 luncheon was his first visit to the Broadcast Pioneers luncheons. Right now, Andrew is interning in the I.T. Department of Bancroft Neurohealth. He also tutors students at Rutgers - Camden campus. In fact, that's where he earned his Bachelor of Arts degree in 2013. He has skills in web design and computer programming and is especially interested in a career in broadcasting.
We are thrilled to have these new eight members. Over 500 Members. More than ever. We hope to see as many of our members as possible at our March luncheon.
DIGITAL ARCHIVAL PROJECT NEWS:
VIDEO: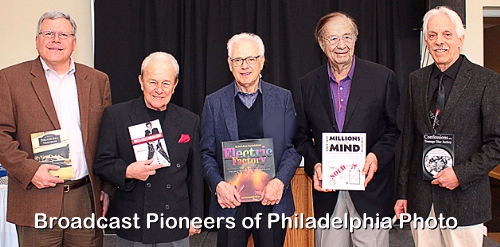 (Left to right) Bill Shull, Charlie Gracie, Larry Magid, Alan Tripp and T. Morgan
Broadcast Pioneers Luncheon
Bala Golf Club, Philadelphia
Wednesday, February 17, 2016
(Photo by member Bob Kravitz)
Here's our speakers at our February luncheon were (in alphabetical order):
Charlie Gracie, author of "Rock & Roll's Hidden Giant: Story of Rock Pioneer
Larry Magid, author of "My Soul's Been Psychedelicized: Electric Factory"
T. Morgan, author of "Confessions of a Teenage Disc Jockey" & WMGK jock
Bill Shull, author of "Philadelphia Television" (with hundreds of great photos)
Member Alan Tripp was our MC. Broadcast Pioneers member Ed Klein, former Music Director of WPEN (when it was the Station of the Stars) passed away earlier in February. We did a tribute to Ed just before our regular luncheon program began. Speaking were Dean Tyler, Rhonda D. Hibbler and Andy Kortman.
COMPLETE VIDEO!
(videos courtesy of Broadcast Pioneers VP Brad Seecof and Metramedia Broadcasting & Studios)
AUDIO:
The date is Tuesday morning, January 25, 1966. KYW Newsradio has been on the air for only a third of a year. It's just a few minutes before noon and Broadcast Pioneers member and Hall of Famer Dick Covington is on the air. Broadcast Pioneers members Bill Roswell and Bob Witten identified the news anchor for us. Witten said: "What a time capsule. And how long was that Morse bite? Had to be 50 seconds! Wouldn't hear that today."
Listen in Real Audio!
Listen in Windows Media!
Next is some audio from Tuesday, January 10, 1967. While this is a television broadcast, we only have sound. It's the noon Eyewitness News telecast with George Caldwell and member Marciarose Shestack. No video of this newscast is known to exist today. We do have a complete Caldwell-Marciarose Eyewitness News telecast (originally donated by Marciarose) in our video archive but it's from five years later. We also have the oldest known complete Eyewitness News in our video archive. It is from June of 1967 and features Broadcast Pioneers member Vince Leonard and was donated by Vince himself.
Listen in Real Audio!
Listen in Windows Media!
Today's News Becomes Tomorrow's History!
(This is what our Digital Archival Project, DAP, is all about!)
A LITTLE BIT OF BROADCAST HISTORY!
This is a photo of member Bill Campbell. He's on the lower right, sitting next to his sisters. The guy holding all three children was Bill's dad. Snapshot taken about 1929, just before the Depression.
IN TOUCH WITH OUR MEMBERS:
Member Eddie Collins informs us he was selected as a winner in ABKCO Records recent 'Sam Cooke Birthday Contest,' celebrating the anniversary of the singer's 85th birthday. Also, this Saturday, March 5th, Eddie Collins and Frank Jordan will be featured performers on the BCTV 'Dance Party Telethon,' being televised in the Reading PA. (Berks County) area on Comcast and Service Electric Cable.
Member Skip Clayton has a new book out. It's called, "Philadelphia's Big Five" and is about basketball and our city's love for the game. This book highlights most everything you would want to know about the five teams (and schools). Many legends of the sport are featured in this exciting and entertaining work of art. The foreward, by the way, is done by Dan Baker.
Come out and see our members speaking at the Philadelphia History Museum (formerly the Atwater Kent Museum) in Center City. The program is in the main gallery at 5:30 pm on Thursday. Be there to remember. Speakers include members Mike Strug, Trudy Haynes, Gene London and Bill Shull, author of Images of America: Philadelphia Television.
Well, member Jerry Blavat may decide to make his autobiography, "You Only Rock Once" into a motion picture. Right now, he's looking at a potential script. Reports are that the "Boss with the Hot Sauce" has selected David Leaf to write his story. Leaf was the guy responsible for John Lennon and Rosie Clooney stories.
Out of the west coast of the country, member Bunny Gibson tells us that she did two "Funny or Die" videos for Will Ferrell's company. They are called: "Bernie and Hillary Supporters Kiss and Makeup" and "Angelinos React to Rams Move to LA." She also worked on the Orange County Fair promo.
KYW-TV, CBS 3 announced that new anchors are coming to its early morning newscasts (4:30 to 7 am) at the beginning of next month. Member Jim Donovan moves into the anchor chair vacated by Ukee Washington last year. Donovan, who was inducted into our Hall of Fame last year, will also keep his consumer beat, "On Your Side."
Brooke Thomas, most recently co-host of Tribune Television's Eye Opener (carried on WPHL), a live, syndicated morning show broadcast out of Dallas, Texas, will join Donovan as co-anchor on the revamped morning news program with Meteorologist Katie Fehlinger and Traffic Reporter Meisha Johnson. Erika von Tiehl, current morning and noon news co-anchor, will be leaving CBS 3 later this spring. Von Tiehl, who is getting married this June, is relocating to another city.
A LITTLE BIT OF BROADCAST HISTORY!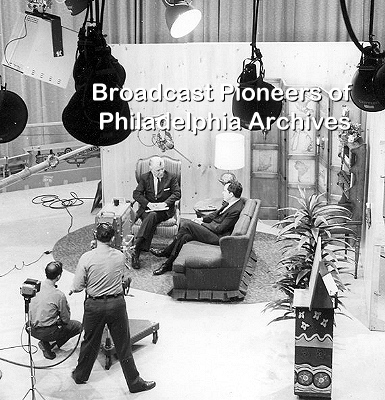 (Left to right) Two unidentified technicians, Gunnar Back and Vice-President Richard Nixon
WFIL-TV Studios, 46th and Market Streets, Philadelphia
1960
1960 was a Presidential election year. The two major candidates were Vice-President Richard M. Nixon (R) and Senator John F. Kennedy (D). While the Vice-President lost the Presidential race to John Kennedy, Nixon was elected President eight years later.
Did you know...
(left to right) unidentified male and member Jane King Hall
"All Eyes on Gimbels" Telecast
WPTZ, Channel 3, Philadelphia
Summer 1946
WPTZ started airing commercial telecasts on a permanent basis on May 1st of 1946. The station was airing only two hours of programming on Mondays, Wednesdays and Fridays. Reason? Lack of equipment. As Channel 3 received additional equipment from suppliers, they added additional time for broadcasts. Their studios were then located on the 24th floor of the Architects Building in Center City. At that ttime, the station has two studios (approx. 12 feet by 28 feet). Each one had two cameras, both on dollies.
Gimbel Brothers Department Store and WPTZ (owned by Philco) did a 13-week series of broadcasts on Channel 3 during the summer of 1946.
Yes, There was a quarter of a year of half-hour programs broadcast on Wednesday evenings, 8 to 8:30 pm over Philco's Channel 3. There were an estimated 700 to 800 television receivers in the Philadelphia area during this time frame. The series started May 29th, right after the Memorial Day weekend.
Each half-hour program was divided into two 15-minute segments, the first half being devoted to one of Gimbel's "lesser known" departments. The second half featured Uncle WIP (Wayne Cody), popular youngsters' radio entertainer, with his talented and precocious youngsters performing while their proud parents watch two Philco receivers just feet away.
The first program featured Gimbel's beauty shop. On the first broadcast, six appointments, it is reported, were telephoned to the beauty salon within thirty minutes of the program's conclusion. More came later. On the fifth telecast, the store again talked about their beauty salon and got 20 customers responding.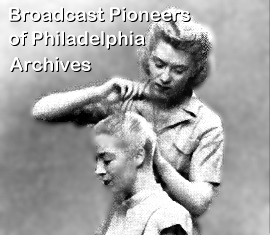 Gimbel Brothers Department Brochure
Beauty Shop
1946
The program was produced and directed by Ernie Walling of the WPTZ staff. A review of the first program had said:
The first "live" studio commercial program telecast in Philadelphia, and the first of a 13-week series by Gimbel's, came off with amazing smoothness. Opening with a pleasing 15-minute commercial, if such it may be called, the program was handled with a deftness that would do credit to many an "old-time" New York program, with nary a fluff or boner throughout, giving ample evidence of the two weeks of rehearsals and loving care that went into this production.

The "commercial" consisted of a dexterous hair-dresser working over six attractive models, whose hair styles were changed pronto, while a dulcet-voiced, off-camera commentator highlighted the demonstration with a smooth flow of chatter and plugs for Gimbels' beauty salon. Unlike most, this commercial was very palatable and videogenic, too!

The second portion found Uncle WlP, popular local children's radio character, making his television debut with "Wip's Trips." This trip was a make-believe visit to the Gay Nineties.

Children, ages 7 to 10, in dusters of the 90's, with the "men" (about 4 feet high) sporting handle-bar mustaches, sideburns and canes, danced and sang tunes "grandmother used to sing."

The kids showed amazing talent, with not the slightest self-consciousness before the cameras. A bit of a guy, just seven years old, for whom a birthday cake with seven candles was burning, stole the show as he gobbled down the gooey chocolate cake.

Production Details: Blonde models' hair blended into the gray backgrounds. Brunette models came across with much greater contrast and clarity. Models flashed toothsome smiles whenever the cameras were focused on them in close-up, causing titters in the audience. The white placards held by Uncle Wip to introduce each performer gave off a "flare" as did the glaring white costumes worn by the children, both proving distracting.
Garden tools followed the succeeding week and brought in six new customers. Men's basement work benches were featured the third week. Other telecasts featured pressure cookers, Gimbels' "Bureau of Standards," curtains and draperies, lamps, bedspreads, washing machines, etc. David Arons, of Gimbels' advertising department was script writer.
The most successful of the shows was number three. This one demonstrated post-war kitchen gadgets and utensils. It generated over 3% of the audience visiting the store for said items.
The cost of the program was estimated at approximately $250 per week, with $100 going to Philco for station time and $150 going to models, Uncle WIP, and others who worked on the program after store hours. There wasn't a charge for studio time for either air or rehearsing and basic sets and backdrops were provided at no additional cost.
A Gimbels spokesperson said that it was "highly successful" in creating sales for the well-known department store. He said: "the Gimbel programs have been highly successful, even though the expense is high in terms of consumer coverage."
The station said, after the completion of these series that 2% of the audience called or went to the store as a result of the telecast. A spokesman for WPTZ said: "It should serve as an example to all potential sponsors of the importance of television as an entertainment and advertising medium."
Enest B. Loveman, the head of Philco's broadcasts said that one can only visualize what 100,000 sets would do (or 100 million). (Note: 3% of 100 million is 3 million new customers).
This regular monthly column is written and researched by Gerry Wilkinson

Our special thanks go to TUTV - Temple University Television and The Kal & Lucille Rudman Media Production Center.

They have underwritten a grant to be used to fund an entire year of all our newsletters for calendar year 2016. We thank them so much for their support!
MORE DIGITAL ARCHIVAL PROJECT NEWS:
VIDEO:

(Left to right) Members Steve Sacks, Jeff Benton and Bill Wright, Sr.
at Trinity House, Berwyn, PA
Wednesday, January 20, 2016
(Photos by member Michael Muderick)
Right after our January 2016 luncheon, we took a crew to the home of member Bill Wright, Sr. Member Jeff Benton spoke to him about his life and career. We think you'll find this interview most interesting.
(video courtesy of Broadcast Pioneers VP Brad Seecof and Metramedia Broadcasting & Studios)

AUDIO:
It's Sunday evening, June 12, 1966. It's just three months from WFIL Radio starting its Rock format (Famous 56). The time is 11:55 pm. "Voices in the Headlines" from ABC Radio has just ended. At midnight is "Panorama of the Lively Arts." Sandwiched in between is a 5 minute WFIL Radio newscast with John Raleigh. This was recorded off air and there is some buzz and other noises in the background. To our knowledge, this is the ONLY recording of this newscast in existence. Therefore, we are delighted to have it in any condition.
Listen in Real Audio!
Listen in Windows Media!
Here's an hour of the Ed Harvey "Talk of Philadelphia" broadcast on WCAU Radio. The date is Thursday afternoon, August 20, 1964. This program is more than a half century old. It may also be of interest to sociologists. The topic is "nudism." While the program aired for three hours, we have only the first hour. We know that the second hour of the program was also on "nudism." We don't know what the topic for the third hour was.
This recording was donated to us by the estate of Ed Harvey (along with hundreds of others). It was recorded right in the WCAU Radio control room. Note that there are no commercials. We didn't cut them out. This is how Ed asked the engineer to record them, without spots. All we did was clean up the edits. There were also some background pops and ticks. These are NOT a problem with the recording, but with the studio guests tapping on the table, clicking pens and making other sounds. We have reduced or removed these noises wherever possible without affecting the sound flow of the broadcast.
Listen in Real Audio!
Listen in Windows Media!
Remember, History is ONLY What Gets Saved!
(If there were no portraits of George Washington, how would we know what he looked like?)
A LITTLE BIT OF BROADCAST HISTORY!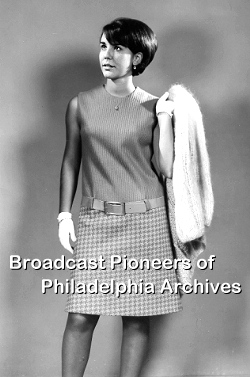 WHO'S THE MODEL?
It's not a model - but one of the best electronic news journalists in our industry. It's none other than Broadcast Pioneers member Cathy Gandolfo, a fixture with"Action News" for decades.
IN TOUCH WITH THE INDUSTRY:
Aztec Capital Partners is planning to move an FM translator from South Jersey and change the frequency to 92.1 from 102.5 (licensed to Clayton, NJ). Aztec runs the "El Zol" Hispanic WHAT Radio, 1340. Previously, we reported an FM translator for WHAT at 97.1 in Collingswood. This now means that Aztec will have two translators. How will this affect WVLT, "Cruisin' 92.1," an oldies station in Vineland (that comes into the Philadelphia market loud and clear)? Well, they are fighting it with an on-air campaign. Deadline for filing with the FCC was late last month.
NBC10 and Telemundo62 announced their joint sponsorship of "Headed to the White House," a timely new exhibit at Philadelphia's National Constitution Center that opened last month. The exhibit is designed to engage students, families and visitors of all ages with the presidential election season by leading them on an interactive journey through the electoral process. It is open through the November election.
Philly's More FM has brought on board Kerry Mulvey as Director of Sales, a new position at the station. She had been Director of Integrated Marketing for the CBS Radio Group here in the Delaware Valley. Before that, she had worked for WPHL-TV, Channel 17 here in Philadelphia for almost two decades. Member Jim Loftus joined WBEB as CEO in November. He was previously with CBS Radio also.
The Philadelphia Phillies and CBS Radio Philadelphia have renewed their broadcast partnership. Pre and post season games plus all the regular ones will be heard on WIP-FM only. During the past several years, the games have been split between WIP-FM and WPHT (1210 Talk Radio). The new deal is already under way with spring training games on WIP-FM. Scott Franzke, Jim Jackson and Larry Andersen are back doing game coverage. Member David Yadgaroff, Senior Vice President and Market Manager, CBS Radio Philadelphia said, "We are happy to continue the tradition of broadcasting Phillies baseball. SportsRadio 94WIP is proud to be the radio home of the fightin' Phils and we look forward to an exciting 2016 season."
Mary Walter, formerly of New Jersey 101.5, has joined WHAS in Louisville, Kentucky as host of the station's evening (6 to 8 pm) news/talk format. Owned by iHeartMedia, the station had Mary start yesterday. Walter gained attention on "The Passion Phones" on New Jersey 101.5. She is also frequently seen on the Fox News Channel.
On WNTP (the old WIBG from a half century ago), Hugh Hewitt moves to mornings with Larry Elder taking over Hewitt's 6 pm to 9 time slot. Hugh takes over mornings from Bill Bennett. These programs (and others) are syndicated across America by Salem, the owners of Philadelphia outlet.
WE REMEMBER:
Broadcast Pioneers member Elaine Soncini has reported that WPEN Music Director Ed Klein passed away at his home in Las Vegas a month ago from ALS, Lou Gehrig's disease. Ed had held that position for two decades. "Dr." Ed Klein didn't get to celebrate his birthday very often. That's because he was born on February 29th and that date comes around only once in four years.
Cara McCollum, former Miss New Jersey (in 2014) and current TV Anchor for "SNJ Today" died from injuries suffered in an automobile accident last month. She was 24 years old and had worked at the Millville based TV operation for the last half year. Cara had been dating Keith Jones, an anchor/reporter for WCAU-TV, NBC 10. Jones said that her organs were donated to save lives.
Acel Moore, 75, passed away during mid-month in February. He rose through the ranks from copy boy to editor and literally changed the face of the Philadelphia Inquirer. He was an Associate Editor Emeritus at the time of his death. He had worked for the paper for over four decades. Often called, "a trailblazer," he won a Pulitzer Prize, one of journalism's highest honors.
ON THE HEALTH FRONT:
Member Kenney Jeremiah had hernia surgery last month using the DaVinci robotic technique. When we talked with him, he was doing well, up and about, and expects to be singing and performing very shortly. Kenny told us that he expected to be appearing with us at our annual Rock & Roll luncheon on March 16th. We'll see him then.
Member Les Waas has changed nursing facilities. He's now at Gloria Dei at the Park, 3455 Davisville Road, Hatboro, Pa. 19040. He's in Memory Care Building, Unit 25. His phone number is same as his house phone was, (215) 947-4567. We talked with him on Sunday. Same old Les. He was telling jokes.
THIS AND THAT! Little Bits of Information....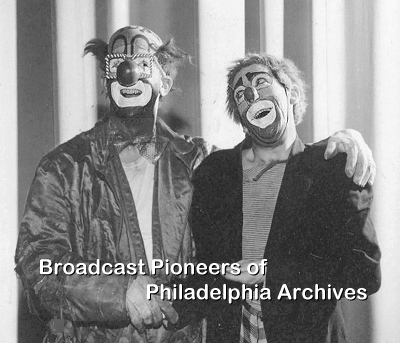 (Left to right) Ed McMahon and Chris Keegan
"The Big Top"
WCAU-TV, Philadelphia
Circa - 1951
Here's a publicity photo of two clowns from the CBS-TV series "The Big Top." The program originated live from WCAU-TV and was seen coast to coast on the network. The clown on the left opened the show. His name: Ed McMahon. To his right is Chris Keegan. Harry Gehlert was the photographer for this still. He was a staff photographer at the station from 1950 to 1952.
Harry e-mailed this:
I was there from 1950 through 1952.... I started there at age 18, right out of high school at the munificent salary of seventy five cents per hour. It was really a low paid industry in those days. We used to say that WCAU stood for We Can't Afford U.

McMahon ...did everything. I made his nose that flashed to open the Big Top show. It was a pingpong ball that I covered with a liquid photo emulsion (all under a safelight, of course) then projected the lettering onto it when it dried, just like a photo print and developed it. This was in a darkroom in the original Chestnut Street WCAU building, just before the operation moved out to City Line.
In the summer of 1964 when Hugh Downs was the host of NBC-TV's "The Today Show," members Gene Crane and Sid Doherty were doing a 15 minute newscast on WCAU-TV followed by Bill Bennett's Almanac, Gene London and Pixanne. WFIL-TV, Channel 6 was airing RDF 6, Operation Alphabet, News with Joe Novenson and Weather with Roy Allred followed by Features for Women, Happy the Clown and Romper Room with Connie Roussin.
During the spring of 1949, Broadcast Pioneers member Ed Hurst took on television hosting duties in addition to his air time on WPEN with Joe Grady. Ed hosted a musical quiz program on WPTZ, Channel 3, now KYW-TV on Thursday evenings. It was called, "Sing My Name."
While Billboard said that the name of the show was "Sing Me This," Ed Hurst has confirmed to us that the magazine was wrong. The correct name was, indeed, "Sing My Name." The program aired for 13 weeks from March 3rd to May 26th of 1949. It aired at 10 pm on Thursday evenings. Hurst said the program ran for 30 minutes and he filled in on several occasions for the host, Jack Curtis, who was the MC/singer at Philadelphia's "Latin Casino."

The program was sponsored, although Ed can't remember for who. It was created by Gloria Hays, who was the co-hostess of the program. Hays worked for one of the area's advertising agencies. It had a live band, maybe 5 pieces. The host sang a few lines of a song and the contestants had to guess the title of the song. It was sort of an early version of "Name That Tune," whose first host was Norman "Red" Benson of WPEN Telephone Talk Show fame.
According to Billboard, in September of 1962, there were several hot singles here in the Philadelphia market. They included: Sherry by the 4 Seasons, Royal Queen by Clarence Williams, Do You Love Me by the Contours and The Dance is Over by Little Billy and the Essentials.
October 1, 1924 saw the opening of the brand new WCAU Radio studios in the Hotel Pennsylvania at 39th and Chestnut Streets in West Philly. At that time, the station was owned by Durham and Company and they thought it cheaper to install all the broadcast facilities in the hotel, since they were originating many of their orchestra broadcasts from that location.
The studio was on the hotel's first floor with the feed going to the top floor (the 15th) where their control room was located. According to press reports, the tower was 90 feet above the roof making it the highest in the city.

News reports proudly reported that by year's end (of 1924), Philadelphia had five 500 watt stations (the most power allowed at that time). Only New York and Chicago had more. Today, that building (a national landmark) is called Chestnut Hall and is part of the University of Pennsylvania.
THANKS FOR THE MEMORIES:
Philo Farnsworth, Part Three!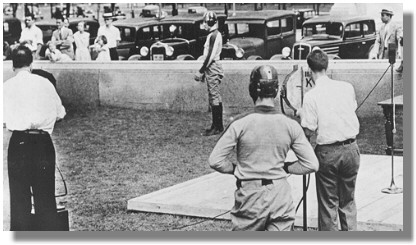 Philo Farnsworth, crew and others
Franklin Institute, Philadelphia
Saturday, August 25, 1934
(Photo courtesy of Professor Donald G. Godfrey)

It was 2002 when author Tom Keels wrote this article about Broadcast Pioneers Hall of Famer Philo Farnsworth. It is electronically reprinted here with the author's permission, and presented in three parts. The first two installments have already been included in previous newsletters. Here is part three, the conclusion of this article:
In 1935, Philo T. Farnsworth and his partners leased a six-acre lot at 1230 Mermaid Lane in Wyndmoor as the site of a broadcast studio for Farnsworth Television. Abandoned greenhouses and the tracks of the Fort Washington branch of the Pennsylvania Railroad ringed the property, about two miles from the Chestnut Hill laboratory. A pre-fabricated building and transmission tower were erected. Philo and Pem Farnsworth rented a house on Cresheim Valley Drive in Wyndmoor, within walking distance of the studio. Chief Engineer Tobe Rutherford and his family also moved from Gowen Avenue in Mt. Airy to Flourtown Avenue.

While they waited for their broadcasting license to be granted, Farnsworth's team refined and improved their equipment. They built two Image Dissector cameras capable of transmitting 441 lines to a screen, creating their clearest image to date. They enlarged their cathode-ray tube size to 12" x 14", which Farnsworth considered "ideal for home reception." They built several prototype TV receivers, and created the first electronic video switcher, allowing them to cut from one camera to another.

The station received its license in December 1936, and began live broadcasting under the call letters W3XPF in January 1937. It was the third experimental television station in the Philadelphia area (after RCA's W3XAD and Philco's W3XE), and the sixteenth station in the U.S. Like its competitors, W3XPF had extremely low wattage and a limited range, and broadcast only a few hours in the evening. At the time, between 100 and 200 Philadelphia-area households had RCA or Philco TV sets, "pre-tuned" to receive only the manufacturer's station. Since Farnsworth did not manufacture its own sets, only a few homes in and around Wyndmoor could receive W3XPF signals on prototype or home built receivers. Nearly all belonged to Farnsworth employees.
Once W3XPF was on the air, Farnsworth faced the challenge of filling all that empty ether. He put engineer William Eddy in charge of programming. A technical wizard, Eddy pioneered the use of multiple cameras, miniature sets, and lighting specifically designed for television. One of his innovations was to put a TV camera on a barbershop chair so it could move up and down smoothly. Young Donald Pike, a 1933 graduate of Cheltenham High School, who acted as music conductor and arranger for the fledgling station, assisted him. Later, Pike would become an Emmy Award-winning Technical Director for NBC.

Local performers jumped at the chance to appear on W3XPF. Tobe Rutherford's son Robert recalls that "they didn't pay anything for the talent, if you will. They offered it as an opportunity to get the experience of being on a new medium." Among the stars at Mermaid Lane were actors from The Stagecrafters theater in Chestnut Hill; Nick Ross and his Orchestra, with vocalist Kay Allen; 4-year-old singer/dancer Baby Dolores; and 11-year-old "Smiles" Blum, also known as "Little Miss Television." Photogenic Bonnie Cruthers, a Farnsworth secretary, was drafted as an announcer. At the end of each broadcast, Cruthers signed off with the phrase, "This is W3XPF, Farnsworth Television, pioneer of the air – I'll be seeing you."

Eddy's team struggled with dozens of unforeseen technical problems. Because of the infrared sensitivity of early TV cameras, performers needed to apply dark blue makeup around their lips and eyes, giving them a ghoulish appearance off camera. Since red photographed as white, a boxer wearing red shorts for a match seemed to be naked. So did a pretty ballerina whose gauzy costume was rendered invisible by the camera. Robert Rutherford recalls that the ballerina "didn't care and went ahead and danced. My father was stopped from putting it on the air at the last moment. People were a lot fussier then."

The primitive cameras required painfully strong illumination. Under the searing klieg lights, performers dripped sweat, violin strings snapped, and furniture varnish bubbled. To Rutherford, the studio "was like being in a broiler. That was why you didn't hang on to a scene too long. You shifted cameras to cut down on the light exposure." In a 1996 interview, Pem Farnsworth remembered other surprises: "We had a call from a man who said he was getting our signal from the crown of his tooth. And another one, a lady, got it on her kitchen range."

While the number of viewers was minimal, the potential of television broadcasting captured the country's imagination. In 1936, Paramount Newsreel Service ran two stories on Farnsworth, describing him as the man who made "Mankind's most fanciful dream about to become a startling reality." In October 1936, Collier's Magazine ran a feature on "Phil the Inventor," forecasting that television would reach many American homes by Christmas 1937.

Despite these accolades, Farnsworth's backers complained over the lack of return on their investments. Fed up with bickering over money and frustrated by new legal challenges from RCA, Farnsworth decided to relocate. He purchased a Midwestern radio manufacturer, hoping the revenues from selling TV and radio sets would finance his research. In 1939, the Farnsworth Radio and Television Corporation opened its doors in Fort Wayne, Indiana. The Mermaid Lane studio fell silent that year when W3XPF moved to Fort Wayne and was renamed W9WFT.

That same year, David Sarnoff initiated regular NBC television programs with a broadcast of President Franklin D. Roosevelt opening the New York World's Fair. An avalanche of RCA publicity buried Farnsworth's accomplishments and established Sarnoff and Zworykin as the "fathers of television." Sarnoff did not broadcast the fact that after a decade of litigation, he had agreed to pay Farnsworth $1 million to license his television patents, the first time RCA had ever paid an independent inventor.

Joseph Spallone, the Italian-born carpenter who "would follow Farnsworth to the ends of the earth," followed him to Fort Wayne, along with his wife and daughter Lucy Rose. The move threatened to disrupt Lucy Rose's romance with Michael ("Mickey") Serianni, a very determined young man. Mickey, according to Spallone's grandson, Gerry Serianni, "would go out to Fort Wayne frequently and just wouldn't let her go. He talked my grandfather into bringing her back East and marrying her. It amazed everyone that an old-world Italian like my grandfather would let my mother come back but he did. He really liked my father." Lucy Rose Spallone and Mickey Serianni married in 1943, later moving to 8321 Flourtown Avenue in Wyndmoor, where they raised four children (including Gerry). Joseph Spallone continued to live in Fort Wayne but visited his Philadelphia family often, dying here in 1967.

If Wyndmoor marked the pinnacle of Farnsworth's fortunes, Fort Wayne was his nadir. The manufacturing plant did not produce the cash he needed. As American involvement in World War II grew closer, a "National Emergency" was declared in May 1941, halting all commercial radio and television manufacturing. Beset by depression and alcoholism, Farnsworth retreated to his Maine farm during the war. His 20-year patents on electronic television expired in 1947, just as postwar television production shifted into high gear.

When Farnsworth appeared on "I've Got A Secret" in 1957, no one guessed his secret – that he invented modern television while still a teenager. By this time, Farnsworth had come to detest his brainchild. In a 1997 documentary, his son Kent said of his father: "Through my childhood, his reaction to television was, 'There's nothing on it worthwhile, and we're not going to watch it in this household.'" Philo T. Farnsworth died in obscurity in 1971, the same year as David Sarnoff.

Farnsworth's reputation has emerged from the shadows in the past twenty years, thanks largely to the efforts of his widow Pem, his children, and grandchildren. In 1983, Farnsworth was featured on a commemorative postage stamp for his invention of television. The following year, he was inducted into the Inventors' Hall of Fame, seven years after Vladimir Zworykin. The State of Utah placed a statue of him in the Rotunda of the U.S. Capitol in 1990. In 1999, Time Magazine named Farnsworth one of the "100 Greatest Scientists and Thinkers of the 20th Century." He has been credited with more than 150 U.S. patents and over 100 foreign patents, including some instrumental in the development of radar, the electron microscope, the baby incubator, the gastroscope, and the astronomical telescope.

Three years ago, Pennsylvania Governor Mark Schweiker declared September 7, 2002 to be "Philo T. Farnsworth Day," marking the 75th anniversary of his first successful experiments with electronic television in San Francisco. In his proclamation, Governor Schweiker recalled Farnsworth's unveiling of television at the Franklin Institute in 1934, saying that Farnsworth "followed in the footsteps of Pennsylvania's beloved son, Benjamin Franklin, successfully changing the course of modern technology and the lives of countless millions."

Despite the official proclamation, no local events celebrated Farnsworth's achievements. While a historic plaque marks Farnsworth's Green Street lab in San Francisco, nothing commemorates either his laboratory in Chestnut Hill or his studio site in Wyndmoor. Today, 127 East Mermaid Lane is a well-kept private residence. After being used as a studio by other TV and radio stations, 1230 Mermaid Lane was torn down in the 1970s. Today, a newer building houses several small businesses. Only the original transmitter tower still stands, dwarfed by newer spires, as a silent sentinel to the days when "Little Miss Television" welcomed Wyndmoor to the future.
MOVE - 1985!
The following is an excerpt of an ebook called, "Liveshot," written by member Tom Kranz. In 1981, Tom began as an assignment editor and writer for WCAU-TV, then a CBS O&O station. He later became an Executive Producer for them and then moved to the network as a producer and later, a senior producer. He has written a 214 page ebook and with his kind permission, we present a small portion here. He wrote this in the late 80s but it hasn't been published until recently.
In the news on May 13, 1985: Bruce Springsteen married model Julianne Phillips. General Electric pleaded guilty to defrauding the Defense Department out of 800 thousand dollars. The sexual assault trial of Dr. Samuel Lyness was going to the jury. Executives of the New Jersey amusement park Six Flags Great Adventure went on trial for neglect, one year after eight teenagers died in a fire in the park's haunted house. The Delaware River Basin Commission was meeting to decide whether to declare a drought emergency. Actress Selma Diamond died. And Channel Ten began a week-long campaign to educate people to the dangers of colorectal cancer. But there was no question what the lead story would be on the noon news.

There was the usual station identification, then the director called out "Roll Tape B!" and Raylena's special open faded up from black. The sound of shooting began, then Larry Kane's voice: "IN WEST PHILADELPHIA, GUNFIRE RINGS OUT AS POLICE MOVE IN ON MOVE. IT BEGAN AT 5:50 THIS MORNING, WHEN GUNFIRE ERUPTED FROM THE MOVE COMPOUND AT 62ND AND OSAGE."

The director called, "Take camera 2", and Larry and Steve appeared again on the screen.

Larry: "GOOD AFTERNOON EVERYONE. AFTER TWO WAVES OF THAT GUNFIRE, THE TENSE STANDOFF REMAINS BETWEEN MEMBERS OF THE BACK-TO-NATURE GROUP MOVE AND PHILADELPHIA POLICE. THERE IS NO EVIDENCE OF CASUALTIES INSIDE THE MOVE HOUSE, AND THERE IS ALSO NO INDICATION OF WHAT IS GOING ON INSIDE. WE DO KNOW THAT TWO PHILADELPHIA POLICE OFFICERS SUFFERED MINOR INJURIES. AND AT NOON, SIX HOURS LATER, THE STANDOFF CONTINUES."

The noon producer sat in the control room, watching the story come together on the air. Archer was there with her. Harvey was back on live, relating the story of the morning shootout and talking over the tape Raylena had cut for him. In the newsroom, all work had ceased and all eyes were on the monitors. Harvey wrapped his report and Larry took over again.

"THE CITY'S FIRST, OFFICIAL REACTION TO THIS MORNING'S CONFRONTATION WITH MOVE CAME ABOUT 10:30 THIS MORNING WHEN LIEUTENANT AL LEWIS OF THE PHILADELPHIA POLICE DEPARTMENT MADE THIS OFFICIAL STATEMENT."

The director yelled "Roll tape B," and video of a thin, black man with a moustache and thick glasses rolled. "Take it!"

Lt. Lewis of Police Public Affairs read the statement: "THE INVITATION FOR THE MOVE MEMBERS TO EVACUATE AND SURRENDER WITHOUT HARM WAS ISSUED AT 05:35 HOURS BY COMMISSIONER SAMBOR. AT 05:58 HOURS THE FIRST SALVO WAS FIRED FROM THE MOVE RESIDENCE AT POLICE AND POLICE RESPONDED WITH CONTROLLED FIRE, ONLY IN A REACTIVE POSTURE. AND THERE HAS BEEN NO FIRE FROM THE MOVE HOUSE SINCE 07:30."

It took 26 seconds for Lewis to read the few lines. It was the only official acknowledgement that anything had occurred in West Philadelphia that morning.

Larry: "SUZANNE BATES HAS BEEN AT CITY HALL ALL MORNING, COVERING THE REACTION OF OFFICIALS. SHE'S LIVE RIGHT NOW INSIDE CITY HALL WITH THE VERY LATEST. SUZANNE?"

Suzanne: "WELL LARRY, THE MAYOR IS STILL HOLED-UP IN HIS OFFICE RIGHT NOW. HE'S BEEN HERE SINCE BEFORE EIGHT THIS MORNING. OF COURSE, HE HAS BEEN IN CONTACT WITH THE COMMAND POST ALL THROUGH THE NIGHT AND AT 4:30 THIS MORNING HE BEGAN MEETING WITH MEMBERS OF THE CITY COUNCIL. HE ARRIVED AT CITY HALL SHORTLY AFTER THAT AND HAS NOT COME OUT OF HIS OFFICE SINCE AND HAS DECLINED TO TALK TO REPORTERS UNTIL THE SITUATION IS RESOLVED."

Suzanne looked like she was in a hallway. Her voice resonated in the empty space. Instead of speaking to Suzanne or any reporter, the Mayor sent his press secretary to do the talking. Karen Warrington told Suzanne the Mayor had known of the potential for violence and that he was "pensive" this morning, but was continuing to monitor the situation from his office.

The broadcast continued through Dennis' report on the neighbors' reactions, Charles' reprise of the Louise James interview and John Blunt's wrap of Harvey's performance during the morning. MOVE had comprised the entire top of the noon news, about 12 minutes worth. After a two minute commercial break, other stories were reported including the colorectal series and the weather forecast.

It had turned into a gorgeous day in Philadelphia. The clouds had melted away and the sun was shining brightly. It felt unseasonably warm, too.

Tony and I had made our way to the corner of 62nd and Delancey, a block from Mini 2. The corner was mobbed with people pushing against the police barricades. Channel Three's van was here. I looked way down 62nd Street, past Osage to about Larchwood, and saw a Channel Six van. There were many police officers on guard at the barricades. Tony and I approached one of them.

"Excuse me," said Tony. "I'm from Channel Ten. I wonder if I can get to my van over there to change a battery."

"What the hell for?" spat the cop.

"Hey man, some of that equipment needs constant power or it'll get hurt, you know? I just need to run in and change a battery."

"Wait right here," said the officer, as he turned and walked towards one of the plainclothes men wearing a POLICE armband.

To me, Tony said, "I just need ten minutes to lower the mast, put in the new battery, then raise it again. I'll be in and out before they have a chance to figure out what I'm doing."

The officer returned. "The boss says OK, but just one of you."

I stayed put and watched Tony walked through the barricade to Mini 2, unlock the sliding door and let himself in. About a minute later, I watched the mast slowly come down, section by section, until it was fully collapsed and the camera was within reach. Tony climbed onto the roof and began doing what he had to do.

Around me were people with many questions: Was it over yet? When could they go home? Did they kill MOVE? What about the children?

Before I knew it, Tony was squeezing back through the barricade and making his way through the crowd towards me.

"You should see those cops pushed up against the window of our van," he said. "They figured out they can see the bunker on the monitor inside."

"You didn't leave the door unlocked, did you?" I asked cautiously.

"Are you crazy? When I changed the battery on the toy camera, I did manage to zoom the lens in a little more, so the picture is tighter on the bunker now."

"Roncaglione would love you for that," I said.

We walked back down Delancey Street towards Mini 1. It was getting to be around one o'clock now, and Tony and I were hungry.

"What do you think, Karen," Jay was asking. "Don't you think we should bring Pete Kane back so we can get his tape on the five o'clock news?"

Karen had gone around on this one several times with Jay.

"No way, Jay. Once he's out, he'll never get back in. Besides, we don't know that this is over yet." Mussoni had just gotten off the phone with Suzanne at City Hall. Jay was pressuring her to get Mayor Goode to talk. John asked her what the prospects were for Goode to emerge. Not good, she answered. For the first time all day, John began to feel a little bored. It was clear the police had failed and it looked like the Mayor was hiding. The only city officials who had done any talking were members of city council. Among them was Lucien Blackwell, who had spent the early morning with the Mayor in his kitchen. There had been nothing further from the police since the 26-second statement from Lt. Lewis at 10:30 in the morning.
While "Liveshot" is published on Kindle, you don't need a Kindle to get it. On the purchase page are instructions on downloading the appropriate free apps for various smartphones and tablets.
A LITTLE BIT OF BROADCAST HISTORY!
This picture is from WIP Radio in 1924. Seated at the piano was Flora Ripka. She played solos and accompanied vocalists on the station. At the microphone was the station's chief operator who told people to call him "H.E." In reality, he was Harry E. Ehrhart. Children throughout the Delaware Valley knew him as "Uncle WIP." Shortly after this photo was taken, Harry left the station and Gimbels Brothers. A couple days later, he showed up at Lit Brothers on their radio station, WDAR (later called WLIT) as "Dream Daddy." That program was very similar to the Uncle WIP program which he made famous.
TV Listings for Sunday, November 2, 1952!
Programs are for:
WPTZ, Channel 3, Philadelphia (NBC)
WFIL-TV, Channel 6, Philadelphia (ABC & Dumont)
WDEL-TV, Channel 7, Wilmington (NBC)
WCAU-TV, Channel 10, Philadelphia (CBS)
9:45 am - 3 - Today's Headlines
10 am - 3 - Thoughts for Sunday Morning
10 - Film Shorts
10:05 am - 6 - TV Sunday School
10:15 am - 3 - Mr. Wizard with Don Herbert
6 - Sunday Inquirer Comics with Big Brother Shelly (Gross)
10 - Newsreel (film news from around the world)
10:30 am - 6 - Film Featurette
10 - TV Spelling Bee
10:45 am - 3 - Bonomo, the Magic Clown
11 am - 3 - Joe DiMaggio's Dugout (sports for children)
10 - All Aboard (children's show) with Skeets Minton & Junie Keegand
11:15 am - 3 - American Inventory
10 - Here's Willie (cartoons with Willie the Worm)
11:30 am - 6 - Junior Press Conference with Ruth Geri Hagy
10 - The Children's Hour with Stan Lee Broza (our first president)
11:45 am - 3 - The Nature of Things with Dr. Roy K. Marshall
7 - Circle 7 Ranch (children's tales of the old West)
12 noon - 3 - C'mon to Uncle Pete's (Pete Boyle)
6 - Kids Kapers
12:15 pm - 6 - Tootsie's Hippodrome with John Reed King
12:30 pm - 3 - Captain Midnight
6 - Faith for Today
10 - Candy Carnival with member Gene Crane
12:45 pm - 7 - Democratic Delaware State Committee program (Election was 2 days away.)
1 pm - 3 - Highlights of the U of P - Penn State Football Game
6 - Kahn's Playhouse (movie)
7 - Youth Wants to Know
10 - In the Park with Bill Sears
1:30 pm - 3 & 7 - Frontiers of Faith
10 - Pets and Pals with Barry Cassell
1:45 pm - 10 - The Old Story (Patches tells Bible stories)
2 pm - 3 - American Inventory
6 & 7 - Wilmington School Report
10 - Just Us Kids - Patches sings songs (with Jimmy Wakely)
2:30 pm - 3 - American Forum of the Air
6 & 7 - New York Giants vs. the Chicago Cardinals (Football)
3 pm - 3 - Victory at Sea
3:30 pm - 3 - This is the Life
10 - Whistlestop USA (Presidential candidates--election was two days away.)
4 pm - 3 - Kukla, Fran and Ollie
10 - Balance Your Budget (with Bert Parks)
4:30 pm - 3 - Hall of Fame (anti-communist drama)
6 - Film (To Be Announced)
10 - Where Do You Stand? (with Ron Cochran)
5 pm - 3 & 7 - Zoo Parade with R. Marlin Perkins
6 - Super Circus with Claude Kirchner
10 - Lamp Unto My Feet
5:30 pm - 3 - Frontier Playhouse (with Pete Boyle)
7 - Delaware Republican State Committee
10 - Political Speech by Walter Reuther
6 pm - 6 - Strength for a Free World
7 - Meet the Press with Martha Rountree (moderator)
10 - Say It with Music (with Dave and Ginny Stephens and the Tommy Ferguson Trio)
6:25 pm - 3 - Sports Final with Norman Brooks
6:30 pm - 3 - Stranger Than Fiction
6 - Diamond Jubilee with Billy Daniels
7 - The Roy Rogers Show
10 - See It Now with Edward R. Murrow
6:40 pm - 3 - News with Karry K. Smith
6:45 pm - 3 - Kieran's Kaleidoscope
6 - News and Comments with Walter Winchell
7 pm - 3 & 7 - The Red Skelton Show
6 - You Asked for It (with Art Baker)
10 - The Gene Autry Show (with Pat Buttram)
7:30 pm - 3 & 7 - Mr. Peepers with Wally Cox
6 - Broadway to Hollywood (with Bill Slater)
10 - The Jack Benny Program (guest was Dinah Shore)
8 pm - 3 & 7 - The Colgate Comedy Hour (with Judy Canova)
6 - All-Star News (with live pickups from across the USA)
10 - Toast of the Town (with Ed Sullivan)
9 pm - 3 & 7 - The Philco Theater Theater
6 - Rocky King, Detective (From Dumont TV Network, not ABC)
10 - The Fred Waring Show
9:30 pm - 6 - The Plain Clothesman (From Dumont TV Network, not ABC)
10- Break the Bank (with Bert Parks & Bud Collyer)
10 pm - 3 & 7 - The Doctor (with Warren Anderson)
6 - Death Valley Days (syndicated, not from ABC)
10 - The Web (Crime Drama)
10:30 pm - 3 - Great Music (with Guy Marriner)
6 - Youth on the March (with Rev. Percy Crawford, from Dumont TV Network, not ABC)
7 - A Visit with Lex Bayard (Delaware's Democratic Candidate for US Senate)
10 - What's My Line (with John Daly)
10:45 pm - 7 - Billy Graham Crusade
11 pm - 3 - The Arthur Murray Dance Party (from Dumont TV Network, not NBC)
6 - Drew Pearson's Washington Merry-Go-Round
7 - Delaware's Republication State Committee
10 - News and Sports with Jack Whitaker
11:15 pm - 6 - The Frank Brookhouser Show (Inquirer Columnist)
10 - Tomorrow's Weather (with Barry Cassell)
11:20 pm - 10 - Motion Picture (To Be Announced)
11:30 pm - 3 - On the Line (with Bob Considine)
6 - The Big Picture (official US Army Film)
7 - Weekly News Review
11:45 pm - 3 - Local News (with Bob Graham)
7 - Local News and Weather
11:50 pm - 3 - Thought for Today
A LITTLE BIT OF BROADCAST HISTORY!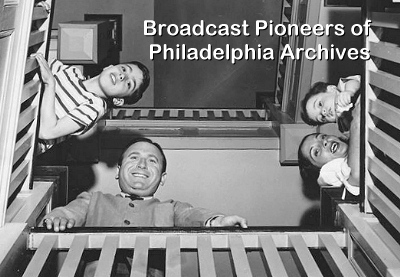 (Left to right) Joel A. Spivak, his dad and mom and brother Steven
at the home
circa: mid-40s
"This is Joel A. Spivak speaking." It was his signature open always followed by a lively, controversial radio talk show. Joel was behind the mike at WCAU radio for 12 years between 1968 and 1980. He hosted Morning Newsbeat that featured guest interviews and listener calls. The station described him as a moderator, catalyst, interviewer and devil's advocate.
OUR HATS OFF TO YOU FOR GIVING:
We are a federally recognized, state chartered charity with a 501(c)(3) status. Contact us at (856) 365-5600 or e-mail pioneers@broadcastpioneers.com for more details. Your gift to Broadcast Pioneers will help us and may lower your federal income tax. That's win-win, isn't it?
Special Thanks for the gift of Appreciated Stock: (a federal tax advantage for the giver)
Member Dan Lerner - used for the scholarships listed below
Member Sylvia Kauders - used for the scholarships listed below
Member Marc Howard - added into our general fund to be used where needed
Special Thanks for contribution of $1,000 or more to our DAP, Digital Archival Project:
Member Johnny B. Hall and wife Ginny - $3,000
Member Marlin Taylor - $1,000
Member Harry Hurley's Golf Tournament - $1,000
Member Glenn "Hurricane" Schwartz - $1,000
Member Elliot Abrams - $1,000
Member Jerry Del Colliano - $1,000
Special Thanks for April 2016 Scholarships:
Member Dan Lerner - 5 scholarships
Member Sylvia Kauders - 1 scholarship (from a grant for 5 yearly scholarships running until 2019)
Member Harry Hurley's Golf Tournament - 1 scholarship (for a South Jersey resident or student)
Member Johnny B. Hall and his wife, Ginny - 7 scholarships
Member Kal Rudman - 5 scholarships (for Temple University students)
Members Robin and Ira Adelman and Robin's Dad, Leon Love - 1 scholarship
Special Thanks for a contribution of $500 or more to our DAP, Digital Archival Project:
Member Esther Kurtz - $500
Member Art Moore - $500
Member Rod "Storm" Phillips - $500
Member Marian Lockett-Egan - $500
Underwrite a complete scholarship and we'll give you credit in the electronic newsletter until the scholarship is awarded in April of 2016 or 2017. Give us a donation of appreciated stock of $2,000 or more) and we'll list you in our "Thank You" column for two years. Give us a donation of $1,000 or more and we'll list you in our "Thank You" column for a year. Give us a donation of $500 or more and we'll list you in our "Thank You" column for six months. You can select how we use the money: for our archival project, for scholarships or for our general fund to be used as needed.
More Thanks:
We would love to give kudos to those of you who gave an extra contribution to Broadcast Pioneers when you paid for your February luncheon: Eric Address, Paul Big Bear, Mike Bove, Diego Castellanos, Andrew Crouse, Bill Kelley, Bob Kravitz, Carol Leebron, Mike Nozilo, Dave Petrelius, Shawn Swords, Steve Tatz, Todd and Pam Tuckey, Alan Tripp, Dean Tyler and Gerry Wilkinson. Special thanks to: Susan Schiller who included a little something extra when she joined this month.
A growing portion of the revenues that fund the different activities of the Broadcast Pioneers comes from donations. This includes our archival project and our scholarship program. Now, we are making it even more beneficial for our donors. Broadcast Pioneers is now able to accept gifts of appreciated stock, which provides a significant tax benefit to you. By giving appreciated stock (stock which is worth more now than what it cost when it was purchased), you can get a charitable contribution tax deduction based on the current market value of your stock. At the same time, you avoid the capital gains
tax that would arise if you simply sell the stock. So if you'd like to support our educational mission or our archival project and save money on taxes too, please consider making a gift of appreciated stock. We are a federally recognized, state chartered charity with a 501(c)(3) status. Contact us at (856) 365-5600 or e-mail pioneers@broadcastpioneers.com for more details.
Don't be left out. You too can make a pledge. It's never too late. You can earmark it for scholarships, our Digital Archival Project or our general fund. Thanks so much for your support. If you forgot to make an extra contribution (cash or memorabilia) and would like to do so now, you can do so. We would be thrilled to hear from you at: PO Box 2886, Bala Cynwyd, PA 19004, call us at (856) 365-5600 or e-mail us at: pioneers@broadcastpioneers.com.

A FINAL THOUGHT....
Ernie Kovacs hosted a local morning television program on WPTZ, Channel 3 (now KYW-TV) called "Three to Get Ready.". It aired from 7:30 am to 9 am and eventually from 7 to 9 am. Roy Neal, later of NBC News fame, was his first newscaster.
There was a local performance of Tennessee Williams' play, "The Rose Tattoo," at the Locust Street Theater. There was also the role of a live goat in the performance. Kovacs had the brilliant idea of auditioning goats live on his broadcast. Ernie later did come to this conclusion:
"Never bring three live goats into a closed studio at 7:30 in the morning!"
Ernie Kovacs
Channel 3 host
"Three to Get Ready"
Fall 1951

Please contact us by e-mail at newsletter@broadcastpioneers.com or by mail to: Broadcast Pioneers of Philadelphia, PO Box 2886, Bala Cynwyd, PA 19004. Your stories are important, to you, to us, and your colleagues. Contact us today and we'll include your story in the next newsletter!

© 2016, Broadcast Pioneers of Philadelphia
All Rights Reserved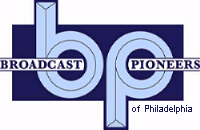 The e-mail address of the Broadcast Pioneers of Philadelphia is pioneers@broadcastpioneers.com
For luncheon reservations call (856) 365-5600 or e-mail us at: rsvp@broadcastpioneers.com