| | |
| --- | --- |
| | Broadcast Pioneers of Philadelphia is a federally recognized, state chartered 501(c)(3) non-profit organization serving the Philadelphia Broadcast Community since January of 1962. |
March Luncheon
The Bala Golf Club, Philadelphia
Wednesday, March 22, 2017

Meet and Greet at 12 noon!
Lunch served at 12:30 pm!
Ratecard: $28 per person

Please reserve now!
CALL (856) 365-5600!
rsvp@broadcastpioneers.com
LUNCHEON POSTPONED UNTIL
Wednesday, March 22nd, 2017!
because of the weather
Good Food - Great Programs - Wonderful Times
Rock & Roll is Here to Stay!
Lunch is only $28 per person!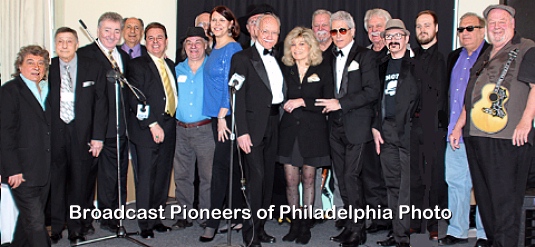 Some of the Rock & Roll Artists at the
Broadcast Pioneers Luncheon
Bala Golf Club, Philadelphia
Wednesday, March 18, 2015
(Photo by member Bob Kravitz)
DON'T MISS THIS ONE!

Hit After Hit, Smash After Smash, Blockbuster After Blockbuster... Here's another "monster" lunch where the "stars" don't wait to come out at night. They're there at lunchtime!
Our next Broadcast Pioneers luncheon is another "Rock & Roll Special!" It will be held at the Bala Golf Club, 2200 Belmont Avenue in Philadelphia. Meet and greet at 12 noon. Lunch will be served at 12:30 pm.
Because of the bad weather, we have rescheduled the Rock & Roll luncheon until Wednesday, March 22nd. We have cancelled all the old reservations. So if you are planning to come on March 22nd, you need to make a new reservation.
Our MC for the afternoon will be Cool Bobby B. His Doo-Wop oldies show can be heard on Sirius XM Radio. For the uninitiated, Cool Bobby B is Broadcast Pioneers member Bob Backman, who was General Manager of Channel 61 here in Philadelphia for 5 years. Bob is currently president of WDRE-TV in Rehoboth Beach, Delaware.
Scheduled to appear (in alphabetical order):
Paul Big Bear, local well-loved area performer and singer
Stephen Caldwell, male lead of the Original Orlons
Billy Carlucci of the group, "Billy and the Essentials"
Eddie Collins, former music director for "The Drifters"
Danny and the Juniors (featuring Joe Terry & Frank Maffei)
Stevie Doo Wop, a local Delaware Valley nightclub performer
Johnny B. Hall and Art Wilson (sometimes called "The Boys")
Meagan Hill, Actress, Singer and voice-over announcer
Kenny Jeremiah, formerly of "The Soul Survivors"
Frank Jordan, formerly of "The Jordan Brothers"
The Rip Chords, Top Ten rock & roll artists from the sixties
Corky Warren of "Corky's Time Machine" TV Show
This takes place at the beautiful and historic Bala Golf Club, 2200 Belmont Avenue (across the street from the state police) in the Wynnefield section of Philadelphia. Only minutes away from Channels 6, 10 and 17 and the radio stations in Bala Cynwyd. Call now for reservations. (856) 365-5600! Don't miss this one!
Plenty of FREE parking. Our luncheons are open to all our members, their guests and any person in the industry or associated fields, whether active or retired. You do NOT have to be a member to attend. There is no reserved seating at our luncheons. Feel free to sit anywhere. Well, okay--the three people on the camera crew sit near the cameras, but that's in the back of the room.
The cost is only a donation of $28 (or more) per person! In order to speed up check-in at the luncheon, it would help if you had exact change or your check already written. Checks can be made payable to the Broadcast Pioneers of Philadelphia.
If you would like to add a few dollars extra, we would appreciate it. It would help us with all the important work we are doing. Thanks!

WE WANNA SEE
YOUR FACE IN THAT PLACE!

Visit Our Website Often - http://www.broadcastpioneers.com
You should check the front page of our website often (link above) for important information!
Tune in to our YouTube Channel - http://www.broadcastpioneers.com/youtube
Our YouTube Channel has all our luncheons, exclusive interviews and archival material!
Check out our Facebook Page - http://www.broadcastpioneers.com/facebook
There are things on our Facebook Page that are NOT on our website (like our vintage photo of the week)
Go to our Twitter Account - http://www.broadcastpioneers.com/twitter
The Broadcast Pioneers Twitter Account has info and stuff not available elsewhere!
Go to our Instragram Section - http://www.broadcastpioneers.com/instagram
Here's another one of our social media sections. Visit it as often as you wish!

NEW MEMBER TO BROADCAST PIONEERS:
ASSOCIATE MEMBER
Constantinos Arhontoulis is a new Associate Member of this organization. He will graduate from Rowan University in a couple months. He worked with member Pete Thompson as WMGM-TV, Channel 40 at the shore putting together sportscasts.
We are thrilled to have over 500 Members. More than ever. We hope to see as many of our members as possible at our March 15th luncheon. Make your reservations now!
DIGITAL ARCHIVAL PROJECT NEWS:
VIDEO:
(Left to right) Bill Vitka, Michael Tearson, T. Morgan, Rod Carson
Kal Rudman, Annie Haslam and moderator Dean Tyler
Broadcast Pioneers Luncheon, Bala Golf Club, Philadelphia
Wednesday, February 16, 2011
(Photo by member Jerry Klein)
Album Oriented Radio, or as it's known in the trade as AOR, that's what we talked about at our February 16th luncheon in 2011. AOR started on FM and basically helped the FM band come into its own. Our moderator for the day was Broadcast Pioneers member Dean Tyler.
In alphabetical order, our panel was:
Rod Carson, former WDAS-FM jock on "Hyski's Underground"
Annie Haslam, solo artist & lead singer of the rock group "Renaissance"
T. Morgan, who started AOR in Philadelphia in 1967 on WIFI-FM
Kal Rudman, founder and publisher of "Friday Morning Quarterback"
Michael Tearson, former WMMR Music Director and jock
Bill Vitka, WMMR's first news director, now with Fox News Radio
In addition, live on the telephone we had Broadcast Pioneers member Allan Hotlen who hired Dave Herman to do the Marconi Experiment on WMMR in 1968.
Watch the video in Windows Media Format from our website
(video courtesy of Broadcast Pioneers VP Brad Seecof and Metramedia Broadcasting & Studios)
AUDIO:
Our first audio comes from WIBG and dates from Monday, January 10, 1972. Member Dan Cannon did morning drive at that time. Paul Howard was his newscaster. Here's the newscast from the 9 am hour. We have deleted the commercial in the middle because of rights issues. There was no intro to the spot.
We would like to point out that this clip comes from a nice 300 hour audio donation to our archival project by a visitor to our website, John Hendricks, who sent us digital files. He says: "Note that these digital recordings are a straight copy of the cassettes.... I grew up in the Montgomery County suburbs and started taping clips of radio programs (beginning) in 1970 as a teenager for my own enjoyment, long before I knew that there were people who recorded and collected "airchecks." We are delighted to have these recordings. The quality varies from tape to tape and as home recording improved.
Listen in Real Audio
Listen in Windows Media Format
Our next audio for this month dates from St. Patrick's Day of 1986. It's from about ten after 1 pm. WDVT, the old WFLN (AM) was doing telephone-talk. From 12:30 pm to 4:30 pm, it was the Frank Ford Show. Frank was very friendly with Jack McKinney. In fact, Jack did some work on the station including filling in for Ford from time to time. However, on this day, Frank was on the air. McKinney was his guest.
The station aired Mutual News at 1 pm. At that time, the Mutual Broadcasting System was owned by Westwood One. Afterwards, Jack and Frank laid the groundwork for their guest for the 1 pm hour. McKinney thought it would be a great idea to get Gerry Adams on the phone. Adams at the time was in hiding in Northern Ireland. Beginning in 1983 and for the next ten years, Adams was an abstentionist Member of British Parliament. While he campaigned and was elected, Adams refused to take his seat in London.
Gerry Adams is (and was at the time of this broadcast), the president of Sinn Féin. They are the third-largest political party in Ireland and the number two party in Northern Ireland. When Adams talks in this broadcast about Republicans, he is not talking about the United States political party, but a similarly named one in Ireland. We are not going to give you a detailed history of the situation in Ireland. There is much information available elsewhere if you wish to read up on the topic.
Now, let's tell you a little about this recording. It was recorded off-air and not from a studio line. However, we do believe that it was recorded at the station at the time of broadcast. We obtained this broadcast from member Maura McKinney Mastro, Jack's daughter. The recording did not include the commercials and where it came time for the spots, the tape was stopped and started abruptly. There were not intros to the spots (most of the time) just a popping noise where the tape was stopped and started. We cleaned it up the best we could and removed the pops. What we present to you now is the complete recording of the live broadcast (okay, it was on a 6 second delay) of the Gerry Adams interview.
Listen in Real Audio
Listen in Windows Media Format
EDITOR'S NOTE: We talked about the station carrying the Mutual News. Here's an interesting sidebar, totally unrelated to the above piece except for the association to Mutual. The network came on the air in 1934 as an off-shoot of the old Quality Network. "The Lone Ranger" was one of the system's biggest shows for decades and originated from Detroit. Amos Muzyad Yakhoob Kairouz lived nearby and wanted to work in radio. Before, he became as radio announcer (using the name of Amos Jacobs), he worked as a sound man. They gave him to coconut shells and he became the sound of the hooves of the great horse, Silver. You may know him better as the founder of St. Jude's Hospital, Danny Thomas.
Today's News Becomes Tomorrow's History!
(This is what our Digital Archival Project, DAP, is all about!)
A LITTLE BIT OF BROADCAST HISTORY!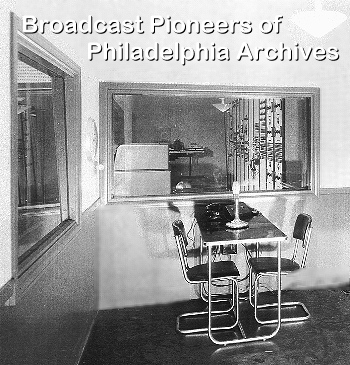 Studio F (The Standby Studio)
KYW Radio
1619 Walnut Street, Center City Philadelphia
1938
Studio F back in the late thirties was the station's backup or standby facility for KYW Radio. Master Control can be seen through the window. Of course, the studio had brand new microphones. Studio F also had an organ console (not seen in the picture). This was part of the new building erected by Westinghouse for KYW.
IN TOUCH WITH OUR MEMBERS:
We heard from member Johnny B. Hall who was in India in early February. He said:
I am speaking to you from Ludhiana, Punjab, India, where we arrived at 4:30 am this morning. We are 10 1/2 hours ahead of the Eastern time zone. It is cloudy and cool and we have no central heating, and showering is done with a bucket and a smaller pail. It reminds me of the remote camping experience I never had.

We would not consider this a vacation, since Ginny is already hard at work on preparing some of the material she will share with the medical staff on the other end of the campus, which is separated from us by a very busy street. We worked hard to get here, and we are experiencing the appreciation of the people with whom we are interacting. This is Ginny's seventh trip here and my third . It is unlike any other experience I have ever had. It is good to be back.
It was good to hear from member Louis Beccaria. He tells us:
I am still very interested in the Broadcast Pioneers luncheons and that is why I am still a member. I haven't been there in quite some time because of the long distance and time involved in getting to and from the luncheon from Phoenixville, Pa. which is where I am employed as the CEO of the Phoenixville Community Health Foundation. My involvement in the media is via my radio show on WCHE, 1520 AM (West Chester) called "Good News Chester County" and my local cable and Internet-based TV show called "AND NOW YOU KNOW." These shows are semi-part of my job responsibilities at the foundation. I have been doing these and other radio and TV shows for the past 17 years.
We heard from member Skip Clayton, who was one of the panelists at our February luncheon. He said: "I just wanted to let you know that Monday, February 20th marked my 20th anniversary of doing Racing Wrap on WBCB Radio, Merrill (Reese)'s station. It was also the 1,044th straight week that I have done the show. One of my guests was Mario Andretti who I have known for 48 years and ironically, he was my first guest back in 1997 when I started to do the show."
Today's News Becomes Tomorrow's History!
(This is what our Digital Archival Project, DAP, is all about!)
A LITTLE BIT OF BROADCAST HISTORY!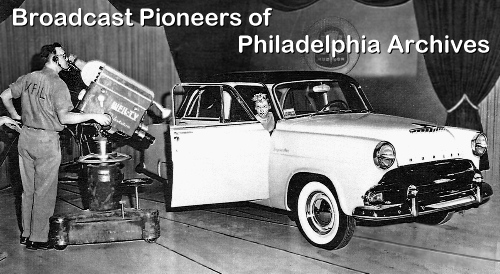 Broadcast Pioneers' Hall of Famer Ed Yates on camera
WFIL-TV
Philadelphia Auto Show
circa 1953
Ed Yates was the director of Bandstand (and American Bandstand) for 18 years. Yates' roll with Bandstand goes back to 1952 and the Bob Horn and Lee Stewart days of the broadcast. Dick Clark, who was inducted into our Hall of Fame in 1992, didn't come on the Bandstand scene until 1956.
Yates had been with the station for a few years and when Bandstand came on the scene, most of the Channel 6 directors thought the show had little chance for success, so Yates was given a shot. When Clark took the show to Hollywood, Yates went with him.
Did you know...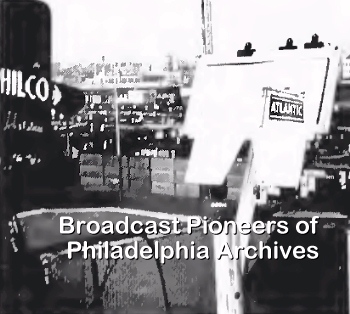 The Atlantic Flip Card Stand and Camera
used for commercials during ball games
WPTZ, Channel 3
1947
This is the final portion of a three part article about how baseball was televised in Philadelphia on WPTZ, Channel 3 during 1947. Part one ran in our January 2017 newsletter and the second installment last month.
Doing play-by-play for the games of both teams were By Saam, Chuck Thompson and Claude Haring. Thompson replaced Roy Neal that year in the announce booth. Like Neal, Thompson was heard on non-baseball programming on WIBG.
Thompson went on to do decades of broadcasting for the Baltimore Orioles. Since radio was more important at that time, By Saam (an inductee into our Hall of Fame) spent most of his time on radio. Haring was heard on both TV and Radio, but more frequently on radio.
Sponsorship of the games alternated between Philco Distributors and the Atlantic Refinery Company. Remember that Philco also owned WPTZ. 1947 was Atlantic's first season of sponsoring televised games. It was their 12th year sharing sponsorship with General Mills on radio.
In 1947, for example, Philco made 12 different two minute commercials (on film). Each plugged a different Philco product. These announcements were run before and after the game. Between each inning, the shot went to the scoreboard and the baseball announcer gave the sponsor a few lines of copy.
There were film commercials between the top and bottom of the third, fifth and seventh innings. The Atlantic plugs were about 20 second flip cartoon spots that included an Atlantic Gas Station, a gasoline truck and the Atlantic dealer sign.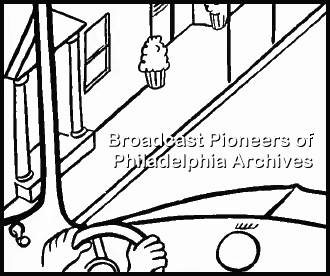 Actual Atlantic Cartoon Flip Card
used for commercials during ball games
WPTZ, Channel 3
1947
There were also cartoon sketch drawings for the longer commercials, about 8 to 10 per commercial. They were flipped as the announcer read the script. These cartoon spots ran about 60 to 90 seconds depending on how fast the announcer read the copy. As they went into the spots, the copy would usually start with "oh, oh, that Atlantic man is here again."
After the commercial (camera two was mainly used for that purpose), the director usually went to Camera One and a close-up of the pitcher. That camera then usually panned to second base. By then Camera Two was repositioned so that it could televise a close-up of the batter, catcher and the home plate umpire.
Now back to Camera One and a wide shot of the field. In this shot, you could see home plate (including the batter, catcher and umpire), the pitching mound and a part of second base.
Televising baseball games wasn't limited to day games. Night games was just as easy with the RCA TK 30 image-orthicon cameras that most stations (seven out of nine) were using at that time. Actually, night telecasts were possibly easier to broadcast because there were no sharp shadows caused by bright, sunny days.
In fact, Rolland Tooke, Assistant General Manager of WPTZ, said in 1947 that televising night games actually looked better than day ones because of the flat lighting. He also said that atmospheric disturbances were less likely at night and thus aided in evening telecasting.
The two stations that didn't use RCA equipment used Dumont image-orthicon cameras. Like any image-orthicon unit, it allowed for a good picture on cloudy and even light rainy days. The cameras could be "stopped down" lower than others allowing a greater depth of focus.
This is important when different players are different distances from the camera, as in a 135 mm shot where the pitcher is twice the distance as the umpire, catcher and batter. The cameras were also more sensitive so that players in the shadows could still be seen while other players were in bright sun.
The cameras had a four lens turret which allowed the operator to change the lens in just a couple of seconds. The first televised World Series took place that year and WPTZ covered it. And now, you know how baseball was televised 70 years ago.
This regular monthly column is written and researched by Gerry Wilkinson
Our special thanks go to TUTV - Temple University Television and The Kal & Lucille Rudman Media Production Center.

They have underwritten a grant to be used to fund an entire year of all our newsletters for calendar year 2017. We thank them so much for their support!

You Can Help Us!



When you log into Amazon via http://smile.amazon.com, all eligible purchases earn Broadcast Pioneers a donation of 0.5% from Amazon. However, you must log in to Amazon through http://smile.amazon.com. We have made it simple. You can also log into them using http://www.broadcastpioneers.com/amazon. It's easy to remember and takes you to the same place.
AmazonSmile is the same Amazon you know. Same products, same prices and the same service. The only difference is that they donate 0.5% of your eligible purchases to Broadcast Pioneers. IT DOESN'T COST YOU ANY MORE TO DO THIS! Same price to you and we get a donation to help us continue with all our great educational projects! IT'S WIN - WIN!
MORE DIGITAL ARCHIVAL PROJECT NEWS:
VIDEO: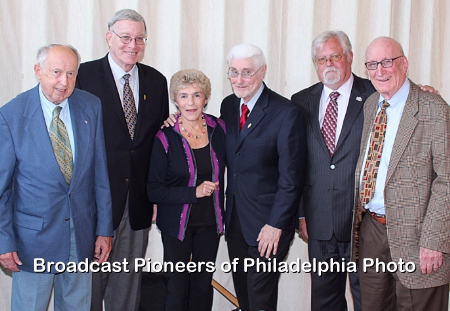 (left to right) Dave Custis, Ed Cunningham, Jane "Pixanne" Norman
Patrick Stoner, Dave Conant and Sam Feinberg (all are members)
Broadcast Pioneers Luncheon, Bala Golf Club, Philadelphia
Wednesday, September 19, 2012
(photo by member Bob Kravitz)
We are going to take you back almost five years ago to our Tribute luncheon for John Roberts. It's Wednesday, September 19, 2012. About a quarter of a century ago, Roberts served as President of this organization and later went on to serve as our Chairman of the Board. John taught for decades at Temple University. He was co-founder of WRTI Radio and a half dozen years later was a co-founder of WHYY. You can find out alot more information about John Roberts on our tribute page.
Our moderator for the tribute was Broadcast Pioneers member Ed Cunningham, Roberts' former student & producer at WHYY-TV and Radio.
Introducing our MC and talking a little about what were upcoming film releases in 2012 was well-known film critic and star of the syndicated TV series (seen locally over Channel 12) "Flicks," member Patrick Stoner.
Our speakers that day at the tribute were (in alphabetical order):
Dave Conant, Station Manager of WRTI, the Temple University radio station
Dave Custis, former producer of "Your Hit Parade" radio broadcasts in the 80s
Sam Feinberg, former Manager of WPHL-TV, Channel 17 in Philadelphia
Jane Norman, TV's "Pixanne" and former John Roberts Temple University student
VIDEO FROM OUR WEB SITE!
Patrick Stoner
Tribute to John Roberts
VIDEO FROM YouTube!
Patrick Stoner
Tribute to John Roberts
(video courtesy of Broadcast Pioneers VP Brad Seecof and Metramedia Broadcasting & Studios)

AUDIO:
Next we have a KYW Newsradio clip from Thursday, July 27, 1967, when the all news format was less than two years old. It's morning drive and a couple minutes after 9 am. We do not know the name of the anchor. However, member Bob Witten, who worked at the station at the time thinks it may be Bob Conville. Member Ed Kasuba says that Vince Lee is a good possibility. There was a good bit of racial unrest in the country at that time. Our report starts off with news from Chicago. The audio in this clip starts where it begins in our audio archive. While we wish we had more, we are grateful to have what we do.
About two seconds into this audio, we have a report from Brad Sherman in New York City. Brad was an anchor for KYW's sister station, WINS in New York City. Sherman went there in 1965 and stayed until his retirement in 1992. Another report on this piece is from Dave Neal. Dave was a stringer who made so much money with the quantity of his reports that the station found it cheaper to put him on the payroll as a desk editor and finally news director.
Listen in Real Audio
Listen in Windows Media Format
Our next piece of audio is from the same half-hour as above. When the anchor gave the news time at 9:06, the station paused for some spots. When they came back, the anchor introduced a three minute piece on the racial situation. Unfortunately, we do not have the spots or the intro in our audio archive. We do pick up the audio where our recording begins. It's a few seconds into a report by Steve Porter, who was the first voice heard on KYW Newsradio when they went with the all news format in 1965. This was one of the last pieces Porter did for the station. A month later, he was in New York City and was the first voice heard on WCBS Radio when they started their all-news format.
Listen in Real Audio
Listen in Windows Media Format
Remember, History is ONLY What Gets Saved!
(If there were no portraits of George Washington, how would we know what he looked like?)
A LITTLE BIT OF BROADCAST HISTORY!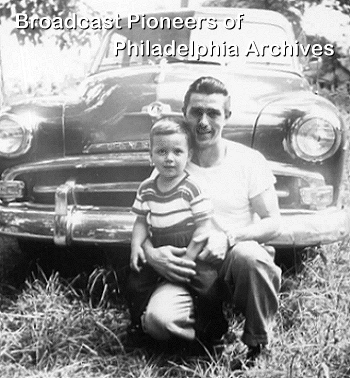 Bob Pantano and his dad
IN TOUCH WITH THE INDUSTRY:
On Saturday, March 11th, the legendary Charlie Gracie will be appearing in the Rrazz Room within the Prince Theater, Broad and Chestnut Streets in Center City Philadelphia. Charlie has played to packed houses throughout the United States and around the world. Gracie's autobiography "Hidden Giant" is still going strong and so is Charlie.
1992 Temple University graduate Tamron Hall has decided to cut her ties with NBC and MSNBC before the expiration of her current contract which was to expire at the end of February. She anchored the 9 am hour of "Today" and was with NBC for the last decade. She took over the seat held by Bill Cosby on the University's Board of Trustees in 2015.
About 90 years ago, the Levy Brothers (both founding members of this organization) became major investors in United Independent Broadcasters, Incorporated, a bankrupt radio network that never got on the air. To make a long story short, it was renamed the Columbia Broadcasting System with Philadelphian Bill Paley at the helm. Paley wasn't the founder of the network, but he certainly was the "builder" that made CBS one of the largest and best broadcast networks in the world. Well, now CBS Radio is going to be merged with Entercom Communication Corporation which is based here in the local area. The new group will have almost 250 stations nationwide and will be headquartered right here in Bala Cynwyd.
CBS Radio Philadelphia's SportsRadio 94WIP announced the addition of Jon Marks to the airstaff. Marks now hosts the 6 to 10 pm shift, anchors the week-day Phillies pre-game and post-game coverage, provides content for CBSPhilly.com and contributes to WIP's daytime lineup.
Marks is a Willow Grove, Pa. native and a graduate of Upper Moreland High School. He attended Hawaii Pacific University and Temple University before starting his radio career at WNJC in Washington Township, New Jersey.

He worked at WPEN-AM/FM from 2006-2016 in various producing and hosting roles. He later co-hosted the station's first morning show on the FM dial. Brian Haddad, who previously hosted the shift, will stay with WIP as their Creative Services Director.
Alicia Nieves has joined CBS 3's Eyewitness News team as a general assignment reporter. Nieves comes to KYW-TV from WNEP-TV in Scranton, Pennsylvania where she has been a reporter and back up anchor since 2015. Previously, she was a Washington, D.C. correspondent for KTVX-TV, the ABC station in Salt Lake City, Utah. Nieves began her career at WBNG-TV in Binghamton, New York in 2013. She is a 2010 graduate of the University of Central Florida where she earned a Bachelor of Arts degree in radio and television broadcasting with a minor in political science. She went on to earn a Master of Arts degree in broadcasting and digital journalism from Syracuse University's S.I. Newhouse School of Public Communication in 2014.
Philly's Bellevue Communications has a new Vice-President of Media Relations. He's Mike Neilon who has spent the last two decades with WPVI-TV 6abc where he was their planning editor. His former daily duties included the planning and execution of Action News' news gathering with special details on breaking news. Before coming to Channel 6, he was a news coordinator with the Montel Williams Show in the Big Apple. Bellevue also recently hired former NBC 10 producer Kareen Preble as an Account Executive. Kareen is a graduate of Syracuse University and has worked in New Mexico and Ohio before coming to Philly.
WE REMEMBER:
Member Peter Duncan passed away last week at the age of 80 from pneumonia. He was a writer and producer of documentaries for WCAU-TV and then became their editorial director. He then went to Blue Cross where he was the director of employee communications. Duncan served on the WHYY board of directors and was chairman of their citizen's action committee. During the sixties, he took a film crew to Vietnam to interview area soldiers. The station aired it in 1966 in a report called "Louder than Guns."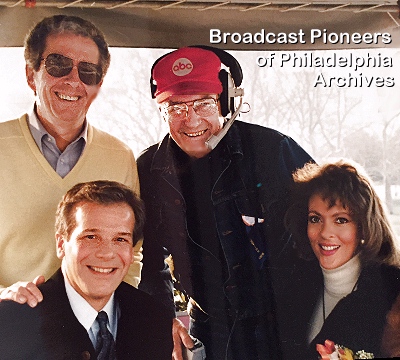 (Left to right - standing) Charlie Bradley and Bill Russell
(Left to right - seated) Dave Roberts and Lisa Thomas-Laury
Thanksgiving Parade covered by WPVI
(photo originally donated by member Dave Roberts)
Charlie Bradley, aged 81, former Channel 6 Program Director passed away in Richfield, Ohio at the end of January. Member Dave Roberts says that he heard this from Charlie's son, Bob. Charlie had been struggling with Alzheimer's for several years. Bradley produced over two decades of parades and Variety Club telethons for the station. Dave said, "Charlie and I worked together in the early 60s in Buffalo, New York." Dave said he did 32 different Thanksgiving Parades with Bradley and Russell. Roberts guessed that Lisa Thomas-Laury did at least 20 of them as well.
ON THE HEALTH FRONT:
Member Robin Adelman texted that because of her pulmonary testing results, she'll need to reschedule her upcoming surgery. Then, Ira, on the way to the supermarket, was involved in a car accident, quoting her text: "some guy barreled down the road while Ira was going across the street to the parking lot. Ira looked both ways and saw no car, so he went. The car was totaled on one side. At least Ira is "ok" but hurting."
Broadcast Pioneers Board member Kal Rudman has been under the weather lately. He was hospitalized for a time last week. We spoke with him twice during the last several days. His voice sounded strong and he is receiving good care. He said to tell you all that he hopes to see everyone at a luncheon real soon. That is, as soon as his doctors will allow it. He should be home by the time you read this.

THIS AND THAT! Little Bits of Information....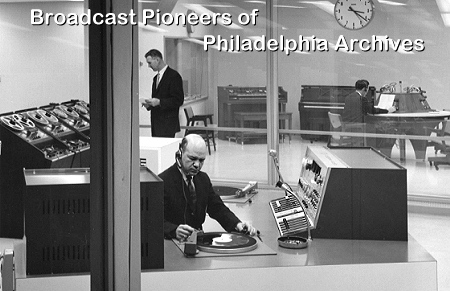 WFIL (AM) Master Control (looking into Studio A)
New City Line Building
circa 1964
It was December of 1953 when Broadcast Pioneers Hall of Famer Joe McCauley hosted the 5,000th broadcast of WIP Radio's all night program, "The Dawn Patrol," which started in the same month during 1938. McCauley was the "chief pilot" of the broadcast since 1942. Previous hosts were Mort Lawrence and the original overnight guy, Fred Wood.
In 1958, Dr. Don Rose of WFIL, Famous 56 fame was doing morning drive on daytimer KWMT, 540 on your AM dial in Fort Dodge, Iowa. The station said that he worked sign on until 9 am. Then he came back at 4 pm and did some of afternoon drive before the station signed off the air. During his PM shift, he gave away records which Dr. Don called, "free samples." By the way, he was promoted as "The Doctor" even back then.
In 1967, legendary DJ Hy Lit met another legend, James Brown, at Philadelphia International Airport. Why? James took him for a ride on his private jet. By the way, the name of the plane was "Soul Brother Number One." While there, Lit took a camera crew with him and recorded a video interview for his TV show which aired live Saturdays at 6:30 pm for an hour on WKBS-TV, Channel 48. The show was also telecast (on tape) the next day over other Kaiser Broadcasting stations.
In 1948, Bob Ardrey moved to WHAT Radio from WNAR, Norristown where Ardrey was PD. Years later, Bob would move to WDAS as its program director. Wayne Cody who portrayed "Uncle WIP" on WIP Radio hosted a morning disc jockey show (under his own name) on WJMJ. Top paid local DJ at the time was LeRoy Miller at WFIL Radio. Miller had moved over from WKY Radio several years before.
By the way, Wayne Cody was a local singing sensation of the early fifties. He recorded for Eddie Wilson's Keystone record label. A country western DJ on WPWA (Chester) also recorded for the label. His name was Bill Haley.
In January of 1950, WPEN Radio became the second station in our market to broadcast all night long. WIP was the first. The overnight show ran into what we, today, would call morning drive. It was on air from 2 am to 7 am and hosted by Toni Spaulding, who the station was Philly's only all night gal. The broadcast was sponsored by Frank Palumbo Ford-Mercury Motors.
During February of 1950, WCAU-TV started a new daily program called "Snellenburg's TV Jamboree," sponsored by the well-known center city department store. Bill Hart was the MC with George Thomas on hand as announcer for the commercials. The program was directed by Warren Wright. Why do you know that name? Warren was the voice of "Willie the Worm."
On May 19, 1938, KYW Radio opened its brand new facilities at 1619 Walnut Street in Center City Philadelphia. They released 400 carrier-pigeons from the structure's roof top sending messages to NBC Radio's President and to the FCC Chairman. The doors were opened with a gold key that was brought to Philadelphia from Honolulu on the ship, "The China Clipper."
THANKS FOR THE MEMORIES:
The Early Days of Television!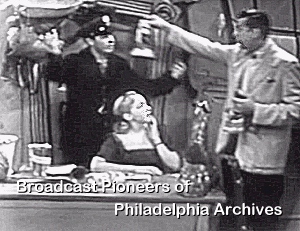 (Left to right) Joe Earley, Edie Adams and Ernie Kovacs
"Ernie in Kovacsland"
WPTZ, Philadelphia
Thursday, August 23, 1951
The above photo is actually a screen capture from 1951 Ernie Kovacs program that was broadcast live on NBC-TV and originated from WPTZ, Channel 3, here in Philadelphia. Since the program was live, the only way to record it was to film it off a TV monitor. Not the best way to record television, but at that time, it was the only way. Videotape was several years away. Many of you may remember Joe Earley as the guy inside the Mr. Rivets suit. The above screen capture is from video of that program included in our broadcast archive. Hardly any of shows Kovacs did in Philadelphia have survived. The quality is not the best, but we consider ourselves lucky to have a little over an hour of Ernie on Channel 3 in our archives.
Edie Adams was in her early twenties when she worked for WPTZ, Channel 3 in Philadelphia. Ernie and Edie married two years after they left WPTZ and went to New York. In 1980, Edie was asked to write a piece for "The Group W News," an in-house organ distributed to Westinghouse Broadcasting employees. It was published in November 1980's issue and here's part of what she said:
My most unusual, amusing discouraging and satisfying experiences in broadcasting all happened during during those early days of live television, when I was the singer of "The Ernie Kovacs Show" in Philadelphia, and later, on the Dumont station in New York.

I had to sing three to eight songs on each of five shows a week. It was impossible to learn all the lyrics, so I'd memorize the songs loosely, often coming up with better lyrics than the original. I remember stealing parts of sets from a soap opera (Miss Susan) to give our show a bigger production look.
Dave Garroway was a one-time resident of Swarthmore. His "Today Show" replaced Kovacs' "Three to Get Ready" on WPTZ. The network gave Ernie his own network show (originating from WPTZ). Actually, it was one of many that Kovacs did on NBC from Philadelphia. Since Dave had some connections with our area, we thought you might like to see what he wrote for the same issue of "The Group W News."
To get my first job as a radio announcer on KDKA (KYW's sister station), I had to audition before a proper board of five solemn men. After we talked for half an hour, one of them asked whether I could ad lib.

"Try me," I said. So they told me to do an ad lib describing Bobby Jones playing the last two holes at the 1930 National Open Golf Championship. What they didn't know was that I was a 2 handicap golfer myself and knew every foot of those holes.

After 25 minutes, the engineer called out, "Stop, hold it. You can go home now. They all left 15 minutes ago." I had been so long at the ad lib that I wore them out. It was my most satisfying experience.

They most amusing thing that happened to me on television was when I disappeared from the screen without warning one day in the middle of "The Today Show." It was my habit to get up from my desk at one point, walk to the weatherboard, do the weather, and then wander back to my desk. One day when I did this, if you were watching at home, you saw me bend to sit down and then abruptly disappear, still talking. Then you heard a roar of laughter.

What happened were the engineers, who are whimsical fellows, tied fishing line to the chair and, while I was at the weatherboard, pulled the chair back. When my rear end dropped to the floor out of sight instead of encountering the chair, the whole staff burst out laughing. After a second or two, the shock wore off and I began to laugh too.
The Writings of Herb Clarke!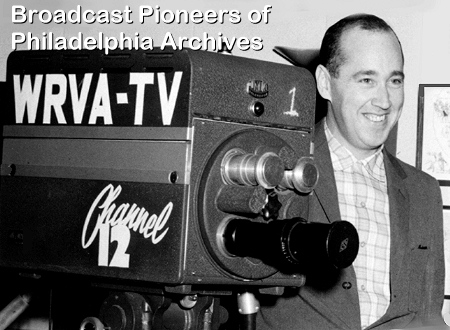 Broadcast Pioneers member Herb Clarke
WRVA-TV, Channel 12
Richmond, Virginia
circa 1956
We miss him dearly. Who's that? Why, our friend Herb Clarke. Herb had been a fixture at WCAU-TV broadcasting our weather to us for 39 years. Clarke was also a special part of Broadcast Pioneers for decades. He was the Broadcast Pioneers' "Person of the Year" in 1991 and was inducted into our Hall of Fame in 1994.
He was President of this organization in 1988 and 1989 and became of Chairman of the Board the following year. He served on our Board of Directors for more than a quarter of a century. We have in our print archive a copy of a book written by Herb Clarke called, "The Times that Made Me - Me." It was a private 300 page printing for family and a few really close friends. We present here a very brief excerpt about Herb's times in Richmond, Virginia. Here's what he wrote:
My father died at age 77 in June, 1951, following prostate surgery. It was the first time he'd ever been in a hospital. Gordon was sent home by a Navy plane on emergency leave. I was given emergency leave when the Navy was notified by the Red Cross while Dad was in critical condition and I stayed through his death and the funeral.

Gordon was ordered back to the Pacific after a brief stay and Daddy died two days later. I was with him when he died. Brother Bill had a large family by then. He was married to Marjorie Perry whose father was superintendent of the Fieldcrest Blanket Mill; they had six children. Bill came down from Richmond for the funeral just before our sister, Jean, flew from York, PA. Jean's husband, Willis Brewer, was an Assembly of God pastor minister there. They also had six children.

For the funeral service at the Eden Methodist Church, which Daddy had founded forty-one years earlier in 1907, was filled equally with blacks and whites.

On August 26, 1952, I was discharged for the second time but stayed in the Naval Reserve. I left the active Navy as a Journalist 2nd Class, but four years later I was commissioned an Ensign in the Naval Reserve.

In 1966, when the Vietnam War was heating up, President Johnson announced the possible call-up of reserves. At that time we had three small children, a mortgage on our Haverford home and a CBS contract. I also had eighteen and a half years of satisfactory service, just short of the twenty years needed for a paid retirement from the Navy. I had also been posted for promotion to Lieutenant Commander in the Reserve. But after two earlier wars, I chose to resign my commission as a lieutenant to end my Navy days.

During the two years of time in the Korean War, I had no contact with WFMY-TV in Greensboro and assumed my job was no longer available. In my last few months at NATO, I heard from the Program Director at WRVA Radio in Richmond. It was the CBS affiliate, Virginia's only 50,000-watt radio station.

From the Amphibious Command at Little Creek and SACANT in Norfolk, I had sent many broadcast stories and tape recordings which WRVA broadcast. He told me he liked my work. "We're in line to get a TV license when the FCC starts granting them after the war in Korea," he said.

There had been no new TV stations since that war began because new FCC licenses were suspended during the Korea War. I told John Tansey, the P.D., when I was getting out of the Navy; Thursday, the 26th of August.

He asked if I could come to work the next day. When I told him I had to go home to see my mother and find some civilian clothes, we agreed that I could come up on Saturday, find a room to rent, and report for work on Monday.

The pay for my six-day week was $75. WRVA's signal covered the area from Richmond through western Pennsylvania, Ohio and most of the Midwest, the northern Rockies, and the western half of Canada. WRVA's studios and offices occupied the entire second floor of the Hotel Richmond.

Across the street from the newsroom and announcers' desks was Capitol Square, home of the Governor's mansion and the Virginia Capitol. The beautiful structure is possibly the most historical state capital in the United States. Prior to the Revolutionary War, Williamsburg was capital of the British Virginia Colony. Following the surrender of Cornwallis at Yorktown, and America's independence, Richmond became the capital of Virginia.
Next month, we'll continue with Herb Clarke's time in Richmond, and hear about his introduction to his future wife Barbara, who was told to avoid him because he was a nuisance.
H. Paul Jeffers!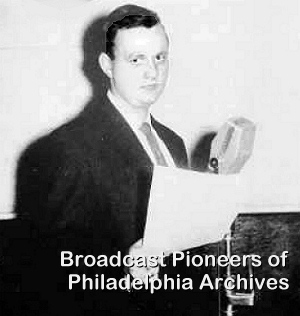 H. Paul Jeffers
WRTI-FM Studios
Thomas Hall
Temple University
1956
The following is an article that was published in the Winter 1968 Temple University Alumni Review. It says:
Above the name H. Paul Jeffers on the door of a 15th floor, east-side Manhattan apartment is a small business card that reads: Marigold Productions, Inc. There isn't a blooming marigold in sight, but to Jeffers, a 1956 graduate of the University (BS in Communications), the little golden flower represents the sweet smell of success. The marigold you see, is the state flower of Illinois, and Illinois is the home state of U.S. Senator Everett McKinley Dirksen, the man who made the recording of "Gallant Men" which has sold nearly one million copies. Sweet marigolds. Sweet royalties. Royalties that help pay the rent on Jeffers' 15th floor apartment. Is that clear? No? Well, it was Jeffers who thought up the idea of having Sen. Dirksen narrate a record dealing with famous men in American history. And it was Jeffers who, in collaboration with a colleague at ABC News, produced the record that eventually was released by Capitol.

Appropriately enough, the gallant men idea first came to Jeffers in Boston. He was there in 1961 as an instructor at Boston university and a moonlighter at a small radio station. Unlike his gallant men heroes, however, Jeffers was timid. He assumed Sen. Dirksen was unapproachable; hence the idea languished. By 1966 Jeffers had grown bolder. In between a trip to Thailand as an instructor at a newly-built, government-owned university in Northern Thailand; a visit to Saigon, and a job offer from ABC News that took Jeffers to New York City. At ABC, Jeffers casually mentioned his idea to fellow newsman Ron Cochran, who happened to know Dirksen personally. Cochran arranged a visit with the veteran Republican in Washington. Jeffers caught the next train to D.C. He came back with a verbal contract with Dirksen.

Subsequently, Jeffers and Cochran arranged to have a private, professional recording firm make a master tape of Dirksen's narration, complete with a full orchestral background. Jeffers wrote the script, Dirksen read it, in his incomparable, old-fashioned oratorical style, the voice mellow, rich and basso, and the records - a 45 rpm cut and the complete LP album - were released in November 1966. The 45 single caused weeping among mothers, sweethearts, and wives of U.S. servicemen in Vietnam, and they had to have a copy. The album made a suitable patriotic Christmas gift. Disc-jockeys were hip to the high-camp appeal of a U.S. Senator as a recording star, and the "Gallant Men" records were off and running.

Forced to leave ABC News because burgeoning writing and record producing projects consume his time, Jeffers currently is working on a children's book entitled, "Gallant Women," for which Senator Margaret Chase Smith (R-Me.) will write an introduction. Already published is a children's book, "Gallant Men," based upon the record script. It also was written by Jeffers and features introductions by Sen. Dirksen. Two more LP albums have been cut by Dirksen, produced by Jeffers ("Man is Not Alone," and "At Christmas Time.") Sales of the former have been unspectacular, while the latter was released late in November, 1967.

In addition, Jeffers has contracted with Senator Mike Mansfield (D-Mont.) For a children's book on the workings of the U.S. Senate. He does his research from his own set of reference books or at one of New York's excellent public libraries. Jeffers also is keeping a watchful eye on the mail, since he has two novels out making the rounds of publishers.

"I know I've improved as a writer," Jeffers tells his friends, "I don't get rejection slips anymore. Now I get nice letters from publishers explaining why they aren't going to publish my book." The writing is done in the study of his handsome bachelor's apartment, from which, on a clear day, one can see blocks of black rooftops, acres of TV antennas, and a neat pattern of streets perpetually glutted with snails-pace trucks, buses, and speeding taxis. To a non-New Yorker, it is a dismal, depressing scene. To Jeffers, it is invisible. He is too busy working to look out the window.

Besides, he knows that the 15th floor of an east-side apartment is along way from the top. And, at 31 he isn't ready to concede that the top is unattainable. He has come a long way from Phoenixville, where his late father was superintendent of a steel company, the same company he worked for all his life. In this sense, Jeffers represents the new American, the educated elite who upward mobility is limited only by individual motivation and intellectual acumen.
In June of 1999, Jeffers e-mailed Gerry Wilkinson (who is now our CEO). He said:
Since my WRTI days I got an MA in journalism at the University of Iowa, spent a couple of years in the army and 33 years in broadcast news in Boston and New York (I'm the only person to have been news director of both of NYC's all-news radio stations), and did a little college teaching along the way (Boston U., Syracuse U., NYU, City College of New York, and Cal State Long Beach) I'm now a fulltime author with 40 books published so far, fiction (detective novels) and non-fiction (history and biography, the latest one President Grover Cleveland, to be published in 2000); and true crime history, the latest a collection of ax murders, also due out in 2000.
An author of over 50 books, H. Paul Jeffers passed away in December of 2009 at the age of 75. He grew up in Phoenixville, Pennsylvania and went to Temple University. He worked for ABC with Peter Jennings for many years.
A LITTLE BIT OF BROADCAST HISTORY!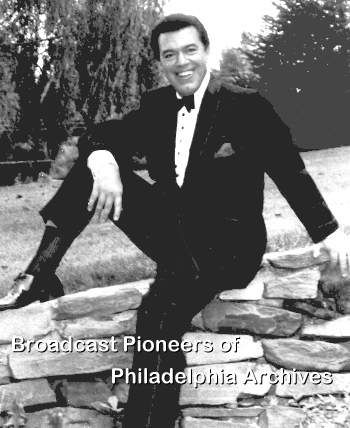 Member Al Alberts
Outside the WPVI-TV Studio
circa 1972
OUR HATS OFF TO YOU FOR GIVING:
We would like to thank the following for their contributions donated at our February luncheon: Bill Kelley, Carol Leebron, Eric Address, Gerry Wilkinson, Lou Tilley, Mark DiGiovanni, Mike Nozilo, Pete Thompson, Steve Sacks, Steve Tatz, T. Morgan, Todd Tuckey, Pam Tuckey, Tom Cannon and Tom Lamaine.

We are a federally recognized, state chartered charity with a 501(c)(3) status. Contact us at (856) 365-5600 or e-mail
pioneers@broadcastpioneers.com
for more details. Your gift to Broadcast Pioneers will help us and may lower your federal income tax. That's win-win, isn't it?
Special Thanks (in alphabetical order) for the gift of Appreciated Stock: (a federal tax advantage for the giver)
Member Marc Howard - $3,600 (put into our general fund to be used where needed)
Member Sylvia Kauders - $5,159.45 (used for the scholarships listed below)
Member Dan Lerner - $5,217.80 (used for the scholarships listed below)
Special Thanks (in alphabetical order) for contribution of $1,000 or more to our DAP, Digital Archival Project:
Member Jerry Del Colliano - $1,000
Member Johnny B. Hall and wife Ginny - $3,000
Member Harry Hurley's Golf Tournament - $1,000
The Shunfenthal Family (in memory of Sherri Shunfenthal's father, Les Waas) - $2,000
Member Marlin Taylor - $1,000
Special Thanks (in alphabetical order) for April 2017 Scholarships:
Member Johnny B. Hall and his wife, Ginny - 7 scholarships
Member Harry Hurley's Golf Tournament - 1 scholarship (for a Stockton University student)
Member Sylvia Kauders - 1 scholarship (from a grant for 5 yearly scholarships running until 2019)
Member Kal Rudman - 5 scholarships (for Temple University students)
Member Marlin Taylor - 1 scholarship
Special Thanks (in alphabetical order) for April 2018 Scholarships:
Member Sylvia Kauders - 1 scholarship (from a grant for 5 yearly scholarships running until 2019)
The Shunfenthal Family (in memory of Sherri Shunfenthal's father, Les Waas) - 1 scholarship
Special Thanks (in alphabetical order) for a contribution of $500 or more to our DAP, Digital Archival Project:
Member Esther Kurtz - $500
Member Art Moore - $500
Member Lauren Lipton - $500
Bequests in their Will:
Member Sylvia Kauders passed away earlier this year. In her will, she bequest to the Broadcast Pioneers of Philadelphia, the amount of $5,000. This funding is to be used to underwrite one scholarship per year until gone. These scholarships will start in the year 2020 and continue until 2024. From a previous gift, Sylvia has underwritten one scholarship a year starting in 2015 and continuing until 2019.

Member W. Carter Merbreier passed away a couple of months ago. In his will, he bequest to the Broadcast Pioneers of Philadelphia, the amount of $1,000. This funding is to be used to underwrite one scholarship which will be awarded in April of 2017.
W. Carter Merbreier Scholarship Fund:
The family of Captain Noah had asked (in the Philadelphia Inquirer) that donations for scholarships in the memory of W. Carter Merbreier can been made to The Broadcast Pioneers of Philadelphia Scholarship Fund. We would like to thank those you have donated: Joyce Haas (Mrs. Harry Haas), Karen Strauss, Art Moore, Elaine Skypala, Marc Howard and Mushinski family, Steve, Hank and member Liz Matt.
Underwrite a complete scholarship and we'll give you credit in the electronic newsletter until the scholarship is awarded in April of 2017. Give us a donation of appreciated stock of $2,000 or more) and we'll list you in our "Thank You" column for two years. Give us a donation of $1,000 or more and we'll list you in our "Thank You" column for a year. Give us a donation of $500 or more and we'll list you in our "Thank You" column for six months. You can select how we use the money: for our archival project, for scholarships or for our general fund to be used as needed.
More Thanks:
A growing portion of the revenues that fund the different activities of the Broadcast Pioneers comes from donations. This includes our archival project and our scholarship program. Now, we are making it even more beneficial for our donors. Broadcast Pioneers is now able to accept gifts of appreciated stock, which provides a significant tax benefit to you. By giving appreciated stock (stock which is worth more now than what it cost when it was purchased), you can get a charitable contribution tax deduction based on the current market value of your stock. At the same time, you avoid the capital gains
tax that would arise if you simply sell the stock. So if you'd like to support our educational mission or our archival project and save money on taxes too, please consider making a gift of appreciated stock. We are a federally recognized, state chartered charity with a 501(c)(3) status. Contact us at (856) 365-5600 or e-mail pioneers@broadcastpioneers.com for more details.
Don't be left out. You too can make a pledge. It's never too late. You can earmark it for scholarships, our Digital Archival Project or our general fund. Thanks so much for your support. If you forgot to make an extra contribution (cash or memorabilia) and would like to do so now, you can do so. We would be thrilled to hear from you at: PO Box 2886, Bala Cynwyd, PA 19004, call us at (856) 365-5600 or e-mail us at: pioneers@broadcastpioneers.com.

A FINAL THOUGHT....
"You know what Pledge is. It shines things. And their advertising always says: 'Nothing Shines Better Than Pledge.' So guess what we use at our house, we use Nothing."
Les Waas
Broadcast Pioneers Luncheon
March 16, 2005

Please contact us by e-mail at newsletter@broadcastpioneers.com or by mail to: Broadcast Pioneers of Philadelphia, PO Box 2886, Bala Cynwyd, PA 19004. Your stories are important, to you, to us, and your colleagues. Contact us today and we'll include your story in the next newsletter!

© 2017, Broadcast Pioneers of Philadelphia
All Rights Reserved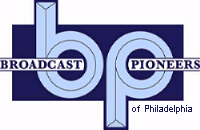 The e-mail address of the Broadcast Pioneers of Philadelphia is pioneers@broadcastpioneers.com
For luncheon reservations call (856) 365-5600 or e-mail us at: rsvp@broadcastpioneers.com