Visit Our Website Often - http://www.broadcastpioneers.com

HALL OF FAME/PERSON OF THE YEAR COMMITTEE MEETING:
There will be three meetings of this committee this year. They will be at 10:15 am, just before the April and May luncheons. Plus, the last will be held on Friday, June 19th at 1:30 pm at B-101. The April 15th meeting is purely "organizational" and is for committee members only. Call for your luncheon reservations and let us know if you'll be attending the committee meeting. Next Board of Directors meeting will be June 17th.
A WRAP-UP ON OUR MARCH LUNCHEON:
On Wednesday March 18th, Broadcast Pioneers of Philadelphia saluted NBC 10. It was a prestigious gathering of talented panelists, including: Tracy Davidson, NBC 10 anchor of "All That and More;" Bill Henley, Meteorologist and co-host of the "10" show; Dave Parker, NBC 10's Assistant News Director; Jamie Simmons, NBC 10's Digital Assets Manager and Lori Wilson, co-host of the "10"show and news contributor.
The panel spoke about the many changes to local news in the digital age and how quickly news can be gathered and reported. Broadcast Pioneers member Bill Baldini was the moderator. Plus, Les Waas told us about the Golden Years of Radio with audio excerpts from our archives. It was a great event and very well received by all those who attended.
WELCOME NEW MEMBERS !
Beasley Reece, CBS 3's Sports Director and lead sports anchor. He's a three-time Emmy Award winner and earned 12 Associated Press Awards. He was drafted by the NFL's Dallas Cowboys in 1976 and the next year moved to the New York Giants.
Trudi Brown is Executive Producer of television at WHYY. She started at WHYY-TV in 1993 as Senior Producer. Under her direction, her productions have won 25 Emmys. Prior to TV12, she was a journalist and documentary producer for WCAU-TV.
Bob Schmidt worked at UPI's Washington Bureau from 1965 to 1972. He was managing editor and anchor for AM and PM Newsbeat on WCAU Radio from 1972 to 1975. He then went to NBC News as radio anchor and then he was a radio correspondent for ABC Radio.
Lou DiCrescenzo, is currently with WBCB (Merrill Reese's station) and has been in the business since 1965. He worked for several radio stations including WNEW, WOR, WROV, WWJZ, WAAT and as Projection Engineer for National Amusements in Voorhees.
Welcome to the Broadcast Pioneers of Philadelphia. We hope to see you at a luncheon soon!
ON THE HEALTH FRONT :
We regret to note the passing of Broadcast Pioneers member William J. Gravino, known to his listeners as Bill Marshall. He passed away on Thursday, March 19th at his home with his wife of 32 years, Cathy at his side. Besides being Operations Manager of WTMR Radio for fifteen years, Bill was also Program Director of WVLT in Vineland and worked at WAMS in Delaware. For 20 years, he also ran (and owned) Action Mobile DJs Service.
IN TOUCH:
As mentioned last month, our May meeting/luncheon will be a WIBG Reunion. Broadcast Pioneers Board member Bill Wright Sr., tells us, the WIBBAGE "Good Guy" Panel is all lined up and ready to go for May 20th. A Featured guest will be Roy Schwartz who was WIBG Program Director during the Golden Years! We're all looking forward to the reunion and the memories!
Broadcast Pioneers Treasurer Pat Delsi is going strong. During the March luncheon, he spoke with this Editor about his upcoming trip to Albuquerque, New Mexico for the first round of the "Big Dance" of the NCAA, calling the action for Drexel University's Women's Basketball. In his 56th year of broadcasting, Pat is like the Energizer Bunny, he just keeps going and going and going!
Attending the March luncheon was Jackie Strauss from the Big Talker 1210. Jackie is the "Neighborhood Correspondent" for the "Remember When" nostalgia call-in talk show airing on Saturday nights from 10 pm to midnight. Jackie tells us, "she works along with three of the nicest guys in radio." Steve Ross, Jimmy Murray and Steve Friedman. Listeners are encouraged to call in with memories of wonderful times gone by. We'll be sure to tune in and share the memories! Thanks Jackie!
MORE IN TOUCH:
Also at the March luncheon was Elaine Freeman of Precise Communications. She was sharing information about Hope Afloat USA, a dragon boat team for breast cancer survivors that practices on the Schuylkill River in Philadelphia. Each 40-foot long dragon boat carries 20 paddlers, a drummer who sits on the bow and a steersperson. The ancient sport has become popular among breast cancer survivors. They're looking for paddlers and for families to attend a "Family Fun Day" on May 30th on Philadelphia's Boathouse Row. For information check out: www.hopeafloatusa.org. Good luck Elaine!
Jane Norman (Pixanne) has been doing international radio interviews in Los Angeles, promoting her CD "With Love," which has been airing on hundreds of stations nationwide.

Both of her newest CD's, "A Perfect Christmas" and " With Love," received rave reviews from Program Directors across the country.

She used to be a green uniformed "Pixanne" on Channel 10 and in national syndication. She's now flown from the magic forest to bring her musical magic to new fans and listeners everywhere.

Keep on flying high Jane!
Broadcast Pioneers member Bobbie Shaffner heard about the Frank Ford Tribute in April and wanted to share a story. On a cold, snowy Christmas night when Frank was broadcasting over WPEN from the Hunt Room of The Bellevue Stratford Hotel, he put her on the air with a string band captain, Hy Seflin. As the program progressed the song she and her husband had written, "Philadelphia (Philly, I Love You)" was given its first public airing. Subsequently, they joined ASCP and became recognized songwriters. It all started with Frank Ford! Thanks for sharing Bobbie!
Our Nominating Committee, chaired by Dorie Lenz, has selected our slate of officers for 2009-2010: Bill Webber, Chairman of the Board; Gerry Wilkinson, President; Jerry Klein, Kal Rudman and Frank Stone, Vice-Presidents; Carol Leebron, Secretary and Pat Delsi, Treasurer. Board of Director nominees are: Diego Castellanos, Dave Abramson, Dave Custis, Lydia DeGuio, Cissie Hurst, Shirley Morris, Alan Tripp, Sally Berlin, Dick Kearney, Carter Merbreier, Mike Nise, Barry Reisman, John Roberts, Mike Brooks, Herb Clarke, Loretta Bove Crowell, Sheree Goldflies, Paul Gluck, Dorie Lenz, Joe Pellegrino, Les Waas and Bill Wright, Sr.
SCHOLARSHIPS!
Just at press time, our scholarship committee selected the winners of this year's scholarships. They are:
Adam Bradshaw, a sophomore from Rowan University
Shari-Gay Chrishna DaCosta, a sophomore from Temple University
Gillian Davis, a junior from Cabrini College
Charles Murphy, a sophomore from Drexel University
Rebecca Petner, a junior from LaSalle University
Patrick Rosenbaum, a sophomore from Temple University
Thomas Rossi, a junior from LaSalle University
Paul Russo, a sophomore from Rowan University
Danielle Sacco, a junior from Temple University
Monica Sellecchia, a junior from Temple University
Nicole Stefano, a junior from Rowan University
Heather West, a junior from Villanova University
A final thought...
Speaking of her late husband whose real name was Ed Felbin:
"Some called him Frank. Some called him Ed and some combined the two and addressed him as Fred"
Lynne Abraham
District Attorney of Philadelphia
March 6, 2009

© 2009, Broadcast Pioneers of Philadelphia
All Rights Reserved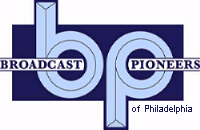 The e-mail address of the Broadcast Pioneers of Philadelphia is pioneers@broadcastpioneers.com
For luncheon reservations call (856) 365-5600 or e-mail us at: rsvp@broadcastpioneers.com