Visit Our Website Often - http://www.broadcastpioneers.com

ATTENTION BOARD MEMBERS:
The next board meeting will be on Wednesday, June 16th at 10:15 pm. Beginning in September 2010, board meetings will move from every 4 months to every 3 months with board meetings in September and December of 2010 plus March and June of 2011. Mark your calendars.
ATTENTION HALL OF FAME/PERSON OF THE YEAR COMMITTEE MEMBERS:
You must be assigned to this committee in order to attend. Members will be notified by mail as to the time and place of this committee's three meetings.
MARCH LUNCHEON REVIEW:
With well over 100 folks in attendance, the March luncheon was another huge record breaker! Our "40 Years of Action News" was truly a memorable event. Another record-breaking crowd experienced the true story of "Action News" from our celebrity-packed panel that included: Mike Davis, Marc Howard, Lew Klein, Steve Levy, Monica Malpass, Matt O'Donnell, Joe Pellegrino and Don Tollefson, We had so many experts there, we couldn't get them all seated at the table. Our superb moderator was Broadcast Pioneers member Larry Kane, who anchored the very first Action News Broadcast on Monday April 6, 1970.
Introductory remarks were delivered and "sung" (We don't even ask why anymore) by Broadcast Pioneers Board Member Bob Kravitz, photojournalist for Action News for decades. Plus calling in from South Carolina was Action News' first meteorologist, Dr. Francis Davis. A wonderful touch of humor was provided by Broadcast Pioneers Board Member Les Waas describing the "Best Kept Secret of the Broadcast Pioneers." It was such a secret that we can't even tell you here.
The panel oozed enthusiasm and warm memories of past and present experiences with Action News. A wide variety of topics and numerous personal insights from the group provided an informative, entertaining and "once in a lifetime" gathering of TV legends we all know and love. It was a very special afternoon with very special people, both on stage and in the audience. To hear audio, see video and view photos from the event go right here!
HEARD AFTER THE LUNCHEON:
"It was a delightful get-together. For many years it was the number one TV Newsroom in the country. It has been an engine of television news in the country and I'm so proud to have been there." Marc Howard
"I'm one of the original Action News Editors. It was great to share in so many good memories." Harry Thomas
"Going back with all these guys, we were kids then. We had a great time and were very lucky to ride a great wave through television news." Mike Strug
"I loved today! Seeing old friends was wonderful, but talking about the best time you've ever had in broadcasting was very special." Steve Levy
"Today was wonderful, nostalgic, but also looking to the future. The new media competition will present a whole new set of challenges." Lew Klein
"This was a great celebration of Channel 6. A great celebration, about a great tradition. Very happy to be part of it." Larry Kane
"Today was more than superior. They are knowledgeable veterans and the best." Dorie Lenz
"Today's luncheon was spectacular. Lew Klein was 17 and I was 15 when he was the first person to put me on the air at WPEN." Kal Rudman
MORE IN TOUCH:
Broadcast Pioneers member Anthony DiFlorio has advised us of an event at the Annenberg Center for the Performing Arts in early May. A show featuring featuring Frank Sinatra, Jr. and his band is called "Sinatra Sings Sinatra." Frank Jr.will be immortalizing the music of his legendary father, and showcasing his own talents as a singer and musician. The concert will raise funds for the St. Ignatius Nursing Home.
Broadcast Pioneers member Tom Moran passed along some info from a friend about member Ed Hurst and his wife Cissie who passed away last year. Turns out there was a connection between Ed and Penn State University, according to "The Penn Stater," the Penn State Alumni magazine. Cissie was a Penn State grad and producer for 12 years of the Variety Club Telethon on WPVI, Channel 6. Apparently, at the time the program director was not a big fan of women, according to Ed who stated, "He tried to cut her legs off. Needless to say he failed, which testifies not only to her skill, but also her persistence in an era when female television producers were extremely rare. She was the most accurate, credible woman I ever met." Cissie served on our board for decades, and her husband, Ed now fills that position.
Broadcast Pioneers members Joe Terry and Frank Maffei, original members of the Rock & Roll group "Danny and the Juniors" wanted you to know that there will be a cancer research fundraiser dinner buffet on Friday, April 23rd. Pennies in Action® was founded in 2007 by Uschi Keszler, well-known Olympic athlete and coach, championship ice skater and double cancer survivor. Call (610) 909-0428 or e-mail ukeszler@gmail.com
We recently noticed some Internet bloggers and radio posting boards talking about WWKB-AM in Buffalo. It's the old WKBW, former home of Joey Reynolds who worked for years here in the Philly market. Seems they were discussing the station reducing its transmitter from 50,000 watts in an effort to save on the electric bill. Curious about the situation, Newsletter Editor Frank Stone spoke with Greg Reid, Vice-President & General Manager at the station. Greg told us, "we're a $25 million operation, to cut back even minimally, the savings would be insignificant. We're on a back up transmitter right now while we search for parts!" So much for that rumor!
Janet Zappala who we are know from her TV days at NBC 10, CN8 (now called The Comcast Network) and Fox 29 is a certified nutritional consultant. She has written a cookbook called, "My Italian Kitchen." The Emmy winning journalist included in the book her mom's recipe for Marinara Sauce with Meatballs. Janet said that she and hubby Steve Brody have a good arrangement. She cooks and he cleans the dishes afterwards. Hey, Steve! Ever heard of paper plates?
Broadcast Pioneers member Larry Mendte has been doing commentaries on WPIX-TV, Channel 11 in New York City for the last couple of months on their 10 pm newscasts. The station is owned by Tribune Broadcasting which owns WPHL-TV, Channel 17 here in Philadelphia. We have a few of them here for you to watch!
Climate Change, 3-20-10
The Soda Tax, 3-19-10
Larry talks about his colon!
By the way, rumors continue to fly that Mrs. Mendte, better known as Dawn Stensland (also a member of this organization) is considering a run for the United States Congress this year. It's already too late to run in either major party so she would have to run as an independent. The Daily News has reported that the Mendtes are looking for a home in Delaware County so she could run for the seat being vacated by US Congressman Joe Sestak who is not seeking re-election.
NEW OFFICERS & BOARD:
Kudos to our retiring Chairman of the Board Bill Webber for his five years of service in that position. He is the longest serving person ever to hold the Chairmanship. We thank him for his many years of service. Webber will continue to serve this organization as a member of our board.
Our new year begins on July 1st and at that time, we will be redistributing the duties of our top two positions in this organization. Our current president Gerry Wilkinson moves up to become Chairman of the Board (keeping most of his current responsibilities) and our first Vice-President Jerry Klein moves up to become President (with a great expansion of his responsibilities). In the last four years, this organization has almost doubled in size. That's a truly remarkable feat. This re-organization is necessary in order to continue growth, further develop our DAP, Digital Archival Project and to greater serve the current and former broadcasters of the Delaware Valley.
Other changes include Bill Wright moving from being a member of our board to Vice-President. We will have two new board members, Bill Gellhaus and Paul Big Bear. All other persons remain in their current position.
BROADCAST PIONEERS COLLEGE CAREER NIGHT: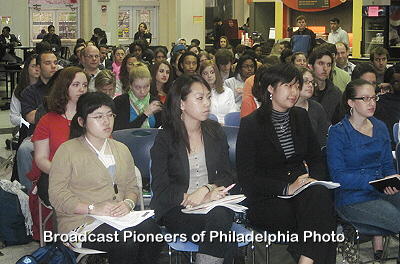 Part of the college student audience at the
Broadcast Pioneers' Career Night at Temple University
Tuesday, March 23, 2010
On Tuesday, March 23rd, from 6 pm to 8 pm, the Broadcast Pioneers presented our seventh annual; College Student Career Night, this time on the campus of Temple University. Bill Webber, our Chairman of the Board, was the moderator. Pat Delsi was on the panel as well as Broadcast Pioneers members Caroline Welch and Linda Munich, both Vice-Presidents for 6ABC. Also on the panel was Mara Webb, Creative Services Producer and Writer for WPVI-TV. It was attended by 120 college students, our largest crowd yet.
Mara attended our 2002 College Student Symposium at NBC 10. She was interested in getting an internship, but the NBC 10 deadline had already passed. However, she was referred to 6ABC and Linda Munich, who took her as a Creative Services intern. Shortly before her graduation from Villanova University, Caroline Welch offered her a full-time position in the department. Mara is a good example of why we do for college students, helping the next generation get into the broadcasting business. FYI, our fall 2010 College Student Symposium will take place this year at the facilities of WPVI-TV, 6ABC here in Philadelphia.
DIGITAL ARCHIVAL PROJECT NEWS :
Wonderful news! As you may know, we have in our video archive over 100 original one-inch video masters of "The Al Alberts Showcase." They were donated to us by 6ABC, WPVI-TV last year. Well, the first group of programs have now been digitized. Some year, there will be no working one-inch video machines in existence. It is an antiquated format, so for preservation purposes, these programs must be converted into a storable, current digital format in order to survive the decades ahead. The process has now begun.
Last month, we ran a photo of WCAU Radio broadcaster Powers Gouraud with George M. Cohan. The picture dates from 1934, and we thought we were lucky to have what we had (which came from microfilm). Well, today we now have a much better version.
(Left to right) Powers Gouraud, George M. Cohan and Stan Lee Broza
WCAU Radio
early 1934
While it isn't perfect, it is alot better and we are delighted to have it. Also, the new version reveals that WCAU Radio's Program Director Stan Lee Broza (this organization's first president) was also in the snapshot. While not perfect, it is the best we can do considering that the copy we received was one inch by less than two inches in size. It was part of a WCAU Radio brochure that was donated last month by Broadcast Pioneers member Roger Hendler, an active contributor to our archival project. We can't do it without you, our members. Keep sending in stuff. Thanks.
Broadcast Pioneers member Johnny Hall has donated a copy of "Ted Mack and the Amateur Hour" TV program that he and his father were on during June of 1958. That program has now been digitized and is in our archives. The Halls played the musical instrument called the "Bones." It often is made of real bones but in this country, it would be much more likely to be pieces of wood. A variation of this is substituting spoons which we would refer to as "playing the spoons." Originally, the "bones" as a musical instrument dated back to the time of Ancient Rome and Greece.
Last month, we ran a photo showing John Facenda, Edie Huggins and two unidentified males. The unidentified man standing (with headset) is the late Jess Schooley who was an Assistant Director (floor manager) supervisor. The man sitting next to John is the late Peter Klein who was an Assistant Director (floor manager) and appears to be running a teleprompter. Within a couple hours, we received three different e-mails from members, all who identified Schooley and Klein. Since the newsletter is actually a page on the Internet, we quickly added the additional information, long before most members even saw the March newsletter. Isn't technology (and our members) wonderful? We think so.
And we heard from Jess Schooley's son Robert who sent us several photos he took as slides when he was in the WCAU-TV studio during "The Gene London Show." Here's one of them.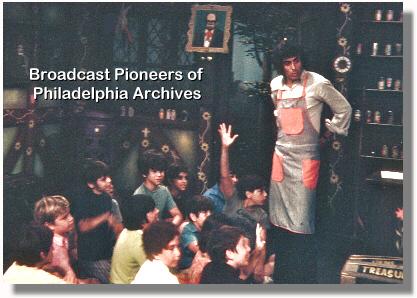 Broadcast Pioneers member Gene London
WCAU-TV Studios
circa 1974
A month ago, we told you that Sue Wright, Nat's widow, was donating a couple boxes of old audio reel to reel tapes. They have now all been digitized. Not only do they include Nat on WIP Radio where he was a mainstay for a quarter of a century, but also some pre-WIP broadcasts from WWDC in Washington. Here's two cuts from a Nat Wright beeper news report about a PTC Elevated train derailment. Can anyone help us date it? We know it's between 1961 and 1968. The reports were fed to the station via telephone, one after the other.
Report #1
Listen in Real Audio!
Listen in Windows Media!
Report #2
Listen in Real Audio!
Listen in Windows Media!
We are still looking for volunteers to assist us with our DAP, Digital Archival Project. We need all kinds of help. Plus we need people interested in writing bios and other stories for our website. PLEASE! WE NEED YOUR HELP! If you're interested, please call us at (856) 365-5600 or e-mail at pioneers@broadcastpioneers.com.
Remember, History is ONLY What Gets Saved!
(If there were no portraits of George Washington, how would we know what he looked like?)
ON THE SCENE: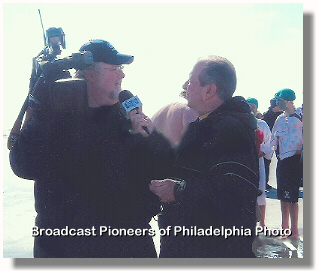 (Left to right) Mike Teiper and Frank Stone
The Broadcast Pioneers Newsletter was on the scene for the annual "Leprechaun Leap Foundation" Polar Bear Plunge in North Wildwood, New Jersey. The event benefits the families of fallen police officers from Philadelphia. On location for the event was CBS3 photographer Mike Teiper who told us, "this is all for an excellent cause, but bake sales are a lot more cozy…the ocean was 37 degrees …these people are brave souls."
We were also " ON THE SCENE" for a rehearsal of the Cardinal Dougherty High School Alumni Band preparing for Philly's St. Patrick's Day Parade. CBS 3 Anchor Chris May chose the high school band to profile because the learning institution will be closing in June. During its prime, in the sixties, Cardinal Dougherty High School had 6,000 students enrolled and was declared the world's largest Catholic high school. We asked Chris why he selected this band, he said; "So people can know who these guys (and gals) are. There's such a commitment and passion to the band. They're extraordinary and the history speaks for itself. By the way, I hope to be a Broadcast Pioneer in 10-20 years!" Newsletter Editor Frank Stone was a percussionist with the band and a 1963 graduate.
A final thought...
After winning 8 games in a row; "We (the Eagles) go in to play Cleveland on one of those Lake Erie afternoons; the wind was blowing and it was snowing. The fans (in Cleveland) hated us so much that they threw beer cans at us with the beer still in them. They really wanted to hurt us."
Tom Brookshier
January 19, 2005
Broadcast Pioneers Luncheon
Photo Editor & Archival Historian - Gerry Wilkinson
© 2010, Broadcast Pioneers of Philadelphia
All Rights Reserved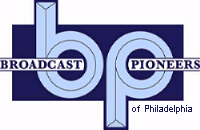 The e-mail address of the Broadcast Pioneers of Philadelphia is pioneers@broadcastpioneers.com
For luncheon reservations call (856) 365-5600 or e-mail us at: rsvp@broadcastpioneers.com