The Broadcast Pioneers of Philadelphia is a federally recognized, state chartered charity. We are a 501(c)(3) non-profit corporation serving Philadelphia since 1962.

Frank Stone
Newsletter Editor

April Luncheon
The Bala Golf Club
Wednesday, April 20, 2011

Reception at 12 noon
Lunch at 12:30 pm
Ratecard: $25 per person

RESERVATIONS REQUIRED!
(856) 365-5600
rsvp@broadcastpioneers.com

On Wednesday, April 20th, we will again have another BLOCKBUSTER luncheon for you. We have several speakers for you.. Our main speaker will be Karen Curry, the Executive Director of the Rudman Institute at Drexel. But wait 'til you hear about her career! She was the London Bureau Chief for NBC News. Then she became Vice-President and New York Bureau Chief for CNN, where she ran the network's coverage of 9/11. Plan to be there, because this is a luncheon you will not want to miss!
Introducing Karen will be Broadcast Pioneers member Allen Sabinson. Allen is Dean of the Antoinette Westphal College at Drexel University. But, again, this doesn't tell you the whole story, and he's so much more than that. Allen was Senior VP of Programming for A&E, Executive Vice-President at TNT, and President of Production for Miramax; he also held high level executive positions with ABC-TV and Showtime.
The goodies don't stop there. On tap, we also have Scott Palmer, Director for Public Affairs for the Philadelphia Phillies and former Sports Anchor for Channel 6, WPVI-TV. Expect Scott to talk about his TV days and his responsibilities with the Phils.
Plus, postponed from last month, we'll have Amy Burkett, the senior VP of Programming at WLVT, Channel 39, PBS in the Lehigh Valley. Burkett is also the current president of the Mid-Atlantic Chapter of NATAS. Last year, Broadcast Pioneers member Big Al Meltzer was supposed to receive the Governors Award from NATAS and was taken ill just before the presentation. On April 20th, NATAS' president will officially present the award to Big Al at our luncheon.
Our April luncheon is one that will be remembered by many folks, particularly the sixteen winners of $1,000 scholarships that will be awarded that day. Thanks to the wonderful record-breaking attendance at the (November) banquet as well as underwriters like Broadcast Pioneers Vice-President Kal Rudman, the Adelmans, Sylvia Kauders and Esther Kurtz (in memory of her late husband, David Kurtz, founder of B-101), we are awarding the largest number of scholarships in the organization's history! Included in these 16 scholarships will be one in memory of Harry Kalas and two in memory of our former Chairman of the Board, Bill "Wee Willie" Webber. This significant accomplishment is testimony to the ongoing growth of Broadcast Pioneers and to the support of our membership, friends and supporters. We congratulate this year's scholarship winners, who were selected from a pool of 322 applicants. Special thanks also to Dr. Diego Castellanos, chair of the scholarship committee, and its members for their dedicated effort.
Make your reservation early and be assured of a seat. The program is a must-see that will be both entertaining and informative. Don't miss this power-packed luncheon! Everyone who's anyone is going to be there! It all happens at the beautiful Bala Golf Club, 2200 Belmont Avenue in Philadelphia! Just minutes away from Channels 6, 10 and 17, plus the radio stations in Bala Cynwyd. Meet and greet (networking) starts at noon and lunch will be served at 12:30 pm. Be sure you have your place by making your reservation(s) NOW. Call (856) 365-5600
The cost is still only $25 per person. This is our 6th year without a price increase! That gets you a full-course lunch including salad, entrée, coffee or tea and dessert served at 12:30 pm. There's also a crudite and cheese table. Cash bar available all afternoon. Plenty of FREE parking or valet service. The luncheon is open to all our members and any person in the industry or associated fields, whether active or retired. You do not have to be a member to attend. Call NOW with your reservation(s), (856) 365-5600! Come on out and be a part of one of the fastest growing organization in the country! We wanna see your face in that place.

Visit Our Website Often - http://www.broadcastpioneers.com

A LITTLE BIT OF HISTORY!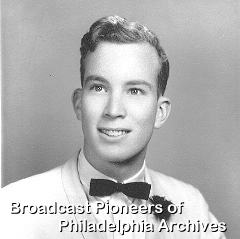 Broadcast Pioneers member Ed Cunningham
Official High School Photo
circa 1964
NEW SLATE OF OFFICERS & BOARD MEMBERS:
On July 1st, our new slate of officers and board members will take office. Pretty much everything stays the same except Kal Rudman returns to our board after serving four years as Vice-President and Paul Gluck moves from the board into the VP slot. Retiring board members are Herb Clarke, Dave Custis and Alan Tripp. All three will become Board Member Emeritus. New board members will be Ed Eisen, Bill Kelley and Brad Seecof.
FOR COMPLETE LIST OF OUR 2011 - 2012 OFFICERS & BOARD MEMBERS, CLICK HERE!
WELCOME NEW MEMBERS:
Again, this month we have another great group of new members. They are: Rob Jennings, Renee Chenault-Fattah, Cherie Bank, Bruce Greenberg, Julie Bertha-Vasquez, Art James Metzler, Daniel Fleishman, Frank Krider and John Knapp.
For more details about these new members, click here!
We are thrilled to have these new members. They've helped to bring our total membership up to 428 (an all-time record). We hope to see as many of you as possible at the April luncheon.
SCHOLARSHIPS:
Each year, the Broadcast Pioneers of Philadelphia awards scholarships to outstanding college undergraduates. This year, we will be awarding sixteen $1,000 scholarships. The scholarship winners will receive their scholarships at our April 20th luncheon.
Our winners are (in alphabetical order):
Daniel Angelo – Neumann University
Karen Blyton – Temple University
Grace Buttery – Drexel University
Julia Cameron – Villanova University
Kristen Conner – Rowan University
Luis Cruz – Temple University
Tyler Czajkowski – Temple University
Kristin Gobberg – Villanova University
Stephen Jiwanmall – LaSalle University
Julia Lull – Villanova University
Richard Mach – Drexel University
Christina Maxwell – Rowan University
Megan McNerney – Temple University
Kerry Miles – University of Delaware
Martine Pelletier – Drexel University
Caitlin Weigel – Temple University
IN TOUCH WITH OUR MEMBERS:
Member Al Primo, creator of Eyewitness News, has let us know that he has been selected to receive "The Mark Twain Award" next month. It will be presented by the Connecticut Press Club. Primo's latest venture is "Teen Kids News," which is carried locally at 12:30 pm on Saturdays on WTXF-TV, Fox 29. Congratulations, Al.
Board Member Alan Tripp tells us that his son Jeff invented "Hyperkeys." It's the first keyboard that lets you slide the keys forward or backward, bending the notes as you would with a string instrument. You can see an example of this instrument here!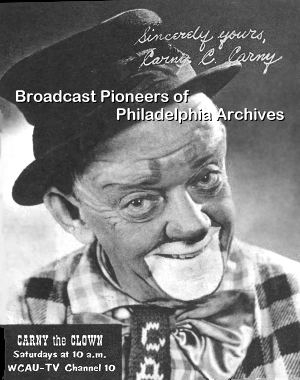 Harry Levan as "Carny C. Carny"
WCAU-TV Official Photo
1958
Well, it looks like we solved the correct spelling of "Carny the Clown." It's Carny. No e in the name. Special thanks to Broadcast Pioneers Board Member Dick Kearney for supplying the photo. Broadcast Pioneers member Gene Crane tells us that the proper spelling of Levan's name is with a small v: Harry Levan. Gene says:
Harry Levan (was the) correct spelling and if you asked what the C was for, he would reply "Crestview 8-3906". He was the sweetest old guy.
Member Ron Joseph, known to everyone as RJ, tells us that his TV show on WZBN is now on the Internet. The station streams on U Stream and you can watch WZBN here live. You must have ActiveX Control running on your computer to watch. Many computers already have the ActiveX Control already running. The show airs Sundays at 4 pm.
Member Stephen Gary often sets out early on Sunday mornings to set up at Lancaster County flea markets to sell antiques and collectibles. Just after 3 am on Sunday, February 27th, he crashed into a deer on the Pennsylvania Turnpike a little west of Valley Forge. The front of his mini-van was destroyed but he was OK. "One moment I was driving in complete darkness and the very next there was a deer standing smack in the middle of my lane. It could have been worse."
Board member Les Waas received a nice mention in "Psychology Today" recently. The article talks about how he is the greatest procrastinator in history. It says that he keeps on "putting off death." Well, we hope that Les will keep putting it off for another half-century. By then, we'll have had enough of Les, but by then most of us will be too old to really care. Waas has been putting off things for as long as he can remember. In fact, he was born two weeks late. You may want more, but we'll always prefer to give you Les.
In case you didn't know, member Gary Mirkin, who worked at Channels 3, 12 and 29, has a brother whose name is David. David Mirkin started as a stand-up comedian and moved into television, but we would know him best for his work on the animated television series"The Simpsons," where he has served as Executive Producer. He was also a writer on "Three's Company, Executive Script Writer for "Newhart" and writing consultant for "It's the Garry Shandling's Show." Gary Mirkin is involved with the Broadcast Pioneers DAP, Digital Archival Project.
New member Julie Bertha-Vasquez follows in the footsteps of her grandfather. She tells us:
I'm excited to join and support Broadcast Pioneers because, for me, it is a way to honor my grandfather, Herbert Schwarz, who was the true broadcast pioneer. He worked at KYW-TV, Channel 3, from 1950 (then known, of course, as WPTZ) through 1979. He built sets for Ernie Kovacs. He took great pride in his set design and construction and was an expert carpenter and he worked as a cameraman and film editor for news and on The Mike Douglas Show. He worked at WCAU from around 1982 to 1987, then continued working per diem back at KYW until shortly before his death in 1992. When I entered KYW-AM's News Studies program as a high school senior in 1989, he was so very proud to have someone in the family follow in his footsteps.
Associate member Jackie Strauss told us about some important dates. The 2nd Annual "Mr Movie Film Festival" in memory of a dear friend and colleague Steve "Mr. Movie" Friedman took place on Sunday, April 3rd, at the Ambler Theater. The event was a throwback to the 60's with a Battle of the Beehive contest, dance contests and the showing of the movie "Hairspray." Picnic in the Park II will be 3-7 PM on Sunday, May 15th, at the Wilson Farm Park, Wayne, PA (rain date May 22). The "Art Wilson & Co." band will be playing favorite oldies, along with DJ Rick Lesley. Some of Jackie's pals will be there, including Steve Ross, Jimmy Murray and Steve's mom Mildred. All are from"Remember When," on which Jackie appears.
Congratulations to Broadcast Pioneers Vice-President, Hall of Fame inductee and 2007 Person of the Year Kal Rudman, who was honored on March 15th on the occasion of the 140th Anniversary of the Philadelphia Fire Department, for his ongoing support for many years to help increase awareness of fire prevention. As well as direct contribution of smoke alarms and promotional programs, Kal has underwritten the cost of college tuition for many police and fire members at Holy Family College. The program copy stated,"His support has been key in making Philadelphia a safer place to live and work…" Well done, Kal!
Broadcast Pioneers Vice President and board member Frank Stone has been appointed to a position on the Planning and Zoning Board of the Borough of West Wildwood, New Jersey. He will serve a four-year term.
Eugene Creighton, a visitor to our website, e-mailed us from Bermuda. He wanted to know if member Jay Lloyd (of KYW Newsradio) worked on the island many years ago. Creighton said that Lloyd had "a very distinct voice and it was a pleasure listening to him." Well, we heard from Jay who said:
I am the one he's asking about. I worked at ZBM in Bermuda from 1956 to 1958. I was on the air there earlier doing a radio show for the U.S. Navy. I was Coast Guard, loaned to the Navy for the show. After my discharge, I went back to Bermuda and went to work for ZBM. What a great time and great people. Bruce Morrow and I worked there at the same time.
We heard from member Joanne Calabria, Vice President of Public Affairs for the CBS Television Stations Group. She told us:
I thought you would like to know that we finally got a little history up on the not so new (four years old now) station walls (at CBS 3 and the CW Philly 57). Twenty historical photos were recently installed with more to come in the future. A slide show is available for viewing.
SEE THE PHOTOS BY CLICKING HERE!

Did you know...
Broadcast Pioneers member Tom Moran brought our attention to this story. The Paley Center for Media has had Ron Simon as its curator since the early 1980's. The Center had on its Top Wanted List the very first Super Bowl Game from 1967 between the Green Bay Packers and the Kansas City Chiefs.
DIGITAL ARCHIVAL PROJECT NEWS:
Member Fred Woskoff send us a bunch of WKBS-TV, Channel 48, memories. We have also included a photo of Fred from 1969. At the time, he was coaching the WRTI-FM basketball team who were playing the guys from WRCP. Our current Broadcast Pioneers President Jerry Klein was the referee. We have also included some audio from the end of the game, which was played at the Palestra. GET MORE OF THE STORY BY CLICKING HERE!
Jim O'Brien
WPVI-TV, 6ABC
Thursday, March 29, 1979

Rob Jennings
WPVI-TV, 6ABC
Thursday, March 29, 1979
We dig back into our video archive to March of 1979. About a hundred miles west of Philadelphia is Middletown, Pennsylvania, the location of Three Mile Island. There, we saw a partial meltdown of the nuclear core at the power plant. Just like events today in Japan, everyone was watching and waiting to see what would happen.
We have a 4 minute clip from the 5:30 pm edition of Action News on WPVI, 6ABC. The anchor was Jim O'Brien. (By the way, our September luncheon is currently planned to be a Tribute to Jim O'Brien.) These were the days of film for field reporters. First up in the clip is Mariellen Gallagher in Hershey (Mariellen went on to be Vice-President for Rockefeller University) and then Broadcast Pioneers member Rob Jennings talking about how and if the nuclear accident will affect the Delaware Valley's milk supply.
A word about the video. Our original source material is a Sony 3/4 inch video tape from Channel 6. It is obviously a dub from the master airchecks. On this tape, they dubbed important news stories to keep in the station's archive. So our source material is one generation down from the original station masters (which were not saved but only used to make this tape and others like them.) We also know that 3/4 inch tape does not age well. The tape oxide causes a problem with "head clogs" and other problems. However, this particular tape seemed to be in pretty good condition. We are thrilled to have this material in our video archive thanks to 6ABC, WPVI-TV.
Watch with Real Video!
Watch with Windows Media!
Broadcast Pioneers Board Member Bob Kravitz said:
The video of Mariellen Gallagher at Three Mile Island was shot the first two days by photographer Eric Goldenberg. I was sent the third day and remained for two weeks, with various reporters showing up. Marc Howard, Vernon Odom (who remained for 5 days) and Rob Jennings.

The video of Rob Jennings, I'm not sure who shot it. I was part of the pool photographers that photographed President Carter inside the plant. Also, remembering the night Vernon and I were in front of the Pennsylvania Capitol in Harrisburg. While wrapping up a story with a stand up, this strange white substance, looking like snow, fell from the sky. It fell for a couple of hours. This is when I was scared. The next day, no one said a word. To this day, I still don't know what fell onto us.

Regarding the situation, I must tell you a story related to family. When Susan found out I was replacing Goldenberg, she stood in front of our door stating, "you're not going." I calmed her down and we talked. I explained how this was a story I could not miss. She finally understood that my world was news and I must be there.
Renee Chenault-Fattah
WCAU-TV, Channel 10
1992

John Bolaris
WCAU-TV, Channel 10
1992
Broadcast Pioneers members Tim Lake and Renee Chenault-Fattah are today the main anchors at NBC 10. However, we are going to roll the clock back 19 years. We have a clip from a WCAU-TV newscast from 1992. The anchors are Tim and Renee. John Bolaris was the weather guy and was on location that day. Our source material is high speed VHS tape.
Watch with Real Video!
Watch with Windows Media!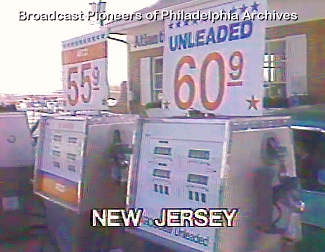 Still taken from Film Clip
WPVI-TV, Channel 6
Monday, May 1, 1978
We thought you might be interested in this still, which was taken from a piece of WPVI-TV. This aired on the 5:30 pm newscast (there was no 5 pm news at that time), whichanchored that evening by Marc Howard. Jim O'Brien normally co-anchored but hewas off that night--only from the 5:30 pm cast, though. Marc did the weather himself and it ran less than a minute. However, O'Brien was there for the 6 pm newscast and his forecast ran almost triple the length of the 5:30 pm newscast.
One of the headlines that Marc uttered on that broadcast was "The price of gasoline is coming down in New Jersey, if you don't mind pumping your own gas." Seems that there was ALMOST a deal struck back then that would allow NJ stations to allow customers to pump their own fuel and thus (because there would be less paid labor) give you a lower price. Of course, it never happened and only trained service station attendants can pump gasoline into your vehicle in the Garden State. The state banned the self-pumping option in 1949. The only other state in the union to ban self-service is Oregon. Wouldn't we all love to be paying what the signs say in the picture?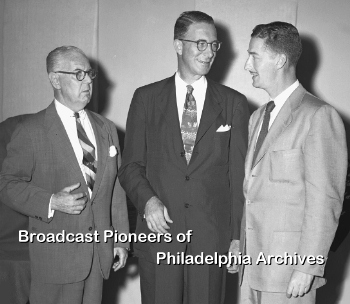 (Left to right) Joe Tinney, Sr., Senator C. Estes Kefauver and Alan Scott
WCAU-TV
1952
Joe Tinney, Sr. was Vice-President and Assistant General Manager of WCAU-TV during this era. Also shown in the photo is Estes Kefauver, United States Senator from Tennessee, and WCAU Announcer Alan Scott, who during these days was the host of "Cinderella Weekend" and other shows. While we have no date for this photo, we believe it to be during the summer of 1952. During that time, Kefauver was seeking the Democratic nomination for president. The convention, instead, selected Adlai Stevenson. Kefauver again tried for the top slot in 1956, but again the Democratic nomination went to Stevenson. During the second go-round, the convention selected Kefauver for the vice-presidential nomination.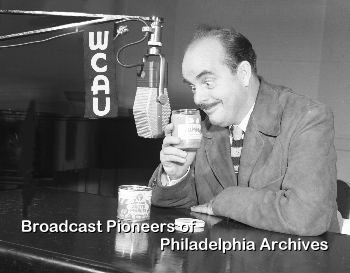 WCAU Radio Announcer Bill Sears
WCAU Radio
October 1952
Bill Sears was an announcer for WCAU Radio and Television during this time. You can see him in the above photo doing a commercial for the Philadelphia firm, Lummis & Company, Incorporated. In his right hand is a glass jar of Lummis Peanut Butter, an extremely popular brand of that time. Above the name, it says "Real Peanut Power." The tin on the desk is a can of "vacuum packed" Lummis Salted Peanuts. The products were manufactured right here in Philly.
These two are just a couple of the 450 original negatives (most of them a large 4x5 format size) recently donated to the Broadcast Pioneers of Philadelphia by the Lower Merion Historical Society. They were all taken in either 1952 or 1953 at WCAU-TV or WCAU Radio once they moved into the new building on City Avenue. All the photos were taken by Bob Swartz, who spent most of his 84 years taking pictures. These are from his days at the WCAU stations. As you can see, the quality is excellent. It takes a special type of scanner to transfer these negatives into a digital photograph. Fortunately, Broadcast Pioneers President Jerry Klein has one and has scanned the first 26 photos from the Bob Swartz Collection. Over the next months, Jerry will be scanning more and we'll be bringing you more wonderful and delightful shots from this era.
Remember, History is ONLY What Gets Saved!
(If there were no portraits of George Washington, how would we know what he looked like?)
OUR MARCH 2011 CAREER NIGHT:
On Thursday, March 24th, we held our 9th annual college career night. This time it was on the campus of Temple University. Over 100 students from several different campuses showed up.
GET THE DETAILS & SEE SOME PHOTOS!
WE REMEMBER & ON THE HEALTH FRONT:
This month we lost Frank Chirkinian, Joel A. Spivak, Rick Friedman, Art Constantine and former Philly jock DJ Megatron. Plus, "On the Health Front" stories about Harvey Sheldon and Steve Sabol.
GET ALL THE DETAILS BY CLICKING HERE!
THANK YOU:
As we do every month, we want to thank Broadcast Pioneers member Johnny B. Hall his monthly cash donation to our DAP, Digital Archival Project. We especially appreciate it since Johnny has doubled the amount he was giving us last year at this time. Thanks, Johnny! His annual donations total $1,200 annually. Our Digital Archival Project keeps on moving along.
READ MORE SPECIAL THANKS BY CLICKING HERE!
If you forgot to make an extra contribution (cash or memorabilia) and would like to do so now, it's never too late. We would be thrilled to hear from you at: PO Box 2886, Bala Cynwyd, PA 19004.
IN TOUCH WITH THE INDUSTRY:
READ THIS SECTION BY CLICKING HERE!
ON THE SCENE: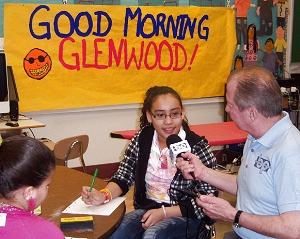 Frank Stone with a fifth grade "broadcaster"
on the set of "Good Morning Glenwood!"
Glenwood Elementary School, Wildwood, NJ
February 2011
Broadcast Pioneers Vice-President Frank Stone went to visit the fifth graders at Glenwood Elementary School in Wildwood, NJ, where the students produce a 15-minute television program "broadcast" over the school's system. The show "airs" twice a month.
GET THE ENTIRE STORY BY CLICKING HERE!
MARCH LUNCHEON REVIEW :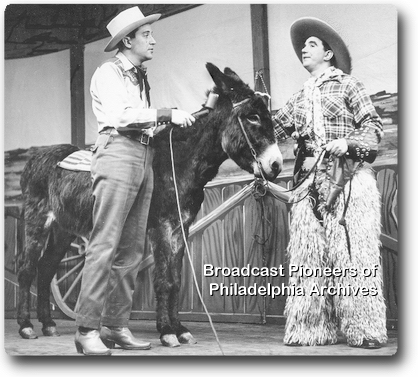 (Left to right) Gene Crane & unidentified male
Grand Chance Roundup
CBS-TV, Broadcast originated live from WCAU-TV
1949
Get all the details about the luncheon including 66 photos and complete audio in both Real Audio and Windows Media formats plus wonderful video in Windows Media format. GET ALL THE DETAILS BY CLICKING HERE!
A FINAL THOUGHT.... "I was probably the most innovative and brilliant son of a bitch that ever worked in television. I've done so damn many things I can't remember half of them."
Frank Chirkinian
Emmy-winning WCAU-TV & CBS Producer/Director
We welcome your input regarding content, future stories, suggestions, etc. Please contact us by e-mail at newsletter@broadcastpioneers.com. Your stories are important, to you, to us, and your colleagues. Contact us today and we'll include your story in the next newsletter!

Photo Editor & Archival Historian - Gerry Wilkinson
© 2011, Broadcast Pioneers of Philadelphia
All Rights Reserved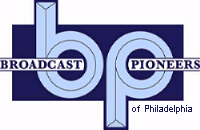 The e-mail address of the Broadcast Pioneers of Philadelphia is pioneers@broadcastpioneers.com
For luncheon reservations call (856) 365-5600 or e-mail us at: rsvp@broadcastpioneers.com