The Broadcast Pioneers of Philadelphia is a federally recognized, state chartered charity. We are a 501(c)(3) non-profit corporation serving Philadelphia since 1962.

Frank Stone
Newsletter Editor

April Luncheon
The Bala Golf Club
Wednesday, April 18, 2012

Reception at 12 noon
Lunch at 12:30 pm
Ratecard: $25 per person

PLEASE RESERVE NOW!
(856) 365-5600
rsvp@broadcastpioneers.com
A Spring Potpourri of Broadcasting!


Wednesday, April 18th!

Broadcast Pioneers Member
Bob Backman

Broadcast Pioneers Member
Steve Highsmith

Broadcast Pioneers Member
Elliot Abrams
Our April luncheon is a potpourri of broadcasting! We have three exciting speakers for you this month, all members of the Broadcast Pioneers. It's going to be another one just the previous one.It's sure to be a fun and educational afternoon. Make plans to attend.
First is Bob Backman, former VP and General Manager of Channel 61 here in Philadelphia. He is also the current owner of WRDE-TV, Rehoboth Beach, Delaware.
Next is Steve Highsmith, currently the Director of Community Relations for Philadelphia's WPHL-TV. He's also the host of "In Focus" & "NBC 10 @ Issue."
Finally is Elliot Abrams. He's the Senior Vice-President and Chief Forecaster for AccuWeather and can be heard daily doing the weather on KYW Newradio, 1060.
Broadcast Pioneers Board Member Mike Nise is the MC for the afternoon. This is also the luncheon where we award our seventeen $1,000 scholarships to area college students. Plus, Board Member Carter Merbreier (also known as Captain Noah) will be in attendance and will say a few words.
This all takes place on Wednesday, April 18th, at the beautiful and historic Bala Golf Club, 2200 Belmont Avenue (across the street from the State Police) in the Wynnefield section of Philadelphia. Only minutes away from Channels 6, 10 and 17 and the radio stations in Bala Cynwyd. Call now for reservations. (856) 365-5600! Don't miss this one!
Meet and greet (networking) starts at 12 noon, and a full three course lunch including salad, coffee or tea and dessert will be served at 12:30 pm. There will also be a crudité and cheese table. Cash bar available all afternoon!
The cost is still only $25 per person. This is our 7th year without a price increase! Plenty of FREE parking. The luncheon is open to all our members, their guests and any person in the industry or associated fields, whether active or retired. You do NOT have to be a member to attend. Call NOW with your reservation(s), (856) 365-5600!
LIMITED TIME OFFER!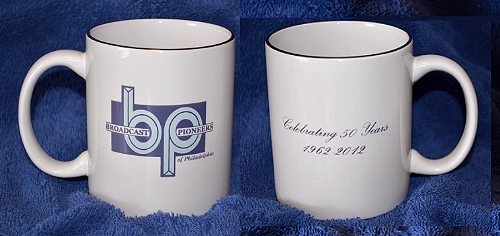 Strict limit: no more than five per person per luncheon!
LIMITED EDITION WHILE SUPPLIES LAST!
These beautiful Broadcast Pioneers commemorative mugs celebrate our 50th anniversary. Yes, we're a half-century old. We have a limited quantity of these exquisite gold mugs that are available on a first come, first served basis for a donation of ten dollars or more per mug! THEY ARE AVAILABLE ONLY AT OUR LUNCHEONS (until they are gone). Sorry, we just don't have the staff, packing supplies, etc. to do mail order. So, you must attend the lunch in order to get one (or two).

Visit Our Website Often - http://www.broadcastpioneers.com

WELCOME NEW MEMBERS:
FULL MEMBERS:
Charles H. (Chuck) McKibben has been in the business since 1963. Chuck is the owner of VoiceoverIsland.com, based here in Philadelphia. Chuck is an American voice actor, broadcast producer/director, voice-over coach and audiobook reader. He started his career in Dayton, Ohio, as a disc jockey. He learned well. At one book he was the studio manager for Mel Blanc.
Bob Craig has been in our busines since 1963. He's currently an announcer/host at WRTI-FM, Temple University's radio station. Bob is also well-known for his work at WMGK, where he breathed new life into the original "Magic" format. Bob also worked at the adult standard WPEN, where he hosted a "Solid Hour of Sinatra." Bob is married to Sharon Eisenhour, a broadcast peformance teacher at Temple University.
ASSOCIATE MEMBERS:
Cory D'Amore is a new Associate Member. He's been in the business for three years now and is an audio engineer for radio station WVLT, Cruisin' 92.1, in Vineland, NJ. Cory works on many different station projects and does engineering for many of the different shows, which are broadcast in New Jersey and Philadelphia as well as on the Internet.
We are thrilled to have these new members. They've helped to bring our total membership up to 472 (an all-time record). We are setting records for membership every month. We hope to see as many of you as possible at the April luncheon.
DIGITAL ARCHIVAL PROJECT NEWS:
In March 1985, "Ten Around Town" aired a segment about Broadcast Pioneers member Walt MacDonald (who now lives in Florida). The quality of this recording is not perfect, but it's the best version we have. Hosts of the show were members Steve Levy and Cherie Bank.
Member Walt MacDonald writes us:
My career in Philadelphia was a time in my life that I will never forget. It was exciting to be a small part of all the radio stations that I broadcast on along with doing live TV traffic reports on WCAU-TV. Channel 10 was the first in the nation to feature live TV traffic reports on a daily basis. They were usually less than 20 seconds since they were featured in Channel 10's news breaks.

Channel 10 took a chance with live TV traffic reports since the other stations at that time weren't interested because people don't watch tv in their cars. Well, today they do. It was fun doing the segment with Steve Levy and Ten Around Town. We didn't have to go very far because the Go Patrol heliport was located on the back lot of Channel 10 where Action in the Afternoon originated.
Member Steve Levy e-mailed us:
It was good to put a face to the name. So many people listened to Walt, depended on his information and.then they got a chance to see the man who helped them so much. He was right about the Expressway; it was and still is "the World's Largest Parking Lot."
Jack McKinney was many things to many people, but we knew him as a host of WCAU Radio's all-night show, "Nighttalk." During all these years, he interviewed the famous and the not so well known. We have in our archives a complete interview Jack did with legendary folk singer Pete Seeger. While many remember Seeger as a Vietnam War protester, this show is stirctly about music and is wonderful. It dates from Friday, April 14, 1967. This broadcast is 45 years old this month.
Listen in Real Audio!
Listen with Windows Media!
With all the news about the Supreme Court last week, we thought you might enjoy this WDAS News Special. We have an audio clip from that program, which aired on both WDAS AM & FM (at different times within the same week). It's about the United States Supreme Court. Member Bob Perkins was the writer, producer and air talent of the show. It dates from March of 1971. We offer you a condensed version of the program.
Listen in Real Audio!
Listen in Windows Media Format!
Primary election day in Pennsylvania is just a few weeks away. Tuesday, April 25, 1972 was Election Day and the big race was for the Democratic nomination for President of the United States. However, there were also local races including Bill Green, running for the United States Congress. Here's some KYW Newsradio coverage of that evening. This clip starts with Gene Scott, followed by a report from member Dick Standish who was reporting live from Hubert Humphrey's Philadelphia Headquarters. Dick's report also included Humphrey speaking live to the hall. This is followed by KYW Newsradio's Andrea Mitchell (now with NBC-TV). She was reporting from U.S. Congressman Bill Green's headquarters. Finally, KYW Newsman Vince Lee brings us up to date with world happenings.
Listen in Real Audio!
Listen in Windows Media Format!
BROADCAST PIONEERS' SCHOLARSHIP WINNERS:
On Wednesday, April 18th, The Broadcast Pioneers of Philadelphia will award seventeen $1,000.00 scholarships to outstanding undergraduate students studying radio, TV, film production and associated fields.The competition was open to all communications students (and those in related fields). Students must either live in the Delaware Valley or attend school here.
Our seventeen winners are (in alphabetical order):
Jennifer Alecci, Muhlenberg College
Melissa Anderson-McDonald, Temple University
Analis Barrood, Drexel University
Michael Busza, Temple University
Phillip Carroll, Temple University
Jessica Chung, University of Pennsylvania
Darragh Friedman, Temple University
Katheryn Kennedy, LaSalle University
Russell Lash, Temple University
Sarah Lazar, University of Delaware
Ashley Lewis, Temple University
Kara Lieff, Temple University
Allison Lips, Rowan University
Jamie Lynn Marino, Villanova University
Alexandra Paulin, Drexel University
Scott Scheinberg, University of Delaware
Becki Steinberg, University of Pennsylvania
This year, these scholarships were made possible through a number of underwriters. Member Johnny B. Hall leads the pack by underwriting four scholarships. Another three scholarships are in the memory of member Pat Merbreier (also known as Mrs. Noah). Two scholarships are underwritten by Ira and Robin Adelman and her dad, member Leon Love. Member Esther Kurtz underwrote a scholarship in the memory of her late husband, member David Kurtz, founder of B-101 Radio. Member Sylvia Kauders has underwritten one for this year, part of a five-year scholarship grant. Member Harry Hurley has donated the proceeds of his annual Harry Hurley Charity Golf Tournament for a scholarship as well. The remaining scholarships have been funded by people who have donated to our scholarship fund and from the funds raised at our annual banquet this past November.
WE REMEMBER:
Member John Roberts passed away from a spinal infection on March 8, 2012, at the Ryder Park Medical Center and Retirement Facility. His wife told us that he was 91 years old. John was an emeritus member of our Board of Directors at the time of his death. Visit our John Roberts Tribute Page!
Bruce H. Beale, Jr., 82, has passed away at his home in Norfolk, Va.. Bruce was a producer/director at WHYY from 1956 to 1979. He also hosted "The Blue Hen Show with Bruce Beale," a talk show about University of Delaware football. After leaving WHYY in 1979, he moved on to WHRO, the public television station in Norfolk, where he worked for 30 years.
Robert T. Graci, brother of member and international performer Charlie Gracie, passed away on March 22nd at age 65. Robert worked for 27 years for the Gloucester County Sheriff's Department and the Department of Correctional Services, retiring in 2008 as lieutenant.

Did you know...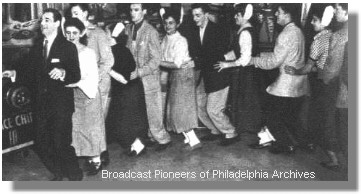 Ray Anthony & The Gang Do The Bunny Hop
WFIL-TV's "Bandstand"
Late 1952
In 1949, Louis D. Snader, who made much of his money in real estate and started "Snader Telescriptions," had a light bulb go off in his head. This new medium of television needed a lot of product and in the early days, a lot of filler. He thought that there was a market for short music segments.
These segments were shot live on to 35mm black & white film (TV stations aired 16 mm versions) and are considered to be the first TV music videos. They were done on the cheap and most were done in one take with no editing, many at California Studios. A normal eight-hour production day would yield ten or more films. The films were made in 1950 through 1952.
The company made about a thousand titles and featured some of the top musicians of the day, such asMel Torme, The DeCastro Sisters, Tennessee Ernie Ford, Burl Ives, Sarah Vaughan, The McGuire Sisters, The Pied Pipers, Gale Storm, June Christy, Peggy Lee, Duke Ellington, Count Basie and The Four Aces featuring Al Alberts.
When the film studios raised the price of British movies and "B" films, Roger Clipp, Vice-President of WFIL-TV, Channel 6 in Philadelphia, decided not to pay the freight. He went a different way and purchased the rights for "Snader Telescriptions." Broadcast Pioneers member George Koehler, who was Station Manager for WFIL-TV, said that Roger "got them really cheap [so] we used them a lot."
In fact, they used them to create a show called "Parade of Stars," which aired in the mid-afternoon. The host was the station's sports director, Tom Moorehead. We know that the program was on the air by Monday, March 19, 1951, because we have a WFIL-TV log from that date.
George Koehler said that Tom Moorehead continued with the show until 1952, when Bob Horn, a popular radio disc jockey from WFIL Radio, took over (also continuing his radio work).
Broadcast Pioneers member Lew Klein directed many of the "Parade of Stars" and "Bandstand" broadcasts. He later became Executive Producer of the network program"American Bandstand," which originated from WFIL-TV and was broadcast live over the ABC Television Network.
Lew told us that he doesn't recall the kids actually ever dancing on camera on "Parade of Stars." However, he said that it gave the station the bright idea of putting the kids on camera dancing and they re-invented the program into "Bandstand."
About this same time, Clipp was negotiating with WPEN's Grady and Hurst. Broadcast Pioneers members Joe Grady and Ed Hurst wanted to make the move to WFIL radio where their popular afternoon radio program could be simulcast over WFIL-TV. WPEN, which was owned by Sun Ray Drugs, told WFIL that if they "raided" Grady and Hurst from the WPEN stable, Sun Ray Drugs would pull their million dollar advertising budget from the Philadelphia Inquirer (the paper owned the WFIL stations) and place the revenue with the competing newspaper, The Evening Bulletin.
That pretty much killed any chance of Grady and Hurst going to WFIL. Meanwhile, "Parade of Stars" was originating out of Studio C from WFIL's 46th and Market facilities. When Horn took over, they started to let nearby teenagers hang around the studio and listen (and dance) to the music, all off camera. Eventually, more and more kids attended the broadcasts.
Since the station couldn't get Grady and Hurst, they decided to create their own duo by putting "Mad Man Muntz" with Bob Horn. "Mad Man Muntz" was, in reality, Lee Stewart, a distant relative of the WFIL staff announcer Shelly Gross. Stewart did the Muntz TV commercials and acted like a nut.
Broadcast Pioneers member Jerry Blavat (who was a dancer on Bandstand) said that one reason Lee Stewart was teamed with Bob Horn was so that Muntz TV would spend their advertising dollars on the new program, Bandstand.
Many sources have attributed these Snader films as running on "Bandstand." This isn't true. They ran on Bandstand's ancestor, "Parade of Stars." Many sources have said that the show was short lived, only a couple of months. This isn't correct either. The program ran for at least 19 months, but Bob Horn did the broadcast for only a couple of months before it evolved into Bandstand.
This regular monthly column is written and researched by Gerry Wilkinson
MORE DIGITAL ARCHIVAL PROJECT NEWS:
On August 4, 1989, The Al Alberts Showcase originated from Wildwood Crest, NJ. This video is made from the original one inch video tape master recorded by WPVI-TV. This original recording is in our video archive and was donated to us by Channel 6. While the show was recorded on that date, we are unsure of the actual air date. The station slate at the head of the tape simply says TBA (to be announced). However, the other 125 Al Alberts Showcase programs we have lead us to believe that the airdate would have been during August of 1989. We have put together three different segments from that broadcast. All are of the teenyboppers telling jokes. Al Alberts was a member of the Broadcast Pioneers, as was his wife Stella, who produced the program. In our opinion, the Real Video version is a little clearer.
Watch with Real Video!
Watch with Windows Media!
Here's Broadcast Pioneers member John B. Roberts doing a Channel 6 newscast. We have in our archive a couple of clips of John Roberts doing a Saturday evening newscast on WFIL-TV, Channel 6 in Philadelphia. The date is Saturday, March 19, 1966. While this is from a television broadcast, we only have audio. There are two segments. They are separated by a second of dead air. We often hear from people that we should upload the entire newscast. Sadly, what we have here is all that exists today.
Listen in Real Audio!
Listen in Windows Media!
On August 24th of 1958, tropical storm Daisy developed from a tropical wave over the Bahamas. Daisy moved slowly northwestward and was officially classified as a hurricane the very next day. The storm moved towards the Northeastern United States with winds of a 125 miles per hour. However, it remained far enough off the Jersey shore that little damage occurred. On the 29th, it reached Nova Scotia and lost power.
Here's one of those "Tonight" broadcasts (WFIL Radio) from 1958. This one from August 28, 1958, features Broadcast Pioneers members John Roberts and Francis Davis. On this excerpt, they talk about Hurricane Daisy coming up the coast and heading towards our area, the Delaware Valley.
Listen in Real Audio!
Listen in Windows Media!
On Good Friday 1964, legendary WCAU Radio talk show host Ed Harvey, a member of the Broadcast Pioneers of Philadelphia, did a special program on his "The Talk of Philadelphia" radio show. He spoke to religious leaders and his guest during the first hour was Dr. Norman Vincent Peale. After the station break and a couple of commercials, Dr. Norman Vincent Peale joined Ed Harvey and the WCAU listeners on the program via the telephone. Listen to a WCAU Radio broadcast from 48 years ago.
Listen in Real Audio!
Listen in Windows Media!
Remember, History is ONLY What Gets Saved!
(If there were no portraits of George Washington, how would we know what he looked like?)
IN TOUCH WITH OUR MEMBERS:
Broadcast Pioneers member Karen Scioli (better known as "Stella" from the KYW-TV late night show, Saturday Night Dead, was inducted into the HorrorHound Hall of Fame in Columbus, Ohio, late last month. The horror movie and film festival featured some of the top names in the genre. Congratulations, Karen and Stella!
Some of our favorite names in the business are coming together to battle cancer at the "Showers of Hope" fundraiser, which will take place in late April at the home of Theresa and Paul Murtagh. VIP Guests will include Dave Schultz and Jimmy Watson, Natalya Linichuk, Gennadiy Karponosov, members of Danny and the Juniors, The Duprees, The Dovells, The Rip Chords, The Elegants, Comcast TV DJ Corky Warren, Bobby Eli, Uschi Keszler, and Jane Bazinet. The emcee for the evening is Lou Tilley. The event is sponsored by member Uschi Keszler's "Pennies in Action" organization.
Congratulations to Broadcast Pioneers Board member, treasurer, former President, former Chairman of the Board and 2001 Hall of Fame inductee Pat Delsi, who is celebrating 30 years announcing Drexel University basketball. Pat has also been inducted into the Drexel University Hall of Fame. Nice going, Pat. Quite an accomplishment!
If you're a regular at our monthly luncheons, you have seen and heard the quality sound work done by our guru of sound Dave Michaels (one of Pat Delsi's sons), along with technical wizard and board member Bill Gellhaus. Well, now you can catch a glimpse of Dave on TV. Recently Dave has appeared on two episodes of the TV hit "Smash" as well as an episode of "Blue Bloods." Dave told us, "it's really great to be working with big name celebrities and to hear the directors coach them…I just hang around, listen and learn."
Member Pat Ciarrocchi is celebrating 30 years with KYW-TV, CBS 3, here in Philadelphia. She is the co-host of "Talk Philly," the station's popular lifestyle/talk program. Congrats to Pat. Here's to another 30 (or 40).
The other day, we received a letter from Anne Creamer, often called Judy. She is the widow of Jack Creamer, former host of the Handy Man TV Show on Channel 3 from the forties. Jack was inducted into our Hall of Fame last November. She wrote:
Jack would have been so pleased with this award. My stepson Casey called me and told me the Broadcast Pioneers had awarded him the honor of being a member of that honored (Hall of Fame) group. And he certainly was one of the earliest. I had seen some of the broadcasts, never dreaming that someday I would be his wife. Life is full of surprises, isn't it?

But I can tell you the name of his broadcast was as false as it could be. Handy Man? If I saw him carrying a screw driver, I would shudder. But I knew he enjoyed doing the broadcasting. Also, the Thanksgiving Day Parade. He even had a radio show when we lived in New Hope. He broadcast from the local bank, interviewing interesting residents of which there were many. I'd send regards to people if I thought any were left of my vintage (92 years old). But I do want to thank all who were involved in this honor.
Last month, member Bunny Gibson was featured on "The Harmony Street Show" hosted by Mike Miller. Mike runs a website and Internet radio show that promotes doo-wop music with the idea of keeping it alive and popular. Bunny also went to premiere of "Lola's Love Shack," a new comedy motion picture in which she appears. She said, "Good news. People loved it, but even better, I won the raffle - and a new TV."
Former KYW Newsradio Executive Editor Fred Walters, the godfather of "All News All The Time" in Philly, will receive the "Roy. E. Morgan Award for Broadcast Excellence" this month from the Pennsylvania Associated Press Broadcasters Association. Roy was one of the founders of WILK Radio in Wilkes Barre more than 60 years ago, and was one of the founding officers of the Pennsylvania Associated Press Broadcasters Association.
Member Harvey Sheldon's Internet radio station is doing well. Harvey told us that the lastest figures shows that his Internet radio station, harveysheldonphillyradio.com, is now the number six most popular in SHOUTcast Top 50 Internet. Now listen to the singers and the big swing bands that Philly loved. The Quaker City bought their records, listen to them on radio and watched them on TV. All this can be found at Harvey's Internet radio station.
As we mentioned last month, member Mike Bove (no relation to Mike Bowe) was, for nine years, in the singing group, "The Tridels." Well, now there's a CD of all their great material. There's 32 songs in all. It's available from CD Baby.
Just before this newsletter was to come out, Member Ron Joseph (better known as RJ) told us about a video he found on You Tube of an old SCTV broadcast. We agree with Ron that the "Disco Host" on SCTV reminds us a lot of the real life RJ. Watch the Real RJ! Now watch the SCTV video! What do you think? By the way, awhile ago, RJ donated some old TV footage of his earlier days. Thanks. We would love to have more.
Sometimes members say to us: "Why didn't you write a story about me? The answer probably is: Because you didn't send it to us. We're always interested in what our members are doing, but you need to tell us. E-mail us today at: newsletter@broadcastpioneers.com.
THANK YOU:
As we do every month, we want to thank Broadcast Pioneers member Johnny B. Hall for his monthly cash donation to our DAP, Digital Archival Project. The amount totals $1,800 yearly and really helps us to underwrite this much needed but expensive project. We welcome other gifts for this project in the form of money and/or donated items like video tapes, audio transcriptions and photos.
A donation was made to our 2013 scholarship fund by Helen Schorr to commemorate what would have been Ben Selisker's 65th birthday. Ben was a 1969 graduate of Temple University's School of Communications and Theater, a radio-television-film major. Ben was the station manager of WRTI-AM in 1968. He went on to manage a community cable system in Minnesota.

Special thanks to member Andy Kortman (who can be heard daily on WNJC, 1360 from 7 to 10 am). Andy donated some WIP jingles from the days when WIP ruled the airwaves. Andy said that he was surprised that we didn't play some WIP jingles (the songs between the songs) at the March luncheon. When Andy found out we didn't have them in the audio archive, he sent them right along. Thanks, Andy.

Member Mike Strug donated some video of his later material while he was at NBC 10. He had previously donated video material of his days at Channels 3 and 6. Thanks, Mike.
Members Henry and Bobbie Shaffner, who are a well-known song writing team, have donated scans and recordings of some WCAU Radio items. Our May luncheon is all about "90 Years of WCAU Radio/WPHT!
Member Bill McCloskey donated an old WIP baseball cap from his days at the radio station. He gave us the hat at our "90 Years of WIP Radio" luncheon last month. He also gave us some old reel to reel tapes. Thanks, Bill.
Member Bill Baldini has donated a couple of boxes of old videos. They have now been digitized and are part of our digital archival project. They make a wonderful addition. Member Glenn "Hurricane" Schwartz, not to be outdone by Bill, has also donated boxes of his old material. Thanks to both Bill and Glenn.
Special thanks to new member Chuck McKibben, who sent an extra contribution to us when he joined our organization earlier this month. Extra contributions are always helpful in assisting us in funding different Broadcast Pioneers projects. Thanks, Chuck.
Our special thanks to everyone who has donated material, items and/or cash to help Broadcast Pioneers survive. This organization, the largest of its type anywhere on the planet, is nothing without YOU! Thanks for being a part of broadcast history.
If you forgot to make an extra contribution (cash or memorabilia) and would like to do so now, it's never too late. We would be thrilled to hear from you at: PO Box 2886, Bala Cynwyd, PA 19004 or call us at (856) 365-5600.
A LITTLE BIT OF HISTORY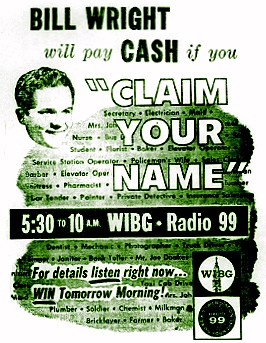 Back of a WIBG Record List
circa 1960
(donated by member Michael Muderick)


According to Board Member Bill Wright, Sr., the contest worked like this. You would listen during the day and the jock would tell the audience that John Doe of Philadelphia needs to listen to Bill Wright in morning drive. When Bill mentions your name, you call and win.
Bill told us about another contest the station ran called "Beep Beep." It ran during the time when the Playmates hit called "Beep Beep" was popular. Names were chosen at random from area phone books. If you answered the phone by saying "beep beep," you won a brand new Nash Rambler. On the first day of the contest, Wright selectrf a name at random and called (at 7 am). Sure enough, the person answered the phone, "beep beep." The contest was over just about before it started. That was the power of Wibbage. Shortly thereafter, Bill Wright received a phone call from his boss saying, "I don't know if I should fire you or give you a raise."

IN TOUCH WITH THE INDUSTRY:
NBC Owned Television Stations announced that Eric Lerner has been named President and General Manager of NBC 10 Philadelphia/WCAU. He comes to Philadelphia after serving as Vice-President and General Manager of KIRO-TV, the CBS affiliate in Seattle for the last six years. Lerner has almost 30 years in the broadcast industry. He started on March 21st.
NBC News is stepping into a radio news hole CNN is leaving behind after the announcement that CNN will no longer provide radio news (distributed by Dial Global). Philadelphia-based Comcast Corp.'s NBCUniversal is expanding its weekday radio broadcasts beyond the one minute per hour it now produces. CNN has provided hundreds of radio stations with up to six minutes of syndicated news at the top of the hour and three minutes at the half hour. NBC News is intending to fill the same time slots around the clock, seven days a week. It is expected that most former CNN Radio affiliates will now head over to the new NBC service.
Congratulations to all our friends at CBS 3-CW Philly for a record breaking 5-hour on-air effort that raised nearly $1 million in donations for Ronald McDonald Houses. Anchors Susan Barnett and Chris May hosted the event with special appearances by Pat Ciarrocchi, Beasley Reece, Kathy Orr and on-air radio personalities from the CBS Radio stations in Philadelphia, including Ross Brittan, Valerie Knight and Frank Lewis of 98.1 WOGL's Breakfast Club, Chris Stigall from Talk Radio 1210 WPHT and Marc Farezetta and Spike Eskin (Howard's son) of SportsRadio 94 WIP. Ronald McDonald House in Philadelphia was founded by Broadcast Pioneers member Jim Murray.
Kudos to 6abc and local firefighters, who arejoining forces for the 20th consecutive year for a campaign that has saved countless lives. Operation 6abc: Save A Life is a multi media campaign that offers information and tips about preventing deadly fires. This year, with the help of sponsors, 6abc has distributed over 7,000 smoke alarms to families in need. Since 1962, with the help of local fire companies, 6abc has distributed more than one million smoke alarms.
VCR/DVR alert: On Saturday April 7th at 7:30 pm on CBS 3 and Sunday April 8th at 4 pm on the CW Philly 57 and Saturday May 12 th at 5:30p.m. on CBS 3, Talk Philly will celebrate:From Asbury Park to the Promised Land: The Life and Music of Bruce Springsteen, a special all-Bruce edition of the show that originally aired on March 28th. The show was hosted by Ukee Washington and Pat Ciarrocchi.
Last month, member Judy Sciaky, widow of the legendary Ed Sciaky, wrote in our newsletter about Bruce Springsteen sleeping on their sofa. Well, a few days ago, an update on that story appeared in the Daily News of Delaware Country. Read the story. By the way, our Chairman's oldest daughter, Maya Silva, who is 33, told us about this article. She also said that she's heard about this couch for as long as she can remember. It's even a better story because it's all true.
Diana Rocco has joined CBS 3/CW Philly's Eyewitness News team as a general assignment reporter. She was most recently with WHDH-TV Boston. Previously, she was with CNN Newsource in Washington, DC, WNYW-TV in New York, WFX-TV in Boston and WFSB in Hartford, Connecticut. Welcome to Philadelphia, Diana!
6abc's Tom Davis was promoted to Vice-President and News Director, replacing longtime news chief Carla Carpenter, who recently departed for a senior vice-president position as head of digital media. Tom has over two decades of experience in the industry and was the station's previous Assistant News Director.
Fox 29's Mike Jerrick will host the 30th Emmy Awards in September for the Mid-Atlantic Chapter of the National Academy of Television Arts and Sciences. The awards honor broadcasters for excellence in 70 news and programming categories.
Comcast Networks anchor/reporter Gregg Murphy was added to the Phillies broadcast team as a field reporter for the 2012 season. Gregg has been a part of the on-air team at Comcast SportsNet since 2008. He has been recognized twice as the winner of the Associated Press Outstanding Talk Program. He is also a multi-Emmy winner and has been nomineed for numerous categories.
WHYY's Radio Times is celebrating its 25th year. Over the years, Radio Times host Marty Moss-Coane has interviewed more than 20 thousand guests, from Salman Rushdie to Jane Fonda. The program airs weekdays 10 a.m. to 12 p.m. on WHYY 90.9FM.
WOND 1400-AM opened a time capsule on March 30th from almost 50 years ago, containing a broadcast from 1964 by school teacher by day and talk show host by night, Pinky Kravitz. Turns out Kravitz broke from his usual format of nighttime chats with celebrities, politicians and performers to take his tape recorder into Central Junior High School in Atlantic City. He spent over an hour talking with four students about everything from the nuclear arms race to the Democratic National Convention. Pinky Kravitz has done over 13,000 plus shows over 54 years and only a few have been saved. Editor's Note: This story completely reinforces the importance of our digital archival project, and the importance of saving broadcast history.
Gordon Basichis, who was graduated from Temple University's School of Communications and Theater in 1969, has published his most recent novel, "The Blood Orange." Amazon.com says this about the book:
It's a hard-edged romantic mystery thriller in upscale modern day Los Angeles. Former cop Max Brodie returns to his native California as a grisly murder sets in motion a deadly conflict among the rich and notorious. Old Bandit's treasure and the romance of Spanish California are inextricably woven into a grand scheme of duplicity and intrigue. With the help of his childhood friend Lee Jonas and the beautiful and mysterious Juliette Darcy, Max must uncover a vast puzzle, sorting out the realities. As is often the case in the City of Angels, nothing is what it appears to be.
Dr. Allen Bonnell, the last living co-founder of WHYY, will be celebrating his 100th birthday this Saturday. Bonnell for years was the President of the Community College of Philadelphia. He was appointed to that position in 1965. He is a director emeritus for the television and radio public broadcast outlet. Bonnell once said:
I was a member of a small group, which, in 1953, obtained a charter for Delaware Valley Educational Television Corporation, the precursor to WHYY, Inc. It was a privilege to share in the challenge and excitement of bringing together over 80 representatives of regional educational and cultural institutions. We marshaled sufficient financial resources to activate a radio station and Channel 35, and eventually obtained the FCC allocation to WHYY of Wilmington's Channel 12. Now, after nearly a half century of continuous Board service, I am still amazed, even awed, by the ever-expanding opportunities for using the air waves for educational, cultural and community purposes.
WOGL is celebrating their 25th anniversary by holding a rock concert at the Tower Theater at 69th Street in Upper Darby (at the end of the Market-Frankford Elevated Line). It features Philadelphia's own Daryl Hall and John Oates. A portion of the ticket sales will go to the Children's Hospital of Philadelphia. Over the years, the station has raised almost five million dollars to the medical facilities. Member Jim Loftus, Vice-President and General Manager of WOGL, said:
Twenty five years of success is a milestone worthy of celebration. All of us at 98.1 WOGL are grateful to our legions of listeners, our advertising partners and everyone at CBS for the ongoing support that has enabled us to make WOGL the great radio station it is, every day. Thanks for 25 great years and watch out, as our best years are yet to come.
As Gomer Pyle used to say: "Surprise, Surprise, Surprise." This past Saturday morning, while we were channel surfing, we noticed that Comcast Philadelphia has added channel 249 to its lineup. What is it? It's MeTV, which is carried on WFMZ-TV, Channel 69 (Allentown) on their sub-channel 3. Sub-channel 2 is 24 hours of Accu-Weather and sub-channel 4 is Retro TV which is not on Comcast Philadelphia. MeTV was also being added to RCN's cable subscribers in the area starting this past Sunday. MeTV has been on sub-channel 3 since June but is now just finding its way to the Philadelphia area.
What is MeTV? It's classic old TV shows from the 50s through the 80s. Some of the shows currently available include: Star Trek, Lost in Space, Voyage to the Bottom of the Sea, Honey West, Dobie Gillis, Sgt. Bilko, Batman, Beverly Hillbillies, Car 54 Where Are You, Columbo, Dick Van Dyke, The Fugitive, Gomber Pyle, Hogan's Heroes, The Invisible Man, Mission: Impossible, Marry Tyler Moore, The Naked City, The Original Perry Mason, Petticoat Junction, Route 66, That Girl, Thriller, The Untouchables and The Wild Wild West.
A RECAP OF OUR BROADCAST PIONEERS' CAREER NIGHT AT TEMPLE: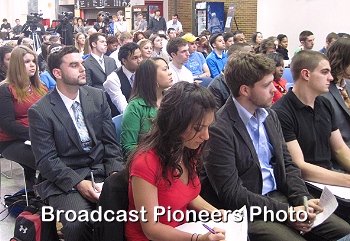 Some of the 132 students
Broadcast Pioneers Career Night
Temple University's Annenberg Hall
Thursday, March 29, 2012
On Thursday, March 29, 2012, the Broadcast Pioneers of Philadelphia hosted a FREE Career Night for all interested college students who are majoring in communications (and related fields). The event took place in Annenberg Hall on the campus of Temple University. We had a 132 students in attendance.
Our moderator was Broadcast Pioneers President Jerry Klein, who worked at KYW Newsradio and WPHT (when it was WCAU Radio). He and his wife own Anne Klein Communications Group, a company which just celebrated its 30th anniversary.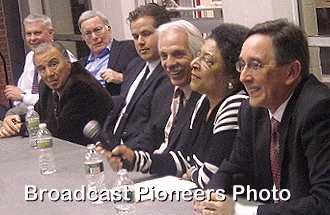 Our panelists for the evening
Broadcast Pioneers Career Night
Temple University's Annenberg Hall
Thursday, March 29, 2012
(Photos by Broadcast Pioneers' Chairman Gerry Wilkinson)
On our panel included:
Dave Coskey, president of Longport Media, owner of 5 radio stations
Ed Cunningham, television producer for WHYY-TV, Channel 12
Pat Delsi, former owner of WSSJ Radio (now WEMG) in Camden
Lou DuBois, Social Media Manager for NBC 10, WCAU television
T. Morgan, current WMGK jock, former radio program director
Linda Munich, Vice-President of Public Affairs for 6ABC, WPVI
Bill Roswell, Director of Digital News and Media, KYW Newsradio
COMPLETE VIDEO!
Watch in Windows Media Format!
Video shot by Broadcast Pioneers Board Member Video Seecof of Metramedia Broadcasting!
ON THE SCENE: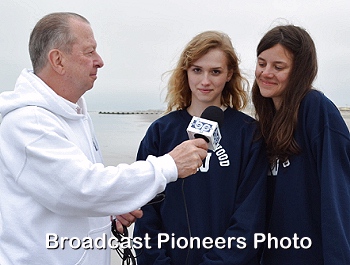 (Left to right) Frank Stone, Saskia Schumann and Nele Neveling
The newsletter editor and his wife recently had the opportunity to meet and entertain two families from Hatboro, PA (the Farleys and the Lambs). These two families were hosting exchange students from Germany for three weeks while they attended Upper Moreland High School.
Eleventh grader Nele Neveling and tenth grader Saskia Schumann reside in Badharzburg, Germany, part of the Lower Saxony Area, and attend the H.S. Werner von Siemens Gymnasium (High School).
This was their first trip to America, which included a visit to New Jersey and the five-mile beach of the Wildwoods and the Atlantic Ocean.
The girls told us: "We love America, it's very great and so big. New York was amazing and so-o-o-oo big. Everything in America is big, especially the pizza! We would definitely like to come back. We've tried all types of foods and really like the cheesesteaks. We rode for two hours to get here. In Germany we go to the Baltic Sea and it's a six-hour ride. This has been a wonderful experience. We love America!"
Editor's Note: Meeting these young women was a wonderful and moving experience. They represented all the good things about young people today. They marveled at our beautiful country, the people who opened up their homes and welcomed them as part of their families, the endless Atlantic Ocean, the sand and shells of our beaches and the fudge and salt water taffy store on the boardwalk.
On this particular day, with the chilly spring winds in our faces and the cold ocean in front of us, we could feel in our hearts and hear in our minds the lyrics to one of our favorite country songs, "Proud to be an American!"
A REVIEW OF OUR MARCH 21st LUNCHEON:
A Celebration of 90 Years of WIP Radio!
100 of your closest friends were there!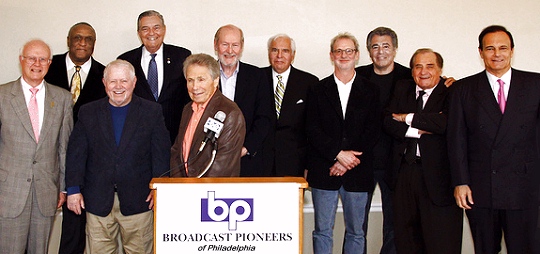 Some of the WIP Radio Alumni
Broadcast Pioneers Luncheon
Bala Golf Club
Wednesday, March 21, 2012
A hundred people joined us on Wednesday, March 21st, at the Bala Golf Club for another fabulous luncheon. This one was better than the other one. It was a celebration of "90 Years of WIP Radio."
Our moderator and emcee for the afternoon was Jerry Del Colliano, former publisher and founder of "Inside Radio" and former WIP air person:
Our speakers included (in alphabetical order):
Dick Carr, former manager of WIP Radio in the sixties
Howard Eskin, sports air personality for WIP Radio
Mel Gollub (Mel Stewart), former fifties WIP disc jockey
Tom Lamaine, former WIP jock/Eagles pre & post shows
Bill McCloskey, former WIP Radio, 610, news reporter
Tom Moran, former WIP jock/former WIP music director
Bill St. James, former early seventies WIP air personality
Dean Tyler, former WIP Radio Program Director in the 70s
Introductory remarks were by Marc Rayfield (Senior VP for CBS Radio Group which includes the current WIP Radio) plus Allan Hotlen, former WIP Program Director, was live on the telephone.
It all took place on Wednesday, March 2, st at the beautiful and historic Bala Golf Club, 2200 Belmont Avenue (across the street from the State Police) in the Wynnefield section of Philadelphia. Just only minutes away from Channels 6, 10 and 17 and the radio stations in Bala Cynwyd.
We added a special remembrance of John Roberts to this March 21st luncheon. Speaking was one of his former students Mike Strug (former NBC 10 news reporter). Watch what Mike said!
60 Photos of the Luncheon!
Pictures taken by Broadcast Pioneers President Jerry Klein
These copyrighted images are protected under US Copyright.
Any usage without the express, written permission of
the copyright holder is strictly prohibited!
Usage does NOT fall under "Fair Use" of copyright laws!
Complete Video of the Luncheon!
Video shot by Broadcast Pioneers members Brad Seecof and Steve Sacks
MARCH LUNCHEON WRAP-UP:
It was a remarkable afternoon, full of radio voices that we all know and love and memories of a time gone by - the golden years of radio in Philadelphia.
The emcee for the afternoon was Jerry Del Colliano, a nationally –recognized expert on broadcasting, journalism and interactive media content. Jerry, who came in from Arizona for the event, set the stage by talking about "news with sound"or news supplemented by interviews and from-the-scene sound bites.
First up was Marc Rayfield, who summed up the impact of WIP: "Winning in Philadelphia is what WIP has been doing since the beginning…and it's now one of the most important stations in the country."
Howard Eskin: "It is fascinating to me what the station has become over the past 25 years and where it's going. The great moments far surpass anything that could happen to me. To be part of a major success station in Philadelphia is more than I could have ever imagined…the glory days are the new glory days."
Mel Gollub, a deejay and staff announcer at WIP: "They called them the Gimbel days and the station was part of the Gimbel Brothers store…on the air as Philadelphia's first commercial radio station."
On the phone from Boca Raton, Florida, was Allan Hotlen, former music director at WIP. "Being hired by Dick Carr to work at WIP was one of the thrills of my life…it was one of the best parts of my broadcasting career."
Dick Carr, former deejay, music director and program director at WIP: "I was on the Pennsylvania Turnpike on my way from New York to Philadelphia. I tuned in to 610AM and wow, I could even hear the station after the sun went down! We had some of the greatest deejays in the business…names that today are legends in broadcasting." One of Dick's many accomplishments was bringing the Philadelphia Eagles to WIP and creating the "cash call" game. The game became so popular it was copied by radio stations coast to coast.
Dean Tyler, former WIP program director: "Dick Carr left out the best part. Before he left for WNEW in New York, he hired me! Fortunately I was successful in the business, but it was due to the talent around me…sharp, talented, bright people who did a great job. I have two great memories of my career in broadcasting and WIP is one of them."
Tom Moran, deejay, music director and 17-year veteran of WIP: "The greatest time in my life was at WIP. It started on St. Patrick's Day (1922) and the luck of the Irish has been with me ever since."
Tom Lamaine, former WIP on air-personality: "Fifteen years at WIP…started in the morning…moved to afternoon…then I was offered an opportunity to broadcast Sixers games and WIP cooperated with all the shift changes required…they would let me do the night shift and then jump over to Channel 3 to do sports. What a fantastic place to work…there was never a more happier time in my life."
Bill McCloskey, former WIP and Metromedia news reporter; "I learned a lot from the best at WIP. The names were legendary and synonymous with radio in Philadelphia. I even called up President Truman on the phone at his home in Missouri, while on the air and he answered the phone…we talked and I got a sound bite from him. A great place to learn how to do radio."
Bill St. James, former deejay at WIP and Metromedia sister station WNEW: "When I started at WIP, I was welcomed into a family who taught me how to become a radio professional. I'm honored to be here, to be a member of this family and to Dean Tyler for helping me to appreciate Jack Daniels."
HEARD AFTER THE LUNCHEON:
"It was wonderful…like visiting a family that's been around forever. I feel tremendously lucky to be here today and seeing everybody again is just wonderful." Dick Carr
"I loved it…we had a great time. I never pictured Tom Lamaine that tall." Liz Thomas
"It's a miraculous day when we can get 12 people together who worked at WIP and finish before dinner. It was wonderful to see this come alive through Broadcast Pioneers." Jerry Del Colliano
"I think this was a lot of fun, because a lot of people told some fun stories about the fun we had. It was a great place. Let's do it again in 10 years." Bill McCloskey
"We could have gone longer! I enjoyed it because I was part of it. That radio station is a real phenomenon in the business. We got paid for having fun." Dean Tyler
"We had a great time. I wanted to say so much…had a great plan, lost it all from the table to the mike. It was a great day." Tom Moran
"This was all about the best damn radio station ever. We actually had two generations listening to the station, the parents in the morning with breakfast and the kids throughout the day. It was a fantastic time. I worked with some of the greatest talent in the business, Bill Weber, Ken Garland, Tom Moran and the list goes on and on. Here I was this new guy with these big names and they welcomed me." Tom Lamaine
"Is it over? I never saw so many guys with so many memories in all my life. What a great day." Ed Hurst
"This was one of the best luncheons ever. I was here for the WIBG luncheon and this was fantastic. As a younger broadcaster my mentor was Tom Moran, in fact I came with him today. He's been an inspiration to me. People remember classic radio and that's what today, was all about. I'm glad I came, it was great to be here." Mike Bowe
A FINAL THOUGHT....
"Every morning in my heart, I hug all of the children watching us, but especially those who have no one to hug them."
Pat Merbreier
(also known as "Mrs. Noah)
1973
Please contact us by e-mail at newsletter@broadcastpioneers.com. Your stories are important, to you, to us, and your colleagues. Contact us today and we'll include your story in the next newsletter!

Photo Editor & Archival Historian - Gerry Wilkinson
© 2012, Broadcast Pioneers of Philadelphia
All Rights Reserved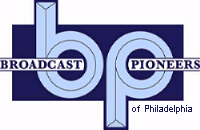 The e-mail address of the Broadcast Pioneers of Philadelphia is pioneers@broadcastpioneers.com
For luncheon reservations call (856) 365-5600 or e-mail us at: rsvp@broadcastpioneers.com