The Broadcast Pioneers of Philadelphia is a federally recognized, state chartered 501(c)(3) non-profit corporation serving Philadelphia since 1962.

Ed Eisen
News Editor

April Luncheon
The Bala Golf Club
Wednesday, April 17, 2013

Meet & Greet at 12 noon!
Lunch at 12:30 pm
Ratecard: $28 per person!

PLEASE RESERVE NOW!
CALL (856) 365-5600!
rsvp@broadcastpioneers.com
Another "Third Wednesday" Luncheon!
Wednesday, April 17, 2013!
A Spring Potpourri of Broadcasting!
| | | |
| --- | --- | --- |
| member Monica Malpass | member Jim Loftus | member Bill Roswell |
Our next Broadcast Pioneers luncheon is a "Spring Potpourri of Broadcasting!" It will be held at the Bala Golf Club, 2200 Belmont Avenue in Philadelphia on Wednesday, April 17th (that's the third Wednesday of the month). Meet and greet is at 12 noon and lunch will be served at 12:30 pm. Make plans to be there!
We have scheduled (subject to change) three marvelous speakers for your enjoyment. All three are members of the Broadcast Pioneers. They are (in alphabetical order):
Jim Loftus, Vice-President for CBS Radio and their group in Philly
Monica Malpass, longtime news anchor for Action News, WPVI
Bill Roswell, Director of Digital News and Media for KYW Newsradio
Plus, we'll be awarding seventeen $1,000 scholarships to area college students during the luncheon. It all takes place at the beautiful and historic Bala Golf Club, 2200 Belmont Avenue (across the street from the State Police) in the Wynnefield section of Philadelphia. Only minutes away from Channels 6, 10 and 17 and the radio stations in Bala Cynwyd. Call now for reservations. (856) 365-5600! Don't miss this one!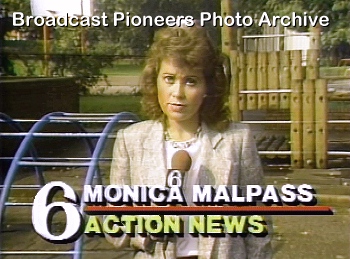 Member Monica Malpass
Action News, WPVI
1988 (during her few months at the station)
Meet and greet (networking) starts at 12 noon, and a full course lunch including salad, coffee or tea and dessert will be served at 12:30 pm. There will also be a crudité and cheese table. Cash bar available all afternoon!
Plenty of FREE parking. The luncheon is open to all our members, their guests and any person in the industry or associated fields, whether active or retired. You do NOT have to be a member to attend. Call NOW with your reservation(s), (856) 365-5600!
In order to speed up check-in at the luncheon, it would help if you had the $28 in exact change or your $28 check already written. Make it payable to the Broadcast Pioneers of Philadelphia.
WE WANNA SEE YOUR FACE IN THAT PLACE!

Visit Our Website Often - http://www.broadcastpioneers.com

WELCOME NEW MEMBERS:
FULL MEMBERS:
We welcome into membership Patty Jackson, who celebrates 31 years in our industry. She started out working for Pat Delsi over at WSSJ Radio in Camden. From there, she went to Power 99 and Q102 and finally ended up at WDAS-FM. She's the reigning Queen of Middays from 10 am to 3 pm Monday through Friday and is on Sundays keeping the memory of legendary broadcaster Joe "Buttberball" Tamburro alive.
Sid Mark, the man who keeps the legend of Frank Sinatra alive, has joined. He was with WHAT and WWDB for almost fifty years and is currently on WPHT, where he has been for the past 13 years. His national Sinatra radio broadcast is carried on 100 stations from coast to coast. Sid once said that the idea for the Sinatra show came from a listener. Mark remarked, "Thank God the listener didn't ask for a Jerry Vale program."
Steve Kurtz has been in the business since 1976. He has hosted TV and radio programs. In 1990, he founded Galax-z Records. He was on WPWA Radio for a couple of years and then WNJ Radio for five years. For the last dozen or so years, Steve Kurtz has been on Cruisin' 92.1, WVLT. He also appears at area restaurants and clubs, including the Springfield Inn in the suburbs of Philadelphia.
Robert Schwartz is the CEO and founder of iFame TV. After entering into the music business as a song writer/producer, Rob switched to the business side and worked for PolyGram Records in the nineties. His TV show WHO?MAG TV reached over 200,000,000 households worldwide. Rob then launched iFame TV. Rob is also an award winning movie director & producer. He has interviewed 1,500 celebrities.

ASSOCIATE MEMBER:
Jack Cohen is the brother of Nelson Cohen (former VP and GM at KYW Newsradio). He has worked in and around the business for quite awhile. He has been the promoter and senior judge for the WOGL Car Show that benefits Children's Hospital for the last 6 years. He also has a quarter of a century's experience in the hospitality trade and was Operating Partner of the City Avenue restaurant The Kyoto Steak House.
We are thrilled to have these new members. 487 members. More than ever. We hope to see as many of our members as possible at our March luncheon.
DIGITAL ARCHIVAL PROJECT NEWS:
VIDEO: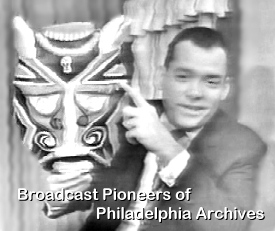 Broadcast Pioneers member Bill "Wee Willie" Webber
Breakfast Time, WFIL-TV, Channel 6, Philadelphia
1963
Here's one of our older clips from the Broadcast Pioneers Video Archive. It's our former Chairman of the Board and Former President Bill "Wee Willie" Webber on his ever popular "Breakfast Time." This broadcast dates from 1963 and was aired live. Most of us remember this program for its cartoons but it also had news and weather. This is the only known archival video of this series, which aired thousands of episodes. While we don't have the entire two hour broadcast, we do have about 20 minutes of this one particular morning. We are thrilled to have this. It was donated to the Broadcast Pioneers by Bill's widow Constance. What a piece of broadcast history.
AUDIO:
Here is an audio clip that we almost guarantee you have never heard before. February 6, 1963. The PTC (forerunner to SEPTA) strike has just ended. WIP Newsman (and Broadcast Pioneers member) Bill McCloskey is riding the first train to leave 69th Street Terminal after the strike was settled. He is actually on board the train and is interviewing passengers. This is a 17 minute piece of audio, but only excerpts were aired. So this is probably the very first time you have ever heard it. This is the same PTC strike that Bill Webber is talking about in the Breakfast Time video above.
Listen in Real Audio!
Listen in Windows Media!
On our next audio clip, you'll hear two members of the Broadcast Pioneers, Reggie Lavong and Pat Delsi. It takes place seconds before 5 am on June 19, 1965. This is the on air switch for 1060 on AM radio. WRCV becomes KYW Radio. Reggie is the musical host and Pat does the news. In retrospect, it is also fitting that the first bit of programming after the sign-on announcement is a KYW Radio newscast. This is a slightly edited version.
Listen in Real Audio!
Listen in Windows Media!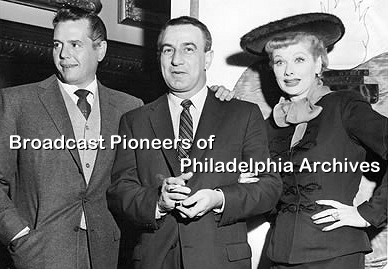 (left to right) Desi Arnaz, John Facenda and Lucille Ball
at Philadelphia's City Hall
Friday, February 3, 1956
Just before the 11 pm WCAU-TV newscast began, news anchor and Broadcast Pioneers member John Facenda did a 20 second "tease" for the upcoming newscast. This was on Tuesday, June 15, 1971. Yes, 42 years ago! While this was a television broadcast, no known video recording of a John Facenda newscast exists. However, we do have audio. For those of you that have interest, the program the preceded this promo was "CBS Reports: Justice in America, Part 3." It started at 10 pm and was reported by Eric Sevareid and Bill Stout. At the time, Channel 10 was a CBS O&O station. While the CBS Reports program was aired in color, only a black & white version is known to exist today.
Listen in Real Audio!
Listen in Windows Media!
BROADCAST PIONEERS CAREER NIGHT: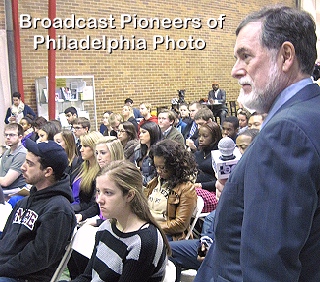 Our Career Night
Temple University, Annenberg Hall
Thursday, March 28, 2013
Last Thursday evening, the Broadcast Pioneers held our 12th annual Career Night. This year, it was again at Temple University and was attended by 130 college students from all over the area. Our president Jerry Klein was the moderator and on the panel were Mara Taffe, an executive producer for Action News (WPVI); Linda Munich, VP of Public Affairs from WPVI; Steve Ross from "Remember When" on WPHT; Doug Henderson, former WDAS air personality and now account executive for Clear Channel; Liz Matt, PR Associate for Sharla Feldscher PR, former TV air personality; and Pat Delsi, who used to own WSSJ Radio.
Watch in Windows Media!
For DSL users
Watch video on YouTube!
For FiOS and Cable users
Video originally recorded by Broadcast Pioneers member Brad Seecof
through the facilities of Metramedia Studios
IN TOUCH WITH OUR MEMBERS:
Broadcast Pioneers member Andy Kortman is hosting a new radio show from noon to 2 p.m. weekdays on 1240 WSNJ and simulcast on QBC-TV2 and streaming at www/wsnjam.com. He's playing hits from "The Great American Songbook" and the Greatest Pop Hits of All Time.
Broadcast Pioneers member Peggy King will be the Grand Marshall of the 2013 Doo Dah Parade in Ocean City, New Jersey. Peggy will be given a "Lifetime Achievement Award" by the town during the world famous event. The parade takes place on Saturday, April 13th from 12 noon until it's over. By the way, this Saturday, Peggy will be a guest on "Remember When" (11 pm to 1 am) carried over WPHT, 1210 on AM. The program is hosted by Broadcast Pioneers members Steve Ross, Jim Murray and Jackie Strauss.
Member Ed Collins wants you to know about the Keystone Record Collectors event on Sunday, April 14th in Lancaster, Pennsylvania. It's a Philly Sounds Reunion. Hosting the affair is Cool Bobby B, aka Broadcast Pioneers member Bob Backman. On the big show are Danny & the Juniors with members Joe Terry and Frank Maffei, plus Little Joey and the Flips and Philly Cuzz. Admission is free.Come browse, buy, sell and trade records, cds and dvds. It's from 9 am to 3 pm at the Continental Inn, 2285 Lincoln Highway East (US Route 30) in Lancaster.
Board member Bill Gellhaus happen to mention to us that he was on the Pick Temple show on WFIL-TV, Channel 6, here in Philly. It would have been the early sixties. He was tall, so they put him in the back row of a group of kids. He told us that they only called on the short kids because they were in the front. Bill said that "it was almost as much fun as when I was on Happy the Clown."
Broadcast Pioneers member Johnny B. Hall informed us that on Easter Sunday he gave a guitar performance at his church.He tells us:
It's a song called "I'm In Awe" by Louis Ripple and published by Jive Alive Music in1999. There are two versions, an Old Testament version and an Easter version. I don't know who originally recorded it, and I can find no reference to it on-line, even through BMI or ASCAP. So, I dunno.

I get a guitar break which, frankly, rocks! I generally play it on a Gretsch White Falcon which I break out for special occasions. Unfortunately I get to play pretty much only in church; wish I could play more.
CBS 3 and The CW Philly's 14-hour on-air phone bank for one of the Delaware Valley's most beloved charities raised more than $1 million last week - $1,003,313, to be exact. The fundraising segments aired in newscasts, in commercial break time and in one-hour specials at 9 a.m., 3 p.m. and 7 p.m. on both stations. All funds raised through the phone bank will directly benefit Ronald McDonald House Charities of the Philadelphia Region, a non-profit organization that creates, finds and supports programs that directly improve the health and well-being of children in our community. Member Jim Murray was one of the founders of the charity here in the Delaware Valley. President and General Manager of CBS 3 and the CW Philly Jon Hitchcock (a member of the Broadcast Pioneers said:
Our staff has seen the comfort and peace of mind that the Ronald McDonald Houses provide families in crisis first-hand as volunteers. That's one of the reasons why CBS 3 and The CW Philly are so proud to expand our on-air commitment to the Ronald McDonald Houses this year with a 14-hour event.
The Kal and Lucille Rudman presents "An Evening with Bob Dotson, NBC-TV News Correspondent for "The Today Show." It all takes place on Tuesday, April 9th at 7 pm in the Bonnell Building, North 17th Street, Community College of Philadelphia. Book signing and reception to follow the event. Bob with be introduced by Broadcast Pioneers member Renee Chenault-Fattah. This is FREE! Here's more info.
WE REMEMBER:
Broadcast Pioneers member Fred Woskoff writes us about the February passing of Steve Silverman in San Diego. Steve was the executive producer and director for Phillies Baseball telecasts at WPHL-TV and also headed up the station's Big 5 baseball. He succumbed to ALS after a nine month illness.
Broadcast Pioneers member John Carlton passed away on Thursday, March 14, 2013. He was in radio and television for more than a half of a century. He worked at WFIL Radio and Television, WKBS-TV, WPEN Radio and many other places, but he's probably best remembered for his work on the Atlantic (later ARCO) Go Patrol. Visit our John Carlton Tribute Page!
ON THE HEALTH FRONT:
Board member Carter Merbreier (aka Captain Noah) had a bunch of tests done at Lankenau Hospital recently after a bad fall. Fortunately, no bones were broken. Carter told us that it will take awhile for him to get back to normal, but he says he's on his way.
We found out that Janet Klein, wife of Lew Klein, a former President and Chairman of the Board of this organization, was in the hospital a couple of weeks ago. She had fractured her arm and she was in Abington Hospital until the pain could be controlled. Unfortunately, she was there when Temple University and WPVI had a celebration of Lew's 60 years in teaching. Over the years, Klein has taught thousands and thousands of Temple students.
We have heard from Robin and Ira Adelman. Robin's dad, member Leon Love, is not doing well. Leon had heart failure last year and now has been diagnosed with colorectal cancer. He has been under treatment at the Fox Chase Cancer Center. Robin told us: "I am totally devoted to Dad, and staying with him; dealing with all the doctors, and medical team, and preparing him, if he can withstand all this for what's ahead, is my priority. He had so many scans, tests, etc., I can see how overwhelmed and tired he was getting, and he had to stay in the hospital for three days so they could monitor him due to his being just exhausted and sick from all that was being thrown at us in just two weeks. Be well, and will keep in touch. Right now, I am much consumed with obligations." We wish you guys the best.
Good to see Broadcast Pioneers member Dean Tyler at our last luncheon. As many of you know, he has been suffering from complications from a December 2012 hip replacement surgery. Broadcast Pioneers Vice-President Bill Wright, Sr. was given the option of knee replacement surgery and elected to be given a new treatment. The doctor injected a new drug into his knee. Bill said it felt a little like baby oil. Well, the good news is that it seems to be working. Wright told us that he feels better and the knee joint appears to be functioning better. That's good news.

Did you know...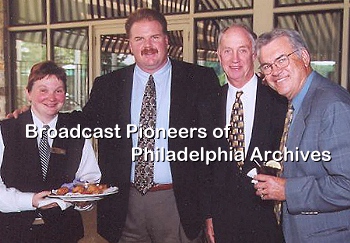 (left to right) unidentified female server, Andy Reid, Dick Jones and Tom Brookshier
circa 1993
Broadcast Pioneers member Tom Brookshier grew up in the town of Roswell, New Mexico. He was a 15 year-old high school student during the time of the alleged "UFO" landing. Tom was well known for both his work on the football field with the Philadelphia Eagles and in the broadcasting booth for WCAU and later CBS Sports.
While attending Roswell High School, Brookshier received all-state honors in baseball, football and basketball. When Tom was there, the town was under 20,000 in population; today, it has almost 50,000 people. Tom was working after school at the family's gas service station. But a first a little background on Brookie's home town of Roswell.
Broadcast Pioneers member Fred Woskoff was Operations Manager of several stations in New Mexico including one in Roswell. Woskoff worked here in Philadelphia at WPVI and WKBS before heading westward. He is now Director of Operations for Wisconsin Eye, public broadcasting. Fred told us:
Roswell is indeed a unique and fun town. I was involved in Roswell with KBIM-TV channel 10 from 1997-2007. KBIM is now a satellite for KRQE-TV 13 in Albuquerque, although during the time I worked with the folks in Roswell, the station was more independent and featured its own newscasts. We even broadcast a few High School football games when the local teams were involved in state playoffs.

Roswell was a military town from World War II until about 1966 when the airbase closed. Something like 15,000 people left town with the base closing, so it was a struggle for businesses in the area, including the TV and radio stations. There were over 50,000 people in town before the base closed, and it took until about 2002 for the population of Roswell to get back over 50,000 again.

When I got to New Mexico in 1997, KBIM was still using much of the equipment that was purchased (mostly used) after the fire 20 years earlier.

The station is still in that old Sears building, but the radio station was sold off earlier and still operates as KBIM-AM in a new location north on Main Street.

Display in the UFO Museum
Roswell, NM
December 2012
Photo taken by Zara Wilkinson

What is fun about Roswell is how much the "incident" plays a role in the city's character. The street lights on Main are shaped like Alien heads. Next door to KBIM-TV is the "Alien Zone," a shop catering to the many, many tourists who come ever year to see the "crash site" and the place where the Aliens landed. Just down the street from KBIM is the "UFO Museum," where you can see a "very accurate" display of the Alien Autopsy, and other "archives" of the crash in 1947. Believe me, the folks in Roswell "believe."

Each year around July 4th to celebrate the "crash" there is a big UFO Festival. Thousands of believers attend each year, as they usually have some Sci-Fi stars and other events. It was not uncommon to find tourists from all over the world outside the TV station, watching the monitor in the window before heading into the Alien Zone or going to the museum.

Did meet George Takei (Sulu in the original Star Trek series) at one of the Alien Festivals, and whoever the guy (Ethan Phillips) was who played "Neelix" on the "Star Trek Voyager" series.

The other thing I enjoyed about visiting KBIM several times each month was the staff at the station. To be able to put a couple of half hour newscasts on the air each day with the very limited resources available was exciting, and I always will have great respect for the folks who worked there and what they were able to accomplish.

One afternoon the fellow who was the Production Manager at KBIM called me and said "There's smoke coming out of the tape machines." Something had fried in the old 3/4" gear, and they were out of business. I took KRQE's small remote truck to Roswell immediately, towing our portable generator along. The next day at 5:30 we had the newscasts back on the air, and the station worked out of the remote truck for a few months until we could move all of the much newer equipment into a rebuilt control room.

Roswell has three public high schools. One is Roswell High, the "Fighting Coyotes," there is Goddard High, "the Rockets," named for Robert H. Goddard the father of rocketry in the US, who worked in the area, and a newer "University High." I don't know if Brookshier would have attended any of these (Tom graduated from Roswell High) as I think all three were built after he had graduated. Most likely there was an older building someplace while he was going to school.

One of the things that KBIM was famous for while I worked in New Mexico was each Friday night every staff member (and I mean every staff member...Sales people, Traffic people, the engineer) would take a small camera out to one or two High School games in the area, so that the newscast had a highlight or two from every game played in the coverage area. Also, the KRQE helicopter would from time to time fly to the area and shoot a few games as well.

New Mexico (near Roswell)
December 2012
Photo taken by Zara Wilkinson

By the way, Roswell is about 200 miles from Albuquerque. What's hard to fathom for folks brought up in the Philly area is that there is nothing between the two cities! Drive 200 miles from Philadelphia, and you're always in a fairly urban area. Once you get about 25 miles east of Albuquerque, there is nothing. At one point on the way to Roswell there is a small town with a couple of gas stations and a diner. But from there to Roswell, it's 89 miles, and there is literally nothing along the way. You do drive by the road that leads to the "crash site," but there is no place to get gas or any service for the entire 89 miles! No wonder the aliens crashed there. (Maybe they ran out of gas!)
There are unproven claims that a local Roswell radio station, KGFL, had recorded an interview with local rancher Mac Brazel who first "discovered" the crash site. It was reportedly made on a wire recorder. (If anyone has a copy of this, we would love to have it for our archives). So the story goes, the wire was taken into "custody" by the military. There are also unsubstantiated claims that the station was threatened to have their license lifted if they ever broadcast the interview.
We must warn our readers that the last paragraph is NOT documented at all. We just mention it to show what was going on in Tom Brookshier's hometown while Brookie was a high school student.
He was on the football team and their main rival was the Carlsbad Cavemen. Roswell's nearest major town is Carlsbad, NM, about 80 miles away. (By the way, our Chairman of the Board Gerry Wilkinson's wife, Michele, grew up in Carlsbad.) Tom told us this story in November of 2007. When asked by a reporter (Tom never told us who the reporter was or where he was from) about the UFO landing near his home town, Tom told him:
"Unless those aliens are good athletes and are interested in joining our school's football team to help beat those bad, evil Cavemen, I don't really don't give a damn."
FYI... Neither Tom Brookshier nor Fred Woskoff knew the well known movie star who was born in Roswell in 1962. Her name is Demi Moore.
MORE DIGITAL ARCHIVAL PROJECT NEWS:
VIDEO:
The Eyewitness News Team
KYW-TV, Channel 3, Philadelphia

Weathercaster Bill Kuster
KYW-TV, Channel 3, Philadelphia
Last June, we ran a clip of Bill Kuster doing the weather on KYW-TV, Channel 3 in Philadelphia, CBS 3. We had such good feedback, we decided to run another excerpt. Broadcast Pioneers member Vince Leonard was co-anchoring with Jack Jones. It was around the holidays in December as Bill tells us that he missed a couple days on the air because he was allergic to his own Christmas tree. We have to admit, that's one of the best (and more original) excuses we ever heard for missing work. LOL! In our opinion, the Real Video version is slightly clearer. Our video was taken from a high speed VHS tape recorded by KYW-TV that was mastered off the original broadcast quality airchecks.
Watch in Real Video!
Watch in Windows Media!
AUDIO:
Here we have six different audio clips from Sunday, October 17, 1965. They are all from KYW Newsradio, which at this time was less than one month old. None of these clips have previously appeared on the Internet or our website previously. So unless you had a copy of this reel-to-reel audio tape, you haven't heard this material since 1965. All these cuts deal with the Vietnam War in some aspect. We'll present three of the clips this month and the remaining three next month.
The first clip is from the noon hour. It runs 9:43 in length. The reports starts out with news about the actual war and then segues into news about anti-war demonstrations. The station spoke via phone to a Philadelphia college student at the University of California who was at a west coast demonstration the day before. Included in this excerpt is a report by Nelson Cohen about a demonstration here in Philadelphia. That report was 4:15 long. Also included are remarks by Congressman Richard Schweiker, who later went on to be a US Senator from Pennsylvania. In 1955, Schweiker married Claire Coleman, who was a graduate of Temple University and was Miss Claire on WFIL-TV's "Romper Room." The anchor has been identified by long-time KYW Engineer Bud Galow (a member of the Broadcast Pioneers) as Steve Porter.
Listen in Real Audio!
Listen in Windows Media!
The next excerpt is from an hour later in the early part of the 1 pm hour. It runs 4:51 in length. It starts with war news and then goes into national news about a demonstration in California. Then the anchor gave info about protestors throughout Pennsylvania. The anchor has so far not been identified.
Listen in Real Audio!
Listen in Windows Media!
And now we move into the early part of the 3 pm hour with this excerpt running 3:34. The news starts with news about the Vietnamese War and the demonstrations against the war here in the United States. There's also a story about a professor who was not going to be rehired for his remarks saying that he would welcome a Viet Cong victory. During this entire clip, there were no sound bites at all, just the anchor (yet to be identified) reading news copy. Bud Galow has also identified this cut as being anchored by Steve Porter.
Listen in Real Audio!
Listen in Windows Media!
We will continue with three additional clips from the same day from KYW Newsradio in our newsletter next month. It will be in our Digital Archival News section.
Remember, History is ONLY What Gets Saved!
(If there were no portraits of George Washington, how would we know what he looked like?)
A LITTLE BIT OF HISTORY!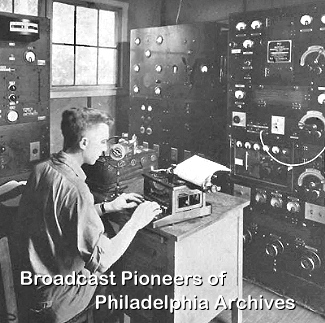 Engineer Thomas F. Ryan
WPEN Radio
Woodside Park, Philadelphia
1932
MORE IN TOUCH WITH OUR MEMBERS:
We heard from Broadcast Pioneers member Bob Jawer. You'll recall last month in this newsletter, we ran a photo of Bob and member Harold Pannepacker. They were wearing beanies. One even had a propeller on it. While still believe that the drink in Pannepacker's hand may have had a lot to do with the beanies, Bob offers this explanation:
Thought I'd explain the photo of Harold Pannepacker and me that was shown in the latest e-newsletter. Penny and I are wearing comical hats. This was part of our costume for the presentation that the KYW-TV sales department made each year to show the ad agencies what the new shows on Channel 3 were going to be for the upcoming TV season.

The scripts were all original and written by the sales department. The shows were usually parodies of the latest movies and were really extremely clever. I have several of them here at home and over the years have looked at them, & marvel at how clever they were. Every member of the sales department had a role in the production and it was a lot of fun!
And this one from member Daniel Fleishman, who writes that he's always had a knack for writing and rhyming catchy lyrics and pairing them with original catchy tunes for commercials. He did one for an outdoor market in New Hope that caught the attention of a recording studio. And would you believe the recording studio wants Dan to be their scribe on a regular basis? You can hear the commercial that caught fire and more gigs for Dan on 100.7 FM from now 'til August.
We thought you would enjoy this. We had e-mailed Broadcast Pioneers member John DeBella about something and we got this reply by return e-mail. It said this:
I am on vacation, out of the office, and off the air for the next 7 days, at least that's what they told me when I left. I "should" return March 25th, but I've been lied to before.
We heard from member Bunny Gibson, who lives out of the sunny west coast where a cold day is 60 degrees. She told us that she just shot a commercial for United Healthcare for those on Medicare. Bunny said: "This California cream puff braved the first day of Spring in Minneapolis at 9 degrees!" Gibson mentioned that the spot will be shown all across the country.
THANK YOU:
As we do every month, we want to thank Broadcast Pioneers member Johnny B. Hall for his monthly cash donation to our DAP, Digital Archival Project. Johnny donates $250 every month. The amount totals $3,000 yearly and really helps us to underwrite this much needed but expensive project. By the way, that's a $600 a year increase over his contribution from last year.
And again, we wish to thank member Jerry Del Colliano for his $1,000 contribution to our DAP fund. We also received a $1,000 contribution to our archives from long-time Broadcast Pioneers member Len Stevens. A little while ago, Robin Adelman (on behalf of the entire Adelman family and Leon Love) presented us with a $1,000 contribution to be split between of our DAP project and our general fund.We welcome other gifts for these and other projects in the form of money and/or donated items like video tapes, audio transcriptions and photos.
We have fifteen $1,000 scholarships being underwritten for 2013 (to be awarded at this month's luncheon). We have six from Johnny Hall, one from the Adelman family and one from Leon Love (Robin Adelman's dad), one from Esther Kurtz, Roy Shapiro, Sylvia Kauders and one from the Harry Hurley Golf Tournament. Broadcast Pioneers board member Kal Rudman announced that he would underwrite two scholarships and member Marlin Taylor donated a thousand dollars to underwrite a scholarship in the memory of his former boss David Kurtz. Those scholarships will be awarded this month.
By the way, we really want to thank everyone who served on our scholarship committee this year for their service. However, we especially want to says kudos to member Linda Munich and WPVI-TV. We had two scholarship committee meetings, both at WPVI. Each time, the station provided our committee with lunch. It is much appreciated.
We already have a good start for the April 2014 scholarships. We already have pledges and/or funding for eleven $1,000 scholarships to be awarded in April of 2014. We received $1,000 for a scholarship in the memory of Broadcast Pioneers Hall of Famer Mac McGuire. The contribution came from member R. Alan Campbell. Also, the final $1,000 scholarship (part of a five year package) from Broadcast Pioneers Hall of Famer Sylvia Kauders. We also have pledges for seven $1,000 scholarships from member Johnny B. Hall and his wife, Ginny. That's one more than last year. Also, a pledge from the Adelman family for a $1,000 scholarship and also one from Robin Adelman's dad, member Leon Love. The Halls are also pledging an extra $200 to help pay for the lunches of our scholarship winners and families when they come to receive their scholarships. Last year, that cost alone was almost $1,300.
Other contributions this past month came from Gerry Wilkinson, Bill Kelley, Terry Ruggles, Sally Berlin, Mike Bove, Orien Reid and Bonnie Nadley Silvestri and her husband Joe.
Our special thanks go to TUTV and The Kal & Lucille Rudman Media Production Center.

They have underwritten a grant to be used to fund an entire year of all our newsletters for calendar year 2013. We thank them so much for their support!
If you forgot to make an extra contribution (cash or memorabilia) and would like to do so now, it's never too late. We would be thrilled to hear from you at: PO Box 2886, Bala Cynwyd, PA 19004 or call us at (856) 365-5600!
A LITTLE BIT OF HISTORY!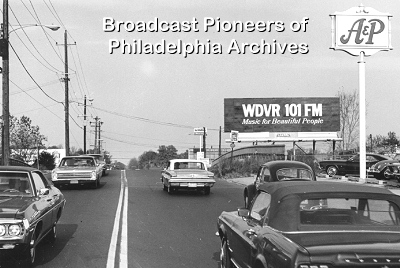 WDVR Radio Billboard
"Music for Beautiful People"
(Look at those cars!)
IN TOUCH WITH THE INDUSTRY:
Syndicated talker Michael Smerconish took his show to Sirius Satellite radio this month. He is being heard on the revamped P.O.T.U.S channel. Smerconish is one of the Philadelphia market's premier talk radio hosts. He had been syndicated in 80 markets including his flagship, Talk Radio WPHT, 1210 AM. But, according to the Philadelphia lawyer turned to political commentator, his expanded audience will deliver many multiples of that kind of reach. And, according to his manager, there's a need for "Michael's voice on the airwaves and that voice was being rejected by a lot of broadcast radio stations." He is a columnist for the both The Philadelphia Inquirer and the Daily News and has often filled in for Chris Matthews'
Hardball" program on MSNBC.
Dick Morris, one of America's most prominent political consultants, will host an afternoon show on Talk Radio, 1210 WPHT beginning Monday, April 15th. The program will air from 2 to 6 p.m. weekdays. The show can also be heard online at www.cbsphilly.com or via the Radioi.com app for mobile devices. The full weekday lineup Includes: Chris Stigall Show 6:00 - 10 am; Dom Giordano Show 10 am - 2 pm; Dick Morris Show with Gary R'Nel 2 to 6 pm; Philadelphia Phillies Baseball at 6 pm. Rich Zeoli and Steve Martorano, currently heard in the afternoons will move to weekday evenings (time dependent on Philadelphia Phillies play-by-play broadcasts).
Former Philadelphia broadcaster Glenn Beck (at one time, his syndicated radio talk show originated out of WPHT Radio here in Philly) is looking to expand his reach. According to reports, his company has a filing with the Securities and Exchange Commission to raise $40 million bucks in new funding. It's all part of a move to get "The Blaze" (formerly GBTV) on cable and satellite TV. Currently, he's on Dish TV with a push underway to get his cable outlet on Comcast and Direct TV. The reports say that the channel expects to open three foreign bureaus in the future. Also, Beck's company just signed a deal with Sirius XM for a new radio channel which will feature Glenn's radio program and other talkers. Beck's syndicated radio talk show can be heard locally on WWIQ, 106.9 on FM.
CBS 3/CW Philly Anchor Susan Barnett reported live from Vatican City for Eyewitness News last month as the cardinals of the Roman Catholic Church prepared to elect Pope Benedict XVI's successor. Member Pat Ciarrocchi reported on the Pontiff's departure from Vatican City in addition to securing an exclusive interview with Cardinal Justin Rigali, former head of the Archdiocese of Philadelphia.
KYW Newsradio reporter Mark Abrams (a member of the Broadcast Pioneers) also reported live from Vatican City as the Cardinals prepared to elect the new pope. Mark arranged interviews in Rome with a number of Catholic Church officials and clergy from the Delaware Valley. His reports were heard hourly throughout the event. According to KYW News Director Steve Butler, Abrams was the only Philadelphia-based radio reporter assigned to cover the conclave. Broadcast pioneers member Bill Roswell (one of our luncheon speakers this month) wrote:
I was in Rome. I was Mark's producer, technical coordinator and posting stuff on our CBS Philly website, as well as doing reports for WNEW-FM down in Washington. Wasn't any sort of "Roman Holiday" over there. Rained just about every day, and I'm still trying to shake the cold and flu bug I got there!
Jacqueline London has joined NBC10 as an anchor/reporter. London had been with CBS affiliate WKMG-TV in Orlando, Florida, where she spent 10 years in the same position. She started her journalism career 15 years ago at ABC affiliate WQAD-TV in Moline, Illinois. She anchored the station's weekend morning news and reported for the afternoon and evening newscasts. London earned two Suncoast Emmy's while at WKMG, one for the the program "Primetime London" which she wrote, produced and hosted. The Orlando Business Journal named her "Best Local News Anchor" for 2008.
Arbitron has announced that in the last five years consumers have increased their listening to online radio stations by two hours a week. The rating service said that online listening is now just about 12 hours per week. Maybe this is why there has been plenty of discussion lately about adding audio Internet service to the dashboard of vehicles.
Greater Media has been named one of the Top Workplaces in Philadelphia for the second year in a row, based on an employee survey conducted by the Philadelphia Inquirer and Philly.com. Market Manager John Fullam said, "Great companies start with great employees." Greater Media owns and operates four radio stations in Philadelphia, including WMMR, WMGK-FM, WBEN-FM, and WPEN-FM. These stations collectively entertain over two million listeners each week.
Greater Media announced the winners of the First Annual Chairman's Awards. Two of the four winners this go-round were from the Philly Market. Matt Rovine won for "Best Business Developer of the Year" and the entire interactive team in Philly (well, Bala Cynwyd) won for "Creative Project of the Year." By the way, congrats to Jim Dolan who started his new position yesterday morning as General Sales Manager of Greater Media's WBEN-FM.
Sportsradio 94WIP on-air personalities are hosting Comcast's new talk program "Daily News Live." The personalities are Al Morganti, Rhea Hughes, Anthony Gargano, Glen Macnow, and Big Daddy Graham. "In addition to hearing varying viewpoints on the top sports topics of the day, viewers will see their favorite WIP host in a different forum," said Michelle Murray, vice president of news programming for Comcast SportsNet.
Not only was yesterday the first day of a full slate of 2013 regular season Major League Baseball games, it was day one of the new NBC/Dial Global 24-hour sports network. NBC/Dial joins the CBS Sports Network which launched on January 1st. Member Merrill Reese's station, WBCB, 1490 on AM is picking up sports updates from the new network but no full-time affiliate in our area.
KYW Newsradio Community Affairs reporter Cherri Gregg has been named one of 104 Influential Black Women from the Philadelphia area by the Philadelphia branch of the NAACP. She recently joined the station with a beat that sheds light on issues, neighborhoods and area leaders affecting community life in the Delaware Valley. Cherri joined KYW in 2011 as a general assignment reporter while completing her Masters in Journalism at Temple University. She has reported on the Voter ID controversy in Pennsylvania, an issue that tapped her experience as an attorney.
THANKS FOR THE MEMORIES:
THE CHILDREN'S HOUR!

Four Year Old Bobby Dukes
singing on WCAU Radio's
The Children's Hour
early 1931
This organization's first president, Stanley A. Broza (called Stan Lee by everyone), became interested in broadcasting while visiting a friend at WHN Radio in New York City. Broza, who spent his entire life in Philadelphia, returned home and talked to a small (at that time) radio station, WCAU. He asked if he could sell some radio commercial time for the station.
Broza implemented new ideas in broadcasting, which included a series of live broadcasts from the Curtis Institute. This gave Leopold Stokowski and the Philadelphia Orchestra unprecedented exposure. It was Stan Lee Broza who found Jan Savitt and his Famous Tophatters and they became his studio orchestra. The station also featured Jan's discovery, BonBon.
In the fall of 1927, Stan Lee Broza, WCAU's long-time Program Director, was asked by the McClatchy real estate organization to journey to their "new" shopping area at 69th Street in Upper Darby, a suburb of Philly. The shopping center was looking for a show to sponsor that brought the message home to women that the new shopping area was children friendly. WCAU had no program but Stan Lee quickly created the format for the show that would last for over three full decades.
How did this come about? Well, during Broza's tour of the shopping facilities, he saw their "toyland nursery" where mothers could drop off their children to play while "mom" shopped without the kids. Broza suggested a "children's program" which would originate live, directly from the nursery. Within 20 minutes, the show's concept was created as a "short term promotional idea." After 13 weeks, the "stores at 69th Street" dropped the program, but it was quickly picked up by Horn & Hardart. They continued to sponsor the broadcast until the show's end during the summer of 1958. However, for a few years at the end of their run, Horn and Hardart shared sponsorship with "your local Plymouth dealer."
On Halloween day, October 31, 1927, Stan Lee Broza started hosting WCAU's very first kid's program on the station (Uncle WIP had been on WIP for six years), "The Children's Hour." Broza tried to find an assistant to work with him on the program, but was never happy with any of the applicants.
The show would stay on the air for almost a third of a century in total. It disappeared in July of 1958. For the first time in the history of the program, the show was given a "summer vacation." By September, CBS had ownership of the station, and they decided not to bring back the program. It was a "sneaky" way of canceling the broadcast. If the show just disappeared, there would have been a mail and telephone outpour. However, by Broza announcing on the show that they were taking a "much deserved" vacation, who could complain. Two months later when the station didn't return it to the schedule, few remembered.
"MISS SUSAN": NBC-TV SHOW FROM WPTZ!
From the Harry Harris section of our archives comes this memory. Harry was a member of this organization for years and was a TV Critic for the Evening Bulletin. Harris' daughter Terri donated a dozen boxes of items. Thanks. On March 5, 1951, he wrote:
Susan Peters came to town last week.... She plays the title role in "Miss Susan," which will be piped from Philadelphia's Channel 3 to the NBC Video Network.

Except for a brief guest appearance on "We the People" some 18 months ago, Susan is a stranger to TV. The thought of learning 15 minutes of dialogue daily has her a trifle uneasy.

"I used to be able to memorize quickly," she said at the Warwick. "I still hope I can. It's going to be a dreadful job, but it will just have to be done." She's not contemplating any mechanical aids, like cue cards, "unless I run into real trouble."

Paralyzed from the waist down by a hunting accident in 1945, Susan will always appear on the TV screen in a wheelchair. According to the script, Susan Martin, whom she portrays, has been hurt in an auto accident.

Miss Martin is supposed to be a lawyer, and that pleases the actress. "I've always wanted to be a lawyer. Four years ago I even enrolled in a university law course, but had to withdraw, but I'm planning to read up on it."

...Susan found stage chores "pretty tiring," welcomes her new assignment, which will allow to settle down in one spot. Right now, she's seeking a four-bedroom house in or near Philadelphia for herself and entourage; chauffeur, cook, nurse and son, Timothy."
Historical Note: Although widely reported on many sites on the Internet, it seems that this program was NEVER retitled "Martinsville USA." Right up to the very last day of airing, the telecast was listed as "Miss Susan" in the TV section of local newspapers. It is true, however, that on this series, we saw actress Betsy Palmer. It was her very first acting job.
Cal Jones of WPTZ directed much of the series with Earle Gill, booth announcer for WPTZ portraying the narrator. The program ran for 9 months. Susan Peters passed away ten months after the show left the air. She was 31 years old.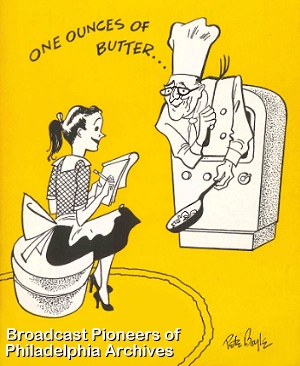 Drawing by Pete Boyle
Page of a cook book by Albert Mathis
1951
In 1950, Ernie Kovacs hosted a cooking show on WPTZ called "Deadline for Dinner." His co-host was Albert Mathis, well-known chef from the Gulph Mills Country Club. Ernie then started an early morning show called "Three to Get Ready" from 7:30 am to 9 am. By the fall of the following year (1951), the morning program expanded into the 7 am half-hour. At that time, Kovacs was replaced on the cooking show by Pete Boyle. Most of us probably remember Boyle as a children's show host and father of the late actor Peter Boyle, but he was also a well-known area artist. This drawing is from that time when Boyle hosted the cooking show. We also thought you might be interested in a recipe from the book. It's for Philadelphia Clam Chowder.
Take one dozen large clams in the shell. Scrub them with a scrubbing brush and plenty of water, then put them in a pot with 1 quart of water with lid on. When boiling, let them boil for 5 minutes. Take clams out of the shell and stain broth a piece of cheese cloth and put clams through a meat grinder and put back in broth.

Keep hot. Dice a small onion, green pepper and 2 sprigs of celery fairly fine. Put about 4 oz. shortening in a heavy pot and smother the vegetables, adding pepper (no salt) for about 2 minutes, then add ½ cup of flour and let this smother for another 2 minutes, then stir in clams and broth very slowly, mixing all the while.

When it starts to boil, put in 2 medium sized diced potatoes, very small can of tomatoes, dicing the tomatoes, pinch of thyme and chopped parsley and 1 tablespoon of Worchester sauce. Cook slowly for 30 to 40 minutes, then salt. Add salt, if necessary.
A little background on Albert Mathis from the foreward to his book:
Albert Mathis is my name. I was born in Strasbourg, Alsace-Lorraine. I served my apprenticeship from 1905 to 1908 for Chef de Cuisine at the Grand Hotel in Nancy, France, where I learned the Esoffier Cuisine. I came to America and worked in the Bellevue Stratford Hotel for two years. The recipes herein are modified from French Cuisine and are adapted for the use of the housewife. Also there are American dishes learned by me from well known chefs including Andre Hisler, chef of the Bellevue Stratford and Ernest Henry, chef of the Old Colonade Hotel.
THE FRANKLIN INSTITUTE!
It was Saturday, August 25, 1934, Philo Farnsworth demonstrated his "invention" (television) at Philadelphia's Franklin Institute. A television camera was place on the front lawn, near the Benjamin Franklin Parkway in Center City Philadelphia. It was amateur football game, the first ever shown on television and it happened right here in Philly.
Well, it seems that the Franklin Institute is back into television, well sort of. The institute tells us:
Two Red-tailed Hawks built a nest on a window ledge at The Franklin Institute in Philadelphia. The nest sits just outside a window where a camera has been positioned to create this video stream. The camera looks through the glass window pane which is 24 inches wide (~61 cm). No artificial lighting has been added, so the nest is only visible during daylight hours.

Philadelphia provides a suitable year-round habitat for Red-tailed Hawks. They can be found in open areas with elevated perches where they sit and watch for their prey. They are meat-eaters and feed on small to medium-sized mammals and birds. In an urban area such as Philadelphia, that would certainly include rodents, although these particular hawks are most commonly observed to be feeding on pigeons.

The female lays the eggs one at a time, approximately every other day. The number of eggs is related to the availability of food in the area, as a well-fed female is likely to lay more eggs.
There are three eggs in the nest. The first one showed up on March 25th. The second on March 28 and the last on Easter Sunday, just two days ago. The is the fifth year that the nest has been on a ledge at the Franklin Institute. You can watch the nest live via a closed circuit TV camera based inside the Institute. Click here to watch live!
A FINAL THOUGHT....
"In time of war, the first casualty is truth!"
Boake Carter
WCAU Radio/CBS Radio/Mutual Radio News Commentator
1930's
(Note that Boake Carter had always said that the original source of this quote is the Greek Playwright Aeschylus about 2,500 years ago.)
Please contact us by e-mail at newsletter@broadcastpioneers.com or by mail to: Ed Eisen, 1110 Longshore Avenue, Philadelphia, PA 19111. (215) 725-7253. Your stories are important, to you, to us, and your colleagues. Contact us today and we'll include your story in the next newsletter!

Photo Editor & Archival Historian - Gerry Wilkinson
© 2013, Broadcast Pioneers of Philadelphia
All Rights Reserved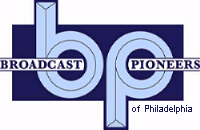 The e-mail address of the Broadcast Pioneers of Philadelphia is pioneers@broadcastpioneers.com
For luncheon reservations call (856) 365-5600 or e-mail us at: rsvp@broadcastpioneers.com