| | |
| --- | --- |
| | Broadcast Pioneers of Philadelphia is a federally recognized, state chartered 501(c)(3) non-profit organization serving the Philadelphia Broadcast Community since January of 1962. |
March Luncheon
The Bala Golf Club
Wednesday, April 15, 2015

Meet & Greet at 12 noon!
Lunch at 12:30 pm
Ratecard: $28 per person!

PLEASE RESERVE NOW!
CALL (856) 365-5600!
rsvp@broadcastpioneers.com
Another "Third Wednesday" Luncheon!
Wednesday, April 15th!
"Celebrating 45 Years of Action News!"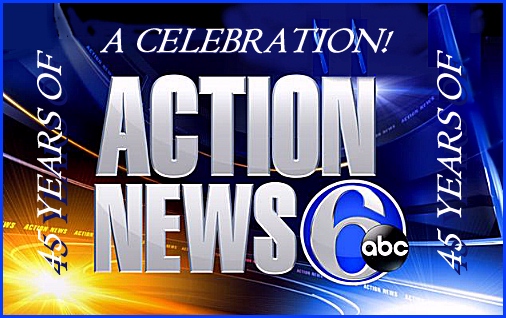 Breaking News! Action News is 45 Years Old in April. Everybody knows the theme song. Everyone knows the format and everyone knows the anchors!
Come out and help us celebrate 45 Years of ACTION NEWS! It all takes place at the Bala Golf Club, 2200 Belmont Avenue in Philadelphia on Wednesday, April 15th (that's the third Wednesday of the month).
Our MC for the afternoon will be former WPVI-TV's Sports Director Joe Pellegrino. You remember the Action News promo where all the girls chased Joe. If you not, ask him. He'll tell you the story with glee.
Scheduled to appear are: (in alphabetical order):
Cathy Gandolfo, former 6abc Action News Street Reporter
Lew Klein, a Channel 6 manager when Action News started
Bob Kravitz, former Action News photojournalist
Monica Malpass, 6abc Action News 5 pm News Anchor
This all happens at the beautiful and historic Bala Golf Club, 2200 Belmont Avenue (across the street from the state police) in the Wynnefield section of Philadelphia. Only minutes away from Channel 6. (Also close to channels 10 and 17 plus the radio stations in Bala Cynwyd).
Plenty of FREE parking. Our luncheons are open to all our members, their guests and any person in the industry or associated fields, whether active or retired. You do NOT have to be a member to attend. There is no reserved seating at any of our luncheons. Feel free to sit anywhere. Well, okay--the three people on the camera crew sit near the cameras, but that's in the back of the room (who wants to sit there except them?).
The cost is only a donation of $28 (or more) per person! In order to speed up check-in at the luncheon, it would help if you had exact change or your check already written. Checks can be made payable to the Broadcast Pioneers of Philadelphia.
If you would like to add a few dollars extra, we would appreciate it. It would help us with all the important work we are doing. Thanks!
WE WANNA SEE YOUR FACE IN THAT PLACE!

Visit Our Website Often - http://www.broadcastpioneers.com
You should check our website often on the front page (above) for important information!
Check out our Facebook Page - http://www.broadcastpioneers.com/facebook
There are things on our Facebook Page that are NOT on our website (like our vintage photo of the week)
Tune in to our YouTube Channel - http://www.broadcastpioneers.com/youtube
Our YouTube Channel has all our luncheons, exclusive interviews and archival material

WELCOME NEW MEMBERS:
FULL MEMBERS:
William Finnell, commonly called BJ, has been in our industry since 1977. He is currently Vice-President of Media Relations for the Regan Communications Group in Boston, the largest privately held integrated marketing, PR and communications firm in New England. For eleven years, he worked at WCAU-TV as a newswriter, producer, EP and eventually Assistant New Director. He was a news anchor for WCBS Newsradio in NYC and has worked at several other stations on the east coast.
Keith Stacy has been in our business since 1977. That's 38 years. Keith is the principal engineer for L-3 Communications based in Camden, New Jersey. Keith Stacey started over a third of a century ago at RCA in Camden and stayed there throughout the years. It's now called L-3 Communications. The company specializes in the design, development and production of integrated communication systems supporting space, ground, air and naval operations.
We are thrilled to have these new members. Over 500 Members. More than ever. We hope to see as many of our members as possible at our next luncheon.
ARCHIVAL PROJECT NEWS:
VIDEO: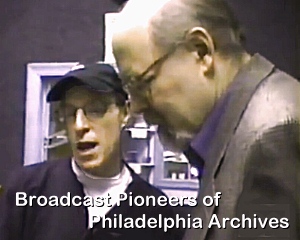 (Left to right) Members Jerry Blavat and Ed Sciaky
at the Geator Gold Radio Studios
626 Market Street, Center City Philadelphia
Monday, May 1, 2000
For decades, the Broadcast Pioneers of Philadelphia has been recording interviews with some of our members. It's part of our Oral History project. On Monday morning, May 1, 2000 (almost 15 years ago), we recorded a 36 minute interview with Hall of Famer Jerry Blavat. The interviewer was Ed Sciaky, also an inductee into our Hall of Fame.
It was recorded in Jerry Blavat's air studio at 626 Market Street in Center City Philadelphia. They talk about Jerry's early days in broadcasting right up to the current time (as of the interview). While it was shot on VHS high speed tape, it is still a very historic document.
Watch the video from our YouTube Channel!
AUDIO:
Here's a piece of audio from Sunday evening, April 25, 1965. Our audio picks up right after the CBS-TV feed of a CBS News Special: Decisions of 1945 (that ran from 10 pm to 11 pm). It starts with John Facenda doing the teaser followed by a Bond Bread commercial. Then the actual newscast. Where our audio ends here in this newsletter is also where it ends in our audio archive. (We also have the complete audio of the CBS News Special). We were able to date the newscast because we knew the airdate of the news special. While this is from WCAU-TV, we have only audio.
Listen in Windows Media Format!
Our next clip is from Friday, September 24, 1965. It's a 2 minute 20 second excerpt of a WPEN newscast. Why don't we run more? That's all we have. The newscaster has not yet been identified. Note that this is three days after KYW Radio went all news, all the time.
Listen in Windows Media Format!
Today's News Becomes Tomorrow's History!
(This is what our Digital Archival Project, DAP, is all about!)
OUR CAREER NIGHT AT TEMPLE UNIVERSITY: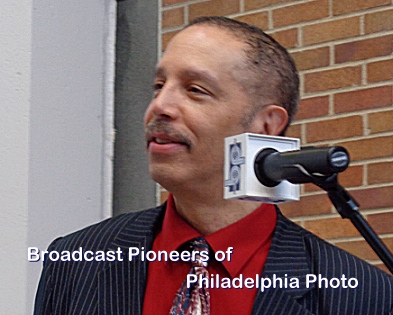 Broadcast Pioneers member Bill Vargus
Broadcast Pioneers Career Night
Temple University, Annenberg Hall
Thursday, March 26, 2015
The Broadcast Pioneers Career Night for College Students was held this past Thursday on the campus of Temple University in Annenberg Hall. Member Bill Vargus was our MC and moderator. Our panelists were Cheri Gregg ( Community Affairs Reporter, KYW Newsradio & CBS 3), Rosemary Connors (NBC 10 weekend anchor and weekday street reporter), Maria Ioannides (6abc's Senior Producer, Social Strategy), member Steve Highsmith (Director of Community Relations, WPHL-TV), member Mike Strug (former street reporter for NBC 10) and our Chairman of the Board Pat Delsi. More than 100 students showed up for the event.
Our special thanks to everyone at Temple University for making this career night a huge success. Special thanks to member Lu Ann Cahn (an inductee into our Hall of Fame) who coordinated everything with us for the university.
ADDITIONAL PHOTOS:
Rosemary Connors & Maria Ioannides
Members Pat Delsi and Mike Strug
Cherri Gregg & member Steve Highsmith
VP Brad Seecof shooting video with Pat Delsi in the view finder
IN TOUCH WITH OUR MEMBERS:
Broadcast Pioneers member Harry Hurley will be inducted in the New Jersey Broadcasters Association's "Hall of Fame" this June. Harry was inducted into our Hall of Fame in 2013. And just a couple of weeks ago, Harry Hurley was selected by Talker's Magazine as one of this nation's most important radio talk show hosts. He's been an annual recipient of PolitickerNJ's Top 100 Political Power list every year since 2007. The publication "In the Lobby" ranked Harry as the seventh best political journalist in the entire state of New Jersey.
Beginning this Sunday, Broadcast Pioneers member Andy Kortman will host an "adult standards/pop" program on 610 WTEL (the old WIP, radio six-one-oh in the metropolitan area) each Sunday, 12 noon to 2 pm. You'll hear everything from Sinatra to Streisand, from Bennett to Buble, from the Carpenters to Barry Manilow. The tradition of great music returns to 610 on "The Andy Kortman Show."
Broadcast Pioneers member Joe Tarsia founded Sigma Sound Studios in 1968. The building that housed the almost 14,000 square foot music center will be turned into apartments. The studios were at 210 North 12th Street in center city. The location will receive a historical marker as approved by the Pennsylvania Historical and Museum Commission. It is the second studio to receive such an honor. The other was the old Cameo-Parkway facility at 309 South Broad, also in center city. That building is going to be turned into a hotel and residence property.
Broadcast pioneers member Jon Hitchcock starts a new gig this coming Monday. He'll be the Vice-President and General Manager of Tribune Broadcasting's Fox and CW affiliates in Hartford/New Haven, Connecticut. For the past six years, he has been President and General Manager of CBS 3 and the CW Philly 57, both here in Philadelphia. Before coming to Philly, Hitchcock spent 17 years as Vice-President and General Manager of LIN's two Connecticut stations, WTNH-TV (an ABC affiliate) and WCTX-TV (MyTV) in the Hartford/New Haven market. Before that, he was a TV research analyst for Blair Television in the Big Apple. No replacement for Jon's position here in Philly as been announced.
The Rena Rowan Breast Center at the Hospital of the University of Pennsylvania was the recipient of a check for $241,061 for cancer research in March. The money was accepted by director Brian J. Czerniecki, M.D and given by Pennies in Action founder and Broadcast Pioneers member Uschi Keszler as part of the organization's ongoing support of Penn Cancer Research. Pennies in Action was founded in 2007 by Uschi Keszler, Olympic athlete, Olympic coach, and double cancer survivor. Having survived and seen the conquering of tuberculosis in her youth, and now as a survivor of both breast and uterine cancer, Uschi is determined to see cancer beaten in her lifetime too.
Member Bunny Gibson tell us that she is: "representing United Healthcare for another year in my United Healthcare commercial (shown in Philadelphia and New Jersey) with Jovanna Ortiz as my daughter. Actually this really is my Insurance Plan."
While visiting Cuba in March, Broadcast Pioneers member Joaquin Bowman stopped at the offices of radio station CMHW, 840 AM and 101.5 FM , hoping to get a look at the studio and talk with the staff. "Unfortunately," he reports, "I was not permitted to enter the station." CMHW is a government controlled station in Santa Clara, about 175 miles east of Havana in the center of the island. It is a 24-hour station and began operation July 15, 1933. Bowman was, however, permitted to take a photo in the outer office. "The people were very nice," Bowman said, "but made sure I stayed well beyond the broadcasting area." You can see the photo here!
Broadcast Pioneers member Steve Vertlieb's "A Triple Life: King Kong's Trinity on Film" has been nominated for a Rondo Hatton Award. Few films maintain the global cultural influence of 1933's KING KONG. And few historians have become as associated with archiving its cinematic legacy for posterity as Steve's own documentaries. Voting in now underway for this award.
Broadcast Pioneers member Frank Stone, Director of Lazarus House emergency food pantry in Wildwood, was on the scene on March 17th in Rio Grande, New Jersey, as a participant in the award ceremony for Shop Rite Partners In Caring Cheerios Contest. This year's theme was "Providing Hope to the Hungry." In this spirit, Shop Rite associates collected donations at check-out and held various fund raising events, raising $1.27 million to support regional food banks and communities served by Shop Rite stores.
The event was hosted by Broadcast Pioneers member Orien Reid Nix, who presented awards to two local Shop Rite associates who coordinated the promotion and who will appear on a special-edition Cheerios cereal box. The customized boxes sold exclusively at Shop Rite were unveiled at this and other in-store celebrations during the month of March. Here's a picture of Frank and Orien.

Shop Rite Partners In Caring is a year-round, community-based initiative that works to provide nearly $3 million annually to qualified charitable agencies in New York, New Jersey, Connecticut, Delaware, Maryland and Pennsylvania.
A LITTLE BIT OF BROADCAST HISTORY!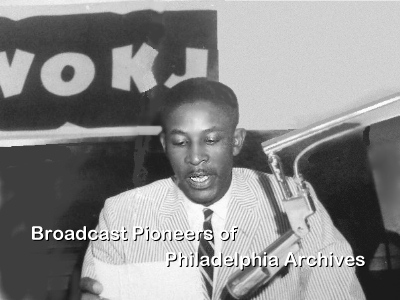 Larry Daley
WOKJ Radio
Larry Daley was a disc jockey and air personality at WDAS Radio in the late 60s and early 70s. His real name was Robert Whitfield. Larry did the "mid-day" daypart. Back in the day, we would have called it "housewife." He was a mainstay at the station for a decade and was the AM station's Production Manager. Daley worked at several stations before coming to Philadelphia. One of them was WOKJ Radio in Jackson, Mississippi. The station was at 1550 on AM with an output power of 50,000 watts day and 10 kilowatts at night. The above photo (sent to our archival project 5 years ago by Larry's son, Richard) dates from the sixties. His son tells us that Larry Daley passed away in the early seventies.

Did You Know...
that member Steve Sacks was at Frank Sinatra's Wedding?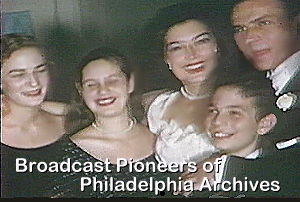 (left to right) Adrienne Sacks, Lynn Levy, Ava Gardner, Steve Sacks and Frank Sinatra
The Sacks Family Home
November 7, 1951
Note!
Adrienne is Steve's sister. Steve and Adrienne's uncle (their father's brother) was Manie Sacks.
Manie was a Vice-President at Columbia Records and later went to RCA Victor and then to NBC. He was responsible
for the careers of many super stars of the era. When Manie passed away in 1958, there was a big network special
with Frank Sinatra and many other famous stars.
Lynn Levy is the daughter of Dr. Leon Levy. Levy was president of WCAU for decades in the early years. Dr. Levy,
formerly a dentist, was married to Bill Paley's sister, Blanche. Bill and his dad, Sam Paley and his Uncle Jacob invested
in WCAU Radio. In turn, Dr. Levy, and his brother Ike (a Philadelphia lawyer) were investors in CBS and served on
the CBS Board of Directors for decades.
Board Member Steve Sacks wrote this six years ago. We found it buried in our archives and thought that you might enjoy reading it.
It was approximately 58 years ago this month (November 7, 1951) that I was privileged to be part of one of the most famous weddings ever to take place in Philadelphia. It was not a star studded event but a wonderful family affair held at my parents home at 506 West Springer Street, in the West Mt Airy suburb of Philadelphia.
Frank Sinatra and Ava Gardner decided the night before their wedding, held on November 7, 1951, that Ike and Rita Levy's house located at Henry Avenue & School House Lane in the East Falls section of Philadelphia was going to be too public.

They did not want all the reporters at their ceremony so they decided to find a place in Philadelphia where they could bring in their friends and family and celebrate in a very private environment and that's how my story begins.

(left to right) Frank Sinatra, Ava Gardner and Manie Sacks
The Lester Sacks Family Home
November 7, 1951

My father Lester and my Uncle Manie were two very good and close friends of Frank. The day started out like any other day except I knew a big wedding was coming to Philadelphia and I wasn't invited. I was 11 years old at the time going to Chestnut Hill Academy. When school was over I got on the school bus and asked the driver to take me past Ike Levy's house because I wanted to see what I imagined would be all the excitement only to be told by the bus driver that he had received specific instructions to get me home from school as soon as he could.

When I arrived home I saw Glasgow Driscoll, a Philadelphia Detective who was usually assigned as a body guard to be with Mr. Sinatra when he came to Philadelphia standing outside the front doorway and he told me to go right inside and see my mother, Elsie. She sent me upstairs to get cleaned up and dressed up. I was told to wear a silk tie I'll always remember that it had a hand painted picture of Frank Sinatra's face on it. It was after all this preparation and came down stairs that I finally found out that Frank Sinatra was going to marry Ava Gardner in my house.

Except for the old Ritz Carlton Hotel chefs preparing food in our kitchen and the guard outside, things were still quiet, but to an eleven year old like myself and I'm sure my sister, Adrienne, the excitement was just beginning. Our pet dog Noel and our cat Pussy Willow were also enjoying the food and the generosity of the kitchen.

(left to right) Ava Gardner, Ike Levy and his wife, Rita Levy
The Sacks Family Home
November 7, 1951

The guests arrived. The ones I remember are Ray Sinatra, Frank's cousin, Ray's wife, June Hutton, her husband, Axel Stordahl, band leader and Frank's. Also, former owners of WCAU, Philadelphia Yellow Cab, and Atlantic City Race Track, Ike and Rita Levy, their children Anne and Dick, Ike's brother, Dr. Leon and Blanche Levy, and their family Bob and Lynn (former Mrs. Chuck Barris) and Frank's mother Natalie and father Martin Sinatra. There were other guests too but I don't remember all their names. Judge Sloane, a Philadelphia judge officiated at the wedding.

Finally the time arrived and a black Cadillac pulled into our driveway with Frank, Ava, and my Uncle Manie Sacks who was responsible for arranging the wedding and a few other cars with the rest of the wedding party. There was about two hours before the ceremony where everyone dressed and got ready for the wedding.

The ceremony was held in our living room with a buffet dinner afterwards. The official photographer for the wedding was Jules Schick and most of the public pictures that you see today of the affair were taken by him. My father, Lester took some movies and some Stereo Realest 3D pictures that showed a great couple that looked like they were going to spend the rest of their lives together. Of course that was in the eyes of an eleven year old.

By the time the ceremony was over the secret was out and there was a huge crowd outside our house on the lawn and in the trees and hedges. When I went outside some of my friends in the neighborhood were yelling to me to get them inside the house but of course I couldn't. Reporters were standing on our porch trying to get in and get interviews. When Frank heard all the commotion he went outside and had a few words with the press telling them to get lost. Our phone was ringing with calls from Hollywood gossip columnists trying to find out what was happening. Frank also took some of these calls and let them know what he thought about the invasion of his privacy.

In about six hours, the party was over and everyone left as quickly as they had arrived. The outside of our house looked like a battlefield with shrubs trampled and trash left behind. Today, the house where "The Wedding," took place has been torn down, but me, I was left with a wonderful story to tell about a fairy tale marriage and how I got to play host to two of the most famous movie stars in the world.

MORE ARCHIVAL PROJECT NEWS:
VIDEO: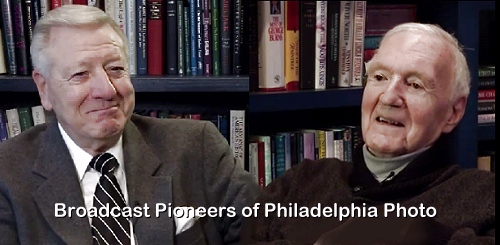 (left to right) Members Bill Baldini and Al Meltzer
at Al Meltzer's Home
Wednesday, February 18, 2015
As part of our ongoing Oral History, we are constantly recording interviews with our members. About six weeks ago, we sat down with Big Al Meltzer at his home to speak about his career. Our host and interviewer was Bill Baldini.
AUDIO:
The audio on the next two cuts was recorded on an 8 and 3/4 inch green flexible transcription disc. It wasn't meant for broadcast so the quality is not the greatest. We have cleaned it up the best we could. First is a WCAU Radio newscast done by George Lord. It dates from Tuesday, September 9, 1958.
Listen in Windows Media Format!
The final piece of audio is a complete John Paul Weber newscast from Saturday evening, September 13, 1968. The station is WIP Radio. Note that there is a A&P commercial preceding the newscast (and a WIP jingle). The newscast was also sponsored.
Listen in Windows Media Format!
Remember, History is ONLY What Gets Saved!
(If there were no portraits of George Washington, how would we know what he looked like?)
IN TOUCH WITH THE INDUSTRY:
NBC10 Philadelphia and Telemundo62 announced that both stations will produce and air a live telecast of the Philadelphia Department of Parks and Recreation's 36th annual Blue Cross® Broad Street Run.
The stations will increase visibility for the iconic Philadelphia event by broadcasting the run live on both stations, one telecast in English, the other in Spanish. The air date is May 3 from 8 am until 10:30 am. This is the first time in history the run has been brought to viewers live in its entirety.

The stations are planning to place multiple anchors and reporters along the race route, along with more cameras, aerial shots from Sky Force 10, pre-race coverage and extensive background coverage of the run prior to the event. In addition, there will be a strong digital and social media commitment from both stations. The stations will also produce a 30-minute special to air at 7 pm on NBC10 the night before the race.
CBS 3 and The CW Philly's sixth annual Ronald McDonald House Charities Phone Bank, a 14-hour on-air fundraiser that aired live across both television stations, raised more than $1.1 million dollars last month The phone bank brought in exactly $1,176,590, its largest total to date, upping the funds raised for the charity to more than $ 5.1 million since the first phone bank in 2010. Broadcast Pioneers member Jim Murray is a member of the Ronald McDonald House Charities Local Operations Advisory Council and past president of the International Advisory Board for the Ronald McDonald Houses.
CBS 3 Reporter Syma Chowdhry and her husband Channel 3 Photographer Andy Zaremba are celebrating the birth of their son, Zane Amjad Zaremba. The baby was born on Thursday, March 19th. He weighed in at 7 lbs. and measured 20." It is the couple's first child.
The radio division of ACT, Inc., has contracted to own and produce two 30-minute information/interview shows throughout this year, Broadcast Pioneers member Joe Ball, executive producer, tells us. They are entitled "Lifestyles" & "The Marketing of Business." They feature interviews of local business and organization owners and decision makers, speaking about their experiences in becoming successful leaders and individuals. The shows are broadcast over WWDB, 860 AM. The shows run back to back on Mondays and Wednesdays starting at 6 pm.
Due to the success of "Sundays with Schmidt," Major League Hall of Famer Mike Schmidt will add Saturday home games to his broadcasting duties, announced Brian Monihan, Comcast SportsNet President and General Manager. Schmidt will join the broadcast team of Tom McCarthy, Matt Stairs, Ben Davis and Gregg Murphy for 26 broadcasts in 2015, up from 13 games last season.
Schmidt's first Saturday broadcast will be on April 11th when the Phillies take on the Washington Nationals at 7 p.m. on The Comcast Network. He will also be in the booth when the Phillies wrap up their weekend series with the Nationals on Sunday, April 12th at 1:30 p.m. on Comcast SportsNet. NBC10 will air 12 games in 2015, including the season opener against the Boston Red Sox on Monday, April 6th at 3 p.m.
WE REMEMBER: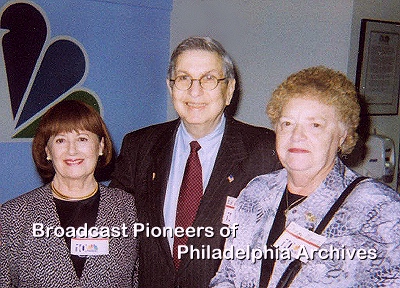 (Left to right) Board members Dorie Lenz, Ed Papazian and Shirley Morris
Broadcast Pioneers' First College Symposium
NBC 10, WCAU-TV Building
Saturday morning, April 13, 2002
Broadcast Pioneers member Shirley Morris passed away Tuesday, March 10th at sunrise. She was 81 years old. Shirley worked as a secretary at WFIL in Philadelphia and Lankenau Hospital for many years. She was a lifetime member of "Broadcast Pioneers.of Philadelphia" and served for many years as our Secretary and Treasurer. She served 16 years on our Board of Directors and was a board member emeritus at the time of her death. She loved the rodeo, music, traveling and Santa Claus. The family asked that in lieu of flowers, memorial contributions may be sent to Broadcast Pioneers of Philadelphia.
Former Fox 29 TV Anchor and Emmy Winner Lee McCarthy passed away at the beginning of March from complications following cancer surgery. Lee was previously an NBC-TV and radio reporter. He graduate from Notre Dame in 1965 and worked as an anchor at Youngstown, Ohio's WYTV-TV. Two years later, he went to WTOP-TV in Washington and then on to NBC. After working at WTXF, he taught broadcast journalism at Villanova and received his master's there 9 years ago. He was a member of the Broadcast Pioneers.
Former WFLN broadcaster Jim Putz passed away in March, according to a phone call from his daughter Christina. He was station manager of WRTI (AM) while a college student at Temple University. He later worked at a religious station as a newscaster and announcer. He also worked at WFLN radio in the seventies and did a classical music program on WUHY-FM (now WHYY-FM). About a decade later, he joined WHYY again as a telemarketer and fund raiser which is did for a dozen years. He was 67.
We received some sad news from member Mike Nozilo. His wife of 58 years, Connie, passed away in March. Mike told us that she had just celebrated her 82nd birthday. Mike worked at WFIL-TV and WPVI-TV for many years. Connie was a dental hygienist. She also earned her Bachelor's degree in Education at Temple University. Previously, she went to the University of Michigan where she received her certificate in dental hygiene.
A LITTLE BIT OF BROADCAST HISTORY!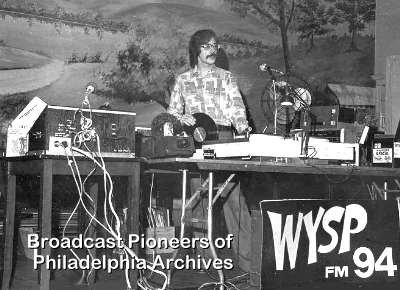 Jerry Hebert
WYSP Radio
Five years ago, Scott Horner sent us some photos for our archival project. They were from WIBG, WIZZARD or WYSP. WYSP was the old WIBG-FM. This picture is of WYSP's air personality Jerry Hebert at an outside station event during the disco era (late seventies). Today, the station is the home of WIP-FM and owned by CBS Radio.
ON THE HEALTH FRONT:
We heard from member Robin Adelman on the condition of her father, member Leon Love. Robin tells us:
Dad was going to have surgery for cancer but is going to the University of Pennsylvania Hospital for an alternative non-surgical opinion. Surgery hasn't been ruled out but he may be be a candidate for stereotactic radio surgery; at U of P known as Cyberknife.

Anyhow my dad is coming along but cautiously. He gets around slowly with his energy a bit compromised but trying to be optimistic.
THANKS FOR THE MEMORIES:
More Live from Florida!
Last month, we started the story told by former Delaware Valley broadcaster Roger Wood who was broadcasting from Florida in 1986 during the Challenger disaster. Here's some of what he said:
Tuesday morning, January 28th was crystal clear, but icy cold, typical weather for a New England mid-winter early morning, but unusual and unwelcome for the citrus belt. Frost warnings had already been posted the night before for orange growers, and the temperature was far below freezing that morning. We had already been warned at Kennedy that sub-freezing temperatures could very well force another cancellation of the shuttle launch, so neither Jim nor I expected any activity when we drove to the Cape that morning. In fact, my radio reports the previous afternoon suggested that it would be unlikely for a launch until better, warmer weather arrived was therefore amaze when, upon reaching K.S.C. I heard the public affairs officers saying that it looked like a 'go' for that morning.

At 24 degrees Fahrenheit, it was bitterly cold at the Cape, a piercing kind of cold that can only be compared to a below zero, wind-chilled New England day. I was uncomfortable in a lined raincoat and warm gloves, but many of my counterparts from the North were equipped only with light spring jackets or sweatshirts, expecting the balmy weather Florida is so well known for. I asked NASA's Dick Young if a space shuttle had ever been launched in such temperatures, and he conceded there hadn't, but he downplayed my line of questioning, saying that the agency had launched other types of rockets in weather that cold.

I also took my question to Col. Robert Nicholson, an Air Force weather expert on hand at the media center. He told me that rising temperatures after sunrise should help improve conditions, and that the ice control team seemed to have kept ahead of that problem on the launch pad. But the residue of that team's overnight work was still to be seen on the underside of the launch platform; long icicles clinging to the surface just as they do to the roof eaves of our New England homes. It was those icicles that forced the last postponement, to 11:30 that morning, for the Challenger liftoff.

When the sun finally rose the morning of the 28th, it had a warming quality to it, and there was absolutely no wind. Since there were no clouds in the sky, the cold and icing on the launch pad were the only remaining obstacles. I and my fellow New England reporters were ecstatic, sensing that this would probably be the day we would witness a shuttle launch and record the historic beginning of a journey for space-teacher Christa McAuliffe. Some of us had almost run out of cash, or clean clothes, and certainly all of us had exhausted our news-feature interview possibilities. The only thing left to report on was the launch itself.

After the last 'hold' was called to evaluate the icing situation, a problem presented as minimal to us by NASA, we prepared to lug our radio equipment back out to the grandstand, which was still freezing after only a short time in the sun. On the NASA T.V. screens, after watching the astronauts go through their routine, just a picture of the icicles remained. Then, word from launch control that engineers determined they would be gone by the time of launch, now set for 11:37 A.M. I phoned my station, and briefed them to expect a live lift-off broadcast beginning just after 11:30, and continuing only until a short time after the blast-off took place. I began to feel, like many of my colleagues, that the story was near an end, and that my trip back home was imminent.

I can't really remember when I began to believe that something was wrong. I had just finished a short, live radio broadcast on the lift-off of Challenger, when a voice from mission control in a very low-key voice crackled something about the vehicle exploding. Then, more silence on a system that had been alive with sound beforehand. Then, a report about search and recovery operations beginning off the coast, but no official announcement from NASA. That was to come, fully five hours later, at a news conference by Jesse Moore that added very little information.

What was a New England radio reporter who had never seen a rocket launch in person to do? I was sent to the Kennedy Space Center to report on the triumphant journey of New Hampshire teacher Christa McAuliffe, not the horrible atomizing of seven human beings in an incredible explosion that reverberated throughout the press grandstand and in the living rooms of Americans watching in horror.

When the awful truth began to filter back from the V.I.P. grandstand nearby that the worst had happened, the initial roar of the shuttle rocket engines had already passed and was replaced by an eerie quiet. Up in the sky there were trails of vapor and smoke, going in all different directions, but no sign of the Challenger.

I packed my electronic equipment and moved from the chilly grandstand into the domed media center. There, reporters who were usually busy writing a feature story about the mission or crew, or socializing, were just standing or milling around, some wiping their eyes, most appearing to be in shock at the situation. Others were crowded around pay phones, trying to send back the almost non-existent information that was available. My manager back in New Hampshire was screaming for updates on the disaster, and I was still in the disbelief stage.

By then, realizing that there was no official information forthcoming from NASA, national and local T.V. crews were roaming the morgue-like media center, trying to find something, anything to capture on film or video. As soon as I began writing or picking up our special phone link back to New England, a still or video camera person would focus on me. Totally numbed and quite apathetic at first, I began to try and think of an angle.
Still More from Florida!
Just then, 16 year old Brian Ballard, who accompanied another New Hampshire radio reporter to the Cape, walked through, and I recalled that he is the editor of Concord High School's newspaper. Just a couple of days before, he had sat around with a group of us watching the Super Bowl game. Now, I recognized him to be the only source of immediate local reaction, so I beckoned him over to my press desk and warned, "Brian, I'm going to ask you a few questions. Watch what happens when I do." Immediately, the rest of the New Hampshire press corps joined me, and in minutes, the youth was lost in a sea of microphones and video cameras, an instant celebrity in an incredible upside-down world.

The interviews were still going strong, network reporters were asking him to come to their buildings, when I phoned the story and his eyewitness comments into WOKQ. Jim Van Dongen, of WEVO, my companion for the trip, then used our joint telephone to call in a report to his station and National Public Radio. In a fast-moving story such as this, celebrity status is short-lived, and Brian was soon left to wander anonymously through the press center as before, while crews sought new angles to a story they couldn't get a handle on. I vacillated from complete involvement in writing and producing news material to sitting quietly at the desk wondering what was reality. Up since 3:30 in the morning, with only breakfast, I wasn't hungry, but an empty feeling was there to remind me that there had been no meal since then.

One of my fellow New Hampshire radio reporters was having a difficult time dealing personally with the tragedy, at one point saying that he didn't know how he could go on. But, minutes later, he was again at his desk sending reports back to worried listeners in Concord.

Later, Jim Cole, also from Concord, an Associated Press reporter assigned to shoot pictures of Christa McAulliffe's family and others in the V.I.P. grandstand at K.S.C. dropped by my desk, and I interviewed him. Jim, who wasn't even looking up into the sky at the doomed shuttle, was taking pictures as her family watch the horrible scene. His observations also found their way onto Public Radio networks and others around the nation.

By now, there was still no official word from NASA, just a video scene of the apparent search area off the Atlantic Ocean. The action meanwhile had shifted, temporarily elsewhere, to Concord, where we heard that students were excused from an assembly called to watch the historic launch, and that school officials would speak to the media there at 3 in the afternoon.

Here, finally an advisory came on the NASA T.V. screens that the agency's Associate Administrator of Space Flight, Jesse Moore would have a statement in the auditorium next door at 3. However, the news conference kept being pushed back, fifteen minutes at a time, until finally, at 4:30, he released few details, but the awful confirmation, that the shuttle exploded, killing all seven astronauts.

We also watched President Reagan from Washington, attempting to lift the spirits of shell-shocked NASA employees, along with children and other Americans everywhere. Next on the video screens, a picture of the flag, outside by the grandstand at half mast, right next to the countdown clock, which was still moving into plus hours, minutes and seconds, but no longer recording a mission into space, just the long, grueling hours of despair for the astronauts.

Former Philadelphia Broadcaster Roger Wood
Countdown Clock with Challenger in the background
Kennedy Space Center
Cape Canaveral, Florida
Thursday, January 23, 1986

Just three days before, I had my picture taken in front of that clock, with the flag flying high and proud, and the still intact space place sitting on its pad. The pictures I had taken were for the radio station's possible publicity use, but will probably simply be placed aside, along with my press badge, car window press sign and the next morning's local papers with their shocking headlines. I can't even imagine wearing my NASA souvenir one size fits all cap, and neglected to bring any space souvenir toys back to my children.

Life at the Kennedy Space Center by late afternoon was very dreary, at best, with most of the information and reaction now coming from New England and other parts of the nation. Another advisory flashed on the video monitors, that Vice President Bush would be in the auditorium, along with space pioneer John Glenn and Utah Senator Jake Garn, the first non-astronaut to fly in the shuttle. We had expected Bush on Sunday to view the launch, but when that date was scrubbed, he wasn't able to be in the V.I.P. stands on the fateful morning.

After a 5:30 pm radio update, exhausted from the early morning rise and a devastating day, I was ready to pack it in. Besides, this story belonged to the national media now, and it seemed like an appropriate time to leave the base, while the V.P. was inside the auditorium. In the heavily secured K.S.C., we drove out of the press parking lot, with no delays, and left the base. Incoming lanes to K.S.C. were blocked by security vehicles.

The next morning, Jim and I secured a Delta flight to Boston leaving in the early afternoon. On it were other reporters from New England, from Channel 9 in Manchester, Channel 13 in Portland, and the Concord Monitor. Some were talking about the logistics of covering such a story, others were quiet and pensive on the trip back. For me, I am not sure whether or not I'm grateful to have been dealt in on the biggest news story since the John F. Kennedy assassination. Personally, that will take some time to assess
A LITTLE BIT OF BROADCAST HISTORY!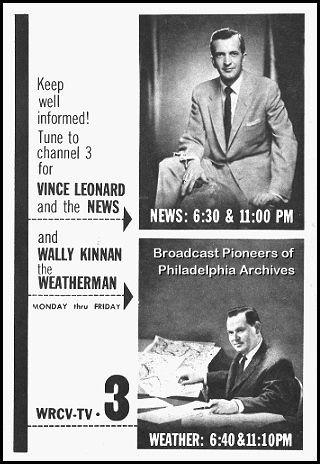 WRCV-TV Ad
March of 1959
(originally donated by Broadcast Pioneers member Anthony DiFlorio)
Broadcast Pioneers member Vince Leonard e-mailed us about his co-worker and friend, weatherman Wally Kinnan:
Wally was a very welcome addition to our news team. He was of the top TV weathermen in the country when he joined us, coming from Oklahoma. Hard to believe, that was 56 years ago. Wally's contract forced him to go to Cleveland with our top bosses when Westinghouse took over WRCV-TV and we became KYW-TV in 1965.

Frances (Frankie) and I were close friends with Wally and Marge and spent a lot of time together. Their youngest son graduated from the Air Force Academy. Our son graduated from West Point. We had much to talk about when we visited them in Florida after I retired in 1990. Wally was a very bright and talented man. I was fortunate to have been his friend.
Bill Dyer, Voice of the Phillies!
In spring, minds turn to American's Favorite Pastime, Baseball. The legendary Bill Dyer was heard on WCAU Radio during the thirties and forties. Bill was a sportscaster and also did play-by-play for both the Phillies and A's baseball games.

On the Phils broadcasts, he was teamed up with Dolly Stark in 1936 and Broadcast Pioneers Hall of Famer Taylor Grant in 1937. He had a strange habit of walking around his chair before broadcasting a game. He told people that it was for Good Luck!

In the forties, Dyer managed the Baltimore Bullets basketball team. At that time, he was also doing Orioles games on WITH Radio. He's was what fans might call a "homer." That is, he rooted for the Orioles (a Triple A team at the time) with phrases like, "We could really use a home run now." CBS Newsman Charles Osgood said that as a nine year old child, he would walk down the street and all the houses had their windows open. Many houses had the Orioles game on and you could walk from place to place and continue to listen to the game. At that time, Osgood said that broadcasting is what he wanted to do with his life.

Robert Himmer, a visitor to our website e-mailed:
I recently went through some letters sent to my father (a sailor in the Pacific) during the Second World War. One sent in late October 1944 by one of my aunts (who happened to work at WITH radio in Baltimore) said, "We sure had an exciting time here last week. They [the triple A Orioles] carried huge crowds and must say a lot of credit is due Bill Dyer, the announcer for he sure built that club up with his enthusiasm." I don't have any personal memories of Bill Dyer. By the time I was old enough to follow the Orioles (still the Triple A version) on the radio, he was gone, and the Chuck Thompson-Bailey Goss era had begun.
Joe D'Adamo, a visitor to our website e-mailed:
I worked with Bill Dyer as statistician on Orioles games from 1942-1946 and later refereed preliminary basketball games prior to the Bullet games. I was in high school when I worked on the baseball games. I have often wondered what happened to Bill after he left Baltimore. I know he went to California and that's the last I heard of him. I'm 77, so he must be in his 90's if he's still alive.

The bio on Bill says he was manager of the Bullets. Actually, he was general manager. He signed Paul Hoffman, who was an All-American from Purdue. On day, I visited W-I-T-H during the off-season and Dyer was interviewing Hoffman for his afternoon sports broadcast, He told me that he and Hoffman were going to Atlantic City for a Bullet exhibition game against the Philadelphia Warriors and asked if I would like to go along.

Before the game, he introduced me to a tall young man. "Joe, shake hands with Chuck Thompson," he said, "He's going to come to Baltimore next year to do the Oriole games." Dyer was a real "homer." He rooted on the air, walking around the red chair, etc. I think he was responsible for Baltimore getting back into the big-leagues. He was responsible for 50,000 fans going to Memorial Stadium for a Little World Series game when that same day, the Cards and Browns played before 30,000 on the "big" World Series. The website says something about Bill working in Philly before coming to Baltimore. I always thought he worked with Byrum Saam in Philly.... He was responsible for my getting into the sports business. I worked for The Baltimore
Evening Sun for 42 years and was Baltimore Correspondent for Sports Illustrated for 25 years.
According to the Philadelphia Phillies, Bill Dyer and By Saam did do play-by-play on the Phils baseball broadcasts. Only thing, it wasn't at the same time. Bill Dyer did the 1936 and 1937 years. By didn't start until 1939. Saam was inducted into our Hall of Fame in 1992.
Doug Stark, a visitor to our website e-mailed:
I am working on a project about the Philadelphia SPHAS (South Philadelphia Hebrew Association), which was a Jewish basketball team from 1918 through 1959. The heyday for the team was in the 1930s and the team played its home games at the Broadwood Hotel. I discovered that the games were broadcast on WCAU radio and Bill Dyer was the radio announcer. ...The team used to have dances after the games and Kitty Kallen won a contest on "The Children's Hour" and then sang at the dances.
Stanley Slome, a visitor to our website e-mailed:
I can tell you exactly what Bill Dyer was doing circa 1962-63. Here's the story: I was on unemployment in Los Angeles, having been laid off in PR by Dan Lundberg, the oil marketing survey guru who had decided to stick wholly to that instead of other projects. I answered a help wanted ad in the LA Times for someone who could write job resumes. The interviewer identified himself as Bill Dyer. Although I hadn't heard that voice in more than 20 years, I recognized it instantly. I asked him politely if he wasn't the Bill Dyer who used to broadcast the Phillies and A's games on the first base side at Shibe Park, opposite Byrum Saam on the third base side, for Mobil Oil and describe a double play as "Mobil Gas to Mobil Oil to Bugaboo" and a home run as a "Flying Red Horse?" He was startled, that's certain, saying in effect, " How in the world can you remember that?" ...Mobil, I remember, in 1940 used to provide baseball scorecards with Bill Dyer's face on the cover.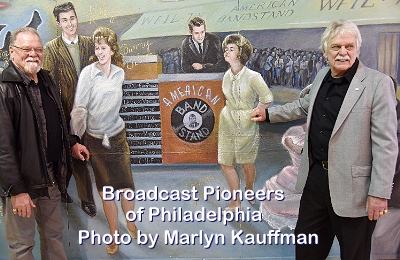 Here's a photo of the recording artists "The Jordan Brothers" visiting the old American Bandstand studio at 46th and Market Streets in West Philly. The building is now owned by the West Philadelphia Enterprise center. The Jordan Brothers appeared several times on the Philadelphia-base network telecast. At left is Frank Jordan and at right, Joe Jordan. They are standing in front of a backdrop. The young lady dressed in the white top is Broadcast Pioneers member Bunny Gibson. They visited there after attending our March 17th luncheon.
OUR HATS OFF TO YOU:
Special Thanks for 2015 Scholarships:
Vice-President Kal Rudman - 5 scholarships (all for Temple students)
Member Johnny B. Hall and wife Ginny - 4 scholarships
Members Robin and Ira Adelman & Leon Love - 2 scholarships
Member R. Alan Campbell - 1 scholarship in the memory of Fred Ruggieri (Fred Randall)
Member Harry Hurley's Golf Tournament - 1 scholarship (for South Jersey residents or students)
Member Sylvia Kauders - 1 scholarship (from a grant for 5 yearly scholarships)
Member Marlin Taylor - 1 scholarship
Member Esther Kurtz - 1 scholarship in memory of her late husband, David Kurtz
Member Bob Pantano - 1 scholarship (for a Temple University student)
Bette Lavine (neighbor of Mike Nise) - 1 scholarship
Special Thanks for contribution of $1,000 or more to our DAP, Digital Archival Project:
Member Johnny B. Hall and wife Ginny - $3,000
Member Marlin Taylor - $1,000
Member Harry Hurley's Golf Tournament - $1,000
Special Thanks for 2016 Scholarships:
Member Dan Lerner - 5 scholarships
Member Sylvia Kauders - 1 scholarship (from a grant for 5 yearly scholarships running until 2019)
Member Harry Hurley's Golf Tournament - 1 scholarship (for a South Jersey resident or student)
Member Johnny B. Hall and his wife, Ginny - 5 scholarships (maybe more)
Member Kal Rudman - 5 scholarships (for Temple University students)
Underwrite a complete scholarship and we'll give you credit in the electronic newsletter until the scholarship is awarded in April of 2016. Give us a donation of $1,000 or more and we'll list you in our "Thank You" column for a year.
More Thanks:
We would like to thank those of you who included an extra contribution when they paid for their lunch at the March luncheon. They include: Bob Backman, Mike Bove, Donna Conte, Joan Hindin, Mel Klawansky, Bob Kravitz, Carol Leebron, Dorie Lenz, Bonnie Silvestri, Steve Tatz, Les Waas, Corky Warren and Gerry Wilkinson. Also, this month Johnny B. Hall sent in an extra $250 donation for our scholarship fund. Thanks. Also, special thanks to WPVI, 6abc for their use of their conference room one morning last month. It was for the meeting of our scholarship committee. At that time, we selected our 20 scholarship winners from our group of finalists.
A growing portion of the revenues that fund the different activities of the Broadcast Pioneers comes from donations. This includes our archival project and our scholarship program. Now, we are making it even more beneficial for our donors. Broadcast Pioneers is now able to accept gifts of appreciated stock, which provides a significant tax benefit to you. By giving appreciated stock (stock which is worth more now than what it cost when it was purchased), you can get a charitable contribution tax deduction based on the current market value of your stock. At the same time, you avoid the capital gains
tax that would arise if you simply sell the stock. So if you'd like to support our educational mission or our archival project and save money on taxes too, please consider making a gift of appreciated stock. We are a federally recognized, state chartered charity with a 501(c)(3) status. Contact us at (856) 365-5600 or e-mail pioneers@broadcastpioneers.com for more details.
Don't be left out. You too can make a pledge. It's never too late. You can earmark it for scholarships, our Digital Archival Project or our general fund. Thanks so much for your support.
Our special thanks go to TUTV - Temple University Television and The Kal & Lucille Rudman Media Production Center.

They have underwritten a grant to be used to fund an entire year of all our newsletters for calendar year 2015. We thank them so much for their support!
If you forgot to make an extra contribution (cash or memorabilia) and would like to do so now, it's never too late. We would be thrilled to hear from you at: PO Box 2886, Bala Cynwyd, PA 19004 or call us at (856) 365-5600.
A FINAL THOUGHT....
The Late Chief Halftown was very partial to Hopalong Cassidy and other westerns. He said: "My sympathies are 100 percent with the Indians. I keep hoping that they'll get Hopalong in the next reel, but they never do."
Chief Halftown
1952

Please contact us by e-mail at newsletter@broadcastpioneers.com or by mail to: Broadcast Pioneers of Philadelphia, PO Box 2886, Bala Cynwyd, PA 19004. Your stories are important, to you, to us, and your colleagues. Contact us today and we'll include your story in the next newsletter!

© 2015, Broadcast Pioneers of Philadelphia
All Rights Reserved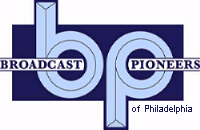 The e-mail address of the Broadcast Pioneers of Philadelphia is pioneers@broadcastpioneers.com
For luncheon reservations call (856) 365-5600 or e-mail us at: rsvp@broadcastpioneers.com