May luncheon
Bala Golf Club
May 21, 2008

Reception at 12 noon
Lunch at 12:30 pm
Ratecard: $25 per person

May 2008
Issue 9
2007-2008

Reserve today by calling (856) 365-5600 or e-mailing us at: rsvp@broadcastpioneers.com
Oh, to be with Pioneers now that spring is here. You can, you know, and you'll love it there, in May, as we present a retrospective and salute to legendary Jim O'Brien, anchorman, disc jockey, weatherman, and adventurer.
We will meet at Bala on the third Wednesday, May 21 at 12 Noon, Bala Golf Club, meet acquaintances, and make new ones, cash bar, cheese, crackers and crudités, lunch at 12:30, and then we'll have a panel of people who knew Jim O'Brien, moderated by Captain Noah (W. Carter Merbreier) who had dinner with Jim the night before his fatal sky dive. The panelists will be; Steve Levy, Jim's closest friend, before leaving for WCAU and a great career there. He recently retired to Colorado; Marc Howard, Channel 6 Anchorman, during the O'Brien years; Joe Pellegrino sports announcer on the original Action News team with Jim, and Larry; and Paul Norton, who was the Dialing for Dollars announcer; Bill Russell, who was stage director during, and before and after, Jim's tenure with Action News News and Cathy Gandolfo, Jim's friend and Action News Reporter. This should really be interesting, because Jim was a man of many facets, and great talent in his chosen profession. The panel will paint a picture of the life of a legend.
The rate card will be the usual $25 for lunch, and all of the festivities which will include introductory remarks by Bernie Prazenica, President and General Manager of the station Jim, and the others, called home, WPVI-TV. Steve Ross, former WFIL, Famous 56 Boss Jock will host a trivia game based on Jim's life, and the winners will get a DVD plus a WFIL Radio keychain. There will also be a presentation of two more $1,000 scholarships contributed by Kal Rudman in O'Brien's memory. Way to go Kal! Call (856) 365-5600, or email: rsvp@broadcastpioneers.com. Please help us by making reservations so we can properly set up for what will be as Ed Sullivan said a "really, really big shew."

The Channel 10 salute in April was another blockbuster in a long series of them. Tim Lake was well received as the main speaker, and Gene Crane, Peggy King (A knockout as a speaker) , MC Bill Webber and the presentation of scholarships was wonderful. See our website for pictures, and audio of the event.
We've added some new members to the board for the 2008-2009 term. They include Sheree Goldflies, Paul Gluck, Joe Pellegrino, and Bill Wright, Sr. Carol Leebron has become Secretary for the club.
A gentleman from the Indianapolis, Indiana Broadcast Pioneers called us this week and inquired as to the health (Is he still on this side of the grass?) of Vince Leonard. Vince spent ten very happy years in Indianapolis before coming to Philadelphia, his wife Frankie says. On the day we called him, Vince had just left to play nickel-dime poker with the boys and with golf, they're enjoying their years in Las Vegas retirement. Frankie has an active circle of women who enjoy the more genteel pursuit of Bridge for their activity, among others. It sounds idyllic, and it couldn't happen to a nicer pair. We're also sending a copy of the newsletter and Vince's address to Hal Fraser.
"Of all the tyrannies, a tyranny sincerely exercised for the good of its victims, may be the most oppressive." C.S. Lewis
A new membership directory is being prepared for release later this year, and if you'd like to advertise in it, there are some very attractive rates ranging from $130 to $250 for half page and full page to fit any budget. Contact (856) 365-5600, email: pioneers@broadcastpioneers.com.
Jere Sullivan is returning to good health after a heart attack and triple by-pass surgery. Out of commission for almost three months, the cards and calls have helped in a big way, and he hopes to be back to running the NAVTEQ Traffic (Traffic.com) across the country, and in Philadelphia on Channels 3, 6, 10 and 57. He looks forward to seeing his many BP friends soon.
Member Ron Joseph (RJ), who is in the "Wages of Spin," says the movie about Dick Clark and too many Philadelphia music personalities to mention, will premiere during the Summer of 2008.
President Gerry Wilkinson reports that he attended the 40th Anniversary of Kal Rudman's company and 400 broadcasters from all over the country attended including many broadcast pioneers including Paul Gluck, Allen Sabinson, Steve Ross, Jim Murray and Bob Pantano. Gerry says the food was good. Also, Gerry, who was historical consultant, for Producer - Writer Ed Cunningham's program "Philly's Favorite TV Kids Show Hosts" won "Outstanding Documentary Program" in PAB's 2008 Awards for Excellence in Broadcasting at its ceremony on May 5th. Broadcast Pioneers on the show included Lew Klein, Sally Starr, Bill Webber, Captain and Mrs. Noah, Gene London and Jane Norman.
Jack McKinney's daughter Maura McKinney Mastro has a new Clady Records CD out. It's titled "Shamrocks to Stripes," and you can check it at MauraMcKinneyMastro.com, perhaps order a copy. Jack will be remembered for shows on WCAU and WPEN, and TV shows on Channel 17 and 29.
The Broadcast Pioneers of Philadelphia, NATAS and NATPE held a College Student Workshop at the studios of WPHL-TV, Channel 17. On the panel were several Broadcast Pioneers members including Michael Colleran, President and GM of KYW-TV and WPSG-TV; Larry Mendte Anchor for CBS3, and Linda Munich, VP Public Affairs for WPVI-TV. It was moderated by Lew Klein former PD of WFIL-TV. Member Paul Gluck represented NATAS.
Sad to note that three of our members have died recently. Tom Monaghan died this past Saturday. An Account Executive for almost a half-century with the WFIL stations and later WUSL, Power 99, Tom was 70. Big Ron O'Brien who was with WOGL died of problems associated with pneumonia on April 27th. He was on our panel of Boss Jocks remembering the WFIL days recently. He was 56. Joel Levitt, 62, died April 26th of complications associated with a brain tumor. He was president and founder of his own company, "Action Duplication" and Joel Taylor, Vice President of the firm said he will always live in his heart and his memory. All of these men will be sorely missed by their many friends in the business and in Broadcast Pioneers.
Greet new members; Brooks Saint Ives who has been broadcasting in the area for over 30 years and is currently heard on WBCB, Levittown; Gary Blacksmith formerly of WITF-TV; and Calvin Iszard of Trenton, NJ who hosts Capital Talk on WBCB Levittown.
"If you don't read the newspaper you are uninformed, if you do read the newspaper you are misinformed." Mark Twain
Sylvia Kauders, Chairperson of Screen Actors Guild's local 75th Anniversary celebration, has prevailed on Broadcast Pioneers members Jerry Klein, Ruth Leon Weiman, Sally Berlin, Dorie Lenz, Paul Gluck, Vince Papale and Larry Mendte (Moderator) and film pros to help her put together a symposium called "The Anatomy of a Motion Picture." It will be held Saturday, June 21 from 10 am to 12:30 pm at The Free Library on the Parkway. The symposium is free to the public.
Rick Wilson and Larry Young are planning a tribute cruise for Ed and Cissie Hurst for November 5 - November 15, 2008 on a premium Regent Seven Seas Cruise to Europe and the Mediterranean Riviera. All members of Broadcast Pioneers, their families, and friends are invited. All of the celebrities and friends of the Hursts in their 62 years in broadcasting are being invited, and re-creations of many of the shows for which they are famous will be seen. Call Yardley Travel, or for any questions call Rick at 215-493-8800, cell 609-462-4653.

If you are not in the newsletter, all you have to do to be included is write Paul Norton, 205 Ocean View Blvd., Lewes DE 19958. Call (302) 645-8910, or e-mail nanort@comcast.net.

© 2008, Broadcast Pioneers of Philadelphia
All Rights Reserved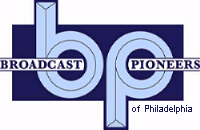 The e-mail address of the Broadcast Pioneers of Philadelphia is pioneers@broadcastpioneers.com
For luncheon reservations call (856) 365-5600 or e-mail us at: rsvp@broadcastpioneers.com