Visit Our Website Often - http://www.broadcastpioneers.com

HALL OF FAME/PERSON OF THE YEAR COMMITTEE MEETING:
The next committee meeting is at 10:15 am on Wednesday May 20th, just before our luncheon. Committee members should call in for your luncheon reservation and let us know if you will be attending the committee meeting. Next Board of Directors meeting will be June 17th. All members are invited to pass along to the committee, nominations for candidates to the Hall of Fame and Person of the Year.
A WRAP-UP ON OUR APRIL LUNCHEON:
On Wednesday, April 15th, the Broadcast Pioneers of Philadelphia had a very special luncheon, "A Tribute to Frank Ford." 120 people were present to hear Frank's wife, Philadelphia District Attorney Lynne Abraham share stories and memories of Frank as we celebrated his life. This set a new record for attendance at an April luncheon.
Broadcast Pioneers member Larry Kane, the Dean of Philadelphia Newscasting was our MC. Also, sharing their thoughts and memories of Frank were: member Dom Giordano, current WPHT talk-show host and long time Ford friend; Former Broadcast Pioneers' president Lew Klein, former co-owner of Gateway TV and Executive Producer of American Bandstand; and the ever popular friend of Frank Sinatra, Sid Mark, broadcast legend and Ford colleague at WWDB-FM.
Joining us on the telephone live from Florida was Frank's long-time friend and former business partner of the Valley Forge Music Fair, Shelly Gross, a former President of Broadcast Pioneers. Special thanks to Pioneers member Bill Gellhaus, President of WMRG Studios, Inc. and former engineer to Frank, for providing the original mike that Frank used on air at 900 AM, for all of the speakers to use. Kudos also to member Dave Michaels (son of Pat Delsi), our sound guru for making it all work!
There were many, many wonderful comments about this unforgettable luncheon. One of our favorites came from long time friend and broadcast colleague of Frank, Jon Harmelin; "A wonderful event…a fitting tribute to the dean of Philadelphia telephone talk radio. He was an inspiration to everyone who came in contact with him." That says it all!
Also at the luncheon, we awarded twelve $1,000 scholarships to area college students. Four of them underwritten by Broadcast Pioneers Vice-President Kal Rudman, who dedicated them in the memory of Frank Ford. An additional scholarship was donated by member Esther Kurtz, in memory of her late husband, David Kurtz, founder of B-101.
And on the scholarship front, we just received a $1,000 grant from member Leon Love and his family, the Adelman's; Robin, Ira and Marlene. Thank you. This scholarship will be awarded next April.
WELCOME NEW MEMBERS!
Mort Crim began his career in 1962 and worked with the ABC Radio Network, WHAS-TV, Louisville and moved to KYW-TV, Philadelphia where he was an industry leader from 1972 to 1977. He then moved on to WBBM-TV, Chicago and WDIV-TV, Detroit. Currently, he is Chairman of Mort Crim Enterprises, Inc. based in Jacksonville, Florida.
A nationally recognized expert on broadcasting and clinical professor at the University of Southern California, Jerry Del Colliano, began his career in 1967. He enjoyed a career in major market broadcasting and publishing. He was Program Director for WIBG and WIFI-FM and a jock on WIP. He is the former publisher of "Inside Radio."
Bonnie Squires began her three-decade broadcasting career during 1980 with WPHL-TV and WHYY-TV. She moved on into video production for PSE, plus she became a radio telephone-talk show host with stations WHAT-AM and also WWDB-AM.
Don DeCinque began his career at WCAM Radio in Camden (1965-74) and WDVL (Vineland) as an engineer and ad salesman. He moved into management with Disney Channel, PRISM, Penn National Racing, Family Guide Network and Video Shopping Mall, as well as, V.P. of Product Development for TelVue. Currently, he is President of Sponsor iT Media.
Welcome to the Broadcast Pioneers of Philadelphia. We hope to see you at a luncheon soon! By the way, that sets an all-time high in membership, now at 333.
ON THE HEALTH FRONT :
Broadcast Pioneers board member Bill Wright, Sr. is recovering from successful laser eye surgery. The latest report is that he's doing well and looking forward to attending the WIBBAGE reunion. A speedy recovery, Bill!
WE ALSO REMEMBER...
In April, we also lost the legendary Les Keiter. Les was sports director at 6abc in Philadelphia for seven years, from 1963 to 1970. He passed away in a hospital in Hawaii near his island home of 39 years. He was just days away from his 90th birthday. Les, by the way, had a continuing role on the TV series, "Hawaii 5-O."
We are saddened to hear of the passing of Matt Quinn and his wife, Cathy who were tragically killed in the wild fires that ravaged parts of Texas. Matt was a popular and highly regarded reporter with KYW-TV, Channel 3 from 1972 to 1977. While there, he also co-hosted a show called "Meetinghouse" with Jessica Savitch.
Pioneers member Bud Galow has reported the passing of Philadelphia journalist Joe Donovan. His extensive career included becoming a reporter at KYW Newsradio and, with former Evening Bulletin reporter and member of our organization, Malcolm Poindexter, co-hosted the show "Black Edition." From 1978 to 1980, he was an assignment manager at WCAU-TV.
IN TOUCH:
We've heard from Pioneers member Jay Meyers, President and CEO of Broadcast Management and Technology, as a follow-up to last month's newsletter mentioning Pat Delsi calling the action for Drexel University's Women's basketball. Jay tells us, he did the play by play for the first Drexel sports event that was ever heard over a real radio station, Drexel vs. Upsala football from East Orange, NJ on September 25, 1971, on student run WKDU-FM. Jay was a Junior at Drexel at the time. Good to hear from you Jay!
Checking in from Flowery Branch, Georgia is Pioneers member Roger Hendler. He was remembering working at WKBS-TV, Kaiser 48 in 1966 when Frank Ford had a weekly show there. It was taped on Thursday evenings prior to the 10 O'clock news. One night, Frank had the "World's Tallest Comedian" who was over 8' tall and in the circus. As Roger tells us, "he was so fouled mouth that Frank sent him home and I had to get a cab for him." The taping ran into the news and had to be done another day. Thanks Roger!
Need to catch up with Pioneers member Irv Homer? He can be heard Monday through Friday 1-2 pm on WBCB, 1490 AM. or Monday, Wednesday, and Friday nights 8-9pm live on Irv's website, http://www.irvhomer.com. Friday April 3rd, was a celebration of the 100th episode of the show. Irv's son Ronn, also does a show on Tuesday nights from 8-9pm called "The Ronn Tech Show." It can be found at: http://www.ronntechshow.com. We appreciate being kept in the loop!
"The early days of radio were quite different from today," says Pioneers member Doug Henson. In 1941, when Doug was in high school, he had a job with WTEL who back then shared time with WHAT. Each station broadcast about four hours and would sign off for the other to come on the air. On December 7th, Doug was on duty when the news broke about the Pearl Harbor invasion. WTEL had no teletype machine and subsequently the station was flooded with telegrams from Washington, providing details of what was happening. Doug was 16 years old and alone in the station. He sorted the telegrams, pre-empted commercial programs and put together the news. For Doug, truly a day to remember!
MORE IN TOUCH:
With tough economic times all around, Pioneers member Paul Big Bear has heard opportunity knock. In the entertainment business for over 40 years, Paul has re-introduced his company, The Party Continues, Inc. with new vigor and enthusiasm. Paul tells us, "whether it's a party for fifty or a show for a thousand, this is a niche we have been happy to fill." While he's at it, Paul is providing high quality local entertainment for charities, while helping others find work. To learn more go to: www.thepartycontinues.net. Keep it up, Paul!
Al Primo, the creator of the "Eyewitness News" and "Teen News Kids" formats has been in the Republic of Georgia (Russia) helping to produce a kid's news program. The station put out a small announcement and some 2300 kids applied to be anchors and reporters. Primo was glad to help stating, "I have a real commitment that the future of news is in the hands of young people." We agree, Al.
We're pleased to report, Pioneers member Bill Melody, host of the "Country Music Hall" on Saturday afternoons and Sunday mornings on WBCB-AM, 1490 (Merrill Reese's station) has authored a new book, "When Country Was Gold in the Delaware Valley." The book covers country music from the late 40's to the early 80's, including a chapter on the former WCAU show, "Action in the Afternoon" (that show was featured in last month's "Did You Know" section.) Thanks to the Internet, Bill has listeners from around the globe! For more info go to: www.billmelody.com.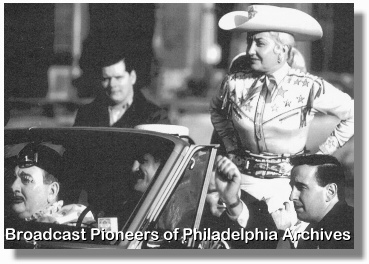 Channel 6 personnel
Gimbels Thanksgiving Parade
Thursday, November 28, 1963
(previously unreleased photo donated by Jack Phillipe)
Broadcast Pioneers member Sally Starr returns to radio on May 9th. She will host one day per week on WVLT, Cruisin' 92.1, Vineland New Jersey from 5 to 6 pm every Saturday. Sally tells us, "I'm happy as a clam!" And just as this newsletter was going to press, we heard that on May 1st, Sally made a personal appearance at Harrah's Casino and Racetrack in Chester to a turn away crowd. She signed autographs for hours, mostly for senior citizens. That's "Our Gal Sal."
A final thought...
"If you can't remember me with a smile, then don't remember me at all."
Harry Kalas
Fall 2008

© 2009, Broadcast Pioneers of Philadelphia
All Rights Reserved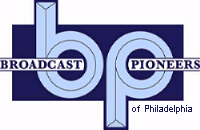 The e-mail address of the Broadcast Pioneers of Philadelphia is pioneers@broadcastpioneers.com
For luncheon reservations call (856) 365-5600 or e-mail us at: rsvp@broadcastpioneers.com