Visit Our Website Often - http://www.broadcastpioneers.com

ATTENTION BOARD MEMBERS:
The next board meeting will be on Wednesday, June 16th at 10:15 pm. Beginning in September 2010, board meetings will move from every 4 months to every 3 months with board meetings in September and December of 2010 plus March and June of 2011. Mark your calendars.
ATTENTION HALL OF FAME/PERSON OF THE YEAR COMMITTEE MEMBERS:
You must be assigned to this committee in order to attend. Members have already been notified by mail as to the time and place of this committee's remaining two meetings.
APRIL LUNCHEON REVIEW :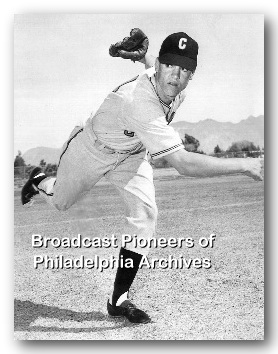 Broadcast Pioneers member Tom Brookshier
relief pitching for the University of Colorado
circa 1951
(photo restoration by Gerry Wilkinson)
The April luncheon was another full house to honor the legendary Broadcast Pioneers member Tom Brookshier. Remembering Tom the broadcaster and Tom "the man" were: moderator Bill Baldini. On the panel we had:
Bill Campbell, the Dean of Philadelphia Sports Broadcasting
Angelo Cataldi of the WIP Radio Morning Show
Jim Gallagher, former Eagles Press Guy for 47 years
Tommy McDonald, former Eagles player and sportscaster
Al Meltzer, TV Sports Director & play-by-play announcer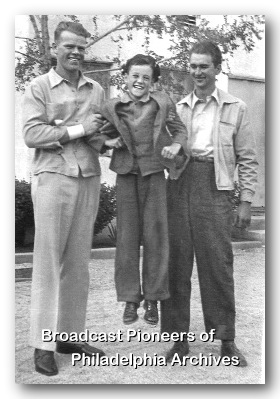 (left to right) Unidentified male, Tom Brookshier and Tom's brother
circa 1941
(previously unreleased photo - picture restoration by Gerry Wilkinson)
Plus Tom wife, Barbara Brookshier and their daughter, Betsy, joined us for the afternoon. We also heard from Pat Summerall, live on the telephone as well as Jack Whitaker.
At this luncheon we awarded thirteen $1,000 scholarships to area college students. This year the number and dollar amount was an all-time record high, selected from 302 applicants, also an all-time high.
It was a very special afternoon with very special people, both on stage and in the audience. To hear audio, see video and view photos from the event go right here!
HEARD AFTER THE LUNCHEON:
"Did I ever enjoy this afternoon. That much love just makes me feel wonderful. They really nailed him and told what he was all about." Barbara Brookshier
"It was a wonderful, sincere, authentic time remembering who my father was and enjoying each others company." Betsy Brookshier
"This was just great. A privilege to be here. What a delight." Bill Baldini
" We were planning a golf tournament. Tommy McDonald jumped in the conversation and told Brookie, "let's have a golf tournament." Brookshier told him we were talking about it for 20 minutes. McDonald said, remember I have a concussion. Brookie told him, you were born with a concussion." Jim Gallagher
"It's always wonderful when students can be recognized and encouraged. Broadcast Pioneers does exactly that." Brother Gerard Molyneaux, Professor, LaSalle University Communication Department
"It was great awarding 13 scholarships to future broadcasters. It is always a special event. It assures the work we do will continue after we're gone. It was a good day all around." Dr. Diego Castellanos, Chair Scholarship Committee
MORE IN TOUCH:
Photos by Broadcast Pioneers President-Elect Jerry Klein
Temple University and the School of Communications and Theater announced on Wednesday, April 28th, the creation of the Kal and Lucille Rudman Media Production Center. The center will be the future home of TUTV, Temple's digital cable television station that will launch this fall. The station's General Manager is Broadcast Pioneers Board member Paul Gluck who is an Associate Professor at the school. Gluck said: "Kal and Lucille were insistent that this not be about bricks and mortar, rather about how the school will help the students leverage every opportunity they can to have successful careers as multi-media professionals."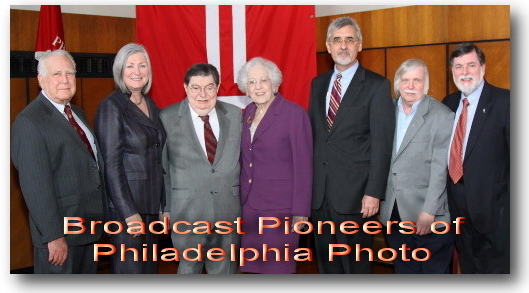 (Left to right) Lew Klein, Dr. Ann Weaver Hart (president of Temple University)
Kal and Lucille Rudman, Interim Communications School Dean Thomas Jacobson
Broadcast Pioneers President Gerry Wilkinson and President-Elect Jerry Klein
Temple University, Sullivan Hall, Feinstone Lounge
Wednesday, April 28, 2010
The TV facility will be located in Temple's Annenberg Hall built in 1968. The Media Production Center, which will include studio space, a master control room, professional editing facilities and an adjacent classroom/newsroom, will be much more than a television studio. As part of the Rudmans' gift, an endowed fund was created to support master classes and seminars on key issues in broadcasting, entertainment and new media. The Rudman gift also supports an internship for a student to work alongside TUTV's general manager to help create and implement production plans and oversee station activities as a whole. Here's 28 photos of the event.
We were surfing around the CBS3.com website and found out that Broadcast Pioneers member Carol Erickson has a blog on the station's website called, "Carol's Barking Blog," and it's all about dogs. There's plenty of information, stories and photos of those woof-woofs, both the adult type and the puppies. You can visit her blog here!
The late Steve Friedman, better known as Mr. Movie was honored on April 16th, at the First Annual "Mr. Movie" Steve Friedman Film Festival held at Colonial Theatre in Phoenixville. Featured speakers were fellow broadcasters, Wally Kennedy, Steve Ross and David Skalish. All members of the Broadcast Pioneers. It was a fine tribute to Mr. Movie!
Charlie Gracie, Jr. shared a remarkable story with us about a Charlie Gracie fan in the middle east. The 22 year-old Israeli was given a vinyl Charlie Gracie record for his birthday from his father. The fan goes on to say that ever since he started listening to the songs and music, his life has changed as he is in the process of recovering from a serious illness. The fan said, "Charlie's songs were the only good thing in my life…his songs are one of my reasons for living!" Charlie is a member of the Broadcast Pioneers. And the music plays on!
Watch Charlie Gracie sing "Butterfly" in 1957
Broadcast Pioneers member Sylvia Kauders was in the spotlight recently when she introduced best-selling biographer Kitty Kelly on the Main Stage at the annual Philadelphia Free Library Festival. Kelly, of course, was there to talk about her new book, "Oprah: A Biography." Let's hear it for Sylvia!
On Saturday April 24th Broadcast Pioneers member John Primerano appeared on a telethon for Helping Hands Society, a children's charitable organization, at The Mohegan Sun Casino in Pocono Downs, Wilkes-Barre, PA. The event was hosted by Primerano's old friend and Wildwood buddy, comedian Charlie Prose. It aired on WYLN-LP, Channel 35 in Hazelton. Congratulations also to John for being included in the book by Richard Grudens, forward by Jerry Vale, "The Italian Crooners Bedside Companion." If you're in the entertainment biz, it's a must have!
Congrats go out to Broadcast Pioneers member Dave Roberts' son, David Boreanaz. On April 8th, Fox aired the 100th episode of the hit TV series, "Bones." The show is now in its 5th season. The LA Times is reporting that the program has been renewed by Fox for a sixth season. Syndication of the series started in October of last year.
DIGITAL ARCHIVAL PROJECT NEWS :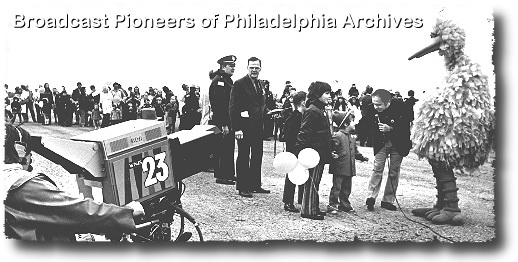 (left to right) Police Officer, Dr. Lawrence Frymire, children, Diego Castellanos and Big Bird
opening ceremonies of WNJS-TV
Monday, October 23, 1972
With all the talk about NJN having to operate independently from the state at the beginning of next year, we thought it would be interesting to dig back into our archives and see what the late Broadcast Pioneers member Harry Harris (a major local TV critic) wrote in 1971.
The New Jersey Public Broadcasting Authority will be operating the first of its four stations in Trenton in Mid-March and another in Camden in the fall, probably October 1st.... The Trenton flagship, where two studios will initially originate all New Jersey programs will use Channel 52; the Camden station, located in Waterford Works, NJ, 15 miles southeast of Camden, Channel 23....

Twelve hours weekly, according to Dr. Lawrence T. Frymire, executive director pf the authority will stress New Jersey individuals and interests....

"The New Jersey stations will be funded by the state, .... but I'm sure they'll look for outside funding," (said Warren A. Kraetzer, Channel 12's executive vice-president and general manager).

...A 70 member New Jersey staff has been preparing for the last two months at a converted bowling alley on Parkside Avenue in Trenton.

A nightly half-hour newscast, a weekly forum, extensive coverage of the state capital and legislature, a weekly NJ talent show (John's House), a weekly half-hour program spotlighting the state's black citizens (Express Yourself), a weekly half-hour magazine (Life Style '71) (will be part of the schedule).
Dr. Diego Castellanos, a member of our Board of Directors, told us the above photo:
The civilian standing next to the police officer is Dr. Larry Frymire, the network's first Executive Director. I had just finished interviewing Big Bird and was now taking questions from children present. The little boy to whom I'm speaking in the photo was my own son, Chris.
FYI... Warren Kraetzer who was quoted by Harry was this organization's 12th President and our first president to serve more than one term (of one year) in office. He served from 1973 to 1975 and then became Chairman of the Board (our 12th) for one year. Channel 23 came on the air one year later than planned on October 23, 1972An interesting sidebar to this story is that Camden's Channel 23 was allotted in the mid-60s as a commercial station. Channel 12 was also, at one time, allotted for commercial use in the fifties with WHYY-TV being a UHF station on Channel 35.
You have been hearing us talk about the material of Nat Wright that was donated by his wife, Sue. Well, we thought you would appreciate hearing some of it. From February 9, 1964, we have a 53-minute broadcast in the "World in Perspective" series carried by WIP Radio. Each week, a different topic and a different host. This program is entitled "Hope for Retarded Children" and was narrated, written and produced by Nat Wright.
Listen in Real Audio!
Listen in Windows Media!
Last month, we ran audio clips of Nat Wright on the scene of a PTC Elevated Train Derailment and asked our membership to help us date it. Well, we heard from Broadcast Pioneers member Roger Hendler who says it's from just before Christmas of 1961, the same year that Nat came to WIP. Thanks Roger.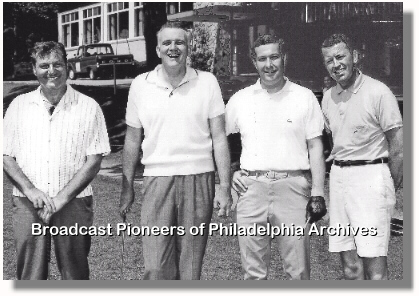 Don Battles, Ed Harvey, Mike Stanley and Sid Doherty
at a golf tournament
(previously unreleased photo)
circa 1968
Here's another broadcast we just put on the website. It's from October 28, 1965 and WCAU Radio. On the "Talk of Philadelphia" broadcast, Broadcast Pioneers member Ed Harvey speaks with psychic Jean Dixon. Ed had his program recorded by the station engineer and then asked them to dub it off onto another tape and remove the commercials. It is from that tape that this broadcast is mastered. Because of that, there are no commercials. It just rolls right on through for a half-hour.
Listen in Real Audio!
Listen in Windows Media!
We also thought you might enjoy hearing this excerpt from a WRCV morning program hosted by Jack Pyle, an inductee into our Hall of Fame. The date is August 6, 1962. The day after Roberts pitched for the Orioles. Pyle talks for over 7 minutes with no music. Even though this dates from 1962, the original recording was on transcription disc. We were able to clean it up pretty good. Be advised that the tonal quality is not high fidelity. However, that's how it was on the original recording.
Listen in Real Audio!
Listen in Windows Media!
Remember, History is ONLY What Gets Saved!
(If there were no portraits of George Washington, how would we know what he looked like?)
ON THE SCENE:
The newsletter editor was on the scene Saturday, April 10th at La Piazza Cucina Italiana Restaurant in Wildwood. Speaking with Broadcast Pioneers member/WHYY producer Ed Cunningham, who was celebrating the birthday of his brother-in-law, Lou Porsia, Ed told us, "This is the way we begin the summer season…with a celebration." Entertaining the full house was Broadcast Pioneers member Kenny Jeremiah. Kenny said, "This is a great place with great people…let's hear it for those Wildwood Days!" Our Editor's thoughts: It was a fun evening! By the way, Jeremiah will be back at La Piazza on Saturday, May 15th plus the Saturday and Sunday over the Memorial Day Weekend.
A final thought...
"There was a little boy in a church pew, sitting next to his mother who whispered, 'Mom, that's Malcolm Poindexter. He's on TV. I like him' I remember that like it was yesterday because that little boy was me."
Ukee Washington
April 16, 2010
Photo Editor & Archival Historian - Gerry Wilkinson
© 2010, Broadcast Pioneers of Philadelphia
All Rights Reserved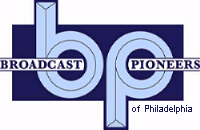 The e-mail address of the Broadcast Pioneers of Philadelphia is pioneers@broadcastpioneers.com
For luncheon reservations call (856) 365-5600 or e-mail us at: rsvp@broadcastpioneers.com