The Broadcast Pioneers of Philadelphia is a federally recognized, state chartered charity. We are a 501(c)(3) non-profit corporation serving Philadelphia since 1962.

Frank Stone
Newsletter Editor

May Luncheon
The Bala Golf Club
Wednesday, May 18, 2011

Reception at 12 noon
Lunch at 12:30 pm
Ratecard: $25 per person

RESERVATIONS REQUIRED!
(856) 365-5600
rsvp@broadcastpioneers.com
Second Annual Rock & Roll Event!

(left to right) Billy Carlucci, Billy Harner, Kenny Jeremiah, Joe Terry
Nicky DeMatteo, Brian "Corky" Warren and Frank Maffei
October 21, 2009
On Wednesday May 18th, we will have yet another rock & roll history-making luncheon. It's all about fifties and sixties rock and roll. Take a stroll down memory lane to the days when Philly was the epicenter of this wonderful music. We have a tremendous line-up of guests including Danny and the Juniors (with members Joe Terry and Frank Maffei), member Kenny Jeremiah of the Soul Survivors, member Billy Carlucci of Billy and the Essentials, Mike Volpe , local singing star and member Maura McKinney Mastro (daughter of legendary broadcaster Jack McKinney). Mike Volpe will also introduce us all to his young protégé, Kyle Brody. Our MC for the afternoon is former President and former Chairman of the Board of Broadcast Pioneers, Frank X. Feller. Frank, as you will recall, was a long-time WIBBAGE Good Guy. It will be a rock & roll good time.
Be there or be square! It all takes place at the beautiful Bala Golf Club, 2200 Belmont Avenue in Philadelphia, just minutes away from Channels 6, 10 and 17, plus the radio stations in Bala Cynwyd. Meet and greet (networking) starts at noon with lunch served at 12:30 pm. To be assured that your feet will be under the seat, we need your reservation(s) before the luncheon! The earlier, the better. When we know how many people will be attending, the food comes out faster (because we have the correct amount of servers) and we have more time for our fabulous programs and less time waiting for our lunches. Call now (856) 365-5600!
RSVP NOW BY E-MAIL OR CALL (856) 365-5600!
The cost is still only $25 per person. This is our 6th year without a price increase! You'll be served a full-course lunch including salad, entrée, coffee or tea and dessert at 12:30 pm. There's also a crudités and cheese table. Cash bar available all afternoon. Plenty of FREE parking or valet service. The luncheon is open to all our members, their guests and any person in the industry or associated fields, whether active or retired. You do NOT have to be a member to attend. Call NOW with your reservation(s), (856) 365-5600!
Put on those blue suede shoes and poodle skirts and have your face in the place for this rocking good-time afternoon. Don't be square, be there! Come to think about it, even if you're square, you should make plans to be there. We'll be proud to see you in the crowd! MAKE YOUR RESERVATIONS EARLY!

Visit Our Website Often - http://www.broadcastpioneers.com

SCHOLARSHIPS:
At our April 2011 luncheon, we awarded sixteen $1,000 scholarships to area college students. Read More!
GET ALL THE DETAILS BY CLICKING HERE!
NEXT BOARD MEETING:
Our next board meeting is on Wednesday, June 15th at 10:15 am at the Bala Golf Club. It is just ahead of our June luncheon which is "A Tribute to Joe Grady."
HALL OF FAME/PERSON OF THE YEAR SELECTION COMMITTEE:
Our first meeting of our Hall of Fame/Person of the Year Selection Committee will be on Wednesday, May 18th at 10:15 am at the Bala Golf Cub. It is just before our May luncheon. YOU MUST BE ASSIGNED TO THIS COMMITTEE IN ORDER TO ATTEND! Persons assigned to this committee will receive a letter in the mail about one week before the date. The second and final committee meeting is on Monday, June 13th at 11 am at Channel 6.
A LITTLE BIT OF HISTORY!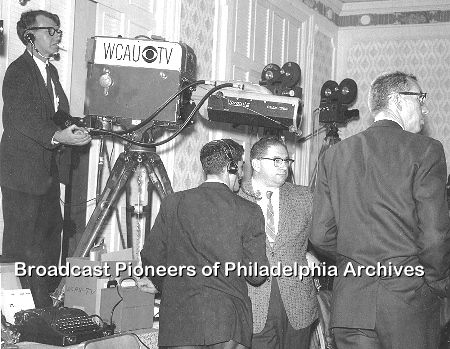 (left to right) Pat Lynch on camera, Tony Williams, Dan Falzani and Bill Hart
James Tate's Headquarters
Bellevue-Stratford Hotel
1963
Note that WCAU-TV had a live camera at James Tate's headquarters; Channel 3, owned by NBC at the time, had film. The film camera in the room's corner is unidentified. Tate won two bids for Mayor of Philadelphia. First in 1963 and again in 1967. Because of the Channel 3 film camera having the call letters, WRCV-TV, we have dated this shot as 1963. Board Member Dick Kearney, a long time staffer at WCAU-TV, sent us this photo and identified 3 of the 4 people in the picture. Member Tony Williams identified himself as the person with his back to the camera. Tate became mayor in 1962, when Mayor Richarson Dilworth resigned to run for another office.
A LITTLE BIT MORE OF HISTORY!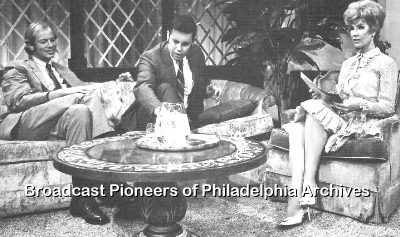 (left to right) Rev. Stephen Yale, Dr. Marshall Minor and Julia Meade
Dear Julia Meade Show
WFIL-TV
circa 1969
MEMBERSHIP RENEWAL TIME:
Later this month, you will be receiving your membership renewal form. Current membership expires at the end of June. Those who joined in the last couple of months have their memberships guaranteed until 2012. However, you will still receive a form. Please correct any contact information, if necessary. This information will be used to create our new membership directory that will be issued this fall. Because of the nature of this business, we do not maintain any type of membership list online. This is for your own personal security.
Remember that Broadcast Pioneers is mainly a due-supported non-profit organization with federally recognized and state chartered charitible status. For those of you who wish to do so, there is a place on your renewal form to make an extra contribution to this organization. If you can do so and want to help out, an extra contribution would be appreciated. It will help keep Broadcast Pioneers strong.
IN TOUCH WITH OUR MEMBERS:
So many great articles this month that we had to put them on a separate page. Included is Diane Allen's high school yearbook photo.
Some of the stories include:
Henry Shaffner is the great granson of Stonewall Jackson
What's happening with Uschi Keszler's Foundation
Harvey Sheldon is out of rehab and just published a new book
Les Waas designed our Broadcast Pioneers logo
John Primerano's CD is now getting more air play
Captain Noah has mouth surgery (get an update)
Diane Allen made the keynote address in front of Penn doctors
An update on Sally Starr and the death of her cat, Thomas
Kal Rudman received the Golden Gavel of Excellence Award
Robert Johnson who works on our press release, get promotion at AKCG
Upcoming appearances of some of performing members
On Stage at Curtis (classical music) now available free on Comcast's On Demand
Larry Mendte was in Libya and he has won a local EMMY
A rare TV/radio simulcast at KYW last Sunday morning
Jay Lloyd's daughter met Prince William when she was in college
and much more! READ MORE!
GET ALL THESE STORIES BY CLICKING HERE!
DIGITAL ARCHIVAL PROJECT NEWS:
Jim Gardner
WPVI-TV
October 3, 1979

Jim O'Brien and Father Charles Hagan
WPVI-TV
October 3, 1979
With all eyes on Rome and the Beatification of Pope John Paul II last weekend, we thought you might like to see part of the Channel 6 coverage of the Pope's visit here in Philly on October 3rd in 1979. This footage was filmed at about 4:40 pm and features Action News Anchor Jim Gardner, along with Jim O'Brien and Father Charles Hagan live from high atop Logan Circle in Center City Philadelphia. Mastered from the station's 3/4" tape, it's our feeling that the Real Video version is sharper and clearer and also loads faster. If you're trying to play the Windows Media version using DSL, it may take up to 75 seconds before it starts playing.
Watch in Real Video!
Watch in Windows Media!
Jim Gardner
WPVI-TV
July 29, 1981

Broadcast Pioneers member Lisa Thomas-Laury
WPVI-TV
July 29, 1981
Last week, the news was dominated by the wedding of Prince William and Kate Middleton. We thought you might enjoy a peek at the wedding of Prince William's parents, Diana and Charles. Our excerpt is from WPVI-TV's coverage. In the anchor chair for the evening newscast was Jim Gardner. Reporting from London on tape was Broadcast Pioneers member Lisa Thomas-Laury. Our digital file was mastered from a DVD that contained a direct transfer from the station's 3/4" master.
Watch in Real Video!
Watch in Windows Media!
With the news that everyone received last Sunday evening about the death of Osama Bin Laden, we thought we would dip back into the archives for some audio from ten years ago. It's 11:14 am on Tuesday, September 11, 2001. The two World Trade Center towers have just fallen. We picked up from was going on from KYW Newsradio.
Listen in Real Audio!
Listen in Windows Media!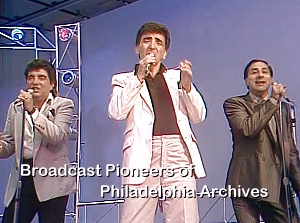 Danny & the Juniors
(Left to right) Members Billy Carlucci, Joe Terry and Frank Maffei
Dancin' On Air
August 27, 1987
By the way, when we were going through some of the Dance Party USA and Dancin' On Air tapes, we found that three of our members were on the show. They were Joe Terry and Frank Maffei, original singers with "Danny and the Juniors." Also on the program was member Billy Carlucci, who, at that time, was part of Danny and the Juniors. The guys did a remake of the 1961 Drifters' Hit of "Some Kind of Wonderful," written by Gerry Goffin and and Carole King. Joe Terry told us that they were on the broadcast because it was the 30th anniversary of the group. "Shortly after that program," Joe said, "we were appearing at the Sands at the shore and there were long lines waiting to get in. In fact, there were so many fans, that quite a number never got in the see the performance."
Remember, History is ONLY What Gets Saved!
(If there were no portraits of George Washington, how would we know what he looked like?)
WE REMEMBER:
This month we remember these people who have passed away: Bill McCarter, Joe Battipaglia, Neil Harrison, Don Lancer, Gaetano Moliere and Jack Buerkle. See two photos (Don Lancer in 1979 and Bill McCarter at WHYY in 1957) READ MORE & SEE PHOTOS!
DON LANCER:
We also put together a page about Don Lancer. It contains a photo of him as a Rock & Roll DJ in 1964. We also have a classic "Big Daddy" Don Lancer Rock aircheck from Monday, December 28, 1964 on WOLF Radio in Syracuse, NY. Plus some words that Don wrote himself about his early broadcasting career. READ MORE!
CLICK HERE FOR THE PHOTO, AIRCHECK AND DON'S WORDS!

Did you know...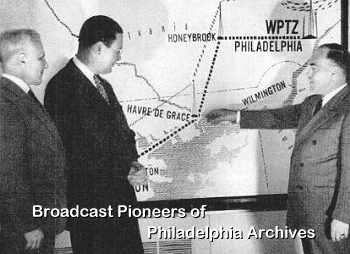 (Left to right) Karl T. Compton, Paul A. Porter and Philco President John Ballantyne
Tuesday, April 17, 1945
We have in our DID YOU KNOW column this month, the story of how Philco and Channel 3 sent the very first live television broadcast from Washington, DC to Philadelphia. Read more & see 6 more photos!
THANK YOU:
As we do every month, we want to thank Broadcast Pioneers member Johnny B. Hall for his monthly cash donation to our DAP, Digital Archival Project. We especially appreciate it since Johnny has doubled the amount he was giving us last year at this time. Thanks. His annual donations total $1,200 annually. Our Digital Archival Project keeps on moving along.
Madonna
Dancin' On Air

Stevie Wonder
Dancin' On Air
We also thank Board Member Michael Nise and Omni 2000 Productions for the donation of 75 original one-inch tape masters from "Dancin' on Air," and "Dance Party USA." These historic recordings are now part of our DAP, Digital Archival Project. Next month, we'll run a clip from "Dance Party USA" in the DAP section of our newsletter. It's an interview with Andrea Evans, "Tina" from "One Life to Live."
Member Sam Katz has been busy scanning photos from his collection of shots taken during her years with all news, all the time, KYW Newsradio. Thanks Sam. (One of her photos of Don Lancer from 1979 is posted in our We Remember section.)
Member Michael Stein sent us a photo of the beginning of NJN dating from 40 years ago. You can see it in our Industry news section!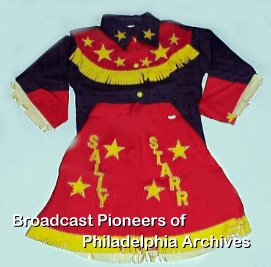 Thanks to a visitor to our website, John Marshall Kelly who e-mailed us this snapshot of a Sally Starr doll outfit from over 40 years ago. We appreciate it!
If you forgot to make an extra contribution (cash or memorabilia) and would like to do so now, it's never too late. We would be thrilled to hear from you at: PO Box 2886, Bala Cynwyd, PA 19004.
WE NEED VOLUNTEERS:
We always need volunteers to assist in all kinds of activities. From helping at our luncheons and banquet to scanning and writing stories for the website, WE NEED YOUR HELP! We are looking for volunteers to assist us with our DAP, Digital Archival Project. We're looking for people with a digital camera with at least 10 megapixels of quality to take pictures of scrapbooks and members with scanners to help scan photos and other items. Also, we'd love to hear from people interested in writing bios and other stories for our website. Also, we need people who have the proper software to convert VHS tape or DVDs into computer files. Plus other volunteers. If you're interested, please call us at (856) 365-5600 or e-mail at pioneers@broadcastpioneers.com
IN TOUCH WITH THE INDUSTRY:
Industry stories include the celebration of 40 Years of NJN (including a picture from 40 years ago), news about Rebecca Campbell, former President and General Manager of WPVI-TV, a story about a guy who went back to school at the age of 46 to go into broadcasting, details about HD Radio including a 24 hour Phillies station, a change at B-101, what's happening with Amy Freeze, Geoff Fox and Dick Carr. READ MORE!
GET ALL THE DETAILS ON THE ABOVE STORIES BY CLICKING HERE!
ON THE SCENE: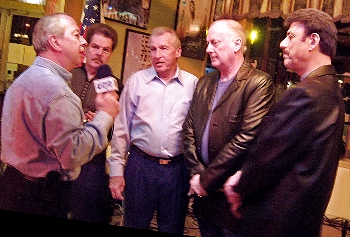 (
left to right) Frank Stone, Jim Wallace, John Baldino, Dave Wence and Eddie Baldwin
La Piazza Cucina
2011
Broadcast Pioneers newsletter was on the scene to catch a performance of "The Aquanets" at the famous La Piazza Cucina restaurant in Wildwood, New Jersey. This city, famed for its doo-wop (and streets named after Jerry Blavat and Chubby Checker), carries on the popular musical (and architectural) traditions of the fifties and sixties with groups like The Aquanets, who "sing the oldies." READ MORE!
CLICK HERE FOR MORE OF THE STORY!
APRIL LUNCHEON REVIEW :The April luncheon featured several remarkable speakers who simply captivated the audience with their remarks. You can see and hear everything plus 73 fantastic photos. READ MORE!
FIND OUT EVERYTHING ABOUT OUR APRIL LUNCHEON!
A FINAL THOUGHT....
Since our luncheon is all about Rock & Roll, we thought you might enjoy this quote........
"Ambition is a dream with a V8 engine."
Elvis Presley
We welcome your input regarding content, future stories, suggestions, etc. Please contact us by e-mail at newsletter@broadcastpioneers.com. Your stories are important, to you, to us, and your colleagues. Contact us today and we'll include your story in the next newsletter!

Photo Editor & Archival Historian - Gerry Wilkinson
© 2011, Broadcast Pioneers of Philadelphia
All Rights Reserved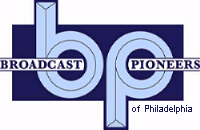 The e-mail address of the Broadcast Pioneers of Philadelphia is pioneers@broadcastpioneers.com
For luncheon reservations call (856) 365-5600 or e-mail us at: rsvp@broadcastpioneers.com