The Broadcast Pioneers of Philadelphia is a federally recognized, state chartered charity. We are a 501(c)(3) non-profit corporation serving Philadelphia since 1962.

Frank Stone
Newsletter Editor

May Luncheon
The Bala Golf Club
Wednesday, May 16, 2012

Reception at 12 noon
Lunch at 12:30 pm
Ratecard: $25 per person

PLEASE RESERVE NOW!
(856) 365-5600
rsvp@broadcastpioneers.com
May Luncheon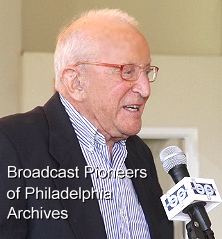 Broadcast Pioneers member Gene Crane
Broadcast Pioneers Luncheon
Bala Golf Club, Philadelphia
Wednesday, March 16, 2011

Our next luncheon will be on Wednesday, May 16th. It's a salute to "90 Years of WCAU Radio/WPHT." Our MC will be Broadcast Pioneers President Jerry Klein, who worked at WCAU Radio as a editor, writer, reporter and announcer .
Our speakers will include (in alphabetical order):
Bucky Clark, former tap dancer/singer on "The Horn & Hardart Children's Hour"
Gene Crane, former announcer for WCAU radio and television
Dom Giordano, current WPHT radio talk host (9 am to 12 noon)
Don Henderson, former sports broadcaster for WCAU & the Sixers
Stan Hochman, former WCAU radio comentator and Eagles announcer
Wally Kennedy, former WCAU radio talk host (now at KYW Radio)
Barry Magarick, formerly of "The Children's Hour" & former talk host
Rita Pascal Pagliei, singer and performer on WCAU's "The Children's Hour"
Chris Stigall, current WPHT radio talk host (5:30 am to 9 am)
Plus member Les Waas will do a comedy routine about radio advertising. So be prepared to laugh your you-know-what off.
Make plans to attend! It all takes place on Wednesday, May 16th at the beautiful and historic Bala Golf Club, 2200 Belmont Avenue (across the street from the state police) in the Wynnefield section of Philadelphia. Only minutes away from Channels 6, 10 and 17 and the radio stations in Bala Cynwyd. Call now for reservations. (856) 365-5600! Don't miss this one!
Meet and greet (networking) starts at 12 noon, and a full three course lunch including salad, coffee, tea or iced tea and dessert will be served at 12:30 pm. There will also be a free crudité and cheese table. Cash bar available all afternoon!
The cost is still only $25 per person. This is our 7th year without a price increase! Plenty of FREE parking. The luncheon is open to all our members, their guests and any person in the industry or associated fields, whether active or retired. You do NOT have to be a member to attend. Call NOW with your reservation(s), (856) 365-5600! BRING A FRIEND!
LIMITED TIME OFFER!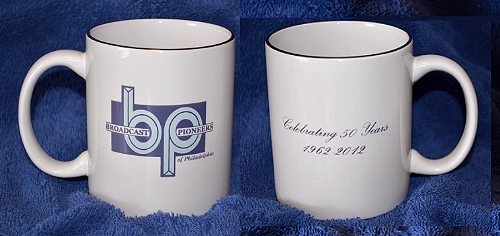 LIMITED EDITION WHILE SUPPLIES LAST!
These beautiful Broadcast Pioneers commemorative mugs celebrate our 50th anniversary this year. Yes, we're a half-century old. We have a very limited quantity of these exquisite gold colored rimmed mugs that are available on a first come, first served basis for a donation of ten dollars or more per mug! THEY ARE AVAILABLE ONLY AT OUR LUNCHEONS (until they are gone). We just don't have the staff, packing supplies, etc. to do mail order, so you must attend the lunch in order to get one (or two). Strict limit: no more than five per person per lunch. WARNING! We have less than 55 of these mugs left. Once they are gone, they are gone forever. Don't be disappointed. Get yours at the next luncheon.

Visit Our Website Often - http://www.broadcastpioneers.com

DUES RENEWALS:
Later this month, all members will receive their membership renewals. Please take a moment to look over your contact information listed on the form and make any changes or corrections. We will use this information for our membership directory this fall.
In this time of rising costs, this year it's even more important for those of you who can afford to do so and want to help to check off the extra contribution box on the renewal form. We are a state-chartered, federally-recognized charity with a 501(c)(3) status, which may make your contribution tax deductible on your federal income tax. Check with your tax advisor to see if this applies to you.
All dues are billed this month. Why? We have a volunteer that handles this. If we had to do it on a monthly basis, we would have to hire a company and thus raise your dues. There's no reason for us to do this. Be assured that if you joined in mid-year (say October), you would never be dropped until you received your full year of membership. If you can be generous with an extra contribution, we would certainly appreciate it.
WELCOME NEW MEMBERS:
FULL MEMBER:
Uriel Rendón is vice president and general manager of El Zol, 1340 am WHAT Radio. Previously, he was General Sales Manager at WEMG (the former WCAM/WSSJ). Before that, he was General Sales Manager for WWSI, Channel 62, Telemundo TV from Atlantic City. Earlier in his career he was General Sales Manager for WTGI, Channel 61 and Sales Manager for the old WTEL Radio.
ASSOCIATE MEMBER:
Betty K. Davis' TV career began in 1942 at WPTZ, Channel 3, here in Philadelphia. She was an actress on TV's earliest soap opera, "Last Year's Nest." The program aired for about a half-year. It was the first of many soaps to air on commercial television. Some of the episodes also aired on the NBC-TV network, which, at that time, had only a handful of affiliates.
We are thrilled to have these new members. They've helped to bring our total membership up to 473 (an all-time record). We hope to see as many of you as possible at the May luncheon.
DIGITAL ARCHIVAL PROJECT NEWS:
WCAU-TV News anchor Ralph Penza
March 1979

WCAU-TV News reporter Bill Baldini
March 1979
We have in our video archive, courtesy of member Bill Baldini, a lot of new material. Thanks, Bill. One of the pieces is this excerpt from March 1979. WCAU-TV Ralph Penza (member Larry Kane replaced him later that year) was at the anchor desk and ran Bill Baldini's prepared piece. Afterwards, Ralph spoke with Bill live on the phone. The topic was Three Mile Island.
On Monday, November 30, 1964, WFIL Radio aired an episode of a series called "Anniversary in Sound." This particular one was called "Winston Churchill, Citizen of the World." It was sponsored by Central Penn Bank. The narrator was Hal Woodard and was written by Joe Meyers and produced and directed by Broadcast Pioneers member Jerry Donohue.
Some sources have erroneously identified this program as being an ABC Radio production. This is simply not true. Sometimes the series was carried on other Triangle stations and occasionally it was syndicated to stations across the country.
We present an abridged version of this Winston Churchill program in Real Audio and Windows Media formats. It is nine minutes in length. While the version we have in our archive is longer (21 minutes and 12 seconds long), we do not have a complete unabridged version that includes the opening and closing. Should someone have this, we would appreciate having a copy donated to our archives.
Listen with Real Audio!
Listen with Windows Media!
On October 2, 1964, WCAU Radio broadcast another edition of "The Talk of Philadelphia" with Broadcast Pioneers member Ed Harvey. His guest that afternoon was David Levy, the twin brother of member Dr. Charles Lee. David was the executive producer of the TV series "The Addams Family," which had premiered the week before. This except has not been heard (except by people working on our DAP, Digital Archival Project) in almost a half-century.
Listen with Real Audio!
Listen with Windows Media!
In 1958, WCAU Radio was airing a 15-minute broadcast called "Regional Roundup." While we cannot identify the newsman anchoring the report, we believe it to be George Lord. At the end of the program, there's a sports report by Broadcast Pioneers member Bill Bransome. The show dates from September of 1958.
Listen in Real Audio!
Listen in Windows Media!
IN TOUCH WITH OUR MEMBERS:
Member Billy Carlucci is the co-host of the "Welcome to the Gang Show" heard on WVLT on Thursdays at 7 pm. On Tuesday, May 5th, they'll be taping their 150th show at Filomena's in Berlin, NJ. Patti Lattanzi is also the co-host.
Broadcast Pioneers member John Primerano tells us his CD "Somewhere South of Heaven" has been picked up by Don Kennedy, host of the nationally syndicated program"The DK Show." Also, John's biographical essay about his relationship with Al Alberts has been included in a new book by Richard Grudens, titled"Perfect Harmony," now available at Amazon.com. John told us about meeting Dick Clark, who was dining in a restaurant where he was playing: "Dick was a kind and gentle person. He listened to my story, gave me some advice and was genuinely interested. It was a touching moment in my life. How ironic that Broadcast Pioneers was awarding scholarships to future pioneers on the day one of the greatest broadcast pioneers passed away.". John can be seen and heard performing on Mother's Day at La Cena in Bensalem, Pa. from 2 to 7 pm. Thanks for the update, John!
"An Evening with Kal Rudman" is scheduled for Wednesday, May 30th, 6:30 pm at the Mitchell Auditorium, Bossone Research Center on the Drexel University Campus at 3128 Market Street, Philadelphia. This is an opportunity to hear how Kal Rudman, our 2007 Person of the Year, 1998 Hall of Fame inductee, and board member, went from the front of the classroom to in front of a camera and from behind the microphone to being the essential component behind one of the most influential publications in the history of the music industry. The event is free and open to the public. Sounds to us like an interesting evening!
Bob Perkins, member and 2003 Hall of Fame inductee, has been honored by the Somers Point Jazz Society awarding him its annual "Jazz Master Award." The award honors"people who contribute to the vitality of jazz music in this area." Bob is a Temple University WRTI radio personality and has spent decades working to keep the art of jazz music relevant in Philadelphia and South Jersey. During the seventies, Bob Perkins was news director at WDAS AM & FM when our Chairman of the Board Gerry Wilkinson was operations manager.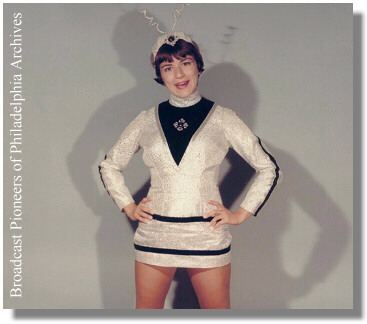 Jane Norman as "Space Girl"
WCAU-TV Official Photo
circa 1962
Member Jane Norman, our very own "Pixanne" and 2005 Hall of Fame inductee, will be appearing with Eddie Bruce at the Sugarhouse Casino on the Philadelphia waterfront on Friday May 25th at 7 pm and 8:30 pm. Jane will perform "Love Songs from The Great American Songbook" and also a duet with Eddie. No cover charge. Have fun, Jane!
Johnny Mathis will be in our area during the middle of this month. In conjunction with his appearance, Johnny will sit down with member Andy Kortman for a special on-air interview Thursday, May 10th from 9 am to 10am. They will discuss Johnny's life and career, and, of course, listen to some of his greatest songs. It's a Philadelphia exclusive, on "The Andy Kortman Morning Show" on 1360am, WNJC, streaming at www.andykortman.com.
WE REMEMBER:
Dick Clark passed away last month at the age of 82. He was this organization's "Person of the Year" in 1980 and was inducted into our Hall of Fame in 1992. Visit the Dick Clark Tribute Page!
Member Anne "Ashley" McNicholas passed away in mid-April. She lived in the same apartment building as members Mike Nise and Peggy King. For years, Ashley was well-known as one of the top models in the country. She came to the United States from Ireland where she still had many relatives including her sister May Browne of County Mayo.
Philadelphia radio personality Brian Carter of "Carter and Sanborn" fame died on Sunday April 22nd of a massive heart attack. He was 56 years old. The "Carter and Sanborn" show aired on Power 99 from 1987 to 1999 and on WDAS in 2006. Carter most recently worked at WBLS in New York and XM Radio.
Steve Fredericks, born Stephen Frederick Oxman, sports-talk-show host and play-by-play announcer for college and pro games for 44 years, recently passed away from pancreatic cancer. Fredericks would have been 73 on May 1st, the date this newsletter was issued.
ON THE HEALTH FRONT:
Member Glenn "Hurricane" Schwartz had double heart by-pass surgery last Wednesday. He is doing fine and it expected back at NBC 10 at the end of May. Glenn was on vacation in Mexico and noticed some discomfort while swimming. Upon his return to Philly, he had more discomfort and went to the doctor. After some tests, they scheduled him for the surgery. We can't wait to see him back on NBC 10.
Member Mel Klawansky tells us that Gene Vassall returned home around Easter from a 10-day stay in the hospital for knee replacement surgery. He's 86 and from what we hear is in a lot of pain and not eating well. Gene was the General Sales Manager for WFIL Radio when they were doing the Famous 56 format. Mel asked that we all keep him in our prayers.
Member Peggy King had a local performance recently and took ill right after the gig. Member Anthony Di Florio was with her and drove her to the hospital where she spent a couple of days. She had some kind of virus, but is now home and doing well. We spoke with her via the telephone a couple of days ago and her voice is strong.

Did you know...
The first radio stations in our market had to find their own way and the direction in which broadcasting would travel.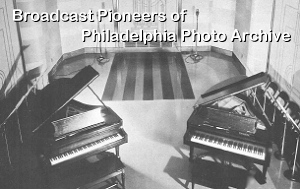 Studio D
WCAU Radio
1622 Chestnut Street, Philadelphia
1933
February 8, 1922 saw the federal licensing of the first station in the city, WGL (the 42nd licensed station in the country). Within a half year, another half dozen stations would hit the airwaves and one of them would be WCAU. The Bureau of Navigation, Radio Division of the United States Department of Commerce, licensed them at that time.
The first record we can find of a listed broadcast is Tuesday, May 30, 1922. This is generally accepted as their first day of broadcast. Their schedule that day was from 7:30 pm until 10 pm. That day's programming started with sporting results. Then at 9 pm, Richard Myers played piano. At 9:30, there were violin tunes by Thomas Barker. In 1990, a newspaper article gave the date of the first WCAU broadcast as May 22, 1922. We have never been able to independently confirm that.
However, the government's Radio Service Bulletin number 62, dated June 1, 1922 lists WCAU as a new station. The station was originally owned by the Philadelphia Radiophone Company, and the studio, office and transmitter were located at 1936 Market Street in Philadelphia. Their frequency was 360 meters or 833 kilohertz and the station broadcast with 250 watts. They were the 251st licensed radio station in the United States.
On January 24, 1923, ownership was transferred to Durham and Company, who owned The Philadelphia Radiophone Company. Wilson Durham was an electrician and ran an electrical engineering and contracting business. He ran the station from the back of his Market Street shop and also from the top floor of his four-story building. WCAU received financial help from a group of Market Street merchants. They put down some "up-front" money and in return received mentions on the station. These plugs may have been the city's first commercial announcements aired over a Philadelphia radio outlet that wasn't pushing the merchandise of the station's owners (mostly department stores).
The station's first transmitter was built by Durham himself, right in his own store. By mid-year of 1923, the station had moved to 1050 on the dial with 250 watts. The next year, the station doubled its power and moved its Western Electric transmitter and antenna to the Hotel Pennsylvania at 30th and Chestnut Streets. The transmitter was installed in a room on the hotel's roof. The studios moved to a large building adjoining the hotel. The station's office was on the first floor of this building.
In February of 1925, WCAU was still operating with 500 watts but now at 1090 khz. Sometime in 1925 or early 1926, the station was sold to Isaac Levy and Daniel Murphy, two Philly lawyers, for a reported $25,000. They became the Universal Broadcasting Company. Wilson Durham stayed with the station as a staff announcer (they were only on the air at night) and ran his regular business during the day.
Many Internet sites state that Durham sold the station in 1924, but a government document dated February of 1925 showed Durham & Company as the owner.
On November 17, 1926, Dr. Leon Levy, a local dentist and Isaac's brother, bought out Murphy (who believed you just couldn't make any money owning a broadcast station). Both of the Levy brothers were founding members of the Broadcast Pioneers of Philadelphia.
In mid-1927, the station switched to the 1080 khz frequency and moved its office to the entire second floor of "The First Radio Building" at 1940 Market, just two doors away from where the station started. In 1928, the station moved to 1150. On November 11, 1928, the Federal Radio Commission standardized broadcasting and assigned each station permanent frequencies. Because of this, WCAU moved to 1170 on the AM dial and went to 1,000 watts of power. However, WCAU quickly found out that 1,000 watts didn't cover the city of Philadelphia and they applied for a power increase. During the latter part of 1929, two additional studios were added to the 1940 Market location.
There was one time when the basement lights failed. Dr. Levy ran out of the station and drove his car around to the side of the building and aimed the automobile lights into the window so that the show could continue.
A WCAU Radio document dated June 4, 1938 said:
Due to the location of the transmitter in a residential district of Philadelphia, a new transmitting plant was constructed at Byberry, Pa. In this same year, new studios were set up at (the Universal Building) 1321 Arch Street (Broad and Arch Streets). In 1929, power of 5 kilowatts was authorized and during the same year, authorization was given for a power increase to 10 kilowatts. (The 10,000 watts of power took to the air in June of 1929.) In 1930, application was made for 50 kilowatts. After (a) hearing before the Commission, this power was granted and a new transmitting plant was constructed at Newtown Square, Pa. with operation of 50 kilowatts starting on November 11, 1932.
During the construction of the new transmitting station, the Universal Broadcasting Company changed its name to the WCAU Broadcasting Company. Plans for an specially constructed studio building to be erected at 1618-20-22 Chestnut Street were approved and on December 26th, 1932, the building was completed. However, it was not officially dedicated for two more months.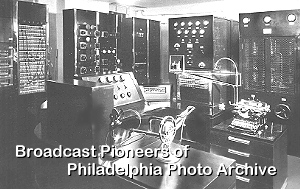 Master Control
WCAU Radio
1622 Chestnut Street, Philadelphia
1933
On Friday, February 10, 1933, the WCAU dedication took place at 10:30 pm and was carried live over the Columbia Broadcasting System, CBS Radio. It featured many leading entertainers of the era. President Hoover spoke live from the White House and said:
I am glad to participate in these dedication exercises. Radio broadcasting has spread its influence to every phase of mankind's endeavors and achievements. Its unique value is the possibility it provides of bringing people and nations into immediate and intimate association, permitting universal dissemination of ideas, facts, and opinions. I had the privilege of sharing in the development of radio while it was still practically in embryo, when I was Secretary of Commerce. The radio art was developed with phenomenal rapidity. Most of this development took place in the last 10 years. It illustrates the possibilities of modern life wherein science, invention, technology, and industry quickly cooperate to put at the service of mankind the full values of scientific discovery. Already radio has had a profound effect upon all our institutions; social, political, and industrial, and upon the very color of our thoughts. This important position in our daily life has been well earned, and those who have ministered so admirably to its development deserve our praise and thanks. I heartily congratulate the management of the new WCAU Building upon their enterprise in erecting this unique temple to this modern art, especially constructed for radio broadcasting purposes.
This regular monthly column is written and researched by Gerry Wilkinson
MORE DIGITAL ARCHIVAL PROJECT NEWS:
WPVI News anchor Jim Gardner
April 1979

Pennsylvania governor Dick Thornburgh
April 1979
We have in our video archive another clip from the Three Mile Island situation. This one is from WPVI-TV. News anchor Jim Gardner interviewed Pennsylvania governor Dick Thornburgh shortly after the problem was under control.
Watch in Real Video!
Watch in Windows Media!
Here's an excerpt from "Quaker Question Mike," sponsored by the Quaker Food Stores, a co-op of local grocers. The program was broadcast four times a day on WIP Radio. The excerpt we have is from August 18, 1958. The Quaker Question Man was Paul Parker. Since the program aired four times daily and was, at least, sometimes, live, there were different hosts. Another known host for this series was Paul Sullivan.
Listen with Real Audio!
Listen with Windows Media!
Broadcast Pioneers member Ed Harvey was one of the first telephone talk radio hosts in Philadelphia. He had a show on WCAU Radio weekdays in the afternoon called "The Talk of Philadelphia." During the week of January 6th through the 10th of 1964, Ed was on vacation and Broadcast Pioneers member Bill Campbell filled in for him.
We have in our archive the 3 pm hour of Friday, January 10, 1964. Bill Campbell speaks with comic Phyllis Diller. This is a really interesting program because we all know Bill as the Dean of Philadelphia Broadcast Sports, but here we see an entirely different side of him.
Listen in Real Audio!
Listen in Windows Media!
Late in 1965, WFIL-TV made some changes within their news department. Gunnar Back, who was the main Channel 6 anchor for a decade, was replaced both as anchor and news director. He went back to reporting and doing commentary. Not many would have accepted that, but Gunnar Back loved the news. It was in his nature and he loved every minute.
We have in our archive part of a Gunnar Back radio newscast dating from Sunday February 13, 1966 at 11:55 pm. Our excerpt lasts for 3:16 and deals entirely with heavy rains and area flooding in the area. Half of this excerpt contains an interview with well-known area artist Andrew Wyeth, a realist painter from Chadds Ford, Pennsylvania.
Listen in Real Audio
Listen in Windows Media!
Remember, History is ONLY What Gets Saved!
(If there were no portraits of George Washington, how would we know what he looked like?)
WE NEED YOUR HELP:
We are looking for donations of working home version BETA tape players. (They predate VHS/VCRs). We also need a film chain and/or a working 16 mm film sound projector. 8 mm and Super 8 projectors are also needed. Contact Gerry Wilkinson, Pat Delsi, Jerry Klein, Frank Stone or Brad Seecof. We need this material to digitize items for our DAP, Digital Archival Project.
MORE IN TOUCH WITH OUR MEMBERS:
Member Dave Coskey, president and general manager of Longport Media let us know that they are desperately looking for air checks for WOND, WMGM and WTKU. These of some of the stations that Longport owns. Contact Dave at: dcoskey@longportmedia.com.
We heard from member Donald Barnhouse, who tells us that he's still doing TV commentary. He's on every other evening about 10:25 pm on WFMZ-TV, Channel 69 in Allentown. The broadcast is repeated for late night viewers at 1 am. The station comes into Philly and surrounding areas on most cable systems.
Member Charlie Gracie's TV public television show called Fabulous returns to Public TV this June. There are at least four different television outlets where the show could air and they are WHYY-TV, WYBE-TV, NJTV (Channel 23 in Camden) and WLVT-TV, Channel 39 in the Lehigh Valley.
The Dick Carr's Big Bands Ballads and Blues radio show originally aired on WOR 710 in New York City and about 80 other stations coast to coast. After four years with the late Rick Buckley's network, it moved to public radio. About a year ago, we began streaming the BBB&B radio show here on this web site however now we only feature Dick's Stories Behind The Music. The latest news is that the three hour BBB&B show has moved to the Metromedia Radio channel on Live 365 and became part of their weekend programming. Catch it on Saturdays from 11 am to 2 pm and on Sundays from 6 to 9 pm.
Member Bonnie Nadley Silvestri was a guest on the Vincent Pastore/Dennis Nardone radio show on Monday April 9th. The show airs on WVOX, 1460 AM in New York. Bonnie talked about being president of the Dovells Fan Club and dancing on American Bandstand in 1961. Bonnie was also interviewed by Karen Arazia, the managing editor of NBC10.com on April 18th, after the death of Dick Clark was announced. The interview was available on the NBC10 website. Nice going, Bonnie!
We were glad to see Board member Joe Pellegrino and welcome him back at the April luncheon. Joe is recovering from rotator cuff surgery and had been laid up for a while. Joe told us, "The rehab is working well and I'm feeling better and getting around," and he demonstrated by lifting his arm above his head while flashing his famous smile. Nice to have you back, Joe!
Member Vibiana Bowman Cvetkovic has co-authored a piece in the electronic "Encyclopedia of Greater Philadelphia." It's called "Children's Television" and talks about many of our members. In the bibliography for the article, she listed our website as one of three resources. One other was member Ed Cunningham's "Philly's Favorite Kids Show Hosts," which aired over WHYY-TV five years ago. The accuracy of the TV script was checked by Broadcast Pioneers historian (also our Chairman of the Board) Gerry Wilkinson, who acted as historic consultant for that Channel 12 broadcast.
THANK YOU: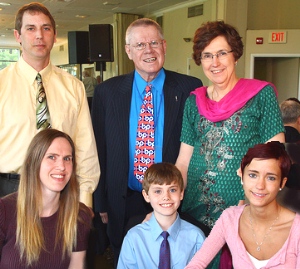 The Johnny Hall Family
Broadcast Pioneers Luncheon, Bala Golf Club
Wednesday, April 18, 2012
As we do every month, we want to thank Broadcast Pioneers member Johnny B. Hall for his monthly donation to our DAP, Digital Archival Project. It really helps us to have Johnny and his family contribute to this much needed but expensive project. We welcome other gifts for this project in the form of money and/or donated items like video tapes, audio transcriptions and photos.
For 2013, we already have two $1,000 scholarships underwritten by member Johnny Hall and one by Ira and Robin Adelman and her dad, member Leon Love. Everyone else interested in underwriting a scholarship or two, please let us know.
Special thanks to members Eric Address, Brad Seecof and Gerry Wilkinson for all the digitizing being done in our video section of the Broadcast Pioneers' Digital Archival Project.
Thanks to member Bill Roswell for the nice donation. The money will be put to good use. We would also like to thank member Mike Strug, who got 250 photos of member Max E. Solomon (a former Broadcast Pioneers' Person of the Year during 1970). The pictures showed Max with just about every star from the 40s through recent time. Solomon's daughter, Arlene Krone, loaned the material to us for scanning. Thanks.
Lots of thanks go to new member Betty Killner Davis for her wonderful donation. It is much appreciated. Betty was a soap opera actress on WPTZ television during World War II. A nice interview with her is right below this section. Please watch it. She's very interesting.
If you forgot to make an extra contribution (cash or memorabilia) and would like to do so now, it's never too late. We would be thrilled to hear from you at: PO Box 2886, Bala Cynwyd, PA 19004 or call us at (856) 365-5600.
A LITTLE BIT OF HISTORY
Betty Killner Davis
Broadcast Pioneers Luncheon
Bala Golf Club, Philadelphia
Wednesday, April 18, 2012

Betty Davis and an unidentified actress
Last Year's Nest
WPTZ, Channel 3, Philadelphia
1942
At our last luncheon, our Chairman of the Board Gerry Wilkinson sat next to new member Betty Killner Davis, who was an actress on Channel 3 in 1942. We asked her to stay until after everyone had left, and we recorded this 15-minute interview with her as part of our "Pioneers in Broadcasting" series. Pat Delsi did the interview and Brad Seecof shot the recording.
Watch Betty talk about being involved in 1942 Philadelphia television!

IN TOUCH WITH THE INDUSTRY: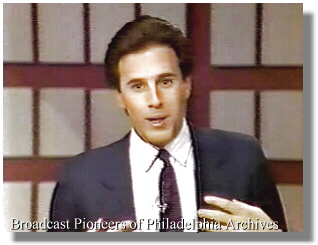 Matt Lauer
WCAU-TV, Philadelphia
"Live on City Line"
Wednesday, October 28, 1987
For the first time in 16 years, ABC News announced "GMA" (Good Morning America) had surpassed "Today" based upon preliminary national Nielson figures recently released. It occurred during a week when Today co-host Matt Lauer was off the air and when "Dancing with the Stars" may have helped to draw more viewers. Member Caroline Welch, VP of Programming at WPVI-TV, 6ABC told us, "GMA has been winning here (in the Philadelphia market) for as long as I can remember and I've been here 20 years." Matt Lauer used to host "Live on City Line" on WCAU-TV in the mid-eighties. One day, he had member John Zacherle on the live broadcast.
Watch in Real Video!
Watch in Windows Media!
Rickie Ricardo is still around. Did you know that? Well, we're not talking about the character from "I Love Lucy" who spelled Ricky with a Y. We're talking about the Rickie Ricardo who we hear doing Phillies reports on KYW Newsradio. He's part of the Phillies broadcast team who broadcasts the Phils play-by-play in Spanish.
Philadelphia-Talk Radio WPHT, 1210 am will soon be all live and local. Popular talk show host Michael Smerconish will present a live broadcast of his syndicated show weekdays from 12 noon to 3 pm. The program is currently running in the 4 to 7 pm on a delay. Other programming includes Chris Stigall in mornings, Member Dom Giordano in mid-mornings, and the Phillies and Gary R'nel in the evening. WPHT will soon announce a new live and local afternoon show.
The changes are WPHT are being made because the syndicator of "The Rush Limbaugh Show" is moving the program to WWIQ, the old WKDN in Camden. Why? It just could be that WWIQ is also carrying Glenn Beck and Sean Hannity, who haven't been carried in the Philly market for 16 months.
The Limbaugh change is expected sometime before July 4th. Michael Sherconish, a speaker at many of our luncheons, will move his syndicated three hour show from 4 to 7 pm to the 12 noon to 3 pm slot. The syndicated show will then be broadcast live on flagship WPHT. In the afternoon drive time period, the 4 to 7 pm hours were aired on a four hour delay.
Erin O'Hearn has returned from maternity leave. She's now back at WPVI-TV, 6ABC after more than a year since she was last seen on the station. Erin will be filling in Sunday mornings an anchor as well as mid-days while Nydia Han is on maternity leave. O'Hearn will also work on special reports for the station.
We say kudos to Fox 29 and their new VP/GM member Dennis Bianchi. Seems that the station aired a news report about the City of Philadelphia auctioning off a man's car while he was hospitalized for a gunshot wound. A complete stranger saw the piece, called the station, and donated his car to the man. People still have good hearts.
In their May issue, Philadelphia Magazine did a piece called "The Dubious Decline of TV Sports." What caught our attention was a screen capture of member "Big Al" Meltzer. The article's author talks about several of our members including Beasley Reece and John Clark. The article is here to read! By the way, the month before, the April edition of Philadelphia Magazine had a piece by member Larry Mendte, who says that TV News is outdated as hell. Mendte is currently a commentator on WPIX-TV in NYC.
The Sixers have moved from CBS Radio's O&O, WIP to Greater Media's WPEN-FM, effective this past Saturday. Member Marc Rayfield, Senior Vice President/ Market Manager for the entire lineup of CBS Philadelphia Radio Stations, said: "We have been broadcast partners for many, many years. A changing competitive landscape has required both sides to reevaluate their priorities. We wish the 76ers luck in this season's playoffs, as well as in years to come."
NBC10 Philadelphia (WCAU-TV) announced that Ben Oldham has been named Vice President of Sales. Oldham, who will start on May 21st, comes to his new role after serving as General Sales Manager at KPRC, the NBC affiliate in Houston. Oldham has prior experience in the Philadelphia market, having served as KYW-TV's Local Sales Manager and then Director of Sales from 1997 to 2002. Oldham has worked in the broadcast industry for over 25 years. He and his wife Colleen will be relocating to the Philadelphia area.
The NBC Owned Television Stations today (May 1st) announced that it will significantly increase the focus on local investigative reporting by creating dedicated investigative reporting sections on its station websites. The new sections allow NBC stations in New York, Chicago, Philadelphia, Bay Area, Washington, Dallas-Fort Worth, and Connecticut to deliver higher quality in-depth stories by combining exclusive video with innovative digital features. Investigative sections will be added to additional NBC owned stations in the weeks ahead. The NBC O&O here is WCAU-TV, Channel 10.
ON THE SCENE: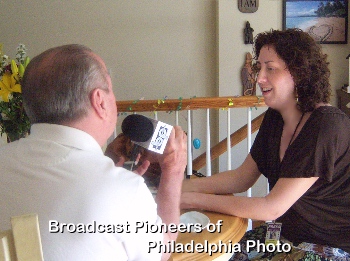 Photo by Barbara Farley-Stone
On the Scene had an unusual opportunity to conduct a turnabout on a local reporter, Lauren Suit. Lauren is on the staff of Catamaran Media, the publisher of several local South Jersey weeklies, particularly "The Wildwood Leader."
Lauren had booked an appointment to meet with newsletter editor Frank Stone, who is campaigning for Commissioner for the Borough of West Wildwood, New Jersey. His wife Barbara is his campaign manager. At the end of the interview, On the Scene took over to learn more about Lauren.
With over three years at the Wildwood Leader, Lauren made the switch from a larger county wide weekly paper to concentrate on a smaller market and provide a more personal touch to her stories.
She told us, "I'm one of the lucky ones who went to school and actually am able to do what I went to school for: journalism. I've been with The Leader for over three years and do it all; writing the story, taking the pictures, producing the video, etc. No day is ever the same, especially when you have the chance to do it all, particularly telling people's stories, just like we're telling your story."
Lauren was a major in journalism as part of The Communications Arts program at Rampo College of New Jersey in Mawah, New Jersey. She is expecting her first child in June.
Editor's Note: Lauren was a true professional in every way: organized, articulate, personable and a reflection of the youth and talent in the communications industry today.
A REVIEW OF OUR APRIL 18th LUNCHEON:
A Spring Potpourri of Broadcasting!




What a Great Luncheon!

(left to right) Members Paul Gluck and Steve Levy
Broadcast Pioneers Luncheon
Bala Golf Club, Philadelphia
Wednesday, April 18, 2012
The above photo proves that broadcasters are ALWAYS serious. Board member Paul Gluck was News Director at three TV stations here in Philly and Steve was a long-time news anchor. Nothing is more serious than the news. We're just glad that our members are always well behaved and never have any fun. After the picture was taken, Steve told us that he always suspected that Paul was related to Count Dracula.
Our April luncheon is always a very special event and the essence of what our organization is all about. This year, we awarded seventeen $1,000 scholarships, thanks in large part to our very successful Person of the Year/Hall of Fame banquet this past November.
The afternoon's program was emceed by our very own 2001 Hall of Fame inductee, and Broadcast Pioneers board member and treasurer Pat Delsi. With his deep, distinctive voice and his impeccable mike presence, in a room overflowing with students, their families and friends as well as our members and guests, the featured speakers directed their comments and encouragement to the "future of our industry." Here's a bit of what they had to say.
Board Member Carter Merbreier (aka Captain Noah) read a powerfully moving excerpt from his soon to be released book, "Walk Carefully With Tigers - Behind the Scenes of a Legendary Children's Television Show." He described how Mrs. Noah would clown around with him on the set, but no one could see her because she was hidden at his feet, under the counter where he was doing arts and crafts as she was controlling the puppets who would dispose of the scraps of paper etc. The reading was a tender affirmation of a man and his wife, who happened to work and live together for decades, and yet were always at peace with themselves, their popularity and the immeasurable impact they had on the lives of thousands of children. For a few brief moments at the Bala Golf Club, time stood still. The audience recognized the uniqueness of the moment and offered an over three minute standing ovation, a more than fitting tribute to the folks who taught us all, how to "Sing a Rainbow."
Next up was Member Bob Backman, former vice president and general manager of Philaelphia's Channel 61 and current owner of WRDE-TV in Rehoboth Beach, Delaware. Bob offered his "Five Steps of Super Star Success."
Embrace the pain; do what you do not want to do and do it well.
Take off the lid; do the unexpected
Obstacles are part of the journey; go beyond
Be a beginner and be an expert; always learn more
Set reasonable goals and go beyond; activate and re-activate your dreams to create your own reality.
We then heard from Member Steve Highsmith, director of Community Relations for Philadelphia's WPHL-TV and host of "In Focus" and "NBC 10@Issue."
Steve told the scholarship winners: "Our business is all about people. This business allows us to be involved, to meet and talk with people every day, and more importantly to listen to them, to hear their stories. At the end of the day, you're successful because of the people who help you, as you will help them. The young people in this room are the ones who will take this business to a new level. We impact people by what we do. Stay committed to the community. Get out of the building and know what's happening in the community. And remember, you're hired to make someone else successful."
The last speaker was Member Elliot Abrams, Senior Vice-President and Chief Forecaster for AccuWeather, who shared a bit of revolutionary war history and the impact of weather on its outcome. He offered the students a list of "to do's and dont's" garnered from the newer employees at AccuWeather. The complete list is too extensive to list here, but suffice to say, it was packed with common sense ideas that all contributed to new job jitters and success.
It all took place on Wednesday, April 18th at the beautiful and historic Bala Golf Club, 2200 Belmont Avenue (across the street from the State Police) in the Wynnefield section of Philadelphia. Only minutes away from Channels 6, 10 and 17 and the radio stations in Bala Cynwyd.
COMPLETE VIDEO!
Watch the students accept their scholarships!
PHOTOS OF THE LUNCHEON!
Pictures taken by Broadcast Pioneers President Jerry Klein
These copyrighted images are protected under US Copyright.
Any usage without the express, written permission of
the copyright holder is strictly prohibited!
Usage does NOT fall under "Fair Use" of copyright laws!
Our seventeen scholarship winners were (in alphabetical order):
Jennifer Alecci, Muhlenberg College
Melissa Anderson-McDonald, Temple University
Analis Barrood, Drexel University
Michael Busza, Temple University
Phillip Carroll, Temple University
Jessica Chung, University of Pennsylvania
Darragh Friedman, Temple University
Katheryn Kennedy, LaSalle University
Russell Lash, Temple University
Sarah Lazar, University of Delaware
Ashley Lewis, Temple University
Kara Lieff, Temple University
Allison Lips, Rowan University
Jamie Lynn Marino, Villanova University
Alexandra Paulin, Drexel University
Scott Scheinberg, University of Delaware
Becki Steinberg, University of Pennsylvania
These scholarships are made possible through our scholarship underwriters for this year. Member Johnny B. Hall leads the pack with underwriting four scholarships. Three scholarships are in the memory of member Pat Merbreier (also known as Mrs. Noah). Two scholarships are underwritten by Ira and Robin Adelman and her dad, member Leon Love. Member Esther Kurtz was underwritten a scholarship in the memory of her late husband, member David Kurtz, founder of B-101 Radio. Member Sylvia Kauders has underwritten one for this year and it's part of a five-year scholarship grant. Member Harry Hurley through the proceeds of his annual Harry Hurley Charity Golf Tournament has underwritten a scholarship. The additional ones are funded by people who have donated to our scholarship fund and from the funds raised at our annual banquet this past November.
HEARD ABOUT THE LUNCHEON:
"It was very inspiring, hearing all the people from the industry." Jessica Chung, scholarship winner
"It's wonderful entertainment, and we got to do some good for students and that's what this is all about." Dr.Ginny Hall, wife of member Johnny B. Hall
"I thought it was really great. To hear the Broadcast Pioneers speak to us and to be recognized was truly an honor and a very special experience."Jamie Marino, scholarship winner
"I really enjoyed today. It was humbling to be in the presence of all these tremendous people. I am so grateful for this experience. Someday I'll have my own station and will be in a position to help so many people who need to be helped." Melissa Anderson–McDonald, scholarship winner
"Today was incredible. The advice we heard was amazing." Phillip Carroll, scholarship winner
"I love the luncheons where we present the scholarship winners. This is the most important luncheon of the year. This is what we're all about. To see these students, person to person, and meeting them is so important and to realize that the future of broadcasting is in good hands." Dr. Diego Castellanos, Broadcast Pioneers board member, Scholarship Committee Chair
"I thought today's luncheon was excellent. To have Broadcast Pioneers support our dreams means so much." Mike Busza, scholarship winner
"It was great I had so much fun and to be with all the other students was wonderful. We so appreciate the support and encouragement to follow our dreams." Ashley Lewis, scholarship winner
"It was absolutely wonderful. I feel very, very lucky to be chosen as a scholarship winner."Darragh Friedman (Daughter of "Mr. Movie" Steve Freidman)
"I am so honored to be here. All the speakers had so much good advice and to hear them up close and personal was wonderful." Kara Lieff, scholarship winner
A FINAL THOUGHT....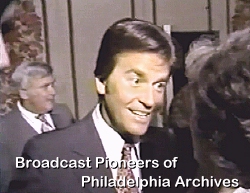 Dick Clark
at our "Person of the Year" Banquet
Marriott Hotel, Bala Cynwyd, PA
May 1980
"If you want to stay young looking, pick your parents very carefully."
Dick Clark
our 1980 Person of the Year
Please contact us by e-mail at newsletter@broadcastpioneers.com. Your stories are important, to you, to us, and your colleagues. Contact us today and we'll include your story in the next newsletter!

Photo Editor & Archival Historian - Gerry Wilkinson
© 2012, Broadcast Pioneers of Philadelphia
All Rights Reserved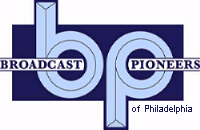 The e-mail address of the Broadcast Pioneers of Philadelphia is pioneers@broadcastpioneers.com
For luncheon reservations call (856) 365-5600 or e-mail us at: rsvp@broadcastpioneers.com