The Broadcast Pioneers of Philadelphia is a federally recognized, state chartered 501(c)(3) non-profit corporation serving Philadelphia since 1962.

Ed Eisen
News Editor

May Luncheon
The Bala Golf Club
Wednesday, May 15, 2013

Meet & Greet at 12 noon!
Lunch at 12:30 pm
Ratecard: $28 per person!

PLEASE RESERVE NOW!
CALL (856) 365-5600!
rsvp@broadcastpioneers.com
Another "Third Wednesday" Luncheon!
Wednesday, May 15, 2013!
"A Tribute to B-101"
HAPPY 50th BIRTHDAY!
Previously, B-101 was WDVR and EAZY 101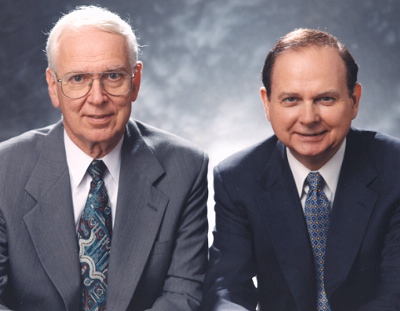 (Left to right) members David Kurtz and Jerry Lee
RESERVE NOW! CALL (856) 365-5600!
Our next Broadcast Pioneers luncheon is a "A Tribute to B-101. B-101 will be 50 years old this May. Happy birthday, B-101! Come out and help us wish them happy birthday. Previously, B-101 was known as Eazy 101 and WDVR. For 50 years, this station has been one of this market's top-rated radio stations. It's one of only a few of major market stations still in the possession of a hands-on owner and not a group. Both David Kurtz and Jerry Lee have been members of this organization for decades.
The luncheon will be held at the Bala Golf Club, 2200 Belmont Avenue in Philadelphia on Wednesday, May 15th (that's the third Wednesday of the month). Meet and greet is at 12 noon and lunch will be served at 12:30 pm. Make plans to be there!
SNOOZE & YOU LOOSE! (856) 365-5600!
For your enjoyment, we have scheduled many marvelous speakers (subject to change). They are (in alphabetical order):
Allan Kalish, owner of Kalish & Associates, former manager of Kalish & Rice
Dave Kurtz, son of B-101's founder and former owner David Kurtz
Marlin Taylor, WDVR's station manager and program director
Alan Tempest, the current executive director of the Philadelphia Ad Club
Richard Wyckoff, President of the Pennsylvania Association of Broadcasters
Our Keystone speaker will Jerry Lee, owner of B-101, former Broadcast Pioneers President and former Chairman of the Board of Broadcast Pioneers.
Our MC for the afternoon will be Blaise Howard, vice president and general manager of B-101. Plus, early WDVR announcers Dave Shayer and Joaquin Bowman (both members of Broadcast Pioneers) will also say a few words. For those interested in reading about the early days of the station, please click here!
(856) 365-5600! RSVP TODAY!
It all takes place at the beautiful and historic Bala Golf Club, 2200 Belmont Avenue (across the street from the state police) in the Wynnefield section of Philadelphia. Only minutes away from Channels 6, 10 and 17 and the radio stations in Bala Cynwyd. Call now for reservations. (856) 365-5600! Don't miss this one!
Meet and greet (networking) starts at 12 noon, and a full course lunch including salad, coffee or tea and dessert will be served at 12:30 pm. There will also be a crudité and cheese table. Cash bar available all afternoon!
(856) 365-5600! CALL IMMEDIATELY!
Plenty of FREE parking. The luncheon is open to all our members, their guests and any person in the industry or associated fields, whether active or retired. You do NOT have to be a member to attend. Call NOW with your reservation(s), (856) 365-5600!
In order to speed up check-in at the luncheon, it would help if you had the $28 in exact change or your $28 check already written. Make it payable to the Broadcast Pioneers of Philadelphia.
WE WANNA SEE YOUR FACE IN THAT PLACE!

Visit Our Website Often - http://www.broadcastpioneers.com

2005 BROADCAST PIONEERS SCHOLARSHIP WINNER JOINS NBC 10: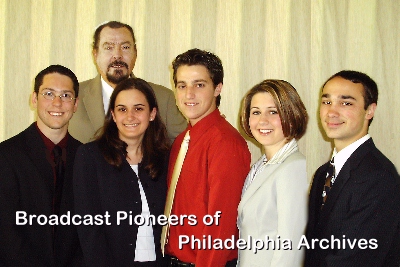 Broadcast Pioneers Scholarship Winner Matt DeLucia at extreme left
Broadcast Pioneers Luncheon, Bala Golf Club, Philadelphia
Wednesday, April 20, 2005
NBC10 announced yesterday that Matt DeLucia will be joining the station as a reporter starting in June. Matt was one of six winners of Broadcast Pioneers scholarships awarded in April of 2005. DeLucia joins NBC10 from Fox affiliate KVVU in Las Vegas, Nevada, where he has been a reporter and fill-in anchor since 2009.
"Matt is an enterprising, hard-working journalist," said Anzio Williams, Vice President of News for NBC10 Philadelphia. "We're thrilled to welcome him back to the area as part of the NBC10 family."
Gerry Wilkinson, this organization's Chairman of the Board said: "We are thrilled with Matt's success. Broadcast Pioneers is delighted to have played a small role in recognizing and rewarding Matt's academic achievements with one of our scholarships. We have followed his career throughout the years and we want to be among the first to welcome him home to the City of Brotherly Love."
In Matt DeLucia's most recent role at KVVU, he earned three Pacific Southwest Emmy Awards in the categories of journalistic enterprise, team coverage and news writing. In 2012, the Associated Press Television and Radio Association named him 'Reporter of the Year' and awarded his story on sudden cardiac arrest in children and teens as 'Best Serious Feature.'
DeLucia started his career as a reporter and weekend sports anchor at WBOC in Salisbury, Maryland. He later moved on to WSHM in Springfield, Massachusetts, where he was a general assignment reporter and anchor.
Originally from Cherry Hill, New Jersey, DeLucia attended Camden Catholic High School in Cherry Hill. He is a graduate of La Salle University, where he earned a B.A. in communication. During his studies, he worked as a reporter/segment producer for New Jersey Network and served as an intern for NBC News for the 2006 Olympic Games in Turin, Italy.
IMPORTANT NEWSLETTER INFORMATION:
Beginning with the June 2013 issue of our newsletter, we will be using a different e-mail system to deliver the issue to our members. As you know, only members can access the newsletter during the first month.
Beginning in June, the newsletter will be sent from pioneers@broadcastpioneers.com. We suggest that you take a moment to place this e-mail into your e-mail address directory. This will help ensure delivery. Don't know how to do that? Most systems (not all) will enter the address automatically when you send us an e-mail to the above e-mail address.
In recent months, we have been experiencing problems with our old system, mainly because of the growth of this organization. We now have so many members that it was overloading the system. Be assured that you, our members, receiving our electronic newsletter is a top priority with Broadcast Pioneers.
MEMBERSHIP RENEWAL TIME:
Later this month, all members will receive a membership renewal form, even if no dues payment is required at this time. Why? Because we need you to verify that we have the correct contact information. This info will be used internally but also in the new membership directory that will be issued later this year. Kindly make sure we have your information correct.
While memberships may expire in different months, all members are billed in May. Why? Because we have a volunteer doing this. If we had to generate bills monthly, we would have to hire someone and thus increase our overhead (which means we would need higher dues from you just to cover the billing cost). We hold dearly your membership. We try our best to use your dollars wisely.
Unlike other organizations, we do not send bill after bill until you pay. That just waste your money. This will be your only notice (in order to keep our costs low). In your membership renewal form, you'll find a place for you to make an extra contribution. If you can do so, we would appreciate it.
WELCOME NEW MEMBERS:
FULL MEMBERS:
Dee Dee Sharp, the pop/rock singer from Overbrook High School, has joined. Dee Dee started in the business in 1962. While still in high school, she partnered with Philadelphian Chubby Checker to record the hit "Slow Twistin'" and shortly thereafter cut her solo hit of "Mashed Potato Time." She followed it up with "Ride," which was also another million seller for this multi-talented lady. We welcome her into the Broadcast Pioneers.
Dennis John Cahill has been in the business for a third of a century. This rich-voiced announcer/disc jockey started at WAEB in Allen in 1971 and then to WIFI here in Philadelphia. Cahill became very popular on WIBG from 1974 to 1977 and then he went back to WIFL. Next were stops at WIP Radio and WFIL Radio. He was also on WLAC and WSIX and then went to WSBA and WARM in 1987 where he stopped for the next 14 years.
David Figenshu is the director of photography for FUll Moon Video Digital Multi-Media Services. He started in the business in 1978. Out of college, he worked for EJ Stewart and Center City Video and now does independent camera operator work. You have seen some of his work on the Discovery Networks, HBO, ABC Sports, CBS Sports, Nickelodeon, Banyan Productions and on Mike Nise's "Dance Party USA."
Josie Brandon is a singer and songwriter with 20 years of success. She has been featured on ABC, CBS, PAX and others. Josie lives in Arizona, which is a long way from Philly. However, we are proud to have her as a long distance member. (We do have others). She is also the founder of the Divorce Support Network, which helps rebuild lives. She is also a founder of Guardian Angels of Justice & Peace. The other founder is member Pearl Polto.
We are thrilled to have these new members. 488 Members. More than ever. We hope to see as many of our members as possible at our May Luncheon.
DIGITAL ARCHIVAL PROJECT NEWS:
VIDEO: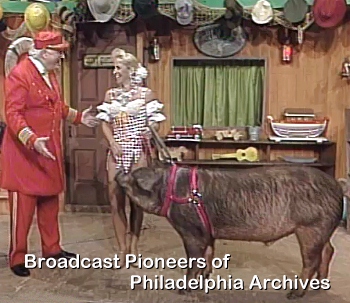 (Left to right) Carter Merbreier, Lisa Dufresne and CJ the pig
Captain Noah's Magical Ark
WPVI-TV, Philadelphia
May 1991
In May of 1991, the circus came to Philadelphia. This May, the Ringling Brothers & Barnum and Bailey Circus will again be in our area with appearances in both Trenton and Hershey. Lisa Dufresne is a gold and silver medallist in the U.S. Dressage Foundation and has won numerous awards at the international level. She was doing a trained animal act in 1991 and appeared on "Captain Noah's Magical Ark." Of course, Captain Noah is none other than Broadcast Pioneers Board Member W. Carter Merbreier. Music was by Broadcast Pioneers member Larry Ferrari. It's our opinion that the Real Video version is clearer and better in quality.
Watch with Real Video!
Watch with Windows Media!
AUDIO:
We have six different audio clips from Sunday, October 17, 1965. They are all from KYW Newsradio, which at this time was less than one month old. None of these clips have previously appeared on the Internet. So unless you had a copy of this reel-to-reel audio tape, you haven't heard this material since 1965. All these cuts deal with the Vietnam War in some aspect. We'll presented three of the clips last month and the remaining three are here in this newsletter.
Here is an hour we no time identification. We believe it to be in the 4 pm hour. KYW Newsman Art Lane did a 60 second report about anti-war demonstrations in Delaware County. There was also a story of students and professors who supported the United States effort in the war. The anchor has yet to be identified but Bud Galow said that it is the same anchor as in cut #2 that we ran last month. Member Bill Roswell said to us: "If my ears serve me correctly, I think the anchor in this clip is Dan Streeter. But the anchor in cut #2 that ran last month doesn't sound like Dan."
Listen in Real Audio!
Listen in Windows Media!
Now we are listening to material from the 5 pm hour that runs 2:22 in length. Included in this cut is a report from the station's New Jersey's correspondent in Trenton, Ed Ramsey. The report talks about the upcoming governor's race, an anti-war demonstration planned for Fort Dix and the college professor who welcomed a Viet Cong victory. The news anchor has not yet been identified.
Listen in Real Audio!
Listen in Windows Media!
And finally we hear from the second half of the 11 pm hour with an 1:21 excerpt. KYW Newsradio's Bob Williams has a report from Morton, Pennsylvania on a "Stop the War Now" demonstration. The anchor has not been identified.
A LITTLE BIT OF BROADCAST HISTORY!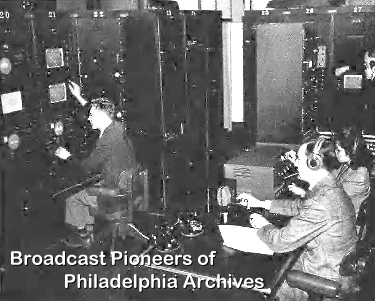 (left to right) Technician Farrell Quigley, Paul Knight (producer) & unidentified sound engineer
WPTZ, Channel 3, Philco Television
Live Telecast of University of Pennsylvania Football from Franklin Field
Fall 1944
IN TOUCH WITH OUR MEMBERS:
Kudos to Broadcast Pioneers member Jean Moore. Her University Forum half-hour program has received more than 50 local, national and international awards! Among them are the Achievement in Radio (AIR), the Communicator, and the CINDY Gold. Jean brought the show to Temple University's WRTI in 1997 after creating it at WESM. The show has racked up over 15 years of continuous coverage. Archives of programs can be accessed here!
Author and Broadcast Pioneer member Harvey Sheldon says that Yiddish culture is enjoying a bit of a renaissance. Young people are increasingly studying the tongue of their ancestors and seeking out live Yiddish entertainment in an attempt to reconnect with their immigrant heritage. There are now 12 major universities with courses in Yiddish culture. In Philly, the University of Pennsylvania offers Yiddish language courses. Harvey is the author of sixteen books. His latest is "The History of the Golden Age of Yiddish," which will be on sale later this month at Amazon.com.
Member Joe Ball, publisher and executive editor of the Advertising/Communications Times (ACT), tells us that they will be holding another free event. Business men and women will receieve free admission to the Philadelphia Advertising and Business Show at the New Clothier Room, 630 Clothier Road, Wynnewood, PA, on Tuesday, May 21st, from 9 am to 4 pm. Plenty of free parking. Your business guests, with business cards, are also admitted free. For additional information, call Elena at 484-562-0063.
We found a video on You Tube that we thought you might enjoy. It features cats, kittens and Broadcast Pioneers member Peggy King. Check it out!
If you live over in South Jersey, you can now get an hour of Corky's Time Machine on Comcast Cable. It's on Channel 190. The program started early in April and is having great success. Catch Broadcast Pioneers member Corky Warren on Saturdays from 7 pm to 8 pm. It's Rock & Roll Oldies at their best and it's now on television.
Broadcast Pioneers member Kenny Jeremiah is part of Vet Rock 2013 in Atlantic City. The date is Saturday, June 1st. Also on the show are the Soul Survivors, The Trammps, The Buckinghams, Mitch Ryder and the Detroit Wheels and Mark Farner, formerly of Grand Funk Railroad. Special Guest Speaker is Lt. Col. Oliver North and MC Joe Piscopo. Here's more info!
WE REMEMBER: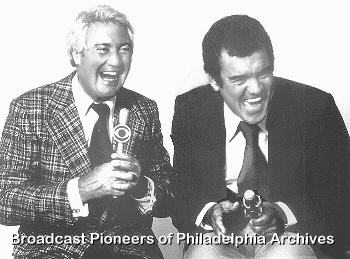 (Left to right) Pat Summerall and Broadcast Pioneers member Tom Brookshier
circa 1975
1970, Tom Brookshier teamed up with Pat Summerall at CBS Sports, and the two became one of the most popular broadcast teams in NFL history. Pat passed away on April 16th. Like Tom, Summerall was a pro football star turned broadcaster. Brookshier passed away in January of 2010.
ON THE HEALTH FRONT:
It's been a bad April for Gerry Wilkinson, our Chairman of the Board. He has been under the weather for the last few weeks with conjunctivitis and a bad cold. Gerry missed our April 2013 luncheon. Previously, he had attended 117 consecutive lunches. The last time he missed a luncheon was March of 2000. It was an "excused" absence, however, as he was busy producing television for WHYY. He does plan to be with us at the May 15th luncheon.
Broadcast Pioneers member Leon Love will undergo surgery on May 8th. Robin Adelman and her husband Ira tell us that Leon has been diagnosed with colorectal cancer. He has been under treatment at the Fox Chase Cancer Center. We wish the family well.

Did you know...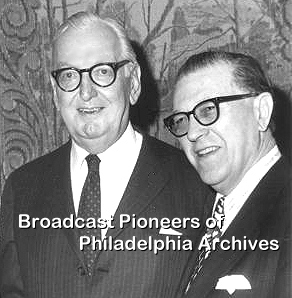 (left to right) Broadcast Pioneers members Pat Stanton and John Morgan Davis
Broadcast Pioneers "Person of the Year" Celebration
Marriott Hotel, City Avenue, Bala Cynwyd, PA
Friday, April 14, 1972
(Pat Stanton was "Person of the Year" in 1972)
Did you know that John Morgan Davis was this organization's very first "Person of the Year?" It was 1966. He was a founding member of Broadcast Pioneers and served as an officer and a board member for many years. But he was much more!
He was the person that threw the switch to make WIBG a 50,000 watt station. He was a radio announcer, a time salesman, business partner of Roger Clipp, a judge and Lt. Governor of Pennsylvania. He owned interest in several radio stations including WIBG. Davis was an elector for President Franklin Roosevelt in 1944 and was a delegate to the 1960 Democratic Convention that nominated President John Kennedy. But he was much more.
Broadcast Pioneers member John Morgan Davis was born on August 9, 1906 in Shenandoah, PA, located in the coal country of the eastern part of the state. He shared his hometown with two other famous people, Jimmy and Tommy Dorsey.
Davis went to high school in Reading, Pennsylvania, and then came to Philadelphia to earn his Bachelor of Science in economics at the University of Pennsylvania's Wharton's School of Finance and Commerce in 1929. Three years later, in 1932, Davis earned his LL.B degree from Penn's law school in 1932.
In November of 1929, while a senior at Penn, John Morgan Davis entered broadcasting as an unpaid announcer for WLIT, Philadelphia (the Lit Brothers Department Store owned radio station). He also did free announcing at WRAW in Reading and WIP and WHAT Radio here in Philly. In January 1931, while still in law school, he became a full-time paid announcer for WCAU Radio. Later that year, he became night supervisor for that same station.
Davis claimed that he scooped the nation while at WCAU by announcing the first news about the Lindbergh baby kidnapping case. Later, while still assigned to this story, he worked with Boake Carter, who later went to CBS Radio. During his WCAU days, he also worked with another WCAU announcer, Paul Douglas, who later went on to fame in motion pictures. After WCAU, John became the radio director for the John Falkner Arndt advertising agency in Philly.
During 1932, he married Eva Pierson. They had three children, Patricia, Carole and John, Jr. and lived in Philadelphia.
When WLIT and WFI (the Strawbridge & Clothier Department Store radio station) merged in 1935 to become WFIL, he worked there both as an announcer and as a salesman. At that time, he met Roger Clipp, who had just moved to Philadelphia to manage the new station. Davis and Clipp would later become business partners.
Later the same year, John Morgan Davis had a golden opportunity to become associated with a small 250-watt station located in Glenside, Pennsylvania, WIBG Radio. At that time, the station covered only a small portion of the city. Davis became the station's Vice-President, General Counsel and a minority stockholder. Just seven years later, in 1942, the station went to 10,000 watts. Davis was Vice-President of Seaboard Broadcasting, the company that owned WIBG when the station was sold to Storer Broadcasting in 1957.
He was the chief counsel for a committee of the Pennsylvania House of Representatives that investigated housing in Philadelphia during the thirties. He also was secretary of the Pennsylvania Labor Relations Board from July 1937 to February 1939. In 1941, John Morgan Davis ran on the Democratic ticket in 1941 for Common Pleas Court. He lost.
He was a Presidential Elector for President Franklin Roosevelt in 1944. Davis had sat on the Philadelphia Council of Defense's trial board and was commander of the control center there during the Second World War. In 1945, he ran for Superior Court Judge of Pennsylvania and again he lost. These were the only major defeats in his career.
In August 1944, Davis was named general counsel and labor relations director of NAB (The National Association of Broadcasting). He stayed in that position until August 1946.
During this time, Davis worked with Rosel H. Hyde, then FCC assistant general counsel in preparing FCC forms that satisfied both the FCC and broadcasters. He helped solve FM and TV allocations problems. He helped set up a hearing consultation system for the FCC and Washington Communications lawyers.
John Morgan Davis was Vice-President of the Corporation filing for Channel 23, WIBG-TV in Philadelphia. The company was owned by Seaboard Broadcasting (owners of WIBG) and a small portion of the stock being owned by the Philadelphia Daily News.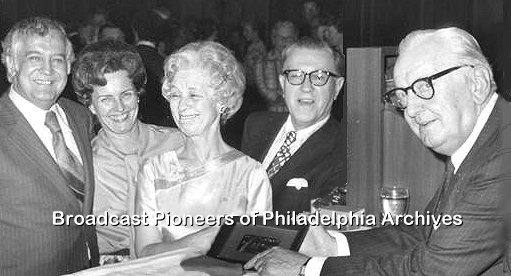 (left to right) Member Bob Dome and his wife, Mrs. and Judge John Morgan Davis and Pat Stanton
Broadcast Pioneers "Person of the Year" Celebration
Marriott Hotel, City Avenue, Bala Cynwyd, PA
Friday, April 14, 1972
In November of 1951, he ran and won the office of judge of the Common Pleas Court number 4 of Philadelphia. He had won his first judgeship by defeating incumbent Tom Bluett. He served in that position until 1958 when he resigned to run for Lt. Governor of Pennsylvania. He won and served in that office for four years under Governor David Lawrence. In fact, in 1959, Davis was there and threw the switch that increased the power of WIBG to 50,000 watts (daytime with 10,000 at night).
Earlier, we mentioned how Davis went into business with Broadcast Pioneers member Roger Clipp. Both Davis and Clipp were founding members of this organization. Well, in 1945, the two purchased WALL, Middletown, NY.
In December of 1958, after winning election as Lt. Governor, Davis and Clipp purchased WSPB in Sarasota, Florida. The two sold the station in the mid-sixties for a handsome profit. During the mid-sixties, Davis was a director of WRBB, Tarpon Springs, Florida.
Davis was the 22nd Lt. Governor (he was a Democrat) for the Commonwealth of Pennsylvania. He served from 1959 to 1963. During 1960, he was a delegate to the Democratic National Convention that nominated John F. Kennedy for their party's nomination.
On January 7, 1964, President Lyndon Johnson appointed three judges by recess appointments. One of them was Davis for U.S. District Judge for Philadelphia. President Kennedy previously nominated Davis in September of 1963. A Senate judiciary subcommittee approved the nomination but the Senate adjourned before approving the nomination. In March of 1964, the Senate confirmed Davis' appointment. He served in that position for twenty years, until his death on March 8, 1984.
This regular monthly column is written and researched by Gerry Wilkinson
MORE DIGITAL ARCHIVAL PROJECT NEWS:
VIDEO:
Broadcast Pioneers member Dick Standish
KYW-TV Eyewitness News Election Coverage
at Florio Headquarters
Tuesday, November 7, 1989

Broadcast Pioneers member Dick Sheeran
KYW-TV Eyewitness News Election Coverage
at Courter Headquarters
Tuesday, November 7, 1989
This video has been on our website for years. However, we recently re-encoded it. The quality is now much better and it is three times as long as it previously was. The KYW-TV Eyewitness News Team was in place to bring residents of the Delaware Valley all the results of the 1989 election. The first report came from Veteran Channel 3 reporter Dick Standish at Florio headquarters. It's 10 pm. After Dick Standish finished his report, he threw the coverage to Broadcast Pioneers member Dick Sheeran at Courter headquarters. Channel 3 anchors Steve Bell and Beverly Williams were on hand for the wrap-around. In our opinion, the Real Video version is clearer and sharper.
Watch with Real Video!
Watch with Windows Media!
By the way, Broadcast Pioneers member Dick Standish tells us:
A constant campaigner for roughly 20 years, Jim Florio had been elected to the NJ Assembly and Congress, but his real goal was to be Governor. In 1981, he lost to Republican Tom Kean in New Jersey's closest gubernatorial election ever. But change is sometimes possible in politics. This night in 1989, he won in a landslide. It was to be the highlight of his political career. Four years later voters reversed themselves, and threw him out. He had raised taxes.

This night was typical of many I was lucky enough to be involved in for Eyewitness News and (KYW) Newsradio. Our photographers made it easy for a reporter. They did a great job in hectic, competitive crowds and in stakeouts for exclusive video.
AUDIO:
Last month we ran the audio from the changeover from WRCV Radio to KYW Radio in Philadelphia. It was June 19, 1965. Well, several years ago, a visitor to our website sent us the audio from the switch in Cleveland. KYW Radio was becoming WKYC Radio. We thought you might enjoy hearing how it all went in the "other city."
Listen in Real Audio!
Listen in Windows Media!
Actor Paul Douglas before going into theater films was a staff announcer at WCAU Radio. Paul left to head for Hollywood in 1942. Eight years later, he returned to the WCAU microphones to chat with Powers Gouraud. The date is Monday evening, March 13, 1950. Douglas said that he had done the Gouraud broadcast at least a dozen times. Douglas added, "Famous or not, Powers always pays me the same amount (as all others), NOTHING."
While this interview has been available on our website since 2007, we just re-did the audio. We removed a few dozen pops and clicks, we took away almost of the distortion and altered the pitch of the recording. It seems that the original transfer was done from a reel-to-reel tape that was running off-speed. We were able to bring it back into sync. It now runs on time and at the correct pitch. It is for the first time also available in the Windows Media format.
Listen in Real Audio!
Listen in Windows Media!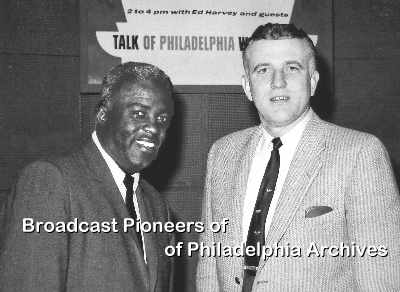 (left to right) Jackie Robinson and Broadcast Pioneers member Ed Harvey
WCAU Radio Studios
Bala Cynwyd, PA
The above photo dates from before the time of this particular WCAU Radio broadcast. Why? Because Jackie Robinson is on the phone with Ed Harvey. Jackie had previously been on "The Talk of Philadelphia" and that's when the picture was taken. Note that at the top of the snapshot, it says that Ed was on from 2 to 4 pm. Well, it's August 13, 1963 and now Ed is on three hours a day. This recording is from the 1 to 2 pm time period. Our audio comes from an audio tape that was recorded by WCAU Radio at the time of broadcast. Ed had asked the engineer to please stop the tape while the commercials, news and commentary were on the air. However, our audio is mastered on that original WCAU tape.
We mastered our audio file a few years ago. At that same time, we also digitized a cassette that also contained this broadcast. The cassette was made a couple decades earlier. While transferring the original reel-to-reel tape, there were a couple places where the oxide came off and the tape wouldn't play properly. We edited that brief portion from the cassette recording that was still intact. We used the original reel-to-reel tape wherever possible. All except 20 seconds is mastered from the reel-to-reel and we only used the cassette which there was a problem with the tape transfer. So what you are about to hear is all from the original tape recorded at the WCAU Radio studios. That is, all except 20 seconds. The audio quality of the reel-to-reel is far superior to the cassette recording. So we used the best possible source.
The legendary baseball player Jackie Robinson was Ed Harvey's guest that day. Jackie talked about the political nature of the civil rights struggle and gave his own personal opinions. It's been a half of a century since anyone has heard this priceless broadcast. We are delighted that it exists today and we are thrilled to preserve it for future generations.
Listen with Real Audio!
Listen with Windows Media!
Remember, History is ONLY What Gets Saved!
(If there were no portraits of George Washington, how would we know what he looked like?)
THANK YOU:
As we do every month, we want to thank Broadcast Pioneers member Johnny B. Hall for his monthly cash donation to our DAP, Digital Archival Project. Johnny donates $250 every month. The amount totals $3,000 yearly and really helps us to underwrite this much needed but expensive project. By the way, that's a $600 a year increase over his contribution from 2012.
We already have a good start for the April 2014 scholarships. We already have pledges and/or funding for fourteen $1,000 scholarships to be awarded in April of 2014. We received $1,000 for a scholarship in the memory of Broadcast Pioneers Hall of Famer Mac McGuire. The contribution came from member R. Alan Campbell. Also, the final $1,000 scholarship (part of a five year package) from Broadcast Pioneers Hall of Famer Sylvia Kauders. We also have pledges for seven $1,000 scholarships from member Johnny B. Hall and his wife, Ginny. That's one more than last year. Also, a scholarship from the Adelman family for a $1,000 scholarship and also one from Robin Adelman's dad, member Leon Love. Member Harry Hurley has pledged a $1,000 scholarship from the proceeds of this year's Hurley in the Morning Golf Tournament.
Broadcast Pioneers Vice-President Kal Rudman started underwriting scholarships for our organization several years ago. He was the person that underwrote our first scholarship way back when. Now, there are many following in his footsteps. Kal has just said that he'll be underwriting two more scholarships for the coming 2014 year. Thanks, Kal.
Member Monica Malpass has donated a couple dozen tapes to our DAP, Digital Archival Project. The material dates back to her days broadcasting in North Carolina. Monica has now been with WPVI for a quarter of a century. Thanks, Monica. Other contributions this past month came from Bill Kelley and Bonnie Nadley Silvestri and her husband Joe.
And again, we wish to thank member Jerry Del Colliano for his $1,000 contribution to our DAP fund. We also received a $1,000 contribution to our archives from long-time Broadcast Pioneers member Len Stevens. A little while ago, Robin Adelman (on behalf of the entire Adelman family and Leon Love) presented us with a $1,000 contribution to be split between of our DAP project and our general fund.We welcome other gifts for these and other projects in the form of money and/or donated items like video tapes, audio transcriptions and photos.
Our special thanks go to TUTV and The Kal & Lucille Rudman Media Production Center.

They have underwritten a grant to be used to fund an entire year of all our newsletters for calendar year 2013. We thank them so much for their support!
If you forgot to make an extra contribution (cash or memorabilia) and would like to do so now, it's never too late. We would be thrilled to hear from you at: PO Box 2886, Bala Cynwyd, PA 19004 or call us at (856) 365-5600!
A LITTLE BIT OF HISTORY!
(Left to right) Margaret Rosenberg, Gene London and Robert Rosenberg
Palisades Park, NJ
Tinker's Workshop, WABC-TV
May 1957
There was a TV show on WABC-TV weekday mornings from 8 to 9 am. It was called "Tinker's Workshop." Actually, there were four different Tinkers. The first was Bob Keeshan and he created and hosted the show from November 1954 until September 1955 when he left to go to CBS and start Captain Kangaroo (which, later in the series, was produced by Broadcast Pioneers member Jimmy Hirschfeld). Next was Henry Burbig, who portrayed the character until the end of 1956. Gene London took over the program and stayed until early 1958 when a young Dom DeLuise became the final Tinker.
Each of the four made personal appearances. In May of 1957, Gene London was appearing at Palisades Park in New Jersey when two young children had their photo taken with "Tinker Tom." That's the photo seen above. If you click here, you can see the letter, WABC-TV sent to the children.
IN TOUCH WITH THE INDUSTRY:
News Anchor Susan Barnett will not be renewing her contract with KYW-TV (CBS 3) and WPSG-TV (The CW Philly 57), Barnett and the stations announced yesetrday. Barnett's contract expired at the end of March. Barnett, who has been with the Philadelphia stations since 2006, said: "I have decided to not renew my contract with the stations at this time. I am incredibly thankful for having been a part of the CBS Philly family, but I feel that this is the right decision at this time."
Broadcast Pioneers member Jon Hitchcock, President and General Manager of CBS 3/CW Philly, said: "Susan has been a valued member of our team. While we would have liked to have her continue in her current role, we respect her decision and wish her the very best. Moving forward, Eyewitness News, the area's most honored team of television journalists, will continue to provide the Delaware Valley with the most complete news coverage in the tradition of the first name in local news."
Radio One Drops its Rhythmic AC format from WRNB, Philadelphia and launches 'Old School 100.3.' Radio One cleaned house at WRNB, Philadelphia letting its on-air staff go and dropping the Tom Joyner program from the station and changing the format to rhythmic oldies. Radio One has programmed its "Old School" format at KSOC in Dallas and WOSF in Charlotte as well.
Meteorologist Katie Fehlinger, who usually coaxes Delaware Valley viewers out of bed and out the door on CBS 3 and The CW Philly workday mornings, is inviting viewers to sleep late on Mother's Day, May 12th. Fehlinger has volunteered to "run in their places" in the 2013 Susan G. Komen Philadelphia Race for the Cure.
As part of CBS 3 and The CW Philly's "Women of Eyewitness News," the stations' year-round breast cancer awareness team, Fehlinger will be a surrogate runner this year, someone who will run in the place of all those who aren't available to lace up to fight breast cancer Mother's Day morning in Philadelphia. Fehlinger says:

The fight against this disease is something I've come to care a lot about since joining my co-workers at this great event. I ran the race for the first time last year, and immediately knew I'd do it again in 2013. So I'm reaching out to viewers with the hope that'll they will join me in this year's effort by making a donation toward my fundraising goal. Let me get up at the crack of dawn. Let me run for you. Let me channel your support toward one amazing purpose – saving lives.
The Radio Television Digital News Association (RTDNA) has awarded CBS 3 with a regional Edward R. Murrow Award this spring for its efforts in news coverage. The station's Vice-President and News Director, Susan Schiller said:
What a tribute to the dedicated and talented team of journalists in our newsroom and our colleagues throughout the station who are an integral part of our stories and newscasts every day. I am so proud of their accomplishment and honored to work with each and every one of them.
A BUNCH OF GREAT KYW NEWSRADIO BROADCASTERS!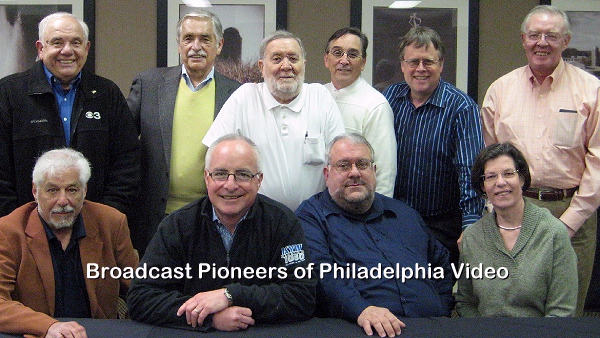 (left to right - top row) Dick Sheeran, Dick Standish, Fred Walters, Bill Roswell, Steve Holt and Bob Witten
(Left to right - front row) Jay Lloyd, Steve Butler, Tony Romeo and Doborah Potter Witten
KYW Newsradio 70s crew
Harrisburg, PA
Saturday, April 13, 2013
(Photo taken by Mary Lloyd)
The Radio Television Digital News Association honored KYW Newsradio with three regional Edward R. Murrow awards, singling them out from among other very competitive major market stations in New York, New Jersey, and Pennsylvania. "While we are always pleased to be recognized by our peers in the industry, the award carries extra meaning when the KYW Newsradio staff performed so well to provide vital community information during an event like Super Storm Sandy," said Dir. of News and Programming, Steve Butler.
And speaking of Butler, each year the radio trade publication Radio Ink names significant and powerful program directors to their "Best Program Directors in America." KYW Newsradio's Director of News and Programming, Steve Butler, made that list.
After being informed of his accomplishment, Butler said, "If there's a better all-news staff out there than the one backing me up, the good news is they also work for CBS Radio! The winning team at KYW is dedicated, caring and hard-working. The guy in charge can't ask for anything more."
NextFab Studio is excited to announce that it will host an open casting call for "Shark Tank," the ABC network's hit reality series where self-made business tycoons invest in the best businesses and products that America has to offer. The first 500 entrepreneurs to arrive at the audition on Saturday, May 11th are guaranteed to be interviewed. This is the only casting call location in the Northeast. This is a great opportunity to showcase the exciting projects and innovative spirit Philadelphia has to offer. It all takes place at 2025 Washington Avenue in South Philly from 9 to 11 am.
CBS RADIO Philadelphia and Spanish Béisbol Productions announced that Spanish play-by-play of the Philadelphia Phillies games will air live on Phillies 24/7 as heard on 98.1, WOGL, HD4 beginning Friday, May 3rd when the Phils take on the Miami Marlins at 7:05 p.m. Broadcasts will include pre-game and post game coverage. The Spanish broadcast team consists of Bill Kulik, Rickie Ricardo and Angel Castillo.
Broadcast Pioneers member Marc Rayfield, Senior Vice President and Market Manager, CBS RADIO Philadelphia said, "We are excited to reach a new and growing audience with these broadcasts as we continue to expand our partnership with the Phillies. By carrying games on Phillies 24/7, CBS Radio Philadelphia is proud to expand coverage of Spanish play by play. "
Last week, WPVI, 6abc Action News commemorated the opening of its brand new Wilmington Bureau facility. After more than 26 years, the Wilmington Action News Bureau has moved to a new location. It is located right across the street from the County Courthouse on 405 North King Street. Aside from the obvious aesthetics of this location, it provides the Wilmington crews better news gathering technology.
Broadcast Pioneers member Bernie Prazenica, President and General Manager of WPVI hosted the event saying: "This facility is modern, it's beautiful, and being in the heart of the city is key for news gathering. I think this move demonstrates our commitment to covering the Wilmington area, and I hope this will be our home for many years to come."
Art Ellis, who has spoken at national conferences about best practices in public media community outreach, will be honored May 21st for demonstrating best practices himself in communications as he is inducted into the Philadelphia Public Relations Association (PPRA) Hall of Fame. In his current senior management position at WHYY, Ellis oversees strategies and tactics for all communications activities.
The PPRA Hall of Fame luncheon, scheduled for 11:30 am at 150 North 6th Street in Philadelphia, will be emceed by WHYY host and personality Ed Cunningham (a member of the Broadcast Pioneers), who produces "On Stage at Curtis." Also expected to speak are WHYY President & CEO Bill Marrazzo and "Fresh Air" co-executive producers Danny Miller and Terry Gross, host of the acclaimed nationally syndicated program.
WMMR Radio, 93.3 on FM is celebrating its 45th anniversary. The Marconi Experiment debuted 45 years ago yesterday. That program was hosted by Dave Herman. The station at the time was owned by Metromedia and it was originally WIP-FM. Today, the station is owned by Greater Media. Happy Birthday, guys and gals.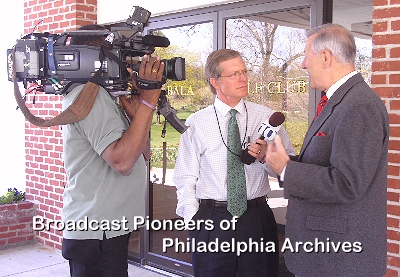 Member Terry Ruggles interviewing Member Bill Baldini
at the Broadcast Pioneers Luncheon, Bala Golf Club
Wednesday, April 16, 2008
(Photo taken by Gerry Wilkinson )
Both Ruggles and Baldini will be with us for our
"Tribute to Herb Clarke" luncheon in June
THANKS FOR THE MEMORIES:
WILLIAM PALEY IN PUERTO RICO!
This month, we celebrate WPHT (previously WCAU Radio) being on the air for 91 years. An issue of Broadcasting Magazine in 1932 told this story about Philadelphian Bill Paley. They called him "capable, unassuming and a square shooter." Upon graduating from college (The University of Pennsylvania), he became Vice-President of the Congress Cigar Company, the business owned by his dad, Sam Paley. Bill got into broadcasting when Congress purchased an hour of time on WCAU Radio, which was owned at that time by Ike and Leon Levy. Leon was married to Bill's sister.
The first record we can find of a listed broadcast for WCAU was Tuesday, May 30, 1922. This is generally accepted as their first day of broadcast. Their schedule that day was from 7:30 pm until 10 pm. That day's programming started at 7:30 with sports. Then at 9 pm, there were piano selections played by Richard Myers. At 9:30, there were violin tunes by Thomas Barker. In 1990, a newspaper article gave the date of the first WCAU broadcast as May 22, 1922. We have never been able to independently confirm that date.
The station was originally owned by the Philadelphia Radiophone Company, and the studio, office and transmitter were located at 1936 Market Street in Philadelphia. Their frequency was 360 meters or 833 kilohertz and the station broadcast with 250 watts. They were the 251st licensed radio station in the United States. Early in 1925, the station was sold to Ike Levy and his law partner Daniel Murphy for a reported $25,000. In November of the following year, Murphy sold his half of the company to Dr. Leon Levy, a local dentist. For awhile, the station operated only at night with Ike practicing law during the day and Leon filling teeth in the daylight hours. At night, the two got together and "played radio." It was fun!
In 1928, the Levys went into broadcasting full-time and sold a third interest in the station to the Paleys (divided equally among Bill Paley, his father Sam and his Uncle Jay). The price - $150,000. However, keep in mind that the Levys were investors in the bankrupt UIB network (the United Independent Broadcasters, Incorporated). That company became CBS. William Paley wasn't the network's founder. He was the network's builder. His genius turned it into one of the largest broadcast systems anywhere in the world.With Broadcasting Magazine being in its infancy, they most likely relied on CBS for information about Paley. Be advised that we cannot independently confirm this story. This doesn't mean it isn't true. It simply means it cannot be confirmed.
Well, anyhow, back to the article. It said:
Everyone in radio knows the story of the growth of CBS, so it does not need recounting here. As a sidelight on Bill Paley's character, this story, not so well known, ought to be told.He was a youngster, fresh out of college entrusted with the mission of buying raw leaf from tobacco growers of Puerto Rico. Arriving in Puerto Rico, he found other buyers gleefully rubbing their palms over the prospect of record low prices due to a tremendous surplus. They approached young Paley, the largest buyer with the proposition that he bid low, fifteen cents a pound, to be exact, and hold the price down.

During his brief stay, Bill had an opportunity to witness the plight of the tobacco growers and natives, due to the prevailing low prices. Though he knew he could get the crop at any price he pleased, he decided to make a fair offer. Without consulting his fellow buyers, he bid forty cents. The others had to meet the price, and the Puerto Rican depression was lifted.
A LITTLE BIT OF BROADCAST HISTORY!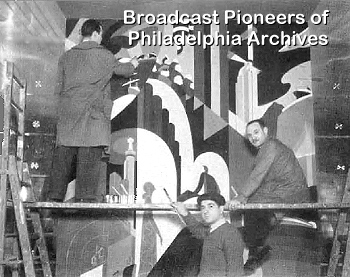 Artist John Vassos (center, lower) with two of his assistants
painting a mural on one of the walls of Studio J
WCAU Radio, 1622 Chestnut Street, Philadelphia
Late 1932
(Note: Our research has shown that this mural was painted over shortly after the end of WWII)
FRANK STANTON & PHILLY!
By the way, Frank Stanton (Bill Paley's right hand man) had a connection to Philadelphia. Well, sort of. Stanton became President of CBS when Paley elevated his position to Chairman of the Board. During his junior year in college, Stanton did much of the design for the university's yearbook Because of this, the oldest advertising agency in America, N. W. Ayer and Company in Philadelphia offered Frank Stanton a job as a junior art director. This was June of 1929.
The position wasn't starting until September so Stanton went off to Europe to visit different design houses and to just have a good time. Upon his return, Frank spoke with Charles T. Coynier, the firm's senior art director. Coynier said that business had been off and while he, Coynier, would honor the offer, Stanton was told if business slid any more, Frank Stanton would be out of work. Stanton would have to relocate to Philly from the mid-west and quit college.
Frank thought about what he would do without a college degree if he was let go by N. W. Ayer. So after more conversation with Coynier, Stanton decided it was best to return to Ohio Wesleyan University for his last year of undergraduate work. It was a smart decision. The Great Depression was just one month away.
By the way, a couple of books said incorrectly that Stanton was sent to the Bauhaus in Germany for a two month course by NW Ayer. Stanton said in two different interviews that they never sent him. The incorrect version not only appeared in print but on several websites that just lifted the information from the publications without ever checking the facts. Just because you read it, doesn't make it so. The truth is ALWAYS the truth.
Frank Stanton passed away seven years ago at the age of 98. Dr. Stanton (who at one time wanted to be a real doctor, a physician) received his PhD in 1935 from Ohio State University. His doctorate work was about listener response to radio broadcasts. That got him a $55 a week job at CBS and he never looked back.
ODE TO THE ENGINEERS!
In Volume 2, Number 2 of the in-house organ "New at 'CAU" ran a piece called "Ode to the Engineers." The date was February 28, 1947. It was on page 2 of the six-page document. It was written by WCAU Staffer John Raleigh. It is presented here without additional comment:
The engineers have hairy ears
They play with dials like thunder
They love their coils and, boys and goils,
And seldom make a blunder.

The circuit's hot, with dash and dot
They ply the world's ether
But none can seem to catch their beam
'Til radios are cheaper.

They love their work and never shirk
A multi-broadcast set up
They'll tell you true, their console's new
And runs without a let up

But catch them wrong, in speech or song
There are always good excuses
"The artist's off! He's full of cough"
And cursed with sad abuses

We love them though, from heel to toe
They really make us prosper
Without their care, we'd never dare
To enter radio's roster!
YOU KNOW YOU'RE GETTING OLD WHEN....!
You know you're getting old when you recognize people that the news anchor doesn't. At the beginning of April, Annette Funicello died. On the day of her death, Fox News Channel reported the story and went to Trace Gallagher in Los Angeles. Gallagher, who was born in September of 1961, reported the story. The network ran B-roll of Annette and Philadelphia singer Frankie Avalon. Gallagher referred to the two as Annette and Frankie Valli. While they ran a recorded package, someone must have told Trace about the error. When they came back live to Gallagher, he said that they had Frankie Avalon on the screen but Frankie Valli was the one who starred with Funicello in the Beach Blanket movies.
No, Trace. It was Philadelphia's own Frankie Avalon, not New Jersey's Frankie Valli. By the way, Fox did have the story correct on their website.At the same time that we lost Annette, we also lost former British Prime Minister Margaret Thatcher. Thatcher was Prime Minister during the Reagan years. What ties Margaret to Broadcast Pioneers? Why, it's Ronald Reagan.
As most of you know, at one time, there was a national Broadcast Pioneers organization, who had 13 chapters including the one here in Philadelphia (us). In 1995, the national organization disappeared and the 13 chapters became independent entities (including us). Ronald Reagan as a sitting President of the United States was a member of the Broadcast Pioneers national organization.
A LITTLE BIT OF BROADCAST HISTORY!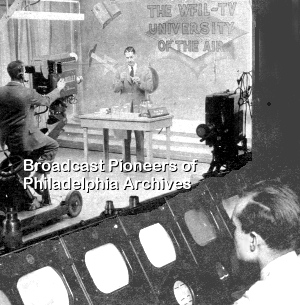 In front of the camera is Dr. Russell C. Erb
chemistry professor at the Pennsylvania Military College
University of the Air, WFIL-TV, Channel 6
1951
WIBG-TV!
Did you know that at one time there were plans for a WIBG-TV? Well, it's true. On Wednesday, March 12, 1947, WIBG announced that it had filed an application with the FCC to build a television station for a half-million dollars. The radio station in partnership with the owner of the Philadelphia Daily News formed a new corporation for the television outlet. Both had applied for a television license for Philadelphia; WIBG (owned by Seaboard Radio) in July of 1944 and the newspaper in 1945. Both applications were put on hold because of the Second World War.
Afterwards, both again renewed their interest in television. At that time, they decided to combine their efforts.They had proposed using the former WIBG transmitter building and tower in Cheltenham Township for the station's transmitter site with studios at both their 1947 radio studio location and in the John Wanamaker Building in Center City.
Joint ownership of the corporation for the television station did not affect the companies owning the radio station or the newspaper. Seaboard Radio owned 81% of the stock of the video venture with the Daily News along with several individuals owning the remaining 19%. Of the new corporation, John B Kelly was Chairman of the Board with Paul F. Harron being President. John Morgan Davis was Vice-President and K.A. Harron was Secretary-Treasurer.
They had reported at that time that the station would be equipped totally with DuMont equipment with WIBG-TV becoming the DuMont affiliate in Philadelphia. The station never got on the air and the construction permit (Initial decision reached by the FCC on 1-2-53 with the CP issued 10-21-53) for WIBG-TV, Channel 23 was turned in to the FCC when Paul Harron purchased WDEL-TV, Channel 12 in Wilmington. By the way, there was at one time a construction permit issued for WIP-TV, Channel 29, but that's a story for another time.
A FINAL THOUGHT....
"TV is radio's baby and right now the baby is biting papa's hand and will eventually bite it off."
Frank Stanton
President of CBS
1948
(By the way, Frank Stanton has a tie to Philadelphia. You can read all about it in our "Thanks for the Memories" section above.)
Please contact us by e-mail at newsletter@broadcastpioneers.com or by mail to: Ed Eisen, 1110 Longshore Avenue, Philadelphia, PA 19111. (215) 725-7253. Your stories are important, to you, to us, and your colleagues. Contact us today and we'll include your story in the next newsletter!

Photo Editor & Archival Historian - Gerry Wilkinson
© 2013, Broadcast Pioneers of Philadelphia
All Rights Reserved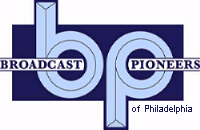 The e-mail address of the Broadcast Pioneers of Philadelphia is pioneers@broadcastpioneers.com
For luncheon reservations call (856) 365-5600 or e-mail us at: rsvp@broadcastpioneers.com