| | |
| --- | --- |
| | Broadcast Pioneers of Philadelphia is a federally recognized, state chartered 501(c)(3) non-profit organization serving the Philadelphia Broadcast Community since January of 1962. |
May Luncheon
The Bala Golf Club
Wednesday, May 21, 2014

Meet & Greet at 12 noon!
Lunch at 12:30 pm
Ratecard: $28 per person!

PLEASE RESERVE NOW!
CALL (856) 365-5600!
rsvp@broadcastpioneers.com
Another "Third Wednesday" Luncheon!
Wednesday, May 21st!
It's What's Happening!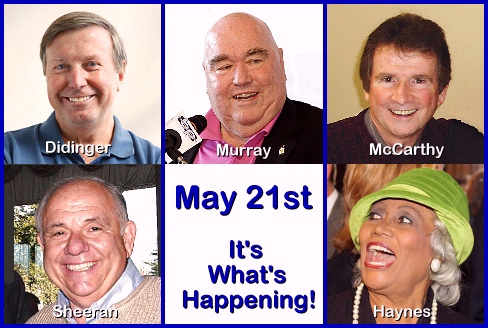 Hit After Hit! Smash After Smash! Blockbuster After Blockbuster! Here's another "monster" lunch where the "stars" don't wait to come out at night. They're here at lunchtime!
"It's What's Happening." That's our next Broadcast Pioneers luncheon. It will be held at the Bala Golf Club, 2200 Belmont Avenue in Philadelphia on Wednesday, May 21st (that's the third Wednesday of the month). Meet and greet is at 12 noon and lunch will be served at 12:30 pm. It's a three course meal with salad and dessert. Plus, we'll have a snack table. Be there or be square!
Our MC for the day is member Dick Sheeran, former KYW-TV News Anchor and Reporter. We have scheduled (subject to change) a panel of four marvelous members for your enjoyment. They are (in alphabetical order):
Ray Didinger, sports writer and currently on Comcast SportsNet Philadelphia
Trudy Haynes, host of "The Trudy Haynes Show"/former Channel 3 reporter
Tommy McCarthy, music director of WOGL, one of Philly's top rated stations
Jim Murray, "Remember When" co-host/co-founder of Ronald McDonald Houses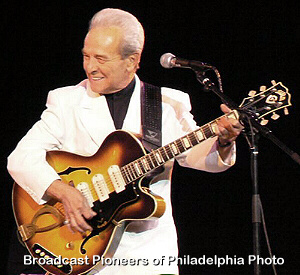 And last but not least, just back from a European tour is member Charlie Gracie, who will provide 20-25 minutes of fun and excitement. Yes, the "Butterfly" man is returning to Broadcast Pioneers after headlining across the pond.
It all takes place at the beautiful and historic Bala Golf Club, 2200 Belmont Avenue (across the street from the State Police) in the Wynnefield section of Philadelphia. Only minutes away from Channels 6, 10 and 17 and the radio stations in Bala Cynwyd. Call now for reservations. (856) 365-5600! Don't miss this one!
Plenty of FREE parking. Our luncheons are open to all our members, their guests and any person in the industry or associated fields, whether active or retired. You do NOT have to be a member to attend.
In order to speed up check-in at the luncheon, it would help if you had the $28 in exact change or your $28 check already written. Make it payable to the Broadcast Pioneers of Philadelphia.
If you would like to add a few dollars extra, we would appreciate it. It would help us with all the important work we are doing. Thanks!
WE WANNA SEE YOUR FACE IN THAT PLACE!

Visit Our Website Often - http://www.broadcastpioneers.com
Check out of Facebook Page - http://www.broadcastpioneers.com/facebook
Tune in to our YouTube Channel - http://www.broadcastpioneers.com/youtube

WELCOME NEW MEMBERS:
FULL MEMBERS:
Blaise Howard has 37 years of broadcasting under his belt. Blaise spent time working in Pittsburgh, his hometown. In 1984, Howard joined Group W Radio where he held various positions at several different stations. He came to KYW Newsradio as station manager. For the last 17 years, he has been VP and General Manager of WBEB-FM, More FM at 101.1, owned by Jerry Lee, former President and former Chairman of the Board of this organization.
Michael Stairs is the organist for the Philadelphia Orchestra and has been in the business since 1955. He grew up loving the sound of the pipe organ at his dad's church. He started studying piano at age 10, paying for it by picking potatoes. He has been with the orchestra for three decades. He studied at Westminster Choir College, where he accompanied the 300-voice Symphonic Choir under the batons of Leopold Stokowski and Leonard Bernstein.
Ben Notaro has been in our business since 1990. He is an account executive for Cruisin' 92.1, WVLT-FM in Vineland, New Jersey. He was the co-host of the station's talk program, "Cruisin' with the Editor." For the last four years, he has been the host of "Show And Go Garage" on the same station. Before getting his own show on the station, Ben Notaro filled in for several of the station's talk show hosts.
ASSOCIATE MEMBER:
Cortney Brooks was graduated from Neumann University in December of 2012. Brooks won a NATAS Mid-Atlantic Achievement Award and is on the production staff of "The Communications Group." Their "Health and Wellness" series is on the Internet. Before that, Cortney was a production assistant with the Impax Marketing Group and was a broadcast operations intern with WYBE-TV, Channel 35, here in Philadelphia.
We are thrilled to have these new members. 512 Members. More than ever. We hope to see as many of our members as possible at our May Luncheon.
DIGITAL ARCHIVAL PROJECT NEWS:
VIDEO: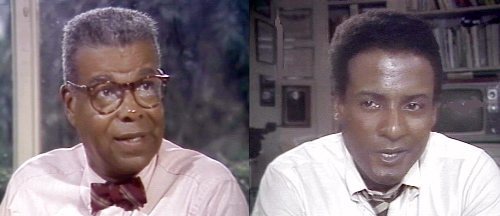 (left to right) Chuck Stone and Jack Jones
Eyewitness News, KYW-TV, Channel 3, Philadelphia
Monday, September 9, 1985
In 1985, the Philadelphia Inquirer and Daily News experienced a 46-day strike affecting its nine unions and nearly 4,800 employees. The three major television forces in town started to increase their news schedule to fulfil the need for news. KYW-TV, Channel 3 increased their weekday news output by 35% and had "strike editions" of Eyewitness News. They also added a three-hour news block Sunday morning to replace the Sunday paper. Columnists like Clark DeLeon and Ray Didinger were hired on a temporary basis to deliver their columnists over KYW-TV.
In this excerpt from Monday, September 9, 1985, anchor Diane Allen introduced a piece by Jack Jones. Jack went to Chuck Stone's home and spoke with the Daily News columnist.
Watch in Windows Media Format!
AUDIO:
Jack Pyle died in his 40s. He became legendary here in Philadelphia. He was on KYW Radio and stayed with the station when it went to WRCV. He also did the weather on Channel 3. When Westinghouse came back to Philadelphia in 1965, Jack went over to WPBS, the FM Evening Bulletin Radio Station. Here we listen to Broadcast Pioneers member Skip Clayton (who donated this clip) speaking on the phone with Ella Fitzgerald. The air version, brpadcast on May 7, 1966, was edited from this recording. This is the first time this uncut version has been made available. Skip said that he was recorded sometime between May 2nd and May 6th.
Listen in Real Audio!
Listen in Windows Media!
Next we hear Jack Pyle on WRCV Radio. Broadcast Pioneers member Skip Clayton, who donated this piece, said it dates from the early 60s. John Franklin, another WRCV Radio air personality, passed by and broke Jack up. This recording was originally on transcription disc. However, through today's technology, we were able to clean all the pops, clicks and crackle from this recording. By the way, Jack Pyle was inducted into our Hall of Fame posthumously in 2009.
Listen in Real Audio!
Listen in Windows Media!
The last audio clip in this segment also comes from Skip Clayton. It's from the fall of 1966 on WRCP Radio (before the station went country). Joe Moran, formerly on other top good music stations in our market, interviewed Charlie Gresh who had a society dance band. His orchestra did a lot of work for those who traveled in the DuPont circle of friendship. Moran talks about how the two people on the cover look like member Skip Clayton and his girlfriend Linda. Clayton tells us that it wasn't them on the cover, even though it seemed like it was.
Listen Real Audio!
Listen in Windows Media!
Today's News Becomes Tomorrow's History!
(This is what our Digital Archival Project, DAP, is all about!)
A LITTLE BIT OF BROADCAST HISTORY!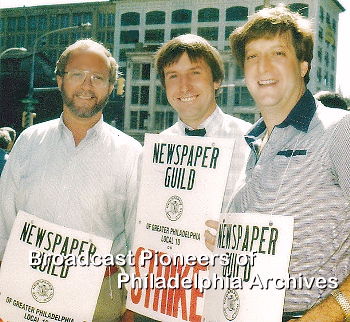 (left to right) John Schulian, Ray Didinger and Jay Greenberg
(all three were Philadelphia Daily News Sports Columnists)
Fall 1985
Editor's Note: This photo was sent to us by Maria Gallagher, wife of member Ray Didinger (and a former restaurant critic for Philadelphia Magazine). During this strike, KYW-TV increased their news coverage (so did WPVI and WCAU-TV). However, Channel 3 actually called their coverage "The Strike Edition" of Eyewitness News. The station brought striking newspaper writers onto TV. According to Ray, that's really what started the whole thing (that is, him being on TV). Ray appeared daily on KYW-TV during the seven and a half week work action. This picture was taken by a color Polaroid instant camera in 1985. It is the first time it has been seen outside of the Didinger family in three decades.
IN TOUCH WITH OUR MEMBERS:
About ten days ago, Broadcast Pioneers Board Member Kal Rudman received the Temple University Alumni Distinguished Service Award (a rare honor). Kal earned his Master of Education degree at Temple in 1957. Rudman was honored by the university a few years ago, when he received the coveted Lew Klein Alumni in the Media Award. Lew is a former President and a former Chairman of the Board of this organization. Temple University received a $1 million gift from the Kal and Lucille Rudman Foundation. The gift marks the second donation the Rudmans have made to TUTV. Their gifts to Temple have now totaled two million and two hundred thousand dollars.
Outgoing Broadcast Pioneers Vice-President Paul Gluck, general manager of TUTV and a Temple Associate Professor, said the gift will support general station operations, as well as special projects as they arise. During the past four years, TUTV's students have conducted a live interview with the crew of the International Space Station and reported live from London during the 2012 Summer Olympics.

"I'm grateful that I can give back to a constant stream of communications students at my graduate school alma mater," Rudman said to a crowd of 125 people (including Broadcast Pioneers Board Members). "I feel an insatiable need to provide the unique hands-on training opportunities to accommodate those students in reaching their goals in the video world." Kal's giving continues. He has just announced that in 2015, he and Lucille will increase theamount of Broadcast Pioneers scholarships they underwrite by 150%.
Last month, we mentioned that member Howard Eskin's son Spike received a promotion with the CBS Radio Group here in Philadelphia. Howard told us:
I'm proud of "Spike." He reached this level with HIS hard work and deserves what he got. It's not new having been an assistant PD in Chicago and at WYSP in Philadelphia. He's very equipped to be the program director at one of the country"s major radio stations. He did this by himself.
Broadcast Pioneers member Michael Muderick has a reason to be proud. Forbes Magazine published a list of "The Top 40 Toys That Get Kids Focused." Number one on the list was Crazy Aaron's Heat Sensitive Hypercolors Thinking Putty. Thinking Putty is the brainchild of Michael's son, Aaron. Aaron and his wife Elizabeth run Puttyworld.com out of their office in nearby Narberth. Their products are completely American Made, and they utilize sheltered workshops for packaging and assembly, thereby giving work to people with disabilities.
Broadcast Pioneer member Joaquin Bowman recently had the opportunity to chat with Max Brooks, 41, son of filmmaker Mel Brooks and actress Anne Bancroft. Max came casually dressed, was outgoing, and showed some of his father's wit. Max Brooks is best known for his zombie apocalypse books, including World War Z, which was recently adapted into a feature film. Bowman said he wanted to know what it was like growing up with such famous parents. "Pretty much like any other kid," Brooks told Bowman. "I had a curfew like other teenagers. I never viewed my life as different."
Joaquin's sister, member Vibiana Cvetkovic, a Broadcast Pioneer who has lectured on pop culture in the United States and Great Britain, states that Max Brooks is probably better known to the under 30 population than his famous parents.
Member Bunny Gibson tells us that she was in an episode of "Deadly Wives," a weekly series on the Lifetime Movie Network. She played Sadie in this true story of Sadie Proffitt. She said that she was a different kind of Bunny in this show. The series (besides airing Monday evenings at 10 pm) is also carried on many cable company's "On Demand" services. Look under LMN (TV Series).
We have many favorite singers but one of them is member Kenny Jeremiah. Just before our publication deadline, we got word that Kenny has a new song coming out real soon. It's a Kit Worton original song called"Without Your Love." It was recently recorded at the Right Touch Recording Studios in Northfield, NJ 08225. We'll be looking forward to hearing it real soon.

Did you know...
that "The Big Top" TV show originated from three different locations during its lifetime?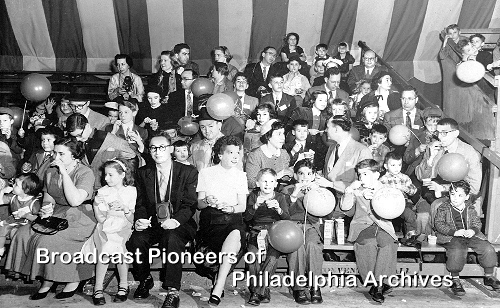 Studio audience of the CBS-TV show, "The Big Top"
Program was produced by WCAU-TV, Channel 10, Philadelphia
In August of 2011, this column gave you some info about the TV show called "The Big Top." We thought you would like to know more.
On Saturday, September 5th, 1953, WCAU-TV started broadcasting The Big Top, a circus for kids, on CBS-TV out of the Pennsylvania National Guard Armory at 32nd and Lancaster Avenue in West Philadelphia.
Originally both Candy Carnival and the Big Top originated from the Camden site (Convention Hall, sometimes referred to as "the Armory"), which was destroyed by fire in June of 1953. Then both programs moved to the station's studios on City Line Avenue on a temporary basis. However, "The Big Top" was just too large (sometimes there were over 350 people involved including the audience). After just a couple broadcasts, it moved to the Pennsylvania National Guard Armory. It remained there until the program went off the air.

Since The Big Top was sponsored by an ice cream company, Sealtest, everyone got ice cream for free. If you look at the above photo, you'll see that they are, indeed, eating their free ice cream. Charlie Gracie, Jr. tells us that his dad, Broadcast Pioneers member Charlie Gracie sang the Sealtest commercials (live) on "The Big Top." You remember. "Get the best, get Sealtest."
Fred (Skeets) O'Neill was one of the WCAU-TV directors. Fred says:
I started work with WCAU working as a roustabout on The Big Top in the summer of 1950 when Paul Ritts and Joe Tinney were directing the show, originating from the Camden, N. J. Convention Hall. There were times when we would work until midnight or later setting up the show, which aired ... the following day.
Regulars included local WCAU announcer Ed McMahon (his first national exposure) as a clown and also featured strongman Dan Lurie (Sealtest Dan, the Muscle Man) and bandleader Joe Basile. The program also spotlighted 6 foot, 9 inches tall Bill Hart as a very huge clown. WCAU-TV President Charlie Vanda was the producer of the program.
Long-time WCAU technician Charlie Higgins tells us:
It required more than one crew to do "Big Top." A crew consisted of 5 men, an audioman, two cameramen, a videoman, and a light and boom man or 3rd cameraman as needed. I have a Weekly Watch List for August 11th to August 17, 1956. A Watch List is what a schedule was termed at WCAU. I suppose this harkened from the fact that Mr. (John) Leitch (the Station's Director of Engineering) was a Navy officer. You always "stood a watch."

Anyway, the Watch List indicates that on Saturday that two crews were working 7:00 am to 4 pm so they must be the crews for Big Top. And then there were additional technicians assigned too to make up the complement of staff needed. Setup day for Big Top was on Fridays. I note I kept this Watch List because I was assigned from radio to Big Top that Saturday from 9am until 1pm when I would return to the radio studios for the remainder of my Watch that day.
Ted Gerike, a visitor to our website (his wife's uncle is Les Waas, a member of the Board of Directors of the Broadcast Pioneers of Philadelphia) e-mailed:
In 1952, I was a roustabout on the Sealtest Big Top. Jim Graham was a cameraman. Jess Schooley was the main AD (Assistant Director) and also in charge of the striking and setting crews. Fred Shimmen played the calliope. The Tommy Ferguson Trio (of "Action in the Afternoon" fame) was also involved.

Every Saturday morning I would blow up 1,000 balloons on the air vent from the calliope. Sometimes, we would play touch football outside between the rehearsal and the airing of the show. Bill Hart was a great end. It was great fun! ...I worked the Friday set up for the "Big Top" and the Saturday show plus the M&M's Candy Carnival on Sundays."
Bill Yerkes, a visitor to our website, e-mailed:
I did the commercials on "The Sealtest Big Top." Probably around 1952-4. We'd rehearse the commercials at 6 am and then they would rehearse the circus part of the show and we'd go live at noon. One time, I was supposed to take a sip of milk and look at the camera and smile. Well, the milk had been sitting under the lights and it was sour. Of course I made a face. The Director said, "What's the matter, Billy, don't you like the milk"? "We don't get this kind of milk at my house," I said. "We get Sylvan Seal." Well the "sponsor," the guy from the agency was over there like a shot and he tasted the milk and spit it out. "Get this kid some fresh milk," he hollered. We had free Sealtest delivered to our house for quite a while after that.
Dave Rush, a visitor to our website, e-mailed:
My father is Joseph Rush, now deceased, and he too was the strong man who advertised Sealtest during the early 1950's. He worked for WCAU/CBS and not only did he perform as the strong man, he also did some live performances for the network. I was probably only 2 or 3 years old but I remember seeing him advertise Sealtest milk holding the quart between his huge bicep and wrist while making a muscle.

He took me to the circus at times and would have Ed McMahon, the clown, have his fun with me. I remember his big red nose that would blink! My father also was a hand balancer who along with Jimmy Gallagher called themselves the Rush Brothers and they were considered one of the best hand balancing acts in the metropolitan area. They appeared in many of the Strength and Health magazines. I really don't know whether or not he was strong man before or after Dan Lurie, but I certainly do know that he was the STRONG MAN on the BIG
TOP.
This regular monthly column is written and researched by Gerry Wilkinson

MORE DIGITAL ARCHIVAL PROJECT NEWS:
VIDEO: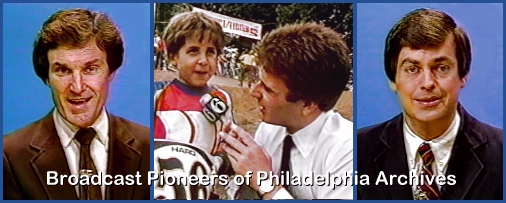 This recording originally comes from an off-air tape. You can see how the antenna was affecting the reception. The excerpt starts off with a sports piece by member Scott Palmer followed by a film package (yes, we said film) by Gary Papa. Then Broadcast Pioneers Hall of Famer Jim O'Brien (who was co-anchoring the newscast with member Lisa Thomas-Laury) comes in with "breaking news" (before it was called that) about the Philadelphia Teachers Strike. This is from September 1981.

Watch in Windows Media Format!

AUDIO:

Our first excerpt of audio in this segment comes from February 22, 1972. It was an off air recording of WCAU Radio (now WPHT). At the time, WCAU was trying to compete with KYW Newsradio. Today, both stations are owned by CBS Radio so they wouldn't try to be competitors. The newscaster has yet to be identified. This is from the 4 pm to 5 pm hour.

Listen in Real Audio!
Listen in Windows Media!

Awhile ago, we got a whole truck load of audio tapes from WVCH Radio, which was founded by Jim Tisdale, who was a founding member of this organization. The station aired a three-minute feature daily called "Piece of Kind." We don't know what time or times it aired and we're not sure who is doing the commentary. However, we do have an educated guess that it was Tom Harvey. This was recorded for air on January 4, 1978. This was from the original air tape. It talks about the presidency and Jimmy Carter (one year after he was in office).

Listen in Real Audio!
Listen in Windows Media!

Finally, our last piece of audio dates from 1967. At that time, our Chairman of the Board Gerry Wilkinson was a radio-TV-film student at Temple University. He was a writer/producer for the campus radio station, WRTI-FM. One of the programs he wrote and produced was called "Retrospect," which aired Thursday evenings at 8 pm. There are three promos. The first two are done by Bob Donze. The last one is the same script done earlier except by the host of that week's Retrospect. His name will be familiar to you, Jerry Klein (he's our current President). As you can see, the two Gerrys/Jerrys go back together almost a half century.

Listen in Real Audio!
Listen in Windows Media!
Remember, History is ONLY What Gets Saved!
(If there were no portraits of George Washington, how would we know what he looked like?)
A LITTLE BIT OF BROADCAST HISTORY!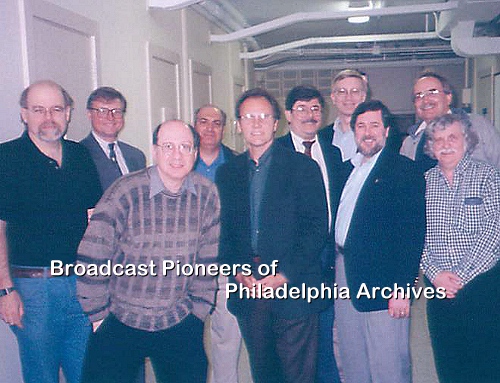 (left to right) Ed Sciaky, Charlie Tomlinson, Harry Wolf, Bob Backman (Cool Bobby B)
Walt Mocrytzki (Walter Moore) Elliott Paul, Ed Cunningham, Jerry Klein, Frank Odyniec and Gerry Wilkinson
Basement of Thomas Hall, home of WRTI-FM
1998
EDITOR'S NOTE: This photo was taken shortly before Temple University took the wrecking ball to Thomas Hall (which at that time was the oldest structure on campus). The building pre-dates the Baptist Temple by several years. The get-together was organized by "The WRTI Old Gang," a loose organization of fellow WRTIers run by Gerry Wilkinson and Jerry Klein in the late nineties. All people in the photo except two are or were members of the Broadcast Pioneers. The WRTI Studios (there were four) were in the basement of the building. Today, a new dormitory is on the site.
IN TOUCH WITH THE INDUSTRY:
We heard from Carl Hemple, General Manager of WLVT, Cruisin' 92.1 in Vineland. For awhile, the station has been running Classic Rock via satellite during overnight hours because there was no service available with 50s and 60s oldies. Well, Carl tells us that the station plans to start carrying Westwood One's "Good Time Oldies" format during overnight hours beginning May 15th. The revived format started a couple days ago nationally.
The format originally was conceived by Jones Radio Networks and carried for years by Cruisin' 92.1. We have a fair amount of members associated with the station. By the way, we have a fair amount of material about the old format in our archives including the complete Jones manual for the network and affiliates which includes all the information on the format clock and much more.
Radio & TV talk host Michael Smerconish has a new book, a novel, that was released today. It's called: "Talk, a Novel." The Washington Post said this about Michael's book: "The book's hero is an ambitious talk radio host named Stan Powers who is so desperate to get a national syndication deal that he'll say anything and trash anyone, even though every move he makes is tearing him up inside." Smerconish is heard on satellite radio and has a weekend morning TV show on CNN.
Classic Rock 102.9, WMGK-FM is going to put one local choir "20 feet from stardom" by giving them the opportunity to perform live on stage with "Foreigner" at the station's annual summer concert, the 13th Annual Let Freedom RockFest on July 3 at Susquehanna Bank Center. The station is accepting entries from local high school, community and church choirs. The submission deadline is Thursday May 15, 2014 at 5 pm.
This past Sunday, John DeBella, WMGK-FM morning man and Broadcast Pioneers member, hosted the 12th Annual DeBella Dog Walk, the largest canine carnival in the area. Thousands attended. The Dog Walk was FREE. Attendees got advice from experts such as trainers and veterinarians as well as the opportunity to learn about various breeds from the twenty five to thirty shelters and rescue groups on-site. John DeBella has dedicated himself to the welfare of animals throughout his over thirty years on-air in Philadelphia.
Last Wednesday, Chris Stigall had a spokesperson from the Pennsylvania SPCA on his morning drive talk program on WPHT. They told Chris how you on your home computer could play live with a cat (or two) at their shelter. We thought that this would be interesting so we tried it.
We used Internet Explorer and it wanted us to download and install Microsoft's Silverlight plug-in. We did so but it didn't work. However, when we used our Google Chrome browser, it worked like a charm. You wait in a queue. We only had about a three minute wait. Once it's your turn to play with the kitties, you have two minutes. When tried it, the cats were sleeping. Oh, well. Anyhow, if you want to give it a try, click on the link. Play with the cats LIVE! It's real and the cats are real.
Busy day this Saturday, May 10th for WPVI, 6abc. From 1 pm to 5 pm, the station will broadcast live what they are describing as "the heart of the competition" of the 76th annual Aberdeen Dad Vail Regatta. The event is the highlight of the spring rowing season for more than 120 colleges and universities from North America. Broadcast Pioneers Board Member Diego Castellanos' show, "Puerto Rican Panorama," will be pre-empted. However, Diego's show will return on Saturday, May 24th at 1 pm. Of course, you can always watch his program on 6.2 and 6.3 sub-channels when it is rebroadcast on Wednesday mornings at 7:30 am.
The regatta is live from 5 to 6 pm and then there's a special one-hour taped presentation of a debate between all four Democrat candidates for the party's nomination for Pennsylvania's Governor. The program will be aired commercial-free. The program will be taped at the 6abc studios on Thursday, May 8th from 11:45 am to 2 pm. Jim Gardner is the moderator.
A LITTLE BIT OF BROADCAST HISTORY!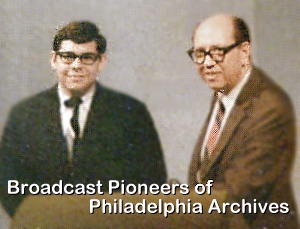 (left to right) Glenn Jacobs and anchor Joe Phipps
WFIL-TV, Channel 6, Philadelphia
circa 1966
Editor's Note: This photo was sent to us by Glenn Jacobs. It is from a Polaroid color picture taken just before the 11 pm Newsmakers broadcast. Glenn and a friend were at the station doing a story for the school (Germantown High) newspaper. We have sharpened and corrected it the best we could considering what the original picture looked like The photo was sent to us by Glenn Jacobs himself.
WE REMEMBER:
Former Philadelphia Daily News columnist Chuck Stone passed away last month at the age of 89. Stone was previously a speechwriter for US Congressman Adam Clayton Powell. He was the first president of the National Association of Black Journalists and inducted into their Hall of Fame ten years ago. He was twice nominated for the Pulitzer Prize. Stone suffered from congestive heart failure.
Member Joanne Calabria let us know that Bob McLean has passed away. Bob had a talk show on KYW-TV from 1970 to 1973 and then moved to WPVI where he was co-host of "Dialing for Dollars" with member Connie Roussin. After Philly, McLean went to the CBC where he had his own network talk show. McLean passed away from complications from heart disease. He was 81.
Efrem Zimbalist, Jr. passed away at 95 during the beginning of May. Although he was born in the Big Apple and passed away in California, he does have ties to the Delaware Valley. His mother was opera star Alma Gluck Her recording of "Carry Me Back to Old Virginny" was on the old Victor Talking Machine label based out of Camden, NJ. She was the first classical musician to ever sell a million copies. His stepmother was the founder of the Curtis Institute of Music here in Philadelphia, Mary Louise Curtis Bok Zimbalist.
ON THE HEALTH FRONT:
Last month we ran a video clip that included Dave Stanley and Dick Sheeran on KYW-TV. Well, this month, Dick is our MC for the May 21st luncheon. However, we did hear from Dave Stanley. Dave wanted everyone to know that Lou Cooper of Cooper's Furniture is about to turn 85 and is undergoing chemo treatment. Dave Stanley did the Cooper spots which ran on WKBS-TV, Channel 48.
Member Lydia Timmins, who teaches at the University of Delaware, missed coming to our April 16th luncheon where two of her students were receiving scholarships. Why? She broke a bone not to before the luncheon. She's on the mend and we wish her well and good luck to all her students.
We heard from member Robin Adelman. She tells us that her dad, member Leon Love, is having some more testing done in hopes of avoiding another surgery, but he does have some pain. Robin also reports that her daughter, Marlene, also has some health issues but they are trying to keep everything on track.
THANKS FOR THE MEMORIES:
WCAU Radio in the Twenties!
We received an e-mail from a visitor to our website, William Martin. We had no information for him but thought maybe one of our members or another visitor to our website might be able to be of assistance. He wrote:
I am looking for short musical performance film, made in approximately 1928 by Philadelphia Broadcast Pioneer Stan Lee Broza [1st president of this organization]. I do not have a title for it, which makes it difficult to search for and locate. Given that, have you ever heard of this project and do you know if a print still exists?

Here is some background: It was created by WCAU to showcase some of the stars of that radio station. According to my grandmother, who performed a Chopin Polonaise in the film.

Stan Lee Broza may not have completed or distributed the film for some reason. My grandmother also was the "Sweetheart of the Nimble Thimble Boys," playing piano and singing during a fifteen-minute spot on Fridays, at 7:30 at WCAU. The program could be heard by listeners hundreds of miles away from the WCAU tower.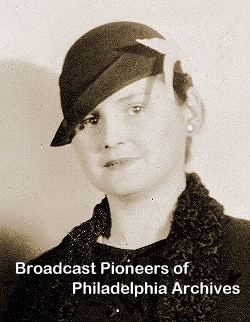 Virginia Bird Martin
WCAU Radio Singing Star
"The Sweetheart of the Nimble Thimble Boys"
Photo dates from 1924

We asked if he had any more information about the early days of WCAU Radio and he sent this to us.

His grandmother, Virginia Bird Martin (1904-1984), grew up in Washington, D.C. During 1922-23, Virginia and her brothers, Jack and Dick, performed on the Keith's vaudeville circuit; she was the piano accompanist and her brothers sang. She moved to Philadelphia in 1924 after her marriage to Pete Martin, writer and editor of the Saturday Evening Post. Virginia wrote this account of her time with Stan Lee Broza and WCAU in the mid-1960s. A half century ago, she wrote:
During the first three years of our marriage (before Peter was born), I found many things to do before I got around to getting pregnant. Aside from being an unimportant movie critic for the Philadelphia Record, somehow I also found courage to go into Philadelphia for an audition by Stan Lee Broza, who was then the person to see at the WCAU radio station if you felt capable of projecting your personality over the airwaves.

For a girl who had months of experience on Keith's Circuit as an accompanist for my brothers Jack and Dick (when Keith's Circuit was big time) I was oddly lacking in self-confidence and gumption. So I can't remember how I happened to do this. I'm only certain that someone must have prodded me into that audition. I always have to be forced to do things I do. Insecurity Virginia, that's me.

At any rate, Stan Lee Broza heard me out, and in no time at all I was the incognito "Sweetheart of the Nimble Thimble Boys," with a fifteen-minute spot on Fridays, at 7:30. Even though I was their "sweetheart," I never saw a one of the Nimble Thimble boys, who were also the makers of Edwards Clothes. I accompanied myself and at the same time nuzzled my nose to the mike that was stationed in front of me and sang the popular songs of the day. I transposed everything to my own special low-keyed voice, because I may have had timbre but I didn't have much range. I was particularly good at imitating Irene Bordoni.

I could also make like Aileen Stanley and Julia Sanderson, but not Fritzi Scheff. One of Bordoni's most famous songs was, "And when he holds my hand ...da-da-de-dum — da-da-de-dum ... (that part was hummed) ...he takes me to PAR-A-DISE!" I got many postals and letters from fans saying, "We loved that Bordoni number. How about doing it again next week? Sing it for me. My name is ..." If I had a manager (other than myself), attention would have been paid to that fan mail, and naturally I would have been advised to sing the song again and name the name of the one who requested it. But not me. I shrugged and did what I wanted to do.

I was also "The Valley Forge Eskimo Girl," a radio spot sponsored by Clicquot Club ginger ale. Then too, Mr. Broza had me singing as "Virginia Bird, the warbler from the South." I filled that time for free as a special favor to Mr. Broza when he was stuck with empty air space. But I was paid a handsome $7.50 (seven dollars and fifty cents) each time I chirped for the Eskimos or the Tailors.

I hoarded this money until a special occasion, such as our anniversary (or was it Pete's birthday?) then spent it in one fell swoop on a real leather Gladstone bag for him. It had brass clamps and straps. It was so heavy without anything in it at all, he could barely lift it from the ground. We were both very proud of it, especially of the gleaming W.T.M. initials it wore.

Perhaps I was getting smart and putting up passive resistance to singing for free because sometimes there would be long stretches of silence from "Virginia Bird, the warbler from the South." But when I did go on again, Stan Lee Broza would introduce me blithely, saying, "Virginia has been in Europe for a couple of months. We're happy to have her back again." Then he would leave me alone in the airless, velvet draped room and I'd pretend hundreds of people were listening (which I really didn't believe) and sing my heart out into the metal stick in front of my nose.

I knew one person was listening. Pete always accompanied me to the hotel in West Philadelphia, which was adjacent to the former private home of WCAU. He sat in the lobby of the hotel and listened to the program being wave-lengthened from next door. Sometimes it bothered him that no one else listened to what he called my "deep throaty voice." He wondered how men could go right on reading their newspapers, or talking. But he thought I was great. When I joined him in the lobby after my stint, he'd tell me so, and we'd have a great gloppy chocolate soda together to celebrate my triumph.

It is hard to believe myself today when I say I made one of the first "Talking Pictures," but I did. It must have been shortly after Jolson blasted the film world with his Jazz Singer and from there on in, nothing pleased the public but movies with sound.

Stan Lee Broza was greatly excited about making a "Short short" musical program, one of those half-hour films that helped move the audience out of the theater before the performance began again. This film would feature the "stars" of WCAU. I fitted in in a very special way. It took a bit of explaining to me from Mr. Broza. "You'll be paid fifty dollars," he started, to make it attractive. "But the thing is we already have a girl that plays the piano exceptionally well except that she doesn't photograph well. She's a little heavy. So what we want you to do is have you synchronize your playing to the record of her playing. That is, of course, after you do a number of your own."

In other words, I was to play and sing, just as I did in the studio, and for a topper I was to rip off a Chopin Polonaise with both hands at which this other girl was very adept and which I couldn't do, even if my father had been able to spare the time to stand over me and make me practice. In all honesty, all I really heard Stan Lee Broza say was, "You'll be paid fifty dollars." Naturally for this small fortune, I was willing to cooperate.

They made the record of our singing and playing in the studio. Another one of the stars of WCAU was a small Negro boy who was a genius with the ukulele. He could even imitate the shrill, gargling sounds of the famous "Ukulele Ike," who afterwards died of cancer of the throat. WCAU had rented an old, defunct movie house in West Philadelphia to do the filming. It must have been summer when we did this, otherwise the building would have been cold. Air-conditioning was yet to come, and in spite of huge fans churning the air the temperature hovered between 90 and 100 degrees. This may have been caused by the Klieg lights that were needed for the cameras. Aside from the hours of practicing I did on the Polonaise so that my hands would move with the music, we worked for three days, in that old movie house, under those Klieg lights, to synchronize our timing with that record.

When I received my check for $50, I couldn't see it. I was in bed for nearly a week, afraid to open or close my eyes because either way it was such torture to have my eyelids move over scorched eyeballs. No one had made us up for the cameras properly. No one had advised me to wear dark glasses to protect my eyes from the glare of the lamps. Perhaps it might have been the beginning of another career for me. No doubt I looked lovely sitting there at the piano lip-syncing words and pretending to play. I wouldn't know. I never saw the picture, nor did any of my friends — and I did not get any offers from talent scouts. But the little Negro boy with his ukulele went on to work in the better nightclubs. So perhaps something good did come of it.
A LITTLE BIT OF BROADCAST HISTORY!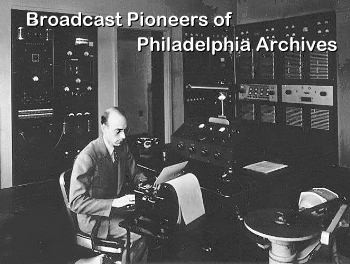 WFIL Radio Transmitter Site with an unidentified engineer
63rd Street and Passyunk Avenue, South Philly
circa 1948
Photo donated by long time WCAU tech Charlie Higgins
WFIL Radio Staff Bulletin!
Here's some news from the WFIL Radio Staff Bulletin (newsletter) dated Friday, November 1, 1946:
Leroy Miller has recovered from his recent illness and expects to be back at the microphone Monday morning. It'll be great to have him back with us. Many thanks to Tom Moorehead for his swell job as a pinch-hitter and to Ruby Cooper for building the shows.

WFIL, WFIL-FM and the Inquirer are cooperating to broadcast the election returns beginning at 8:30 Tuesday night. We will make remote pick-ups from Carnegie, Harrisburg, Gettysburg and Philadelphia party headquarters, the Inquirer and two points in North Jersey.

Both stations will be on the air with the extensive coverage and a huge election tabulation board is being built up in Studio B. All staff members are asked to cooperate to make this the best election night broadcast we have had to date.

"Hayloft Hoedown" will conduct another of its popular amateur nights at Town Hall, Saturday, November 2nd. The cast staged a special show at the Manufacturers' Club on Halloween night.

Mil Spooner is now featured on WFIL-FM at 4:15 pm, Mondays, Wednesdays and Fridays. Charles Sansone presents a piano program Tuesday at 4:15 pm.

Mrs. Dorothy Reiss has joined the staff of the sales department.

Beginning Wednesday, November 6th, "The Henry Morgan Show" will be heard on WFIL at 10:30 pm. remind your friends to listen to WFIL's terrific "BINGSDAY" lineup.

9 pm - The Affairs of Ann Scotland
9:30 pm - Pot O' Gold
10 pm - Bing Crosby
10:30 pm - Henry Morgan Show

Effective Monday, November 4th, Frank Kingdon's commentary on the news will be heard on WFIL at 7:15 pm, Monday through Friday.

The Veteran's Information Board, WFIL's new half-hour program for ex-servicemen will be heard each Thursday at 9:30 pm effective November 7th.

Wally Butterworth and Tom Moorehead take their show "Campus Quiz" to the Manor Theater, Prospect Park, Tuesday at 9 pm. Contestants will be teams from Collingsdale and Glen-Nor high schools. A juke box and special prizes will be awarded.
A LITTLE BIT OF BROADCAST HISTORY!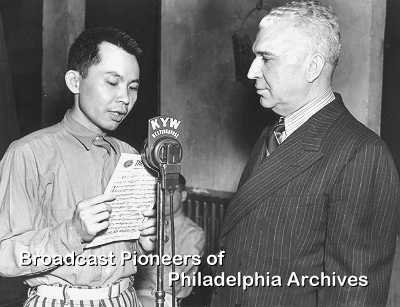 (Left to right) Unidentified inmate with Prison Warden Herbert Smith
Live KYW Radio Broadcast from Eastern State Penitentiary
1939
Editor's Note: This photo was part of a display that ran last month at the penitentiary. It was part of their "pop-up museum." Eastern State Penitentiary was once the most famous and expensive prison in the world, but stands today in ruin, a haunting world of crumbling cellblocks and empty guard towers. Known for its grand architecture and strict discipline, this was the world's first true "penitentiary," a prison designed to inspire penitence, or true regret, in the hearts of convicts. Its vaulted, sky-lit cells once held many of America's most notorious criminals, including bank robber "Slick Willie" Sutton and Al Capone. Picture was donated by the Eastern State Penitentiary.
Some Memories of WIP Radio in the Forties!
Member Phyllis Ariano-McGinnis sent us some memories of her years working in the broadcast industry here in Philadelphia. We thought we would share some of them with you. She wrote it in the third person.
Phyllis Ariano attended the Philadelphia High School for Girls, where she was inducted into the National Honor Society. After graduation she received her Diploma from Peirce Business College. While growing up, she had dreamed of entering the entertainment world as a popular blues singer and actress, but her family said "no-no-no." It appears, however, that being close to the entertainment field was just meant to be.

The employment office (Miss Peirce herself) sent her to interview for a position at Philadelphia's Pioneer Voice, Radio Station WIP, located in the Gimbel Building at 35 So 9th Street. Two positions were open. She was strongly urged to apply for the Program Department opening rather than the one in the office of the President, Benedict Gimbel, Jr. It was well known that he could be difficult to work for and had a revolving door to his office.

Ariano was hired on the spot in April, 1944 and immediately started her indoctrination into the fascinating "Behind the Scenes" world of broadcasting. She sat in at every meeting, usually taking minutes. The meetings included brain storming sessions, client conferences, union negotiations, auditions and talent contracts, new program plans, everything that concerned both current programming as well as new programs from conception to airing--even post-mortems, when a show failed. Her skills and talents lent themselves to her becoming an early trouble-shooter for varied problems.

A number of notables took a hand in training the young program department secretary. Sam Serota, the original "Uncle Horace" of kiddie shows before Stan Lee Broza's Horn & Hardart programs, Ed Wallis who later also joined Westinghouse, and Murray Arnold, originally Tom Rocap, D.J., pre-Bob Horn, who later moved to WPEN, all tutored Phyllis Ariano. They encouraged her to assist in directing, producing, writing and editing copy, in addition to the normal secretarial duties. She handled the commercials and courtesy announcements and public service spots, including the scheduling, for Joe McCauley's "Dawn Patrol," working closely with Joe and the Pep Boys themselves (sponsors).

Much to her delight, her acting ability was also utilized when asked to fill in on Maurie Orodenker's Philadelphia Fellowship Commission's dramatic series "Hate, Inc."-A very successful series on Anti-Semitism; and "Under Fire," another award-winning live dramatic series that paid tribute to WWII heroes. Purely for fun she occasionally sang with Joe Frasetto's orchestra and later on, Milt Starr's. She sang along with Leonard McClain, organist. She recorded the Christmas Jingles used for station I.D. announcements every year.

WIP was the starting place for many of the future stars of radio and television -- announcers, news journalists, program hosts, innovators, as well as executives. Some of the budding personalities that passed through were John Facenda, Bill Campbell, whose mentor was Stoney McLinn, Gene Crane, Howard Jones, Allen Stone, John Paul Weber, Roy K Marshall, "Nature of Things" Franklin Institute, Alan Scott, Phil Sheridan, Kit Crane, Mac McGuire, Marty Gable from the Board of Education, Jack Creamer, Alex Griffin. Actually the list is endless and many often do not even seem to "remember" or acknowledge where they began their illustrious careers.

After six great training years from 1944 to 1950 with many merit raises and bonuses, Ben Gimbel was again in need of an executive assistant. His second girl was not yet qualified. He decided it was time for Phyllis Ariano to take the job that Jo Dee (Campbell) had previously vacated when she married Bill. Reluctantly, Phyllis agreed.

In many ways the change to the front office proved to be worthwhile. Miss Phyllis (as BG liked to call her) was truly indoctrinated into the duties of an "Organizer" as well as an Administrator. It was a varied position with endless opportunities for growth and getting to know influential individuals in and out of the broadcasting and entertainment fields and corporate management. Most importantly, it afforded the opportunity to acquire really effective people skills. Political figures, corporate executives and top entertainers were frequent visitors to the President's office. The experience was exciting and enjoyable. One of many fringe benefits included opening night theatre tickets and meeting the great performers of that era. B.G. was extremely close to film and theatre personalities especially Bob and Dolores Hope, Ethel Barrymore (The Corn is Green), Cloris Leachman, Jessica & Hume Cronyn (The Bedpost), to name but a few of the old timers.

WIP, all things considered, was a great place to work and especially to get "broken in." In spite of Ben Gimbel's eccentricities and the fact that he was a hard taskmaster, and in many ways fussy to a fault, the employees ultimately seemed to profit from the experience. Actually, his bark was worse than his bite and there was a generous side to his personality. He rewarded loyalty and hard work. The training was invaluable. Many went on to great success! They had all "passed the test." Interestingly, his son, Teddy Nathanson, inherited his father's work ethic and purely on his own merit, enjoyed a successful career at NBC. Ted chose to use his mother's maiden name after his parents' divorce. He was a talented and fine person.

Fond memories of those days at WIP include the Friday after-work cocktail hour at the Ben Franklin Kite & Key Room, Ben Gimbel taking the ladies to Chinatown for luncheon on Friday, the fabulous formal dinner dances for all employees which were held at the Ritz-Carlton or the Warwick Hotel, getting Chef Johann Lamprecht's Shrimp Lamaze recipe in 1948 before it was made public, the generous merit increases and yearly bonuses and the beautiful and unusual Christmas presents. Most important was the friendliness of the entire staff. It seemed everyone was always willing to pitch in when needed, even to helping in the mailroom to run off last-minute copy or schedule changes on the old fashioned mimeograph (ditto) machine. It seemed that some advertisers would invariably want to change their commercial announcements right at closing time or with minutes to "air time." Those were the "good ole WIP days.
A LITTLE BIT OF BROADCAST HISTORY!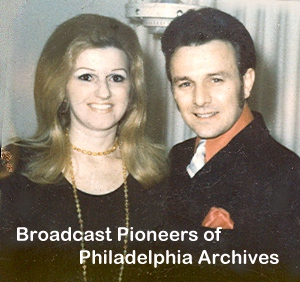 (Left to right) Joan and Charlie Gracie
1970
Harry Harris talks with Mike Douglas!
Member Harry Harris knew a lot of stars. One of them was Mike Douglas who originated his syndicated 90 minute TV shows out of KYW-TV's studios here in Philadelphia. Both people have been inducted into our Hall of Fame. One of the items we have in our archives is an unpublished book by Harris entitled "TV Star Secrets, Personal Revelations During Interviews." We have ran excerpts before in our newsletters and the response has been great. So here's more.
Mike Douglas, while he was originating his daily Group W variety and talk show in Philadelphia, reminisced about some of his favorite guests. One tape he treasured was a duet – "all improvised, nothing planned" – by Louis Armstrong and Pearl Bailey. "I was with Gordon Jerkins, the composer, and he said, 'Is there any way I can get a piece of that tape? It should be in a time capsule'"

Douglas especially regretted not owning "A tape of any of the five 90=minute local shows Barbra Streisand did for me for $1,000 in Cleveland, before syndication.

She said she couldn't afford to come out unless we got her a night club date, so I persuaded a fellow named Nick who owed me a favor. I had filled in when Rusty Warren, who sings naughty songs, had to cancel out because of a death in the family.

"Nick said, 'You've got to help me, I've got a jampacked club,' so into this club filled with raunchy people who love filth walks Mr. Clean! The only thing dirty about my act was the soles of my feet! Anyway, I told him Barbra was going to be one of the biggest stars ever, he agreed to take a chance, and Barbra came out and did my show. I get sick when I think of it-they erased those tapes for editorials!"

Despite his own success and affluence, Douglas confessed that he still venerated "really big stars." "I first saw Ava Gardner when I was singing with Kay Kyser in 1946-47. She sauntered across a stage in North Carolina in a skirt and blouse and the whole band went ah-oo!"

"The 40s were the start of it all for me, those beautiful happy days when I went from nowhere to the top, singing with Kyser, who was then number one in radio. Between 1945 and 1947, after I had schlepped all over the country, I thought I was at the top of the world, but then Harry Babbitt, who had been with Kyser earlier, decided to come back.

"I had the number one record, Buttermilk Shy, and the number four record, The Old Lamplighter, but nobody knew who I was, so I had to start all over again! One summer in Texas, in order to get a wild audience's attention, I yelled, 'Is there a Dr. So-and-so in the house?' then I went off and came back on again. Those were the days! I wouldn't take anything for such experiences, because they teach you to think on your feet and that's the name of this game!
OUR 2014 SCHOLARSHIP WINNERS:
Our 2014 Scholarship Winners with
President Jerry Klein and Chairman of the Board Gerry Wilkinson
Bala Golf Club, Philadelphia
Wednesday, April 16, 2014
At our Wednesday, April 16th luncheon, we awarded twenty $1,000 scholarships to area college students in our field. They came from nine different colleges/universities. All are either sophomores or juniors. Our scholarship winners for this year were:
Danielle Andrade - University of Delaware
Cody Barr - LaSalle University
Mike Brown - LaSalle University
Grace Chimel - Temple University
N'Dia Dugue - LaSalle University
Lindsey Giannini - Rowan University
Micolina Hernandez - Temple University
Lauren Hight - Cabrini College
Tyler Horst - Temple University
Katherine McMeans - Kutztown University
Grace Nonnemaker - Temple University
Kevin Otte - Temple University
Sutton Pakenham-Laltrello - Stockon College
Thomas Perkins - Drexel University
Kyle Phillippi - Rowan University
Taylor Plunkett-Clements - Temple University
AnaLee Rodriguez - Gwynedd Mercy University
Briella Tomassetti - University of Delaware
Sarah Veronis - Temple University
Lydia Young - Temple University
This year's scholarships were underwritten by:
Member Johnny Hall and his wife, Dr. Virginia Hall (7 scholarships)
Board Member Kal Rudman (2 scholarships)
Members Robin and Ira Adelman (1 scholarship)
Members Leon Love (1 scholarship)
Member Sylvia Kauders (1 scholarship)
Member Len Stevens (1 scholarship)
Member R. Alan Campbell (in the memory of Mac McGuire) (1 scholarship)
Member Esther Kurtz (in memory of her late husband, David Kurtz, founder of More FM (1 scholarship)
The Hurley in the Morning Golf Tournament (run by member Harry Hurley) (1 scholarship)
Bette Lavine (1 scholarship)
the remaining scholarships funded by all the members of the Broadcast Pioneers
We also wish to thank our scholarship committee who worked hard to select these 20 winners from the 252 applications submitted. The committee members are: Gerry Wilkinson, Jerry Klein, Bill Gellhaus, Pat Delsi, Betsy Leebron, Paul Gluck, Brother Gerry Molyneaux, Allan Kobernick, Linda Munich and Karen Curry. Our committee chair was Diego Castellanos.
Special Thanks to Niki Hawkins, the Public Affairs Manager at WPVI, 6abc. She arranged for us to use the WPVI conference room for both of our committee meetings and the station also provided lunch for our hard working committee members. Thanks to everyone for a job well done.
THANK YOU:
As we do every month, we want to thank Broadcast Pioneers member Johnny B. Hall for his monthly donation to our DAP, Digital Archival Project. Johnny donates $250 every month. The amount totals $3,000 yearly and really helps us to underwrite this much needed but expensive project. Johnny and his wife, Dr. Virginia Hall, will be also underwriting 4 scholarships for the 2015 year. Way to go!
Broadcast Pioneers Vice-President Kal Rudman started underwriting scholarships for our organization several years ago. He was the person that underwrote our first scholarship way back when. Now, there are many following in his footsteps. Kal has just said that he'll be underwriting five more scholarships for the coming 2015 year (all to be Temple University students because Kal was recently honored as Temple's alumni of the year). Thanks, Kal.
We also received a $1,000 check from member R. Alan Campbell. It is for a scholarship to be given in April of 2015 in the memory of Fred Ruggieri, who used the air name Fred Randall. Thanks, Alan. We also have a pledge for 2015 from member Harry Hurley with a $1,000 scholarship (limited to students either residing in or attending college in South Jersey). The proceeds for this scholarship will come from Harry's Charity Golf Tournament next year. Also, a pledge from Harry for a $1,000 gift to our DAP project. Thanks, Harry. We also just received two checks for two scholarships for April of 2015. They come from the Adelman Family and Robin's dad, Leon Love. Thanks.
That's thirteen $1,000 scholarships already underwritten or pledged for next year. If you would like to underwrite a scholarship, please let us know and we'll be happy to give you praise in this column.
And again, we wish to thank member Jerry Del Colliano for his $1,000 contribution to our DAP fund. This is the second year in a row that Jerry has done this. We thank him so much for his gift to this most important project.
Recently, Robin Adelman (on behalf of the entire Adelman family and Leon Love) presented us with a $600 contribution to be split between of our DAP project and our general fund. We welcome other gifts for these and other projects in the form of money and/or donated items like video tapes, audio transcriptions and photos.
Special thanks to member Linda Munich, who gave us a very generous contribution. Linda served on our Scholarship Committee again this year and gave us the donation at the last committee meeting. Thank you.
We would like to thank those of you who included an extra contribution when you paid for your meal at our March luncheon. Those include: Mike Bove, Don Hurley, Harry Hurley, Bill Kelley, Jerry Klein and Gerry Wilkinson.
Don't be left out. You too can make a pledge. You can earmark it for scholarships, our DAP, Digital Archival Project or our General Fund. Thanks so much for your support.
Our special thanks go to TUTV and The Kal & Lucille Rudman Media Production Center.

They have underwritten a grant to be used to fund an entire year of all our newsletters for calendar year 2014. We thank them so much for their support!
If you forgot to make an extra contribution (cash or memorabilia) and would like to do so now, it's never too late. We would be thrilled to hear from you at: PO Box 2886, Bala Cynwyd, PA 19004 or call us at (856) 365-5600.
NEWSLETTER DEADLINE!
While we normally add stories to this newsletter right up to the last minute, please note that the deadline for the June 2014 newsletter is May 25th. The release date is Tuesday, June 3rd. This is an one-time situation!
A FINAL THOUGHT....
"I was told, when I first started acting, that I had a face of a convicted sex pervert. One casting director actually told me I looked like a child molester. Shows that you can make a career out of anything in Hollywood."
Norman Fell
(TV's Mr. Roper)
EDITOR'S NOTE:
Fell's real last name was Feld and he was from Philadelphia. He studied at Temple University and was one of the very first students ever to be on WRTI Radio (the Temple University station). One of his professors was Broadcast Pioneers founding member John Roberts (who later became President and still later, Chairman of the Board of this organization).

Please contact us by e-mail at newsletter@broadcastpioneers.com or by mail to: Broadcast Pioneers of Philadelphia, PO Box 2886, Bala Cynwyd, PA 19004. Your stories are important, to you, to us, and your colleagues. Contact us today and we'll include your story in the next newsletter!

© 2014, Broadcast Pioneers of Philadelphia
All Rights Reserved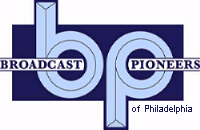 The e-mail address of the Broadcast Pioneers of Philadelphia is pioneers@broadcastpioneers.com
For luncheon reservations call (856) 365-5600 or e-mail us at: rsvp@broadcastpioneers.com