| | |
| --- | --- |
| | Broadcast Pioneers of Philadelphia is a federally recognized, state chartered 501(c)(3) non-profit organization serving the Philadelphia Broadcast Community since January of 1962. |
May Luncheon
The Bala Golf Club, Philadelphia
Wednesday, May 17, 2017

Meet and Greet at 12 noon!
Lunch served at 12:30 pm!
Ratecard: $28 per person

Please reserve now!
CALL (856) 365-5600!
rsvp@broadcastpioneers.com
Another Third Wednesday Luncheon!
Wednesday, May 17, 2017!
DON'T MISS THIS ONE!
How the local broadcast media
covered Three-Mile Island!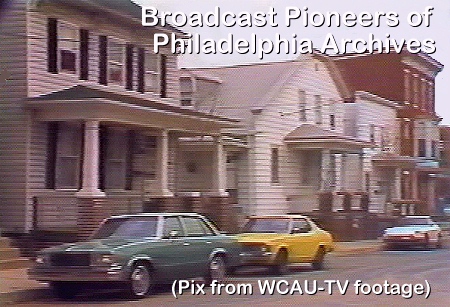 Middletown, Pennsylvania
Nearest Town to Three Mile Island
March 1979

From a KYW Newsradio pamphlet:
The lush rolling earth of Central Pennsylvania sleeps, awaiting the dawn and the farmer's plow for spring planting. The broad and shallow Susquehanna River meaners through the countryside giving water to the cornfields and apple orchards.

This is land which has changed little over the decades. On the back roads, the Amish farmer is off to market before the dawn. The land is silent save for the rattle of his buggy wheels and the frosty breaths of his spirited horse. The earth is at peace.

But in the midst of the river sits an island which until a few years back was home only to birds and occasional fishermen. But now out of the dark rise four huge towers which provide cooling to two pressurized water nuclear reactors. In the pre-dawn silence one reactor is sleeping peacefully along with its neighbors. But the other is operating at full power.

Something goes wrong. Bells ring and sirens wail. Problems compound problems and with the rising of the sun word finally goes out. With catastrophic possibilities, the worst accident in the history of American nuclear power has begun.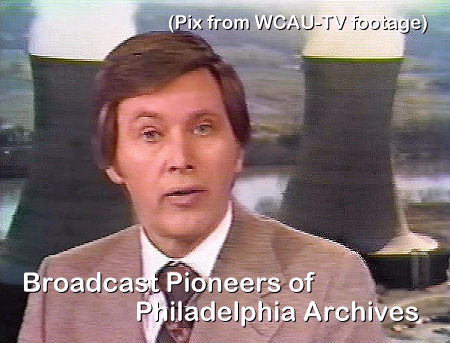 News Anchor Ralph Penza
WCAU-TV, Channel 10
March 1979
For two weeks, local broadcast outlets covered Three-Mile Island (TMI). What did it take to do the job? Were they in any danger? We hope to give you some of the answers at this luncheon. Our MC for the luncheon will be member Jay Lloyd who covered the story for KYW Newsradio.
Our schedule panel (subject to change)will include (in alphabetical order):
Bill Baldini, former WCAU-TV reporter who covered Three Mile Island
Frank Goldstein, former WCAU-TV photojournalist who covered TMI
Bob Kravitz, former WPVI-TV photojournalist who covered TMI
Richard Maloney, former KYW Newsradio reporter who was there
Dick Sheeran, former KYW-TV reporter who covered Three Mile Island
Dick Standish, former Channel 3 reporter who was on the scene at TMI
Plus, special added attraction, Before the panel starts, member Marc Howard, will tell us about his experiences in covering Three-Mile Island for "Action News."
In 2011, Broadcast Pioneers Board Member Bob Kravitz (who was a photojournalist for WPVI) wrote in our newsletter regarding TMI:
Remembering the night Vernon (Odom) and I were in front of the Pennsylvania Capitol in Harrisburg. While wrapping up a story with a stand up, this strange white substance, looking like snow, fell from the sky. It fell for a couple of hours. This is when I was scared. The next day, no one said a word. To this day, I still don't know what fell onto us.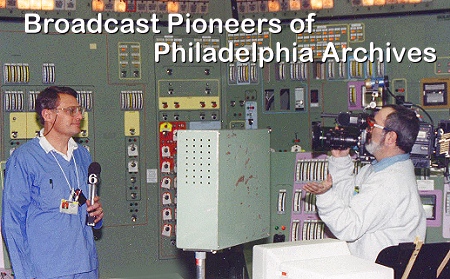 WPVI Photojournalist Bob Kravitz (on right)
Inside Three Mile Island
March 1979
It all takes place at the beautiful and historic Bala Golf Club, 2200 Belmont Avenue (across the street from the state police) in the Wynnefield section of Philadelphia. Only minutes away from Channels 6, 10 and 17 and the radio stations in Bala Cynwyd. Call now for reservations. (856) 365-5600! E-mail: rsvp@broadcastpioneers.com. Don't miss this one! THIS EVENT IS OPEN TO THE PUBLIC! Make plans to be there.
Plenty of FREE parking. Our luncheons are open to all our members, their guests and any person in the industry or associated fields, whether active or retired. You do NOT have to be a member to attend. There is no reserved seating at our luncheons. Feel free to sit anywhere. Well, okay--the three people on the camera crew sit near the cameras, but that's in the back of the room.
The cost is only a donation of $28 (or more) per person! In order to speed up check-in at the luncheon, it would help if you had exact change or your check already written. Checks can be made payable to the Broadcast Pioneers of Philadelphia. Meet and greet starts at 12 noon with lunch being served at 12:30 pm.
If you would like to add a few dollars extra, we would appreciate it. It would help us with all the important work we are doing. Thanks!

WE'LL BE PROUD TO SEE YOU IN THE CROWD!

Visit Our Website Often - http://www.broadcastpioneers.com
You should check the front page of our website often (link above) for important information!
Tune in to our YouTube Channel - http://www.broadcastpioneers.com/youtube
Our YouTube Channel has all our luncheons, exclusive interviews and archival material!
Check out our Facebook Page - http://www.broadcastpioneers.com/facebook
There are things on our Facebook Page that are NOT on our website (like our vintage photo of the week)
Go to our Twitter Account - http://www.broadcastpioneers.com/twitter
The Broadcast Pioneers Twitter Account has info and stuff not available elsewhere!
Go to our Instragram Section - http://www.broadcastpioneers.com/instagram
Here's another one of our social media sections. Visit it as often as you wish!

NEW MEMBERS TO BROADCAST PIONEERS:
FULL MEMBERS
Hope Krosskove has been in our business since 1980. For the last two decades, Hope has ran Hope Krosskove Productions. The company's list of clients is quite impressive. Before that, she was the Director of Broadcast Production for Ketchum Communications and Executive Producer for Earle Palmer Brown. Hope has multiple awards to her credit and guest lectures at area universities.
For a third of a century, David Murphy has been in broadcasting. We all know him as the meteorologist in the morning (and the 12 noon broadcast) on Action News, WPVI. David started in our area as an anchor/reporter for WFMZ-TV in Allentown. From there, he went to WNEP-TV in Wilkes-Barre, WMAR-TV, Baltimore and WJZ-TV, also in Baltimore before coming to Channel 6.
Bill Marrazzo has been President/CEO at our town's public TV station, WHYY-TV and WHYY-FM for two decades. He was previously CEO for Roy F. Weston from 1988 to 1997. Before that, he was the Water Commissioner for the City of Philadelphia (1978 to 1988). He had joined the department in 1971 as an engineer. Marrazzo holds a Bachelors degree in Chemical Engineering from the U of Delaware.
From over a half century, Allan Hotlen has been in our industry. He was an air personality at WMID & then WBCB. Then he became Music Director at WRCV and onto to WIP/WMMR as PD. From there, he became VP and GM at WPEN AM & FM. Later, he was Director of News & Programming at WCAU (AM). Allan was also PD and VP at several west coast stations. He's also a well-known song writer.
We are thrilled to have over 500 Members. More than ever. We hope to see as many of our members as possible at our May 17th luncheon. Make your reservations now!
DIGITAL ARCHIVAL PROJECT NEWS:
VIDEO: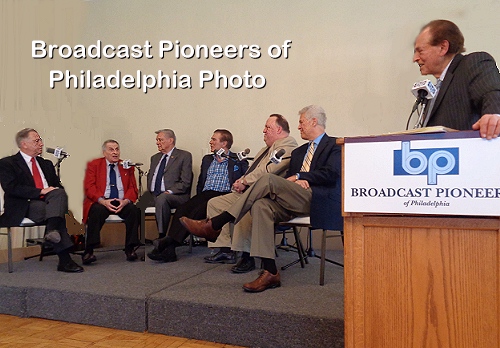 (left to right) Dan Baker, Skip Clayton, Tom Lamaine, Vince Papale
Pete Thompson, Lou Tilley and Joe Pellegrino
Bala Golf Club, Philadelphia
Wednesday, February 15, 2017
We kicked off the New Year with our Sports Spectacular. So much was left undiscussed that we decided to continue the sports talk in February. Well, this was certainly another big smash.
Everyone who's anyone was there! It all happened at the beautiful Bala Golf Club, 2200 Belmont Avenue in Philadelphia! Just minutes away from Channels 6, 10 and 17, plus the radio stations in Bala Cynwyd.
Our MC for the afternoon was again Joe Pellegrino, former sports anchor for WPVI and WCAU-TV!!
Our panel included (in alphabetical order):
Dan Baker, public address announcer for the Philadelphia Phillies & sportscaster
Skip Clayton, sports book author, sports broadcaster and station programmer
Tom Lamaine, former WIP DJ/sportscaster & former KYW-TV meteorologist
Vince Papale, sports broadcaster and former Philadelphia Eagles football player
Pete Thompson, 97.3 ESPN Sports Host, former Sports Director, WMGM-TV
Lou Tilley, former KYW-TV Sports Director, now broadcasting football in China
Plus, we had a little fun time before the panel discussion started. We showed you 8 photos of well known broadcasters during their childhood. You got a chance to guess who you thought it was. What fun!
Also, we asked our panelists and moderator to come prepared with several humorous stories. It did. Wow, what stories!
Complete video of the event!
Video from our YouTube Channel
(video courtesy of Broadcast Pioneers VP Brad Seecof and Metramedia Broadcasting & Studios)
AUDIO:
In 1981, WCAU Radio (AM) hired a new talk guy named Gene Burns. At the time, he was 41 years old. Gene thought it would be interesting to do a series of talk shows speaking with icons in the radio business. One such person was Joey Reynolds, the legendary rock and roll disc jockey, who later would make waves doing telephone talk himself.
The part of the show with Joey was an hour in length. However, John Hendricks, a visitor to our website, recorded the broadcast and donated a copy to us (along with 300 other broadcasts). It was recorded on a cassette machine and John stopped the tape during commercials, news, etc. Other than cleaning up a couple of the starts and stops, it is presented here actually as it was on the tape.
By the way, Gene's fame is pretty much not related to his time in Philadelphia. He worked in many major markets and did a syndicated talk show originating from WOR in New York. Talkers magazine had ranked him as #24 of the greatest talk show hosts in 2002. He passed away in 2013. Joey Reynolds is currently hosting "The Late Joey Reynolds Show" on WABC-AM in the Big Apple. Reynolds' time in the Big Scrapple (Philadelphia) included WIBG and WFIL.
Listen in Real Audio
Listen in Windows Media Format
In the middle of the night on the Wednesday morning of March 28, 1979, Three Mile Island, Unit 2, had a partial meltdown. It was the most serious accident in America's power plant history. It was a week of fear. Broadcast Pioneers member Richard Maloney was in Middletown to cover the story.
Afterwards, he did a one-hour radio special carried over the Group W O&O radio stations originating from KYW Newsradio here in Philadelphia. Broadcast Pioneers member Ralph "Bud" Galow engineered and edited the program. Our recording comes originally from his collection. It is presented here exactly as it came off Bud's tape.
Listen in Real Audio
Listen in Windows Media Format
Today's News Becomes Tomorrow's History!
(This is what our Digital Archival Project, DAP, is all about!)
IN TOUCH WITH OUR MEMBERS:
Member Harry Hurley tells us that his radio program can still be heard on WPG Radio, 1450 on AM, but now can also be heard on WPG-FM, 104.1. He's also on 104.9 FM HD2 and on Townsquare Media's Radio app for your smart phone. Harry has told us that his generous nature will continue into 2018. He is renewing his grants to Broadcast Pioneers. One is a $1,000 scholarship underwritten for a student from Stockton University and the other is a $1,000 grant for the Broadcast Pioneers archival project.
Former Broadcast Pioneers President and former Chairman Jerry Lee, owner of More FM, is the 2017 Gold Medal Honoree as named by PAB, the Pennsylvania Association of Broadcasters. Other winners in previous years included Ed Wynn, Fred Waring and Gene Kelly.
In case you missed it, a few weeks ago, CBS News Sunday morning did a two and a half minute piece on Member Michael Muderick's son, Aaron. He makes thinking putty. It's a lot like the old Silly Putty but better. It's available in 40 varieties. CBS News Correspondent Susan Spencer did the interview in March. You can view the story here from CBS News' website. You can look around Crazy Aaron's website here. Aaron may not be as crazy as you'd think. He holds a Bachelor's degree from the University of Rochester, is self-taught in chemistry and his putty is distributed world-wide.
We spoke with Broadcast Pioneers member Vince Leonard last month. Vince and his wife, Frankie now live in Las Vegas. Leonard told us that he's doing okay except he has a little trouble walking from time to time. We remember him well for his almost quarter of a century of anchoring here in Philadelphia. Vince turns 92 later this month.
Broadcast Pioneers member Rob Kaloustian has been named General Sales Manager of SportsRadio 94WIP, Talk Radio 1210 WPHT, Phillies Radio and the Eagles Radio Network.
Kaloustian had previously been with CBS RADIO for more than 18 years. He started his radio career in 1995 as an account executive at KYW Newsradio. He later was named Local Sales Manager. In 2008, he was promoted to General Sales Manager of Talk Radio 1210 WPHT. In 2013, Kaloustian left CBS Radio to become a Senior Sales Executive at Pandora Media, Inc.

"I'm very excited to be coming back to the home team and my former teammates. Having not left the marketplace, and looking from the outside for a few years, I was always amazed at the strength of the CBS RADIO Philadelphia brands. I'm thrilled at the opportunity to return and oversee the sales efforts at both WIP and WPHT," Kaloustian said.
Jillian Mele one of the on-air people let go after the cancellation of "Breakfast on Broad" has joined the Fox News Channel. She will be with the Fox morning news team. Mele went to Comcast SportsNet after seven years with WCAU-TV, NBC 10. She interned at SportsNet during her time in college.
CBS 3 and The CW Philly's eighth annual Ronald McDonald House Charities Telethon, a 14-hour on-air fundraiser that aired live across both television stations, raised more than $1.2 million dollars. That's more than $ 7.4 million since the first CBS 3 fundraiser in 2010. Donations came from corporate sponsors, community groups, viewers who called into the Telethon and one big surprise from Comedian Kevin Hart, who is in Philadelphia shooting a movie. Anchor Ukee Washington asked Hart, whom he has interviewed many times, to call in a hello. He did one better and sent a video making a $10,000 contribution.
Today's News Becomes Tomorrow's History!
(This is what our Digital Archival Project, DAP, is all about!)
A LITTLE BIT OF BROADCAST HISTORY!
(Left to right) KYW-FM's Chief Engineer (not identified) and Transmitter Supervisor John Michaels
Top of the Architects Building
117 South 17th Street, Center City Philadelphia
circa 1946
The equipment in view contain telco line amplifiers and test equipment. While the station broadcast from 1619 Walnut Street, the transmitter and tower were on the Architects Building because it had additional height.
Did you know...
that this column is usually written about Philadelphia broadcast history? Well, it's true. Decades ago, oldies stations used to play current hits and called it "future gold." Well, this month, we'll use the same approach in this column and call it "future history."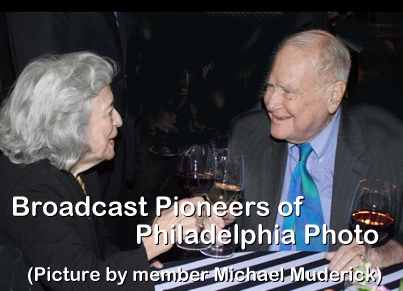 (Left to right) Janet Klein and Broadcast Pioneers member Lew Klein toasting each other
Reception in Mitten Hall after the naming ceremony
Temple University
Wednesday, March 29, 2017
Temple University paid tribute to Broadcast Pioneers of Philadelphia's former president and former Chairman Lew Klein, who has spent more than six decades teaching at the University. He has mentored hundreds of TV professionals throughout his career. The University's School of Media and Communication has been renamed the Lew Klein College of Media and Communication.
The tribute honors Klein's contributions to the field as both an educator and a broadcast executive and recognizes a historic, multimillion-dollar gift to the school from Klein and his wife, Janet. Their gift is supported by two additional seven-figure contributions from Temple Trustee Steve Charles and Trustee "Gerry" Lenfest.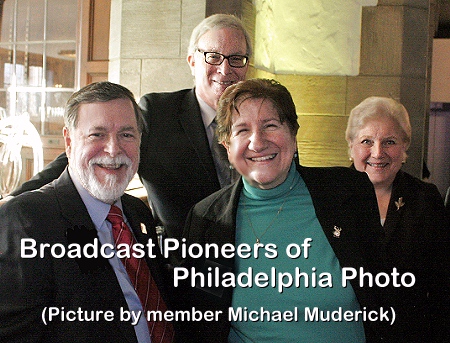 (Left to right) Broadcast Pioneers members Jerry Klein and Ed Cunningham
with wives Eleanor Menna Cunningham and Anne Klein
Temple University
Wednesday, March 29, 2017
Klein began teaching TV courses at Temple University in 1952, while he also worked as an executive at WFIL-TV (now WPVI) in Philadelphia. In the ensuing 65 years, he helped launch the careers of hundreds of professionals. Many of them are members of the Broadcast Pioneers today.
Lou Klein was executive producer of American Bandstand and produced legendary Philadelphia-area programs including Captain Noah and His Magical Ark. Captain Noah, aka Carter Merbreier was a member of our board of directors for decades. He and wife late wife, Pat have been inducted into our Hall of Fame and they were our Persons of the Year in 2001.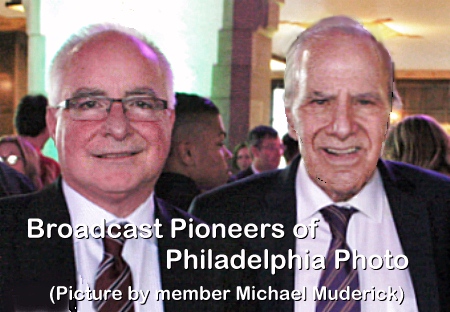 (Left to right) KYW News Radio Executive Steve Butler with Broadcast Pioneers member Larry Kane
Temple University
Wednesday, March 29, 2017
Klein played an instrumental role in launching Channel 6's Action News format as program director in 1970. The program was anchored by Broadcast Pioneers member Larry Kane who was inducted into our Hall of Fame in 1994 and was honored as our Person of the Year in 2002.
Lew spent 15 years producing Philadelphia Phillies telecasts. At one point, Klein was also president of Gateway Communications, which owned four TV stations in the East. His partner in this venture was Broadcast Pioneers member George Koehler who was our Person of the Year in 1977.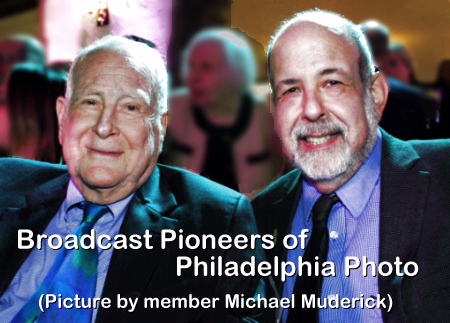 (Left to right) Broadcast Pioneers members Lew Klein and Michael Muderick
Temple University
Wednesday, March 29, 2017
David Boardman is Dean of the Lew Klein College and a member of Broadcast Pioneers. He said: "Lew is the rare benefactor whose service to our school extends beyond his generous financial support to include decades of teaching and mentoring, both of Temple students and of working professionals, Naming the school to recognize all of his contributions is our honor."
Lew Klein has been inducted into our Hall of Fame and was our Person of the Year in 1982. Lew said that he is "so proud and thankful" to be honored in such a profound way by Temple, which previously named the Lew Klein Hall in the Temple Performing Arts Center (Baptist Temple) for him. "Thinking about the thousands of communications scholars who will graduate in future years, I am very optimistic about their success," he said. "They will be coming from one of the finest and most prestigious schools in the nation. I have been blessed with other examples of appreciation and recognition at Temple, and this is the culmination of them all."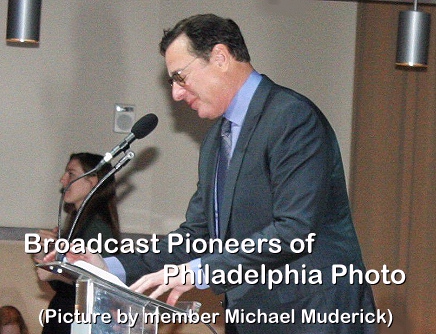 (Left to right) Temple graduate Bob Saget acting as MC
Naming ceremony in Baptist Temple
Temple University
Wednesday, March 29, 2017
A formal dedication ceremony took place Wednesday, March 29, 2017 as a part of events celebrating the school's 50th anniversary. It was held in Lew Klein Hall in Baptist Temple. It was hosted by former Temple student Bob Saget who graduated in 1978. Other speakers included Broadcast Pioneers members Betsy Leebron Tutelman, WPVI-TV President Bernie Prazenica and Eagles Sportscaster Merrill Reese, who was our Person of the Year in 2005.
Broadcast Pioneers CEO Gerry Wilkinson said, "I remember the days 50 years ago when my Temple television production classes were held at WFIL-TV, Channel 6. They were on Tuesday evenings between 7:30 and 10:30 pm. The students used the actual news set in the old round building, pushing around the station's brand new color Norelco cameras. This Lew Klein class was sandwiched in between the 7 pm Al McDowell News and the 11 pm cast. Speaking of sandwiches, several of us including myself, Bruce Smallwood (of Mutual News fame) and Broadcast Pioneers Hall of Famer Ed Sciaky would eat at Roy Rogers on City Avenue before class. I had two branded (well-done) Cheesburgers and a Strawberry Shake, all for under $2. Those were the days. Congratulations, Lew from all of us here at Broadcast Pioneers."
(Story written by Shannon McLaughlin Rooney and Gerry Wilkinson)
Our special thanks go to TUTV - Temple University Television and The Kal & Lucille Rudman Media Production Center.

They have underwritten a grant to be used to fund an entire year of all our newsletters for calendar year 2017. We thank them so much for their support!

You Can Help Us!



When you log into Amazon via http://smile.amazon.com, all eligible purchases earn Broadcast Pioneers a donation of 0.5% from Amazon. However, you must log in to Amazon through http://smile.amazon.com. We have made it simple. You can also log into them using http://www.broadcastpioneers.com/amazon. It's easy to remember and takes you to the same place.
AmazonSmile is the same Amazon you know. Same products, same prices and the same service. The only difference is that they donate 0.5% of your eligible purchases to Broadcast Pioneers. IT DOESN'T COST YOU ANY MORE TO DO THIS! Same price to you and we get a donation to help us continue with all our great educational projects! IT'S WIN - WIN!
OUR PRESIDENT, BILL GELLHAUS, WOULD LIKE YOU TO KNOW:
He says:
We have a group of 2 different Larry Ferrari Organ CDs for a minimum donation of $15 each. More, if you feel generous enough to help out. One is called "A Touch Of Class" with such songs as The Impossible Dream, Blue Hawaii, Danny Boy, How Great Thou Art and the Hallelujah Chorus.

Another CD by Larry Ferrari is "LF plays the Music You Love." This one includes Stardust, The Syncopated Clock, Ebb Tide, You'll never walk Alone and the Lord's Prayer.

They are yours for a donation of $15 each and you can get an "autographed" picture of Larry with your donation. If you are interested see Bill Gellhaus (at the sound table before the luncheon). That's me. I'll be glad to help you out. Hurry! Quantities are limited. All Proceeds go to the Broadcast Pioneers of Philadelphia & The Organ Society of the Delaware Valley archive funds. Since these CDs were donated, every penny goes to the designated archive funds.

By the way, Larry Ferrari was a board member and an officer of Broadcast Pioneers for over a decade.
MORE DIGITAL ARCHIVAL PROJECT NEWS:
VIDEO:
Broadcast Pioneers Board Member Mike Bove
in the Phillies broadcast booth
Citizens Bank Park, Philadelphia
Wednesday, July 17, 2013
With baseball season in full-swing, so to speak, one can't help thinking about the Phillies and their modern ball park, "Citizens Bank Park." Four years ago, on Wednesday, July 17, 2013, our free summertime event was a tour of the ball park.
Broadcast Pioneers member Joaquin Bowman wrote a nice little piece about our visit with the Philadelphia Phillies and we would like to share it with you. He wrote in part:
In 1958 when I was a 14-year-old boy living in West Oak Lane, I loved to take the El down to 46th and Market to enjoy an afternoon in Studio B and to be part of American Bandstand. Sure, I danced; but, quite frankly, I was more focused on the way the show was produced. It was a quite a learning experience to watch Dick Clark rehearse Clearasil commercials, then do them "live" on the air. I was fascinated by the interaction between the control room and Dick and watched as instructions were given to the camera operators.

That's why when we were given the opportunity to get a "behind-the-scenes tour" of Citizens Bank park on July 17th, I jumped at the chance along with six dozen of other Pioneers and their guests.

We were shown the press room along with the media room where the Phillies make announcements and do interviews. The radio and TV broadcast booths were smaller than I would have thought, considering the size of the 21-acre park, with more than a million square feet of interior space. Plaques outside some of the rooms celebrated well known people from the organization including Harry Kalas and Richie Ashburn.

One of the more impressive sites covered on the tour was the $10 million control room for the park's graphics and sound system, including the 7,372 square foot scoreboard display. Broadcast Pioneers Board Member Dave Abramson, Chief Engineer for the Phillies Broadcast Division (in 2013), explained how the control equipment was used, citing that it would be capable of managing any network television show produced in Hollywood. Some of the Pioneers asked Dave a few technical questions (digital vs. analog, and the like) but I have to admit it was way over my head, and by that time I was getting hungry.

The overall experience reminded me of something Temple Professor (and former President and Chairman of the Board of Broadcast Pioneers) John Roberts said in 1962 that after his course, we would never view television the same. By knowing how it was done, the magic would be gone. I can assure you that even though we saw all of the equipment and activity behind the production of a baseball game, nothing could ever take away from the magic of watching the Phillies in action, whether on TV or in person.
(video courtesy of Broadcast Pioneers VP Brad Seecof and Metramedia Broadcasting & Studios)

AUDIO:
Next is a short piece of audio. It dates from the first part of 1978. WFIL Radio newsman Gene Dillard was in New Jersey covering the possibility of a Veterans Hospital in the Garden State. After a meeting, Dillard caught United States Congressman Jim Florio dashing off from the scene. Gene put a microphone in Florio's face and did a quick 90 second interview. While excerpts of this were aired, the entire interview has never been heard until now.
Florio served in the House of Representatives for 15 years from 1975 until 1990 when he ran for Governor of New Jersey. He was elected and served four years from 1990 to 1994. Florio lost his attempt for re-election to Christine Todd Whitman.
This audio comes from the 300 piece Gene Dillard collection of audio and video donated by him to our archival project several years ago. All of the material has been digitized. Dillard passed away in July of 2015.
Listen in Real Audio
Listen in Windows Media Format
Broadcast Pioneers member Nat Wright had been a main stay at WIP Radio for decades. He came to Philly in August of 1961 from WWDC, Washington, DC. In the nation's capital, Wright did a popular personality music program and also had news experience. Upon joining WIP, he became a swing guy. That is, working 3 days a week doing news and 3 days doing fill in music.
In the fall of 1967, station program director Dick Carr asked Wright to do the all night show (The Dawn Patrol) just for a little while until WIP could figure out what to do in that time period. He became Nat, the All Night Rat, and did the shift for 17 years. Wright was the last inidvidual hired by the station as a swing person. After that, you were either music or news, never both. Nat once told us that the first person he would see during his air shift would be Gordon Thomas who came in to prepare the morning newscasts about 4:30 am.
Nat was born on December 10, 1926 and passed away on Thanksgiving Day, November 26, 2009. Nat's wife, Sue, a member of the Broadcast Pioneers, told us stories about Nat being involved in panty raids 'before there were panty raids." He also managed to put the Dean of his college's desk on top of a flag pole and had ordered one ton of cow manure to be delivered to the Dean's front yard. What a guy and sure to have been one of the Dean's favorite people! On Friday, November 19, 2010, Nat Wright was posthumously inducted into the Broadcast Pioneers Hall of Fame.
After leaving WIP Radio, Nat went to work for WBUD Radio in Trenton, NJ. We have a recording of Wright on a Saturday evening. The date is June 22, 1991. We have scoped out the music and just left in Nat. There's a second of dead air in between each of Nat's patter. His program in New Jersey's capital was pretty much what he did on WIP Radio.
Listen in Real Audio
Listen in Windows Media Format
Remember, History is ONLY What Gets Saved!
(If there were no portraits of George Washington, how would we know what he looked like?)
IN TOUCH WITH THE INDUSTRY:
Mike Jerrick is back on Fox 29 at the beginning of last month. He's been off air for about 6 weeks. He was away at a wellness retreat in North Carolina. Viewers were glad to see him back in the anchor chair for the Fox 29 morning shift.
Ross Brittain joined Scott Shannon for an entire week last month on WCBS-FM Morning Zoo. It was sort of a Zoo reunion. In 2016, Shannon also had Brittain back up in the Big Apple. Ross left his own morning program (The Breakfast Club) on Philly's WOGL at the end of July in 2015. Brittain was on WABC Radio in the early eighties.
Travis Manion Foundation, along with CBS Radio Group here in Philadelphia and their partners, have teamed up for the re-building of U.S. Army veteran Jack MacIntosh's home. The home renovation took place over the past few months. Jack is a U.S. Army veteran who served in combat during the Gulf War, where he was injured in the line of duty. Jack was honorably discharged from the Army years ago and continues to live with character and serve others. Jack and his wife Kathy volunteer in the community for several veteran organizations, including: Guardians of the National Cemetery, Disabled American Veterans, Veterans of Foreign Wars, and the Veterans Multi-Service Center. His home experienced significant damage from Hurricane Sandy.
CBS 3 & Eyewitness News unveiled the next generation of its Mobile Weather Watcher last moth just in time for severe spring storms. Meteorologist Katie Fehlinger introduced the team's latest tool on the station's morning news broadcasts. In 2010, CBS 3 made history as the first television station in the market to have a fully-equipped weather station on wheels. The new and improved Mobile Weather Watcher is a fully-loaded 2017 Chevrolet Suburban 3500, the identical vehicle used by the Secret Service. It's also equipped with three HD cameras, two inside and one outside the vehicle, along with bonded cellular technology allowing it to broadcast in full HD while in motion as well as display two HD camera shots at the same time.
And speaking of CBS 3, anyone see CBS 3 co-anchor Jessica Dean on the national TV show, "The Talk?" She co-hosted last Wednesday's telecast. Previously, Jessica's co-anchor Ukee Washington was a co-host on "The Talk." The show originates from CBS' Studio Center in California. The program has been running now for seven years and airs live on the CBS O&Os and elsewhere. Joining Jessica in LA was "The Talk Anchors Away" Contest Winner Chanel Dutch Overton who lives in the Wynnefield section of Philadelphia.
WE REMEMBER:
Insult comedian Don Rickles passed away last month at his California home. Last year's "Person of the Year" Jerry Blavat worked for Don in the fifties as his valet. Jerry told Broadcast Pioneers CEO Gerry Wilkinson that all the celebrities we grew up with are now all gone. Blavat said that on his last visit to the West Coast, Rickles was not well at all. He continued to say that he and Don remained friends and in touch right to the end. Rickles was 90 years old.
Ralph Archbold passed away at the end of March. Ralph was known worldwide for his wonderful portrayal of Philadelphian Ben Franklin. Archbold and Franklin both celebrated their birthday on the same date, January 17th. He had been portraying Franklin for 44 years. Another well-known Philadelphian famous for his portrayal of historical characters including Franklin was member Joe Earley. Joe had his own show on public TV called "Come Along" which he portrayed various historical figures. He reprised these roles with member Gene London of the WCAU-TV historical series entitled, "Flashback."
Eleanor Faragalli, known to most as Lynn, passed away last month. She worked at WFIL for years and then went to KYW-TV in the early seventies. Later, she became the personal assistant for Mike Douglas. When Douglas took the show to LA, Lynn went with him. When Douglas left Group W and produced the show on his own, Lynn stayed with him. She returned to Philadelphia to be with family and friends. She was 85 and was a member of the Broadcast Pioneers.
Philadelphia born Chuck Barris passed away late in March. This television producer was well-known for his programs like "The Dating Game," "The Newlywed Game" and "The Gong Show." His dad was a Delaware Valley dentist and his uncle was Harry Barris, a singer, actor and song writer. Chuck was graduated from Drexel University in 1953 and was a columnist for their student newspaper. Barris' first wife was Lyn Levy, daughter of Dr. Leon Levy, president of WCAU Radio in the late twenties through the forties. Before taking over WCAU, Dr. Levy was an area dentist. That's how Lyn and Chuck met. Their fathers were both dentists and knew each other. Lyn's mother was the former Blanche Paley, sister of CBS Chairman Bill Paley.
Member Betty Killner Davis passed away at the beginning of March at the age of 96. She was involved as a teenager in early Channel 3 productions during the beginning days of W3XE and WPTZ, owned by Philco. After leaving broadcasting, she worked many years as a banking officer. She held a Bachelor's degree from the University of Pennsylvania and served on many volunteer committees, including one for the Morris Arboretum at Penn.
ON THE HEALTH FRONT:
Thanks so much for all the e-mails, phone calls and snail mail cards for Gerry Wilkinson's wife, Michele, who had major surgery at the end of March. She is making a good recovery, Thanks for everyone's concern.

THIS AND THAT! Little Bits of Information....

Wooden sign
about 1 foot by 3 feet tall
WFLN Radio
circa 1975
In 1945, WTTM in Trenton (home of Ernie Kovacs) In their contracts selling religious time, they said: "Messages broadcast in this time period will not criticize other forms of religion, nor will any portion of this time be used for discussing any controversial issue. WTTM reserves the right to strike from the air any portion of the program if scripts contain material on adultery, fornication, or like subjects."
Late in 1964, on WDAS, at 1:30 pm there was a homemaker show hosted by Louise Williams. Williams went on to gather much fame as Philadelphia's gospel queen and then as a Pennsylvania State Representative. She is still on the air today on WURD. Jimmy Carter (not the former President) was news director at WHAT and the Philadelphia Orchestra and was heard on WPEN. WIP had sports in the afternoons with Pete Retzlaff and evenings with Jim Leaming.
In September of 1940, WIP Radio aired a program every Thursday evening at 8:15 pm for 45 minutes. called, "What Shall I Do?" The show dealt with family problems. John Radley, a Philadelphia psychoanalyst, answered about 6 questions per evening. The guy helping the people with problems at the microphone was none other than Bob Horn of Bandstand fame. The announcer on the program was a guy named John Facenda.
We all remember when Joe Niagara took over the morning drive shift on WFIL Famous 56 while Dr. Don Rose recovered. That was 1973. But speaking of bad luck, two years later, Rose, who was then doing AM wake-up in San Francisco (KFRC) found himself doing his morning gig from bed (at home). He broke his leg on a hunting trip and doctors kept him in bed for about 12 weeks. He received thousands of letters and cards from listeners who wished him well.
During the summer of 1955, WFIL-TV held its third annual "Bandstand Picnic." Funds raised went to the Philly Chapter of the Pennsylvania Association for Retarded Children. Bob Horn was the host of the show at that time and in attendance at the picnic along with Lou Monte plus Les Paul and Mary Ford.
We received an e-mail from a visitor to our website, Beth O'Toole (nee Borgard). She wants to know:
Does anyone remember the contest in the 1960's where the 5 "E"s from Wee Willie Webber's name were hidden around Philadelphia and then clues were given as to where to find them? I remember that my father found one but I can't remember what the prizes were other than a mink stole for my mother (which I still have).
Claire Kasser (nee Horwitz) e-mailed us. She told us that she was on a soap opera done at WPTZ (now KYW-TV) and aired live over the NBC television network. She said that she knew that there was a kinescope of at least one episode, because as one of the cast members, she was included in the viewing. The location of that film has never been found. She used the air name Stephanie Lester. Claire wrote that it was produced at the KYW-TV studios on Waltnut Street. She continued:
I was 18 and I'm now soon to be 88 years old, so it was around that time. We were on a 7 city hookup and the first tv soap in Philly. On the basis of that (show), Susan Roberts of movie theatre (fame) was cast to play in the next soap opera TV show (Miss Susan) produced in Philly, but it had a short run. Pietro's place ran for about a year and a half.

I played the ingenue lead named Tina and Dino Terranava, a NY actor played my Father, Pietro, owner of a restaurant called Pietro's Place. Mark Richman played my love interest. He then went to Hollywood and appeared in some films. Jim Farley was the producer. As I recall. Ben Squires was the director. It was sponsored by San Giorgio.
We're sure you never thought too much about which Philadelphia station was first in covering the coronation of Queen Elizabeth in 1953. Sometimes, necessity is the mother of invention. Both NBC and CBS spent a ton of money (like a million dollars each in 1953 dollars) to broadcast the event. They shot film and flew it to the US for broadcast. NBC even chartered a plane that could develop the film on board.
ABC was the step-child of broadcasting at that time. They spent $10,000 and got on the air first. ABC arranged with the Canadian Broadcasting Company to pick up their feed at the ABC affiliated station in Buffalo and the local TV outlet would then feed the network. Bad weather delayed the NBC plane. Within minutes of air, NBC bought the rights to the ABC feed for ten grand (so ABC got it for free).

WFIL-TV was the local ABC affiliate here in Philadelphia. They interrupted a local program hosted by Bob Horn called, "Bandstand" at 4:14 and took the ABC feed. WPTZ (now KYW-TV) was on the air first with NBC's reporters but the network missed the cue for the feed and therefore joined it in progress.

So, WPTZ was first on the air with network coverage and talking heads but WFIL-TV was first to actually air footage from London. WCAU-TV picked up the CBS feed which started later. Want to know what was on WCAU and CBS in the 4 to 4:30 pm time slot (while Channels 3 and 6 were carrying coverage)? It was "Action in the Afternoon" which aired live on the network from Philadelphia. Read the script from that day from our website!
EDITOR'S FOOTNOTE: While there were over 200 episodes of "Action in the Afternoon," only a half dozen are known to have survived in this century as video. We have three of them in our video archive. However, what is really interesting is that we have 70 complete, original scripts from the series in our paper archive. Other than our original copies (used by director Bill Bode), no others are known to exist today.
THANKS FOR THE MEMORIES:
Note that Part One of the Dave Stanley article was originally scheduled to run in our April issue. Because of a shortened version last month, we have rescheduled it for this month along with parts two and three that were originally planned for this month.
Dave Stanley and Early Morning TV News!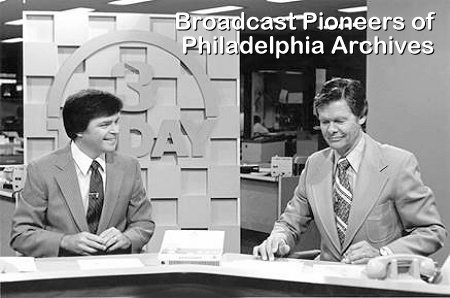 (Left to right) Dave Stanley and Gary Geers
KYW-TV Studios
1981
Member Dave Stanley along with Gary Geers formed the city's first early morning newscast. We asked Dave to tell about a little about it. Dave wrote:
As most of you know, for folks in radio, freelancing is a wonderful way to help pay the bills. But where does one draw the line? I can't help but to wonder if maybe it was the ten thousand times people heard me screaming at the end of commercials, "…out of town call collect. Line is busy? Call again. But call now!!!" It really didn't matter. I knew that to make a transition into television news I would have to pack up, move out and start all over again. What I was not prepared for, however, was the very real possibility of never working again in my hometown. It was for that reason, when KYW-TV called almost ten years later, it would be one of the happiest days of my life.

When I received the call from KYW-TV, I had been working at WAAY-TV in Huntsville, Alabama as its primary news anchor and executive producer. A rare mom and pop operation, the family had put together the 5th highest rated newscast in the country. As lead anchor, those ratings brought me to the attention of many television markets from around the country, such as Seattle, Minneapolis, Kansas City and New Orleans, to name just a few. Though I enjoyed being wined and dined, I really had no desire to move. Irene and I were very close to the Smith family and I was, as the saying goes, sitting pretty. All of that changed, however, when I was asked if I would like to return home to Philadelphia and make broadcasting history.

KYW-TV was looking for someone who had a lot of radio experience, a successful television news background and who "knew" the city and its people. A person, who would be willing to take a chance and anchor an idea that had never before been done in the country's 4th largest television market. Someone, who would become the first anchor of Philadelphia's first-ever, morning television newscast. It was to be called "3-Today."

It would all begin on the morning of February 23rd, 1981 with the first airing of 3-Today. Right out of the gate, from the very first day, we came in a very strong number one in the ratings. Okay, to be fair, there was no competition. Turns out, though we didn't know it at the time, we had a lot going for us. To begin with we were first on the air. Once a morning routine is established, people tend to stick with it. It also didn't hurt that our lead-in was a very popular exercise show. Add to the mix Gary Geers, a broadcast legend in Philadelphia, already had a lock on the morning audience. Gary had been hosting a daily farm show in that time period for decades. On 3-Today, Gary was the show's weatherman who quickly evolved into my sidekick.

The newscast itself was based on a radio format. We figured that, given the time of day, at least half the audience would be listening instead of watching. And just like all radio morning shows, we relied heavily on the time and the weather. In fact, we began our show, right after the opening, with a quick hit of that day's weather. That may be something that is taken for granted today, but everything we did back then was brand new. Another big plus for us was the morning crew which had previously been the crew for the Mike Douglas show. They helped to bring a high level entertainment feel to the program. No one had planned for this, but that's how it worked out and it worked beautifully.

I think what really sealed the deal for the program's success was my friendship with Gary Geers. My respect and admiration for Gary was legit and it showed. The importance of that became apparent almost immediately. Remember, the only audience we had at first all belonged to Gary, so it was imperative that I be accepted by them and not resented as someone who was infringing on Gary's territory. If there is one thing news managers have learned the hard way over the years, when putting together an anchor team you can't buy chemistry. It's subtle, elusive and can't be faked. The problem is, if the chemistry is not there you won't really know it until it's too late. Well, Gary and I had it! In the end, despite the small set, and an even smaller budget, the incredible ratings resulted in the newscast being sold out for almost a year in advance.
Dave Stanley and Early Morning TV News - Part Two!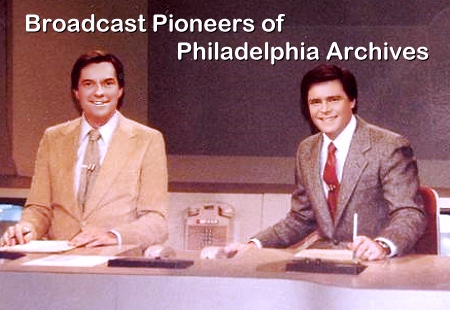 (Left to right) Member Tom Lamaine and Dave Stanley
Eyewitness News Set
KYW-TV, Philadelphia
circa 198
Above, we ran the first part of member Dave Stanley's story about working early morning television news here in Philadelphia. The second and third parts of that story follow. Dave wrote:
One of my favorite stories Gary shared with me goes back to his freelancing days. Once a week, to supplement his income as announcer at KYW, Gary would take the train out of 30th street station, head to New York and make the rounds of the advertising agencies looking for commercial work. His trips back and forth to NYC were shared with Ed McMahon, then a staff announcer from WCAU-TV. Here was the deal: Whoever got work that day would pay the cab fare back to Penn Station.

This went on forever until the day Gary finished up, got the cab and drove to where he was to meet up with Ed for the train trip back to Philly. Instead, Ed came out of the building and informed Gary he wouldn't be returning that night. He told Gary he had managed to get a gig on a game show and was about to meet with the person who would be the show's host. Asked who that person was he told Gary, "Some guy by the name of Carson. I think his first name is John."

Following the newscast, I would spend the rest of my day reporting. For me, it was a win-win situation. First, I loved reporting and second, given the early hour I started each day, I was guaranteed at least two hours of overtime. It stayed that way until Maury Povich left the noon newscast.

It was left up to Beverly Williams, his co-anchor, to pick his replacement. You can just imagine how flattered I was when she picked me. Incredible beauty, brains and talent aside, Beverly was also a very kind and caring person. I truly cherished my time working with her. Unfortunately, it didn't last long enough. Beverly left and was replaced with another well known Philadelphia broadcaster, Joan Dinerstein.

I was once told that if you're short on clothing; one black suit and a bunch of ties could go a long way. And it worked, at least for a while. The problem was we were living in the 80's, but without a clothing allowance, my fashion look still screamed 70's. Ugh!!! That would change the morning I donned a double knit sports jacket with a test pattern design and lapels that could almost rival a 747. By the end of the day I had my allowance.

Though probably not shared by everyone, I worshipped the ground our general manager, Pat Polillo, walked on. Hands down, Pat was one of the smartest people I've ever known. He could be tough, but I never found him to be wrong.

Case in point, I'll never forget the time I complained to Pat about the camera in the newsroom being so far away I couldn't see the teleprompter to read my tags. To which he replied, "Well, if you knew what you were talking about you wouldn't need the prompter." Ouch! But he was right. I also remember a friend/colleague sending Pat a memo only to have it returned and graded for its spelling, grammar and punctuation. Pat may have been tough, but he did keep us on our toes.

In my lifetime I am yet to meet another person with a better broadcasting voice than my news director, Bill Yeager. Next to Bill the deepest of basses would sound like a tenor. Far more importantly, however, I am yet to meet a nicer, kinder and more decent human being than Bill. If you had a problem, if you had an idea, if you had anything that needed an ear you went to Bill.
Dave Stanley and Early Morning TV News - Part Three!
It was Bill, for example, that I asked to extend a 3-part series to 20 parts, which was totally unheard of. Instead of just throwing me out of his office, Bill listened, thought about it and came back with a decision that made broadcast history. A decision that resulted in one of the highest rated and, at 20 parts, the longest running news series ever to air in Philadelphia. "Radio: Red Hot & Right Now" was so successful it was updated and converted into a half-hour prime time special that aired a couple of months later, coming in first in its time period. Thank you, Bill.

Pete Jacobus, who followed Bill as my news director, to this day, remains one of my role models. Not only did I like, admire and respect Pete personally, I just seemed to relate to him. Like me, Pete was a Philly kid with no college degree who learned the news business the hard way by starting at the very bottom as a copy boy. And from that humble beginning he quickly rose to Vice President of News at ABC in New York. When I first met Pete he had just left his news director position in San Francisco to return to KYW-TV in Philadelphia. And for that I thank the broadcasting gods.

The gods, however, were certainly not in my favor that fateful Sunday night when I was anchoring weekends and our director pulled a no-show. As was the case every weekend my producer was busy producing and I was busy writing. No one noticed when the director failed to show. Normally he would arrive about an hour before the broadcast, sit by himself away from us, mark the scripts and leave. He wasn't being rude, he was just doing his job; a very good job at that. A genuinely nice guy who had been directing the same show for years, but on this particular Sunday the scheduler apparently forgot to schedule him and the director figured he was – at long last – being given a weekend day off. So, he took it.

It was about a half hour before news time when we first realized we were without a director. Frantic phone calls were made, but it was too late. This was not going to end well. The Sunday night newscast was not only the highest rated newscast of the week, it was also the highest in demand by advertisers. It didn't matter. The directors had their own union which meant, as much as everyone wanted to jump in and help, they couldn't.

Personally, I was in a state of disbelief. When 11 o'clock arrived the opening was played, the camera came on and I could do nothing more than just sit there, stutter a bit and tell everyone we were having some problems. Of course, my producer and I knew that our problems didn't even begin yet. Not to disappoint, before the clock struck 11:30 we were informed that our butts were due in New York City first thing the following morning. Thank goodness, once again our news director had our backs. He interceded and we didn't have to make the trip to NYC. Yes, we caught a little grief, but nothing of any real consequence. It was, however, both embarrassing and, in terms of advertising revenue, costly.

Unlike today's millennials, we never had a "safe space." Come to think of it, we never heard of a safe space. We did, however, have a "happy place" though we never called it that. For us, it was simply called the ballfield. For some reason Channel 3's softball team had disbanded years before. Reporter, and good friend, Jose Santiago (standing right behind the young lady holding the jacket) and I put together another team. This one also incorporated ball players from radio side.

We also changed something else. Instead of playing in the media league we went out into the community and played various clubs, churches and civic organizations that were looking to raise money. It didn't cost anything to play us, so it was all profit for them. We drew big crowds and made a ton of friends who became steady listeners and viewers. Oh, and in case you're wondering, yes, that is the one and only Willie Mays, the "Say Hey Kid" himself, who decided to join us one day (pictured center right above).

One of the big drawbacks, when compressing years into minutes, is that one tends to cherry-pick, concentrating only on the "juicy" stuff. But in reality the vast majority of my time at KYW-TV was absolutely wonderful. I truly loved it there; the people, the product and, as I mentioned, the opportunities. There is no comparison. It was, by far, the best place I ever worked.
OUR HATS OFF TO YOU FOR GIVING:
We would like to thank the following for their contributions donated at our April luncheon. They include: Eric Address, Paul Big Bear, Suzzie Byron, Tom Cannon, Diego Castellanos, Mark DiGiovanni, Harry Hurley, Mel Klawansky, Bob Kravitz, Carol Leebron, Marian Lockett-Egan, T. Morgan, Mike Nozilo, Steve Tatz and Gerry Wilkinson. Also, special thanks to new members Hope Krosskove and WPVI's David Murphy for including an extra donation when they joined.

We are a federally recognized, state chartered charity with a 501(c)(3) status. Contact us at (856) 365-5600 or e-mail
pioneers@broadcastpioneers.com
for more details. Your gift to Broadcast Pioneers will help us and may lower your federal income tax. That's win-win, isn't it?
Special Thanks (in alphabetical order) for the gift of Appreciated Stock: (a federal tax advantage for the giver)
Member Marc Howard - $3,600 (put into our general fund to be used where needed)
Member Sylvia Kauders - $5,159.45 (used for the scholarships listed below)
Member Dan Lerner - $5,217.80 (used for the scholarships listed below)
Special Thanks (in alphabetical order) for contribution of $1,000 or more to our DAP, Digital Archival Project:
Member Johnny B. Hall and wife Ginny - $3,000
Member Harry Hurley's Golf Tournament - $1,000
The Shunfenthal Family (in memory of Sherri Shunfenthal's father, Les Waas) - $2,000
Member Marlin Taylor - $1,000
Special Thanks (in alphabetical order) for April 2018 Scholarships:
Member Sylvia Kauders - 1 scholarship (from a grant for 5 yearly scholarships running until 2019)
The Shunfenthal Family (in memory of Sherri Shunfenthal's father, Les Waas) - 1 scholarship
Member Harry Hurley's Golf Tournament - 1 scholarship (for a Stockton University student)
Member Kal Rudman - 5 scholarships (for Temple University students)
Member Johnny B. Hall and his wife, Ginny - more scholarships for 2018
Special Thanks (in alphabetical order) for a contribution of $500 or more to our DAP, Digital Archival Project:
Member Esther Kurtz - $500
Member Art Moore - $500
Member Lauren Lipton - $500
Bequests in their Will:
Member Sylvia Kauders passed away earlier this year. In her will, she bequest to the Broadcast Pioneers of Philadelphia, the amount of $5,000. This funding is to be used to underwrite one scholarship per year until gone. These scholarships will start in the year 2020 and continue until 2024. From a previous gift, Sylvia has underwritten one scholarship a year starting in 2015 and continuing until 2019.

Member W. Carter Merbreier passed away a few months ago. In his will, he bequest to the Broadcast Pioneers of Philadelphia, the amount of $1,000. This funding is to be used to underwrite one scholarship which was awarded in April of 2017.
Underwrite a complete scholarship and we'll give you credit in the electronic newsletter until the scholarship is awarded in April of 2018. Give us a donation of appreciated stock of $2,000 or more) and we'll list you in our "Thank You" column for two years. Give us a donation of $1,000 or more and we'll list you in our "Thank You" column for a year. Give us a donation of $500 or more and we'll list you in our "Thank You" column for six months. You can select how we use the money: for our archival project, for scholarships or for our general fund to be used as needed.
More Thanks:
A growing portion of the revenues that fund the different activities of the Broadcast Pioneers comes from donations. This includes our archival project and our scholarship program. Now, we are making it even more beneficial for our donors. Broadcast Pioneers is now able to accept gifts of appreciated stock, which provides a significant tax benefit to you. By giving appreciated stock (stock which is worth more now than what it cost when it was purchased), you can get a charitable contribution tax deduction based on the current market value of your stock. At the same time, you avoid the capital gains
tax that would arise if you simply sell the stock. So if you'd like to support our educational mission or our archival project and save money on taxes too, please consider making a gift of appreciated stock. We are a federally recognized, state chartered charity with a 501(c)(3) status. Contact us at (856) 365-5600 or e-mail pioneers@broadcastpioneers.com for more details.
Don't be left out. You too can make a pledge. It's never too late. You can earmark it for scholarships, our Digital Archival Project or our general fund. Thanks so much for your support. If you forgot to make an extra contribution (cash or memorabilia) and would like to do so now, you can do so. We would be thrilled to hear from you at: PO Box 2886, Bala Cynwyd, PA 19004, call us at (856) 365-5600 or e-mail us at: pioneers@broadcastpioneers.com.

A FINAL THOUGHT....
"First rule of engineering on how to fix a broken piece of equipment! If it's above the waist, hit it. If it's below the waist, kick it!"
Bob Myers
Chief Engineer
in the 70s
WDAS AM & FM

Please contact us by e-mail at newsletter@broadcastpioneers.com or by mail to: Broadcast Pioneers of Philadelphia, PO Box 2886, Bala Cynwyd, PA 19004. Your stories are important, to you, to us, and your colleagues. Contact us today and we'll include your story in the next newsletter!

© 2017, Broadcast Pioneers of Philadelphia
All Rights Reserved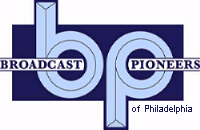 The e-mail address of the Broadcast Pioneers of Philadelphia is pioneers@broadcastpioneers.com
For luncheon reservations call (856) 365-5600 or e-mail us at: rsvp@broadcastpioneers.com