June luncheon
Bala Golf Club
June 18, 2008

Reception at 12 noon
Lunch at 12:30 pm
Ratecard: $25 per person

June 2008
Issue 10
2007-2008

Reserve today by calling (856) 365-5600 or e-mailing us at: rsvp@broadcastpioneers.com
Ahhhh, it's the Good Ole Summertime, and the livin' is excellent if you join the Pioneers for lunch on Wednesday, June 18th. Allen Sabinson, former head of the A&E Television Network, who also held senior management positions at Showtime, ABC, TNT and NBC, and a Broadcast Pioneers member, will be speaking, as will member Fred Sherman, Chief Economist at Royal Bank of America, and financial reporter for KYW Newsradio. Fred will tell us what he expects from the Federal Reserve meeting one week later.
Plus, we'll have Johnny Lerro, formerly "The Green Grocer®" telling us about how to save money on produce over the summer. Member Jane "Pixanne" Norman will sing a couple songs, with Bucky Clark at the piano. Bucky will be presenting a medley of jingle from commercials of yesteryear and Les Waas will have a hilarious follow up on his first report on our "Tower of Fame."
All this will take place at the Bala Golf Club on Wednesday, June 18th, with 12 noon reception, meet friends, enjoy hors d'oeuvres and cash bar, and at 12:30 lunch will be served. The tab is $25, and we need a call for reservations at (856) 365-5600 or email us at rsvp@broadcastpioneers.com.

If you were not there, you missed a great meeting in May. The room was packed as a panel moderated by Captain Noah (W. Carter Merbreier) told anecdotes and generally celebrated the life and legend of Jim O'Brien, killed when his parachute didn't open 25 years ago during a sky dive. A fabulous character, he'd have been happy with the recollections his friends had of him. There are complete details of the meeting here on our website!

Board members note: There will be a Board Meeting before the luncheon June 18th at 10:15 am at Bala. All board members are invited to attend.

Hall of Fame Committee, please mark your calendars: There will be a meeting for the Hall of Fame on Friday, June 20th at 10:15 am at B-101. Again, all committee members are encouraged to be there.

Members will be getting membership renewals with annual dues reminder in the mail. Due date to return is June 30th. Please note that there's a space on the renewal form to give an extra contribution, if you are able. We are a 501(c)(3) charitable organization and both dues and extra gifts may be tax deductible. Check with your tax consultant.

Shelly Gross, now 87 and going strong; member, past President, Person of the Year, etc. may have left the area but many of us do stay in touch with him and we're delighted to report that he is the first recipient of 'The Shelly Award' presented by the Palm Beach Dramaworks. It was presented to Shelly by Mayor Lois Frankel at the "It's Delightful, It's Delicious, It's Delovely!" fund raiser for the professional theatre company in West Palm Beach. "The Shelly Award" will be given annually to a person who has made an extraordinary commitment to developing and supporting South Florida Theatre. It was attended by 100 people from West Palm Beach and Dramaworks and raised more than $45,000. Congratulations, Shelly.

The Children's PressLine Gala 2008, hosted by WABC-TV Eyewitness News Diana Williams will honor member Al Primo on June 5th at the Plaza Hotel in NYC; recipient of the Robert H. Clampett Legacy in Journalism Award. Children's PressLine is a youth media and leadership program which insures that children grow up as active participants in society. It allows young people to represent themselves on important issues to build better citizens and a more informed electorate.
"The probability of being watched is directly proportional to the stupidity of your act."
Law of Probability
We ask people to write us if you are not in the newsletter, and that's exactly what Al Alberts did. Al protested that in the May Newsletter, Producer-Writer Ed Cunningham's program "Philly's Favorite TV Kids Show Hosts" was mentioned for winning Outstanding Documentary Program in PAB's (PA Association of Broadcasters) 2008 Awards for "Excellence in Broadcasting."
Al protested that "the Al Alberts Showcase" was on 6abc for 32 consecutive years and discovered, among others, Andrea McArdle (first Annie on Broadway) and Jarrod Spector (played Frankie Valli in "The Jersey Boys.") Al wonders why his show was not there. Ed replies that he considered Al's show and the wonderful record it had in Philadelphia but Ed (whose decision it was) concluded the Al Alberts Showcase was not a show for kids, but a show with kids for adults. The others, he says, featured adults performing for kids.
He certainly had no intention of demeaning the contribution of Al and Stella and the Showcase to broadcasting in Philadelphia. The shows mentioned included: Sally Starr, Bill Webber, Captain and Mrs. Noah, Gene London, and Jane "Pixanne" Norman.

"Captain and Mrs. Noah" were Grand Marshals of the 23rd Annual Doo Dah Parade In Ocean City, New Jersey, an honor heretofore accorded Mickey Rooney and Carol Channing. The parade annually features impersonators of George Burns, Elvis, Groucho and Harpo Marx, and Marilyn Monroe, the Hobo Marching Band, and 300 costumed Basset Hounds. 1000 people proudly wore T-shirt pictures of Captain and Mrs. Noah on their bellies or chests; depending on the wearers configuration. Ahhh, it was an inspiring occasion. By the by while we're doing Captain Noah, please note: The estimable Captain will be at the Frame Shop in Conshohocken (Whitemarsh Shopping Center, Ridge and Butler) on June 28th, 1 to 3 pm, for signing of his newly released Limited Edition Print of the colorful masterpiece -- "Captain Noah and His Magical Ark". The 8" x 19" signed and numbered giclee (Pronounced 'zhee-clay' - a French technique for fine art printing) is $100, framing orders and selections on site.

You will notice this year, for the first time in our history, there will be newsletters in July and August. All 322 members will be getting the letter, and the membership is at a new record high.

"The probability of meeting someone you know increases dramatically when you are with someone you don't want to be seen with."
Law of Close Encounters

Sports Announcer Art Wolfe has died at 78. He was known for his activities with WPEN, KYW, and as PA Announcer at The Vet, and Connie Mack Stadium, and was also Sports Editor for the Montgomery County Publishing Company. Art leaves his wife of 44 years, Marjorie, and two children, David and Lauren. He will be missed by his many friends in the Pioneers and elsewhere in the industry. Frank Mack, Retired Chief Supervising Engineer for WPVI Television, has died at 85 of lung cancer. In recent years Frank lived in Venice, FL. Frank was a WWII Marine, and a good golfer. All his friends and family will very much miss him.

Dave Neal, a retired senior producer at KYW-TV, has rejoined the Broadcast Pioneers. Welcome Back, Dave. We also add Jerry Immel of Atlanta GA. In the business since 1960, he has been doing voice overs exclusively since 1982. He is President of Jerry Immel Voiceovers, and is co-founder of the SE Chapter of NATAS. Welcome Aboard Jerry.

Congratulations to Larry Mendte of CBS3 on being chosen for several awards in the Television categories of the Philadelphia Press Association's Annual Awards for 2007 (presented in 2008). Larry received a First Prize in two categories, and two Honorable Mentions.
Please note that we publish the names of people who send us e-mails, who phoned or wrote. Be in the letter. Phone Paul Norton, at (302) 645-8910, email: nanort@comcast.net or write Paul at 205 Ocean View Blvd. Lewes, DE 19958.

© 2008, Broadcast Pioneers of Philadelphia
All Rights Reserved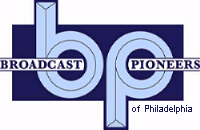 The e-mail address of the Broadcast Pioneers of Philadelphia is pioneers@broadcastpioneers.com
For luncheon reservations call (856) 365-5600 or e-mail us at: rsvp@broadcastpioneers.com