Visit Our Website Often - http://www.broadcastpioneers.com

BOARD MEETING:
The next Board of Directors meeting is on Wednesday, June 17th at 10:15 am, before our luncheon at the Bala Golf Cub. Board members should call in your luncheon reservation and let us know if you will be attending the meeting.
HALL OF FAME/PERSON OF THE YEAR COMMITTEE MEETING:
The last Hall of Fame/Person of the Year committee meeting will be on Friday, June 19th at 1:30 pm at B-101. Please note that B-101 has moved! Their new address is 225 East City Avenue, Bala Cynwyd. Turn at Kings Grant Drive and then turn left into the 225 parking lot! B-101 is on the second floor.
By the way, we wish good luck and wonderful happiness on the new digs to Broadcast Pioneers member (and former president) Jerry Lee and all our friends at B-101 radio. Enjoy the new location!
A WRAP-UP ON OUR MAY LUNCHEON:
This luncheon set an all-time attendance record for a luncheon with Broadcast Pioneers. A record 140 people were there on Wednesday, May 20th as we honored WIBG as one of our market's greatest all-time radio stations. Coincidently, it took place on Pioneers member Hy Lit's 75th birthday.
Our MC for the afternoon was Broadcast Pioneers member Sam Lit, son of the legendary Hyski. Our panel included these WIBBAGE Good Guys: Don L. Brink, Rod Carson, Frank X. Feller, Ray Gilmore, Jerry Stevens, Dean Tyler and Bill Wright, Sr. Wow! What a luncheon! Listen to the Panel! Listen to Part Two!
Plus, Broadcast Pioneers members Joe Terry and Frank Maffei (of Danny and the Juniors) were there and did a comedy routine. They also stated that it's "a thrill to be here to honor these veterans." Listen to what they said!
Additionally, via telephone, was former WIBG News Director Charlie O'Donnell, previously of American Bandstand fame and currently announcing on "Wheel of Fortune." One of Charlie's comments was WIBBAGE "was a way of life. This was a station of the people. They were living legends that created a sound and took the Philadelphia airways by storm." Listen to what Charlie Said!
We spoke with Roy Schwartz, who was operations manager and program director at WIBG. He said, "a great tribute to a great station. You're only as good as the people around you…that's what made the station great."
WELCOME NEW MEMBERS!
Don L. Brink, in the business since 1959, began at WTKO in Ithaca, NY. One of the WIBBAGE Good Guys, Don has crossed the country and back, including Los Angeles, (where he started using the name Scotty Brink) Cleveland, New York, Chicago, El Paso, Boston, Phoenix , and Seattle. Scotty is now in Oklahoma City and still keeping busy.
Rod Carson, in the business since 1958, is a veteran Philadelphia radio personality and traffic reporter. He recently retired after celebrating 50 years in the radio business. Rod was one of the founders of Shadow Traffic and created the method of traffic reporting that is still the standard nationwide. Rod was also one of the WIBBAGE "Good Guys" at our May luncheon.
Eric Herr, started in the business in 1979. Eric currently is a News/Traffic Anchor with Metro Networks and host/producer of "Out and About" on WCOJ, Coatesville/West Chester. An Adjunct Professor of Public Relations/Mass Media at Burlington County & Camden County Colleges, Eric is also a contributing editor/photographer for the Inquirer and others.
Randy Alexander, started in the this wonderful business in 1978. Currently, he is President/owner Randex Communications based in Marlton, New Jersey.
Welcome to the Broadcast Pioneers of Philadelphia. We hope to see you at a luncheon soon! By the way, that sets an all-time high in membership, now at 336. Each month, we seem to be breaking the old records.
ON THE HEALTH FRONT :
We're glad to hear Pioneers member George Finkel is, "coming along well after triple bypass and aortic valve replacement," in November. George continues cardio rehab exercises three days a week. George tells us; "it's tough growing old, but it beats the alternative." We couldn't agree more!
MEMBER INFO:
Pioneers member Bob Backman's address and contact info has changed. Bob, who was GM at Channel 61 here in Philly during the 90s, is now the President/COO at WRDE-TV, Rehoboth Beach, DE. 19971. For those of you concerned with personal information being in our electronic newsletter. All current issues are available only to members. When we archive it for the general Internet use, we remove the personal contact information.
IN TOUCH:
Pioneers member Ed Eisen, has authored a book to be released at year's end. "Soul for Sale-Confessions of a Philadelphia Spin Doctor," covers the businesses of broadcasting, public relations and print journalism. It will be available in book stores and online. Ed was with the Philadelphia Inquirer and Evening Bulletin, as well as WRCV, predecessor to KYW News Radio. He also taught Broadcasting at Temple University. Nice going Ed! The newsletter's editor is anxious to review.
Celebrating 30 years in radio, Bob Craig is recognized as one of the key individuals who was brought to Greater Media's WMGK-FM in Philadelphia, "to breath new life into radio's original Magic format." Throughout the 80's, WMGK consistently ranked among the top three Philadelphia radio stations in the 25-54 demographic. Bob can now be heard daily on WHAT 1340 AM, presenting his "Solid Hour of Sinatra," as well as "Voices of Jazz" on WRTI, HD2. Congratulations Bob!
The Graphic Arts Association of Philadelphia has named Irvin J. Borowsky, founder of the National Liberty Museum (321 Chestnut Street), as the 2009 Neo-Graphics Person of the Year. In 1948, Borowsky founded a weekly television magazine that became TV Guide after he sold it to Walter Annenberg. Quite an accomplishment!
(Left to right) ABC-TV News Correspondent Geraldo Rivera & Diego Castellanos
Outside of the WPVI-TV Studios
circa 1987
(FYI...Rivera was discovered by Broadcast Pioneers member Al Primo)
Congratulations go out to Pioneers board member and outgoing Vice President Diego Castellanos for recently being honored by the "Isla Verde" Honor Committee on May 20th for projecting a positive image of the Hispanic community via his TV show, "Puerto Rican Panorama." Diego's program has aired on 6abc for 39 years making it the world's longest-running television broadcast in English devoted exclusively to Hispanic issues and Latin culture. Way to go, Diego! Felicidades!
Broadcast Pioneers President Gerry Wilkinson and his entire family attended the graduation of his youngest daughter, Zara, from West Chester University, where she earned a Masters Degree in English Literature with a 3.97 GPA. In the fall, she will be returning to her undergraduate alma mater, the University of Pittsburgh to pursue another Master's degree, this one in Library Science. Gerry's other daughter, Maya, is working on her Ph.d in Criminal Justice at Temple University. This is one proud Father! Nice going Gerry!
MORE IN TOUCH:
Pioneers member Paul Big Bear is promoting a summer mega event for the Lu Lu Shriners, featuring six bands, 21 movies, two DJ's, a car and motorcycle show with vendors, food and much more! It's an eight-hour day for the entire family. He's also hosting casino night with a $1000 prize. Check it all out at: www.SuburbanConcerts.com. Good luck Paul!
At the end of July, we will be taking a tour of the brand new 6abc building. More details in the July newsletter. Remember we now issue our newsletter monthly. This will be the second year where there will be newsletters for July and August. With an all-time record number of members, we just have to stay in touch!
Some of you may have noticed that the audio on our website of our May luncheon was wonderfully better in quality than previous luncheons. This is the result of a collaborative effort of two of our members, Dave Michaels and Bill Gellhaus. For the first time, the audio was recorded, saved, transported, edited and prepared for the Internet in a digital form. Thanks to both Bill and Dave, Let's hear it for the sound guys!
IMPORTANT REMINDER:
By now, everyone should have received their membership renewal forms (except those who joined recently). Please take a few minutes to complete the form and return it. Dues should be received by Broadcast Pioneers by the end of June. If you can afford to do so and wish to help, please feel free to check the extra voluntary contribution box on the renewal form. It will be greatly appreciated. Membership dues and contributions may be deductible for federal income tax purposes. Please check with your tax advisor.
A final thought...
"He would want us to carry on and together, we will, with the memory of a beautiful man, a gentle man, a kind man. He will always be with us."
Harry Kalas
(speaking about Richie Ashburn)
September 1997

© 2009, Broadcast Pioneers of Philadelphia
All Rights Reserved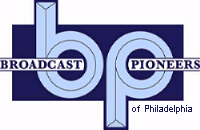 The e-mail address of the Broadcast Pioneers of Philadelphia is pioneers@broadcastpioneers.com
For luncheon reservations call (856) 365-5600 or e-mail us at: rsvp@broadcastpioneers.com