Visit Our Website Often - http://www.broadcastpioneers.com

ATTENTION BOARD MEMBERS:
The next board meeting will be on Wednesday, June 16th at 10:15 pm at the Bala Golf Club. Beginning in September 2010, board meetings will move from every 4 months to every 3 months with board meetings in September and December of 2010 plus March and June of 2011. Mark your calendars.
ATTENTION HALL OF FAME/PERSON OF THE YEAR COMMITTEE MEMBERS:
You must be assigned to this committee in order to attend. Members have already been notified by mail as to the time and place of this committee's remaining meeting which is in the middle of June.
MAY LUNCHEON REVIEW :
In the words of Ilse Poindexter, "It was a beautiful afternoon. It meant so much to have all this love extended to us." And, that sums up the wonderful May luncheon that was "A Tribute to Malcolm Poindexter."
Our moderator was Broadcast Pioneers member Trudy Haynes who did a wonderful job. The panel included:
Pat Ciarrocchi, anchor and reporter for CBS 3, KYW-TV
Paul Gluck, former Channel 3 News Director & Malcolm's boss
Richard Johnson, friend of Malcolm at Opera Ebony
Robin Mackintosh, Malcolm's former KYW-TV colleague
Mike Quinn, retired producer for KYW-TV, Channel 3
Dick Standish, former reporter for CBS 3 & KYW Newsradio
We were delighted to have Ilse Poindexter, Malcolm's wife joining us along with Malcolm's sons, Malcolm III and David. Plus on the phone was Broadcast Pioneers member Al Primo, who created the "Eyewitness News" format and was the one who hired Poindexter.
And then, we had the 3 Billion Second Man, Gene Crane all the way from Mexico. Gene was a former NBC 10 reporter and anchor. He turned 90 last week, on May 27th, (that's almost 3 billion seconds) and did a fantastic report of what he's been up to and how he's doing. In Gene's words, "It's okay to retire, but retire to DO SOMETHING!"
We have complete audio and video of the luncheon on our website plus 81 photos. If you missed the event or just want to revisit it, you can check it out here!
HEARD AFTER THE LUNCHEON:
"It's so good seeing some of the people Dad worked with. We are thankful to the Broadcast Pioneers for doing this and remembering Dad." David Poindexter
"It was a wonderful event. The stories and the memories were wonderful." Malcolm Poindexter III
"Excellent, heart warming, reality, such fond memories. I'm so proud we can remember someone with such dignity and love." Trudy Haynes
"This afternoon was absolutely perfect for Malcolm's family and everyone who was here." Robin Mackintosh.
"A wonderful warm person. He was an absolute delight to work with and a gentleman." Joanne Calabria, Vice President, CBS Television Stations
"What an amazing event. It totally re-captured the spirit of Malcolm. The Broadcast Pioneers did a great job with the line-up." Dick Standish
"Malcolm was such a nice sweet guy. I wish I had gotten to know him better. These luncheons are so wonderful!" Gene Crane
A POINT OF ORDER:
Since Bill Webber died in office as our Chairman of the Board, that left a vacancy in that position. The Board of Directors will vote on a new Chairman to fill the remainder of Bill's term at our next board meeting, June 16th. By tradition, the last past president whose membership is currently up-to-date acts as a temporary Chairman until the board vote. That person is Pat Delsi, our new Acting Chairman of the Board. Pat served as our Chairman of the Board for three years when Ed Papazian (2001 to 2002) and Bill Webber were our presidents (2002 to 2004). Pat served as our 34th president from 1999 to 2001.
WE REMEMBER :
Robin Roberts, former Philadelphia Phillies baseball pitcher passed away on Thursday May 6th in Florida. Robin was a sports broadcaster on WPEN radio in the late sixties. His good friend, United States Senator Jim Bunning, (who pitched a perfect game for the Phils) said; "A truly great all-time pitcher and Hall of Famer in baseball, but even more, a great human being who I will miss dearly."
Carl Morris, 77, father of Broadcast Pioneers member Carol Chrzanowski, "Philly Carol" from WVLT, Cruisin' 92.1, died suddenly on May 17th. Carol was with her dad just hours before his passing. Everything seemed fine and so she went on to the radio station to do her broadcast. He died a few hours later.
James E. Heitmann, Jr. (Terry), passed away on May 2, 2010. He was 80. He was a camera man for KYW, CBS 3 for 38 years, retiring in 1991. For 13 of those years, he was a camera operator on "The Mike Douglas Show" which was syndicated and was recorded at its flagship station, Channel 3. He was an original home owner in Levittown, PA.
Art Linkletter, 97, passed away on Wednesday, May 26th. His "House Party" broadcast started in radio during 1944 with its last day on radio (CBS) being October 13, 1967. We have three of those broadcasts in our audio archive, all from the last week of broadcasting including the last show. The TV version ran from 1952 to 1969. Linkletter and Broadcast Pioneers member Peggy King appeared as guests on The Jack Benny TV Show on October 23, 1955. That show is in our video archive.
Watch Jack's monologue and Peggy King Sing!
Watch Art Linkletter interview Jack, Don Wilson, Rochester and Peggy King
Memorial Day Weekend (45 Years Ago)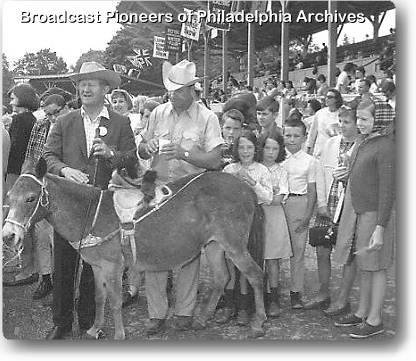 Channel 6 Air Personality Rex Morgan (holding the microphone)
Devon Horse Show, Devon, PA
May 29, 1965
WELCOME NEW MEMBERS:
Richard Maloney has had a broad and distinguished career as one of the most effective, credible & creative communicators in our region. He is Director of Public Affairs for SEPTA and also served as Senior Director of Public Relations/Operations for Independence Blue Cross. From 1970 to 1990, he was a reporter for KYW Newsradio.
Dick Standish is an award winning veteran reporter who joined KYW-TV Channel 3 in 1979, after working at sister station KYW Newsradio, for twelve years. Over his career, Dick has interviewed numerous celebrities and dignitaries, including President George Bush, the late Senator Edward Kennedy, former First Lady Roslyn Carter and many others.
Rick Williams has been in the broadcasting business since 1977 and has worked at WCSD-FM, Tri-State ITFS and NJN, the New Jersey Network where he has been for the last 29 years. He's currently the network's Assistant Director of Engineering. He also does outside freelance production services among many other things.
EDITOR'S NOTE: Member Rick Williams is no relation to WPVI's news anchor by the same name. He is also not related to the other Rick Williams at Channel 6 who is an Executive Producer for Action News.
Kalie Desimone, one of our newest and youngest members (who attended the May luncheon) is in her early twenties. Kalie has been appearing in TV commercials since she was a baby, and meets our ten-year "in the business" requirement! She is a recent graduate of Elizabethtown College with a BA in Communications.
Susan Buehler is Senior VP for Bellevue Communications Group. Susan is a veteran journalist with outstanding news judgment honed by more than 17 years of experience in television news at stations in Philadelphia, Des Moines, and Sioux Falls. From 1993 to 2001, Susan served as a planning editor, producer and reporter at Fox 29 in Philadelphia.
Orien Reid was Philadelphia's leading consumer reporter in the 70s, 80s and 90s. For 26 years, she worked at KYW-TV and later at WCAU-TV. In 2007, The Philadelphia Association of Black Journalists presented her with the PABJ's Community Service Award. She has also been an Ambassador for Alzheimer's Disease International.
Robin Mackintosh is recently retired veteran reporter of CBS 3, Eyewitness News. Known as "a reporter's reporter," he has covered major events affecting the Delaware Valley during the last third of a century. He has interviewed Jacqueline Kennedy Onassis, Princess Grace Kelly, former Secretary of State Henry Kissinger and many others.
EDITOR'S NOTE: Bill Webber's granddaughter was named Grace after the Princess (see Grace Kelly's photo at a WPEN radio booth at Philadelphia's Civic Center) and also because of Bill's long time friendship with the Kelly family. See a picture of Bill with Jack Kelly.
That sets another all-time record in membership. We now have 373 members. We are thrilled and we hope to see as many of you as possible at our next luncheon.
THANK YOU:
Special thanks go out to members Robin Mackintosh and Johnny B. Hall for their personal donations to Broadcast Pioneers this past month. The organization welcomes all donations from its members and friends at any time. Your support directly contributes to the ongoing success of our mission.
We also thought it would be nice to recognize those members who have made an extra contribution when they renewed their membership. Thank you! They are: Vince Leonard, Marie Pantarelli, Nicky DeMatteo, Les Waas, Ray Fiedler, Mike Strug, Mel Gollub, Frank Stone, Anthony DiFlorio, Tom Moran, Joanne Harmelin (of Harmelin Media), Allen Stone, Bill Kelley, Sally Berlin, Elliot Abrams, Dr. Gordon Gray, Leon Love and Kenny Jeremiah.
If you sent in your renewal and forgot to made an extra contribution and would like to do so now, it's not too late. We would be thrilled to hear from you at: PO Box 2886, Bala Cynwyd, PA 19004.
MORE IN TOUCH:
We received an actual Thank You card from Rachel Jakubowitcz at Muhlenberg College in Allentown. In this day of electronic correspondence, this is so unusual. She was one of 13 college students who won a Broadcast Pioneers scholarship awarded in April. She said in part:
...I am eternally grateful and hope to go very far in a career in broadcasting. I would want nothing more than to make everyone in the organization very proud. On behalf of myself and the other scholarship winners, thank you for putting us one step closer to a successful future.
And speaking of scholarships, we just received a check for $1,000 from member Esther Kurtz. This scholarship award will be given out in the Spring of 2011. Esther has shown the generous nature of the Kurtz family by underwriting an annual scholarship for five years now through the Broadcast Pioneers of Philadelphia in the memory of her late husband, David Kurtz, founder of B-101. The future broadcasters thank the entire Kurtz family.
Broadcast Pioneers member Ed Eisen has a new book on the web. "Soul for Sale: Confessions of a Philadelphia Spin Doctor." The book chronicles the 52-year career of the award-winning journalist whose message to young people is to find happiness by staying clear of public relations opportunities that toss deception into the public discourse. The story is a remembrance full of history, drama and laughter of 52-years on deadline. Good luck Ed, sounds like a great read!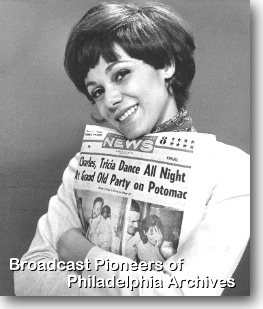 Gen Carlton
Broadcast Pioneers member John Carlton and his wife Gen took some time to speak with us about his long-time friend and colleague, Bill Webber. They both came to Philadelphia around the same time and started on the same day at channel 6. John, couldn't remember the year but said, "Dick Clark was still on the radio." Turns out Bill would do commercials for the Philadelphia Inquirer and Daily News with John's wife, Genevieve posing as Bill's wife. During one of the spots, Genevieve sat on Bill's lap and was stroking his head telling him how wonderful he was, she had his paper, etc. when all of a sudden Bill's hair decided to make a move and slid off! As John and Genevieve tell us, fortunately Bill had a great sense of humor and took it in stride. To this day, some people who remember that commercials believe that Gen was Bill's wife.
Our favorite mike/sound guru and member, Dave Michaels (son of Pat Delsi) has been involved in several Delaware Valley Walk-A-Thons for ARC. Dave tells us he's very excited about this organization and their accomplishments. Another "walk" is scheduled for the fall of this year.
Want to see and hear Broadcast Pioneers member Kenny Jeremiah? Sunday, June 6th; Kenny Jeremiah & Bitter Sweet at Cousin Mario's Restaurant and Lounge, May's Landing and Sunday, June 13th; The Deck, Trump Marina Casino with the Jeremiah Hunter Band. And of course, we can't forget Broadcast Pioneers member Charlie Gracie who will be at Club Jimmy D's, Folcroft on the 11th and 25th of June. And at the end of the month, June 30th, there's a rock and rock show starring Charlie and Shirley Aston Reeves (of the Shirelles) at Ridley High School, also in Folcroft. Plus, we can't forget members Joe Terry and Frank Maffei of Danny and the Juniors. They want everyone to know that Danny & the Juniors will be appearing at the Community Center in Avalon, NJ on June 5th at 7 pm and then they're off for on-the-road appearances in Denver and Buffalo later this month.
EDITOR'S NOTE: Frank Maffei tells us the story that he and Joe hung out with a very tough crowd of guys in South Philly. They all carried knives. That is, all except Frank. He carried a razor. "On the streets," Maffei said, "it was a real problem because I never could find an electrical outlet to plug it into" We're not sure that this is a true story. What do you think?
This just in at press time. We heard from member Rod "Storm" Phillips who tells us that Mike Bove and Elaine Soncini yanked him out of retirement. He now has the weather duties on the WHAT Radio morning show. He said, "WHAT (1340) is a reasonable facsimile of the old WPEN." He also passed along this story about Russ Miller who is now 84. For years, he was a Delaware County Realtor in Clifton Heights. Then he developed a real estate telephone call-in show on WWDB to go head-to-head against Jay Lamont's program on WPEN. Russ' daughter, Connie Bottinelli wants everyone to know that her dad, on Memorial Day, did a really well done, perfectly paced and produced live audience show in Florida when Russ now lives. Way to Go, Russ!
DIGITAL ARCHIVAL PROJECT NEWS :
With all the talk about the Supreme Court lately, we thought you might enjoy listening to a condensed version of a WDAS News Special entitled: The Supreme Court, Past and Present. Dating from March of 1971, it was narrated, written and produced by Broadcast Pioneers member Bob Perkins who was News Director of WDAS AM & FM at that time.
Listen in Real Audio!
Listen in Windows Media!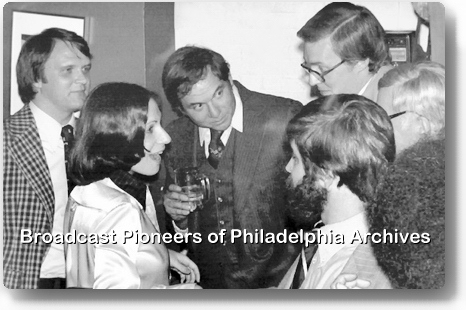 (Left to right - seated) Andrea Mitchell and Dick Standish
(Left to right - standing) Richard Maloney, Dick Sheeran, Bob Witten and Bill Bransome
1976
Photo sent to us by Broadcast Pioneers member Dick Standish
Pennsylvania held a primary election a couple of weeks ago. Well, we have in our archive, KYW Newsradio coverage of the April 25, 1972 primary election. You'll hear Sandy Starobin, Gene Scott, Joe Donovan, Dick Standish, Vince Lee, Dan Morrow, Ken Shuttleworth, Jay Lloyd and Andrea Mitchell. Audio is available only in the Real Audio format.
Excerpt #1
Excerpt #2
Excerpt #3
Excerpt #4
Excerpt #5
Excerpt #6
Because of all the excitement about the Philadelphia Flyers and the Stanley Cup, Ice Hockey seems to be on everyone's mind. Because of this, we thought you might enjoy hearing a 13-minute excerpt of a Philadelphia Falcons and New York Rovers (a farm team of the Rangers) Ice Hockey game broadcast over WFIL Radio on February 6, 1946. By the way, if you listen carefully, you can hear Tom Moorehead (the 8th President of the Broadcast Pioneers of Philadelphia) mention a player on the NYC team called "Shero." Tom was talking about Fred Shero who led the Flyers to two Stanley Cups during the 1974 and 1975 seasons.
Remember, History is ONLY What Gets Saved!
(If there were no portraits of George Washington, how would we know what he looked like?)
ON THE SCENE:
We were "on the scene," when Broadcast Pioneers member Tom Moran and (in his words) the "usual suspects;" member Andy Kortman (WNJC, 1360AM), member Dean Tyler, board member Ed Hurst, and Bobby Russo got together for a luncheon gathering at the Anchorage Restaurant in Somers Point, New Jersey. Turns out that Tom Moran and member Tom Lamaine had had lunch a few days earlier with Broadcast Pioneers Vice President-Elect Bill Wright Sr., when Moran mentioned to Lamaine about the get together. He said, "I might just show up." Low and behold the guys are having lunch when Tom Lamaine strolled in. Moran said, "The reaction in the room was phenomenal when Tom walked in." Another great get together of the legends of our industry! A great time was had by all!
A final thought...
"Shortly after KYW Radio switched to all news, a lady called the station and spoke with me. She asked if I could play a specific record for her, and I told her, 'Sure, we'll get it on right after the news.'"
Dick Covington
2002
Photo Editor & Archival Historian - Gerry Wilkinson
© 2010, Broadcast Pioneers of Philadelphia
All Rights Reserved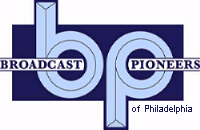 The e-mail address of the Broadcast Pioneers of Philadelphia is pioneers@broadcastpioneers.com
For luncheon reservations call (856) 365-5600 or e-mail us at: rsvp@broadcastpioneers.com