The Broadcast Pioneers of Philadelphia is a federally recognized, state chartered charity. We are a 501(c)(3) non-profit corporation serving Philadelphia since 1962.

Frank Stone
Newsletter Editor

June Luncheon
The Bala Golf Club
Wednesday, June 15, 2011

Reception at 12 noon
Lunch at 12:30 pm
Ratecard: $25 per person

RESERVATIONS REQUIRED!
(856) 365-5600
rsvp@broadcastpioneers.com
TRIBUTE TO JOE GRADY!
On Wednesday June 15th, we will be having a luncheon sure to will be one for the history books (and archives), "A Tribute to Joe Grady." Take a stroll down memory lane as we look at the life of one-half of the 1989 Persons of the Year. Joining us will be his broadcast partner and the other half of the 1989 Persons of the Year, Ed Hurst, to share his thoughts and memories about Joe.
Joining in on the tribute will be:
Cardinal John Foley, former president of the Vatican's Pontifical Commission for Social Communications
Charlie Gracie, Philly's very first Rock & Roll star and internationally famous singing idol
Peggy King, former "girl" singer on the network program, "The George Gobel Show"
Kim Martin, he was Grady & Hurst's producer in the eighties on WPEN Radio
Dean Tyler, WPEN's Program Director during Grady's return to the station
Larry Wexler, former WPEN VP/GM & former Broadcast Pioneers President/Chairman
Also, Pat Grady (Joe's wife) and Jo Ann Grady (Joe's daughter) will be with us that afternoon. So make plans to attend. By the way, before and after the luncheon on our portable DVD player, we will be running Joe Grady's 1987 retirement party video and the 1989 Persons of the Year video with Grady and Hurst.
SPECIAL GUEST SPEAKER, CARDINAL JOHN FOLEY!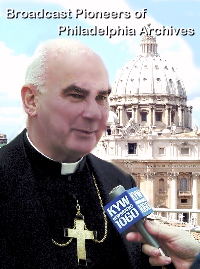 Then Archbishop (now Cardinal) John Foley
being interviewed by KYW Newsradio's Mark Abrams
The Vatican
April 22, 2005 (two days after the election of Pope Benedict XVI)
(Photo originally donated by member Bill Roswell of KYW Newsradio)
It all takes place at the beautiful Bala Golf Club, 2200 Belmont Avenue in Philadelphia, just minutes away from Channels 6, 10 and 17, plus the radio stations in Bala Cynwyd. Meet and greet (networking) starts at noon with lunch served at 12:30 pm. To be assured that your feet will be under the seat, we need your reservation(s) before the luncheon! The earlier, the better. Call now (856) 365-5600!
The cost is still only $25 per person. This is our 6th year without a price increase! You'll be served a full-course lunch including salad, entrée, coffee or tea and dessert at 12:30 pm. There's also crudités and a cheese table. Cash bar available all afternoon. Plenty of FREE parking or valet service. The luncheon is open to all our members, their guests and any person in the industry or associated fields, whether active or retired. You do NOT have to be a member to attend. Call NOW with your reservation(s), (856) 365-5600!
Watch a Tribute to Grady & Hurst put together by member Charlie Mills!
Our Persons of the Year for 1989 were Joe Grady and Ed Hurst. Member Walt MacDonald of the Go Patrol fame videotaped the event and has delighted us by donating a copy. Thanks, Walt. You can watch their entire remarks right here.
Watch in Real Video!
Watch in Windows Media!
In 1991, the Broadcast Pioneers of Philadelphia recorded a 37-minute audio interview with Joe Grady & Ed Hurst. It is available here for your listening pleasure!
Listen in Real Audio!
Listen in Windows Media!
Come on out, meet some old friends and make some new ones. Every luncheon is full of special memories that will never happen again. Be there to re-live and share old memories while creating new ones!
We'll be proud to see you in the crowd!
By the way, for those of you who wish to watch a complete 1954 "George Gobel" TV Show with Pretty Perky Peggy King, here's one for you in three parts.

Visit Our Website Often - http://www.broadcastpioneers.com

IMPORTANT!
IF YOU ARE NOT CLICKING ON THE
LINKS IN EACH SECTION, YOU ARE
MISSING LOTS OF THE STORIES!
THEY ARE ON SEPARATE PAGES!

A LITTLE BIT OF HISTORY REVISTED!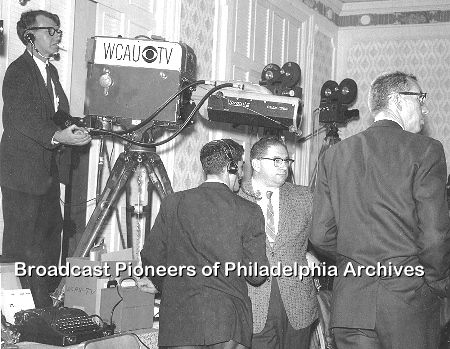 (left to right) Pat Lynch on camera, Tony Williams, Dan Falzani and Bill Hart
James Tate's Headquarters
Bellevue-Stratford Hotel
1963
Last month, we ran the above photo in our newsletter and we heard from Broadcast Pioneers member Tony Williams who said that member Dick Kearney had incorrectly identified the year as 1959. Tony said that it had to be four years later because he wasn't working at the station in '59. Well, Tony sent us more information about that evening plus three additional photos from that night. READ MORE & SEE THE ADDITIONAL PHOTOS!
NEXT BOARD MEETING:
Our next board meeting is on Wednesday, June 15th at 10:15 am at the Bala Golf Club. It is just ahead of our June luncheon. Board members planning to attend should include this information in their reservation info.
HALL OF FAME/PERSON OF THE YEAR SELECTION COMMITTEE:
This committee will meet at Channel 6 on Monday, June 13th at 11 am. The meeting is expected to last two hours. You MUST be on this committee in order to attend. Committee members have already received a written notice in the mail.
WELCOME NEW MEMBERS:
This month we welcome the following new members: Cardinal John Foley, Scott Palmer, Steven Lubetkin, Douglas Fearn, and Karen Curry. READ MORE ABOUT THESE NEW MEMBERS!
We are thrilled to have these new members. They've helped to bring our total membership up to 432 (an all-time record). We hope to see as many of you as possible at the June luncheon.
GET ALL THE DETAILS ABOUT THESE NEW MEMBERS BY CLICKING HERE!
IN TOUCH WITH OUR MEMBERS:
Get all the stories about our members and see a 1931 photo of Herbert Hoover in front of WCAU Radio microphones. READ MORE!
GET ALL THE DETAILS BY CLICKING HERE!
MEMBERSHIP RENEWAL TIME:
Two weeks ago, you should have received your membership renewal form. Current membership expires at the end of June. Those who joined in the last couple of months have their memberships expiring in 2012. However, you still should have received a form. If you haven't already done so, please correct any contact information, if necessary. This information will be used to create our new membership directory that will be issued this fall. Because of the nature of this business, we do not maintain any type of membership list online. This is for your own personal security.
Remember that Broadcast Pioneers is mainly a dues-supported non-profit organization that is federally recognized and state chartered. We have charitable status as far as federal income purposes. For those of you who wish to do so, there is a place on your renewal form to make an extra contribution to this organization. If you can do so and want to help out, an extra contribution would be appreciated. It will help keep Broadcast Pioneers strong. Check with your tax advisor. Membership dues and donations may be deductible on your federal income tax.
The membership renewals were mailed Tuesday, May 17th. By the next day, most people had them. The following day, we received two renewals back. Those two members must have written the check, filled in the corrected information and ran to the mail box in order for us to have received them that quickly. For that, we sing the praises of members Ray Didinger and Pearl Polto.
Oh, and another interesting fact is that only three days after receiving their renewals in the mail, over 10% of our entire membership had already renewed. After a couple more days, the figure was up to 20%, an amazing, quick response from our members. Again, our thanks for being so speedy.
Send in your renewal now if you haven't already done so. Your membership has one month remaining. Please take a minute and mail it back today. Thanks for your continued support.
WE REMEMBER AND ON THE HEALTH FRONT: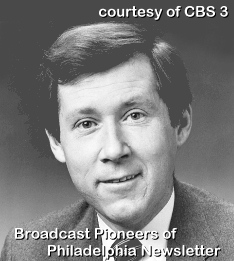 KYW-TV News Anchor Mark Haines
Official station publicity head shot
circa 1984
This month, we remember these great broadcasters: Mark Haines, Charles Fricker, Chris Trane, aka Karl Whitaker and Bill Kerrigan. On the Health Front, find out how Herb Clarke and Ed Hurst are doing. READ MORE!
GET ALL THE DETAILS BY CLICKING HERE!

Did you know...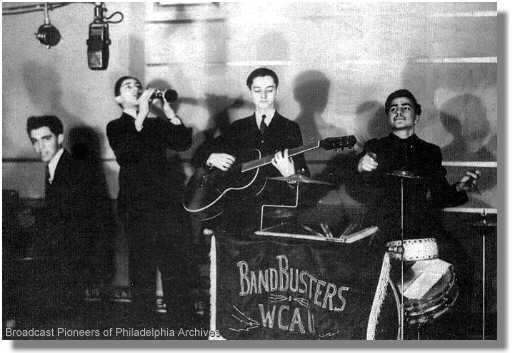 (Left to right) Al Alberts, Buddy DeFranco, Leonard DeFranco and Roxy Lee (Rocco Liuzzi)
The BandBusters on "The Children's Hour"
WCAU Radio
circa 1937
We have in our DID YOU KNOW column this month, the story of how Al Alberts broke into show business by appearing on WCAU Radio's "The Children's Hour," hosted by this organization's first president, Stan Lee Broza. READ MUCH MORE & SEE 3 ADDITIONAL PHOTOS!
THANK YOU:
As we do every month, we want to thank Broadcast Pioneers member Johnny B. Hall for his monthly cash donation to our DAP, Digital Archival Project. We especially appreciate it since Johnny has doubled the amount he was giving us last year at this time. Thanks. His annual donations total $1,200 annually. Our Digital Archival Project keeps on moving along.
Special Thanks to members Beth Wagner, Dave Custis and Ken Jeremiah for their cash contributions. Also, we wish to thank our members who included an extra contribution when they sent back their membership dues. They are:
Art Andrews
Sally Berlin
Don Bustard
Cathy Gandolfo
Joanne Harmelin
Richard Heist
Ken Jeremiah (this was in addition to the one mentioned above)
Leon Love
Bill McCloskey
Bob McCone
Mike McGrath
Art Moore
Marie Pantarelli
Al Primo
Allen Stone
Merrill Reese
Orien Reid
Frank Stone
Mike Strug
Steve Tatz
Les Waas
If you forgot to make an extra contribution (cash or memorabilia) and would like to do so now, it's never too late. We would be thrilled to hear from you at: PO Box 2886, Bala Cynwyd, PA 19004.
WE NEED VOLUNTEERS:
We always need volunteers to assist in all kinds of activities. From helping at our luncheons and banquet to scanning and writing stories for the website, WE NEED YOUR HELP! We are looking for volunteers to assist us with our DAP, Digital Archival Project. We're looking for people with a digital camera with at least 10 megapixels of quality to take pictures of scrapbooks and members with scanners to help scan photos and other items. Also, we'd love to hear from people interested in writing bios and other stories for our website. Also, we need people who have the proper software to convert VHS tape or DVDs into computer files. Plus other volunteers. If you're interested, please call us at (856) 365-5600 or e-mail at pioneers@broadcastpioneers.com
IN TOUCH WITH THE INDUSTRY: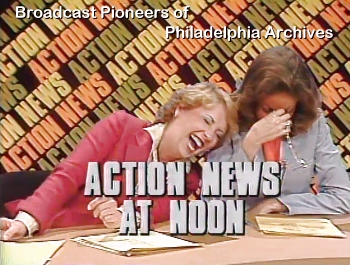 (Left to right) Chris Wagner and Lisa-Thomas Laury
Action News at Noon Rehearsal
WPVI-TV, 6ABC, Philadelphia
Wednesday, June 18, 1981
Get all the industry news for our market and see two additional photos. You can also find out more about the photo shown above! READ MORE!
GET ALL THE LOCAL INDUSTRY NEWS & 2 ADDITIONAL PHOTOS BY CLICKING HERE!
DIGITAL ARCHIVAL PROJECT NEWS:
Steve Levy
5:30 pm Action News
WPVI-TV
Friday, May 9, 1980

Steve Levy
6 pm Action News
WPVI-TV
Friday, May 9, 1980
We have in our video archive, the 5:30 pm and 6 pm Action Newscast on WPVI-TV. Jim O'Brien had just gotten out of the hospital and his good friend, Steve Levy, was filling in for him. Especially in the 6 pm cast, you can see that Steve is doing the weather in a similar style of O'Brien. Here's the weather forecast from both of those newscasts.
Watch Real Video!
Watch Windows Media!
Member Steve Levy e-mailed us:
This was at a time when there was no week-end weathercaster at Action News. The anchorman read the weather forecast on the weekends. So even though I was a sportscaster, the station management asked if I would be willing to be the back-up weather guy for Jim if he had a sick day, etc. or if we didn't go on vacation together, which we usually did. Accu-weather made the forecast, we just put it up on the board. That (clip) must have been the time he had a vertebrae operation. It wasn't long.

Jim O'Brien was unique; among broadcasters and as an individual off the air. In broadcasting, rarely will you see or hear someone so versatile at such a high level. Part of the reason, besides God-given talent, was an aspect of his personality off the air. Jim was one of the most intense, dedicated people you will ever meet. We won't see his like again.
Andy Gury
Dance Party USA
late 1987

Andrea Evans
Dance Party USA
late 1987
Andy Gury was the host of "Dance Party USA" when Andrea Evans (Tina from "One Life to Live") appeared on the broadcast. The interview was recorded in advance. For some reason, there were two takes. We present to you here on our website both of those takes back to back. Our video comes off the original one-inch tape with digital transfer by member Eric Address.
Watch in Real Video!
Watch in Windows Media!
It was 1993, WPEN 95 AM, the station of the stars, was alive and well with pop music. Dean Tyler was the Vice President and General Manager and they created a celebrity and listeners cookbook to benefit the Leukemia Society offices in Philadelphia and South Jersey. Thanks to Barbara Farley-Stone, wife of Broadcast Pioneers Board member and Vice President Frank Stone, we have a mint condition copy of the cookbook, so let's try it out!
ED HURST'S LEMON MERINGUE PIE
2 cups & 2tbsp. milk
4 egg yolks
1 & 1/2 cups sugar
1 tsp. butter
4 tbsp. cornstarch
juice of 3 lemons
rind of 2 lemons
dash of salt
In a bowl, mix sugar, egg yolks and most of the 2 cups of milk (saving a little) together with a pinch of salt. Take a double boiler and put the above mixture on top. When it begins to get hot, mix cornstarch with 2 tablespoons of milk and the remaining milk. Add this to the mixture in the double boiler. Mix until thick and keep stirring. Add juice, lemon rind and butter. Put lid on and let cook about 20 minutes. Pour mixture into baked pie shell and top with meringue.
For the meringue, you will need 4 egg whites, ¼ tsp. of cream of tartar and 4 tbsp. of sugar.
Beat the egg whites until peaked. Add the cream of tartar and sugar a little at a time. Put on top of the lemon mixture, being careful to seal meringue to edge of crust. Bake 8-10 minutes until peaks brown in 400 degree preheated oven. Enjoy! There are 950 recipes in the cookbook. If you liked this recipe, we might include other recipes in future newsletters.
Remember, History is ONLY What Gets Saved!
(If there were no portraits of George Washington, how would we know what he looked like?)
ON THE SCENE: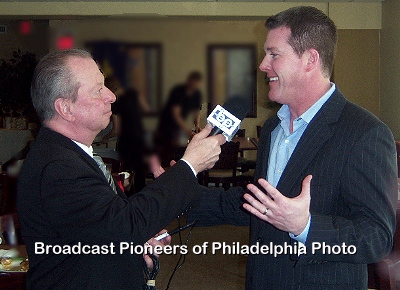 (Left to right) Broadcast Pioneers Vice-President Frank Stone
and Gregg Murphy of Comcast Sports Net
On The Scene caught up with Gregg Murphy of Comcast SportsNet who was the keynote speaker at a Communion breakfast in Wildwood, New Jersey. READ MORE!
CLICK HERE FOR MORE OF THE STORY!
MAY LUNCHEON REVIEW :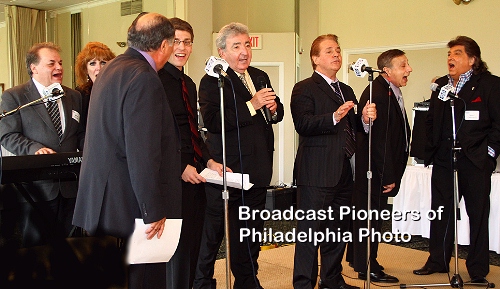 (left to right) Mike Volpe, Maura McKinney Mastro, Bobby Maffei, Kyle Brody
Joe Terry, Kenny Jeremiah, Frank Maffei and Billy Carlucci
Our Second Annual Rock & Roll Event
Bala Golf Club, Philadelphia
Wednesday, May 18, 2011
(Photo by Broadcast Pioneers President Jerry Klein)
On Wednesday May 18th, we had yet another rock & roll history-making luncheon. It was all about fifties and sixties rock and roll. We took a stroll down memory lane to the days when Philly was the epicenter of this wonderful music. It began with our MC, former Broadcast Pioneers president and chairman of the board, and long-time WIBBAGE Good Guy, Frank X Feller, who kept the program moving along. It was an afternoon filled with once in a lifetime moments. READ MORE!
GET ALL THE DETAILS BY CLICKING HERE!
A FINAL THOUGHT....
"A man who Joe Grady knew, the man's house was on fire and he called the fire department. The fire captain said, "How do we get there?" The man said, "don't you have those big red trucks anymore?"
Cozy Morley
1989 Persons of the Year Dinner
honoring Joe Grady and Ed Hurst
Broadcast Pioneers of Philadelphia
We welcome your input regarding content, future stories, suggestions, etc. Please contact us by e-mail at newsletter@broadcastpioneers.com. Your stories are important, to you, to us, and your colleagues. Contact us today and we'll include your story in the next newsletter!

Photo Editor & Archival Historian - Gerry Wilkinson
© 2011, Broadcast Pioneers of Philadelphia
All Rights Reserved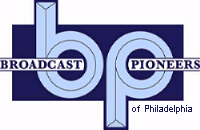 The e-mail address of the Broadcast Pioneers of Philadelphia is pioneers@broadcastpioneers.com
For luncheon reservations call (856) 365-5600 or e-mail us at: rsvp@broadcastpioneers.com