The Broadcast Pioneers of Philadelphia is a federally recognized, state chartered charity. We are a 501(c)(3) non-profit corporation serving Philadelphia since 1962.

Frank Stone
Newsletter Editor

June Luncheon
The Bala Golf Club
Wednesday, June 20th, 2012

Reception at 12 noon
Lunch at 12:30 pm
Ratecard: $25 per person

PLEASE RESERVE NOW!
(856) 365-5600
rsvp@broadcastpioneers.com
"80 Years of Channel 3"
Wednesday, June 20th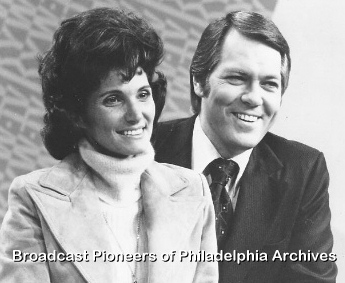 (Left to right) members Marciarose Shestack and Mort Crim
KYW-TV Studios
1973
Our next luncheon will be on Wednesday, June20th. It's a salute to "80 Years of Channel 3." Our MC for the afternoon will be Broadcast Pioneers member Marciarose Shestack, who was an anchor/reporter at KYW-TV for decades.
Our speakers will include (in alphabetical order):
Susan Barnett, co-anchor of the main KYW-TV newscasts
Betty Kellner Davis, Channel 3 actress from a soap opera from 1942
Jim Donovan, 11 Emmys to his name, CBS 3 consumer reporter
Trudy Haynes, former KYW-TV reporter for a third of a century
Tom Lamaine, former meteorologist for decades at CBS 3, KYW-TV
Big Al Meltzer, former Eyewitness News' Sports Director and Anchor
Ray Murray, former co-host of KYW-TV's "Evening Magazine"
Dick Sheeran, former Channel 3 reporter and news anchor
Stephanie Stahl, KYW-TV's Medical Specialist Reporter/Anchor
Dick Standish, former KYW-TV, Eyewitness News reporter
And we'll be speaking live on the telephone with former Eyewitness News anchors Vince Leonard and Mort Crim.
Plus the song-writing team of Henry and Bobbie Shaffner (both members in the Broadcast Pioneers) are bringing talent to sing their song, "Philadelphia (Philly, I Love You)." This is the tune's 40th anniversary. Scott Garvin, an 18-year-old graduating Central High School senior who starred in the school's recent production of "The West Side Story," will be singing. Accompanying Scott at the piano is Temple University music major Dan Matarazzo.
This all takes place at the beautiful and historic Bala Golf Club, 2200 Belmont Avenue (across the street from the State Police) in the Wynnefield section of Philadelphia. Only minutes away from Channels 6, 10 and 17 and the radio stations in Bala Cynwyd. Call now for reservations. (856) 365-5600! Don't miss this one!
Meet and greet (networking) starts at 12 noon, and a full-course lunch including salad, coffee or tea and dessert will be served at 12:30 pm. There will also be a crudité and cheese table. Cash bar available all afternoon!
The cost is still only $25 per person. This is our 7th year without a price increase! Plenty of FREE parking or valet service. The luncheon is open to all our members, their guests and any person in the industry or associated fields, whether active or retired. You do NOT have to be a member to attend. Call NOW with your reservation(s), (856) 365-5600.
Send an e-mail to a friend and tell them about this luncheon. If they don't have a computer, give them a telephone call. They will be glad to hear from you.
ONE LAST CHANCE!
LIMITED EDITION MUGS!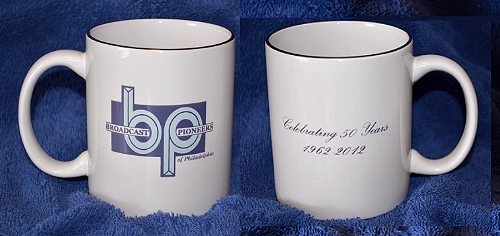 These beautiful Broadcast Pioneers commemorative mugs celebrate our 50th anniversary. Yes, we're a half-century old. We have a very limited quantity of these exquisite gold-rimmed mugs that are available on a first come, first served basis for a donation of ten dollars or more per mug! THEY ARE AVAILABLE ONLY AT OUR LUNCHEONS (until they are gone). We just don't have the staff, packing supplies, etc. to do mail order, so you must attend the lunch in order to get one (or two). Strict limit: no more than five per person per lunch. WARNING! This is probably the last luncheon where these mugs will be offered.

Visit Our Website Often - http://www.broadcastpioneers.com

TIME TO RENEW YOUR MEMBERSHIP:
In mid-May, all members received their membership renewals. If you haven't already done so, please take a moment to look over your contact information listed on the form and make any changes or corrections. We will use this information for our new membership directory to be published this fall.
In this time of rising costs, this year it's even more important for those of you who can afford to do so and want to help us, to please check off the extra contribution box on the renewal form. We are a state-chartered, federally-recognized charity with a 501(c)(3) status, which may make your contribution tax deductible on your federal income tax. Check with your tax advisor to see if this applies to you.
All dues are billed at the same time. Why? We have a volunteer that handles this. If we had to do it on a monthly basis, we would have to hire a company and thus raise your dues. There's no reason for us to do this. Be assured that if you joined in mid-year (say, October), you would never be dropped until you received your full year of membership. If you can be generous with an extra contribution, we would certainly appreciate it.
ATTENTION - BOARD MEMBERS:
There will be a Board Meeting before the June 20th luncheon at the Bala Golf Club from 10 am to 11:30 am. Please put it on your schedule. When reserving for the luncheon, board members should also let us know if they plan to attend the board meeting.
BROADCAST PIONEERS IS NOW ON FACEBOOK:

Broadcast Pioneers now has a Facebook page that you can find here: http://www.facebook.com/broadcastpioneers. Join in on all the fun and "like" our page. Member Art Wilson is our Facebook guru. Thanks to Art for putting it all together.
WELCOME NEW MEMBERS:
FULL MEMBER:
William Mayo has been a member of the Temple University's Boyer College of Music for the last quarter of a century. A tenor, Mayo has sung opera throughout North America. He has produced, performed and hosted his own radio show, Standing Room Only on WPEN. He has sung off-broadway and has written his own off broadway musical, Detours. He holds a masters in Opera Theater from Temple University and has a post-master's certificate.
We are thrilled to have more members. This brings our membership to the highest number in the history of the organization. We hope to see as many of our members as possible at the June 20th luncheon.
DIGITAL ARCHIVAL PROJECT NEWS:
Vince Leonard
Eyewitness News
KYW-TV, Channel 3
circa 1976

Bill Kuster
Eyewitness News
KYW-TV, Channel 3
circa 1976
Camelot, as it was often referred to by Eyewitness News staffers back in the day, was KYW-TV during the seventies. Member Vince Leonard was the anchor with Bill Kuster doing weather and member Big Al Meltzer handled the sports scene. Here's about three minutes featuring mostly the late Bill Kuster. In our opinion, the Real Video version is slightly clearer. Our video was taken from a high speed VHS tape recorded by KYW-TV that was mastered off the original broadcast quality airchecks.
Next we have another Eyewitness News clip from KYW-TV, CBS 3 from Broadcast Pioneers' Hall of Famer Tom Snyder from the 7 pm news on Thursday, May 22, 1969. Unfortunately, we have audio only!
Listen in Real Audio!
Listen in Windows Media!
During the sixties and seventies, WDVR did news every three hours. Here's Bruce Smallwood from Monday, November 17, 1969, the 9:30 pm newscast. WDVR was founded by Broadcast Pioneers member David Kurtz. The station is now B-101 and owned by Broadcast Pioneers former president and former Chairman of the Board Jerry Lee.
Listen in Real Audio!
Listen in Windows Media!
Here's another Smallwood newscast from 12:30 pm on Wednesday, October 14, 1970. Bruce was graduated from Temple University with a degree in radio-tv-film the previous year. During the seventies, Smallwood was News Director for WPEN Radio. Bruce Smallwood had an untimely death in June of 1988. He was only 44 years old.
Listen in Real Audio!
Listen in Windows Media!
IN TOUCH WITH OUR MEMBERS:
Dr. Ginny Hall, wife of Broadcast Pioneers member Johnny Hall was recently chosen to participate in the convocation ceremonies at the Penn State College of Medicine by assisting in the "hooding" of the graduates after they have received their diplomas, signifying that they have been granted the degree of Doctor of Medicine. This is an honor usually reserved for department chairs. Dr. Virginia Hall specializes in internal medicine and obstetrics & gynecology in Hershey, Pennsylvania. Dr. Hall attended medical school at Drexel University's College of Medicine here in Philadelphia and was graduated in 1972. She is now celebrating having 40 years of medical experience. Editor's Note: The Halls are big supporters of this organization. This year, the couple is underwriting six $1,000 Broadcast Pioneers scholarships that will be awarded in April of 2013. They also donate $200 monthly to our DAP (Digital Archival Project).
Member Dave Roberts, our 2000 Person of the Year, delivered the 85th commencement address on Saturday May 12th at Chestnut Hill College. Dave began his career in Syracuse and Buffalo, and then in the late 1950's served as the U.S. Army's News Director for Caribbean Forces Radio-TV network in the Panama Canal Zone. He returned to Buffalo and hosted a variety of shows, where he also began his work as a TV weatherman. In 1978, Dave moved to Philadelphia and worked as co-host for the morning television show "AM Philadelphia." Following the tragic and untimely death of Jim O'Brien in September 1983, Dave began reporting the weather for WPVI's "Action News." Dave has been married to his wife Patti for more than 50 years. They have three grown children and four grandchildren.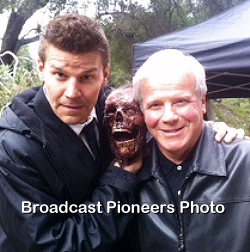 (Left to right) David Boreanaz, unknown "Bones" victim and member Dave Roberts
20th Century Fox movie lot
set of the TV series "Bones"
2012
The Latest from Dave: We received word from Dave Roberts that his son's TV show, "Bones," has been renewed for an 8th season on the Fox network. The show's season finale, "The Past in the Present" was directed by Dave's son. It is the cliffhanger which will keep us all guessing what's going to happen next. Dave tells us more about the show but won't say how the cliffhanger's situation will be resolved. He told us:
Bones is on hiatus now and resumes shooting its 8th season come late July 2012. The eighth season will include the 150th show! The 8th season starts in the fall (no exact date yet) but Monday night at 8pm.

Cliffhanger had Bones being a suspect in a killing and disappearing with her baby after evidence mounts against her. Ryan O'Neal, Bones's dad, helps her to get away as Booth is left alone wondering how he can get her and their baby girl back again and still clear Bones of the killing! Don't keep us waiting, Dave. Come on. Tell us everything will end up ok.
While Broadcast Pioneers member Charlie Gracie may be in his seventies, his latest single, "Baby Doll" in still in the current Top 40. He was notified by the Rock & Roll Hall of Fame that this is truly historic, to have an artist like Charlie back on the real charts including Billboard, after a 50 plus year span. He could be the oldest artist to crack the Top 100 with a single hit song! Congratulations Charlie! We heard from Charlie Gracie, Jr. who tells us this about his dad's record:
Dad's new hit single 'Baby Doll' is still charting around the USA and sales are very good! Registered at #31 on the latest chart: June 1st. The song was #14 and #18 on the Sirius XM Top 40 countdown, respectively these last two weeks running. Not bad for a 76 year old! LOL! Dad in good company with Kelly Clarkson, Madonna, Jennifer Lopez, Justin Bieber and more, or should I say, they are in good company?
Broadcast Pioneers member and 2009 Hall of Fame inductee Mort Crim tells us of an incredible experience while flying. Mort said; "In sixty years of flying airplanes, I never had a complete engine failure, while flying a single engine aircraft. Flying back to Jacksonville from a weekend with the grandkids in Vero Beach (Florida) at 4500 feet, over the intercostal, engine began to vibrate, run rough and stop dead. An airplane sure gets quiet when the fan stops turning. We had just passed Melbourne Airport a few miles back, got permission from the tower "to do whatever you need to do" and made an almost uneventful dead stick landing to a welcoming committee of three fire trucks, two policeman, and assorted airport personnel. I figure I'm good for another 60 years with no engine failures." Mort has decided, for the time being, not to ask his wife Renee if she will fly with him again. Nice going, Mort! Editor's Note: Be sure to catch the Mort Crim special on flying, Sunday, June 17th, from 3 to 4 pm, KYW-TV, Channel 3.
Broadcast Pioneers member Ron Joseph, a.k.a. RJ, has added a nice section to his RJForever.com website. It's all about Philadelphia's old and beautiful movie palaces. Click Here for more info. Also, RJ is also streaming videos of his old television dance shows. Watch them at: http://www.ustream.tv/channel/rjsdiscousa. With RJ, Disco still lives!
Temple University Public Radio WRTI-90.1 FM has informed us Broadcast Pioneers member Dave Conant, whose voice has been synonymous with classical music in the morning for over four decades, is signing-off the airwaves at WRTI. Dave joined WRTI-FM in 1997 as General Manager and host of the station's "Morning Show." Previously, he was a classical host with WFLN for 26 years. Dave will continue as the station's General Manager, "guiding the station into a vibrant and exciting future." Well done, Dave!
WE REMEMBER:
Broadcast Pioneers member Dave Neal (Gomberg) passed away last Wednesday morning at 4:45 am after a long illness. Member Cherie Bank said, "We adored Dave at Channel 10." Imagine the perfect mentor for any aspiring, broadcast news professional. That person would surely be accomplished, creative and connected. Now, throw in a little jazz musician, some MacGyver, plus a dash of Mel Brooks & you have one of our 2010 Hall of Fame inductees, Dave Neal. We'll miss him. Visit the Dave Neal Tribute page!
Leon Skalish, Jr. passed away on April 25th of this year. He was the brother of member Dave Skalish. Leon was a 1973 graduate of the Temple University School of Communications and Theater. He was a newscaster at WRTI-FM, the school's radio station. Leon, 61, owned and operated the Seven Seas Pet Store in Brookhaven for the last 38 years.
Charlie Govan, senior studio engineer at Temple's SCT, passed away on May 17th. He was a friendly presence and a valued resource for students and faculty over the years. Govan, who was 72, was instrumental in guiding the schools technical operations from analog to digital. Over 43 years at the school, Govan had worked for both Temple SCT and for WRTI, when it was a student run radio station. Most recently, he helped to support the TUTV television studios in Temple's Kal & Lucille Rudman Media Production Center.
ON THE HEALTH FRONT:
Broadcast Pioneers Board Member Ed Hurst fell a few weeks ago at his South Jersey seaside home. He's fine but it did require a trip to the hospital. We're glad to hear that Ed is okay. Rumor has it that Ed just wanted a visit with all the pretty nurses.
We are delighted to hear that member Glenn Schwartz is continuing to do better and better each day. He says that there's a significant improvement, and we are thrilled. He tells us that he hopes to be back to work at NBC 10 by the end of this month. He does six newscasts a day normally, and NBC 10 just doesn't seem the same without the bowtie.
A LITTLE BIT OF HISTORY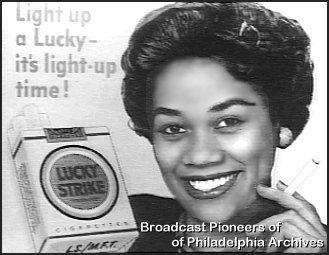 Member Trudy Haynes
in a Lucky Strike Cigarette Ad
before her KYW-TV days
ELECTION OF OFFICERS AND BOARD OF DIRECTORS:
At our June luncheon (which is our official annual meeting as required in our by-laws), we will be voting on our slate of officers and board. Please make plans to be there. Our slate is:
Chairman of the Board
GERRY WILKINSON

President
JERRY KLEIN
FRANK STONE- Vice President
BILL WRIGHT, SR. - Vice President
PAUL GLUCK - Vice President
CAROL LEEBRON - Secretary
PAT DELSI - Treasurer
BOARD:
DAVID ABRAMSON
SALLY BERLIN
PAUL BIG BEAR
MIKE BROOKS
DIEGO CASTELLANOS
LORETTA BOVE CROWELL
ED EISEN
BILL GELLHAUS
ED HURST
DICK KEARNEY
BILL KELLEY
BOB KRAVITZ
DORIE LENZ
W. CARTER MERBREIER
MICHAEL NISE
JOE PELLEGRINO
BARRY REISMAN
KAL RUDMAN
BRAD SEECOF
LES WAAS
LIFETIME DIRECTOR EMERITUS:
DAVID J. CUSTIS
SHIRLEY MORRIS
ALAN R. TRIPP

Did you know...
Florence Hanford
Edison Electric Institute Conference
Hartford, Ct.
June 1948
Channel 3 over the years has aired many different cooking programs including one that featured Ernie Kovacs and another one with Pete Boyle. However, the most well-known is probably TELEVISION KITCHEN with Florence Hanford. The program aired in different time periods, but always in the afternoon and always on Wednesdays. Through most of its history, it ran Wednesdays at 2:30 pm (until 3 pm) and was always sponsored by the Philadelphia Electric Company.
Florence was a true television pioneer. She started on WPTZ in February of 1947, in a time when Channel 3 was the ONLY station in town. That 20 minute cooking demonstration was on the WPTZ show "TV Matinee."

Florence was the supervisor of Home Economics for the Philadelphia Electric Company (now PECO). In October of 1949, she started her long running show Television Kitchen on Channel 3. It was a weekly program, but was aired on Wednesdays. Today, airing a weekly show on a Wednesday afternoon would be unheard of.
During her half-hour show, she planned a complete menu. She would list all the equipment needed, the ingredients and any special type of plates required. She then tested every recipe herself. On Mondays, she would have a complete rehearsal to check the timings and appearance of the prepared recipes. Then then would have another rehearsal, preparing everything again. (We are sure that the crew was happy about that, because they got to eat the food.) On Wednesday morning, the actual day the show would air, she would repeat it all again with yet another rehearsal.
By the way, did you know that Florence had musical talent? She played the electronic organ and was friendly with Broadcast Pioneers member Larry Ferrari. One other interesting fact is that for a time in the fifties, TV kids host Pete Boyle's son, actor Peter Boyle ("Everybody Loves Raymond") ran camera on Florence's show.
At the end of each show, you could send in for a free copy of all the recipes prepared that day. While we have a dozen or so in our archives, we thought you might enjoy seeing one from Wednesday, September 4, 1963. View It Here! Recipe thanks to Barbara Farley-Stone, wife of our Vice-President Frank Stone (who is also our newsletter editor).
This regular monthly column is written and researched by Gerry Wilkinson
MORE DIGITAL ARCHIVAL PROJECT NEWS:
Florence Hanford
Television Kitchen
WPTZ, Channel 3
circa 1951

Salad being prepared
Television Kitchen
WPTZ, Channel 3
circa 1951
You just read about Television Kitchen in our "Did You Know" column immediately above this piece. Well, now you get to see a 5 minute excerpt of one of the earlier shows. In our opinion, the Real Video version is of slightly better quality.
Watch in Real Video!
Watch in Windows Media!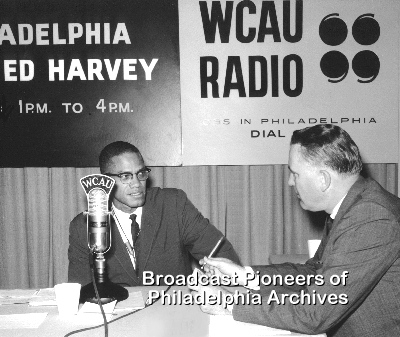 (Left to right) Malcolm X and member Ed Harvey
the WCAU Radio studios
Wednesday, September 26, 1962
Here's three Malcolm X appearances on Ed Harvey's "Talk of Philadelphia" program on WCAU Radio. First up is from June 1961 (no exact date) with three guests. They were the Northeast regional representative for the Congress of Racial Equity; the Treasurer and Business Manager for the Philadelphia Tribune and Malcolm X.
Listen in Real Audio!
Listen in Windows Media!
Next is Wednesday afternoon, September 26, 1962. This time, Malcolm X is the solo guest on "The Talk of Philadelphia."
Listen in Real Audio!
Listen in Windows Media!
Finally from June 1964 (although originally labeled 1961) in the 2 to 3 pm hour of Ed's "Talk of Philadelphia" broadcast, we again hear Malcolm X, who had broken off from the main Black Muslim movement earlier that year.
Listen in Real Audio!
Listen in Windows Media!
According to FBI documents legally obtained by the Broadcast Pioneers (we got them direct from the FBI), Malcolm X was (possibly) also on "The Talk of Philadelphia" (called The Ed Harvey Show in the document) on January 14, 1965. These documents were originally labeled "secret." They were declassified in 1983. We have not yet been able to confirm that appearance nor locate a copy of the show.
Remember, History is ONLY What Gets Saved!
(If there were no portraits of George Washington, how would we know what he looked like?)
MORE IN TOUCH WITH OUR MEMBERS:
There's that Sylvia Kauders again! Popular Broadcast Pioneers member and frequent luncheon attendee Sylvia Kauders can be seen in the latest series of Bottom Dollar Food Stores ads. The ad shows Sylvia ignoring a flying pig. The pig tries to get her attention, inviting her for coffee, as she keeps strolling the aisle. The pig yells out "Heartbreaker!" That she is. Go get 'em, Sylvia! Editor's Note: In December of 2009, Sylvia donated $5,000 of appreciated stock to Broadcast Pioneers for scholarships. It was a tax advantage for her and a great gift to our organization. So far, we have awarded three of those five scholarships. The remaining two will be granted in Spring of 2013 and 2014. Thanks!
Member Gene London, who was inducted into our Hall of Fame in 2009, is known, of course, for his delightful television show that ran for decades on WCAU-TV, Channel 10 here in Philly. But Gene is also well known as a collector of motion picture clothing. As he is in his early eighties, you would think Gene would be content to man his garden at his Reading, Pa home or enjoy the sun at his condo in Florida. But Gene is still very much on the go. London e-mailed us:
My collection of Marilyn Monroe Movie Costumes will be on exhibit at the Museo Salvatore Ferragamo in Florence, Italy from June 19, 2012 until January 20, 2013. I'll be there for a few weeks for the opening and we're in discussion to take the exhibition to a few other museums in 2013.
Member Dick Sheeran has written a true, factual book based on his career and memories. It's called "News Hound." Dick recalled on the telephone to us this story (which should give you an idea of what to expect:
I first met Dave Neal in the early days of KYW Newsradio when it was located at 1619 Walnut Street. It was a Sunday morning. I was on the editor's desk. Dave was working the phones and writing scripts.

In between those chores, Dave was whipping up a fluffy, three-egg omelet on a hot plate. Newsrooms before computers were homey places. I thought to myself---this is quite a guy. He can report, write radio scripts and cook all at once. Little did I know from that day onward Dave would become my mentor, godfather and dear personal friend for more than 40 years.
Allen Stone, member and 2006 Hall of Fame inductee, recently shared with us his thoughts and memories of Dick Clark. Allen told us: "My mind is alive with memories of my early days at WFIL with Dick Clark. I remember when he came to us from upstate New York and shared a microphone as an obscure radio DJ. My two broadcast buddies way back then were Eddie Fisher and Dick Clark. Eddie was high on talent. Dick was high on brain power. When Bob Horn exited the local Bandstand TV show, Lew Klein put Dick on the podium, and I'll never forget when it went to the ABC Network and Dick took himself to the top of the charts as a pop music icon. For Dick, it was always the job, not the celebrity. These were the best of times for us who managed to make a mark in the halcyon days of radio broadcasting and the infancy of television." Thanks for sharing, Allen.
We received some interesting information from Robin Adelman (daughter of Pioneers member Leon Love) about her daughter, Marlene, a student McKinley Elementary School in the Abington School District. Marlene is in the process of learning about the Holocaust through a hands-on and structured curriculum about the subject. She has spent some time with an educator who has specialized in Holocaust education over the past 30 years. She was so impressed with Marlene's work and poems on the subject that she has offered Marlene a part in her upcoming documentary. Marlene will be doing voice-overs and interviewing other children her age about the subject. Maybe we have a future broadcaster here! Good luck, Marlene! Editor's Note: Ira and Robin Adelman and Robin's dad Leon Love have been underwriting Broadcast Pioneers scholarships for the last several years. They have already underwritten for next year. Thanks for your support.
Member Harvey Sheldon's Internet radio station is doing well. We have been getting his listener reports and every week or two he has added more and more listeners. For the last 12 weeks, his listenership has increased. We were told that it's now the 5th most popular Shoutcast in the country with over 100,000 listeners. The radio station technology and website is by Hy Lit Radio Technologies Inc. and Sam Lit. Congrats to everyone involved.
Broadcast Pioneers member and 2000 Hall of Fame inductee Pat Ciarrocchi celebrated her 30th anniversary with CBS 3 (KYW-TV) on "Talk Philly," the station's popular lifestyle/talk program, with co-host Ukee Washington. Her work has earned her multiple Philadelphia Emmy Awards, including recognition for individual achievement in News Writing, the nationally prestigious Gabriel Award from Catholic Academy of Communications Arts, a CEBA Award recognizing communications excellence to Black audiences and a Sarah Award from Women in Communications locally. Congratulations, Pat!
Look closely and you'll see our monthly sound guru, member Dave Michaels (son of Broadcast Pioneers Treasurer, past president, past chairman and 2001 Hall of Famer Pat Delsi) as an extra on "Political Animals" staring Sigourney Weaver. Dave told us:"I just hang around and listen to what's happening, pick up some acting tips from the director, shake hands with the stars and have a great time." The show will air on the USA Network in July. You rock, Dave!
On Wednesday night, May 30th, broadcasting and music professionals including members Bernie Prazenica, and Lisa Thomas-Laury, representatives of the Community College of Philadelphia and Philadelphia Police and Fire officials, along with students, faculty and the public spent a special evening with Broadcast Pioneers Board Member Kal Rudman at Drexel University. Co-sponsored by both Drexel and Temple University, Kal reflected on his legendary work in the music business as well as his commitment to top-level philanthropy. Perfectly illustrating that commitment, the Creative Arts Morgan Village Academy Choir of Camden got the evening off to a rousing start as they danced down the aisles singing a fabulous Samba. Kal's 11th hour funding made possible the choir's travel this year to Europe for the Prague Youth Music Festival, where they came in second in this high profile international competition. Their appearance, along with the proclamation they presented from the City of Camden, was the choir's way of thanking Kal for his last-minute heroics on their behalf. The event was followed by a lively reception where everyone got to meet the man himself. It was a wonderful evening. If you missed it, ask Kal to tell you a few stories at the next Broadcast Pioneers event.
Broadcast Pioneers member Jackie Strauss tells us of a reunion planned for October 21st, 2012. Jackie said: "It's a reunion for all those who grew up in the "Ogontz Avenue Corridor" in Philadelphia, in the 30's, 40's, 50's….that's west of Broad Street, north of Olney. and south of Cheltenham Avenue. The proceeds will benefit the Philadelphia Ronald McDonald House, which was co-founded by "Remember When" co-host and Broadcast Pioneers member Jim Murray. Jim and Remember When" creator Steve Ross (also a member of the Broadcast Pioneers) will be in attendance." For more information: ogontzchamplost1@verizon.net.
Broadcast Pioneers member Trudy Haynes has moved her half-hour program from PCam to the Bounce TV Channel. In Philadelphia, Bounce comes up as Channel 262 on Comcast. The channel number will vary on Comcast systems outside of Philadelphia. Trudy keeps up with her tradition of high quality, by telling interesting stories and conducting wonderful interviews with Philadelphians. Looking good, Trudy.
THANK YOU:
Special thanks to member Mike Strug. He did this project all on his own (on behalf of Broadcast Pioneers, of course). Seems that Mike was taking a class at Temple University when a woman came up to him and mentioned that her father worked in broadcasting. That lady was Arlene Krone, daughter of Broadcast Pioneers founding member Max E. Solomon who worked in broadcasting (mainly selling time) for two-thirds of a century. The two got talking and Mike found out that Arlene had hundreds of photos of Max with the national stars of the day. Strug arranged to pick up the photos, scanned them personally, returned the photos and gave us a CD-rom with an index. Thanks, Mike. We thought you would enjoy seeing a couple of those pictures.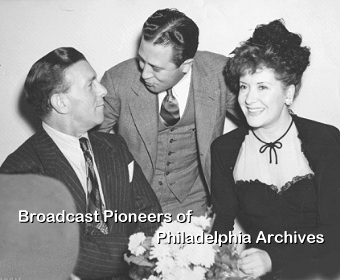 (Left to right) George Burns, Max Solomon and Gracie Allen
circa - the forties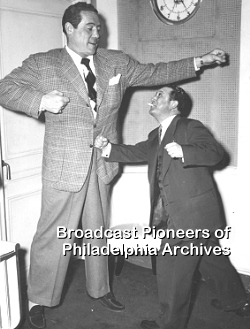 (Left to right) Max Baer and Max Solomon
1946
Harry Hurley, President of Harry Hurley Consulting and Communications, LLC and host of the daily radio talk program "Hurley in the Afternoon" on 1400AM WOND (12 noon to 4 pm) has confirmed a gift of $1,000 for another Broadcast Pioneers scholarship donation again this year from his annual golf tournament. Harry used to be on in the morning, but is now heard mid-day. However, the event is still called, "The 5th annual 'Hurley in the Morning' Golf Tournament." It all takes place on Friday, June 15th. Member Kenny Jeremiah, formerly of the Soul Survivors, will be there performing.
Member Esther Kurtz, the widow of WDVR founder David Kurtz, has once again shown her generosity by again funding a $1,000 for the 2013 year. It is in the memory of her late husband, a member of Broadcast Pioneers. She has been doing this for a half dozen year now. We really appreciate it as do the students who receive the grants.
Next month, we'll list those members who sent in extra contributions to our organization when they renewed their membership dues. We appreciate it and will put the gifts to good use. Thank you!
If you forgot to make an extra contribution (cash or memorabilia) and would like to do so now, it's never too late. We would be thrilled to hear from you at: PO Box 2886, Bala Cynwyd, PA 19004 or call us at (856) 365-5600.

IN TOUCH WITH THE INDUSTRY:
The Pennsylvania Association of Broadcasters has presented 98.1, WOGL with two Excellence in Broadcasting Awards. WOGL was honored with "Outstanding Local Radio Personality/Team." The award goes to on-air personalities Ross Brittain, Valerie Knight, Frank Lewis, Bill Zimpfer and producer Jamyra Perry for the "Ross Brittain and The Breakfast Club" morning show. Also, WOGL was honored with "Outstanding Radio Station Promotional Announcement/Contest," for a major market station. The specific campaign was the "98.1 WOGL Journey to Backstage" contest. Congratulations to everyone!
CBS Stations and CBSPHILLY.Com are encouraging families, neighborhoods and businesses to fly the flag from Memorial Day through Labor Day. The stations will dedicate significant air time to encourage flying the American flag during one of the most patriotic times of the year. The effort began with a special "Star Spangled Summer" kick-off program on CBSPHILLY.com over Memorial Day weekend. CBS 3 and The CW Philly will showcase neighborhood flag displays throughout the Delaware and Leigh Valley's on air and distribute flags and holiday and promotional events. Here's a salute to the CBS stations in Philly!
Member Joe Ball tells us that last month there was a prestigious national award program for the U. S. International Film and Video Festival. Local judges were Steve Levy, Stan Hockman, Roseanne Raffa, Dawn Bundick, Connie Peipher, Eileen Matthews and Samuel Speiser. Joe Ball was the Chairman. Winners will be honored later in Chicago.
Joe Terry and Frankie Maffei of famed singing group"Danny and the Juniors," who struck gold in 1957 with their #1 hit "At the Hop" were members of the Pine Nuts Bocce team as they won their third straight title and fourth in the last six years. The championship is a best-of-three series, but the Pine Nuts were able to win the title in just two games. Trophies were presented on May 20, 2012 at Swan Caterers.
Media Network Publisher and CEO Greg Osberg has announced William K. Marimow, one of the most distinguished journalists in the company's history, will return as editor of The Philadelphia Inquirer. William earned two Pulitzer Prizes as an Inquirer reporter in 1978 and 1985, before returning to serve as editor from 2006 to 2010, will return to lead an expansion of the newspaper's investigative work.
The Greater Philadelphia Film Office Board of Directors and Board of Advisors hosted a star studded gala at the home of M. Night and Dr. Bhavna Shyamalan. The event marked the first in a year of planned activities recognizing Sharon Pinkenson's 20th Anniversary as executive director of GPFO (Greater Philadelphia Film Office) and regional film commissioner. Sharon was instrumental in the passage of the Pennsylvania Film Production Tax Credit program, which continues to be one of the best and most sustainable incentive programs in the industry.
ON THE SCENE: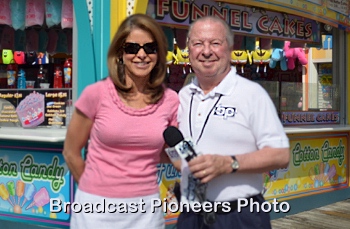 Left to right) Channel 3's Kathy Orr and Broadcast Pioneers VP Frank Stone
Morey's Piers, Wildwood, NJ
Thursday, May 24, 2012
Our newsletter was "On the Scene" in Wildwood, New Jersey, for the kick-off of Meteorologist Kathy Orr's 10th season of "Orr at the Shore" on May 24th at Morey's Piers on the boardwalk. Orr will be broadcasting live from a different local shore point each week, forecasting weather and featuring local attractions and covering environmental issues.
Kathy told us: "When we started this 10 years ago, I went to GM Peter Dunn and said, no one broadcasts weather from the shore, let's try it -and now 10 years later, it's really caught on. We're at Morey's Piers, the home of the station's sponsor and it's a beautiful day. It's totally different at the shore, the weather can change in an instant, with the ocean breeze, the wind direction…hey, there goes the tram car!"
"My family has been coming here for over 40 years and each year it's like returning to family at all the shore points. The people are used to seeing us, they call out, wave, say hi. It's like old friends getting together. The scary part is that we're meeting teenagers and moms and dads that say, oh yeah, I remember, I watched you at the shore when I was little!"
We were delighted to be with Kathy as she kicked off her 10th season of "Orr at the Shore" and to be a part of what has become, a summer tradition.
A REVIEW OF OUR May 16th LUNCHEON:
Another Luncheon
Bigger Than the Last One!

Our May luncheon was on Wednesday, May 16th. It was a salute to "90 Years of WCAU Radio/WPHT." Our MC was Broadcast Pioneers President Jerry Klein who worked at WCAU Radio as a editor, writer, reporter and announcer.
Our speakers included (in alphabetical order):
Bucky Clark, former tapdancer and singer on "The Children's Hour"
Gene Crane, former announcer for WCAU Radio and Television
Dom Giordano, current WPHT Radio Talk host (9 am to 12 noon)
Don Henderson, former sports broadcaster for WCAU & the Sixers
Stan Hochman, former WCAU Radio commentator and Eagles announcer
Wally Kennedy, former WCAU Radio talk host (now at KYW Radio)
Barry Magarick, formerly of "The Children's Hour" & former talk host
Rita Pascal Pagliei, singer and performer of WCAU's "The Children's Hour"
Chris Stigall, current WPHT Radio Talk host (5:30 am to 9 am)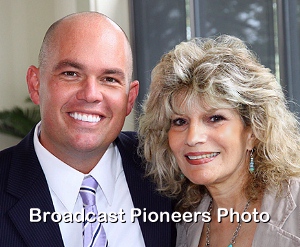 Chris Stigall and Member Jackie Strauss
Broadcast Pioneers Luncheon
Bala Golf Club, Philadelphia
Wednesday, May 16, 2012
Plus member Les Waas did a short comedy routine, so everyone laughed their you-know-what off.
It all took place on Wednesday, May 16th at the beautiful and historic Bala Golf Club, 2200 Belmont Avenue (across the street from the State Police) in the Wynnefield section of Philadelphia. Only minutes away from Channels 6, 10 and 17 and the radio stations in Bala Cynwyd.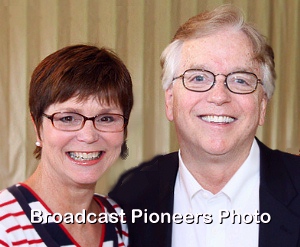 Members Liz Matt (aka Lizabeth Starr) and Wally Kennedy
Broadcast Pioneers Luncheon
Bala Golf Club, Philadelphia
Wednesday, May 16, 2012
COMPLETE VIDEO OF THE LUNCHEON!
Watch in Windows Media Format!
(Video courtesy of MetraMedia Studios and Broadcast Pioneers member Brad Seecof)
PHOTOS OF THE LUNCHEON!
39 Photos from the Luncheon!
These copyrighted images are protected under US Copyright.
Any usage without the express, written permission of
the copyright holder is strictly prohibited!
Usage does NOT fall under "Fair Use" of copyright laws!
The May luncheon was a celebration of 90 Years of WCAU RADIO/WPHT. In May of 1922 WCAU Radio went on the air. Now WPHT, Broadcast Pioneers celebrated the 90 year run as Philadelphia's third-oldest radio station during our May luncheon, held at the beautiful Bala Golf Club on Belmont Avenue in Philadelphia.
The moderator and emcee for the afternoon was Broadcast Pioneers President Jerry Klein, who worked at WCAU Radio as an editor writer, reporter and announcer. Jerry shared his thoughts about the early years in the business and the legendary people he worked with.
The afternoon was filled with a star-studded group of speakers who shared their stories, insights and secrets about their experiences over the years.
Bucky Clark started described his time as a dancer and singer on WCAU's "The Children's Hour." He talked of the wonderful relationships that were created in "those early days" and the joy of performing.
Next up was Stan Hochman, former WCAU Radio commentator and Eagles announcer. Stan brought his official WCAU straw hat that he used on promotions, particularly the Devon Horse Show in 1962 and talked about how the station was ahead of itself in being a part of the community.
Her mother said she was the second Shirley Temple, said Rita Pascal Pagliei. Rita described how she would sit in front of the "big Philco radio" and sing along. As a 3 ½ year old she sang her first song into a microphone. She was a performer for 15 years on "The Children's Hour" and went on to a future of performances, voice-overs and more. Rita said; "it was one of the happiest times of my life."
Barry Magarick, formerly of The Children's Hour, talked about the "magical sounds" that came out of the radio. He said; "what a wonderful business it is…and it's still magical. He wanted to be in radio so bad, he applied for a job as a dish washer at WCAU radio, but wasn't hired. He eventually was hired as a page leading tours. Over the years he went on to a career in radio, became an on-air celebrity, producer and owner of an ad agency.
Next up was Don Henderson, former sports broadcaster for WCAU and Sixers announcer. Don went back to the early years working with the "great broadcaster of WCAU" Bill Campbell. He described the many transitions WCAU made over the years through changing formats and the amazing cooperation between radio and TV stations exchanging talent, to keep the programming going.
Chris Stigall, current WPHT Radio talk show host, said he was a newcomer to the station from Kansas City, but how fortunate he is to be working at WPHT. He said;"the opportunity to come to Philadelphia was almost overwhelming…" He went on to say that he and his wife, never looked back to being here in this market with all this talent. He went on to describe how inspired he was by the speakers and history of talent in the room.
Local favorite Wally Kennedy, came to Philly in 1981. During that time at WCAU he struggled with the all- news format and was part of the change to talk radio for over 3 ½ years, when he gradually made the transition to TV. Wally said; "it was a special time to be in radio at a legendary station." Now at KYW Newsradio, he talked about his on-going love of radio and how spontaneous and timely it is.
Dom Giordano, current WPHT Radio talk host, spoke about the people he met along the way and how WCAU/WPHT has evolved into a powerful voice in the Philadelphia market and what lasting presence it has. Dom said; "Philadelphia is the center of characters, controversy, and fodder, for talk radio. It doesn't get any better, any place else."
Last up was the Dean of Radio and Television, Gene Crane. Gene said; "it's always wonderful coming back. Despite rumors, I was not working at WCAU when the station was started, despite the fact, I'm 93 years old." Gene went into TV in 1948, and although he was born and raised in New York, he always said, when asked, "I'm from Philadelphia,"
HEARD ABOUT THE LUNCHEON:
"The luncheon today was magnificent, even better than usual, and they're all great. We came to hear fellow broadcasters and peers. It was especially wonderful with Gene Crane here." Steve Ross
"This was one of the best luncheons. We really enjoyed the people and the speakers. There should be more like these…we enjoyed the chicken too." Marie Pantarelli and Loretta Bove Crowell
"It's always a pleasure to be here. It's been very nice. I just wish my voice was better, the jet lag is taking its toll and catching up with me." Gene Crane
"Absolutely wonderful. Being a part of the WCAU family and children's television, made this a wonderful afternoon. The memories are there and will last forever." Bucky Clark
"One of the fun times of my life. This was another great day. To see Gene Crane today and to have worked with him was one of the great experiences of my life…I just love what I did." Stan Hochman
"A good mixing of the old times and a look ahead." Anna Mae Shaw (Widow of Charles Shaw)
A FINAL THOUGHT....
"In the early days (of television), the lights were so hot we used mashed potatoes for ice cream. We used cream cheese instead of whipped cream and Jello was made seven times as strong so it wouldn't melt. It was hot."
Florence Hanford
Former Channel 3 cooking host
March 18, 2002
Please contact us by e-mail at newsletter@broadcastpioneers.com. Your stories are important, to you, to us, and your colleagues. Contact us today and we'll include your story in the next newsletter!

Photo Editor & Archival Historian - Gerry Wilkinson
© 2012, Broadcast Pioneers of Philadelphia
All Rights Reserved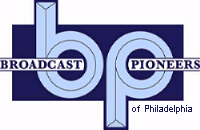 The e-mail address of the Broadcast Pioneers of Philadelphia is pioneers@broadcastpioneers.com
For luncheon reservations call (856) 365-5600 or e-mail us at: rsvp@broadcastpioneers.com