The Broadcast Pioneers of Philadelphia is a federally recognized, state chartered 501(c)(3) non-profit corporation serving Philadelphia since 1962.

Ed Eisen
News Editor

June Luncheon
The Bala Golf Club
Wednesday, June 19, 2013

Meet & Greet at 12 noon!
Lunch at 12:30 pm
Ratecard: $28 per person!

PLEASE RESERVE NOW!
CALL (856) 365-5600!
rsvp@broadcastpioneers.com
Another "Third Wednesday" Luncheon!
Wednesday, June 19, 2013!
TRIBUTE TO HERB CLARKE!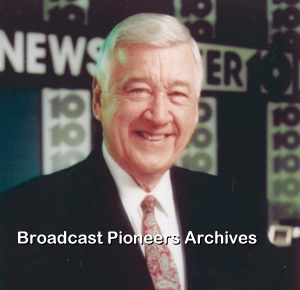 RESERVE NOW! CALL (856) 365-5600!
Our next Broadcast Pioneers luncheon is "A Tribute to Herb Clarke." Herb was a former president and former chairman of the board of this organization. Most of us will remember him as the weather guy on Channel 10 for 40 years. Some of us knew him for his love of gardening. He was the garden reporter at KYW Newsradio after his retirement from WCAU-TV.
The luncheon will be held at the Bala Golf Club, 2200 Belmont Avenue in Philadelphia, on Wednesday, June 19th (that's the third Wednesday of the month). Meet and greet is at 12 noon and lunch will be served at 12:30 pm. Make plans to be there!
Our MC for the afternoon is Broadcast Pioneers member and former WCAU-TV reporter & anchor Terry Ruggles.
Our speakers will include (in alphabetical order and subject to change):
Bill Baldini, former WCAU-TV. Channel 10 News journalist/reporter
Ed Cunningham, long-time producer and air talent at WHYY-TV and Radio
Dick Kearney, former WCAU cameraman/Broadcast Pioneers board member
Peggy King, singer and former co-star of "The George Gobel TV Show"
Big Al Meltzer, former Channel 10 sports director and sports anchor
Orien Reid Nix, former KYW-TV & WCAU-TV consumer reporter
Glenn "Hurricane" Schwartz, current WCAU-TV chief meteorologist
Herb's widow Barbara will be with us. Also speaking that day will be Marian Lockett-Egan, former president and former chairman of the board of Broadcast Pioneers, and Alan Tripp, board member emeritus of Broadcast Pioneers. Both were good friends of the Clarkes. Marlene Adelman, daughter of Robin and Ira and granddaughter of member Leon Love, will present an original poem about Herb and weathercasting that afternoon.
(856) 365-5600! RSVP TODAY!
It all takes place at the beautiful and historic Bala Golf Club, 2200 Belmont Avenue (across the street from the State Police) in the Wynnefield section of Philadelphia. Only minutes away from Channels 6, 10 and 17 and the radio stations in Bala Cynwyd. Call now for reservations. (856) 365-5600! Don't miss this one!
Meet and greet (networking) starts at 12 noon, and a full course lunch including salad, coffee or tea and dessert will be served at 12:30 pm. There will also be a crudité and cheese table. Cash bar available all afternoon!
(856) 365-5600! CALL IMMEDIATELY!
Plenty of FREE parking. The luncheon is open to all our members, their guests and any person in the industry or associated fields, whether active or retired. You do NOT have to be a member to attend. Call NOW with your reservation(s), (856) 365-5600!
In order to speed up check-in at the luncheon, it would help if you had the $28 in exact change or your $28 check already written. Make it payable to the Broadcast Pioneers of Philadelphia.
WE'LL BE PROUD TO SEE YOU IN THE CROWD!

Visit Our Website Often - http://www.broadcastpioneers.com

WELCOME NEW MEMBERS:
FULL MEMBERS:
Christopher Hildrew is a graduate of the Cleveland Institute of Technology in Broadcast Engineering. He also holds a Bachelor of Music degree from Berklee College of Music in Boston. In the past, he has done work for A&E, ABC/Disney, the BBC, CBS, Comcast, ESPN, Fox, HBO, MTV, NBC, Sony and lots more. He has worked as a mixer, editor and sound designer and was Chief Tecnical Officer for Play Studio in Santa Monica from 2003 to 2010.
You may know him as Walter Moore or Walt Mocrytzki. He worked at WDVR while still a student at Temple University. Then he went to WYSP and then WCAU-FM. From there, he jumped ship and went to WRCP-FM and then WARX. In the nineties, he worked at Metro Networks. Our Chairman, Gerry Wilkinson, remembers him as the host of
Mid-day Mocrytzki on WRTI where anything could happen... and usually did.
We are thrilled to have these new members. 491 Members. More than ever. We hope to see as many of our members as possible at our May Luncheon.
MEMBERSHIP DUES:
For those who haven't already done so, it's time to renew your membership in Broadcast Pioneers of Philadelphia. Regardless of when you joined, dues go for a year. However, we invoice all members in May because we do the entire membership at one time.
Why? We use a volunteer to generate this material. If we had to do it every month, we would have to hire a service, pay them and charge more for dues. We try to keep our membership dues reasonable. Please help us do this by returning your dues with the invoice and your payment.
And for those who wish to do so, we would really appreciate an extra contribution. We are a charitable 501(c)(3) non-profit organization and donations can be tax deductible. Check with your tax advisor.
Our future is bright. We are not just pioneers, but innovators in Philadelphia communications. Our mission continues. Let's move forward. None of this would be possible without your support. Please renew your membership today. If you have NOT received your membership renewal, please contact us.
WE NEED VOLUNTEERS:
We need volunteers to help with all kinds of projects, especially writing bios. Shortly we will be selecting our Person of the Year and inductees for our Hall of Fame for 2013. We need volunteers to write bios for each person. Actually, we need three versions for each person. One for our website, one for the banquet booklet and one that will be a script for the video we run the night of the banquet. We also need those with good computer skills to help with all kinds of projects, such as our annual membership directory and the banquet booklet. If interested, please e-mail us at: pioneers@broadcastpioneers.com.
DIGITAL ARCHIVAL PROJECT NEWS:
VIDEO: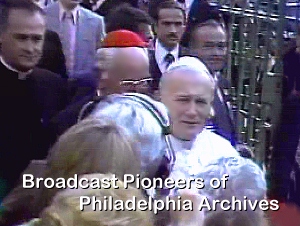 John Cardinal Krol with Pope John Paul II
in the foreground wearing headphones is
WPVI reporter Hank Sperka who is speaking with the Pope
outside of the Ukrainian Catholic Cathedral of the Immaculate Conception
North Franklin Street in North Philadelphia
October 4, 1979
According to Channel 6's Hank Sperka, one of the biggest thrills of his career was speaking with Pope John Paul II in front of "Action News" microphones outside of the Ukrainian Catholic Cathedral in Philly. After the service, Sperka yelled across the courtyard to the Pope in Polish, the native language of the Holy Father. Sperka's parents came from Poland, so Hank was also familiar with the language. Upon hearing it, the Pope came over to the Channel 6 news reporter and spoke briefly into WPVI microphones. We are proud to archive this historic footage for future generations.
Broadcast Pioneers member Jerry Del Colliano told us this story about how Hank Sperka took Jerry the ropes of broadcasting at WFIL-TV, now WPVI. Jerry said:
I was just a young Temple kid, lucky to be working on camera at Channel 6. Hank took me under his wing when I was assigned to alternate with him on this one Saturday doing 5-minute news breaks that they had scheduled at the time during the day. He left me in the newsroom to head down to the studio and playfully said, "I'm going to show you how it's really done!" So I watched on the newsroom monitor while he took the air.

It should be mentioned that the news director had anchors standing up for these breaks without a podium or desk in front of them. When Hank returned to the newsroom he said, "How's that?" I said, "Great, but do I have to do every newscast with my fly open?" He looked down and then up at me and we both broke up. What a great guy who was never to busy to help someone else.
This file was mastered off of original WPVI archival material, encoded from 3/4 inch video tape. In our opinion, the Real Video version is clearer.
Watch in Real Video!
Watch in Windows Media!
AUDIO:
Sixty years ago this month, there was a new program on WCAU Radio called "Hi Neighbor" that starred Broadcast Pioneers member Ed Harvey. Ed did the station's morning program at 7:15 am but he was also called upon for other announcing duties. One of them was to host this new program. Broadcast Pioneers Hall of Famer George Thomas was the announcer on the broadcast. Dave Stephens was playing the organ.
At one point during the broadcast (which was recorded for broadcast and not aired live), they reference a gun shot heard in the background. This shot was from the WCAU-TV production of "Action in the Afternoon" that aired live over the CBS Television Network from the back lot of the station.
Near the beginning of the program, big band singer Marion Mason appears. She had moved to Washington State but was back in town visiting relatives and friends. During the forties, Marion appeared on many big band broadcasts (including Johnny Warrington, Joey Kearns and others) that originated from WCAU Radio and were broadcast live over the CBS Radio Network.
This audio was transferred directly off the station's master tape that ran at 15 ips for excellent quality. It was donated to us several years ago by the Ed Harvey estate (one of the earliest funders of our Digital Archival Project, the estate made a donation of $1,675). Some may ask why we run so many Ed Harvey broadcasts in the newsletter and website. Well, the answer is that we have about 500 of them in the DAP (all except one or two donated by Ed Harvey's family). They are excellent (both in technical quality and in content) and we want to share these historic recordings. Broadcast Pioneers Board Member Bill Gellhaus (who becomes a Vice-President of this organization next month) did the original transfer for us.
The "Hi Neighbor" program aired on WCAU Radio on Mondays, Wednesdays and Fridays at 4 pm. On Tuesdays and Thursdays, there was a program called "Block Party," also hosted by Ed Harvey. For those of you who have never heard a "Block Party" broadcast with Ed Harvey and Bernie Lowe, you can listen to one here. It is from December of 1953 and was also mastered off the original WCAU Radio tape. For those interested in hearing an episode of "Hi Neighbor" from 1958, you can listen here. Ralph Collier hosted the show and his guest that day was James Darren.
What was on at 4 pm elsewhere in 1953? Well, one of the stations, WILM out of Wilmington, ran a live talk show featuring Joe Pyne (who was inducted into our Hall of Fame last year).
From Wednesday, June 17, 1953, here is the WCAU Radio presentation of "Hi Neighbor" with Ed Harvey.
Listen in Real Audio!
Listen in Windows Media!
We next present a five-minute John Trent commentary program from September of 1958. It was on WCAU Radio, now WPHT. We are missing the first few seconds of the broadcast, in which Trent talks about English Sparrows. This audio was donated to us by Broadcast Pioneers member Michael Muderick.
The audio was originally recorded on an eight and three-quarter flex green disc, the kind that were used for dictation machines. Sort of an inexpensive version of a 16" transcription disc. Obviously, the quality is never the best under these circumstances. It took us hours of work to convert the audio.
Listen in Real Audio!
Listen in Windows Media!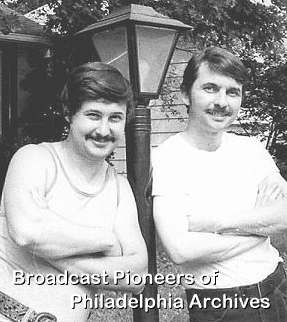 (Left to right) Broadcast Pioneers member Joaquin Bowman and his brother Thaddeus
(Both were announcers on WDVR during the early days of the station)
outside Thaddeus Bowman's house, Abington, Pennsylvania
circa 1970
Here's a WDVR newscast from 12:30 am on April 5, 1964. The station was less than one year old. Today, we know that broadcasting facility as B101. The newscaster is Thaddeus Bowman,who used the air name of Thad Benedict. This is one of the oldest recordings of WDVR in existence today. Thaddeus was the brother of Broadcast Pioneers members Joaquin Bowman, Melanie Capoferri and Vibiana Bowman Cvetkovic. Joaquin said:
Like me, my older brother Thaddeus was born in North Hollywood, CA. I was born in 1944 and he was born in 1941. We were war babies. He was the subject of my book "Tadville," which was published in 2010. He was a graduate of Penn State and held a Master's from Trenton State. He taught in the Philadelphia School District for most of his career. He was married and the father of four children. Tragically, he died of a stroke in 1994 when he was only 52.

After Penn State and prior to receiving a teaching position, Marlin (Taylor at WDVR) gave him a job as a board operator in 1964. I believe he worked there for only a couple months until a teaching job came along. My brother had a third class license with the element nine, but I don't think he ever envisioned a career in radio. He was a major factor in our lives and my sisters and I miss him very much. He was a very smart guy with a great sense of humor.
Listen with Real Audio!
Listen with Windows Media!
We have the memo from Marlin Taylor to Joaquin Bowman explaining how to precede in training Thaddeus. Click here to see it! It dates from early 1964.
IN TOUCH WITH OUR MEMBERS:
Broadcast Pioneers member Charlie Tomlinson has been appointed Vice-President of New Business Development for Media Two, the custom communications division of Today Media. For that last five years, Charlie has been the Associate Publisher for "Delaware Today" magazine.
"Charlie has a deep understanding of the communications and marketing needs of our customers," says Rob Martinelli, president and CEO of Today Media. "He is ideally suited to provide smart, cost-effective strategies to help them achieve their goals."

Tomlinson has spent more than 40 years in marketing and communications, including 15 years in radio, a previous five-year tenure with Delaware Today and Main Line Today magazines and 16 years as the director of marketing for two retail automotive groups.
This month Broadcast Pioneers member Bob Craig celebrates 50 years in the business, 34 of it here in Philadelphia. You can currently find Bob at WRTI-FM, the Temple University radio station. He's on Sundays from 7 to 8 pm on "Big Band Jazz with Bob Craig." If you have an HD radio, you can also hear Bob on WRTI's HD 2 from 3 to 6 pm where he does a program called "Voices of Jazz." Bob previously worked at WMGK, WPEN and WHAT.
We heard from member Bunny Gibson, who is out West. She tells us she has just filmed her part in "Parents News," the new comedy short with Fred Willard. She say,"It's funny, funny, funny." This short is part of the Willard MoHos Groups. By the way, if you ever wondered how she got the nickname Bunny, her mom thought she hopped around like a rabbit. Of course, we all remember Bunny from her days as a regular on "American Bandstand" right here in Philadelphia.
About a month ago, member Uschi Keszler (she was a champion ice skater in the sixties) and her organization "Pennies in Action" held a fundraiser (Showers of Hope) and collected over $200,000. What does "Pennies in Action" do? They fund research into CURING breast cancer. This is happening at the University of Pennsylvania. In trials, patients have been cured and have remained cancer free for years. This is exciting news and hopefully a cure may be just around the corner for everyone. A portion of the proceeds from the Vigneto Rally, an exotic sport car experience that takes place in a couple of days, will go to "Pennies for Action." Here's more details!
In early May, the air was filled with excitement at the Guerin Recreation Center in South Philly as the two finalists in the 2012-13 Bocce season squared off. The participants were the Pine Nuts and the Cookies Tavern, who had advanced to this point via spectacular victories in the preceding playoffs.
The championship was a best-of-three series but the Pine Nuts were able to seal the deal in just two games. This is the 4th straight year the team has won the championship and their 5th trophy in the last 6 years.

Broadcast Pioneers member Joe Terry and Frank Maffei (of the legendary rock and roll group, "Danny and the Juniors") were two of the Pine Nuts. They said this triumph was like having four number one hit records in a row.

Danny and the Juniors will appear locally on Saturday, October 19th as part of Wildwoods Annual Fabulous '50s Weekend.
Last month, member Billy Carlucci (of Billy and the Essentials fame) and Patti Lattanzi celebrated their 200th radio broadcast to originate from Filomena's in Berlin, NJ. Each Tuesday at 8:30 pm, they record their radio broadcast, which then airs Thursdays from 7 to 8 pm over WVLT, Cruisin' 92.1 in Vineland. Congrats.
A couple of weeks ago, we received an e-mail from Anna G. Goodman, a Ph.D. candidate at Berkeley. We have talked with Joanne Calabria at KYW-TV (previously WRCV-TV) and she knows nothing about the TV show mentioned. Neither do we. We also contacted several other organizations and people but no one remember it. If you can help, we would appreciate it. Anna Goodman says:
I am working on a research project involving a group called the Neighborhood Renewal Corp, who built parks, playgrounds and gardens in poor areas of Philadelphia in the early 1960s. Working in archives at Temple University and the University of Pennsylvania, I have found that the group made a 30-minute documentary of their efforts for the TV station WRCV-TV.

I believe the film would have showed footage of young people building a park (called the Melon Commons, Melon Block or Melon Playground), working on the playground for the Clara Baldwin House and gathering trees and other materials for the projects. Michael Meyers, an architect who worked in Louis Kahn's office, took much of the footage, some of which we have located in the Penn Archives. There should also be a film from the date August 15, 1961, of the opening ceremony of the project, an event attended by several hundred people at which Mayor Richard Dilworth gave a speech. I would like to know if the documentary was ever made and aired, and if so if there might be a copy still existing....
Broadcast Pioneers Board Member W. Carter Merbreier (also known as Captain Noah) had a nice two-page article about him and his TV program published in the May/June 2013 issue of "The Pennsylvania Gazette." The Gazette is the alumni magazine for the University of Pennsylvania. In the article, he talks about the early days of his television career.
We heard from Broadcast Pioneers member Harvey Sheldon. He has written yet another new book. This one is entitled, "The History of College and Pro Football." It's due out later this month and will be available on Amazon.com. In 1983, Sheldon entered into sports talk on KDON in San Diego. That success took him to Los Angeles and KFOX FM in 1985. Three years later, he went to St. Pete/Tampa on WFRA, In 1990, he returned to Los Angeles for a TV sports show on KDOC-TV and KGIL Radio. He was a sports commentator on Mutual and covered NFL games for them. WFLA Sportscaster Tedd Webb said, "Harvey claimed to have been from Mars, and those who knew him would hardly argue."
Broadcast Pioneers member Joaquin Bowman and his wife Mary Ann displayed their art during the Bucks County Designer House exhibit last month. Joaquin's "artistic" photo of the Hiway Theater in Jenkintown was sold with half of the proceeds benefiting the Doylestown Hospital. Mary Ann exhibited her "Desk Set" painting. Broadcast Pioneers member Marlin Taylor and his wife Alicia stopped by the Designer House in Doylestown to visit the exhibit before heading back home to Silver Springs, MD. They were in town for the May 15th Broadcast Pioneers luncheon. Bowman also tells us:
I just finished working with my 94-year-old friend Tom Hickey on his memoir about his service in India during WWII. The book and Tom's audio recording will be available at the Library of Congress as part of their Veterans History Project. Some of the Broadcast Pioneers may remember Tom as the former head of SEPTA's PR department in the 1970's. He's doing well and lives in the Frankford section of Philadelphia.
A LITTLE BIT OF BROADCAST HISTORY!

Ticket for the studio audience of
"Dialing for Dollars"
WPVI-TV, Channel 6, Philadelphia
1973
(Originally donated by Broadcast Pioneers member Roger Hendler)
WE REMEMBER:
Claire Coleman Schweiker passed a few weeks ago. She was "Miss Claire" on WFIL-TV's "Romper Room" program. A graduate of Temple University, she became the show host a little while after graduating from college. At Temple, Professor John Roberts told her that broadcasting was a man's world, and she set out to prove him wrong. She hosted the show from 1954 to 1956. In 1955, she married Dick Schweiker, who later would become a US Senator from Pennsylvania and Secretary of Health and Human Services under President Ronald Reagan (who was a member of the then National Broadcast Pioneers that disappeared in 1995). Here's more information about Claire!
Paul Drew passed away in mid-May from natural causes. He was 78 years old and living in an assisted living facility in California. During the seventies when WIBG was trying to return to its glory days, Drew was hired as the station's program director. Drew started as a jock at WAKE, WGST and WQXI, where he later became PD. He also held similar posts at CKLW, Detroit (Windsor), KFRC in San Francisco and KHJ in LA. He then was promoted to VP of Programming for the RKO stations in the Big Apple, LA, Chicago, Boston, San Francisco, Washington, Memphis and Fort Lauderdale. He also served as director of our government's Radio Marti Project during the time of President Ronald Reagan.
Arthur Lester was a long-time member of Broadcast Pioneers of Philadelphia. He passed away on May 14th of this year. He started out working at WFIL-TV, Channel 6 during the Bandstand days and retired 20 years ago from KYW-TV. Art was an editor, news shooter & sound man (in the film days). His colleagues say that he was well-liked and respected by his fellow employees and friends wherever he worked. Art also had a keen interest in ham radio and was a familiar voice on the ham radio circuit here in the Delaware Valley.
ON THE HEALTH FRONT:
Broadcast Pioneer Anne Amico-Mirkin is recovering, nicely from hip replacement surgery. She is now able to walk short distances (about half a block) with the aid of a cane. The procedure was performed May 7th at Lankenau Hospital in Wynnewood, Pennsylvania by Dr. Carl Deirmengian. The doctor expects Anne to be able to drive within a month. She told us that the plan is for additional surgery in the fall to do the other hip.
We heard from Robin Adelman, whose father is member Leon Love. Robin tells us:
My Dad is now settled in Hatboro, at the Powerback Rehab, on Davisville Road. This was formerly known as Willow Ridge; now a Genesis group. It's very clean, nice and accommodates families, so all four of us were with him as he made the transition from Fox Chase to the Rehab. He is trying to be upbeat and optimistic, but due to his physical limitations, some lengthy rehab will be needed before he can go home alone. I must say that from the surgical standpoint, he has improved a lot, but he has orthopedic (spinal and disc) issues along with the surgical incision, and recently had a foot infection, but he's a trooper. The surgery went as best could be expected.

If anyone is interested, you have my Dad's address at the Rehab; his home address for any cards, etc. I'm sure any wishes he receives will brighten him up. I told him many are asking about him and wish him well. Also, (Broadcast Pioneers member) Jackie Strauss, from "Remember When" (on WPHT Radio) was nice enough to mention my Dad twice on the show.
Broadcast Pioneers Vice-President Kal Rudman was in the hospital a couple of weeks ago. He's out now and sounds great. Another Broadcast Pioneers Vice-President Bill Wright, Sr. had two eye surgeries recently to relieve pressure. He's out and about and doing better. When we talked with him, he sounded like his old self. Broadcast Pioneers Secretary Carol Leebron is also not feeling well lately. We hope to see her soon.

Did you know...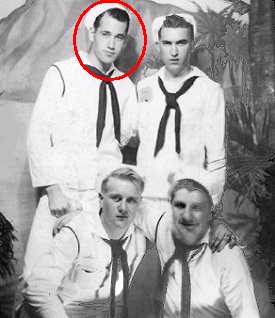 Herb Clarke and his US Navy buddies
during the Second World War
(Herb is circled in red)
Several years ago, Broadcast Pioneers member Herb Clarke wrote a book called, "The Times That Made Me ME." It was privately printed, mainly for family and friends. Its a few hundred pages long and Herb donated a print and electronic copy to the Broadcast Pioneers. Herb served on our board of directors for decades. He was a former president and a former Chairman of the Board. Herb was inducted into our Hall of Fame and was our "Person of the Year" in 1991. Here's some of what Herb said in that book:
With Barbara and five-month old John in a small rental home, our $4000 life savings already dwindling, soon became a much better balance. We were moving up and breathing easier.

It certainly was a giant leap from my first job in radio in 1948 at 100-watt WLOE in Eden for $15 for a seven-day work week.

My source of weather information was largely the U.S. Weather Bureau at the Philadelphia International Airport. Henry Adams, who had been Meteorologist-in-Charge for forty-two years, was a great help. "If we're not totally sure what's going to happen in the next day we'll let you know so you can say something like, 'This is a very difficult situation." Most of the time, the WB was correct even though they had a staff of only seven people including a secretary. They were cramped in a small office in the airport control tower. The Weather Bureau is now located in Mt. Laurel, N.J., with a staff of more than a hundred.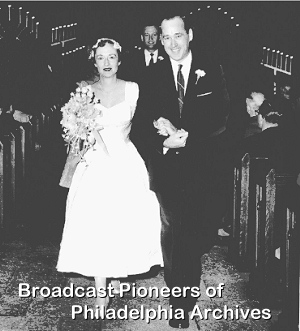 (left to right) Members Barbara and Herb Clarke
leaving their wedding ceremony
October 15, 1955
I enjoyed working for CBS and, in my last few years, for NBC in the same building. My big regret after those years is that I was unable to be with Barbara and our three children most evenings. I rarely had a chance to take them to bed or watch their TV programs with them or help with homework. The evening workloads fell to Barbara because for six nights a week I was on the six and eleven newscasts. All holidays; Christmas, Thanksgiving and Halloween always found me at the TV station. In broadcasting there are very few holidays. To be absent from home evenings and on holidays was a high price to pay.

In addition to the newscasts, in the first few years, there was also work in the announce booth doing the station breaks and call letters, reading commercials and promos. There was also the Late Show movie plus the Late, Late Show. For six nights a week in my first dozen years at Channel 10, I rarely got home before three a.m.

A few years after I came to WCAU-TV, CBS launched a late night talk show so the Late, Late movie was cancelled and I could go home a bit earlier after a brief news audio capsule which I read from the announce booth followed by a recording of the "Star Spangled Banner" as a sign-off. At that time, no TV stations stayed on the air overnight.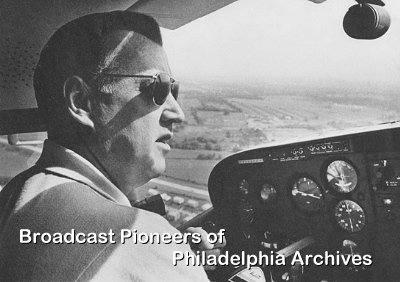 Herb Clarke had several loves
One was flying
circa 1972
My age was seventy-and-a-half when I left television on New Year's Eve, 1997 after a total of more than 39 years of nightly appearances on WCAU-TV. Within a year, I took on the researching, writing and taping of the one-minute garden reports on all-news KYW NewsRadio, which has the highest ratings of the 49 radio stations in Philadelphia.
Before I began preparing the scripts, I spent nearly $500 on gardening books to study every garden subject I would be talking about. Some knowledge which may have helped me was the extensive volunteering I enjoyed as a Council Member of the Pennsylvania Horticultural Society and as a Chairman for several years of the "World's Finest" Philadelphia Flower Show. (Check The Flower Show@com worldwide) The Garden Reports aired five times daily seven days a week and were very popular, trailing only weather forecasts and the time according to listener surveys. I gave up that work at age 78 in 2005. During those six years, I think the garden one-minute capsules drew more favorable comments for me than all previous years on TV.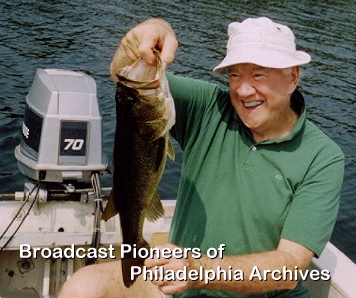 Herb Clarke had several loves
One was fishing
Ontario, Canada
circa 2008
My broadcast career extended for fifty years and six months. Two years and eight months were at WRVA-TV in Richmond. Combining my earliest commercial job at WLOE back home in Eden for 15 months beginning in 1948 and nine months as manager/announcer of the Bowling Green State University radio operation, it all adds up. Now toss in 20 months of radio and first TV Public information duties in the U.S. Navy in 1951-52.

That's not bad for a small-town kid. It sure beat working as a sweeper in the Fieldcrest Blanket Mill in Eden (North Carolina).
Special thanks to member Jackie Strauss, who turned the printed pages of the book into text so we could use it in this section.
CAN YOU HELP?
We need a couple of working BetaMax video tape machines for our DAP, Digital Archival Project. Can you donate one? If so, please contact us. We can also use working VHS VCRS and DVD Recorders. The e-mail address of the Broadcast Pioneers of Philadelphia is pioneers@broadcastpioneers.com.
Second point! We keeping hearing from members and others, "Oh, we didn't know you would be interested in the old videotapes from our careers." Absolutely. We just got a donation of 50 video tapes of former Channel 3 news person Marge Pala. We are so delighted. She wasn't planning on saving them, but her sister convinced her to retain them. Then she found out that we would love them for our archives. Thank you, Marge. Recently we have also gotten video material from members Monica Malpass, Kal Rudman and Glenn Schwartz. What do you have?
MORE DIGITAL ARCHIVAL PROJECT NEWS:
VIDEO:
Broadcast Pioneers President Dave Abramson
VP Shelly Gross and member Joe Grady
at the Adam's Mark Hotel, Philadelphia
November 1996

Broadcast Pioneers member Joe Grady
Hall of Fame acceptance speech
at the Adam's Mark Hotel, Philadelphia
November 1996
Here is video of the legendary Joe Grady (a member of the Broadcast Pioneers) being inducted into our Hall of Fame in November 1996. Also inducted that night was Broadcast Pioneers Board member Ed Hurst. Both were honored in 1990 when they were selected as our "Persons of the Year." While we have ran video of them in 1990, this is the first time that this video of Joe Grady had ever been on our website or anywhere on the Internet for that matter. Our file was mastered off of the original tape shot in 1996. In our opinion, the Real Video version is clearer.
Watch in Real Video!
Watch in Windows Media!
AUDIO:
Here's a few minutes of voice track production done by Broadcast Pioneers member Ed Sciaky when he was working at WDAS-FM in Philadelphia. At that time, it was called "Hyski's Underground." At this time, the FM staff were usually not permitted to work in the AM production studio which was a "combo" operation. FM staffers had to use the back production studio which was manned by union engineers. So the first step was to cut the voice tracks. This is what we have here. Our files came off the original WDAS tape which we found in the basement of the Sciaky home.
Listen in Real Audio!
Listen in Windows Media!
Next we have a four-minute clip from WCAU Radio and a program called "Evening Edition." Part of this broadcast contained WCAU Newsman George Lord talking with newsmakers and others on the air and taking live telephone calls from the listeners. Well, when we say live, we actually mean on a 6 second tape delay just in case something needed to be deleted from air.
It's Monday, January 31, 1966. President Lyndon Johnson took to the airwaves that morning to announce that the bombing of North Vietnam was resuming. For more than 5 weeks, there was no bombing of the North. This kind of thing happened several times around the new year to see if the North would agree to peace. This is the subject of this audio clip. Here is some of what President Johnson said:
For 37 days, no bombs fell on North Vietnam. During that time, we have made a most intensive and determined effort to enlist the help and the support of all the world in order to persuade the Government in Hanoi that peace is better than war, that talking is better than fighting, and that the road to peace is open. Our effort has met with understanding and support throughout most of the world, but not in Hanoi and Peking. From those two capitals have come only denunciation and rejection.

Throughout these 37 days, even at moments of truce, there has been continued violence against the people of South Vietnam, against their Government, against their soldiers, and against our own American forces. We do not regret the pause in the bombing. We yield to none in our determination to seek peace. We have given a full and decent respect to the opinions of those who thought that such a pause might give new hope for peace in the world.

As constitutional Commander in Chief, I have, as I must, given proper weight to the judgment of those, all of those, who have any responsibility for counseling with me or sharing with me the burdensome decisions that I am called upon to make: the distinguished Secretary of State, the Secretary of Defense, my National Security Adviser, and America's professional military men, represented by the Joint Chiefs of Staff.

So on this Monday morning in Vietnam, at my direction, after complete and thorough consultation and agreement with the Government of South Vietnam, United States aircraft have resumed action in North Vietnam. They struck the lines of supply which support the continuing movement of men and arms against the people and the Government of South Vietnam.

Our air strikes on North Vietnam from the beginning have been aimed at military targets and have been controlled with the greatest of care. Those who direct and supply the aggression really have no claim to immunity from military reply. The end of the pause does not mean the end of our own pursuit of peace. That pursuit will be as determined and as unremitting as the pressure of our military strength on the field of battle.
Several hours later, "Evening Edition" reported on the day's news and part of that broadcast featured listeners calling in. We have no more audio than what you hear. It starts and ends exactly where you hear it. We wish we had more, but that's all there is. By the way, George's guest is John Clough, Executive Director of the Philadelphia Commission on Higher Education. Clough served for years as the program's political science expert.
Listen in Real Audio!
Listen in Windows Media!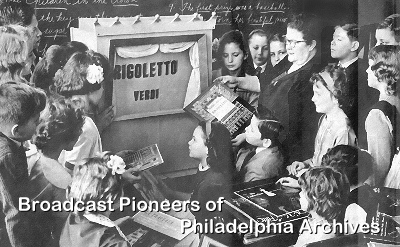 The sixth grade class from the Richmond Elementary School, Philadelphia
WFIL-TV studios, 46th and Market, Philadelphia
Spring 1963
Eleven years ago, we heard from Ruth Warren, a visitor to our website. When she was in sixth grade (Miss Kathryn Conroy's class from the Richmond Elementary School near Aramingo Avenue in Philadelphia), her class appeared on the WFIL-TV broadcast entitled "Fun with Rhythm." She sent us several photos from the show. Ruth told us:
All I have are my old yellowed articles from the newspaper. These photos were all taken when my 6th grade class appeared on TV. As for the "Dental Healthy" things, all I have are certificates handed out at assembly. We were supposed to be on months earlier but our school bus was late getting to the studio because of a snowstorm.

I guess I should have added that the biggest thrill for me was the fact that up in the rafters of the studio was the "American Bandstand" backdrops! I soooooo looked forward to being old enough to go on Bandstand. My Grandmother watched every day. You had to be 14 (to be on Bandstand). When I was 13 and a half, Dick Clark moved to California! I never watched the show again! I went dancing at Aquarama and the Riviera Ballroom where [Broadcast Pioneers member] Jerry Blavat ruled!

Growing up in Philly was just plain fun! I never realized what a diverse multicultural background I had until I moved to the South. The only thing I don't miss is the freezing cold, that's why I'm coming up for the Mummer's Parade this year and bringing my husband who grew up in Key West and has never seen snow! I hope it's cold as Hell! I haven't been home since 1978!
While the above was about a WFIL-TV program, WFIL Radio has had similar programs. One of those is "School Schoolhouse." In 1963, the same year as "Fun with Rhythm" mentioned above, "School Schoolhouse" was the longest running educational program aired over a commercial radio station. Marguerite Farley, a former President and former Chairman of the Board of this organization was the host and the programs were produced by Temple University in the studios of WRTI-FM in the basement of Thomas Hall. The building was demolished by the university in July of 1998 so they could build a new dormitory. At that time, it was the oldest building on Temple's campus and used to be called "The Park Avenue Methodist Episcopal Church," built in 1873. It pre-dated Baptist Temple.
We have three of these broadcasts in our DAP (Digital Archival Project). They were donated by Bill Stock, an announcer here in Philadelphia that now lives in New York. One of the programs they did was about "Peter Pan." The program consisted of three 15-minute programs and we have the first installment. Bill Stock writes,"This was a three-parter that aired on three consecutive Tuesdays in October, 1963. I seem to remember that we taped at least two of these (maybe all three) on the same day, because of the large cast. ...The sound truck got a good workout on these three. Someone rocked back and forth in a creaky old chair for the boat, and the crocodile was an alarm clock and (the) mike (was) covered over with that old metal wash-tub from the sound effects cabinet." Here's a list of the cast.
MARGUERITE FARLEY - Narrator
STEVE BERGER - Announcer
BILL STOCK - Peter/Nana
WENDY ROBIN - Wendy
DALE ZARIS - John
JUDY KIVIAT - Michael
BILL REED - Captain Hook
JOYCE DANHEISER - Various Boys
JERRY HENDERSON - Sound patterns
JOE TARITARO - Technical Director
HERB SMITH - Graduate Assistant, Producer
STAN MARINOFF - Director
Our digital file comes from the tape Bill Stock recorded for himself. The air copy was recorded on one machine with Bill's copy recorded on another. So our audio comes from an original tape and not a copy.
Listen with Real Audio!
Listen with Windows Media!
Remember, History is ONLY What Gets Saved!
(If there were no portraits of George Washington, how would we know what he looked like?)
MORE IN TOUCH WITH MEMBERS:
Last month, CNN ran a story about the top jocks of all-time. Three of the top ten are in our Hall of Fame. Number two is the legendary Hy Lit. Number four is Douglass "Jocko" Henderson and number seven is Tom Donahue. Others in the top ten include Allan Freed, Cousin Brucie Morrow, Wolfman Jack, Robert W. Morgan, Casey Kellem , Kid Leo and Scott Shannon. Number 11 was Howard Stern.
Join Broadcast Pioneers member Kenny Jeremiah (a frequent visitor to our monthly luncheons) this Friday, June 7th at LaPiazza Restaurant and Night Club, Pacific and Burk Avenues in Wildwood. He's also there on June 21st and the 28th. He'll be proud to see you in the crowd.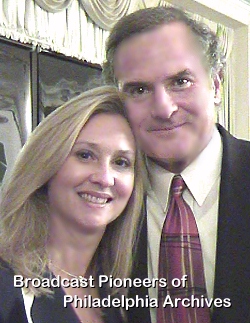 Broadcast Pioneers member Rob Jennings with his wife Karen
Broadcast Pioneers "Hall of Fame" Banquet
(This is the evening when we inducted Rob into our Hall of Fame)
Bala Golf Club, Philadelphia
Friday, November 21, 2003
(Photo by Broadcast Pioneers member Gerry Wilkinson)
For more than 36 years, Broadcast Pioneers member Rob Jennings has been a consistent presence on Action News on WPVI, 6ABC, anchoring the weekend newscasts. Jennings joined the Action News team in July of 1977. His career at 6abc has taken him from Three Mile Island to the White House and even into the wild blue yonder, flying with both the Air Force Thunderbirds and The Navy's Blue Angels. In 2003, Jennings was inducted into our Hall of Fame. Rob is retiring from 6ABC at the end of next month. He and his wife, Karen will be moving to Florida at that time.
"Rob has played a huge role in the success of Action News and 6abc for decades," says Broadcast Pioneers member Bernie Prazenica, President & General Manager of 6abc. "I can't thank him enough for all that he has done. His talent and professionalism are unsurpassed in broadcast journalism. We will miss him as a colleague and a friend and wish him everything good in retirement." Longtime Action News collaborator Jim Gardner agrees: "He's been an extraordinary example of consistency, a great communicator, and a wonderful colleague all these years. We will miss him."

A native of Miami, Florida, Jennings has been in broadcasting for more than four decades, and like many television pros, his first job in the business was in radio. In 1966, he started his broadcast career in Georgia, but a year later moved to WABB in Mobile. There, Jennings was the DJ for afternoon drive and later became music director. But less than two years later, he was hired as an announcer and director at WALA-TV, where he got his first taste of news. In 1977, he caught the eye of Alan Nesbit, News Director for WPVI-TV, and was on his way to Philadelphia.

Jennings offered these thoughts about his retirement: "I can't emphasize enough how grateful I am to have been able to do what I love to do – tell stories – for 36 years, with the greatest television station. My wife and I have been planning to retire for some time now. And now is the time to start our new adventure together."

Rob and his wife of 27 years, Karen, have two children together. Karen, whom he met in the Action News studios, also had stints as a news anchor in Orlando, Fl., and in Lancaster, Pa. Rob enjoys oil painting, writing, playing chess and wood working. He has created more than 50 oil paintings and his lifelong passion is boating.
The Philadelphia Jewish Sports Hall of Fame and Adolph and Rose Levis Museum (PJSHOF) is celebrating its 16th anniversary by honoring nine new individuals at a reception that was held on Monday, May 20th. The 2013 inductees included Broadcast Pioneers member Marc Rayfield, who is Senior Vice-President and Market Manager of CBS Radio, owners of KYW Newsradio, WIP, WIP-FM and WPHT.
WIP is known for innovation, such as the first studio naming rights partnership in the United States with Tastykake. WIP is home to Angelo Cataldi and the morning team. The station also hosts one of the largest radio promotions in the country, Wing Bowl, prior to the Super Bowl. Rayfield is currently responsible for live broadcasts of the Phillies, Eagles and Philadelphia Union as well as Temple, St. Joe's and Villanova athletics.
At La Salle University, alumni of Sigma PhiLambda fraternity spearheaded a drive to establish the Brother Gerry Molyneaux Endowed Professorship. Alumni of the communication department joined in the campaign, as did family, colleagues and friends. At a reception on May 4th, they celebrated an achievement: they surpassed their goal of $500,000 endowment that will support faculty and student development in the communication department. Brother Gerry has "moderated" the fraternity for 37 years and chaired and taught in the communication department for 40 years. Brother Gerry Molyneaux is a long-time member of this organization and has served (and continues to do so) on our scholarship selection committee.
Member Johnny B. Hall tells us that "our own Broadcast Pioneers member Jane "Pixanne" Norman is mentioned on page 147 of the new book "V.J." by the original surviving four "Video Jockeys" of the earliest days of MTV." Former VJ Mark Goodman (who grew up here in our market) said that he always wished he could appear on her TV program and hug her. He thought that she was warm and cute. Well, she was AND still is.
98.1 WOGL's Bob Pantano (a member of the Broadcast Pioneers) has been hosting the Saturday Night Dance Party for over 36 years. He was honored last month by Philadelphia City Council for his organization and for being involved in many charitable events throughout the years. His philanthropic initiatives include The Hero Scholarship Fund, Saints Neumann Goretti High School's annual "Taste of South Philly" fundraiser and The Vendemmia Festival in Girard Park. Pantano has raised thousands of dollars for a countless list of charities in the Philadelphia area.
98.1 WOGL Vice President/General Manager Jim Loftus (also a member of the Broadcast Pioneers) said, "WOGL congratulates Bob Pantano for this recognition; we know Bob's great love for Philadelphia first hand. We are proud of him and honored to stand with him and the many great organizations he supports."
A couple of weeks ago, our Chairman of the Board Gerry Wilkinson and his adult daughter Zara were on one of their weekly Saturday afternoon adventures to Five Guys in Bala Cynwyd. As you may know, Gerry is on a low-sodium diet and Five Guys will special make salt-free fries on request. Enroute, Gerry always checks the Broadcast Pioneers Post Office Box in Bala Cynwyd for any mail for the organization. On his way inside, he noticed Broadcast Pioneers member Billy Jackson (record producer and singer) sitting in a car. As they were talking, who pulls up next to them but Broadcast Pioneers member T. Morgan (well known air personality). Finally, Gerry goes into the Post Office but doesn't return (well, at least for quite awhile). Turns out that inside he ran into friends of Broadcast Pioneers member Ed Harvey. Oh, did we mention that the Post Office was closed and there were only 8 people on the property at the time? Small world. Seems like there are Broadcast Pioneers members everywhere.
THANK YOU:
As we do every month, we want to thank Broadcast Pioneers member Johnny B. Hall for his monthly cash donation to our DAP, Digital Archival Project. Johnny donates $250 every month. The amount totals $3,000 yearly and really helps us to underwrite this much needed but expensive project. By the way, that's a $600 a year increase over his contribution from 2012. If you wish to donate to our DAP, Digital Archival Project, we would appreciate it.
We already have a good start for the April 2014 scholarships. We already have pledges and/or funding for fifteen $1,000 scholarships to be awarded in April of 2014. We received $1,000 for a scholarship in the memory of Broadcast Pioneers Hall of Famer Mac McGuire. The contribution came from member R. Alan Campbell. Also, the final $1,000 scholarship (part of a five year package) from Broadcast Pioneers Hall of Famer Sylvia Kauders. We also have pledges for seven $1,000 scholarships from member Johnny B. Hall and his wife, Ginny. That's one more than last year. Also, a scholarship from the Adelman family for a $1,000 scholarship and also one from Robin Adelman's dad, member Leon Love. Member Harry Hurley has pledged a $1,000 scholarship from the proceeds of this year's Hurley in the Morning Golf Tournament.
Broadcast Pioneers Vice-President Kal Rudman started underwriting scholarships for our organization several years ago. He was the person that underwrote our first scholarship way back when. Now, there are many following in his footsteps. Kal has just said that he'll be underwriting two more scholarships for the coming 2014 year. Thanks, Kal. Another contribution came from Esther Kurtz. Included in her membership renewal was a $1,000 for a scholarship in memory of David Kurtz (founder of B101).She has been doing this now for 8 years.
Julie Still, a friend of Broadcast Pioneers, donated $200 for our DAP, Digital Archival Project. Member Valerie Morrison donated an equal amount, also for our archival project. New member Christopher Hildrew included an extra contribution with his membership application.
A little while ago, Robin Adelman (on behalf of the entire Adelman family and Leon Love) presented us with a $1,000 contribution to be split between of our DAP project and our general fund.We welcome other gifts for these and other projects in the form of money and/or donated items like video tapes, audio transcriptions and photos.
Those making an extra contribution at our May luncheon were members Bill Kelley, Gerry Wilkinson and Bonnie Nadley Silvestri and her husband Joe. Thanks.
Now, it is membership renewal time and we would like to thank those of you who included an extra contribution with your membership renewal. Those members are: Bill Kelley, Marc Howard, Don Rosenblit, Steve Tatz, Tom Moran, Bruce Greenberg, Marie Pantarelli, Kevin Delany, Bill McCloskey, Les Waas, Anthony DiFlorio, Dave Roberts, Trudy Haynes, Diego Castellanos, Mel Gollub, Paul Gluck, David Kettinger, Ray Fiedler, Bob McCone, Alan Tripp, Richard Heist, Mike Strug, Jay Lloyd, Ruth Weiman, Allen Stone, Merrill Reese, Art Moore, John Johnson, Michael Nise, Rita Goldman, Leon Love, Len Stevens, Kenny Jeremiah, Norman Felsenthal, Chuck Gagliardi, Elliot Abrams, Barbara Clarke, Don Bustard and Don L. (Scotty) Brink. Thanks so much.
Our special thanks go to TUTV and The Kal & Lucille Rudman Media Production Center.

They have underwritten a grant to be used to fund an entire year of all our newsletters for calendar year 2013. We thank them so much for their support!
If you forgot to make an extra contribution (cash or memorabilia) and would like to do so now, it's never too late. We would be thrilled to hear from you at: PO Box 2886, Bala Cynwyd, PA 19004 or call us at (856) 365-5600!
A LITTLE BIT OF HISTORY!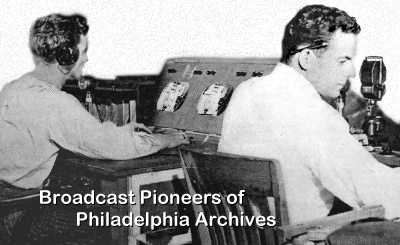 WPTZ, Channel 3 Control Room
Philadelphia
1947
IN TOUCH WITH THE INDUSTRY:
CBS Radio Philadelphia has announced the advancement of Adam Baldwin to Local Sales Manager for KYW Newsradio 1060. After graduating from Temple University's Fox School of Business, an internship at a Local Newspaper led Adam to a decade-long media sales career. During his three years at KYW Newsradio, Adam has enjoyed working with advertisers big and small while developing and maintaining relationships in the market.
Broadcast Pioneers member Jim Loftus, Vice President and Director of Sales of CBS Radio Philadelphia, said:
Adam has excelled as an Account Executive at KYW, and in his pointing key clients across the CBS platform. He brings a fresh perspective to our management team. We look forward to his insight and talent in growing our family of advertisers, and further developing our sales team.
WCAU-TV, NBC10 announced that Rob Halpern has joined the station as Vice President of Sales. Halpern joined NBC10 from NBC affiliate WESH-TV in Orlando, Florida, where he has been General Sales Manager since 2006.
A native of Philadelphia, Halpern spent part of his earlier career at NBC10, where he was a Local Sales Manager from 2001 to 2005. After NBC10, he worked as Vice President of Sales for WVTM in Birmingham, Alabama, which was formerly owned by NBC Universal, before joining WESH.

From 1996 to 2001, Halpern was with NBC Owned Stations Sales in New York, where he was an Account Manager before becoming Director of Interactive Sales in 2000.
Also, NBC10 announced that George Spencer will be joining the station as a reporter starting June 17. Spencer joins NBC10 from ABC affiliate WFTV in Orlando, Florida, where he has been an anchor/reporter since 2008.
In his most recent role at WFTV, Spencer received two 2011 Suncoast Emmy awards in the categories of 'On Camera Talent and 'Politics and Government Series'. In addition, he was awarded 'Best Investigative Reporting' in 2012 by the Florida chapter of the Society of Professional Journalists for his investigation into misuse of Florida's cash assistance program for needy families. Before joining WFTV, Spencer worked for News 12 in the Bronx/Brooklyn, New York, NY as an anchor/reporter.
CBS 3 and The CW Philly's "Women of Eyewitness News," Kate Bilo, Nicole Brewer, Natasha Brown, Pat Ciarrocchi, Carol Erickson, Katie Fehlinger, Kathy Orr, Stephanie Stahl, Lesley Van Arsdall and Erika von Tiehl -- joined by their CBS Radio counterparts, were out in force in support of the Race for the Cure. It all took place on Mother's Day, Sunday, May 12th. All of the CBS properties in Philadelphia supported the Race with PSAs and news stories.
CBS 3/CW Philly 57 Morning Anchor and Talk Philly Co-Host Ukee Washington, a star athlete during his days at Dover High School, was inducted into the Delaware Sports Hall of Fame last month. During his years at Dover, Washington was both first team all-state and Delaware co-player of the year in 1976 in basketball. He was the seventh leading scorer in Delaware history with 1,305 points when he graduated. He also made his mark in track, breaking the state record in the 110-meter high hurdles. Also in May, Washington was the guest of honor at Neumann University's 2013 commencement celebration when he was given an Honorary Doctor of Laws (LL.D.) degree.
The CBS Local Media stations in Philadelphia – CBS 3, The CW Philly, KYW Newsradio 1060, 98.1 WOGL, SportsRadio 94WIP, CBS Sports Radio 610, Talk Radio 1210 WPHT and CBSPhilly.com - raised more than $225,000 a couple of weeks ago. The money was for the American Red Cross relief effort in the wake of the horrific and deadly tornado in Moore, Oklahoma as part of their "Operation Brotherly Love: Helping Moore" event. Volunteers and on-air personalities from the stations, the American Red Cross and Brotherly Love campaign partner Wawa staffed a phone bank from 6 a.m. to 7 p.m.
"Once again we are overwhelmed at the generosity of our viewers who always come through for their neighbors whether it's locally, across the country or around the world," says CBS 3/The CW Philly President and General Manager Jon Hitchcock (who is a member of the Broadcast Pioneers).

"It was heartwarming, but not surprising to see our listeners respond," adds Broadcast Pioneers member Marc Rayfield, Senior Vice President and Market Manager for CBS RADIO. "Hopefully, what we've done here can help ease the pain of those who lost so much in this disaster."
We heard from Kimberly Davidow, who was graduated from LaSalle University in May of 2009. She was the former president of our student group, "The Future Broadcast Pioneers," and winner of one of our scholarships in April of 2008. Her brother Brandon won one of our scholarships two years earlier. Both were students of Broadcast Pioneers member Brother Gerry Molyneaux from LaSalle. Kimberly says:
I currently work for Think Loud TV (an up and coming television program based in York, Pa) as their Director of Media and Content. My main job responsibilities including hosting, executive producing and reporter stories and content that will air on television and online beginning this Fall.

I am very happy to say that during my time at my previous job at WFMZ-TV, based in Allentown, PA, I had been nominated for an EMMY Award and have won an AP Award for my on-camera work for my human interest/features stories.
Cleve Bryan will join CBS 3 and The CW Philly's Eyewitness News team as its New Jersey reporter beginning the first of next month.
Bryan, a native of Turnersville, New Jersey, returns to the Delaware Valley from WVEC-TV in Norfolk, Virginia where he has been a reporter and anchor since 2011. Previously, Bryan was a reporter at WCBD-TV in Charleston, South Carolina and at The Florida Channel in Tallahassee, Florida. He began his career at WMGM-TV in Atlantic City in 2005 as a photographer/reporter and returned to the station from 2007 until 2009 as a reporter and back-up morning news anchor.
NBC10 has announced that Rosemary Connors is the station's new weekend morning anchor. Connors will anchor NBC10 News Saturday mornings from 5:30 to 7 AM and 9 to 10 AM, and NBC10 News Sunday mornings from 5:30 to 8 AM and 9 to 10 AM. She will continue to report for NBC10 News during the week. Connors joined NBC10 in June 2009. Connors is a native of Wynnewood, Pennsylvania.
KYW-TV meteorologist Kathy Orr guest co-hosts this afternoon on the Daytime Emmy-nominated talk show, THE TALK. This will be Orr's first appearance on THE TALK. In addition, Orr brought her popular "Orr at the Shore" summer series, normally aired from New Jersey and Delaware shore points, to the west coast, broadcasting a "Pacific Edition" live from the beach in Santa Monica yesterday during the 5:00 and 6:00 PM editions of KYW-TV's Eyewitness News.
THANKS FOR THE MEMORIES: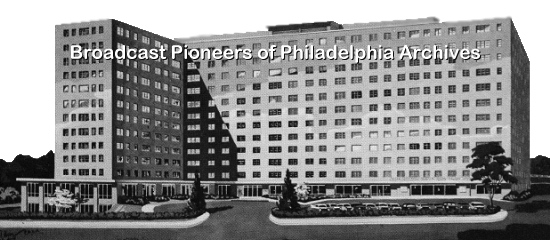 The Benson East Building, Jenkintown, PA
original home of Channel 29, WIBF-TV
1965
Remembering WIBF-TV, Channel 29!
Channel 29 came on the air in 1965 and has been televising ever since. Initially, TV 29 was owned the by same people who had WIBF-FM. One of that TV station's first employees was a guy by the name of Bill Stock, who now lives in New York. Bill has sent us some memories of the beginning of Channel 29 here in the Philadelphia market.
Herb Bass was brought in to be the studio manager/production coordinator. He was a very personable guy, full of humor and not afraid to get his hands dirty. Long before the days of electronic graphics, I can remember working with him for several days, setting the metal type, burning the acetate overlays, combining them with images and photographing the various station ID and promo slides on Polaroid transparency film. Clearly, this was not a top-ranked skill for either of us. Our first shot at "Roller Derby" came out "Roller Derdy." Herb stayed on for awhile after I left, but eventually moved to New York to become owner of Unitel Video. He passed away in May 2012 at 83.

The studio equipment was brand new, about 80% Sarkes-Tarzian, all B&W, 2 film chains (each with two Bell & Howell 16mms and a slide drum), two pedestal cams, one fixed news cam and one Ampex 2" quad VTR. All of this was in one master control room. Audio control, video control/switching and the lighting panel were lined up in a row at the front of the room, looking into the main studio. I was usually in the middle, calling the sequences and switching the video. In those days before widespread automation, commercial breaks were often the most hectic moments, coordinating live switches between several program sources with different roll-in times. Film was up to speed in three seconds, but the VTR took at least seven to lock in. We usually preferred ten, it was safer. The normal non-live control room crew was three; a coordinator/switcher, audio controller and a VTR/film loader. Of course, we added cameramen and sometimes a lighting guy for live broadcasts.

The main studio was not all that big as I recall ... probably no more than 20 x 30 feet, maybe smaller. I do remember once having a concert grand piano in there when we taped a commercial for a local music store and having enough room to truck the camera around. Also, just about the time I was leaving, they started to do a teen dance party show. A very young Cher was the guest on one show, lip-synching to her latest (or maybe her first) record.
We'll continue with Bill's memories of Channel 29 in the July newsletter. Stock also sent us his thoughts about working at WPCA-TV, Channel 17. That will run in a later issue.
Alan Tripp as a Newsman in 1938!
Broadcast Pioneers Board Member Emeritus Alan Tripp tells us that he believes that he may have been on the air before any of our current living members. He says that he started doing news at WMCA Radio in New York on January 5, 1938. By the way, it was good to see Alan at our May luncheon. Here's what Alan recalls:
Some people fight for years to get themselves parked before a live, on-the-air mike. I got my first break as a newscaster without even auditioning.

Back in 1937, in my senior year at Northwestern's School of Business, I took a course in Radio Broadcasting given by the then VP for Broadcasting of J. Walter Thompson Company. In those days, agencies often produced the shows, especially soap operas, and dictated who got hired or not. I was entranced by the magic of being able to create living creates out of thin air and imbedding them in the minds of unknown numbers of listeners,

You can imagine my disappointment when, on graduation day, while I was one of only two students offered a paying job, it was with the Chicago Daily News. So, temporarily, I became a print person.

By the Fall of '37, I had landed in New York and found a job as Advertising Manager of Pilot Radio Corporation, a manufacturer of big short-wave receivers, sold around the world. Needing a New York presence to impress international visitors, we sponsored the 11 pm news of WMCA which for some years was strongest independent (radio) signal in the City. Being young, 20, and single and frustrated with my day job, I would, in my role ad Ad Manager of the sponsor, pop into the station to supervise, i.e., observe and shut-up, the newscast.

On one such night, January 8, 1938, I was sitting in the WMCA control room when the program producer-engineer screamed, "He's drunk again! The s.o.b. is drunk! He'll sound drunk on the air! Who can do this news? How about you?" "You" turned out to be me. I just said something like, "Sure thing," sat down at before the mike and picked up the news script. One minute later, he pointed a finger at me and I started reading.

And that's how to become a newscaster at age 20. I kept the job for three weeks until management found out and hired a real broadcaster.
The Ben Gimbel Family and Broadcasting!
Ben Gimbel was a founding member of the Broadcast Pioneers of Philadelphia. Benedict Gimbel, Jr. took over the reins of WIP Radio in 1930 when the station was only 8 years old. However, here's proof that you can't believe everything you read. We have in our archives a 1952 issue of Broadcasting magazine. It talks about WIP Radio and how the station was purchased in 1922. While the radio outlet came on the air on March 17, 1922, it was not bought. Gimbel Brothers Department Store applied to the US Department of Commerce and was granted a government license. There was no purchase.
That same article from 1952 talks about WIP sharing their frequency with radio station WFAN. In reality, WFAN was originally owned by the Haverford Radio Club. Broadcasting Magazine confused it with WCAU Radio and said that WFAN was originally owned "by the Levy Brothers of CBS fame." Again, don't believe it. It's not true. Ike and Leon Levy owned WCAU and not WFAN. However, there was (sort of) a connection between CBS and WIP. Ben was a classmate of Bill Paley, former chairman of CBS at the University of Pennsylvania. They played on the same polo team.
In 1958, Ben Gimbel and others formed a corporation and purchased WIP Radio from Gimbels. A year later, they sold it to Metromedia with Gimbel staying on as a Vice-President of Metromedia. But did you know that Ben's son, Ben Gimbel III was also in broadcasting?
You may know the younger Gimbel as "Edward (Ted) Nathanson." Ben married Ethel Nathanson, heir to the Snellenberg Department Store here in Philadelphia. They had a son, Benedict Gimbel, III. When the couple divorced, the boy was only five, so his mother changed his name to Ed Nathanson. Nathanson directed 13 superbowl games and 21 Wimbledon tennis matches. He won seven Emmys and was first to be honored by the Director's Guild with their lifetime achievement award. Ed worked for CBS and then ABC where he met his wife, Edith Landesman, then an ABC producer. In 1953, he moved to NBC where he would become the director of the original Tonight Show. He is also known for directing network coverage of the funerlas of both John F. Kennedy and Robert Kennedy.
Nathanson's son Michael followed in the family footsteps by becoming president of MGM Pictures in Hollywood. Ed's two daughters also went into the business. Laura became VP of Fox Television and, later, ABC Family. Carla used to work on the David Letterman show during its NBC days.
Russell Conwell on the Radio!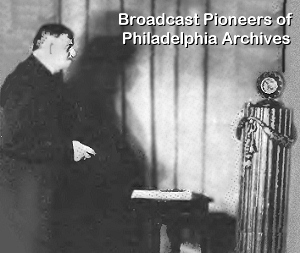 Dr. Russell Conwell at the microphone
WOO Radio, Philadelphia
The John Wanamaker Store station
1923
Many of us who went to Temple University know who Dr. Russell Conwell was. He was the founder of Temple University and one of the people in his church was Charles Hires, a local pharmacist who invented root beer. Well, Dr. Conwell gave his famous "Acres of Diamonds" speech several times on radio. In the summer of 1923, an article about Russell appeared in Wireless Age Magazine. It was written by W.E. Johnson. Here's some of what he said:
"Although the young people are receiving great benefits from the forms of entertainment that are being broadcast today, they are not reaping the benefits that will come to those who will listen in a short time from now," is the prophecy of Dr. Russell H. Conwell, philanthropist, clergyman, lecturer and author of the famous lecture, "Acres of Diamonds."

That immortal address, which has been delivered to visible audiences 6,102 times, has been broadcast twice from WOO, the Wanamaker Store in Philadelphia

"Many stations are broadcasting bedtime stories every night, but as far as I know, I do not think any of them have started to send out Sunday School services. I do not think they should discontinue sending out the bedtime stories, because this is really of beneficial value to the little tots, and even the older children, but I think Bible stories would be just the things for children on Sunday.

When Dr. Conwell spoke to the invisible audience through the microphone of the WOO studio, he says he experienced a new sensation. "When I stood up before the microphone the first time, I knew something was lacking. I began to talk in my natural tone of voice. I soon began to feel, however, that I was missing parts of the lecture which I had delivered more than 6,000 times. I was even making slight mistakes. I knew that something had to be done, and quickly, too. I shut my eyes, envisioned an enormous audience in front of me and continued with my lecture without loss of memory, or making any mistakes.It was, indeed, a new sensation. I reached an audience far greater than I could have reached otherwise. My family visiting in Massachusetts at the time heard the entire lecture, to say nothing of those in Puerto Rico to the south, and Colorado to the west."

Though he is more than eighty years old, he is head of the well-known Temple University of Philadelphia, which has over 10,000 students, and is also pastor of Grace Baptist Temple.
A FINAL THOUGHT....
Someone told Herb Clarke:
"You know, why people like you so much? It's because the weatherman on TV is the only one who promises us old folks a tomorrow."
Herb Clarke
from his book
"The Times that Made Me ME"
privately printed in 2009
(Both a hard copy and a digital copy exists in our DAP, Digital Archival Project)
Please contact us by e-mail at newsletter@broadcastpioneers.com or by mail to: Ed Eisen, 1110 Longshore Avenue, Philadelphia, PA 19111. (215) 725-7253. Your stories are important, to you, to us, and your colleagues. Contact us today and we'll include your story in the next newsletter!

Photo Editor & Archival Historian - Gerry Wilkinson
© 2013, Broadcast Pioneers of Philadelphia
All Rights Reserved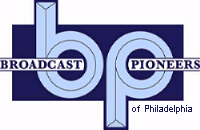 The e-mail address of the Broadcast Pioneers of Philadelphia is pioneers@broadcastpioneers.com
For luncheon reservations call (856) 365-5600 or e-mail us at: rsvp@broadcastpioneers.com