| | |
| --- | --- |
| | Broadcast Pioneers of Philadelphia is a federally recognized, state chartered 501(c)(3) non-profit organization serving the Philadelphia Broadcast Community since January of 1962. |
June Luncheon
The Bala Golf Club
Wednesday, June 17, 2015

Meet & Greet at 12 noon!
Lunch at 12:30 pm
Ratecard: $28 per person!

PLEASE RESERVE NOW!
CALL (856) 365-5600!
rsvp@broadcastpioneers.com
50 Years of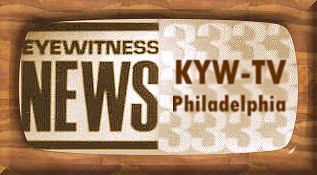 A CELEBRATION!
Another "Third Wednesday" Luncheon!
Wednesday, June 17th!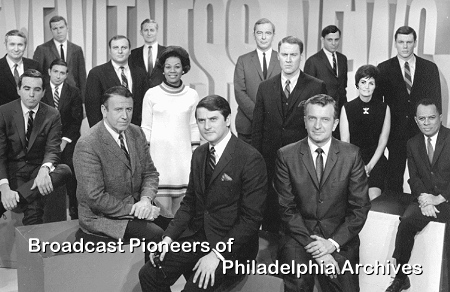 The First Eyewitness News Team
KYW-TV, Philadelphia (now CBS 3)
circa 1965
In August of 1965, the world of television news changed forever. Broadcast Pioneers member Al Primo came to Philadelphia as KYW-TV's News Director. He brought with him a brand new concept: street and beat reporters actually appearing on camera to tell the story. It was a new adventure in telecasting and the universe of TV news would never be the same again.
It's 50 years later. Yes, a half-century. Today most everyone does news this way, but back in 1965 no one really knew how it would work out.
Our MC and moderator for the afternoon will be Broadcast Pioneers member Robin Mackintosh, sometimes called the "reporter's reporter." Robin was with Eyewitness for three decades.
Our speakers will include: (in alphabetical order):
Jim Donovan, KYW-TV, CBS 3's current reporter for consumer affairs
Trudy Haynes, first African-American reporter on Philadelphia TV newscasts
Al Primo, former Channel 3 News Director, creator of Eyewitness News
Dick Sheeran, former street reporter and Eyewitness News Anchor
Marciarose Shestack, first Eyewitness News co-anchor (with Tom Snyder)
and more!
Plus, Broadcast Pioneers member Dick Standish will be speaking live on the telephone with members Vince Leonard and Mort Crim, both legendary Eyewitness Newscasters.
This is all happening at the beautiful and historic Bala Golf Club, 2200 Belmont Avenue (across the street from the state police) in the Wynnefield section of Philadelphia. Only minutes away from Channels 6, 10 and 17 plus the radio stations in Bala Cynwyd.
Plenty of FREE parking. Our luncheons are open to all our members, their guests and any person in the industry or associated fields, whether active or retired. You do NOT have to be a member to attend. There is no reserved seating at any of our luncheons. Feel free to sit anywhere. Well, okay--the three people on the camera crew sit near the cameras, but that's in the back of the room (who wants to sit there except them?).
The cost is only a donation of $28 (or more) per person! In order to speed up check-in at the luncheon, it would help if you had exact change or your check already written. Checks can be made payable to the Broadcast Pioneers of Philadelphia.
If you would like to add a few dollars extra, we would appreciate it. It would help us with all the important work we are doing. Thanks!
WE WANNA SEE YOUR FACE IN THAT PLACE!

REMINDER!
Please note that in the last couple of weeks, we snail mailed your membership renewals. If you joined in the past couple of months, you may receive a form, but you are not required to pay any dues at this time. We sent the form so we could verify that all the info we have is still correct. The next membership directory will be printed before you know it.
WE DO NOT SEND YOU MULTIPLE NOTICES! THIS WILL BE THE ONLY NOTICE FOR RENEWAL THAT YOU WILL RECEIVE.
If you haven't already done so, kindly return your form and check at your earliest convenience. Please also note that on the form is an important little box that you can check if you would like to make an extra contribution. Our archival project is becoming an expensive thing to do. It costs us about $8,000 a year just to store all our material. That averages out to about $16 per member. If you can can afford it and wish to do so, please help us in this important project. Any additional amount will be greatly appreciated!

Visit Our Website Often - http://www.broadcastpioneers.com
You should check our website often on the front page (above) for important information!
Check out our Facebook page - http://www.broadcastpioneers.com/facebook
There are things on our Facebook page that are NOT on our website (like our vintage photo of the week)
Tune in to our YouTube channel - http://www.broadcastpioneers.com/youtube
Our YouTube channel has all our luncheons, exclusive interviews and archival material

WELCOME NEW MEMBERS:
FULL MEMBERS:
Marvin Baschrad has worked in the industry since 1954. He started with one of the first top 50 hits programs on WWNR in Beckley, West Virginia, then on to WPAM in Pottsville, Pennsylvania, his native state. After serving in the military, he went to WHAT-FM following the nightly Sid Mark program, then to WNAR and then WPBS. Next came WCAU Radio as Sports Director and then "Marvelous Marv" joined WTMR. Then he spent 15 years at KYW Newsradio with live reports for CBS and ABC Sports.
Richard Troyan started in our business 34 years years ago. Richard has been a member of the the Philadelphia Phillies welcome staff for the last 15 years. He has also been producing or assisting in the production of several Doo Wop/Rock and Roll concerts which included the Five Keys, The Spaniels, The Orioles and the Flamingoes. Troyan also has done television commercials, including one for the Limelight Limousine Service shown throughout the Delaware Valley area.
We are thrilled to have these new members. Over 500 Members. More than ever. We hope to see as many of our members as possible at our next luncheon.
DIGITAL ARCHIVAL PROJECT NEWS:
VIDEO: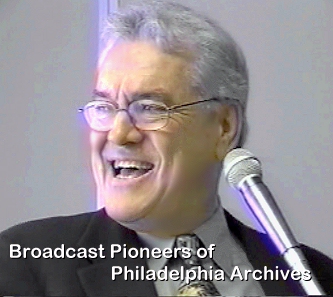 Broadcast Pioneers member Tom Brookshier
speaking at the Broadcast Pioneers Luncheon
City Line Holiday Inn, Philadelphia
Wednesday, January 19, 2005
1960 was the year, of course, that the Eagles won the championship. Broadcast Pioneers member Tom Brookshier was a part of that team. He then became part of the WCAU Sports Team and then on to the Super Bowl of broadcasting, CBS Sports. Well, we had a treat for our January 2005 luncheon (Wednesday, January 19th) at the City Line Holiday Inn. Tom was our speaker. The meeting, time-wise, was only weeks away from the Super Bowl, so "Brookie" gave us much insight.
In December of 2013, we re-digitized the video from this luncheon. For the first time, the complete video is now available on the Broadcast Pioneers YouTube channel. This was shot on VHS tape using the microphone on the camera and not tapped into our audio system. However, we are delighted that a recording of this luncheon has survived.
Click Here to Watch the Video from our YouTube Channel!
AUDIO:
Dr. Tom Dooley was known as an humanitarian. One day after his 34th birthday, he passed away from cancer. Many of us remember him for his work in Southeast Asia. When he died in January of 1961, the Gallup Poll said that he was the third most esteemed person in the world. Only President Dwight Eisenhower and the Pope topped him.
He had written several books that became best sellers, but a lot of people didn't know that Dr. Dooley was also a broadcaster. In 1959 and 1960, he hosted a weekly Sunday evening broadcast, "That Free Men May Live" on KMOX Radio in St. Louis.
During this time, he was interviewed on Ed Harvey's radio show on WCAU Radio. This is before the days of Ed's telephone talk programs. Our recording comes direct from the actual tape recorded and aired by the station. This is the first time in 55 years that anyone has heard this important, historical broadcast. This recording (and the entire tape library of Ed Harvey) was donated to us in 2009 by the Ed Harvey estate. There were several hundred broadcasts. All have been digitized. This was one of the earliest donations we received for our digital archival project.
Listen in the Windows Media Format!
And speaking of people named Ed.... Last month, this newsletter ran an interview with the British folk-rock group, Steeleye Span. On Sunday, November 19, 1972, Ed Sciaky was on WMMR Radio. During his 45 minute show, he had two guests in the studio, back to back. First, Steeleye Span, followed by Tír na nÓg, an Irish folk band. Both were interviewed live on Ed's program. Last month, we offered the Steeleye Span interview. This month, we'll present the Tír na nÓg conversation.
The tape from which the audio was taken was recorded by Ed Sciaky at the WMMR Studios. It's an aircheck of exactly what was broadcast. Both groups sang live on the air. Because of licensing restrictions, however, we cannot present that here. However, that complete recording does exist in our audio archive. Listen now to Tír na nÓg.
Listen in the Windows Media Format!
Today's News Becomes Tomorrow's History!
(This is what our Digital Archival Project, DAP, is all about!)
IN TOUCH WITH OUR MEMBERS:
Member Michael Stein tells us: "in the 1970's, I was employed as a television broadcast engineer at WNJT, New Jersey Public Broadcasting, Trenton. My boss was the chief engineer, John Wilner." Michael tells us that Wilner told him that while working as an engineer for CBS Television in the 1930's & 40's, Wilner invented a television tube used as part of an early idea for color television.
We heard from member Harry Hurley, radio talk show host at the store, who tells us:
I attended the Atlantic City Council Meeting. One of the agenda items was Ordinance # 35 of 2015. I am so pleased to report that it was approved unanimously, 9-0, with all members present.

This Ordinance has formally approved for an additional name and designation to the intersection of St. David's Place and Ventnor Avenue in my name, as they officially wrote it in to The Ordinance, "In Honor of Harry Hurley."

I am so genuinely humbled by this measure and I appreciate it beyond words.This is a supreme honor of respect shown for my decades of unconditional love and support for my hometown of Atlantic City.

To have your childhood street named after you is amazing and surreal, too, and it is a dream come true in adulthood. It's the culmination of decades of work and support for Atlantic City.

This is also meaningful to me because on this very street about 45 years ago, our home on St. David's Place burned down to the ground. It has remained a black-top parking lot ever since.

The new additional street designation in Atlantic City, at the intersection of St. David's Place and Ventnor Avenue will soon read: "Harry Hurley Way.
Last week, member Anthony DiFlorio joined Smiling Lou Powers on Sunshine Music Memories on WBCB-1490 AM. It was a special birthday tribute to the Great Al Jolson. The station's co-owner and general manager is Broadcast Pioneers member Merrill Reese.
We have heard from several of you that some people from our market were inducted into the Pennsylvania Association of Broadcasters' Hall of Fame last month in Hershey. They were Art Moore and Ukee Washington.
Moore was president of our organization during 1984 and 1985 and then became our chairman of the board for the following year. Art was our Person of the Year in 1998. All previous "Persons of the Year" including Art Moore were inducted into our Hall of Fame in 2003. Ukee Washington was inducted into our Hall of Fame seven years ago. Congrats to both on their latest honors.
For anyone interested in attending, Broadcast Pioneers member Mike Brook's mother will be having one-year memorial service for him on Sunday, June 7th, at St. Bartholomew Roman Catholic Church, 5560 Harbison Avenue, Philadelphia. This will be during the 5 pm mass.
A LITTLE BIT OF BROADCAST HISTORY!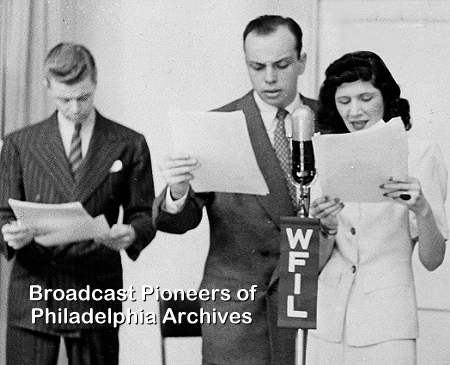 WFIL Radio Drama
being simulcast over WPTZ (Channel 3)
October 1941

Did you know...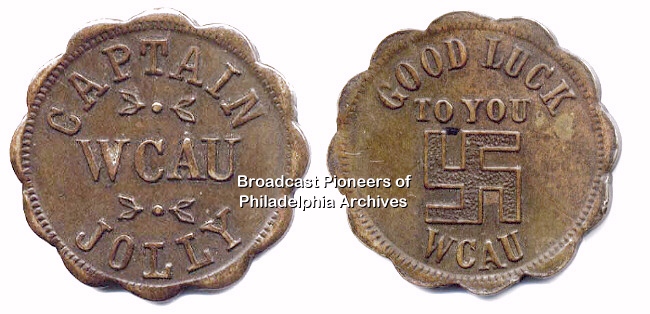 A "coin" from WCAU Radio
This "coin" is about three-quarters of an inch in diameter. Both sides of it are shown. The one side has a reverse swastika, which was a symbol of good luck before it became associated with the Nazis.

The swastika is the oldest cross and emblem on the globe. It forms a combination of four "L's" standing for luck, light, love, and life. It has been found in ancient Rome and Greece, on Buddhist idols, on Chinese coins dating to 315 B.C., and on amulets used by Southwest Native Americans. It is claimed that the Mound Builders of the Ohio River Valley and Cliff Dwellers of the Southwestern United States consider the swatiska a charm to drive away evil and bring good luck, long life and prosperity to the possessor.

This story is making us into broadcast detectives. So much information just didn't make it into the present. This is one of the things our archival project is doing. We make sure that what we have (and know) survives into the future. This particular article is made up of educated guesses and leaves us with many unanswered questions.
Back to the coin. We believe that this "coin" dates from about 1929 and that "Captain Jolly" was some kind of children's broadcast to combat the popularity of WIP Radio's "Uncle Wip." Frieda Wone of WPVI has the "coin" and we asked how she got it. She says:
My dad owned a Chinese hand laundry and kept a small lost and found box near the counter with items that were left in customers' pockets, mostly things like cufflinks or other pieces of costume jewelry. This was one of those items. He was in business since the late 40's, early 50's through the late 80's and had a wide range of clientele. His customers ranged from politicians to Chubby Checker (before he learned to "twist"). So it's really hard to know just when he might have come across it.
We have seen a photo of a similar coin, however, the coin was round. We only saw one side, but the side we saw was similar to the right image above.
In a radio listing dating from Tuesday, June 28, 1932, we found a WCAU Radio program called "The Jolly Man" that aired from 5 pm to 5:15. It was probably a daily program, but we haven't yet confirmed this. However, in 1935 book a called The Jolly Man's Juvenile Jingles was issued. It was written by "your radio friend, Wayne Cody, The Jolly Man." The book was paperbound and measured six by nine inches. Each page had one poem with a small drawing. The cover had a pig dancing with a rabbit under a tree. Some of the poems were: "Carefulness on The Fourth Of July,""Evolution of Heat," "Easter Time" and "The Roadside Stand."

Was Wayne "The Jolly Man" on WCAU in 1932? We think so. Here's a question: Were The Jolly Man and Captain Jolly the same person? We think so, but we aren't sure.

In 1935, "The Jolly Man" was broadcast on WFIL radio. It was a children's show sponsored by Strawbridge and Clothier, a local department store. That business also owned WFI, which merged with WLIT to form WFIL in January of 1935, just months before. Did Wayne Cody move his broadcast over to WFIL? We think so. Could someone else have played "The Jolly Man" on WFIL? Maybe, but we believe (but cannot confirm) that it was Wayne Cody.
Later, we have been told, Wayne Cody became "Uncle WIP" both on radio and on TV. The "Uncle WIP" broadcast was always on WIP Radio and the television show was on Channel 10, WCAU-TV as "Uncle WIP." In 1946, it was part of a TV series, "All Eyes on Gimbels" which aired on Channel 3, WPTZ.

This is all we know. If you have any information that might shed some light on this "coin," please e-mail us.
This regular monthly column is written and researched by Gerry Wilkinson

MORE DIGITAL ARCHIVAL PROJECT NEWS:
VIDEO: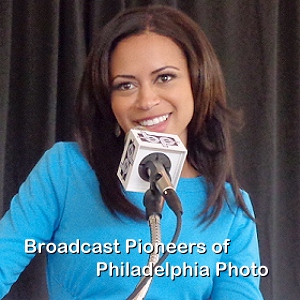 Alex Holley, co-host of :Good Day Philadelphia"
Broadcast Pioneers Luncheon
Bala Golf Club, Philadelphia
Wednesday, May 20, 2015
Here's the Fox 29 part of our May luncheon. Everyone had a great time celebrating the station's 50th anniversary on the air. Many from the station were there.
Watch the video here from the Broadcast Pioneers' YouTube Channel
Video courtesy of Broadcast Pioneers' VP Brad Seecof & Metramedia Broadcasting and Studios
AUDIO:
Here's another piece of audio that is really historic. Robert St. John authored 23 books in his lifetime. However, his real claim to fame as far as we are concerned is his network news reporting for NBC. He also was a reporter here in the Delaware Valley for the old Philadelphia Record newspaper and then he moved on to the Associated Press.
While Americans were getting their World War II news from Edward R. Murrow on CBS in London, Robert St. John was NBC's London correspondent. At the end of the Second World War, Robert St. John spent 117 hours on NBC Radio and slept for only 10 hours. During the D-Day invasion, he broadcast on NBC for more than two sdays straight He died in 2003 at the age of 100.
This historic recording was recorded at St. John's home outside of Washington, DC. He was 95 years old at the time and the interviewer was Ralph Collier broadcasting over WRDV. The program was called "I Hear America Talking." Our audio comes from the original cassette used to record the show. Like dozens and dozens of other Collier broadcasts, the entire Ralph Collier archive was donated to Broadcast Pioneers by his wife Birtan.
Listen in the Windows Media Format!
Our last audio selection dates from August of 1958. The broadcaster was Pat Landon. The station was WRCV Radio (today known as KYW Newsradio). While he don't have the exact date, we know that this audio was aired at 6:06 pm.
This broadcast was recorded on an 8 and 3/4 inch green flexible transcription disc. It wasn't meant for broadcast so the quality is not the greatest. It was donated by member Michael Muderick. Member Bill Gellhaus transferred it from disc into an audio format and member Gerry Wilkinson prepared the broadcast for the newsletter.
Let us say right now that the quality leaves much to be desired. However, we spent about 10 hours cleaning up this 5-minute piece of audio. We removed over 700 pops and clicks (manually). We also used software to remove some of the background. The condition of the recording now is much, much better than when we started. Keep in mind that it came from a noisy transcription disc never intended for broadcast.
Listen in the Windows Media Format!
Remember, History is ONLY What Gets Saved!
(If there were no portraits of George Washington, how would we know what he looked like?)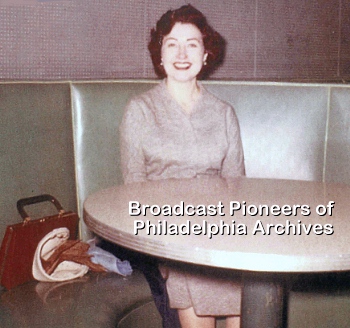 Kay Woodard, RCA Promotion Person at Raymond Rosen Distributors
WPEN Radio
950 Club Studio (William Penn Room)
circa 1960
photo originally donated by Charlie Conway
(Kay's husband was WFIL Announcer Hal Woodard)
IN TOUCH WITH THE INDUSTRY:
Member Dick Standish tells us that former Newsradio Executive Editor Fred Walters has produced an e-book compiling many of his best blog posts for the News Patriot of Harrisburg. Fred has been writing columns, a veteran's journalist's take on current events, for several years. He's staying current and technologically up-to-date. News Horizons is listed on Amazon.com, along with Fred's hardback book about Revolutionary War hero John Haslet.
Ric Harris has replaced Eric Lerner as President and General Manager of NBC 10 and Telemundo 62 (WWSI). Lerner left to take a similar position with NBC 4 (WNBC) in New York City. Harris comes to Philly from NBC Connecticut, WVIT, the NBC O&O in West Hartford where he served as president and GM for the last two years. Before that, he was VP of sales for the TV station. Harris earned a master's degree (communication management) and a bachelor's degree (communications and English) from John Carroll University in Ohio. Harris, who is 51, is a native of Cleveland.
Broadcast Pioneers member Joanne Calabria, Vice President for Public Affairs for the CBS Television Stations Group (including CBS 3 and the CW Philly 57) tells us: "Our new digital network 'Decades' had its official launch on Monday (Memorial Day). 'Decades' can now be seen in the Philadelphia market on the following channel positions – Over the air st 3.2, Comcast at channel 244 and Verizon Fios at channel 483."
"Decades" will feature a unique "daily time capsule" lineup exploring different years, trends or events. Programming will include a one-hour original series as well as popular TV shows and films chosen to immerse viewers in that day's context. Programmed as a six-hour block, the schedule will be repeated four times each weekday, giving viewers in all time zones multiple opportunities to tune in.

"Decades" will feature the original one-hour weekday program "Through the Decades" presenting historical CBS News and "Entertainment Tonight" footage, along with other archival elements. Emmy and Peabody Award-winning journalist Bill Kurtis hosts "Through the Decades," which unlocks our shared history. Viewers will explore the decades of the 1950s through the 1990s, where they can relive, remember and relate each day.

Each weekend, "Decades" will binge classic TV shows such as "The Mary Tyler Moore Show," "The Untouchables," "The Beverly Hillbillies," "Dark Shadows," "I Love Lucy" & more starting Saturdays at 1 pm.
Netflix is planning a revival of Full House called "Fuller House." The program will star Philadelphian Bob Saget, who played Danny Tanner on the ABC comedy decades ago. It will be a 13 episode sequel scheduled for next year. John Stamos will be the executive producer and the other lead actor. Also in the cast will be Candace Cameron-Bure, Jodie Sweetin, Dave Coulier, Lori Laughlin and Andrea Barber. The Olsen twins will not be part of the new series.
A LITTLE BIT OF BROADCAST HISTORY!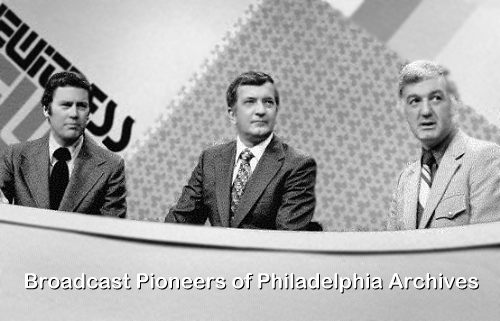 Broadcast Pioneers Hall of Famers Bill Kuster, Vince Leonard and Al Meltzer
Eyewitness News Set
circa 1972
ON THE HEALTH FRONT:
Long time broadcast personality Pinky Kravitz is recovering from emergency heart surgery. It forced Kravitz to miss his afternoon drive broadcast in the first time in 56 years. Pinky's Corner is well known at the shore for interviewing prominent people on WOND, 1400, Pleasantville. Pinky will be 88 next month. Broadcast Pioneers member Tom Lamaine did some of the fill-in broadcasts for Pinky Kravitz.
THANKS FOR THE MEMORIES:
Three Blocks Square - More Thoughts
written by Dick Sheeran!
It was called "3 Blocks Square." It was one of my very favorite series projects in 30 years of reporting on KYW-TV3. The Philadelphia area is a cluster of distinct neighborhoods. The series focused on three square blocks of a given neighborhood and told stories that had never before been on TV news. It was the opposite of the usual fires, shootings and car crashes that unfortunately fill TV newscasts.
Besides the challenge and excitement of doing the series, the best part was working with Liz Matt. I called her "Lizzard," a term of endearment to be sure. We worked as a team producing the stories. Liz was so bright, so imaginative, such a pleasure to work with.
Lizzard and I literally walked every one of the three square blocks in each neighborhood knocking on doors trolling for interesting yarns. We researched the neighborhood spending lot of time at the Free Library, including the historical picture section.
We usually did 8 to 10 pieces on each neighborhood. The first piece always looked at the history of the section, how it started and how it evolved. We told personal stories of the folks who lived there, including any celebrities who grew up down the block.
We used old photos and film and special effects available at the time in TV news technology. But mostly the stories were told by the neighbors themselves.
My personal favorite story was told by an older man sitting on the porch of his home on Front Street in Kensington. He told about the day the legendary Babe Ruth came to the neighborhood for a charity baseball game. He related with a chuckle how the Babe hit the longest home run in history. He said the Babe whacked the ball way over the fence of the nearby ballfield. The ball sailed high and far and landed on a passing freight train headed to Chicago. Now that is a long home run.
Another Kensington story involved something called a Tom Thumb Wedding. A neighborhood historian told us about a Protestant church which held one of these pageants in which little children played parts in a wedding ceremony. Tom Thumb Weddings were popular in the 1920s. They were used as fund raisers for the church. The tradition comes from the wedding of General Tom Thumb who married another little person. The general was promoted by P.T. Barnum back then.
We showed neighborhood institutions, places like Salers Dairy Store in Oxford Circle. Salers was a kosher establishment in the primarily Jewish neighborhood. It's a place where one never mixes dairy products with meat. I jokingly asked Mr. Saler what he would do if anyone tried to mix the two. He replied with a smile, I tell them to "go stand in the corner."
In our Chinatown segment, we told the story that before the restaurants, the earliest businesses were laundries. The chow mein followed the wash.
I discovered the delicious Depression Era dish called Bread Pudding in our 3 blocks segment on Upper Darby. I had no idea you could make a great dessert out of day old bread. People came from miles around to taste it in a restaurant on Market Street just off 69th.
Before the series ended, we also visited Fairmount, Lawnside, NJ, West and South Philadelphia among others. We won an award for the 10-part South Philly stories. We focused on the legendary Palumbo's Restaurant which started as a boardinghouse for Italian immigrants who walked there after getting off the boat on the Delaware River at Washington Avenue. We talked with Frank Palumbo whose parents started the place. The parents became the welcoming committee for those immigrants who helped build the city. Their son Frank, a most generous man, went on to become one of the city biggest benefactors. He ran Palumbo's for years. It was THE institution for weddings, anniversaries, birthdays, political gatherings, and the place to see every entertainer who ever came to Philly from Sinatra to Bennett to Jimmy Durante. (My mom and dad's wedding reception was held there in 1937). While I fronted the pieces on TV, the real star was Liz Matt who guided the stories from beginning to end.
A LITTLE BIT OF BROADCAST HISTORY!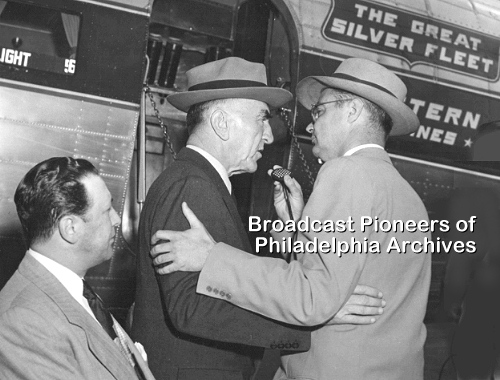 Max E. Solomon, Eddie Rickenbacker and Tom Moorehead
circa 1945
This photo features Broadcast Pioneers members Max E. Solomon and Tom Moorehead. We can see that Moorehead is interviewing Eastern Airlines head Eddie Rickenbacker. During the First World War, Rickenbacker was an American Fighter Pilot winning the Medal of Honor. Max E. Solomon served as President of the Broadcast Pioneers of Philadelphia during 1968 & 1969. Tom Moorehead held that same office after Max moved on to become our Chairman. Both Solomon and Moorehead have been inducted into our Hall of Fame.
Some Herb Clarke Garden Reports for June!
Member Herb Clarke is probably best known for his weather reports for 40 years on WCAU-TV, Channel 10, here in Philadelphia. However, after retiring from TV, he was heard on KYW Newsradio doing garden reports. Herb loved gardening. He also love Broadcast Pioneers. He served this organization as President and then Chairman of the Board plus was on our Board of Directors for decades. We thought you might enjoy a few of his garden reports that seem quite appropriate for the season.
June Garden Lessons
(aired on Tuesday, June 4, 2002)
A few tips for this month: In June, the bugs become a problem on the terrace or porch after sunset. You won't get as many if you use yellow or red outside lights. Insects don't see those colors as well as others and they'll go next door to the white lights.
No refueling the lawn mower while it's running or hot. A fire could ruin your whole day. And put in gas with the mower parked on a paved surface. Even a small spill of gas can kill a big patch of grass. If you're buying a plant in a container, ask the garden center person to lift it out of the container so you can be sure the roots are well-developed. And don't buy plants with roots circling around the pot.
One good deep watering of plants should be enough if you're going on a short vacation. A thoughtful neighbor can kill your plants with too much water. Herb Clarke, KYW Newsradio.
Nearby Herbs
(aired on Monday, June 9, 2003)
No other garden plants supply such wonderfully aromatic foliage, cooking benefits or an easy-growing attitude as an assortment of herbs in containers. And planted in a windowbox or containers, they add color and beauty to front or kitchen entrances and patios.
You don't need great amounts of herbs for cooking or delightful smells, so it's best to go for variety. A mix of Mediterranean herbs in a sizeable container: oregano, sage, thyme, rosemary and bay are beautiful and useful. This combination needs a lot of sunlight and somewhat dry soil.
Try mixing parsley with a few kinds of basil – Spicy Globe, Siam Queen or Purple Ruffles and Lemon Basil – with flavored flowers like Lemon Verbena, Lemongrass and Lemon geraniums. Give this arrangement a drink of water everyday.
The combination of moss-lining and wire baskets is excellent as an herb container. They hold the moisture well. Herbs can be decorative and useful in most any container. I use chives instead of ornamental grass in pots of pansies and parsley and rosemary spotted in pathway flower beds. Herb Clarke, KYW Newsradio.
Marigolds
(aired on Monday, June 16, 2003)
Millions of amateur gardeners are loyal to marigolds for bright blending colors, season-long flowers and versatility. American or French Marigolds are the mainstays. But there are dozens of newcomer varieties. Short ones to be used as borders, tall for flower beds or both sizes in containers. They're all beautiful.
Seeds or plants should have gone in the ground earlier in spring, but you can still add marigold plants to beds now for a later blooming. Bear in mind, buying marigolds at the garden center will give you choices. Just be sure to check the labels for colors and size; some grow only a foot tall, many go up three feet.
While the plants are young, snip or pinch off the growing tips to encourage bushy, compact foliage. Marigolds like full sun and good moist soil, and they don't mind summer heat and dryness.
Put a few among your tomatoes and the marigolds will prevent root nematodes, and if you burn dried marigold foliage, the smoke will chase mosquitoes over to the house next door. Herb Clarke, KYW Newsradio.
What's on 560 khz on Tuesday, June 28, 1932!
WFIL was the merger of two Philadelphia pioneer radio stations, WLIT and WFI. The two combined in January of 1935. WLIT was originally WDAR. They changed the call letters to WLIT in 1925. That station was owned by Lit Brothers Department Store. WFI was owned by Strawbridge & Clothier. Until their merger, the two stations shared the 560 khz frequency. We DO mean share. Here's what was on the frequency for Tuesday, June 28, 1932!
560 khz

6:45 am - Health Exercises (WFI)
8 am - Gene & Glenn (WFI)
8:15 am - Morning Devotion (WFI)
8:30 am - Cheerio (WFI)
9 am - Women's House Hour (WLIT)
9:15 am - Democratic Convention Highlights, Mrs. J. Borden Harriman (WLIT)
9:30 am - Northern Liberty Hospital (WLIT)
9:40 am - The Marmola Program (WLIT)
9:45 am - Our Daily Food (WFI)
10 am - Market Report (WFI)
10:05 am - The Banjoleers (WFI)
10:15 am - Souvenirs of Melody (WFI)
10:30 am - Hillbilly Songs (WFI)
10:45 am - Breen and de Rose (WFI)
11 am - Dr. Ella Oppenheimer (WLIT)
11:15 am - Household Institute (WLIT)
11:30 am - Gorham's Orchestra (WLIT)
12 noon - Home Circle (WLIT)
12:15 pm - Noonday Religious Service (WLIT)
12:30 pm - Charlie Kerr's Orchestra (WLIT)
1 pm - News (WFI)
1:15 pm - Recital by George Vail (WFI)
1:30 pm - Studio recital (WFI)
1:45 pm - Market Report (WFI)
2 pm - Marimba Melodies (WLIT)
2:15 pm - Ada Bower, reader (WLIT)
2:30 pm - Edward Bandis, pianist (WLIT)
2:45 pm - Woman's Hospital Program (WLIT)
3 pm - To be announced (WFI)
3:15 pm - Contemporary Art (WFI)
3:30 pm - Woman's Radio Review (WFI)
4 pm - Junior Theater (WFI)
4:15 pm - Evelyn Oliver, soprano (WFI)
4:30 pm - Virginia Allen, contralto (WLIT)
4:45 pm - Jack Abrams, pianist (WLIT)
4:55 pm - Time Signal (WLIT)
5 pm - Gertrude Bilby, messo soprano (WLIT)
5:15 pm - Skippy (WLIT)
5:30 pm - Pirate Club (WLIT)
5:45 pm - Jack Kemf, pianist (WLIT)
5:50 pm - Sports Summary, baseball scores (WLIT)
6 pm - Sports Flashes & scores (WFI)
6:15 pm - Time Signal (WFI)
6:30 pm - Melody Briefs (WFI)
6:45 pm - Back of the News (WFI)
7 pm - Book Review (WFI)
7:15 pm - American Air Transportation, Colonel Harry Blee, Department of Commerce, speaker (WFI)
7:30 pm - Ray Perkins (WFI)
7:45 pm - The Goldbergs (WFI)
8 pm - Sanderson & Crumit (WFI)
8:30 pm - Mary & Bob (WFI)
9 pm - Alden Edkins, bass baritone (WFI)
9:30 pm - Ed Wynn and band (WFI)
10 pm - Dance Hour (WFI)
11 pm - Russ Columbo's Orchestra (WFI)
11:15 pm - Democratic Convention Roundup (WFI)
11:30 pm - New Yorker Orchestra (WFI)
Ben Gimbel!
Here's a bio of Ben Gimbel written in 1959 when WIP Radio was sold to what would be known as "Metromedia.".
Benedict Gimbel, Jr., president and general manager of Ph1ladelphia's Radio Station WIP, has a definite philosophy for station operation. "I like to run WIP as though it were the only radio station in Philadelphia," he says, One of radio's pioneers, he has been with WIP since it was, in truth, one of the first stations in Philadelphia.

Mr. Gimbel, a member of the prominent mercantile family, cast his lot with the infant broadcasting industry 38 years ago, when he resigned as vice president and board member of Gimbel Brothers in Philadelphia to join the new company owned station.

Started as an adjunct of the advertising department of the store, WIP offered a challenge to Ben Gimbel. The exciting new medium seemed, in his own words, "a combination of show business and advertising." The excitement of radio has never left Mr. Gimbel. Combining a showman's flare with a businessman's judgment, Mr. Gimbel has guided WIP through almost 38 years of change in- the industry, in the city, and in the world. In fact, even the ownership of WIP changed when, under his leadership, a group of businessmen, headed by Gimbel, and including his good friend Bob Hope, bought WIP from Gimbel Brothers in September 1958, for $2,500,000.

A native Philadelphian, Ben Gimbel was educated in the Philadelphia public schools and at Thorpe School in Stamford, Connecticut and La Villa, in Lausanne, Switzerland. He left the University of Pennsylvania's Wharton School in his sophomore year to enter the Army in World War I. Discharged with the rank of sergeant, he returned to college and was graduated from the Wharton School. He began his business career at Gimbel Brothers in Philadelphia, working his way through many departments to an executive position.

His department store training has always stood Ben Gimbel in good stead. A recent article in Variety, the trade journal of show business, stated that Ben Gimbel runs WIP "with the experienced eye of a retailer...by stocking something within the reach of everyone."

A born showman as well as an astute businessman, Mr. Gimbel's name is almost as synonymous with opening nights in Philadelphia as it is with radio itself. His personal guest book, containing the names of hundreds of his show business friends, and his many books about the theatre, together with his collection of over 1,500 autographed photographs of celebrities, form a reference library of unusual interest.

Ben Gimbel's collections are indicative of his many interests. His collection of antique moustache cups has been the basis of a Sunday feature in the Philadelphia Inquirer magazine, and has been borrowed for special displays. His collection of records is the envy of experts, and his collection of fire helmets includes some from cities as far away as Tokyo.

A serious student of etymology, Mr. Gimbel has a library of dictionaries and reference books containing more than a hundred volumes, including an unusual research library on curious and little known facts.

An inveterate "fire buff," Mr. Gimbel is called by the station at all hours and notified of all multiple—alarm fires. Understandably, he is an honorary fire chief of the Philadelphia Fire Department.

Mr. Gimbel finds time to integrate himself into the civic life of the community, serving actively on innumerable boards and committees. These include the following: Child Welfare Advisory Board, Crime Prevention Association, Police Athletic League, Citizens' Council on Fire Prevention and Junior Achievement. He is a director of the World Affairs Council, and is chairman of that organization's "Decisions, l960" program.

Mr. Gimbel holds the honorary degree of Doctor of Humane Letters from Lincoln University. He has been the recipient of many honors both in Philadelphia and other cities. The latest of these includes citations from City Council and from the Chamber of Commerce of Greater Philadelphia for the public service program, "Search for Peace." This program, developed under Mr. Gimbel's guidance and distributed to stations throughout the world, won a "Golden Mike" from McCall's, and was the subject of statements of praise on the floors of both houses of Congress.

`Mr. Gimbel, himself, was acclaimed by Senator Hugh Scott (R., Pa.) in a speech on the floor of the United States Senate for "placing the public good above gain, in the finest traditions of the broadcast industry.
OUR HATS OFF TO YOU:
Special Thanks for April 2016 Scholarships:
Member Dan Lerner - 5 scholarships
Member Sylvia Kauders - 1 scholarship (from a grant for 5 yearly scholarships running until 2019)
Member Harry Hurley's Golf Tournament - 1 scholarship (for a South Jersey resident or student)
Member Johnny B. Hall and his wife, Ginny - 7 scholarships
Member Kal Rudman - 5 scholarships (for Temple University students)
Special Thanks for a contribution of $1,000 or more to our DAP, Digital Archival Project:
Member Johnny B. Hall and wife Ginny - $3,000
Member Marlin Taylor - $1,000
Member Harry Hurley's Golf Tournament - $1,000
Member Glenn "Hurricane" Schwartz - $1,000
Special Thanks for a contribution of $500 or more to our DAP, Digital Archival Project:
Member Esther Kurtz - $500
Member Art Moore - $500
Member Rod "Storm" Phillips - $500
Thanks to Member Peter DeFeo for his contribution to our archival project. Special thanks to new member Richard Troyan for his extra donation with his membership application.
Underwrite a complete scholarship and we'll give you credit in the electronic newsletter until the scholarship is awarded in April of 2016. Give us a donation of $1,000 or more and we'll list you in our "Thank You" column for a year. Give us a donation of $500 or more for our Digital Archival Project and we'll list you in our "Thank You" column for six months.
More Thanks:
Special thanks to Hall of Fame inductee (class of 2012) Harry Hurley for his generous contribution pledge of $500. This donation is for our general fund.
Thanks go to the following people who attended our May luncheon and made an extra donation: Mike Bove, Diego Castellanos, Bud Galow, Bill Kelley, Dorie Lenz. Mike Nozillo, Fran Odyniec, Allan Stone, Steve Tatz, Les Waas, Corky Warren and Gerry Wilkinson.
Special kudos to Michael Bailey who donated to our archives, several kinescopes that, at one time, came out of the WCAU-TV library. Two of those films were given to Michael Bailey to protect decades ago by John Massi, a local TV cameraman. One of them was a kinescope of the CBS network program "Candy Carnival." While we already have one show from the series, we found out that this is a different one. These historic documents came to us via members Liz Matt and Michael Muderick, who has done the actual screening of these recordings. Our next job is to now get this material into a digital format for preservation. Thanks to everyone involved.
To everyone who included an extra contribution when sending in their 2015-2016 membership dues, we thank you. Those received this month include: Tom Moran, John Johnson, Ted Hodgins, David McCrork, Stephen Gary, Marilyn Heine, Constance Webber, Ruth Weiman, Ron Corbin, Trudy Haynes, Michael Nise, Betty Davis, Alan Boris, Peter DeFeo, Liz Matt, Robert Bocchino, Ed Eisen, Kim Martin, Richard Maloney, Al Primo, Steve Tatz, Marc Howard, Sid Mark, Mike Nozilo, Harold Sacks, Mike Bove, David Figenshu,Pat Ciarrocchi, Bud Galow, Merrill Reese, Robin Adelman, Ira Adelman, Ken Jeremiah, Kevin Delany, Mel Gollub, Marie Pantarelli, Mike Strug, Allen Stone, Cindy Keiter, Bill Kelley, Chuck Gagliardi, Roger Hendler, Terry Ruggles and Valerie Morrison.
A growing portion of the revenues that fund the different activities of the Broadcast Pioneers comes from donations. This includes our archival project and our scholarship program. Now, we are making it even more beneficial for our donors. Broadcast Pioneers is now able to accept gifts of appreciated stock, which provides a significant tax benefit to you. By giving appreciated stock (stock which is worth more now than what it cost when it was purchased), you can get a charitable contribution tax deduction based on the current market value of your stock. At the same time, you avoid the capital gains
tax that would arise if you simply sell the stock. So if you'd like to support our educational mission or our archival project and save money on taxes too, please consider making a gift of appreciated stock. We are a federally recognized, state chartered charity with a 501(c)(3) status. Contact us at (856) 365-5600 or e-mail pioneers@broadcastpioneers.com for more details.
Don't be left out. You too can make a pledge. It's never too late. You can earmark it for scholarships, our Digital Archival Project or our general fund. Thanks so much for your support.
Our special thanks go to TUTV - Temple University Television and The Kal & Lucille Rudman Media Production Center.

They have underwritten a grant to be used to fund an entire year of all our newsletters for calendar year 2015. We thank them so much for their support!
If you forgot to make an extra contribution (cash or memorabilia) and would like to do so now, it's never too late. We would be thrilled to hear from you at: PO Box 2886, Bala Cynwyd, PA 19004 or call us at (856) 365-5600.
A FINAL THOUGHT....
When Broadcast Pioneers Hall of Famer Phil Sheridan was a teenager back in the early thirties, his mother used to sing on the NBC Radio Network out of Chicago. One time, his mom was supposed to make a personal appearance in St. Louis but had laryngitis. Phil was with her and jumped in and sang in her place. He kept singing in the evenings while keeping his "day" job. For awhile, he was a laborer at one of the Ralston Purina's mid-west plants.
Phil and his wife, Jo, moved to Philadelphia where Sheridan got a job in an industrial plant and kept singing at night. He was then hired to sing full-time on WIP Radio in 1942. Four years later, Sheridan, a tenor, started doing comedy bits (and singing) on the KYW "Lunchtimers" program hosted by Gene Graves. Phil also did some serious acting on the station in local dramas. Later, Phil "Uncle Philsy" Sheridan went on to be a disc jockey on WFIL Radio and for decades was co-host of the Mummer's Parade. Phil recounted how he met his wife.
"Romance had blossomed. While carrying a hundred pound sack of feed in the Ralston plant one day, I stumbled going around a corner, dropped my sack on a pretty young lady's desk and fell in love."
Phil Sheridan
singer and comedian
KYW Radio
1948

Please contact us by e-mail at newsletter@broadcastpioneers.com or by mail to: Broadcast Pioneers of Philadelphia, PO Box 2886, Bala Cynwyd, PA 19004. Your stories are important, to you, to us, and your colleagues. Contact us today and we'll include your story in the next newsletter!

© 2015, Broadcast Pioneers of Philadelphia
All Rights Reserved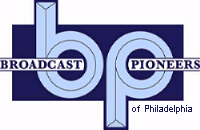 The e-mail address of the Broadcast Pioneers of Philadelphia is pioneers@broadcastpioneers.com
For luncheon reservations call (856) 365-5600 or e-mail us at: rsvp@broadcastpioneers.com