| | |
| --- | --- |
| | Broadcast Pioneers of Philadelphia is a federally recognized, state chartered 501(c)(3) non-profit organization serving the Philadelphia Broadcast Community since January of 1962. |
June Luncheon
The Bala Golf Club, Philadelphia
Wednesday, June 21, 2017

Meet and Greet at 12 noon!
Lunch served at 12:30 pm!
Ratecard: $28 per person

Please reserve now!
CALL & E-MAIL(856) 365-5600!
rsvp@broadcastpioneers.com
Another Third Wednesday Luncheon!
Wednesday, June 21st, 2017!
Good Food - Great Programs - Wonderful Times
Celebrate 85 Years of Channel 3!
Lunch is only $28 per person!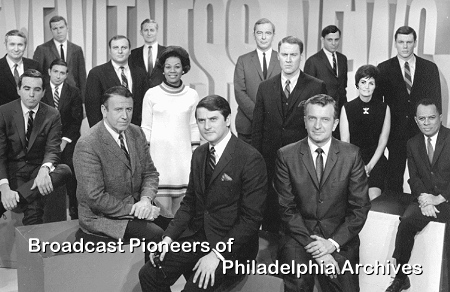 The First Eyewitness News Team
KYW-TV, Channel 3 (now CBS 3)
circa 1965
DON'T MISS THIS ONE!

Hit After Hit, Smash After Smash, Blockbuster After Blockbuster... Here's another "monster" lunch where the "stars" don't wait to come out at night. They're there at lunchtime!
At the end of June of this year, Channel 3 will complete 85 Years of telecasting here in Philadelphia. While they went through several owners and lots of managers, Channel 3 (now known as KYW-TV, CBS 3) has always been dear to people in the Delaware Valley.
Come out and help us celebrate their birthday, 85 years of telecasting! You'll certainly have a wonderful time. Make plans to be there on Wednesday, June 21st.
Our MC for the afternoon will be the ever lovely Pat Ciarrocchi, former anchor and reporter for KYW-TV, CBS 3.
Included in this jubilee will be the following scheduled speakers (in alphabetical order): Anne Amico-Mirkin, Carol Erickson, Irv Grodsky, Trudy Haynes, Ed Hurst, Tom Lamaine, Robin Mackintosh, Gary Mirkin, Dick Sheeran, Marciarose Shestack and Mike Strug. Also saying a few words will be Stephanie Lester (Claire Kasser) who was on one of the station's soap operas two-thirds of a century ago.
This takes place at the beautiful and historic Bala Golf Club, 2200 Belmont Avenue (across the street from the state police) in the Wynnefield section of Philadelphia. Only minutes away from Channels 6, 10 and 17 and the radio stations in Bala Cynwyd. Call now for reservations. (856) 365-5600! Don't miss this one!
Plenty of FREE parking. Our luncheons are open to all our members, their guests and any person in the industry or associated fields, whether active or retired. You do NOT have to be a member to attend. There is no reserved seating at our luncheons. Feel free to sit anywhere. Well, okay--the three people on the camera crew sit near the cameras, but that's in the back of the room.
The cost is only a donation of $28 (or more) per person! In order to speed up check-in at the luncheon, it would help if you had exact change or your check already written. Checks can be made payable to the Broadcast Pioneers of Philadelphia.
If you would like to add a few dollars extra, we would appreciate it. It would help us with all the important work we are doing. Thanks!

WE WANNA SEE
YOUR FACE IN THAT PLACE!

Visit Our Website Often - http://www.broadcastpioneers.com
You should check the front page of our website often (link above) for important information!
Tune in to our YouTube Channel - http://www.broadcastpioneers.com/youtube
Our YouTube Channel has all our luncheons, exclusive interviews and archival material!
Check out our Facebook Page - http://www.broadcastpioneers.com/facebook
There are things on our Facebook Page that are NOT on our website (like our vintage photo of the week)
Go to our Twitter Account - http://www.broadcastpioneers.com/twitter
The Broadcast Pioneers Twitter Account has info and stuff not available elsewhere!
Go to our Instragram Section - http://www.broadcastpioneers.com/instagram
Here's another one of our social media sections. Visit it as often as you wish!

REMINDER!
Please note that in the last couple of weeks, we snail-mailed your membership renewals. The next membership directory will be printed before you know it.
WE DO NOT SEND YOU MULTIPLE NOTICES! THIS WILL BE THE ONLY NOTICE FOR RENEWAL THAT YOU WILL RECEIVE.
If you haven't already done so, kindly return your form and check at your earliest convenience. Please also note that on the form is a very important little box that you can check to make an extra contribution. Our archival project is becoming an expensive thing to do. It costs us about $9,000 a year just to store all our material. If you can can afford it, please help us in this important project. Any additional amount will be greatly appreciated!

NEW MEMBERS TO BROADCAST PIONEERS:
FULL MEMBERS:
Diego Cruz Perez, Jr. was in the business in the mid-seventies and then returned to it twenty years ago. He has served on the WPVI Community Advisory Board. He worked for KYW-TV. However, his main claim to fame has been in his work in the Latin American community where he served as a writer for different Spanish language publications. He holds a Bachelor's degree in Journalism from Temple University and currently resides in Puerto Rico.
Frank Goldstein retired from NBC10, WCAU-TV in 2002 following a career of more than 30 years in broadcasting and journalism. As an editor and news and documentary cinematographer, Frank has been nominated for two regional Emmy awards and won many local, national and international awards, including two Cine Golden Eagles. Frank was twice elected to represent more than 400 Broadcast Technicians as CEO of IBEW Local 1241.
Mike Teiper was a cameraman, editor and field producer for a third of a century and retired about Thanksgiving time of last year. He has won over a dozen different awards over the years. Before coming to Philly, Mike was in the same position for WCPO-TV, CBS in Cincinnati and WDHO-TV (Now WNWO) in Toledo. He also was a partner in City Video Productions based out of Detroit, Michigan.
ASSOCIATE MEMBERS:
Janice Collins worked in the Public Relations Departments for PECO and for Verizon. Also worked in several local and national political campaigns. Janice has been attending our luncheons for the last half-year and plans to come to all the future ones. She graduated from Saint Joseph's University four years ago with a Bachelor of Arts in English and Communications.
Tammy Tuckey is the daughter of members Todd and Pam Tuckey. She is the current host and producer of "The Tiara Talk Show" and she has interviewed over 100 well-known individuals. She is a recent gradate of East Stroudsburg University of Pennsylvania. She won an Emmy Award for producing, directing and editing a documentary.
Pedro Jose Flores III, who is in his mid-twenties, has been involved in the pursuit of a wonderful career in acting and broadcasting for the last several years here in Philadelphia. He has been been in some commercials and some films for independent makers.
We are thrilled to have over 500 Members. More than ever. We hope to see as many of our members as possible at our June 21st luncheon. Make your reservations now!
DIGITAL ARCHIVAL PROJECT NEWS:
VIDEO: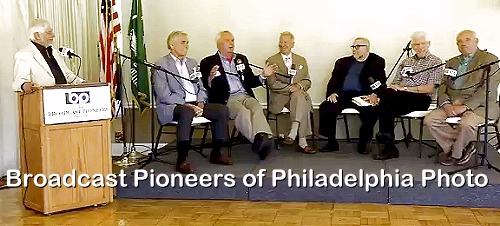 (left to right) Jay Lloyd, Dick Standish, Richard Maloney, Bill Baldini,
Frank Goldstein, Marc Howard and Dick Sheeran
(all seven are members of Broadcast Pioneers)
Broadcast Pioneers Luncheon
Bala Golf Club, Philadelphia
Wednesday, May 17, 2017
For two weeks, local broadcast outlets covered Three-Mile Island (TMI). What did it take to do the job? Were they in any danger? We gave you some of the answers at this luncheon. Our MC for the luncheon was member Jay Lloyd who covered the story for KYW Newsradio.
Our panel included (in alphabetical order):
Bill Baldini, former WCAU-TV reporter who covered Three Mile Island
Frank Goldstein, former WCAU-TV photojournalist who covered TMI
Marc Howard, former News Anchor who covered TMI for Action News
Richard Maloney, former KYW Newsradio reporter who was there
Dick Sheeran, former KYW-TV reporter who covered Three Mile Island
Dick Standish, former Channel 3 reporter who was on the scene at TMI
Watch the complete discussion!
(video courtesy of Broadcast Pioneers VP Brad Seecof and Metramedia Broadcasting & Studios)
AUDIO:
What do Milton Berle and Temple University have to do with each other? Berle was born in New York City, not North Philly. He attended the Professional Children's School in the Big Apple and never went to college, so that's not it. What is the connection?
Well, in this interview conducted by Broadcast Pioneers member Ed Hurst in 1990 on WPEN Radio, Berle talks about one of his first appearances in vaudeville, at the old Nixon Grand Theater located at the Southwest corner of Broad and Montgomery Avenue. Today, that site is the home of Temple University's Liacouris Center. During the forties into the seventies, it was the home of Willkie Buick.
In this piece, Berle said that he was a year old when he appeared there. Actually, he was joking. He was really 11 years old. He enter show biz six years earlier and was in "The Perils of Pauline," a smash silent motion picture shot in northern New Jersey. In 1920, a year after his appearance in North Philly, he was cast in Florodora, a musical comedy, that made its debut in Atlantic City.
SIDEBAR: The old vaudeville house was less than six blocks from Philadelphia's very first radio station, WGL. The station was owned by Thomas F. J. Howlett and documents show that its address of record was 2303 North Broad Street in North Philadelphia. It was less than a half block from the famed Uptown Theater, three blocks from the northern edge of Temple University and a half-dozen blocks from the Nixon Grand Theater, a well-known entertainment house that was erected in 1888 as "The Grand Opera House."
Listen in Real Audio!
Listen in Windows Media Format!
Our next piece of audio comes from 1967. It's March 8, 1967, Jack Pyle's birthday. Jack had passed away the year before on April 25, 1966. This is about 6 months before the station flipped to its well-known country format. At this time, they were playing a nice, easy listening format. One of their air personalities was Joe Moran (no relationship to member Tom Moran). Joe was doing morning drive on the station and he was previously at WIP Radio where he did the Dawn Patrol.
On this particular day, Moran interviewed Society Band Leader Charles Greesh. Our audio is three different segments. We have eliminated the music and put a second of dead air between the cuts. On this piece, Joe talked about Charlie's new record and how the couple on the cover looked like WRCP's Skip Clayton (a member of Broadcast Pioneers) and his girlfriend at the time, Linda Mooney. While they may have looked like Skip and Linda, Clayton assures us that it wasn't them. Skip tells us that he started working at WRCP in June of 1966. The station at the time was owned by WRCP Broadcasting Corporation, part of the Rust Craft group. Broadcast Pioneers founding member Gene McCurdy was the GM of the station at that time. Gene was a former President and former Chairman of the Board of this organization. Listen now to Joe Moran on March 8, 1967.
Listen in Real Audio!
Listen in Windows Media Format!
Today's News Becomes Tomorrow's History!
(This is what our Digital Archival Project, DAP, is all about!)
A LITTLE BIT OF BROADCAST HISTORY!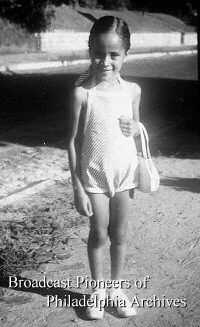 Member Edie Huggins
St. Joseph, Missouri
July 1941
IN TOUCH WITH OUR MEMBERS:
We spoke with member Harvey Sheldon, who lives on the West Coast. He told us that he's still alive and kicking. He's 81 years old and has written 32 books and is working on another one. He remarked that at his age, it's hard to get to Philly, but is feeling good. Harvey was a dancer on the original Bob Horn Bandstand. Sheldon went on to be a dancer on the Red Buttons TV Show and then Benny Goodman's telecast. A half-century ago, he owned some FM radio stations and a TV outlet.
The Memorial Day Weekend started a weekly dance party hosted by member Bob Pantano every Sunday in Wildwood. The Bob Pantano Dance Party Comes Home to the Jersey Shore. It takes place at 2nd Street Annie's, 3601 Pacific Avenue starting at 8 pm.
The original art work of a major Delaware River Pier on Columbus Blvd has been given to Penn Warehousing and Distribution Co. established in 1920. They are the continuing operators of the pier. The rendering was created by the art department of American Advertising Services, about 30 years ago. American Advertising marks its 61st anniversary next month. Its founder and president is member Joe Ball. By the way, Soni Sunaina, a former Account Marketing Manager at Thrive Concepts, Minnesota, has joined Joe's company.
We heard from member John Brown, Award Winning international author and retired traffic reporter and meteorologist. He tells us that The Hollywood Book Club is considering his writing "Why Not? Conquering the Road Less Traveled," for "Book of the Year" and he may be their "Author of the Year." John's book was reviewed by the Scottish Post. John said that it was "very cool to get some international recognition." He says: "We continue to raise money for Variety Club through the sale of my book." You might wonder why a publication in Scotland is reviewing his work, well, that's because he's of Scots descent.
Board Member T. Morgan was once again the Grand Marshal for the Philadelphia Bar Association's 38th Annual Run. The 5K Run/Walk took place on Sunday, May 21st Memorial Hall in Fairmount Park. The race helps abused children find more stable lives. Morgan told us: "It is a very good cause. This year, we had a record crowd. The weather was perfect. No rain and not too warm. It really is heartening to see all those who run. Many ran pushing strollers. One man ran with a child on his shoulder the entire way. People kept cheering and encouraging all those who took part."
It's the 10th Annual "Hurley in the Morning" Golf Tournament. When? It's Friday, June 16th. It's at The Harbor Pines Golf Club in Egg Harbor Township, New Jersey. The "Hurley in the Morning" Charity has raised more than $ 700,000 during the past decade. During most of that time, the tournament has underwritten a Broadcast Pioneers $1,000 scholarship to be awarded to a Stockton University student and has also given us a $1,000 grant for our Digital Archival Project. Member Harry Hurley hosts his famous talk show daily on WPGG from 6 am until 10 am. Harry was inducted into our Hall of Fame in 2013.
The latest version of "Talkers Magazine" is out. Each year, they publish the "100 Most Important Radio Talk Show Hosts in America." Well, Broadcast Pioneers member Harry Hurley is rated in the number 60 position. That's a ten point increase from last year and 40 points in the last two years. Also on the list are Michael Smerconish, Dom Giordano, Chris Stigall, Terry Gross and Rich Zeoli.
Aaron Muderick was at it again. It was on the Hallmark Channel's "Home and Family" show over the Memorial Day weekend. The show originally aired in the 10 am to 12 noon block and is repeated on the show's next broadcast day in the 12 noon to 2 pm slot. He was on for over 8 minutes talking about his "Crazy Aaron's Thinking Putty." Aaron is the son of Broadcast Pioneers member Michael Muderick.
This year's Gloucester City Summer Concerts start next Tuesday. They are located in Proprietors Park, Powell and Kings Streets in Gloucester City, NJ. They are free and are held every two weeks at 7 pm. Bring a blanket or chair. The host is our very own Michael Tearson, who was inducted into our Hall of Fame last November. Check out the August 8th evening as Tearson also performs.
Today's News Becomes Tomorrow's History!
(This is what our Digital Archival Project, DAP, is all about!)
A LITTLE BIT OF BROADCAST HISTORY!
Wayne Cody (Uncle WIP)
WIP Radio
circa 1946
Did you know...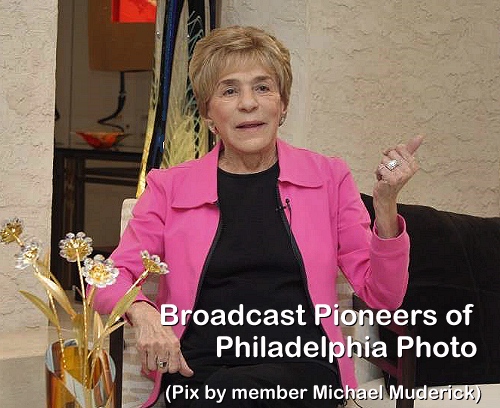 Member Jane "Pixanne" Norman
in her Penthouse home
Bala Cynwyd, PA
January 2, 2017
With a handful of "pixie dust" and an ocean full of talent, Jane Norman flew into the hearts of millions of children who watched her as PIXANNE for 17 years on local and national television. PIXANNE originally aired on WCAU-TV, Channel 10 in Philadelphia; then on WNEW-TV in New York, before becoming nationally syndicated.
Jane was born in the East Oak Lane section of Philadelphia. She was a true musical prodigy playing Mozart and Beethoven on the piano and composing at age 3. She started piano lessons at age 3 1/2, and concertized throughout the Philadelphia area until age 14 (when she decided she'd much rather be playing ball outside with the boys, than practicing!).
At age 8, Jane composed a piece that was played by the renowned Philadelphia Orchestra, entitled "A Sad Story." The Philadelphia Bulletin wrote that Jane's composition had a Tchaikovsky feeling, and predicted great accomplishments for the young composer.
After graduating from Olney High, Jane went to Temple University, where she received a degree in Early Childhood Education, with a minor in radio and television and, of course, worked at WRTI radio. She also starred in many Templayer theater productions. While in college, she was a regular on-air actor in the "University of the Air" and "Studio Schoolhouse" series, both produced at Temple and aired over WFIL Radio. After graduating from Temple, Jane taught kindergarten for four years at the Shoemaker School in Cheltenham Township.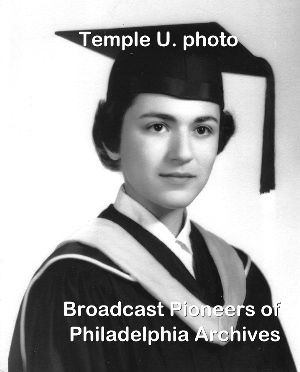 Television was Jane's next step. She approached Lew Klein, whom she knew from Temple University. Lew is a former president and then chairman of the Broadcast Pioneers of Philadelphia. Klein told her that WFIL-TV, Channel 6 already had a children's performer and suggested Jane go to Channel 10, WCAU TV.
It's a good thing she never knew that walking in off the street (without an appointment) is something you can't do! She saw the program director and convinced him she would do the best children's show ever! "Take me to the studio and I'll show you," she said. In the studio, Jane did exactly what she had been doing for the past four years with her kindergarten children: Sing, talk, and tell stories. After ten minutes, the WCAU-TV powers told her to go home and think up a program idea. That night at the dining room table, PIXANNE was born!
Jane had always wanted to do "Peter Pan" on Broadway, so she decided to create a female version of Peter Pan, PIXANNE, who would live in a magic forest with an owl (Oggie), a butterfly (Fliffy), numerous puppet characters and an alter-ego, Windy Witch. And, of course, she would fly! The rest, as they say, is history. By the way, Jane said that it is Windy and not Wendy as so many other websites have reported.
One month later, she was on the air on Saturdays. After a few months, the show expanded to six days a week, and a year later, settled into its 5-day a week daily timeslot, following Captain Kangaroo at 9 am. In no time at all, Pixanne's ratings surpassed the Captain's and almost every other show on the CBS roster, sign on to 5 pm. She would often achieve a 10-12 rating and a 62% share of audience, a number hard to top.
In addition to her loyal family following, Jane was a favorite of some patrons of a bar in Upper Darby, who gathered each morning at 9 a.m. to watch PIXANNE's every move. She wore a size 5 dress. She received countless letters from them addressing her hairstyle, plot lines, stories and songs they loved to hear. But the real joy of Jane's life (besides her son who was born three years after PIXANNE entered the forest) was the thousands of letters she received from children, parents and teachers who were touched, informed, influenced and entertained by the pixie who brought a special kind of magic into everyone's heart.
Oh, how sponsors loved PIXANNE! One drawing contest in Philadelphia elicited 20,000 responses. When repeated in New York, 500,00 entries were received. Over the Valentine's Day weekend one year, 472,145 telephone calls were placed to PIXANNE, a daytime average of more than 8,000 calls per hour. Circuits were jammed all over the city in one of the most dramatic displays of affection (and television's power) ever shown for a children's television personality.
When Jane became pregnant, she appeared on-air in a magic cape (which she wrote into the script) and appeared more frequently as Windy Witch (in the witch's flowing costume) and did personal appearances up until the day before she delivered her son Richard. Most fans never knew. The day her son was born, Jane taped five shows and went straight to the hospital from the studio. She returned to the forest two weeks later-ten pounds lighter (but with a brand new pixie).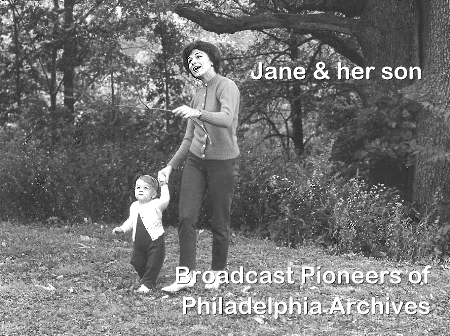 Then there's the flying. Maybe the flying obsession started when Jane was four. After a doctor's appointment, Jane stood at the top of a flight of steps outside the doctor's office and announced, "Watch Mommy, I can fly!" and the little four year old spread her wings and took off. Down she went, with a hard landing, but no broken bones, only to try again many years later, with the aid of Peter Foy, who flew Mary Martin in her original black and white television version of "Peter Pan."
In order to fly, Jane wore a parachute harness under her costume and a studio A.D. flew her. However, the one time the cable broke and down went the pixie onto the concrete floor of WCAU. Both she and the A.D. went to the company health care provider. When the doctor asked Jane what happened, she told him,"I was dropped while I was flying." The doctor was a little befuddled. Two minutes later, the A.D. walked in and told the doctor, "I dropped a fairy while she was flying!" Jane said that the doctor was never the same.
When Peter Foy came to WCAU to fly Jane, Jane explained that she didn't want any wires to show (as the four guide wires had shown in the Peter Pan TV version). Jane wanted only one wire-even if it meant wearing the harness for many hours until she learned how to control the spinning that occurred when being attached to only one wire. After eight hours, Jane finally perfected the body position and the taping commenced. After the taping session, Peter removed the harness, and Jane looked as if she had been injured in an automobile accident, with countless welts and bruises. Was it worth it? Jane said: "That same flying tape opened and closed every show five days a week for 17 years. So I guess it could be said that the welts and bruises were amortized over the long run. And the illusion still remains. Not a wire was to be seen!"
One six-year-old little girl wrote, "My daddy planted a tree next to our house so that you'll have a place to land when you visit me." PIXANNE never wanted to disappoint her fans. In one incident, she went to the bank between tapings, dressed in her pixie suit. A little boy came over to her and said he didn't know that pixies needed money. He then expressed concern over how she'd get back to the forest. Jane assured him it was no problem. She then waited until the child and his mother left the bank so that the little boy wouldn't be disillusioned seeing PIXANNE not flying but driving away. Preserve the illusion at all costs!
Broadcast Pioneers member Jane Norman was certainly a pioneer and on Friday, November 18, 2005, she was inducted into our "Hall of Fame." She passed away last month at the age of 83.
Our special thanks go to TUTV - Temple University Television and The Kal & Lucille Rudman Media Production Center.

They have underwritten a grant to be used to fund an entire year of all our newsletters for calendar year 2017. We thank them so much for their support!

You Can Help Us!



When you log into Amazon via http://smile.amazon.com, all eligible purchases earn Broadcast Pioneers a donation of 0.5% from Amazon. However, you must log in to Amazon through http://smile.amazon.com. We have made it simple. You can also log into them using http://www.broadcastpioneers.com/amazon. It's easy to remember and takes you to the same place.
AmazonSmile is the same Amazon you know. Same products, same prices and the same service. The only difference is that they donate 0.5% of your eligible purchases to Broadcast Pioneers. IT DOESN'T COST YOU ANY MORE TO DO THIS! Same price to you and we get a donation to help us continue with all our great educational projects! IT'S WIN - WIN!
MORE DIGITAL ARCHIVAL PROJECT NEWS:
VIDEO: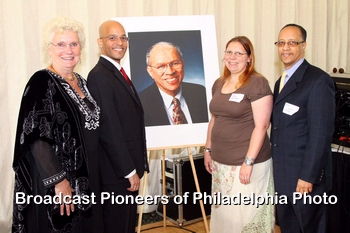 Mrs. Ilse Poindexter with Malcolm's two sons, Malcolm III and David
and Ilse's daughter Kirsten Kovalchick
at the Broadcast Pioneers' Tribute to Malcolm Poindexter
Wednesday, May 19, 2010
On Wednesday, May 19, 2010 (that's seven years ago), we had a tribute to member Malcolm Poindexter. Our moderator was Broadcast Pioneers member Trudy Haynes.
On the panel we had:
Pat Ciarrocchi, anchor and reporter for CBS 3, KYW-TV
Paul Gluck, former Channel 3 News Director & Malcolm's boss
Richard Johnson, friend of Malcolm at Opera Ebony
Robin Mackintosh, Malcolm's former KYW-TV colleague
Mike Quinn, retired producer for KYW-TV, Channel 3
Dick Standish, former reporter for CBS 3 & KYW Newsradio
Plus Malcolm's wife, Ilse Poindexter joined us along with Malcolm Poindexter's sons, Malcolm and David. The latter said a few words on behalf of the family. And we had Al Primo, live on the telephone. Al created the Eyewitness News format and was the one who hired Poindexter.
(video courtesy of Broadcast Pioneers VP Brad Seecof and Metramedia Broadcasting & Studios)

AUDIO:
It's spring of 1978 and it's the last morning on WWDB for a guy named Merrill Reese, a member of the Broadcast Pioneers and the station's Sports Director. Merrill had been the sports guy for 'DB's morning man, Wynn Moore (an inductee into our Hall of Fame). The newscaster was Jack O'Reilly.
Merrill told us this about the Moore program: "It really was an ensemble like a morning zoo or what Angelo does now with a whole gang." Reese left WWDB to go full-time with WIP Radio as their Sports Director and as play-by-play announcer for the Eagles broadcasts. Merrill Reese was our "Person of the Year" in 2005.
Listen in Real Audio
Listen in Windows Media Format
Dan Curtis
Official WCAU Photo
1967

George Lord
Official WCAU Photo
1967

Al Ringler
Official WCAU Photo
1967
In our audio archive, we have a piece of audio from "News Conference" with George Lord and WCAU Radio. This daily program aired from 12:15 pm until 1 pm (right after 15 minutes of news) and featured WCAU Newsman George Lord. The announcer of the show was Dan Curtis. It aired over both WCAU AM & FM (now WPHT and WOGL).
First, we have 25 minutes of the 45 minute program dating from Monday, March 15, 1965. On that day, George was joined by WCAU Radio's News Director, Al Ringler. This is all we have of the program. Unfortunately, we do not have the missing 20 minutes. However, you can tell that this particular day, they were taking questions and comments on anything happening in the day's news. The last third of the tape is not in the best condition and the entire cut was recorded off air as proved by the crackling of AM radio reception.
Listen in Real Audio
Listen in Windows Media Format
Remember, History is ONLY What Gets Saved!
(If there were no portraits of George Washington, how would we know what he looked like?)
A LITTLE BIT OF BROADCAST HISTORY!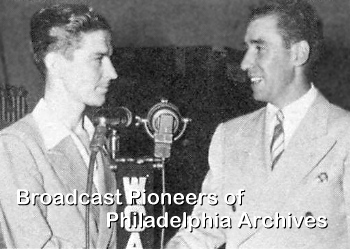 (Left to right) Taylor Grant and Dick Siebert
WCAU Radio
1622 Chestnut Street, Philadelphia
circa 1938
Dick Siebert was a major league first baseman and played for the Brooklyn Dodgers and the St. Louis Cards. The Cardinals traded him to Philly and the American League Athletics. Here, a young Taylor Grant is interviewing Siebert on WCAU Radio in Dick's early days with the A's. In 1979, the University of Minnesota renamed their stadium Siebert Field. Why? Because after retiring from playing major league ball, Siebert was the head coach for the school's baseball team for decades. By the way, Dick's son, Paul was a pitcher for several major league teams in the seventies. Taylor Grant served on our board of directors for decades.
IN TOUCH WITH THE INDUSTRY:
Founded in 1971, Sinclair Broadcasting is buying (subject to FCC approval) Tribune Media. Tribune owns WPHL-TV, Channel 17 in our market. The deal gives Sinclair 42 additional TV stations in 33 different markets plus some cable networks and some non-broadcast business ventures. The deal is worth almost four billion (with a B) dollars and Sinclair assumes Tribune's debt.
Sinclair is based in Maryland, just outside of Baltimore and is the largest group of local stations with 173 already in the fold. In 2014, Sinclair spent almost a billion bucks to obtain Allbritton Communications which owned WJLA-TV in the nation's capitol plus seven other stations. Sinclair has been, it's rumored, interested in starting their own national news network. The company was previously called the Chesapeake Television Corporation.
Telemundo62 Philadelphia, WWSI announced that Alexandra Galarza has joined the station as general assignment reporter. Brian Mendoza has joined the Telemundo62 news team as South Jersey reporter. Both do reports for the station's local newscast, Noticiero Telemundo62 that airs weekdays from 5 pm to 6:30 pm and again at the 11 o'clock hour.
Jim Brown has been named Sales Manager of Talk Radio 1210 WPHT as well as local traffic ad sales across the CBS RADIO Philadelphia cluster. He began his career in Philadelphia media in 1983 as an account manager at KYW-TV3 now CBS-3 and has never left the media sales industry.
Some of his career highlights include serving as SVP and Director of Sales at Shadow Networks and being a founding partner at Traffic.com. Most recently, Jim spent 13 years at Greater Media, Inc., where he held senior leadership roles including General Sales Manager of BEN-FM and WMGK, Station Manager of WJJZ, and Group Sales Manager at WMMR-FM, WMGK-FM, WBEN-FM & WPEN-FM.
WJSE, 106.3, North Cape May flipped formats. They went from alternative to classic hits from the 60s, the 70s and 80s. The former format was in effect for the last five years. The station is owned by Coastal Broadcasting and Coastal also owns 98.7, the Coast (licensed to Villas, (Cape May) NJ) which plays the hits of today and yesterday.
With Beasley Media adding the Greater Media chain to its portfolio, Beasley CEO Caroline Beasley says that the next step in their new programming structure is the format captain position. Philly's PD Bill Weston becomes format captain for the Beasley rock stations nationwide. Other format captains include the CHR/AC format, Urban format stations and the country outlets.
CBS RADIO Philadelphia's Senior Vice President and Market Manager David Yadgaroff, a member of the Broadcast Pioneers, announced the promotion of Shelly Easton to VP of Music Programming for 92.5 XTU (WXTU-FM), Today's 96.5 (WTDY-FM) and 98.1 WOGL-FM, and the promotion of Bobby Smith to Program Director of 98.1 WOGL. Easton will remain the Program Director of WXTU in addition to her new responsibilities at WTDY and WOGL. Smith, current Program Director and on-air personality of Today's 96.5 WTDY, will take on Program Director duties of WOGL. Both promotions are effective immediately.
Today is the premiere of the NBC 10 feature, "Preventing Suicide: Breaking the Silence." It is available tonight at 7 pm on NBC10.com. The digital exclusive report takes an in-depth look at suicide in the Greater Philadelphia region to help raise awareness, remove the stigma, grow mental health literacy and shine a light on the role that local government and health organizations are taking to address this critical issue. The half-hour program will also be available on the NBC10 mobile app. NBC10 reporters Vince Lattanzio, Denise Nakano, Rosemary Connors and Alicia Lozano spent several months investigating the issue.
Preston and Steve of WMMR-FM have signed for a multi-year deal. The two joined the station 12 years ago in 2005. Their morning drive numbers are good says the broadcast outlet. This is actually an extension of their current contract for Preston Elliot and Steve Morrison. You can them on WMMR from 5:30 am until 10:30 am when Pierre Robert takes over.
KYW-TV, CBS 3 will present the 11th Annual Alex Scott: A Stand for Hope Telethon. It's a full day of fundraising for Alex's Lemonade Stand Foundation. It all takes place two days from now on Thursday, June 8th live from the CBS Broadcast Center in Philadelphia, 6 a.m. to 8 p.m. in special segments on CBS 3 and The CW Philly throughout the broadcast day. The event has raised more than $17 million since it began in 2007.
WE REMEMBER:
Edith Hay Bigoney passed away last month. When she was just 21 years old age, Edith appeared in the very first Philco TV commercial that was broadcast (live, of course) between Philly and New York City. It was right after the Second World War. Channel 3 was just gearing up to expand its broadcasting day. Bigoney was 93. Later this month, KYW-TV (CBS 3) celebrates 85 years of telecasting.
Jim Bunning died a couple weeks ago. He was a major league pitcher and a political leader from Kentucky. Many of us will recalled with fondness watching (or listening) to Bunning's perfect game for the Philadelphia Phillies on Sunday, June 21, 1964. It was broadcast over WFIL Radio and TV. The game was from NYC and was the first of a doubleheader. The play-by-play people for that season for the Phils were By Saam, Bill Campbell and Richie Ashburn. However, Bill was off that day because of the death of his mother. The question is: Who took Bill's place in the announce booth that day? They would have needed a third broadcaster so they could cover both radio and television (separate audio) for the over 5 hours that the doubleheader would last. No one seems to remember. Do you know? Please tell us.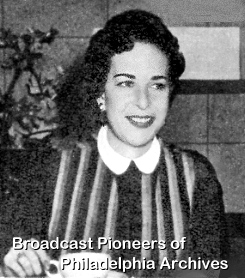 Joan Crane
on the set of the "Mr. and Mrs." Show
WCAU-TV, Channel 10
Bala Cynwyd, PA
1953
(Photo originally donated by member Anthony DiFlorio)
Her name was Joan Rackmil, but many of you may have known her as the first Mrs. Gene Crane. Gene and Joan Crane were the hosts of an early WCAU-TV program entitled, "Mr. and Mrs." They had a son, David, who many will know as the creator of the hit TV show "Friends." After Gene and Joan divorced, both remarried. Joan moved to New York when she married the co-founder of Decca Records and the president of Universal Pictures, Milton Rackmil, who passed away in 1992. Joan passed away during the middle of last month. She was 91.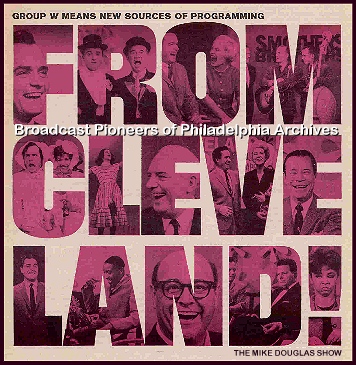 1963 Mike Douglas Show Ad
KYW-TV, Cleveland
Roger Ailes went to work right out of college for KYW-TV (in Cleveland at that time) as a Production Assistant on the local program, "The Mike Douglas Show. By the time, KYW-TV switched back to Philadelphia in 1965, Ailes was producer. He came east with Douglas to Philly and eventually became EP. During one of the Douglas' shows, he met and befriended former VP Richard Nixon. Later Nixon hired Ailes to run his successful 1968 television campaign and Ailes left Philly. He later founded the Fox News Channel. He passed away last month three days after his 77th birthday.
ON THE HEALTH FRONT:
Two more young ladies have joined the CBS 3 Eyewitness News family in May. First one to show up was Nicole Brewer's new daughter, Grace Ellison, born on May 3rd at 6 pounds, 10 ounces and 19 and a half inches in length. Grace already has a big brother. Next on the scene was Solenne (pronounced so-LEN) Marit Elisabeth. She the new daughter of Meteorologist Kate Bilo. Born on May 31st, she was 8 pounds, 6 ounces and 20 inches long. Solenne already has two siblings. Interesting footnote is that Broadcast Pioneers Vice-President Bill Kelley taught Kate history in high school and she was one of his performers in the school's annual musical event that he produced.

THIS AND THAT! Little Bits of Information....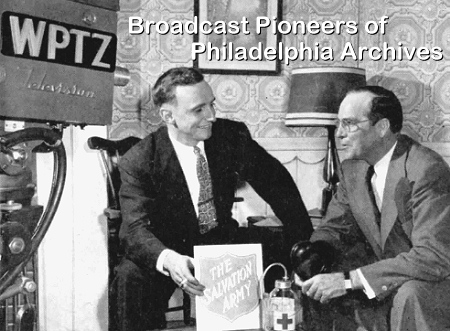 (Left to right) Roy Neal and Albert J. Nesbitt, president of the United Fund
WPTZ, Channel 3's "Open House" program
1952
(Roy worked at WPTZ before going to NBC-TV News)
In the spring of 1937, Donald Thornburgh, CBS Radio's Vice-President in charge of things on the west coast, took off one day for San Francisco in association with the Palace Hotel's new radio studio construction. Thornburgh would later come to WCAU to run things. Also, at that same time, Claude Haring, came from WCAU to WWSW in Pittsburgh as a sports announcer for Atlantic Richfield. He would later return to Philly to do play-by-play coverage for major league baseball's TV coverage.
Alexander Dannenbaum, nicknamed Bink, was the sales manager of WPTZ, Channel 3. He was a native Philadelphian and was born on July 11, 1911. His dad was president of WDAS Radio. Dannenbaum is what the D stood for. Bink returned to the station after the Second World War (he was a major in the signal corp). At WDAS, he served as commercial manager. Shortly thereafter, he went to WPEN Radio where he was their commercial manager. Then he went to WPTZ, Channel 3 (now KYW-TV). It was there that Dannenbaum accepted the job of Sales Manager for the Philco station (WPTZ).
In April of 1977, WPVI announced that reporter Jim Gardner was named anchor and that weather personality Jim O'Brien would assume additional duties as the anchor at noontime. Two months later, it was announced that WPVI prime time anchor Larry Kane was leaving the station and joining WABC-TV, Channel 7 in New York City in the same position. At that same time, word got out that KYW-TV anchor Mort Crim WBBM-TV, went to Chicago as evening co-anchor and noon anchor. Both Kane and Crim are members of this organization.
In 1962, the Freedoms Foundation announced its winner of their yearly awards. WFIL Radio and Television won one for their spot announcement series entitled, "One Nation Under God." The prize was $500 cash.
Mayor Richardson Dilworth named May 1957 as "Radio Month in Philadelphia." At the same time, the Governor of New York State, Averell Harriman, named the beginning of the same period, "National Radio Week." We guess that radio in Philadelphia was four times as important as in the rest of the country.
In May of 1954, WIP Radio (owned at that time by Gimbel Brothers Department Stores) asked the FCC to delete its application for television station channel 29 in Philadelphia. Keep in mind that the station was a UHF outlet and almost no one could receive it. In the mean time, WPTZ, owned by Westinghouse was claiming that it reached 6,390,000 people. By the way, WIP had earlier applied for Channel 12 in 1946 and reinstated their bid for the license during the summer of 1947. They later withdrew their request.
In 1950, there was an organization called, "The Philadelphia Broadcasters Association." Its president was Ben Gimbel. Gimbel, president of WIP Radio, along with Gordon Gray, WIP's VP, founded the group. Max Leon, new owner of WDAS Radio was named treasurer and Pat Stanton, owner of WJMJ, was the group's secretary. A quarter of a century later, Max Leon was a Vice-President of the Broadcast Pioneers of Philadelphia and Stanton was honored as our Person of the Year in 1972. Gimbel was inducted into our Hall of Fame in 1992.
If you recall last month, we ran a little piece about a show entitled, "Pietro's Place." It was a soap opera that ran on NBC-TV and originated out of WPTZ, Channel 3. Claire Kasser (using the air name Stephanie Lester). Well, we got some more info from her. She wrote:
Remember a guy named Mark Richman, who was in several films in Hollywood? He was my love interest in the series. When he kissed me, I always forgot my lines in rehearsal. So finally, the director Benny Squires told us to fake it until air time. Ernie Kovacs (who worked at Channel 3 at that time) was watching in the studio and thought it was the best kiss he ever saw. I fortunately remembered my lines. He was a really good kisser and he knocked my socks off. I was an eighteen year old and in those day, it was a big deal being on TV.

THANKS FOR THE MEMORIES:
The Channel 3 Memories of William Craig Smith, Part One!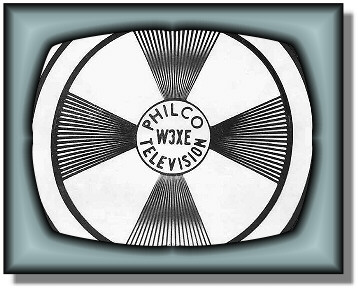 Here's a major find. Buried in our archives we found a xerox of a hand written personal history of someone's adventures with W3XE and WPTZ. It had a date of October 16 & 17, 1982 on it. The person, a man, worked there from 1939 or so until at least 1950 and he was their chief set designer.
Roy Neal (remember him from NBC News) e-mailed a decade ago: "...I remember him. I think his name was Smith. He designed "Open House" (Roy's show on Channel 3) and all other sets we used. I saw him once, in Hollywood, after he left Philadelphia. Very talented guy."

Our copy is on ten sheets of paper. Keep in mind that these are Xeroxes (sorry, we don't seem to have the originals) and at the bottom of several of the sheets, it becomes unreadable. We have not left anything out (other than what we couldn't read). It's a fantastic piece of Philadelphia broadcast history.
It is believed to be part of the "memories" file that was used as a basis for the 50th anniversary of Channel 3 done in December of 1982 by KYW-TV.

The art designer was the famed William Craig Smith who passed away in August of 1986 at the age of 67. Smith was nominated twice for Emmy Awards because of his work in television. He was also nominated for an Oscar in 1982 for his efforts in Victor-Victoria. Smith studied under Clyde Schuyler and Alexander Wyckoff here in Philadelphia. He was born in 1918 and went to Art School after High School. That would have put him about age 21 in 1939.
Here's what the paper said:
As far as I can tell from this distance, I began working for W3XE either in 1939 when I graduated from art school or early in 1940. My interest was actually in set, that is to say scenery, design but the real need was for cameramen and my time was spent both building and painting sets and operating one of the two studio cameras. I was not used to operate the remote camera since I had no real knowledge of baseball or football and was too slight in build to handle the enormous cameras on field tripods which were inherently top-heavy and difficult to handle. These field cameras (we may have had two, I don't remember) had only sports sights consisting of a wire frame at the front and a peep-sight at the back. The cameraman had no control over focus which was adjusted from the control truck (or temporary control room) by remote control, and the field seen in the crude sports-sight was, I'd have to assume, fairly inaccurate. Clarence Thoman was in charge of these sports programs and could tell much more about the early cameras, etc. I haven't heard from him in many years.

In the studio it seems to me the two cameras, both of them hand built in the Philco lab, did not match. One was obviously older and used a single lens. The "view finder" consisted of a hole cut in the back of the camera housing through which one viewed the image as it appeared on the target of the iconoscope via an ordinary pocket mirror glued inside the front of the housing! The silver spattered mica of the target was basically gray so that the observed image was very dim. It was also upside down and was seen that way by the cameraman! Control room instructions had to be quickly transmitted by the operator - down for up, up for down, etc.

The other camera was much newer and had an optical view finder involving 2 lenses, one for the picture tube....Both cameras were huge by today's standards and the one just described can be seen in some of the accompanying photos or film. The cables to control had been hand fabricated and stuffed sausage-like into canvas sleeves. The final assembly was about 2 and ½ inches in diameter and extraordinarily clumsy. When it was found that the canvas covers caused objectionable swishing sounds when pulled across the floor they were later recovered with velour or cotton velvet. We did not see electronic view finders until after the war and the studio bought two of the newest RCA orthicon cameras. I remember the engineers being too impatient to await delivery from Camden, going across the bridge in a station wagon to carry those instruments like new born babies up to the top floor of the Architects Building on Locust Street. They spent days playing with the new lower light levels made possible by the image orthicon - lighting pipes and cigarettes and using only the light from the matches....

To go back to the roof top studio at the factory.... As you might expect the heat when all these lamps were on defied description. The studio at one point bought the cameraman pith helmets but they got in the way of what crude view finders there were and were finally abandoned. Performers frequently passed out on camera. I remember one group of nurses from one of the hospitals who did a program of christmas carols during the season. As they sang, they started to slide out of the bottom of the picture and were slid along the floor into the "shady" end of the studio until they came to. The effect on our audience of 300 or 400 must have been fairly startling. I had of course no budget for what little scenery we built, or props we required and I deemed it quite a coup when I was able to borrow a fine ebony grand piano from the Wanamaker store. It had already been sold (probably eight or $9,000 dollars at the time) and we were cautioned to be extra careful in handling it. Later that day, the pianist discovered that without some protection he could not touch the black keys which had absorbed all that radiant heat from the lights. He covered the tips of his fingers with Dr. Scholl's corn pads which were flesh colored and thought to be invisible. I doubt that these improved his touch. The real horror was to come. When we went on the air, the top was raised on the stick. Now it was closer than ever to all those glowing lamps and I watched in silent horror as the hand rubbed varnish erupted in melting bubble and popped open. Wanamakers piano department was not amused. In an adjoining space on the roof was a really monstrous air conditioning plant which more often than not froze and seized up in a vain attempt to cool that inferno.

The control room, the size of a large broom closet,was a jerry built pile of video amplifiers, hundreds of vacuum tubes adding more heat, and the whole thing draped like a Christmas tree with garlands of resistors and condensers and what-not in experimental configurations hoping to improve the picture. Many of these soldered together chains of components ran across the floor and walking was hazardous.
The Channel 3 Memories of William Craig Smith, Part Two!
Obviously these pictures had all the charm of a portrait taken in one of those dime store booths. Aside from the shell-shocked appearances of the performers forced to endure the heat and searing brilliance of the lights they managed to look more or less normal on the air thanks to one of the most bizarre systems of make-up. As it was explained to me, the camera's tubes were very sensitive to infra-red radiation and without special steps taken the whole venous structure of the face and other flesh tended to show through as if the skin had been stripped away. Joe Noble made up a batch of make-up in shades of gray. He concocted this disgusting mess out of cold cream, zinc oxide and (I presume) lamp black. It managed to black out the radiation but the prettiest of women under all the battleship grey turned into strange aliens and plain people were so grotesque as to bring children to tears and strong men to near hysteria.

Since no shadows could exist in the white hot effulgence of that tiny sound stage lighting "effects" were impossible. I made a practice of having Joe or somebody light the set with a couple of conventional 750s and painted the shadows directly on the walls of the set. When the lights used during a transmission came back on there was at least the appearance of shadows. This attempt was moderately effective, but the engineers thought the whole thing was a waste of time. At a time when they were still trying to figure out how to cross fade between 2 cameras, I suppose now, it seemed fairly esoteric....

Scene painting techniques were more those of the poster than of Vermeer. The resolution was not so good that we couldn't get away with painted details which today would be laughable. Pictures, lighting fixtures and sometimes furniture were often painted on the walls.

In this tiny studio, the Germantown Theater Guild reproduced their production of Coffee & Cowen's "Family Portrait." Two cameras, two operators, one stage manager and a cast of over twenty, a couple of hundred "Birdseye" photofloods and scenery (such as it was) crowded into this miniature inferno of heat and light can not be imagined. It had to be experienced. Talk about troupers, not a soul passed out even though the last supper candles were in liquid puddles two minutes into the scene. We should have known better.
Shortly after the war broke out, I believe; the studio shut down due to the fact that our frivolous activities were interfering with the testing of certain secret devices downstairs in the factory. Nobody ever said so but most of us knew it was radar. Frank Bingley, an English engineer who had worth with J. L. Baird in London was drafted for this secret work early on, was flown quietly to England on a Clipper and on a subsequent trip was lost at sea. A brilliant man and we missed him terribly. In the time before the operation was reduced to showing film from facilities at the transmitter at Wyndmoor, Pa, it seems our claim on the air time from Tioga & "C" was severely curtailed partly to save the iconoscopes which were in short supply having been, I think, built right there. At night I remember these tubes were gingerly removed from the cameras, stored in specially plush lined boxes and locked in a safe!...

For some reason I never completely understood, these tubes were sometimes baked a day or two in electric ovens in order to restore their efficiency. I don't know if I've got this right, but it seems that in use electrons splashed off the target and attached themselves to the inside of the glass envelope. Baking chased them back where they belonged. The handling of these precious tubes from care to storage and back again was performed with the kind of care later lavished on open heart surgery, so it was only natural that we'd have some fun. I had built a crash-box for sound effects; a wire mesh box full of fragments of broken glass, rusty bolts, etc. Hidden behind a drape, we waited until two engineers had carefully removed the neck yoke and were easing the picture tube out of the camera housing. We then unended the crash box with a racket like a jeep going through a plate glass window at Gimbels. Three electronic wizards with their backs turned to this operation had to be assisted to chairs in the control room! George Borden developed palpitations and the crash box went into permanent retirement. Shortly after most of us were in the armed services.

Some activity went on during the war at the transmitter, I'm told, all from film since the tiny studio was now off limits. We wrote to each other when we could and sometimes (before being sent overseas) we were able to visit the old gear while on leave. We'd knock back some beer in the glow of slowly fading monitors and talk about how great it was all going to be "someday." Someday finally came - and it all was.
The Channel 3 Memories of William Craig Smith, Part Three!
Let's see now. The war was finally over and if I'm not mistaken, all of us who had been overseas came back more or less whole. Old gear came out of storage and work began to convert existing facilities atop of the Architects Building into a TV Studio. Formerly the headquarters for the Philadelphia Chapter of the American Institute of Architects. This penthouse space with flanking roof-top terraces and elegantly tall french doors was beautifully detailed and maintained. The library with its tile floor, Italian marble fireplace, and walnut book shelves became the scene shop! In six months, it was a paint spattered ruin, shelves which had held leather bound volumes of Palladio and Vitruvius now held cans of paint and boxes of nails and screws. The fine Italian fireplace held our compressor and paint spraying gear. The classical moldings were taking a dreadful battering. The big board room was partitioned off for a control room at one end and down from Tioga and C came all the piping with their photoflood lamps, and another camera was built to match the pre-war models. A great tower went up on the roof to get the signal to the factory tower (or maybe directly to Wyndmoor - I'm not sure). Offices were on a lower floor. Ernie Loveman became president and our call letters changed to WPTZ. People were hired at such a rate that almost everyday someone new showed up. We "workers" all joined a local of the IATSE and became charter members. Philco was a bit unhappy but this post war enthusiasm was pretty heady stuff. I was making $135 a week I think - or was that a month?...

We had game shows, cooking shows (one opened with the announcer saying "Ben Butler has pig's feet" which panicked the populace) quiz shows, puppet shows, ballets, plays, short operas, tricky titles - the works. Up at the factory, they were playing with color. New RCA image orthicon cameras arrived and with them the era of nicely lighted pictures.

After a couple of years, the studio, now too big for its quarters began a move to the KYW radio studio, over on Walnut Street. This handsome Art Modern building had been built with the top area (2 stories high) left unfinished for "possible television use." I guess we leased the space - not sure how that worked. I got the chance to design new studios, some space was allowed to stay two floors high, the rest sat on newly constructed floors. Sound proofing was meticulous and, I thought, over built. Stage walls were layered with rock wool and perforated transite. All the metal studs were isolated from each other with rubber. Entire floors were poured floating on a sea of crumbled rubber nuggets...

While we were still at the Architect's Building, budgets were somewhat on the slim side. My lumber was carefully nurtured and grip would sometimes spot empty crates in the alleys behind Locust Street and haul them up to the top floor to add to my stock. Andy McKay (of Ernie Kovacs fame), God bless him, was our most energetic and ingenious propman. And frugal too. One day for some set I needed some curtains made for a couple of windows. I'd bought some cheap chintz at Kresge's, I guess. I said, "Andy take this material down to a tailor somewhere and get him to sew up these curtains. Here's three dollars." He was gone for hours. When he finally came back he handed me back the three bucks. "How come?" Well, he said he'd gone into the Singer store and asked if he could try out a sewing machine. Sensing a sale to the station they let him. He'd sewn up the damned things himself on the latest model in the window on Walnut Street! We finally did buy a machine, I think, the same year. I got a table saw from Sears Roebuck.

While we were still at the Architects Building, things were heating up and I really needed help. One day a tiny lady showed up fresh from the Goodman School of the Theater in Chicago. She had a portfolio of stunning sketches for sets and photographs. She had built most of them herself! I was immediately intrigued and moved to hire her as a carpenter/scene painter. You can imagine the distress of our brass. A woman? In the scene shop? She'll get hurt! I threatened to quit if I couldn't hire her. They gave in. She stayed for a year or so to get better at her craft than most of the guys I had. She left to go to Chicago to do the original Dave Garroway show, came to New York shortly after I did and became the only female art director at that time. She's in Hollywood now doing big things...Jan Scott. We see each other once in a while.

While doing her shop work she dressed in jeans and wore heavy shoes suitable for a day laborer. One day she was in the ladies room. Evelyn Green, Ernie Loveman's rather flighty secretary went in there and spied Jan's trousers and feet under the stall door. Evelyn's screams. ...Panic broke out on the floor. By the time the cops arrived Jan was back in our ruined library/scene shop ripping a 2x12 on the table saw. They popped in, popped out (the noise was ear-splitting) searched the building and left. That night she and I split half a case of something called Champale and had a good laugh. A blow struck for freedom....

My connection with WPTZ came to an end some in 1948 or early 1949. The bulk of programming was coming from New York. I had exhausted the possibilities in Philly and was courted by NBC in New York. By 1953, the programming was coming from Hollywood and I've been here ever since, later doing film work almost exclusively!

By the time I joined W3XE, Philco had been experimenting with mechanical and electronic TV for about six years, so I know little about those very early years. I recall them telling me that Philo Farnsworth had worked with them in the beginning and had later gone on his own. When I got there, the chief administrative job was held by someone called (I think) Nick Alexander. I don't think he saw the future in television and within a year he was gone to form a Dydee-Wash. And that's the truth. Under him was Warren Wright, the man who hired me originally and who stayed.... (Broadcast Pioneers note: Warren Wright later created "Willie the Worm" for WCAU-TV and he was Willie's voice).
A LITTLE BIT OF BROADCAST HISTORY!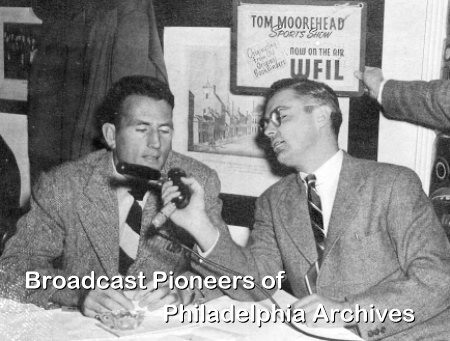 (Left to right) Unidentified male and Tom Moorehead
on location for
WFIL Radio
circa 1948
Tom Moorehead was the 8th president of Broadcast Pioneers serving in 1969 and 1970. He passed away in office. He also was the Sports Director for WFIL Radio. Tom hosted TV shows on Channel 6 during the fifties. On Friday evening, November 18, 2011, Tom Moorehead was inducted posthumously into the Broadcast Pioneers' Hall of Fame.
OUR HATS OFF TO YOU FOR GIVING:
We would like to thank the following for their contributions donated at our May luncheon. They include: Eric Address, Paul Big Bear, Tom Cannon, Diego Castellanos, Mark DiGiovanni, Mark DiGiovanni Jr., Rob DiRienzo, Bud Galow, Sheree Goldflies, Bill Kelley, Mel Klawansky, Bob Kravitz, Dorie Lenz, Liz Matt, T. Morgan, Mike Nozilo, Dave Petrelius, Steve Tatz, Pam Tuckey, Todd Tuckey and Gerry Wilkinson.
It's membership renewal time again. We want to thank the first batch of membership renewals to hit the Post Office Box. Those members were: Jerry Blavat, Robert Bocchino, Ray Didinger, Bob Feldman, Marc Howard, Johnny Lerro, Pearl Polto and John "Lefty" Rajca. We think they got their mail, wrote the check and ran to the mailbox. Hey, exercise is important.
Now we thank everyone who included an extra contribution when they sent in their membership renewal. They are: Dave Abramson, John Rajca, Marc Howard, Bob Feldman, Marlin Taylor, Liz Matt, Dr. Philip Thompsen, Ted Hodgins, Ron Corbin, Tom Moran, Mel Gollub, Brother Gerry Molyneaux, Bill McCloskey, Steve Tatz, Robin Mackintosh, Rich Troyan, Dick Sheeran, Cindy Keiter, Herb Scott, Bonnie Squires, Bob Kravitz, Ray Fiedler, Chuck Rabb, Marian Lockett-Egan, Kenny Jeremiah, Donald Bustard, Pat Ciarrocchi, David McCrock, Constance Webber, Anthony DiFlorio, Lydia Timmins, Dave Stanley, Irv Grodsky, Valerie Morrison, Frank DeAngelo, Esther Kurtz, Joe Tarsia, Daniel Fleishman, Vince Leonard, David Murphy, Scott Palmer, Mike Bove, Cathy Gandolfo, Hope Krosskove, Dave Roberts, Richard Maloney, Pam Tuckey, Todd Tuckey, Bruce Greenberg, Jerry Klein, Fred Woskoff, Steve Sacks, Alan Tripp, Tony Williams, Merrill Reese, Henry Chmielefski, Bob McCone, Phyllis McGinnis, Donald Rosenblit, Steve Selber, Terry Ruggles and Art Moore

We are a federally recognized, state chartered charity with a 501(c)(3) status. Contact us at (856) 365-5600 or e-mail
pioneers@broadcastpioneers.com
for more details. Your gift to Broadcast Pioneers will help us and may lower your federal income tax. That's win-win, isn't it?
Special Thanks (in alphabetical order) for the gift of Appreciated Stock: (a federal tax advantage for the giver)
Member Marc Howard - $3,600 (put into our general fund to be used where needed)
Member Sylvia Kauders - $5,159.45 (used for the scholarships listed below)
Special Thanks (in alphabetical order) for contribution of $1,000 or more to our DAP, Digital Archival Project:
Member Johnny B. Hall and wife Ginny - $3,000
Member Harry Hurley's Golf Tournament - $1,000
The Shunfenthal Family (in memory of Sherri Shunfenthal's father, Les Waas) - $2,000
Member Marlin Taylor - $1,000
Special Thanks (in alphabetical order) for April 2018 Scholarships:
Member Sylvia Kauders - 1 scholarship (from a grant for 5 yearly scholarships running until 2019)
The Shunfenthal Family (in memory of Sherri Shunfenthal's father, Les Waas) - 1 scholarship
Member Harry Hurley's Golf Tournament - 1 scholarship (for a Stockton University student)
Member Kal Rudman - 5 scholarships (for Temple University students)
Member Marlin Taylor - 1 scholarship
Member Johnny B. Hall and his wife, Ginny - more scholarships for 2018
Special Thanks (in alphabetical order) for a contribution of $500 or more to our DAP, Digital Archival Project:
Member Art Moore - $500
Member Lauren Lipton - $500
Bequests in their Will:
Member Sylvia Kauders passed away earlier this year. In her will, she bequest to the Broadcast Pioneers of Philadelphia, the amount of $5,000. This funding is to be used to underwrite one scholarship per year until gone. These scholarships will start in the year 2020 and continue until 2024. From a previous gift, Sylvia has underwritten one scholarship a year starting in 2015 and continuing until 2019.

Member W. Carter Merbreier passed away a couple of months ago. In his will, he bequest to the Broadcast Pioneers of Philadelphia, the amount of $1,000. This funding is to be used to underwrite one scholarship which will be awarded in April of 2017.
Underwrite a complete scholarship and we'll give you credit in the electronic newsletter until the scholarship is awarded in April of 2018. Give us a donation of appreciated stock of $2,000 or more) and we'll list you in our "Thank You" column for two years. Give us a donation of $1,000 or more and we'll list you in our "Thank You" column for a year. Give us a donation of $500 or more and we'll list you in our "Thank You" column for six months. You can select how we use the money: for our archival project, for scholarships or for our general fund to be used as needed.
More Thanks:
A growing portion of the revenues that fund the different activities of the Broadcast Pioneers comes from donations. This includes our archival project and our scholarship program. Now, we are making it even more beneficial for our donors. Broadcast Pioneers is now able to accept gifts of appreciated stock, which provides a significant tax benefit to you. By giving appreciated stock (stock which is worth more now than what it cost when it was purchased), you can get a charitable contribution tax deduction based on the current market value of your stock. At the same time, you avoid the capital gains
tax that would arise if you simply sell the stock. So if you'd like to support our educational mission or our archival project and save money on taxes too, please consider making a gift of appreciated stock. We are a federally recognized, state chartered charity with a 501(c)(3) status. Contact us at (856) 365-5600 or e-mail pioneers@broadcastpioneers.com for more details.
Don't be left out. You too can make a pledge. It's never too late. You can earmark it for scholarships, our Digital Archival Project or our general fund. Thanks so much for your support. If you forgot to make an extra contribution (cash or memorabilia) and would like to do so now, you can do so. We would be thrilled to hear from you at: PO Box 2886, Bala Cynwyd, PA 19004, call us at (856) 365-5600 or e-mail us at: pioneers@broadcastpioneers.com.

A FINAL THOUGHT....
"No man has a good enough memory to be a successful liar."
Record Promotion Man Matty (the Humdinger) Singer
as quoted by T. Morgan in his book,
Confessions of a Teenage DJ

Please contact us by e-mail at newsletter@broadcastpioneers.com or by mail to: Broadcast Pioneers of Philadelphia, PO Box 2886, Bala Cynwyd, PA 19004. Your stories are important, to you, to us, and your colleagues. Contact us today and we'll include your story in the next newsletter!

© 2017, Broadcast Pioneers of Philadelphia
All Rights Reserved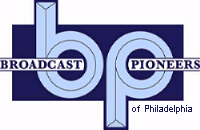 The e-mail address of the Broadcast Pioneers of Philadelphia is pioneers@broadcastpioneers.com
For luncheon reservations call (856) 365-5600 or e-mail us at: rsvp@broadcastpioneers.com