July Event
Tour at 10:30 am
Tuesday, July 29, 2008

CBS Group Radio Stations
2 Bala Plaza, Bala Cynwyd
Ratecard: FREE

July 2008
Issue #One
2008-2009

Reserve today by calling (856) 365-5600 or e-mailing us at: rsvp@broadcastpioneers.com
Welcome to our first summer edition of the Broadcast Pioneers Newsletter. With membership growing and interest in summer activities at hand we offer these insights into what's going on among the members today.
On Tuesday, July 29th at 10:30 am, we'll take a tour of the three CBS Radio Group stations at 2 Bala Plaza in Bala Cynwyd. You'll see the facilities of WOGL-FM, WPHT, The Big Talker (formerly WCAU Radio) and WIP Sports Radio. This tour will rapidly be filled because it is FREE and limited to 60 people. It is open to all members and guests. Your guide will be Tommy McCarthy, Music Director of WOGL, and Steve Ross of "Remember When" on WPHT will also be with us. RESERVATIONS ARE A MUST. CALL (856) 365-5600. You don't have to be a member to attend.

The June meeting was a big hit with Allen Sabinson, Fred Sherman, Johnny Lerro, "Pixanne" (Jane Norman) singing, and Bucky Clark at the piano and the incomparable Les Waas shared his latest ruminations. Great time was had by all.
We have heard from several members that they were called about travel/cruise events. Regardless of what callers may say, these events have NO CONNECTION with the Broadcast Pioneers of Philadelphia. The Organization is NOT associated or involved in any telemarketing operation and does NOT participate in any commercial venture. Such dealing could jeopardize our non profit status. Be assured that we do NOT sell to anyone or distribute membership information to any other than members. To assist in this, please shred or cut up old directories when disposing of them.
Meekness: Uncommon patience in planning a revenge that is worthwhile.
Ambrose Bierce
Sad to report several memorable pioneers died in the last month. Those of you old enough certainly remember Florence Hanford who died July 1st at 99. She began on TV Matinee in 1947, and then had TV Kitchen in 1949 on WPTZ, Channel 3 (now KYW TV). She moved to WFIL-TV in 1965 for several years. We also lost Bob Bradley who had a stroke at his Clearwater, FL home in mid June, and died the next day at 86. He was our Person of the Year in 1986, and a Hall of Fame member. Bob taught at Temple's School of Communications, was a staff announcer for three decades at Channel 3 and portrayed "Buckskin Billy" on a children's show. Joe Sanchez, age 60, who was proud of being the first Hispanic on-air news reporter in Philadelphia, has also died. In his career he worked for both ABC and NBC. They will be missed.
Former WIP honcho Dick Carr is still at it, making great sounds. Stations in Syracuse, Watertown and Utica were treated to a feature of Count Basie over the 4th of July weekend. Dick has Big Bands and Blues, a mix of Jazz and Standards, that airs on Saturdays on these stations with information about the artists.
Tom Moran, another Broadcast Pioneer and former WIP stalwart is attempting to advance the career of his best friend Mike Bowe by luring him into joining our club. He announces that Mike has begun doing the morning show from 6 to 9 on Martini Radio (WHAT - 1340). Tom informs us that Mike has a big following among tri-state radio listeners and for 20+ years has been on the air on WMGK. His most recent 'radio gig' was on Broadcast Pioneer compatible WPEN BS* (*Before Sports).
The Kurtz Family Foundation has made a gift of 3 million dollars to Penn Charter's new performing arts center. The Center will be named for David L. Kurtz, father of David an '82 PC graduate, and husband of Jennifer, who were instrumental in directing the money to the center. Kurtz, who died last year at the age of 73, with Jerry Lee, built B-101 into a broadcast powerhouse. He was a Broadcast Pioneer, and the two men are credited with laying the foundation for FM radio as a viable music format and business platform.
Jane Norman (PIXANNE) reports that she performed with the John Hoey Orchestra at a summerfest presented by Martini Lounge Radio (1340, WHAT).

Man is the only animal that blushes. Or needs to.
Mark Twain
While we're on the subject of Pixanne, she will be among the Pioneers' group at the Heritage House in Millville, NJ on July 18th at 7 pm for a celebration of "A Bit Of Philly," which will feature the Orlons, a singing group from Philadelphia, remembered for "The Wah Watusi" among other songs, with Johnny Lerro, the former Green Grocer, as MC, and to which our Chairman of the Board Bill Webber will add his estimable prescence. Dinner will be served, but in keeping with the Philly theme there will be soft pretzels and Tastykakes.
Henry Shaffner and his wife, Pioneers member Bobbie Shaffner, of Bala Cynwyd recently appeared on Bob Rovner's talk show on WWDB Radio (860 AM). They celebrated 40 years of their song ("Philly, I Love You") being played at various special events around the city. Rovner announced that the Shaffner's song, "Hillary, Oy! Hillary" performed in Yiddish by New York City cabaret star John Wallowitch can now be seen on You Tube.
Incidentally, if you haven't mailed in your membership renewal, it is now officially late! They were due on June 30th, and to avoid interuption in your service of the newsletter, please send it in promptly.
Greet new members: Steve Levy of Pagosa Springs, CO, who began in the business in 1970 at WFIL, and thence to KYW-TV, then WPVI-TV and finally at WCAU-TV, and is now our 326th member. Connie Roussin Spann of Bluffton, SC has joined our group. Connie had a long and successful career at WFIL-TV, beginning as "Miss Connie" and later on many other shows including "Dialing for Dollars" with co-host Jim O'Brien. Irv Grodsky who was with WKBS, Channel 48, in 1965, and later with KYW-TV is now with us, and we hope he can make lunch. Welcome to all our new members. Finally, one member has moved away. Roger Hendler is now located in Flowery Branch, GA.
We WILL have an August edition. If you would like to be in it please contact Paul Norton, at 205 Ocean View Blvd. Lewes DE 19958, phone 302-645-8910, or email: nanort@comcast.net.

© 2008, Broadcast Pioneers of Philadelphia
All Rights Reserved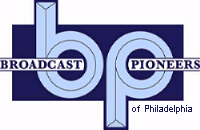 The e-mail address of the Broadcast Pioneers of Philadelphia is pioneers@broadcastpioneers.com
For luncheon reservations call (856) 365-5600 or e-mail us at: rsvp@broadcastpioneers.com