Visit Our Website Often - http://www.broadcastpioneers.com

A WRAP-UP ON OUR JUNE LUNCHEON:
Another Broadcast Pioneers record breaking attendance at our June luncheon. On Wednesday June 17th, we had 168 people with us as we honored and paid tribute to the memory of Broadcast Pioneers member Harry Kalas, Philadelphia's preeminent broadcaster for the Philadelphia Phillies and NFL Films.
Our speakers were:
Richie Ashburn, Jr.(son of Harry's best friend)
Dan Baker, Phillies Public Address Announcer
Bandleader Eddie Bruce, personal friend of Harry Kalas for 23 years
John Clark of NBC 10, WCAU-TV
Andy Musser, former Phillies, WCAU and CBS-TV broadcaster
Scott Palmer, Director of Public Affairs for the Philadelphia Phillies
David Plaut, Producer for NFL Films
Our MC for the afternoon was Broadcast Pioneers member, past President and current Treasurer, Pat Delsi. Special " call-ins" from Larry Bowa and Harry's son, Todd Kalas.
And, everyone received a CD of "The Phillies Are Winning Again" sung by Hal Martin and written by Broadcast Pioneers member Bobbie Shaffner and her husband, Henry. Plus, we had soft pretzels, courtesy of member Paul Big Bear. Our popcorn came from the good graces of UTZ Snacks, posters from the Philadelphia Daily News and Channel 17, WPHL gave away Phillies schedules and other items. Thanks to Bob Kaloustian of WPHT Radio for the Public Service Announcements promoting the luncheon.
Also in attendance was Mrs. Eileen Kalas and her daughter, Julie. Harry's wife said: " "It's always intimate. The people here are wonderful…. They love each other. They're down to Earth. Harry loved to come here to the Broadcast Pioneers. I'm proud to be here with my daughter, Julie!"
The afternoon was filled with wonderful memories and "little known" stories about Harry. As the speakers made their comments, it became crystal clear that Harry Kalas was the consummate gentlemen and all around "good guy." He easily made friends across the country, went out of his way to meet and greet fans, sign autographs and be the single most important "cheerleader" for the Phillies, through his powerful renditions of the song, "High Hopes." Harry will forever be in our hearts and never really be"outta here!"
If you missed this one, you missed a real blockbuster! Plan NOW on attending the upcoming luncheons beginning in September (A Tribute to Gary Papa) on the third Wednesday of every month at the Bala Golf Club. You'll be glad you did! Broadcast Pioneers of Philadelphia is making history. You need to be a part of it!
SPECIAL NOTICE:
Our Board of Directors approved the formation of an "Official Broadcast Pioneers of Philadelphia Archival Project." Since 2001, we have been trying to partner with an educational institution in our area; first with Rowan University and recently with The Temple University Urban Archives. Discussions are still underway with the latter. However, valuable recordings, photos and other documents are crumbling as each day passes.
Therefore, we now know that we cannot wait for a partner and thus we have taken it upon ourselves to save these materials in a digital format. We have received three donations so far for this project. The first two were for $160 and $40. The last one was a check from the Ed Harvey estate in the amount of $1,675.00. Thank you!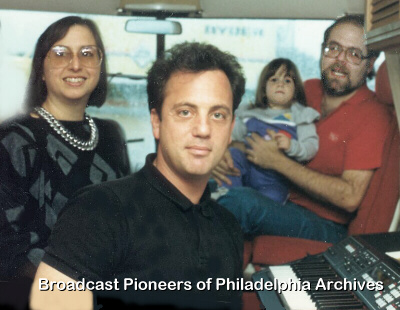 (Left to right) Judy Sciaky, Billy Joel, Monica Sciaky and Ed Sciaky
1986

We have been busily digitalizing historic Ed Harvey broadcasts along with fantastic interviews that Ed Sciaky did, courtesy of his wife, Judy. Right after our June luncheon, we received 100 "Al Alberts Showcase" broadcasts on the original "one inch tape" masters from our friends at WPVI-TV.

CHECK OUT THESE HISTORIC BROADCASTS!
All are from the Archives of the Broadcast Pioneers of Philadelphia!

5-22-64, Ed Harvey talks with guests about the play, The Deputy
This broadcast includes a local minister who later would be known as "Captain Noah"

10-7-67, Ed Sciaky interviews Mary Travers (of Peter, Paul & Mary)
This is the unedited version done while Ed was still a Temple University student

9-26-49, Hal Moore & Charles Shaw interview Al Jolson (WCAU Radio)

Al Alberts sings Christmas songs from 1996

3-7-58, John Zacherle as Roland (WCAU-TV)
This is the only known video recording of "Roland" on "Shock Theater"

But audio and video isn't all we have in our archives. We also maintain scripts, for example. We have over 70 from the TV series, "Action in the Afternoon."

The first week's scripts of "Action in the Afternoon"

This is an important project. If you have material you think should be included in this project or would like to make a donation to help this effort, please contact us. History is only what gets saved.

At our board meeting last month, the board voted to alter our by-laws. We changed the term of office of all board of directors from three years to one year. Board members can still serve an unlimited amount of terms.

HALL OF FAME/PERSON OF THE YEAR COMMITTEE MEETING:

We have so much "Hall of Fame/Person of the Year" information that we are going to spread it over two newsletters. The Hall of Fame/Person of the Year Committee met on Friday June 19th at the offices of B-101 in Bala Cynwyd. The committee worked for over four hours deliberating and discussing the outcome. We are pleased to announce the Posthumous inductees for this year: Joey Bishop, Jay Cook, Hugh Gannon, Powers Gouraud, Florence Hanford, Wally Kinnan, Siani Lee, Tony Mammarella, Jack McKinney, Jack Pyle, George Thomas and Long John Wade. We will announce our "Person of the Year" and the living "Hall of Fame" inductees on our website later this month and in the August newsletter.

MARK YOUR CALENDARS :

The 2009 Hall of Fame/Person of the Year banquet will take place at the beautiful Bala Golf Club on Friday evening, November 20th. Be sure to save the date. More details will follow in future newsletters.

ON THE HEALTH FRONT:

Sorry to hear that Bill Campbell's wife, Jo, had an accident and fractured ribs. She's getting around, but in some significant discomfort. Get well soon! Bill was our "Person of the Year" in 2008.

Ilse has advised us that her husband, Malcolm Poindexter, a member of the Broadcast Pioneers, is now in Hospice Care. Although he is still at U of P Rehab, Wissahickon Hospice is adding an additional layer of care. He still occasionally recognizes Ilse and says, "I love my beautiful wife." Ilse says, "that smile of his is unmistakable, as you all know." We know, Ilse, and wish you strength.

It has been an extremely difficult and heart breaking month for Broadcast Pioneers. We mourn the loss of:

Shelly Gross: Broadcast Pioneers member and President, 1997-99 and our Person of the Year in 1995. Shelly had a rich and varied career in many phases of the creative arts. Shelly managed the country's most prestigious chain of theatres-in-the-round, including the Westbury and Valley Forge Music Fairs. He was actively engaged in concert & theatrical presentations on Broadway and throughout the United States. He was one of Philadelphia's best-known radio and television personalities, especially known for his work on WFIL-TV.

Irv Homer: Irv was speaking at Eastern University on June 24th when he collapsed and died. Irv has been on the talk radio scene since the late sixties. He had an unforgettable style that was ever present on his many appearances on "Inside Story" on 6abc. In 1972, Irv ran for Vice-President of the United States on the Libertarian Party's ticket. We're confident, Irv is happy with his new assignment.

Cissie Hurst: She was a long time member of Broadcast Pioneers and current member of our Board of Directors. Cissie was a television producer with WPVI-TV, WPHL-TV, WCAU-TV, WRCV-TV (now KYW) as well as Publicity and Promotion Director for radio station WPEN. In 1984, Cissie retired from the business. Note that Cissie is a nickname for Sarajane. She was married to radio and television personality Ed Hurst, a member of our organization. Cissie will be missed for her enthusiasm and dedication to the industry.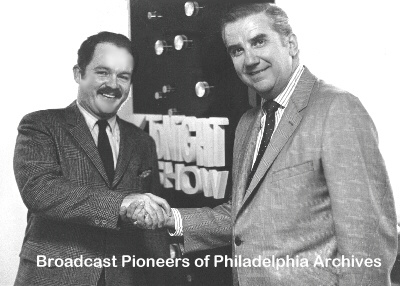 (Left to right) Bill Wright, Sr. and Ed McMahon
The Tonight Show
Monday, June 15, 1972
Ed McMahon: For three decades, Ed was Johnny Carson's sidekick on NBC-TV's "The Tonight Show" starring Johnny Carson." He coined the phrases, "Here's Johnny," "You are correct, sir", "How cold was it," and, " I hold in my hand the final envelope," all becoming synonymous with his dry wit and engaging personality. Some remember him on the boardwalk of Atlantic City hawking vegetable choppers. His illustrious career took him to radio and television in Philadelphia, New York and Hollywood. Ed was a legend in our business.
Gary Papa: He was inducted into our Hall of Fame in 2007. Gary was Action News' Sports Director at 6abc. He joined Action News in 1981 as the weekend sportscaster. In December 1983, he became host of "Prime Time," the magazine formatted program. Since 2004, Gary had battled prostate cancer, lost his hair and continued to work while receiving chemotherapy. Gary will be forever missed.
IN TOUCH: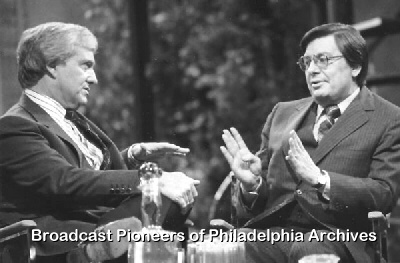 (Left to right) Merv Griffin and Kal Rudman
The Merv Griffin Show
circa 1980
We're pleased to report the Kal and Lucille Rudman Foundation presented Audenreid High School with a donation to purchase badly needed books for its library. Kal said at the presentation, " we can sit around and complain about budget cuts, or we can step up and try to remedy the situation. Education is our most important asset. We must make sure that students and teachers alike have the tools they need." Kal Rudman serves as a Vice President of our organization and was our "Person of the Year" in 2007.
Robert Jawer, Broadcast Pioneers member and President Autumn Enterprises, tells us that his son Michael has written a book, "The Spiritual Anatomy of Emotion." It has been chosen for Book-of-the-Month Club's One Spirit catalogue and will soon be covered in Psychology Today. The book explains the relationship between the head, the heart and the mind about the connection between emotions and physical health or how extraordinary sensitivities can rise to extraordinary perceptions. The book can be found on numerous popular websites or for information go to: www.emotiongateway.com. Best of luck, Bob and Michael. We'll be sure to check it out!
MORE IN TOUCH:
Attending the June luncheon was Sharla Feldscher, President, SFPR, a successful public relations and special events agency in Philadelphia for over 25 years. One of her clients, Eddie Bruce, was on our June panel of speakers. Eddie is a bandleader and singer plus a personal friend of Harry Kalas. Eddie was also the original host of "Dancin' on Air," (produced by Michael and Frank Nise) and aired over Channel 17. Thanks for joining us Eddie and Sharla!
June 6, 2009 marked the 65th Anniversary of D-Day. We had the pleasure of speaking with Broadcast Pioneers members Bill Wright, Sr. and Charlie Mills (former Assistant Program Director at WPEN) about the programming they created along with then Music Director Ed Klein (a member of the Broadcast Pioneers), to commemorate the 50th Anniversary of D-Day on WPEN. Ed Klein said, "the idea started with Julian Breen, Operations Manager on a retrospective, "Prelude to D-Day," under the guidance of (Broadcast Pioneers member) Dean Tyler, President and General Manager and began airing on May 2nd, 1994 and continued through June 1994, (the 50th anniversary of the Normandy Beach landings).
After D-Day, the programming went into vignettes, "The Road to Victory." Over three thousand episodes were written. Bill Wright was working part-time for WPEN and in Charlie's words, "became the credible factor and logical choice to host the features, considering his many years of being a Philadelphia radio legend." The programming started in 1994 and ran through 1997. The program received thousands of letters from the 25-54 demographic, stating the broadcasts were, "the best history lesson they had in their lives." Thank you "Pioneers" for your groundbreaking work!
Editors note: During this time (1945) Joe Niagara was stationed in the Panama Canal in Central America.
Broadcast Pioneers member Valerie Morrison has shared a few thoughts about Irv Homer. For over 32 years and up to the present, Valerie has had the honor to be Irv's continuous regular guest on his various talk radio shows giving callers psychic readings, while "Evil Irv" made his classic, witty and profound comments. "Irv was my mentor, he took me under his wing, he showed me the ropes," says Valerie. On April 3, 2009, Valerie was his only guest on his 100th episode celebration of his Internet show. Thanks for sharing Valerie.
IMPORTANT REMINDER:
By now, everyone should have returned their membership renewal forms. If you didn't, please take a few minutes to complete the form and return it. If you haven't seen your dues in by now, YOU ARE LATE! But better late than never, so send 'em in now. If you can afford to do so and wish to help, please feel free to check the extra voluntary contribution box on the renewal form. It will be greatly appreciated. Membership dues and contributions may be deductible for federal income tax purposes. Please check with your tax advisor.
We are working on a new membership directory (scheduled for release in the fall). Make sure you get your dues in so you'll be listed. Remember, only up-to-date members get the directory.
A final thought...
"I loved Channel 6.... Gunnar Back, who was the anchorman at the time, would bring in tomatoes from his garden and he would sell them to me for five cents less than the supermarket would. ...It was great!"
Paul Norton
Former Channel 6 staff announcer
Broadcast Pioneers Luncheon
Wednesday, September 19, 2007

© 2009, Broadcast Pioneers of Philadelphia
All Rights Reserved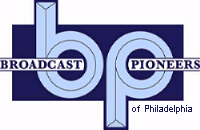 The e-mail address of the Broadcast Pioneers of Philadelphia is pioneers@broadcastpioneers.com
For luncheon reservations call (856) 365-5600 or e-mail us at: rsvp@broadcastpioneers.com