The Broadcast Pioneers of Philadelphia is a federally recognized, state chartered charity. We are a 501(c)(3) non-profit corporation serving Philadelphia since 1962.

Frank Stone
Newsletter Editor

July Get-Together
at NFL Films, Mount Laurel
Tuesday, July 20, 2010

Tours starts at 10:30 am
BE THERE EARLY!
Ratecard: FREE
RESERVATIONS REQUIRED!
(856) 365-5600
rsvp@broadcastpioneers.com
A FREE Tour of NFL Films!


Tuesday morning, July 20th!

Even in those lazy, hazy and crazy days of summer, the Broadcast Pioneers of Philadelphia is still on the move. Here's your chance to tour NFL Films, One NFL Plaza in Mount Laurel, NJ. Get a map! As you can see from the above photo, it's a huge 200,000 square foot facility and there's lots to see on their 26 acres. They moved there in 2002 and it was erected at a cost of 45 million dollars (and that's less than their revenue for just one year).
It all takes place on Tuesday morning, July 20th at 10:30 am. RESERVATIONS ARE ABSOLUTELY REQUIRED! And if you think that they are all video, you would be wrong. There's an entire wing dealing just with audio. Studio A can hold a 72 piece orchestra, so you know it's large. Think that they're just football, well, you would be wrong again. In 1983, they produced the music video for Journey's hit, "Faithfully."
Since 1964, NFL Films has revolutionized how Americans watch football and they set the standard for sports film making. The company has won 97 Emmys and are recognized as the most honored film maker in the world of sports. Each year, NFL films produces more than 2500 hours of new NFL programming for the NFL Network and others and they're right here in the Delaware Valley.
We are limited in the amount of people that can go on this tour, so you must reserve now by calling (856) 365-5600! Once the tour is filled up, we will not be able to take additional reservations. Avoid being disappointed, reserve now!
The tour takes about an hour and then there will be a question and answer segment in their auditorium. At that time, we will announce who will be the Broadcast Pioneers' Person of the Year. You'll be thrilled. Hold your breath, this is a really big announcement! Plus, we will also tell everyone about who's going to be inducted into our Hall of Fame this year. (The Person of the Year/Hall of Fame banquet is in November and tickets go on sale in September).
This is an especially appropriate location for this year's announcement because both the founder of NFL Films, Ed Sabol and his son Steve, who now runs the operation, were both inducted into our Hall of Fame in 1996. You can watch Steve, himself, in a video about cursing and the NFL.
Of course, we can't forget the famous narrators for NFL Films, Broadcast Pioneers members John Facenda and Harry Kalas. Here's a John Facenda NFL Films video! And here's one narrated by Harry Kalas!
You must arrive on time. Come late and you'll miss out. Once the tour is underway, latecomers will not be allowed to join in. Please allow extra driving time to make sure you arrive on time. There's plenty of free parking in their lot. Not sure what to expect? Here's a short video behind the scenes of NFL Films.
The event is FREE and is open to all our members, any person in the industry or associated fields; both people now active and retirees and our usual crowd. You do NOT have to be a member to attend. Make your reservations now by calling (856) 365-5600. This is sure to be an entertaining and informative time for everyone!

Visit Our Website Often - http://www.broadcastpioneers.com

HALL OF FAME/PERSON OF THE YEAR BANQUET:
The committee has selected our Person of the Year for 2010 and also this year's inductees for our Hall of Fame. It will all be announced during our tour of NFL Films. Can't go? Well, everything will be told to you on our website at the end of this month. Also, all the details will be highlighted in next month's newsletter.
JUNE LUNCHEON REVIEW :
WOW!! 45 Years of KYW Newsradio on Wednesday June 16th was another record breaker! Simply a fantastic conclusion to our luncheon season, with the third highest attendance (over 150 people) in the almost half-century history of Broadcast Pioneers. Everyone who is anyone was at the Bala Golf Club for this history-making luncheon.
Moderator and MC for the panel was our now new Broadcast Pioneers President Jerry Klein, a former Newsradio editor, anchor and reporter. Getting it all started was Steve Butler, current KYW Director of Programming.
Our panel featured:
Harry Donahue, the current morning anchor and a fixture at the station for 35 years
Bud Galow, a KYW Newsradio technician for over 40 years
Jay Lloyd, KYW Newsradio Suburban Bureau Chief for a third of a century
Richard Maloney, a KYW Newsradio reporter for two decades
Roy Shapiro, KYW's Vice President and General Manager for 20 years
Fred Walters, former KYW reporter/executive editor for 19 years
Live on the phone was Steve Porter, KYW Newsradio's first anchor who was joined by Bud Galow who engineered the first broadcast and Fred Walters who was at "the editor's desk" on that historic day. Listen to the very first KYW Newsradio newscast from September 21, 1965.
We have complete audio and video of the luncheon on our website plus 229 photos. If you missed the event or just want to revisit it, you can check it out here!
A LITTLE BIT OF HISTORY!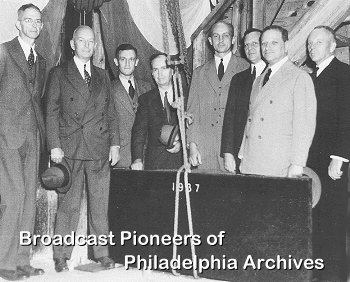 The laying of the cornerstone of the KYW Building
1619 Walnut Street, Philadelphia
1937
HEARD AFTER THE LUNCHEON:
"I thought today was terrific. It brought back wonderful memories of KYW Newsradio." Roy Shapiro
"This was one of the greatest sessions I can imagine. This crowd hasn't been together like this-ever." Jay Lloyd
"I loved it. This was so much fun. A really nice event. I'm so glad I came." Pat Farnack
"KYW Newsradio is a family. Today showed the warmth and affection everyone has for one another. It was like a family reunion." Wally Kennedy
"This was a once in a lifetime gathering. One of the most memorable things in my life." Richard Maloney
"This was an awesome day, remembering great times and bringing wonderful people together. It seems as though time stood still today. We thank Broadcast Pioneers for bringing us together." Ed Kasuba
"Unbelievable. Being back with all the people we loved…I could cry." Bill Toffel
Special thanks to the following folks for their tireless efforts in bringing 45 Years of KYW Newsradio together:
Then President Gerry Wilkinson who came up with the concept; Then Vice-President Jerry Klein who put together the panel plus Sam Katz, Ed Belkin, Muriel Ettlinger, Bob Jawer, Shelly Kanther, Bob Kelly, Madeline Meissler, Dan Morrow, Michael Muderick, Tim Roll, Dave Skalish and Suzanne Tavani.
NEW OFFICERS :
There's only one constant in life and that is change. Broadcast Pioneers has elected its officers and directors for the fiscal year that began on July 1st.
On that date, we began a redistribution the duties of our top two positions in this organization. Our former president Gerry Wilkinson moved up to become Chairman of the Board (keeping most of his current responsibilities) and our former first Vice-President Jerry Klein moved up to become President (with a huge expansion of his responsibilities). In the last four years, this organization has almost doubled in size. That's a truly remarkable feat. This re-organization is necessary in order to continue growth, further develop our DAP, Digital Archival Project and to greater serve the current and former broadcasters of the Delaware Valley.
Other changes included Bill Wright moving from being a member of our board to Vice-President. We have added two new board members, Bill Gellhaus and Paul Big Bear. All other persons remain in their current position.
Former Board Directors John B. Roberts and Shirley A. Morris were named to the newly created lifetime post of Director Emeritus.
WELCOME NEW MEMBERS:
Henry Shaffner is a highly regarded ASCAP member songwriter. He and his (member) wife Bobbie have been writing songs for three decades. Bobbie also worked at WCAU Radio. They both were honored in the Congressional Record in 1995. They are the authors of the song "Philadelphia, I Love You."
Dr. Brian McDonough has been KYW Newsradio's medical editor since 1987. He has four Emmys to his name and was former medical reporter for Fox 29. He's a clinical professor of family medicine at Temple University's School of Medicine and maintains an active practice as associate director of the Family Medicine Residency at St. Francis Hospital.
Randy Chepigan started with Shadow Traffic in 1980. From 1983-85, he worked as a professional musician and then returned to Shadow Traffic as an anchor, program director and operations director to 1991. He's currently with Metro Networks as Senior Anchor and Program Director. He stills pursues his musical talents in his spare time.
Ms. Sam Katz worked at KYW Newsradio from 1977 to 1980 as a desk assistant. Then she went to WOWO in Fort Wayne and then to WNBC Radio the next year. From 1982 to 1990, she was with TRG Communications and for the last 13 years, she has been the Executive Assistant to the President of Detectives' Endowment in New York City.
Gary Mirkin worked at WHYY-TV, Channel 12 from 1963 to 1965. Then he went to WIBF-TV (later known as WTAF-TV and now WTXF-TV) for eight years. Then in 1976, Gary Mirkin joined up with KYW-TV, Channel 3 in Philadelphia where he stayed until 1991. He is today retired.
Anne Amico-Mirkin, Gary's wife, started at KYW-TV, Channel 3 in Philadelphia in 1969. She stayed for 36 years (in five different decades) and an editor and supervisor. She met her husband while working at the station.
Gerri Bender is the owner of Music to Your Ears Mobile Disc Jockey Service. She began as a "fill in" DJ at WRDV-FM in 1993. She has had her own oldies show on the station (Sundays from 7 to 10 pm) since 1994. The broadcast spotlights forgotten music of the 60s, 70s and 80s. She has also worked at WBUX.
That sets another all-time record in membership. We now have 381 members. We are thrilled and we hope to see as many of you as possible at our September luncheon and/or on the free NFL Films Tour later this month.
IN TOUCH:
During the middle of last month, Broadcast Pioneers member Dom Giordano was given very hazardous duty. With this kind of abuse, it makes you wonder whether broadcasting is really a good field to be in. Dom had to leave his house and drive to Philly International Airport and then fly for 100 minutes to a place with pink beaches and clear, blue water; Bermuda where he toured Hamilton, the main city among other places. He was on the golf course, visited underground caves and walked along the ocean and the food, he says, was great. We just don't know why Dom puts up with all of this. Next month, it's "out of the pan, into the fire" time. Dom is being sent to more hazardous duty, this time he's going to Italy and will have a Papal audience. Dom, you have our sympathy (and can you pack us in your suitcase). If you can stomach it, we even have video. Caution. It is not for the faint of heart. Seeing pink beaches and clear blue water is not for everyone.
We were flipping around the cable on Flag Day last month and found Broadcast Pioneers member Vince Papale on a program called "Color Bearers." The show dealt with the American flag and was produced in May of 2008 by independent film makers Steve Newbert and John Foley and aired by WHYY-TV. You can watch part of it here! Part of the show dealt with the Betsy Ross House. Papale wasn't the only Philadelphia broadcaster to deal with the house. Fifty-eight years to the day, on Flag Day in 1950, Roy Neal, then a local broadcaster on Channel 3, interviewed Vexil Weisgerber on WPTZ' "Open House" telecast. Vexil was the son of Charles H. Weisgerber who painted in the late part of the 19th century, the well-known portrait of Betsy Ross sewing the flag called "Birth of Our Nation's Flag." Charles purchased the Ross House and lived in it for many years with his family. In fact, his son was named Vexil Domus, Latin for "The Flag House." And now you know the rest of the story.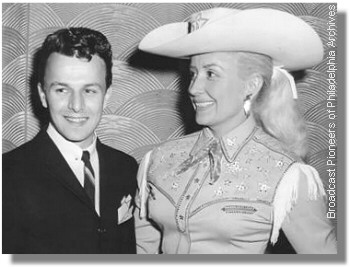 Broadcast Pioneers members Charlie Gracie and Sally Starr
Well, we've heard about a "Rock & Roll Heaven" (thanks to the Righteous Brothers), but did you know that there is a "Rock & Roll ACME Supermarket?" Our new chairman, Gerry Wilkinson, stopped in at the ACME in Upper Darby/Drexel Hill in the Bond Shopping Center last month. Who did he run into but Broadcast Pioneers member Frank Maffei, one of the original members of "Danny and the Juniors." They both said (almost in unison) that this is unusual because they both usually run into Broadcast Pioneers member Charlie Gracie at that store. In 1957, both Gracie (Butterfly) and Danny & the Juniors (At the Hop) had number one hit songs. But the really big story was: Did you guys have your ACME Super Saver Cards with you?
We were delighted to hear about a remarkable program at Olney East High School called Health Tech, which places students at St. Christopher's Hospital for Children to learn about health careers. It's a program that gets results. 98 percent of the participating students have completed the program and 96 percent have been accepted to college. Besides receiving certificates of completion, many students were given scholarships of $500 to $1500 by none other than Broadcast Pioneers Vice-President Kal Rudman and his wife, Lucille, who have donated $375,000 to fund the program. The Rudman's have been supporting the program for 17 years! Kal and Lucille, you're the best (to coin the words of member Jerry Blavat)! For those of you who don't know, Jerry Blavat refers to quite a number of people as "my main man." However, sometimes there are people around who previously were called "my main man." When asked, Jerry says. He's" my main man and you're the best." A good explanation (we think)!
MEMBERSHIP RENEWALS :
If you haven't mailed in your membership dues yet, YOU ARE LATE! You should have received renewal in the US mail at the end of May. It's important that you correct any information on the form that is wrong. Otherwise, you will have incorrect info printed in the next edition of our membership directory that is due out this fall. Also, please take the time and mail back your renewal. Dues are a main source of revenue for us. If you can afford it and wish to do so, please check the extra contribution box. Remember, we are a federally recognized, state chartered charity with 501(c)(3) status. Your contributions and membership dues may be tax deductible. Check with your tax advisor. Without you, there is no Broadcast Pioneers.
ADVERTISE IN OUR MEMBERSHIP DIRECTORY:
Well, it's time for us to start putting together our 2010 - 2011 membership directory which gets mailed to all our members in the fall. With an increase in membership of over 20% this last year, there will be more in it than ever before. That means we'll be printing more copies (because there are more members). It's a great source of getting the word out about your business to all our members and the cost is LOW! Most members use the directory over and over again. So your advertisement is seen dozens of times over the year. Rates start as low as $125. Contact Vice-President Frank Stone.
Did you know...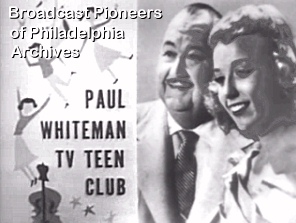 ABC-TV Promo Card for "Paul Whiteman's TV Teen Club"
February 13, 1953
The first Philadelphia TV personality to host a network television show spotlighting area teenagers was bandleader turned disc jockey Paul Whiteman. He was dubbed the King of Jazz in the twenties and had the most popular band of that era. Starting on Saturday, April 2, 1949, Whiteman asked Philadelphia teenagers to a Saturday evening dance and talent show.
It was called "Paul Whiteman's TV Teen Club," which was originated by WFIL-TV, Channel 6 in Philadelphia, now WPVI-TV. The program was aired live over the entire ABC-TV network. Whiteman was the network's Vice-President in charge of music. Paul also underwrote the entire show's production. A young, recently hired talent from New York state did a fair amount of announcing on this program after joining the station; his name was Dick Clark (our 1980 "Person of the Year"). Broadcast Pioneers Hall of Famer Allen Stone also did so.

Weighing three hundred pounds, and dressed in ornate shirts and colorful sports coats, Whiteman spoke "hip phrases" like "real gone." He was 62 years old at the time. The show was sponsored by Tootsie Roll and Whiteman handed out samples to his teenage friends while Dick Clark pitched the treats to the viewers at home. Bernie Lowe of Cameo-Parkway fame, was the program's Musical Director. Bernie also worked on "Kovacs on the Korner," which originated out of WPTZ (now KYW-TV), Channel 3 and aired live on NBC-TV.

Another interesting aspect of this show was that it started as a TV program only. It became so successful that it was added to the ABC Radio Network's schedule.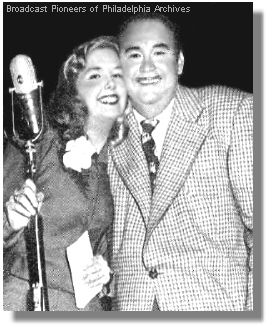 Nancy Lewis & Paul Whiteman
WFIL-TV
1949
The show featured Whiteman with a 10-piece band. Broadcast Pioneers member Charlie Gracie and Rock and Roller Bobby Rydell got their start on this program. Rydell started with the show at age nine as the band's drummer and stayed for three years. Leslie Uggams also appeared on the broadcast at the age of eight.
Listen to the introduction of Charlie Gracie on TV Teen Club!
The telecast was produced by Skipper Dawes (of the Magic Lady Supper Club fame), the Educational Director for WFIL-TV. Really, Skipper was a talent scout who looked through the area schools for performers. One of Dawes finds was a young Eddie Fisher (a regular on "Magic Lady"). The Paul Whiteman TV Teen Club's last airing was in 1954. When the show premiered in 1949, it aired Saturday evenings from 8 to 9 pm. In 1952, the show moved an hour earlier to 7 pm and was shortened to 30 minutes and lasted for another two years in this configuration (sometimes airing in the 8 pm time slot). However, the search for talent never ended. Just before the show ended, Whiteman featured a young singer by the name of Dion DiMucci, known to us now as "Dion," of "Dion and the Belmonts" fame.

Paul Whiteman was born on March 28, 1890 in Denver, CO. He started his career playing viola in the Denver Symphony in 1907. He then went to the San Francisco Symphony in 1914. During the First World War, he led a 40-piece U.S. Navy band. He organized his now famous dance band in 1918 in San Francisco. He then moved to New Jersey and finally to New York City. Though he was married four times, his last one to wife Margaret lasted 36 years. He passed away on December 29, 1967 in nearby Doylestown, PA.
After Teen Club left the airwaves, Nancy Lewis from the show was assigned to do a new TV program with Dick Clark called, "Lewis and Clark." It didn't last long. Then Dick did a local show from 2 pm to 2:15 called "Movie Quick Quiz" where he awarded prizes.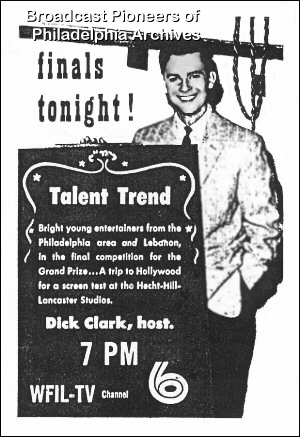 The program was sort of revived after Bandstand went national. Teen Club was part dancing and part talent searching. WFIL-TV was looking for another vehicle for Clark. The kids were dancing on "American Bandstand." So they did a new and hipper version of TV Teen Club called "Talent Trend." The telecast was done on both WFIL-TV and sister station WLYH-TV, Channel 15 in Lebanon.
The show was described as "Dick Clark hosts a local live talent series featuring performers from the Delaware Valley area." There were eleven live programs in all. The first airing was on Saturday, October 12, 1957 with the last broadcast on December 21, 1957. "Talent Trend" went off the air after that evening and on Saturday, January 18, 1958, "The Dick Clark Beechnut Show" premiered from "The Little Theater" in New York City on ABC-TV.
This regular monthly column is written and researched by Gerry Wilkinson
VCRs AND OTHER EQUIPMENT:
Yes, we are still looking for a few, good VCRs to be donated to us. We haven't had much luck yet. Without good playback equipment, we cannot continue to digitize our video archive. Major companies like Sony and Panasonic no longer made stand alone VCRs. We are waiting for someone to donate a good condition playback machine so that we can continue the our digitalization process. The cheap VCR/DVD player combos that are on the market today do not contain the proper electronics to correct record errors during playback, so we must rely on older machines.
If you have a VCR to donate, contact us at (856) 365-5600 or e-mail us at: pioneers@broadcastpioneers.com. Remember, for the next twenty years or more, we will be receiving donations of VHS tape for our archival project. You have to have something to play them on, you know. So, please keep us in mind as you move over to HD and DVRs
WE REMEMBER :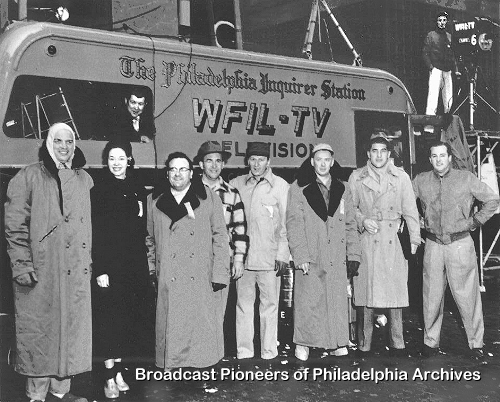 (Left to right) Bill Mobray, unidentified female, Chuck Kachur, Al Matter, John Wright
Walt Beaulieu, Ernie Lane, Harry K. Smith, John Hoban and Neil McEnroe (at top right)
The WFIL-TV Crew covering the 1955 Mummers Parade
January 1955
Long-time member Walt Beaulieu, who was the Remote Engineering Supervisor for WFIL-TV and then WPVI-TV passed away at the age of 90 on June 29th. On Wednesday, December 17, 2008, the Broadcast Pioneers presented Walt (sometimes called Wally by his friends) Beaulieu with our Service Award for many years of service to the industry.
Edward S. Tycenski, 80 of Wynnewood, Pennsylvania has died. Tycenski worked for WCAU-TV as a cameraman from 1966 until his retirement in1995, where he won an Emmy for a documentary about Andrew Wyeth.
Albert Rose, 70, a former manager at WCAU-TV and NJN died on June 16th from lung cancer. Born in Pittsburgh, he earned his bachelors degree at the University of Pennsylvania in the early sixties. He was a lecturer at the school for more than two decades.
Broadcast Pioneers member Shelly Gross was mentioned in the memoriam segment of the Tony Awards on CBS-TV last month. Shelly died in June of 2009. He was the 33rd President of this organization serving from 1997 to 1999 and then served as Chairman of the Board from 1999 to 2001.
ON THE HEALTH FRONT:
Broadcast Pioneers member and 2008 Person of The Year Bill Campbell and his wife Jo, (who worked at WIP) recently had a "simultaneous" fall on the front steps of their home. Bill said, " while it could have been really serious, we did enough damage to land on the DL for a while." Jo landed on top of Bill, who got pretty banged up on the concrete steps. Hope you folks are feeling better!
Tom Dooley's wife Melanie, tells us that Tom is undergoing chemotherapy and radiation treatment, with (fortunately) minimal side effects. They have purchased a specially equipped van to accommodate Tom's wheelchair for safe and secure rides to treatment.
Broadcast Pioneers member Michael Muderick is recovering nicely from surgery last month. He says that he greatly appreciates the calls, cards, and warm wishes from his BP friends. (No, it's not British Petroleum; they are too busy with their problem in the gulf. It stands for Broadcast Pioneers). However, Michael did say that there's one oil guy he would really like to hear from - Oil Well Willy, a character from the Howdy Doody Show. Muderick is still a devoted fan. We'll bring our seltzer bottle to the next luncheon.
THANK YOU:
Special thanks go out to member Johnny B. Hall for his personal donation to Broadcast Pioneers this past month. Each month Johnny has been sending us a check to help underwrite our DAP, Digital Archival Project. The organization welcomes all donations from its members and friends at any time. Your support directly contributes to the ongoing success of our mission.
We also thought it would be nice to recognize those members who have made an extra contribution when they renewed their membership. Thank you! They are: Russell Spencer, Fred Woscoff, Ruth Weiman, Jerry Klein, Dorie Lenz, Carol Leebron, Dave Roberts-Dahms, Gerry Wilkinson, Carter Merbreier, Pat Merbreier, Liz Matt, Gene Crane, Larry Mendte, Dawn Stensland, Paul Gluck, Pat Ciarrocchi, Roy Shapiro and Alan Campbell.
If you sent in your renewal and forgot to made an extra contribution and would like to do so now, it's not too late. We would be thrilled to hear from you at: PO Box 2886, Bala Cynwyd, PA 19004.
In lieu of flowers, the family of Bill Webber asked that contributions be made to our scholarship fund. We wish to thank the following people for contributing to this scholarship fund: Sally Berlin, Sue Wright, Nicky DeMatteo, Richard & Carol Johnson, WHAT Radio, David & Mary Jean Kratz, the Adelman Family, Ann Morrow, Cherly & William Crouse, Dorie Lenz, Earl & Nancy Kirk, Gerry Wilkinson, Easter Seals, John Lastella, Bob Jawer, Michael & Mary Ellen Janinek, James & Olivia Vanosten and the Bill Webber, Jr. family.
While time is running out to contribute to the Scholarship Fund in Bill's memory, it's not too late. But hurry. Make sure you mark your check, Scholarship Fund in memory of Bill Webber and send it to: PO Box 2886, Bala Cynwyd, PA 19004.
MORE IN TOUCH:
On many Comcast cable systems, you can watch on their "On-Demand" service, three 5-minute programs of "Seeling Solutions with Suzanne." It's hosted by Suzanne Roberts, the wife of Comcast's owner. These shows all deal with "American Bandstand" and feature interviews with Broadcast Pioneers members Jerry Blavat, Lew Klein, Bill Russell, Joe Terry and Frank Maffei (of Danny and the Juniors). To find it, go to the On-Demand service. Then click on GET LOCAL. Then go to "The Comcast Network" and finally to "Seeking Solutions." They are available for those that get this service for free until the end of the month. Also, from time to time, there's some episodes with member Wally Kennedy who was added as co-host a little while back.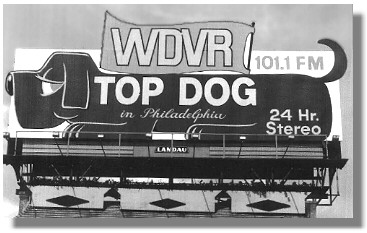 WDVR Billboard
1966
In need of a great car? Broadcast Pioneers member Jerry Lee, owner of -101(formerly WDVR and EAZY 101) is auctioning off James Bond's Aston Martin. The tricked-out Aston Martin DB5 is the car Sean Connery drove in the 1964 movie "Goldfinger." Lee bought the car in 1969 for $12,000. During a casual conversation with an Aston Martin expert, Lee asked what he thought the car was worth. The response was a surprising more than $5 million. Jerry said: "It's always sat inside my house. It's never been in a garage…because I looked at this car as being a work of art." Proceeds from the sale will benefit his foundation for criminology research. The auction is October 27th in London. By the way, Jerry Lee was the 16th President of this very organization serving in 1978 and 1979 and then Chairman of our Board the following year. Good luck Jerry!
A reminder that following many months of arranging, recording and post production work, Singer/Pianist/Songwriter and Broadcast Pioneers member John Primerano has released his new Compact Disc, "Somewhere South of Heaven." The CD is available from JPM Records, Philadelphia. Primerano appeared quite often on the "Al Alberts Showcase" telecasts. Nice going John!
Broadcast Pioneers board member Les Waas is scheduled to deliver a speech featuring the early days of television, on Wednesday, August 4, 2010 at the German Club-Vereingung Erzgelirg, 130 Davisville Road, Warminister, Pa. Dinner 6:30 pm, presentation 7:15 pm. For information, call (215) 364-3802. Cost is only $15! So you can get more for your money and still have Les
DIGITAL ARCHIVAL PROJECT NEWS :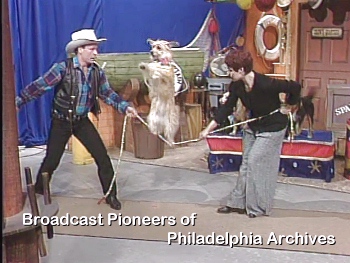 (Left to right) Tom Brackney, Molly the Dog and Tom's wife, Bonnie
Captain Noah and his Magical Ark
March 10, 1994
On the Saturday morning, March 12, 1994 show of "Captain Noah and his Magical Ark," Tom Brackney and his Madcap Mutts appeared. The show was actually taped two days earlier on Thursday, March 10th. Besides members Carter and Pat Merbreier (Captain and Mrs. Noah), we thought you would like to know that the musical director for the show was Broadcast Pioneers member Larry Ferrari. It was directed by Dave Boston and the stage manager was member Marv Brooks.
Just last week, we got one of our Beta SP video tape machines working and we digitized 25 of the 44 different Captain Noah master tapes in our video archive as part of our DAP, Digital Archival Project. Seven of the broadcasts were 60 minutes in length with the others digitized being half-hour shows. On one of the hour telecasts, member Bucky Clark filled in for Larry Ferrari. All of these except one, date from the early nineties. One, however, is from the late 80s and was a Captain Noah High Adventure Special (partially shot on film) and featured Broadcast Pioneers member Joe Earley as a shop keeper. These fourteen programs were transferred off of the original Betacam WPVI tapes and masters.
Marv Brooks told us a funny story about an event that took place on the show. Ed Lindemann was the PR guy for the Philadelphia Flower Show. About 30 years ago, Ed was on the Noah broadcast. Everyone thought that it would be a funny bit to have Lindemann ride in on a motor scooter with flowers and plants attached. So the Captain does his introduction and Ed rides in (from frame left) but doesn't stop. Instead, he continues across the frame and exits on the right smashing into some studio lighting. The Bike flipped over and left Lindemann covered from head to toe with flowers and plant leaves.
Member Bucky Clark remembers his time filling in for former Broadcast Pioneers Board Member Larry Ferrari on the telecast. He says:
I arrived at the studio and expected a run through of the show. That did not happen. Shortly after I arrived I put on a pair of phones, turned on the organ, watched the monitor and we were on our way.

What fun! The captain said when we do a garden segment give me garden music and when we do this segment give appropriate music for whatever and so I really had to have a repertoire of music in my head that suited the subject matter at that time.

With my good friend Bill Russell doing the lighting and the opportunity to part of the Magical Ark. I can truly say this was one of the highlights of my musical career.
Last Week, our new Chairman of the Board Gerry Wilkinson was driving on Monument Road near Ford Road. It was about one block away from Channel 6. It just so happened that Gerry was right behind a WPVI news van. Both were stopped at the red light and another Action News van passed going in the other direction and before the light changed, yet another 6ABC News van passed by traveling on Ford Road. Wilkinson immediately thought of the 1981 promo for Action News, "There Goes That News Van." The concept was created by Broadcast Pioneers member Mike Davis and 29 years after the spot started airing, it still had its effect. Watch the 1981 promo!
View in Real Video!
View with the Windows Media Player!
By the way, once Gerry crossed City Avenue, he saw three NBC 10 news van. Must have been a heavy news day or at the beginning of a shift. We're sure if we were near 16th and Spring Garden, we would have seen a whole group of "Eyewitness News" trucks. FYI... Our September luncheon is "45 Years of Eyewitness News."
We now have almost two hundred different Broadcast Pioneers newsletters online. The oldest dates from March of 1984. You can view these wonderful, historical documents here! If you have any newsletter that we don't have, we would be delighted to have you donate them to us.
By the way, we have in our Video Archive, two episodes of the ABC-TV Series called "Tales of Tomorrow." We normally don't include national shows unless they have a connection to Philadelphia. Well, these two shows do. They both contain promos for "Paul Whiteman's TV Teen Club" mentioned in our "Did You Know" column. You can watch them here. The promos, by the way, come in the middle of the program and they are both different.
Another Chance (2-13-53)
Ghost Writer (3-27-53)
Special thanks goes out to Barbara Farley-Stone (VP Frank Stone's wife - they were married last month) for her donation to our archives of 14 "original" Florence P. Hanford Television Kitchen recipes.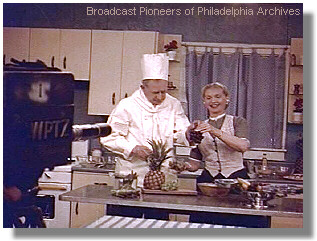 Florence Hanford on TV Kitchen
WPTZ, Channel 3, Philadelphia
1955
Here's a report from eight years after the photo above:
LONDON BROIL WITH SAVORY BUTTER
What you need:
1 Flank steak (approx. 1 ½ lbs.)
1tbsp. chopped chives
1 tbsp. Minced parsley
2 tbsp. Soft butter or margarine
¼ tsp. Oregano
1 ½ tbsp. Prepared mustard
"Score the flank steak in diamond pattern on both sides. Put on the broiler rack and place so that the surface of meat is 3 inches from the broiler unit, Brush with melted butter or margarine. Broil 6 to 8 minutes on one side. Turn, brush with melted butter or margarine, and broil 3 to 5 minutes longer, or until desired brownness. Cream together soft butter or margarine, prepared mustard, chives, parsley and oregano. Spread on hot London Broil. Carve in thin slices, crosswise and against the grain, a little on the diagonal. Makes 4 servings."
By the way, we have digitized two complete Florence Hanford shows (from the fifties) and they are in our Video Archive. They are the only two complete shows known to exist. Just days ago, we encoded a 4 minute excerpt from one of the shows. You can watch it here. In our opinion, the Real Video version is better in quality.
Watch in Real Video!
Watch in Windows Media!
EDITOR'S NOTE: The above recipe was from 1963. The show was weekly and aired on Wednesday afternoons. On the other daily days (Monday, Tuesday, Thursday and Friday), a show called "Tug-O-War" aired. It was hosted by our late chairman of the board Bill Webber. Both TV Kitchen and Tug-O-War were canceled in 1965 even though the ratings were high and there were lots of commercials. Why? Because KYW-TV was returning to Philadelphia and they needed the time slot for the previously not carried in Philadelphia program called "The Mike Douglas Show." Douglas originated from Channel 3 and was syndicated across the country. Bill went to Channel 17 to start his cartoon block and Florence Hanford moved to WFIL-TV, Channel 6.
Remember, History is ONLY What Gets Saved!
(If there were no portraits of George Washington, how would we know what he looked like?)
ON THE SCENE: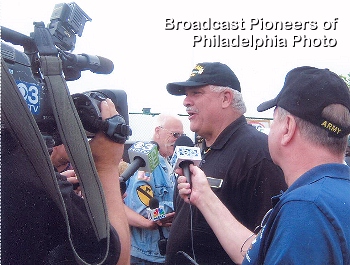 Broadcast Pioneers VP Frank Stone interviewing Vince DePrinzio
May 29, 2010
(Photo by Barbara Farley-Stone)
Broadcast Pioneers Newsletter was "on the scene" for the May 29th dedication of the Wildwoods Vietnam Veterans Remembrance Wall. The only permanent Vietnam Memorial replica in the Northeast, is an exact, half-size, black granite replica of the official Vietnam Veterans Memorial in Washington, D.C. The wall contains 58,913 names of our country's fallen heroes, etched onto panels that stretch 240 feet.
Vince told Broadcast Pioneers: "The new memorial will give veterans and family members of fallen soldiers within the region a place to go look back and reflect upon the lives of loved ones who gave their lives fighting for freedom." DePrinzio is the treasurer of Vietnam Veterans of America, Chapter 955.Then Stone spoke with Rear Admiral Cari B. Thomas, Commanding Officer, United States Coast Guard Training Center in Cape May. She told us: "To be able to share with all these generations of men and women who served and to remember via this wall is an honor."
A final thought...
"Woe to he who goes against the charge of the on-coming lineman beware the drive block, the forearm shiver...it's one ton of muscle with a one track mind."
John Facenda
on an NFL Films Production
Actually, our favorite Facenda quote isn't from John at all but from a WCAU-TV executive. When approached by Broadcast Pioneers member John Facenda about doing a late night newscast at 11 pm. The exec said: "Who the hell in their right mind would ever stay up to 11 o'clock just to watch the news? No one. Television will never have news that late at night." When John got a sponsor, the station yielded and the rest, as they say, is history.

We welcome your input regarding content, future stories, suggestions, etc. Please contact newsletter@broadcastpioneers.com. Your stories are important, to you, to us, and your colleagues. Contact us today and we'll include your story in the next newsletter!

Photo Editor & Archival Historian - Gerry Wilkinson
© 2010, Broadcast Pioneers of Philadelphia
All Rights Reserved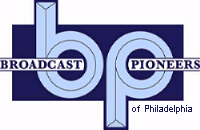 The e-mail address of the Broadcast Pioneers of Philadelphia is pioneers@broadcastpioneers.com
For luncheon reservations call (856) 365-5600 or e-mail us at: rsvp@broadcastpioneers.com