The Broadcast Pioneers of Philadelphia is a federally recognized, state chartered charity. We are a 501(c)(3) non-profit corporation serving Philadelphia since 1962.

Frank Stone
Newsletter Editor

July Get-Together
Location: NBC 10
Thursday, July 21, 2011

Arrive no later than 9 am
Event ends around 12:30 pm
Ratecard: FREE

RESERVE YOUR SPACE NOW!
(856) 365-5600
rsvp@broadcastpioneers.com
TOUR OF NBC 10!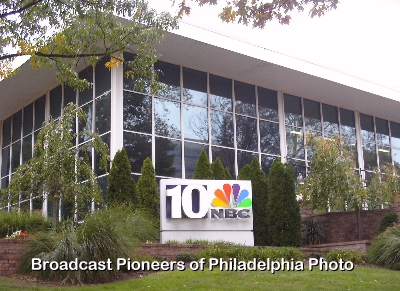 NBC 10, WCAU-TV
City Avenue and Monument Road, Bala Cynwyd, PA
October 26, 2010
Photo by Broadcast Pioneers Chairman Gerry Wilkinson
On the morning of Thursday, July 21st (9 am to 12:30 pm), we will have a tour of the NBC 10 building on City Avenue and Monument Road in Bala Cynwyd. The tour will include being in the audience of "The 10 Show," which records at 10 am and airs one hour later.
This event is FREE but space is limited. IT IS ON A FIRST COME, FIRST SERVED BASIS! Snooze and you lose. Call now: (856) 365-5600!
You must arrive at the station's back door NO LATER than 9 am. LATE ARRIVALS will NOT be seated for the recording of "The 10 Show." The program is recorded at 10 am. Afterwards, we will all be taken on a tour of the facilities. During our time at NBC 10, we will announce who our PERSON(s) OF THE YEAR will be and who will be inducted into our HALL OF FAME. Induction banquet is on Friday, November 18th. But you need to make your reservation(s) NOW for the tour of NBC 10.
After the tour, Broadcast Pioneers Board Member Dick Kearney will take us all into the station's parking lot. Why? Because that was the location for the live Western on CBS-TV called "Action in the Afternoon." Dick was a camera guy on that show and he'll explain all about the program, where the buildings were, and what they were. Hear how they almost hanged (for real) someone live on national TV!
Hurry! This is for members and their guests. Don't delay. Snooze and you lose! At this event, we will be announcing our "Person(s) of the Year" and our inductees into our Hall of Fame. Make plans to be there!
Do not wait to reserve your space. Reservations are going fast. We wanna see your face in that place!

Visit Our Website Often - http://www.broadcastpioneers.com

HALL OF FAME/PERSON OF THE YEAR HONOREES:
Our committee has made its selections for Hall of Fame and Person of the Year for 2011. Inductees are being notified now and we will announce the full list during our July tour of NBC 10. The names will then be published in our August newsletter and on our website.
MEMBERSHIP RENEWAL TIME:
Six weeks ago, you should have received your membership renewal form. Current membership expired at the end of June (unless you've already renewed). If you joined in the last couple of months, your membership won't expire until 2012. However, you still should have received a form. Please correct any contact information, if necessary. This information will be used to create our new membership directory, which will be issued this fall. For your personal safety and security, we do not maintain any type of membership list online.
Remember that Broadcast Pioneers is a mainly dues-supported non-profit organization that is federally recognized and state chartered. We have charitable status for federal income purposes. For those of you who wish to do so, there is a place on your renewal form to make an extra contribution to this organization. If you can do so and want to help out, an extra contribution would be appreciated. It will help keep Broadcast Pioneers strong. Check with your tax advisor, too, because membership dues and donations may be deductible on your federal income tax!
Send in your renewal now if you haven't already done so. Why? Your membership has expired. Please take a minute and mail it back today. Thanks for your continued support.
ADVERTISE IN OUR 2011-2012 MEMBERSHIP DIRECTORY:
Once again, we have started working on our new membership directory, which will be mailed to members in the fall. Our membership is at a record high, so advertising in our membership directory makes more sense than ever before. The cost per ad has NOT increased but the number of members is more than double what it was five years ago. We're giving you a chance to reach more people for the same cost. Ads start at $175 and help defray the cost of publishing the directory. Call us at (856) 365-5600 or e-mail us at pioneers@broadcastpioneers.com.
WELCOME NEW MEMBERS:
Full Members:
Bunny Gibson was one of the early high-profile regulars on "American Bandstand." Today, she is an actress and professional dancer. We've seen her in many TV shows and films, such as Homicide, Without a Trace, CSI (Crime Scene Investigation), How I Met Your Mother, Creepshow III, Glee and Search for Treasure Island. She lives in California but gets back to Philly every once in awhile.
Kim Martin (McClintock) started in the business in 1966. He worked at a couple stations in Scranton (WEJL and WARM Radio) before coming to WIBG in 1972. Four years later, he went to WMGK/WPEN where he stayed for 15 years. Then he worked for Philly 57 here in Philly. Since 1983, Kim has operated his own company, Kim Martin Productions.
Henry Clay has been involved with the Columbia Broadcasting System for over 40 years, locally and nationally. He is a regular contributor to the FORMER EAGLE DB Ray Ellis Show broadcast worldwide via VOICEAMERICA.COM. Clay has years of broadcast journalism and managerial experience both here in Philadelphia and New York City.
Associate Member:
Michael Crowley started in the business 4 years ago. Previously, he was a member of our student group, the Future Broadcast Pioneers. He is currently a newsroom production assistant at NBC 10. He produces "Baby's First Birthday" show segments, publishes content to the station's website and inputs information into the news production system.
We are thrilled to have these new members. They've helped to bring our total membership up to 433 (an all-time record). We hope to see as many of you as possible on our tour on NBC 10 and at our September luncheon.
ON THE SCENE: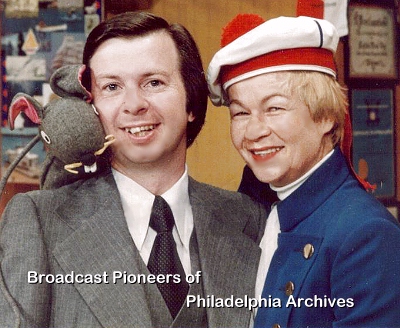 Broadcast Pioneers members Frank Stone & Pat Merbreier
(at the time, Frank was the Director of the Franklin Institute)
set of "Captain Noah and His Magical Ark"
WPVI-TV, Channel 6
circa 1978
It was an early fall morning in the mid 1970's when I pulled into the Channel 6 parking lot at City and Monument Avenues. As I entered the building, I was directed down a winding hall into a barely lit studio. I scanned with awe the set of "Captain Noah and His Magical Ark."
Within moments, the door swung open and in came the rascally captain with his first mate, Mrs. Noah. She was totally charming and friendly. I soon came to realize that the captain made you and your message feel important. Mrs. Noah made you feel welcome. I remember bringing donuts for the crew, to which she remarked, "Keep doing that and they'll make you look and sound good." I was with The Franklin Institute and the topic was science and technology, but mostly we talked about educational gifts and toys that were available in the museum stores. It was like a personalized PSA.
As the years passed, I became a regular on the show and was glad to refer to the Captain and Mrs. Noah as my friends. We lunched together often at the San Marco restaurant on City Avenue, (now it's a KFC) and talked about the show, guest appearances they had scheduled and the challenges of producing a live daily show five days a week. They taught me the business and encouraged my curiosity.
Pat was the ultimate calm breeze that kept the Captain's sails moving forward. Her attention to detail, soothing manner, delightful sense of humor, camera-ready beauty and angelic voice was ever present. At the close of a show, I sang along with "You Can Sing a Rainbow," and I realized I was experiencing magical, history-making moments in broadcasting.
I find it difficult to write about my friend's passing. I will miss her smile, her warm embrace and sitting next to her at Broadcast Pioneers luncheons; listening to her sing along with Christmas carols, Broadway tunes or whatever the program had to offer; and, most especially, watching her always holding her captain's hand under the table. There will always be rainbows in the sky, and with every one I'll hear the singing, "Red and yellow and pink and green…."
Here is our tribute page to Mrs. Noah! There's details about her life and some memories about Pat from some of our members.
IN TOUCH WITH OUR MEMBERS:
Broadcast Pioneers board member Barry Reisman shared some good news he recently received. Barry has been hosting a daily Jewish music program in Philadelphia for the past 46 years. During that time, he had been heard on several stations including WQAL, WIBF, WSSJ and WNWR. Several weeks ago, the President of WNWR invited Barry to lunch to tell him the station would be changing formats (broadcasting programming in Chinese), which usually means it's time to go out and look for a new station. However, WNWR management spent considerable time negotiating with several Philadelphia radio stations to pick-up the WNWR multi-cultural format. WWDB (AM 860) thought it would be a good idea, and that's where Barry is currently broadcasting. As Barry told us, "Same time, different station." Barry can be heard Monday-Friday mornings from 9:00-10:00AM. WWDB is the old WTEL Radio. Well done, Barry.
To give this a sort of "Twilight Zone" twist, not only have many of the WNWR programs moved over to WWDB, Sam Speiser, the former boss at WNWR, also moves over to WWDB as that station's general manager!
We heard from member Jack Rattigan, who told us how much he and his wife, Adelaide, enjoy the Broadcast Pioneers newsletter (over all the others he receives) since relocating to Norfolk, Virginia. We were delighted to see Jack his wife and his son, Neil, a producer for Eyewitness news, at the June luncheon. Thanks for keeping in touch, Jack!
Broadcast Pioneers member Larry Kane has released a new book, "Death by Deadline." As we told you last month, it's currently available as an "e-book." Kane mentioned to us that it will be coming out in paperback at the end of this month. Larry said: "This is a different kind of project for me, thirteen years in the making. It's a novel that involves law, murder, politics, sex and three television stations in a city named Philadelphia. It's a murder mystery thriller with a message. The message is that when local television stations strive so hard to be first, they actually kill people with misinformation. It has heroes, villains, violence and sex, and the greatest aspect of television, which is fear and loathing. For people in the business this book is a treasure. For those not in the business, it can tell you what can go wrong. For corporations, it's not pretty!" Larry Kane has made over twenty media appearance discussing his new book and said, "I applaud the stations for allowing us to openly discuss this book." Sounds like a must read!
Chris Stigall, the morning guy on WPHT Radio, was talking with member Beasley O'Reece the other week. Well, at least that's what Chris was calling CBS 3's Beasley Reece, who had just returned from an all-guy trip to Ireland. Beasley's wife, it seems, has some Irish blood in her; her maiden name was Fitzpatrick. Reece said that when he was in the Emerald Isle he saw the Fitzpatrick family crest. He also promised Stigall that next time, he'll take his wife. By the way, the news anchor and sidekick on Chris' broadcast is Ellen Kolodziej. She was one of our scholarship winners in 1990.
If you were up early over this past weekend, you might have heard Broadcast Pioneers President Jerry Klein on WHAT Radio. He was on "The Business of Sports," hosted by member Bonnie Squires. The program aired Saturday from 7:30 to 8:30 am and Sunday morning from 7 to 8. The broadcast was recorded on this past Wednesday. Our Chairman of the Board, Gerry Wilkinson, was originally scheduled for the show but he's been under the weather for the last couple of weeks. Besides, Wilkinson kids,"I don't know much about sports. Isn't Ed Bouchee still on first base and Chico Fernandez on shortstop for the Phils?"
Last month, member Harvey Sheldon's Internet radio station which plays all Philly music returned to the airwaves. The station was off the air for the last two years. Previously, it ran for a half-dozen of years before going dark. You can listen at harveysheldonphillyradio.com. Harvey tells us that the response has been overwhelming.
We heard from member Fred Woskoff who wrote this about Joe Grady:
I wanted to make note of one thing more to remember Joe Grady with: his time at WKBS-TV as co-anchor of the "Grant and Grady Report," the 10 pm newscast on channel 48, which ran from around 1971 into 1972, I think. That was actually the third version of Channel 48's 10pm news. I think the original one had John Carlton as anchor and aired in late 1965 into 1966. In early 1968, they started up with Doug Johnson as anchor, but in 1970 they changed the entire news team and brought in Carl Grant from Ohio. After some months they expanded the show to an hour and added Joe Grady to the mix, changing the name to the "Grant and Grady Report." It was either late 1971 or sometime in 1972 that the newscast was cancelled.

For those who don't recall, the newscast was cancelled one afternoon, with no show that night. Kaiser cancelled news at their stations in Boston, San Francisco, Cleveland, and Detroit along with WKBS all at once. I remember Jack Rossin coming into my office to say, "They cancelled the newscast….starting tonight." Being young and not well versed in the ways of the business yet, my immediate reaction was "What are we going to run at 10 pm?" It was either "The Avengers" or "Wild Wild West."
We heard from Kim Kline who was the Promotion Manager at WKBS-TV. She said:
I was the Promotion Manager at WKBS for the sign-off (and the Revenge of the Creature - I still have the press kit for that!) and often think of the people and times of that odd event. As a result of the station signing off, I had to move to St. Louis and then Sacramento. I am still in touch with a few of the friends I made there but would truly love to re-connect with so many others.

I had followed my father, Jack Kline, into the business. My dad was a "Pioneer" as one of the original Channel 17 employees. I have a silver plate engraved with that name which all of my (then) teenage friends used as his nickname; to this day those friends call him 'The Pioneer!"
DIGITAL ARCHIVAL PROJECT NEWS:
Title Graphic
The Road from Paradise
WCAU-TV
1984

Title Graphic
The Road from Paradise
WCAU-TV
1984
In 1984, WCAU-TV, Channel 10, aired an one-hour special entitled"The Road from Paradise," featuring Broadcast Pioneers Board Member Emeritus Herb Clarke. The premise of the show was Herb driving from Paradise, PA to the Jersey Shore--well, actually they started a few miles west of Paradise, but who's counting? Herb drove a classic white Mustang borrowed from a collector. The 60 minutes in our video archive comes from Herb's personal VHS collection, which was donated to the Broadcast Pioneers about a year ago. We present here a 4-minute clip for your enjoyment.
Watch in Real Video!
Watch in Windows Media!
John Facenda
WCAU-TV
Monday, June 26, 1972

John Facenda
WCAU-TV
Monday, June 26, 1972
39 years ago, on Monday, June 26, 1972, WCAU-TV aired a report on the aftermath of Hurricane Agnes. It was anchored by Broadcast Pioneers member John Facenda. Judd Hambrick (who was Facenda's co-anchor of the station's newscasts) was also on the telecast, as was Broadcast Pioneers member Herb Clarke.
Herb Clarke
WCAU-TV
Monday, June 26, 1972

Judd Hambrick
WCAU-TV
Monday, June 26, 1972
Today, Judd Hambrick is 65 years old, but when he first came to Channel 10 he was only 26 years old. Hambrick is an Emmy winning journalist now living in Alabama.
Watch in Real Video!
Watch in Windows Media!
We have now finished digitizing all of the Al Alberts Showcase programs that were donated to us a little while ago by WPVI-TV. We also have digitized the 46 "Captain Noah and his Magical Ark" broadcasts in our video archive. Plus, all of the 75 Dancin' On Air/Dance Party USA programs (donated by board member Michael Nise) have been totally digitized. All have been transferred from the original station/network tapes.
Remember, History is ONLY What Gets Saved!
(If there were no portraits of George Washington, how would we know what he looked like?)
OUR NEW OFFICERS AND BOARD:
Starting on Friday, the new term for our officers and Board of Directors started. Terms for all are for one year. Gerry Wilkinson remains as Chairman of the Board and Jerry Klein continues as President. Complete list of officers and board!
MORE IN TOUCH WITH OUR MEMBERS:
Some great news for "Danny and the Juniors" and our members Joe Terry and Frank Maffei. On January 6, 1958, "At the Hop" by Danny and the Juniors was the number one record. We have an American Bandstand show in our video archive from December 18, 1957, and Dick introduced that particular song as number one. Well, a little more than a half-century has passed, and again the group is number one... and not just in our hearts! A song called"First Kiss to the Last," (written by Joe Terry) is number one (May 23, 2011) on the Cashbox Carolina Beach Music Chart. It was also number one during the following week. Terry said:
This is quite a thrill for us to be #1 again after all these years. I find it even more gratifying because since the late sixties, Rock n Roll radio stations have had a policy that abandoned the playing of new music by original rock and roll artists. They just played the old hits, locking out our ability to achieve continued success. They disregarded our audiences, who at personal appearances would always ask if we were still recording. Also, now most radio stations have even stopped playing songs older '64, ignoring not just us but people like Elvis, Chuck Berry and Little Richard. Thank goodness the Carolina Beach Music stations have not forsaken us. It's fun to be #1 again.
Member Carol Chzanowski (Philly Carol from WVLT-FM) was featured as one of the cast members in performances of "Cabaret" last month. The shows were held at the Landis Theater in Vineland.
Member Ken Jeremiah wants us to know about a very special event happening at 8 pm on Saturday, July 16th, at the Landis Theater in Vineland. It's a great rock and roll show with Lesley Gore, the Soul Survivors, The Jeremiah Hunter Band and MC member Tom Lamaine. The week before, July 9th, Bobby Rydell is at the same venue. Don't miss out. Be There.
For some reason, this story was unintentionally left out of the June newsletter: We heard from member Debbie Elias (Ed Elias' daughter) that she was back in Philly a little while ago. She told us that "How to Make a David Lynch Film" was dedicated to the memory of her dad. Lovingly, she called her father "Tubby" (his nickname) and said that he saw David's last film, "Money Please." He was so thrilled with it that he contacted Lynch with his comments and thoughts. David was so moved by the communication that he dedicated his new film to Ed Elias, much to his daughter's surprise. The film recently came in 2nd place for the Grand Jury Prize as well as the Industry Award at the 14th Annual Dances With Films Festival. Debbie says, "And the web series,'Co-Op of the Damned', created and written by Ned Ehrbar, and of which I am Executive Producer, is about to launch its second season on the web. You can watch episodes here. We're in post production right now. Plus, I am working on another as yet untitled 3-D animated web feature film project with Ned."
Member Todd Tuckey tells us:
A local production team contacted me. I own TNT Amusements. They wanted to shoot a pilot TV show to be offered to cable networks about the selling and reconditioning of classic arcade video games and pinball machines. I have been in business since 1984 and have have hosted an almost-weekly, one-hour "infomercial" since 1995.

This proposed new program will be more reality-based: private homes, local auctions, and warehouse "finds" where old equipment is stashed or waiting to be found and reconditioned! Comedy mishaps, and general mayhem will hopefully keep audiences coming back! The pilot is 22 minutes long and they will be finishing up shooting in another week.
Member Corky Warren now has his "Corky's Time Machine" radio broadcast on www.coventgardenradio.com. You can hear it Sunday morning at 9 am if you're in London. For those of us in the Eastern Time Zone of the United States, that would be Sunday morning at 4 am. Members Joe Terry and Frank Maffei of Danny and the Juniors are often featured on the broadcast. Be advised that when we checked the Coventhardenradio.com website, we couldn't find Corky's show. However, Warren said that they just haven't updated their website. Those of you in Gloucester, Salem and Cumberland counties, and parts of Atlantic and Camden counties, get a special treat: Corky's Time Machine can be seen on Comcast Channel 190 every Saturday evening from 7 to 10 pm.
Member Maura McKinney Mastro (Jack McKinney's daughter) told us that she's appearing every Wednesday from 4 to 7 pm at the Rockpile Grille at the Cape May Ferry Terminal. She'll also be appearing at the Annual United Methodist Women's Day on July 28th. She's the guest speaker and will be entertaining as well. The Methodist Women's Day get-together is at the South Seaville Camp Meeting, 188 Dennisville Road, South Seaville, NJ, near Sea Isle City.
Board member Michael Nise tells us that WPHL-TV, Channel 17, will air four original "Dancin' On Air" shows. The station has transferred the video from the original 3/4 inch tape cassette masters. There will also be "funny moments" from the program. The air date is Saturday, July 23rd, from 8 pm to 1 am. A similar program called "Dance Party USA" aired on the USA Cable Network. We have several of those shows in our video archive, along with music highlights from both series. Member Brad Seecof is currently transferring 75 tapes from both series from one-inch tape into a digital format for preservation in our archives. Between the two series, there were more than 3,000 broadcasts, and all have survived.
WE REMEMBER:
Patricia Bosley Merbreier, better known as all of us as MRS. NOAH has passed away. See more information above in our "On the Scene" column.
Rick Beardsley, who supported Temple School of Communications & Theater students in the studios and by supervising "Temple Update" for the past 26 years, has passed away after a long battle with cancer. He was 52. Although not faculty, he was a great teacher. Some of his passions were his family, sports (especially ice hockey) and photography.
Jane Bartsch, who was Vice-President and General Manager for WJBR-FM, a Beasley station in Wilmington, Delaware, passed away last month after a battle with cancer. Dan Sultzbach will take over the reins on a temporary basis.
ON THE HEALTH FRONT:
Broadcast Pioneers member Ray Didinger, an award-winning sports reporter, is recovering nicely from heart surgery. Ray hopes to be back in time for football this fall. Ray can be heard on WIP Sports Talk Radio and seen on Comcast SportsNet.
Broadcast Pioneers member Todd Tuckey who owns TNT Amusements had a heart attack several weeks ago. He's recovering fine and hopes that our members will see less of him as he loses weight.
Broadcast Pioneers board member Bill Wright, Sr. had a bad slip and fall while down home in Alabama. Turned out to be a serious bruise but nothing broken. He's on the mend.
Broadcast Pioneers member Sylvia Kauders is recovering from surgery. We spoke with her towards the end of June and her throat was swollen. However, Sylvia says that she's not going to let this keep her down. She's planning to attend AFTRA convention in Seattle later this month. Way to go, Sylvia.
Broadcast Pioneers member Jane Norman (aka Pixanne) has just returned from Paris. However, she has mentioned that she has a persistent cough. She's had tons of tests and everything looks good, but she can't stop coughing. But you know what they say... "A coughing Pixanne is still just as loveable."
Broadcast Pioneers' Chairman of the Board Gerry Wilkinson has been under the weather for the last few weeks. He too was coughing. However, he did tell us that he's never been to Paris, but he was recently in Marcus Hook where he bought some French pastry. Close, but no cigar. In fact, Gerry, skip the cigar; it will just start the coughing all over again.

Did you know...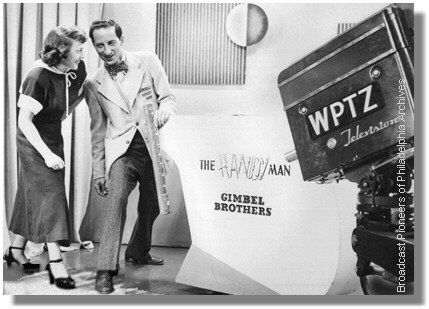 Broadcast Pioneers members Jane King & Jack Creamer
"The Handy Man" Program
WPTZ (now KYW-TV), Channel 3
circa 1947
Broadcast Pioneers member Jane King (aka Jane King Hall) was a regular on WPTZ in the early days. She was on "The Handy Man" and was a regular on the "Let Skinner Do It" and the later "Let Scott Do It" shows with Mr. Rivets. She also hosted her own daily afternoon half-hour program on Channel 3. However, The Handy Man show belonged to member Jack Creamer (pronounced Cream-er).
Broadcast Pioneers member Jack B. Creamer (often misspelled Kreamer, Kramer or Cramer) was born on Saturday, December 4, 1915. He was graduated from Jenkintown (Pennsylvania) High School in 1933. He started in broadcasting at radio station WIOD in Miami, Florida. There, he worked as a commercial copywriter from December 1938 until September 1940. Then, he went to WINX Radio in the nation's capital, Washington, DC. He stayed with them until the summer of 1942 when he joined the United States Coast Guard. He was discharged in July of 1943, and he went to work as an independent radio and television writer and producer in both New York City and Philadelphia.
In October of 1953, he was the Radio-Television Director for the Geare-Marston Agency in Philadelphia. In May of the next year, he went with Al Paul Lefton Company as Senior Copywriter and Manager of the Radio-Television Department. In October of 1964, he was a copywriter and Audio-Visual Producer for the Advertising and Promotions Department of the Philadelphia Inquirer. In March of 1966, he returned to Al Paul Lefton as Radio-Television Director. However, what may be the most interesting aspects of his career are his independent credits from 1943 to 1953.
He wrote and produced many programs including "How Do You Say It," sponsored by REM Cough Medicine and aired on the Mutual Radio Network, and "Consumers' Quiz" for WOR and Mutual. He authored "Money Go Round" for the NBC Blue Network. The show starred Benay Venuta and Fred Uttal. He also wrote "Detect and Collect" on ABC Radio starring Fred Uttal and Lew Lehr. For the William Morris Agency, he wrote the original radio adaptation of "The Sad Sack."
For ABC Radio, he penned some of "Meet Me in Manhattan," starring Walter Kiernan. He was one of the commentators for early television coverage of "The National Horse Show" from Madison Square Garden, which was carried over CBS-TV from 1946 to 1948. He was also one of the TV commentators on WPTZ for the 1948 Bryn Mawr Hospital Horse Show, the 1952 and 1953 June Fete Horse Show, the 1948 Philadelphia Dog Show and the 1948 through 1954 Gimbels Thanksgiving Day Parades.
However, he is probably best known in the Philadelphia market for The Handy Man program carried over WPTZ from April of 1947 until February of 1953. On Friday, September 3, 1948, it was on WPTZ from 8:30 to 8:45 pm. He produced and hosted the weekly show, sponsored by the Gimbel Brothers Department Stores. He had done some previous programs on Channel 3 (WPTZ) for Gimbels in 1946 and early 1947. "The Handy Man" show was owned by Jack Creamer and not WPTZ. Because of that, a different version of the program aired over WOR Radio and WOR-TV and a radio version ran on the Mutual Radio Network for a year and a half. From February of 1950 to December 1, 1950, there was also a daily version of The Handy Man also airing on WPTZ and sponsored by Gimbels. In late November, "The Handy Man With Jack Creamer" aired on Channel 3 on a daily basis from 2:30 to 3 pm.
After leaving WPTZ, he did The Jack Creamer Show on WIP Radio. It was a daily 25-minute live broadcasting talk discussion program. It aired from the end of January of 1953 until July of that same year.
In 1945, while "The Handy Man" radio program on Mutual was riding high, he wrote The Handy Household Manual, a compendium of material from his radio show. It was published by Ziff-Davis and sold for $2 (about $19.62 in today's money). Almost 100,000 copies were distributed. In 1949, he worked on Grolier's Book of Knowledge Annual and their Story of Our Time book. In 1953, Coward-McCann published Jack's Horses and Men, an anthology of horse stories. From January 1945 until July 1950, he wrote a monthly column called The Handy Man for MacFadden's True Experience Magazine. He also wrote for Esquire, Parents' Magazine, American Home, Sports Illustrated, American Golfer, Good Food, Charm, Swing, Thrilling Sports, Popular Sports, Champion Sports, Thrilling Mystery, Turf & Tanbark, Real Charm, and Author & Journalist.
For a time, Jack was on two different television stations in Philadelphia, WPTZ, Channel 3 and WFIL-TV, Channel 6. This would have been during 1949. His weekly "Handy Man" show was on WPTZ, sponsored by the Gimbel Brothers Department Stores.
However, starting February 28, 1949, Creamer also did a telecast on WFIL-TV called "Gimbels Television Breakfast Carnival." It aired from 10 to 11 am on Channel 6 and was sponsored by Gimbels. Originating live from the store, each day it came from a different department. The program was an audience participation show and was written and produced by the Robert J. Enders Advertising Agency. Creamer also wrote articles for both the Philadelphia Inquirer and Bulletin. Jack was a member of the Broadcast Pioneers of Philadelphia until his death in the mid-nineties.
The above photo was taken by Broadcast Pioneers member Preston Stover. Preston was on staff at WPTZ but moonlighted taking pictures of Channel 3 shows and selling them. Mrs. Stover told us that Preston would take the snapshot and then develop it that night in their bathtub. They were saving up to purchase a home and his photography work gave them the money for a down payment. Stover started at WPTZ as a cameraman and quickly rose through the ranks to become a Director/Producer. He stayed with the station until it was traded to NBC. At that time, his family moved to Cleveland and the newly acquired Westinghouse properties there.
IMPORTANT SCHOLARSHIP NEWS:
As you know, each year, the Broadcast Pioneers of Philadelphia awards scholarships to area college students. In April of this year, we gave away sixteen $1,000 scholarships. These scholarships were either underwritten by a scholarship sponsor or funded by our annual banquet in November. We're already hard at work at next year's scholarship competition!
Several scholarships are already being planned. One of those will be underwritten by member Sylvia Kauders. As you recall, Sylvia has underwritten five scholarships--one to be given away each year. 2012 will be the third year. Sylvia actually donated appreciated stock to us, giving her a federal tax advantage and us the scholarships.
The Adelman family has already underwritten a scholarship for 2012. Member Leon Love (Robin Adelman's father) has also underwritten a scholarship for 2012. The funds were donated in 2010 for tax purposes.
This past month, member Esther Kurtz sent in $1,000 to underwrite a scholarship in the memory of her late husband, David Kurtz, founder of B-101. She has been underwriting scholarships for a half-dozen years. She sent the gift in with her membership renewal.
Radio personality Harry Hurley (brother of member Don Hurley), host of "the Hurley in the Morning" radio show on WIBG (AM 1020), hosted his Fourth Annual "Hurley in the Morning Golf Open" at the Mays Landing Golf and Country Club during mid-June. This year's event raised considerable funds, which will be shared with different charitable organizations in the area. We just got word that this charity golfing event will be underwriting a $1,000 scholarship with Broadcast Pioneers of Philadelphia. Harry said in an e-mail to us:
I have long admired the great and charitable work that your amazing organization does to help so many.
That gives us a good start. Our scholarship competition begins in October. Last year, we had 322 candidates, 32 finalists and 16 winners.
THANK YOU:
As we do every month, we want to thank Broadcast Pioneers member Johnny B. Hall for his monthly cash donation to our DAP, Digital Archival Project. We especially appreciate it since Johnny has doubled the amount he was giving us last year at this time. Thanks. His annual donations total $1,200 annually. Our Digital Archival Project keeps on moving along.
We thank new member Bunny Gibson for her cash contribution and for the many items she has sent us for our archival project. We also thank Debbie Elias (Ed Elias' daughter) and Kathy Earley (Joe Earley's widow) for their generous cash contributions to our DAP. Remember, without our members, the DAP, Digital Archival Project would not be the success it is..
Also, we wish to thank those members who included an extra contribution when they sent back their membership dues. They are (in alphabetical order):
R. Alan Campbell
James Catrambone
Kevin Delany
Nicky DeMatteo
Anthony DiFlorio
Paul Gluck
Mel Gollub
Gordon Gray
Don Hurley
Larry Kane
Bill Kelley
Jerry Klein
Bob Kravitz
Carol Leebron
Dorie Lenz
Vince Leonard
Jay Lloyd
Tom Moran
Allen Murphy
Dave Roberts
Dave Roberts-Dahms
Dean Tyler
Ruth Weiman
Gerry Wilkinson
Special thanks to member Nancy Norton, whose late husband Paul wrote this newsletter for twenty years. She sent us a huge box of video boxes for us to encode for the video section of our archive. Thanks, Nancy. What a wonderful way to help everyone remember the work of Paul Norton.
We want to thank those who have sent a donation to our scholarship fund in the memory of Patricia Merbreier (Mrs. Noah). They are Marc Howard, Sally Berlin, Mary Scanlan, Debra & Perry Koffer, Albert & Inge Breuers and Thomas & Barbara Keyser. It is appreciated. We all miss Mrs. Noah!
If you forgot to make an extra contribution (cash or memorabilia) and would like to do so now, it's never too late. We would be thrilled to hear from you at: PO Box 2886, Bala Cynwyd, PA 19004.
WE NEED VOLUNTEERS:
We have selected our Person(s) of the Year and the inductees for our Hall of Fame for 2011. The banquet will take place of Friday, November 18th. We need writers who are willing to author bios for the banquet booklet and the website about these honorees. We also need script-writers for the videos you see at the banquet. These volunteers are needed right now, so if you wish to help, please let us know ASAP. We can really use the help. If you're interested, please call us at (856) 365-5600 or e-mail at pioneers@broadcastpioneers.com
A LITTLE BIT OF HISTORY!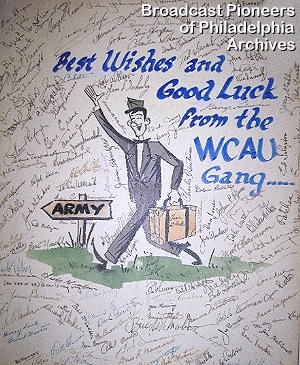 drawing by John Ferlaine, WCAU-TV's Art Director
1953
This is a large framed item drawn by John Ferlaine, who was Art Director at Channel 10 in the fifties. It is signed by about 100 people who worked at the station. A visitor to our website sent us this scan and asked if anyone can identify who it was for. Does the drawing look familiar to anyone? If so, please let us know.
IN TOUCH WITH THE INDUSTRY:
The 92nd Philadelphia Thanksgiving Day Parade will again be on WPVI-TV, 6ABC. This year, they have a new sponsor, Dunkin' Donuts. The three-and-a-half hour telecast is on from 8:30 am to 12 noon and is syndicated on the East Coast. The parade is also the beginning of the station's 6ABC's Holiday Food Drive, which will also have Dunkin' Donuts as their title sponsor. The parade used to be sponsored by Gimbels until 1986, when the department store chain closed.
Kingsley Smith, who was News Director here in Philly at Fox 29, has started his new gig as News Director at KTTV, the Fox O&O in Los Angeles. Smith was ND here in Philly for the last three and a half years. Before coming to Philadelphia, Kingsley was VP of News for the Fox O&O in St. Louis, KTVI-TV. His first day on the job at KTTV, he announced that the station would start a 5 pm newscast on September 12th. The timeslot was previously filled with Dr. Oz. That show is moving to another station in the LA market.
Katie Couric has signed on with ABC to syndicate a daily one-hour talk show. It has already been cleared for the 3 pm timeslot on WPVI-TV here in Philly. Currently, the station runs "General Hospital" in that time period. Couric's program will debut in 14 months, during September of next year.
We understand that congrats are in order for Philadelphia Daily News Columnist Dan Gross and wife Holly Maher. The couple are enjoying playing with their first child, Piper Maher Gross, who is 6 weeks old now.
KYW-TV's Susan Barnett was co-host of "The Talk" this past Friday. She was one of five people who anchored for CBS O&O stations. She was filling in for Julie Chen, who was on vacation. The program airs at 2 pm.
Lisa Churchville has retired as President and GM at WJAR-TV in Providence. She had worked at WABC-TV in New York, WMAQ in Chicago and here in Philly at WCAU-TV as Vice-President of Sales.
Jersey Guys Casey Bartholomew and Ray Rossi's last day on New Jersey's 101.5 was June 24th. However, Ray, as a solo, takes over the 11 pm to 3 am time slot. The station announced that the 2 to 7 pm timeslot will be filled with Jeff Deminski and Bill Doyle, starting on Tuesday, July 5th. The pair were with the station from 1993 to 1999. They left to go to Detroit, but now they are glad to be coming home.
The Wildwood Boardwalk Special Improvement District has named WAYV 95.1 the "Official Radio Station of America's Boardwalk." The 2½ mile boardwalk is the most notable feature and gateway of activity to the City of Wildwood, Borough of Wildwood Crest, City of North Wildwood and the Borough of West Wildwood, collectively known as the "Wildwoods." According to Shannon Wray, marketing/promotions director for Equity Communications, 95.1 WAYV's parent company; "This is a perfect collaboration between two legacy entities." The partnership grants WAYV 95.1 the privilege of informing more than 9 million residents and visitors about what's happening on the boardwalk.
Local Philly talker Michael Smerconish is on WPHT and syndicated nationally will be the keynote speaker at the NAB/RAB Radio Show Luncheon in Chicago on September 16th. Smerconish is also seen often on MSNBC.
Beginning today, air personalities from Sports Talk 610, WIP Radio will host Comcast SportsNet's main show, "Daily News Live." Angelo Cataldi, Al Morganti, Glen Macnow, Anthony Gargano, Rob Ellis and Rhea Hughes are the ones so far named to be on the cable telecast, which airs at 5 pm daily.
Some of you may remember Roger Wood, who worked in this market at several radio stations in the late sixties and early seventies and was graduated from the School of Communications and Theater at Temple University. Well, he has been living in Portsmouth, NH, for the last four decades. He has three children and three grandchildren and writes and produces a New England News and Entertainment website, theseacoast.co. We heard from him on July 4th and he's still doing morning radio news in New Hampshire. Roger was at the Cape broadcasting live throughout New England with the Space Shuttle Challenger blew up in January of 1986.
Literally moments before we locked in everything for this newsletter, we got an e-mail from member Hilary Baker at WHYY. She wants to let us all know that WHYY-FM is now able to "Reach to the Beach." WHYY is acquiring the five NJN radio stations in South Jersey. They are: WNJZ-FM: 90.3, Cape May Court House; WNJM-FM: 89.9, Manahawkin; WNJN-FM: 89.7, Atlantic City; WNJB-FM: 89.3, Bridgeton and WNJS-FM: 88.1, Berlin. While WHYY took over operation on July 1st, actual ownership transfer is waiting for FCC approval. Here's more details!
JUNE LUNCHEON REVIEW :
On Wednesday June 15th, we had yet another history-making luncheon with our "Tribute to Joe Grady." Hosted by Joe's long-time friend and partner Ed Hurst (a member of our board of directors), the afternoon was filled with fond memories, funny stories, and warm reminisces of an icon in our industry.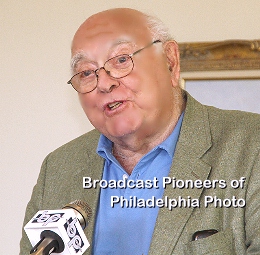 Broadcast Pioneers Board Member Ed Hurst
Broadcast Pioneers Luncheon
Bala Golf Club, Philadelphia
Wednesday, June 15, 2011
Photo by Broadcast Pioneers President Jerry Klein
Joining in on the fun were Cardinal John Foley, Bucky Clark, Charlie Gracie, Peggy King, Kim Martin, John Primerano, Dean Tyler and Larry Wexler (all members).
It all took place at the beautiful Bala Golf Club, 2200 Belmont Avenue in Philadelphia, just minutes away from Channels 6, 10 and 17, plus the radio stations in Bala Cynwyd.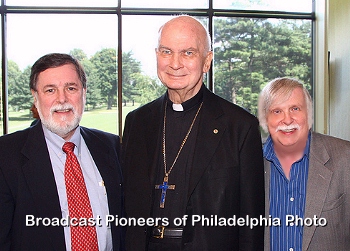 (left to right) Broadcast Pioneers President Jerry Klein
Cardinal John Foley
Broadcast Pioneers Chairman Gerry Wilkinson
Broadcast Pioneers Luncheon
Bala Golf Club, Philadelphia
Wednesday, June 15, 2011
COMPLETE AUDIO OF THE EVENT!
Listen in Real Audio!
Listen in Windows Media!
COMPLETE VIDEO INCLUDING A SPECIAL ANNOUNCEMENT!
PHOTOS OF THE EVENT BY JERRY KLEIN!
These copyrighted images are protected under US Copyright.
Any usage without the express, written permission of
the copyright holder is strictly prohibited!
Usage does NOT fall under "Fair Use" of copyright laws!
A RECAP....Kim Martin told some very insightful and entertaining stories about Grady and Hurst on WPEN. He capped his remarks with, "Joe was a wonderful guy, a terrific talent and a heck of a good man."
Dean Tyler was program director during the Grady and Hurst era, almost 18 years with WPEN. Dean said, "He (Joe Grady) was a wonderful man, with a twinkle in his eye, one of the most gentlemanly persons in broadcasting."
Larry Wexler was GM at WPEN for 20 years. He told how he brought Grady and Hurst into the station for a two-week special program and they stayed 8 years! He said, "If those guys could have danced, they would have been Fred Astaire and Ginger Rogers. He was a great radio talent and good friend."
The ever popular and talented Charlie Gracie said, "They (Grady and Hurst) played my first record when I was 15 years old! Joe was the serious guy, Ed was the funny guy. I'm delighted to be a part of today."
Cardinal John Foley worked with Joe Grady at St. Charles Seminary. About Joe, the Cardinal said, "He was a gentlemen and a wonderful teacher."
Editor's note: At the conclusion of the luncheon, Broadcast Pioneers Vice-President Frank Stone had the honor and privilege of making a surprise announcement concerning the 2011 Hall of Fame inductees. The full announcement of the 2011 Person(s) of the Year and Hall of Fame inductees will take place during the July 21st tour of NBC 10. However, it was appropriate and fitting for Broadcast Pioneers to announce that the 2011 inductees included a guest speaker at that luncheon. With tremendous pride, we announced the induction into the 2011 Hall of Fame of His Eminence Cardinal John Foley. Following an extended standing ovation, Cardinal Foley expressed his delight at becoming a member of the Hall of Fame.
Watch what Cardinal John Foley said!
Heard after the luncheon... "It was beautiful. I think Joe would have been very pleased." Pat Grady (Joe's wife)
"It was wonderful. I thank everybody for coming to honor and remember dad." Jo Ann Grady
"It was wonderful. The most important thing is that it was in honor of Joe Grady. Joe was an icon in Philadelphia broadcasting. It was an honor to honor him. It was wonderful to be here and quite a surprise and honor to be inducted into the Hall of Fame." Cardinal John Foley
"This was a wonderful occasion. It was a thrilling afternoon, to see some of the greats. It's great to be alive and still be with these terrific people. Also, it was an honor to have Cardinal Foley with us." Charlie Gracie
"I thought it was wonderful. It was obvious that anyone who was here loved that man…he was a wonderful man and I'm delighted to be here for his wonderful wife, Pat, and my buddy at the shore, Ed Hurst." Dean Tyler
"It was very nice. A great tribute to my old partner Joe Grady. It was one of the better days…" Ed Hurst
"I think it was great. We honored a great guy." Kim Martin
"I think it was magnificent. I couldn't be happier to be here today to honor Joe Grady. This gathering is so special, and I Can't compliment you (Broadcast Pioneers) enough for bringing all these people together." Don Hurley
"I thought it was another winner. Ed Hurst is such a gracious guy…with all the years he's been in the business, behind the mike and in front of the camera, he still cooks! Joe was the epitome of decency on the radio." Tom Moran
"It was an absolute delight. I've known Ed Hurst for a long time and it was great to see all these people. It's great to be a part of this organization." Ken Jeremiah
"I loved it! It was fantastic! It was for somebody who was a classic in the market for years. When they came back it was like fireworks! They were in the same category as Martin and Lewis and Huntley and Brinkley…they were in the same talent range…they just worked so well together." Larry Wexler
A FINAL THOUGHT....
At our last lunch, Cardinal John Foley said that when he was a teenager his parents gave him a book called "You Can Change the World." Well, Pat Merbreier, known to all of us as Mrs. Noah, must have read that same publication, because the earth is a better place thanks to her. Millions remember her for her warmth, compassion and wonderful voice. We'll always think about her as our dear and loving friend.
Gerry Wilkinson
Chairman of the Board
Broadcast Pioneers of Philadelphia
We welcome your input regarding content, future stories, suggestions, etc. Please contact us by e-mail at newsletter@broadcastpioneers.com. Your stories are important, to you, to us, and your colleagues. Contact us today and we'll include your story in the next newsletter!

Photo Editor & Archival Historian - Gerry Wilkinson
© 2011, Broadcast Pioneers of Philadelphia
All Rights Reserved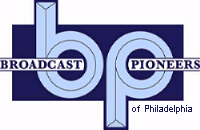 The e-mail address of the Broadcast Pioneers of Philadelphia is pioneers@broadcastpioneers.com
For luncheon reservations call (856) 365-5600 or e-mail us at: rsvp@broadcastpioneers.com