Our FREE summertime event this year is a tour of "Citizens Bank Park," home of the Philadelphia Phillies. We'll all meet at 11 am on Wednesday, July 17, 2013 (rain or shine).
You can park in Lot S on the west side of the stadium (entrance across from Xfinity Live on Pattison St.). Walk across Phillies Drive to the West VIP Entrance and take elevators to Suite Level. Guides will be there to help.
Go to the Group Tour Room to begin the tour with a greeting and a short video. From there, groups of about 25 each will begin the 90-minute tour. Broadcast Pioneers Board Member Dave Abramson will be along for questions and highlights that other tours do not get. Dave is the Chief Engineer for the Phillies broadcast division.
During this tour, we will announce our 2013 "PERSON OF THE YEAR" as well as the people who will be inducted into our Hall of Fame. The banquet is in November.
Because this is a FREE tour and because there normally is a charge, you must be a member of the Broadcast Pioneers or a guest of a member.
This is approximately a mile walking tour, both inside and outside. Please dress accordingly. The tour is wheelchair accessible and wheelchairs are available by request. Cameras are permitted.
Space is VERY LIMITED and will fill up fast. Once the spaces are filled, we can accept no more people. Call now for your reservation(s). Dial (856) 365-5600. Leave a message on the machine. We do NOT make confirmation return calls. (We do not have the staff to do so). You can also e-mail your reservation to: pioneers@broadcastpioneers.com.
If you haven't sent in your membership dues by now, YOU ARE LATE! If you never got your renewal form, please e-mail at pioneers@broadcastpioneers.com or call (856) 365-5600. Membership dues are due by June 30th. Don't worry, if you are late. Just send them in. Keep in mind too that if you can make an extra contribution (and wish to do so), it will help all our educational projects. Gifts may be tax-deductible to the fullest extent of the law. Check with your tax advisor. We are a 501 (c) (3) non-profit organization. Donations to us are just as deductible as any other charitable organization.
Monique Braxton is a reporter and news anchor for NBC 10, WCAU. She's been with the station for thirteen years. Previously, she was an anchor and correspondent for MSNBC based in New York (Secaucus). Before that, she was a reporter for WBAL-TV in Baltimore and an anchor for NewsChannel 8 in the Nation's Capitol. Prior to going to DC, she was a reporter for WAVY-TV in Hampton Roads, Virginia and WRVA in Richmond. She holds a Master of Science degree from Virginia Commonwealth University.
We have two new Associate Members but they are old friends of Broadcast Pioneers. They are Ira Adelman and his wife Robin Adelman. They and Robin's dad, Broadcast Pioneers member Leon Love, have been underwriting a couple of Broadcast Pioneers scholarships for years now. It is now our pleasure to welcome them into our membership of the Broadcast Pioneers of Philadelphia. Their daughter Marlene read a poem about weathercasters at our June luncheon. Welcome aboard.
We are thrilled to have these new members. 492 Members. More than ever. We hope to see as many of our members as possible at our July tour of the stadium.
VIDEO:
Action News Graphic
WPVI-TV, 6 ABC in Philadelphia
April 1989

Broadcast Pioneers member Marc Howard in Israel
WPVI-TV, 6 ABC in Philadelphia
April 1989
It was billed as Mission 1000 - The Philadelphia Mitzvah. It was organized by the Philadelphia Federation of Jewish Agencies to show the Delaware Valley's Jewish community's support for Israel. They traveled on two jumbo jets belonging to El Al. They were the first flight from our area in a quarter of a century. Action News Senior Correspondent Marc Howard, a member of the Broadcast Pioneers, covered the trip for Channel 6. Marc said this:
The Philadelphia Jewish Federation promoted the trip to Israel to show support for the country that had been under siege by the "Intifada," the Palestinian uprising that started in 1987 and virtually eliminated tourism for more than a year. So the trip was more than tourism: It was a chance for Philadelphia Jews to show support for the Jewish state.

I had been to Israel twice before, once in 1986 and before that, as a teenager in 1952. The historic places had not changed, but the new cities had come 2000 years over that 37 year time span. I remember getting some viewer flak when I observed that walking the streets in Jerusalem was actually safer than walking the streets in Philadelphia. Israel was under the constant threat of terrorist bombings which claimed dozens of lives but street crime (which took hundreds of lives every year in Philadelphia) was virtually non-existent there.

As a reporter, the hardest thing about reporting from Israel is the clock. 11pm live conversations with Jim Gardner took place at 6 am in Israel! No fun for a night owl!

My wife Susan and I visited Israel again in 2010. The good news: things are more peaceful and the economy continues to grow. The bad news: Israel and her Palestinian neighbors have still not reached an amicable agreement on living together in peace.
Our video was mastered from the station's 3/4" tape. It's our feeling that the Real Video version is sharper, clearer and also loads faster.
Watch in Real Video!
Watch in Windows Media!
AUDIO:
We have some audio from KYW Newsradio from the morning of August 2, 1971. While we have about 22 minutes of audio, it is unfortunate that it is not continuous. The audio starts and stops in several places. Our coverage starts at 4:18 am and goes to about 5:35 am. KYW News anchor Dan Streeter and Don Lancer are both heard of this audio.
With Independence Day quickly coming upon us, we thought you might enjoy a program that deals with Independence Mall. The program is called "Through Historic Philadelphia" and was aired over WRTI-FM in Philadelphia and WGLS-FM in Glassboro. The show was created and produced by our very own Chairman of the Board Gerry Wilkinson and hosted by his fellow Temple University college student Shelly Davis. While here in Philadelphia Davis was a jock on WRCP when it was country and also news director at WHAT Radio. Shelly later went on to become General Manager of a couple Texas TV stations Before that Shelly was the GM of Mel Tillis Entertainment, Inc. and the Oak Ridge Boys, Inc.
"Through Historic Philadelphia" was a series of broadcast dealing with historic places in the Delaware Valley. What you can listen to is part two of a four part series on "Independence Mall." This is show number two. It is the only one known to have survived. It's spring of 1967 and the program was recorded on an inexpensive portable cassette machine. The quality is mediocre at best.
Here's several commercials and promos that aired on WTAF-TV, Channel 29 on January 3, 1971. Doing the Philadelphia Daily News spot is our former President and former Chairman of the Board Bill "Wee Willie" Webber. While this was on television, we only have audio.
A LITTLE BIT OF BROADCAST HISTORY!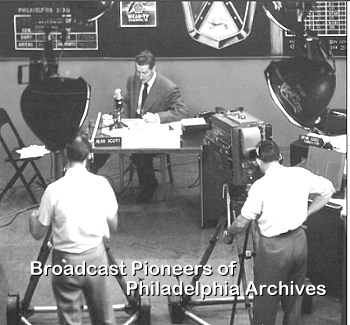 Alan Scott at the anchor desk
(left to right) Camera operators Bob Patterson and Bob May
Live Telecast election coverage on WCAU-TV, Channel 10
November 1948
IN TOUCH WITH OUR MEMBERS:
We heard from Broadcast Pioneers member Joe Pellegrino, who explained why he wasn't there at our June Tribute for Herb Clarke. However, Joe had good reason. He says:
Regret to inform you for the 3rd consecutive year that I won't be able to attend the June 19th luncheon honoring Herb Clarke. The date always falls on the annual Merrill Reese Golf Tourney honoring Special Olympics kids who attend their banquet following play. I have been committed to the tourney for the past ten years as a so-called "celebrity" where donor golfers pay to play in our foursome. I am always called upon to make remarks at the banquet about the job Special Olympics does for the kids.

Please convey to the Pioneers' audience that I worked with Herb and Larry Kane at Channel 10 as we anchored the 6 & 11 news from 1982 thru 1988. I never worked with a more consummate professional and finer man than Herb throughout my career. Even though I competed against Herb and Channel 10 when I arrived at Channel 6, Herb welcomed me with open arms when I re-joined Larry at 10. We always had a quick and lasting friendship and I still treasure the memory. I know I'm a better person for knowing him, and the depth of his persona was a mark of his many talents.
Youth aided by police officers of Philadelphia's 19th Police District, received free passes to the recent National Collegiate Rugby championships held here in Philadelphia on June 1st and 2nd.. The tickets were given by American Advertising Services, one of the Philadelphia area's longest-established advertising agencies. The local ad agency has a continuing public service program. President and founder of the firm is Joe Ball, a member of the Broadcast Pioneers.
Broadcast Pioneers member Joe Ball, founder and owner of one this area's longest-established adv./PR firms (55 years) was named Chairman of a judging panel for the U.S. International Film & Video Festival. Entries were submitted from throughout the U.S., and overseas. The judging was held right here in Philly at the facilities of WPHL-TV, Channel 17. One of the judges was Miss Philadelphia, 2013, Francesca Ruscio. Click here to see their photo. Other judges included Brittney O'Rourke, host of the "Music Talk" radio show, Samuel Speiser, GM of WWDB, William Lehan, Senior Multimedia Designer for WPHL-TV and Travis Brower, Production and Promotion Manager for Channel 17.
Broadcast Pioneers member Bob Hamilton was featured last month in a story by Radio Ink Magazine's website. He talked about starting out in broadcasting in 1963 at WBCB in Levittown. He got the job after mailing a letter to Stu Wayne, the station's program director. Stu offered Bob a chance to do a 15-minute program about his high school and Hamilton jumped at the chance. In 1969, Paul Drew hired Bob to work at WIBBAGE. After that, Bob has worked all across the country and is currently on the west coast. Read the Story!
By the way, since that story Bob Hamilton has been hired as Senior Vice President of Programming at the Tom Kent Radio Network. Hamilton has been consulting TKRN for the past two years and prior to that was PD at Lincoln Financial's WMXJ 102.7 FM in Miami and Program-Operations Manager at KRTH 101.1 FM Los Angeles.
We heard from Broadcast Pioneers member Uschi Keszler, former Gold Medallist Ice Skater who is now CEO of "Pennies' in Action," an organization fighting cancer. She says:
Our crusader Satnam Channa from Kenya who will climb Mount Kilimanjaro in December to raise funds and awareness for Pennies in Action is training by running all kinds of charity races. (Mid-June) he won the race in Kenya for Cerebral Palsy. He is amazing. Congratulations Satnam!
A recent study shows that Internet radio listeners are younger and more likely to buy items they heard advertised. The report stated that those who listen to radio via the Internet at least 21% of the time are twice as likely to purchase a product that was advertised. Those that listen to Internet radio average in age at around 34. Traditional radio listenership was more in the 47 year old range. Broadcast Pioneers member R Alan Campbell worked at WPBS and WFLN before purchasing a radio station in Texas. Now in retirement he operates Internet radio streams via his Western Gulf Media, Inc. Campbell said:
For almost a century the radio has been a primary tool for entertainment and information. We will soon be seeing wifi, 4G and other wireless connections everywhere. Much radio listening is now done in the car, or through new portable devices. Internet radio portals such as Tunein.com, iTunes Radio, Shoutcast and LIVE365, among many others, are moving their Internet radio stations into new automobiles.

High speed Internet in cars could soon become a feature as common as satellite radio or CD players. General Motors and AT&T have announced that wireless connections will come as an option in many Chevys, Buicks, Cadillacs, and GMC's next year. Live traffic and weather maps, Internet radio, and streaming movies are just the beginning for car interiors that could soon could be dominated by "apps". Many auto manufacturers already have something like this. If the GM deal finally produces a younger group of mobile Internet media listeners, now linked to their iPods, iPhones, iPads and similar devices, there will be a big opportunity for regular FM and AM radio stations that also want a share of the expanding in-car and wireless internet audience.

It also appears that National Public Radio is positioning itself for the digital age better than many. NPR's radio listenership dropped in 2012, but a new audience for the network's mobile "apps" seems to be making up for that loss. I believe the internet offers the possibility for a creative person or group of individuals to resurrect the old radio forms of entertainment and package them for broadband distribution around the world.
Broadcast Pioneer member Joaquin Bowman had an opportunity last month to talk with Bobby Burgess, now 72, about early television history. Burgess started his career on national television in 1955 as one of the original Mouseketeers and then in 1961 as a featured member of the Lawrence Welk Show, still airing on the PBS stations. Burgess had the unique experience of working with television pioneers Walt Disney and Lawrence Welk.
In addition to their regular TV shows, both were smart businessmen who recognized the value of television in promoting their commercial enterprises including resorts, theme parks, stage shows and merchandise. Burgess is married to the daughter of Lawrence Welk accordionist Myron Floren. Bobby told Bowman that he considered himself to be very fortunate to work for Disney and Welk. A sidebar to this. Myron Floren appeared quite often on WPVI's "Larry Ferrari Show." We have several of his performances in our video archive. Larry was on our board of directors for many years.
Member Kenny Jeremiah and Bittersweet will be appearing at The Deauville Inn, 201 Willard Road, Strathmere, NJ in Cape May County. They are there every Wednesday now through the end of August. Check them out between 6 pm and 10 pm. It's all a good show.
Broadcast Pioneers member Nora Muchanic says that there's been a change to the New Jersey flood maps. FEMA representatives say they were conservative when first drawing the flood maps, intentionally over drawing the areas at the most risk of flooding and damage. These updates, decreasing velocity zones by 46 percent in some counties, may relieve some post-Sandy costs that many home owners along the coast are dealing with. She says to make sure to check where your home lies on the updated maps if you live in the infected areas.
Broadcast Pioneers member Bunny Gibson just finished three days of work on the comedy motion picture film entitled "American Beach House" that stars Mischa Barton and Lorenzo Lamas. Can't wait to see it.
A LITTLE BIT OF BROADCAST HISTORY!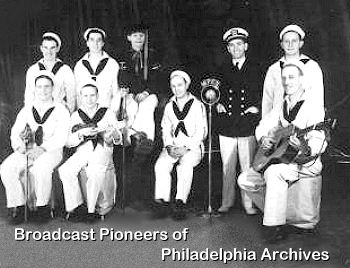 Skipper and his crew of the SS All-in-Fun
WPEN Radio
circa 1942
WE REMEMBER:
Sad news from Trina Vaux, formerly PD at WUHY-FM (now WHYY-FM). She tells us that Nate Shaw passed away at the end of May in Fort Lauderdale, Florida. He worked at WGBH (Boston) and WAMU (Washington, DC) and then came to Philly as Station Manager for WUHY-FM (1967 to 1977). He was a founding member and board member of National Public Radio. After Philly, he went to the Corporation for Public Broadcasting.
Elwood Sandrow passed away mid-June. Broadcast Pioneers member Steve Sacks tells us:
Elwood was one of the security guards at the back door or the employees entrance at WPVI. He was a truant officer during the day for the school district. I think he played baseball in the minor leagues when he graduated college. What made Elwood so special was that he loved his job and enjoyed talking to all the employees on the night shift which he usually worked. He was smart enough to know how to expedite any problems that might manifest themselves at night and make them disappear. He was truly one of a kind.
Edna Whittington Cathcart passed away last Tuesday. She was our oldest living member at104 years old. She was also a founding member of the organization. Edna began her broadcasting career in the 1930's, at WIP in Philadelphia. She became the voice of "Bess Buy," doing comparison shopping at various local stores. In the late 1940s she co-founded, along with the late James Tisdale (also a founding member of Broadcast Pioneers), radio station WVCH, "the voice of Chester," Pennsylvania. She worked with such greats as John Facenda and Ernie Kovacs. In October of 2011, Broadcast Pioneers' Hall of Famer Liz Matt spoke with Edna. Watch Edna in Windows Media format.
Walter Kahn, also known as Teddy Miller or Kandor, passed away mid-June at his home in Clearwater, Florida. While a student at Temple University, Walt was on the air as a rock jock at WNAR in Norristown, Pennsylvania. During his time at Temple, he was a pop, non-rock air personality on WRTI-FM. Walt was also involved in record producing and recording at Queen Village Sound Studios. He was awarded a Grammy in 1974. Walt produced under the name of Kandor. He loved swimming, golf, tennis, travel, intelligent conversations and women (not necessarily in that order). He was an Aries and loved computers. His motto in life (according to him in 2000) was "Honesty and sincerity are the bottom line." Listen to Walt as Teddy Miller on WRTI-FM in 1966.
Sylvia Kahn was a businesswoman. She owned several different businesses in her lifetime including Suzy's Lounge, Neshaminy Lumber, the Maples Bar and Grill; all here in the area and several other businesses outside of our area. However, she had a tie to broadcasting. As a high school senior at West Philly High, she won a singing contest on WDAS radio. That led to her own radio program called "The Melody Matinee featuring Sue Lane (her middle and maiden name). Suzy later received a scholarship to the prestigious Settlement Music School in Philadelphia, where she studied opera and piano. She then had the opportunity to attend the world renowned Curtis Institute. She went on to perform in some of the most exclusive hotels and night clubs in Miami Beach. She passed away last month.
ON THE HEALTH FRONT:
Robin Adelman e-mailed us some info about her dad, Broadcast Pioneers member Leon Love. She says:
He arrived home on Wednesday (June 5th) with assistance from a nurse and therapists. He's doing pretty good, but has to see the surgeon and other doctors this month. We get a more complete picture of future prognosis at that time. Reading about the Rehab in the (June) newsletter, since he is home now, any well wishes can now go to his home address: The Briar House Condominiums, 8302 Old York Road, C-34, Elkins Park, PA 19027.

Did you know...
that 80 years ago, WCAU Radio moved into a wonderful new building at 1622 Chestnut Street in Center City Philadelphia? Well, it was one of the finest radio facilities in the country.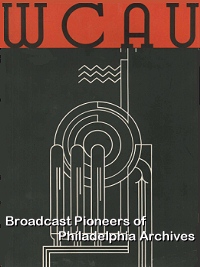 Cover of a 1933 WCAU brochure
showing the "new" WCAU building
On Friday, February 10, 1933, the WCAU dedication event took place at 10:30 pm (even though the station had been broadcasting from the new facilities for a couple of months) and was carried live over the Columbia Broadcasting System, CBS Radio. The Levys (majority stock holders of WCAU) were part owners of CBS and the Paleys (all board members of CBS) were part owners of WCAU. So the airing nationally made a lot of sense. It featured many leading entertainers of the era, all originating out of the new WCAU studios. According to the May 1933 issue of Radio News, "the artists included Morton Downey, Tom Howard, Mary Garden, Helen Kane and the Vincent Travers and Meyer Davis orchestras. Boake Carter was the master of ceremonies."
This article, however, will deal more with the studios and physical plant. A 1933 WCAU Radio document says this about the new facilities.
Studio A is the largest studio, extending 56 feet in length and 33 feet across. This 2-story room will easily accommodate a full symphony orchestra. Like every other WCAU studio, it has "floating" walls and floors with a suspended ceiling to render it entirely soundproof. French gray combines with blue and chromium in a handsome vertical decorative arrangement. The Visitor's Gallery is shown under it is the studio's private control room.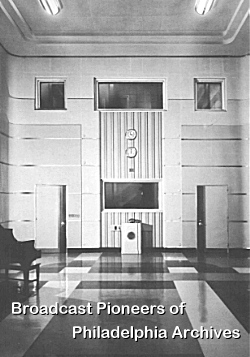 Studio B of WCAU Radio
1622 Chestnut Street, Philadelphia
December 1932
As in all WCAU studios, Studio B has its "live" end where the programs originate and its "dead" end where the microphones are located. Its acoustic perfection is an achievement of the Electrical Research Products Laboratory, a subsidiary of Western Electric Company. Perforated steel plates cover the walls. Through the perforations seeps the sound which is absorbed by the rock wool backing. Newest type velocity microphones are used in every WCAU studio, another first for this station.

Studio C, distinguished by the work of a contemporary artist, John Vassos, strikes a distinctively modern note in design. Its sound-proofing is aided by 600-pound doors which are automatically sealed air-tight with their closing.

A special imported fabric in shades of sand and salmon covers the walls of Studio D. Reaching two stories high, this room achieves a singular charm. Like every other WCAU studio, this one has its individual vestibule affording a greater privacy to the artists in the studio.

Studio F as seen from its private control room. The dignified beauty of this studio is accomplished through the unusual combining of gray, salmon and black. In this typically modern atmosphere originates many of WCAU's intimate broadcasts.

Studio G is WCAU's special "stand-by" studio. From here go forth the call letters "WCAU, Philadelphia" and "W3XAU, Philadelphia." The latter identifies this station's 1000 watt short-wave transmitter. Studio G is located next to the master control room ever ready to be used for emergency purposes if necessary.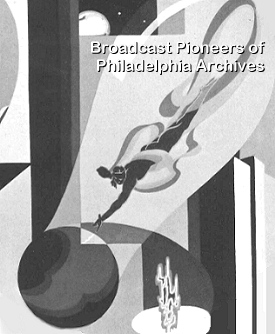 John Vassos Painting on the wall of Studio C of WCAU Radio
1622 Chestnut Street, Philadelphia
December 1932
(No trace of this well-known art work existed by the end of World War II)
It was only a year before that WCAU Radio announced the erection of this building. In the January 15, 1932 issue of Broadcasting Magazine, it said:
Plans for the construction of an 8 story building announced by Dr. Leon Levy, president of the station. Previously, it was announced that a 3 story penthouse would be added to the Franklin Trust Building for WCAU, but this structure has recently been taken over by the Pennsylvania Banking Department. Demolition work has already been started. Building planned to be occupied by August 1, 1932. Seven studios in addition to a special rehearsal and audition rooms will be included.
We'll continue this story next month in the August 2013 edition of the Broadcast Pioneers of Philadelphia's newsletter.
This regular monthly column is written and researched by Gerry Wilkinson
MORE DIGITAL ARCHIVAL PROJECT NEWS:
VIDEO: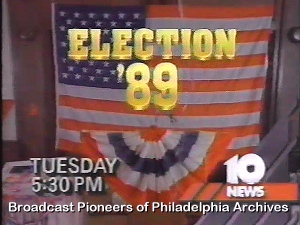 Channel 10 Election Coverage Graphic
WCAU-TV, Philadelphia
November 1989
In the fall of 1989,WCAU-TV, Channel 10 in Philadelphia (then a CBS O&O) created this on-air promo to try to convince the viewers to tune in to their election coverage. In our opinion, the Real Video version is clearer, sharper and loads fastest.
Paul Gluck is currently the General Manager of TUTV, Temple University Television. He is also one of this organization's Vice-Presidents. However, at the time of this promo, he was News Director at WCAU-TV. He writes to us:
In both the 1989 Primary and General Elections, what was then branded by WCAU-TV as 10NEWS relied on the experience and expertise of an accomplished reporting staff, lead on air by two of the regions most respected anchors, Larry Kane and Diane Allen.

The promo was, I believe, conceptualized by Marion Posen, who was then the audience promotion manager at WCAU-TV. I applauded the message she crafted and her vision to express the notion that our job was to bring clarity from all of the clutter and detail of political campaigns, that can overwhelm voters and viewers in the election process and during the coverage of the results. The promo was , in my view. a crystal clear reflection of that mandate.

In the newsroom, we never lost sight of the fact that election coverage may be driven by numbers, but the stories that develop on Election Night have to be focused on people to be meaningful to the audience. There were (and still are) few journalists capable of covering political stories with the nuance and perspective that Larry and Diane could bring to Election Night.

Larry is still in the vanguard of political coverage in his dual roles as a Special Contributor to KYW NewsRadio 1060 and as the host of "Voice of Reason" on The Comcast Network. Diane made the brave decision to leave Journalism and serve the people of her native New Jersey as a State Senator from the 7th Legislative District.

Seeing the fleeting images of Stephanie Stahl, Dennis Woltering (who went on to anchor at WWL-TV in New Orleans), Bill Baldini, Dave Schratwieser, Bonnie Keller and Harvey Clark remind me that the 1991 class of 10 NEWS, supported by other insightful journalists, plus videographers, technicians, producers, writers and assignment professionals could face-off with any competitor and bring home a great story. I may be prejudiced. After all, I was the News Director.
Watch in Real Video!
Watch in Windows Media!
AUDIO:
On November 27, 1978, Grateful Dead's guitarist, vocalist and songwriter appeared on Broadcast Pioneers member Ed Sciaky's broadcast on WIOQ. Weir talks about going to Egypt and says that Jerry Garcia was under the weather. Because of that, the Grateful Dead concert that evening at the Spectrum was cancelled. Our audio was mastered off of the original air check that Sciaky recorded at the station that day. The quality is excellent.
Here's 150 seconds of audio from WRCV-TV. There's a national spot with Bob Bradley doing the local tag. Then, there's another national spot with Bradley doing another tag and then he reminds you that both products are available at Barr's Jewelers. This dates from about 1957.
Next, here's audio from a Channel 12 sign-off when it was a commercial television station. Paul Harron had sold both WIBG Radio and WPFH-TV to Storer Broadcasting. The year is 1958. It's shortly after the sale of the stations because the TV outlet is still using the old call letters of WPFH. They had applied for and were waiting for approval for their new call letters, WVUE.
Remember, History is ONLY What Gets Saved!
(If there were no portraits of George Washington, how would we know what he looked like?)
A LITTLE BIT OF BROADCAST HISTORY!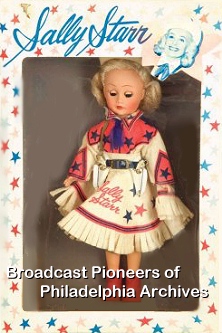 Original Sally Starr Collectable Doll
(still in the original packaging)
circa 1958
THANK YOU:
As we do every month, we want to thank Broadcast Pioneers member Johnny B. Hall for his monthly cash donation to our DAP, Digital Archival Project. Johnny donates $250 every month. The amount totals $3,000 yearly and really helps us to underwrite this much needed but expensive project. By the way, that's a $600 a year increase over his contribution from 2012.
We already have a good start for the April 2014 scholarships. We already have pledges and/or funding for fifteen $1,000 scholarships to be awarded in April of 2014. We received $1,000 for a scholarship in the memory of Broadcast Pioneers Hall of Famer Mac McGuire. The contribution came from member R. Alan Campbell. Also, the final $1,000 scholarship (part of a five year package) from Broadcast Pioneers Hall of Famer Sylvia Kauders. We also have pledges for seven $1,000 scholarships from member Johnny B. Hall and his wife Ginny. That's one more than last year. Also, a scholarship from the Adelman family for a $1,000 scholarship and also one from Robin Adelman's dad, member Leon Love. Member Harry Hurley has sent in his pledge for $1,000 scholarship from the proceeds of this year's Hurley in the Morning Golf Tournament.
Broadcast Pioneers Vice-President Kal Rudman started underwriting scholarships for our organization several years ago. He was the person that underwrote our first scholarship way back when. Now, there are many following in his footsteps. Kal has just said that he'll be underwriting two more scholarships for the coming 2014 year. Thanks, Kal. Another contribution came from Esther Kurtz. Included in her membership renewal was a $1,000 for a scholarship in memory of David Kurtz (founder of B101).She has been doing this now for 8 years.
And again, we wish to thank member Jerry Del Colliano for his $1,000 contribution to our DAP fund. This is the second year in a row that Jerry has done this. We thank him so much for his gift to this most important project.
A little while ago, Robin Adelman (on behalf of the entire Adelman family and Leon Love) presented us with a $1,000 contribution to be split between of our DAP project and our general fund.We welcome other gifts for these and other projects in the form of money and/or donated items like video tapes, audio transcriptions and photos.
We would like to thank RA Campbell for his donation of audio. It was former Broadcast Pioneers Vice-President Neil Harvey on ABC Radio, originating through the facilities of WFIL Radio from Frank Palumbo's "Click" Nightclub. It dates from 1947. Also, we wish to thank Broadcast Pioneers members Don Hurley and Ed Hurst for the donation of audio and photos of Ed Hurst's current series of radio broadcasts. Thanks so much. Plus, we wish to thank Lu Ann Cahn of NBC 10 for her generous cash donation. We inducted Lu Ann last year into our Hall of Fame.
Those who made an extra contribution at our June luncheon were Orien Reid Nix, Jerry Klein, Bill Kelley, Gerry Wilkinson, Uschi Keszler and Terry Ruggles.
A special thank you goes to WPVI, 6ABC, who allowed us to hold our final meeting of our "Person of the Year/Hall of Fame Selection Committee" at their facilities. VP of Public Affairs Linda Munich, a member of Broadcast Pioneers, made all the arrangements and even provided us with lunch and snacks. Thank you so much.
Now, it is membership renewal time and we would like to thank those of you who included an extra contribution with your membership renewal. Those members are: Fred Woskoff, Vince Leonard, David Roberts-Dahms, Dorie Lenz, Jerry Klein, Terry Ruggles, Betty Davis, Pat Ciarrocchi, R. Alan Campbell, Mike Bove, Debbie Elias, Chuck McKibben, Ed Hurst, Larry Kane, Tom Lamaine, Kathy Earley, Brother Gerry Molyneaux, Ed Cunningham, Nicky DeMatteo, David Rimmer, Gerry Wilkinson and Bob Backman, . Thanks so much for your support.
Our special thanks go to TUTV and The Kal & Lucille Rudman Media Production Center.

They have underwritten a grant to be used to fund an entire year of all our newsletters for calendar year 2013. We thank them so much for their support!
If you forgot to make an extra contribution (cash or memorabilia) and would like to do so now, it's never too late. We would be thrilled to hear from you at: PO Box 2886, Bala Cynwyd, PA 19004 or call us at (856) 365-5600!
A LITTLE BIT OF HISTORY!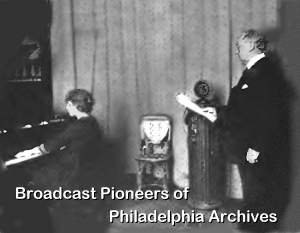 (Left to right) Mary Vogt at the organ and concert announcer George S. Cruger
WOO Radio, Philadelphia
Wanamaker's Department Store station
1923
IN TOUCH WITH THE INDUSTRY:
Two longtime staffers retired from KYW-TV, CBS 3 here in Philadelphia. Bob Hawkins (pictured on the left), with 43 plus years of service, said goodbye at the end of May. George Grammond retired in mid-June with 39 years of service. Both Bob & George worked in engineering, maintaining the live trucks and other ENG equipment. Bob started at KYW Radio, then moved to television. We wish them well. See a photo of them, click here!
CBS 3 and The CW Philly's seventh annual Alex Scott Phone Bank, a 14-hour on-air benefit for the Alex's Lemonade Stand Foundation, raised nearly $2 million ($1,979,466) for pediatric cancer research in early June, a record for the fundraiser which began in 2007. Over its seven years on-air, the event has raised more than $7 million for the cause. CBS 3/CW Philly President and General Manager Jon Hitchcock (a member of the Broadcast Pioneers) said:
The CBS Philly staff is grateful to our viewers and business partners who continue to join us in this effort. We know that the families dealing with these devastating medical challenges are lifted up by the fact that we are all 'on their side' in this fight against childhood cancer.
Syracuse University's School of Public Broadcasting will name its new studios in memory of Dick Clark, the legendary figure who rode the success of "Bandstand" into a wonderful broadcasting career. The Clark family gave a five-million gift to the university which was Dick's alma mater. Clark's daughter Cindy Clark said,"My dad was part of a long line of family members who got their start at Syracuse University. It's only fitting that part of his legacy includes helping further generations of Syracuse students get their start, too."
NBC10 announced that Na'eem Douglas has joined the station as a reporter starting June 17. Douglas joined NBC10 from News 12 Brooklyn in New York, where he has been a reporter and fill-in anchor since 2007. Prior to that, Douglas was a reporter with ABC affiliate WMDT 47 in Salisbury, Maryland. A native of Philadelphia, Douglas attended Franklin Learning Center and was once a production assistant at NBC10. He attended Mansfield University in Mansfield, Pennsylvania, where he earned a Bachelor of Science in communications. He also interned as a law clerk for the Department of Justice Office for Civil Rights in Washington, D.C.
Greater Media CEO Peter Smyth talked about his feelings about streaming radio on his company's website. He said in part:
We are seeing the increases in listening online and the latest research indicates that some fans of our stations are now spending between 10% and 15% of their listening online. Whether it's at work or on a mobile device, that is listening that was going to be lost to our brands. With online platforms we can retain our listeners' loyalty. We need to be wherever they want us to be. There are new battlefields — the digital dashboard, the mobile devices we all carry, and the desktop computer. Our brands must expand to be able to provide service to all of them as well as reach beyond the 6 or 9 counties that define our broadcast signal.

A lot depends on how we define our business. If you are in the broadcast business, it may not matter to you that Pandora has 200 million registered users. ...We are competing to remind our audience every hour that there is much more to their favorite station than the music mix; that we are a connection and reflection of their hometown and their favorite music format. Read his entire thoughts!
The Eagles season will kick off on 6abc, WPVI. They're the official broadcast station of the Philadelphia Eagles. 6abc will broadcast all four preseason games, plus the Eagles season opener vs. the Redskins on September 9th, and the much-anticipated Andy Reid homecoming on September 19th, when the birds battle the Chiefs. 6abc will also again be home to 4 exclusive Eagles programs that offer unmatched insight into the team!
Broadcast Pioneers member Bernie Prazenica is president and GM of WPVI. He said,"There is definitely an increase in excitement for this season, and we're thrilled to offer these games to the Eagles fans. We expect a lot of interest in that first preseason game vs. the Patriots. Everyone is curious to see how the team looks under the new coaching staff."
KYW-TV, CBS 3, the CBS owned and operated station in Philadelphia, has been awarded a national 2013 Edward R. Murrow Award for excellence in electronic journalism, the Radio Television Digital News Association has announced.
CBS 3's Eyewitness News was named the winner of the Overall Excellence Award for large market television stations. CBS 3's entry included its 2012 coverage of Super Storm Sandy, the station's launch of a fundraiser to help those impacted by the storm; the Jerry Sandusky trial; its Presidential campaign coverage; the station's on-location coverage of the shootings at the Sandy Hook Elementary School, in addition to several examples of its "3 On Your Side" viewer advocacy reports. Broadcast Pioneers member Jon Hitchcock is president and GM of KYW-TV. He said: " The Murrow Award represents the gold standard in journalism in our industry. I'm particularly pleased that we were recognized for our enterprise reporting since our advocacy work, as demonstrated in our '3 On Your Side' reports, is such a distinctive part of what makes CBS 3 unique in our market. I couldn't be prouder of our team."
CBS 3 Meteorologist Kate Bilo, a voracious reader who annually sets a personal goal to read 100 books, is partnering with the Free Library of Philadelphia as Champion of its Summer Reading Program. Bilo kicked off the first week of the program by reading to children at the Torresdale Library in Northeast Philadelphia. Bilo, the mother of two young boys, says she got involved with the Summer Reading program in hopes that she can spark a lifelong passion for reading in others. Bilo will be supporting the program with readings at several local branches this summer.
THANKS FOR THE MEMORIES: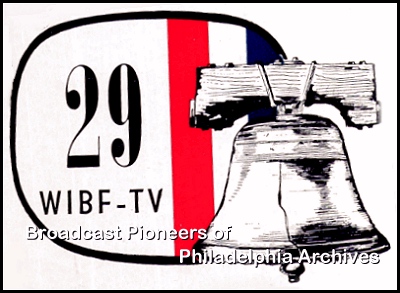 Remembering WIBF-TV, Channel 29 - Part Two!
In the last issue of this newsletter, we ran some thoughts about the beginning of Channel 29 when it came on the air in 1965. Bill Stock, who worked at Channel 17 and 29 plus a few local radio stations, picks up his memories where he left off in the June newsletter. Stock now lives in New York. Bill writes:
Carved out in a corner of the large studio was a bathroom-sized "news/announce studio" with a fixed-mount camera and lights focused on a bust shot of the talent. On the desk in front of the talent was a small switcher/control panel which would allow the presenter to roll film and switch to it and even tilt and zoom the camera. It worked technically, but during the time I was there, it was never used on-air except as an announce booth. The "one-man-band" on-camera presenter was a flawed concept.

One anecdote is almost too funny to be true but I heard it from several sources, so I believe it to be accurate. When the station finally went on the air, there was disappointment that the signal going south from Jenkintown (into Center City Philly) was not as strong as expected, but the channel was coming in like gangbusters in Allentown! During construction of the tower on the Benson East roof, there was much fuss made about a special directional antenna ordered from Italy (complete with an Italian-supervised installation crew). Alas, the elements were apparently configured in reverse, so that the strong signal intended for the city was actually shooting north! The problem did eventually get resolved and I don't recall that we lost any air time because of it.

The early programming was a mixed bag of syndicated series, feature films and some sporting events. We ran "Whirlybirds,""Sea Hunt,""Cannonball," "Edgar Wallace Mystery Theater" and others. On Saturday, we ran a one-hour tape of "Roller Derby". ("Little Iodine" was the control room favorite - that girl could skate!) And on Sundays we ran a sporting event (hockey, I think) relayed from WPIX, channel 11, in New York. The "relay" was a directional antenna on the tower picking up the off-air signal from NYC. Even with special amplifiers and filters, the picture was usually about 20% snow. We barely met FCC specs with that image, but I recall that we ran the broadcast for at least several months.

There was very little live stuff at the beginning, but I do remember both Taylor Grant and Alan Scott coming in after a month or two to do news and analysis program, mostly un-illustrated "rip and read" from the teletype. At the beginning, I was often the booth announcer (pre-recorded) along with some of the WIBF-FM voices. Later, I think Alan Scott did some promo stuff. For the first few weeks, there were only two national sponsors, Lucky Charms cereal and Preparation H. (There may be a connection there, but I'm not sure.) Later, some of the WIBF-FM local sponsors came on board, most likely at heavily-discounted rates.
JAY MEYERS REMEMBERS PAUL DREW!
In the last newsletter, we mentioned the passing of Paul Drew. Broadcast Pioneers member Jay Meyers e-mailed us some of his memories. He said:
The Paul Drew death brought back two memories of Paul, the only two times I crossed paths with him. The first was in the summer of '68. I a freshly minted graduate of Neshaminy in Langhorne, who had been a Storer Broadcasting cub reported for WIBG wrote a letter to the new program director of WIBG and told him I had great ideas to resurrect the station after the WFIL trouncing. The letter arrived during Paul's, I think 90 day tenure in Philly, and I was shocked to get a letter back inviting me for an interview. Without a car, it took three buses and a 300 yard walk to get me from Langhorne to Lafayette Hills. The brain cells are dying but my memory is that I was shown into Paul's office, waited in a chair for about 15 minutes and then he came in snapping his fingers to the song that was playing. He sat across from me at his desk and pretty much yelled at me for 20 minutes shooting holes in anything I said, telling me I was naïve and suggesting I get a job in Coffeyville, Kansas before I actually expected to work at WIBG. Then he said he had to go yell at a jock that had just fu**ed up the last break and that the receptionist would give me a tour and show me out. I then took my three buses home.

Next time I met Paul Drew he had mellowed considerably. It was in either '82 or '83. Paul was going around the country doing seminars teaching program directors how to think like business people and understand the business side of the business and how to negotiate their next employment deal. It took place on a Sunday morning, half day seminar at a hotel outside La Guardia Airport in NY. I was working for Greater Media at the time in New Jersey and convinced the GM to pay for my seminar. I and another PD in the operation drove over that morning. Paul was great, very friendly and actually it was a good seminar. I learned a lot on how to negotiate a deal for myself and the business side of radio. If not for Paul, my employment deal to be VP/Programming for the Lincoln Group a couple of years later wouldn't have included nuggets like a home stereo system and payment of baby sitter services for me and my wife when we went out to station sponsored events.
WHAT'S HAPPENING IN PHILADELPHIA DURING NOVEMBER OF 1945!
According to Broadcasting Magazine of November 12, 1945, several things were happening in Philly!
Six new programs have been started by WPEN, Philadelphia during the past week. Recorded classical music series, "Philadelphia Philharmonic" is heard Monday through Saturday. Late evening Monday through Friday series "Conversation at Midnight" presents salon, concert and operetta music and selected verse and prose. Juvenile "Heigh-De-Ho program, heard 7:05 to 8 am weekdays, is patterned after column of the same name for high school folk in Evening Bulletin. Prizes for guessing top tunes of the week are awarded on the six weekly "Brady Beats the Band."

Scheduled to extend into May, "Philadelphia Children's Symphony" was aired by WPEN, Philadelphia for the first time December 8th as a Saturday morning hour program. On alternate weeks, the Philadelphia Orchestra and the WPEN Symphony Orchestra perform. Talented children appear as guest soloists on program originated before young folks audience at the University of Pennsylvania.

Pro and con views of high school students on public problems will be heard on "Junior Town Meeting of the Air," new series to be aired weekly starting January 10th by KYW, Philadelphia. Moderator is to be former Supreme Count Justice Owen J. Roberts. Program is scheduled Thursdays, 9:15 to 9:45 am.

Alan Scott, recently discharged Naval commander previously with WCAU, Philadelphia and WGN, Chicago, will discuss the day's news in humorous vein in a new Mutual series, "Once Over Lightly" starting December 17th in Monday - Friday 1 to 1:15 pm spot.
ONCE OVER LIGHTLY WITH ALAN SCOTT!

Alan Scott
Mutual Radio Network Publicity Still
for Alan's new series, "Once Over Lightly"
November 1945
Above, we have mentioned a series of programs called "Once Over Lightly" with Alan Scott. We thought you might enjoy reading a script Alan wrote from that same era. It's from Friday, February 22, 1946. It is most likely from the "Once Over Lightly" series. He wrote:
If we are to take seriously this quickie, wired in from San Francisco, there is a group of women out there called the Senior League. That sounds incredible on the face of it because what group of women in control of their faculties would deliberately identify with anything with the word SENIOR in it? Doesn't make sense.

But it says there is a Senior League and it makes the news through a petition to the motion picture industry to please remember that there are others besides bobby soxers in movie audiences and how about featuring more mature male leads? The League submitted the name of Charles Bickford as the adult answer to the clamor for the Van Johnsons. They are alleged to have held a poll and Mr. Bickford won top honors. The reminder to the movie producers said of Charles Bickford that he is not only magnetic and manly but credible. They also petitioned more of Walter Pidgeon, Ronald Coleman and Spencer Tracy. Murdoch, who never believes anything, says he thinks the whole thing is a plant by some movie publicity stiffs. I don't know though.

It's about time some group stood up against the petulant bobby soxers. Call it a sign of growing old, if you like, but I get a little weary of all the teenage emphasis on everything. Good for the Senior League, I say! Real or fabricated, everybody is afraid to talk out against the too-too-hip-hip-hooray-everything-for-the-bobby-soxers trend. There is still a considerable portion of the reading, listening and movie-going public relatively adult. It's all right to let the kids have their own language in the coke at the drug store set and squeal at bow ties and sloppy joe sweaters, but the trouble is it gets out of hand and everybody is afraid to take a stand against it tending to monopolize every field because it would mark the take-a- stander as getting old! Okay. I take the stand. I'm against it. I think some nation-wide poll ought to take a count of the various age groups and see how many in the potential audience are over thirty and while some of the entertainment effort goes out to woo the articulate teenagers, let some of it continue to make adult sense,which reminds me, this for the Bone in the Throat Department - or things that won't swallow.

I've been hearing a lot of a song on the air these days, don't know the name of it but it has something to do with "having a dozen hearts." If I had a dozen hearts, they would all be loving you or something like that. This is really a beaut! There's one line down around the middle that evokes a touching picture, "If I had a dozen lips" Isn't that fetching? Can you just picture a bird with a dozen lips? In a freak side show with the Barnum and Bailey Circus maybe, but in a tender romantic ballad, I don't see it. "If I had a dozen arms, " they would all strangle you, I guess. Down near the end, it gets all worked up with this multiple-organed figure and says something like "Having a dozen hearts would be fun but I only have one!" The implication being that the crooner rendering this masterpiece in the fat of lyric eloquence doesn't himself have a dozen hearts, he was only kidding all the time but he has a friend who has twelve hearts and he told him confidentially that it's really fun!

How did I get into all this? Oh yes. I remember. The Senior League in San Francisco. I wish them luck.
A FINAL THOUGHT....
Children sometimes don't recognize their parent's voice in unusual situations.
"I had boys, two of them. They watched the program Willie the Worm on a regular basis and they didn't know it was me being the voice."
Warren Wright
Creator and voice of "Willie the Worm"
"Willie the Worm was a successful children's program on WCAU-TV"
said during a Broadcast Pioneers interview
April 18, 2000
Please contact us by e-mail at newsletter@broadcastpioneers.com or by mail to: Ed Eisen, 1110 Longshore Avenue, Philadelphia, PA 19111. (215) 725-7253. Your stories are important, to you, to us, and your colleagues. Contact us today and we'll include your story in the next newsletter!

Photo Editor & Archival Historian - Gerry Wilkinson
© 2013, Broadcast Pioneers of Philadelphia
All Rights Reserved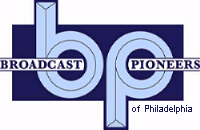 The e-mail address of the Broadcast Pioneers of Philadelphia is pioneers@broadcastpioneers.com
For luncheon reservations call (856) 365-5600 or e-mail us at: rsvp@broadcastpioneers.com