| | |
| --- | --- |
| | Broadcast Pioneers of Philadelphia is a federally recognized, state chartered 501(c)(3) non-profit organization serving the Philadelphia Broadcast Community since January of 1962. |
CBS Broadcast Center Tour
1555 Hamilton Street, Philadelphia
Tuesday, July 22, 2014

SPACE IS VERY LIMITED!
Meet promptly at 11 am
Ratecard: FREE!

PLEASE RESERVE NOW!
CALL (856) 365-5600!
rsvp@broadcastpioneers.com
Tuesday, July 22nd!
FREE TOUR!
CBS BROADCAST CENTER!
(This includes CBS 3, The CW Philly 57 & KYW Newsradio!)



Our July event this year is a tour of the CBS Broadcast Center in Center City Philadelphia. The CBS Broadcast Center is located at 1555 Hamilton Street (entrance is on 16th Street between Callowhill and Spring Garden). Reservations are required and space is very limited!
At this event, we will announce who our "Person of the Year" will be. We'll also tell you who we will be inducting into our Hall of Fame this November. That announcement always makes our July event even more exciting!
Come join Broadcast Pioneers as we tour the fabulous and state-of-the art facilities at the CBS Broadcast Center. Be there to see the CBS 3, CW Philly 57 studios. See what happens behind the scenes. Also visit the brand new studios of KYW Newsradio. They recently moved from 4th and Market.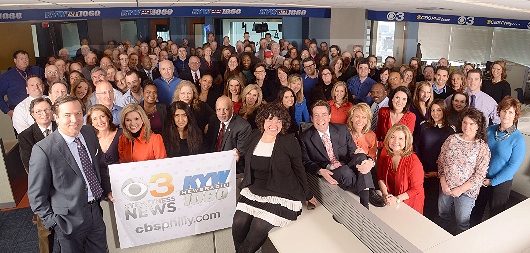 Our tour will start promptly at 11 am. Make sure you are there on time. Limited free parking will be available in the former Inquirer lot. Enter from Hamilton Street off of 16th Street.
This event is open to all our members, their guests and any person in the industry or associated fields, whether active or retired. You do NOT have to be a member to attend. Sorry no more space is available!
Please be advised that you CANNOT attend the tour without a reservation. We cannot make any exceptions. First come, first served.
WE WANNA SEE YOUR FACE IN THAT PLACE!

Visit Our Website Often - http://www.broadcastpioneers.com
Check out of Facebook Page - http://www.broadcastpioneers.com/facebook
Tune in to our YouTube Channel - http://www.broadcastpioneers.com/youtube

REMINDER!
IF YOU HAVEN'T PAID YOUR DUES BY NOW, YOU'RE LATE!!!
We mailed out membership renewals to all our members in mid-May. If you joined in the past couple of months, you may receive a form, but you are not required to pay any dues at this time. We sent the form so we could verify that all the info we have is still correct. The next membership directory will be printed before you know it.
Kindly return your form and check (if a balance is due) at your earliest convenience. Please also note that on the form is an important box that you can check if you would like to make an extra contribution. If you can afford it and wish to do so, any amount will be greatly appreciated.

WELCOME NEW MEMBERS:
FULL MEMBERS:
Robert Bocchino has worked in the industry for 52 years. He has been associated with broadcasting and audio visual production since his days as a student at Temple University and WRTI-FM. He was active in broadcasting from 1962 to the mid-seventies and worked at KYW Newsradio, WVCH, WIBF-FM, WPBS-FM and WXUR-FM. He helped write and was the narrator on an award-winning presentation for Graduate Hospital in 1996. He has also released two CDs of popular music.
Sam Cerrato has worked with the US Department of Commerce International Trade Adminstration since 1998. They promote and help the Radio, TV and Film industries do business around the world. They also support industry trade shows and events such as the NAB and help members do business internationally and export their US products and services to foreign buyers.
John Kahler has been in the industry since 1976. He started as a paid intern at WCAU-TV. He was the Assistant Manager of Media Services at Bryn Mawr Hospital and the Manager of the Media Center at UPenn Radiology. From 1998 to 2001, he was the Manager of the Home College Service at WHYY. For the next ten years, he was Communications Director for the Philadelphia Lutheran Seminary. He now owns Prospect Productions.
We are thrilled to have these new members. 518 Members. More than ever. We hope to see as many of our members as possible at our July event.
DIGITAL ARCHIVAL PROJECT NEWS:
VIDEO: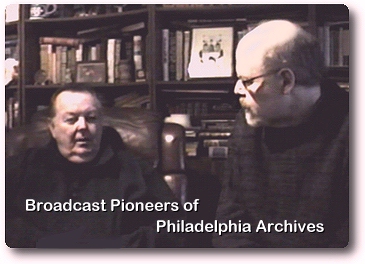 (Left to right) Broadcast Pioneers members Joe Earley and Ed Sciaky
in Joe Earley's home
December 27, 2000
In 2000, Broadcast Pioneers member Ed Sciaky sat down with Broadcast Pioneers member Joe Earley. They talked about many things. One of them was Ernie Kovacs, who did NBC network television shows out of Philadelphia. Those broadcasts originated from WPTZ, Channel 3 studios. Earley was a part of those Kovacs telecast. Here he tells us a little about Ernie!
Ernie Kovacs and Three to Get Ready in the Windows Media Format!
AUDIO:
Our first piece of audio comes from January 6, 2009. It is from the Steel Pier Radio Show and features Broadcast Pioneers member Ed Hurst. At that time, the program aired on WIBG at the shore. Today, the broadcast can be heard every Saturday afternoon from 4 to 5 pm on WPG, at 1450 on AM. For those not in their coverage area, you can listen on the Internet at wpg1450.com. The show is produced by Broadcast Pioneers member Don Hurley.
Here Ed plays a recording from July of 1997 when he was on WPEN, 950. It was during the Station of the Stars era. On that day, Hurst spoke with legendary rock and roller Neil Sedaka. By the way, members Ed Hurst and Don Hurley have donated hundreds of these Steel Pier broadcasts for our digital archival project.
Listen in Real Audio!
Listen in Windows Media!
Next is some audio from a program entitled "The Soul of Yesterday" that aired on WDAS AM & FM from 1970 to 1980. There were four hosts of the show: Ed Sciaky, Ed Cunningham, Steve Schorr and Carl Helm. There was one producer and writer: our very own CEO Gerry Wilkinson. In fact, as Gerry moved from station to station, the program went with him under different titles. The WDAS version, which featured music from the turn of the century until the 1960s, was "the history of the black man's music." Featured were such artists as Bessie Smith, Count Basie, Billie Holiday and Louis Armstrong.
This particular episode was program number 9 and was narrated by Steve Schorr, a newsman in the WDAS news department. It aired on April 4, 1971. We are not able to present the actual music from the program because of rights issues, but we strung together several of the commentaries with one second of dead air between cuts. By the way, every episode of this ten year series exists in the Broadcast Pioneers Digital Archival Project.
Listen in Real Audio!
Listen in Windows Media!
Our next batch of audio comes from June 27, 1963. This program is more than 51 years old. It originated from WCAU Radio, now WPHT. The show is the Talk of Philadelphia hosted by Broadcast Pioneers member Ed Harvey. His guest on one of the hours was Cecil B. Moore, the President of the NAACP. This recording was made at the WCAU studios. At Ed Harvey's request, the commercials were not recorded. So we have put the audio into 4 segments. The Ed Harvey estate donated the entire tape library of Ed Harvey. There are several hundred broadcasts. This was one of the earliest donations we received for our digital archival project. Since then, we have received many more audio and video recordings from various people in the industry. This is the first time in 51 years that this broadcast has been heard.
SEGMENT #1
Listen in Real Audio!
Listen in Windows Media!
SEGMENT #2
Listen in Real Audio!
Listen in Windows Media!
SEGMENT #3
Listen in Real Audio!
Listen in Windows Media!
SEGMENT #4
Listen in Real Audio!
Listen in Windows Media!
Today's News Becomes Tomorrow's History!
(This is what our Digital Archival Project, DAP, is all about!)
IN TOUCH WITH OUR MEMBERS:
The appearance of The Tridels (made up of members Mike Bove, Jackie Strauss and Art Wilson) at Taylor's Restaurant 2021 N. Black Horse Pike, Williamstown, N.J. on this Wednesday, July 9th has be cancelled.
We heard from member Gene Arnold and his wife Terry. A couple weeks ago, they celebrated their 52nd wedding anniversary, but what they really want you to know is that Arnold can be heard on Radio Catalonia on the Internet. His program is called "Gene's History of Disco." Arnold also appeared recently in the Wages of Spin 2. A song written by Gene called, "Anytime, Anywhere" was just recorded by Norman Jay, a British singer.
Member Marlin Taylor e-mailed us in a followup to our story about WCAU-TV getting a TV station in last month's newsletter. He said: "One morning in late 1947/early 1948, I was listening to 1210. The 'announcer' came on and there was hammering in the background for which he apologized, saying 'Please forgive the noise. Today, I'm in a non-sound-proofed studio and what you're hearing is the crew next door building the studio for our new TV station.'"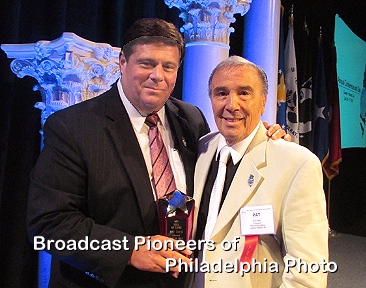 (Left to right) NJBA President Paul Rotella and Broadcast Pioneers Treasurer Pat Delsi
at the New Jersey Broadcasters Association's 67th Annual Conference
at Caesars in Atlantic City, NJ
Wednesday, June 18, 2014
Broadcast Pioneers Treasurer (a former President and Chairman of the Board of this organization) Pat Delsi was inducted into the New Jersey Broadcasters Association Hall of Fame last month. Congratulations, Pat. It's well deserved. By the way, Delsi was inducted into the Broadcast Pioneers of Philadelphia's Hall of Fame in 2000.
Member Bud Galow e-mailed us his thoughts about R. Alan Campbell's piece in our last newsletter. Bud writes:
I was interested to learn that R. Alan Campbell reported that he worked at WBAL with Perry Andrews. I was a very good friend of Perry when he worked at WRCV. In fact, he had my wife and me to dinner with his family in Trenton many times.

His father was a teacher and his mother was a lady. One of the things I liked about Perry was that when he made Martinis, he kept some 'river washed pebbles' in the freezer and he would pour the Vermouth over the stones and what froze on them was all that was used in the cocktails. He made a show of it.

He later ended up in Tyler, TX., met and married a lady there had a son and daughter. One day coming home from the grocery store he tripped and fell hitting his head. He was never the same after that. The last time I talked with him he had a lot of trouble putting words together. He died soon after that. Then I learned Bob McLean, another friend had died. He worked at TV and did some work on radio with me.
Member Debbie Lynn Elias (Ed Elias' daughter) tells us what is going on with her on the West Coast. She says that she is EPing (Executive Producing) a new short firm called, "The Cat's Cradle." It will be shot in NYC. The short film 'Bunker" which she EPed with Mali Elfman (daughter of composer Danny Elfman) has distribution offers for TV airing on Direct TV and Internet distribution. A deal is expected by the time you read this. She also tells us that she is in the fundraising stages for the feature, "After the Wedding," which she is producing. It's written and directed by Ned Ehrbar. Two-time Tony nominee Stark Sands is cast as one of the male leads. Kevin Daniels (of Sirens) will also be in the film.
SportsRadio 94WIP has reached a new multi-year agreement with Broadcast Pioneers member Ray Didinger. This includes work on Talk Radio 1210 WPHT and KYW Newsradio said Broadcast Pioneers member Marc Rayfield, Senior Vice President and Market Manager for CBS RADIO Philadelphia.
The highly popular Ray Didinger and Glen Macnow show that has been heard on Saturday (10 am - 1 pm) will be expanded to include a Sunday edition. He will make more frequent appearances on WIP throughout the year. Didinger will also be heard with Chris Stigall on Fridays during the football season and he will be doing commentary on KYW Newsradio and on www.cbsphilly.com.

"I'm very happy to continue my relationship with WIP. I'm delighted that I will now be able to partner with my good friend Glen Macnow on Sundays as well as Saturday. With the level of interest in this Eagles season, we will have plenty to talk about," said Didinger.
We're sure that everyone noticed Broadcast Pioneers Vice-President Kal Rudman all over the TV a few weeks ago. Our resident music expert and man about town was talking about the late Casey Kasem. When it's about music, they turn to Rudman.
Speaking of music, Broadcast Pioneers member Andy Kortman is now on WSNJ (1240 on AM) from 6 to 10 am. He plays music from the 70s, 80s and 90s. Not in their coverage area? No problem. Listen live on the Internet!

Did you know...
that in 1938, KYW Radio had already 16 years of broadcasting experience? KYW Radio holds the record of being licensed to three different cities while the ownership remained the same.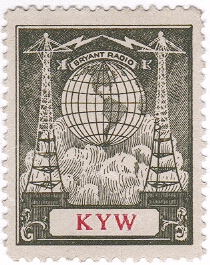 KYW Radio, Chicago Reception Stamp
manufactured by the P.M. Bryant Company, Chicago
circa 1927
The station started in 1921 and was licensed to Chicago. It was owned jointly by Westinghouse Electric and Commonwealth Edison. Westinghouse began the sole owner in 1927.
In 1934, the FCC policy of assigning clear channel stations had the station reassigned from Chicago to Philly. At that time, KYW was operating on 1020 on the AM dial and in 1941 moved to its current frequency of 1060.
In June of 1955, Westinghouse became part of a deal with NBC where they traded stations. KYW Radio (and the call letters) moved to Cleveland. NBC came from there to Philly and became WRCV Radio. The trade also included Channel 3 that was WPTZ at that time. Westinghouse got the stations in Cleveland (a much smaller market and three million dollars in cash.
Within a short time after the move, Westinghouse complained to the federal government. Ten years later, the FCC forced NBC to give up control of the Philadelphia stations and return to Cleveland.
KYW Newsradio recently donated three boxes of material to our digital archival project. We thought you might like to know a little about the station when it moved into its new facilities at 1619 Walnut Street in center city.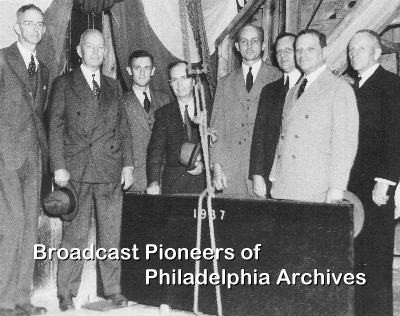 Laying the cornerstone of the KYW Building
1619 Walnut Street, Philadelphia
1937
From a 1938 document, the station said:
Something deeper than mere ceremony accompanied the opening of the KYW Building, a significance felt by every Philadelphian.
The man who turned the golden key in the lock was George Wharton Pepper, a former United States Senator from Pennsylvania. His relatives had lived on this property since the 1800s.
The document continues:
Immediately after the building opened, (Philadelphia) Postmaster Joseph Gallagher dispatched (by Post Office motorcycles to the Camden Airport) thirteen exact duplicates of Mr.Pepper's gold key to the governors of the thirteen original states, with letters of explanation and greetings.

As the motorcycles roared away, Thomas H. Huff (designer of the first U.S. Mail-Plane) compared notes on equipment with one of today's transcontinental air-mail pilots. Following this, an exchange of greetings with the Navy was effected by a two-way conversation between planes soaring over the KYW Building and broadcasters on Walnut Street.

A gold key, of unique design, used in the official opening ceremonies, was air-mailed to Station KGU, Honolulu, the most distant NBC station. Here a greeting of best wishes was inscribed in Hawaiian and the key was re-air-mailed to Philadelphia, to arrive just in time for the opening ceremonies. The stunt, arranged especially for National Air-Mail Week, gained nationwide attention, showing, as it did, the amazing speed (4 days transport time, round trip) of U.S. Air Mail.

A specially authorized air-mail substation was in the KYW lobby for National Air-Mail Week (May 16 - 23). All letters air-mailed from this point carried the special cachet shown, designed by Roland Harper, well-known Philadelphia artist.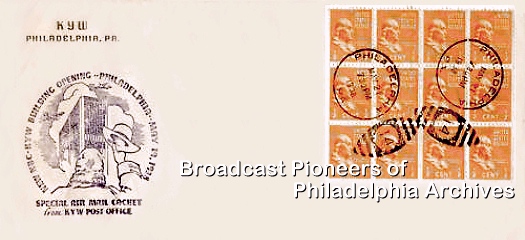 First Day Cover
celebrating the opening of the KYW Building
postmarked during National Air Mail Week
May 1938
KYW Station Manager at that time was Leslie Joy. About the new building, he said:
A distinct innovation in radio studio construction is exemplified by KYW's spacious auditorium (later the home of the Mike Douglas TV Show) built two stories below street level. A "cameo theater" (with) 200 luxuriously upholstered seats are built upon a sharp incline affording an unobstructed view of the stage. A gloss soundproof observation balcony at the rear allows clients to see the program and hear it via the loudspeaker system.
Jan Savitt was the KYW Radio Music Director at that time. He would later gain national fame. Jan said:
At the rear of the stage is the famous Westinghouse Automatic kitchen where the "KYW Home Forum" originates every week day. Its popularity with housewives increases yearly. Many of KYW's outstanding programs such as the Civic Symphony Orchestra, "Music for Moderns," conducted by me and the KYW Top Hatters are broadcast from the auditorium.
A series of special radio programs originated live from the KYW facilities and were carried over the NBC Red Network. NBC at that time also had NBC Blue which later became ABC. A huge kite was flown over the new building to symbolize the experiments conducted by Dr. Benjamin Franklin two centuries before. The was a formal dedication program on May 21, 1938 at the Ritz-Carlton Hotel here in Philadelphia. The broadcast included Frank Black, NBC's Musical Director and network singer Lucille Manners. Leroy Miller, who was an announcer at KYW and host of AM Drive's "Musical Clock" interviewed the mailman who delivered the first letters to the new building.
Earlier that month, on May 6, 1938, Station Manager Leslie Joy presented four gold medals to eyewitnesses of the Hindenburg Disaster (1937). The four and Joy spoke on KYW from the site of tragic event. It was the 1st anniversary of the disaster.
These four people spoke on KYW the evening of the crash a year earlier, May 6, 1937. That broadcast was carried on NBC (both Red and Blue networks) from 11:30 pm to 11:43 pm and the station's program director, James P. Begley was heard.
KYW Radio keeps making history. In 14 months, they will celebrate 50 years of all news broadcasting. The first words spoken with the new format were by Steve Porter. The engineer was Broadcast Pioneers member Ralph "Bud" Galow. Steve said at twelve noon on September 21, 1965:
All news and only news, this is KYW Newsradio at 12 noon and I'm Steve Porter.
It was 82 degrees with the forecast calling for mostly sunny skies, hot and humid with a high near 90. That was the first forecast for the all news format.
This regular monthly column is written and researched by Gerry Wilkinson

MORE DIGITAL ARCHIVAL PROJECT NEWS:
VIDEO: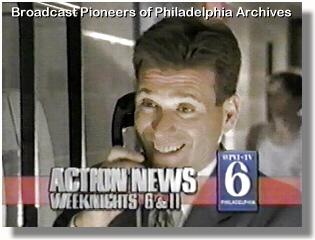 Gary Papa
WPVI-TV, Philadelphia
August 3, 1993
By the time of this 1993 Action News Promo, Action News was number one in the ratings for decades. Gary Papa was main sports anchor on the stations and its Sports Director. On Tuesday, August 3, 1993, a promo was made using Gary Papa's dad. It was recorded by New York Communications, owned by Broadcast Pioneers member Mike Davis, who was the genius behind this and other Action News Promos. Mike Davis said:
That is Gary's dad. He was delightful to work with. A real trouper for a guy who had never done anything like that before.

AUDIO:
From August 4, 1968, we present recently discovered audio from KYW-TV. While it is audio only, it is the only known recording of this broadcast to have survived into this century. Besides commercials, promos and a station ID, this cut contains an editorial by Kenneth MacDonald, General Manager for KYW television.
Listen in Real Audio!
Listen in Windows Media!
Next is an interview done by Broadcast Pioneers member Ed Sciaky. The interview was recorded in advance of air. The edition is from the original tape. It, mostly likely, was aired in a slightly altered version. Ed was on WIOQ at that time. The 17 minute interview featured two of the members of the rock band, Boston." They were vocalist Brad Delp and drummer Sib Hashian. It's Halloween of 1978. Hear now the interview exactly as recorded thirty-five years ago.
By the way, we have hundreds of Ed Sciaky's classic interviews and broadcasts in our digital archival project because of the courtesy of member Judy Sciaky who allowed us to crawl through her basement and dig into box after box of audio tapes.
Listen in Real Audio!
Listen in Windows Media!
Our last piece of audio comes from the collection of Ralph Collier. More than 60 classic interviews have been donated to us by Ralph's widow. She has also donated other material including lots of photos. This particular interview aired on WFLN Radio, owned by Broadcast Pioneers founding member Ray Green. It was recorded in Gettysburg at the farm of former United States President Dwight David Eisenhower. The year was 1967.
Listen in Real Audio!
Listen in Windows Media!
Remember, History is ONLY What Gets Saved!
(If there were no portraits of George Washington, how would we know what he looked like?)
IN TOUCH WITH THE INDUSTRY:
CBS 3 and The CW Philly's eighth annual Alex Scott Phone Bank, a 14-hour on-air benefit for the Alex's Lemonade Stand Foundation, raised more than $2 million ($2,010,461) for pediatric cancer research last month, a record for the fundraiser which began in 2007. Over its eight years on-air, the event has raised more than $ 9 million dollars.
CBS 3's Chris May, Jessica Dean, Beasley Reece, Ukee Washington, Erika von Tiehl, Pat Ciarrocchi, Kathy Orr, Kate Bilo, Katie Fehlinger, Natasha Brown and Stephanie Stahl spearheaded the effort on-air. CBS News Correspondent Tracy Smith, a longtime supporter of the charity, co-hosted the 3 p.m. hour of the on-air event.

On-air personalities from CBS RADIO also joined their TV partners in the fight against childhood cancer. Ross Brittain, Valerie Knight and Frank Lewis of the Breakfast Club at 98.1 WOGL helped staff the phones joined by radio colleagues Rich Zeoli from Talk Radio 1210 WPHT, Al Morganti of SportsRadio 94 WIP and KYW Newsradio 1060's Tim Jimenez along with Alex's parents, Liz and Jay Scott.
An audition date for a local casting call for the CBS hit show Survivor has been rescheduled. CBS 3 will host the casting call at Trump Taj Mahal, Boardwalk at Virginia Avenue, in Atlantic City, New Jersey this summer on Saturday, July 26th, 12 noon to 3 pm. CBS 3 challenges you to outwit, outplay and outlast the competition on the next season of Survivor. If you have what it takes, you can prove it at the audition.
Broadcast Pioneers member Roy Shapiro, who passed away a little while ago, left his old radio collection to the Philadelphia History Museum at the Atwater Kent. On Tuesday, July 29th, they are having a public reception from 5:30 pm to 7:30 pm. On that evening, there will be guest speakers and a light reception. Roy was our 1994 Person of the Year. Shapiro served on our Board of Directors for a half-dozen years and also served as one of our Vice-Presidents during the nineties. Broadcast Pioneers Chairman of the Board Jerry Klein will be one of the speakers that evening.
Member Dave Roberts tells us that his son's TV show, "Bones" starts back into production later this month. You may not know that Dave's offspring is none other than David Boreanaz! David went to school here in our area at the Rosemont School of the Holy Child and the Malvern Preparatory High School. His first role on TV was on "Married With Children." David played Frank, a biker boyfriend of Kelly.
WE REMEMBER:
(Left to right) Broadcast Pioneers members Mike Brooks and Sally Starr
Broadcast Pioneers Luncheon
Broadcast Pioneers member Mike Brooks served on our Board of Directors for seven years (from 2005 to 2013). He was an area disc jockey and radio announcer. He also had bit parts in several major motion pictures. Mike passed away in early June.
Bill Sample, 78, founder of the Sunshine Foundation, passed away last month. Bill was a good friend of member and Hall of Famer Irv Homer and Bill attended many of our events with Irv. Sample was a former beat policeman who heard about a dying child's last wish and the parents couldn't afford it because of continuing medical treatments. The Sunshine Foundation grew out of this and was founded in 1976.
Bert Roselle, 80, a former WCAU-TV news anchor in the 70s, passed away last month. Roselle was best known career-wise as the anchor in Jacksonville, Florida for decades. He was originally from that area and was a graduate of Jacksonville University. He also worked in Atlanta, Houston and elsewhere. His wife, Sarah, died last year. We have an audio cut of Bert on Channel 10 which is available elsewhere in this newsletter.
Broadcast Pioneers member Larry Young passed away early last month. He was 79. Born and raised in the Logan section of Philly, he was graduated from Franklin and Marshall College. He was a broadcast executive in five different major market cities during his long career. He was an avid golfer and loved to tell jokes to make people laugh. Larry has 14 grandchildren and 8 great grandchildren.
Madelyn "Maggie" Tripp, wife of Broadcast Pioneers Lifetime Director Emeritus Alan Tripp passed away mid-month in June. The Tripps had two children, Barbara and Jeffrey. The couple also enjoyed three grandchildren and four great grandchildren. Alan had several for many years on our board of directors before becoming a director emeritus.
Bob Hastings was best known for his role as Lieutenant Elroy Carpenter on "McHale's Navy." However, Hastings did have a connection to Philadelphia. Hastings and Robert Cortleigh were the lead characters on a 15 minute daily space opera called "Atom Squad" that originated from WPTZ, Channel 3 and broadcast live on NBC-TV. The program aired at 5 pm and ran during the last half of 1953. A few weeks ago, Bob Hastings passed away at 89 from prostate cancer.
ON THE HEALTH FRONT: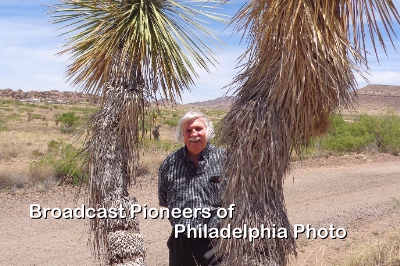 Broadcast Pioneers CEO Gerry Wilkinson in the New Mexican Desert (near Silver City)
Tuesday, June 3, 2014
As many of you already know, our CEO Gerry Wilkinson and his wife Michele went on vacation during the end of May/beginning of June. While in Deming, New Mexico (near where some of the old Lone Ranger shows were shot), Gerry had a sudden hearing loss due to his Meniere's disease, a condition of the inner ear. He is currently using a personal amplification device with headphones, and will be receiving a hearing aid in the near future. If you call Gerry on the telephone, please speak slowly and clearly so that he can understand you.
THANKS FOR THE MEMORIES:
"Parade of Stars evolves into Bandstand!
In 1949, Louis D. Snader, who made much of his money in real estate and started "Snader Telescriptions," had a light bulb go off in his head. This new medium of television needed a lot of product and, in the early days, a lot of filler. Snader thought there was a market for short music segments.
The resulting segments were shot live on to 35mm black & white film (TV stations aired 16 mm versions) and are considered to be the first TV music videos. They were done on the cheap and most were done in one take with no editing, many at California Studios. A normal eight-hour production day would yield ten or more films. Duke Goldstone shot most of them. The films were made in 1950 through 1952.
They made about a thousand titles, specially for television, and featured some of the top musicians of the day, such as e Mel Torme, Charlie Barnet, Frankie Carle, The DeCastro Sisters, Tennessee Ernie Ford, Burl Ives, The King Sisters, Steve Lawrence, Sarah Vaughan, The McGuire Sisters, Tony Pastor, The Pied Pipers, Gale Storm, June Christy, Peggy Lee, Duke Ellington, Count Basie, The Four Aces featuring Al Alberts, Cab Calloway, Lionel Hampton, The Weavers with Pete Seeger, The Ink Spots, The Four Freshmen, Lawrence Welk, George Shearing, Nat King Cole and Teresa Brewer.
When the film studios raised the price of British movies and "B" films, Roger Clipp, vice president of WFIL-TV, Channel 6 in Philadelphia decided not to pay the freight. He went a different way and purchased the rights for our market of the "Snader Telescriptions." Broadcast Pioneers member George Koehler, who was station manager, for WFIL-TV, said that Roger "got them really cheap" and so "we used them a lot."
They created a show around them called "Parade of Stars," which aired in the mid-afternoon. The host was the station's sports director, Tom Moorehead. We know that the program was on the air by Monday, March 19, 1951 because we have a WFIL-TV log from that date.
George Koehler said that Tom Moorehead continued with the show into 1952 when Bob Horn, a popular radio disc jockey from WFIL Radio took over (also continuing his radio work).
Broadcast Pioneers member Harvey Sheldon tells us: "Jazz musician Dizzy Gillespie, a friend of Horn's who happened to be in town, was the guest (one afternoon). Horn chatted with Gillespie for a few minutes about his current recordings and tour. Horn then turned to the camera to announce a film of Peggy Lee singing "Mañana." Subsequent shows continued in the same way, moving between Horn's interviews with whatever guests he could find and the films."
About this same time, Clipp was negotiating with WPEN's Grady and Hurst. Broadcast Pioneers members Joe Grady and Ed Hurst wanted to make the move to WFIL Radio where their popular afternoon radio program could be simulcast over WFIL-TV. WPEN which was owned by Sun Ray Drugs told WFIL that if they "raided" Grady and Hurst from the WPEN stable, Sun Ray Drugs would pull their million dollar advertising budget from the Philadelphia Inquirer (the paper owned the WFIL stations) and place the revenue with the competing newspaper, "The Evening Bulletin."
That pretty much killed any chance of Grady and Hurst going to WFIL. Meanwhile, "Parade of Stars" was originating out of Studio C from WFIL's 46th and Market facilities. When Horn took over, they started to let nearby teenagers hang around the studio and listen (and dance) to the music, all off camera. Eventually, more and more kids attended the broadcasts. Broadcast Pioneers member Lew Klein, directed many of the "Parade of Stars" and "Bandstand" broadcasts and later became Executive Producer of the network program "American Bandstand," which originated from WFIL-TV and was broadcast live over the ABC Television Network.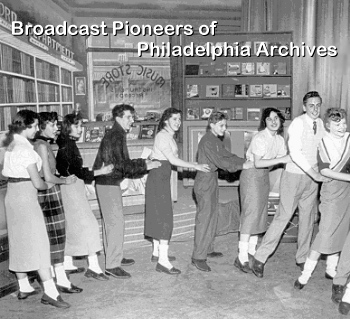 Member Harvey Sheldon (second from right) dancing "The Bunny Hop"
Member Peter DeFeo is the fourth from the left
Bandstand, WFIL-TV
December 1952
Harvey Sheldon, a Lincoln high school student, contacted Bob Horn with the idea of having the kids dance to the current hit records. He had Bob Horn witness this at the Hot Shoppe at Broad and Stenton one Friday night. (Harvey Sheldon later co-created the Bunny Hop dance which premiered worldwide on "Bandstand."). Sheldon was surprised that the station was also thinking about same concept for the Horn TV broadcast.
Lew Klein told us that he doesn't recall the kids actually ever dancing on camera on "Parade of Stars." He said that they might have been put in air a couple of times, not as entertainment but just because they were in the studio. However, he said that it gave the station the bright idea of putting the kids on camera dancing and they re-invented the program into "Bandstand."
Since the station couldn't get Grady and Hurst, they decided to create their own duo by putting "Mad Man Muntz" with Bob Horn. "Mad Man Muntz" was, in reality, Lee Stewart, a distant relative of the WFIL staff announcer Shelly Gross, a former President and former Chairman of the Board of this organization. Stewart did the Muntz TV commercials and acted like a nut.
Broadcast Pioneers member Jerry Blavat (who was a dancer on Bandstand) said that one reason Lee Stewart was teamed with Bob Horn was so that Muntz TV would spend their advertising dollars on the new program. Bandstand was born on Tuesday, October 7, 1952, and moved to Studio B, a much larger facility.
Many sources have attributed these Snader films as running on "Bandstand." This isn't true. They ran on Bandstand's ancestor, "Parade of Stars." Many sources have said that the show was short lived, only a couple of months. This isn't correct either: the program ran for at least 19 months, but Bob Horn did the broadcast for only a couple of months before it evolved into Bandstand.
Harvey Sheldon tells us that he believes that Bob Horn took over the hosting duties of "Parade of Stars" in February of 1952. We have not been able to confirm that date, but from everything we know, that would fit in with the timeline.
The Parker Parade, a cooking radio show!
We don't know as much about this program as we would like to. We do know that in the mid-thirties, it was running on WFIL Radio and ten years later, it had moved over KYW Radio. It was sponsored, at least part of the time, by the Campbell Soup Company. When you listened to the show, you could write in for free recipes, most using Campbell Soups of one type or another. A visitor to our website, Sherry Jorgenson of Washington State, sent us these recipes which we thought you would enjoy. They were broadcast on KYW Radio and prepared by Dorothy A. Ebbott, Home Economist for the Campbell Soup Company. Here's the first one.
Frenched Turkey Sandwich
Needed items: 1 can of Campbell's Cream of Mushroom Soup, 2 cups of ground turkey and white bread
Directions: Mix the ground turkey with the Campbell's Cream of Mushroom Soup, just as it comes from the can. Spread this filling between slices of bread and make a sandwich. Dip both sides of sandwich in French Toast mixture. Cook. Makes 7 to 8 sandwiches.
Proportions for French Toast Mixture: 1 egg, a half cup of milk, a quarter teaspoon of salt and a pinch of pepper.
Note: The amount of French Toast Mixture needed depends on the size of the slices of bread and also on the freshness of the bread. It may be necessary to make twice the quantity of mixture when making 8 sandwiches at a time.
Broiled Grapefruit
Prepare the grapefruit in the usual way. Sprinkle each grapefruit half with 2 teaspoons (white or brown) sugar and dot with butter. Put under broiler and broil for 3 to 5 minutes. Serve hot.
Tomato Peanut Butter Soup
Needed items: 1 can of Campbell's Tomato Soup, 1 and a half cans of water, a half cup of peanut butter, 1 slice of onion and quarter teaspoon of salt a pinch of pepper.
Directions: Heat all of these ingredients together in a double boiler for 15 minutes, stirring now and then. Then remove the onion slice and beat the mixture with your rotary egg beater. This will serve from 4 to 6 people and it's almost a meal in itself.
Ham a la King
Needed items: 1 can of Campbell's Cream of Mushroom Soup, a half cup of milk, 1 cup of ham, cut into half-inch cubes, a quarter cup of pimento, cut into strips and one egg yolk
Directions: Empty the can of Campbell's Cream of Mushroom Soup into a saucepan or the upper part of a double boiler. Stir well until creamy, then add the half cup of milk. Heat and when hot, add the cup of ham and the quarter cup of pimento, cut into strips. Beat an egg yolk and ass some of the hot sauce to the yolk and then this to the mushroom sauce. Makes 3 to 4 large servings.
What's on The Air - November 25, 1950!
We thought you might enjoy seeing some local radio and television listings from Saturday, November 25, 1950. Thanksgiving was just two days earlier.
TV Listings
12 noon – WPTZ – Frontier Playhouse
1:15 pm – The Penn vs Cornell Football game was on all three channels (3, 6 and 10)
4 pm – WFIL – Scoreboard with Tom Moorehead
4:20 pm – WFIL – Channel 6 Cinema
5 pm – WPTZ – Smilin' Ed McConnell
6:30 pm – WCAU – The Big Top with Jack Sterling (network from Philadelphia)
7 pm – WFIL – Sports with George Walsh
7:30 pm– WCAU – Sports with Bill Campbell
8 pm – WFIL – The Paul Whiteman TV Club (network from Philadelphia)
Radio Listings
5 am – WIP – Dawn Patrol
5:30 am – WFIL – Reveille at 560
5:30 pm – WIBG – Country Cousin
6 am – WFIL – Farmer Howard Jones (of Happy the Clown fame)
6 am – WPEN – The Stu Wayne Show
6:30 am – WFIL – Leroy Miller
6:30 am – KYW – Musical Clock
6:30 am – WCAU – John Trent
7 am – WIP – Mac McGuire
7 am – WTEL – Yawning in the Dawning
7 am – WHAT – Hillbilly Roundup
7:30 am – WJMJ – Sally Starr
8:45 am – WFIL – Jim Felix
9 am – WJMJ – Pat Stanton
9:30 am – WCAU – Bill Campbell
9:45 am – WIP – Hillbilly Hit Parade
11:30 am – WIP – The Harmony Rangers with Mac McGuire
11:30 am – KYW – Smilin' Ed McConnell
12 noon – WFIL – The Sleepy Hollow Gang (Network from Philadelphia)
12 noon – WPEN – The 950 Club with Grady and Hurst
5 pm – WDAS – The Bon Bon Show
5:30 pm – WCAU – Dave Stephens Show
6 pm – WFIL – Sheldon (Shelly) Gross with the News
6 pm – WIP – The Uncle WIP Show
6 pm – WDAS – Sherry O'Brien
6:15 pm – WFIL – Tom Moorehead on Sports
6:30 pm – WIP – Stony McLinn
6:45 pm – WDAS – Randy Dixon
11 pm – WDAS – The Ebony Hall of Fame
11:15 pm – KYW – Tom Rodgers
1 am – WIP – The Dawn Patrol
Radio Drama at WRTI - 1958!
Written by Delwin B. Dusenbury
Associate Professor of Radio and Television
Music and Drama Supervisor at WRTI
WRTI is the only radio station in Philadelphia producing regularly a series of radio dramas. Today, with radio drama as a form of broadcasting seemingly having reached its zenith, the continued emphasis on radio drama at WRTI may seem to be pursuing a lost cause.
Still, even in this day of the electronic Cyclops, the television camera, the basic elements of the radio drama - voice, sound effects, and music combined in a pattern to evoke an emotional response from an audience - are fundamental to all types of radio and television programming. At Temple University, training in radio drama production is considered an essential part of the education of an effective broadcaster.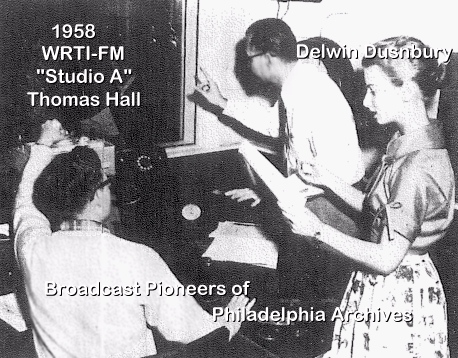 Radio Production being produced at WRTI-FM
Studio A, Basement of Thomas Hall, Temple University
(Delwin Dusenbury in center)
circa 1958
The radio drama offers students the opportunity 1) to develop further training in voice and diction, 2) to acquire a sense of timing 3) to select and integrate music and sound with the spoken dialogue, and 4) to utilize, creatively and imaginatively, the basic elements of broadcasting.
Beyond the recognized techniques of broadcasting, however, an even more important skill may be developed through training in radio drama production. The producer must know how to handle the people and how to obtain the quickest results in the least time possible. He must know how to guide their emotions and techniques through the script so that the entire production has a unity of purpose. Whether one is directing actors before a camera or the microphone, the basic problems of human relationships is the same.
Furthermore, a good broadcaster does not concentrate on his technique on the use of voice alone. When broadcasters were only heard and that an unseen gesture could affect vocal delivery. Any and all bodily activity and the use of facial expression even in the blind medium of radio is not only necessary but also serves as an excellent adjunct for television training.
Along with bodily activity and the use of facial expression, the radio broadcaster must acquire a sense of imaginative visualization. The need for seeing objects, persons, and actions off camera and hence not visible to the audience, is an important requirement in effective telecasting. These then, represent a few of the educational values of radio drama production today and may afford our listeners as well as our students some insight into the reason for the continue emphasis on radio drama at WRTI.
But beyond the immediate value in the developing of broadcasting technique, there is another significant factor in programming and producing radio drama. How many listeners recognize the name Norman Corwin? To those of us who recall the emotional impact of his "A Note of Triumph," the delightful fantasies of "Mary and the Fairy," "The Odyssey of Runyon Jones," and "The Plot to Overthrow Christmas," the poetry of Ann Rutledge and his experiments in sound, "Seems Radio is Here to Stay" and "Anatomy of Sound," it seems unfortunate that Mr. Corwin , whose dramas demonstrated the potential power of the radio theater has become the "Vanishing American."
Just as the university serves to remind audiences today of the significant masterpieces of the past, so does the university radio theater bring to it audiences outstanding dramas from the vast repertory of yesterday. Norman Corwin, Archibald MacLeish, Arthur Miller, Arch Oboler and Stephen Vincent Benet are only a few of the writers who major radio dramas are produced at WRTI.
Thus, we invite you to listen to radio drama live again on WRTI. The productions of "Radio 155" and "Radio 156" courses in advanced production offer a wide variety of well-known as well as original dramas of all types.
The "Studio Schoolhouse" series, produced in cooperation with the Philadelphia Board of Education, and broadcast by WFIL, are taped in the studios of WRTI. These productions have received many national and regional awards for excellence in broadcasting. "Radio Theater" and "Academy" and other programs will afford opportunities for further productions in our electronic theater.
John Crosby, astute critic of radio and television, has noted, "After too much immersion in television drama, I'm always surprised by the polish and finish of radio drama, that ancient art form." Our purpose at WRTI is to demonstrate that radio drama is far from being an "ancient art form." In fact, we consider it fundamental to all broadcasting and a vitally stimulating experience for all who participate in it behind the microphone as well as in front of the loudspeaker.
OUR HATS OFF TO YOU:
Special Thanks for 2015 Scholarships:
Vice-President Kal Rudman - 5 scholarships (all for Temple students)
Member Johnny B. Hall and wife Ginny - 4 scholarships
Members Robin and Ira Adelman & Leon Love - 2 scholarships
Member R. Alan Campbell - 1 scholarship in the memory of Fred Ruggieri (Fred Randall)
Member Harry Hurley's Golf Tournament - 1 scholarship (for South Jersey residents or students)
Member Sylvia Kauders - 1 scholarship (from a grant for 5 yearly scholarships)
Member Marlin Taylor - 1 scholarship
Member Esther Kurtz - 1 scholarship in memory of her late husband, David Kurtz
Special Thanks for contribution of $1,000 or more to our DAP, Digital Archival Project:
Member Johnny B. Hall and wife Ginny - $3,000
Member Marlin Taylor - $1,000
Member Harry Hurley's Golf Tournament - $1,000
Member Jerry Del Colliano - $1,000
Underwrite a complete scholarship and we'll give you credit in the electronic newsletter until the scholarship is awarded in April of 2015. Give us a donation of $1,000 or more and we'll list you in our "Thank You" column for a year.
More Thanks:
Thanks go to Member R. Alan Campbell for his recent and generous contribution to our Digital Archival Project.
We would like to thank those of you who included an extra contribution when you paid for your meal at our June luncheon. Those include: Rick Barringer, Robert Bocchino, Diego Castellanos, Bill Kelley, Mel Klawansky, Jerry Klein, Dorie Lenz, William Mayo, Rod "Storm" Phillips, Steve Sacks, Alan Stone, Charlie Tomlinson and Gerry Wilkinson.
Now, it is membership renewal time and we would like to thank those of you who included an extra contribution with your membership renewal. Those members include: Joe Tarsia, Betty Davis, Dave Roberts-Dahms, Gil Thompson, Chuck Gagliardi, Jerry Klein, Dave Roberts, Ray Fiedler, Vince Leonard, David Rimmer, Gerry Wilkinson, Tom Lamaine, Valerie Morrison, Robin Mackintosh, Mike Strug, Roger Hendler, Bill Kelley, David McCrork, Cindy Keiter, Richard Maloney, Allen Stone, Ted Hodgins, Don Cannon, Melvin Gollub, Robert (Bobb) Rayner, Ruth Leon Weiman, Debbie Lynn Elias, Bill McCloskey, Sid Mark, Ray Didinger, Terry Ruggles, Bruce Greenberg, Merrill Reese, Robert McCone, Art Moore, Al Primo, Norman Felsenthal, Michael Stairs, Marie Pantarelli, Stan Hochman, Iris Loev, Ken Jeremiah, Steve Tatz, Kevin Delany, Ed Kasuba, Frank Krider, Art Andrews, Tom Moran, Brooks Saint Ives, Diego Castellanos, Mike Bove, Dennis Ostopowicz, Sylvia Kauders, Anthony Di Florio, Dorie Lenz, Loretta Bove Crowell, Robin Adelman, Ira Adelman, Nicky DeMatteo, Charles McKibben, Tommy McCarthy, Jay Lloyd, Richard Heist, Jim Glogowski, Philip Shuman, Kathy Earley, and Bob Backman.
Don't be left out. You too can make a pledge. It's never too late. You can earmark it for scholarships, our Digital Archival Project or our general fund. Thanks so much for your support.
Our special thanks go to TUTV and The Kal & Lucille Rudman Media Production Center.

They have underwritten a grant to be used to fund an entire year of all our newsletters for calendar year 2014. We thank them so much for their support!
If you forgot to make an extra contribution (cash or memorabilia) and would like to do so now, it's never too late. We would be thrilled to hear from you at: PO Box 2886, Bala Cynwyd, PA 19004 or call us at (856) 365-5600.
A FINAL THOUGHT....
"You never have a second chance to make a good first impression!"
Matty Singer (the Humdinger)
Record Promoter
on WPEN Radio
The Station of the Stars

Please contact us by e-mail at newsletter@broadcastpioneers.com or by mail to: Broadcast Pioneers of Philadelphia, PO Box 2886, Bala Cynwyd, PA 19004. Your stories are important, to you, to us, and your colleagues. Contact us today and we'll include your story in the next newsletter!

© 2014, Broadcast Pioneers of Philadelphia
All Rights Reserved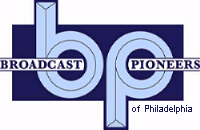 The e-mail address of the Broadcast Pioneers of Philadelphia is pioneers@broadcastpioneers.com
For luncheon reservations call (856) 365-5600 or e-mail us at: rsvp@broadcastpioneers.com