| | |
| --- | --- |
| | Broadcast Pioneers of Philadelphia is a federally recognized, state chartered 501(c)(3) non-profit organization serving the Philadelphia Broadcast Community since January of 1962. |
July Free Tour
Wednesday, July 22, 2015
Times: 9:30 am, 10 am, 10:30 am

Visit two broadcast facilities:
FOX 29 - WTXF-TV
CBS Radio Group

PLEASE RESERVE NOW!
CALL (856) 365-5600!
rsvp@broadcastpioneers.com
FREE Summer Tour

Wednesday, July 22nd!
3 different tour times!
Tour times: 9:30 am, 10 am or 10:30 am
Duration: About 75 Minutes!
All three tours are now filled!
Get on our waiting list. Visit our website:
http://www.broadcastpioneers.com for details!
Each of the 3 tours will visit BOTH broadcast facilities!

WTXF-TV, Fox 29!
And The CBS Radio Group!
Sportsradio 94WIP
98.1 WOGL
Talk Radio 1210, WPHT
It's a Double Bubble!
Visit Both Broadcast Facilities in One Morning!
All three tours are now filled. Get on our waiting list. Details on our website.
The next Broadcast Pioneers event takes place on Wednesday morning, July 22nd. It's a FREE tour of two wonderful and exciting broadcast centers. One is a television station and the other is the home of three of radio stations.
Both are located at 4th and Market Streets in Center City. Save the date. We expect this event to fill up early. DON'T DELAY! RESERVE YOUR FREE SPACE NOW! There are three different tour times! Pick your tour time. Duration of the two stations combined is about 75 minutes.
Parking for this tour will NOT be provided. There are several pay lots nearby. Trains, buses and other public transportation are available.
WARNING: You MUST reserve for this event in advance. We are obligated to provide the stations with a guest list which they will give to security. If you are not on that list, you cannot attend. WE MUST HAVE YOUR RESERVATION BY 6 PM ON MONDAY, JULY 20th! However, we expect to fill up before that date!
Each of the three tours will first meet at WTXF-TV, Fox 29. They are located on the southeast corner of 4th and Market Streets in Center City Philadelphia. Pick your tour time. There are three choices. We expect the tours to fill up fast. Each of the three tours is limited to 30 people each. Tour times are at 9:30 am, 10 am and 10:30 am. Duration is about 75 minutes!
We'll take a 30 to 40 minute tour of Fox 29. While at WTXF, we will announce the posthumous inductees who will be inducted into our Hall of Fame in November. Two of these inductees worked at Channel 29 at one time..
After the television station tour, we will walk across the street to the CBS Radio Group. They are located on the southwest corner of 4th and Market. Entry to the building is on Market Street between 4th and 5th Streets.
At the CBS Radio Group, we will visit three of the CBS owned radio stations in Philadelphia. They are Sportsradio 94 WIP, 98.1 WOGL and Talk Radio 1210 WPHT.
Several years ago, we visited this facility but WOGL and WPHT were not at this location at that time. So this will be the first time we have toured these stations in their new "digs." Everything is different.
While at the CBS Radio Group, we will announce who will be our 2015 Person of the Year. They will be with us. Plus, we'll announce who our 12 living inductees to our Hall of Fame will be for this year. One of them will be "on the air" during our visit.
HOW TO SIGN UP!
This will be an exciting morning. Space is limited! Total running time for visiting both facilities will be approx. 75 minutes in length. Members may bring a guest or two with them. Please reserve your space now. E-mail us at: rsvp@broadcastpioneers.com. Make sure to include your name, the name of your guest (if any) and the time of the tour you wish to take. Members without e-mail service may call (856) 356-5600. Make sure you give us all the necessary information. First come, first served!
WE'LL BE PROUD TO SEE YOU IN THE CROWD!

REMINDER!
IF YOU HAVEN'T PAID YOUR DUES BY NOW...
YOU'RE LATE!!!
Please note that six weeks ago, we snail mailed your membership renewals. If you haven't paid by now, you are late. 30% of our members haven't sent their renewals in yet! Are you one of them? If you believe that you didn't get a renewal, please let us know and we'll send you another one (this time by e-mail).
If you joined in the past couple of months, you may have received a form, but you are not required to pay any dues at this time. The form will tell you whether there is an amount due. We sent the form so we could verify that all the info we have is still correct. The next membership directory will be printed before you know it.
WE DO NOT SEND YOU MULTIPLE NOTICES! THIS WILL BE THE ONLY NOTICE FOR RENEWAL THAT YOU WILL RECEIVE.
IMPORTANT!
If you haven't already done so, kindly return your form and check at your earliest convenience. Please also note that on the form is an important little box that you can check if you would like to make an extra contribution. Our archival project is becoming an expensive thing to do. It costs us about $8,000 a year just to store all our material. That averages out to about $16 per member. If you can can afford it and wish to do so, please help us in this important project. Any additional amount will be greatly appreciated! Large or Small!
If you are not sure whether you paid the 2015 - 2016 dues, e-mail us and we'll let you know whether you are up to date.

Visit Our Website Often - http://www.broadcastpioneers.com
You should check our website often on the front page (above) for important information!
Check out our Facebook Page - http://www.broadcastpioneers.com/facebook
There are things on our Facebook Page that are NOT on our website (like our vintage photo of the week)
Tune in to our YouTube Channel - http://www.broadcastpioneers.com/youtube
Our YouTube Channel has all our luncheons, exclusive interviews and archival material

WELCOME NEW MEMBERS:
FULL MEMBERS:
Greg Meyer was an Assistant Director at WCAU-TV during 1974, 1975 and 1976. From 1976 until this year, Greg has been a cameraman and Editor. He also did live and satellite truck operation. Meyer worked for Eyewitness News on their I-Team as cameraman and Editor. He also worked as a studio camera operator on the nationally aired "The Mike Douglas Show." That syndicated program originated from Philadelphia for many years.
John Kane worked as a producer and backup announcer to members John Carlton and Walt MacDonald during his time with the ARCO Go-Patrol from 1977 to 1980. From 1980 to 1982, he was director of affiliate relations and backup producer and announcer for Shadow Traffic, New York. For a few years in the 80s, he worked for United Stations and then for NBC Radio Networks. Today, he is a First Vice-President for Wells Fargo Advisors.
Tony Scafide works as a director for WBAL-TV in Baltimore. He has previously worked at WTVD, Raleigh-Durham and WSHM, Springfield. During 2006 and 2007, he worked as an Assistant Director of WHYY-TV's "Delaware Tonight" telecasts. He was a director's intern with WNBC-TV while attending Temple University and was a 2006 Broadcast Pioneers of Philadelphia Scholarship winner.
Richard Pyle started in the business during 1964. For the last 12 years, he was a director supervisor for CBS 3. Previously, he was a producer & director for KYW-TV, starting in 1972. Before that, he was a producer & director for Channel 6 here in Philly. Before coming to the Delaware Valley, he worked as WJZ as a producer & director and as chief director. He started his work at WJZ running their switchboard.
We are thrilled to have these new members. Over 500 Members. More than ever. We hope to see as many of our members as possible on the summer tour as well as at our next luncheon.
DIGITAL ARCHIVAL PROJECT NEWS:
VIDEO:
Broadcast Pioneers member Al Primo
Broadcast Pioneers Luncheon
Bala Golf Club, Philadelphia
Wednesday, June 17, 2015

Broadcast Pioneers member Marciarose Shestack
Broadcast Pioneers Luncheon
Bala Golf Club, Philadelphia
Wednesday, June 17, 2015
Broadcast Pioneers member Al Primo was in town on Wednesday, June 17th for our luncheon. It was a celebration of 50 Years of Eyewitness News. At that time, we announced that Al Primo will be inducted into the Broadcast Pioneers Hall of Fame on Friday, November 20th of this year. Primo is the creator of Eyewitness News and changed local television news forever. While we had Al with us (he lives in Connecticut), we had Marciarose Shestack interview him for the Broadcast Pioneers' YouTube Channel. By the way, after our luncheon last month, Al flew to Geneva to attend his grand child's graduation. Here is our interview with Al Primo.
Watch from the Broadcast Pioneers' YouTube Channel!
AUDIO:
WCAU Radio aired a half-hour radio broadcast during the fifties called, "Hi, Neighbor." Broadcast Pioneers' Hall of Famers Ed Harvey and Ralph Collier were among of the hosts of the program, Ed earlier in the series and Ralph later in the shows. We have a complete half-hour program in our audio archive that we have never made available previously. It dates from Friday, May 7, 1954 (4 pm to 4:30 pm) with Ed Harvey as the host and was recorded in advance of broadcast. Included in the recording is the broadcast slate marking it with the air date on the station.
Legendary WCAU announcer George Thomas was the announcer for the program. While we have the complete broadcast, we only present a 24-minute version here because of copyright restrictions. Our electronic copy came right off the original WCAU audio tape and was donated to us by the estate of Ed Harvey (along with hundreds of other recordings). So here you are, "Hi, Neighbor" from 4 pm on Friday, May 7, 1954 (the Friday before Mother's Day).
Listen in the Windows Media Format!
In 1994, member Ed Hurst was on 950, WPEN Radio while they were running their "Station of the Stars" format. Around the holidays, Ed spoke to the legendary Barry Manilow. Ed and Barry talked about Barry's new album (at that time) called, "Singin' With the Big Bands." It was released in October of that year, and two months later Manilow was live (via telephone from California) with Ed Hurst and WPEN. Special thanks to members Don Hurley & Ed Hurst for donating a copy of the interview to our audio archive along with hundreds of other Ed Hurst broadcasts.
Listen in the Windows Media Format!
Today's News Becomes Tomorrow's History!
(This is what our Digital Archival Project, DAP, is all about!)
IN TOUCH WITH OUR MEMBERS:
A Philadelphia Music Hall of Fame and Museum? It's possible. Meeting with George Pettignano of CBS in New York, the protagonist for this project, Bobby Rydell, Charlie Gracie and members of the Tymes, the Orlons and the Soul Survivors toured the Suzanne Roberts Theater complex last month. That is the proposed site of the Philly Music Hall of Fame and museum, located on the Avenue of the Arts: South Broad Street. The primary goal is to make the music hall of fame and museum interactive with the Philly Walk of Fame including memorabilia and videos about the artists plus a performance venue.
Congrats to Peggy King and the All-Star Trio (Andy Kahn, Bruce Klauber and Bruce Kaminsky) for getting signed with Fresh Sound Records, Peggy's first recording contract in 36 years. Expect a new CD release coming this fall! King and the trio have been performing all over the Delaware Valley.
We heard from member Debbie Lynn Elias, daughter of the late Ed Elias. She tells us that:
Grants were awarded at the Los Angeles Film Festival to Imani Peterkin and Maya Suchak, winners of the Ed Elias Future Filmmaker Grant for Best Narrative Film for Falling, Grace Hoffman and Michelle Miles, winners of the Ed Elias Future Filmmaker Grant for Best Documentary Film for Beatrix and Katie Speare winner of the Ed Elias Future Filmmaker Grant for Best Animated or Experimental Film for Mask. Special Mentions were also awarded to Sour Lemonade for Narrative Film, Curt Lowens: A Life of Changes for Documentary Film and How Do You Pronounce Pho? for Animated or Experimental Film.

She tells Broadcast Pioneers: " It's a perfect blend of Ed Elias' passion, longevity and commitment and what he instilled in me to shape my future. Just a small way of paying it back and forward. He would have loved the short films these kids made. Practical, hands on effects. Tubby (Ed) was always so supportive and cognizant of my involvement with Film Independent and Los Angeles Film Festival. He would go through the fest daily with me with recaps, and even watch screeners I would send him; as would my mother. These grants are the melding of our worlds."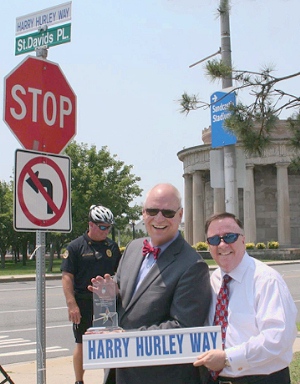 (Left to right) Atlantic City Mayor Don Guardian and Broadcast Pioneers Hall of Famer Harry Hurley
on Harry Hurley Way, Atlantic City, New Jersey
Wednesday, July 1, 2015
As many of you already know, member Harry Hurley had a street renamed after him in Atlantic City last week. The Official dedication and unveiling of the "Harry Hurley Way" street sign took place on Wednesday, July 1st at noon at St. David's Place and Atlantic Avenues. Attending the event were Atlantic City Mayor Don Guardian, City Council President Frank Gilliam, Jr., Councilman at Large George Tibbitt and Councilman Marty Small, Sr.
Speaking of Harry Hurley, we wanted to tell you that he and his wife, Margie donated a scholarship to Stockton University's School of Health Sciences. The scholarship is named The Joan Fineran Nursing Scholarship in honor of Margie's late mother, a nurse for more than a half century. The scholarship is a $1,000 one and the Hurleys will donate one each year for the next five years.

Broadcast Pioneers has also been a recipient of Harry's generosity. Starting in 2011, we have been receiving a $1,000 scholarship donation each year from the proceeds of Harry Hurley's annual charity golf tournament. Beginning in 2013, we have also been receiving a $1,000 donation from Harry for our archival project. We just received the check from the Hurley Golf Tournament for this year's donation. We also have a pledge from Harry for 2016 for another scholarship and another $1,000 for the archival project.
A couple of weeks ago, we sent an e-mail to member John DeBella at WMGK. He automated response said:
I am on vacation, out of the office, and off the air for the next 14 days ...at least that's what they told me when I left. I "should" return July 13th...but I've been lied to before. John DeBella
"Captain Noah's Prayers of the Animals," a book originally published 41 years ago, is on its way to being a Kindle book! The book is now available on Amazon.com. It contains 22 pen and ink sketches by renowned artist Mary Ellen Bilisnansky-McMorrow. This book was originally published in 1974 and is be available, for the first time ever, as a Kindle book!
A LITTLE BIT OF BROADCAST HISTORY!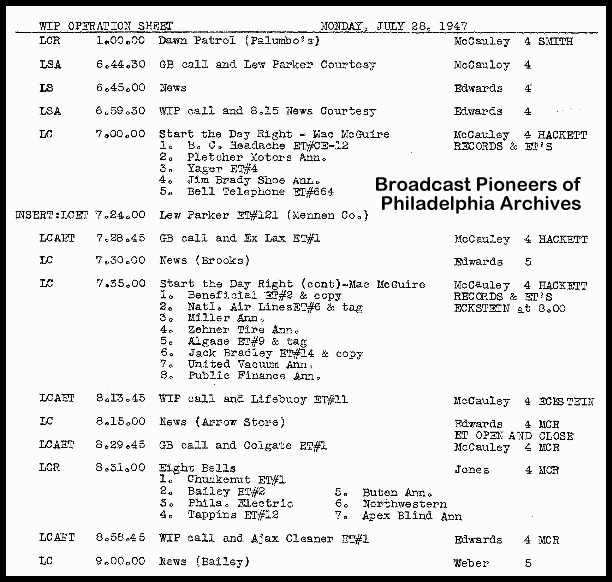 WIP Operations (Program) Log
July 28, 1947

Did you know...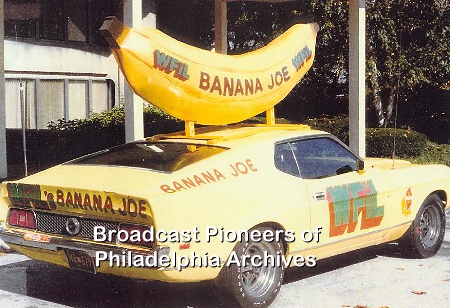 Joe Gallagher, a WFIL, Famous 56 engineer during the station's heyday tells us about the day, the banana was stolen off the station's Banana car:
While I was at WFIL, I was also the "faculty moderator/advisor" of the campus radio station, WKVU at Villanova where I had graduated the year before I started at WFIL, and I had been a member and department head of WKVU during my student years.

The audio tape I recently converted to digital was of the 100-hour-plus marathon that the general manager of WKVU was engaged in, which is what caused me to say one night to Banana Joe: "would you be interested/willing to go out to the campus after the show. I know the student staff of the college radio station would love to see-meet-talk to a major market DJ, and it'd be a major encouragement to the guy who's trying to stay awake and on-air for so long a time."

BoJo (Banana Joe) was immediately receptive to the idea, and Sales Manager Gene Vassall had apparently told BoJo that he could get the keys to the Banana Car any time he wanted. So I drove my car and he drove the Banana Car from WFIL out to the campus. My parking permit allowed parking in the center of the campus about a hundred feet from the building the radio station was in, and the guard allowed Joe to follow me. We got there sometime between 10:30 pm and 11 pm.

So he's doing his Banana-Joe-on-the-radio thang on carrier-current WKVU and about 1:30 am or so, somebody walked in and asked if anybody in the student station was connected to that yellow car in the parking lot with the WFIL call letters all over it.

Joe and I said we were, and the person said, "Well, somebody just stole the banana off the top of the car." Joe and I immediately ran at top speed to the car, and somebody said they saw a couple guys carrying it and running east (toward Villanova's "Quad" of dorm buildings). But Joe and I decided to search in different directions. Joe went toward the dorms to the east, and I went toward the dorms to the west. By about 3 am, nobody we had talked to had said that they saw anything like a six-foot-long fiberglass banana, so we pretty much felt hopeless and stopped searching. Joe drove the Banana-less car back to WFIL then drove his car home, and I drove to my apartment.

When I came in to work the next day at 1 pm, I was 100% positive that I was going to be fired because it had been my idea to drive out there. As I walked through the office area over to 'FIL's Master Control Room and operations area, I remember noticing that the office staff seemed extremely busy. Chief Engineer (and my Boss) Ray McCloy wasn't there to welcome me and tell me I was fired. In fact, everything seemed normal but unusually hectic.

After about 45 minutes of normalcy while still feeling a sword hanging over my head, I walked to the office area and asked somebody if I was in trouble and they seemed surprised. "Trouble? What for?" I said it was my idea to go out to the campus where the banana was taken, and they said "Trouble? Are you kidding? There have already been news crews here from TV stations 3, 6 and 10 (at the station). We were the "kicker" story at the end of each station's Noon newscast. The Philadelphia Bulletin and Inquirer newspapers have called and are doing stories about the missing banana. In trouble? NO! We've probably have gotten a million dollars in free publicity from this." (I remember this like it was yesterday.)

WFIL Production Manager Jerry Donahue was in the production control room. He and an engineer were editing out and removing the word "banana" from any name-credit jingle or anything else that mentioned "Banana Joe." The disappearance of the banana had been frequently mentioned on WFIL's air through the day, and Joe went on the air that night as simply "Joe Montione," telling the audience that as long as the banana was missing, he could not be "Banana Joe." His on-air-persona was also low-key as I remember since he couldn't very well "go bananas" and be as high-energy as usual without the banana. (Unfortunately, of all the times that I recorded an aircheck, I never rolled a tape during this event.) I can't remember if it was the second full night that the banana was missing or the third night, but in the on-air control room sometime during BoJo's 6 pm –10 pm airshift, I got a call on the private line direct to the engineers (since I was the campus station moderator, I thought they should have this number if they needed to contact me). On the phone was the guy doing the 100-hour-plus marathon on the campus station, telling me that the banana had been found.

Over the intercom, I gave Joe the news and the phone number at the campus station. On WFIL's air, Joe called the campus station and the audience heard the news of the recovery at which point I aired, back-to-back and nonstop -- every jingle and other name credit that referenced "Banana Joe."

About two years ago (2010), I was at the campus station and I saw a picture they took at the time. It shows many WKVU student staff members, maybe 25 or more people, crowded around the WFIL banana before Jerry Hunton arrived to retrieve it. I took a picture of it, and will look for it tonight. As mentioned in what I called the short version, I heard later that it was a fraternity prank and the banana was stashed in a restroom in exactly the first dorm that I searched to the west (Corr Hall on the Villanova campus, the closest larger-size dorm to the campus station). The guy who directed us toward the east was misdirecting us.

The weird part of all this is that I don't remember if the banana was put back on top of the car, but I'm sure it must have been.
Gene Vassall, the station's General Sales Manager adds some additional details:
That Banana was made for me by Jim Margulis' Sign Company, 1855 North Fifth Street. It was only bolted on with four bolts. (After it was found) I had Jim Margulis remount it but he stripped the ends of the bolts so they could not be easily removed again.

MORE DIGITAL ARCHIVAL PROJECT NEWS:
VIDEO:
Hy Lit
Broadcast Pioneers Luncheon
Bala Golf Club, Philadelphia
Wednesday, September 19, 2001

Bill Wright, Sr.
Broadcast Pioneers Luncheon
Bala Golf Club, Philadelphia
Wednesday, September 19, 2001
On Wednesday, September 19, 2001, the Broadcast Pioneers of Philadelphia held their first meeting since June. It was only 8 days after the attacks of 9-11. The location was at the beautiful Bala Golf Club in Philadelphia where the organization saluted "The WIBBAGE Good Guys." The speakers that day were two of the greatest; the legendary Hy Lit and icon Bill Wright, Sr., both members of the Broadcast Pioneers of Philadelphia. Famed WCAU radio personality Ed Harvey (also a member of the Broadcast Pioneers of Philadelphia) was the M.C. for the afternoon. All have been inducted into our Hall of Fame. Please note that this video was shot on slow speed VHS tape. The audio was picked up from the microphone on the camera. While this is not the quality we shoot today, we are still glad to have this video in our archives.

AUDIO:
Next we have a piece of audio dating from February or March of 1965. We cannot identify the actual date. On the box, it says one month and recorded on the reel, it says another. This is a station editorial for WCAU Radio. It is delivered by John Downey, Vice-President for CBS Radio and General Manager of WCAU Radio, a position he held from June 1962 until December of 1974. At the same time as this broadcast, Downey was a Vice-President of Broadcast Pioneers. The next year, he became president of our organization and in 1967 became our Chairman of the Board.
Jack then went to work for Frank Rizzo as his Deputy Managing Director. At the same time, he purchased a building on the corner of Front and South Streets, where he planned on living on the top two floors and renting the first and second. Having no success renting the empty floors, Jack in desperation, opened a restaurant, Downey's Drinking House and Dining Saloon, which, after serious early growing pains, enjoyed some success for several decades.

During this span, Jack produced and packaged liquor cakes which were sold throughout the USA and soups which were distributed in the eastern states.

Jack was an officer and board member of the South Street-Head House District, Restaurant Row Association, Queens Village Neighbors Association and was past president of the Greater Philadelphia Restaurant and Purveyor Association. He passed away in August of 2008 at his home in Fort Lauderdale, Florida. He was a nephew of Morton Downey and a cousin of Morton Downey, Jr.
Listen to the editorial in the Windows Media Format!
Finally, our last audio clip is that of member Dick Covington, a long-time anchor for KYW Newsradio. Dick has been the voice of the KYW Newsradio's Station Identification since the inception of the news format on September 21, 1965. In fact, his voice is still heard today. Dick was a member of the first team of rotating anchors on the all news outlet. He retired in 1986. A year later, Dick returned to KYW on a part-time basis and stayed until 1997. At that time, he moved to the warmer climate of North Carolina where the season for golf, a game he loved, was much longer. Even though he was living in the South, KYW still had Covington record their IDs and mail them back to the City of Brotherly Love. In November of 2001, Dick Covington moved back to Philadelphia to be close to family. He passed away in 2004 and was inducted posthumously into our Hall of Fame in 2011.

The date of this clip is February 22, 1972. President Richard Nixon was visiting China and KYW Newsradio was less than seven years old. We have a five minute excerpt of that newscast. (By the way, KYW Newsradio will celebrate their 50th anniversary in September). Dick Covington is the news anchor.
Listen in the Windows Media Format!
Remember, History is ONLY What Gets Saved!
(If there were no portraits of George Washington, how would we know what he looked like?)
IN TOUCH WITH THE INDUSTRY:
CBS 3 and The CW Philly's ninth annual Alex Scott Phone Bank, a 14-hour on-air benefit for the Alex's Lemonade Stand Foundation, raised nearly $3 million ($2,997,865) for pediatric cancer research last month, a record for the fundraiser which began in 2007. Over its nine years on-air, the event has raised more than $12 million for the cause.
Alexandra "Alex" Flynn Scott was born in the beginning of 1996, in Connecticut. Diagnosed with a pediatric cancer, two days before her first birthday, Alex opened a lemonade stand in 2000 on her family's front lawn. It raised over two thousand dollars and is now an annual tradition. When the Scotts moved to Wynnewood, Pa in order for Alex to get treatment Children's Hospital, the tradition continued. She passed away 11 years ago. The foundation that bears her name as raised over one hundred million dollars and funds cutting edge research.
CBS 3 Meteorologist Kate Bilo is giving local youngsters a chance to show off their forecasting skills on television. Bilo will be hosting auditions for young broadcasters at the "Kidcaster Search" tomorrow, Wednesday, July 8, noon to 2 p.m. at Crayola Experience, 30 Centre Square, Easton. The CBS 3 Mobile Weather Lab, the station's weather station on wheels, will also be on location demonstrating the latest in weather technology.
Youngsters will be videotaped delivering a one-minute forecast on a simulated weather set. They may bring their own forecast, make one up on site, or a script will be provided. "Children are so enthusiastic and curious about the weather," says Bilo. "It's what makes the Kidcaster search so much fun."
We received this e-mail from one of our scholarship winners from last year. We thought you might enjoy part of that e-mail:
My name is Lauren Hight and I was one of the recipients of the 2014 Broadcast Pioneers of Philadelphia scholarship.

Being recognized as a rising professional in this industry was an honor and I am working hard to live up to it! I recently graduated Summa Cum Laude from Cabrini College in Radnor, PA with a major in communication, minor in graphic design and certification in leadership. During the spring 2015 semester, I returned to iHeartMedia (where I previously interned during the summer of 2013) as an intern and am proud to say that at the conclusion of this most recent term, I was hired as a part time Board Operator and Promotions Assistant.

In addition, I was recently offered a position as a seasonal video assistant for the Philadelphia Eagles in which I will begin this week. To my understanding, I will be working on game days, press conferences and training camp for Eagles Network and web based specials.

I am thrilled to have all of these incredible opportunities coming my way coming so quickly post graduation but one of my proudest moments was the completion of my senior capstone. I worked with 13 other students over the course of a year to create a comprehensive, multimedia website on food insecurity.

ServingFoodSolutions.com describes the issues of this social injustice and we worked vicariously to gather over 60 interviews and to create nearly 90 pieces of media. I was the Art Director and Website Developer so I designed the entire aesthetic layout and logo and placed every piece of content using my designer's eye judgment.
As we all know, Ukee Washington takes over the co-hosting duties of the main newscasts on CBS 3 next week. But how did Ukee get to our market? The first word that people of the Delaware Valley got that Ukee Washington would be coming to Channel 3 was on January 6, 1986 when Gail Shister wrote in the Philadelphia Inquirer said: "The deal for Philadelphia native Ulysses "Ukee" Samuel Washington 3d as weekend sports anchor still isn't signed, but it's mighty close." She also said that there were still minor details to be worked out and that Washington's contract with WWBH-TV in Fort Myers, Florida ran until the end of June.
Ukee was coming to KYW-TV to do weekend sports. Washington replaced Bob Bradley who had been doing weekends and wished to return to weekday duties. By the way, Bob Bradley retired from KYW-TV at the beginning of the next year. A couple months later, we selected Bob Bradley to be the Broadcast Pioneers' "Person of the Year."

On May 9 of that same year (1986), Kevin Mulligan, a Daily News sports writer, quoted Ukee as saying: "I'm told that everything's finally worked out. I'm just waiting to see it and stick my John Hancock on it. I wish it were just a matter of minutes, but it might be a couple days. It's going to be nice coming home."

A month later, Gail Shister reported on June 6th that "After more than a year of on-again, off-again negotiations, Channel 3 has finally signed Philadelphia native Ukee Washington as weekend sports anchor. He will report to KYW-TV July 9." Ten years later, Washington moved from sports to news where he has remained for the last 19 years.
THIS AND THAT! Little Bits of Information....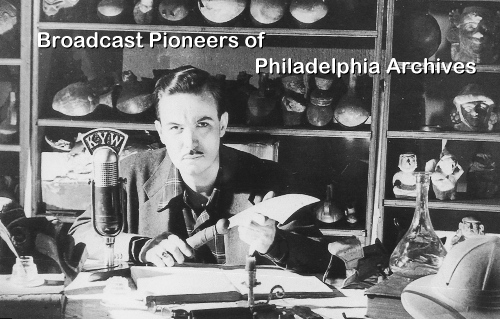 Hal Woodard
Ye Olde Curiosity Shoppe
KYW Radio
Member Bud Galow e-mails us about a photo in last month's newsletter. He said:
I was surprised to see Kay Woodard's Photo in the Newsletter, I knew her and her husband Hal quite well. She would bring recording people in the station quite often. Hal Woodard was a KYW DJ & writer/producer of shows in the early 50's. He had a Saturday program (7:30 pm to 8 pm on KYW Radio) that was called "Ye Olde Curiosity Shoppe." Marty Pinscur would come in from WFIL to run the sound effects and I ran the board. It was a good show but a bad time slot. One day we had a total employee meeting and the question was asked " In an Atom bomb attack, where would go? Hal spoke up and said "the lobby of KYW. It's the only place that there is no radio action" That did it.
A visitor to our website, Lisa Yanak, e-mailed us:
My mother, aged 97, just recently died.... Mother was a contestant numerous times (on Cinderella Weekend), and won the whole thing often enough to pass on the trips to my grandparents and an uncle! When we cleaned out her apartment, the Revereware copper-bottom pots that she had won were still there being used! My sister recently commented that, "Before there was Google, there was Robin Yanak." She was extremely smart and knew a lot about everything!

...She always went with a "gimmick." She took the scout den and listed that on her questionnaire, or wrote that she grew up in a log cabin in Philadelphia (on the grounds of Friends Select.) Those things got her selected.

I remember being part of the live commercials. They handed out packets of hand lotion to the audience and had everyone try it. Being all of 7 years old, I squeezed it ALL out and was mushing it through my fingers! The camera zoomed right it and I was able to look up at the black and white monitor and see myself. I also recall the door prize element of the show. The "big" prize that day was a ham. Bill Hart called out my name, and I just walked through the audience, picked up the ham from the piano bench and walked away. It left him a little stunned because the ham just sort of disappeared - I was that little.
Beginning of Monday, April 12, 1943, WCAU Radio started originating a 25-minute CBS Radio weekly evening program. Called "95 Minutes from Broadway," the broadcast started at 12:05 am (actually early Tuesday morning) and continued until 12:30 am. The show featured Johnny Warrington's studio orchestra with Powers Gouraud, the ol' night owl as MC. Guest stars came from local stars visiting the city of brotherly love like Georgie Jessel and Sophie Tucker.
You might wonder where the broadcast title came from. Well, at that time, New York City and Philadelphia were just 95 minutes a part by train. Thus, the title "95 Minutes from Broadway." At the same time, WCAU Radio added a 5 hour local program just a half hour after this broadcast. The new show (aired Tuesday morning from 1 am to 6 am) was entitled "Over There to Over Here." It was during the Second World War and because of the station's 50,000 watt status, they received letters and postcards from servicemen stationed in Europe and on the West Coast of the United States. It carried neighborhood news and local gossip along with Philadelphia area sports news.
WE REMEMBER:
Don Spagnolia, a former Group W Productions art director, passed away in California on June 1st at age 80. His family has asked that we alert the industry so that his many broadcasting colleagues across the country would be aware. Spagnolia won both a Clio and an Emmy Award for his work on the Mike Douglas Show. He was an art director for Group W for more than 32 years. He worked for Westinghouse in Cleveland, San Francisco, Pittsburgh, Los Angeles and Philadelphia.
Many of our members knew Harvey Pollack. He spent a lifetime of compiling and inventing complex data for sports. He passed away last month. He was 93. He was the statistician for PR guy for the Philadelphia 76ers and the Warriors. He also compiled stats for the Big Five basketball games. Pollack was an early journalism graduate from Temple University (1943). While there, he kept stats for three varsity teams as their manager. That's still a Temple record.
Ralph Roberts has been described as the heart and soul of Comcast. In 1963, he started a little subscription based cable company in Mississippi and turned it into Comcast, owners of NBC Universal and NBC 10. He passed away last month at the age of 95. He was the company's Chairman of the Board from 1969 to 2000. Fifteen years ago, he son took over running the company. In 1998, Ralph Roberts was inducted into the Broadcast Pioneers Hall of Fame.
A LITTLE BIT OF BROADCAST HISTORY!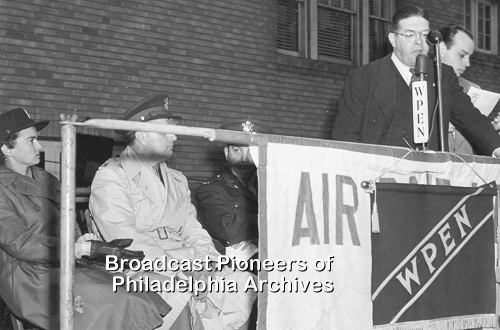 WPEN Radio Broadcast
Philadelphia Air Raid Wardens Rally
circa 1943
ON THE HEALTH FRONT:
Member Lisa Thomas-Laury says that she underwent a second bone marrow transplant earlier this spring at the Mayo Clinic in Rochester, Minnesota. That medical facility was rated as this country's top hospital for the 2014-2015 year. She had strong doses of chemo while there before the transplant. She had her first transplant in July of 2004. We wish her well.
THANKS FOR THE MEMORIES:
What was on the radio in 1928?
Saturday, September 1, 1928

6 pm
WCAU – Robert Frazier, a blind gospel singer
WDEL – A Copeland program

6:20 pm
WCAU – Baseball scores

6:30 pm
WIP – Time, Baseball scores and the Benjamin Franklin Orchestra.
WCAU – Green's Orchestra

6:45 pm
WFI – Sports news from the Evening Bulletin

6:55 pm
WIP – Market Reports

7 pm
WCAU – The Golden Dragon Orchestra
WDEL – Baseball scores and the Harmonica Kings

7:30 pm
WLIT – The Walton Orchestra
WIP – Time
WCAU – Hoxie's Salon Orchestra
WDEL – Studio program

7:55 pm
WLIT – Baseball scores

8 pm
WIP – An instrumental trio: Esther Hare, violinist; Florence Williams, cellist; Eleanor Louis Fields, piano
WCAU – Time and a continuation of the Hoxie program
WFI – Tenor solos; Volturni Berti with accompanist George Vali

8:15 pm
WFI – Song and Story, Kentucky Babe with Dr. Adam Getbel and the WFIL Male Quarette

8:30 pm
WCAU – The Georgie Jessel Show

8:45 pm
WFI – Anthony De John, accordionist

9 pm
WIP – Polish Duo with Anna Peters, soprano and Carroll Howell, contralto
WFI – Ensemble under the direction of Harold Micklin
WCAU – A Midnight Ball

9:30 pm
WCAU – The Wanderings of an Old Poet

10 pm
WFI – Mixed Quarette with Elizabeth Harrison, Margaret Eberbach, Mabel Marston and Mary Bray. Plus Ednyfed Lewis, Charles Stahl, John Vandersloot and Harold Simmonds
WIP- Warren's Harmony Kings
WCAU – The Boulevard Pool Orchestra

10:30 pm
WFI – Palais D'Or Orchestra
WIP – The Adelphia Whispering Orchestra
WCAU – The Cathay Orchestra

11 pm
WCAU – Time, News, Missing Persons Reports and Announcements

11:15 pm
WIP – The Germantown Theater Organ Recital with Geibel Falconer

12 midnight
WIP - Time
ACTION IN THE AFTERNOON PRESS RELEASE!
January 23, 1953 (written by Anna Coleman)
"ACTION IN THE AFTERNOON," NEW CBS-TV WESTERN DRAMA, TO BE TELEVISED "LIVE" FIVE-TIMES-WEEK STARTING FEBRUARY 2!
"Action in the Afternoon," television's first "live" Western dramatic series staged in an outdoor locale, will have its premiere, as a five-times-weekly feature of the CBS Television Network, February 2, it was announced today by Hubbell Robinson, Jr., CBS-TV Vice President in Charge of Network Programs. (CBS-TV, 3.30--4:00 PM. EST. Monday through Friday via WCAU-TV, Philadelphia).
For "Action In the Afternoon," an entire Western town has been built in the beautiful hill country outside Philadelphia, where the program, will originate. Its "Main Street" is traditional to the last detail. There is the general store, the newspaper office, the bank, the blacksmith's shop, the Copper Cup Bar and perhaps the most utilitarian of ail, the jail.
The story which concerns the citizens of Huberle. Montana, and the visitors - good and bad - who ride through its streets, has its setting in the 1890's, when men of the old West "wore tall hats, high heels and six-shooters on both hips." All the things that might have happened in a frontier town will be dramatized "live" on "Action In the Afternoon."
The series is produced by Charles Vanda. Leslie Urbach is Executive Director. William Bode and John Ullrich will alternate directors of each weekly unit. The town of Huberle was created and designed by scenic artist Jan Ozog. Don Pringle, Paul Pierce and Hugh Best are among the free-lance writers contributing scripts.
ACTION IN THE AFTERNOON MARCH 1953 PRODUCTION CREDITS!
Herewith, credits and production data for CBS-TV's "ACTION IN THE AFTERNOON"
ON AIR: Monday-thru-Friday, 3:30-4:00 PM, EST
ORIGINATION: WCAU-TV, Philadelphia
FORMAT: Western melodrama
PRODUCER: Charles Vanda
EXECUTIVE DIRECTOR: Leslie Urbaeh
DIRECTORS: William Bode & John Ullrich, alternate weeks
ASSISTANT DIRECTORS: Don Lennox, James Hirschfeld & Don Markley
PRODUCTION MANAGER. Frank Fisher
TECHNICAL DIRECTOR: Ed Harper
\MUSIC DIRECTOR: Dick Lester
STARS; Jack Valentine & Blake Ritter
CAST: Mary Elaine Watts, Harrise Forrest, Barry
Cassell, Chris Keegan, Jean Corbett,
Samuel Kressen, Creighton Stewart, extras
WRITERS: Don Pringle, Dick Strome, Don Lenox
SCENIC DESIGNER: Jan Ozog
ART DIRECTOR: John Ferlaine
LIGHTING: Dan Jones
COSTUMES: Levi Strauss
1954 and WCAU News!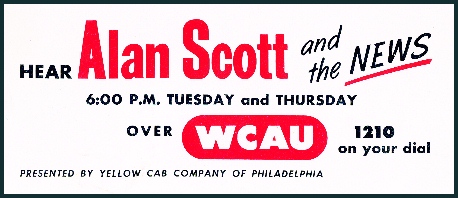 WCAU Radio Print Advertising
March 1954
Here's a WCAU Radio memo from the station's news director, Charles Shaw. Shaw became very precise working a decade before with Edward R. Murrow and CBS Radio in the European Theater during the Second World War. Here's a memo Charles sent to staff in early 1954. It said:
January 18, 1954

TO: ALL RADIO & TELEVISION NEWSCASTERS

cc: messrs. Thornburgh, Tinney, Vanda, Connolly, Pryor, McClay, West and Forrest

We seem to be in the midst of an epidemic of mispronunciations on our radio and television newscasts.

Next to factual errors, mispronunciations are of greatest harm to our reputation and while not as dangerous as factual errors, mispronunciations occasion more unfavorable, ridiculing comment about our shows than anything else.

Here are several recent examples:

"Subornation" has been pronounced "subordination" on several shows, twice on the same radio newscast last Saturday night.

Massillon, the Ohio town which produces such excellent high school football teams and coaches, was pronounced "Mass-ill'-on," not "Mass'-ill-un," on a television sportscast.

Einaudi, the nation of the President of Italy, was pronounced, "Eye-now'-do," not "Eye-noh'-dee."

News writers can't possibly phonetecize (spelled incorrectly in the memo) every word, especially those which have been in the news for a long time, and they assume that common words like "subornation" will not be given an extra syllable.

As you know, we maintain a loose-leaf pronunciation guide provided by AP & UP, which we correct when necessary, and there is a most excellent gazetteer at the back of our unabridged dictionary. In addition, Mr. Thornburgh has arranged to receive a new CBS pronunciation guide prepared periodically by Cabell Greet. I hope that he will let News have the first look at each issue or arrange to have a separate issue for News if the programming departments want their own copies.

I suppose I shouldn't single out one man for praise, but I do think everybody could well follow the example of Alan Scott, who checks the pronunciation of every unfamiliar name or other word in our reference books and, if he can't find it there, checks with the editors on duty. If we don't know, as was the case one day last week, we leave out the name and describe him as "an official spokesman" or something like that.

We in radio and television are supposed to be pronunciation experts. Let's not open ourselves to ridicule by failing to live up to that reputation.
OUR HATS OFF TO YOU:
Special Thanks for April 2016 Scholarships:
Member Dan Lerner - 5 scholarships
Member Sylvia Kauders - 1 scholarship (from a grant for 5 yearly scholarships running until 2019)
Member Harry Hurley's Golf Tournament - 1 scholarship (for a South Jersey resident or student)
Member Johnny B. Hall and his wife, Ginny - 7 scholarships
Member Kal Rudman - 5 scholarships (for Temple University students)
Special Thanks for contribution of $1,000 or more to our DAP, Digital Archival Project:
Member Johnny B. Hall and wife Ginny - $3,000
Member Marlin Taylor - $1,000
Member Harry Hurley's Golf Tournament - $1,000
Member Glenn "Hurricane" Schwartz - $1,000
Special Thanks for a contribution of $500 or more to our DAP, Digital Archival Project:
Member Esther Kurtz - $500
Member Art Moore - $500
Member Rod "Storm" Phillips - $500
Underwrite a complete scholarship and we'll give you credit in the electronic newsletter until the scholarship is awarded in April of 2016. Give us a donation of $1,000 or more and we'll list you in our "Thank You" column for a year. Give us a donation of $500 or more for our Digital Archival Project and we'll list you in our "Thank You" column for six months.
More Thanks:
Thanks to the Harry Hurley Charity Golf Tournament, we received a check for $2,500. That's $1,000 for a scholarship, $1,000 for our archival project and $500 for our general fund. Funds pledged for June 2016 by Harry Hurley and his golf tournament will be at least $1,000 for a scholarship and $1,000 for our archival project. These Hurley scholarships are limited to residents of New Jersey and/or students who attend universities and colleges in South Jersey. By the way, here's a photo of Harry Hurley and Broadcast Pioneers Board Member Joe Pellegrino (a celebrity golfer) at this year's tournament.
Special kudos to those who gave an extra contribution when paying for their June luncheon. These people include: Bob Pantano, Alan Kobernick, Paul Big Bear, Mike Bove, Don Bustard, Diego Castellanos, Joselyn Castro, Bill Kelley, Bob Kravitz, Tom Lamaine, Dorie Lenz, Hal Lipman, Michael Nise, Mike Nozilo, Fran Odyniec, Dick Standish, Jackie Strauss, Elizabeth Thomas, Les Waas, Kal Rudman, Bill Shusta, Gerry Wilkinson and Ron Corbin.
Our thanks and kudos go to WPVI-TV, 6ABC for supplying us with the use of their conference room last month for the final meeting of our Hall of Fame/Person of the Year Selection Committee. Honorees will be announced on July 22 during our summer tour and shortly thereafter on our website.
Members have been including an extra contribution when they send in their membership dues. This month, those members include: Jay Lloyd, Tom Lamaine, Herb Scott, Dave Roberts-Dahms, Bill McCloskey, Rob Jennings, Ray Fiedler, Joe Tarsia, Norman Felsenthal, Bob McCone, Jerry Klein, Randall Jefferson, Irv Grodsky, Anthony DiFlorio, Denise Nakano, Donald Rosenblit, Allen Stone, Michael Muderick, Gerry Wilkinson, Pam Tuckey, Todd Tuckey, Bob Backman, Richard Williams, Brooks Saint Ives, Vince Leonard, Larry Kane, Dave Roberts, George Finkel, Lydia Reeves Timmins, Dorie Lenz, Iris Love, Kathy Tarras Earley, Jackie Strauss, Ed Cunningham, Barbara Brookshier, Paul Gluck, Patrick Stoner, Bob Charger, Ruth Wagner, Debbie Lynn Elias, Dawn Timmeney, T. Morgan, Mike Strug, Gil Thompson, Bruce Greenberg, B.J. Finnell, Gene Crane, Philip Shuman and Dave Michaels.
A growing portion of the revenues that fund the different activities of the Broadcast Pioneers comes from donations. This includes our archival project and our scholarship program. Now, we are making it even more beneficial for our donors. Broadcast Pioneers is now able to accept gifts of appreciated stock, which provides a significant tax benefit to you. By giving appreciated stock (stock which is worth more now than what it cost when it was purchased), you can get a charitable contribution tax deduction based on the current market value of your stock. At the same time, you avoid the capital gains
tax that would arise if you simply sell the stock. So if you'd like to support our educational mission or our archival project and save money on taxes too, please consider making a gift of appreciated stock. We are a federally recognized, state chartered charity with a 501(c)(3) status. Contact us at (856) 365-5600 or e-mail pioneers@broadcastpioneers.com for more details.
Don't be left out. You too can make a pledge. It's never too late. You can earmark it for scholarships, our Digital Archival Project or our general fund. Thanks so much for your support.
Our special thanks go to TUTV - Temple University Television and The Kal & Lucille Rudman Media Production Center.

They have underwritten a grant to be used to fund an entire year of all our newsletters for calendar year 2015. We thank them so much for their support!
If you forgot to make an extra contribution (cash or memorabilia) and would like to do so now, it's never too late. We would be thrilled to hear from you at: PO Box 2886, Bala Cynwyd, PA 19004 or call us at (856) 365-5600.
A FINAL THOUGHT....
"The electronic library is unquestionably in our future. It has to be."
Bill Paley
Chairman of CBS
at the dedication ceremony of
the Samuel Paley Library, Temple University
Friday, October 21, 1966

Please contact us by e-mail at newsletter@broadcastpioneers.com or by mail to: Broadcast Pioneers of Philadelphia, PO Box 2886, Bala Cynwyd, PA 19004. Your stories are important, to you, to us, and your colleagues. Contact us today and we'll include your story in the next newsletter!

© 2015, Broadcast Pioneers of Philadelphia
All Rights Reserved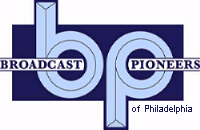 The e-mail address of the Broadcast Pioneers of Philadelphia is pioneers@broadcastpioneers.com
For luncheon reservations call (856) 365-5600 or e-mail us at: rsvp@broadcastpioneers.com