| | |
| --- | --- |
| | Broadcast Pioneers of Philadelphia is a federally recognized, state chartered 501(c)(3) non-profit organization serving the Philadelphia Broadcast Community since January of 1962. |
July Free Tour
Tuesday, July 12, 2016
Time: 12 noon

Visit the WHYY facility
See both their television and radio broadcast centers!

PLEASE RESERVE NOW!
CALL (856) 365-5600!
rsvp@broadcastpioneers.com
Free Summer Tour
of WHYY-TV and Radio!
July 12th at 12 noon!
Admission is FREE!
Reservations are a MUST!
Duration is about one hour in length!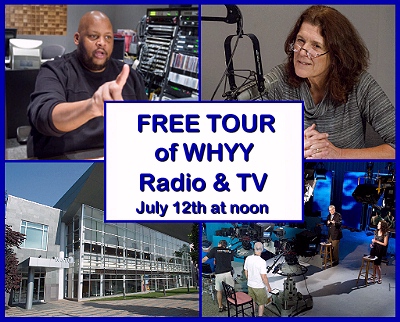 The next Broadcast Pioneers event takes place on Tuesday, July 12th. It's a FREE tour of WHYY Radio and Television. They are our public NPR and PBS broadcast outlets for the Delaware Valley.
DON'T DELAY! RESERVE YOUR FREE SPACE NOW! WHYY is located at 150 North 6th Street. That's 6th between Arch and Race in Center City Philadelphia. We meet at 12 noon. Don't be late! This is not for lunch. It's a tour of WHYY Radio and Television.
Parking for this tour will NOT be provided. There are several pay lots nearby. Trains, buses and other public transportation are also available.
WARNING: You MUST reserve for this event in advance. We are obligated to provide the station with a guest list which they will give to security. If you are not on that list, you cannot attend.
When we first meet at 12 noon, we will announce who will be our 2016 Person of the Year. Plus, we'll announce who our 12 living inductees to our Hall of Fame will be for this year. Several of them will be with us on this occasion. We'll also reveal the names of our 10 posthumous inductees.
HOW TO SIGN UP!
This will be an exciting afternoon. Space is limited! Total running time for visiting both AM and FM broadcast facilities will be approx. 60 minutes in length. Members may bring guests with them. Please reserve your space now. E-mail us at: rsvp@broadcastpioneers.com. Make sure to include your name, the name of your guest (if any). You will be confirmed by return e-mail. Members without e-mail service may call (856) 365-5600. Make sure you give us all the necessary information. First come, first served!
WE'LL BE PROUD TO SEE YOU IN THE CROWD!

REMINDER!
IF YOU HAVEN'T PAID YOUR DUES BY NOW...
YOU'RE LATE!!!
Please note that six weeks ago, we snail mailed your membership renewals. If you haven't paid by now, you are late. 30% of our members haven't sent their renewals in yet! Are you one of them? If you believe that you didn't get a renewal, please let us know and we'll send you another one (this time by e-mail).
If you joined in the past couple of months, you may have received a form, but you are not required to pay any dues at this time. The form will tell you whether there is an amount due. We sent the form so we could verify that all the info we have is still correct. The next membership directory will be printed before you know it.
WE DO NOT SEND YOU MULTIPLE NOTICES! THIS WILL BE THE ONLY NOTICE FOR RENEWAL THAT YOU WILL RECEIVE.
IMPORTANT!
If you haven't already done so, kindly return your form and check at your earliest convenience. Please also note that on the form is an important little box that you can check if you would like to make an extra contribution. Our archival project is becoming an expensive thing to do. It costs us over $8,000 a year just to store all our archival material. That averages out to about $16 per member. If you can can afford it and wish to do so, please help us in this important project. Any additional amount will be greatly appreciated! Large or small!
If you are not sure whether you paid the 2016 - 2017 dues, e-mail us and we'll let you know whether you are up to date. We thank you for your continued support!

Visit Our Website Often - http://www.broadcastpioneers.com
You should check our website often on the front page (above) for important information!
Check out our Facebook Page - http://www.broadcastpioneers.com/facebook
There are things on our Facebook Page that are NOT on our website (like our vintage photo of the week)
Tune in to our YouTube Channel - http://www.broadcastpioneers.com/youtube
Our YouTube Channel has all our luncheons, exclusive interviews and archival material
NEW - NEW - NEW - NEW - NEW
Visit us on Twitter - http://www.broadcastpioneers.com/twitter
Short messages and tweets travel fast with us on Twitter. Be part of the fun!
NEW - NEW - NEW - NEW - NEW
Check us out on Instagram - http://www.broadcastpioneers.com/instagram
Join the excitement with Broadcast Pioneers of Instagram!

NEW FULL MEMBERS:
Bob Lopez-Cepero started in our business in 1965 at WBZ-TV, Channel 4, a Group W television station in Boston. Five years later, in 1970, he was tranferred to sister station, KYW-TV, Channel 3 here in Philly. In 1972, Lopez-Cepero moved to the Windy City, Chicago and ABC O&Om WLS-TV. He stayed there for a few years and then returned to Philadelphia and WCAU-TV, then a CBS O&O. He stayed there almost a third of a century before retiring in 2009. He was a staff director, producer and writer.
Patricia Young has been involved in our wonderful broadcast industry since 1984 (that's just a little short of a third of a century). She's now Sales Manager for Penny Power in Coopersburg, Pennsylvania. She has previously worked at WUSL-FM in Philadelphia and then off to WBUX (AM) in Doylestown. After that, she went to Allentown and WFMZ-FM (sister station of Channel 69) and then back to Philadelphia and WFLN-FM. Then she became part of Max Radio, also based here in the City of Philadelphia.
NEW ASSOCIATE MEMBERS:
Dominic Barone is one of our younger members being in the business since December 2011. He was the founder and host of "Young and Dominant Sports Talk that aired Monday afternoons on iHeart's WXLV. He holds an AA degree in both Communications and General Studies from Lehigh Carbon Community College and is now seeking his Bachelors degree from Temple University in Broadcast Journalism.
Shannon E. Johnson has worked for Philly News, also known as the Philadelphia Inquirer and the Philadelphia Daily News. She was there from 1998 until 2003. Then she was with Supermedia for 4 years. Since 2004, she has been the president and publisher of "Hooked on Everything." We were very delighted to see her at our June 15th luncheon and hope to see her often at our various events.
We are thrilled to have these new members. Over 500 Members. More than ever. We hope to see as many of our members as possible on our July summer tour.
DIGITAL ARCHIVAL PROJECT NEWS:
VIDEO: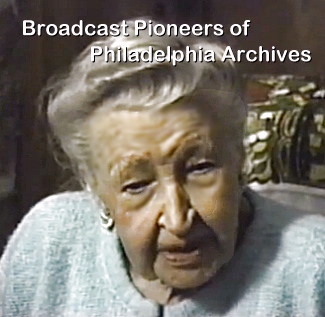 Florence Hanford
in her suburban home
March 18, 2002
On Monday, March 18, 2002, Broadcast Pioneers visited Florence Hanford at her Glen Mills, Pennsylvania home. She lived on a nice piece of land which was farm land when she and her husband moved there seven decades ago. This is the same house she lived in when she started on WPTZ, Channel 3 in 1947.

This is part of the Broadcast Pioneers of Philadelphia's Oral Histoy project. It was a webcast shot on video tape called "PIONEERS IN BROADCASTING." After the formal interview, host Ed Sciaky and producer Gerry Wilkinson sat in Florence's cozy living room and chatted informally. Initially, we only included parts of that informal conversation. However, when board member Steve Sacks remastered it a couple of years ago, we left all of that material there for you to watch.
This original interview we shot on high speed VHS tape. The quality is not up to today's standards but we are thrilled to have this historic interview.
Broadcast Pioneers member Florence Hanford died on July 1, 2008, just a week after her 99th birthday. On Friday, November 20, 2009, she was inducted posthumously into the Broadcast Pioneers' "Hall of Fame."
Broadcast Pioneers member Ed Sciaky passed away on January 29, 2004. On Friday, November 18, 2005, Ed Sciaky was inducted posthumously into the Broadcast Pioneers' "Hall of Fame."
Gerry Wilkinson, who produced this oral history interview for the Broadcast Pioneers, was on the organization's board of directors at the time of this interview. Today, Gerry is the CEO of Broadcast Pioneers. Sciaky and Wilkinson were lifelong friends who met in college. Their friendship continued for the next four decades until Ed's death.
Wilkinson said: "We had no money and no professional equipment to do this stuff on. Any out-of-pocket costs involved in this production, I paid for our of my pocket. However, I knew that we must preserve our history for future generations. We ran this with one non-professional VHS camera and it was hand-held. No editing. What we shot is what you see. You can tell I'm no cameraman. However, this is an important part of our broadcast history and I'm delighted we have it. This is the ad hoc beginning of what today we now refer to as our archives."
Watch the Video from Our YouTube Channel!
(video courtesy of Broadcast Pioneers VP Brad Seecof and Metramedia Broadcasting & Studios)
AUDIO:
We are delighted to present to you this historic interview with Author James A. Michener who was a guest on the "Talk of Philadelphia" aired over WCAU Radio and hosted by member Ed Harvey. This interview has not be heard in 52 years. It was recorded by a WCAU Radio technician in the station's master control room. One thing that Ed Harvey always asked of his recordings is that the engineer delete all the commercials. Fortunately, there was one left in. It was a spot announcement for a new soft drink called "Diet Pepsi."
During the interview, Michener talks about his trip to Russia. At the time that this interview aired, Nikita Kruschev was still in power. Before of this and the commercial for Diet Pepsi, we can date this interview around the middle of 1964. This recording was from the 1 pm hour of Ed Harvey's show. We believe that the recording started at approx. 1:13 pm. The station would have aired the CBS Radio network news followed by local news and weather. We believe that after this things, Ed did a short segment introducing what was going to take place during the hour. Our recording, we believe, starts after the first stop set. We do know that it starts at 1:13 pm as that is what the label says. No air date was listed. Again, we do know that it definitely was during 1964. The tape along with hundreds of others was donated to our archives by the Harvey estate. All of those tapes are digitized and are being preserved for the future. Enjoy!
Listen in Real Audio!
Listen in Windows Media Format!
Next is a WFIL Radio newscast from Wednesday, September 29, 1948. It is the 6:55 am broadcast. While this has been on our website for a decade and a half, this is the first time that it is available in the Windows Media Format! This is also a cleaner, sharper version than had been previously available.
We do not know the newscaster's name. The sponsor is Aristocrat Milk and Ice Cream. Today that company is known as Lehigh Dairies. This recording comes from an original WFIL Radio transcription disc donated to us by member Ed Elias and transferred to tape by member Dave Custis. This digital transfer and restoration was done by our CEO, Gerry Wilkinson last month.
Listen in Real Audio!
Listen in Windows Media Format!
Today's News Becomes Tomorrow's History!
(This is what our Digital Archival Project, DAP, is all about!)
IN TOUCH WITH OUR MEMBERS:
Member Mel Klawansky tells us that the next WFIL Family Reunion will be on Saturday, October 8th from 7 pm until ??? It will be held at the Manayunk Brewery and Restaurant, 4120 Main Street in Manayunk. It's a celebration of the 50th anniversary of the birth of the Famous 56 format. Mel says that this is the last reunion that he's putting together. Updates are always available with your friend Ron Turner's Famous 56.com.
Out of the left side of the country is member Bunny Gibson. We all remember her from her time dancing on American Bandstand. Well, Bunny has been busy acting. She just did her 18th "Funny or Die.com" video. This episode is called "Bathroom Cop" and had received over 4 million hits in just its first few days.
We heard from Barbara Clarke, Herb's widow. She's doing well and has relocated back down south to North Carolina where two of her children live. Barbara told us that when the Clarke moved to Philadelphia in 1958, they expected to remain in the Delaware Valley for two years. Two-thirds of a century later, Barbara finally relocated back down south.
Member Pat Ciarrocchi received the first Cardinal Foley Award at the St. Charles Borromeo Seminary (across from Lankenau Hospital) on May 26th. Pat has been described as "the most prominent Catholic member of the laity" in Philadelphia's mainstream media. Pat was inducted into our Hall of Fame in 2000 and Cardinal John Foley was our "Person of the Year" in 2011.
At the beginning of June, it was announced that Broadcast Pioneers member Yannick Nézet-Séguin was named Music Director of the New York Metropolitan Opera replacing James Levine for the last four decades. Yannick will not take the new position until their 2020 - 2021 season. He will continue with his current post, Music Director of the Philadelphia Orchestra. He just renewed that post until 2026. Nézet-Séguin will be quite busy!
The CBS 3 's Sunday morning edition of Eyewitness News kicked off a new pet adoption segment, appropriately titled "CBS 3's Pet Project," featuring CBS 3 veteran and Broadcast Pioneers member Carol Erickson, a member of the PSPCA's board of directors, Sunday, June 26th Erickson left CBS 3 last July to focus on her commitment to animal welfare in the region. She will appear each Sunday morning in the new segment, a partnership of CBS 3 and the Pennsylvania SPCA. It airs at approximately 7:50 a.m.
Broadcast Pioneers Vice-President Bill Kelley tells us:
In a quiet ceremony on Sunday afternoon, June the 26th, our own Broadcast Pioneers member, Michael Stairs, married Margaret Connell in the Chapel of Bryn Mawr Presbyterian Church.
A LITTLE BIT OF BROADCAST HISTORY!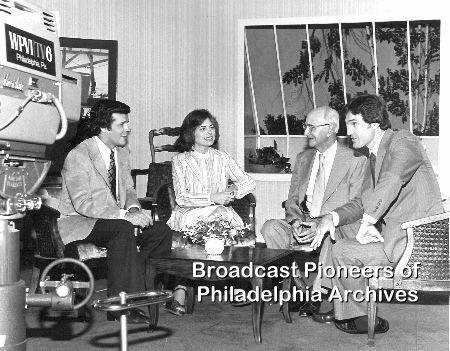 (left to right) Dave Roberts, Claire Carter, unidentified and Jim O'Brien
on the set of "AM Philadelphia"
WPVI-TV, Channel 6, Philadelphia
This photo was originally sent to us by Cary O'Dell of the Library of Congress. He was trying to ID the people in the photo. Well, we can identify three out of the four. We know that the picture dates from 1978 to 1980 because Claire was only on the show for the first two years of the broadcast.
We asked member Dave Roberts why Jim was on the show. Dave replied: "my guess is that is a cause or subject matter which O'Brien supported and thus we helped him to promote that cause." Can anyone ID the gentleman between Carter and O'Brien? By the way, the back of the photo gave his name beginning with a "W" or an "N." Next three letters were "ett" and then two more letters (they may be an "E" and an "R." It's hard to tell because the hand writing on the back is so bad. Can anyone help?
Did you know...
the first television coverage of a US political convention was right here in Philadelphia in 1940. Local coverage on W3XE (now KYW-TV) and "network coverage" on a few stations from NBC.
Initially, it was believed that NBC and Philco coverage were the same with local Channel 3 (owned by Philco) carrying almost twice the hours as the network. However, we now are convinced that the NBC and Philco telecasts were not related at all. They were totally separate feeds. We do know that in the July 1, 1940 issue of Broadcasting Magazine, an article said: "Television audiences for the first time in history viewed a national political convention on their receivers when NBC and Philco sent television crews and equipment to the Republican National Convention in Philadelphia."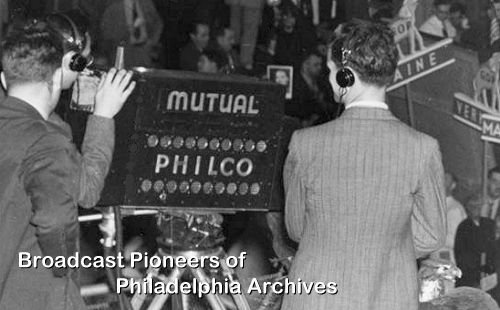 W3XE Camera at the
GOP Convention in Philadelphia
June 1940
The publication showed a photo of a TV camera that said "Mutual" with "Philco" directly underneath. That same article said: "Cooperating with MBS (Mutual), Philco also televised the convention via its experimental television station, W3XE. …Philco served the Philadelphia territory, while NBC used coaxial cable facilities to pipe its pickups to New York." This gave us the first indications that they had separate staff and that Philco was working with Mutual and not NBC.
We now believe that the Philco coverage was made up of Philco video and audio from the Mutual Broadcasting System (radio). This same audio was heard over WIP Radio, the Mutual affiliate in the Quaker City. Mutual announced that their 20 person crew lost 53 and a half pounds covering the GOP Convention. The biggest loss was by famed news comentator Fulton Lewis, Jr. who lost ten pounds.
By the way, by the time that W3XE televised the convention in June of 1940, they had already broadcast over 5,000 hours of programming, according to Philco officials. Keep in mind that none of this was commercial TV but telecasts under the Philco experimental license.
It was the week Wendell Willkie won the GOP nomination for President. This televised event (June 24 to June 28, 1940) was the first time a political convention was broadcast on television. It was the station's first remote, according to Joanne Calabria, KYW-TV. There were fewer than a couple hundred TV sets in the Philadelphia market and most of those were owned by Philco and in the homes of employees. At that time, Philco wasn't even offering television receiving sets for sale to the general public. Philco officials believe that about 5,000 people saw some part of their coverage.
Television screens were also used to present the convention to "overflow" crowds in the exhibition hall of the Commercial Museum of Philadelphia that was next door to Philly's Convention Hall. Local newspaper reports predicted that two thousand people would view the convention from the museum. Included in this crowd were persons unable to obtain seats in Convention Hall. RCA Victor engineers had installed sixty TV receivers in the Commercial Museum. As of that date, the installation of the sets was the largest single installation ever assembled in one spot in the history of broadcasting. It is unknown whether they were receiving the Philco coverage off the air from Channel 3 or an NBC feed via closed circuit from the hall next door. After our investigation, we believe that they were receiving the NBC material, as RCA (who installed the equipment) owned NBC. By the way, at this time, manufactoring televisions was very slow. The RCA plant in Camden turned out less than 10 a day during the beginning of 1940.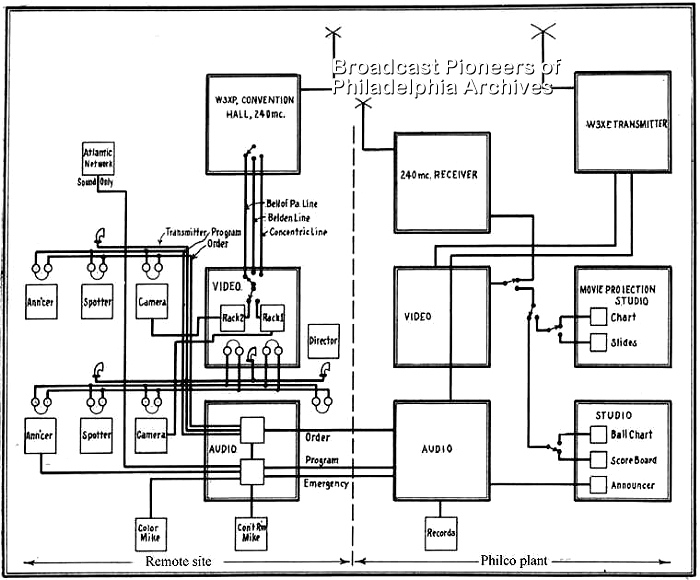 The Setup
Convention Hall & Philco Plant
During this time, Philco (owner of the station at that time) engineers installed an ultra-high frequency relay transmitter with 15,000 watts of power, W3XP, atop Convention Hall (34th & Spruce Streets), in Philadelphia, where the convention was held. It would remain there so that the station could carry sporting events from Franklin Field, a block away.
Once regarded as one of the finest and top auditoriums in the country, Convention Hall was less than 10 years old in 1940 and it could accommodate 15,000 people. It had almost 70 separate meeting rooms and boasted a brand new parking lot, They had an unique but weird idea in the way of air conditioning (large blocks of ice and huge fans - no joke). Convention Hall would be the future home of our area's first Beatles and Rolling Stones concerts.
The political party's meeting opened under an "ominous shadow" according to the Philadelphia Record newspaper in a front-page article dated June 25, 1940. "Lizzie," a 42-year-old elephant at the Philadelphia Zoo died. Of course, the elephant is the symbol of the GOP. The Evening Bulletin had reported the death on page 23, the day before.
Front runners for the Republican nomination for President were New York City's District Attorney, Tom Dewey and Ohio U.S. Senator, Robert Taft (son of President Taft). The Tafts (years later) would purchase Channel 29 in Philadelphia, WIBF-TV renaming it WTAF-TV and making it, their flagship station. Today that station is a Fox O&O called WTXF.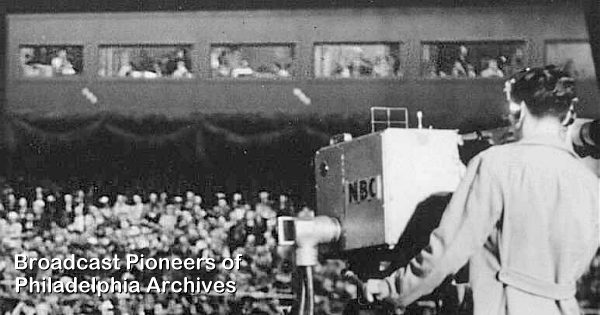 NBC Camera at the
GOP Convention in Philadelphia
June 1940
Philadelphia had gained the convention with a bid of $200,000.00. FDR had won Philadelphia, vote wise, in 1936, but the Philadelphia GOP political machine was still in charge in City Hall. The mayor, Robert E. Lamberton (there's a school in the Overbrook Park section of Philadelphia named after him) was a Republican and spoke to the convention welcoming delegates to the city.
He said: "We hope that all of the time you are here, you will feel that you are among friends. We really want to be your friends. Philadelphia is known as the city of Brotherly Love, and from an experience of fifty years, I can attest that the people of Philadelphia are friendly people. We have among our citizens, persons of every race and every creed, but we live in a spirit of peaceful tolerance. No matter what our ancestry, we are Americans first, last, and all the time. From a political viewpoint, you will be among friends. Philadelphia has a Republican mayor and Pennsylvania has a Republican governor. This city has not elected a Democratic mayor within my memory and Pennsylvania in that time has elected a Democratic governor but once. You have returned to the city where the first national convention of the Republican party was held in 1856."
An aspiring lawyer from Grand Rapids, Michigan was there shouting with many others, "We Want Willkie." His name was Gerald Ford.
News reports of the day said that convention-goers showed great interest in being televised, as well as watching activities on television receivers which were installed in the Convention Hall itself, the Union League Club and the Commercial Museum.
The University of Pennsylvania owned the site and tore down Convention Hall in 2005. Today, the Perelman Center for Advanced Medicine now occupies the space.
There was no live televising of the Democratic Convention that year because of few receivers in the mid-west and no way to connect to the eastern part of the country. NBC did cover the Democrats by using special Pathe newsreels for coverage. The deal called for 1,000 feet of film per day and were to be used exclusively for NBC-TV. Network coverage via film was at 3:30 pm and 9 pm the following day.
Philadelphia remains and will forever be the "birthplace" of the televised live political convention. It happened first in Philadelphia.
This monthly column written and researched by Gerry Wilkinson
Our special thanks go to TUTV - Temple University Television and The Kal & Lucille Rudman Media Production Center.

They have underwritten a grant to be used to fund an entire year of all our newsletters for calendar year 2016. We thank them so much for their support!
MORE DIGITAL ARCHIVAL PROJECT NEWS:
VIDEO:
Broadcast Pioneers member Dawn Timmeney
Bala Golf Club, Philadelphia
Broadcast Pioneers Luncheon
Wednesday, May 19, 2004
Here's another piece of video from the Broadcast Pioneers Archives. Twelve years ago, we recorded our luncheons on a single VHS camera. The recording was made on slow speed. The quality is not what we use today, but we are still thrilled to have it.
Then NBC-10 News Anchor Dawn Timmeney was the speaker at the Broadcast Pioneers of Philadelphia's monthly luncheon on Wednesday, May 19, 2004. Dawn doesn't start speaking for about ten minutes. At the beginning of the tape are remarks from our then Chairman of the Board Bill "Wee Willie" Webber. By the way, you can currently see Dawn on Fox 29.
Watch the video from our YouTube Channel!
(video courtesy of Broadcast Pioneers VP Brad Seecof and Metramedia Broadcasting & Studios)

AUDIO:
Next audio is from April 27, 1968. It's Saturday evening on WRTI-FM. At that time, WRTI was not allowed to play any rock and roll. The faculty that oversaw the station's operation believed that the music was just too wild for college educated people. Little did they know what would follow in years to come.
Well, student management figured a way around this. They called it "folk music." The main folk show was on Saturday evening and was entitled, "Broadside." The student host was Ed Sciaky. Ed had just turned 20 years old earlier that month. While this is Ed in his early days, you can already hear his style developing. We have taken the last 70 minutes of that evening's program and have strung together all of Sciaky's comments.
Listen in Real Audio!
Listen in Windows Media Format!
Here's a several minute excerpt from the very early days of KYW Newsradio. It's October 24, 1965. The all news format here in Philadelphia is just a month old. John Raymond was an announcer from the old days of WRCV Radio owned by NBC. In June of 1965, the FCC forced NBC and Westinghouse to reswap the stations.
In 1955, NBC had forced Westinghouse to trade stations in Philadelphia and Cleveland under threat of all the Group W stations loosing their NBC affiliations for both radio and television. Well, John was a jock on WRCV. When Westinghouse came back to Philly and the station was renamed KYW, John was kept on. Like others, when KYW Newsradio started, he was given the chance to stay with the station and do the all news format.
Member Ralph "Bud" Galow was an engineer at the station for decades. He told us that John never liked the all news format and only stayed with KYW Newsradio until he could find another employment opportunity. He didn't do the news format for long. Well, here's an excerpt on John Raymond on the air doing the KYW Newsradio format. It is the only example of him on the station that is known to have survived. Here it is for the first time in over a half century.
Listen in Real Audio!
Listen in Windows Media Format!
Remember, History is ONLY What Gets Saved!
(If there were no portraits of George Washington, how would we know what he looked like?)
A LITTLE BIT OF BROADCAST HISTORY!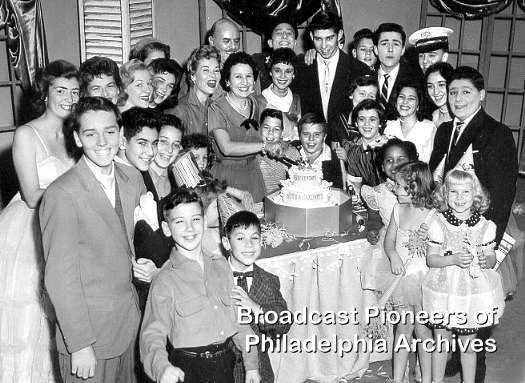 "The Children's Hour" Anniversary Show
WCAU-TV
circa 1955
"The Children's Hour" was a big hit here in Philadelphia for 30 years; first on radio and then on television. The host was Stan Lee Broza, who was this organization's first president. His wife, Esther, along with Stan Lee, were founding members of Broadcast Pioneers. Stan Lee Broza was our "Person of the Year" in 1969. Stan Lee and Esther were inducted into our Hall of Fame in 1993. Member Rita Pascal Pagliei sent us this photo with details of who is in it. Rita is married to Joe Pagliei, former fullback for the Philadelphia Eagles. Here's who is in this photograph:
Back row - Ann Merlin, Susan Brookman (aka Susan Barrett), Trish Dwelley, Carol Rosen, Virginia Lundgren, Judy Lee, Esther Broza, Stan Lee Broza, Rita Pascal, Anthony DiGregorio, Tucker Smith, unidentified, Ronnie Hall and Billy Coryell

Center row - Lenny Cooney, unidentified, unidentified, Patty Mariano, Dean Stolber, Billy Gilchrist, Ann Cooney, Dolly Pascal, Rochelle Ross, Jeanette Simone and Artie Picozzi.

Front row - Bobby Mariano, Stevie Perloff, unidentified, Joann Mariano and Carol Lee Chelius
FYI: Patricia (Trish) Dwelley sang on the Jack Paar TV Show. Judy Lee went on to do news and weather on Channel 3 and she also was featured on NBC's "The Today Show." Patty Mariano (now spelled Patti) went on to Broadway with her brother Bobby. Patti has been in nine different Broadway shows. Dean Stolber also appeared in several Broadway productions
IN TOUCH WITH THE INDUSTRY:
Roger Wood, former Philadelphia broadcaster e-mails: "After months of writing and my wife Elaine Wood's judicious editing, I am proud to announce that my very first novel is now available. Lawson Found is published as an e-book on the Amazon Kindle platform, and is a fictionalized memoir.Derek Lawson, in the turmoil of the mid 1960's, finds himself at a crossroads in his life, torn between his hormone driven need to be loved and his other passion, that of becoming a broadcaster."
KYW-TV news anchor Ukee Washington returns to the Daytime Emmy Award-winning talk show, CBS's THE TALK, as a guest co-host on Friday, July 15 (2:00-3:00 PM), joining hosts Julie Chen, Sara Gilbert, Sharon Osbourne, Aisha Tyler and Sheryl Underwood at the table. This will be Washington's third appearance on THE TALK. Additionally, viewers in the Philadelphia area have a chance to win a trip for two to Los Angeles and receive VIP tickets to "The Talk" on the day Washington appears on the show. Washington was inducted into our Hall of Fame in 2008.
There's such a thing as a PPM or Portable People Meter. It was invented by Arbitron (currently called Nielsen Audio) and is used to determine how many people are listening to a specific station. Major markets use this system. Well, Philadelphia now has a radio station with the call letters, WPPM-LP (Low Power) operating at 106.5 on FM. Is there is any advantage to the station? Well, no one is exactly sure. PPM stations are registered by a meter recording what station the person is listening to. They do not state what station they are receiving. Use of the call letters was approved at the beginning of May 2016.
NBC10 / WCAU announced Krystal Klei will join the station as a weekend morning meteorologist starting Monday, July 11th. Klei joins the station from KVIA, in El Paso where she is currently a meteorologist and website contributor. She is also responsible for developing forecasts for KVIA sister station KECY in Yuma, Arizona. Prior to El Paso, she was a weather anchor and reporter for KAET, the PBS station in Phoenix, Arizona.
CBS 3 and The CW Philly's 10th annual Alex Scott Telethon, a 14-hour on-air benefit for the Alex's Lemonade Stand Foundation, raised nearly $5 million ($4,986,068) for pediatric cancer research, a record for the fundraiser which began in 2007. Over its 10 years on-air, the event has raised more than $17 million for the cause.
Alex's Lemonade Stand Foundation (ALSF) emerged from the front yard lemonade stand of 4-year-old cancer patient Alexandra "Alex" Scott whose lemonade stands for cancer research launched a national fundraising movement that has only grown since her death in 2004. On-air personalities from CBS RADIO also joined their TV partners in the fight against childhood cancers. Former CBS 3 Anchor and Broadcast Pioneers member Pat Ciarrocchi also made an appearance on air in support of the cause
WMMR in association with the Penn-Jersey Blood Services Region of the American Red Cross collected about 1,300 pints of blood. Morning drive air personalities Preston Elliot and Steve Morrison were the very first to give blood. They have been doing this for 11 years now and over that time have collected over 12,600 units of blood.
Telemundo 62 (sister station of NBC 10) will have a 5 pm local newscast come late September. This will be in addition to their daily casts at 5:30 pm, 6 pm and 11 pm. This is being done in 14 of the 17 markets where Telemundo operates. Currently, Telemundo 62 does not have morning newscasts.
A LITTLE BIT OF BROADCAST HISTORY!
(left to right) Governor Dick Thornburgh and Jay Lloyd
Republican National Convention
"Joe Louis Arena"
Detroit, Michigan
July 1980
Here's Broadcast Pioneers member Jay Lloyd at the GOP National Convention during the summer of 1980. He's speaking with Dick Thornburgh who, at the time of the convention, was Pennsylvania's Governor. In 1978, Thornburgh won his party's nomination for Governor over six other candidates including Philly's Arlen Specter. Thornburgh won re-election in 1982. Thornburgh was our state's chief leader during one of the state's biggest disasters, 3 Mile Island. This was the convention where the party selected Ronald Reagan to run for and eventually win the presidency of the United States. In 1988, President Reagan tapped Thornburgh to serve as Attorney General of the United States.
We asked Jay to give us a recollection or two from his time in the Motor City covering the Republicans. Here's what he told us:
My most vivid recollection of the 1980 convention goes back to late afternoon on the day that Ronald Reagan would formally accept the nomination. Henry Kissinger held a news conference and strongly suggested that Reagan had chosen Gerald Ford to be his running mate.

At the time my political Guru was Drew Lewis of Schwenksville who had been Secretary of Transportation. When he heard my tape he seemed flustered, which was not his style. He got back to me within half an hour and suggested that if I was placing a large bet, to put it on George Bush. Bush had been expected to get the nod, but Kissinger was apparently trying to create some buzz for Ford. Nobody would have taken the bet anyway.

Apart from that, there were some great dinners at Jim's Garage (Detroit eatery), fine drinks in Dearborn and interviews with a collection of vendors and hookers who always tend to spice things up a bit.
WE REMEMBER:
Al Dame has died at age 85. He spent almost 6 full decades in the business; half of them in the Harrisburg area. He was the market's first airplane traffic reporter. He later formed Dame Media which was later sold to Clear Channel for 85 million. A year later, in 2000, he purchased broadcast outlets in Pennsylvania and nearby Maryland and sold them a half-decade later. Member Rod "Storm" Phillips said: "Many of us got our start in broadcasting in State College while attending Penn State and working for Al Dame at either WMAJ and WRSC or both! Working for a pioneer like Al comes only once in a lifetime."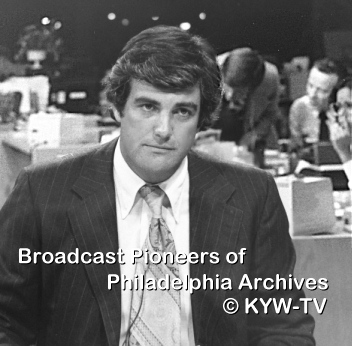 KYW-TV News Anchor Patrick Emory
KYW-TV, CBS 3, Philadelphia
1980
Patrick Emory came to our market from Indianapolis at the beginning of 1980 and stayed until the end of 1981. He was a co-anchor of KYW-TV's "Eyewitness News" at 6 pm and 11 pm where he was teamed up with Beverly Williams. Both co-anchors, Williams and Emory left Channel 3 at the end of 1981 to go to CNN as anchors. Emory worked as anchor at a host of stations including ones in LA, St. Louis, Pittsburgh and Sacramento. He passed away at his home last month in Florida.
Howard Berger, longtime Jersey radio air personality, passed away last month at the age of 89. Berger began in the business in 1964. During his career he interviewed people like Gerald Ford, Frank Sinatra and Cassius Clay, later known as Muhammad Ali. He was there on the scene when casinos came to the Jersey shore. .
ON THE HEALTH FRONT:
On Sunday afternoon, June 26th, Broadcast Pioneers Vice-President Bill Kelley made a visit to long-time member Leon Love, who is presently on Hospice care. Bill shared thought-filled prayers with Leon, his daughter, member Robin Adelman and granddaughter Belle. Leon expressed his gratitude to Uncle Bill Wright, Sr., our Board Members and our entire membership of the Broadcast Pioneers.
THIS AND THAT! Little Bits of Information....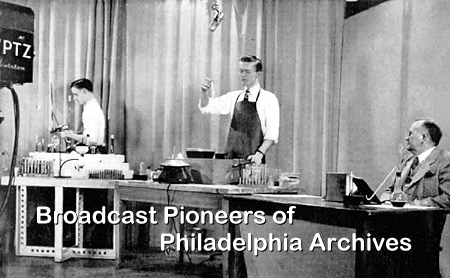 WPTZ Television, Channel 3
1949
The above photo is of a television program called, "Operation Blackboard" that aired over Channel 3, WPTZ, when it was owned by Philco. It's early in 1949 with Girard College High School Students in the Philco studios demonstrating some Chemistry experiments. Twenty different Philco television receivers were installed at Girard College with 90 square inch screens. The half-hour program aired three times a week.
Member Tom Moorehead hosted many different television programs. One of them was called, "Name the Star" and aired for a short time on WFIL-TV Friday evenings at 7:45 pm. In March of 1950, two thousand dollars of prizes were offered for people who really knew their sports. Tom served as this organization's president in 1969 and 1970.
In September of 1950, a local TV guy hosted a Channel 3, WPTZ television broadcast called, "Pick Your Ideal." It aired Thursdays at 1:15 pm for 15 minutes. Clothing was worn by local models and described by Ernie Kovacs. Local viewers had a chance to pick the clothes made by Ideal Manufacturing. If they did, they received the garment in their size.
During 1945, WIBG Radio has a direct line from the station to "The Swan," a local Philly night spot. Every evening the station broadcast the floor show and orchestra performance. Eddie White and the Owen Sisters appeared at the club often.
Member John DeBella came to WMMR in 1982 setting his sights on the city's number one jock, "Harvey in the Morning." Two years later, John was number one with his rapid fire tongue.
It was 1992 when WPVI announced that it was expanding the station's early morning newscast. Instead of 6:30 am, the program would start 30 minutes earlier at 6 am. Today (in 2016), the WPVI morning newscast starts at 4:30 am as does WCAU-TV and KYW-TV. Fox 29 starts their early morning cast at 4 am.
In January of 1943, Dick Olanoff went to WIP Radio as an assistant on their overnight program called, "The Dawn Patrol" hosted by Tome Livezy. Olanoff previously worked for Philadelphia's daily newspaper, "The Record."
In early 1932, the Philadelphia Storage Battery Company (known also as Philco) was granted permission from the Federal Radio Commission (later renamed the Federal Communications Commission) to operate an experimental television station. Back then, it wasn't even called TV, it was visual broadcasting. The new facility would use the call letters W3XE and would operate on the same frequencies as the RCA Victor experimental station.
During 1935, WCAU Radio claimed (and we have no reason to doubt them) that they received 200,000 letters from listeners who were tuned in at 11 pm. They also said that they received many phone calls (most people didn't own telephones at that time) and lots of personal visits from listeners. They also wanted to know which would you prefer to hear on Sunday afternoons, a prime listening time. Your choice was between Father Coughlin or the New York Philharmonic. Both stayed on the air for many years.
In February of 1964, trade publications mentioned that Larry Kane had joined WFUN Radio in South Miami as the station's news director. Larry replaced Joe Leigh who left the station to form his own public relations firm. Larry, one of the articles stated, was previously with WIL in St. Louis where he worked as a newscaster.
On May 12, 1975, WCAU Radio switched to an all news radio format. However, they did say that they were keeping some of their successful features from their previous all talk format. They said that they planned to concentrate the all news format from 5:30 am to 9 pm. Before this, the station did do some experiments with all news in certain hours. This switch put WCAU in direct competition with Westinghouse's KYW Newsradio. Today, both KYW and WPHT (formerly WCAU) are both owned by the same network, CBS.
THANKS FOR THE MEMORIES:
Ernie Kovacs in Philadelphia, Part 3 of 3!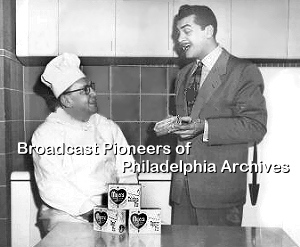 (Left to right) Albert Mathis and Ernie Kovacs
"Deadline for Dinner"
WPTZ, Channel 3, Philadelphia
1950
Member Harold Pannepacker, who worked for Channel 3 for a half century (he was also a past President and past chairman of the board of this organization) was well known for this story. He said that in this business, there were always hangers-on. You know, kids who wanted to work in television. There was this one guy who spent so much time at WPTZ that the staff thought he worked there. One day, a new employee was hired and the kid said, "Why would you hire somebody when I'm here. I want and need a job." Penny (Harold Pannepacker) said, "My God, we thought you already worked here." The hanger-on was Andy McKay.

Jack Kennedy who ran camera and did some ADing (Assistant Directing) for WPTZ thought that McKay was the genius behind Kovacs. It was Andy who thought up the ludicrous situations for the show. Jack once said that Andy was more Kovacs than Kovacs. When Ernie would put a book on the table and the book would slide around, that was Andy's doing. He would spent days just digging through different kinds of props.
Native Philadelphian Roy Neal worked at WPTZ, Channel 3 in Philadelphia when Ernie Kovacs was there. Roy left the station just about when Ernie did. Roy joined NBC-TV news in Los Angeles and stayed for over 3 decades. Many people will remember Neal from his fantastic coverage of U.S. Space Missions. Roy Neal sent us this e-mail many years ago:
...I remember very well the time that Ernie Kovacs and I got together there (in Los Angeles) and decided that a couple of Philadelphians should have some Hollywood fun. I was Producing and Coordinating for an NBC show called "Wide, Wide World."

Poolside at the Beverly Hills Hotel, where he was staying, we set up a package that wound up live on the network a few weeks later.

Ernie tooled up in a chauffeur driven limousine and was welcomed by the hotel manager. Puffing on the cigar that was his trademark, he worked his way through...famous faces that we had put in place. If memory serves, I think his pals Groucho Marx and Jimmy Durante were among them.

He went into the polo lounge, where Greer Garson was staging a party that we had arranged. Kovacs took over, or course. Even brought in the Nairobi Trio and Edie. A good time was had by all.
Broadcast Pioneers member R. Alan Campbell has e-mailed: "I watched the Kovacs show before I went off to school as a youngster.... Edie Adams was his sidekick.... He did a lot of the same stuff he brought to his New York based TV show where Edie Adams, his wife, was the 'Muriel Cigar' girl...on ABC-TV.... I remember (Broadcast Pioneers member Randy) Kraft on some Kovacs newscasts."
Jackie Phillippe, a visitor to our website e-mailed:
I do not know if you will have an interest but when I was fifteen (now seventy one years old), I appeared on "Kovacs On The Corner" in 1952. ... On that show I ...participated in what Ernie called, "swap time." I swapped a "derby hat" for an eight and a half pound piece of ice. Also, Ernie had trouble pronouncing my name when interviewing me....

Edie Adams sang two songs, "It's Wonderful" and "It Might As Well Be Spring" backed up by The Dave Appell Trio. ...There was an operatic spoof with a woman singer and Pete Boyle, alias Chuck Wagon Pete. At the end of the show Ernie takes an orange out of a slop can and cuts it open, inside are the words "It's Been Real."

...I still have my EEFMS (Early Eyeball Fraternal And Marching Society) card from WPTZ's "Three To Get Ready," that I received about fifty-eight years ago. ...It really was the "Golden Age Of Television." I was blessed to be there and to have been a small part of it.
We asked Broadcast Pioneers member Allen Stone (who is best known as a Famous 56 newscaster) to tell us a little about his days working with Jack Barry and Ernie Kovacs at WTTM in Trenton, New Jersey. Allen writes to us:
It was the forties. Intent on seeking a career in the theater, I had completed a year at the renowned American Academy of Dramatic Arts in New York where I fell in love with the radio classes. Returning to my home in Trenton, New Jersey, I became acquainted with the two staff announcers at radio station WTTM, Jack Barry and Ernie Kovacs.

Jack convinced me that I should abandon seeking a career in the theater. He convinced me that broadcasting was the place to be and invited me to join him and Ernie on the WTTM announcing staff. Preparing to take up my position, I asked Jack what would be my first assignment. He told me to consult with Ernie who had a job behind the cigar counter at the nearby drug store. In later years when he became a TV and movie star, the ubiquitous cigar would become his trademark.

Approaching Ernie, I told him Jack had advised me to ask him what my first assignment would be at WTTM. Ernie explained that he was doing a mystery serial every Saturday called "Paris Greene, The French Detective." I asked why the title. He told me Paris Greene was a French poison and my first on-air assignment would be on that program the following Saturday. I asked what my role would be. His answer? "You will be the dead body found in the first act!" (Remember, this is radio!")

In time, Jack would go on to become a nationally famous and handsome TV quizmaster, his ordinary looks transformed by plastic surgery. Ernie would leave WTTM to become involved with the experimental Philco TV station in Philadelphia that would become KYW-TV. I followed Ernie to Philadelphia as an announcer at WIP. He went on to Hollywood where his comedic talents catapulted him to show business prominence.

Tragically, Ernie died in an automobile accident on the West Coast in January of 1962. Jack's life was cut short when he was fatally stricken while jogging in New York's Central Park.

Jack Barry was cocky, manipulative and self assured. Ernie Kovacs was as neat a guy and as clever a comic as I've ever known.
Broadcast Pioneers member Marlin Taylor writes to us:
I was interested to see the WTTM call letters and the name Ernie Kovacs. WTTM always had a broadcast booth at the New Jersey State Fair and I became a great fan of Ernie's when, I believe [in}the Fall of 1950 (it was 1949 actually), he allegedly did eight straight days of broadcasting without sleeping, Sunday through Sunday. While many hours were filled with DJ time, WTTM was an NBC affiliate which allowed him breaks during daytime and evening hours (during which engineer friends said he took catnaps). I believe this stunt was what led to his opportunity to be hired to open up the early morning hours of 7:30 to 9 on WPTZ (that actually came later into his time at WPTZ. His first show was a cooking program, Deadline for Dinner).
In a trade publication ad (May 22, 1950), WPTZ said this about Ernie's "Deadline for Dinner":
As an important feature of our afternoon program schedule, "Deadline for Dinner" not only gives the housewives of Philadelphia some mighty useable ideas for tomorrow night's dinner but brings in outstanding Philadelphia chefs to tell them exactly how to prepare the dishes.

The program, part of WPTZ 3 pm cooking strip, is on the air Monday and Tuesday immediately following "Hollywood Playhouse," the hour-long daily feature picture. (Writer's note: According to the station at that time, 25% of all sets in our area were on and tuned into the movie.)

Results from "Deadline for Dinner" in the three weeks it has been on have ranged from from excellent to staggering! For instance, the other day the chef of the Hotel Warwick demonstrated how to make Shrimp Lamaze, the hotel's famous and once secret specialty. The first mail brought 1,300 letters requesting the recipe! After that, we lost count but it seemed like everybody wrote us including a chap who owed us money who said he still couldn't pay but wanted the recipe anyway.

With four years of post war experience in producing cooking shows, facilities which include three full-scale working kitchens for both gas and electricity, WPTZ certainly should know how to make the most of such programs.

If you have a food or household product and want to reach the 435,000 television homes in Philadelphia at reasonable cost, "Deadline for Dinner" is a steal. This successful program is now available either on a participation or fully sponsored basis.

(Writer's note: Please see that there was no mention of Ernie Kovacs in this copy. There was a photo of Ernie on the set with a guest and a chef. However, no one including Ernie Kovacs was identified in the ad.)
The Back Half of Sonny Fox and Bob Leonard, Part 2!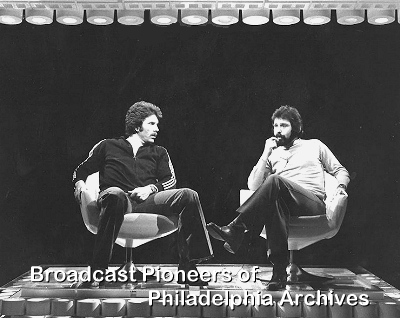 (Left to right) Mike Schmidt and Bob Leonard
"Fox and Leonard Go to the Movies"
WPHL-TV, Channel 17, Philadelphia
January 1978
Sonny Fox and Bob Leonard blazed through the Philadelphia airways on WYSP in the mid and late seventies. This is the second part (of two) of Bob Leonard's own story written in his own words. They led the market when two-man disc jockey teams were almost unheard of. Here's the conclusion of what he wrote:
Being the "Leonard" half of the team didn't hurt when it came time for perks and this was a good one. Veteran's Stadium was filled with luminaries. Rick Wakeman and Mick Jagger were part owners of the new team. Paul Simon was there. James Taylor had lagged behind just a bit because he was holding the door for "regular folk" who had come to the extravaganza.

I told a joke and the woman in front of me swung her head around and laughed. How flattered I was when I realized that I had just gotten a mouth full of Gilda Radner's hair. Like I said, this was a star-studded event and the stands were packed with people who probably couldn't have cared less about soccer, but, were fans of the likes of Yes, the Rolling Stones and Fox & Leonard.

I couldn't help but notice the amount of people in the stands. And, here I was, on the field as part of "the show." I saw that Peter Frampton was an honorary co-captain of the opposing team. Not a bad choice, as "Frampton Comes Alive" had been released a short time earlier. It was recorded live at Winterland and had soared to the top of the charts. He was riding high with a huge hit record.

As I crossed the field towards him, I held out my hand to shake his and when I got close enough, I introduced myself. "Hi, Peter, I'm Bob Leonard from WYSP. I'm the honorary co-captain of the other team. Welcome to Philly." He looked at me, turned and walked away, completely ignoring my greeting and my hand.

A lot of people witnessed this cold shoulder, so it came as no surprise the next day when I was on the air and the promotion person walked into the studio to announced the arrival of Peter Frampton who was going to come on my show to plug the album and try to pick up a few more sales. "Not on MY show," I said and I asked the promo guy to close the door behind him.

The general manager then came in saying, "Hey, that's Peter Frampton, don't you realize that he has the #1 album in the country?" "Yes, I do," I responded, "If you want him on the air that badly, YOU do the interview." and I walked out of the studio. Peter Frampton did not go on the air at WYSP that day but, fortunately, I had ratings and I still had my job.

After my stint at WYSP, I moved on to WLS in Chicago where I was, once again, relegated to the position of disc jockey, reading image liners and "playin' the hits." After 2 years or so, I moved on to WEFM to do a morning show playing beautiful music because it paid the bills. One day I received a call from a young programmer in Canada, but originally from Philly, named Robert G. Hall.

Robert was familiar with Fox & Leonard and was calling to tell me about an experimental project that he was involved with. It was a satellite delivered radio network that would provide 24 hour formats for small and medium markets from coast to coast and beyond. It was a very ambitious venture. There had been a few individual shows sent to stations this way but never programming that ran 24 – 7.

I was being offered the morning show on the adult contemporary format and my timing and placement couldn't have been better. The network had to broadcast from the south suburbs of Chicago because WGN had its satellite uplink there and, as the technology of the times dictated, it was the only place in the country we could broadcast from. I just happened to live there and hated my job, so my answer, even with the mediocre pay they could afford, was an unqualified, "When do we start?"

We physically built the studios ourselves in a strip mall in Mokena, Ill., a suburb about 30 miles south west of Chicago and about 4 miles from my house. We dubbed all the music from vinyl onto carts and, on October 1, 1981, I became the first person to turn on a microphone on the Satellite Music Network.

We started with two formats and two affiliates and never knew, from week to week, whether the checks would bounce. We struggled through all kinds of issues and would often have to brainstorm to come up with solutions to problems that had never before existed. Before long, we became a success, added formats and were, eventually, were sold to ABC.

We were now the ABC Radio Network and growing in leaps and bounds, trying to fend off the other companies that were trying to knock this upstart off its throne. That gave way to the Clear Channels and Cumuluses that would come along and monopolize the radio business so that people like Howard Stern and Ryan Seacrest could make obscene amounts of money off the ideas that we had implemented, fine tuned and ran on a shoestring. You're welcome!
What Kids Liked!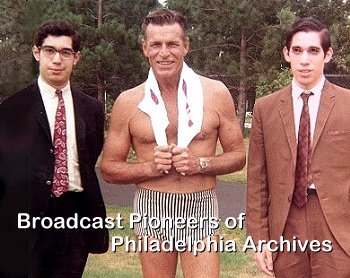 (left to right) Steve Vertlieb, Larry "Buster" Crabbe and Erwin Vertlieb
Concord Resort Hotel
Kiamesha Lake, NY (Catskill Mountains)
Photo originally donated by Steve Vertlieb and The Gull Cottage
1969
Member Steve Vertlieb wrote this about his memories of childhood television:
When I was a little kid, prior to the Civil War, I had an imagination as fertile and as wide as my large brown eyes, dreamily filled with awe and wonder. My dad brought home our first television set in 1950. It was an old RCA Victor TV with a screen not much bigger than my youthful head, but I was glued to its black and white imagery like flies on butter. I was but four years old. In those early days of television, programming didn't even begin until late afternoon or the dinner hour, but I would sit in front of the little brown box staring longingly at the Indian head portrait frozen in Cathode promise.

Now, I was a shy, sensitive, deeply impressionable lad at the age of four and, to tell the truth, not much has changed since I recently turned seventy. My best and, indeed, only friend was my little brother Erwin who enthusiastically shared my youthful dreams and imagination. We remain best friends to this day.

Erwin and I were quickly lost in the fantasy worlds of children's television, and those illusory images became our dearest friends, and most trusted confidantes. Local television stations joined their more prominent network incarnations, and soon began broadcasting their very own original programming for "neighborhood" consumption.

One of the most ambitious of these local origination programs was a "live" daily western adventure shot in the parking lot of WCAU TV up on City Avenue. "Action In The Afternoon" aired every weekday afternoon in the early fifties, and shot up the eastern sky with cowboys, horses, saloons, and crackling shootouts.

They also aired a wonderful series for kids hosted by Gene Crane, and his companion "Willie, The Worm." I remember, with a soft Winter's glow, each Christmas as Gene and Willie would sail off improbably to visit Santa's busy workshop at The North Pole. Alan Scott hosted another popular children's series with "Mr. Rivets," and featured Alan (a distant cousin, I was told) with his mechanical companion, a friendly robot who'd accompany Scott on exciting adventures, much in the same fashion as Gene and Willie.

However, my favorite kiddie television host was Uncle Pete, a beloved old man with receding white locks and a mischievous laugh that enchanted children throughout the Delaware Valley in which I lived. He was a kind, loveable old coot. On WPTZ, Channel 3, he hosted classic black and white horse operas, featuring the likes of Hopalong Cassidy, Buck Jones, Hoot Gibson, Bob Steele, Tom Mix, Roy Rogers, and Gene Autry. The weeknight program was called "Frontier Playhouse," and pictured a vintage drawing of a careening stagecoach as its logo.

WPTZ, incidentally, also introduced another local talent to Philadelphia audiences way back in the primeval fifties. He was a young, untried comic with a walrus moustache, and a cute blonde assistant who, as it turned out, became his wife after he left the station. This character artist had come from WTTM Radio in Trenton, where his wildly experimental humor led to a contract on Philadelphia television during those early years of the nineteen fifties. I can remember watching his antics each morning as my mom dressed me for Kindergarten and grammar school. He went onto a career in movies and television eventually. The young, pretty, blonde assistant by his side each morning was Edie Adams, and the Thomas Alva Edison of experimental comedic sketch comedy was, of course, Ernie Kovacs.

Back to Uncle Pete, he soon graduated to daily early afternoon hosting duties. I'd come home from school for an hour each day for my afternoon meal and watch this strangely familiar buckskinned wrangler. His full name, by the way, was Pete Boyle and, if this stirs a familiar recollection, he was the father of "Young Frankenstein" star Peter Boyle (who for awhile ran camera on his dad's program).

Many years after Pete lost his beloved local television gigs, I encountered him outside a tobacco shop in downtown Philadelphia. He always had his trademark cigar perched precariously in his lips. I had accompanied my mom for lunch and shopping at Wannamaker's Department Store and there, as big as life, across from the store, stood my Uncle Pete Boyle chatting with another patron of the tobacconist.

I told my mom that I'd meet her in the store, that there was a man who I simply had to meet. I walked up to this now elderly Pygmalion who had helped to shape and mold my early life, and told him how much he had meant to me those endless years ago, and that I would always love him. He related how embittered and heartbreakingly disillusioned he'd become when the station that had promised him lifelong employment had callously dumped him for a younger "clown," and forcefully deposited him into an unwelcome retirement. Pete had a brief, if unmemorable, stint on Channel 12 when it was a commercial station, and died not long after our meeting, but I always felt grateful that I was able to tell my cherished Uncle Pete how much I had, and always would love him.

One of Pete's nightly staples on "Frontier Playhouse," and lunch time events, was running a daily chapter of a thrilling "cliffhanger." More commonly known as "serials," these exciting fifteen or twenty minute episodes would usually place the hero and heroine in mortal peril, and end each week with a violent, precarious death defying finale from which no human being, either real or imagined, could ever realistically hope to be rescued from.

Among the first and most certainly revered of these fantastic adventure sound serials were "Zorro's Fighting Legion," produced by Republic Pictures in 1939, and starring Reed Hadley as the dashing Zorro, and "Flash Gordon," produced by Universal Pictures in 1936, and starring every young lad's heroic wish fulfillment, Larry "Buster" Crabbe. "The Phantom Empire" produced by Mascot Pictures in 1934 became one of the first science fiction serials, if not the first of the sound era, and certainly the most visually impressive of those early chapter plays. While understandably dated by today's standards, its imaginative concept of an underground, futuristic city, hidden from detection by the modern world above, remains a remarkable cinematic achievement.

Many of its exterior shots of the fabulous underworld city of "Murania" were actually filmed outside the rather spectacularly modern facade of Griffith Observatory deep in the suburbs of Los Angeles. It also served to introduce a radio cowboy singer named Gene Autry to the screen.

Now, Reed Hadley donned Zorro's mask and cape with regal attainment. His deep majestic voice commanded awe and consummate respect by any child ever lucky enough to be seated in a darkened movie theater. His black costume, mask, and hat, along with his crackling whip and magnificent white stallion represented one of the most fabulous images of my early childhood. He was simply breathtaking to behold, especially to a sensitive six year old, when I first encountered both "Zorro," and the warrior champion of the stars, "Flash Gordon," somewhere around 1952.
Next month, we'll run the conclusion of this piece about childhood television of the fifties.
A LITTLE BIT OF BROADCAST HISTORY!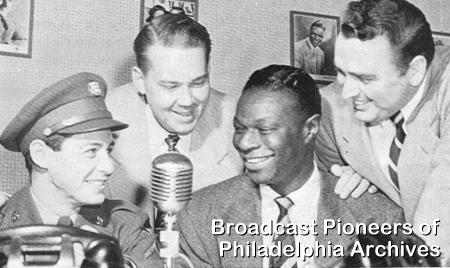 (left to right) Eddie Fisher, Joe Grady, Nat King Cole and Ed Hurst
WPEN Radio
"The 950 Club"
1951
At the time of this photo (sent to us by member Charlie Mills), Eddie Fisher had just been drafted into the U.S. Army. Fisher had 17 songs in America's Top Ten between 1950 and 1956. Two years after this pix, Eddie starred in his own TV show, "Coke Time" (sponsored by Coca-Cola). It was during the era of this photograph that Nat recorded what would be his signature tune, "Unforgettable" and Grady & Hurst were flying high on WPEN Radio.
OUR HATS OFF TO YOU FOR GIVING:
We are a federally recognized, state chartered charity with a 501(c)(3) status. Contact us at (856) 365-5600 or e-mail pioneers@broadcastpioneers.com for more details. Your gift to Broadcast Pioneers will help us and may lower your federal income tax. That's win-win, isn't it?
Special Thanks (in alphabetical order) for the gift of Appreciated Stock: (a federal tax advantage for the giver)
Member Marc Howard - $3,600 (put into our general fund to be used where needed)
Member Sylvia Kauders - $5,159.45 (used for the scholarships listed below)
Member Dan Lerner - $5,217.80 (used for the scholarships listed below)
Special Thanks (in alphabetical order) for contribution of $1,000 or more to our DAP, Digital Archival Project:
Member Elliot Abrams - $1,000
Member Jerry Del Colliano - $1,000
Member Johnny B. Hall and wife Ginny - $3,000
Member Harry Hurley's Golf Tournament - $1,000
Member Glenn "Hurricane" Schwartz - $1,000
Member Marlin Taylor - $1,000
Special Thanks (in alphabetical order) for April 2017 Scholarships:
Member Johnny B. Hall and his wife, Ginny - 6 scholarships
Member Harry Hurley's Golf Tournament - 1 scholarship (for a Stockton University student)
Member Sylvia Kauders - 1 scholarship (from a grant for 5 yearly scholarships running until 2019)
Member Kal Rudman - 5 scholarships (for Temple University students)
Member Marlin Taylor - 1 scholarship
Special Thanks (in alphabetical order) for a contribution of $500 or more to our DAP, Digital Archival Project:
Member Esther Kurtz - $500
Member Marian Lockett-Egan - $500
Member Art Moore - $500
Member Rod "Storm" Phillips - $500
Underwrite a complete scholarship and we'll give you credit in the electronic newsletter until the scholarship is awarded in April of 2017. Give us a donation of appreciated stock of $2,000 or more) and we'll list you in our "Thank You" column for two years. Give us a donation of $1,000 or more and we'll list you in our "Thank You" column for a year. Give us a donation of $500 or more and we'll list you in our "Thank You" column for six months. You can select how we use the money: for our archival project, for scholarships or for our general fund to be used as needed.
More Thanks:
We would love to give kudos to those of you who gave an extra contribution to Broadcast Pioneers when you paid for your June luncheon. They include: Eric Address, Paul Big Bear, Mike Bove, Diego Castellanos, Bill Kelley, Carol Leebron, Dorie Lenz, Marian Lockett-Egan, George Mihalcik, T. Morgan, Steve Sacks, Steve Tatz, Lydia Timmons, Gerry Wilkinson, Norm Donahue, Robin Mackintosh and John Johnson. Thanks to Suzzie Byron, a non-member for her recent donation.
We have heard from alot of our members on membership renewal. These members included an extra contribution with their renewal. We thank them so very much. They include: Jerry Klein, Dorie Lenz, Bruce Greenberg, Pat Ciarrocchi, Ed Eisen, Ruth Leon Weiman, Kenneth Selinger, Constance Webber, Larry Kane, Michael Stairs, Donald Rosenblit, Paul Gluck, Stephen Selber, Joe Ball, Bob Kravitz, Cindy Keiter, Dave Roberts-Dahms, Bob Perkins, Bill Kelley, Bill Roswell, Marilyn Heine, Esther Kurtz, Bob Craig, Mike Bove, Gil Thompson, Tom Lamaine, Linda Munich, Richard Maloney, David White, Vince Leonard, Kennard Brown, Steve Tatz, Ed Cunningham, Debbie Lynn Elias, Chuck Gagliardi, Bill Gellhaus, George Finkel, Michael Muderick, John Johnson, Charles McKibben, Kathy Earley, Don L. Brink, Bob Backman, Gerry Wilkinson, Rob Jennings, Philip Shuman and Anthony Di Florio.
A growing portion of the revenues that fund the different activities of the Broadcast Pioneers comes from donations. This includes our archival project and our scholarship program. Now, we are making it even more beneficial for our donors. Broadcast Pioneers is now able to accept gifts of appreciated stock, which provides a significant tax benefit to you. By giving appreciated stock (stock which is worth more now than what it cost when it was purchased), you can get a charitable contribution tax deduction based on the current market value of your stock. At the same time, you avoid the capital gains
tax that would arise if you simply sell the stock. So if you'd like to support our educational mission or our archival project and save money on taxes too, please consider making a gift of appreciated stock. We are a federally recognized, state chartered charity with a 501(c)(3) status. Contact us at (856) 365-5600 or e-mail pioneers@broadcastpioneers.com for more details.
Don't be left out. You too can make a pledge. It's never too late. You can earmark it for scholarships, our Digital Archival Project or our general fund. Thanks so much for your support. If you forgot to make an extra contribution (cash or memorabilia) and would like to do so now, you can do so. We would be thrilled to hear from you at: PO Box 2886, Bala Cynwyd, PA 19004, call us at (856) 365-5600 or e-mail us at: pioneers@broadcastpioneers.com.

A FINAL THOUGHT....
A well-known teenage singing idol also played the trumpet.. He did this before starting his singing career. This future star said about the horn:
"I'd practice four, five hours a day. When it was hot, I'd fill a bathtub with cold water and sit in the tub and play."
Frankie Avalon
as quoted in the unpublished manuscript
of member Harry Harris called
"TV Star Secrets"
(The only copy of this manuscript resides in our paper archive)

Please contact us by e-mail at newsletter@broadcastpioneers.com or by mail to: Broadcast Pioneers of Philadelphia, PO Box 2886, Bala Cynwyd, PA 19004. Your stories are important, to you, to us, and your colleagues. Contact us today and we'll include your story in the next newsletter!

© 2016, Broadcast Pioneers of Philadelphia
All Rights Reserved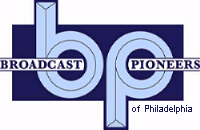 The e-mail address of the Broadcast Pioneers of Philadelphia is pioneers@broadcastpioneers.com
For luncheon reservations call (856) 365-5600 or e-mail us at: rsvp@broadcastpioneers.com