| | |
| --- | --- |
| | Broadcast Pioneers of Philadelphia is a federally recognized, state chartered 501(c)(3) non-profit organization serving the Philadelphia Broadcast Community since January of 1962. |
July Summer Tour
WPVI, 6 abc, Philadelphia
Wednesday, July 19, 2017

July Summer Tour
WPVI, 6 abc, Philadelphia
Wednesday, July 19, 2017

July Summer Tour
WPVI, 6 abc, Philadelphia
rsvp@broadcastpioneers.com
Another Third Wednesday Event!
Wednesday, July 19th, 2017!
A Tour of WPVI, 6 abc - FREE
Sorry, All Tours are Filled!
Waiting List only
for members & their guests
ONLY E-MAIL REQUESTS ACCEPTED!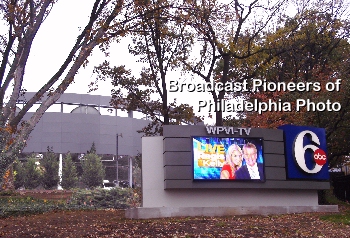 WPVI - 6 abc
4100 City Avenue, Philadelphia
October 2010
(photo by member Gerry Wilkinson)
GO ON OUR WAITING LIST!

Well, it's been 8 years since we last toured WPVI, 6 abc. Our membership has doubled in that time. Make your reservations to visit Channel 6 and see how things work from the inside. See the new Action News set.
There will be five tour times: 10 am, 11 am, 12 noon, 2 pm and 3 pm. All tours are now filled. Waiting List/Stand By requests only and those are only for members and their guests.
YOU MUST ARRIVE 15 MINUTES BEFORE YOUR TOUR STARTS! Because of the sheer volume of Broadcast Pioneers attending this event, there will be no parking permitted on the 6ABC parking lot. With all of us, there just wouldn't be any parking spaces for their employees. Parking is available in the nearby areas including the hospital's lot (next to WPVI) for $5.00. You may be lucky enough to find street parking (but don't count on it). Public transportation stops at the corner.
E-mail requests to rsvp@broadcastpioneers.com. Sorry, only e-mail requests now being accepted. No more phone requests! BE SURE TO TELL US WHICH TOUR FOR WHICH YOU WANT TO BE ON THE WAITING LIST! Each tour is limited to 20 persons.
At these tours, we will be announcing who is our 2017 "Person of the Year." Also, we'll be telling you who we will be inducting into our Hall of Fame at our annual banquet in November.
WANT TO GO ON A WAITING LIST IN CASE SOMEONE CANCELS?
(SOMEONE USUALLY DOES)
If space becomes available on your chosen tour, we will let you know.

WE WANNA SEE
YOUR FACE IN THAT PLACE!

Visit Our Website Often - http://www.broadcastpioneers.com
You should check the front page of our website often (link above) for important information!
Tune in to our YouTube Channel - http://www.broadcastpioneers.com/youtube
Our YouTube Channel has all our luncheons, exclusive interviews and archival material!
Check out our Facebook Page - http://www.broadcastpioneers.com/facebook
There are things on our Facebook Page that are NOT on our website (like our vintage photo of the week)
Go to our Twitter Account - http://www.broadcastpioneers.com/twitter
The Broadcast Pioneers Twitter Account has info and stuff not available elsewhere!
Go to our Instragram Section - http://www.broadcastpioneers.com/instagram
Here's another one of our social media sections. Visit it as often as you wish!

REMINDER!
IF YOU HAVEN'T PAID YOUR DUES BY NOW...
YOU'RE LATE!!!
Please note that six weeks ago, we snail mailed your membership renewals. If you haven't paid by now, you are late. 30% of our members haven't sent their renewals in yet! Are you one of them? If you believe that you didn't get a renewal notice, please let us know and we'll send you another one (this time by e-mail).
If you joined in the past couple of months, you may have received a form, but you are not required to pay any dues at this time. The form will tell you whether there is an amount due. We sent the form so we could verify that all the info we have is still correct. The next membership directory will be printed before you know it.
WE DO NOT SEND YOU MULTIPLE NOTICES! THIS WILL BE THE ONLY NOTICE FOR RENEWAL THAT YOU WILL RECEIVE.
IMPORTANT!
If you haven't already done so, kindly return your form and check at your earliest convenience. Please also note that on the form is an important little box that you can check if you would like to make a contribution. Our archival project is becoming an expensive thing to do. It costs us over $9,000 a year just to store all our archival material. That averages out to about $18 per member. If you can can afford it, please help us in this important project. We are a federally recognized, state-chartered charity with 501(c)(3) status. That means your gift is fully tax deductible to the fullest extent allowed by law. Your tax advisor will give you complete details. Any additional amount will be greatly appreciated! Large or small!
If you are not sure whether you paid the 2017 - 2018 dues, e-mail us and we'll let you know whether you are up to date. We thank you for your continued support! It's people like you that make this a wonderful organization.

NEW MEMBERS TO BROADCAST PIONEERS:
FULL MEMBERS:
Claire Kasser has been in our business since 1945. That's not a typo. More than two-thirds of a century ago, she appeared on the "Colonel Bill" program on KYW Radio. She appeared in many different plays over the years and was cast as the daughter of Pietro on one of the first soap operas in the television world. It was on NBC (only a small number of stations at that time) and originated from Philadelphia's WPTZ, Channel 3.
S. Thomas Dorey has been in our wonderful industry for over a half-century. Back in the mid-sixties, he worked at WFIL-TV, Channel 6. Than he went to Channel 17, WPHL-TV and then to WCAU-TV, Channel 10 where he stayed for over a decade, a lifetime in this business. Next, he went to E. J. Stewart for a decade and then on to the CBS Television Network where he worked for almost 30 years.
ASSOCIATE MEMBER:
Michael Murphy is rather a newcomer to our field. He just graduated from West Chester University with a GPA of 3.4. He was General Manager of WCUR Radio, the campus radio station and was host of a sports-talk program. He also wrote for the campus newspaper and produced a weekly show on WCHE Radio about high-school football. He has done work for Comcast SportsNet and Fox 29.
We are thrilled to have over 500 Members. More than ever. We hope to see as many of our members as possible at our free tour of WPVI-TV, Channel 6. Make your reservations now!
DIGITAL ARCHIVAL PROJECT NEWS:
VIDEO:
Some of the attendees at our event
Broadcast Pioneers of Philadelphia Luncheon
at the Bala Golf Club, Philadelphia
Wednesday, June 21, 2017
Last week, the world celebrated 85 years of Channel 3. It's one of America's earliest television stations. While they went through several owners and lots of managers, Channel 3 (now known as KYW-TV, CBS 3) has always been dear to people in the Delaware Valley.
Our MC for the afternoon was the ever popular Pat Ciarrocchi, former anchor and reporter for KYW-TV, CBS 3.
Included in this jubilee were the following speakers (in alphabetical order): Anne Amico-Mirkin, Carol Erickson, Irv Grodsky, Trudy Haynes, Ed Hurst, Tom Lamaine, Robin Mackintosh, Gary Mirkin, Dick Sheeran, Marciarose Shestack and Mike Strug. Also saying a few words was Stephanie Lester (Claire Kasser) who was on one of the station's soap operas two-thirds of a century ago.
On Wednesday, June 21st, we had a wonderful luncheon where we all celebrated the first 85 years of Channel 3, now known as KYW-TV, CBS 3. You can watch it all via our YouTube Channel. Click on the link below.
(video courtesy of Broadcast Pioneers VP Brad Seecof and Metramedia Broadcasting & Studios)
AUDIO: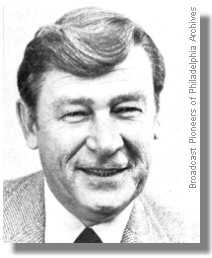 Bill Gregory
KYW Newsradio Publicity Photo
1980
Here's a clip from KYW Newsradio. It dates from Sunday, January 10, 1971. The audio has been updated and previously was only available in the Real Audio format. Now, it is in both the Real Audio and in the Windows Media formats. This excerpt is from about 1:45 pm. The news anchor is Bill Gregory.
When we put this audio on our website back in 2001, we didn't know the correct date. That was sixteen years ago. The box that the original tape was in said October of 1971. We started with the idea that October '71 was the correct time period. However, shortly after it went on our website, we received an e-mail from a visitor to our site, William Brown of New York City. He was able to date the material precisely.
Listen to this excerpt from when KYW Newsradio was about five years old. In two months from now, KYW Newsradio will celebrate its 52nd anniversary. Here's Bill Gregory from 1:45 pm on Sunday, January 10, 1971.
Listen in Real Audio
Listen in Windows Media Format
On the Talk of Philadelphia (the Ed Harvey Show) for February 2, 1965, Ed's guest was Sergio Rojas, the former Cuban Ambassador to the United Kingdom. Rojas was in exile here in the USA.
Let us tell you a little something about this recording. First, it was recorded off air with a microphone in front of a radio speaker. So the quality is not the best. Also, the person recording this stopped and started the tape. Therefore, after commercials, it didn't start cleanly. We decided to leave the recording as it was and not clean it up to any real extent. Because of this, we know parts of the broadcast are missing. That's how they were on our original tape. However, it is the only known copy of that show in existence today. Ed's program was on afternoons on WCAU Radio (now WPHT).
This 44-minute recording comes from two hours of Ed Harvey's radio show. It's Tuesday afternoon, February 2, 1965. The station is WCAU.
Listen in Real Audio!
Listen in Windows Media Format!
Today's News Becomes Tomorrow's History!
(This is what our Digital Archival Project, DAP, is all about!)
IN TOUCH WITH OUR MEMBERS:
Broadcast Pioneers members Michael Nise, Bill Kelley and Bill Wright, Sr. will be receiving the Golden Heart Award at the Knesset Israel Synagogue, Old York Road and Township Line Road in Elkins Park. The date is August 12th and the time is at 6:30 pm. Each year people are selected who are known for their "golden heart" in service to the area.
Beasley Media Group told us that 102.9 WMGK-FM's 11th Annual John DeBella Veterans Radiothon raised over $154,000 to benefit local veterans via the Veterans Multi-Service Center (VMC). The VMC's mission is to provide services, programs, opportunities and advancement to veterans.
"Once again our incredible listeners and generous sponsors proved that supporting our brave veterans is as important to them as it is to the WMGK staff," said Broadcast Pioneers member John DeBella. "We are honored to be able to serve and pay tribute to them with this annual event."

In 2014, John DeBella was inducted into the Broadcast Pioneers' Hall of Fame. By the way, John is heard daily doing morning drive on WMGK.
Member Steve Vertlieb tells us:
In the Summer of 1982, a young aspiring television film critic reviews a new film from director Steven Spielberg called "E.T." I was being groomed at the time to be a weekly entertainment and film critic for WTAF-TV, Channel 29 (then owned by Taft Broadcasting). The segments would have aired on Friday mornings, as part of the station's daily, hour long "Newsprobe" news and information series. The TV station was subsequently purchased by Fox Television, and changed its call letters to the current WTXF TV. While a noble "pilot" effort by everyone concerned, the idea was ultimately abandoned.
The "Lifestyles" radio program returns to the air this Thursday on WWDB Radio, 860 on AM. Lifestyles commenced with Ed Harvey back in the late 1990's. Member Joe Ball says: "When I went into the hospital this past Christmas, since I was the producer, I cancelled the show, I didn't know if I would soon become a musician playing a harp. I am back." Dei Lyman will be the moderator/host. She is the long time panelist on Comcast's pre-game and post-game 76er's programs. Lifestyles airs on Thursdays and repeats on Sunday. Kimberly Deane has been assigned to assist in the program's production.
We heard from member Bunny Gibson of American Bandstand fame. She's out on the west coast and says she is keeping busy. She was in a King Bach video that had 13 and a half million hits on the Internet. Bandstand had 20 million viewers. She also was in a short film with Inanna where Bunny plays a homeless lady.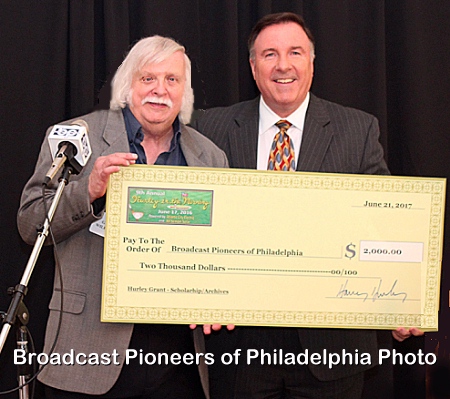 (Left to right) Broadcast Pioneers CEO Gerry Wilkinson accepts a $2,000 check from member Harry Hurley
Broadcast Pioneers Luncheon
Bala Golf Club, Philadelphia
Wednesday, June 21, 2017
Broadcast Pioneers member Harry Hurley, who was inducted into our Hall of Fame a few years ago, had his 10th annual Hurley in the Morning Charity Golf Tournament. It was held at the Harbor Pines Golf Club and Estates. This year, Harry raised over $50,000 for charity. That totals more than $700,000 over the last decade. Some of that kindness comes to Broadcast Pioneers as Hurley once again underwrites a thousand dollar college scholarship to be awarded at our April 2018 luncheon. It is earmarked for a student of Stockton University. He also underwrites a grant of a thousand smackers to help carry on our archival work in preserving broadcast history. Thanks, Harry!
Member Tammy Tuckey is working on her first album due out early next year. It will feature song covers from some of her favorite Walt Disney World attractions and shows. She be working with singer Ali Olmo and Don Liuzzi, a member of the Philadelphia Orchestra. She also be collaborating with three time Grammy Award winning vocal ensemble, Sounds of Blackness. By the Tammy's parents, Todd and Pam Tuckey are also members of our organization.
Today's News Becomes Tomorrow's History!
(This is what our Digital Archival Project, DAP, is all about!)

Did you know...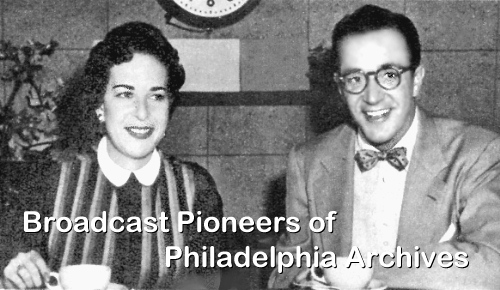 (Left to right) Joan Crane and Gene Crane
on the set of the "Mr. and Missus." Show
WCAU-TV, Channel 10
Bala Cynwyd, PA
1953
(Photo originally donated by member Anthony DiFlorio)
...that there once was a television program called, "Mr. and Missus." That was in the early fifties but we are getting ahead of our story.
In 1947, WCAU-TV didn't exist. There was just WCAU Radio and it was located at 1622 Chestnut Street in Center City Philly. Well, one day a radio producer (named Joan) got into the same elevator as radio announcer Gene Crane.
Joan said in 1953, "We met in the same elevator one day, and ten minutes later, Gene was asking me out to lunch." They dated for two years and were married in 1949. At that time, Joan decided to make marriage her career (like many women of that era). In the meantime, Gene went on to TV when Channel 10 came on the air in the spring of 1948.
Gene tried to talk Joan into working in television but she said, "I was scared to death of TV. I had a horror of trying to memorize a script." Finally, someone pitched her to try working as a team with husband Gene and the "Mr. and Mrs." program was born.
In the early fifties, Gene said, "It all sounds like a press agent's dream, but so help us, it's true." What was Gene talking about? Gene was saying that husband and wife can not only live together but work together too.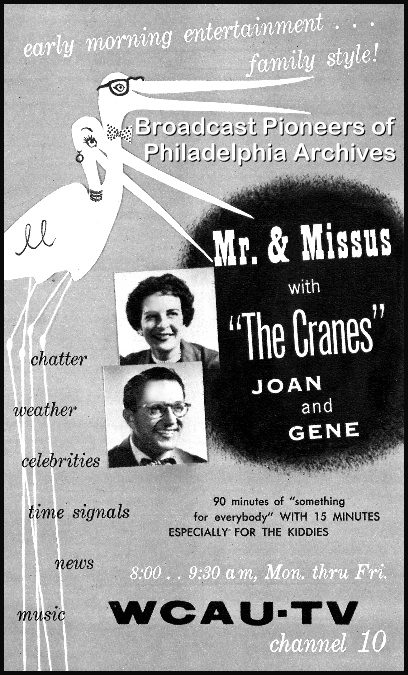 Ad for the "Mr. and Missus." Show
WCAU-TV, Channel 10
September 1953
(Ad originally donated by member Anthony DiFlorio)
The show was billboarded as "something for everyone" and that included a 15 minute segment especially aimed for children. By the way, in August of 1953, Gene was sick and Joan did the whole broadcast by herself. It was her first time and she did it perfectly. We suspect that Gene got better fast.
Captain Kangaroo premiered on CBS-TV on Monday, October 3, 1955 (previously, Bob Keeshan did a local NYC kids show). However, Captain Kangaroo wasn't seen in Philly until Monday, February 20, 1956 when Channel 10 picked up the daily funfest. At that time, WCAU-TV was owned by the Philadelphia Evening Bulletin newspaper and the station thought it was much more profitable to run its local program instead of the network fare.
That local telecast, by the way, was Mr. & Mrs. Also on the broadcast was Broadcast Pioneers member Bill Campbell with sports, Chef Albert (of Ernie Kovacs' fame) with cooking tips and Jack Valentine (of "Action in the Afternoon" fame) with some songs. In the latter days of Mr. and Mrs., Charles Shaw did the News, Carney C. Carney and Willie the Worm kept the children interested. Bill Campbell still did the sports and the Tommy Ferguson Trio (also from "Action in the Afternoon) replaced Jack Valentine.
FYI, "Mr. & Mrs." (parents of David Crane, producer of "Friends") moved to the 7:55 to 9 am time period when Captain Kangaroo joined the WCAU-TV schedule. Channel 10 took the west coast feed of Captain Kangaroo while other CBS affiliates on the east took the earlier feed meant for our time zone. Previously, "Mr. and Mrs." ran daily from 7:55 am until 9:30 am (the 95 minute format started in August of 1955). Willie the Worm followed from 9:30 am to 9:55 with Gene returning for five minutes of local news at 9:55 am. When the Captain joined the Channel 10 lineup, "Mr. and Mrs." was shortened from 95 minutes to 65 minutes. Willie the Worm was eliminated as a daily local show and incorporated into the Cranes' morning program along with Carney the Clown.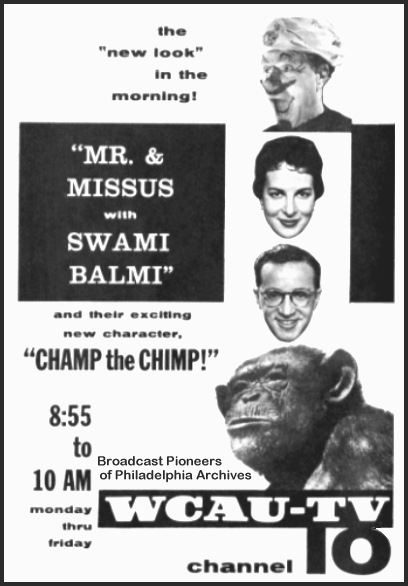 Ad for the "Mr. and Missus." Show
WCAU-TV, Channel 10
May 28, 1955
(Ad originally donated by member Anthony DiFlorio)
On January 28, 1957, the storytelling portion of Mr. and Mrs. was "radically" changed. They got an elaborate set for their "new Storybook Land" and each day they concentrated on a different town in "their land." "Adventure Town" and "Animal Town" were among the places they visited via stories. They were appropriately garbed for each visit, as were Carney C. Carney and Willie the Worm, who helped to tell the tall tales.
In March of that same year, Gene & Joan Crane confirmed that they were expecting "a visit from the stork." One Wednesday, she turned up in maternity clothes on the show and confirmed what many viewers suspected, that she was "with child." A press article reported that the couple was on "Cloud 9." The article continued that she would remain with the show for as long as she felt comfortable and would return two or three months after the birth. However, after David's arrival (August 13, 1957), Joan didn't return to the airwaves.
Historical Footnote: Their son David Crane grew up to be the co-creator, co-writer and executive producer of the TV show, "Friends." The show ran for 10 years.
The former Mr. and Mrs. program became a Gene Crane vehicle called "Top o' the Morning." Captain Kangaroo also went in at 8 am on Channel 10 joining the rest of the east coast affiliates. Gene's show started at 8:55 am, after the Captain was finished. Keep in mind that the Kangaroo show was only 55 minutes long so that local stations could insert local news.
Gene and Joan divorced and Joan remarried Milton Rackmil in 1975. He was co-founder of Decca Records and president of Universal Pictures. Milton died in 1992. Joan passed away in May of this year. Gene and his third wife, Jean currently live in Mexico. Gene turned 97 years old on May 27th.
By the way, Gene has promised to come back to speak at our Broadcast Pioneers luncheon in May of 2020 when he'll be 100 years old. We are looking forward to it.
This regular monthly column is written and researched by Gerry Wilkinson
Our special thanks go to TUTV - Temple University Television and The Kal & Lucille Rudman Media Production Center.

They have underwritten a grant to be used to fund an entire year of all our newsletters for calendar year 2017. We thank them so much for their support!

You Can Help Us!



When you log into Amazon via http://smile.amazon.com, all eligible purchases earn Broadcast Pioneers a donation of 0.5% from Amazon. However, you must log in to Amazon through http://smile.amazon.com. We have made it simple. You can also log into them using http://www.broadcastpioneers.com/amazon. It's easy to remember and takes you to the same place.
AmazonSmile is the same Amazon you know. Same products, same prices and the same service. The only difference is that they donate 0.5% of your eligible purchases to Broadcast Pioneers. IT DOESN'T COST YOU ANY MORE TO DO THIS! Same price to you and we get a donation to help us continue with all our great educational projects! IT'S WIN - WIN!
MORE DIGITAL ARCHIVAL PROJECT NEWS:
VIDEO: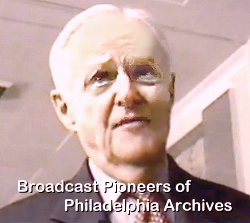 Member George Koehler
at the Broadcast Pioneers Banquet
Bala Golf Club, Philadelphia
Thursday, November 16, 2000
On the evening of Thursday, November 16, 2000 at the Bala Golf Club, in the Wynnefield section of Philadelphia, the Broadcast Pioneers of Philadelphia held their annual banquet to a sell-out crowd.
One of the people in attendance was Broadcast Pioneers member George Koehler. He was inducted into the Broadcast Pioneers' "Hall of Fame" in 1994, along with Broadcast Pioneers member Larry Kane who George started on the road to success. In 1971, the Broadcast Pioneers of Philadelphia named Koehler our "Person of the Year." In case, you are not familiar with George, here's his bio from our website. He passed away eight years ago.
On that night in November 2000, Broadcast Pioneers Board Member Gerry Wilkinson (a future president and leader of this organization) spoke with George Koehler. It was shot on high-speed VHS video tape. The purpose of the tape with for background information only. It was never meant to be seen on our website or anywhere else. It was for historical purposes only.
We thought that at some time, we might use the Koehler portion on our website; somewhere in the future. That never happened until 2014 when we found the tape in a box in our physical archives. It had never been digitized, so we did so.
Under normal circumstances, a video like this would be excerpted and you would never hear the interviewer. In this case, Gerry, doesn't have an air voice. At the time this was shot, he was a television producer for WHYY-TV. Producers don't need air voices.
However, after viewing this video, we decided to present the entire interview uncut; exactly as recorded on November 16, 2000. The lighting in the room wasn't really quite enough to make a great visual presentation but since we were shooting it for background, that really wasn't important.
Here now is that interview exactly as recorded that evening. It is a historic recording and we hope you enjoy it despite all its imperfections.
(video courtesy of Broadcast Pioneers VP Brad Seecof, member Steve Sacks and Metramedia Broadcasting & Studios)
Dick Mendenhall, a member of the Broadcast Pioneers and a former colleague at Channel 6 said:
George was one of my favorite people. We had kept in regular touch over the years. Had tried to reach him via phone and email a few times over the past few months with no response. Never knew whether he was home in New Jersey or with family in Ohio.

George was in the Army Air Corps. Broadcast Pioneers member Jack Hyland was in the Infantry. They used to joke about which one won the war first.
Joel Albert, a member of the Broadcast Pioneers and a co-worker at WFIL, e-mailed:
Koehler was a pretty nice guy. At the recommendation of then News Director, Les Crystal, he hired me to do radio news. George said he wanted me to sound like his favorite radio newscaster, Paul Harvey. George, a former radio news guy himself, did a little imitation of Harvey during the hiring interview. I said I thought I could do that. What did I know - no one could be Paul Harvey but Harvey himself.

I tried but didn't measure up and later, found myself on the TV news side of WFIL as assistant news director, not a would be Paul Harvey. George flattered me by drawing up my first employment contract at a whopping $9,600 a year - within sight of my goal of earning 10 grand.

AUDIO:
It's Mother's Day of 1993. That would make it Sunday, May 9th. It's the premiere of Sally Starr's radio program on WPGR Radio. This was recorded off air and the quality was not very good. We have been able to clean it somewhat. This is an air check of the first hour of the program. Because of licensing problems, we cannot use the music she played. So we have Sally talking and introing and outroing records. We have put a second of dead air where the music went. There's also an interview with country singer Eddie Arnold. It was pre-recorded a few days before broadcast.
The program ran for a few years on WPGR and eventually moved over to Cruisin' 92.1, WVLT in Vineland. The station covers Philadelphia. It aired there until shortly before Sally's passing. WPGR at that time was run by member Jerry Blavat and WVLT is run (and has been fore the last two decades) by member Carl Hemple. Here's Sally in 1993.
Listen in Real Audio
Listen in Windows Media Format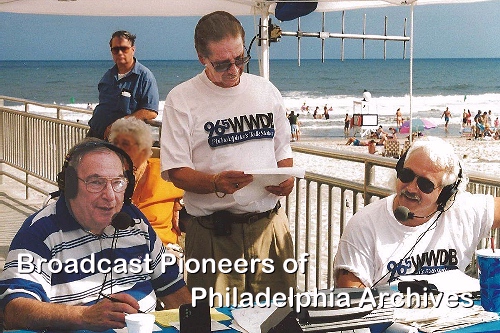 (Left to right) Irv Homer (talk host), Rod Carson (news) and John Brown (traffic)
WWDB Radio, 96.5 Talk
down at the Jersey Shore
circa 1990
Next we have an Irv Homer show on WWDB. It dates from Friday, September 25, 1992. The program originated live from the Germantown Savings Bank. Irv was a member of Broadcast Pioneers. So was his traffic guy, John Brown. This was a broadcast from a quarter of a century ago. It was recorded off air by visitor to our website who donated the audio. Only problem is that he sometimes stopped his tape during commercials, newscasts and traffic reports. John did the traffic. He just doesn't show up on this version.
We have cleaned up his edits. Also we have filtered out some of the background noise. This was one of the shows where listeners (either in person or on the phone) told jokes. All in all, we are still delighted to have this find.
Listen in Real Audio
Listen in Windows Media Format
Remember, History is ONLY What Gets Saved!
(If there were no portraits of George Washington, how would we know what he looked like?)
IN TOUCH WITH THE INDUSTRY:
By the way, we forgot to mention last month that PCN (The Pennsylvania Cable Network) aired our May luncheon in its entirety several times on their channel which is seen all across the state of Pennsylvania. The network goes into the homes of ten million Pennsylvanians. They shot their own coverage. Of course, you can always watch our coverage (also in its entirety) on our You Tube Channel.
Bex from Today's 96.5 has joined sister station KYW-TV, CBS 3 as a contributor beginning last month. Her "Hot Minute with Bex" segment is on Eyewitness News at 5 pm. The feature takes a look at the day's top entertainment stories. Bex joined Today's 96.5 in 2014. She is now heard doing afternoon drive (2-7 pm) on the station in addition to her entertainment segments on KYW Newsradio. Bex grew up in New Jersey and now resides in Philly.
KYW-TV, CBS 3 's 11th annual Alex Scott Telethon, a 14-hour on-air benefit for the Alex's Lemonade Stand Foundation, raised more than $6.5 million ($6,545,474) for pediatric cancer research last month, a record for the fundraiser which began in 2007. Over its 11 years on-air, the event has raised nearly $24 million for the cause. CBS 3's air personalities spearheaded the 14-hour effort along with Alex's parents, Liz and Jay Scott. On-air personalities from CBS Radio also joined their TV partners in the fight against childhood cancers including member Dom Giordano.
CBS RADIO Philadelphia's VP of Music Programming Shelly Easton announced the promotion of Mark Radziewicz "Razz" of 92.5 XTU - WXTU, Nicky G. of 98.1 - WOGL and Michael Bennett of Today's 96.5 - WTDY to Assistant Program Director at their individual stations. All three will also continue as the Music Director of their respective outlets.
John Record Landecker wrote a book in 2013. Well, he's updating it with new photos and additional dialogue. It's called, "Records Truly is My Middle Name." Records was his mom's maiden name. He worked here in Philadelphia on WIBG in the late sixties and early seventies.
CBS 3 New Jersey Reporter Cleve Bryan and his wife Nicole's baby girl made quite an entrance Saturday morning, June 24th. Nicole Bryan was in labor at Virtua Hospital in Voorhees when a tornado warning was issued. Mom was ready to push, but the team had to huddle away from the windows. "As soon as the tornado warning was over, she swept us off our feet," proud Dad Cleve said. Lucia Victoria, named after her great, great grandmother, arrived at 8:03 a.m.. She weighed in at 7 lbs, 9 oz and was 20.5 inches long. The Bryans have two boys, Joshua and Colton. It's been raining little girls at CBS 3 lately. Both Anchor Nicole Brewer and Meteorologist Kate Bilo gave birth to girls recently.
Philadelphia born Ed Bradley worked for CBS News for 26 years. He started in broadcasting at WDAS Radio as the morning newscaster for the legendary "Guy with the Goods," Georgie Woods. He was there from 1963 to 1967. Work is underway for a wonderful mural in Bradley's old West Philly neighborhood. It is expected to be completed this fall. Both Bradley and Woods have been inducted into our Hall of Fame.
WMID, 1340 on AM in Atlantic City is popping up on a FM translator owned by Mercer County Community College. It is now carrying WMID and their oldies format. WMID did a top 40 rock format in the late fifties and early sixties. The more things change, the more they stay the same.
106.1 on FM is now branding itself as Real 106.1. The station is formatted with R&B, new Hip Hop and Rhythmic and that replaces their previous format of Hot AC. For the last decade and a half, Chio in the Morning aired on the station. We've been told that the program will continue but will play the new format.
Last week, Sony Music said that they plan to resume the production of vinyl records shortly. They haven't pressed their own records in almost 30 years. They're starting back up because of the high demand. Since they haven't done pressing in 28 years, they are bringing former employees into the company as advisers since younger employees don't know how to manufacture vinyl.
WE REMEMBER: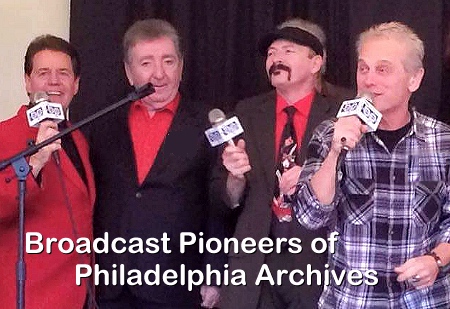 (Left to right) Members Kenny Jeremiah, Joe Terry, Eddie Collins and Gary DeCarlo
Broadcast Pioneers Luncheon
Bala Golf Club, Philadelphia
Wednesday, December 16, 2015
Broadcast Pioneers member Gary DeCarlo has passed away from a bout with lung cancer. Gary was lead singer with the rock group, "Steam." He co-wrote their hit, "Na Na Hey Hey Kiss Him Goodbye." More than 120 folks who attended the Broadcast Pioneers luncheon on Wednesday, December 16, 2015, were able to meet and greet Gary at our Christmas luncheon. He was 75.
Broadcast Pioneers member Michael Tearson e-mailed:
Have you heard of the passing of Luke O'Reilly, my WMMR colleague from early 1970s? He was only here a couple years, but he made a huge impact and impression on those who listened. He went on to manage Al Stewart through Al's "Year of the Cat" heyday, and later The Fixx and Joe Strummer & The Mescaleros. He had lymphoma.
Just got word at press time about the passing of member Henry Clay. Henry was General Manager of Keystone Sports in Bellmawr, NJ. He passed away on Friday and no other details are known at this time.

THIS AND THAT! Little Bits of Information....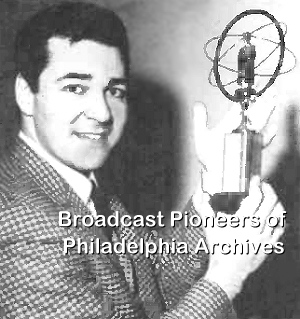 Broadcast Pioneers member Hy Lit holding DJ of the Year trophy
at Temple University's "World's Fair"
1964
Over the years, Ed Wynn's radio program got drivers into sticky situations in many areas including here in the Delaware Valley. It seems that the car radio was loud (and the windows down as there was no air conditioning) when Wynn's show started. For those not aware, Ed's program started with a fire siren. That's why he was called, "The Fire Chief."
Sam Stewart was one lucky guy. He worked for Philco during its entire first 18 years of television at WPTZ, Channel 3, here in Philadelphia (now KYW-TV). He had done his best to fulfill the oddball requests from viewers. Well, in March of 1950, Stewart received a letter from a grandmother living in Reading and watching the station. She wanted the Buster Brown shoe commercial to run on Tuesday evening because that's when her grandchild visited her and thus could watch TV. Sam realized that the Buster Brown spot ran during "Frontier Playhouse." The show aired on Mondays and Wednesdays but was moving to Tuesdays. He wrote back and said that the station would be happy to take care of her request beginning the next week. That's when the show was moving time periods anyhow.
In 1954, Arthur Godfrey had the highest ratings for a daytime network show. He was on WCAU-TV which was a CBS affiliate. The second highest network broadcast was NBC's Ding Dong School on WPTZ. The highest rated local program was Bob Horn's Bandstand on WFIL-TV. Second local program was "Let Skinner Do It" on WPTZ with Mr. Rivets (Broadcast Pioneers member Joe Earley).
In 1928, there was a 500 watt station in Philadelphia. Its call letters were WCAU. Ever wonder what (if anything) that stands for? Well, in 1928, their program director Stan Lee Broza said it stood for "Where Cheer Awaits U." Broza was a founding member of this organization and our first president and chairman of the board.
In the summer of 1995, Glenn Schwartz (a member of the Broadcast Pioneers) joined WPBF-TV in West Palm Beach, Florida as weekend weather anchor. He previously was with WINK-TV in Fort Myers, Florida. He came to Philadelphia just a few months later.
On July 30, 1993, a new TV program started on KYW-TV. It was called "The Bulletin." The show was on Fridays at 8 pm. NBC probably wasn't too happy as the new telecast pre-empted their network fare, a drama. The station aired it on a delay basis over the weekend. Member Paul Gluck was the program's Executive Editor. Paul told us five years ago: "The Bulletin was, we at KYW believed, the first locally-produced, hour-long, news magazine show to air in prime time." WPVI's long running, 30-minute feature magazine show, "Prime Time," aired in the Saturday access hour.
THANKS FOR THE MEMORIES:
T. Morgan and His Interviews!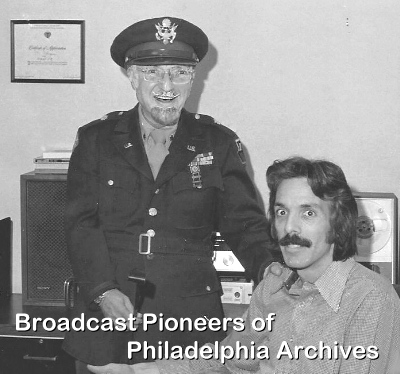 (Left to right) Matty "The Humdinger" Singer and T. Morgan
T.'s office at WMMR Radio
Philadelphia
circa 1975
For about a half century now, Broadcast Pioneers Board Member has been on the airwaves entertaining and informing the people of the Delaware Valley. T. has written his autobiography entitled, "Confessions of a Teenage Disc Jockey." This 250 page book tells all about his career.
Did you know that Morgan was a teacher by day and a disc jockey by night? Well, it's true, at least in the early days of his broadcast career. We are reprinting here, with T. Morgan's permission of course, a very, very tiny part of the book. Not even 1% of what's in this wonderful story. The book has been selected for inclusion into the Rock and Roll Hall of Fame Library.
The most important thing we can tell you is how to get your copy. It's simple. Visit his website at: www.tmorganonline.com. Here's T. talking about interviewing people. He says:
When doing an interview, I usually got on their better side by asking them if there was anything they did not want to talk about or conversely, was there anything they wanted me to bring up in the conversation. This usually gave the artists the impression that I was not going to be a tough interview and more often than not, they ended up talking about tough topics anyway simply because they were comfortable with me.

A good example of this is when Matty also brought another artist on his label, Jim Croce around when he was on the verge of being a superstar. Jim looked very tired and I sensed that he was very sick of touring and doing interviews with the same questions over and over.

We sat down in the production studio to do a taped interview. Instead of doing my usual pre interview, interview, I just started talking. The first question I asked him was "did you collect baseball cards as a kid?" His tired eyes suddenly were open wide and bright. He loved baseball and we ended up doing a very open, funny and candid interview. My only regret is that the tape (like so many others) of the interview somehow got lost over the years.

In the case of Steely Dan, the reason that Donald Fagan wasn't in a great mood was because he hit his head while going on stage the night before and had a splitting headache. I'm sure the last thing he wanted to do was be interviewed by someone who didn't know much about his music.

I decided to make the conversation short and went right to some questions that were not in the bio that the record company provided for me. Since I had been in the recording studio as a producer myself, I starting asking questions about their unique sound.

One of my first questions was how Donald was able to make his piano sound like it did on the record. He was delighted that I even noticed and asked me how I even heard it. He went on to tell me that he rigged his Yamaha piano a different way to get the sound. We ended up joking about how they could do a commercial for Yamaha. The opening line would be something like- Get a Yamaha piano, the same piano that Steely Dan destroyed to get their hit sound. We all got a good laugh out of it.

The band left with a smile, but for years after that they didn't do interviews. I learned years later that Donald Fagan was not fond of doing interviews because he was basically very shy and didn't like talking or even being the lead singer very much. I found it hard to believe that was the case given the interview we did together.

Matty often would tell the story of Steely Dan and others like Jim Croce and Ace. Over and over again he would point out to anyone who would listen how I was the only one who thought that the song "How Long" by Ace would be a big hit. The attraction in that song was Paul Carrack. I thought he had a great voice, the kind that would be around for a long time. He went on to not only have solo career, but was the front man for other successful groups like Mike and the Mechanics and Squeeze.

While Matty had a million stories, he often repeated them more than once. Yet, somehow, you always learned something from them. He used to have so many sayings that a trade paper used to print one of them every week. They were words of wisdom that were often hidden in his humor. My favorite was "No man has a good enough memory to be a successful liar."
The Beginning of WRTI!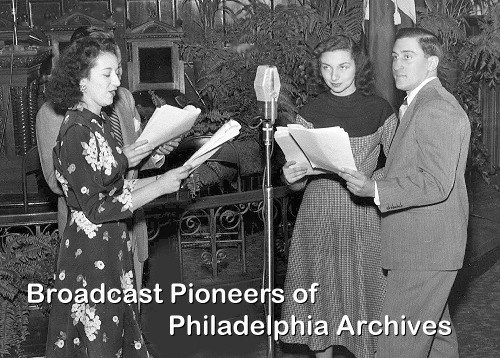 Alters of Peace Radio Program
WFIL-FM Broadcast
from Temple University
as part of the dedication of WRTI
January 22, 1948
The dedication ceremonies of the WRTI studios were broadcast live over both WFIL & WFIL-FM. During the dedication of the studios, wired feeds took place on campus. At 4:30 pm, a transcribed organ recital was "beamed" to the Thomas Hall Auditorium, the main sanctuary of the old church from the station studios in the basement, a floor below.
At 5 pm, the formal dedication took place and was "broadcast" including a speech by Dr. Millard E. Gladfelter, then the University's Provost and later a Temple President. This was followed by a short musical program followed by 20 minutes of live music featuring a chorus of thirty and an orchestra of 25 students directed by Dave Davis.
At 5:40 pm, "Altars of Peace," an original drama was aired on WFIL-FM live. The drama was written by Temple evening students Amy Faust, Alice Groff and Martin Katz. It was produced and directed by Broadcast Pioneers member (and former President) John Roberts and featured Bob Feldman (Spring 1950 Station Manager) as the narrator, Clair Gomberg and Bill Brown (Fall 1948/Spring 1949 Station manager). Al Sher ran the sound effects truck.
"Altars of Peace" was based on "The Friendship Train." What was that? It was a 1947 event of foodstuff from the United States being shipped to Europe including Italy and France, where these items were in desperate need. Before being sent, the material received a ticker tape parade in New York City. It was the idea of well known Washington journalist and reporter Drew Pearson. A train started in Los Angeles and moved east collecting 700 railway cars of clothing, food and fuel. It was then transported by boat to Europe.
The station was founded by Professor John B. Roberts, who retired in 1988 after 42 years of association with Temple University. He once said, "We were going to present creative innovative, educational programming." "We had a student by the name of Bob Graham (Bob Feldman)," says Roberts, " who put on a show called The Worst of Wax. Graham noticed that the worse a record was, the more the station got free (promo) copies. Well, on his show he would go into a deep, analytical discussion of classical music, and then play one of these awful records that would defy everything he had just been talking about. It was the most popular program at the station."
Founding Father Roberts' philosophy was simple. WRTI would serve as a laboratory for students enrolled in what was then Temple University's radio and speech department on the theory that hands-on experience would mean a leg up in the business.
In an interview with Broadcast Pioneers former Chairman of the Board Jerry Klein in 1968, John Roberts told him
We got our transmitter in one of the girls' dormitories, and on the day we put our first broadcast on, the transmitter went on and Stan Isenberg, our first station manager, stood at the microphone and said, "Can you hear me?" And Dottie Anne Kelly ran down to the girls' dormitory, and when the word finally came through, she came running back breathless to say, "I heard it, I heard it!"
Some broadcasters in Philadelphia know Broadcast Pioneers member John B. Roberts as their communications professor at Temple University. Others think of him as the weekend TV anchor for Channel 6 for decades. Still others remember him from his radio news anchor duties on WFIL Radio.
He received his Bachelor of Arts degree from New York University in 1940 and the next year earned his Masters degree at the University of Iowa. His Thesis' topic was "The Speech Philosophy of Clarence Darrow."
He joined the teaching staff at Temple University in 1946. Previous to that, he taught at the University of Maine. He was the founder of WRTI Radio and co-founder of WHYY radio and television.
John was our 30th president serving from 1992 to 1994. Although he was our 30th president, his was our first president to serve two terms. He was inducted into our Hall of Fame in 1996 and was our "Person of the Year" in 1987. John Roberts had served for decades on our Board of Directors. Roberts passed away on March 8, 2012.
----------
WIP Program Logs!
We have in our archives, some WIP Radio Program Logs and we thought you might enjoy a peak at some of the programs carried by the station. We'll give you samples from three different years: 1934, 1947 and 1959.
Tuesday, February 20, 1934
8:44 am – Sign on
8:45 am – Early Riser's Club
9 am – Doctor of Sunshine
9:15 am – Luxemboug Gardens
9:30 am – Talk with Willard
9:45 am – Five Truthful Minutes
9:50 am – Morning Melodies
9:55 am – Ann Mawson
10 am – The Home Maker's Club
10:30 am – Jack in the Box with Jack Bannon
10:45 am – Health Talk by Thomas
11 am – Magazine of the Air
11:15 am – Mary Manning and the Knickerboxkers
11:30 am – The Waikiki Beach Boys
Monday, September 1, 1947
1 am – The Dawn Patrol with Joe McCauley (sponsored in part by Palumbo's)
6: 45 am – WIP News (John Edwards)
7 am – Start the Day Right with Mac McGuire
7:30 am – WIP News (John Edwards)
7:35 am – Start the Day Right continues (Mac McGuire)
8:15 am – WIP News (John Edwards)
8:30 am – Eights Bells with Howard Jones (Happy the Clown)
9 am – WIP News
9:05 am – Songs from the Stage with John Edwards (engineered by Frank Pfaff)
9:15 am – Kit's Chatter Bar with Howard Jones
9:30 am – Shady Valley Folks (from Mutual Radio)
9:55 am – Musical Interlude with Frank Edwards
10 am – Keys to Happiness with Howard Jones (sponsored by the Lester Piano Company)
10:15 am – WIP News with John Edwards

Tuesday, February 10, 1959
8 am – WIP News
8:05 am – Start the Day (DJ Program with Jack Pyle)
sponsors include:
Prince Macaroni
Edsel Cars
Westinghouse Products
Horn and Hardart
Krass Brothers
8:24 am – WIP Sports
8:30 am – WIP News sponsored by Acme Markets
8:35 am – Start the Day continues
sponsors include:
Bell Telephone
Firestone Tires
Newman Ford
Minit Man
Beneficial Finance
Krass Brothers
9 am - WIP News
9:05 am – Start the Day continues
sponsors include:
Girard Chevrolet
La Rosa Pasta
Fels Cleaning Products
Sylvan Seal Milk
OUR HATS OFF TO YOU FOR GIVING:
We would like to thank the following for their contributions donated at our June luncheon. They include: Dave Abramson, Eric and Marlene Address, Paul Big Bear, Mike Bove, Diego Castellanos, Harry Hurley, Bill Kelley, Mel Klawansky, Bob Kravitz, Tom Lamaine, Carol Leebron, Dorie Lenz, Marian Lockett Egan, Robin Mackintosh, Richard Pyle, Michael Teiper, Pam and Todd Tuckey and Gerry Wilkinson.
Now we thank everyone who included an extra contribution when they sent in their membership renewal during the last month. They are: Michael Muderick, Bob Loudin, Paul Gluck, Ed Hurst, Tom Lamaine, Sid Mark, Bill Kelley, Jerry Del Colliano, Linda Munich, Frank Krider, Dorie Lenz, Steve Highsmith, Kevin DeLany, Robert Lopez-Cepero, Dave Roberts-Dahms, Bobb Rayner, Mike Strug, Elaine Skypala, Chuck Gagliardi, Michael Stairs, Brooks St. Ives, Dave Michaels, Alan Boris, Rob Vaughn, Bill Gellhaus, Walt Hunter, Phil Shuman, Don L. Brink, John Johnson, Lou DiCrescenzo, Stephen Rosenfeld, Gerry Wilkinson, Nicky DeMatteo, Jay Lloyd, George Finkel, Larry Kane and Kathy Tarras Earley.

We are a federally recognized, state chartered charity with a 501(c)(3) status. Contact us at (856) 365-5600 or e-mail
pioneers@broadcastpioneers.com
for more details. Your gift to Broadcast Pioneers will help us and may lower your federal income tax. That's win-win, isn't it?
Special Thanks (in alphabetical order) for the gift of Appreciated Stock: (a federal tax advantage for the giver)
Member Marc Howard - $3,600 (put into our general fund to be used where needed)
Member Sylvia Kauders - $5,159.45 (used for the scholarships listed below)
Special Thanks (in alphabetical order) for contribution of $1,000 or more to our DAP, Digital Archival Project:
Member Jerry Del Colliano - $1,500
Member Johnny B. Hall and wife Ginny - $3,000
Member Harry Hurley's Golf Tournament - $1,000
The Shunfenthal Family (in memory of Sherri Shunfenthal's father, Les Waas) - $2,000
Member Marlin Taylor - $1,000
Special Thanks (in alphabetical order) for April 2018 Scholarships:
Member Sylvia Kauders - 1 scholarship (from a grant for 5 yearly scholarships running until 2019)
The Shunfenthal Family (in memory of Sherri Shunfenthal's father, Les Waas) - 1 scholarship
Member Harry Hurley's Golf Tournament - 1 scholarship (for a Stockton University student)
Member Kal Rudman - 5 scholarships (for Temple University students)
Member Marlin Taylor - 1 scholarship
Member Johnny B. Hall and his wife, Ginny - more scholarships for 2018
Special Thanks (in alphabetical order) for a contribution of $500 or more to our DAP, Digital Archival Project:
Member Art Moore - $500
Member Lauren Lipton - $500
Bequests in their Will:
Member Sylvia Kauders passed away earlier this year. In her will, she bequest to the Broadcast Pioneers of Philadelphia, the amount of $5,000. This funding is to be used to underwrite one scholarship per year until gone. These scholarships will start in the year 2020 and continue until 2024. From a previous gift, Sylvia has underwritten one scholarship a year starting in 2015 and continuing until 2019.

Member W. Carter Merbreier passed away a couple of months ago. In his will, he bequest to the Broadcast Pioneers of Philadelphia, the amount of $1,000. This funding is to be used to underwrite one scholarship which will be awarded in April of 2017.
Underwrite a complete scholarship and we'll give you credit in the electronic newsletter until the scholarship is awarded in April of 2018. Give us a donation of appreciated stock of $2,000 or more) and we'll list you in our "Thank You" column for two years. Give us a donation of $1,000 or more and we'll list you in our "Thank You" column for a year. Give us a donation of $500 or more and we'll list you in our "Thank You" column for six months. You can select how we use the money: for our archival project, for scholarships or for our general fund to be used as needed.
More Thanks:
A growing portion of the revenues that fund the different activities of the Broadcast Pioneers comes from donations. This includes our archival project and our scholarship program. Now, we are making it even more beneficial for our donors. Broadcast Pioneers is now able to accept gifts of appreciated stock, which provides a significant tax benefit to you. By giving appreciated stock (stock which is worth more now than what it cost when it was purchased), you can get a charitable contribution tax deduction based on the current market value of your stock. At the same time, you avoid the capital gains
tax that would arise if you simply sell the stock. So if you'd like to support our educational mission or our archival project and save money on taxes too, please consider making a gift of appreciated stock. We are a federally recognized, state chartered charity with a 501(c)(3) status. Contact us at (856) 365-5600 or e-mail pioneers@broadcastpioneers.com for more details.
Don't be left out. You too can make a pledge. It's never too late. You can earmark it for scholarships, our Digital Archival Project or our general fund. Thanks so much for your support. If you forgot to make an extra contribution (cash or memorabilia) and would like to do so now, you can do so. We would be thrilled to hear from you at: PO Box 2886, Bala Cynwyd, PA 19004, call us at (856) 365-5600 or e-mail us at: pioneers@broadcastpioneers.com.

A FINAL THOUGHT....
(Left to right) Broadcast Pioneers Hall of Famer Manie Sacks and the legendary Frank Sinatra
circa 1940s
Manie Sacks was inducted into our Hall of Fame in 1996. He was such good friends to the stars that when he passed away in 1958, NBC-TV (where he worked) did a 90 minute special with a Who's Who of Hollywood including Frank Sinatra. Manie and Frank were very close and many people thought they had similar looks. Well, Manie's nephew Herman Rush (who was CEO for Coca-Cola Communications and on the board of Columbia Pictures) wrote a book entitled, "Uncle Manie." Herman is a member of Broadcast Pioneers as is his cousin, Steve Sacks. Well, in Rush's book, he wrote:
Friends were having dinner with Manie and Frank one night and remarked, "Gosh, you two look alike. Don't people ever get you mixed up?" "Sure," said Frank, "It happens all the time. We were doing a benefit in Philadelphia – Manie's hometown. After the show I saw people flocking around him, asking for my autograph. That always embarrasses Manie, he never knows what to say or do…..or whose name to sign, his or mine. He began to look around like a cornered rabbit and spied me- he signaled for me to get him off the spot, so I walked over to where the kids were getting "our" autograph. I slapped Manie on the back and said 'Hiya Frank, how's your throat? And I just left him there, blushing and cursing and signing 'Frank Sinatra.'"
Member Herman Rush
in his book, Uncle Manie
originally published in 1969 and republished in 2015

Please contact us by e-mail at pioneers@broadcastpioneers.com or by mail to: Broadcast Pioneers of Philadelphia, PO Box 2886, Bala Cynwyd, PA 19004. Your stories are important, to you, to us, and your colleagues. Contact us today and we'll include your story in the next newsletter!

© 2017, Broadcast Pioneers of Philadelphia
All Rights Reserved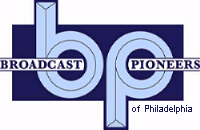 The e-mail address of the Broadcast Pioneers of Philadelphia is pioneers@broadcastpioneers.com
For luncheon reservations call (856) 365-5600 or e-mail us at: rsvp@broadcastpioneers.com