The Broadcast Pioneers of Philadelphia is a federally recognized, state chartered charity. We are a 501(c)(3) non-profit corporation serving Philadelphia since 1962.

Frank Stone
Newsletter Editor

Our 2010 Person of the Year is KELLY RIPA!
Plus a star-studded cast of inductees
for our Hall of Fame!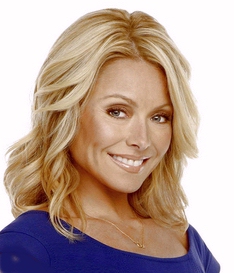 Happy August Everyone! It's been a sizzling summer so far, but the really, really hot news is the Broadcast Pioneers announcement of the 2010 Person of the Year and Hall of Fame inductees. The announcement took place at the headquarters of NFL Films in Mount Laurel, New Jersey on Tuesday morning, July 20th during our FILLED UP tour of their studios and operations. Sorry to say, we even had to turn folks away!
Our Person of the Year for 2010 is South Jersey native Kelly Ripa who started her TV career right here in Philly by being a regular dancer on "Dancin' on Air" on Channel 17 and "Dance Party USA." Both shows were produced by Broadcast Pioneers members Frank Nise and his son Michael. The younger Nise serves today on our Board of Directors.
Currently the co-host of the ABC-TV morning program Live with Regis & Kelly, she will be honored at the Broadcast Pioneers annual Person of the Year/Hall of Fame Banquet on Friday, November 19, 2010 at the Bala Golf Club. Mark your calendars now and save the date! This is going to be huge! Tickets (priced at $80 for members and $95 for non-members) will go on sale in September.
Our Hall of Fame inductees for 2010 are:
Carol Erickson, meteorologist and news reporter for CBS 3, KYW-TV
Peggy King, former girl singer on "The George Gobel Show" on TV
Linda Munich, Vice-President of Public Affairs for 6ABC, WPVI-TV
Dave Neal (Dave Gomberg), news producer at Channels 3,6 and 10
Joe Pellegrino, all round sports guy at Channel 6 and WCAU-TV
Glenn Schwartz, the chief meteorologist for WCAU-TV, NBC 10
Dick Sheeran, former reporter and anchor for KYW-TV, CBS 3
Rick Williams, co-anchor of the noon and 5 pm for Action News, 6ABC
John Zacherle, the cool ghoul, host of WCAU-TV's "Shock Theater"
We will also induct the following people posthumously in our Hall of Fame. They are:
Al Alberts, star of the "Al Alberts Showcase" for three decades on 6ABC
Herb Denenberg, consumer reporter and former PA insurance commissioner
Jack Downey, former VP/GM for WCAU Radio, now WPHT Radio
Joe Earley, who was Mr. Rivets on Channel 3 & the postman on "Gene London"
Ed Elias, former Engineering Supervisor for WPVI-TV for a half-century
Steve (Mr. Movie) Friedman, former movie expert and telephone-talk host
Paul Harron, Jr., head of Harron Communications for decades
Paul Harron, Sr., pioneer radio and TV owner including WIBG and Channel 12
Irv Homer, well-known tv personality and radio telephone-talk show host
Sarajane "Cissie" Hurst, TV producer at Channels 3, 6, 10; WPEN PR Director
Bob Klein, innovator of "Urban Contemporary Radio;" GM at WDAS AM & FM
Ed McMahon, sidekick to Johnny Carson, host of several local 50s TV shows
Bob Menefee, former longtime Philadelphia radio host and air personality
Jim Nettleton, one of the original Philadelphia WFIL, Famous 56 "Boss Jocks"
Frank Nise, innovator of modern-day broadcasting lines and TV producer
Nat Wright, the All-Night Rat, host of the Dawn Patrol/WIP Radio for 20 years
Our MCs for the evening are Broadcast Pioneers members Larry Kane and Pat Delsi. With a line up like this, the 2010 banquet is sure to be a spectacular, history-making event. Plan on being there, to see old friends, make new ones and share in an evening that will make headlines!

Visit Our Website Often - http://www.broadcastpioneers.com

JULY GET-TOGETHER REVIEW :
A Tour of NFL Films!
Tuesday morning, July 20th!
WHAT A WONDERFUL TIME!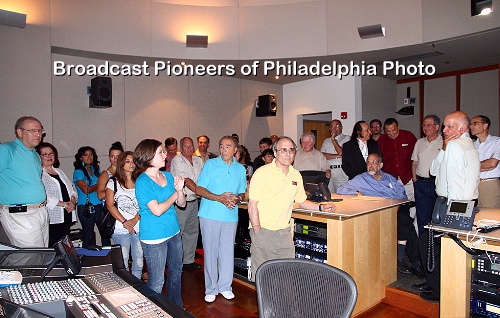 One of our tour groups
NFL Films
Mount Laurel, NJ
Tuesday, July 20, 2010
Photo by Broadcast Pioneers President Jerry Klein
Our tour of NFL Films, in Mount Laurel, NJ, was wonderful. It's a huge 200,000 square foot facility and there was lots to see on their 26 acres. They moved there in 2002 and it was erected at a cost of 45 million dollars (and that's less than their revenue for just one year).
It all took place on Tuesday morning, July 20th at 10:30 am. We had a totally filled-up event. We were turning people away. (Next time, reserve early!)
The tour took two hours. We started the event with something special. We announced who will be the Broadcast Pioneer's Person of the Year. It's Kelly Ripa. Plus, we told everyone about who's going to be inducted into our Hall of Fame this year (see above story). (The Person of the Year/Hall of Fame banquet is in November).
This was an especially appropriate location for this year's announcement because both the founder of NFL Films, Ed Sabol and his son Steve, who now runs the operation, were both inducted into our Hall of Fame in 1996. Of course, we can't forget the famous narrators for NFL Films, Broadcast Pioneers members John Facenda and Harry Kalas (both in our Hall of Fame).
WELCOME NEW MEMBERS:
Bill Toffel started in the business in 1959 working in a typical college radio station at Bob Jones University in Greenville, SC He worked at various stations as well as Armed Forces Radio and Television. He served five years as Anchor/Editor at KYW Newsradio and moved to KYW-TV as Assignment Editor for four years, returning to Newsradio as News Director.
Jack Rattigan began broadcasting in 1948 at the College of Holy Cross. He hosted talk shows, children's programs and was News Director at WGLV-TV, Lehigh Valley. He moved on to WDEL and later to WRCV. In 1965, Jack was part of the team that set up All News KYW. In later years he was a station manager and part owner of WNOR-FM, Norfolk.
Stephen Gary started in broadcasting in 1966 at WJTO in Bath, Maine. The next year, he went to Group W's Washington News Bureau. In 1968, he came to the Delaware Valley and KYW Newsradio, 1060. In 1971, Stephen transferred to KYW-TV. He is currently the sole proprietor of "Off the Wall" Antiques and Collectibles in Havertown, PA.
That sets another all-time record in membership. We now have 382 members. We are thrilled and we hope to see as many of you as possible at our September luncheon.
ADVERTISE IN OUR MEMBERSHIP DIRECTORY:
Well, it's time for us to start putting together our 2010 - 2011 membership directory which gets mailed to all our members in the fall. With an increase in membership of over 20% this last year, there will be more in it than ever before. That means we'll be printing more copies (because there are more members). It's a great source of getting the word out about your business to all our members and the cost is LOW! Most members use the directory over and over again. So your advertisement is seen dozens of times over the year. Rates start as low as $125. Contact Vice-President Frank Stone..
IN TOUCH:
We just heard that Broadcast Pioneers member Vince Papale, will be co-hosting "Eagles Confidential" on 6ABC, Saturdays at 7:30 pm. We spoke with Vince who told us:
This is a great concept, a cool show and I'm very excited. We're taking fans from the 'nose bleed' sections and giving them a closer look behind the scenes of the Eagles. We'll be talking with players, coaches, front- office staff, all on location. We'll be telling stories that will humanize the game versus the business side.
The show is an Eagles Television Network production. Have an invincible day, Vince.
We heard through the Broadcast Pioneers grapevine that Rebecca Campbell was appointed President of the ABC Owned Television Stations Group. Rebecca was President and General Manager of WABC-TV most recently. Campbell oversaw not only Channel 7, but additional digital TV channels; 7online.com, ABC7's TAXI TV, and "Live with Regis and Kelly," the long-running syndicated hit series which is produced by the station. Kelly is our Person of the Year for 2010 and her show is produced by WABC-TV's Vice-President of Programming, Art Moore, who was this organization's 22nd President and Chairman of the Board. Campbell was previously President and GM of WPVI-TV and Moore was 6ABC's former Vice-President of Programming.
Rebecca has chief management responsibility for the 10 owned television stations and for the Group's ABC National Television Sales rep firm. She will report directly to Anne Sweeney, co-chairman, Disney Media Networks and president, Disney-ABC Television Group. Campbell replaces former Philadelphian Walter Liss who worked at WIBF Radio while attending LaSalle University. By the way, when Walter was the Promotions Director at 6ABC, he wrote the words to the Action News theme song, "Move Closer to Your World." Al Ham authored the music.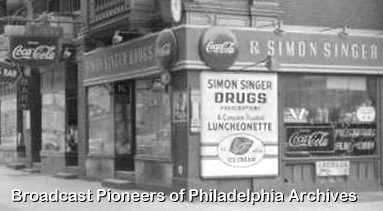 Pop Singer's Store
1950
We heard from Lynne Raboy, granddaughter of Simon "Pop" Singer who owned a drug store/luncheonette on the southeast corner of Farragut and Market Streets in West Philadelphia. It was just a half-block away from the old WFIL-TV/Radio Studios at 46th and Market. Broadcast Pioneers member Ron Joseph, RJ, was one of dancers during the early days of "American Bandstand." RJ said that all the Bandstand regulars hug out there. "In fact," he said, "Pop actually came to the broadcast most afternoons." And immediately after the show, he would head back to his store to prepare ice cream sodas for the teens attending the broadcast.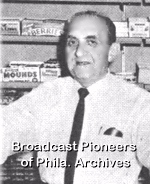 Broadcast Pioneers member Allen Stone said of Pop Singer:
You didn't come to Bandstand without joining the multitude of fans and celebrities who made Pop Singer's one of the most famous corner stores in the country. To shake the hand of Pop Singer meant you had been inducted into the rarefied atmosphere of those teenage devotees who became Bandstand regulars and personalities familiar to millions of TV watchers.
A LITTLE BIT OF HISTORY!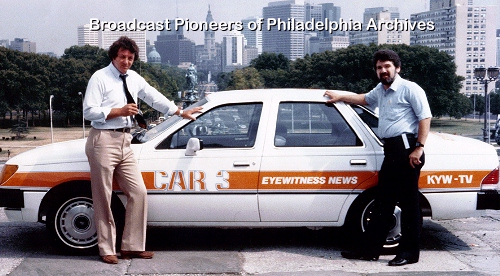 Broadcast Pioneers members Mike Strug and Irv Grodsky
Steps of the Philadelphia Art Museum
circa 1980
You can catch up with Broadcast Pioneers member Sam Lit's live broadcast at the South Philly Bar and Grill, 1235 E. Passyunk Avenue every Sunday night from 7 pm to 12 midnight featuring "Summer Sunday Nights - HyLitRadio Live Broadcast Oldies Party." Plus on Sunday, August 8th from 3 pm to 8 pm, Sam will be at the Trolley Car Diner, 7619 Germantown Avenue. Keep the memories alive, Sam!
July 18th was a big day for CBS Radio. Broadcast Pioneers member Dave Skalish (Chief Engineer, WPHT-AM/WOGL-FM) along with The Big Talker's Michael Smerconish led "Team 1210" with 101 riders to raise $20K for the "Tour de Shore," benefiting Philadelphia's Police Athlete League, the FOP's Survivor fund & the Daniel Faulkner Educational Grant Fund. The ride was 65 miles! You go guys.
Anybody hear member Dom Giordano last evening (Monday) on WPHT Radio? He was broadcasting live from Rome, 6 to 9 pm our time. That's the middle of the night in Italy. Today, Tuesday, the 3rd and tomorrow, the 4th, he'll be on at a special time, 11 am to 12 noon Philly time. Member Dave Skalish with a just a wave of his technical wand can make Dom's voice magically appear in Philly from 4375 miles away.
"Sinatra Singing" written by Richard Grudens is a new book just released. The book focuses on the art of singing by greats like Sinatra, with interviews by Vic Damone, Tony Bennett, Johnny Mathis and more. Broadcast Pioneers member John Primerano has written an essay in the book, "The Art of Vocal Audacity," describing what made Frank Sinatra different from his contemporaries and why he is the greatest interpreter of popular songs. Nice going John!
On July 27th, Dan Gross mentioned in his column, Broadcast Pioneers member and actress Sylvia Kauders. Sylvia is up for re-election for the Philadelphia Branch of Screen Actors Guild. She was seen on FX comedy, "Louie" staring comedian Louis C.K. She can also be seen on a commercial for the Latino Independent Film Festival. Having fun Sylvia?
Did you know...
President Herbert Hoover
We believe that this photo was taken on May 30, 1931. Erroneously, many sources have stated that this picture was taken in Philadelphia at the dedication of the new WCAU Radio Building at 1622 Chestnut Street in Center City . While President Hoover did participate in the WCAU dedication ceremonies, his part of the broadcast originated from the White House in Washington, and not Philadelphia. The WCAU dedication event took place at 10:30 pm and was carried live over the entire Columbia Broadcasting System, CBS Radio. It featured many leading entertainers of the era.
Charlie Higgins, a long-time tech at WCAU e-mailed: "This photo was taken at Valley Forge while Hoover was giving a speech.... I do know that the condenser mic failed during his speech necessitating Ray Stahl (a WCAU technician) having to crawl under the bandstand to effect the repair."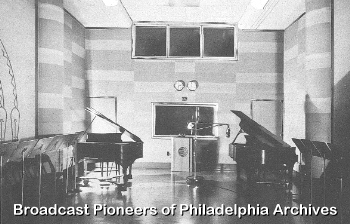 Studio D
WCAU Radio
circa 1933
President Hoover said on Friday evening, February 10, 1933:
I am glad to participate in these dedication exercises. Radio broadcasting has spread its influence to every phase of mankind's endeavors and achievements. Its unique value is the possibility it provides of bringing people and nations into immediate and intimate association, permitting universal dissemination of ideas, facts, and opinions. I had the privilege of sharing in the development of radio while it was still practically in embryo, when I was Secretary of Commerce.

The radio art was developed with phenomenal rapidity. Most of this development took place in the last 10 years. It illustrates the possibilities of modern life wherein science, invention, technology, and industry quickly cooperate to put at the service of mankind the full values of scientific discovery. Already radio has had a profound effect upon all our institutions; social, political, and industrial, and upon the very color of our thoughts.

This important position in our daily life has been well earned, and those who have ministered so admirably to its development deserve our praise and thanks. I heartily congratulate the management of the new WCAU Building upon their enterprise in erecting this unique temple to this modern art, especially constructed for radio broadcasting purposes.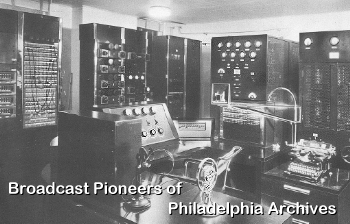 Master Control was on the 7th floor of 1622 Chestnut Street, Philadelphia
(Emergency transmitter is location on the right)
WCAU Radio
circa 1933
A 1933 document (donated by Broadcast Pioneers member Mike Lopen) said:
The very entrance of CAU's new building has caught the spirit of radio. This newest monument to the radio industry stands on busy, fashionable Chestnut Street in the center of Philadelphia.

The new WCAU building depicts the thrilling story of radio's growth. Every piece of its equipment is the latest that science has developed. Its luminous tower soaring skyward supports an antenna for an emergency transmitter. The new 50,000 watt transmitter at Newtown Square, Pennsylvania, sends forth the programs originating in WCAU's ultra modern studios housed in the building.

Studio A is the largest WCAU studio, extending 56 feet in length and 33 feet across. This 2 story room will easily accommodate a full symphony orchestra. Like every other WCAU studio it has "floating" walls and floors with a suspended ceiling to render it entirely soundproof.

As in all WCAU studios, Studio B has its "live" end where the programs originate and its "dead" end where the microphones are located. Its acoustic perfection is an achievement of the Electrical Research Products Laboratory, a subsidy of Western Electric Company. Perforated steel plates cover the walls. Through the perforations seeps the sound which is absorbed by the rock wool backing. Newest type velocity microphones are used in every WCAU studio, another "first" for this station.

Studio C, distinguished by the work of a foremost contemporary artist, John Vassos, strikes a distinctively modern note in design. Its soundproofing is aided by 600-pound doors which are automatically sealed air-tight with their closing.
There were 8 studios in all. Twenty years later because of the addition of television, the WCAU Building was outdated and no longer fit into the WCAU stations plans. New facilities were constructed on City Line Avenue, just outside of the city.
This regular monthly column is written and researched by Gerry Wilkinson
IMPORTANT - MEMBERSHIP RENEWALS :
If you haven't mailed in your membership dues yet, YOU ARE OVER A MONTH LATE! You should have received renewal in the US mail at the end of May. It's important that you correct any information on the form that is wrong. Otherwise, you will have incorrect info printed in the next edition of our membership directory that is due out this fall. This will be your last chance to correct any information before the membership directory goes to press. If you haven't already done so, please take the time and mail back your renewal. Dues are a main source of revenue for us. If you can afford it and wish to do so, please check the extra contribution box. Remember, we are a federally recognized, state chartered charity with 501(c)(3) status. Your contributions and membership dues may be tax deductible. Check with your tax advisor. Without you, there is no Broadcast Pioneers.
WE NEED WRITERS:
The Broadcast Pioneers needs a few good writers to help us write material and bios for our upcoming annual banquet. If you have good writing skills and wish to donate some of your time to help us, e-mail us at pioneers@broadcastpioneers.com or call (856) 365-5600!

VCRs AND OTHER EQUIPMENT:
Well, we did receive a donation of a VCR but we are still looking for a few, more good VCRs to be donated to us. Every machine plays tapes differently. We still have tapes where we can't get a good play (because the original tape was recorded in a machine without proper tracking). Without good playback equipment, we cannot continue to digitize our video archive. Major companies like Sony and Panasonic no longer make stand alone VCRs. A good condition playback machine allows us to continue the our digitalization process. The cheap VCR/DVD player combos that are on the market today do not contain the proper electronics to correct record errors during playback, so we must rely on older machines.
We can also use a couple of working VHS-C adapters. VHS-C is the type of tape we used to record our luncheons for the first nine years of our website. We have over 100 of them in our video archive.
Also, we can seriously use a good condition, working 3/4" U-Matic video tape machine (or two) for playback (it need not be able to record). Plus, we can use a 16" turntable (most only handle up to 12") to play 16" radio transcription discs.
If you have equipment to donate, contact us at (856) 365-5600 or e-mail us at: pioneers@broadcastpioneers.com. Remember, for the next twenty years or more, we will be receiving donations of video tapes for our archival project. You have to have something to play them on, you know.
WE REMEMBER :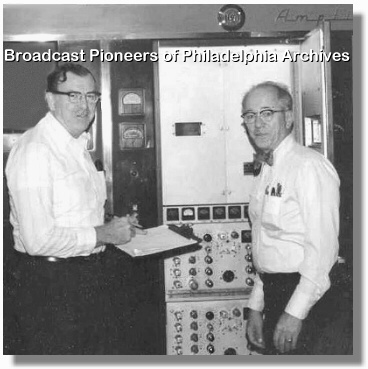 left to right) Bob Fetterman and Archie Sichel
WIBG Radio
1974
Early last month, we lost Archie Sichel, who was 95 years old. He was a US Navy radio operator in Hawaii when the Japanese surrendered. He was a Mason for a half-century and Chief Engineer for WIBG AM & FM for forty years.
Joseph Maura, aka JJ, passed away last week He was 61 and had recently retired. He is best known to us for his voiceover work for NBC 10 for the last two decades. He also worked for WIP, QVC and several other stations including KQV in Pittsburgh.
ON THE HEALTH FRONT:
Bill McCloskey, WIP News (1961-68) is recovering from surgery in late June when he had a cyst removed from his spine that was causing leg pain. Bill said, "the Doc worked a miracle and I'm back off the DL & at baseball games in Washington every night, with seats right under the broadcast booth!" This gets us to wonder whether Bill is any relation to the Bill McCloskey who played Major League Baseball in 1884 for the Wilmington Quicksteps.
Broadcast Pioneers Vice-President Kal Rudman suffered a fall a few weeks ago. He fractured several ribs and was in the hospital and rehab for awhile. Seems that he was coming home from shopping and missed a step and tumbled backwards hitting his head on the cement. Kal is now home and doing well. We are delighted to hear that he's on the road to recovery and he expects to be back to his usual self soon.
Tom Dooley's wife Melanie has shared some good news. Tom has a new doctor who feels certain Tom will continue to improve as the swelling in his brain decreases from the surgery, radiation and chemotherapy. The doctor was also confident that Tom's "announcing voice" would return as he grew stronger and was less fatigued. Melanie said, "We were nearly skipping when we left the building. We are filled with so much hope!" Thanks for the update Melanie!
THANK YOU:
Special thanks go out to member Johnny B. Hall for his personal donation to Broadcast Pioneers this past month. Johnny donates to us every month and just increased his monthly pledge by 50%. We could tell you the old Tom Moran radio line that Johnny just upped his contribution, so up yours. We could say that, but we won't.
Plus we wish to thank members Mike Nise, Fred Woskoff and Bill Gellhaus for equipment donations. The organization welcomes all donations from its members and friends at any time. Your support directly contributes to the ongoing success of our mission.
We also thought it would be nice to recognize those members who have made an extra contribution this past month when they renewed their membership. Thank you! They are: Terry Ruggles, Larry Kane, Richard Marks, Linda Munich, Peggy King, Jay Lloyd, Diego Castellanos and Charles Gindhart.
In lieu of flowers, the family of Bill Webber asked that contributions be made to our scholarship fund. We wish to thank the following people for contributing this past month to this scholarship fund: Les Waas, Brian and Sally Spiwak, Ron and Sue Brenner & Ed and Janet Holak.
If you sent in your renewal and forgot to made an extra contribution and would like to do so now, it's never too late. We would be thrilled to hear from you at: PO Box 2886, Bala Cynwyd, PA 19004.
MORE IN TOUCH: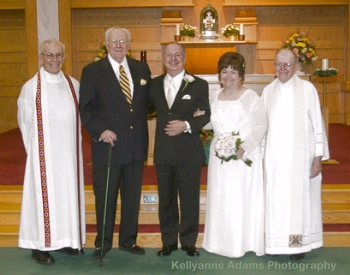 On June 5th, Broadcast Pioneers Vice-President, board member and newsletter editor, Frank Stone was married to Barbara Farley at St. Ann's Church in Wildwood, New Jersey. Participating in the ceremony were three lifetime friends, Rev. Charles Gormley, Rev. Monsignor James Mortimer, and Broadcast Pioneers Board member and Hall of Famer, Rev. W. Carter Merbreier (Captain Noah). Playing softly in the background as Rev. Merbreier offered his comments and "Prayer For The Couple" was the Captain Noah theme song, "I Can Sing a Rainbow"…a very memorable and moving day for everyone.
Following up from last month's "Did You Know" column, member Bucky Clark e-mailed us to say that not only did he fill-in for Larry Ferrari on a Captain Noah program, but he was a singer and tap danced on both the Paul Whiteman TV Teen Club and Dick Clark's Talent Trend. We also know that Bucky had many appearances on the Horn & Hardart's Children's Hour hosted by this organization's first president, Stan Lee Broza.
A shout out to Inquirer Columnist Michael Klein for his recent mention of Broadcast Pioneers announcing Kelly Ripa as the 2010 Person of the Year. Thanks Michael we appreciate the press!
We were glad to hear from Broadcast Pioneers member Bob Feldman who offered very positive comments about the newsletter. Bob is retired now but was with the Associated Press from 1992-2009, and previously with WPVI-TV as Assistant News Director/ Director of News Operations, 1976-88. Thanks for the positive feedback, Bob.
WIBBAGE FM 94.3 and Down the Shore with Philly Bill Culp, presented a historic on-air interview and conversation on Saturday July 10th with "WIBBAGE Good Guy," Broadcast Pioneers member and Hall of Famer, Dean Tyler. The conversation shared the history of Philadelphia's WIBG Radio, the first 24/7radio station that set the standard for Rock and Roll radio in the country. We spoke with Dean, who told us; "It was a lot of fun…my grandson was with me and we really enjoyed it. It was very nostalgic and a fast four hours!" Nice going Dean!
Broadcast Pioneers members Henry and Bobbi Shaffner have checked in to tell us about a new book by native Philadelphian, William (call-me-Bill) Link, titled "The Columbo Collection." Based on one of the finest detective series to appear on television, Columbo was created by Bill, and his late collaborator, Richard Levinson. In the words of Detective Columbo, "Just One More Thing," it's a great read!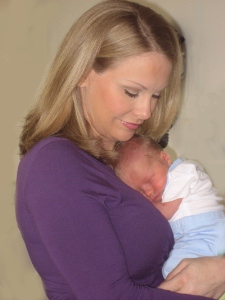 CBS 3 News Anchor Susan Barnett and her newborn
July 2010
CBS 3 News Anchor Susan Barnett and her husband, Dr. Greg Persichetti, welcomed their second son on Tuesday, July 13th. Steele Thomas Persichetti arrived at 4:51 pm, weighing 6 lbs and 5 oz. and measuring 20 inches long. Big brother, Blase, 3 and a half, has already met his little brother. Congrats to the newest member of the CBS 3 family. By the way, our September 15th luncheon is a celebration of "45 Years of Eyewitness News."
DIGITAL ARCHIVAL PROJECT NEWS :
We have in our video archive, The Bob Hope Chevy Show from December 28, 1956. Normally, we don't preserve network shows unless there's a local tie. In this case, there was. On the show was Broadcast Pioneers member Peggy King (who will be inducted into our Hall of Fame this November). Bandleader Les Brown was also on the program.
EDITOR'S NOTE: Our Chairman of the Board, Gerry Wilkinson had, of course, two grandmothers. One came from Peggy King's hometown of Greensburg, PA and the other hailed from Lykens, PA, where Les Brown was born and spent his childhood.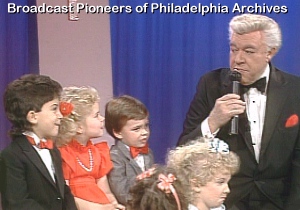 Broadcast Pioneers member Al Alberts with some of the Teeny-boppers
The Al Alberts Showcase
WPVI-TV
November 2, 1988
We have 125 Al Alberts Shows in our video archive. Most of these are on the original WPVI one-inch tape. A few of the programs were recorded on Beta SP. We have digitized more than half the shows so far. This process includes creating a computer .mp4 video file with H264 compression at 3 million bytes per second. This technique is very similar to what analog TV stations used to air programs from their server. The file is then stored on three external hard drives (with one kept off site) and then two DVD back-ups. Of course, we also continue to preserve the original recording. We thought you would like to see an excerpt of Al talking with the teeny-boppers. Our master is the original WPVI master one-inch tape numbered 806. We are thrilled that last year, 6ABC saw fit to donate these priceless recordings to our organization for preservation. The show was taped on November 2, 1988, according to the slate with an airdate to be announced.
Watch with Real Video!
Watch with Windows Media!
For those who don't know, we have a hero in a midst. It's Broadcast Pioneers member John Carlton. While flying over Philadelphia doing the Atlantic Go Patrol reports, there was a nine-alarm firm in West Philadelphia. An apartment building loaded with senior citizens was on fire. Seeing the fire while air-borne, John and his pilot, Dick Scholfield (age 25 at the time) landed on the burning building's roof. They entered the structure (built in 1901 and renovated in 1958) from a rooftop entrance, and began banging on doors of residents living on the top floors. Carlton and Scholfield took off safely. By 9 am, the roof and top floor had collapsed. All of the residents were ok and John wrote 16 pages of recollections about his experience. Of course, we have it in our paper and photo archive and you can read it here.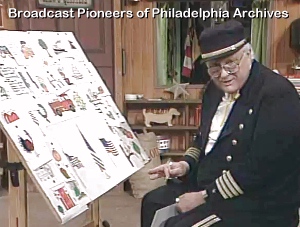 Board Member W. Carter Merbreier (Captain Noah)
Captain Noah and His Magical Ark
WPVI-TV
June 18, 1992
We have almost four dozen complete Captain Noah programs in our video archive. All have been digitized. While most of these broadcasts date from the early nineties, some of them date from the 1979 to 1981 period when the rascally ol' Captain did a bunch of special called "Noah's High Adventures." Most of these featured Broadcast Pioneers member Joe Earley in different roles. These earlier specials were shot on film. Our original source material is from Beta SP tapes. We assume that the earlier filmed programs were transferred to Beta SP quite some time after the original air date. The above still was taken from a June 18, 1992 taping (that aired two days later on WPVI). We thought you would enjoy a little snippet of that broadcast.
Watch in Real Video!
Watch with Windows Media!
Broadcast Pioneers member Anthony DiFlorio of WHAT Radio donated to us a 78 rpm record of broadcaster Hal Moore. This recording was made for KYW Radio and sent to the 400 KYW Featured Druggists in the area. We date the campaign as coming from the early 50s. We thought you would enjoy hearing it. While there is some surface noise on this audio, we removed much of it without affecting the original recording. We also removed over 100 pops and clicks.
Listen with Real Audio!
Listen with Windows Media!
And speaking of Hal Moore, we thought you would like to know that we re-did the audio on our previous piece on our website. It's a September 26, 1949 WCAU Radio broadcast with Hal Moore interviewing the legendary Al Jolson. Part way though the interview, WCAU Announcer (who would later become News Director) Charles Shaw brought Al's wife into the conversion. We just re-did the audio less than a week ago and are quite pleased with the results.
Listen with Real Audio!
Listen with Windows Media!
By the way, there is a difference between our archives (we have three: video, audio plus photos and paper) and our website. What we have on broadcastpioneers.com is just a very small percentage of what we have in the archives. There just isn't time to put everything on the Internet. Our main goal right now is to make sure that this material survives into the future.
Remember, History is ONLY What Gets Saved!
(If there were no portraits of George Washington, how would we know what he looked like?)
A final thought...
Broadcast Pioneers member John Zacherle tells about how the character of Roland was developed:
"It goes back to 'Action in the Afternoon.' I was a cabinet maker on the show specializing in coffin making. About three years later, these horror movies came on TV and they thought they needed something extra. It was the first job I ever got without trying out. I don't know if that was bad or good."
John Zacherle
April 1968
This quote comes from a radio interview conducted by Bruce Smallwood with John Zacherle in the spring of 1968 for WRTI-FM, which was a student run station at that time. The show was produced by our current Chairman of the Board, Gerry Wilkinson. Listen to the uncut interview!
Listen with Real Audio!
Listen with Windows Media!

We welcome your input regarding content, future stories, suggestions, etc. Please contact newsletter@broadcastpioneers.com. Your stories are important, to you, to us, and your colleagues. Contact us today and we'll include your story in the next newsletter!

Photo Editor & Archival Historian - Gerry Wilkinson
© 2010, Broadcast Pioneers of Philadelphia
All Rights Reserved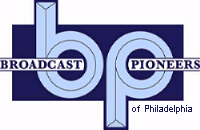 The e-mail address of the Broadcast Pioneers of Philadelphia is pioneers@broadcastpioneers.com
For luncheon reservations call (856) 365-5600 or e-mail us at: rsvp@broadcastpioneers.com