ADVERTISE IN OUR 2011-2012 MEMBERSHIP DIRECTORY:
There's not much time left if you wish to advertise in our new Membership Directory, which will be mailed to members in the fall. Our membership is at a record high, so advertising in our membership directory makes more sense than ever before. The cost per ad has NOT increased but the number of members is more than double what it was five years ago. We're giving you a chance to reach more people for the same cost. Ads start at $175 and help defray the cost of publishing the directory. Call us at (856) 365-5600 or e-mail us at pioneers@broadcastpioneers.com.
BOARD MEETING:
For our board members, next board meeting is on September 21st. Note all board meetings will now start 15 minutes earlier than the previous time. NEW TIME: 10 am.
MEMBERSHIP RENEWAL TIME:
Ten weeks ago, you should have received your membership renewal form. Current membership expired at the end of June (unless you've already renewed). Memberships of those who joined in the last few months will expire in 2012. However, you still should have received a form; f you haven't already done so, please correct any contact information, if necessary. This information will be used to create our new membership directory that will be issued this fall. Because of the nature of this business, we do not maintain any type of membership list online. This is for your own personal security.
Remember that Broadcast Pioneers is a mainly dues-supported non-profit organization that is federally recognized and state chartered. We have charitable status for federal income purposes. For those of you who wish to do so, there is a place on your renewal form to make an extra contribution to this organization. If you can do so and want to help out, an extra contribution would be appreciated. It will help keep Broadcast Pioneers strong. Check with your tax advisor, because membership dues and donations may be deductible on your federal income tax.
Send in your renewal now if you haven't already done so. Why? Your membership expired about 5 weeks ago. Please take a minute and mail it back today. Broadcast Pioneers thanks you for your continued support.
A LITTLE BIT OF HISTORY!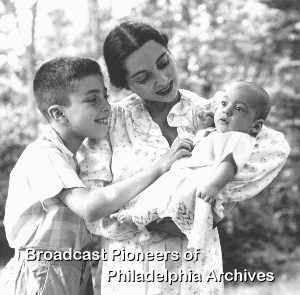 (Left to right) Joel A. Spivak, his mother and brother Steve
WELCOME NEW MEMBERS:
Full Members:
Philip Scott Ward, a television director, retired this year from KYW-TV, where he worked for the last 36 years. Before that, he was a director for WFIL-TV/WPVI-TV from 1968 to 1976. Previously, he worked at WSAZ in Huntington and WSPZ Radio in Spencer, both in West Virginia. Ward started in this business a half century ago in the fine year of 1961.
William Cawley started in the business in 1964. He has worked at WCAU-TV, where he was a stage manager, central control supervisor, associate director, graphic coordinator, technician, news department editor, news control supervisor and photographer. He has also been with KYW-TV as a program film cutter and and as part of the studio crew.
Edward Nicholas Phillips started in the business in 1976. He's worked in our area at WDEL, WCOJ, WJBR-FM & WCHE Radio, all while attending Temple University. Since then, he's been at WGAC & WBIA, both in Augusta, Georgia, and then at KFLT in Tucson, Arizona, where he was the station manager. He now does English language voiceover work for Arrows Productions in Beirut, Lebanon.
Dave Yost is one of our younger members. He started in the business just14 years ago. He's the national and local sales manager for WPHL-TV, Channel 17, based here in the City of Brotherly Love. Dave previously worked for Viacom/CBS as a National Account Executive. Before that, he was an assistant buyer/buyer, planner and commercial supervisor at Harmelin Media located in Bala Cynwyd.
Kenn Venit has been in the industry for 45 years. He's the President of Kenn Venit & Associates, where he does broadcast and cable consulting/coaching. Previously, he was VP for Primo Newservice with similar duties. He has also worked at WTNH-TV & WNHC Radio in New Haven/Hartford. In Philly, he was the Assistant Assignment Editor & Investigative Unit Producer for the WFIL stations.
Joe Ball is a new member. When we asked him when he started in the business, he said, "pre-biblical." Since 1956, he has been the president of the American Advertising Services, a full service ad agency. He is also the president and publisher of the "Advertising/Communications Times, a leading regional business newspaper. From 1963 on, Joe has been the president of Eastern Show Productions Management.
Jonathan Aiken has been in the biz since 1976. He's director of video services for the American National Red Cross in Washington, DC, where he's been for six years. Previously, he was with CNN, RKO (later United Stations/Unistar) Radio Networks and the AP Radio Network. Aiken worked in this area at WBUD and WTTM in the late seventies. He also worked in Pittsburgh, Buffalo and elsewhere.
Catherine Brown is an Emmy award-winner who started in broadcasting 36 years ago. She's Content Producer/Platform Manager (News writer/producer) at NBC 10. She's been there since 1983. Brown was previously Executive Producer at WOOD-TV in Grand Rapids. Before that, she was in radio at WKAR in Lansing, Michigan, where she was a newscaster/producer. Since 2003, she has been the president of the AFTRA Philadelphia Local.
We are thrilled to have these new members. They've helped to bring our total membership up to 437 (an all-time record). We hope to see as many of you as possible at the September luncheon.
DIGITAL ARCHIVAL PROJECT NEWS:
Title Graphic
The Road from Paradise
WPVI-TV
September 5, 1985

Title Graphic
The Road from Paradise
WPVI-TV
September 5, 1985
Tug McGraw had a feature on "Action News" called "You Gotta Believe." Here we present one of those features, fresh from our video archive. Our transfer comes direct from a WPVI-TV 3/4" video tape. However, it is a generation down. Why? Well, this 3/4" recording consisted of all Tug McGraw reports. Since it has Jim Gardner at the head of the report, it is a safe assumption that it is from an aircheck which was then transferred to this storage tape. In this report, Tug visits the Philadelphia Zoo.
Watch in Real Video!
Watch in Windows Media!
We have two clips from WIP Radio in 1972. The first one is a composite of Broadcast Pioneers member Nat Wright on the air. We have put together several different items as one piece of audio.
Listen in Real Audio!
Listen in Windows Media!
Next we have from that same Nat Wright evening (or morning) show, the 2:30 am news done by Broadcast Pioneers member Jerry DelColliano.
Listen in Real Audio!
Listen in Windows Media!
Finally, from Wednesday, January 19, 1966, we have a WCAU Radio broadcast called "Press Conference" with host George Lord. That day, George spoke with US Senator Joe Clark.
Listen in Real Audio!
Listen in Windows Media!
Remember, History is ONLY What Gets Saved!
(If there were no portraits of George Washington, how would we know what he looked like?)
IN TOUCH WITH OUR MEMBERS: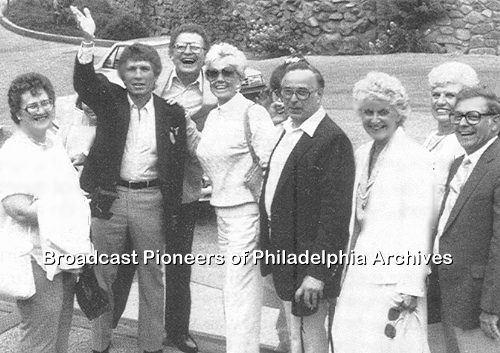 (Left to right) Carol Holmes, Collen Patton (partially hidden), Dean Tyler, Joe Niagara, Doris Day
Bunny Deck (partially hidden), Al Holmes, Gloria Hess, Evelyn Niagara and Ted Hess
Carmel, California
July 1986
We heard from member Charlie Mills, who has a facebook page all about WPEN when it was the "Station of the Stars." We were concerned that, when trying to view the page, we were prompted to log in to continue. However, if you click the other box, which says something like "cancel," you can then continue to browse through Charlie's pages without logging in! The above photo comes from 1986 WPEN Listeners' Club Newsletter. Click here to read an article that Broadcast Pioneers member Joe Niagara wrote about Doris Day. He gives you all the details on the above photo. By the way, did you know that Joe Niagara used his given name, Joe Nigro, on his first radio gig? It's true.
Several of our members were at WHYY during the middle of last month. They were attending the press party for the new Arcadia Publishing book called "Philadelphia Radio" by Alan Boris. It's loaded with photos of radio personalities and broadcast facilities in our city. Gerry Wilkinson, our Chairman of the Board, wrote the preface to the book. And speaking of books, member Larry Kane's new novel, "Death by Deadline" is now available in paperback. It had been previously available only in the Kindle version. Local sportscaster Steve Bucci is co-author of a new book about former Phillies pitcher Steve Carlton, "Drinking Coffee with a Fork." Another member has also written a book: Jerry Blavat's autobiography, "You Only Rock Once," is available now in hardback and Kindle versions.
We heard from member Roger Hendler, who may live in Georgia but is always in touch with us. He says:
I was interested in the mention about the WKBS-TV 10 o'clock news. The original team was John Galbraith, News Anchor; Joe Earley, Weather; and Stu Nahan, Sports.

John Galbraith and I had several conversations when I was young and a Temple student. Joe Earley was a wonderful person, as you know. I enjoyed talking about the "old days" with him at BP luncheons.

I still have the late Stu Nahan's business card, giving me the authority to pick up film at the Philadelphia International Airport. I had Stu several times as a guest on my old show "Coach's Corner" on WHWH in Princeton, NJ. He was a great guy. Dan Baker spoke to him on several occasions when Stu was in town broadcasting Dodgers games.
Another member heard from was Dan Lerner who used to own KISS, 100.3, here in the Philly market. He was up at his summer home in Maine, where he's enjoying the beautiful New England summer. As many of you may recall, a little while ago, Dan gave a hundred grand to the University of Pennsylvania to benefit deserving Penn students. Lots of you guys may not be aware that Lerner was a Penn music major and then earned his Master's degree in Communications from the then brand new Annenberg School of Communications in West Philly. He was in the second Penn graduating class from the school which celebrated their 50th reunion earlier this year.
We found out that member Michael Tearson also sings (and not just in the shower). He has an album coming out this month entitled"Stuff That Works." He also has some singing gigs lined up. On August 17th, he'll be performing as the finale of the season's free concerts in Haddon Heights, NJ. It's the Sundown Concert Series. If you miss that, catch him in Delaware on September 1st for the World Cafe Live in Wilmington. It will be available through CDBaby and iTunes.
We heard from member Phyllis Ariano-McGinnis, who tells us that she authored an article in the June 2011 issue of "The Phoenix" about her bouts with cancer. She says:
I did have an article published recently in a quasi-medical type magazine titled "Hope Springs Eternal," which is an account of my three bouts with cancer dating back to 1973. If you ever know anyone who could use some encouragement and/or inspiration to fight the battle, I would be happy to forward it....

Reading about "pioneers" from the sixties and seventies makes me feel I should be among the "pre-pioneers" along with a few remaining others (i.e.Gene Crane, Bob Jawer etc). I regret missing the Grady tribute. I knew Joe when he was doing the Grady and Hurst show at WPEN (the first time around). I was exec. secretary to Bill Caskey, the Vice-President under Bill Sylk of Sun Ray Drugs (WPEN's owner at that time). ...Joe Grady was one fine person and a privilege to know. ... What memories your newsletter brings back for me.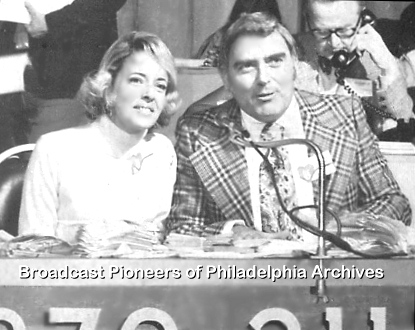 (Left to right) Members Connie Roussin Spann and Ed Hurst
A Telethon originating out of WPVI-TV
circa 1973
We heard from member
Dave Roberts,
who tells us that his son, David Boreanaz, started shooting the 7th season of his hit TV show "Bones" on Wednesday, July 20th. The series returns to the Fox network (Fox 29 here in Philly) on Thursday, November 3rd at 9 pm.
Board Member Michael Nise was delighted a couple weeks ago when WPHL-TV, Channel 17 dug back into Mike's archives and aired four different Dancin' On Air broadcasts. 2011 is the 30th anniversary of the program. The show aired for more than 6 years on the station. April of this year celebrated that 25th anniversary of Dance Party USA, which was aired over the USA Network for six years. Part of that time, both shows were on the air. Nise has donated 70 original one-inch masters of the shows. Keep in mind that the two shows combined account for 3,000 broadcasts, so we are sure more are on the way.
Bunny Gibson is a rather new member of our organization. She lives out on the West Coast and was a regular dancer on "American Bandstand" for several years during the Dick Clark era. Well, she just let us know that she has a role in an upcoming motion picture. She says:
American Bandstand's Bunny Gibson was just cast as "Lola" in the comedy film, "Lola's Love Shack." She will be playing a hot tempered "Madam" who runs the local pleasure palace with an iron fist. Migrant Filmworks is producing this independent film in Los Angeles. Shooting begins this month.
Member RJ, also known as Ron Joseph has his own channel on Ustream. Watch here! When we tuned in, we found Monday at Midnight! It was from 1973 and featured a Bandstand Union with "Pop Singer," Tony Mammarella and more. The announcer on the show was a very young Pat Delsi.
We saw a recent story on 6ABC and CBS 3 about board member and 2007 Person of the Year Kal Rudman. For 18 years, he has helped to fund a two-week extensive and intensive summer program for high school music students at the University of the Arts. The students selected come from the Delaware Valley and across the country. Many of the students have gone on to become highly recognized in the entertainment industry. Kal has put over one half million dollars into the program for scholarships and tuition grants. We spoke with Kal about the program and he told us:
With the economy, music departments have been curtailed or eliminated, which makes the need that much more poignant.... It fills a vacuum and takes care of needs that are so important with young talented people.
On Tuesday, July 12th, the New Jersey Division of Consumer Affairs visited businesses on the Wildwood boardwalk in an effort to "ensure a safe & fair marketplace" as part of their "Safe Summer 2011" initiative. One of the visited locations was Mariner's Arcade on Morey's Pier, where board member and vice-president Frank Stone works as lead banker. On the spot, Frank was named the arcade's spokesperson by management, who was aware of his involvement with Broadcast Pioneers. Stone held a stand-up press conference with CBS 3, 6ABC, Fox 29, NBC 10 and KYW Newsradio, as well as individual interviews. He was glad to note the arcade had no violations.
Congratulations to member Joanne Harmelin, CEO of Harmelin Media, for the effort put forth by her employees participating in the Sustainable Business Network of Philadelphia's 10th Anniversary Celebration of CLEAN UP and GET DOWN. They volunteered at a recreation center, painted benches, cleaned up trash and made rain barrels. Nice going, folks!
We received a very moving testimony about Pat Merbreier (Mrs. Noah) from member Valerie Morrison in tribute to her daughter Helen, who died in an auto accident several years ago, caused by a DUI driver. Space limits printing the entire piece, however we feel the essence of the tribute to be this:
We never realized and totally underestimated the importance of how the shows (Philadelphia children's television) played a very important and very much overlooked role in the development of our children. It has always been my belief, and I proclaim to you…the rapid escalation of behavior issues with some of our youth today, began when shows like Captain Noah and his Magical Ark, went off the air....
Broadcast Pioneers member Bill Vargus and his wifeSue Serio own their own production company entitled"HIT Commercials." HIT stands for Highly Intricate Technology. His first gig is for Weathers Motors (located in the Lima/Media area), a commercial airing during Phillies games. Vargus was the director on the spot.
ON THE HEALTH FRONT:
Broadcast Pioneers member John Brown is recovering from back surgery last June and has been doing traffic from a home studio. He now tells us he's back in the studio. John said, "I'm recovering from nerve damage which may take another year, but I'm getting around on a walker and my left leg is getting stronger every day." Hope to see you soon, John!

Did you know...
(Left to right) Ed McMahon and Chris Keegan
"The Big Top"
Circa - 1951
Originally both Candy Carnival and the Big Top originated from the Camden site (Convention Hall, sometimes referred to as "the Armory"), which was destroyed by fire in June of 1953. Then both programs moved to the station's studios on City Line Avenue on a temporary basis. "Candy Carnival" worked out okay so the show remained there. However, "The Big Top" was just too large (sometimes there were over 350 people involved including the audience). After just a couple broadcasts, it moved to the Pennsylvania National Guard Armory. It remained there until the program went off the air.

Since The Big Top was sponsored by an ice cream company, Sealtest, everyone got ice cream for free. There were also balloons for many of the lucky visitors. This show aired Saturday from 12 noon until 1 pm on CBS-TV, originating from WCAU-TV. It was first broadcast on July 1, 1950 with the last airing in September of 1957. During that time, the program featured over 2,100 acts.
Old newspapers from that era show in their TV listing section that "The Big Top" was originally an early evening broadcast. By the way, Joseph L. Tinney was Vice-President of the WCAU stations and was Assistant General Manager. Jack Sterling was the ringmaster and Bob Russell was the barker for Sealtest (the sponsor). Regulars included local WCAU announcer Ed McMahon (his first national exposure) as a clown and also featured strongman Dan Lurie (Sealtest Dan, the Muscle Man) and bandleader Joe Basile. The program also spotlighted 6'9 Bill Hart as a very huge clown. WCAU-TV President Charlie Vanda was the producer of the program.
On Saturday, November 25, 1950, Jack Sterling was on WCBS Radio in New York from 5 am to 8 am. (The Big Top was broadcast live from WCAU-TV, Philadelphia at 6:30 pm that same day.) The story goes that WCAU-TV wanted local personality Ed McMahon (head clown on Big Top) to be the ringmaster. However, CBS, which owned WCBS Radio, had a very popular morning disc jockey. His name was Jack Sterling and he took over the hosting duties from Arthur Godfrey in the forties. In order to get Sterling to sign a new contract, they promised him some TV work. However, as time went on, they had no show for him. So the deal with WCAU-TV was that they could produce the show at the WCAU facilities, but they needed to have Jack Sterling host the circus program. That's how Jack got the gig.