The Broadcast Pioneers of Philadelphia is a federally recognized, state chartered 501(c)(3) non-profit corporation serving Philadelphia since 1962.

Frank Stone
Newsletter Editor

Announcing Our
2012 "Person of the Year"
& Hall of Fame Inductees

Banquet date is Friday evening, November 16th!
PERSON OF THE YEAR
Dean Tyler, former WIBG Good Guy, former WIP PD and former WPEN General Manager
HALL OF FAME (LIVING INDUCTEES) (in alphabetical order):
Donald Barnhouse, former news commentator for WCAU-TV, currently seen on WFMZ-TV
Lu Ann Cahn, co-host of "The 10 Show" on NBC 10, eight-time Emmy winner
Angelo Cataldi, morning sports talk show host on WIP-AM and 94, WIP Radio
Charlie Gracie, rock singer, big hits were "Butterfly" (1957) and "Baby Doll" (2012)
Stan Hochman, veteran sports reporter and commentator, long-time Daily News columnist
Sylvia Kauders, veteran TV, stage and movie actress, and public relations consultant
Jay Lloyd, long-time Suburban Bureau Chief for KYW Newsradio, now does travel reports
Robin Mackintosh, retired veteran TV "Eyewitness News" journalist for KYW-TV, CBS 3
Liz Matt (Lizabeth Starr), long-time co-host of 6ABC's "AM Philadelphia" & news reporter for Fox 29
Beasley Reece, former NFL football player and lead sports anchor for "Eyewitness News" (CBS 3)
Tommy Roberts, former owner of WTMR Radio, 800 on the AM Dial in Camden, New Jersey
Cecily Tynan, WPVI-TV, 6 ABC "Action News" prime-time weeknight meteorologist
HALL OF FAME (POSTHUMOUS)
Frank Beazley, former Director of Sales for WCAU-TV, former president of Center City Film & Video
Red Benson, former WPEN late night telephone talk host, also with WCAU Radio & ABC-TV
Bud Brees, best known as the "singing disc jockey" on WPEN Radio in the fifties and eighties
Tom Donahue, pioneer rock and roll disc jockey at WIBG, father of progressive rock radio
Christopher Graham, long-time "Uncle WIP" kids host in the twenties & thirties on WIP Radio
Judy Lee, former Channel 3 weathercaster/news anchor & weather girl on NBC-TV's "The Today Show"
Al Martino, popular South Philly singer who appeared in "The Godfather" motion picture
Joe Pyne, local & national radio/tv talk show host who pioneered debate type programming
Charles Shaw, CBS Radio journalist during WWII and then News Director at WCAU Radio & TV
Ed Yates, former director for "Bandstand" and "American Bandstand" on both coasts
Tickets go on sale September 1st. Prices are $85 for members (each member can buy ONLY one ticket at the member price) and $95 for everyone else (including spouses, friends and guests). The event will once again take place at the City Avenue Hilton, 4200 City Avenue, Philadelphia. The date is Friday, November 16th. The reception is at 6 pm and dinner is served at 7 pm. Doors open at 5:45 pm. Cash Bar all night long. Valet parking is $10. Event lot parking is $5. Make plans to be there! TICKETS GO ON SALE SEPTEMBER FIRST! A major portion of the ticket price may be deductible on your federal income tax. Ask your tax advisor for details!

Visit Our Website Often - http://www.broadcastpioneers.com

EXCELLENT ADVERTISING OPPORTUNITIES:
(Also a good way to show your support of Broadcast Pioneers!)
Now is the time to think about promoting your company, business, organization, etc. We are in the planning stages for the 2012-13 Membership Directory, (almost 500 members) and our 2012 Person of the Year/Hall of Fame banquet booklet program. Both publications offer excellent reach, frequency and a highly qualified buyer who will respond to your message! Broadcast Pioneers publications are the best format to send your message to a unique niche market. For more information, to place your ad or for banquet sponsorship/naming opportunities, contact: Frank Stone at this e-mail address: newsletter@broadcastpioneers.com. You can't afford not to advertise with Broadcast Pioneers!
TIME TO RENEW YOUR MEMBERSHIP (Final call):
In mid-May (almost three months ago), all members received their membership renewal notices. If you haven't already done so, please take a moment to look over the contact information listed on the form and make any changes or corrections. We will use this information for our membership directory this fall. IF YOU HAVEN'T ALREADY SENT IN YOUR DUES, YOU ARE OVER A MONTH LATE! If you need another invoice, please e-mail us and we'll send it to you by return e-mail. We can also snail mail it to you if you prefer.
This year, it's even more important for those of you who can afford to do so to check off the extra contribution box on the renewal form. We are a state-chartered non-profit organization with a 501(c)(3) status, which may make your contribution tax deductible on your federal income tax. Check with your tax advisor to see if this applies to you.
All dues are billed at the same time. Why? We have a volunteer that handles this. If we had to do it on a monthly basis, we would have to hire a company and thus raise your dues. There's no reason for us to do this. Be assured that if you joined in mid-year (say October), you would never be dropped until you received your full year of membership. If you can be generous with an extra contribution, we would certainly appreciate it. IT WOULD REALLY HELP! To those who have already done so, we say THANK YOU!
WELCOME NEW MEMBERS:
FULL MEMBERS:
Patrick Stoner has a B.A. in Theatre & Speech from William and Mary, an M.A. in Drama from the University of Virginia, and has completed doctoral courses in Drama at the City University of New York Graduate Center. A founding member of the Broadcast Film Critics Association, he has been reviewing films at WHYY for over twenty years. Flicks and Quick Pics appear on dozens of PBS stations nationwide each week. He also teaches at the University of Delaware.
Eric Schultz is the principal for PCK Media, LLC in Trenton, New Jersey. Previously, he was a producer/director for NJN for ten years. Before that, he held the same position with WKAR-TV, Michigan State University Public Broadcasting. He holds a Masters from the Eli Broad Graduate School of Management at Michigan State as well as additional degrees. He has won several local Emmys and one from NETA in 2007 for the show Peanut Gallery.
Vince Hill is an anchor and Business Finance Editor for KYW Newsradio. We saw him at our recent tour of that station at the end of last month. He's also an adjunct professor at Rowan University in Glassboro, NJ, and at Temple University (where he received his degree). He's also the faculty advisor for WRFT-AM, the on-campus radio station at Temple Ambler. Before KYW, he worked at WPVI, WWDB, WHAT and WTNJ in Trenton. He has received many awards and honors.
We are thrilled to have these new members. They've helped to bring our total membership up to 474 (an all-time record). We hope to see as many of you as possible at the June luncheon.
DIGITAL ARCHIVAL PROJECT NEWS:
Rob Jennings
WPVI-TV, Action News
August 1984

Jim Gardner
WPVI-TV, Action News
August 1984
In 1984, the Republican Party is holding its convention in Dallas.. Action News goes to Texas to cover the story. Broadcast Pioneers member Rob Jennings is anchoring an early evening newscast. This excerpt contains an exclusive WPVI interview done by Jim Gardner with Delaware Pete DuPont.
Our transfer comes direct from a WPVI-TV 3/4" video tape. However, it is a generation down. Why? Well, this 3/4" recording consisted of various reports. This was taken from an aircheck and then dubbed onto the final 3/4" tape. In our opinion, the Real Video version is slightly clearer and cleaner.
Watch in Real Video!
Watch in Windows Media!
EQUAL TIME: Next month's newsletter will contain a clip from the 1980 Democratic Convention in the Big Apple. Jim Gardner speaks with Secretary of State Edmund Muskie in an exclusive interview.
An old hand for the WFIL stations was Broadcast Pioneers member Jim Felix. We have a program from WFIL Radio from September of 1958 with Jim doing the business report. While the quality is not the best, we did spend about 5 hours restoring it.
Listen in Real Audio
Listen in Windows Media
"The Grey Ghost," Box Knox was a mainstay at WIBG for decades. He did many things at the station, including disc jockey work and news.
For awhile, Bob was the morning newsman and worked with Broadcast Pioneers Board Member Bill Wright, Sr., "The Rebel." We have a complete Bob Knox newscast from 8:55 am on Tuesday, September 6, 1960. The news open, by the way, was done by Johnny Grubbs who later went into management with Storer Broadcasting, which owned WIBG at the time.
Listen with Real Audio!
Listen with Windows Media!
Throughout the years, Channel 6 had many local game shows. During the WFIL-TV days, one of them was called "The Street Where You Live" and featured Broadcast Pioneers member Paul Norton as host and Broadcast Pioneers member Larry Ferrari as organist and sidekick. No video of the program survives today. However, we do have audio from August 1968.
On Tuesday, May 7, 1974, over WMMR Radio, Broadcast Pioneers member Ed Sciaky interviewed all four members of the rock recording group Argent. We present to you that interview, uncut, exactly as aired live. We removed the music and substituted one second of dead air. The entire interview ran 28 minutes or 13 minutes without the music. (We cannot use the music because of licensing issues).
The four band members interviewed were Rod Argent, Robert Henrit, Russ Ballard and Chris White. They were in town because they were headlining at the Tower Theater at 69th Street in Upper Darby, PA (a suburb of Philadelphia). At the time, WMMR's studios were in the Wellington Building on Rittenhouse Square.
A 1968 promotional piece says of Roy Nassau:
...Roy Nassau, for 8 years, news analyst and senior reporter for WFIL Radio. Covered top political races including Governor Scranton's 1964 bid for the Presidency. Acute news sense and thorough familiarity with the Main Line (he was the Regional News Manager for WFIL Radio for the Main Line).
From Sunday, July 31, 1966, at 11:55 pm, we have a complete radio newscast by Roy Nassau. Note that the opening to the cast contains the legal ID. In less than two months, WFIL would become Famous 56.
A LITTLE BIT OF HISTORY!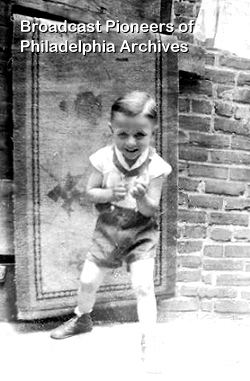 Broadcast Pioneers member Charlie Gracie
outside his South Philadelphia home
1941
Here's a picture of Broadcast Pioneers member Charlie Gracie at five years old. At that time, his family lived on the 700 block of Pierce Street in South Philly. Pierce Street is located between Moore and Morris Streets (that sounds confusing). By the way, actor Jack Klugman grew up around the corner from Charlie.
IN TOUCH WITH OUR MEMBERS:
We hope you caught Broadcast Pioneers member Mort Crim's special on July 20th on KYW-TV, CBS 3. Mort was seen in "Flight Level 74 and Still Climbing," a documentary about his 7,400 mile solo flight to celebrate his 74th birthday. Inspired by the film"The Bucket List," Mort, who was an anchor at Eyewitness News here in Philadelphia from 1972 to 1977, wanted to make the cross country trip in his light sport airplane for his own bucket list. The trip was from Jacksonville, Florida, to Eugene, Oregon. While out west, Crim stopped off in Las Vegas and visited Broadcast Pioneers member Vince Leonard. Great going, Mort! By the way, we heard from Vince and he says that Mort will be visiting him again in a few weeks.
Member Sue Wright (wife of the late Nat Wright, who was also a member and a 2010 inductee into our Hall of Fame) has published a book that tells Nat's story during World War II and after. The book "Letters from Nat" takes you from boot camp to Japan and back to the U.S. via 62 letters that Nat's mother saved. Nat was a member of the Japanese Occupation Forces following the Nagasaki and Hiroshima bombings. The book is available by calling 1-800-834-1803 or visiting www.rosedogbookstore.com.
And speaking of WWII, we don't usually say much about the Mystery Photo on the front page of our website. However, this month, it's a photo of Broadcast Pioneers member Donald Barnhouse with his father, Donald Grey Barnhouse, Sr. from 1939.
Don Jr. was going to school in England at the beginning of the Second World War. He talks about being there during wartime. It's an interesting story with a wonderful photo. Read about it here (and see the photo)!

The apple didn't fall too far from the tree. Dr. Barnhouse, Sr. was a radio pioneer in his own right preaching on "The Bible Study Hour." The broadcasts, now more than 50 years old, continue to be aired under the title "Dr. Barnhouse and the Bible" and are carried locally over WVCH, 740 on AM in Chester. Don Jr. was heard for years on WCAU-TV doing news commentary on the "John Facenda Big News" and on WCAU Radio. Today, Don Jr. is the pastor of the First Presbyterian Church in Bridgeport, Pennsylvania. Don Barnhouse joins his colleague John Facenda in our Hall of Fame. He'll be inducted on Friday, November 16th. And speaking of our annual banquet...
You now know that member Liz Matt will also be inducted into our 2012 Hall of Fame. What you may not know is that Liz (Elizabeth Starr) was a Broadcast Pioneers scholarship winner in 1972 when she attended Temple University. Liz is the FIRST scholarship honoree ever to be inducted into the Hall of Fame. This is truly a historic event. Congratulations to Liz and to the 1972 scholarship committee, who had the foresight to recognize her potential. Liz had a wonderful career in Philadelphia as co-host of WPVI-TV's AM/Philadelphia and she continues to work today in the field of public relations. Congratulations, Liz!
One year before the start of the 2012 Summer Olympics in London, a nightly newscast from Brian Williams (who worked here in Philly twenty years ago) on the NBC Evening News caught the attention of Broadcast Pioneers Vice-President Paul Gluck, the General Manager for TUTV, Temple University's television station. Paul realized the Olympics represented a potential once-in-a-lifetime opportunity for his students and went to work on making an idea into reality. Now, five students and one professor from Temple's School of Media and Communications have traveled to England for the London Olympics Television Workshop. They are covering life in the city during the Olympics and their stories arebroadcast live on TUTV each Tuesday and Thursday at 7 pm between July 26th and August 12th. Funding for this project came from Broadcast Pioneers Board Member Kal Rudman and his lovely wife Lucille. These historic broadcasts are now part of our DAP, Digital Archival Project. Well done, Kal, Paul and all the Temple students involved in this telecast!
WE REMEMBER: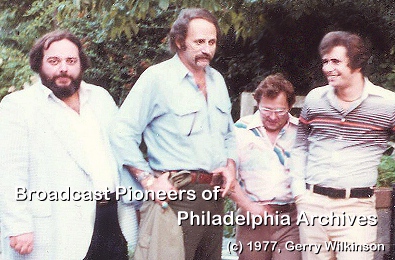 The WDAS Gang
(Left to right) Vice-President of Programming Joe "Butter" Tamburro
General Manager of WDAS AM & FM Robert A. Klein
Assistant Chief Engineer Tony Evasew
WDAS Newsman Steve Schorr
a BBQ at the home of WDAS Operations Manager Gerry Wilkinson
Saturday, August 27, 1977
Joe "Butterball" Tamburro, a WDAS air personality and music programmer, passed away on Friday, July 27th at his Main Line home. Butter had been battling heart disease and diabetes for some time. He was 70 years old and was a very big part of the success of the WDAS-FM Urban Contemporary music format, which started in 1971. Visit his tribute page!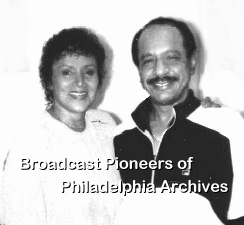 (left to right) Broadcast Pioneers member Edie Huggins & Sherman Hemsley
June 23, 1988
Born and raised down in South Philly, Sherman Hemsley went on to fame and fortune. He is mainly known for playing George Jefferson. The above photo was taken when George was back in Philadelphia promoting his role in "Amen" (Ernest Frye). Sherman Hemsley passed away at age 74 in El Paso, Texas, on Tuesday, July 24th.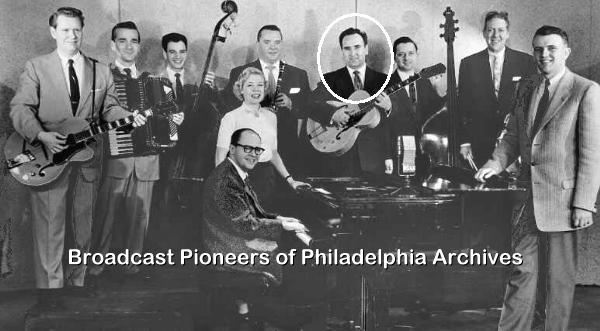 (Left to right) Tommy Ferguson, Walt Eismann, Joe Perry, Frank Lewis at top, Ginny Stephens in center and
Dave Stephens at bottom, Joe Sgro (circled) , Lennie DeFranco, George White and Ed Harvey
Ed Harvey & His Radio Show Band
WCAU Radio
1955
Joe Sgro passed away on July 15th at the age of 94. He was a well-known area guitarist. He also played the organ, violin, banjo and mandolin. He was part of the Paul Whiteman Orchestra on ABC-TV broadcasts that originated out of Philly. He was also in the Ed Harvey Radio band, which played on "The Big Top" and "Candy Carnival."
ON THE HEALTH FRONT:
Anchor Ukee Washington returned to CBS 3 after a medical leave on Tuesday, July 31st. He had hip replacement surgery in late May. He was there bright and early on "Eyewitness News This Morning" 4:30 to 7 am (on CBS 3) and 7 to 9 am on The CW Philly. He returned to "Talk Philly" with co-host and member of the Broadcast Pioneers Pat Ciarrocchi that same day at 12 noon. We're glad to see you back, Ukee.
Broadcast Pioneers member Glenn "Hurricane" Schwartz has been back at his post at NBC 10 for about 5 weeks. Glenn had double bypass heart surgery on April 25th after it was discovered that he had two blocked arteries. Doctors said that Glenn recovered faster than normal because he was in good physical condition. Schwartz has been continuing with rehab.
We heard from member Ilse Poindexter, wife of 1996 Hall of Fame inductee Malcolm Poindexter (who was also a Broadcast Pioneers member). She tells us that she is "doing better and a bionic woman with all her metal parts…." She is undergoing "relentless therapy" to help her get moving again. Keep up the good work, Ilse; we were glad to see you at our tour of KYW Newsradio/WIP SportsRadio.
Board member Les Waas reports that Nancy McCurdy is not doing well. She is the widow of former President and former Chairman of the Board Gene McCurdy. Les tells us that she is seriously ill. She has no desire to eat and hardly does so. She is speaking well. Anyone who wishes to send her a card may do so. Her mailing address is: Nancy McCurdy, Room 60, Tulip Terrace, 800 Maple Avenue, Harleysville, PA 19438. We wish her well.

Did you know...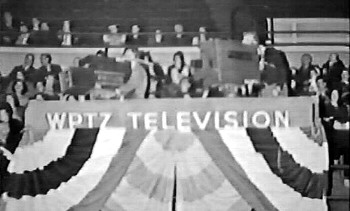 WPTZ Television Cameras
GOP Convention in Philadelphia
June 1940
In June of 1940, W3XE (Channel 3) televised the entire National Convention of the Republican Party. There were a thousand delegates present and an equal amount of alternates. The event was held right here in Philadelphia (1940 population was 1,931,334 people) and channel 3, owned by Philco, broadcast a total of 62 hours of coverage. It was the first television station in the history of the world to televise local, non-network reporting of a national political convention. They DID NOT carry the NBC-TV network coverage.
What would eventually become the NBC television network, through its O & O in New York City, 12,000-watt W2XBS, located in midtown Manhattan, operating on Channel One televised thirty and a quarter hours of coverage (reports of 33 hours are incorrect). The station used a series of relays from Philadelphia to New York and on to upper New York State, where the signal may have been sent on to Massachusetts, which would have been a record 325 miles for the transmission of television at that time. The New York City station had its tower on top of the Empire State Building.
General Electric's station, W2XB in the Schenectady-Albany area, picked up the NYC signal and rebroadcast over their facilities. It was, at that point in time, the longest confirmed live remote in history, 250 miles. Unconfirmed reports state that W1XAE in Springfield, Massachusetts, which was owned by Westinghouse, picked it up and rebroadcast its signal. We have not been able to confirm this but much of our research pointed to the fact that the station may have been dark by that time and therefore could not have broadcast the coverage. It is doubtful at best that a Massachusetts station rebroadcast the NBC-TV feed.
On the day of the balloting (there were six ballots that day), NBC aired 9 hours and 23 minutes of continuous coverage. That became the longest network television program in history to that point. However, W3XE had even more airtime that day which made its feed the longest local television program in history to that point. In fact, it was the longest TV program of ANY type up to that time.
According to the July 1940 issue of Radio and Television Magazine, the NBC relay was made over a coaxial cable installed by Bell Telephone Labs and ATT (the American Telephone and Telegraph Company). Land lines also connected the Convention Center to the Bourse Building at 5th and Market Streets in Center City Philadelphia (a distance of about four miles) where the terminals were connected to the line to NYC. Every five miles, the phone company had to put in amplifiers "in man holes" to keep the television signal at the same level of clarity until the New York station received the telecast. It was a total of 108 miles.
However, for Philadelphia viewers, the route was totally different. It went from the Convention Center direct to the Philco Plant at C & Tioga Streets in Philadelphia via what was considered a microwave transmission (240 MHz) in that era. The 15,000-watt relay station had the call letters of W3XP. Philco used no land lines in their transmission. W3XE's 10,000-watt signal covered a 25-mile radius from its 230-foot high transmitting tower located in 1940 on the top of the Philco plant at C and Tioga.
Initially, we believed that NBC and Philco coverage was the same with local Channel 3 (owned by Philco) carrying almost twice the hours as the network. However, we now are convinced that the NBC and Philco telecasts were not related at all. They were totally separate feeds. We do know that in the July 1, 1940 issue of Broadcasting Magazine, an article said: "Television audiences for the first time in history viewed a national political convention on their receivers when NBC and Philco sent television crews and equipment to the Republican National Convention in Philadelphia."
The publication showed a photo of a TV camera that said "Mutual" with "Philco" directly underneath. That same article said: "Cooperating with MBS (Mutual), Philco also televised the convention via its experimental television station, W3XE. …Philco served the Philadelphia territory, while NBC used coaxial cable facilities to pipe its pickups to New York." This gave us the first indications that they had separate staff and that Philco was working with Mutual and not NBC. It is possible that WIP Radio, the local Mutual radio affiliate, may have played a part in the W3XE coverage. They did make their downtown facilities available to Mutual. How much assistance Mutual gave W3XE is not yet clear.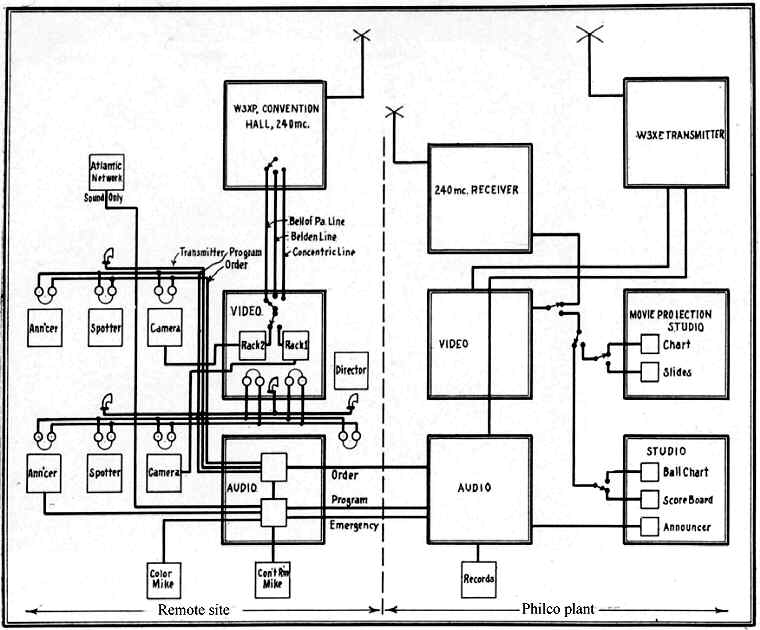 The Setup
Convention Hall & Philco Plant
It was the week Wendell Willkie won the GOP nomination for president. This televised event (June 24 to June 28, 1940) was the first time a political convention was broadcast on television. It was the station's first remote, according to Joanne Calabria, KYW-TV (CBS 3). There were fewer than a couple hundred TV sets in the Philadelphia market and most of those were owned by Philco and in the homes of employees. At that time, Philco wasn't even offering television receiving sets for sale to the general public.
Television screens were also used to present the convention to "overflow" crowds in the exhibition hall of the Commercial Museum (not Television Commercials) of Philadelphia that was next door to Philly's Convention Hall. Local newspaper reports predicted that two thousand people would view the convention from the museum. Included in this crowd were persons unable to obtain seats in Convention Hall. RCA Victor engineers had installed sixty TV receivers in the Commercial Museum. As of that date, the installation of the sets was the largest single installation ever assembled in one spot in the history of broadcasting. It is unknown whether they were receiving the Philco coverage off the air from Channel 3 or an NBC feed via closed circuit from the hall next door. After our investigation, we believe that they were receiving the NBC material, as RCA (who installed the equipment) owned NBC. We really doubt that RCA would have pushed a competitor's coverage.
During this time, Philco (owner of the station at that time) engineers installed an ultra-high frequency relay transmitter with 15,000 watts of power, W3XP, atop Convention Hall (34th & Spruce Streets), in Philadelphia, where the convention was held. It would remain there so that the station could carry sporting events from Franklin Field, a block away.
Convention Hall was less than 10 years old in 1940 and it could accommodate 15,000 people. It had a brand new parking lot and a unique but weird idea in air conditioning (large blocks of ice and huge fans - not a joke).
An aspiring lawyer from Grand Rapids, Michigan, was there shouting with many others, "We Want Willkie." His name was Gerald Ford.
News reports of the day said that convention goers showed great interest in being televised, as well as watching activities on television receivers which were installed in the Convention Hall itself, the Union League Club and the Commercial Museum.
Philadelphia remains and will forever be the "birthplace" of the televised political convention. It happened first in Philadelphia.
This regular monthly column is written and researched by Gerry Wilkinson
MORE DIGITAL ARCHIVAL PROJECT NEWS:
Mike Strug
Eyewitness News, KYW-TV
Wednesday, June 13, 1984

Independence Mall Carriage Driver
Eyewitness News, KYW-TV
Wednesday, August 13, 1980
The air date of this package was Wednesday,. June 13, 1984. It was recorded in advance so it was probably taped a few days before. It's a report on the horse carriages that travel around Independence Mall. Broadcast Pioneers member Mike Strug is seen on camera.
Watch in Real Video!
Watch in Windows Media!
The Broadcast Pioneers of Philadelphia has in its archives at least 70 scripts from "Action in the Afternoon." These are NOT duplicates, but the original scripts used on the show. In our July 2009 newsletter, we presented you with the first week of scripts. This month, we give you scripts are from the second week of the broadcast which originated live from the backlot of WCAU-TV and aired live over the CBS Television Network.
We also have in our DAP, Digital Archival Project, listings for what different radio stations in Philadelphia were airing. The date is Saturday, April 30, 1938. Note that the stations' frequencies were different than they are today.
Interested in knowing what WIP Radio was playing in November of 1960? Well, many people remember the old WIBBAGE lists and the WFIL, Famous 56, lists. However, WIP Radio also had theirs for a short period of time.
In April of 1949, a national publication (we have the article but the publication is not identified) wrote about Broadcast Pioneers member Dr. Francis Davis, the city's first broadcast meteorologist. Not mentioned in the article is the fact that Dr. Davis was part of the team that predicted the weather for the Allied invasion on D-Day. Dr. Davis was inducted into our Hall of Fame in 2000 and currently lives in Georgia.
We have been very busy digitizing audio from our reel to reel collection. We thought you might like to see a photo of our "Assistant Archivist" Ozzie Wilkinson watching very carefully to make sure everything was done properly in this transfer of May 1966 audio. See photo!
Remember, History is ONLY What Gets Saved!
(If there were no portraits of George Washington, how would we know what he looked like?)
A LITTLE BIT OF HISTORY!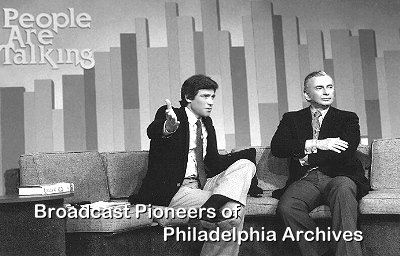 Maury Povich and the late Gore Vidal on the set of
"People Are Talking"
KYW-TV
circa 1982
MORE IN TOUCH WITH OUR MEMBERS:
Our president, Jerry Klein, is an ice hockey player. Did you know that? He gets up at 4 am a couple days a week to play the sport. Well, last month, he attended the 37th Annual Snoopy's Senior World Ice Hockey Tournament in Santa Rosa, California at the Redwood Ice Arena. Peanuts creator Charles Schultz likes to think of the event as a summer camp for seniors. It took place July 7th through the 15th. There were 54 teams, 14 Divisions, over 850 players and 135 hours of hockey action. How did they do? Jerry e-mailed:
My team and I captured silver medals at the 37th annual Snoopy Senior World Hockey Tournament in Santa Rosa, CA. We were in the age 60 and over division. I cobbled the team together from individual players from all over the US and Canada who wanted to play in the tournament. Some were new to the tournament, others were veterans of many years. We all had a blast! Here's a photo of the team!
More on Broadcast Pioneers President Jerry Klein. Congrats for being selected as an inductee into the 2012-13 Gallery of Success for the School of Media and Communication at Temple University. The Gallery's mission is two-fold: to provide current students an opportunity to be inspired by the success of Temple graduates who have gone before them and achieved success in their chosen fields and to honor Temple alumni who have distinguished themselves in their careers, serving as an inspiration to others in the attainment of their Temple degrees. Jerry is the Executive Vice President of Anne Klein Communications Group in Mount Laurel, NJ. Jerry, we're all very happy for you!
And speaking about this organization's leadership, our Chairman of the Board Gerry Wilkinson is very proud these days. His youngest daughter Zara just started a full-time permanent position as a reference librarian at Rutgers University's Camden campus. She's on a tenure track and is considered to be faculty.
Broadcast Pioneers member "Bandstand Bonnie" Nadley Silvestri was a special guest on member Charlie Gracie's radio show, "A Fabulous Hour with Charlie Gracie." The show airs Sundays from 3 pm to 4 pm on Cruisin' 92.1, WVLT, Vineland, New Jersey. The show celebrated the 55th anniversary of American Bandstand going national. Charlie's show can also be heard on wvlt.com. Gracie, by the way, will be inducted into our Hall of Fame on Friday, November 16th. Make plans to be there.
And here's more news about Gracie. Charlie, accompanied by Chubby Checker and the Trammps, will headline the Big Wildwood 100th Anniversary Concert at Fox Park on Sunday, September 2nd. Also appearing will be Broadcast Pioneers member Kenny Jeremiah & Bittersweet. You can hear Kenny and Bittersweet at La Piazza Restaurant and Lounge, Pacific & Burk Avenues in Wildwood at 8:30 pm August 11th, 18th and 25th. You can also catch Kenny and the Jeremiah Hunter Band on the Deck at The Golden Nugget Casino, Atlantic City on August 25th from 2 to 6 pm.
Member Jane Norman (Pixanne) is having a busy summer. She was in Italy and Spain for three weeks and just returned from the Umbria Film Festival. Back in the U.S., Jane has invested in an off-Broadway musical comedy, "The Last Smoker in America," which has played to standing ovations and rave reviews. Jane said,"Here's hoping for a good long run, but either way, the Broadway experience has been a hoot." Jane's husband, the late Frank Beazley, will be inducted posthumously into our Hall of Fame this November.
We told you in our June newsletter that another Philly kids' show host, Broadcast Pioneers Gene London, was going to Italy. Well, Gene is back in this country and is preparing to visit additional countries with his world renowned collection of movie stars' clothing. And speaking of Gene, did anyone catch the half-hour "Out of the Vault" program about Gene on NBC 10's "Non-Stop," Digital Channel 10.2? It was great. Pixanne was featured in an earlier broadcast in the series. Our members are everywhere.
After six months at another station, Harry Hurley (a member of Broadcast Pioneers) has returned to Townsquare Media, WENJ, 1450 AM, where he had previously spent more than 15 years. He has signed a multi-year contract and has re-launched Hurley in the Morning from 6 am to 10 am. Our special thanks goes out to Harry for the $1,000 donation. This is the second year he has done so.
What a great and memorable show! Broadcast Pioneers member John Primerano co-hosted "Lounging With Lombardi" on July 24th on the Internet at centannibroadcasting.com. We can dig it. Nice going, John!
Most folks aren't aware that Broadcast Pioneers member Dave Custis is the proud owner of a remarkable collection of recordings. Included in Dave's collection are the original 1,486 songs that were aired on "Your Hit Parade" between April 20, 1935 and June 7, 1958, each one of the original hits by the original artists. After a 20 year effort, Dave was able to get the rights from The American Brands Company to put the show back on the air in syndication. The next time you see Dave at one of our luncheons be sure to mention his historic collection. We have seen it and it is truly amazing.
Congratulations go out to member Paul Zavinsky, who has accepted a position as Development Director for the Tri-County Association for the Blind in Harrisburg, Pa. Good luck, Paul!
THANK YOU:
As we do every month, we want to thank Broadcast Pioneers member Johnny B. Hall for his monthly cash donation to our DAP, Digital Archival Project. Johnny has been donating $200 a month and continues to do so. The amount totals $2,400 yearly and really helps us to underwrite a large chunk of this much-needed but expensive project. We welcome other gifts for this project in the form of money and/or donated items like video tapes, audio transcriptions and photos. Johnny continues to underwrite scholarships. He's doing 6 of them this year. What a wonderful guy!
Broadcast Pioneers member Jerry Del Colliano has sent us a check for a "little something" for our DAP, Digital Archival Project. Turns out the "little something" is a check for $1,000. It's very generous. We have the greatest members in the world. While Jerry and his wife currently live in Arizona, they are Philadelphians at heart. They have been considering moving back East. We wish them well in whatever they do.
We wish to thank the following members for their generous donations to Broadcast Pioneers: Allen Stone, Frank Stone (no relation), Lou Beccaria, Steve Ross and Tom Lamaine.
If you forgot to make an extra contribution (cash or memorabilia) and would like to do so now, it's never too late. We would be thrilled to hear from you at: PO Box 2886, Bala Cynwyd, PA 19004 or call us at (856) 365-5600.
A LITTLE BIT OF HISTORY!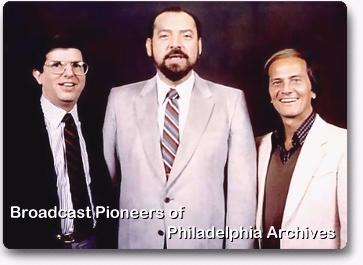 (Left to right) Marvin Hamlisch, Bill Webber and Pat Boone
circa 1980
IN TOUCH WITH THE INDUSTRY:
Congratulations to 6ABC sports anchor Jamie Apody and her husband Paul Coleman. Their new baby boy, Tanner Andrew Coleman, weighed in at 8 pounds, 6 ounces. Mom and baby are doing great!
NBC 10 recently announced that Sarah Glover has joined the station as Social Media Editor. Previously she worked at the Philadelphia Daily News. Originally a staff photographer, her role evolved to include shooting, producing and editing video for the web. A native of Erie, Pennsylvania, Glover earned a BA in Photojournalism and African American Studies from Syracuse University. She earned a MA in Communication Studies from Edinboro University of Pennsylvania.
Keith Russell, sports anchor and host of numerous sports-themed shows at WPVI (6ABC), has joined NBC 4 Washington/WRC-TV. He is co-anchoring News 4 Midday and contributing to the stations evening newscasts. Prior to WPVI, Russell spent more than five years as an anchor at ESPN.
KYW Newsradio recently featured Debra Kimless-Garber, M.D., President of Red Thread, as the winner of the inaugural 2012 Small Business Challenge. Red Thread is being awarded a $25,000 ad campaign on KYW Newsradio and a one year lease of professional private office space at one of seven American Executive Centers in the Delaware Valley. Red Thread designs and creates clothing and solutions to improve the quality of life for breast cancer survivors.
Clear Channel morning drive legend Elvis Duran has received a new five-year contract for his syndicated "Elvis Duran and the Morning Show." Duran launched the show at CHR WHTZ (Z100) New York in 1996, and is now heard at more than 40 stations nationwide, as well as Sirius XM. The show is syndicated by Premiere Networks. Doran's duties will be expanded to include spokesperson for the company. The broadcast is heard locally on Q - 102, WIOQ. Clear Channel owns both Premiere and WIOQ.
Internet radio service Pandora is doing very well in the Philadelphia market. It now reaches 11.3% of U.S. consumers nationally (some 16 million listeners) in a typical week, more than any other streaming music service. Among Pandora's weekly audience, 6.7% are business owners, partners or corporate officers, and 21.6% are proprietors or managers. In addition Pandora has a heavy concentration of working women listeners with a household income of $75,000 a year. This is based upon a Market Media survey of listeners 18-62 across 81 measured markets including the Delaware Valley.
Gregg Whiteside has joined the staff of WRTI. He's playing classical music daily on the station. Whiteside's career began at WQXR in New York City where he served as Chief Announcer and Morning host for 23 years. He hosted the national broadcasts of the New York Philharmonic and was the commercial voice of many of New York's most esteemed cultural institutions including the Metropolitan Opera. Most recently, Gregg has been the primary on-air midday host during WRTI's annual fund drives and for the past 3 months he has served as interim morning guy while the station conducted a
national search to replace former morning host, Broadcast Pioneers member Dave Conant, who will be one of the speakers at our September luncheon.

Musikfest, the nation's largest free, non-gated music festival, began its annual 10-day event this past Friday with live music on 15 different stages! 6ABC is once again the official media sponsor of the event's feature stage which will present big acts like Sheryl Crow, Daughtry, Boston, Young the Giant, Joe Cocker, and Huey Lewis and The News. This is the 8th straight year that 6ABC has been a media sponsor of the festival.
Last week, Zach Galifianakis and Will Ferrell were on "Talk Philly" on CBS 3, KYW-TV. They were in town promoting their upcoming motion picture"The Campaign." While there, Zach joined Meteorologist Katie Fehlinger in front of "the green screen." Both of them did the weather. When they came back to Ukee Washington and Broadcast Pioneers member Pat Ciarrocchi, Will did a sports story. Fun!
We heard from David Grzybowski, the president of our student group, who wrote about his LaSalle TV program:
"SportsTalk Philadelphia" on La Salle TV at La Salle University is seeking sponsors for the 2012-2013 season. All of the monies from the sponsor will fund our equipment needs for the studio and any other requirements throughout the year. La Salle TV reaches over 350,000 homes in the city of Philadelphia and offers a variety of sports shows and entertainment shows. For more information please contact me. I'm the host and producer of the broadcast. davdgrzy@gmail.com or (609) 314 9102.
ON THE SCENE: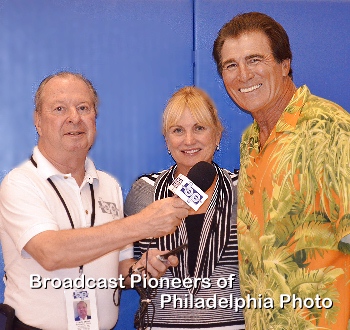 (left to right) Frank Stone, Janet Cantwell-Papale and Vince Papale
Avalon, NJ Public Library
Wednesday, July 18, 2012
The Broadcast Pioneers newsletter was "On the Scene" on Wednesday, July 18, 2012 at the Avalon Free Public Library to hear and experience Broadcast Pioneers member Vince Papale (former Eagle and special teams captain) and Janet Cantwell-Papale (former USA Olympic gymnast) co-deliver their presentation, "Be Invincible," based upon their book of the same name. The book, described as "a Playbook for Reaching Your Full Potential," was written by Vince and Janet, along with Tim Vandehey. It details invincible moments experienced by Vince, Janet and others, including athletes, journalists, and veterans. Double Click here to read the entire story!
A TASTE OF SUMMER FROM THE WPEN 950 AM COOKBOOK:
Here's a tasty recipe from the WPEN 95 AM cookbook, written by former Metro Traffic/ WPEN Traffic Center reporter Randy Chepigan (a member of the Broadcast Pioneers).
RANDY CHEPIGAN'S TROPICAL FRUIT COMPOTE ICE CREAM TOPPING
¾ cup of raisins
1 banana
½ cup coconut-flavored rum
1 pt. premium ice cream or frozen yogurt
Pinch of cinnamon
Whipped Cream
Cut banana into small slices. Place in bottom of bowl with raisins and cinnamon. Cover the mixture with coconut rum. Microwave on high 3-4 minutes (or just until the mixture starts to boil). Let marinate a few minutes. Melt one scoop of ice cream in mixture (to cool it somewhat). Stir thoroughly and separate into 2 serving bowls. Add more ice cream atop mixture. Top with whipped cream and serve immediately. Other fruit can be substituted for banana. Juice can be substituted for coconut rum for an alcohol-free version. Enjoy!
By the way, if you would like to donate a copy of a WPEN Cookbook to our DAP, Digital Archival Project, we would love to receive it. Don't mail to our Post Office Box. E-mail us at pioneers@broadcastpioneers.com and we'll give you a street address for mailing.
A REVIEW OF OUR JULY 25th FREE TOUR:
It was one great morning!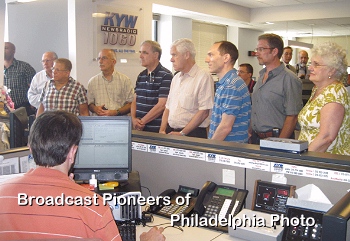 Broadcast Pioneers members at KYW Newsradio
Wednesday, July 25, 2012
Photo by Broadcast Pioneers Chairman of the Board Gerry Wilkinson
The annual Broadcast Pioneers July event took place on Wednesday, July 25th at 10 am. This year's event was a tour of KYW Newsradio and 94 WIP, SportsRadio at 4th and Market Streets in Center City. On this tour, we announced our 2012 "Person of the Year" and our 2012 inductees into the Broadcast Pioneers' Hall of Fame. See story above. During our visit, KYW Newsradio Anchor and new member of this organization Vince Hill spoke with Broadcast Pioneers President Jerry Klein on the air. Listen!
VIDEO!
(courtesy of member Brad Seecof and MetraMedia Studios!)
Interview with member Elliot Abrams!
Elliot does the Accu-Weather on KYW Newsradio during morning drive!
Interview with member Ralph "Bud" Galow!
Galow engineered the very first KYW Newsradio (September 21, 1965)
PHOTOS!
47 Photos of the tour!
(pictures by Broadcast Pioneers President Jerry Klein)

A FINAL THOUGHT....
"Television is a medium because it's neither rare nor well done."
Ernie Kovacs
Former Channel 3 personality
Please contact us by e-mail at newsletter@broadcastpioneers.com. Your stories are important, to you, to us, and your colleagues. Contact us today and we'll include your story in the next newsletter!

Photo Editor & Archival Historian - Gerry Wilkinson
© 2012, Broadcast Pioneers of Philadelphia
All Rights Reserved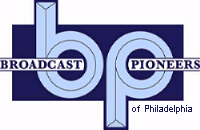 The e-mail address of the Broadcast Pioneers of Philadelphia is pioneers@broadcastpioneers.com
For luncheon reservations call (856) 365-5600 or e-mail us at: rsvp@broadcastpioneers.com