The Broadcast Pioneers of Philadelphia is a federally recognized, state chartered 501(c)(3) non-profit corporation serving Philadelphia since 1962.

Ed Eisen
News Editor

PERSON OF THE YEAR!
HALL OF FAME INDUCTEES!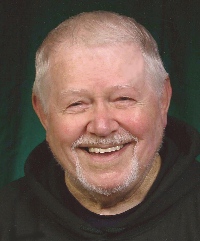 Broadcast Pioneers member Tom Moran
(Our 2013 "Person of the Year")
TICKETS GO ON SALE SEPTEMBER 1st!
BANQUET DATE IS FRIDAY EVENING, NOVEMBER 22nd!
PERSON OF THE YEAR:
Our "Person of the Year" for 2013 is our very own Tom Moran, a long-time member of the Broadcast Pioneers and air personality at WIP Radio and WPEN.
HALL OF FAME (LIVING INDUCTEES):
Our living "Hall of Fame" inductees (the class of 2013) are (in alphabetical order):
Danny and the Juniors, Legendary rock & roll group, famous for "At the Hop"
Sid Doherty, longtime WCAU-TV and WPHL-TV announcer and sports anchor
Jimmy Hirschfeld, Emmy award winner, former PD at WCAU-TV, Channel 10
Harry Hurley, 25 year veteran of the leading local talk show at the Jersey Shore
Dr. Brian McDonough, physician and longtime medical reporter for KYW Newsradio
Nora Muchanic, longtime New Jersey correspondent for WPVI-TV, 6ABC
Mike Nise, producer/director for "Dancin' on Air" and "Dance Party USA"
Kathy Orr, Emmy-winning meteorologist for KYW-TV (CBS 3) & the CW Philly
Bill Roswell, 30 year veteran at KYW Newsradio, now Director of Digital News
Vai Sikahema, former NFL player, now news/sports anchor for WCAU, NBC 10
Len Stevens, co-founder of WPHL-TV and president of Tower Economics
Louise Williams Bishop, Philadelphia's Gospel Queen Air Personality for 50 years
HALL OF FAME (POSTHUMOUS - in alphabetical order):
Dick Clayton, former WIP and WPEN radio air personality & ever popular voice-over announcer
Harry Harris, former television reporter for the Evening Bulletin and the Philadelphia Inquirer
Doug "Bud" Hibbs, worked in the business for over 75 years at several different stations in town
Les Keiter, former Sports Director and Sports Anchor for WFIL-TV, now 6ABC (WPVI)
Cal Milner, former WPEN Radio (950 on AM) co-host of the ever-popular "The 950 Club"
Rex Morgan, former television air personality and kids host for WFIL-TV, now 6ABC
Bill Russell, stage manager, technician for WFIL-TV and later WPVI-TV, 6ABC
Jean Shepherd, former KYW Radio and later WOR talk host for decades and decades
Hank Sperka, former and beloved WPVI-TV, 6ABC news reporter and news anchor
Dave Zinkoff, former PA announcer for the Philadelphia Seventy-Sixers basketball team
Tickets go on sale September 1st. Prices are $85 for members (each member can buy ONLY one ticket at the member price) and $95 for everyone else (including spouses, friends and guests). The event will once again take place at the City Avenue Hilton, 4200 City Avenue, Philadelphia. The date is Friday, November 22nd. The reception is at 6 pm and dinner is served at 7 pm. Doors open at 5:45 pm. Cash Bar all night long. Valet parking is $10. Event lot parking is $5. Make plans to be there! TICKETS GO ON SALE SEPTEMBER FIRST! A major portion of the ticket price may be deductible on your federal income tax. Ask your tax advisor for details!
WE WANNA SEE YOUR FACE IN THAT PLACE!

Visit Our Website Often - http://www.broadcastpioneers.com

EXCELLENT ADVERTISING OPPORTUNITIES:
(Also a wonderful way to show your support for Broadcast Pioneers!)
Now is the time to think about promoting your company, business, organization, etc. We are in the planning stages for the 2014 Membership Directory (almost 500 members) and our 2013 Person of the Year/Hall of Fame banquet booklet program. Both publications offer excellent reach, frequency and a highly qualified buyer who will respond to your message! Broadcast Pioneers publications are the best format to send your message to an unique niche market. For more information, to place your ad or for banquet sponsorship/naming opportunities, contact us at (856) 365-5600 or e-mail us at: pioneers@broadcastpioneers.com. You can't afford not to advertise with Broadcast Pioneers!
TIME TO RENEW YOUR MEMBERSHIP (Final call):
In mid-May (almost three months ago), all members received their membership renewal notices. If you haven't already done so, please take a moment to look over the contact information listed on the form and make any changes or corrections. We will use this information for publication in our membership directory this fall. IF YOU HAVEN'T ALREADY SENT IN YOUR DUES, YOU ARE OVER A MONTH LATE! If you need another invoice, please e-mail us and we'll send it to you by return e-mail. We can also snail mail it to you if you prefer.
This year, it's even more important for those of you who can afford to do so to check off the extra contribution box on the renewal form. We are a state-chartered non-profit organization with a 501(c)(3) status, which may make your contribution tax deductible on your federal income tax. Check with your tax advisor to see if this applies to you.
All dues are billed at the same time. Why? We have a volunteer that handles this. If we had to do it on a monthly basis, we would have to hire a company and thus raise your dues. There's no reason for us to do this. Be assured that if you joined in mid-year (say October), you would never be dropped until you received your full year of membership. If you can be generous with an extra contribution, we would certainly appreciate it. IT WOULD REALLY HELP! To those who have already done so, we say THANK YOU!
WE NEED ASSISTANCE:
Broadcast Pioneers is looking for a volunteer or volunteers with good MS Word skills to help us put together our 2014 Membership Directory which goes to press in less than two months. E-mail us at: pioneers@broadcastpioneers.com or call (856) 365-5600!
WELCOME NEW MEMBERS:
FULL MEMBERS:
Second from the left is Broadcast Pioneers member Matt DeLucia
(He was a LaSalle college student at the time)
Broadcast Pioneers Annual College Symposium
April 9, 2005
Matt DeLucia is a Broadcast Pioneers success story. He was one of our scholarship winners in 2005 and attended our College Symposium that same year. He worked at several different stations and is now a reporter for WCAU, NBC 10 here in Philadelphia. We welcome him as a new member. He previously worked at NJN as a reporter. While in Vegas, Matt won three Pacific Southwest Emmys.
Ted Hodgins has been in the business since 1981. He started, like many others, at WHHS Radio in Havertown. Then he went to WBUQ-FM in Bloomsburg, PA. Next it was some TV work for WMGM-TV at the Jersey shore. From 1990 to 2000, he was at Media General Cable in Fairfax, Virginia and for the last thirteen years he has been Senior Director of Technology and Product for Comcast here in the Delaware Valley.
Rich Franklin started in the business in 1963 working as an announcer at WDVR, which was new on the air at that time. From there, he went to stations in Hammonton (WNJH) and Pottsville (WPAM) then on to Syracuse. Franklin was also involved with Armed Forces Radio and TV and the American Forces Philippines Network. Later in his career, he worked at WCOJ in Coatesville and WNAR in Norristown.
David McCrork has been in the business for over a half century. He started at WNAR Radio and then went to Avionics QC and the US Army Security Agency. For ten years, he was self-employed doing engineering. In 1984, he went to WGHW/WNAP. Ten years later, he was with WNPV, WNAP and WBUX. He's currently the Engineer in Charge for WPV in Lansdale and also does radar calibrations for David Heiser.
ASSOCIATE MEMBER:
Ari Bluestein has been in the biz for the past 6 years. He started by doing an online radio show for the Sports Journey Broadcast Network. From there until the present, he is the play-by-play color commentator for Drexel University's Men's and Women's Basketball. Last year, he became CEO and Executive Producer of the Sports Fan Base Network (SFBN), which airs live high school sporting events on the Internet.
We are thrilled to have these new members. 494 Members. More than ever. We hope to see as many of our members as possible at our May Luncheon.
DIGITAL ARCHIVAL PROJECT NEWS:
VIDEO:
Broadcast Pioneers member Monica Malpass
WXII-TV audition tape
Winston-Salem, NC
circa 1986

Floyd Mauch & Monica Malpass
WXII-TV audition tape
Winston-Salem, NC
circa 1986
A little while before Broadcast Pioneers member Monica Malpass moved to Philadelphia to join "Action News" and WPVI-TV, 6ABC, she was working at WXII-TV, Channel 12 as a street reporter. The package was about "bad roads and potholes." Seems that the station picked the right reporter because Malpass means "poor road." Broadcast Pioneers member Monica Malpass says:
This pothole story was actually my "audition" piece that landed me my first job! It never aired, but I was a journalism major at UNC-Chapel Hill with lots of newspaper clippings and some radio rip-and-read news experience but no TV videotape. The News Director at WXII-TV in Winston-Salem, NC (the 50th market at the time) wasn't going to hire me because he had no proof that I could walk and talk while holding a microphone. So I offered to do a TV story on the spot to prove that I could. He picked the boring topic of "potholes," and I spent the next few hours calling car repair places and the DOT for stats.This is the story I put together that launched my career. It's the first TV writing I ever did, the first "stand-up" I ever shot, the first piece I ever oversaw the editing for.

It's not too polished, but it just goes to show what a can-do attitude will do for you, and I'm convinced Dave Emory hired me not for the stellar (not!) piece of journalism, but more for the unquenchable spirit that it embodied. Now 28 years and 1000s of stories later, it's certainly fun to look back.
Watch in Real Video!
Watch in Windows Media!
AUDIO:
Here's most of a 15-minute WFIL Radio evening news broadcast called, "Tonight." It was anchored by Broadcast Pioneers member John Roberts with Broadcast Pioneers member Jim Felix doing the local news and Broadcast Pioneers member Dr. Francis Davis doing the weather. The date is Wednesday, September 17, 1958. This recording is off-air and at the time, there was lightning in the area. You can hear it on the recording. The original source of the material was a 9 inch green flexible transcription disc.
Listen in Real Audio!
Listen in Windows Media!
Next we have another one of these green flexible discs (both were donated by Broadcast Pioneers member Michael Muderick). While we haven't been able to come up with an exact date for this recording, it definitely dates from the last half of September 1958. The station is WFLN. We have a business news program. It includes the backsell from the last record, a commercial and a stock market report. While this broadcast has been on our website for the last 12 years, we have cleaned up the audio far superior to what we used to offer. Also, for the first time, it is available in both the Real Audio and Windows Media formats.
Listen in Real Audio!
Listen in Windows Media!
Here's a piece of audio from May 1967 and WRTI-FM. This needs a little explanation. There was a daily program from 3:15 pm to 5 pm. Each day, a different DJ hosted the program. Normally, the jock would combo by both announcing and running "his own board." However, on Friday Broadcast Pioneers member Walt Mocrytzki was the air personality. Only thing is that the signal then was so poor that it was hard to pick up the station. Those of us who worked at the station (as student volunteers) knew the professors (who were supposed to be monitoring the station) left after their last class. They was always gone by 3 pm and there were no FM radios in cars then. So things would get a little crazy.
The university wouldn't let the students play rock music, so you would hear things like "Percy Faith" playing "Stop in the Name of Love" (the old Supremes hit) and "Mitch Miller and his Gang" doing "Light My Fire." So on Fridays, students were out for a little fun. There was always a bunch of "crazies" and others walking up and down the hall. People like Ed Sciaky, Gerry Wilkinson, Jerry Del Colliano, Michael Muderick, Mike Bove, Ed Cunningham (all members of the Broadcast Pioneers) and a bunch more. In the newsroom Broadcast Pioneers' future president Jerry Klein prepared the 5 pm half-hour newscast.
Monday through Thursday, the program was called "Mid-day Music Man," but by Friday the show had warped into "Mid-day Mocrytzki" with our Chairman of the Board Gerry Wilkinson producing the program. There were all kinds of funny bits. For example, they had Ed Sciaky with a walkie-talkie and a fake traffic report. At that time, Broadcast Pioneers member John Carlton was doing the Atlantic Go Patrol and a guy named Carlton Fredericks hosted a national health show on WFIL-TV, Channel 6. The name of the "traffic reporter" was John Carlton Fredericks" and he was on the Pacific Stop Patrol. No known recordings of that exists today.
However, we do have a 4 and a half minute feature with Ellie Menna doing a segment on "bathing suits." Today, you would know her as Mrs. Ed Cunningham. Ellie has also taught at Philadelphia's Community College for decades. Well, Ellie didn't know, but Sciaky had obtained an old, old text book at a nearby thrift store for something like 15 cents. They took the book cover from Ellie's science book and put it on the old textbook. While she was doing the feature live, several different people walked into the control room and proceeded to rip out pages from the old book (but it had her book cover on it). However, Menna never stopped her report. Later, she said that she wasn't ever aware of what was going on in the control room. Anyhow, here is that feature.
THE PHILLIES TOUR:
For those of you who missed last month's tour of Citizen's Bank Park, we have made an 11 minute video to show you what you missed. It was shot by Broadcast Pioneers Board Member Brad Seecof and his production company Metramedia Studios.
Watch in You Tube in HD!
Watch in Windows Media Format!
This is sort of related. In 1992, Broadcast Pioneers member Ed Cunningham was working on his first documentary for WHYY-TV. Called "Things That Aren't There Anymore," it was narrated by Broadcast Pioneers member Bill Campbell. This program, revisited things that are now gone through stories and pictures. One such place is Connie Mack Stadium, where Richie Ashburn played his first game for the Phillies. Channel 12 sent a video camera and Ed Cunningham down to Veterans Stadium, where they caught up with Richie Ashburn, then a broadcaster for the Philadelphia Phillies Baseball Club. During the broadcast, we only saw Richie for about 30 seconds, butthe actual interview lasted about 20 minutes. Since Ed was looking just for Richie's answers, Ed Cunningham was not seen on camera but you can hear him speaking "out of the frame." While we ran this same video several years ago in the newsletter, we thought you might enjoy a second look.
Watch in Real Video!
Watch in Windows Media!
A LITTLE BIT OF HISTORY!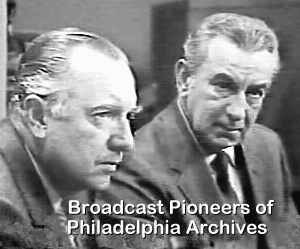 Walter Cronkite & Broadcast Pioneers member John Facenda
WCAU-TV Studios
circa 1968
IN TOUCH WITH OUR MEMBERS:
Broadcast Pioneers' Vice-President Paul Gluck was honored last month by Temple University. He received the school's Service Award. Another member, Amy Caples (formerly of KYW-TV, CBS 3), earned Temple's Merit Award, also presented last month. Congrats to both.
We heard from Broadcast Pioneers member Michael Tearson, who tells us:
For the last 9 years or so, I have been MC of nearly every show done in the Camden County (NJ) Sundown Series of free shows during the summer in Haddon Heights in the dell at Haddon Lake Park. This year they made it official that I would be series host which is really nice. I also MC whenever possible at the shows in Cooper River Park in Pennsauken and Wiggins Park in Camden. As I love to say, "In the summer, Camden County is a music festival!" In August 2011, when I released my CD "Stuff That Works," I was opening act for Chris Smither at the year's season finale show.
Joe Ball, founder and continuing president of American Advertising Services, the local advertising and P.R. firm, reports the company marked its 57th year of continuing operations. It was founded in July, 1956.
The business spawned off a radio division almost 20 years ago, and it continues to produce radio shows. Currently, those shows, all on WWDB, 860AM, are"The Marketing of Business," "The Business of Sports" and "Music Talk."

Over the years, these programs have been hosted by Lynn Doyle and members Ed Harvey and Bonnie Squires. Bonnie continues to do so.

Ball's first radio experience was while he was a student at Central High School. He started a magazine called "Campus Town," and it was introduced on the "Grady and Hurst" show on 950AM, an afternoon show, where Ball was interviewed. He was 16-years-old.
WWDB (860 on AM) General Manager Sam Speiser welcomes a new program to its schedule. The show is "Music Talk" and is hosted by Brittney O'Rourke. It's a half-hour interview program featuring business executives from varied segments of the music industry. The broadcast is weekly on Thursdays at 1 pm. O'Rourke is affiliated with Philadelphia's American Advertising Services.
Broadcast Pioneer member Jane Norman (better known to everyone as Pixanne) has temporarily moved her allegiance from television to Broadway!
She invested in the Broadway revival of "Pippin," which is currently the hottest ticket in the Big Apple. "Pippin" has won dozens of awards, including four Tonys, and is truly a smash! Opening night was April 25th at the Music Box Theater, and the audience was spellbound by the magic of the production. The show continues to break every record at the Music Box, and is playing to 104% capacity with SRO art every performance.

An amazing Cirque du Soliel type of circus is woven throughout the body of the show and the Bob Fosse/Chet Walker choreography combined with the circus acrobats and the incredible music, provides a breathtaking theater experience. By the way, our Broadcast Pioneers "secret agent" was in the UK last month and sent us this photo from a British shopping mall. Maybe "Pixanne" has other sidelines that she's not telling us about. Look at the "secret agent" photo!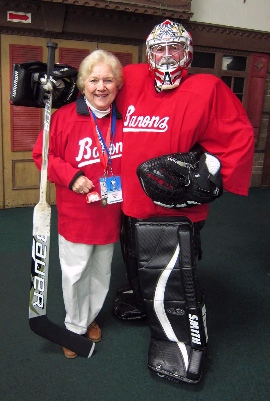 (left to right) Anne and Jerry Klein
Annual Snoopy Senior World Ice Hockey Tournament
Santa Rosa, California
For the second year, Broadcast Pioneers President Jerry Klein won a silver medal at the annual Snoopy Senior World Ice Hockey Tournament in Santa Rosa, CA. Jerry, a goaltender, backstopped his team in the age 60 and over
division to wins over two other teams, but lost by just one goal to the team that won the gold medal. It was Jerry's third year playing in the Snoopy tournament. He has played men's league hockey for over 30 years. Jerry lives in Medford, NJ, with his wife of 37 years, Anne.
WE REMEMBER:
George Duke, 67, a favorite on some Philadelphia radio stations passed away on Monday in Los Angeles. Duke was a popular recording artist in his own right and was heard on many pop and jazz albums for decades.
ON THE HEALTH FRONT:
Broadcast Pioneers News Editor and Board Member Ed Eisen continues to mend. He is recovering from a heart attack suffered several months ago. We spoke with him a little while ago and he's in good spirits. He hopes to resume his duties within the next couple of months.
Broadcast Pioneers former President and former Chairman of the Board Pat Delsi suffered a min-stroke last month. He too is on the road to recovery. We saw him last week, and he seems to be doing fine. He'll be spending the rest of the summer down at the Jersey shore.
Frank De Angelo, manager of Broadcast Pioneers member Valerie Morrison, recently went through a quadruple by-pass operation. Valerie tells us that he is recovering nicely. We wish him well and hope to see both Frank and Valerie at a Broadcast Pioneers luncheon real soon.

Did you know...
that 80 years ago, WCAU Radio moved into a wonderful new building at 1622 Chestnut Street in Center City Philadelphia? Well, it was one of the finest radio facilities in the country. Last month was part one about this amazing structure. This month, part two.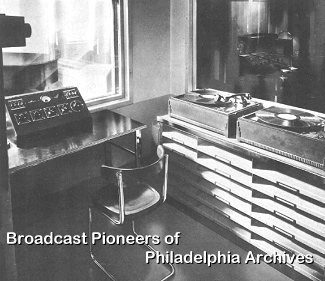 Studio H of WCAU Radio
1622 Chestnut Street, Philadelphia
December 1932
A 1933 WCAU Radio document says this about the new facilities and Studio H:
Studio H is equipped with the newest type RCA Victor 78 and 33 and 1/3 rpm turntables. Another first for WCAU. This room, in which are housed all electrical transcriptions, is specially air-conditioned to guard against warping of records. Special felt-lined cabinets prevent marring of sensitive transcriptions. Four people supervise every WCAU transcription program to insure perfection of broadcast. By adjoining Studio G, the operator is enabled to perfectly synchronize speaker with transcriptions on programs using electrical recordings.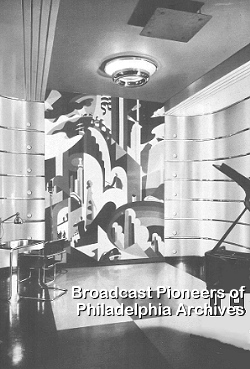 Studio J of WCAU Radio
1622 Chestnut Street, Philadelphia
December 1932
The same 1933 WCAU document says about Studio J:
Studio J is strikingly decorated in deep blue, black and chromium with the amazing mural of John Vassos in black, white and grays. Air-conditioning, indirect lighting and triple plate glass windows are found here as in all WCAU studios. Newest type air-conditioning system "cools" by stream, "heats" by cold water. A perfect temperature and humidity are maintained at all seasons. So sensitive is the automatic operation of the air-conditioning system that it adjusts itself in accordance with the number of individuals in the room. The heat of the human body being reflected in its operation. Control rooms are also air-conditioned.
Note the size of the studio. Also please pay attention to the famed John Vassos painting on the wall. Like the painting in Studio C (shown last month), no trace of this work of art existed by the end of the Second World War. Fortunately, photos of these art works still exist today in our photo article.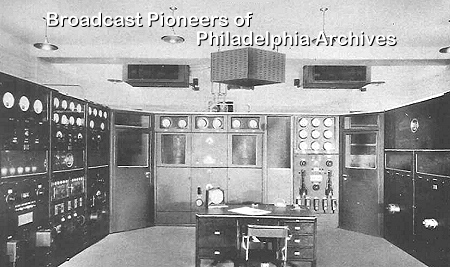 WCAU Main Transmitter
Transmitter Site, Newtown Square, PA
December 1932
The 1933 WCAU document continues:
From the operator's control desk shown above, the WCAU 50,000 watt transmitter can be started and stopped by the pressing of a single button. The entire equipment is completely enclosed behind electrically sealed doors, which when opened, automatically shut down the broadcasting equipment.

The motor generators used to heat the filaments and grid bias of the vacuum tubes have been duplicated to assure constant service. At the right are the banks of step-up transformers used to convert 4,000 volts to 20,000 volts. On the extreme left, may be seen the cooling system used to cool water for the large vacuum tubes.

The new WCAU 50,000 watt transmitting station located 12 miles airline from the business center of Philadelphia was officially dedicated in October, 1932. From the base of the tower is an elaborate ground system consisting of ten miles of copper wire, 24 inches below the surface and radiating like giant spokes from the hub of a wheel. The mast, weighing over 37 tons, rises 500 feet above the ground and is supported on an 800-pound porcelain insulator by four guide wires. From this vertical radiator of structural steel, the programs are sent to the vast listening audience of WCAU.

In the event of failure of the big 50,000 watt plant, the new WCAU building is equipped with a 1,000 watt RCA Victor transmitter which is installed in the master control room, and is automatically brought into use should the occasion demand. This emergency equipment stands ready at all times to do a duty it might never be called upon to perform.
This regular monthly column is written and researched by Gerry Wilkinson
MORE DIGITAL ARCHIVAL PROJECT NEWS:
VIDEO:
KYW-TV Anchor Jerry Penacoli
at the 5th and Market Studios
October 1989

KYW-TV Reporter Marge Pala
live in San Francisco
October 1989
This piece has Jerry Penacoli anchoring "Eyewitness News" on KYW-TV (now CBS 3). It's right after the 7.1 earthquake. Channel 3 dispatched Reporter Marge Pala to San Francisco. In this report, she is reporting live from the west coast. Featured in this report is Peter Barkann, brother of Broadcast Pioneers member Michael Barkann. We contacted Peter and here's what he told us about the quake.
Having just recently moved to California, I was learning about my new home; San Francisco. October baseball brought the city a big "pump" because the Giants won the National League West championship and were in the World Series. On the 17th of October, right before the third game of the series, while wrapping up work at 5:04 PM, just south of Market Street in San Francisco, the ground began to shake. And shake. It shook for what seemed to be an eternity, but I'd later find out it was only about 14 seconds or so.

I got out of the building rapidly. While running out, it was as if I was in a fun house; the floor was heaving as pressure waves from the quake rolled through the city. The first thing I noticed when I got outside was the tops of the downtown buildings moving, like trees blowing in the wind. The asphalt street and sidewalk of the alley I escaped looked like a frozen sea of small waves. I walked out towards the heart of downtown, there were thousands of people out on the streets who were eerily quiet. I assume they were all like me; in shock, full of adrenaline, damp with perspiration from running and the humid Indian Summer's warmth. It was surreal. Since that day, when the Indian Summer's warmth and humidity permeates the San Francisco air, I quietly say under my breath....."It's earthquake weather."

Oddly enough, about 8 weeks ago, there was nearby earthquake that rocked Lake Tahoe quite a bit! (Peter was there).
Watch in Real Video!
Watch in Windows Media!
AUDIO:
In the late eighties, Dr. Brian McDonough (a member of the Broadcast Pioneers) did a weekly hour long radio program called "On the Line" on WRTI-FM. One of the programs dealt with post traumatic stress disorder. We have the entire broadcast in our audio archive. We present here the first 20 minutes of that show. Dr. Brian McDonough adds:
In 1986, I was providing medical features for WHYY-TV 5:30 pm news based in Delaware and was looking for a way to break into radio. This was two years before I started on KYW Newsradio. I had graduated from Temple University School of Medicine a year earlier and approached Temple about a talk show focusing on health. WRTI was well known as a "birthplace" for many of the top broadcast professionals both on the air and behind the scenes. They took a chance and allowed me to host a one hour talk show.

Each week we were live from Tempe's Annenberg studios. Initially, it was an opportunity to learn my craft, but I remained as host for over fifteen years as my own career developed and had the opportunity to work with many broadcast journalism students and help them in their careers. In fact, for a five year period the show was nationally syndicated through Joel Adler's Coast to Coast Radio Network. Guests ranged from C. Everett Koop to John Chaney to Dr. Benjamin Spock to Susan Olsen (Cindy Brady). I had a wonderful time and it was truly an honor to share the same studio as many of the legendary broadcasters from Temple.
Listen with Real Audio!
Listen with Windows Media!
During the flight of Mariner 9, NASA set up a toll-free number for radio stations to call to get a free voice feed for inclusion into their local newscasts. Broadcasters often took advantage of this because it sounded that they had a news correspondent reporting from the Jet Propulsion Lab. Here's an 11 am feed (8 am on the west coast). It's Thursday, December 16, 1971. It was recorded in Philadelphia by a local radio station's engineer.
Listen with Real Audio!
Listen with Windows Media!
Here's a WCAU Radio newscast (preceded by a WCAU, Philadelphia ID jingle) from Sunday evening, October 10, 1971. It's the complete 10 pm newscast with WCAU newsman Ken Roberts. This cast contains a 60 second commercial voiced by Broadcast Pioneers member Ed Harvey. This is an off-air recording and you can hear slight surface noises throughout this newscast. An odd thing happened a year or so after this newscast. Ken Roberts took WDAS newsman Charlie Harmon's position and Charlie took Ken's job at WCAU.
Our Chairman of the Board Gerry Wilkinson, who was Operations Manager at WDAS during this era, said that it was almost like they were "traded" like baseball players. Of course, they weren't and no one seems to remember which opening became available first. By the way, Harmon later returned to WDAS Radio and became the stations' News Director. Charlie's sister Juanita Harmon was killed when the Salvation Army Thrift Store collapsed in June. This is the first time in nearly 42 years that this newscast has been heard and is probably the only copy in existence today.
Listen with Real Audio!
Listen with Windows Media!
Remember, History is ONLY What Gets Saved!
(If there were no portraits of George Washington, how would we know what he looked like?)
--------------------
A LITTLE BIT OF HISTORY!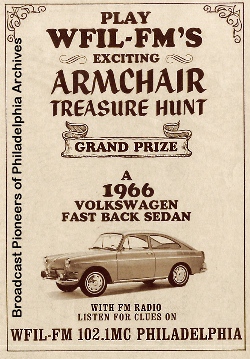 WFIL-FM Brochure
circa 1965
(originally donated by member Michael Muderick)
THANK YOU:
As we do every month, we want to thank Broadcast Pioneers member Johnny B. Hall for his monthly cash donation to our DAP, Digital Archival Project. Johnny donates $250 every month. The amount totals $3,000 yearly and really helps us to underwrite this much needed but expensive project. By the way, that's a $600 a year increase over his contribution from 2012.
We would like to thank new members Ted Hodgins and David McCrork for including an extra contribution with their membership application. It all really helps. Special thanks to member Valerie Morrison for sending an extra contribution. She sent an additional one a couple of months ago. Thanks. Member Joe Ball sent a nice contribution in memory of two of our late members, Ed Harvey and John Carlton. Thanks, Joe.
We already have a good start for the April 2014 scholarships. We already have pledges and/or funding for fifteen $1,000 scholarships to be awarded in April of 2014. We received $1,000 for a scholarship in the memory of Broadcast Pioneers Hall of Famer Mac McGuire. The contribution came from member R. Alan Campbell. Also, the final $1,000 scholarship (part of a five year package) from Broadcast Pioneers Hall of Famer Sylvia Kauders. We also have pledges for seven $1,000 scholarships from member Johnny B. Hall and his wife Ginny. That's one more than last year. Also, a scholarship from the Adelman family for a $1,000 scholarship and also one from Robin Adelman's dad, member Leon Love. Member Harry Hurley has pledged a $1,000 scholarship from the proceeds of this year's Hurley in the Morning Golf Tournament.
Broadcast Pioneers Vice-President Kal Rudman started underwriting scholarships for our organization several years ago. He was the person that underwrote our first scholarship way back when. Now, there are many following in his footsteps. Kal has just said that he'll be underwriting two more scholarships for the coming 2014 year. Thanks, Kal. Another contribution came from Esther Kurtz. Included in her membership renewal was a $1,000 for a scholarship in memory of David Kurtz (founder of B101).She has been doing this now for 8 years.
Member Monica Malpass has donated a couple dozen tapes to our DAP, Digital Archival Project. The material dates back to her days broadcasting in North Carolina. Monica has now been with WPVI for a quarter of a century. Thanks, Monica.
Marge Pala, anchor and reporter for KYW-TV for so many years has donated 50 tapes from her career. The material runs from her early days to later stuff. It is all excellent and we are proud to add these items to our video archive. Thanks, Marge.
Both the Malpass and Pala items have been digitized and stored in our DAP, Digital Archival Program. The original material has been retained and physically stored in our storage facility. The two video clips used in this newsletter comes from these newly acquired items.
And again, we wish to thank member Jerry Del Colliano for his $1,000 contribution to our DAP fund. This is the second year in a row that Jerry has done this. We thank him so much for his gift to this most important project.
A little while ago, Robin Adelman (on behalf of the entire Adelman family and Leon Love) presented us with a $1,000 contribution to be split between of our DAP project and our general fund.We welcome other gifts for these and other projects in the form of money and/or donated items like video tapes, audio transcriptions and photos.
Now, it is membership renewal time and we would like to thank those of you who included an extra contribution with your membership renewal. Those members are Lee Schwartz, Daniel DiNardo, Liz Matt, Steve Ross, Bob Loudin and W. Carter Merbreier,. Thanks so much for your support.
Our special thanks go to TUTV and The Kal & Lucille Rudman Media Production Center.

They have underwritten a grant to be used to fund an entire year of all our newsletters for calendar year 2013. We thank them so much for their support!
If you forgot to make an extra contribution (cash or memorabilia) and would like to do so now, it's never too late. We would be thrilled to hear from you at: PO Box 2886, Bala Cynwyd, PA 19004 or call us at (856) 365-5600!
A LITTLE BIT OF HISTORY!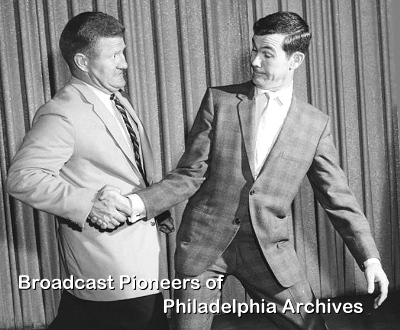 (Left to right) Rex Morgan and Johnny Carson
WFIL-TV, Channel 6
circa 1961
(Photo originally donated by Rex Morgan, Jr.)
IN TOUCH WITH THE INDUSTRY:
Mid-July, The Tribune Company (owners of WPHL-TV, Channel 17 here in Philadelphia) announced that it plans to separate its broadcasting and publishing divisions into two different companies. The corporation says: "The proposed separation is designed to maximize shareholder value through the spinoff of Tribune's publishing assets to an independent company and the tax-free distribution of shares in that company to the stockholders of Tribune. The company currently owns 42 television stations in 33 different markets. No timetable has been announced.
WWIQ, Philadelphia's "Fortress of Free Speech" started carrying Don Imus in mid-July. The syndicated broadcast has been missing from our market for at least a half dozen of years. However, Imus' broadcast is simulcasted on TV on the Fox Business Channel carried by many cable and satellite services. Don replaces a local news, talk and traffic program hosted by Lionel (Michael William Lebron), a former Florida attorney. WWIQ says that they are Philadelphia's "Fortress of Free Speech." They are licensed to Camden. The station was previously known as WKDN. WKDN Radio is now on AM at 950 in Philadelphia (formerly WPEN).
In July, Jericka Duncan has been named a Correspondent for News Services at CBS News, the Network's 24-hour television newsgathering service for CBS stations and broadcasters around the world.
Duncan joins CBS News from KYW-TV, the CBS owned and operated station in Philadelphia, where she had been a general assignment reporter since August 2010. While there, she earned a first-place award from the Associated Press and a local Emmy nomination for a series of reports about disabled adults held captive in a Social Security scam. In addition, the Philadelphia Association of Black Journalists named Duncan its "Journalist of the Year.

Duncan received a local Emmy Award in the "Best Morning Show" category for her winter storm coverage in 2008 and a New York State Broadcasters Association Award for "Best Spot News Coverage" in 2007.
Ileana Diaz joined CBS 3 and The CW Philly's Eyewitness News team as a reporter last month. She comes to Philadelphia from WNYW-TV/WWOR-TV in the New York market where she has been a reporter since 2012. While in New York, Diaz covered numerous national news stories including the Etan Patz missing child case. Previously, Diaz was a news reporter for KGUN-TV in Tucson, Arizona where she broadcast live from the crime scene following the shooting of Congresswoman Gabrielle Giffords and reported extensively on the state's controversial immigration law. Diaz also served as the weekend weather anchor. She began her career as a reporter in 2008 at KNDO-TV in Yakima, Washington.
NBC10 Philadelphia announced last week that Tedd Florendo will be joining the station as a weekend meteorologist starting September 9th. Florendo joins NBC10 from CBS affiliate KLAS in Las Vegas, Nevada, where he has been a meteorologist, reporter and anchor since 2004.
Florendo, a native of Seattle, Washington, began his career in broadcast journalism in his hometown as an assignment editor at KOMO. He holds a degree in broadcast journalism from Washington State University and a certification of meteorology from Mississippi State University. He will be relocating to Philadelphia with his daughter and wife Jennifer, a Pennsylvania native.
THANKS FOR THE MEMORIES:
WCAU-TV's 1964 ELECTION COVERAGE!
(left to right) Broadcast Pioneers members Mike Quinn and Gene Crane
Election Night Coverage (on the set)
WCAU-TV, Channel 10, Philadelphia
Tuesday, November 4, 1964
Broadcast Pioneers member Gene Crane tells us a little about this era:
This election was Lyndon Johnson's first election contest on his own. He had inherited the last year of JFK's term. He beat Goldwater in a landslide. I remember that Hugh Scott was re-elected that year as Pennsylvania's Senator.Of course, a lot of our coverage came from the network and we did cut-ins of our stateside contests. At this point, I'm probably listening to instructions from the Control Room.

During this period, John Facenda was always the anchor, and everyone else pitched in. I remember Herb (Clarke) was there as well, despite the fact he was the weatherman! They were very exciting times.
Broadcast Pioneers member Mike Quinn adds this:
By November, 1964, I had been working at Channel 10 news for three and a half years. While I worked several off-year election nights, this was my first presidential election night. I was among six people sitting at large tables behind the anchor desk, handling vote tabulations and voting trends in various races, in Pennsylvania, New Jersey and Delaware including President.

Gene Crane was one of three people at the anchor desk. Just out of frame of this photo next to Gene, were John Facenda and Herb Clarke. Prior to each election night, herb asked me to prepare index cards containing biographical information about the various candidates. He used them while on the air.

The set for large elections such as this, was in what was then studio 2. For many years now, it has house the Channel 10 newsroom. We did not have computers to help us then. I agree with Gene that those were definitely exciting time.
SHELDON "SHELLY" DAVIS!
Last month, we posted audio of Shelly Davis hosting a college program called "Through Historic Philadelphia." Well, it generated two e-mails from members. Broadcast Pioneers member Fred Woskoff says:
As I do every month, I enjoyed reading the latest newsletter, in particular the mention of Shel Davis. I had completely lost touch with him after Temple and WRTI, but low and behold he turned up at KRQE-TV in Albuquerque just a few months before I left to come here to Madison.

I've got his card in my Rolodex. He was at that time the General Manager at KXVA TV and KIDZ TV in Abilene, Texas. KXVA is the Fox affiliate, and KIDZ was then running the PaxNet and UPN programming. Sheldon had come to Albuquerque to interview with Bill Anderson, the GM four our four stations for a management position.

We had some time to go over old times, in particular one night after some of the WRTI crew was returning from a conference of college broadcasters in New York. I was driving Sheldon home, and we stopped at a red light along US 1. I glanced up, and suddenly the windshield of my VW was filled with a big airplane. Of course it was just the old Constellation airliner that was perched above that restaurant along the road. But, I nearly had a heart attack, suddenly seeing the four engine aircraft just a few dozen feet away.
Another also wrote about Shelly. It was Broadcast Pioneers member Jay Meyers. Jay tells us:
I particularly liked the audio of Shelly. Shelly graduated Neshaminy two years ahead of me and his brother Jeff was a year behind me. We all first met as kids belonging to the same Synagogue in Levittown. Jeff worked for me in Greensboro in the late eighties. It was my first GM gig and I hired Jeff from Atlanta to be my Sales Manager. At that point we hadn't seen each other in about 18 years. Jeff now manages a small AM in the Atlanta area. Interesting tidbit, check this out:

Bob Hamilton, Neshaminy Class of 65
Shelly Davis, Class of 66
Jay Meyers Class of 68
Jeff Davis, Class of 69

While that was going on, the Fennessey clan, Dick, Eddie and Kevin were making their way through arch rival Bishop Egan, the big local catholic school. Never met them until much later in the radio business.
A LITTLE BIT OF HISTORY
!
(left to right) Broadcast Pioneers members Ed Elias and Bill "Wee Willie" Webber
Broadcast Pioneers College Symposium
WPVI-TV, Channel 6, Philadelphia
April 9, 2005
Zimmerman's Attorney on Philly Radio!
In mid-July, it was reported that one of George Zimmerman's attorneys used to be a disc jockey here in Philadelphia. Member Michael Tearson tells us:
By the way, further research on the Don West at WMMR shows he was Sgt. Tony Mulvaney when a DJ (middays 77-78) and Don West when doing news on morning drive show. My bit for the monthly for August follows.

I was home Sunday night, July 14th when Jon Takiff of the Philadelphia Daily News called me to try to confirm the story that Don West, a lead defense attorney for George Zimmerman in the Florida trial over the killing of Treyvon Martin, previously had been a DJ on WMMR. They had talked with Bill Weston, WMMR PD, who said nobody there remembered him at all. I told Jon that I did remember him as one of those Jerry Stevens had brought into the station in 1977-78 during Jerry's second term as PD, but that his run was "not very long or very successful." I was also quoted as describing his run there as "He was basically there for a long sip of water."

A little research turned up that when he was a DJ he did middays as Sgt. Tony Mulvaney and also at the same time did news on morning drive as Don West. Larry Richman, Member Rod Carson and Mimi Chen (now in LA) helped with this info.

I will say this: when I saw Don West's picture I did not recognize him at all! One other thing this drives home to me is that currently there is nobody at WMMR who knows the station's storied history with any authority at all.
Broadcast Pioneers member Rod Carson adds:
I remember working with Don West for a very short time at WMMR when Jerry Stevens was PD, his second time around. I was production director and fill-in DJ and Jerry was trying to revamp the station. He brought in Steven Siegel and Don West at about the same time. He changed Siegel's name to Steven Clean and Don West did news as Don West, but when he DJ'd, Jerry changed his name to Sgt. Tony Mulvaney. Why? Because he's Jerry Stevens, that's why. I don't remember Don being there that long. I called him "surfer dude" because of his long blonde hair. In late June of 1978, Jerry called me into his office one day and told me about a van giveaway from an auto dealer that the station had done every year. He decided that this year he was going to have it driven from CA to Philly for a mileage contest. He told me I was the only one on the staff he could trust, so I was sent to the west coast to pick up the van and drive it east reporting in on the air every day. The winner would guess the number of miles driven. Anyway, when I got back, I believe Don West was already gone. I didn't watch any of the Zimmerman trial and had no idea Don was an attorney until it was brought to my attention by some former co-workers and interns. Small world, huh?

More about Dr. Russell Conwell on WOO Radio!
In our June 2013 newsletter, we ran an excerpt of a 1923 article about Dr. Conwell (founder of Temple University) and his broadcasts on WOO Radio (the John Wanamaker station). We had received several requests for the entire article and so here it is. Read the entire article from 1923!
Jean Shepherd and those "FREE" commercials!
Early in the morning on Friday, August 17, 1956, Jean Shepherd was a DJ on WOR Radio in New York. He played records but did a lot of talking very similar to what he later famous for. The station believed that Shepherd's program was so offbeat that it just couldn't attract sponsors. So Jean set out to prove that his listeners would buy products. He did a commercial for Sweetheart Soap. Only problem was that the soap company never bought the time. According to the August 20, 1956 issue of Broadcasting Magazine:
In apparent effort to prove his program isn't too high-brow to sell things, he (Shepherd) started urging listeners to go out and buy Sweetheart Soap. After several of these free 'commercials' he was yanked about 2:30 am Friday and replaced with a program of recorded music. WOR spokesman said that the station felt Mr. Shepherd was 'talented and erudite" but appealed to a limited audience.
But that's not the end of the story. The September 3, 1956 issue of Broadcasting Magazine says:
Sweetheart Soap, however, was intrigued by Mr. Shepherd's talent and offered to sponsor him on WOR. On August 26th, the station telephoned Mr. Shepherd's home in New Jersey. No Mr. Shepherd. His agent didn't know about his whereabouts. Another sponsor, the Linguaphone Institute, called WOR to place an order for the Shepherd program. Still no Mr. Shepherd.

After wires, phone calls and newspaper ads, Mr. Shepherd telephoned the station last Wednesday morning and said he would drop in at 11 am. He did and signed his contract. He said that he had been appearing in an educational film in Connecticut. Station executives were mollified (and gratified) to hear that Mr. Shepherd had learned about the "manhunt" on WOR early Wednesday morning.
Jean Shepherd, who worked here in Philadelphia on KYW Radio before his venture in the Big Apple will be inducted into our Hall of Fame posthumously on Friday evening, November 22nd.
A FINAL THOUGHT....
"Can you imagine 4,000 years passing, and you're not even a memory? Think about it, friends. It's not just a possibility. It is a certainty."
Jean Shepherd
WOR Radio
1975
Please contact us by e-mail at newsletter@broadcastpioneers.com. Your stories are important, to you, to us, and your colleagues. Contact us today and we'll include your story in the next newsletter!

Photo Editor & Archival Historian - Gerry Wilkinson
© 2013, Broadcast Pioneers of Philadelphia
All Rights Reserved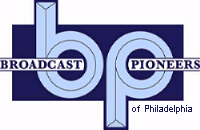 The e-mail address of the Broadcast Pioneers of Philadelphia is pioneers@broadcastpioneers.com
For luncheon reservations call (856) 365-5600 or e-mail us at: rsvp@broadcastpioneers.com