| | |
| --- | --- |
| | Broadcast Pioneers of Philadelphia is a federally recognized, state chartered 501(c)(3) non-profit organization serving the Philadelphia Broadcast Community since January of 1962. |
Our "Person of the Year &
Hall of Fame Inductees for 2014!
Our Annual Banquet!
Friday, November 21, 2014!

(Left to right) Chairman of the Board Jerry Klein
Broadcast Pioneers "Person of the Year" for 2014, Pat Delsi
Broadcast Pioneers CEO Gerry Wilkinson
The CBS Broadcast Center
1555 Hamilton Street, Philadelphia
Tuesday, July 22, 2014
Our Honorees!
Our "Person of the Year" for 2014 is Pat Delsi
In 1953, Pat Delsi began a long-lasting broadcast career at a little station in Vineland, NJ. A year later, Delsi joined WCAM in his hometown of Camden and stayed until 1980. A popular Delaware Valley air personality since the fifties, Delsi has work at one time or another as an announcer, newsman, sportscaster or disc jockey for almost every station in the Philadelphia market, including WRCV Radio and KYW Radio. In fact, in June 1965, Pat did the first newscast on KYW Radio when it returned to Philadelphia, two months before the all-news format was introduced.
Delsi has introduced over a million songs on the air and, as a newscaster, has reported over 150,000 five-minute newscasts in the Delaware Valley. This legendary radio broadcaster has also devoted himself to a life of public service and has served on many boards and committees. Pat has served as this organization's president and then chairman of the board. He has been on our board of directors for over two decades.
Our Living Hall of Fame Inductees for 2014 are:
John DeBella, longtime Philadelphia morning drive host on WMGK-FM, 102.9
George Finkel, Emmy winning director of Super Bowl & Olympics coverage
Ralph (Bud) Galow, engineer for decades at WRCV and KYW Radio
Dom Giordano, morning talk show host on WPHT, 1210 Talk Radio on AM
Bill Henley, meteorologist at WCAU-TV (NBC 10) for more than 2 decades
David Henry, WPVI-TV news street reporter for almost three decades
Blaise Howard, Vice President and General Manager of More FM, 101.1
Agnes Nixon, creator of modern soap operas All My Children & One Life to Live
Connie Roussin (Spann), legendary TV host of many TV shows on Channel 6
Susan Schiller, Vice President and News Director, CBS 3 & CW Philly 57
Sue Serio, veteran meteorologist and morning weather anchor for Fox 29
Fred Walters, legendary executive editor at KYW Newsradio & more
Our Posthumous Hall of Fame Inductees for 2014 are:
Stella Alberts, famed producer of the Al Alberts Showcase on WPVI-TV
Marian Anderson, one of America's best contraltos in the 20th century
Walter Beaulieu, engineer extraordinaire for WFIL-TV/WPVI for 4 decades
Ralph Collier, iconic interviewer at WFLN, WCAU, WRTI-FM and WBUX
Warren Kraetzer, former president of WHYY-TV, WUHY-TV and Radio
John Leitch, Chief Engineer at WCAU Radio & WCAU-TV for decades
Bob Mitchell, popular DJ on WIBG during their heyday plus WDAS & WCAM
Fred Sherman, legendary business news commentator for KYW Newsradio
Joe Tamburro (Butterball), VP of Programming & PD for WDAS AM & FM
Ron Tindiglia, developer of the WFIL-TV/WPVI format of "Action News"
Joe Zawislak, iconic horror movie host on Dr. Shock, WPHL-TV, Channel 17
Tickets Go on Sale August 15th!
Prices are $88 for members (each member can buy ONLY one ticket at the member price) and $98 for everyone else (including spouses, friends and guests). The event will once again take place at the Hilton City Avenue, 4200 City Avenue, Philadelphia. The date is Friday, November 21st. The reception is at 5:45 pm and dinner is served at 7 pm. Doors open at 5:30 pm. Cash bar all night long. Valet parking is $10. Event lot parking is $5. Make plans to be there! A major portion of the ticket price may be deductible on your federal income tax. Ask your tax advisor for details! Tickets must be purchased in advance. Absolutely no tickets available at the door.

Visit our website often - http://www.broadcastpioneers.com
Check out our Facebook page - http://www.broadcastpioneers.com/facebook
Tune in to our YouTube channel - http://www.broadcastpioneers.com/youtube
Special thanks to Art Wilson for doing our Facebook page!
More special thanks to Brad Seecof for doing our YouTube channel!

REMINDER!
IF YOU HAVEN'T PAID YOUR DUES BY NOW, YOU'RE LATE!!!
We mailed out membership renewals to all our members in mid-May. If you haven't returned the form, you are now officially late in paying your dues. Kindly return your form and check at your earliest convenience.
Please also note that on the form is an important box that you can check if you would like to make an extra contribution. If you can afford it and wish to do so, any amount will be greatly appreciated. Every little bit really does help.

EQUIPMENT NEEDED!
WE NEED MII (M2) MACHINES AND D2 PLAYBACK TAPE DECKS!
Our Digital Archival Project is in need of MII or D2 video tape machines. These should be in working or near working order. If you would like to donate any of these machines, please call us at (856) 365-5600 or send us an e-mail to pioneers@broadcastpioneers.com. Since Broadcast Pioneers is a 501(c)(3) non-profit organization, your donation of equipment may be tax deductible for federal tax purposes. We also may be able to use other equipment.

DIGITAL ARCHIVAL PROJECT NEWS:
VIDEO:
On Tuesday, July 22, 2014, members of Broadcast Pioneers of Philadelphia were invited to tour the CBS Broadcast Center at 1555 Hamilton Street in Center City. We saw the facilities of CBS 3, the CW Philly 57 and KYW Newsradio. Within the past several months, KYW Newsradio had joined its sister TV stations at this location. The tour was a little over 26 minutes long and has become a permanent part of the Broadcast Pioneers YouTube channel. The video was shot and edited by Broadcast Pioneers Vice-President Brad Seecof and his company, Metramedia Studios.
AUDIO:
The short piece of audio is part of the 2 pm newscast on WPEN Radio on New Year's Day, January 1, 1966. The news report was done by WPEN staffer Bill Smith. He reports on the possibility of peace in Vietnam and a possible settlement in the Pakistan-India dispute.
Listen in Real Audio!
Listen in Windows Media!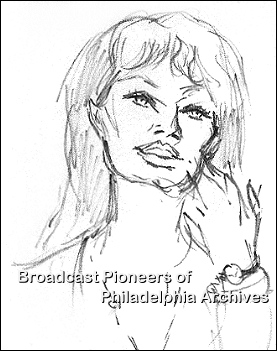 On June 4, 1971, Bob Williams interviewed movie star Sophia Loren. That year would be his last at the Evening and Sunday Bulletin before his retirement. The interview took place in New York City and she was there filming one of her motion pictures. The sketch (shown above) was done by Bob's wife, Aline, a professional portrait artist, who joined her husband for the interview.
Their son, member Tony Williams (who worked for years at WCAU-TV), said that he thought that the two were going to see a Broadway show afterwards. Tony said that he recalled that the interview took place at the hotel when Loren was staying.
Bob Williams took over the "Around the Dial" column when member Harry Harris jumped ship and went from the Bulletin to the Inquirer & TV Guide. Bob also did a Do-It-Yourself column in the Bulletin under the name of Robert Jacobs. Here is that interview exactly as recorded 43 years ago.
Listen in Real Audio!
Listen in Windows Media!
Today's News Becomes Tomorrow's History!
(This is what our Digital Archival Project, DAP, is all about!)
EXCELLENT ADVERTISING OPPORTUNITIES:
(Also a good way to show your support of Broadcast Pioneers!)
We are currently planning the 2015 membership directory and our 2014 Person of the Year/Hall of Fame Banquet Program booklet. Both publications go to press this fall and offer excellent reach, high rates of frequency use and a qualified buyer who will respond to your message! Several of last year's advertisers have already renewed for this year. Don't be left out. Send your message to a unique niche market via our Broadcast Pioneers publications.
You do NOT have to have a company to buy an ad. You, as an individual member, can elect to show your support by getting an ad. Ask us how. For more information or to place your ad contact Broadcast Pioneers of Philadelphia. E-mail address is pioneers@broadcastpioneers.com or call (856) 365-5600!
A LITTLE BIT OF BROADCAST HISTORY!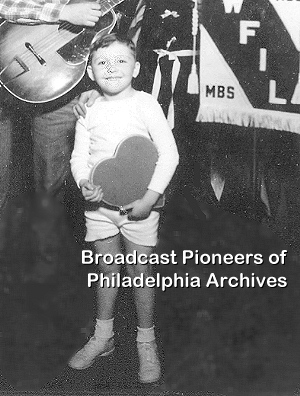 Broadcast Pioneers member Jerry Donahue, age 6
WFIL Radio
1937
Some of us knew Jerry Donahue as a child star on the legendary "Children's Hour" radio program on WCAU radio. The show was hosted by Stan Lee Broza, the first president of the Broadcast Pioneers of Philadelphia. Others remember him singing on WFIL Radio.

However, Jerry's real fame came from WFIL Radio but from behind the scenes. He was the Production Manager for WFIL (including the Famous 56 era) for decades. Broadcast Pioneers member Jerry Donahue passed away 12 years ago in 2002.
IN TOUCH WITH OUR MEMBERS:
We heard from member Dave Coskey. He sent along this information. Here's "a couple of notes you may be interested in. At the 63rd annual NJ Broadcasters Association Convention in Atlantic City in June (where Pat Delsi was honored). Longport Media awarded the third annual Tom Lamaine Scholarship to a high school senior from Atlantic City High School who is interested in broadcasting. The scholarship is intended to honor Broadcast Pioneers HOFer Tom Lamaine, an Atlantic City native, who began his career at Longport media's WOND-AM and today hosts a monthly show (Tom Lamaine's Memory Lane) on Longport's KOOL 98.3. Dave Coskey (BP member) who is president of Longport Media was sworn in as chairman of the board of the New Jersey Broadcasters Association."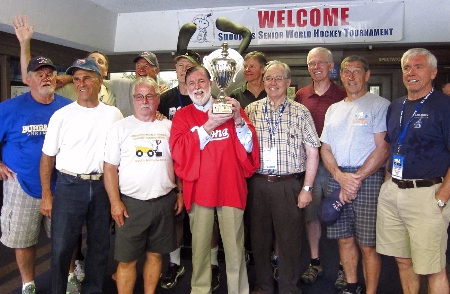 The third time was the charm for Broadcast Pioneers Chairman and Immediate Past President Jerry Klein, whose team won the championship trophy at the annual Snoopy Senior World Ice Hockey Tournament in Santa Rosa, CA, in July. Jerry, a goaltender, backstopped his team in the age 60 and over division to three straight wins, including two shutouts.
The team won silver medals in 2012 and 2013. Jerry has played men's league hockey for over 30 years. He is executive vice president and co-owner of Anne Klein Communications Group in Mount Laurel, N.J. Jerry lives in Medford, N.J. with his wife of 38 years, and business partner, Anne Klein, who served as assistant manager/social director for the team.

Jerry has something else to celebrate as well. Temple University has announced that Jerry will receive the School of Media and Communication's Lew Klein Award in September and be inducted into the school's Alumni Hall of Fame. More details on that in our September newsletter.

By the way, Jerry was one of the speakers at the Philadelphia History Museum last week. They were celebrating the opening of an exhibit of old-time radio receivers that were willed to them by former Broadcast Pioneers Vice-President and long-time board member Roy Shapiro. In the last couple of weeks, Jerry has also been on the radio with members Dom Giordano and Harry Hurley talking about this year's inductees into our Hall of Fame in November.
For those of you who may not know, member Mort Crim is the Commodore of the Queen's Harbour Yacht Club in Jacksonville, Florida. Mort writes us:
As Commodore of the Queens Harbour Yacht Club, my main job is to plan parties with other people's money. Some of these are land-based (such as the Elvis party at our country club) and others are cruises where our members take their boats out together for a long weekend at some near or not-so-near marina.

We spent the Fourth of July week at St. Augustine and had a roof-top-restaurant view of their famous fireworks. In September, Renee and I are taking about 20 of our members to Cuba (the Club tries to have one major out-of-town trip each season). We won't be taking our boats to Cuba. Getting them there might not be so difficult, but getting them OUT of Cuba might be.

Anyway, the Commodore job is for only one year. I've been an officer in the Yacht Club for four years, Treasurer, Rear Commodore, Vice Commodore and now Commodore. Lots of fun but also quite a bit of work. And I'm trying to get my memoir finished by end of year.

Will Ferrell has agreed to write the forward as Ron Burgundy and to do a Will Ferrell endorsement for the back of the book. In case I hadn't mentioned it, I'm writing a memoir that will tell the REAL Ron Burgundy Story; what it was like to anchor news in the 70's and 80's as compared to the Anchorman movie parody of those years.
For those of you wondering what the Elvis event is all about, it's a celebration of the King on the 37th anniversary of his passing. He tells his members to get out their fifties and sixties clothes and wear them to this event. Mort also said that he knows everyone kept them in their closets for all these years.
Member Joe Ball tells us that members of the Broadcast Pioneers of Philadelphia are welcome to be guests at the Philadelphia Advertising & Business Show on August 20th inside the Grand Ballroom of the Crowne Plaza Hotel on City Avenue from 9 am to 4:30 pm. Admission is free for members and current business personnel attending with them. The event features about 50 exhibitors including several broadcasters. This event is now in its 42nd year.
Member Larry Mendte continues to be busy in the Big Apple. He has added a talk show to his schedule. He's on WABC, Talk Radio at 770 on AM. The station is heard on the entire east coast. Larry can be heard Sunday evenings from 7 to 9 pm. Last Wednesday, Larry and member Harry Hurley co-hosted Harry's morning show (Hurley in the Morning) on WPG, 1450 at the shore. Larry's wife Dawn Stensland (also a member) continues her hosting duties on WMCN, Channel 44 out of Cherry Hill. Her program is simply called "Dawn."
Broadcast Pioneers CEO Gerry Wilkinson's family ran into member Charlie Gracie last night the supermarket. That's not that unusual but "this is the third different supermarket we found Charlie at," says Gerry. "He keeps moving to a different store but we keep finding him anyhow."

Did you know...
that Roy Neal, the legendary NBC News correspondent, started in TV at WPTZ, Channel 3 here in Philadelphia? That station is now KYW-TV.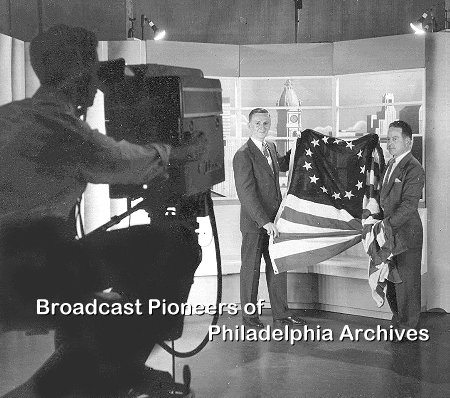 (left to right) Roy Neal & Vexil Weisgerber (son of Charles H. Weisgerber)
WPTZ Studios
Flag Day 1950
Roy Neal was born and raised in the Philadelphia area. He is one of our own, a native son who went on to great things. He was at WIBG in the forties and then went to WPTZ, Channel 3 (1947 to 1952). From there, he went to NBC where he stayed for over three decades. In the sixties, when you really wanted to know what was happening in the space race, you turned to Roy Neal.
Well, when Roy was semi-retired and lived in North Carolina, he was in the process of a writing a book, and was kind enough to send us the first three chapters. It's simply wonderful.
Our friend Roy Neal passed away on Friday, August 15, 2003. No further chapters of the book were ever written. We present here, the first part of his introduction.
AND IN THE BEGINNING......
(The Introduction)
Come with me, back to 1927! To a day when my father brought home a mysterious black box, with silver dials and knobs. It was small, about a foot on each side and a foot deep. I looked at it with the inquiring eyes of a six year old.
"It's a RADIO," my Dad said, as he strung a wire around the living room, hooked it up to the box, then gave all of us what looked like small tin cans on a frame. They were headsets. We put them on, over our ears and when they were plugged into that mysterious black box...PRESTO...IT WAS MAGIC. WE HEARD MUSIC AND VOICES. WE WERE LISTENING TO THE RADIO!
It was a crystal set. From our home in Philadelphia we were able to listen to a couple of local stations and occasionally we could hear as far away as New York and Pittsburgh.
The music we picked up was mostly piano or string quartets but it claimed our full attention by its novelty. The voices were announcers. From time to time they even described special events, parades and such, fed from the scene live for lack of recording devices.
The box truly was magic for its time but the larger magic was yet to come. Tubes and transistors were on their way. Those crystals of the early years actually were the predecessors of the transistors that would transform the world of electronics, although it took a long time for engineers to figure that out!
The early radios were simple devices. A Galena crystal was mounted in a casing of lead. A needle, called a "catwhisker" was the other half of the unit. When the catwhisker was touched to the crystal, and hit a "sweet spot" (a sensitive spot on the crystal), it rectified the current going through it, just as tubes and transistors do. Hooked up to an antenna, it could receive radio signals, turning them into electricity and amplifying the resultant product so that it could be fed into a headset to make sound.
A few years later, at the ripe old age of 11, I made one of the first "bicycle radios." I took one of the crystals, potted it in tar to keep the needle on the sweet spot, clamped the tiny unit to the frame of my bike, which performed as an antenna, fed the output into a headset and rode around town listening to WCAU, a powerful local radio station! It was the envy of all my friends.
In the 1930s, tube sets came in and radio became a focal point of the American way of life. Jack Armstrong, The All-American Boy, competed with Buck Rogers in the 25th Century for the attention of kids in the afternoon. In the evening, the whole world took time out for fifteen minutes to tune in Amos and Andy. Pundits such as Hans Von Kaltenborn and Boake Carter brought opinions on the news and Lowell Thomas brought us the real news in doses of ten or fifteen minutes.
There was drama like The Little Theater Off Times Square and the Lux Radio Theater. Comics Fred Allen, Jack Benny and Bob Hope became stars. The Metropolitan Opera played a prominent role on Saturday afternoons, when we weren't busy listening to football and baseball broadcast live from the playing fields. SHORT WAVE brought us the world, live and noisy. The Olympic Games in Berlin were followed by the rantings and ravings of Adolph Hitler when his troops set out to conquer the world. A drama, War of the Worlds, drove listeners to a frenzy.
Edward R. Murrow shocked the nation with his dramatic broadcasts from London as he covered the Nazi bombers' nightly raids. President Franklin D. Roosevelt talked to us regularly with his Fireside Chats. The Magic boxes of radio were opening a new world.
In our September Newsletter, we will present the entire introduction!

MORE DIGITAL ARCHIVAL PROJECT NEWS:
VIDEO: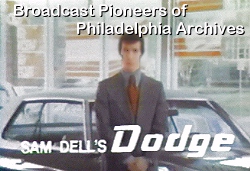 Broadcast Pioneers member Steve Levy
doing a Sam Dell's Dodge TV Commercial
1973
Born and raised in South Philadelphia, Broadcast Pioneers member Steve Levy grew up in the Logan section of the city, where he attended Olney High School. While serving as president of his senior class, he became interested in broadcasting. He attended Temple University, and in 1970 graduated with a degree in journalism, broadcasting and speech.
Levy worked at WFIL Radio for a few years where he became close friends with Broadcast Pioneers' Hall of Famer Jim O'Brien, who was a big influence on his broadcast career. Both started at the station in August of 1970. In 1973, he joined WNYS-TV in Syracuse, N.Y., where he worked as sports anchor. He would return to Philadelphia during the next year.
Sam Dell's car empire was legendary in Syracuse, where Dell had been a leader in car sales for decades. This is a 30 second spot shot on film. It aired throughout the Syracuse broadcast area.
Watch in Windows Media Format!
AUDIO:
June 7, 1965. The four-day flight of Gemini 4 was coming to an end. WIBG, Radio 99 was the big rocker in this market at that time. This is an excerpt from a late morning WIBBAGE newscast. The newscaster is unidentified. Gemini 4 was the second manned flight in Project Gemini. It was the tenth American manned space flight. Astronauts James McDivitt and Ed White circled the Earth 66 times during their flight. Gemini 4 was the first multi-day flight for the United States. Note that at the end of the excerpt, the newscaster says that WIBG would carry the landing live.
Listen in Real Audio!
Listen in Windows Media!
Our next audio cut comes from August 3, 1981 and WUHY-FM (now WHYY-FM). It was done by Jeff Benton, who serves on our board of directors. Jeff tells us a little about the piece.
I did that piece when I was interning at WUHY as part of my Temple University doctoral work. I had been producing program and fundraising promos for WUHY prior to that in order to keep my hand in broadcasting while I was in grad school.

WUHY, in the late '70s and early '80s, had a local news program called "91 Report," similar to WHYY's current program, "NewsWorks." The anchor/producer back then was Nick Peters, who had been a journalist at the Bulletin. Nick had a very small staff, so I asked him whether I could contribute occasional pieces to "91 Report," and he gave me the green light. By the way, I edited the story on reel-to-reel tape (the old fashioned
way) with a razor blade, marking pen and tape.
Listen in Real Audio!
Listen in Windows Media!
Remember, History is ONLY What Gets Saved!
(If there were no portraits of George Washington, how would we know what he looked like?)
A LITTLE BIT OF BROADCAST HISTORY!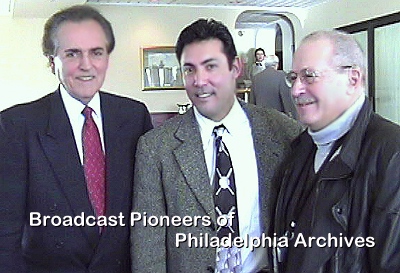 (Left to right) Member Joe Pellegrino, Ruben Amaro, Jr. and member George Finkel
Broadcast Pioneers Luncheon, Bala Golf Club, Philadelphia
December 15, 2004
This photo was taken at one of our luncheons in December of 2004. Our guest speaker was Ruben Amaro, Jr., who was Assistant General Manager at that time for the Philadelphia Phillies baseball team. Today, he serves as the team's General Manager. Note that at the right is member George Finkel, Emmy award winning director for NBC Sports. You are certainly familiar with his work if you ever watched the Olympics or the Super Bowl. George will be inducted into our Hall of Fame this November 21st. Pellegrino is currently is on our Board of Directors was inducted into our Hall of Fame in 2010.
IN TOUCH WITH THE INDUSTRY:
The audition date for the local casting call for the CBS hit show The Amazing Race has been rescheduled. CBS 3 will host the casting call at Trump Taj Mahal, Boardwalk in Atlantic City, New Jersey this summer on Friday, August 22nd, 12 noon to 3 pm. Want to travel the world and dream of winning it big? Pick a teammate and come down to the Trump Taj Mahal to have the opportunity to audition for this hit CBS reality show.
Did anyone notice that last evening CBS 3's Kathy Orr was competing against herself? Kathy appeared on a segment of "NFL Top Ten" last evening at 10 pm on the NFL network. Kathy explained what caused one of the snowiest football games ever (The Snow Bowl - Eagles over Lions, 34-20). The show, which was videoed at NFL Films, was up against Eyewitness News at 10 on The CW Philly 57 where Orr was forecasting the weather live.
WE REMEMBER:
Michael Bengel, the husband of Broadcast Pioneers member Sandee Bengel, died about ten days ago in a traffic accident. Michael, who was 48, was on his way to work on his motorcycle and was involved in an accident with another vehicle. He had the nickname "Juke Box" and was often seen at Broadcast Pioneers events with his wife Sandee.
THANKS FOR THE MEMORIES:
PAUL WHITEMAN'S TV TEEN CLUB!
The first Philadelphia TV personality to host a network television show spotlighting area teenagers was bandleader Paul Whiteman. He was dubbed the King of Jazz in the twenties and had the most popular band of that era. Starting on March 26, 1949, Whiteman asked Philadelphia teenagers to a Saturday evening dance and talent show. It was called "Paul Whiteman's TV Teen Club," which was originated by WFIL-TV, Channel 6 in Philadelphia. The program aired live over the ABC-TV network. The program was live in the northeast and on kinescope for the rest of the country. Whiteman was the network's Vice-President in charge of music. Paul also underwrote the show's production. Later on, a young new announcer did the Tootsie Roll commercials on the show. His name, Dick Clark. By the way, Member Allen Stone also did those spots.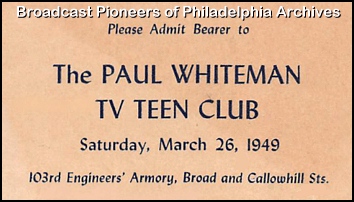 As shown above, the first show was on Saturday, March 26, 1949. While many websites talk about the first broadcast being on April 2, 1949, this ticket is proof that the program aired a week earlier. The program ran for five years.

Weighing three hundred pounds, and dressed in ornate shirts and colorful sports coats, Whiteman spoke "hip phrases" like "real gone." He was 59 years old at the time. Bernie Lowe (then 32) of Cameo-Parkway fame, was the program's Musical Director. Another interesting aspect of this show was that it started as a TV program only. It became so successful that it was added to the ABC Radio Network's schedule.
The telecast was produced by Skipper Dawes, the Educational Director for WFIL-TV. Really, Skipper (he was 39 years old at the time) was a talent scout who looked through the area schools for performers. One of Dawes finds was Eddie Fisher, who first got attention on the WFIL Radio broadcast "Magic Lady's Supper Club." Some of the characters from that broadcast also appeared on the Whiteman broadcast.
When the Whiteman show premiered in 1949, it aired Saturday evenings from 9 to 10 pm. That fall, it moved to 8 pm. In 1952, the show moved an hour earlier to 7 pm and was shortened to 30 minutes and lasted for another two years in that configuration.
Member Bill Russell (who we inducted posthumously into our Hall of Fame last November) had told our CEO, Gerry Wilkinson, that Whiteman had used a backdrop on Teen Club of a record shop on the program on several occasions. That backdrop was saved and when Bandstand (a local show) came on the air in October of 1952, that's the backdrop that was used for years. That flat is now in the Smithsonian Institute. Russell worked on both the Whiteman broadcast and Bandstand.
Senior TV Director for WFIL-TV Herb Horton was the program's director with Tom Haas being the AD (Assistant Director). Tom later married Margo, Whiteman's daughter who co-hosted the show. Margo left the program and was replaced by Nancy Lewis, who was still a teenager herself. Nancy was a regular on Stan Lee Broza's, "The Children's Hour on WCAU and later WCAU-TV. She said that many of the kids from Broza's program moved over to the Whiteman telecast. She once referred to it as a "graduation" Stan Lee Broza was the first president of this organization and also our first chairman of the board.
Whiteman at this time was living on his Bucks County farm. Whiteman originally sold ABC the idea with the concept that the program would help reduce juvenile delinquency.

Last month, we heard from Barbara Anderson. She says:
My parents, Ed and Ruth Sattler, were both involved with Paul Whiteman's TV Teen Club in 1949-50. Ruth Stoms was one of the kids on the show. Ed Sattler was behind the camera. They met, fell in love, and got engaged, which ended Ruth's career on the show!

They are now living in Tennessee, but are cleaning out the house and came across some old mimeographed scripts (from Teen Club).
Barbara sent along electronic copies of many of the early scripts from the program. Later, she donated the original scripts to our archival project. Thank you, Barbara so much. Like we always say, HISTORY IS ONLY WHAT GETS SAVED!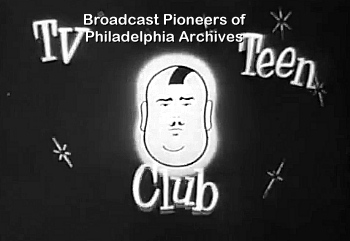 The earliest script we currently have is from Saturday, April 30, 1949. This is the show's fourth program. Here's what the opening of the telecast looked like that evening.
POPS: (Introduces Jury)

JURY: Hi Pops. Hi Kids. Hello Mother.

POPS: What d'ya have in the way of talent tonight?

JURY: Pu-lenty, Pal. (STAND)

Kids that Dance, Kids that Sing

Kids that do most anything

Acrobatics, Aromatics

Lovely Ladies, Be-Bop Babies

Comedy Acts with Crazy Cracks

Trombone, Clarinet and sax (BIG BREATH)

Tight-rope walkers, double-talkers

Philadelphians and New Yawkers

Handsome Guys with Flashing Eyes

And little girls with lots of curls

Everything has lots of pep

Cause all the kids are really hep

Whew! Time Out (SIT DOWN)

POPS: (Remark about kids knocking themselves out) Anyway, come on, let's

Start the show!

(MARGO'S ENTRANCE. STARTS ACROSS TO POPS)

JURY: Yes, I guess we might as well cause all the….. (SEE MARGO PASS)…

kids in the audience are…. (WHISTLE)

MARGO: Hi, Pops!

POPS: Well, hello there Margo, honey!

JURY: (STAND UP AND WHISPER) That's his daughter, Margo. Pretty nice,

huh? She helps him introduce the acts cause he can't ever remember what

comes, next, you know. (POINT TO HEADS)

POPS: Hey, jury. I heard that.

JURY: (SIT FAST) Hi pops. Hi kids. Hello mother.

MARGO: You kids get crazier every week.

COUGH: (UP FAST) Who's crazy

JURY: Who are.

COUGH: So all right. I'm crazy. (SIT)

MARGO: Are you really to start the show, gang?

JURY: Yeah, man. And for the first act, (BOOK) we have decided, now wait a

minute, (BIZ) Oh, yes. (NAME) Right over there.

FIRST ACT PERFORMS

MARGO: Well kids, how do you… Say, what are you all doing?

JURY: (WORKING) Oh, just getting ready for something.

MARGO: What are they, flowers?

JURY: Yyyyyyyyyyy

MARGO: What are they for?

JERRY: Don't you know what day is tomorrow? May Day! The first day of May.

JANIE: So naturally, we have to celebrate

JURY: Natch!

COUGH: (STANDS) Well, I'm ready.

NAP: Me, too

JERRY: Let's go, boys.

(BOYS LEAVE JURY BOX AND GIRLS TAKE NEW PLACES)

GIRLS: Ladies and gentlemen, presenting the Stumble Bum Ballet Company in

Their famous may pole dance. First, the may pole himself.

(BILL TO CENTER)

GIRLS: And now, ladies of the ensemble

(MUSIC AND DANCE)

JANIE: And now everybody, the Queen of the May. Who is it to be?

(VOTING FOR QUEEN)

(OTHERS CARRY QUEEN AROUND THE STAGE, OVER TO POPS AND OFF)

MARGO: Everything satisfactory, kids?

JURY: Simply delightful, Margo.

MARGO: What would you like next?

JURY: (SING) Say it with music, beautiful music.

MARGO: What kind of music?

BUDDY: (SING) Sweet and lovely. Sweeter than the flowers in May.

TRIO: Something sentimental is what we wanta hear. Something sweet and

gentle, in tones so soft and clear.

JERRY & JANIE: Not too hot, ya understand. None of that be-bop dixieland band.

(SING) Come along, come along to Alexander's Ragtime Band.

JURY: No, no, no. None of that stuff. We're in the mood for….

BUDDY: Soft lights and sweet music with you in my arms.

MARGO: Well, in that case, there's you man. Right over there.

SECOND ACT PERFORMS!
Philadelphia Radio Ratings!
We thought you might like to see some radio ratings from 1940 - 1941. The rating service didn't even bother to include anything before 9 am.
9 am to 11 am
WIP Radio with 33% of the audience
WCAU Radio was next with 20%
KYW Radio was in third with 16%
WFIL Radio in fourth with 12%
WIBG next with 6%
11 am to 1 pm
WCAU Radio with 35% was in first
Second place went to KYW with 24%
WIP and WFIL were tied with 11% each
WIBG had only two percent of the audience
1 pm to 3 pm
WCAU Radio was first with 41%
Next with KYW Radio with 18%
WFIL was in third place with 12%
WIP was next with 11%
WIBG had three percent
3 pm to 5 pm
KYW Radio was in first with 35%
WFIL Radio went into second with 18%
WCAU Radio with 17% was in third
WIP Radio had 12% of the audience
WIBG Radio had three percent
5 pm to 7 pm
WCAU Radio back in first with 30%
KYW Radio in second with 18%
WFIL Radio with 13% of the audience
With 12% was WIP Radio
WIBG Radio had 4% on the audience
7 pm to 9 pm
With 35% was WCAU Radio in the top position
KYW Radio in second with a strong 33%
WFIL Radio with 13% of the market
WIP Radio came in 4th with 7%
WIBG Radio didn't operate this late at night
9 pm to 12 midnight
KYW Radio was in first with 35%
WCAU Radio was next with 29%
WFIL Radio in third with 10% of the audience
WIP Radio was next with 8% of the market
Note that these ratings did not include stations from outside our market, which could rate as high as 13% of the audience. Other stations shared time or didn't have enough of a market share to be included. Also, some stations were just not included. This rating block was for October 1940 to April of 1941. The results were gathered from phone calls. However, if a listener didn't have a phone, they were not included. The Philadelphia market response had almost 24,000 calls made.
A LITTLE BIT OF BROADCAST HISTORY!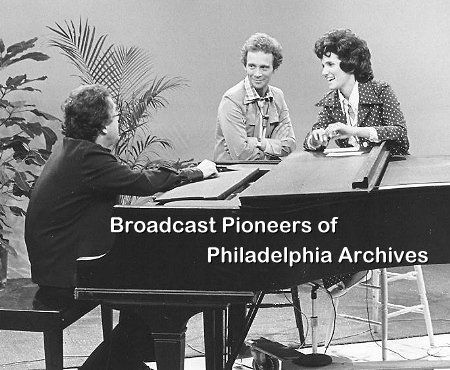 (left to right) Pianist Michel LeGrand, Joel Grey and member Marciarose
1974
Herb Clarke's Garden Reports!
As many of you know, Broadcast Pioneers member Herb Clarke loved to garden. So it made sense that when he retired from doing the weather on Channel 10, he would look for something in broadcasting that he loved and that was everything to do with the garden. We have here the scripts Herb used for three broadcasts that he did twelve years ago this week.
August 5, 2002 Spotted Tigers
These big cats are very easy to recognize. Big orange petals, speckled with dark spots, as tall as six feet. You know them because they're all around the neighborhood.The Tiger Lily.
"Lillium lancifolium" is the formal name, but we can skip the formality. Tiger Lilies are a traditional, easy-to-grow favorite. They're not nearly as fussy about soil and moisture as their Asiatic lily cousins. Ideal in a children's garden, too, since they're non-toxic and gaudy.
For tiger lily blooms next July through September in the Delaware Valley, put in bulbs this fall or in early spring. I like planting tiger lily bulbs in the fall just a few weeks after their flowers have faded.In spite of their fierce name, they're really just pussy cats - easy to grow and care for and happy to put on a show. There's a new one I like called "Tiger Babies." Smaller, with large salmon-peach flowers and a cocoa-colored backside. Sounds almost edible, doesn't it?
Herb Clarke, KYW News Radio
August 6, 2002 - Sunlight Gardening
Hours of exposure to summer sun can cause skin cancer in light-skinned elderly people. So, they shouldn't garden. Right? No, don't give up the pleasure of gardening.
It's true that sun-sensitive older folks have to be more careful. In June, for example, when the sun's rays are most direct, they should hold midday exposure to 5 to 10 minutes. When the sun's angle is lower, like here in August, you can stay out longer.Dark-skinned people can take 5 to 10 times more sun than we palefaces.
Older people need Vitamin D, the sunshine vitamin, from milk and the sun to keep bones hard and avoid osteoporosis - "bone loss."Gardening is healthy. Among the benefits of working out in the sun are you sweat more and drink more water. They're both good for you. So, what to do?First, use a sunblock lotion. Wear long sleeves and a big hat, and do the gardening in early morning or later in the afternoon when the sun dips low enough to give you shade. You can garden. Just be smart about it.
Herb Clarke, KYW News Radio
August 7, 2002 - Offbeat Herbs
Home gardeners are devoting more space to herbs than ever. That's good. Fresh herbs for the kitchen are essential for expert or beginner cooks.
Curly parsley, chives and sweet basil are basic. Most gardens have them. But how about trying a few different ones? You could sow seeds now for a before-frost crop. Basil is great, especially for tomato dishes. Now try Lemon Basil for a wonderful citrus taste in marinades, salad dressing and baked goods, and Cinnamon Basil for baked apples.
Curly Parsley is pretty in the garden and on the plate, but the Flat-Leafed Italian parsley has far better taste. And Par-Cel has a combination flavor of parsley and celery that does wonders in chicken salad.You might be brave enough to plant Garlic Chives. It's strong and a little goes a long way, so go ahead, take the dare and plant a few different flavored herbs.
Herb Clarke, KYW News Radio
Opening Speech of the WCAU Building in 1952!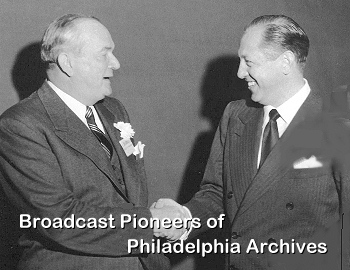 (Left to right) Donald Thornburgh, President/General Manager of the WCAU Stations
CBS Chairman of the Board Bill Paley (one time part owner of the WCAU stations)
May 27, 1952
The date is May 27, 1952. This speech was given by Donald Thornburgh, President and General Manager of the WCAU stations at the dedication ceremonies of the new WCAU Radio and Television Center.
The group gathered here today illustrates the many facets of our stations responsibilities. Here are the representatives of the Federal Commission that has regulatory power over all communications. Here are the officials of the federal, state and local governments. With us are religious and educational leaders of our area. Officers of the National Association of Radio and Television Broadcasters. The heads of the Columbia Broadcasting System with which this station has the honor of being an original affiliate to it in both radio and television.

Many of our clients and advertising agency friends are here. Personal friends, and last but not least, a goodly representation of our parent company, The Philadelphia Bulletin.

Since we feel that the success of WCAU is measured by the various groups represented here today. I am going to submit a current report to you, the people that guide us in our activities. We hope you will feel that we have earned the right to create this building and that our past stewardship will bode well for our future business growth and continued public service.

Let us first examine the popularity of our programs on WCAU Radio and Television. In radio, we have 7 of the top 10 nighttime programs and 9 of the top 10, five times a week daytime programs. In television we have 8 of the top 15 once a week shows and 5 of the top 10 multi-weekly shows.

Program popularity is reflected by business activity. In radio 1950 and '51 represent our two best years in total sales volume. In television, WCAU-TV has been shown in each of the last four Rorabaugh quarterly reports as leading all other television stations in the United States in total number of advertising accounts.

This bespeaks a good sales staff and good creative program departments that have been able to build and sell programs that have proven profitable for the advertiser.

From the standpoint of network originations, we have been fortunate in having our television department headed by a well-known and respected production leader in Charles Vanda, who for many years was with me on the Coast. His programs are well accepted locally and we have had as many as six of an origination per week on the Columbia network, two of them commercially sponsored. Only Hollywood and New York originate more.

But the business volume has not been our only goal. We have tried to ever alert to the public service potentialities of radio and television. The proof of our success seems to be answered by the experts who constitute the committees for the various annual awards.

This spring WCAU and WCAU-TV has received seven major awards for 1951. The George Foster Peabody award for "What in the World," a television program broadcast in conjunction with the University of Pennsylvania.

The Alfred I. DuPont award and a check for $1,000 for the best large station public service programs in both radio and television. This is the first time a station has been given the award for both.

The Ohio State Educational Institute for Radio certificate for "freedom Revisited," a historical series of radio.

The Ohio State Educational Institute for Television for the best Children's entertainment program, "The Big Top." Our own famous circus program originated in the Camden Convention Hall.

The Variety Award for the station originating the best television programs for the network.

Freedoms Foundation Award, another for the radio program, "Freedom Revisited." This is the third successive year we have received their medal.

National Federation of Woman's Clubs for the best children's entertainment in television. Again, "The Big Top."

We are proud of the fact that no other station in the United States has ever succeeded in winning all of these important awards in any one year.

Add to these accomplishments the fact that for two years our engineering department has been deeply involved in planning and supervising the construction and engineering of this modern now functional radio and television studio.

The culmination of our efforts came in the transfer last week when television was moved on Sunday night between midnight and 8 am and radio the following Friday night instantaneously, both without loss of a program and without a facility failure of any sort. With the complicated electrical engineering involved, this represents a Herculean task accomplished by Vice President John Leitch, our engineering department and the other operational departments of our organization.

WCAU has through its entire history been a well-operated and well accepted station. Through the years it can point with pride to many firsts in radio. So, from the day the building of this new home was decided upon, we, as an organization, resolved to make these radio and television properties not only commercially successful, but worthy of their physical new housing.

We feel we have won the confidence and trust of our listeners and viewers in the great area these stations cover. We look at the future as a challenge to continue to furnish the best in entertainment, news, information and education to our public. Our new motto, "Speaking for Freedom," expresses our hope that we can disseminate this service from the birthplace of freedom in the truly American way.
A LITTLE BIT OF BROADCAST HISTORY!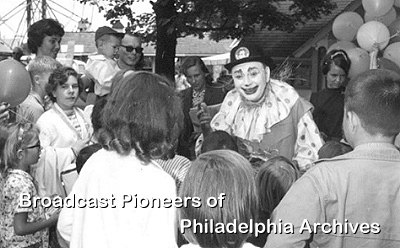 Broadcast Pioneers member Howard Jones (as Happy the Clown)
1965 personal appearance
OUR HATS OFF TO YOU:
Special Thanks for 2015 Scholarships:
Vice-President Kal Rudman - 5 scholarships (all for Temple students)
Member Johnny B. Hall and wife Ginny - 4 scholarships
Members Robin and Ira Adelman & Leon Love - 2 scholarships
Member R. Alan Campbell - 1 scholarship in the memory of Fred Ruggieri (Fred Randall)
Member Harry Hurley's Golf Tournament - 1 scholarship (for South Jersey residents or students)
Member Sylvia Kauders - 1 scholarship (from a grant for 5 yearly scholarships)
Member Marlin Taylor - 1 scholarship
Member Esther Kurtz - 1 scholarship in memory of her late husband, David Kurtz
Special Thanks for contribution of $1,000 or more to our DAP, Digital Archival Project:
Member Johnny B. Hall and wife Ginny - $3,000
Member Marlin Taylor - $1,000
Member Harry Hurley's Golf Tournament - $1,000
Member Jerry Del Colliano - $1,000
Underwrite a complete scholarship and we'll give you credit in the electronic newsletter until the scholarship is awarded in April of 2015. Give us a donation of $1,000 or more and we'll list you in our "Thank You" column for a year.
More Thanks:
Thanks go to Member R. Alan Campbell for his recent and generous contribution to our Digital Archival Project. This is the second nice donation for this project in as many months.
Now, it is membership renewal time and we would like to thank those of you who included an extra contribution with your membership renewal. Those members include: Beth Wagner, Paul Gluck, Dave Petrelius, Jackie Strauss, Ed Cunningham, Larry Kane, Jean Moore, Bill Baldini, Steve Ross and Bill Roswell. Please note that if we received your renewal before the July newsletter came out, you were thanked in our July issue.
Thanks go to Heather Joan MacKay of Colorado and her cousin Rosemary Northcutt of our area. They sent us a nice addition to our archival project. It was an original copy of "Uncle WIP and His Friends - Their Bed-Time Stories." It was published in 1924 by Gimbel Brothers Department Stores.
Don't be left out. You too can make a pledge. It's never too late. You can earmark it for scholarships, our Digital Archival Project or our general fund. Thank you so much for your support.
Our special thanks go to TUTV and The Kal & Lucille Rudman Media Production Center.

They have underwritten a grant to be used to fund an entire year of all our newsletters for calendar year 2014. We thank them so much for their support!
If you forgot to make an extra contribution (cash or memorabilia) and would like to do so now, it's never too late. We would be thrilled to hear from you at: PO Box 2886, Bala Cynwyd, PA 19004 or call us at (856) 365-5600.
A FINAL THOUGHT...."This aging crap ain't for the fainthearted."
Michael Tearson
E-mail to Gerry Wilkinson
(comparing their medical problems)
July 23, 2014

Please contact us by e-mail at newsletter@broadcastpioneers.com or by mail to: Broadcast Pioneers of Philadelphia, PO Box 2886, Bala Cynwyd, PA 19004. Your stories are important, to you, to us, and your colleagues. Contact us today and we'll include your story in the next newsletter!

© 2014, Broadcast Pioneers of Philadelphia
All Rights Reserved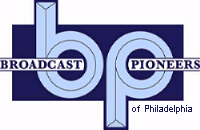 The e-mail address of the Broadcast Pioneers of Philadelphia is pioneers@broadcastpioneers.com
For luncheon reservations call (856) 365-5600 or e-mail us at: rsvp@broadcastpioneers.com