| | |
| --- | --- |
| | Broadcast Pioneers of Philadelphia is a federally recognized, state chartered 501(c)(3) non-profit organization serving the Philadelphia Broadcast Community since January of 1962. |
Announcing Our Honorees
for Hall of Fame and Person of the Year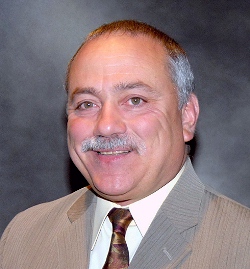 Bob Pantano
Broadcast Pioneers' 2015 "Person of the Year"
Broadcast Pioneers member Bob Pantano is the host of the Saturday Night Dance Party in Philadelphia on 98.1 WOGL. This is the first and longest running radio dance party in the nation, now celebrating 38 years.
Bob Pantano, a South Philadelphia native, started spinning at the record hops in the late 1960s and then the nightclubs in the 70s. His professional radio career began on WCAM in Camden, New Jersey in 1971. Bob pioneered a live-radio broadcast, The Saturday Night Dance Party, in 1977, which airs every Saturday night live from 7:00 p.m. to 2:00 a.m. and has enthralled and entertained Philadelphia audiences with its upbeat dance music.
"Hall of Fame" - Living Inductees
Lynne Barrett, TV personality & voice over announcer from the 40s to the 70s
Tracy Davidson, NBC 10 News Anchor and Reporter, a 6-time Emmy Winner
Jim Donovan, CBS 3 Consumer Affairs Reporter and 13-time Emmy Winner
Harvey Holiday, 98.1, WOGL Air Personality for the last quarter century
Dick Kearney, former WCAU Cameraman Extraordinaire & Emmy winner
Lauren Lipton, currently the KYW Newsradio Morning Drive News Editor
Marian Lockett-Egan, advertising guru & former leader of Broadcast Pioneers
Al Primo, the person who changed television news across the nation forever
Pierre Robert, long-time radio DJ & air personality on 93.3, WMMR Radio
Karen Rogers, morning Traffic/Weather Anchor for Action News, 6ABC
Joe Tarsia, founder/owner of Sigma Sound Studios with 100s of Gold Records
Marlin Taylor, father of the "beautiful music" radio format & former PD at WDVR
"Hall of Fame" - Posthumous Inductees
Don Cannon, former radio air personality at several different stations in town
Mark Drucker, KYW Newsradio reporter, former newsman for John DeBella
Aldo Farnese, former TV Children's Air Personality on WKBS & Channel 29
Dick Heist, suburban station announcer/air personality for many decades
Helen Pulaski Innes, WIP's first female Program Director in 1922
Lee McCarthy, former NBC correspondent & Channel 29 news anchor/reporter
Wynn Moore, former radio talk show host at several stations in Philadelphia
Cozy Morley, popular Southern New Jersey entertainer, musician, and comedian
Karin Phillips, former KYW Newsradio, 1060, community affairs reporter
Art Szcykalski, former WPHL, Channel 17 Manager of Engineering & Operations
Tickets go on SALE on August 10th!
Prices are $88 for members (each member can buy ONLY one ticket at the member price) and $98 for everyone else (including spouses, friends and guests). The event will once again take place at the Hilton City Avenue, 4200 City Avenue, Philadelphia. The date is Friday, November 20th. The reception is at 6 pm and dinner is served at 7 pm. Doors open at 5:45 pm. Cash bar all night long. Valet parking is $10. Event lot parking is $5. Make plans to be there! A major portion of the ticket price may be deductible on your federal income tax. Ask your tax advisor for details! Tickets must be purchased in advance. Absolutely no tickets available at the door.
WE'LL BE PROUD TO SEE YOU IN THE CROWD!

Visit Our Website Often - http://www.broadcastpioneers.com
You should check our website front page often (above) for important information!
Check out our Facebook Page - http://www.broadcastpioneers.com/facebook
There are things on our Facebook Page that are NOT on our website (like our vintage photo of the week)
Tune in to our YouTube Channel - http://www.broadcastpioneers.com/youtube
Our YouTube Channel has all our luncheons, exclusive interviews and archival material

REMINDER!
IF YOU HAVEN'T PAID YOUR DUES BY NOW...
YOU'RE OVER A MONTH LATE!!!
Please note that ten weeks ago, we snail-mailed your membership renewals. If you haven't paid by now, you are at least a month late. 20% of our members haven't sent their renewals in yet! Are you one of them? If you believe that you didn't get a renewal, please let us know and we'll send you another one (this time by e-mail).
If you joined in the past couple of months, you may have received a form, but you are not required to pay any dues at this time. The form will tell you whether there is an amount due. We sent the form so we could verify that all the info we have is still correct. The next membership directory will be printed before you know it.
WE DO NOT SEND YOU MULTIPLE NOTICES! THIS WILL BE THE ONLY RENEWAL NOTICE THAT YOU WILL RECEIVE.
VERY IMPORTANT!
If you haven't already done so, kindly return your form and check at your earliest convenience. Please also note that on the form is an important little box that you can check if you would like to make an extra contribution. Our archival project is becoming an expensive activity. It costs us over $8,000 a year just to store all our material. That averages out to about $16 per member. If you can can afford it and wish to do so, please help us in this important project. Any additional amount will be greatly appreciated! Large or Small!
If you are not sure whether you paid the 2015 - 2016 dues, e-mail us and we'll let you know whether you are up to date. Thanks. We hope to keep you in membership.

WELCOME NEW MEMBERS:
FULL MEMBERS:
Peter Wharton has been in the industry for almost four decades. He started out at the campus radio station (like many of us) at George Washington University. Upon graduation, he went to work for the ABC Network. Sixteen years later, he left ABC and was employed by the Fox Network. Last year, he became the VP for Technology and Business Development for BroadStream Solutions. He's a past president of Washington Executive Broadcast Engineers, a SMPTE past section manager (Eastern Region) and other activities.
Donald J. Casey started in our field in 1965. Since 1997, Don has owned a full service advertising agency, "Casey & Associates, Inc." He previously was VP & General Manager for Cable TV Advertising in New Castle, DE. Before that, he was an account executive for WSNI & WRCP. In the seventies , he was General Sales Manager for WAYK & WSWF in Fort Myers, Florida. He sold time for WAMS & WPEN. Casey was WFIL's Morning News Editor during 1969 & 1970. Previously, he worked for KYW Newsradio as a writer/editor.
We are thrilled to have these new members. Over 500 Members. More than ever. We hope to see as many of our members as possible at our next luncheon, Wednesday, September 16th.
DIGITAL ARCHIVAL PROJECT NEWS:
VIDEO:
Broadcast Pioneers Tour Group #1
Fox 29, WTXF-TV
Parking Garage for Fox 29 Vehicles
4th and Market Streets, Philadelphia
Wednesday, July 22, 2015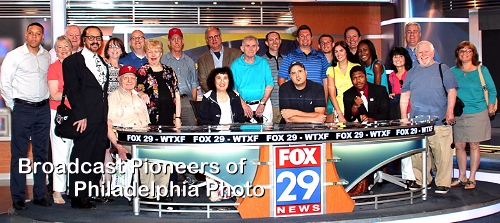 Broadcast Pioneers Tour Group #2
Fox 29, WTXF-TV
News Studio
4th and Market Streets, Philadelphia
Wednesday, July 22, 2015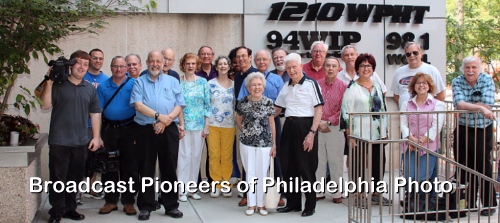 Broadcast Pioneers Tour Group #3
CBS Radio Group
on the front patio
4th and Market Streets, Philadelphia
Wednesday, July 22, 2015
(All three photos taken by Broadcast Pioneers Board Member Bob Kravitz)
On July 22nd, we took our annual summer tour of broadcast facilities in the Delaware Valley. This year, it was a "Double Bubble." Two places for the price of one (and the cost was FREE). Broadcast Pioneers Vice-President Brad Seecof (owner of Metramedia Broadcasting and Studios) and his assistant Jimmy Donnelley shot video of the Fox 29 tour.
View it here from the Broadcast Pioneers' YouTube Channel!
AUDIO:
Here's a brief excerpt from KYW Newsradio. Next month, they celebrate a half century with their current format: All News, All the Time. This broadcast dates from 1969. Broadcast Pioneers member Jay Lloyd has identified the voice of Dan Morrow. He was not identified on the tape.
This is one continuous piece of audio. The time check at the beginning is incorrect. It should have been 11:58. Note that the ID was given by the newscaster. That's because this brief update was sandwiched in between two half-hour public affairs programming (which we also have in the audio archive). This was an off air recording. If you listen very carefully, you can hear lightning strikes in the background. It also sounds like there was a television set in the immediate vicinity as it created slight interference. However, it is the only known copy in the world.
Note that the report is an update on Hurricane Camille. It was the second of three Category Five hurricanes to make landfall in the United States during the 20th century. The hurricane killed 259 people and did a billion and a half dollars in damages in 1969 money. It's 11:58 pm on Sunday, August 17, 1969.
Listen in the Windows Media Format!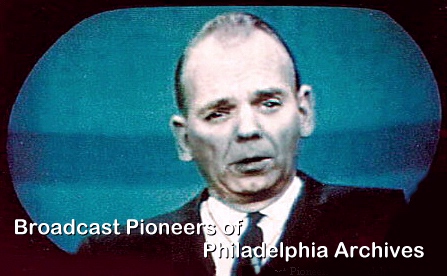 John B. Roberts
WFIL-TV
1970
Broadcast Pioneers member John Roberts had done many things in his 91 years on this planet. He was an well known and beloved television and radio broadcaster on WFIL-TV and radio for decades. John Roberts was one of the founders of what today has evolved into WHYY Radio and TV, public broadcasting for the Delaware Valley. He was the president and later chairman of the board of this organization and served on our board for decades. However, what many of us remember him for best was teaching us communications at Temple University.
John was proud of his students. In 1998, John told Gerry Wilkinson (who is our current CEO) that he had kept files on all of his former students. When he would hear that one of students got a job or promotion, he entered it into a 3x5 card filing system. It is not known whether those files still exist today.
He was born on June 2, 1920 in Poughkeepsie, New York, according to his wife, Agnes. He went to high school in Long Branch, New Jersey. Roberts received his Bachelor of Arts Degree from New York University in 1940 and the next year earned his Masters Degree at the State University of Iowa. His Thesis' topic was "The Speech Philosophy of Clarence Darrow." Roberts also held two honorary doctorate degrees.
John joined the teaching staff at Temple University in 1946 and taught there for 42 years (until 1988). Previous to that, he taught at the University of Maine and was a United States Naval broadcaster during the Second World War. It has been reported many times that his IQ was in the "genius" range.
John said that the picture of him (shown above) was sent to him by a viewer who took it off the air from a television set. In our archive, we have a clip of John Roberts doing a Saturday evening newscast on WFIL-TV, Channel 6 in Philadelphia. The date is Saturday, March 19, 1966. While this is from a television broadcast, we only have audio. No video of this newscast is known to exist today.
Listen in the Windows Media Format!
Today's News Becomes Tomorrow's History!
(This is what our Digital Archival Project, DAP, is all about!)
IN TOUCH WITH OUR MEMBERS:
After the great success of the first season of SFBN Talks High School Sports in the 2014-2015 school year, The Comcast Network (TCN) has renewed The Sports Fan Base Network's (SFBN) high school sports talk show for the 2015-2016 school year. The show, which returns next month, is now entitled "Varsity Voice presented by SFBN". It will remain in the Wednesday 6 pm time slot on The Comcast Network, but will have an additional replay at 10:30 pm. SFBN will produce 20 episodes. Broadcast Pioneers member Ari Bluestein is the CEO of SFBN.
Member Bill Shull's new photo book entitled, "Philadelphia Television (Images of America)" is now out. It contains tons of pictures about the Delaware Valley's TV stations and their personnel. It's available on Amazon. A Kindle version will be released next month. Shull has worked for CNN in Atlanta and WTXF-TV, Fox 29 here in Philadelphia. He's also been at WCAU-TV, NBC 10 and worked for the "The McLaughlin Group" TV Show on Public Television based out of Washington, DC.
Broadcast Pioneers member Jerry Klein and his wife, Anne received the inaugural "Heart of South Jersey Award" from the South NJ American Heart Association. NJ State Senator Dawn Addiego presented Jerry and Anne with a resolution of the Jersey Legislature commending their for years of volunteer work for the Heart Association. Jerry led the formation of the Heart Association's "Red Tie Brigade" four years ago. Anne was the former board chair person of the Central/Southern Jersey affiliate.
Lisa Acchoine, Promotions Director for KYW Newsradio, sent us this story copied from an internal CBS e-mail. It said: ""The New York Market Manager position will be filled by Marc Rayfield, who will be leaving his post as Senior Vice President and Market Manager in Philadelphia. We are fortunate to have in Marc a 25-year veteran of CBS Radio with experience in news, sports and music formats. He will be a great asset to the legendary brands in the New York market," said Andre Fernandez, President CBS Radio.Rayfield is a member of the Broadcast Pioneers of Philadelphia and has decided to remain a Delaware Valley resident and have a New York City apartment for use when necessary.
CBS Radio announced David Yadgaroff to replace Rayfield as the new Senior Vice President / Market Manager in Philadelphia. Yadgaroff will oversee all CBS Radio Philadelphia properties including KYW-AM, WIP, WPHT, WOGL, WZMP and WXTU. He took on his new role effective yesterday. Yadgaroff, a graduate of Penn State University, has been with CBS Radio for 20 years.

"CBS RADIO Philadelphia has a collection of the strongest brands of any radio market in America," said Broadcast Pioneers member Yadgeroff. "After more than two decades with the company, I am honored and humbled to have the opportunity to lead our talented team of broadcast professionals. I've always been passionate about radio and all it has to offer our listeners and advertising partners. As we have evolved into multi-platform content providers, I am excited for what the future holds for our industry."
Broadcast Pioneers member John Primerano tells us that he has a CD entitled, "Somewhere South of Heaven" and that sales are doing well. The disc contains five standards and five songs that he wrote. We understand that it is getting both national and worldwide airplay. It's available on Amazon.
A LITTLE BIT OF BROADCAST HISTORY!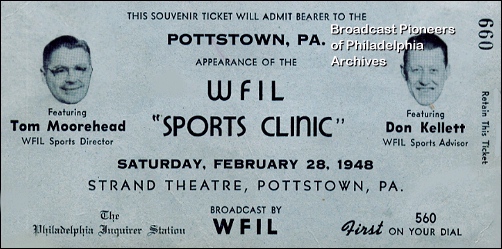 WFIL Radio "Sports Clinic" Admission Ticket
Good for Saturday, February 28, 1948

Did you know...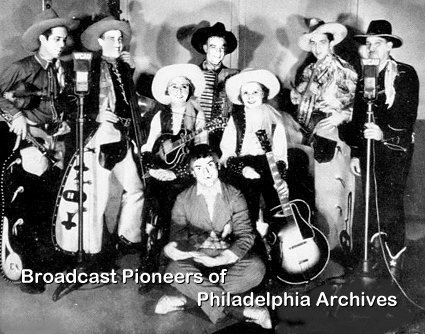 Sleepy Hollow Rang Gang
In our December 2012 newsletter (available online here), we talked about the Sleepy Hollow Ranch Gang. Well, let's call this Part Two. We found additional information and thought you might enjoy knowing more.
PART TWO:
In 1929, when radio was less than seven years old in Philadelphia, the Newman Brothers, Peter (known as Pancake Pete) and Daniel (stage name Elmer) came in first during a local talent contest. It was at that time they first appeared on Philly radio. Moving from nearby Milwaukee to Minneapolis, two sisters were singing on radio in the mid-west. They were Sophie and Julie Murray (the Murray Sisters). Sophie Murray was the female lead vocal and played the guitar. Her sister, Julie, sang harmony and strummed the mandolin. (By the way, the Murray Sisters were no relation to the vaudeville team of Evangeline and Kathleen who were the daughters of Tom Murray, KFWB). The Newmans thought that the four should sing together. The brothers billed themselves as the Sleepy Hollow Cowboys beginning in 1932 while performing in Minneapolis. The Murray Sisters joined the guys in 1936.
Pete married Sophie during June of 1936, and the next year Elmer and Julie married. A few years later, the four purchased 23 acres of land near Quakertown, Pennsylvania, a quiet suburb of Philadelphia. They thought that an amusement park based on country singing would be a good thing, so on May 4, 1940, they opened the Sleepy Hollow Ranch. It had a rodeo, live farm animals, square dancing, food vendors, and pony rides, but the big draw was country music. Thousands of people attended every weekend. In 1952, an appearance by Eddy Arnold set an attendance record of over 7,000 people for a single day. Admission charge to the park in 1954 was 50 cents for adults and 25 cents for children. Picnic areas and parking were free. The park also held bingo games. The ranch was destroyed by fire in early November 1963. The property was underinsured and was never re-built.
WFIL's Barn Dance (which started in 1944) was originated by WFIL from Town Hall here in Philadelphia with the last half-hour of the show broadcast live over the ABC Radio Network and retitled, "Hayloft Hoedown." It started on radio in December 1944 on WFIL and moved to network shortly thereafter.
The host and "Ranch Boss" of that broadcast was founding Broadcast Pioneers member Jack Steck. Later, Elmer Newman took over hosting duties from Jack as Steck's duties back at the station expanded. Sometimes, the WFIL Barn Dance originated from the Quakertown location of the Sleepy Hollow Ranch.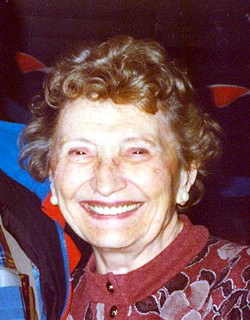 Sophie Murray Newman
We heard from one of the stars of "The Sleepy Hollow Gang" and "Hayloft Hoedown" in March of 2003 by e-mail. This is the first time we have made this e-mail available.
"All aboard for Sleepy Hollow." This is Sophie Newman and I thank you all for thinking so much of the Sleepy Hollow Gang and Hayloft Hoedown.

I thought I'd write to update all of you on our lives. First of all, I'm celebrating my 90th birthday!!! I am in good health visiting my son, Kenny in Orlando, FL. Mary Eva, my daughter is also with us as well as my grandchildren and great grandchildren (too many to name but all wonderful).

Pancake Pete passed away March 8th, 2000. We all miss him deeply and I'm sure he would appreciate the continued following of the Sleepy Hollow Gang. Julie my sister, along with her son, Danny will also be joining us for my birthday celebration. "Stay in the buggie folks."
Sophie passed away at the age of 97 in May of 2010 in Eldon, Missouri, home of her daughter, Mary Eva. Sophie was born in Yugoslavia to Peter and Eva Bogdanovich on March 15, 1913. Her husband was known to the listening audience as Pancake Pete. She had 5 grandchildren and ten great grandchildren at the time of her passing.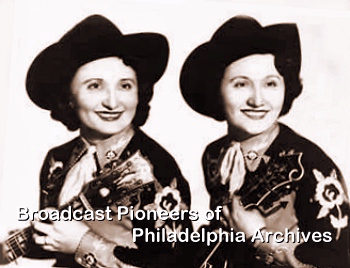 The Murray Sisters
Julie Newman died Sunday, September 23, 2012, in Quakertown, Pennsylvania. She too was 97. She was the wife of the late Daniel A. Newman who died in 1969. As mentioned above, the world knew Daniel as Elmer, his stage name. Julie was two years younger than Sophie. During their careers, their parents had emigrated to the United States and lived in Affinity, West Virginia (a small town in the southern part of the state). She and Elmer had two sons, Daniel and Charles, 7 grandchildren, 14 great-grandchildren and 7 great, great-grandchildren at the time of her passing. Julie worked as the head filing clerk for Ametek, Inc., U.S. Gauge Division, in Sellersville from 1954 until retiring in 1981. In addition to her love for music, she had another love, bowling.
The couples' four children were also performers at the Ranch Park. During 1943, the park was closed and the gang went on tour to entertain the troops. The park also had a restaurant called, the Sleepy Hollow Inn. In 1946, Mrs. Florence Woods of Drexel Hill was the 100,000th paid customer to the WFIL Barn Dance. Part of her prize was a lunch with the entire Sleepy Hollow Ranch Gang in their western costumes.
In 1948, Hoedown was broadcast as a simulcast on both ABC television and radio. It was planned to be just a fill-in summer replacement show and so it was. Cameras were located in the back of the hall and that made good close-ups next to impossible. After the summer, the broadcast went back to being strictly radio. On the telecast shows was Jesse Rogers, Sally Starr's first husband. The first TV broadcast was on July 10, 1948 and last was September 18, 1948, in the 9:30 pm to 10 pm time period.
In 1949, Elmer was doing some DJ work at WFIL and Pete was doing some air shifts at an Allentown radio station. Just as a sidebar, Sally Starr was doing an hour a day on Pat Stanton's WJMJ. Rex Allen, who did some air work at WTTM in Trenton, joined the Sleepy Hollow Ranch Gang until he headed west to be on the WLS Barn Dance show. Bill Haley and the Saddlemen performed there. Haley, himself, was a DJ on WPWA in Chester. But then, that's an entirely different story.
This regular monthly column is written and researched by Gerry Wilkinson

MORE DIGITAL ARCHIVAL PROJECT NEWS:
VIDEO: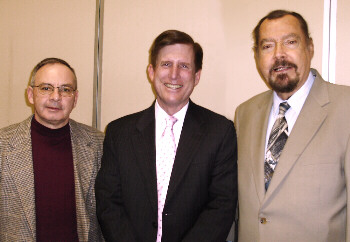 (Left to right) Broadcast Pioneers' President Frank Hogan
Broadcast Pioneers member Walt Hunter, CBS 3, Eyewitness News Reporter
Broadcast Pioneers' Chairman of the Board Bill "Wee Willie" Webber
at the Holiday Inn City Avenue, Philadelphia
Broadcast Pioneers Luncheon
Wednesday, February 15, 2006
On Wednesday, February 15, 2005, Broadcast Pioneers member Walt Hunter of CBS 3's "Eyewitness News" was our guest speaker. It all took place at the Holiday Inn City Avenue with an 11:45 am reception and 12:15 pm lunch. Hunter is one of the market's most outstanding investigative reporters. Walt spoke for about a half hour, including a question and answer session. We have video of his remarks available here for the very first time. Previously, only complete audio was available.
Watch the video from the Broadcast Pioneers' YouTube Channel!
AUDIO:
This piece of audio dates from Saturday, August 30, 1958. The station is WCAU Radio and the newscaster is Ken Mayer. We now know the form of advertising they were discussing in the audio. Lipton Tea was going to start sponsoring this newscast on Monday, and their representatives would be knocking on local doors awarding prizes!
We are often asked why we didn't include the opening of an included newscast or other broadcast. The answer is simple. That's all we have. We do not have the beginning.
This piece runs about 13 minutes. By using a digital audio editor, you can actually see crackle, clicks and pops. They look different than regular voice audio. We had the editor perform this magic and then we had to do some manual cleanup. We removed many of the clicks, pops and crackle by literally editing them out. While it sounds impossible to the average person, it isn't. A pop may last only 1/100 of a second and thus when you remove it, it doesn't affect the voice because such a small part of the recording was deleted. This manual cleanup was very time consuming. It took many hours and we removed hundreds and possibly thousands of clicks and pops. This newscast was donated to us by Broadcast Pioneers member Michael Muderick. The original source material was on a 8 and 3/4" flexible green disc, sort of an inexpensive version of a 16" transcription disc.
Listen in the Windows Media Format!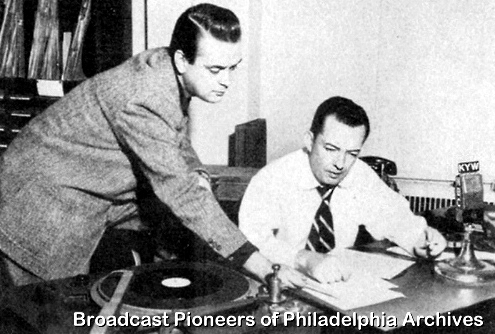 (Left to right) Bill Givens and Jack Pyle
KYW Radio Studios
1953
Our last piece of audio this month dates from the spring of 1954. It's excerpted from a six hour Jack Pyle broadcast from Saturday, April 3, 1954. We have the entire six hours of this KYW Radio program in our audio archive, donated by member Skip Clayton. However, because of copyright restrictions, we cannot make large portions of the show available on our website. Rest assured that the entire broadcast has been saved and preserved. Skip also sent along the picture shown above.
We present here a 6 minute portion from that evening. Jack is paying tribute to Glen Gray and the Casa Loma Orchestra. Bill Givens is giving him a hand. The band dates back as far as 1927 when they were called "The Orange Blossoms." After an eight month stay at Toronto's Casa Loma Hotel, they renamed themselves The Casa Loma Orchestra. That was in 1929 and before their first recordings on Okeh Records.
When most orchestras of that era were owned by the band leader, the Casa Loma Orchestra owned themselves as a corporation. The group's violin player, Hank Biagini fronted the band at first. By 1937, Glen Gray had taken over. During the mid-thirties, they were the house band on the Camel Caravan radio broadcast.
While the station had reel-to reel audio tape recorders, this particular recording was recorded on disc and thus that's why there were crackle and pops on the original source material. We have spent a couple hours cleaning up the recording to get it in the condition you will hear. Here, from 1954, is part of a Jack Pyle KYW Radio broadcast.
Listen in the Windows Media Format!
Remember, History is ONLY What Gets Saved!
(If there were no portraits of George Washington, how would we know what he looked like?)
IN TOUCH WITH THE INDUSTRY:
WPEN, "97.5, the Fanatic" continues as the Flyers flagship station. A new multi-year deal has been signed between Greater Media and the hockey team owners. WPEN is also broadcasting the 76ers games for basketball fans. If both teams have game on the same evening, WPEN airs the basketball game and sister station, WMMR, airs the hockey game. This arrangement started in 2012. The new contract also calls for promotion on all of Greater Media's radio outlets here in the Delaware Valley. Tim Saunders and Steve Coates return as announcers for the 2015 - 2016 season.
Meisha Johnson has joined CBS 3's Eyewitness News This Morning as traffic reporter. She started on July 20th. Johnson comes to Philly from KMSP, the Fox station in Minneapolis-St. Paul where she had been a traffic reporter since 2013. An outdoor sports enthusiast, Johnson's resume includes several nationally-syndicated PowerSports programs on Fox Sports in addition to turns as an announcer for Snocross, ATV and Supercross motorcycle races. Johnson attended the University of Minnesota School of Journalism and Anoka Ramsey College. She is fluent in Swedish and attended the University of Uppsala while living in Sweden for several years after high school.
Last Friday, Ross Brittain, host of 98.1 WOGL's morning show announced he is retiring after more than 40 years in broadcasting, with more than 10 of those past years spent at the station. On 98.1 WOGL, Brittain said, " [One] of the things I will miss [is] hearing the bells chime at Independence Hall on my way to work every day… Thank you to all of the people who called in this morning and wrote on my Facebook page. It's been a great ride."
CBS RADIO's KYW Newsradio 1060 announced last week the launch of PopeCast, a 24/7 radio station devoted to all things related to the visit of Pope Francis and the World Meeting of Families. The station can be heard on 96.5 FM-HD3, and online at CBSPhilly.com/papal visit
Programming for PopeCast is prepared by KYW Newsradio's award-winning team of broadcast journalists, who have been staying on top of every development concerning the upcoming Papal visit. The station features interviews with officials responsible for the events, information about travel to Philadelphia, security, housing, logistics and memories of the last Papal visit to Philadelphia in 1979.

"We're excited to provide this great information service when there are so many important aspects of the Pope's visit. HD Radio technology allows us to offer listeners a wide variety of niche programming and this is a great demonstration of its capabilities whether you're listening in your car, home, or online." said Steve Butler, Director of News and Programming, KYW Newsradio.
The Phillies broadcasting team of Tom McCarthy, Matt Stairs and Ben Davis will call tonight's game against the Los Angeles Dodgers from a special location near the on-deck circle, weather permitting. The game airs on Comcast SportsNet at 7 pm.
This special booth location provides the broadcasters with a unique view of the game, the players and the ballpark. Last season, the broadcast location was moved briefly to the outfield, where Phillies play-by-play voice Tom McCarthy caught a home run ball hit by Freddie Freeman of the Atlanta Braves.

"I think each of us is excited about the opportunity to call this baseball game from the stands," said McCarthy. "Last year's game was an amazing experience, one of the best I have ever had as a baseball broadcaster. The atmosphere, the energy, and the opportunity to catch a home run ball was unbelievable."
WE REMEMBER:
Gene Dillard, 73, passed away last month. Many of us remember him being on WFIL Famous 56, as a newscaster. Others will think of him in that capacity on WPEN, Station of the Stars. In the 1990s, Gene, whose real name was Dillard Bird, Jr., did TV work for cable television in New Jersey. We have a few hundred of these broadcasts in our archives along with a hundred radiocasts. A memorial service is scheduled for Sunday, August 9, at 3 pm at First Presbyterian Church 101 Bridgeboro Road in Moorestown, N.J. Dr. Anthony Campolo, a friend of Gene's for many years, will be the eulogist.
THIS AND THAT! Little Bits of Information....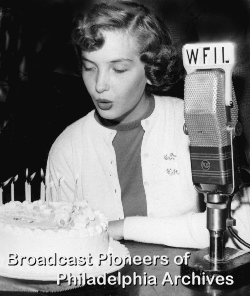 Claire Coleman
at the WFIL Studios
46th and Market Streets, Philadelphia
1953
Claire Coleman had an article written about her in the Philadelphia Inquirer during the time her show was on the air (1954 to 1956). Remember that both WFIL-TV and the Inquirer had the same owner, Walter Annenberg. A young man (a little older than Claire) named Richard was given the clipping by his mother who said, "Dick, this is the kind of girl you should be seeing." Richard knew the author of the article and called him. Richard and Claire were introduced and months later, they were married. She announced her engagement in the spring of 1955. Richard had an interest in politics and ran for the U.S. Congress and won. He then became a U.S. Senator from Pennsylvania. In 1976, Ronald Reagan selected him as his Vice-Presidential candidate in an unsuccessful run for the White House. However, when President Reagan did finally win in 1980, he appointed Richard to be Secretary of Health and Human Services. The fellow's name is "Dick Schweiker!"
Author Eric Niderost, a history professor at Chabot College (Hayward, CA) e-mailed us. He said:
"I've written a book called "Sonnets and Sunspots; Dr. Research Baxter and the Bell Science Films." It's a popular history of science programming on TV, from the 1950s to the present. But my focus for the Pioneers is Dr Frank Baxter, one of the most popular and charismatic educators who ever appeared on film or the small screen. He won seven Emmys and the first Peabody award.

Baxter was born in Newbold (West Deptford Township, Gloucester County), NJ. That's about 9 miles south of Philly. He lived in Philadelphia for years as a young adult. Frank was graduated of the University of Pennsylvania with his bachelor's in 1923 and his master's two years later. In fact, that's where he met his wife.

What is interesting to us is that he was a broadcaster in 1926 and 1927 for WOO, the John Wanamaker radio station in Philadelphia. Just before Baxter's first broadcast, he wrote: "I don't know how it will work out. I have never broadcasted before and I flatter myself that I have not a radio voice.... I am to become a feature next year. ...I hope it pays something.

Niderost, in his book, said that Baxter did all kinds of things at the station. He did weather forecasts, cooking information and advice to the lovelorn. The book is available from Amazon.
Honoring all the Philadelphia TV kid's show hosts that showed us Bugs Bunny cartoons over the years, we wish a belated Happy Birthday to that "wascally Wabbitt" who turned 75 years old last week. Bugs' first film was "A Wild Hare" and it was then that the world heard Mel Blanc say in Bugs Bunny's voice, "What's Up, Doc?"
WGL Radio was Philadelphia's first licensed radio station. The call letters were assigned on Wednesday, February 1, 1922 and its license issued a week later on February 8th. The station was owned by Thomas F. J. Howlett and documents show that its address of record was 2303 North Broad Street in North Philadelphia. It was less than a half block from the famed Uptown Theater and four blocks from Temple University.
Some Internet websites have shown the address of this station as 2302 North Broad Street. However, we have found actual government documents showing the address as 2303 not 2302. We thereafter accept the 2303 North Broad Street as the correct address of the station.

THANKS FOR THE MEMORIES:
The Handy Man with Jack Creamer!
Gene Martin, a visitor to our website e-mailed us this story (which we cannot verify) in 2002:
Gimbels had one of the first sponsored shows on TV. The show was called "The Handy Man Show." (It starred Broadcast Pioneers member Jack Creamer). Viewers wrote in about problems they were having and the Handy Man would show them how to fix them, and share information about relevant Gimbels products.

At the time, Cory Coffee pots were very popular. These pots were glass with a separate upper and lower pot. The neck connecting the two sections was very narrow, which made the pot hard to clean, since you could not get your hand into the bottom part. The Handy Man showed the viewers how to add soapy water to the pot and then put in marbles to clean it.

Then he showed a semi-circular brush that Gimbels had which would fit in and clean the pot. As he said this, he tried to show that your hand would not fit in the pot. His hand went in and he could not get it out. The show was live, of course. The cameraman became hysterical and could not stop laughing.

It was at the beginning of the show and he had to do the whole show with his hand in the pot. I'm probably the only person in the world that remembers this, but it is true.
Jack Creamer is probably best known in the Philadelphia market for The Handy Man program carried over WPTZ from April of 1947 until February of 1953. The Handy Man show was owned by Jack Creamer and not WPTZ. Because of that, a different version of the program aired over WOR Radio and WOR-TV and a radio version ran on the Mutual Radio Network for a year and a half.
In 1945, while The Handy Man radio program on Mutual was riding high, Jack wrote The Handy Household Manual, a compendium of material from his radio show. It was published by Ziff-Davis and sold for $2 (about $19.62 in today's money). Almost 100,000 copies were distributed. We have a copy in our archives.
In his book, Jack talked about all kinds of things. Did you know that you can get more juice when you squeeze an orange if you run it under hot water for a minute? Well, Jack said it's true. Creamer thought that the best way to sharpen a pair of scissors was to simply cut a few strips of sandpaper.
He said he developed his "Handy Man" show when he was working a radio station and they had time to fill. Jack created his show and it was a success for years.
Howard Jones - Happy the Clown!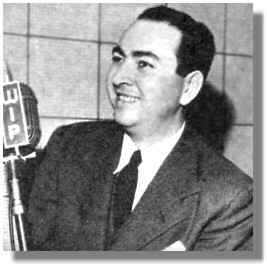 Howard Jones
WIP Radio
1946
Broadcast Pioneers member Howard Jones was in broadcasting for 4 decades. However, most of us will remember him as "Happy the Clown." Born in the middle of July of 1909 in Rockingham, North Carolina, Howard Jones did it all: Disc Jockey, TV Host and friend to millions of Delaware Valley children.
Before becoming a clown, Howard was "Farmer Jones" on WFIL-TV. Beginning in 1939, he also hosted "Dialing for Dollars," an early version of the well-known program that was used for several different kinds of shows. His sponsor was the Food Fair Grocery chain.
During the summer of 1942, Jones made a live "Dialing for Dollars" call on WIP. He called a woman in Haddonfield, NJ. and asked her if she was tuned in to the radio and WIP. If so, she would win $25. However, he was told that there was an air raid test going on in the area, and she had turned off her radio. She also told Howard that he shouldn't be on the telephone during an air raid drill. She loved her country, she said, more than she would love the $25.
Jones, in the early days of his career, hosted "C'mon 'n Dance" (later done by Bob Horn of Bandstand fame) and in the early days of WFIL-TV, hosted a cooking program.
Howard Jones told colleagues that he was the "chief announcer" at WIP Radio when a young and talented guy came to the station. Jones took him under his wings and showed him the "ropes." The newcomer was John Facenda.

WFIL Radio Lineup
from a WFIL Radio Newspaper Ad
1955
From 1956 to 1968, it was in the role of the ever-lovable "Happy the Clown" that Howard Jones would gain fame. The 2-year to 8 year-old demographic became his devoted fans.
Jones' program became so popular that children would have to wait for up to a year to be one of two dozen kids selected to be on the program. They would slide down the sliding board, march behind Happy hitting their "marching sticks," and get a ride in his golf cart, lovingly called "Chippy, the Chipmunk." Over the years, Howard said that he had 109,000 children on his program.
Broadcast Pioneers founding member, Jack Steck, Program Director for WFIL-TV, created the role of "Happy the Clown". It was given a three month trial that lasted 48 times that time; 12 years. It originally was a 30-minute program, alternating with "Features for Women." It expanded to an hour and 45 minutes in length at the height of his popularity. Happy had just a hint of a smile, a bowler hat and an oversized costume with blue stripes on his pants and red polka dots on his shirt.
Previous to becoming "Happy the Clown," the portly Howard Jones played "Santa Claus" on the TV station. The telephone company had a recorded message from Santa to children and it was Howard that played the role. It became so popular; it tied up the lines and overloaded the phone system. Eventually, they decided to lessen the demand on the lines by removing the "Santa Service."
Howard Jones once said:
I used to play Santa Claus. The ratings on the show were good, and after Christmas we wanted to keep them that way, but you can't do Santa Claus 12 months a year. So we wondered what the children would like. Clowns, we decided, and the show was born.
In 1963, he said:
All 25 children present each morning appear on camera, but sometimes, the doting relatives feel their child or grandchild doesn't get to be seen as much as the others, and they complain. I love them, and I think I get more fun out of the show than the children do.
The children loved Happy and he would teach them to make toy animals, taught them the words of songs and hymns. He celebrated birthdays, showed cartoons and did magic tricks. It was he who taught the children how to sing songs. He plucked coins from their ears and celebrated birthdays with those candles that couldn't be blown out.
Although born in North Carolina, Howard Jones grew up in Virginia Beach & Portsmouth, Virginia. Howard studied drama at the University of Michigan where he received his degree. He had several minor roles in different motion pictures.
Howard got into show business as an actor performing mostly in musical comedies. Then he became a radio announcer in 1928 (at the ripe ol' age of 19) in the Norfolk market and then Boston before moving to Philadelphia in 1933 to join the staff of the station owned by the Gimbel Brothers Department Store, WIP Radio. He was there that he had a talk show with his first wife, Mary, who passed away in 1969. The couple interviewed a "who's who" of celebrities including Charlton Heston, Pearl Buck and Victor Borge.
In the forties, Howard Jones told a national publication that his favorite gimmick was having bandleaders "come up and take a bow," and that he had every great orchestra leader on his program. He would also read messages from them to his radio audience.
A 1946 magazine article mentioned that Howard was on WIP:
Howard Jones does "Eight Bells" from 8:30 to 9 am, five days a week; "Housewives' Serenade" from 9:15 to 9:30 am and on Tuesdays, Thursdays and Saturdays "Midday Melodies" from 11:01 to 11:30 Mondays through Thursdays; and "Quaker City Brevities" from 2:45 to 3:00 pm, Mondays through Fridays, all on WIP.
Both of the Joneses' moved to the WFIL Stations, and they had a program called "the Farmer Jones Show" which was broadcast live from 6 to 7 am from the Wiffletree Farms, a farm in Pennsburg in Montgomery County, Pennsylvania. The "Wiffle" part of the name stood for "WFIL."
On the broadcast, Mary and Howard talked about raising cows and pigs and how to can and freeze vegetables and fruit. Sometimes, they even presented a recipe or two. He wrote a garden column for "The Philadelphia Inquirer" at the time when Walter Annenberg owned the paper and the WFIL stations.
During 1956, Howard Jones was hosting a WFIL-TV program entitled, "This is Hollywood," an offshoot of his WIP talk program. On Saturdays, he was there for "The TV Garden Club." Shortly before this, he hosted a radio "talk show" called "Philadelphia Speaks" on WFIL Radio. It was on this program that listeners could call in with problems and suggestions about the Quaker City.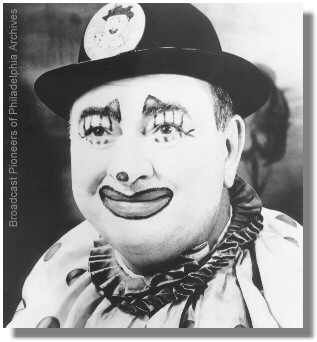 In 1968, Howard Jones retired from broadcasting and purchased the farmers market in Downingtown, Pennsylvania, which he ran for five years. Then he traveled the world for quite awhile.
He dabbled in real estate both as a realtor and as a speculator. Howard spent the last 23 years of his life with his second wife, Delia Sciochetti Jones who called him "Jonesie." Delia said that she had, at one time, figured out that over 100,000 kids appeared on the program.
Sheriff Smith on WFIL-TV!
In 1960, Pete Boyle was involved with a short lived TV program on WFIL-TV called "Sheriff Smith." The star of the show was Harry K. Smith (mainly known as a newscaster and weather guy) with Pete Boyle as his sidekick. The program was aired Saturdays from 11 am to 11:30 am and only ran for two months from March 12th to June 4, 1960. Channel 6 described it as "a new kind of western, designed just for you young cowhands."

In an unsigned e-mail (AOL allowed you to do that ten years ago when this e-mail was sent to us), someone wrote:
I worked with Peter Sr and Harry on the "Sheriff Smith" show you reference, and if you would like additional info, I would be glad to provide it. Pete Jr worked on the show as an apprentice cameraman. It was one of the first videotaped shows in Philly history, and was not (really) "short-lived." It was designed as a thirteen (13)-week mini-series (before anyone had heard of them!) running in three installments of 5-4-4 weeks. Pete was an accomplished commercial and fine artist (though, like Norman Rockwell, he preferred to consider himself an "illustrator"). He did a fantastic series of portraits of his close acquaintance, Emmett Kelly, the world-renowned Barnum & Bailey clown, and I still have some of the watercolors he painted of the South Jersey landscapes and fishing villages he enjoyed so much.
When we e-mailed for additional information, we got this reply:
I was saying was that this was a MINI-SERIES. ...I realize that videotape was being used by the late 1950's, but it was mostly restricted to "studio"-type talk shows that did not require editing or CONTROL of animals, as we had to do on our show. Videotape could not even be recorded "in-house" - our signal had to be broadcast to a tower atop a neighboring building in order to be recorded. At the time we taped, the show had to be performed straight through, without interruption or pause of any kind (as if it were a LIVE telecast), and editing was impossible. In fact, one incident I recall vividly occurred when the director's (Ben Squires) elderly father, who played bit parts, wore his horned-rim glasses in a scene where he did a walk-through, creating an obvious anachronism. But rather than RETAPING the ENTIRE show just to correct this faux pas, the scene aired as originally taped.
When we asked for identification of whom the e-mail was from, the reply was "the 13 year old who worked with Pete".

By the way, Broadcast Pioneers member George Koehler, manager of WFIL-TV at that time. said that he didn't remember the "Sheriff Smith" program being a limited production, but one that was cancelled because of higher production costs.

Bill Yerkes, a visitor to our site tells a similar story in his e-mail:
I also appeared on "Sheriff Smith" and I remember some of the things listed on your website. The video tape recorders were in another building and they had to send the signal through some sort of antenna. We had to tape the whole thing "live" on tape. If you made a mistake you just kept on going. After the show, they wouldn't let us go home until they ran the tape to make sure they got it.

Barry Cassell (of Action in the Afternoon fame) played the Indian Chief and in one scene I confronted him face to face and I couldn't keep from laughing. He was such a comedian off camera. Sam Kressen, who played the bad boy (he had been the Sheriff on "Action in the Afternoon) and Uncle Pete, the two old pros, taught me how to look past him instead of at his face to keep from laughing. They said the camera will never know where you're really looking. I can still see the look on Barry's face and it still makes me laugh.

I think it was a three episode story that I was in. It was shot in a studio, even the exteriors. I remember that in one scene the corner of the control room window got in the scene but after viewing it they said to let it go since the quality of b/w video tape at that time was so bad you couldn't tell what it was.

Tony DeSimone did the music and he played the organ soap opera style. I remember watching him write the chords on the script as he worked up the music track. He played it live just as we taped the show.

Sheriff Smith was taped at Ralph Lopatin Studios. I think the director for the episodes I was in was Merle Brockway. He directed a lot of shows in those days. He was the director for "Kid West" and I'm pretty sure I remember him directing Carney the Clown on his Saturday morning show.

I remember another scene in Sheriff Smith where I was caught in a rockslide while trying to rescue the kidnapped Indian Chief's son. All of the rocks were made of a plywood frame with chicken wire and painted canvas covering. A stagehand was up on a stepladder and was supposed to throw the rock so it hit the ground and rolled up onto my leg. We'll when we went live, he threw the rock right on my leg and it really hurt. Later the Director told me what a great face I made when the rock hit my leg. He said it looked real. I told him it was, it really did hurt. Of course being "live on tape" and this being the end of the show I had to tough it out and finish up the show, Of course Sheriff Smith came to the rescue and arrested Sam Kressen and his sidekick. (I don't remember his name but he had been one of the "Little Rascals").
A LITTLE BIT OF BROADCAST HISTORY!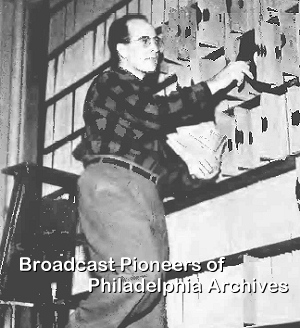 Broadcast Pioneers Hall of Famer Joe McCauley
WIP Radio
early 1953
In the above photo, we see Joe McCauley picking some of his music for his WIP "Dawn Patrol" broadcast. Note that the records he was pulling were ten-inch 78 rpm records. At this time, 1953, the station was also playing 45s and LPs but most of their library was still on 78s. By the way, after WIP stopped playing 78s, they donated their entire 78 library to Temple University. The records were used on WRTI for years.
By the mid-sixties, they were still in the WRTI-AM studio (studio D on the basement of Thomas Hall) but not used. WRTI-AM was a carrier current station that broadcast into Temple dorms at 640 on AM. When WRTI moved into the new Annenberg Hall, the 78s didn't survive the move. They were never part of the record library next to WRTI in Annenberg Hall. Interesting to note that beginning in September of 1968, the school hired its first record librarian. She was a recent graduate of the school, whose name was Ellie Menna. She's been Mrs. Ed Cunningham for the last four decades.
OUR HATS OFF TO YOU:
Special Thanks for contribution of $1,000 or more to our DAP, Digital Archival Project:
Member Johnny B. Hall and wife Ginny - $3,000
Member Marlin Taylor - $1,000
Member Harry Hurley's Golf Tournament - $1,000
Special Thanks for April 2016 Scholarships:
Member Dan Lerner - 5 scholarships
Member Sylvia Kauders - 1 scholarship (from a grant for 5 yearly scholarships running until 2019)
Member Harry Hurley's Golf Tournament - 1 scholarship (for a South Jersey resident or student)
Member Johnny B. Hall and his wife, Ginny - 7 scholarships
Member Kal Rudman - 5 scholarships (for Temple University students)
Members Robin and Ira Adelaman and Robin's Dad, Leon Love - 1 scholarship
Underwrite a complete scholarship and we'll give you credit in the electronic newsletter until the scholarship is awarded in April of 2015. Give us a donation of $1,000 or more and we'll list you in our "Thank You" column for a year.
More Thanks:
Special thanks to Members Robin and Ira Adelman and Robin's dad, member Leon Love for their generous contribution to our Archival Project.
Members have been including an extra contribution when they send in their membership dues last month. This month, those members include: R. Alan Campbell, Jim Glogowski, Bob Loudin, Lou DiCrescenzo, Chuck McKibben, Paula Wholey, Fred Woskoff, Nicky DeMatteo, Ed Hurst and Dan DiNardo.
A growing portion of the revenues that fund the different activities of the Broadcast Pioneers comes from donations. This includes our archival project and our scholarship program. Now, we are making it even more beneficial for our donors. Broadcast Pioneers is now able to accept gifts of appreciated stock, which provides a significant tax benefit to you. By giving appreciated stock (stock which is worth more now than what it cost when it was purchased), you can get a charitable contribution tax deduction based on the current market value of your stock. At the same time, you avoid the capital gains
tax that would arise if you simply sell the stock. So if you'd like to support our educational mission or our archival project and save money on taxes too, please consider making a gift of appreciated stock. We are a federally recognized, state chartered charity with a 501(c)(3) status. Contact us at (856) 365-5600 or e-mail pioneers@broadcastpioneers.com for more details.
Don't be left out. You too can make a pledge. It's never too late. You can earmark it for scholarships, our Digital Archival Project or our general fund. Thanks so much for your support.
Our special thanks go to TUTV - Temple University Television and The Kal & Lucille Rudman Media Production Center.

They have underwritten a grant to be used to fund an entire year of all our newsletters for calendar year 2015. We thank them so much for their support!
If you forgot to make an extra contribution (cash or memorabilia) and would like to do so now, it's never too late. We would be thrilled to hear from you at: PO Box 2886, Bala Cynwyd, PA 19004 or call us at (856) 365-5600.
A FINAL THOUGHT....
"This is not acting. This is live radio news. It's the here and now. It's hot off the wires, with some words of your own. You're not preaching and you're not talking to the back of some auditorium, you're talking to your next door neighbor, across the back fence."
WIBG Announcer Doug Arthur
speaking about how to deliver a newscast
1941
excerpted from "The Roy Neal Story"
available only on our website
http://www.broadcastpioneers.com/roynealbook.html

Please contact us by e-mail at newsletter@broadcastpioneers.com or by mail to: Broadcast Pioneers of Philadelphia, PO Box 2886, Bala Cynwyd, PA 19004. Your stories are important, to you, to us, and your colleagues. Contact us today and we'll include your story in the next newsletter!

© 2015, Broadcast Pioneers of Philadelphia
All Rights Reserved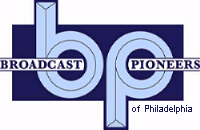 The e-mail address of the Broadcast Pioneers of Philadelphia is pioneers@broadcastpioneers.com
For luncheon reservations call (856) 365-5600 or e-mail us at: rsvp@broadcastpioneers.com