| | |
| --- | --- |
| | Broadcast Pioneers of Philadelphia is a federally recognized, state chartered 501(c)(3) non-profit organization serving the Philadelphia Broadcast Community since January of 1962. |
2016 Annual Fundraising Banquet
The Hilton Hotel - City Avenue
Friday Evening, November 18, 2016

Doors Open at 5:45 pm
Reception starts at 6 pm
Dinner served at 7 pm sharp!

Tickets are:
$88 for each of our members
$98 for everyone else!
Our 2016 Honorees
for Hall of Fame and Person of the Year!
2016 PERSON OF THE YEAR!
JERRY BLAVAT!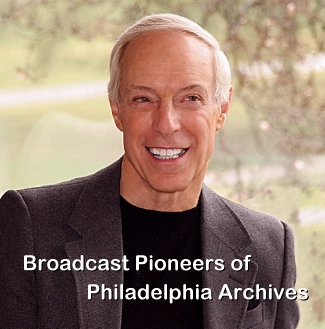 Watch our "Pioneers of Philadelphia Broadcasting" episode shot at the office of Broadcast Pioneers member Jerry Blavat. Member Mike Strug spoke with him for this fantastic half-hour personal one-on-one interview where "The Boss with the Hot Sauce" talks about his life and how he became "The Geator with the Heater."
(Video courtesy of Broadcast Pioneers VP Brad Seecof and Metramedia Broadcasting and Studios)
"HALL OF FAME" LIVING HONOREES!
Monique Braxton, NBC 10 News Journalist/Reporter for sixteen years
Natasha Brown, CBS 3 News Anchor for "Eyewitness News" on weekends
Jerry Del Colliano, nationally known expert on broadcasting/interactive media
Paul Gluck, TUTV manager, former executive at several Philadelphia stations
Bob Kravitz, photo journalist at most every television station in our marketplace
Jim Loftus, President and CEO at More FM, number one station in the city
Barry Magarick is the founder and the president of Magarick Advertising
Tommy McCarthy, former music director at CBS Radio's WOGL-FM, 98.1
Marty Moss-Coane, longtime WHYY "Radio Times" host/executive producer
David Murphy, weekday meteorologist for morning & noon "Action News"
Michael Stairs, well-known organist for the famed Philadelphia Orchestra
Michael Tearson, air personality for as long as Rock Music has been on FM
"HALL OF FAME" POSTHUMOUS HONOREES!
Barry Cassell, well-known radio and television announcer in the 50s and 60s
Fred Ficke, WHYY-TV stage manager coaching US Presidents to TV 12 staff
Steve Fredericks, famed radio sports host and commentator for WCAU & WIP
Bill Kimble, he "kimblized" you as you listened on WPEN, Station of the Stars
Pinky Kravitz, "Mr. Atlantic City" and host of "Pinky's Corner" for 57 years
David Miller, worked for W3XE (Philco) and put Channel 6 on the air in 1947
Marie Pantarelli, former assistant for George Koehler & Lew Klein for 50 years
Jess Schooley, former WCAU-TV stage manager for most Channel 10 shows
Joan Stack, well-known celebrity interviewer and Bucks County radio host
Ron Tindiglia, credited with developing the Action News format here in Philly
TICKETS
MUST BE

PURCHASED IN ADVANCE
AND THEY ARE ON SALE NOW!

Prices are $88 for members (each member can buy ONLY one ticket at the member price) and $98 for everyone else (including spouses, friends and guests). Our MCs for the evening will again be members Larry Kane and Dom Giordano.

The event will once again take place at the Hilton City Avenue, 4200 City Avenue, Philadelphia. The date is Friday, November 18th. The reception is at 6 pm and dinner is served at 7 pm. Doors open at 5:45 pm. Cash bar all night long. Valet parking is $10. Event lot parking is $5.

Make plans to be there! A major portion of the ticket price may be deductible on your federal income tax. Ask your tax advisor for details! Tickets must be purchased in advance. Absolutely no tickets available at the door.
WE'LL BE PROUD TO SEE YOU IN THE CROWD!

REMINDER!
IF YOU HAVEN'T PAID YOUR DUES BY NOW...
YOU'RE LATE!!!
Please note that ten weeks ago, we snail mailed your membership renewals. If you haven't paid by now, you are late. 18% of our members haven't sent their renewals in yet! Are you one of them? If you believe that you didn't get a renewal, please let us know and we'll send you another one (this time by e-mail).
If you joined in the past couple of months, you may have received a form, but you are not required to pay any dues at this time. The form will tell you whether there is an amount due. We sent the form so we could verify that all the info we have is still correct. The next membership directory will be printed before you know it.
WE DO NOT SEND YOU MULTIPLE NOTICES! THIS WILL BE THE ONLY NOTICE FOR RENEWAL THAT YOU WILL RECEIVE.
IMPORTANT!
If you haven't already done so, kindly return your form and check at your earliest convenience. Please also note that on the form is an important little box that you can check if you would like to make an extra contribution. Our archival project is becoming an expensive thing to do. It costs us over $8,000 a year just to store all our archival material. That averages out to about $16 per member. If you can can afford it and wish to do so, please help us in this important project. Any additional amount will be greatly appreciated! Large or small!
If you are not sure whether you paid the 2016 - 2017 dues, e-mail us and we'll let you know whether you are up to date. We thank you for your continued support!

Visit Our Website Often - http://www.broadcastpioneers.com
You should check our website often on the front page (above) for important information!
Check out our Facebook Page - http://www.broadcastpioneers.com/facebook
There are things on our Facebook Page that are NOT on our website (like our vintage photo of the week)
Tune in to our YouTube Channel - http://www.broadcastpioneers.com/youtube
Our YouTube Channel has all our luncheons, exclusive interviews and archival material
NEW - NEW - NEW - NEW - NEW
Visit us on Twitter - http://www.broadcastpioneers.com/twitter
Short messages and tweets travel fast with us on Twitter. Be part of the fun!
NEW - NEW - NEW - NEW - NEW
Check us out on Instagram - http://www.broadcastpioneers.com/instagram
Join the excitement with Broadcast Pioneers of Instagram!

DIGITAL ARCHIVAL PROJECT NEWS:
VIDEO:
Member Mike Strug
More FM Studios
Bala Cynwyd, PA
Wednesday, June 15, 2016

Harvey Clark
More FM Studios
Bala Cynwyd, PA
Wednesday, June 15, 2016
On Wednesday, June 15, 2016, Broadcast Pioneers of Philadelphia had a luncheon about how the media covered the Move situation on Osage Avenue. Afterwards, we went over to the nearby More FM Radio Studios to record a couple of interviews with legendary figures in Philadelphia broadcasting. One of those interviews was with former WCAU News Reporter Harvey Clark who now lives in Puerto Rico. Member Mike Strug did the interview and spoke with Harvey about his career.
Watch the Video from our YouTube Channel
(video courtesy of Broadcast Pioneers VP Brad Seecof and Metramedia Broadcasting & Studios)
AUDIO:
The Howdy Doody Show made its debut on December 27, 1947 on a program called "Puppet Playhouse." It was so popular, it was developed into a regular television series. The program lasted until 1960. Well, several years later, those Howdy Doody fans (now in college) thought it would be nice for Buffalo Bob Smith to come and speak to them, the students.
Bob often promoted those college appearances by being a guest on local tv or radio programs. Here is an interview he did with (Hall of Fame member) Frank Ford on WPEN Radio in May, 1971.
Please note that in our "Thanks for the Memories" Section (below), Howdy Doody expert member Michael Muderick tells us more about the popular iconic TV show and about his friendship with Buffalo Bob.
Listen in Real Audio!
Listen in Windows Media Format!
Next we have another "Quaker Answer Mike" program that aired on WIP Radio several times each day (a different program each time). The host of the segment was Paul Parker. We are thinking that the date of this broadcast is in late summer or early fall of either 1958 or 1959. We believe this to be true because of several factors including that other recordings in this collection date from that time period.
The audio was originally recorded on an eight and three-quarter inch flex green disc, the kind used for dictation machines. Obviously, the quality is never the best under these circumstances. It took us hours of work to put the audio in the form available on this site. This green disc audio was originally donated by Broadcast Pioneers member Michael Muderick.
Listen in Real Audio!
Listen in Windows Media Format!
Today's News Becomes Tomorrow's History!
(This is what our Digital Archival Project, DAP, is all about!)
A LITTLE BIT OF BROADCAST HISTORY!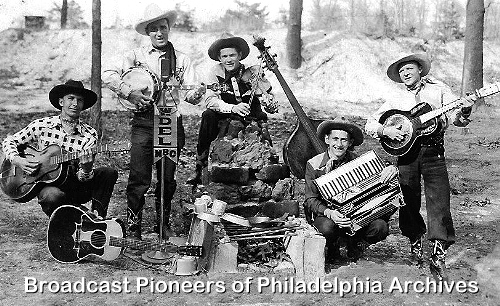 (left to right) Hank, Tex Lorraine, Slim, Shortie and Eddie "Cheyenne" Woods
Tex Lorraine and his Range Riders
WDEL Radio, Wilmington, Delaware
1936
IN TOUCH WITH OUR MEMBERS & THE INDUSTRY:
On the occasion of the 60th anniversary of Philadelphia's longest-established advertising and PR firm, American Advertising Services, the company's founder and continuing president Joe Ball received a commendation from Councilman-At-Large, Derek Green, Esq. Joe Ball is a long-time member of this organization.
CBS 3 is teaming up with two science powerhouses in the Philadelphia area, Einstein Healthcare Network and The Franklin Institute, to lead the way in support of S.T.E.M. education locally.
Over the next three years, the station and its science partners will work together to produce a series of Public Service Announcements that promote Science, Technology, Engineering, and Mathematics education for local students, partner on educational events in the community, and enhance news reports of science and health stories with in-studio demonstrations.

The Einstein Healthcare Science Center, a special studio set designed to make science come alive through weekly reports, debuted in mid-July.
WTXF-TV, Fox 29 is planning to broadcast a live hour-long television show at 12 noon beginning next month. It's called, "The Q" with Fox 29's Quincy Harris as the host. Word has it that it will be shot in front of a live audience. The station says that the new venture is a cross between variety and entertainment with talk segments. Fox 29 tells us that they are not planning to hire any new personnel but use existing staff for the show.
The 21 Greater Media radio stations in seven different markets will become owned by Beasley Broadcasting. The sale is expected to be completed and approved by the FCC by year's end. Once the transfer is done, Beasley will own 52 FM and 21 AM radio stations in 16 markets.
The purchase price is said to be 240 million bucks. Beasley currently owns these stations in our market: WTMR, 800 on AM (Camden), WTEL (the old WIP 610 AM) in Philadelphia, WWDB (860 AM), also in Philly and WJBR (99.5 FM) in Wilmington. The Greater Media outlets in our market (all go to Beasley) are: WMMR (93.3 on FM) Philadelphia, WBEN-FM (95.7 FM) in Philadelphia, WMGK (102.9 FM) Philadelphia and WPEN (97.5 FM - the Fanatic) also in Philly.
A LITTLE BIT OF BROADCAST HISTORY!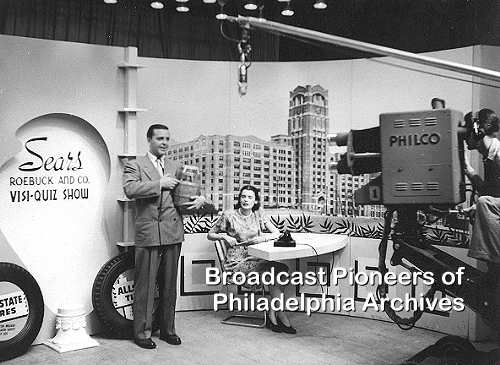 (left to right) MC Don Saxon and unidentified woman
The Sears Visi-Quiz Show
WPTZ, Channel 3, Philadelphia
(now KYW-TV)
September 1947
Richard Grosser, a visitor to our website said:
There was a quiz show called, "The Sears Visi-A-Quiz" on which the announcer read a question and the viewer, if they knew the answer would dial a phone number on the screen and tell the announcer the answer. We won a set of tires.
This program was a local program airing live on Thursday evenings from 9 pm to 9:30 pm. The program was also aired over WNBT-TV (now WNBC-TV) in New York City and on WRGB (then operating on Channel 4) in Schenectady. The idea for the show was that contestants in the studio portrayed famous places, people or things. First viewer to call with the correct answer won an item from the Sears catalog. The on-stage contestant also won the same item from the catalog (which was 8 feet high and appeared on the stage). The television MC told corny jokes, hammed it up and played it for laughs. Previously, he worked as an emcee in local area nightclubs.
Did you know...
that WPTZ, Channel 3 (now KYW-TV) telecast the first live surgery on broadcast television? Well, it's true. WPTZ has been known over the years for televising a lot of firsts. They televised the first coverage of a political convention in 1940. We talked about that in this column for the last two months. Well, in the spring of 1952, March 16th to be exact, they broadcast the first television program that included an actual, live surgical operation. The name of the patient was never revealed. During the surgery, Dr. Isadore Schwaner Ravdin, the 58 year-old Chief Surgeon at the University of Pennsylvania Hospital, gave the viewers a running description on what was going on during the procedure.
Dr. I. S. Ravdin (center)
University of Pennsylvania Hospital
broadcast live over
WPTZ, Channel 3, Philadelphia
Sunday, March 16, 1952

Dr. I. S. Ravdin (center under light)
University of Pennsylvania Hospital
broadcast live over
WPTZ, Channel 3, Philadelphia
Sunday, March 16, 1952
The program was called, "In the American Tradition." The show aired Sunday afternoons at 2:30 pm for 30 minutes and was done in association with the University of Pennsylvania. Each week, the program illustrated a different part of the University's operation. The series ran for a total of 10 weeks.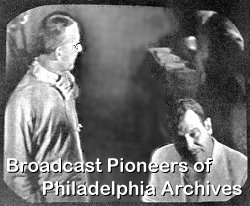 (left to right) Dr. I. S. Ravdin & Dr. Kendall Elsom
discussing some of the details of the case
University of Pennsylvania Hospital
broadcast live over
WPTZ, Channel 3, Philadelphia
Sunday, March 16, 1952
Please note that the above three photos were shot off of a Philco TV monitor at the station. This had to be done in this manner since the hospital would not allow any pictures to be taken on their premises for health and safety reasons. All the people in the above snapshots were real medical personnel. WPTZ had two live television cameras at the hospital to shoot the operation.
The shots shown below were made at the WPTZ studios at 1619 Walnut Street in Center City Philadelphia. Personnel in these snapshots were actors except where university head heads, professors and students appear. These are publicity stills and not shots from the live broadcast. We suspect that they were made in advance of the live broadcast and that is why we did not give them the Sunday date but just said "March 1952."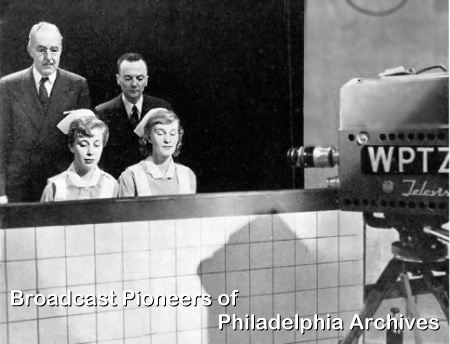 WPTZ Studios, Channel 3, Philadelphia
March 1952
While this was made to look like a real hospital, it was actually a set at WPTZ. In the back row are actors portraying the doctor and mythical patient Jim Brown with two nurses joining them in an amphitheater watching an operation.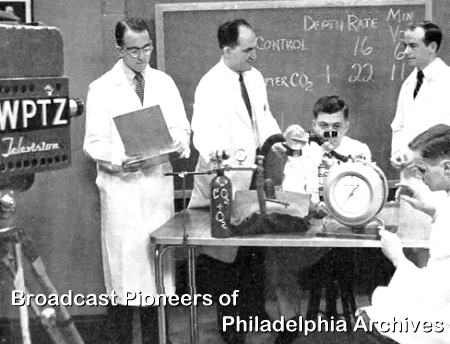 WPTZ Studios, Channel 3, Philadelphia
March 1952
The above photo was taken at WPTZ during one of the dramatic portions of the program. Shown second from the left is Dr. Foltz instructing medical students on "the effect of gases on breathing."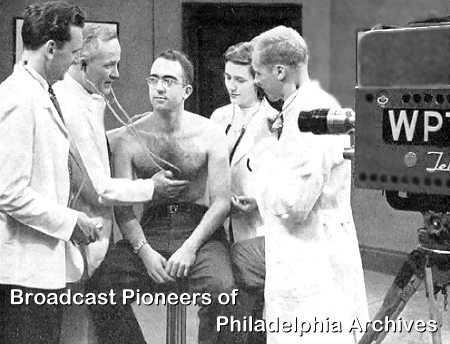 WPTZ Studios, Channel 3, Philadelphia
March 1952
During the broadcast (the whole thing was live), Viewers got to hear a real heart beat "as medical students are informed for and how to check the heart by Dr. Kaye of the university staff."
Philco described "In the American Tradition" as:
...one of the most ambitious and far-reaching programming ventures ever attempted in the field of educational television. It is designed to acquaint the general public with the benefits accrued from a major institution of learning such as the University of Pennsylvania.

"In the American Tradition" is the result of five months of planning by officials of the University of Pennsylvania and WPTZ. Dr. Kurt A. Peiser, Vice-President in Charge of Development at the university, coordinated the school's entry into the field of television education.

A committee of twenty department heads and officials of the university assisted WPTZ in working out final plans for the program. …It uses dramatic programs, remote telecasts from various locations at the University of Pennsylvania, and specially made films.

The program on which the operation was seen by the television public was devoted to allaying the fears of those about to undergo surgery; to showing the intensive training medical men receive; and the close teamwork and precaution that goes into surgery.

The operation, a gastric ulcer surgery performed by Dr. I. S. Ravdin of the university staff, was televised for the last ten minutes of the program.
The actual surgery started two hours in advance to the television coverage at approx. 12:30 pm Philadelphia Time. During the telecast, viewers could hear Dr. Ravdin say, "Nurse, how many sponges did we start with?" "Fifty," she answered. The staff then made sure that all 50 were accounted for. "Dr. Ravdin explained to the television audience that "we must keep track of everything."
The doctor also said to the Channel 3 audience that everything "went nicely though I was afraid, this is cancer. We took out about 85% of the stomach in this case. He'll get along all right. He'll be able to go home in about 10 days and probably will be out of bed tomorrow. Initially, the station was going to have the doctor pretend to do the surgery, but Dr. Ravdin would have none of it. He said, "the only way to show an operation is to have a real one with a real patient."
Dr. Peiser said in a press release:
It is to the credit of Station WPTZ and the industry that they have recognized television's use as a force for enlightenment and have rushed forward its achievement.
Ernest B. Loveman, Philco Vice-President and WPTZ's General Manager represented the station with help from Rolland V. Tooke, WPTZ's Assistant General Manager. Elmer Jaspan from the station was the series' producer and director.
Dr. Ravdin was the fourth generation of his family to be a physician. During the time of this television program, Ravdin was the acting Vice-President in charge of Medical Affairs for the University of Pennsylvania. He was also a trustee of the Philadelphia Museum of Art. Three years later, on January 19, 1955, Dr. Ravdin performed an operation that also involved television. Close circuit color cameras shot the procedure and examination of the removed tissue was simultaneously examined in both Washington, DC and Baltimore. Over 150 doctors were involved.
Our special thanks go to TUTV - Temple University Television and The Kal & Lucille Rudman Media Production Center.

They have underwritten a grant to be used to fund an entire year of all our newsletters for calendar year 2016. We thank them so much for their support!

REMINDER!
YOU CAN ADVERTISE IN OUR
2017 MEMBERSHIP DIRECTORY OR
2016 BANQUET BOOKLET
YOU DON'T HAVE LONG TO DECIDE!!!
As you know, our 2017 Membership Directory comes out to our members every fall. We also have a Banquet Booklet (similar in appearance to the Membership Directory but with different content) that will be distributed to the attendees of our 2016 Annual Fundraising Banquet in November.
You can advertise in either or both publications. The cost is just a donation of $300 per booklet. Advertise in both and get a 50% discount of the second publication. That's both publications for just a donation of $450.
Ad size is 5" x 8" and is printed in grayscale (Black and White). You don't need to be a business to do so. Board member Les Waas advertised in both for years. It was his way of wishing us well. You can do the same. Contact us at: pioneers@broadcastpioneers.com. Call us at 856-365-5600. Deadline for the 2017 Membership Directory is less than 2 months away and the deadline for the banquet booklet is shortly after that.
WE APPRECIATE YOUR SUPPORT!

MORE DIGITAL ARCHIVAL PROJECT NEWS:
VIDEO:
Michael Archer
Bala Golf Club, Philadelphia
Wednesday, June 15, 2016

Member Bill Baldini
Bala Golf Club, Philadelphia
Wednesday, June 15, 2016
On Wednesday, June 15, 2016, Broadcast Pioneers of Philadelphia had a luncheon about how the media covered the Move situation on Osage Avenue. Just before the luncheon, we recorded one of "Pioneers of Philadelphia Broadcasting" programs. This time, member Bill Baldini spoke with former News Executive Producer Michael Archer.
Watch the Interview from our YouTube Channel
(video courtesy of Broadcast Pioneers VP Brad Seecof and Metramedia Broadcasting & Studios)

AUDIO:
Next is a segment of an interview that member Barry Magarick (who will be inducted into our Hall of Fame this November) did with folk music legend Pete Seeger. Barry has dated this broadcast as being sometime in the sixties.
Barry started a folk music program on Sunday evenings on WHAT-FM while he was a junior at Temple University. When he was graduated from college, he took a full-time job at WDAS-FM and did a similar program there. We are not sure whether this interview aired over WHAT-FM or WDAS-FM.
Many people know Barry because of his advertising agency. However, he is much more. In the early seventies, he did a talk show on WCAU Radio about the psychic world. Let's not get sidetracked here. Back to Pete Seeger.
Every interviewer conducts interviews in a different manner. When you listen to this one, notice how Magarick draws Seeger out and lets him tell the story until Pete is finished. It's very interesting to hear Pete Seeger talk about the history of recorded folk music in such complete detail.
Listen in Real Audio!
Listen in the Windows Media Format!
And finally, our last piece of audio for this newsletter comes from Thursday, November 17, 1966. It's an hour program of "Night Talk" with Jack McKinney that aired over WCAU Radio. We offer you the complete first hour of this program. We also have in our audio archive, the second hour of this broadcast. However, at this time, we are just offering you the first hour.
The guest that evening was Dr. Bernard Fall. The live program took place just two days before Dr. Fall's 40th birthday. He was a well-known war correspondent, historian and expert on Southeast Asia and Indochina. He was especially informed on the French involvement in what would become known as the Vietnam War. He was a professor at Howard University and took several trips to Vietnam to study its people.
Dr. Fall was born in Austria and his family went to live in France during 1938. Two years later, the country fell to Nazi Germany. Fall's father became a resistance fighter with the French underground. Fall's and was later captured and killed by the Gestapo. His mother was sent to Auschwitz where she passed away. Eventually Dr. Fall came to the United States where he earned his Ph .d at Syracuse University.
He became a well-known expert on the area writing several books on the topic and took a college sabbatical to go to Vietnam to study more about the area and its people. Three months after this interview, Dr. Fall was killed in South Vietname when he stepped on a landmine while traveling with a group of U. S. Marines.
Listen in Real Audio!
Listen in Windows Media Format!
Remember, History is ONLY What Gets Saved!
(If there were no portraits of George Washington, how would we know what he looked like?)
WE REMEMBER: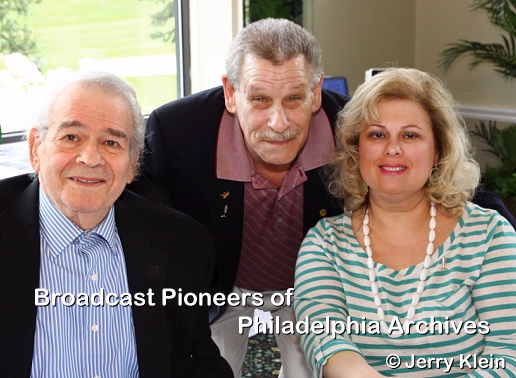 (Left to right) Members Leon Love, Ira Adelman and Robin Adelman
Broadcast Pioneers Luncheon, Bala Golf Club
Wednesday, April 18, 2012
Member Leon Love, passed away last month. He was the father of our member Robin Adelman (who is married to Ira). Leon was a communications and electronic engineer for Western Electric, when the company was associated with sound for motion pictures. He continued in that capacity when W.E. became AT&T, where he worked for 33 years. He also served as an Army Veteran during the Korean Conflict 1950-1953 and he loved the Philadelphia Phillies.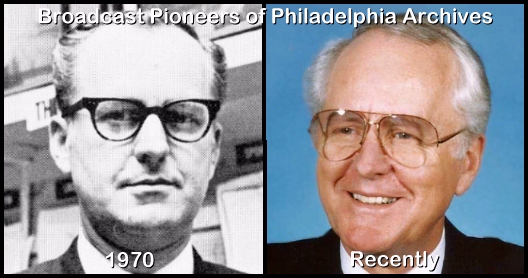 Mel Kampmann, the man who started the Action News format here in Philadelphia in 1970, passed away from Parkinson's Disease in mid-July. He started in the business in California as a radio announcer and then a late night television movie host. Besides Philadelphia, he also worked in Denver and Washington, DC. He and his wife, Karin, were married for 50 years. He served in the Air Force during the Korean War as an Air Traffic Controller. Mel Kampmann was 85 at the time of his death.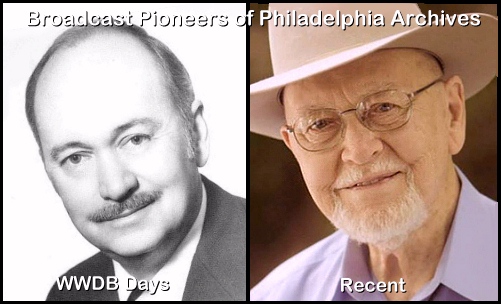 Russ Miller was a talk show host on WWDB-FM for a quarter of a century. His show was called, "Real Estate and Your Estate." He was a member of Broadcast Pioneers and a ham radio operator, K3NYN. Throughout his life, Russ was a multifaceted artist: a photographer, a writer, a musician, a painter and sculptor. Russ, a former member of the U.S. Coast Guard, moved to Florida some time ago. He passed away last month at the age of 90.
THIS AND THAT! Little Bits of Information....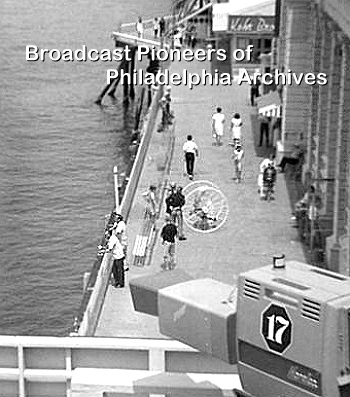 Shot of the Atlantic Ocean from the Steel Pier.
WPHL-TV camera was there to get ocean shot during The Ed Hurst Steel Pier Show
1968.
Philadelphia's legendary disc jockey Hy Lit was on WHAT Radio in the fall of 1956. One of the top acts was "The Three Friends" who had a big doo-wop hit, "Blanche." They appeared on Hy's program to plug their hit record. When Lit went to play the record, it was nowhere to be found. The answer was easy. The group sang their smash single live on the air. They appeared on his show for almost an hour.
Joel Spivak spent time here in Philly, but before coming east, he worked at KILT in Houston. In the fall of 1958, he talked about an aerial act in not too pleasant terms. "The Flying Wards" then challenged him to either put up or shut up. They invited him to perform with them on the trapeze. On November 17th, he did so. He was hundreds of feet in the air. Fellow KILT air personality Rex Miller wasn't to be outdone and subsequently did his entire three-hour air shift standing on his head.
In late spring, Mac McGuire, morning drive air personality on WIP, was missing in action from the air. Seems that McGuire drove back from Illinois the night before and never woke up for his "Start the Day Off Right" program. All-night guy from the Dawn Patrol, Joe McCauley, continued on over WIP until the police went and checked up on Mac and got him to the station. Turns out that a police radio operator was listening and contacted the local Pittman Police Department who got the disc jockey out of the sack.
WOO Radio, owned by Wanamarkers, went off the air in 1929. However, during its prime years, the station was quite popular and had a favorite radio personality, Mr. WOO. Well, Mr. Woo #1 was George S. Cruger. He was heavy set in his middle age years with gray hair. He was married, always had a smile on his face and lived at 46th and Chester Streets in West Philly. He was mainly used for the station's concert programs.
Joseph Nassau was Mr. WOO #2. He was a light-weight guy and skinny and was only 22 years old when he started portraying Mr. WOO. His voice is heard for weather and news bulletins. He was at the time single and also the station's technical expert. By the way, Joe's brother James worked at WDAR (Lit Brothers' station) and came over to WOO in 1923. The brothers lived together in their North Philadelphia rowhouse near 18th and Oxford Streets.
Just in case you were wondering who attended the 8th birthday party of Ernie Kovacs--we know! They were Patsy Behm, Catherine Berbon, Helen Boydon, Irene Frend, Olga Chato and Ida Kuronga. Are you seeing a pattern here? Well, there were some guys there too. They were Thomas Kovacs, Steven Butcher, Herman Brache, John Toth, George Shoprone and Ed Salto. All this took place during February of 1927 in Trenton, New Jersey. And if you ever wondered how much Ernie paid a year for cigars, he estimated between 9 and 13 grand. Of course, he wasn't eight then.
Did you know that Big Band Leader Jan Savitt was once with the Philadelphia Orchestra? Well, it's true. In the Spring of 1934, Jan was appointed music director of WCAU Radio. Who appointed him? Why, the host of the Children's Hour, Stan Lee Broza, who was the station's PD. He was also this organization's very first president.
In 1937, when Ed Wallis at WIP Radio was promoted to Production Director of the station from night supervisor, guess who got that nighttime gig? None other than a young announcer named John Facenda. Also joining the announcing staff from WHAT Radio was Howard Brown.
It was January 16, 1941 when KYW Radio went 50,000 watts. Martin Gabowitz of the station's musical staff wrote a special song to go with the occasion. It was called, "Fifty Thousand on the Red." The Red pertained to KYW's affiliation with the NBC Red Network. The station used the slogan, "The Station of the Stars." Of course, that was decades before WPEN decided to use it.
In 1943, during the Second World War, a CBS Radio Washington reporter was featured twice a week on a program about food. It was sponsored by the Great Atlantic and Pacific Tea Company (A & P). The newscaster's name was Gunnar Back.
January 16, 1950, Charles Vanda was named Director of WCAU Television by Donald Thornburgh, president of the Evening Bulletin broadcast properties. Before coming to WCAU, Vanda was one of Hollywood's top radio producers and directors. When both Vanda and Thornburgh were on the west coast, Vanda worked for Thornburgh for 8 years as CBS Radio's Western Division Program Director. Thornburgh was CBS' West Coast VP. It was Vanda who was responsible for such WCAU Productions that went on the network such as "The Big Top," "Action in the Afternoon" and "Candy Carnival."
THANKS FOR THE MEMORIES:
Howdy Doody!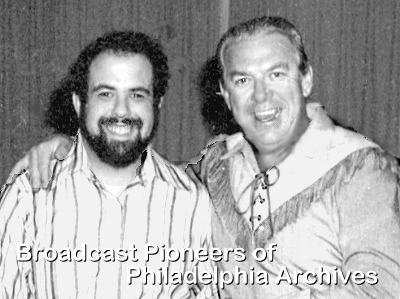 (left to right) Member Michael Muderick and "Buffalo Bob" Smith
(after dinner and before a Howdy Doody concert)
1971
In another part of this newsletter, we ran an audio clip of Broadcast Pioneers member Frank Ford speaking with Buffalo Bob Smith (of Howdy Doody fame) over the telephone. Well, we thought it would be wonderful to ask Howdy Doody expert and member of the Broadcast Pioneers, Michael Muderick to tell us a little about Howdy. Did you know that there were over 2,300 episodes of the show? The 1947 to 1955 years were in black and white with the last years (1955 to 1960) in color. RCA (owner of NBC at that time) thought broadcasting Howdy Doody in color might just encourage people to buy color television sets.
About the photo above - Michael called Bob at his hotel (he's thinks it was the Sheraton on JFK) and offered to take him to dinner. Muderick drove downtown, picked up Michael's wife, Ann (who worked downtown) and then Bob, and went to Fonzo's Famous Italian Village in West Philly at 48th and Chestnut. Michael said that he was always backstage at any of the "Buffalo Bob" appearance at Penn.
Muderick tells us:
The Howdy Doody Show made its debut on December 27, 1947. 2017 will see the celebration of the 70th anniversary of Howdy Doody. Anyone interested in a party?

At that time, in 1947, the NBC TV network consisted of only a few stations: New York, Boston, Schenectady, Washington, Baltimore, and Philadelphia. It aired locally on WPTZ-TV, Channel 3 and it was the first show on the air from NBC preceded by test patterns all day.

Ten years after the show ended, Smith was contacted by a student at the University of Pennsylvania to come out and do a nostalgia show. He brought with him a kinescope (film forerunner to videotape) of the 10th anniversary show from 1957. The students in the Irvine Auditorium at Penn went wild. I was fortunate enough to be at that show, as well as at his subsequent Philadelphia appearances.

My feelings for the Howdy Doody show went well beyond the nostalgia kick. I was probably an every-day watcher from 1949 to 1954. By the time the show went to Saturdays only, in 1955, I had outgrown it. But meeting Smith made quite an impression on me. I had graduated college in 1968, and had developed a strong interest in broadcast archives. I met Smith in 1970 and was amazed at how approachable he was. He welcomed my friendship and shared his personal contact information. I guess nobody was worried about stalkers 45 years ago.

We developed a nice friendship and I produced a tv commercial with him for a record album produced by Broadcast Pioneers Hall of Fame member, Mike Nise. I also later became friendly with Howdy Doody writer Eddie Kean. I began amassing quite a collection of Howdy Doody toys, children's Golden books, 78 RPM and 45 RPM records, and some rare memorabilia including test patterns from the show, scripts, tapes, letters, etc.

Then Bob sent me a 1948 kinescope for my collection. That started a whole slew of video archives including various television interviews, and guest appearances. I also managed to audio-record the Philadelphia concerts at Temple, Villanova, and The Electric Factory. In 1971, Bob recorded a concert at Bill Graham's Fillmore East in NY. It is interesting to listen to that album and compare some of the stories he had told in his early concert appearances, and how he changed them to adapt to later audiences.

My introduction to writer Eddie Kean was at his initiation. He had heard of my collection of archives and was in a dispute with the creators of Teenage Mutant Ninja Turtles over their use of the word Kowabunga. He needed to prove that the word had its origins many years earlier with the Indian character, (not politically correct today) Chief Thunderthud. I found an audio clip that hears the chief shouting Kowabunga. It was from the early 1950's. That was all the proof he needed.

Eddie and I became good telephone/letter writing friends (he lived in Minnesota). He was a great conversationalist and told me some fascinating stories and added to my memorabilia collection.
Buster Crabbe, Part 2!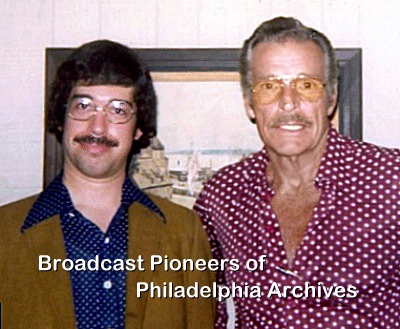 (left to right) Steve Vertlieb and Larry "Buster" Crabbe
The Holiday Inn, Center City Philadelphia
Photo originally donated by Steve Vertlieb and The Gull Cottage
1979
Last month, we started a two-part story about member Steve Vertlieb's memories of childhood television. We now continue it here. Steve wrote:
Buster Crabbe was, I guess, my first childhood hero. I can't ever remember being more excited by anyone than by the heroic figure of "Flash Gordon" when I was an impressionable little boy. I'd wait each week with breathless anticipation for the next spellbinding chapter in the 1936 original serial. If I wasn't watching the exploits of Alex Raymond's intergalactic hero on television in the safety of my living room each day or week, then I'd likely be couched in my seat in the darkened Benner movie theater on a Saturday afternoon, hanging onto the precariously positioned edge of my trousers as each new terrifying creature threatened Flash, Dale, Happy and Prince Barin.

After Flash and Dale survived the first thirteen chapters of the original Universal saga, they went on to explore the red planet in "Flash Gordon's Trip To Mars" (1938), and then "Flash Gordon Conquers The Universe" (1940). Admittedly, the last serial was at times tepid, and nowhere near as much fun as the first two, but no red blooded lad worthy of the name was ever the same after hearing Franz Lizst's fanfare from "Les Preludes" as it thundered across the screen in the opening titles of the final serial.

Was there ever a more pulse pounding, exhilarating opening theme to any movie in history? If that didn't get your blood racing, then you were probably fast asleep. Of course, Buster would also star as another iconic science fiction hero when he played the title role in Universal's accompanying serial, "Buck Rogers Of The 25th Century" (1938), as well as a daring private eye in Universal's thirties companion serial, "Red Barry" (1938), while a whole generation of baby boomers would thrill to the exploits of "Captain Gallant Of The Foreign Legion," filmed in French Morocco especially for children's television in the mid nineteen fifties. Buster played the title role in this popular tv series for kids, which co-starred his own son, Cullen "Cuffy" Crabbe as his small, but inquisitive nephew.

Now, for the younger generation who may not be aware of the old serials and the influence of Buster Crabbe upon today's huge Summer blockbusters, "Flash Gordon" was, perhaps, the first modern "super hero." Beginning as a popular newspaper comic strip written and rendered by artist Alex Raymond, Flash Gordon was the most popular and imitated space adventurer of his day and arguably the inspiration for such modern science fiction film heroes as Han Solo and Luke Skywalker. While he had no particular super abilities "far beyond those of mortal men" as did Superman, he was in fact an intergalactic Indiana Jones, preserving freedom for Earth's inhabitants while risking his own life in the face of alien persecution and danger.

Now, in early Summer, 1969, I learned that my friend Allan Asherman had recently interviewed Buster Crabbe for a magazine at The Concord Hotel in upstate New York. Situated in the resort community of the Catskill Mountains, Buster had been "working" as the hotel's celebrity "Swimming Instructor." A former Olympic Gold Medallist, Crabbe had turned a sports championship into a mildly lucrative Hollywood career.

I asked Allan if he might introduce me to Buster, and Allan said that that he would ask the aging actor if that might somehow be arranged. I began shaking with excitement when Allan telephoned some days later and said that Crabbe had agreed to the meeting, and that an appointment with my first hero might actually become a reality, a reality merely dreamt of for much of my youth. I was thrilled beyond words or imagining. So, on a brightly lit summer day in 1969, Erwin and I began our fateful journey by bus to the Catskill Mountains in New York. We first had to take a rather stuffy, crowded vehicle from Philadelphia to Manhattan where we would meet Allan.

Once at our destination, the three of us journeyed by bus together to the famed Concord Hotel. Erwin and I, being properly trained young gentleman, were attired in suffocating sports jackets, dress shirts, and ties in the sweltering heat. The journey had taken some three or four hours, but we were determined to make a good impression on our celebrated lunch partner.

Upon our arrival at the hotel, we followed Allan around to the outer grounds of the hotel where the pool and swimming facilities were located and there, in swim trunks and glistening radiantly in the sunlight from a quick lap in the pool, was a lean, bronzed former Olympic champion and gold medallist who we recognized immediately as our boyhood hero. I was nervous and somewhat uncomfortable in my formal attire, particularly as the afternoon sun was beating down hard upon these strangers in a strange land, but Buster couldn't have been more charming and engaging. We had lunch together on the grounds of the hotel, and shared an absolutely wonderful several hours with the delightful actor.

He regaled us with memories of his relationship with the beautiful Jean Rogers, with whom he had maintained a close friendship for years after "Flash Gordon" had completed filming. He spoke affectionately of Frank Shannon who had played his esteemed mentor, Doctor Zarkov, in the serials, and recalled that Priscilla Lawson (Princess Aura in "Flash Gordon") had been hit by a car and had lost her leg in a tragic accident. One of his most entertaining recollections was of filming "Captain Gallant of the Foreign Legion" in French Morocco.

It was not a particularly happy experience, either for cast or crew, and Buster remembered the ill temperament of the camels who would either bite the actors, or spit in their faces during filming. By day's end when shooting had completed and the production crew was at last over the "hump," it appeared that their four legged co-stars were entirely unimpressed with the illusion and magic of Hollywood.

The afternoon went by much too quickly and, before long, it was sadly time to leave our enchanting host, and begin the long, arduous journey back home to Philadelphia. Buster promised to write me, however, and true to his word, we began a long correspondence and friendship.

Over the years that followed, I kept in touch with Buster through correspondence. He seemed to value my loyalty to him, and to the recollection of his career in Hollywood. During a trip to Philadelphia as a featured guest celebrity at a local science fiction convention in 1979, Buster was bound and determined to find me, and get together just one more time.

At his booth at the film conference, and wandering over to other tables and conventioneers during the weekend proceedings, he asked if anyone there knew of Steve Vertlieb. Of course no one had, but Buster remained undeterred. He found a telephone directory in his hotel room, and scoured through it to find anyone with my last name. There he came upon a telephone number for someone named Charles Vertlieb. He called the number, and identified himself. He asked Charles Vertlieb if he was, by chance, any relationship to me.

As luck would have it, Charles answered "Yes, I'm his father." My dad told him that I was out of town in Baltimore visiting friends, but that he'd be happy to relay any message to me upon my return. Buster asked him to have me call him at his hotel room at the Holiday Inn, and that he'd love to meet me for dinner. What followed, however, with my father and I might have been taken from a scene out of an old Abbott and Costello comedy.

When I returned home late Sunday evening, I asked my dad if anyone had called for me during my absence. My dad, being a faithful receptionist and secretary, relayed the news that Buster Crabbe had telephoned for me. And I, being a totally trusting and respectful son, responded "No, really, did anyone call?". My dad repeated dutifully that Buster Crabbe had called, and that he wanted me to call him at his hotel.

Not one to be blindly taken in by tall tales, I said "Seriously, Dad, did anyone telephone for me?" He persisted, as did I, for roughly thirty minutes until it at last occurred to me that maybe there was a wisp of truth in his frustrated pleading. Consequently, I dutifully telephoned Buster the next morning in his hotel room. He was, indeed, in town and wanted me to join him for dinner.

We agreed to meet in his room Monday evening down at fourth and Arch streets. When we met he remarked once again how he was so impressed with my continued loyalty and support throughout these many years, and that we simply had to meet for dinner while he was in Philadelphia.

He ordered a cab, and we drove into Chinatown where he treated me to a sumptuous Chinese dinner. As conversation waned and Buster's appetite eventually diminished late into the evening, he lifted his plate and began emptying his uneaten leftovers into my plate with his fork. He was quite adorable, really. Like a caring Jewish mother, he admonished me to "Eat, Eat, Eat."

As the evening expired at last, he hailed a cab and we drove back to his hotel where I expressed sincere wishes for his continued happiness, and promised solemnly to keep in touch. We did remain in contact through correspondence over the years remaining to him, and I always cherished his letters and his friendship. That was the last time that I'd ever have an opportunity to be with him, however. On April 23rd, 1983, Buster passed away from a sudden heart attack as he was dressing for dinner at his home in Scottsdale, Arizona. He was seventy five years old.
AM Philadelphia!
Last month we ran a photo sent to us by Cary O'Dell of the Library of Congress. He was trying to ID the people in the photo. Well, we can identify three out of the four. We know that the picture dates from 1978 to 1980 because Claire was only on the show for the first two years of the broadcast. If you missed the photo, you can see it here.
Well, we heard from Broadcast Pioneers member Fred Woskoff who told us:
I can't help identify the gentleman who is on the set with Jim O'Brien, Clare and Dave, but I might be able to refine the date some.

I directed the show from September 1978 until May of 1979, on a "three week" freelance job that ended up being 8 months. It was great fun, and everybody involved with the show was wonderful to work with.

In the time I directed, I don't recall Jim O'Brien ever being on the set during a show. In fact, the only time I ever ran into him at WPVI was when he literally ran into me outside the door to the parking lot.

It was a day where there was a big snow storm, and I had moved my car across the street to the Holiday Inn parking lot as they asked everybody to do that so they could plow the lot. It was about 11:30 AM, and Jim came flying out the door yelling to somebody "I'm going to get Kane".

What was happening was that Larry Kane was doing a live shot across City Line in front of WCAU, and Jim intended to run into the shot and tackle Larry. As I heard the story later, Larry saw Jim coming, and threw it back to the studio just as Jim ran up behind him.

The other thing about the photo that I think puts it at a different time frame from September '78 to May "79 is that we had stick microphones (EV635's) set up between each of the chairs on stands. Since Clare and Dave moved around the set from the talk area to the kitchen, demo, and performance spots, they didn't use lavs at the chairs.

Art Moore was the original AM/Philadelphia producer and director. He was taking over as Promotion Manager at WPVI, and Charlie Bradley hired me to freelance for "three or four weeks" until he could hire somebody to produce and direct full time. Almost six weeks later Sherry Feldesman was hired to Produce, but she was not a director, so I ended up staying for another month.

Then one of the regular WPVI directors had to go in for surgery, so Charlie asked if I could stay for some additional time, which ended up being almost six months more. For the last three, I was also doing "Phillies Today" at Channel 17, so it was a busy few months, with long days.

I wasn't interested in staying full time at channel 6, since it would involve directing newscasts along with AM, and I told Charlie, "I don't do news". But it was a fun time, with great folks.

A LITTLE BIT OF BROADCAST HISTORY!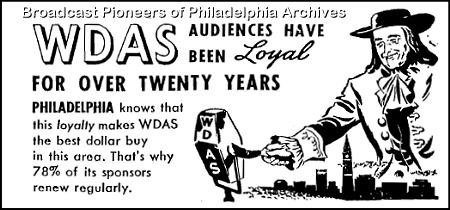 WDAS Radio Advertisement
1945
OUR HATS OFF TO YOU FOR GIVING:
We are a federally recognized, state chartered charity with a 501(c)(3) status. Contact us at (856) 365-5600 or e-mail pioneers@broadcastpioneers.com for more details. Your gift to Broadcast Pioneers will help us and may lower your federal income tax. That's win-win, isn't it?
Special Thanks (in alphabetical order) for the gift of Appreciated Stock: (a federal tax advantage for the giver)
Member Marc Howard - $3,600 (put into our general fund to be used where needed)
Member Sylvia Kauders - $5,159.45 (used for the scholarships listed below)
Member Dan Lerner - $5,217.80 (used for the scholarships listed below)
Special Thanks (in alphabetical order) for contribution of $1,000 or more to our DAP, Digital Archival Project:
Member Elliot Abrams - $1,000
Member Jerry Del Colliano - $1,000
Member Johnny B. Hall and wife Ginny - $3,000
Member Harry Hurley's Golf Tournament - $1,000
Special Thanks (in alphabetical order) for April 2017 Scholarships:
Member Johnny B. Hall and his wife, Ginny - 6 scholarships
Member Harry Hurley's Golf Tournament - 1 scholarship (for a Stockton University student)
Member Sylvia Kauders - 1 scholarship (from a grant for 5 yearly scholarships running until 2019)
Member Kal Rudman - 5 scholarships (for Temple University students)
Member Marlin Taylor - 1 scholarship
Special Thanks (in alphabetical order) for a contribution of $500 or more to our DAP, Digital Archival Project:
Member Esther Kurtz - $500
Member Marian Lockett-Egan - $500
Member Art Moore - $500
Underwrite a complete scholarship and we'll give you credit in the electronic newsletter until the scholarship is awarded in April of 2017. Give us a donation of appreciated stock of $2,000 or more) and we'll list you in our "Thank You" column for two years. Give us a donation of $1,000 or more and we'll list you in our "Thank You" column for a year. Give us a donation of $500 or more and we'll list you in our "Thank You" column for six months. You can select how we use the money: for our archival project, for scholarships or for our general fund to be used as needed.
More Thanks:
We have heard from alot of our members on membership renewal. These members included an extra contribution with their renewal. We thank them so very much. They include: Sam Cerrato, Bob Loudin, John Kahler, Nora Muchanic, Lou DiCrescenzo, Ivory Blackwood, Nicky DeMatteo, Kevin Delany, Scott Palmer, Al Primo and R.A. Campbell.
A growing portion of the revenues that fund the different activities of the Broadcast Pioneers comes from donations. This includes our archival project and our scholarship program. Now, we are making it even more beneficial for our donors. Broadcast Pioneers is now able to accept gifts of appreciated stock, which provides a significant tax benefit to you. By giving appreciated stock (stock which is worth more now than what it cost when it was purchased), you can get a charitable contribution tax deduction based on the current market value of your stock. At the same time, you avoid the capital gains
tax that would arise if you simply sell the stock. So if you'd like to support our educational mission or our archival project and save money on taxes too, please consider making a gift of appreciated stock. We are a federally recognized, state chartered charity with a 501(c)(3) status. Contact us at (856) 365-5600 or e-mail pioneers@broadcastpioneers.com for more details.
Don't be left out. You too can make a pledge. It's never too late. You can earmark it for scholarships, our Digital Archival Project or our general fund. Thanks so much for your support. If you forgot to make an extra contribution (cash or memorabilia) and would like to do so now, you can do so. We would be thrilled to hear from you at: PO Box 2886, Bala Cynwyd, PA 19004, call us at (856) 365-5600 or e-mail us at: pioneers@broadcastpioneers.com.

A FINAL THOUGHT....
Harold Pannepacker worked at Channel 3 in the early days. He did everything from run camera, sell time and be one of the managers. Well, one of the shows that "Penny" sold commercials was "Three to Get Ready," It was a local morning program hosted by Ernie Kovacs (before his Hollywood days). Most advertisers didn't own television sets, so they came to the WPTZ studio to see their commercials. Hal said:
"Griddle Ready. It was a pancake mix. It came in a carton, like a milk carton today. He (Kovacs) would run up a ladder. Took a ...plate up to the top... and the lights of the studio, and proceeds pouring pancake batter and making pancakes (from the heat of the lighting). Flipping them and then throwing them down to the crew. The client (who was in the studio) had thought, 'this guy is really nuts.'" The client, however, did renew the account.
Harold Pannepacker
former Channel 3 employee
from Harold Pannepaker personal material
(donated by him to Broadcast Pioneers)
Please contact us by e-mail at newsletter@broadcastpioneers.com or by mail to: Broadcast Pioneers of Philadelphia, PO Box 2886, Bala Cynwyd, PA 19004. Your stories are important, to you, to us, and your colleagues. Contact us today and we'll include your story in the next newsletter!

© 2016, Broadcast Pioneers of Philadelphia
All Rights Reserved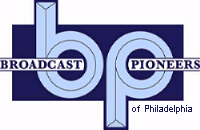 The e-mail address of the Broadcast Pioneers of Philadelphia is pioneers@broadcastpioneers.com
For luncheon reservations call (856) 365-5600 or e-mail us at: rsvp@broadcastpioneers.com