Visit Our Website Often - http://www.broadcastpioneers.com

While you're at it, be sure to mark your calendar for our annual banquet on Friday, November 21st at the Bala Golf Club. Reception is 6 pm. Dinner at 7 pm. Always a spectacular event, the funds raised support Broadcast Pioneers scholarships. Tickets are $70 for members and $90 for non-members. The on-going protocol is for members only to pay the member ticket price. Any guests attending who are not members (including non-member spouses) pay the non-member price.

We also remember Jack Downey, former Vice-President & General Manager of WCAU, who died in Florida. Jack was our fifth president serving in 1966-1967.
Long time Pioneer and Board member Ed Harvey, passed away on July 30th. The family advises us that a memorial service will be held for Ed on September 6th, 4 pm, at the Valley Forge Military Academy Chapel, 1001 Eagle Road, Wayne, PA. 19087. There will be a reception and celebration immediately following at Eisenhower Hall (within walking distance). Ed's daughter Susan tells us, "At Dad's insistence, it will be a short memorial, and a long party."
Member Joanne Calabria informs us that Former General Manager (1980 to 1984), Pat Polillo passed away on Tuesday, September 2nd at the age of 75 because of a brain tumor. Pat and his wife, Dr. Kristine Soly, have been living in Cape Cod. Until just recently, Pat played tennis just about every day. In recent years, he remained busy working with Word Web Vocabulary, a method of teaching elementary and high school students. Funeral details are not yet available. Pat Polillo had been a member of the Broadcast Pioneers.
In touch....
We recently heard from Broadcast Pioneers member Sally Starr who tells us she is doing better health wise while still keeping busy. She continues to make personal appearances and loves country music more that ever. That's "Our Gal Sal!"
Our Chairman of the Board, Bill "Wee Willie" Weber is going strong on Martini Lounge Radio, 1340AM. The old WHAT. Bill is on the air Monday through Friday 9-10am. Mike Bowe from 6-9am, Bob Craig with the Sinatra lunch hour at Noon and Paul Kelly on Monday nights 7-8 pm, playing new favorites and new artists doing the standards. Be sure to tune in and hear some great music.
Member Allen Stone, for some 35 years the WFIL morning prime time newsman and 2006 Broadcast Pioneers Hall of Famer, reports that, although in retirement, he is not a couch potato. He has authored an "expose" of the advertising industry, involved himself in continuing education program at The University of Pennsylvania. He has taken a volunteer position in the recovery room at Lankenau Hospital, where he assists nurses in caring for patients as they return from surgery performing a wide variety of tasks from connecting medical devises to helping to process patient discharges. "Life has been good to me," says Allen. "I get up every day and say thanks!" Keep up the good work Allen!
Member Dave Roberts, Channel 6's weathercaster tells us his son's show, "Bones" will be on Wednesdays at 8 pm on Fox starting September 3rd with a two-hour Premiere. Dave's son is David Boreanaz. We're delighted for "both" Daves!
Broadcast Pioneers President Gerry Wilkinson and his family went to see Pete Seeger at the Sellersville Theater in August. It was a 60th birthday present for Gerry's wife, Michele. There they ran into long-time friend Gene Shay, folk music DJ for the last 40 years; now heard on WXPN. Gene reports he's doing well and busy. He also said he plans to join us for one of our luncheons real soon. We look forward to seeing you Gene!
"A Perfect Christmas" (A Winter of Love) is the title of Jane "Pixanne" Norman's newest album. Due to be released at the end of October. It will be played nationally on more than 250 radio stations. It's already won rave reviews from program directors across the country. Complete with a 35-piece orchestra, it is a combination of Christmas songs we all know and love performed in a very contemporary way. Jane says, "it will be a totally new experience." Additionally, Jane wrote three of the songs with arrangements by Richard Rome. The album can be heard on Martini Lounge Radio, plus "Remember When" on 1210AM on Saturday evenings. Also on WSNJ on member "Corky" Warren's Time Machine broadcast. No one tells a story through music the way Jane does. Congratulations Jane!
2007 scholarship winner Kelly Moorehead tells us she went to Rome last summer as part of a Temple University "Study Abroad" program. This summer, she went to Hawaii. Kelly is the granddaughter of Tom Moorehead, a former WFIL-TV and radio hand. Tom was our 8th President serving a one-year term in 1969-1970. Kelly attends Cabrini College and is majoring in Communications. Way to go Kelly!
Broadcast Pioneers member Dom Giordano and "Big Talker" WPHT launched a new evening program on August 18th. The Dom Giordano Show expands and moves to a new time. Dom will broadcast on air & online at www.thebigtalker1210.com, Monday-Thursday 6 pm -10 pm and Friday 9 to 12 Midnight. WPHT General Manager Marc Rayfield said, "Dom is one of the most well known personalities in Philadelphia, and is a rising star on cable TV. We are merely making his show more accessible to the many listeners who have requested it."
WPHT continues a long-standing relationship with the Phillies. Talk programming will be preempted throughout the Phillies regular and post season. WPHT's former evening host, Dr. Anthony Mazzarelli has been named Medical Director of the Department of Emergency Medicine at Cooper University Hospital. He has moved from full-time to a part-time weekend host. He will continue to be heard on Sunday evenings from 10 pm to12 Midnight.
We've heard form Sam Lit, President & CEO, of Hy Lit Radio Technologies, an advanced software designs group, specializing in emerging technologies, software engines and digital delivery systems. The company's sophisticated database delivery system serves their software engines and Internet products/applications. HLRT now has multiple server locations in Pennsylvania, Delaware, Illinois, and California, which support global capacity. Sam invites everyone, "to hear a real Philadelphia radio tradition, at HyLitRadio.com."
Members Bill Wright Sr. and sidekick Kevin McTear were featured on WPHT's "Remember When" program on Saturday, August 23rd, hosted by Broadcast Pioneers members Steve Ross and Jim Murray. "Uncle Billy" went back to 1950 when he had breakfast with Rosemary Clooney, the same week that her famous recording of "Come-On-A-My House" hit the airways, one of her most requested songs. He also shared memories from his history as a "WIBBAGE Good Guy."
Philadelphia Phillies Manager Charlie Manuel warmly embraced Broadcast Pioneers member Bobbie Shaffner and her husband Henry when they presented him with a copy of "The Phillies Are Winning Again," a song they wrote to spur on their favorite baseball team to victory. They have been Phillies fans since the Whiz Kids of the 50's. They chatted with Manuel at Citizens Bank Park. The Shaffners said, "We hope our song… will tip the scales and cause the team to win the division championship or maybe even the World Series." Copies of "The Phillies Are Winning Again" are available for airplay by contacting them at (610) 667-4063. Go Phillies!
Broadcast Pioneers Vice President Jerry Klein turned 60 recently, but shows no signs of slowing down. Jerry still plays ice hockey twice a week (about half time as goalie, the rest as a defenseman) in addition to his day job as EVP of one of the regions' oldest and most respected public relations firms, Anne Klein Communications Group. Jerry's wife Anne celebrated his milestone birthday by taking him to Chicago to see the blockbuster musical "Wicked" for the sixth time. They also have a California trip planned for the fall when they'll see it again in Los Angeles. Jerry and Anne are also hooked on the musical "Mamma Mia," which they've seen seven times in different cities including Philadelphia, New York, London, and Sydney. Keep having fun Jerry and Anne!
Broadcast Pioneers member Charlie Gracie returns to the UK this fall for a month long tour including a live BBC Concert with Gracie and Ringo Starr. Charlie will be honored by the City of Liverpool on December 7th. Before hitting the big time, Charlie appeared on local Philly TV. He sang the jingle, "Get the best, Get Sealtest" on "The Big Top" broadcast over CBS-TV and originating out of Channel 10. He also appeared on "Paul Whiteman's Teen Club" show on ABC-TV which originated from WFIL-TV. Plus, he was a performer on "The Children's Hour" with our first president, Stan Lee Broza.
This is our first newsletter in which the electronic version has more stories than the paper version. Also, some of the stories in the electronic version are in more detail than the paper version. This is good because you are now getting more information at no additional cost. We urge every member to take their newsletter electronically because of the increased cost (almost 30% in the last year) of producing a paper version. If every member received their newsletter by US mail, we would have been forced to increase dues. We didn't have to because almost 80% of members take their newsletter electronically. We are working hard to keep dues reasonable. No increase during the last couple of years, despite higher prices for almost everything. We appreciate your cooperation. Thank you!
A final thought...
"News events are like Texas weather. If you don't like it, wait a minute."
Jessica Savitch

© 2008, Broadcast Pioneers of Philadelphia
All Rights Reserved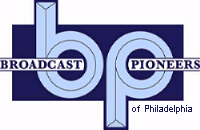 The e-mail address of the Broadcast Pioneers of Philadelphia is pioneers@broadcastpioneers.com
For luncheon reservations call (856) 365-5600 or e-mail us at: rsvp@broadcastpioneers.com