Visit Our Website Often - http://www.broadcastpioneers.com

BOARD MEETING:

Board members take note: The next Board of Directors meeting is on Wednesday, October 21st at 10:15 am at the Bala Golf Club. Make plans to be there.

HALL OF FAME/PERSON OF THE YEAR BANQUET:

Our annual banquet is on Friday evening, November 20, 2009. At that time, we'll be honoring our Hall of Fame inductees and our Person of the Year, Bill Wright, Sr. Ticket prices are the same as last year, $70 for the member only, $90 for spouses, family, friends and all others. The invitations will be sent out by mid-month, so look for your invite in your US mailbox.

WELCOME NEW MEMBERS!

Herman Rush is the Chairman of Rush Associates, an organization involved in the packaging, development and production of programs for television and the Internet. Herman is the former chairman and CEO of Coca-Cola Telecommunications. He was responsible for packaging and network placement of the Perry Como Show, the Jackie Gleason Show, the Kraft Music Hall among many others. Herman was also President of the Columbia Pictures Television Group.

Michael Anderson is the Public Relations & Marketing Director for the Reading Public Museum. This former broadcaster was co-founder of the Anderson Group, a brand communications agency. Michael was a partner in Stage Right Productions, a marketing coordinator for FirstEnergy Berks Jazz Fest & an instructor at Kutztown University. He currently serves on the board of the Reading Musical Foundation.

Gene Arnold was with the S. Klein Broadcasting Network which included WEEZ-AM, and WIFI-FM. During the 60's and 70's, he worked for WCAM in Camden and WIBG in Philadelphia. He produced Gene Arnold's Superstar Concerts, 73 hours of syndicated programming including the History of Disco series. He was co-host of "RJ & Company," on Channel 29 and has done over 2000 national and regional radio and TV spot voiceovers.

Ed Gannon started in the broadcasting business in 1956 at WCAU-TV (then owned by the Evening Bulletin newspaper) as a tour guide, teleprompter operator and full time Assistant Director. Gannon has also served as producer and director both full time and part time. He is now retired from television and WCAU and is enjoying life.

Herb Scott started at WCAU as a stock clerk and then became a television stage manager working on many of the wonderful shows to originate out of Channel 10. He later worked in master control and was a TV studio technician. Herb is now retired from WCAU after 50 years of service. Wow. A half-century in the business.

Janice Selinger is a big gun at NJN Public Television. She's their temporary acting Executive Director and acting Chief Operating Officer at NJN. Janice is also the temporary President of the NJN Foundation. She has been responsible for many award-winning shows from the network. Previously, she worked with John Stossel on the Emmy Award-winning program, "On Your Side" at WCBS-TV.

Michael Lopen has had an extensive career including serving as a production coordinator for WKBS-TV (Channel 48), a soundman for the Temple Productions Documentary Film Unit, and a Broadcast Operations Assistant for WCAU-AM Radio. He also worked for TVN, Inc. Newsweek Broadcasting Service, UPI Television News and USIA.

A hearty WELCOME to each of our new members. We hope to see you at upcoming Broadcast Pioneers luncheons! By the way, this sets an all-time high in membership, now at 340. Each month, we seem to be breaking the old records.

MORE IN TOUCH:

Congratulations and good wishes go out to Broadcast Pioneers member John Zacherle, who will be celebrating his 91st birthday this month. John is well remembered for his groundbreaking work as monster movie host Roland on "Shock Theater." He also played the undertaker on "Action in the Afternoon," TV's only completely live western. John continues to enjoy life living in New York City. Happy Birthday John and many more! Mark your calendars. Zach will be part of our December luncheon program.

As part of our continuing Oral History project, we just did an interview on August 25th with John Zacherle conducted by Broadcast Pioneers member Sam Lit of hylitradio.com. Our opinion is that the Real Audio version sounds better.

Early in 1968, Bruce Smallwood recorded an interview with John Zacherle. The interview was edited for air. This is the uncut version. The program was called "Thru the Mist" and was produced by Gerry Wilkinson.

On March 7, 1958, a home made kinescope (not done by the station) was recorded. It is the only known video recording of Zach on Shock Theater.

Watch an excerpt in Real Video!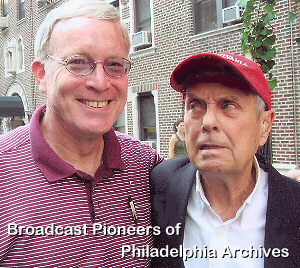 Broadcast Pioneers members Ed Cunningham and John Zacherle
outside Zach's New York City apartment
2006
After our September 16th luncheon, you can go home and that evening watch, "Philly's Favorite Kids Show Hosts" on WHYY-TV. Produced by member Ed Cunningham, it features a bunch of Broadcast Pioneers people (including Zacherle) with member Gene London, live in the studio. Broadcast Pioneers member Dick Sheeran was the narrator and the historic consultant for the broadcast was our organization's president, Gerry Wilkinson.
And speaking of our president, Gerry Wilkinson and his wife, Michele took their youngest daughter, Zara, to Pittsburgh recently to start working on another Master's degree, this one in Library Science. He says that Pioneers' members keep laughing at his car, a 1990 Toyota Camry. Well, seems that Gerry has had the last laugh. He was chuckling at the people filling up their vehicle's with gasoline on the Turnpike. Since Gerry's auto gets 34.9 miles to the gallon on the open road with the AC running, he just waved as he drove by. It's sort of his own "Cash for Clunkers" program. He drives the clunker and keeps the cash in his pocket (instead of putting it in the gasoline tank).
Broadcast Pioneers member Pearl Polto, (credit expert, author, talk show host) has given us a heads up about a new book she has coming out. The book titled, "Are We Doomed in America, Enough is Enough," will tell you about the changes in our Government, what is really going on and all about our economy for all the "people to clearly see." It's scheduled for release this fall. Sounds fascinating, Pearl! By the way, rumor has it that Pearl and member Valerie Morrison will be taking over the Irv Homer webcast shortly. Watch Pearl on the Irv Homer Webcast from November of last year!
Broadcast Pioneers member Pete Duncan, recently played a musical tribute to John "Johann Sebastian" Beaty using music from John's collection. His program, Jazz Panorama, airs on Wednesdays from 12 noon to 3 pm on WRDV-FM in Warminster. John Beaty died in 2004, but is still fondly remembered by the station's listeners. Thank you Pete!
September 1st marked the 5th anniversary of WPEN flipping formats from "the Station of the Stars" to oldies. Member Andy Kortman did a live remote broadcast on Tuesday, September 1st for a breakfast meet at "The Diner" to commemorate the occasion. The lists of guests was too extensive to mention here, however a few of the participants were; Dean Tyler, Jerry Stevens, Tom Moran, Ed Hurst, John Carlton and many more. Sounded like a great time, folks!
We're pleased to report on activities from Broadcast Pioneer member Dan Lerner. Dan and his wife, Lyn spend summers in Maine and have been attracted to, as well as have endowed, what is now, the"Lerner Garden of the Five Senses." Open to the Public for three years at the Coastal Maine Botanical Gardens, it is already becoming a national treasure. Inspired by a past board member who lost her vision to meningitis, the gardens wanted to create a setting that would not be just accessible, but delightful to all. Summer residents Dan and Lyn Lerner loved the vision and donated a million dollars to bring it to life. Dan says "we could not be prouder to have our names associated with the garden, it's absolutely beautiful." Well done Dan and Lyn!

The United Stamps Post Office has issued 20 First Class commemorative stamps featuring TV greats from the early days of national television. More details on the USPS website!
A follow-up to last month's story. There will be a Red Carpet Premiere and reception at the Reading Public Museum on Friday evening, October 2nd from 5:30 to 8:00 pm in celebration of the new exhibition; "The Magic of Hollywood: The Gene London Collection." The event is open to the public and includes a meet and greet with special guest, beloved Philadelphia-area TV personality, fashion designer and Broadcast Pioneers member Gene London.
A final thought...
"Football is easy if you're crazy as hell."
Vincent Edward "Bo" Jackson

© 2009, Broadcast Pioneers of Philadelphia
All Rights Reserved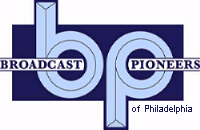 The e-mail address of the Broadcast Pioneers of Philadelphia is pioneers@broadcastpioneers.com
For luncheon reservations call (856) 365-5600 or e-mail us at: rsvp@broadcastpioneers.com